This post is a review of the Bosch Blaze Laser Distance Measurer and is sponsored by the Home Depot as part of the ProSpective program. This post contains affilaite links. See policies.
.
I have a new favorite tool in the shop and it isn't a power tool…it's a gadget.
.
Ever since I took this Bosch Blaze Laser Distance Measurer out of the package, I can't put it down.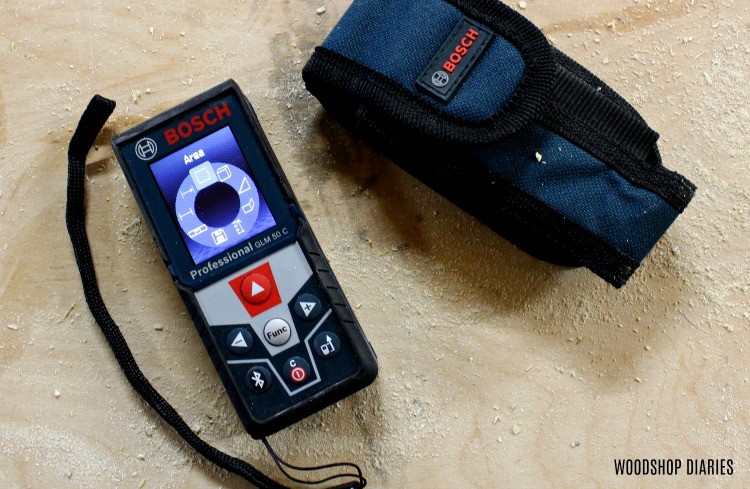 I'm sure laser measurers aren't brand new (I'm usually a few years behind the times haha), but I've never played with one until recently and I don't know why I waited so long. I wish I had this while we were building our garage apartment and I was building my sisters and my own cabinets.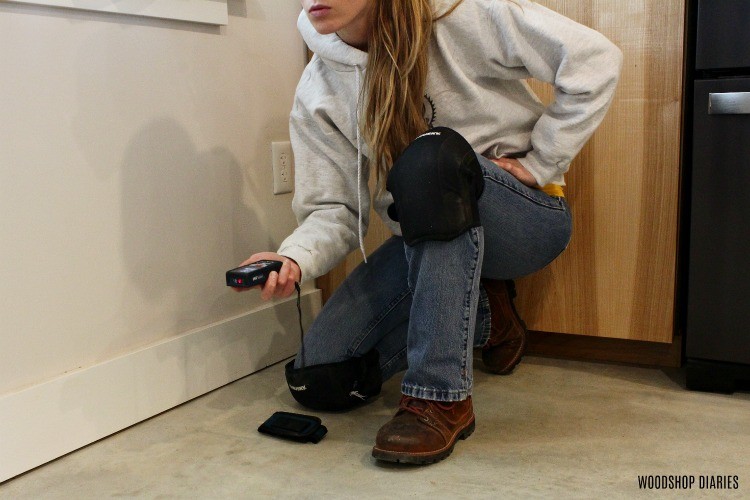 This Bosch Blaze Laser Distance Measurer honestly blew me away with it's features all crammed in such a tiny size. It's lightweight and small, so it can fit in a pocket or tool belt. It has a full color display so it's easy to read, it measurers to the 32nd of an inch and it measures up to 165 ft! Also, ignore my man hands…it's been a rough week haha.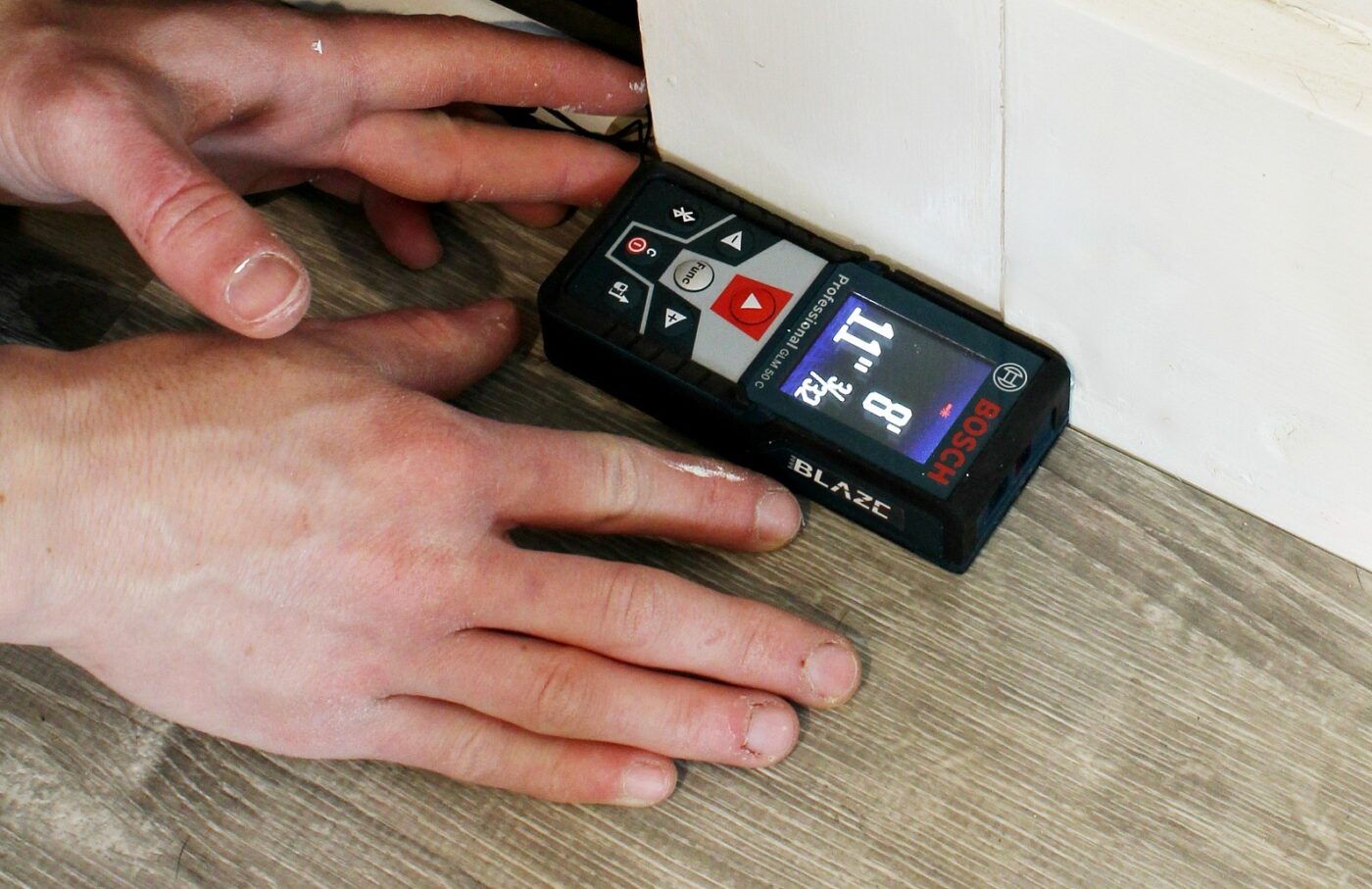 Now, the instructions do specify that it's accurate to 1/16th of an inch, not 1/32nd–which is still impressively accurate. But, I've personally compared the readings to what I've gotten with my own tape measure, and it's been DEAD ON accurate every time, even to the 32nd. So take that for what it's worth.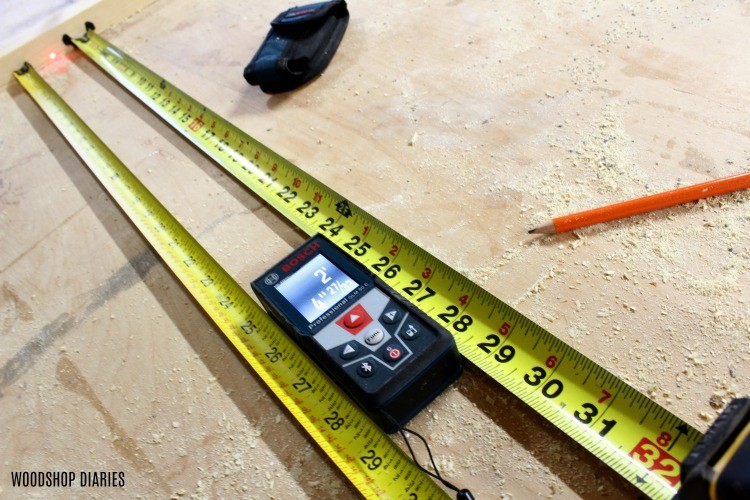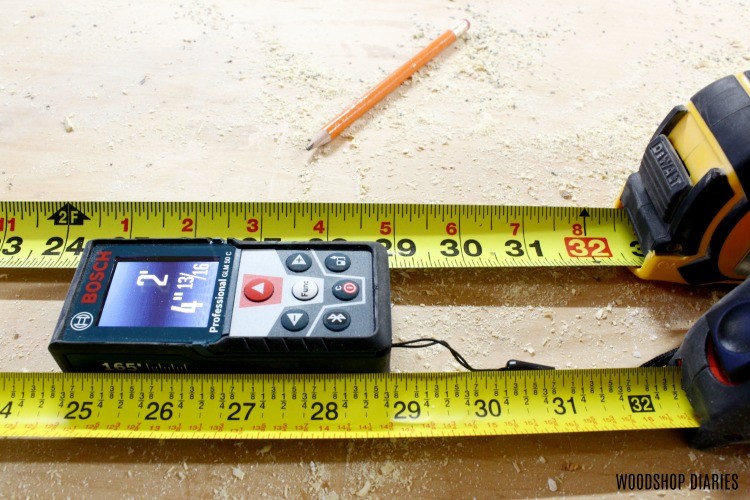 So, we've covered that this laser distance measurer measures distance. Thank you captain obvious. But it also can be used as a level.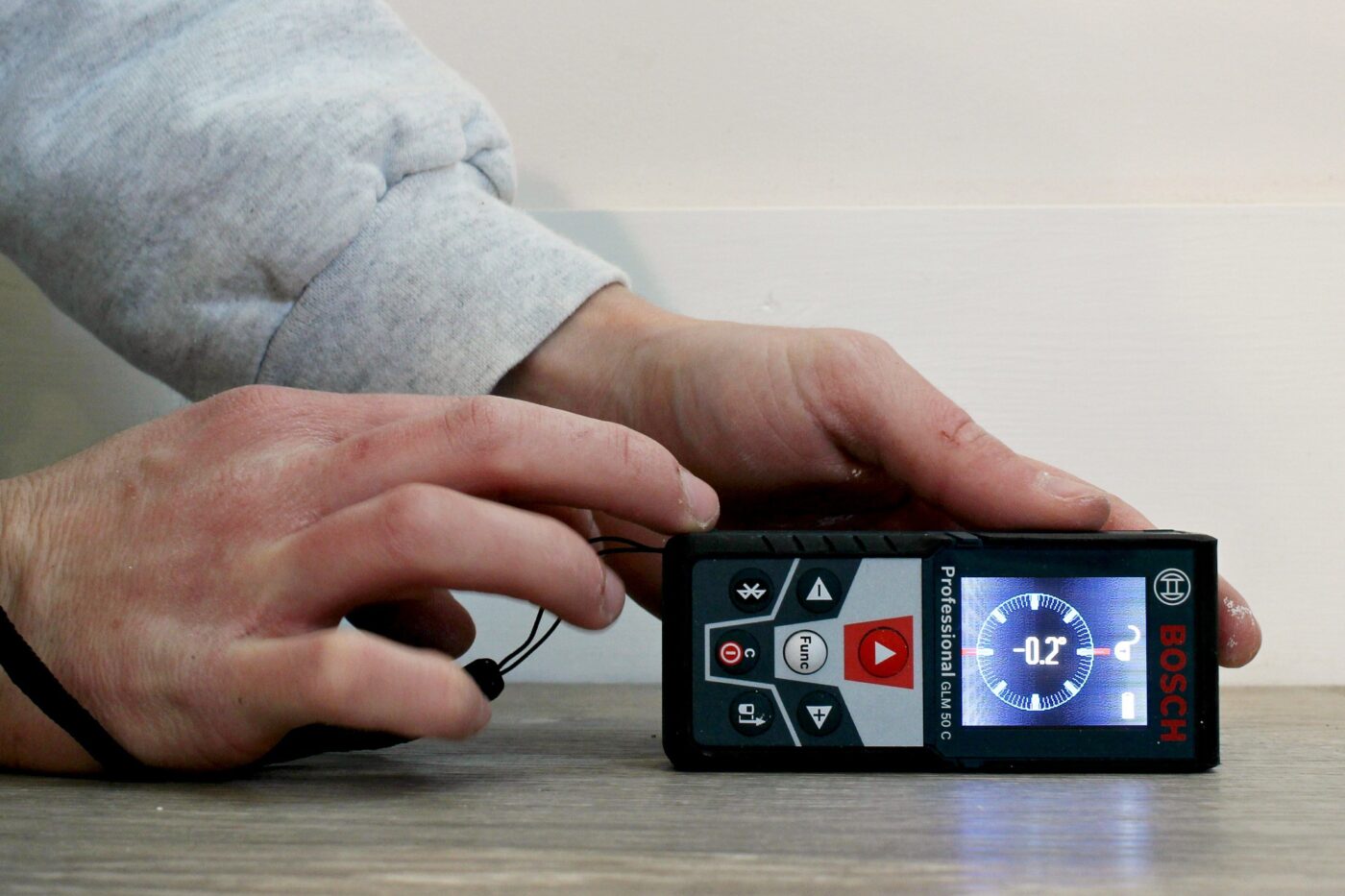 And it's got several different measuring functions built in that allow it to calculate area, or volume of a space all while measuring from a single point.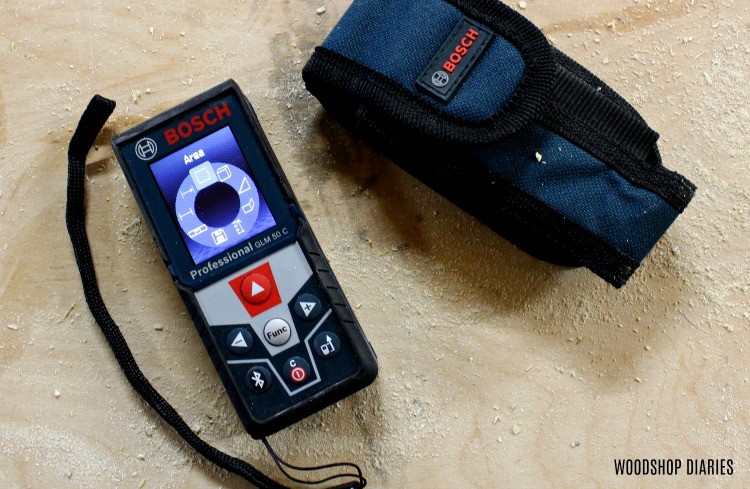 Hold it in the corner, take measurement, hold it the other way, take measurement. Boom. Area. No wrestling with a tape measure.
This is super handy for calculating how much sq. ft. of flooring you need, or how much paint you need, etc. Speaking of paint, wall space area is another feature it's got, too.
.
It can save up to 30 measurements and is Bluetooth enabled to connect up to the Bosch MeasureOn app to save photos and store measurements if you do the contractor or client thing and need to keep track of different measurements for different projects.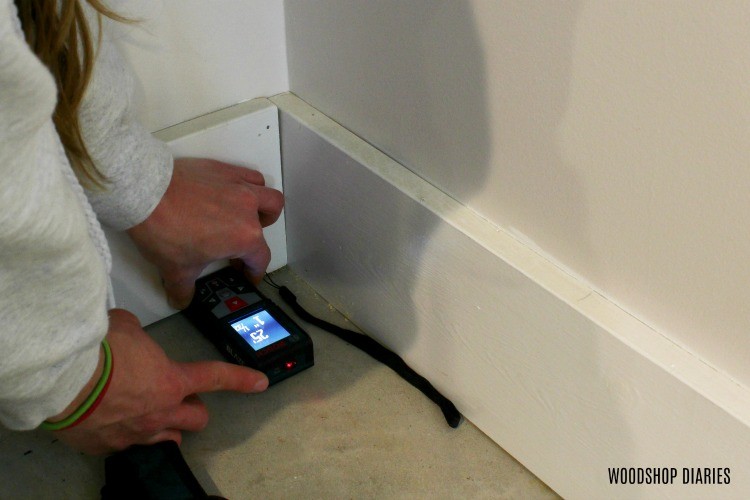 I can think of SO many times I wish I had this while we were building or remodeling. SO. MANY. Do you know how inaccurate (not to mention how frustrating) it is to ask your husband (or sister, or mom, or dad) to hold the other end of the tape measure while you are measuring for trim, or cabinets, or drywall?
.
The question, "Can you hold the end of this tape measure real quick?" has started more arguments in our house than anything else, I think. Hopefully I can put most of that behind me now, with this Bosch Blaze Laser Measurer.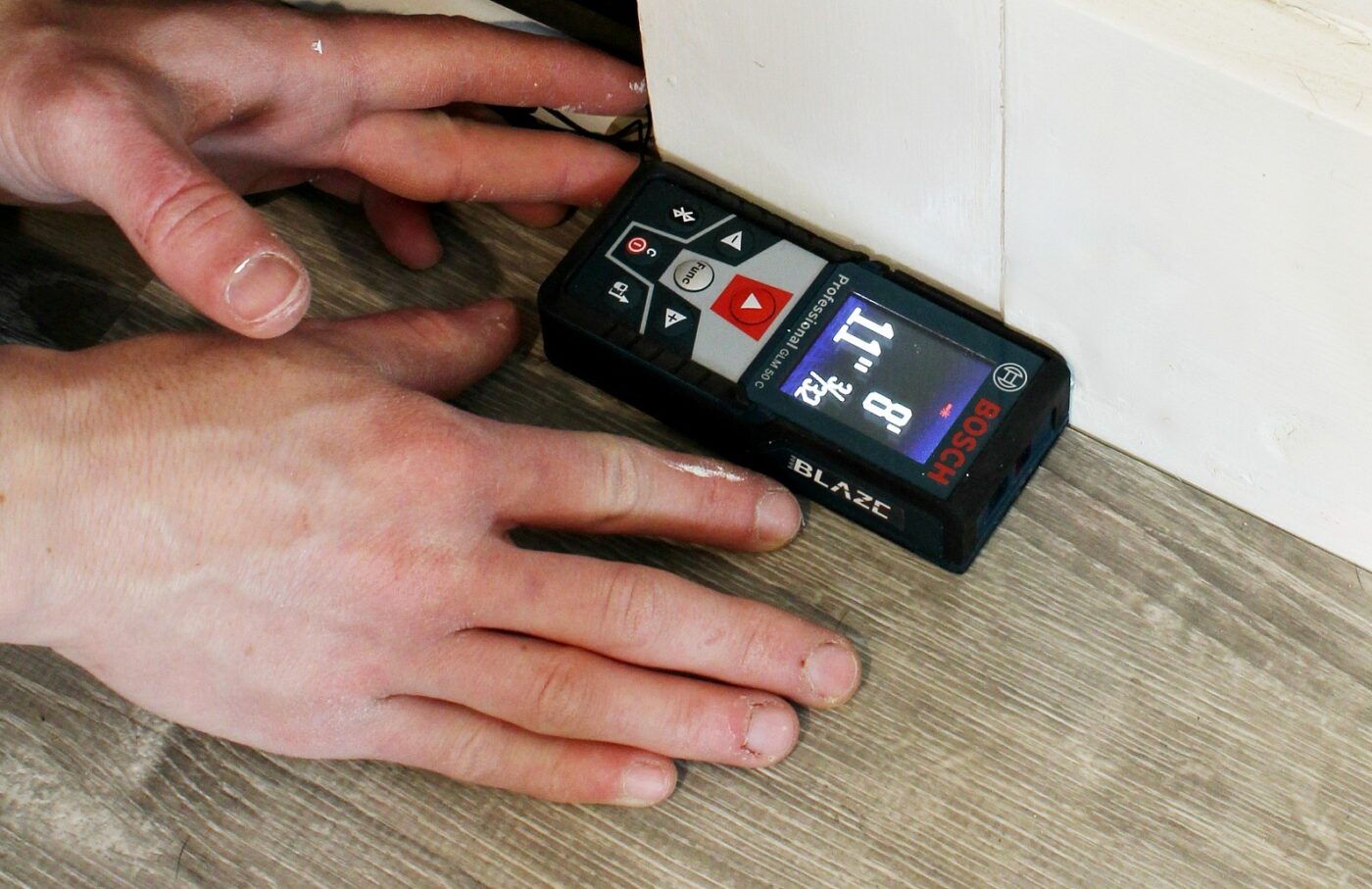 You can check out more info or grab one of your own on Home Depot here. It comes with 2 AAA batteries (I always love when batteries are included 🙂 ), a pouch, and a hand strap.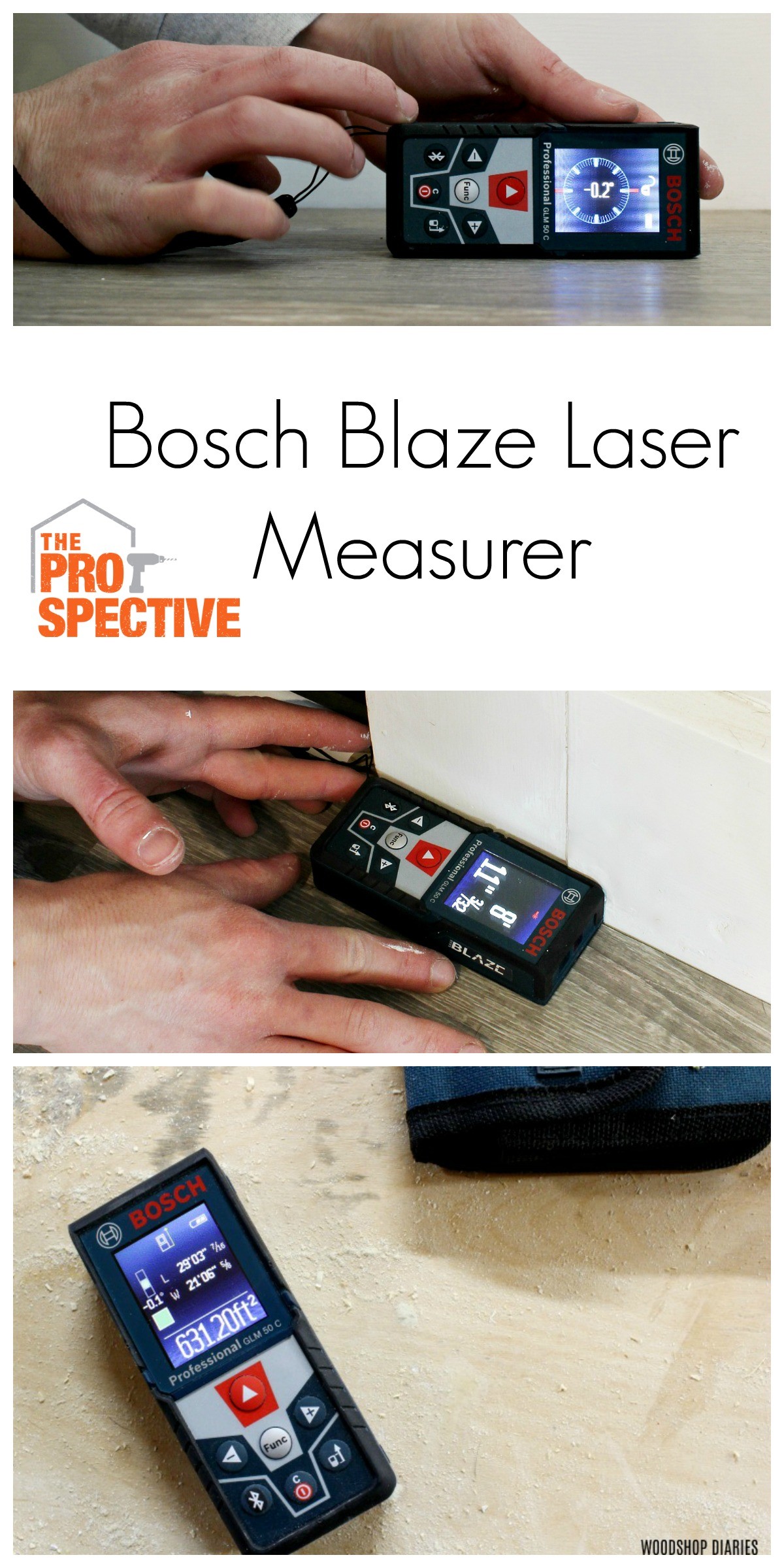 Check it out in action in my post about how to install vinyl plank flooring post coming out later this week.
.
Until next time, friends, happy measuring 🙂
.
I acknowledge that The Home Depot is partnering with me to participate in the promotional program described above (the "Program"). As a part of the Program, I am receiving compensation in the form of products and services, for the purpose of promoting The Home Depot. All expressed opinions and experiences are my own words. My post complies with the Word Of Mouth Marketing Association (WOMMA) Ethics Code and applicable Federal Trade Commission guidelines.