Hey friends! Today I'm sharing with you a project that may be small in size, but it's had a big impact on my work area. It's a simple DIY desk organizer with a shelf and drawer.
..
This post is sponsored by Build Something. It also contains affiliate links. See policies.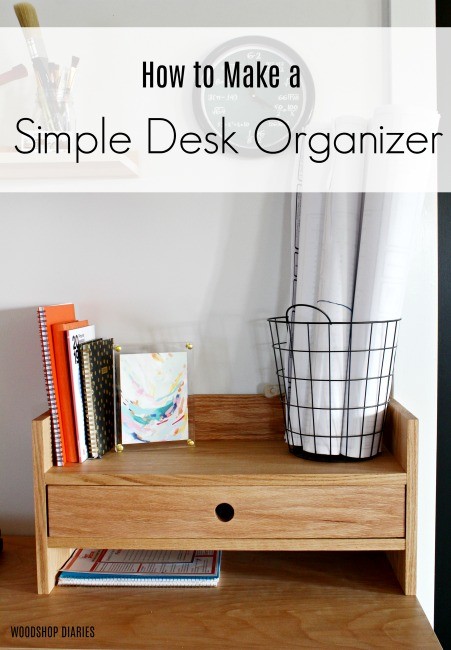 As a small business owner and content creator, I have a lot of papers, receipts, to do lists, planners, and SD cards to keep up with and a very tiny space to keep them all organized (remember I live in a tiny garage), yet still easy to access.
[adthrive-in-post-video-player video-id="Ca1UY4FZ" upload-date="2019-08-10T13:46:35.000Z" name="Simple DIY Desk Organizer" description="For Full Plans, Check out the Blog Post tutorial for this DIY Desk Organizer"]
I was tired of papers stacking up in a mess on my desk and having a hard time keeping track of things (I'm convinced that will always be a problem, so really, I just need somewhere to hide the things HA!), so I built this simple organizer from the red oak scrap boards I had leftover from my recent linen cabinet build.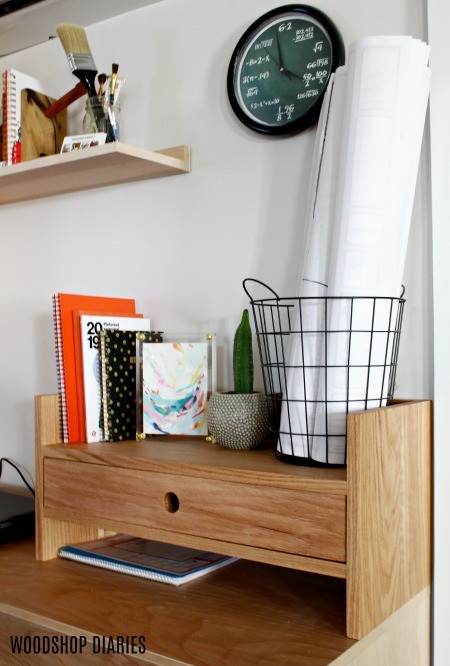 And I've partnered with Kreg Tool and Build Something to bring you the plans for free over on BuildSomething.com.
.. ..
But first, let me share with you a video tutorial, a few tips and a mishap that I had on this particular project below.
Tips On Gluing up Panels
As I already mentioned, I used leftover wood from the linen cabinet I recently built. So that made things cheap, BUT that meant I needed to glue up panels to create this organizer. Truth be told, I HATE gluing up panels.
..
There are two reasons…I can never seem to get things lined up just right and I hate waiting for glue to dry in order to move on with a project…especially when I'm killing time in a 100 degree garage workshop.
..
So this time, I glued AND screwed using my Kreg Pocket Hole Jig. The pocket holes help reinforce the joint, but it also helps impatient people like me be able to remove the clamps and move on with the project once the screws are in. Win-Win 😉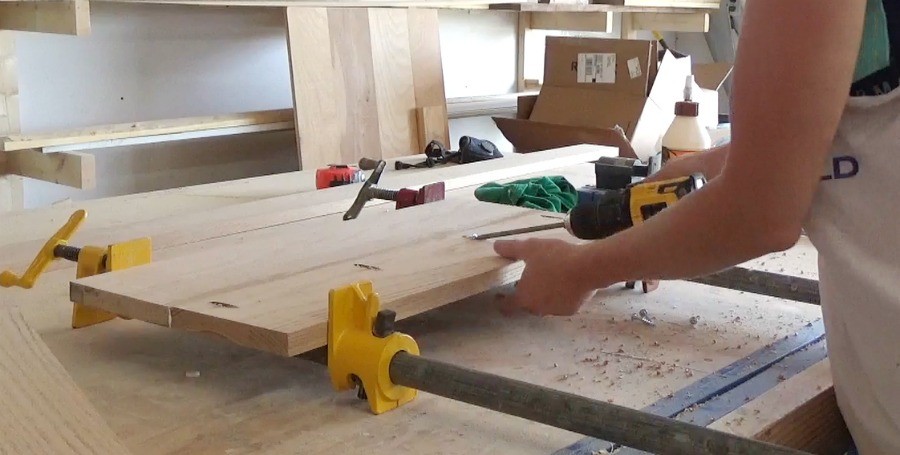 So, if you need some help (or you need to save some time), pocket hole joining your glue ups can sometimes be your best bet.
Drawer or No Drawer…And a Little Mishap
Once I got the back and shelves installed, I could have left it as is, but I really wanted a little drawer to help corral all my nick knacks on my desk and provide a good place to hide all my random to do lists and things.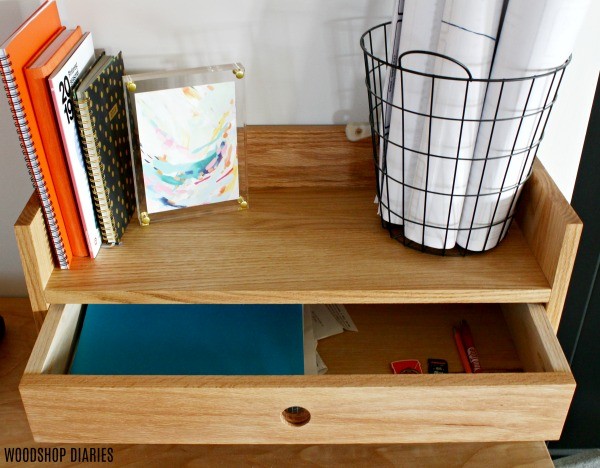 So I measured how big to make the drawer and began cutting my boards down to make it.
..
BUT, I need to make a quick confession. I'm a little timid with my table saw and the side pieces of the drawers were cut pretty short. I was nervous to run these through the table saw for the dado, so I ended up just using a narrower piece of scrap for the drawer sides.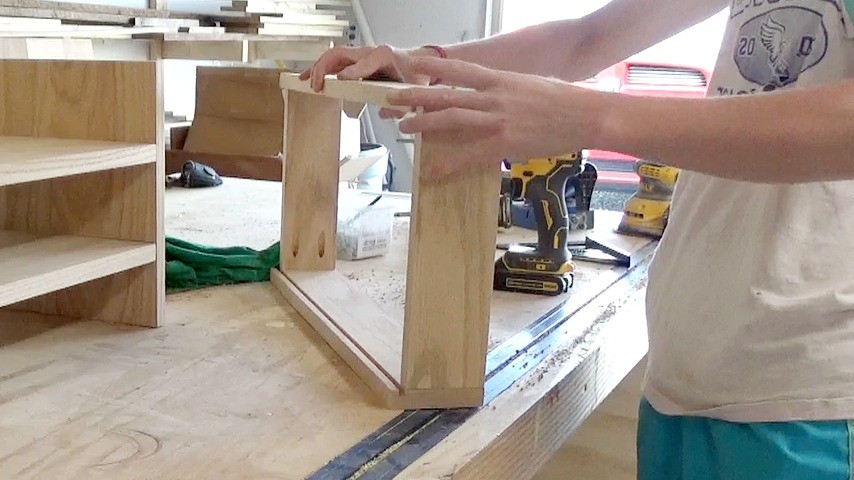 I was able to slide the bottom through the dados on the front and back pieces, then staple them onto the bottom of the sides. In hindsight, I should have cut the dado BEFORE trimming down the pieces.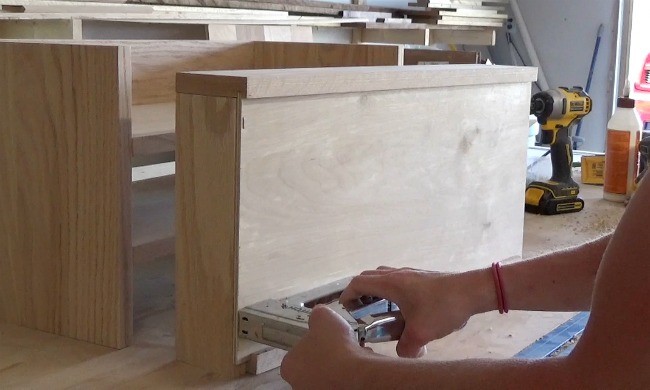 Either way works, but just in case you were wondering what the heck I was doing here…now you know. I'm afraid of the table saw haha. I recommend cutting the dadoes THEN trimming down to size.
Finish and Put to Use
I've always thought I hated oak. It brought up memories of my mom's old orange kitchen and really bad spray tan experiences. But since actually using it on a few recent projects, I've realized that I actually really like oak…when it's finished naturally and not with that fake tan orange stain color 😉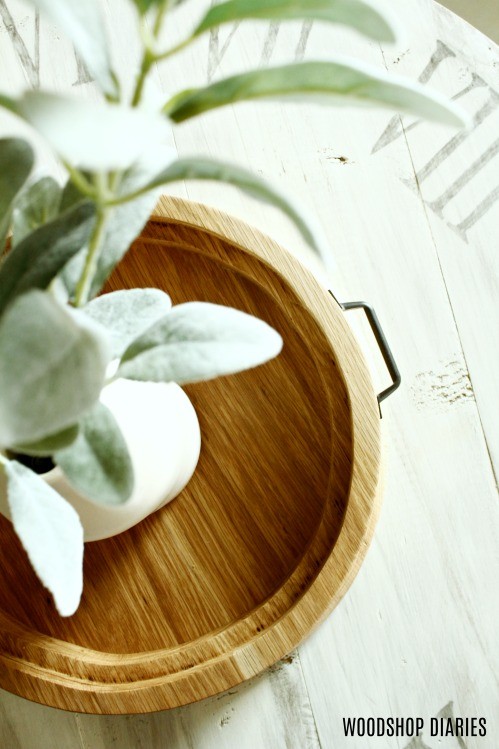 So for this red oak, I used Walrus Oil Furniture Wax to give this a nice natural finish like I did on my linen cabinet.
..
Then I brought it inside and set it on my desk…and filled it with all the junk that used to be sitting out in the open on my desk. Haha…at least now it LOOKS like I'm a little more organized.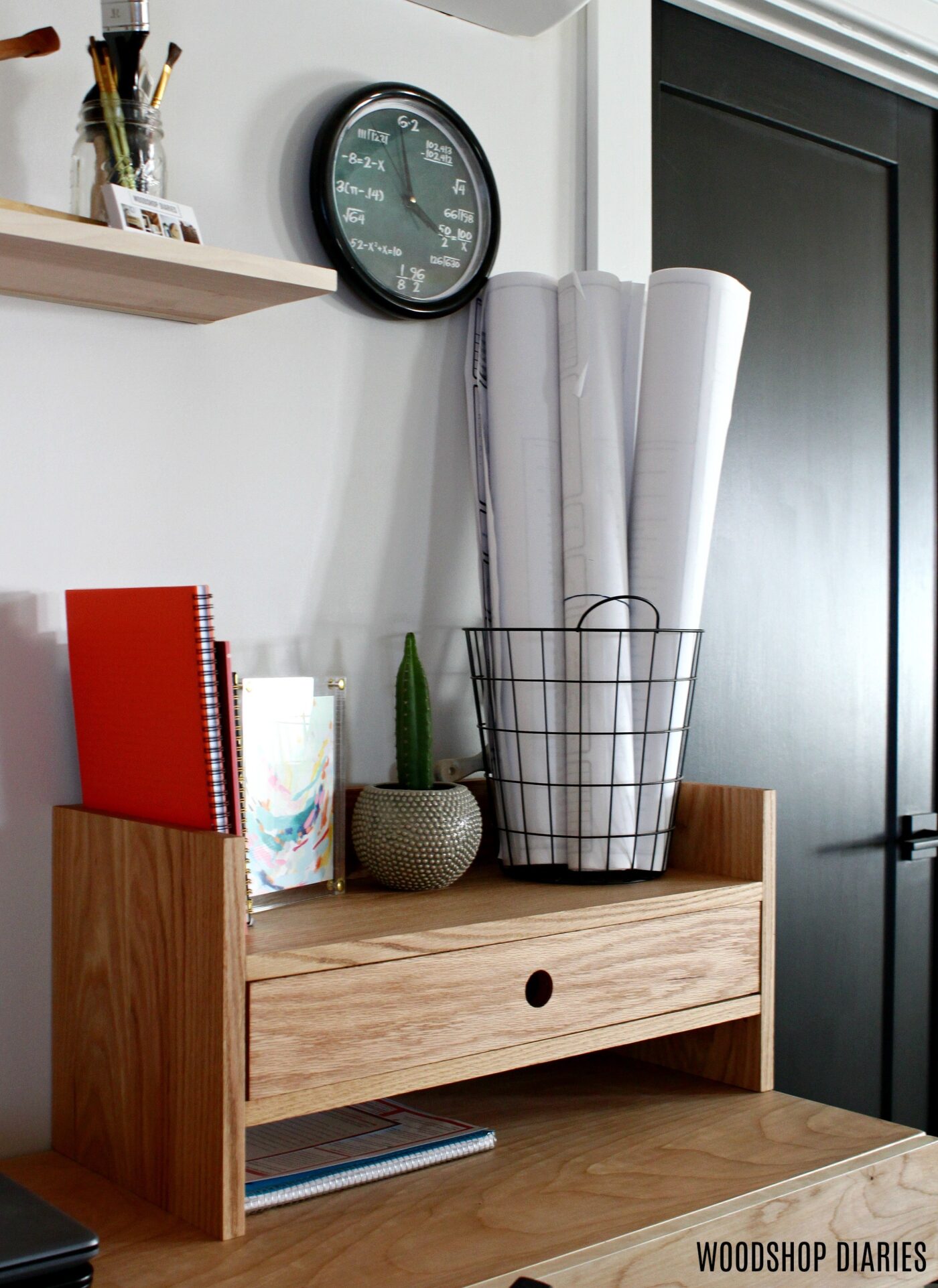 This may be a small project, but it has definitely helped me out a ton. Just clearing up the clutter on my workspace instantly helped me better focus, and stay motivated. It's amazing how a little paper clutter can hold you back.
..
So if you are ready to get your space organized, be sure to head over to Build Something to find the plans to build one of these for yourself. And don't forget to check out the video as well. And if you don't mind, I'd love if you'd pin this project for later 🙂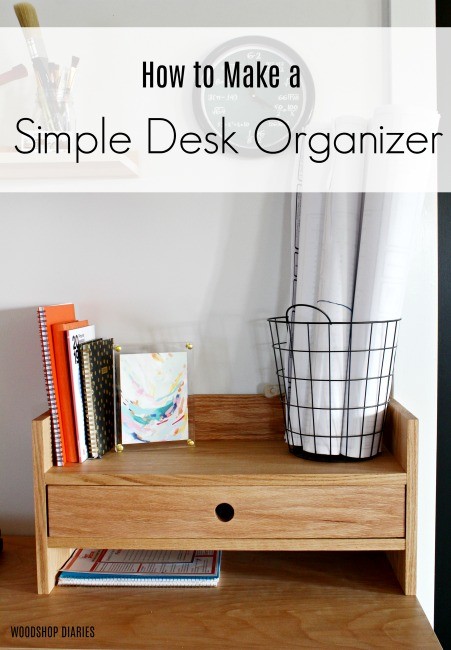 That's it for now, friends! Until next time, happy building! 😊