In this post, I'm sharing how to build a Simple DIY Scrap Wood Towel Rack!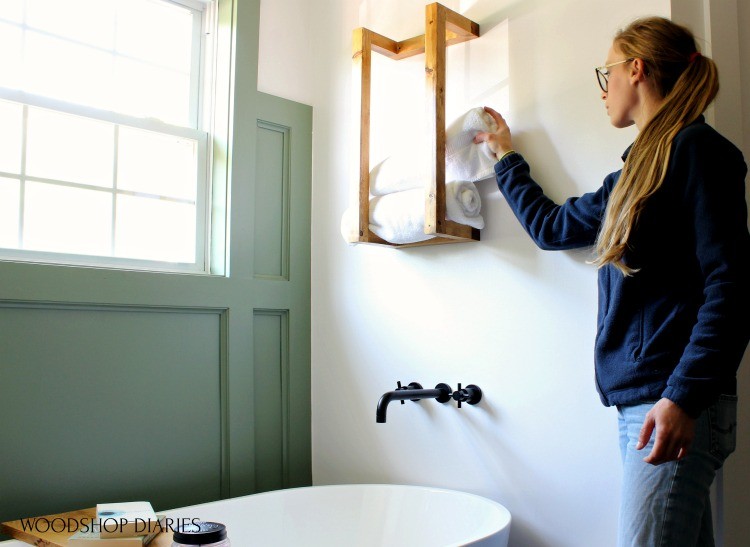 I always have an OVERABUNDANCE of scrap wood.
So when I have the chance, I try to use it up in a practical project.
This time, I was able to use up some 2×2 off cuts to build this scrap wood towel rack for my parents' bathroom renovation.
As we were finishing up the last details on it, I wanted to add a little warmth to the walls that I had painted a VERY WHITE WHITE.
I was afraid with so much white, it might feel a little cold.
So I built a simple scrap wood towel rack to hang over the tub to add some texture and wood tones to the space.
And I'll show you how I built it in this simple 3 step tutorial. Ready to get building??
For this Scrap Wood Towel Rack, You Will Need:
2×2 scraps (see cut list below)
Clamps
Cut List for Scrap Wood Towel Rack:
(2) 2×2 @ 12″ long
(4) 2×2 @ 5″ long
(2) 2×2 @ 24″ long
Step 1: Assemble Back and Sides of Towel Rack
I rummaged through my scrap pile and found several random pieces of 2×2.
By the way, when I build with 2x2s, I make my own to ensure square edges. You can check out how to make 2x2s here.
I cut two pieces to 12″ long for the back pieces of the towel rack and four pieces of 2×2 to 5″ to use for the sides.
I also cut two pieces of 24″, but we won't use that yet in this step.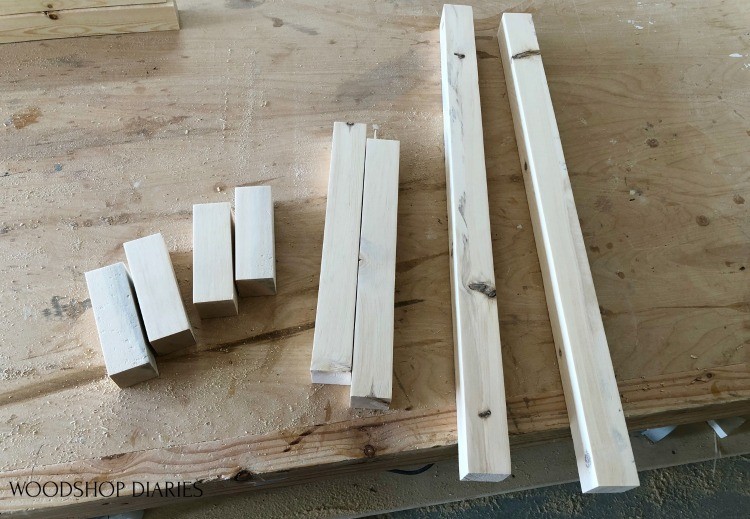 Now, my towels were standard size and not super fluffy.
If you have oversized or really fluffy towels, you may want to make the 5″ pieces a little longer.
Roll up one of your towels and measure its width to see what you think would work best.
I applied wood glue to the ends of two of the 5″ pieces and placed a 12″ piece on them.
I predrilled and drove 2 ½″ wood screws through the 12″ piece to assemble two pairs of back/side assemblies like shown.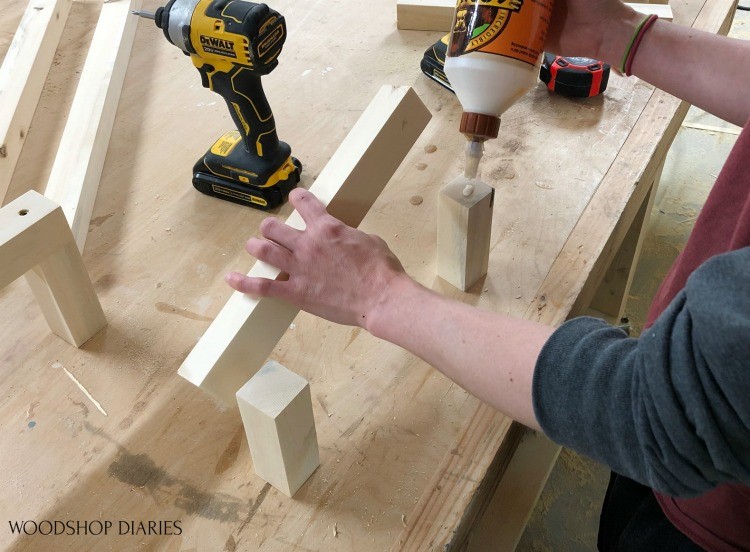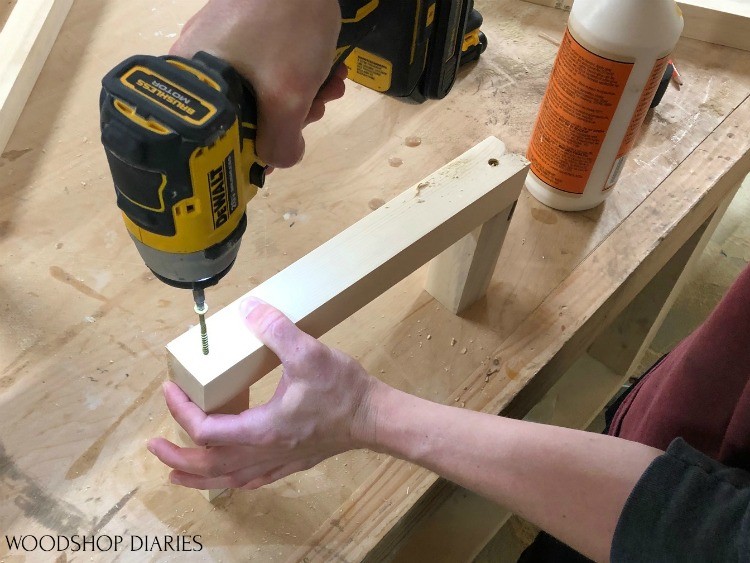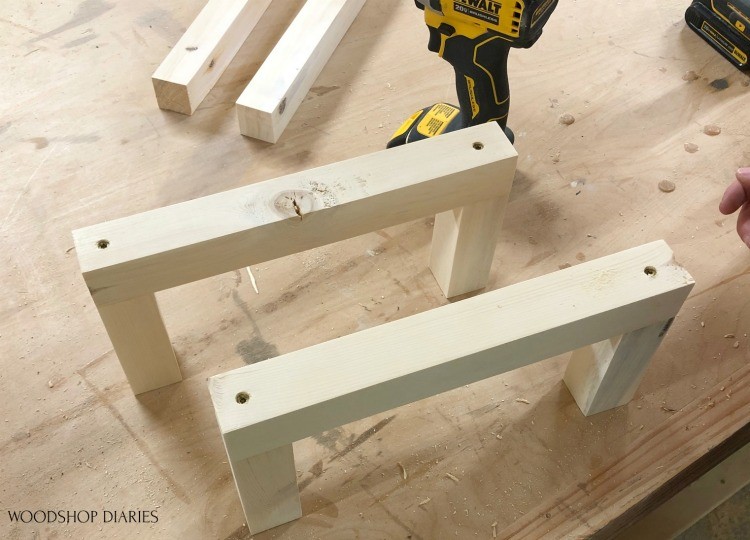 The screw holes here will go along the back side of the towel rack (along the wall).
Step 2: Attach Front Pieces of Towel Rack
Now, I applied some glue to the other side of the 5″ wood pieces and clamped the 24″ pieces onto the front like shown.
You can also drive 2 ½″ wood screws like in step 1 if you don't mind seeing the screw heads.
Or, you can brad nail with 2″ or longer nails for extra holding power, too.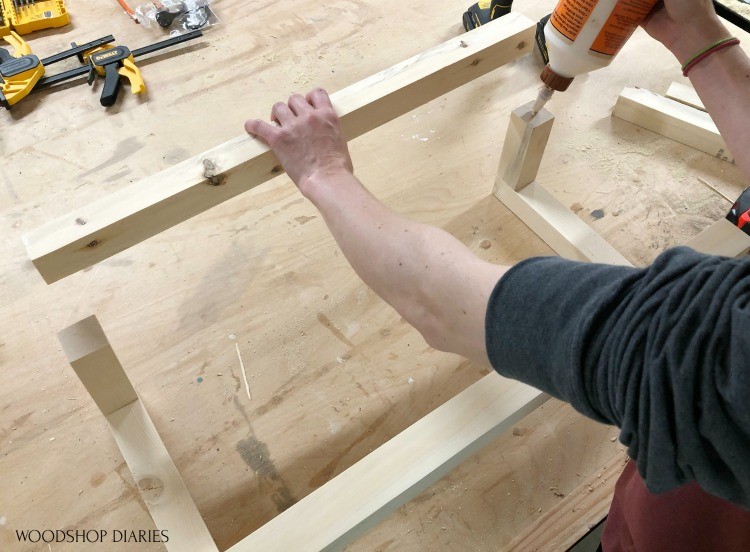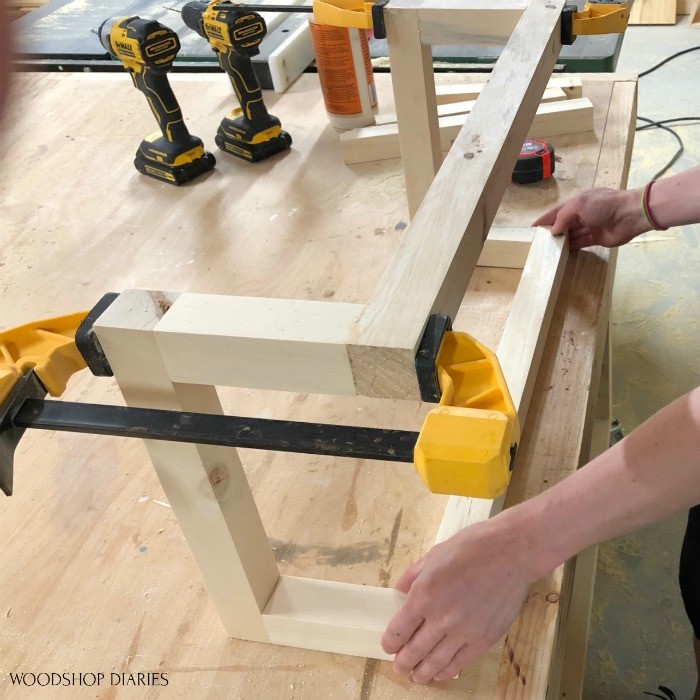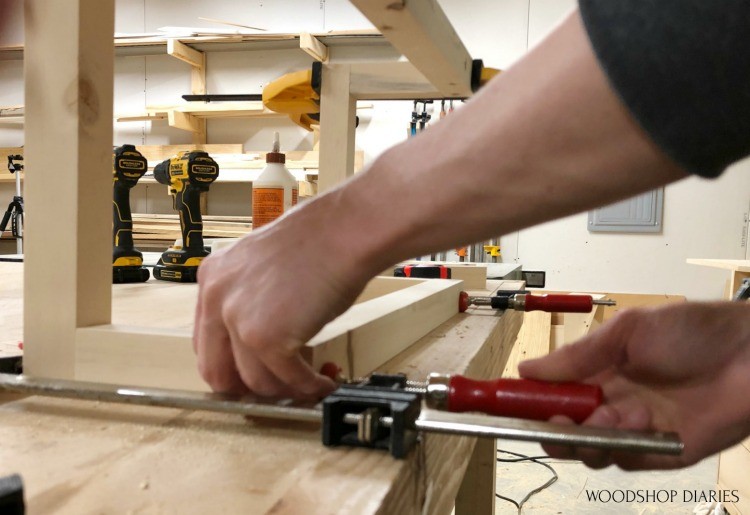 Make sure the piece is square before allowing the glue to dry.
Step 3: Finish and Hang Scrap Wood Towel Rack
Once the glue was dry, I sanded any glue squeeze out off, and stained it with Minwax Early American Wood Stain.
Then I applied a couple coats of Minwax Polycrylic to seal it. You can finish however you wish.
To install, I used a stud finder to find a stud in the wall where I wanted to hang it and predrilled through the back 2×2 and used a 3″ wood screw to drive it into the stud.
I used one screw at the top and one at the bottom.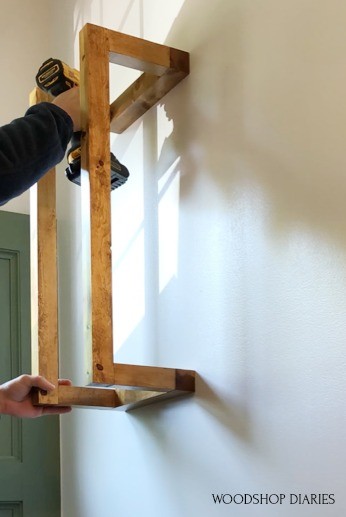 I really wanted to hang this centered above the bathtub, but there was no stud there.
So I placed my screw on the very edge of the towel rack so that I could drive it into a stud and still get it kind of close to center.
However, if you can't find a stud where you want to place your towel rack, you can also use a drywall anchor.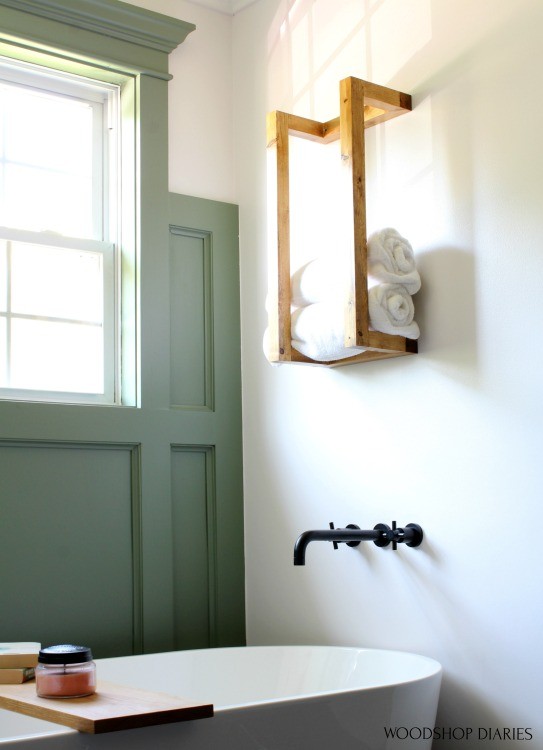 And, that's it! Three whole steps haha. This may be the easiest scrap wood project I've ever done!
.
But, it serves it's purpose and looks great doing it 🙂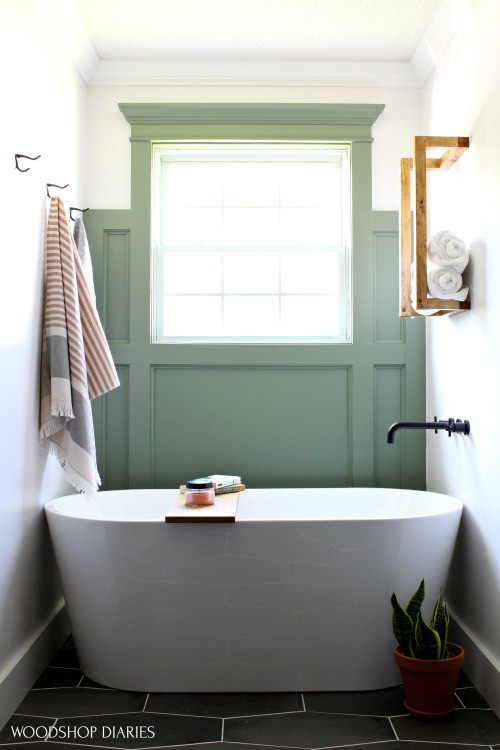 If you're looking for scrap wood storage, check out this DIY scrap wood storage cart.
And if you're looking for more scrap wood project ideas, here's a few good ones!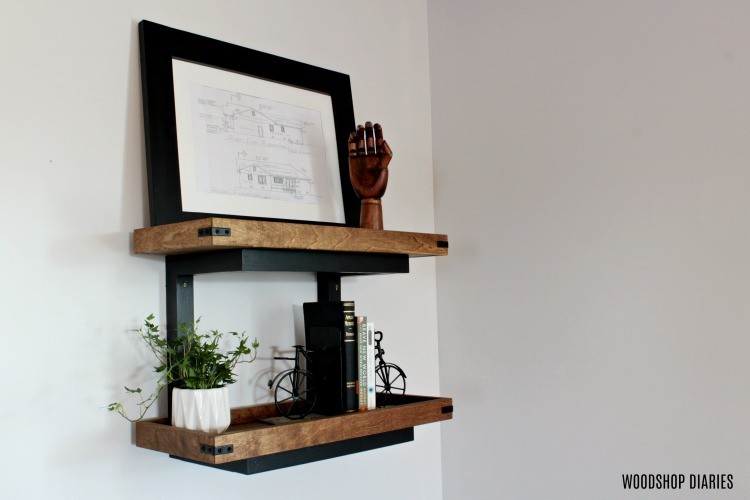 Check out the full reveal of this bathroom here, but this simple little towel rack really stole the show in this corner.
It would be a great addition to hang above a toilet or beside a vanity as well.
You can see other projects from this bathroom in the floating shelf and mirror frame tutorial post I shared recently, and in the post about the vanities I built for them as well.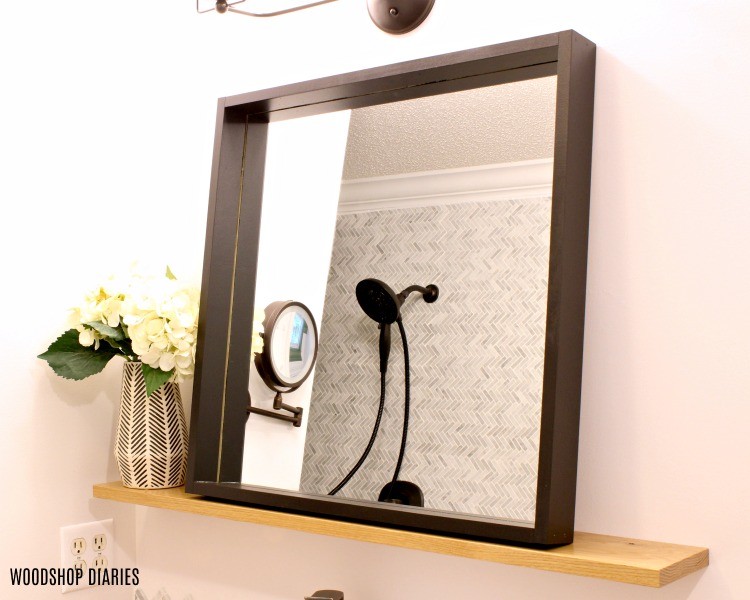 .
If you enjoyed this project, be sure to pin this for later!
Be sure to subscribe to the newsletter below so you don't miss out on what's coming next!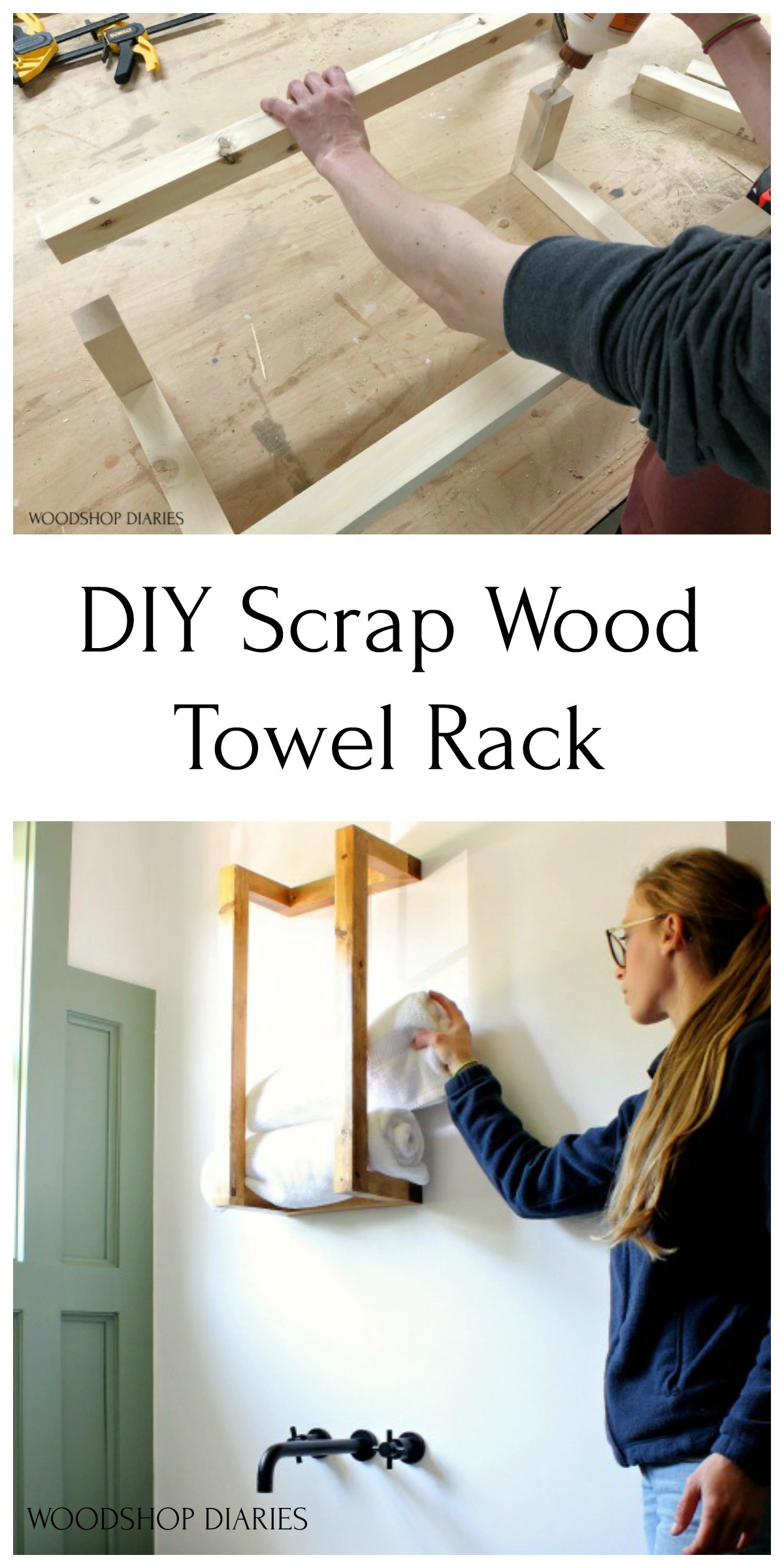 Until next time, happy building 🙂