Looking for storage solutions for your home?
Here are 20 DIY storage cabinets for every room in the house to inspire you.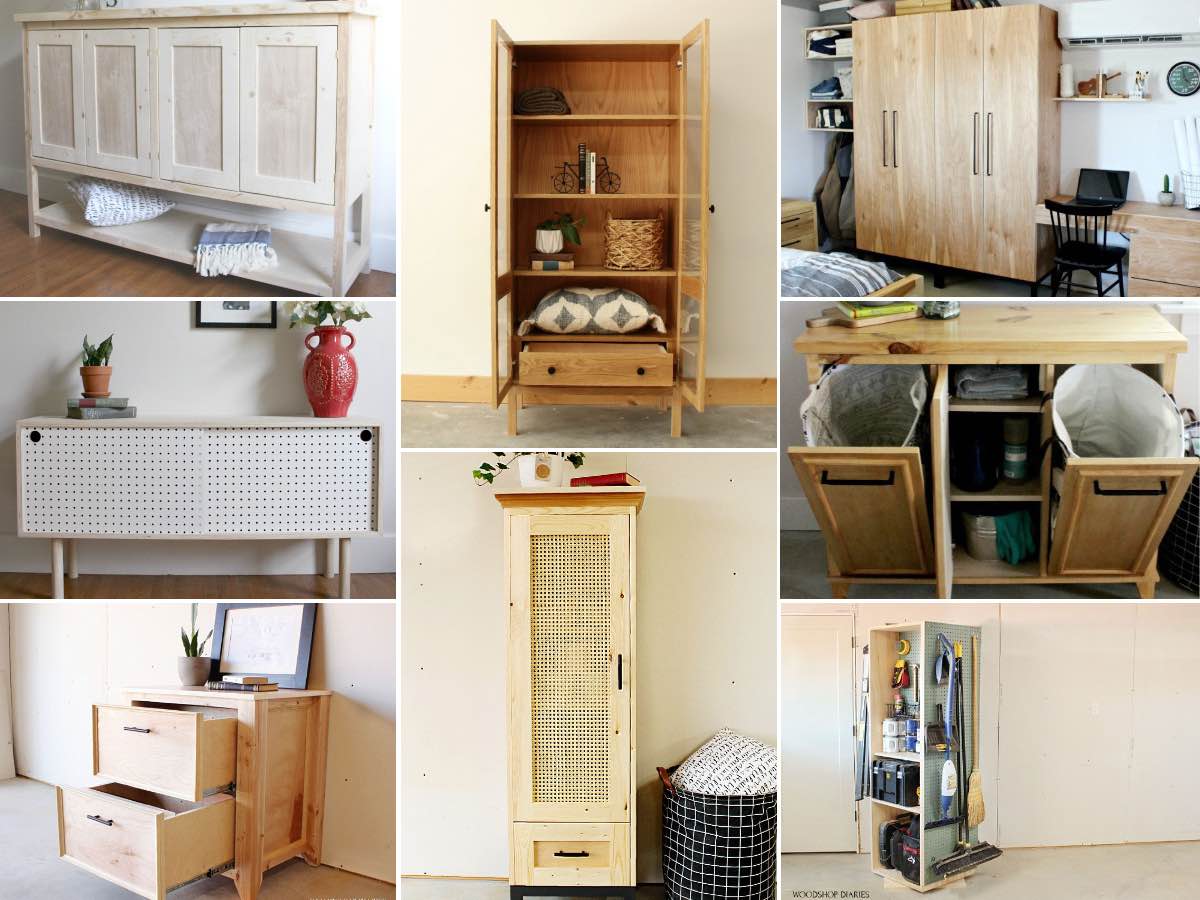 I have built my fair share of storage cabinets. You might say I'm a little obsessed with storage solutions…and building haha.
When you live in a small garage apartment (like we did for three years), you have to be strategic with small spaces and having enough storage is key.
I have made a lot of home storage solutions over the years. Projects for the bathroom, bedroom, kitchen, office and workshop.
Let's take a look at 20 DIY storage cabinets you can make to help get your home organized and stylish this new year.
---
DIY Storage Cabinets You Can Build
---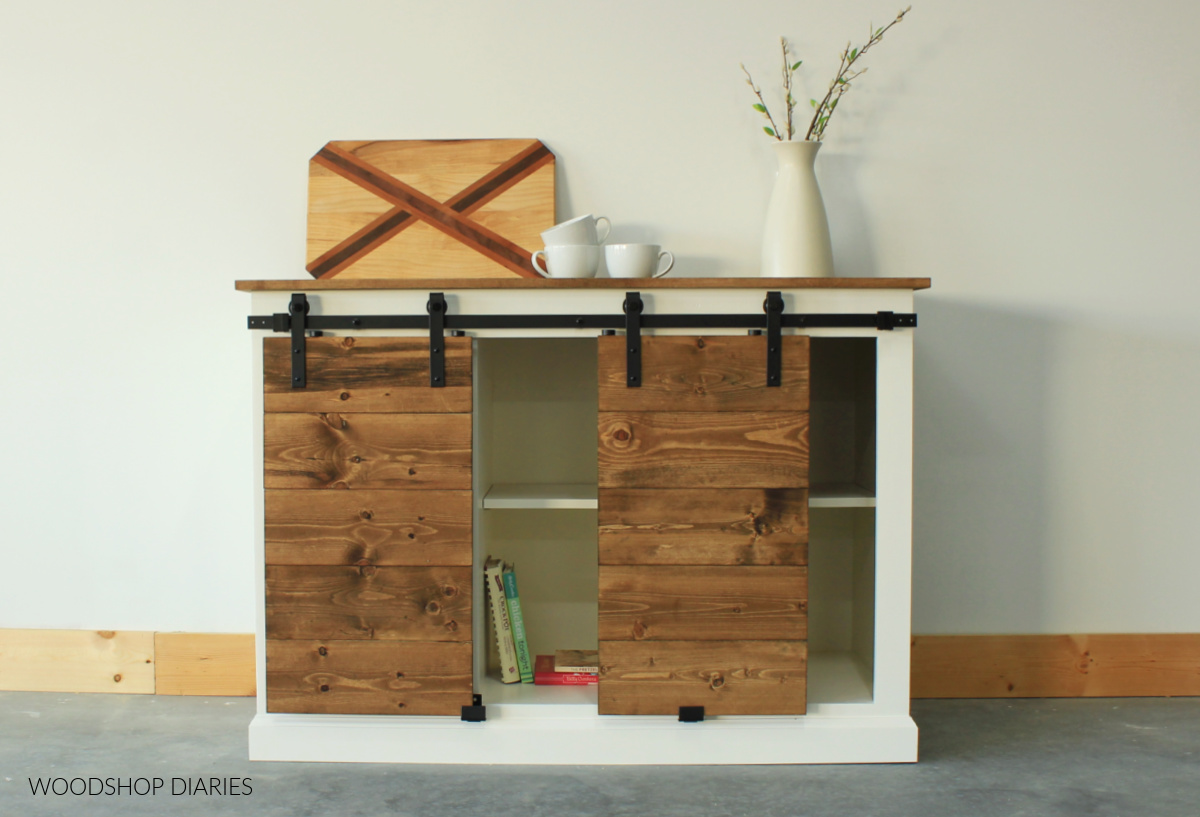 This DIY Sliding Door Cabinet is simple to create and purposeful in so many ways.
It's a great way to add some extra storage to your kitchen or pantry. But it would also make a great console in a dining room or even in your living room as a media cabinet.
The adjustable shelves provide flexible storage and the sliding doors are a fun addition to add some rustic charm.
But they're also great for hiding what's behind them.
---
---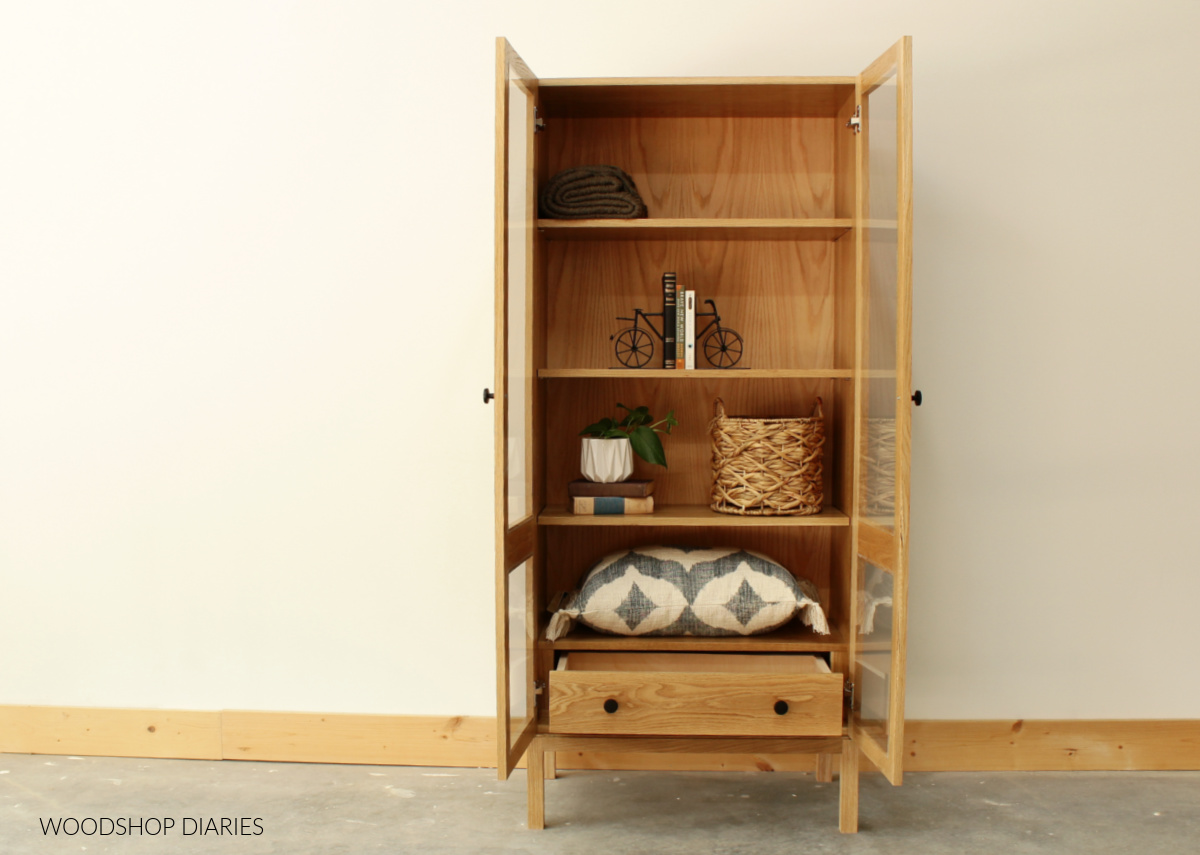 I have had this project on my "to build" list for SO LONG. This storage cabinet is the perfect home storage solution for any space.
Use it as a linen cabinet in the bathroom, display your favorite dishes in the kitchen, or show off your decor in a living space.
---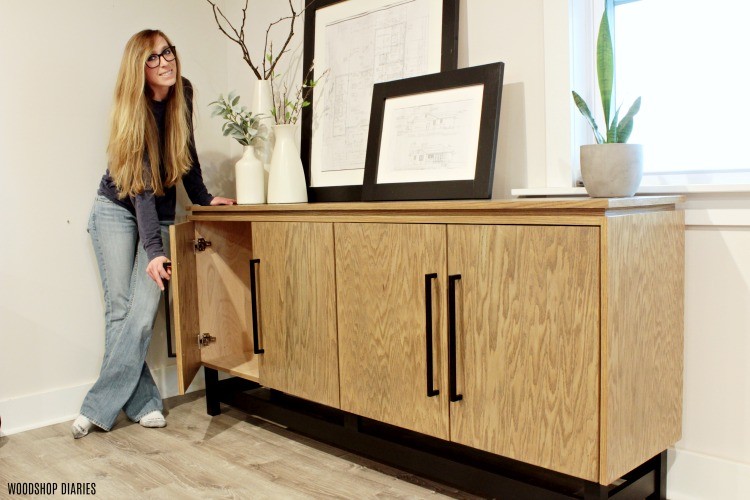 I love this DIY modern console cabinet. You can even use it as a sideboard cabinet in the dining room.
This piece would be perfect for a media cabinet or TV stand. It's got plenty of storage behind those doors for added home organization.
---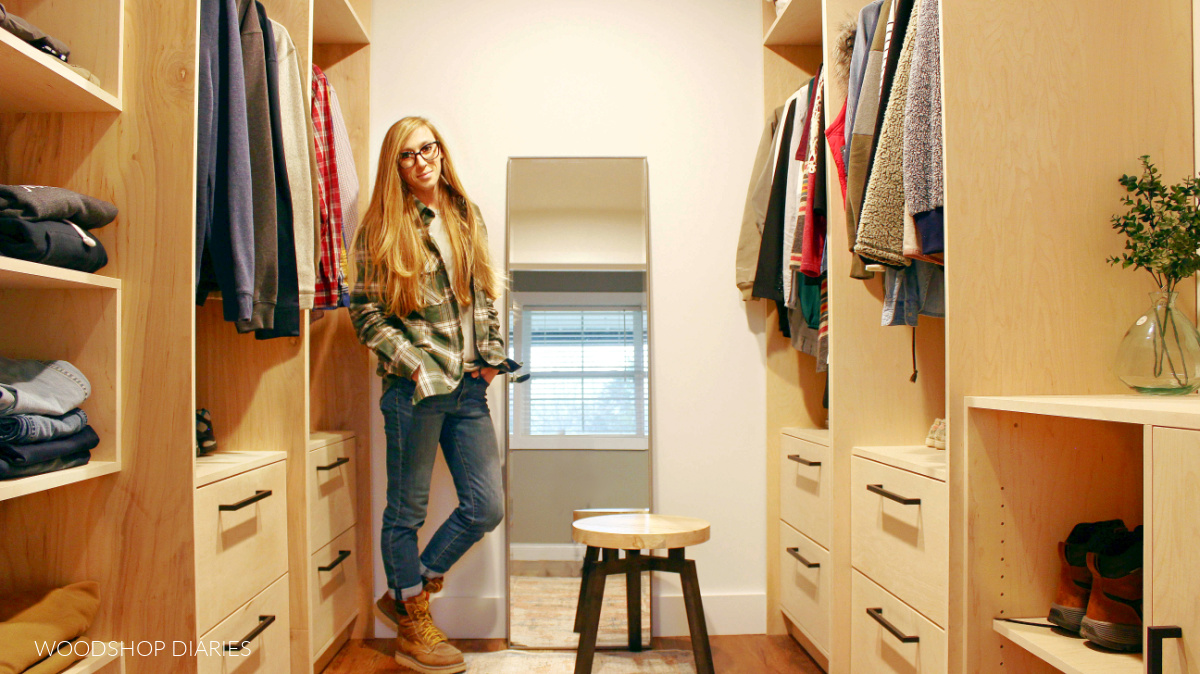 Are you ready to turn your boring closet into a space with functionality?
These DIY Custom Closet Cabinets and built-ins will add both storage and style to your basic walk-in closet.
---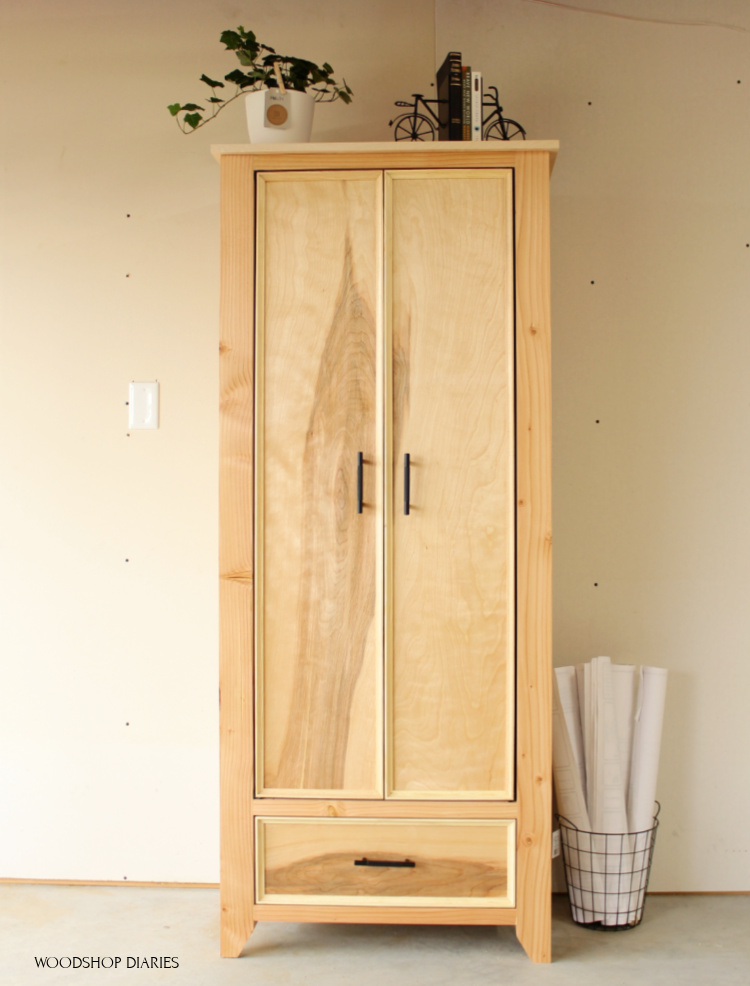 This DIY Armoire Wardrobe Cabinet is made from basic 2x4s and plywood!
It's so much more than a storage cabinet. It's a home storage solution that can have purpose in any room you choose.
With built-in shelving and a storage drawer below, it will give you all of the organizational space you need.
---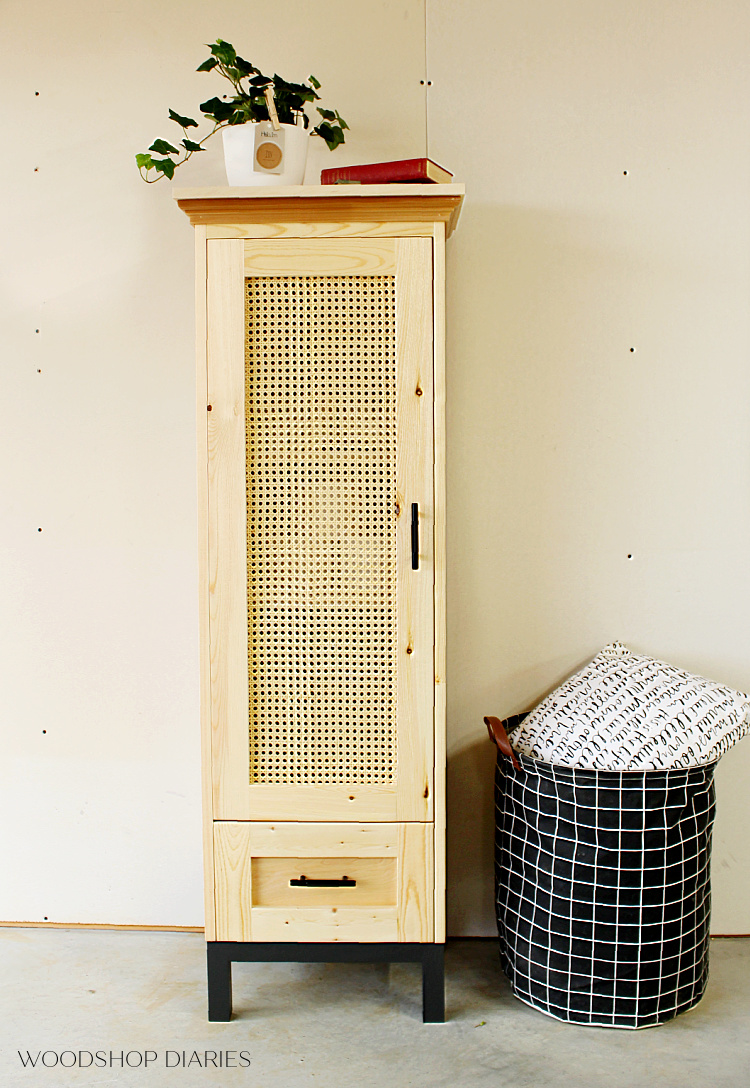 For whatever reason, I've been obsessed lately with tall, skinny cabinet designs.
This storage cabinet would make the perfect addition to a bathroom to store and hide all of your necessities.
The cane webbing gives a personal touch to this bathroom storage cabinet idea.
---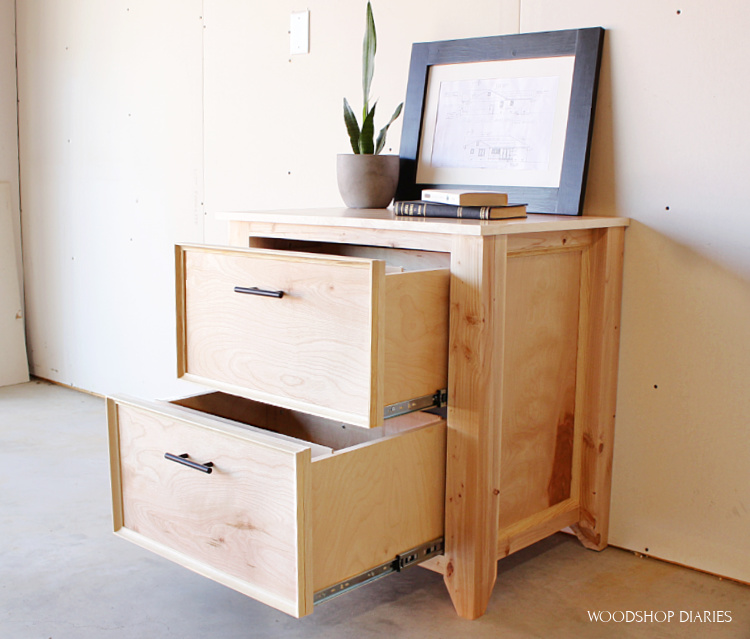 This is a very basic cabinet that works well as a file cabinet to store all of your office paperwork and supplies.
It could also make a nice printer cabinet, or even a side table or nightstand to give you added home organization.
---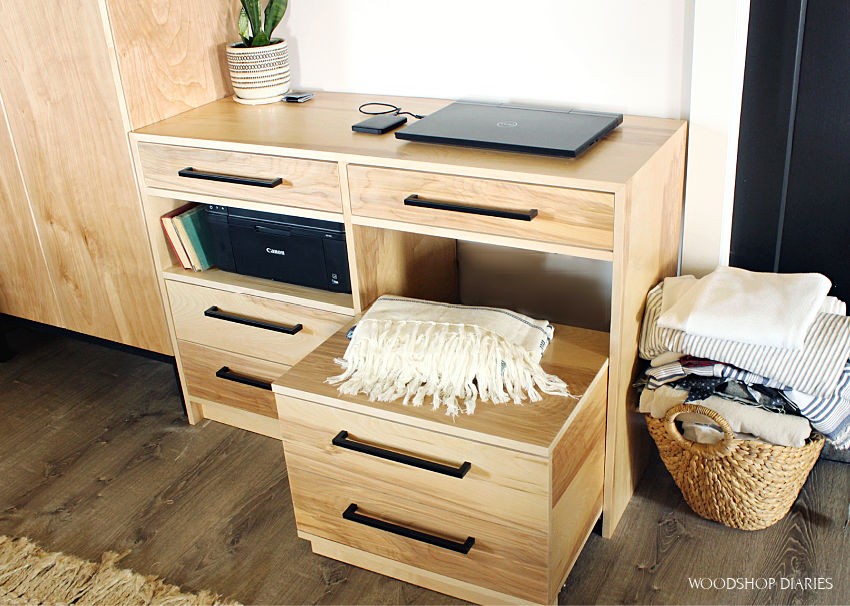 Need a dresser AND a desk?? Build an all-in-one with this genius DIY Dresser Desk with pull-out storage seat!
Nothing screams home storage solution louder than this multi-purpose dresser. You get storage, a desktop, and a seat as an added bonus.
---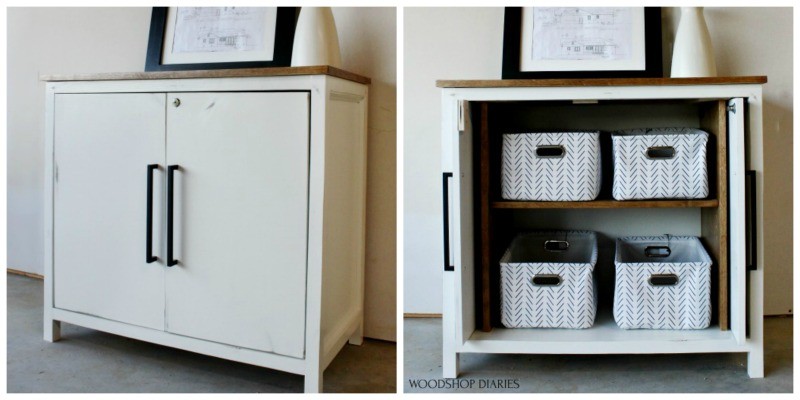 This DIY Pocket Door Cabinet looks simple from the outside. But when you open it up…WOW!
The doors slide back into the cabinet and out of the way! How cool!
They work great as simple stand alone cabinets to give you the perfect home organization.
---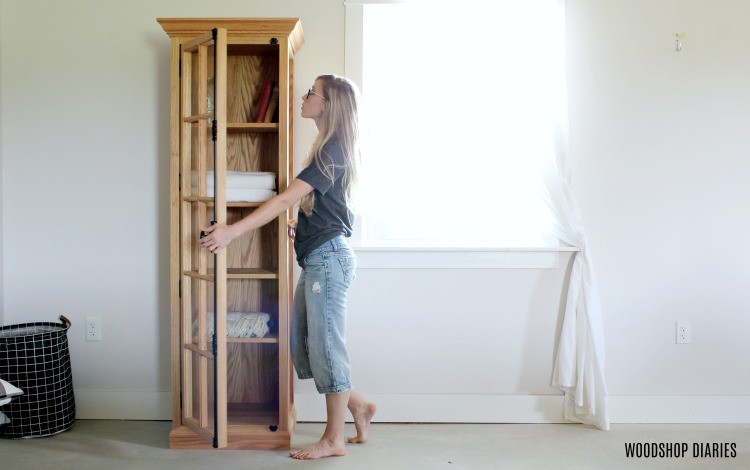 I was in search of the perfect bathroom storage that was functional and spacious. Plus, the glass door gives it character!
So, I put together this little linen cabinet that can house all of my bathroom things (plus some!)
---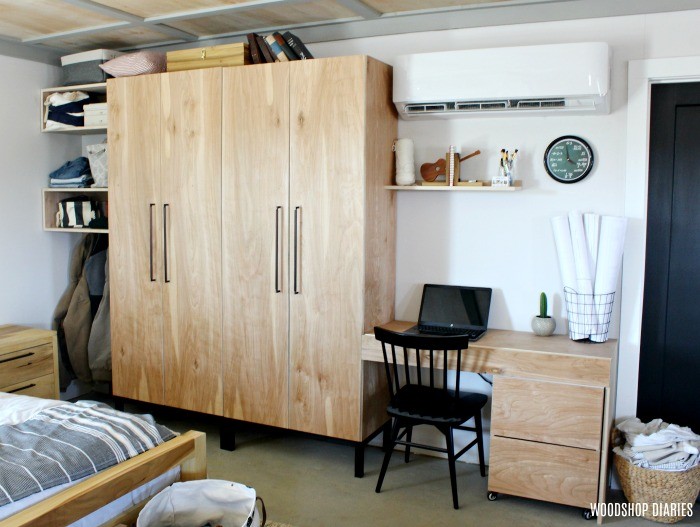 Need more closet space and organization? Who doesn't, am I right?! DIY storage cabinets are the perfect solution.
If you're living in a home with little to no closet space…or maybe you just have more clothes than you know what to do with.
Add some closet space with these easy DIY cabinets. They certainly were a huge help for us when we lived in the garage apartment.
---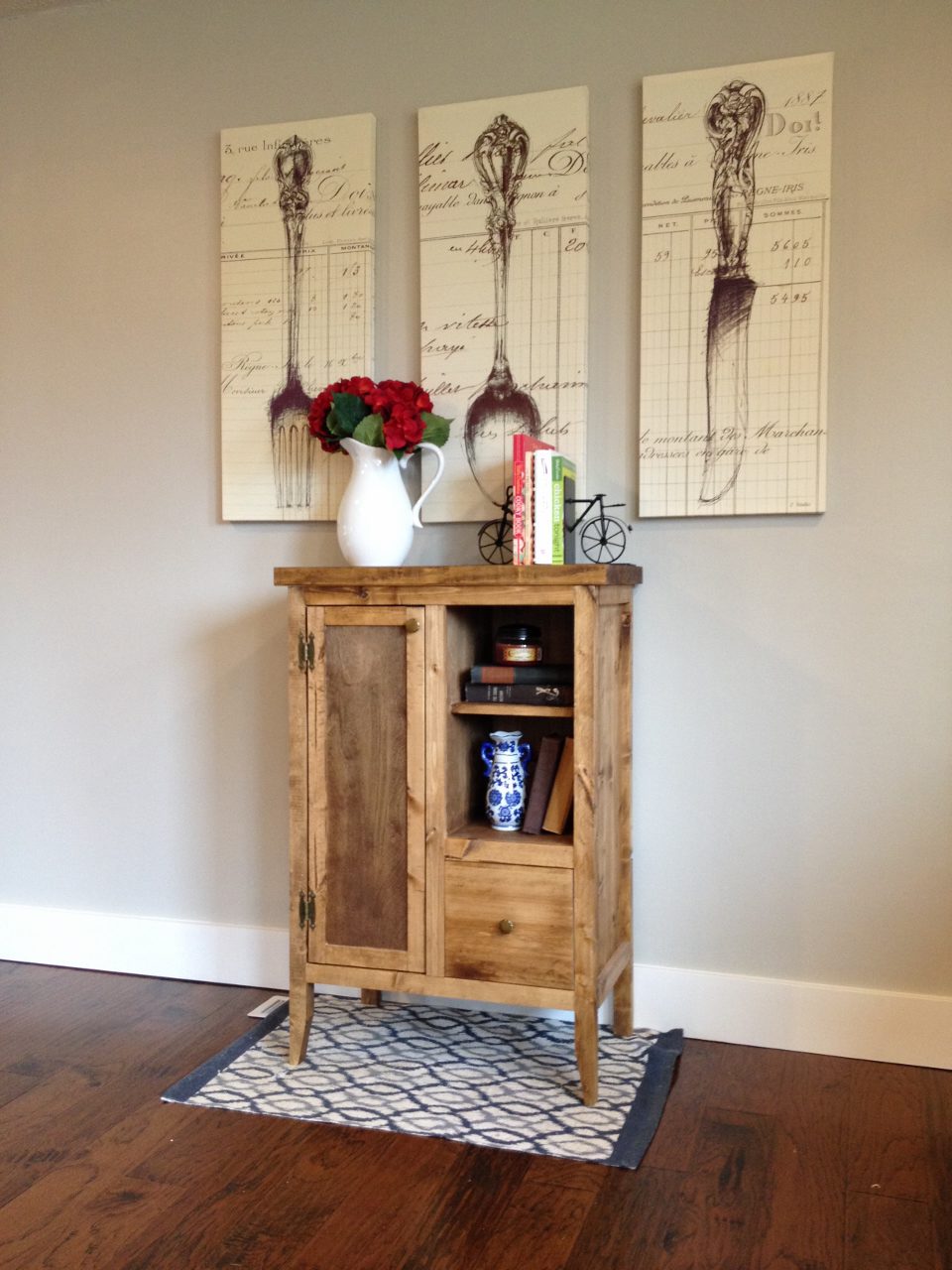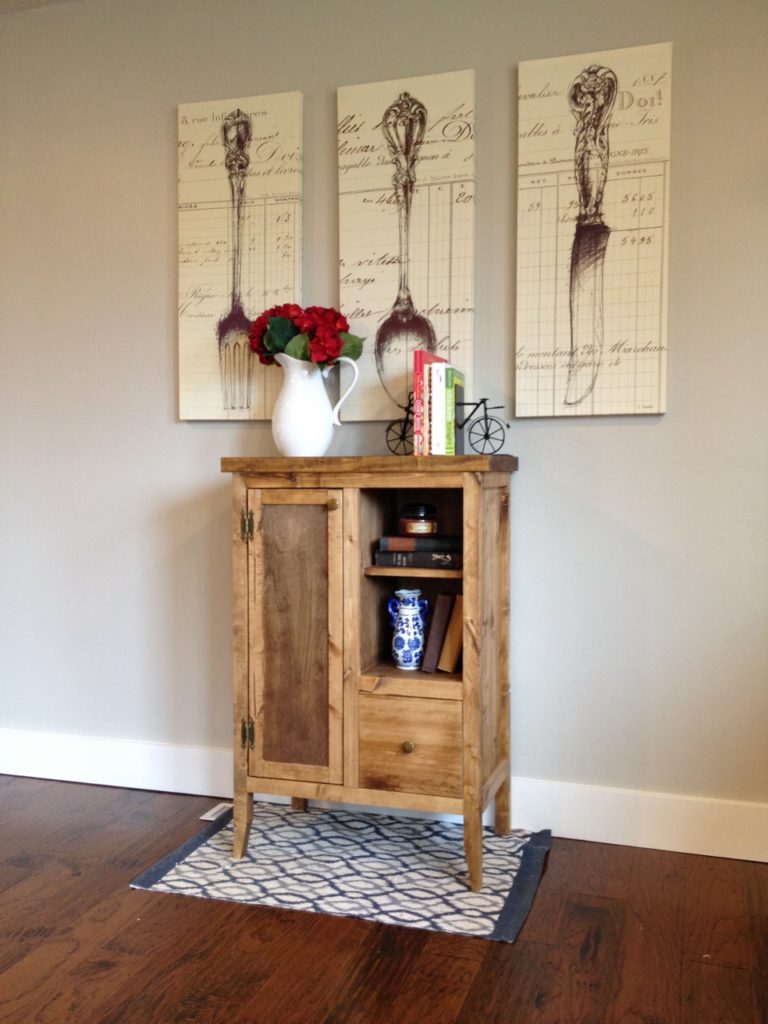 Want to add a unique DIY coffee cabinet to your kitchen?
I am loving how simple yet functional this coffee cabinet is. It has so much storage space with a cabinet door and storage drawer.
---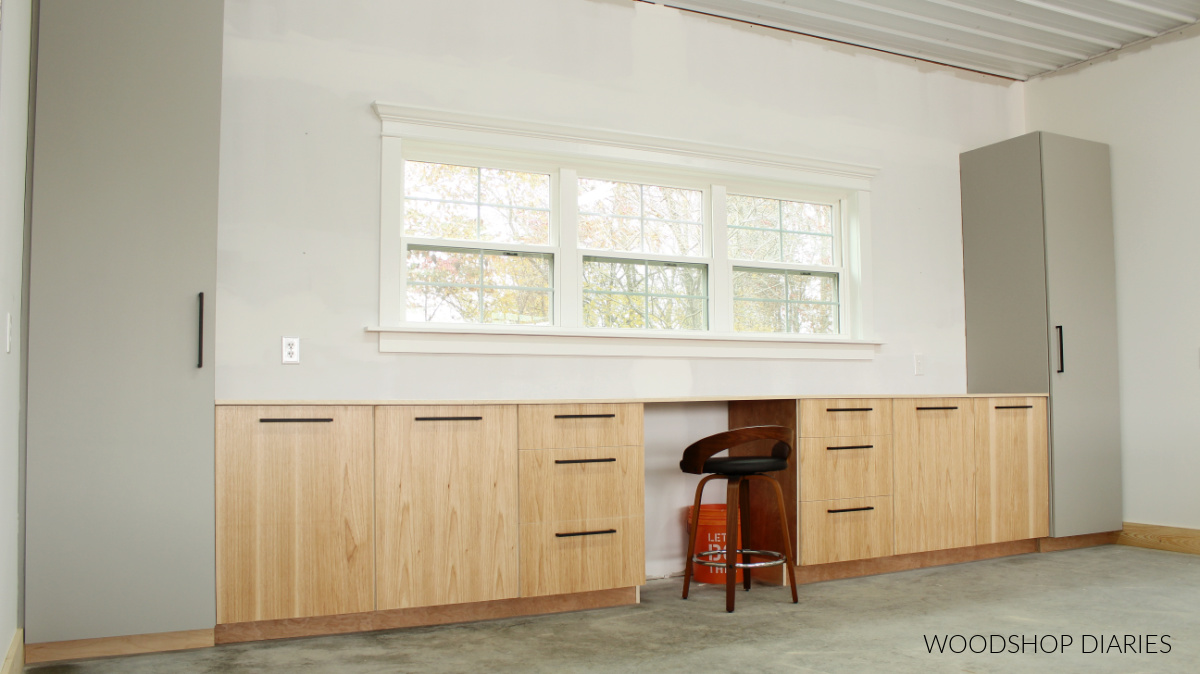 After unpacking most of my stuff in the new shop, I still had some paints, spare parts, and just some odds and ends items with nowhere to go.
So I built these base and pantry cabinets and I loved the way they turned out. It gave me space to work and so much added storage for organization.
If you're looking to add cabinets to your shop, kitchen, or just make a built-in, this is a simple way to go about it–using only plywood.
---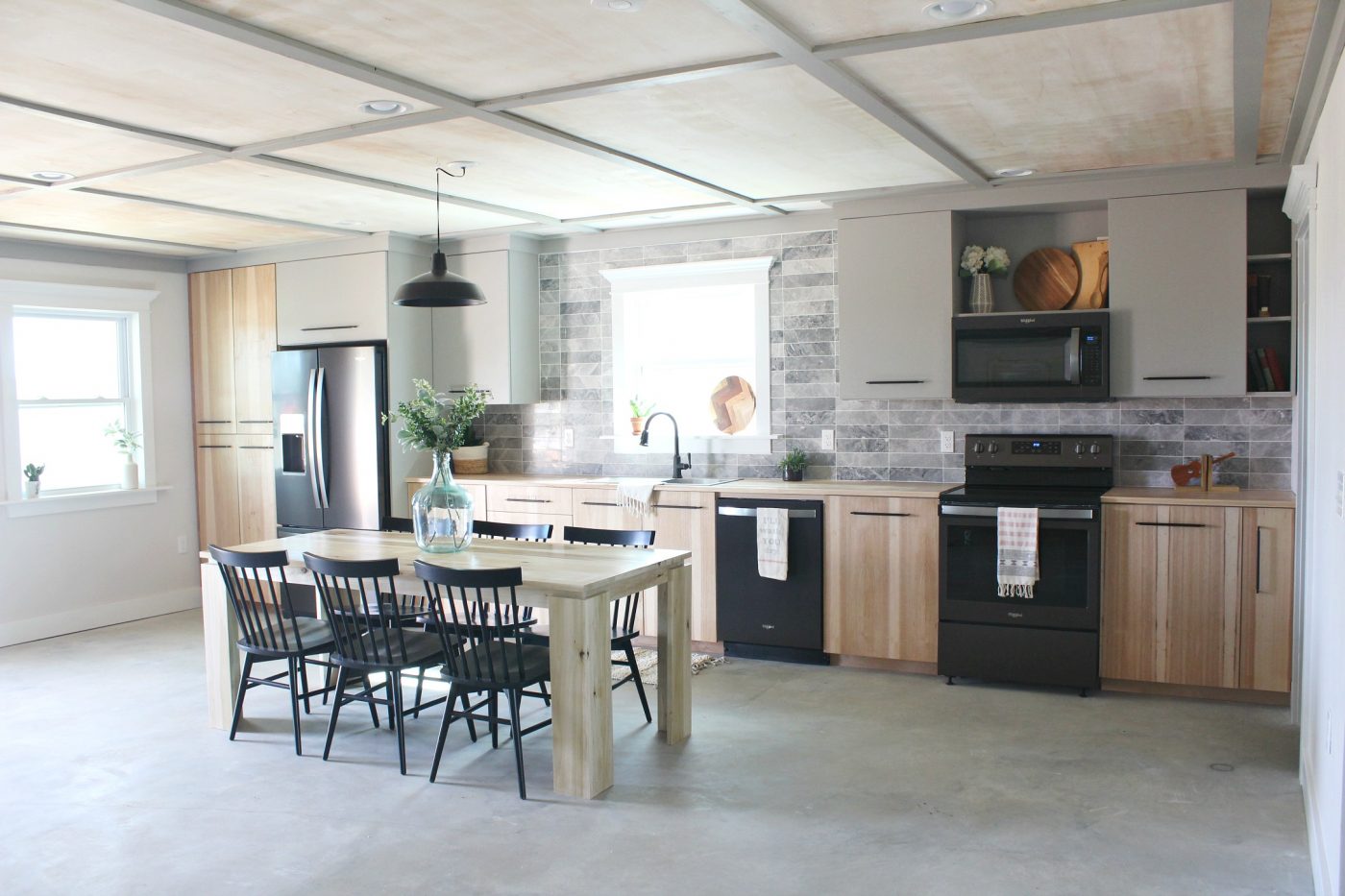 Building your own DIY kitchen cabinets seems like a pretty intimidating project…or is it just me?
But, you know what I found out?? Building your own DIY cabinets is really an easy project to take on.
It's totally doable with just a few basic tools and some good quality plywood…oh and patience!
---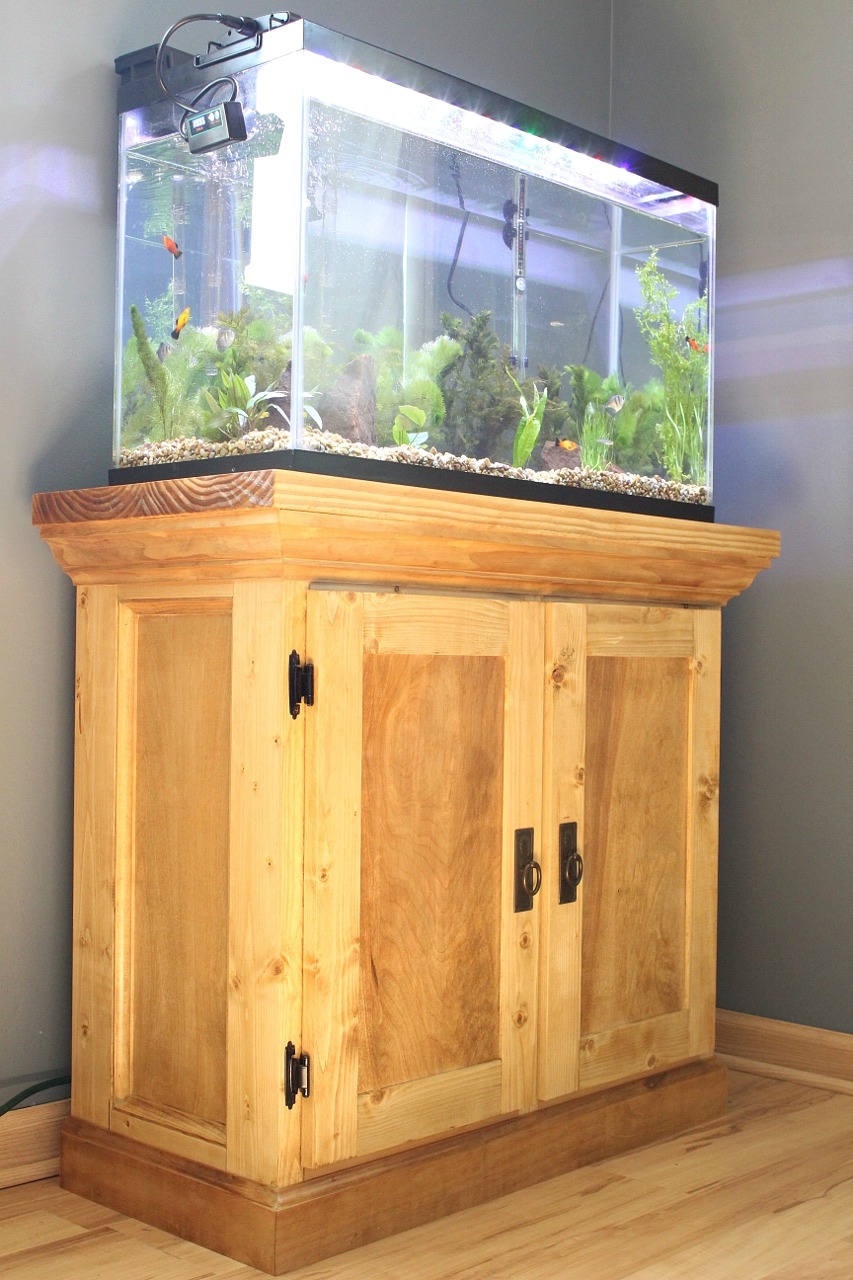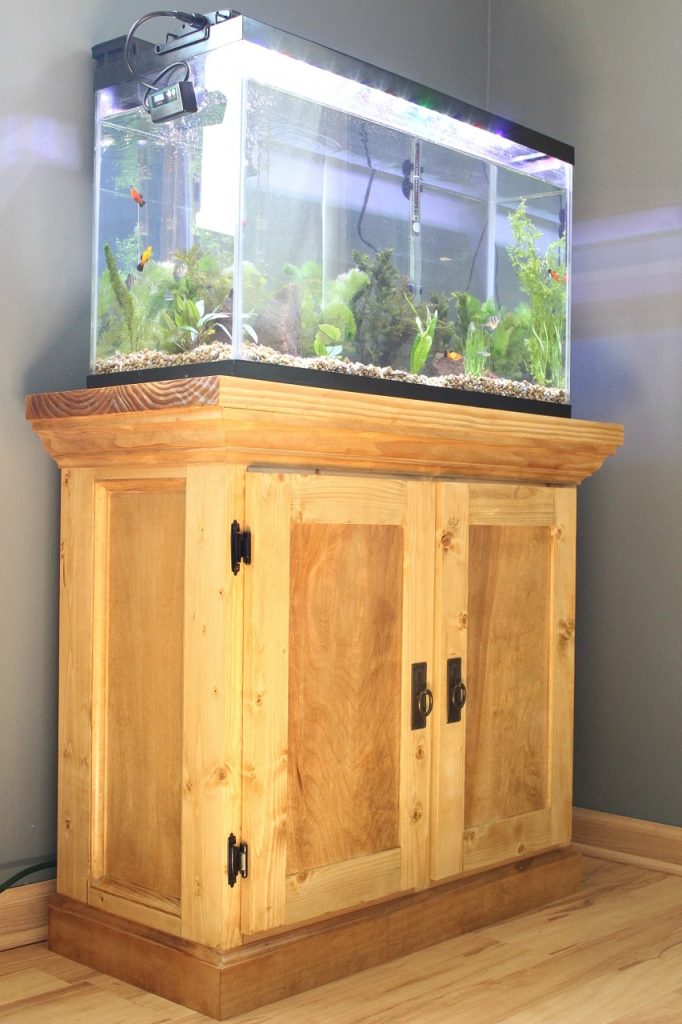 When Danny decided he wanted a "man cave" with an aquarium, that meant I was tasked with building him a new DIY aquarium cabinet stand.
I built this stand to be extra sturdy since it was going to be holding quite a bit of weight with all the water.
Even though I built it to hold an aquarium, it would also make the perfect storage cabinet, TV stand, coffee bar, or whatever you need a little extra storage space for.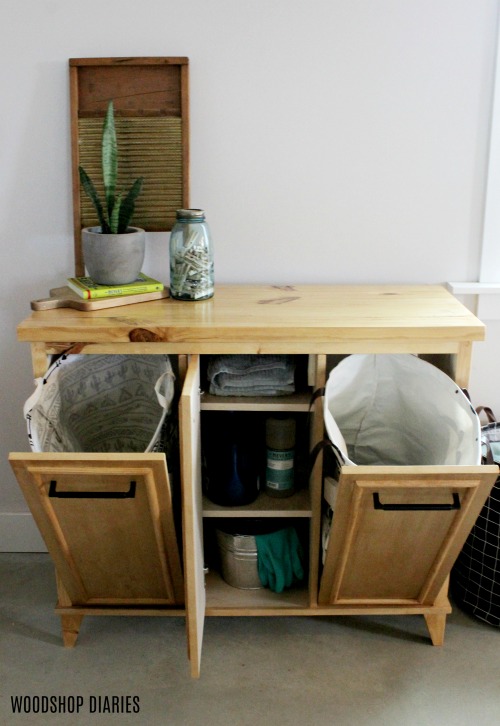 Are you needing extra laundry room storage space? This DIY tilt-out laundry hamper cabinet is the answer!
It's got two tilt out sections and a middle storage cabinet for extra organization. Plus there is top space to fold your clothes!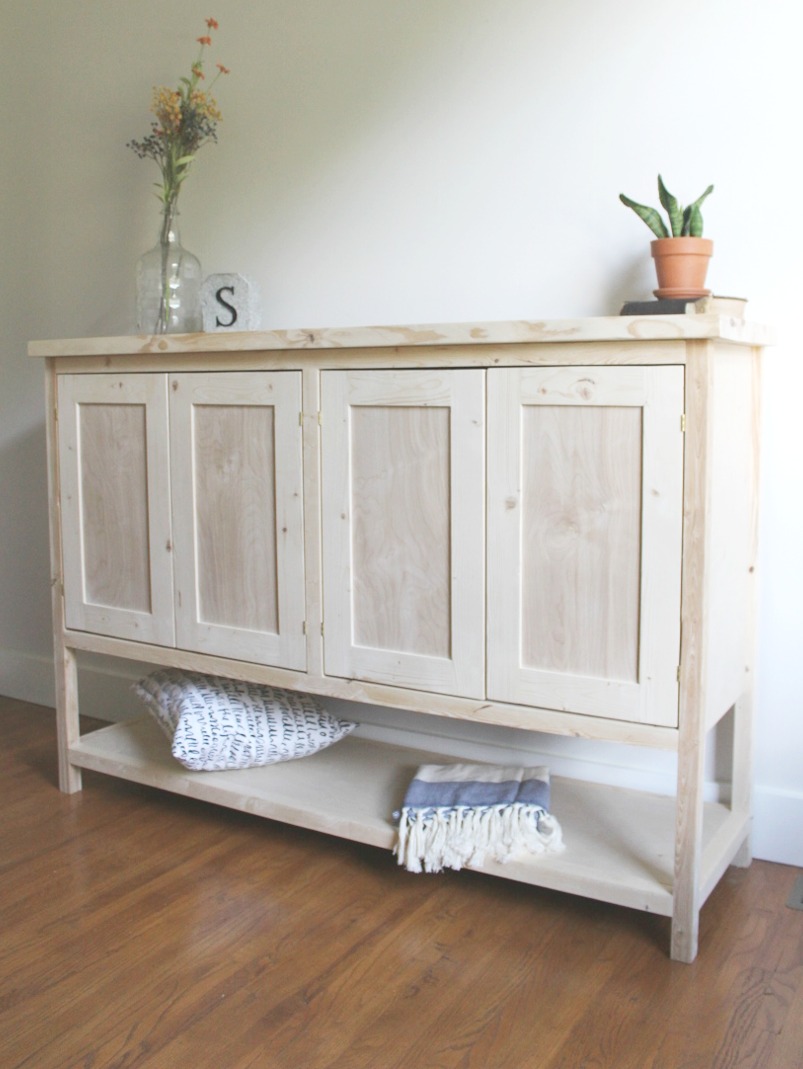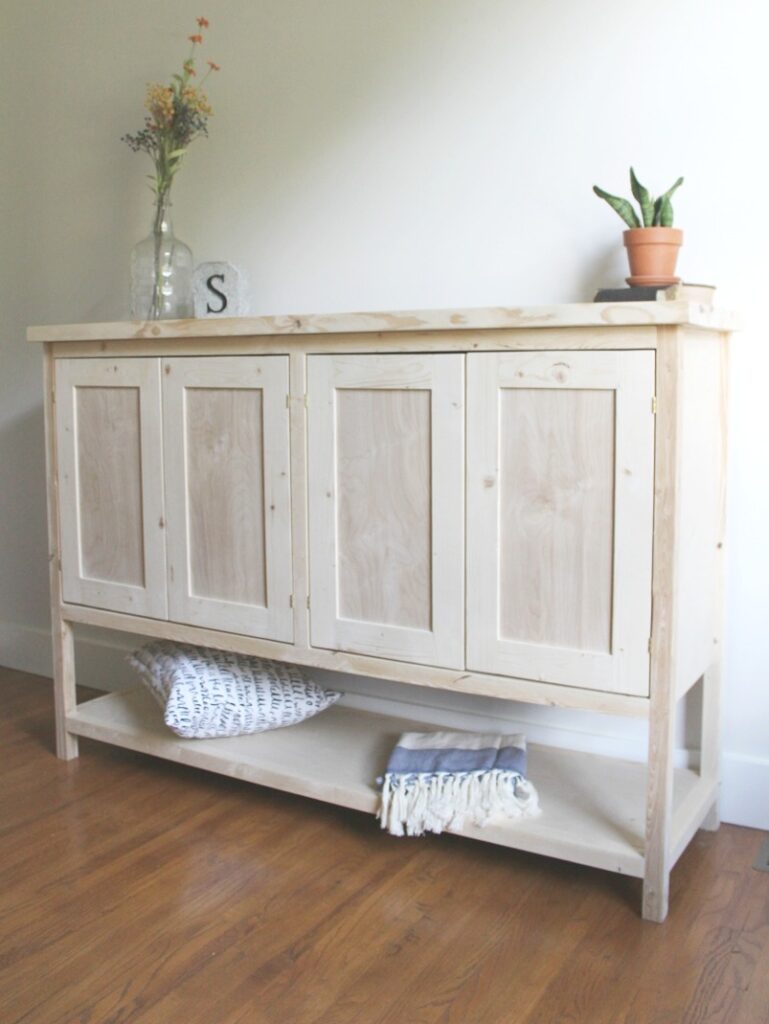 In a world where chalk paint is the queen of Pinterest and furniture makeovers are the hottest trend, I was so glad that the friend that asked me to build this project wanted it left natural!
This console cabinet is the perfect addition to any space you need as it gives you a place for all of your home organizational needs between the cabinet space and also the open space below.
---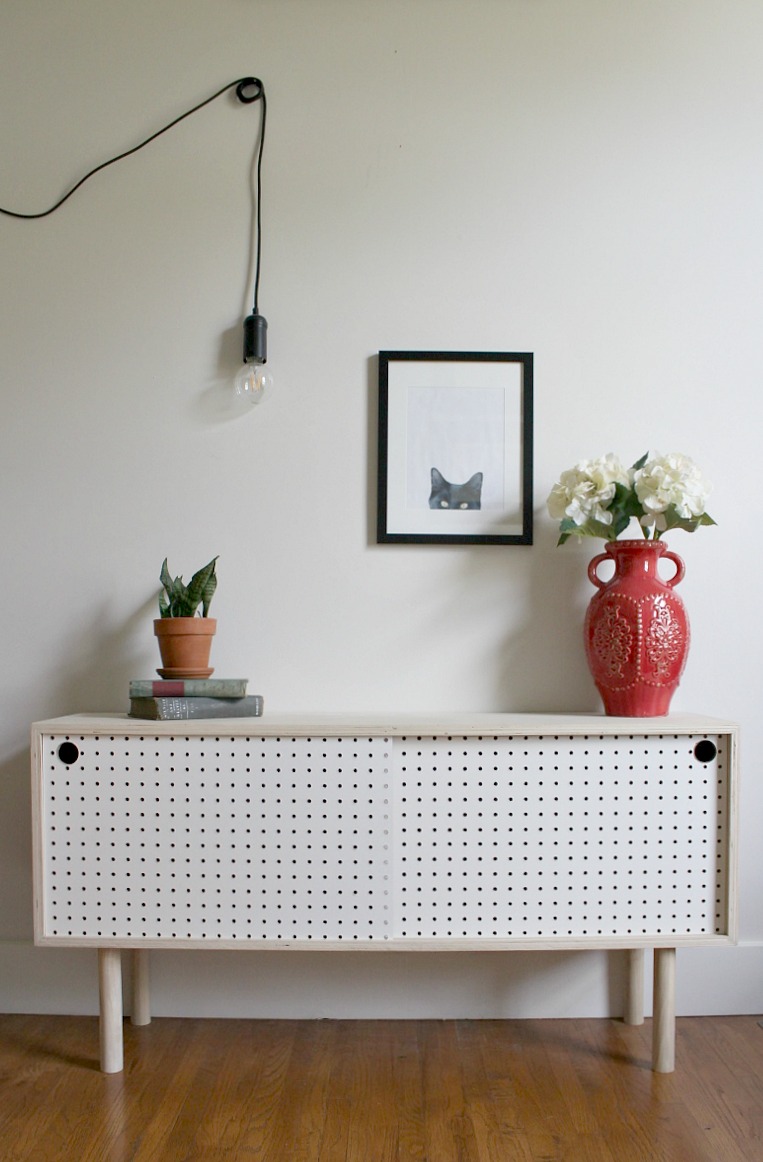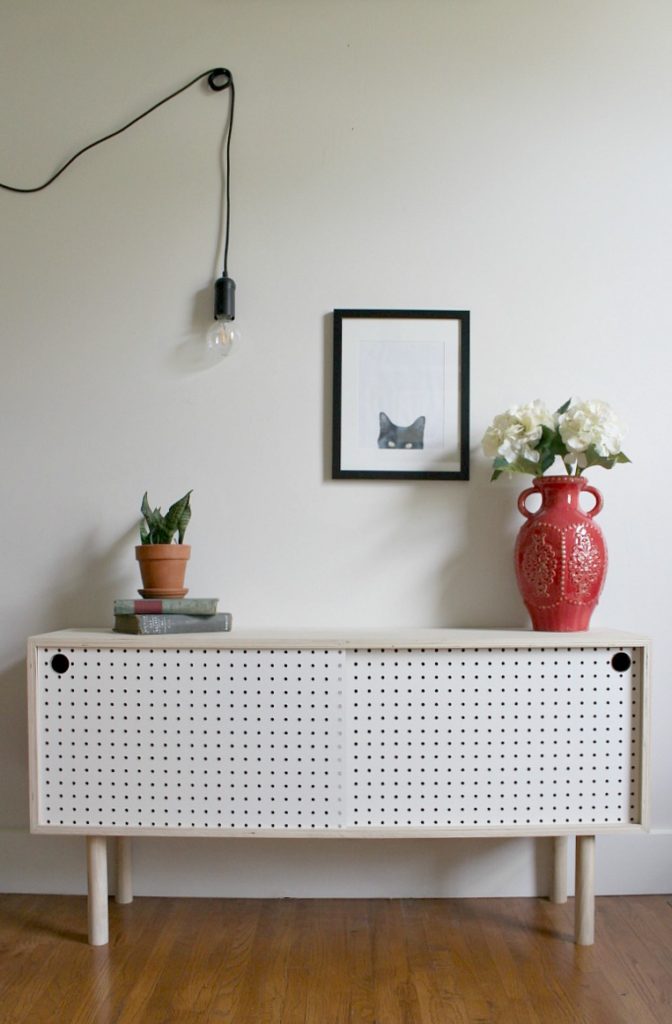 I've always had a bit of a "retro style." So, digging deep back into 2017, this pegboard cabinet was a fun build!
This storage cabinet is simple to make using only two sheets of plywood! It is sure to give your space personality and plenty of storage space!
---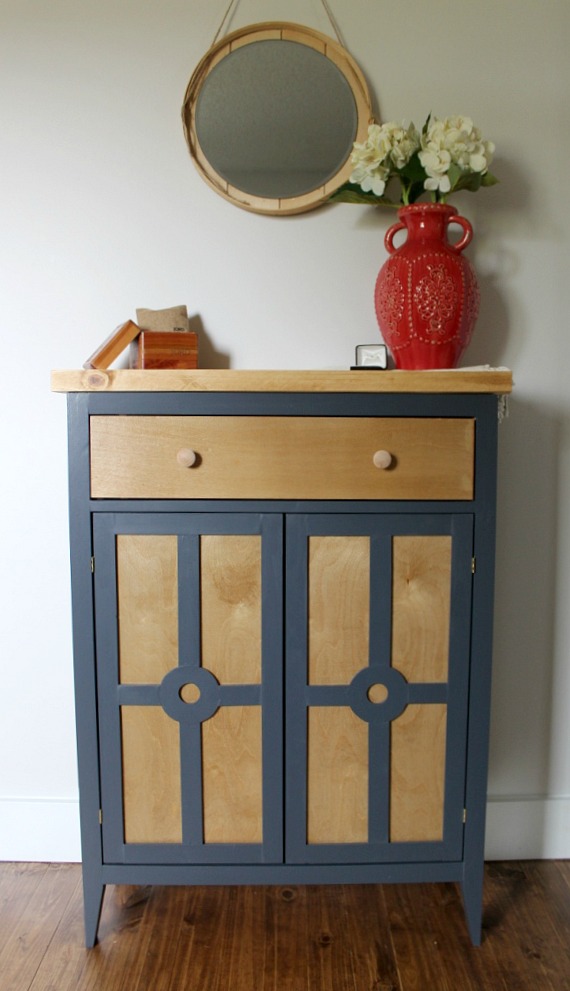 I believe that everyone needs a good entryway cabinet! A place to lay your keys, mail, odds and ends. But, also a place to hide the mess.
This entryway cabinet gives you so much needed storage for all of your needs not to mention it's BEAUTIFUL!
The cabinets give you a place to store blankets or pillows while the drawer gives you a place to lay your keys out of sight but safe keeping!
---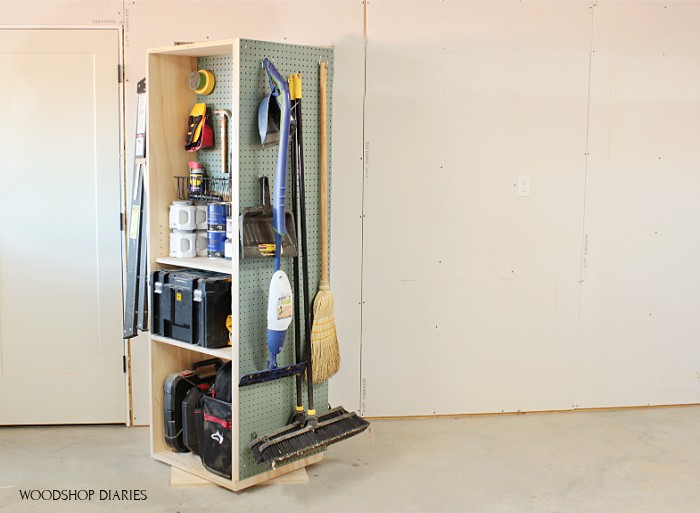 When it comes to workshops and garages, they can never have enough storage.
So since it's impossible to have enough storage space, the key is organization… *wink wink*
This Lazy Susan DIY Garage Storage Cabinet has a place for everything–with added storage for larger items at the bottom, smaller items at the top, and pegboard for items on the side.
I hope this list of DIY storage cabinets inspires you to build your own! Which one is your favorite?
Don't forget to pin for later!