In this post, I'm sharing how to build a DIY sliding door cabinet perfect for a coffee station cabinet or even a TV stand!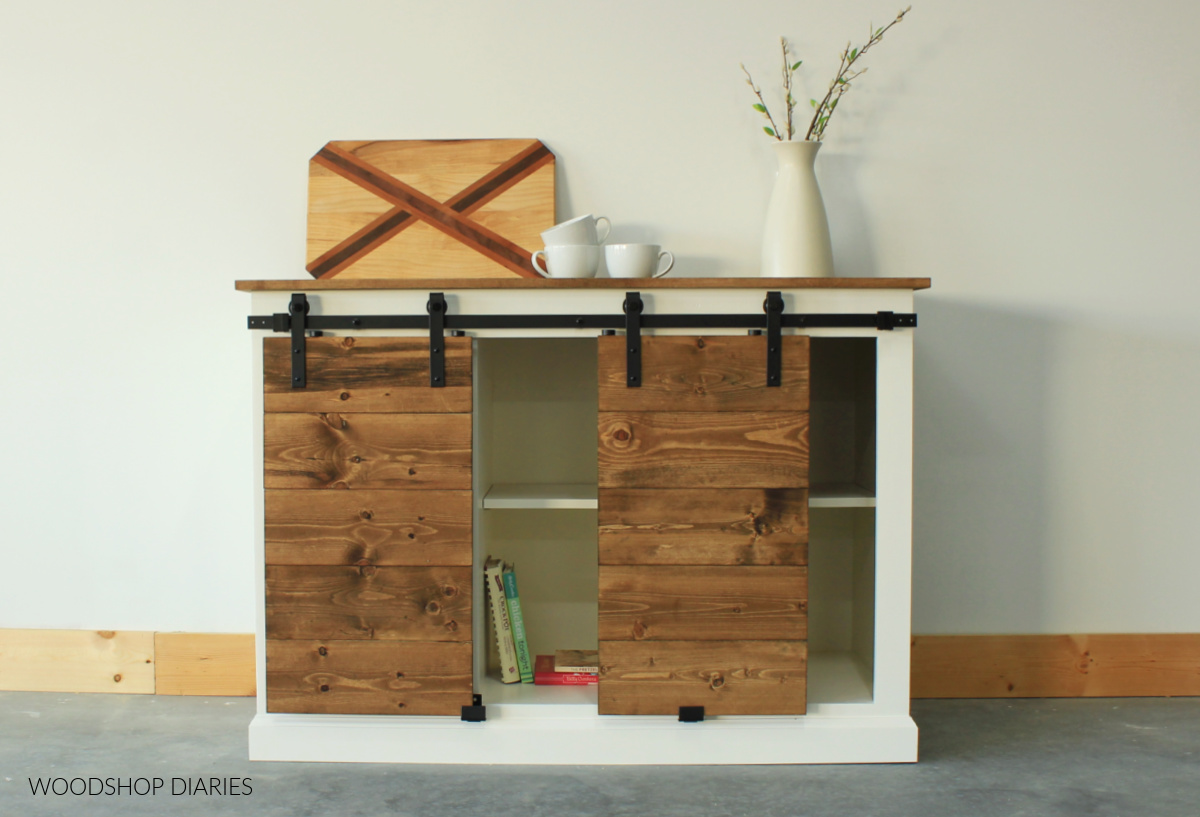 This post is sponsored by my friends at Kreg Tool and contains affiliate links. See website policies.
This simple DIY sliding door cabinet is a great way to add some extra storage to your kitchen or pantry.
But it would also make a great console in a dining room or even in your living room as a media cabinet.
Adjustable shelves provide flexible storage and the sliding doors are a fun addition to add some rustic charm.
But they're also great for hiding what's behind them.
I'm excited to be sharing the building plans with you, so if you're ready to dive in, let's go!
Tools & Materials:
Materials:
(1) 4×4 sheet ¼" plywood
(2) 1x6x8 boards
(2) 1x3x8 boards
(1) 1x4x8 board
(1) 8' piece 3 ¼" tall baseboard trim molding
Iron On Edge Banding (optional)
1 ¼" brad nails
What to Know Before Building
Here are some tips and additional information about this DIY sliding door cabinet you may find helpful before building!
Cutting Down Plywood Sheets
The main body of the cabinet was built with ¾″ birch plywood.
So, the first thing I did was cut down my plywood sheets.
I used a circular saw and Kreg Rip Cut and Kreg Accu-Cut guides to help me cut everything down to size. Rip Cut shown below.
RELATED: How to cut plywood sheets using a circular saw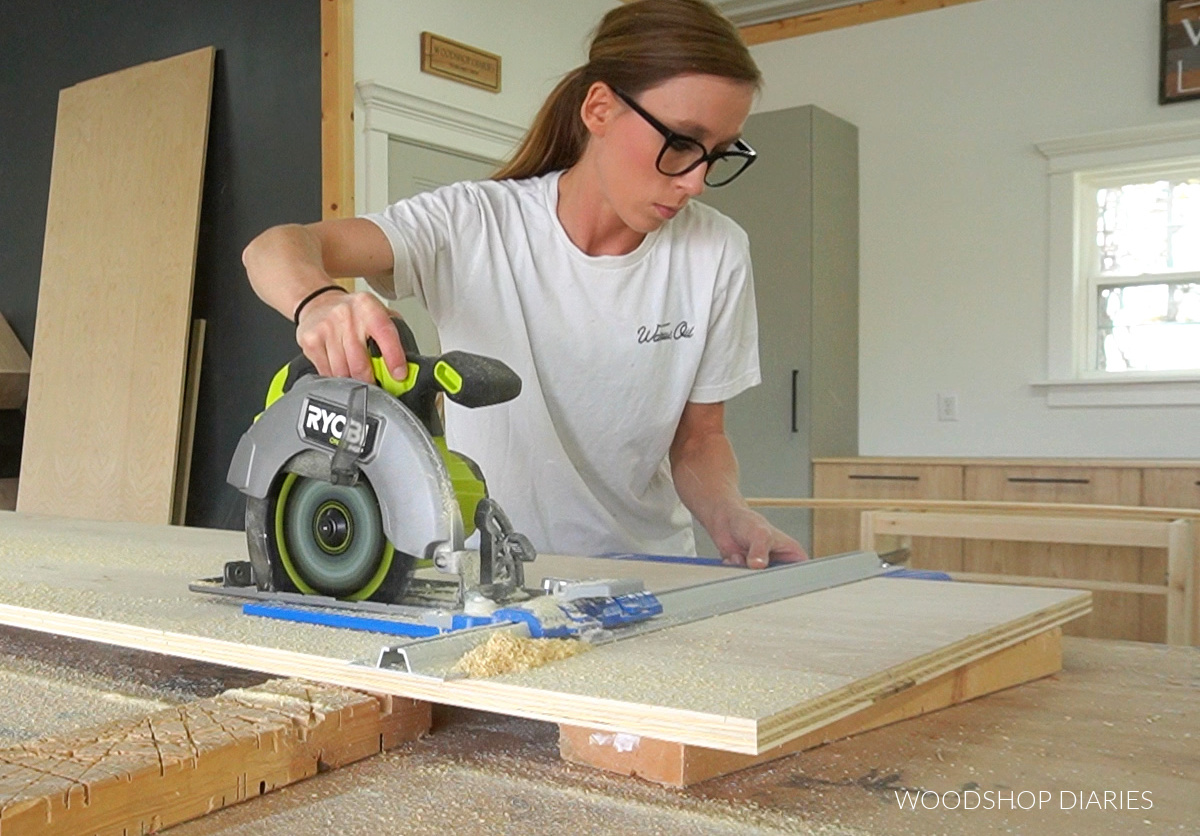 Normally, I don't recommend cutting all your pieces at the beginning of a project, but in this case, it would work fine.
I cut three bottom panels, four side panels, 6 strips for the top supports, the top, and the shelves.
I've provided the cut diagram and full cut list in the plans linked below.
Overall Dimensions
The overall dimensions of this cabinet are approximately 50″ wide, 35 ¼″ tall, and 22″ deep.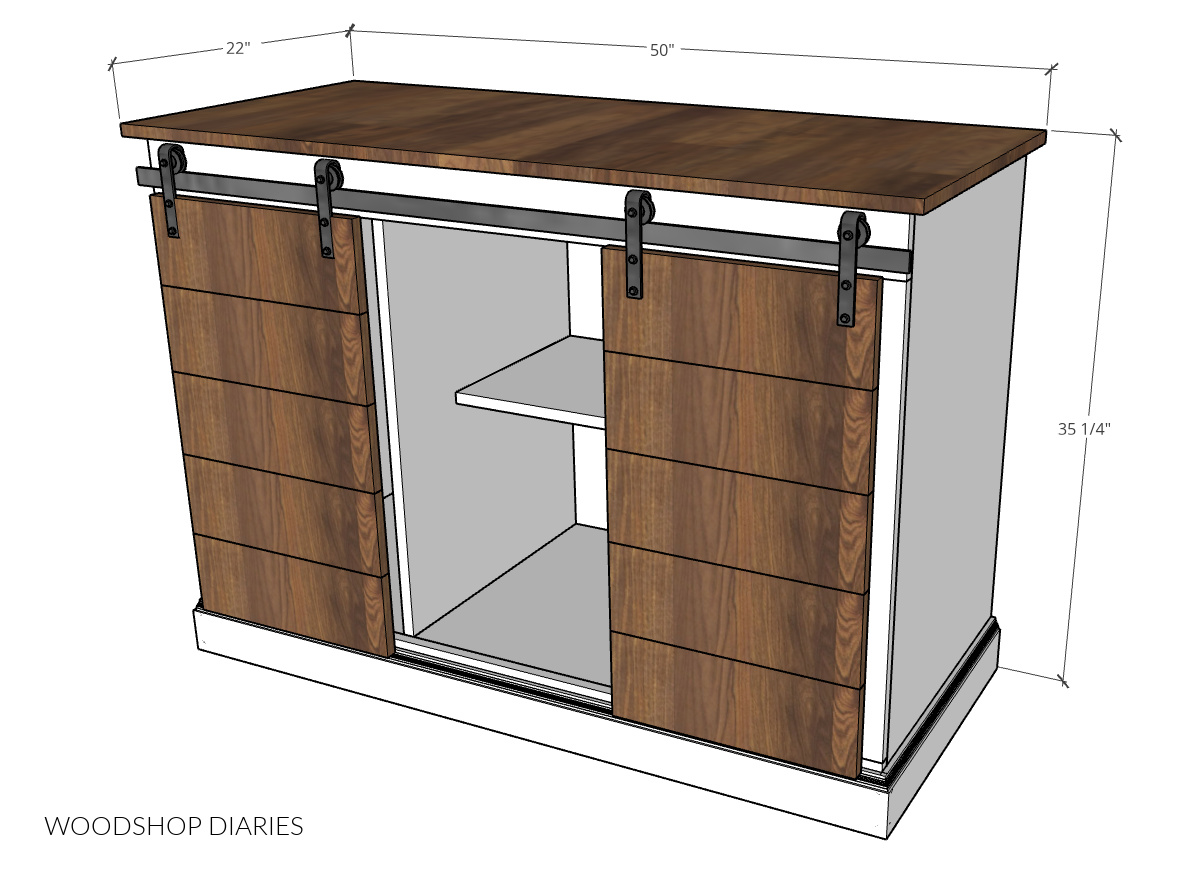 However, the sliding doors do stick out a little further than the countertop of the cabinet, so the above dimensions do not account for the doors.
Additional Resources
You may find these guides helpful for various tasks throughout the build:
How to Build a DIY Sliding Door Cabinet
I'm sharing the written tutorial below, but if you prefer to watch, I've also got a video here:
Step 1: Assemble Sliding Door Cabinet Body
I cut down ¾″ plywood panels for the 3 bottom pieces, the 4 side/divider panels, and the 6 top support strips.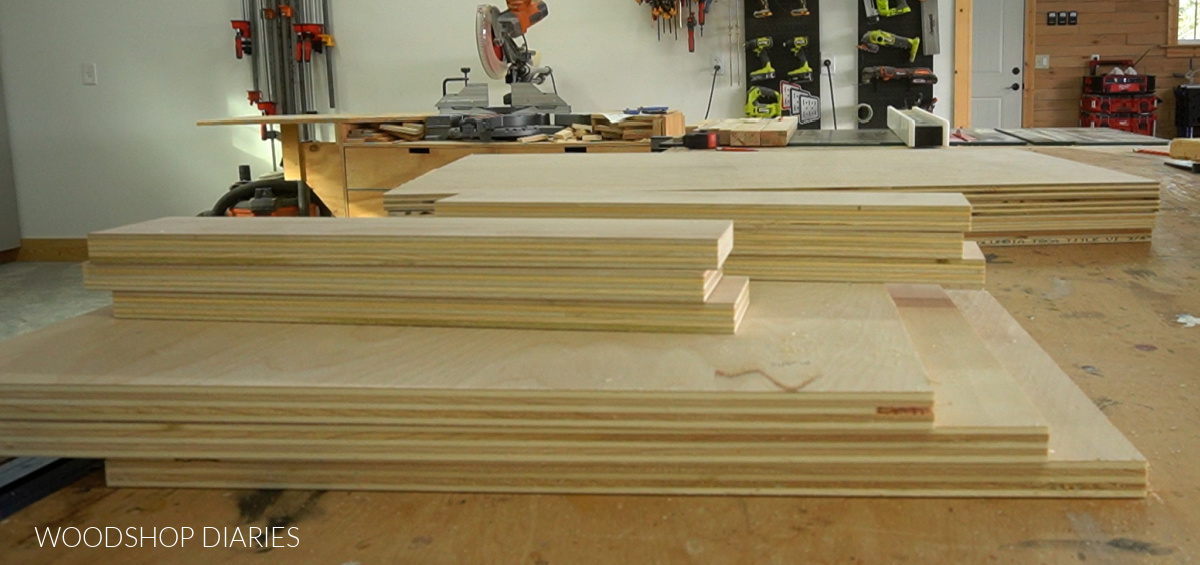 The full cut list can be found in the plans.
The front edge of the two middle divider panels will be exposed in the finished project.
So I applied iron on edge banding to them before assembling.
RELATED: How to apply iron on edge banding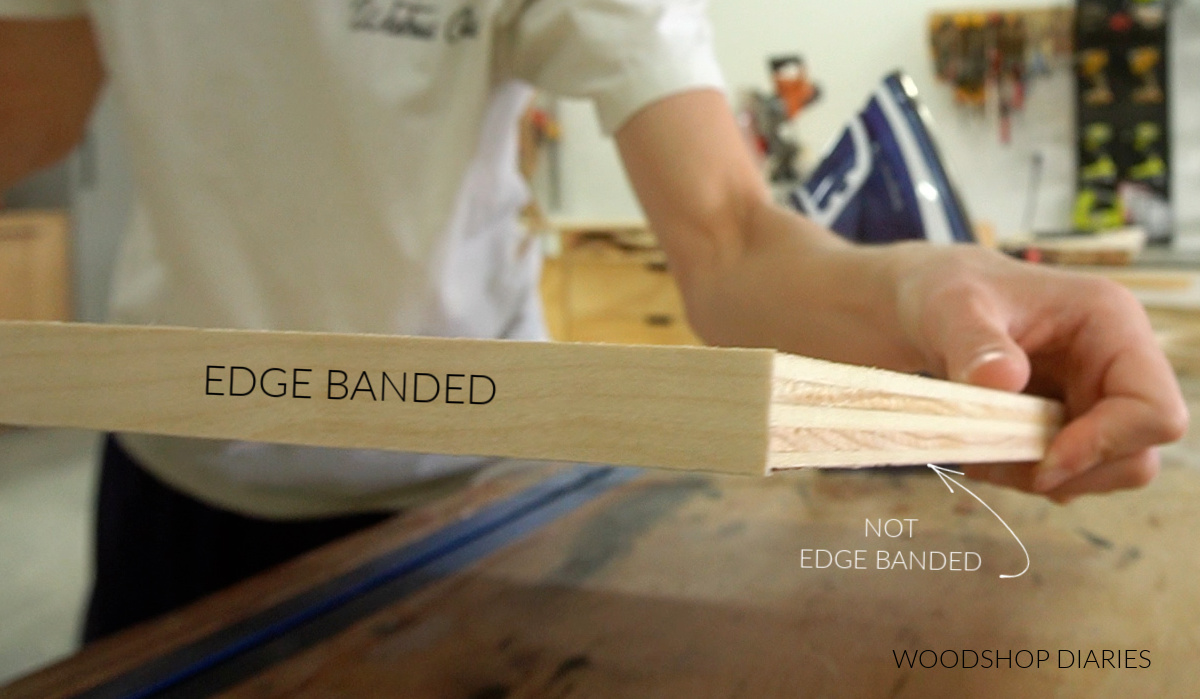 HELPFUL TIP: People often ask if you have to use edge banding if you're painting. And no, you don't.
It's totally up to you. You could putty and sand the edges instead, but I'd rather just iron on the banding.
It's a lot quicker and the edges are still smoother in the end.
I used a Kreg 720 pocket hole jig to drill ¾" pocket holes into the ends of the short top support pieces and along the ends of the bottom panels.
RELATED: Which pocket hole jig is best?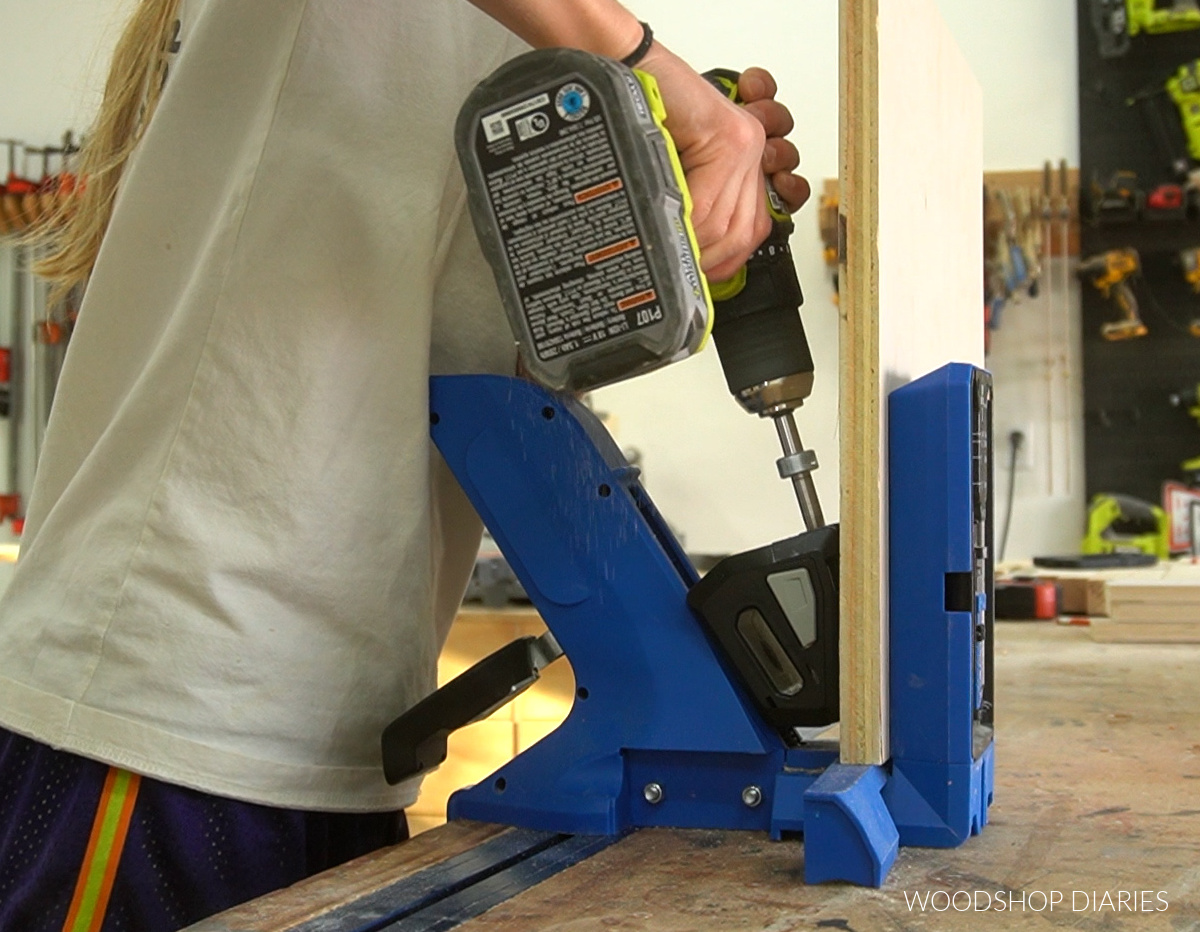 Then, I began assembling the cabinet using 1 ¼" pocket hole screws.
RELATED: How to use a pocket hole jig
I used a scrap 1×4 block to install the bottom panels 3 ½" up from the bottom edge of each side.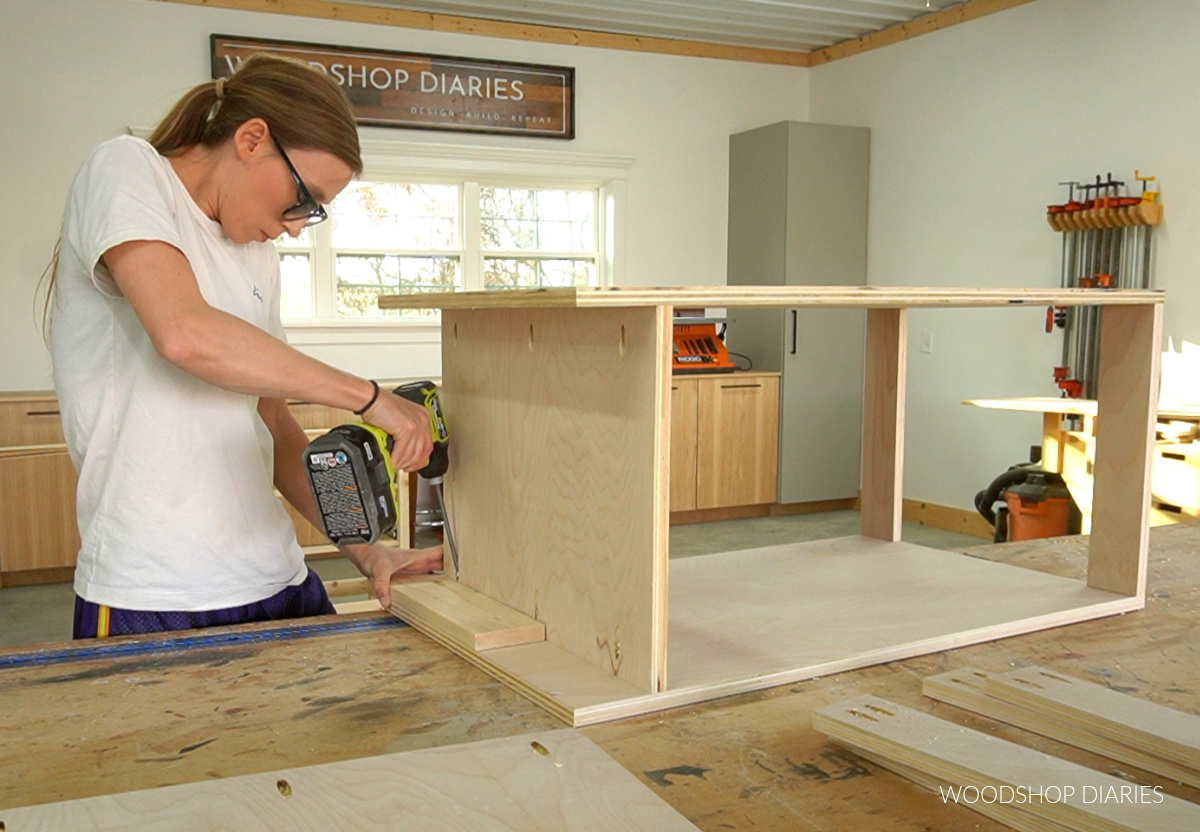 I installed the top supports flush to the top edge—one at the top and one at the back.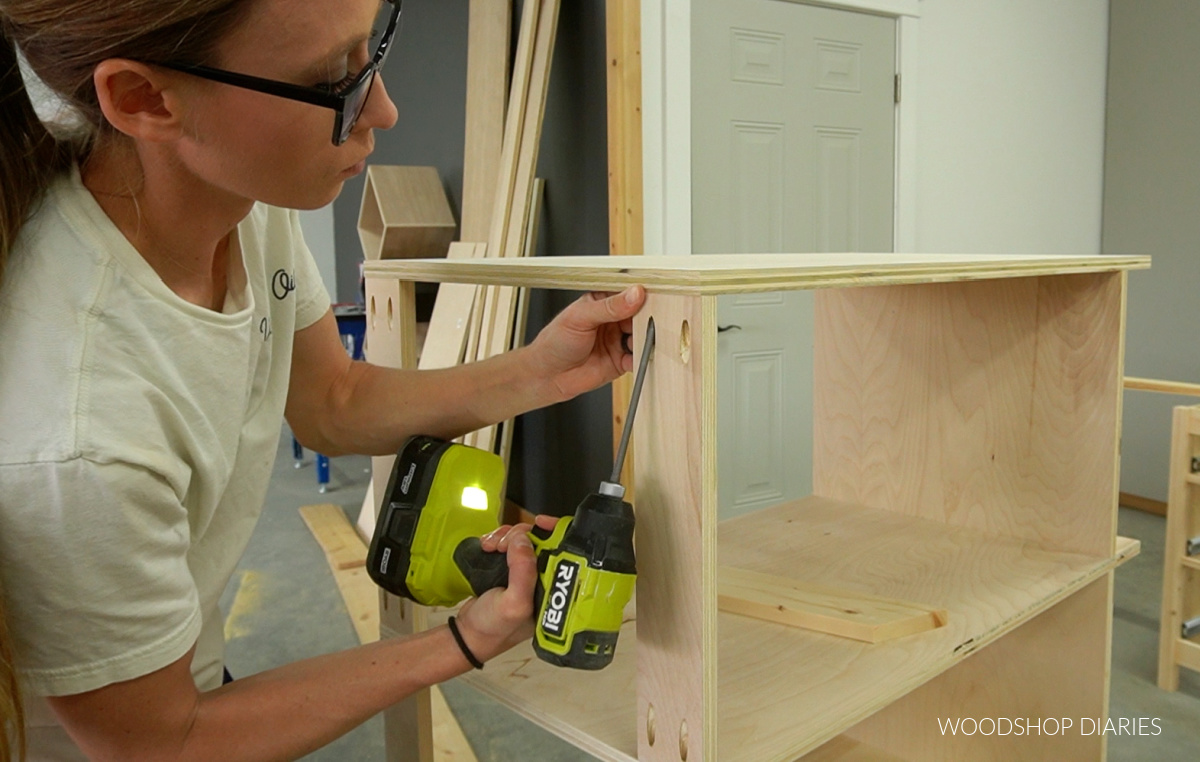 I made sure to keep the edge banded panels in the middle as I assembled everything.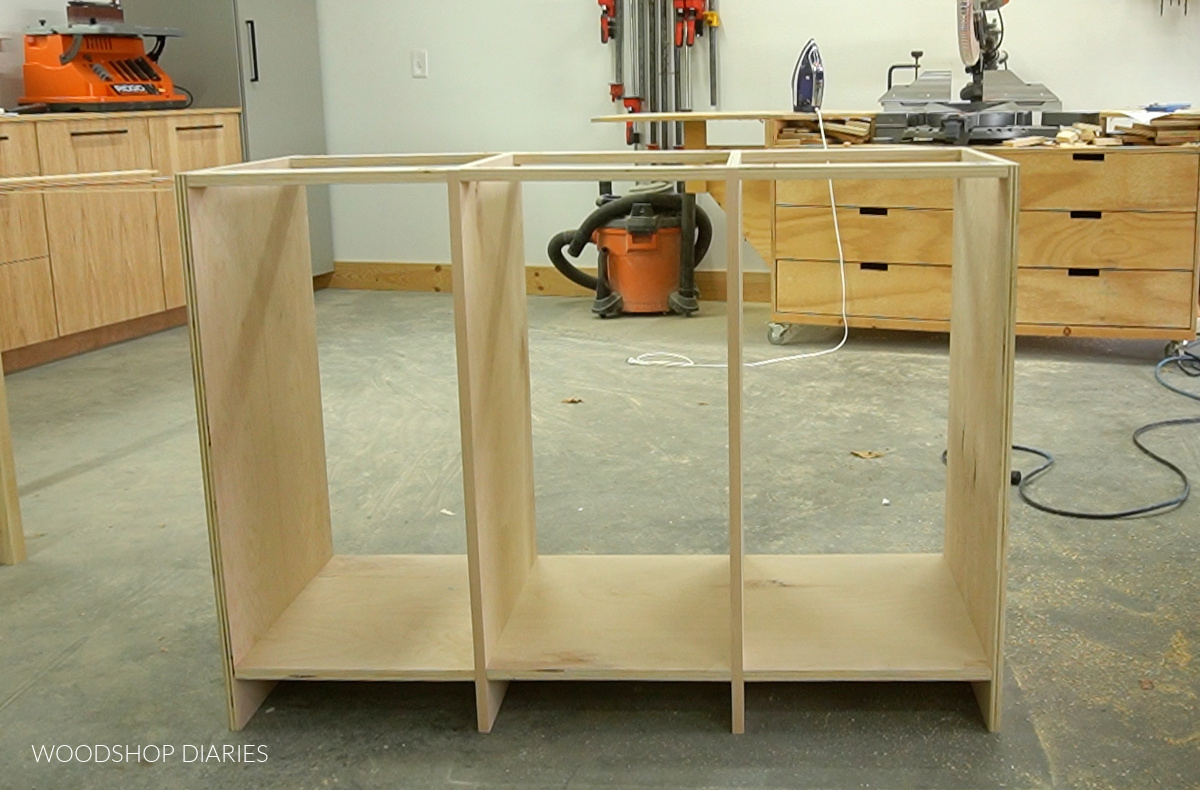 Step 2: Build Face Frame
I only added a face frame along the top, bottom and sides of the cabinet.
I didn't frame the middle two dividers—which is why I applied edge banding to them earlier.
So, I cut two pieces of 1×4 and two pieces of 1×3 to make a simple face frame.
Dimensions can be found in the building plans.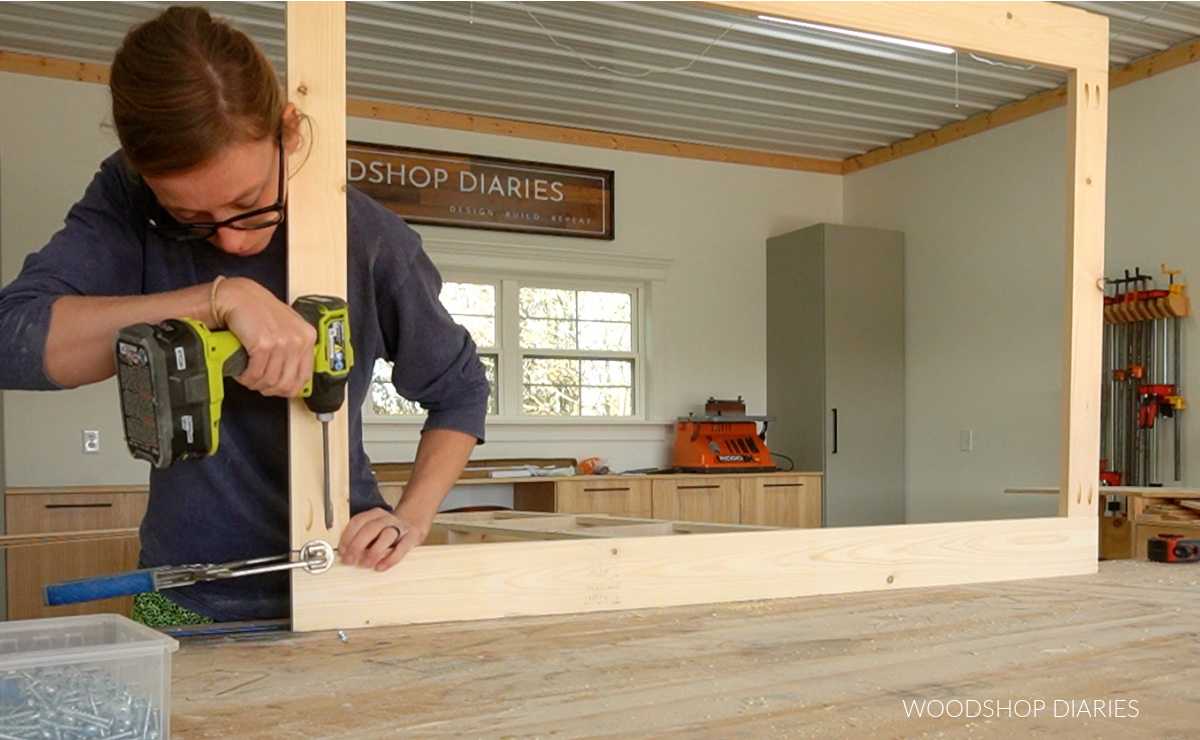 The 1x4s were for the top and bottom and the 1x3s were for the sides. I assembled using ¾" pocket holes and 1 ¼" pocket hole screws.
Step 3: Attach Face Frame to Cabinet Body
I test fit the frame onto the front of the cabinet body to ensure it fit. It's always good to test fit before gluing haha.
Then I added some glue and brad nailed it in place.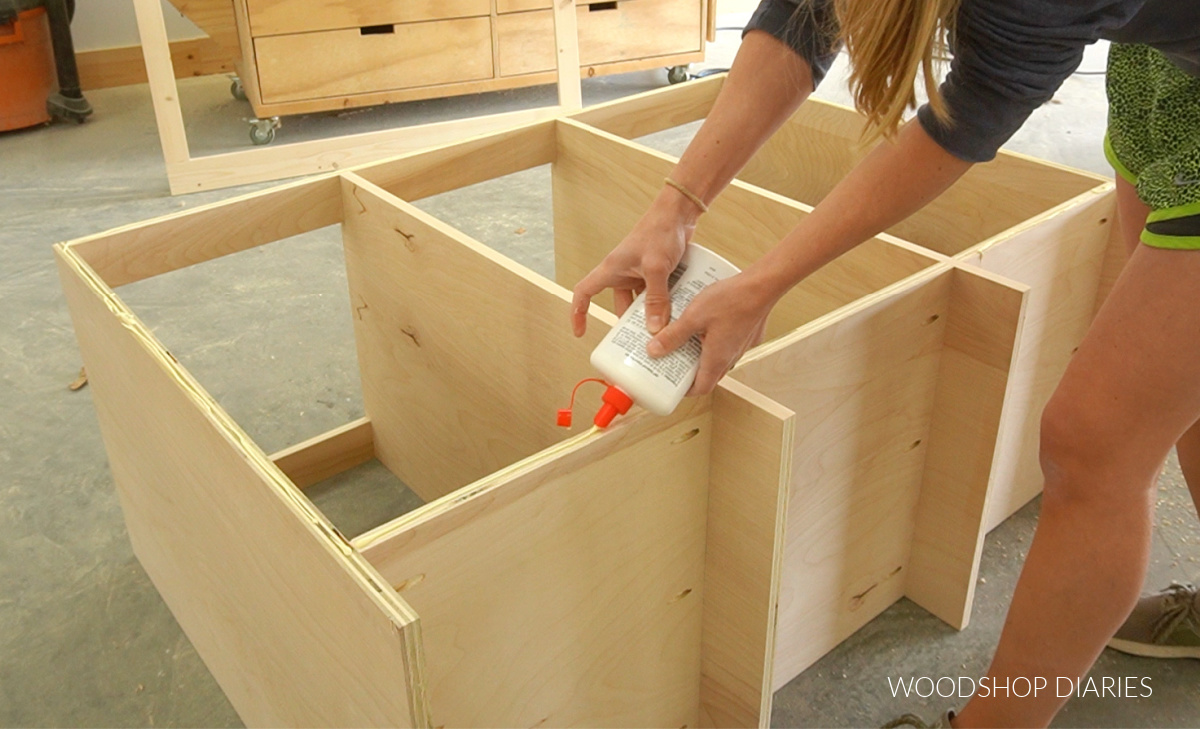 Notice that the face frame doesn't come all the way to the bottom.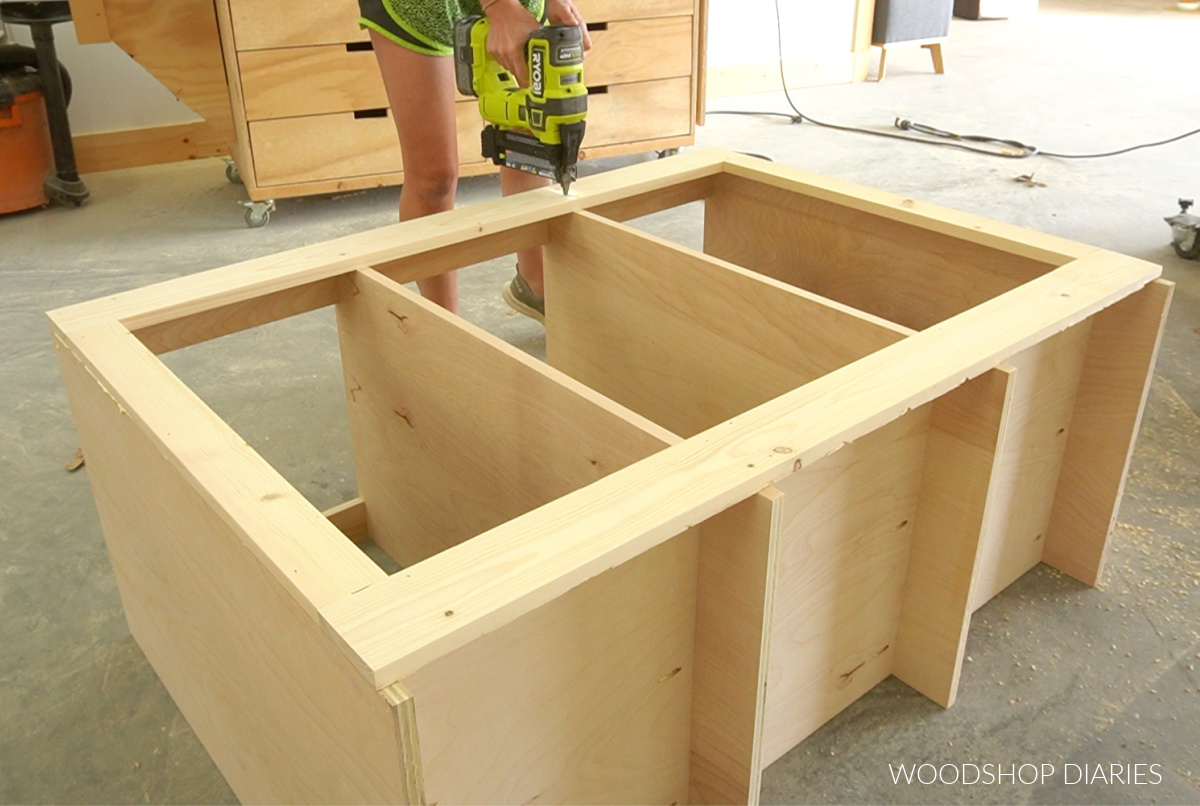 It's actually flush across the top of the bottom panels, but there's a ¾" space below it.
That's intentional. It'll be covered with trim.
Step 4: Add Baseboard Trim
Speaking of trim, the next step was to add some baseboard trim around the bottom.
I cut to fit 3 ¼″ tall baseboard trim to go around the sides and the front of the cabinet.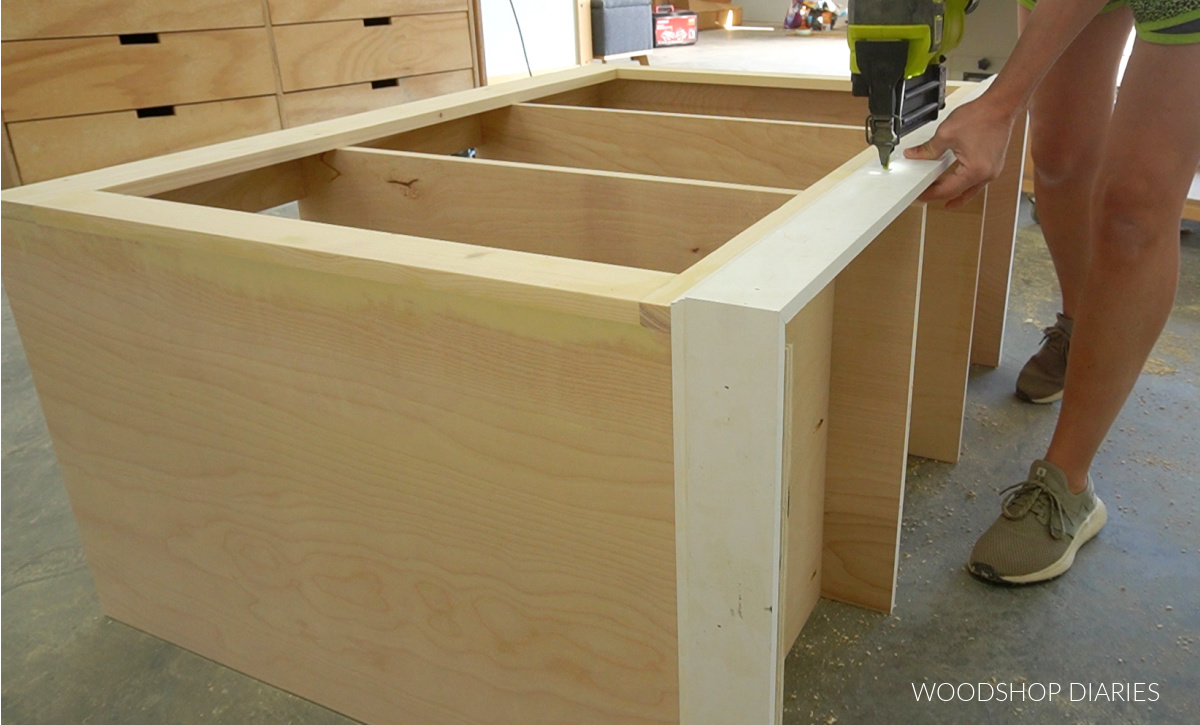 I mitered the corners 45 degrees, and glued and nailed them in place.
This front piece will cover the gap left below the face frame.
Step 5: Add Shelving
I pulled out my Kreg Shelf Pin Jig and drilled shelf pin holes in the three cabinet sections to install adjustable shelves.
RELATED: Learn more about the shelf pin jig in this post
I used some scrap wood blocks to help me space these holes where I wanted and made sure that the front holes were a little under 14" from the back edge.
This was because I only made my shelves about 14" deep.
I went ahead and cut three shelves from ¾" plywood according to the cut list in the plans.
Step 6: Install Back Cabinet Panel
I cut a ¼" plywood back panel to fit over the back side of the cabinet, and made sure it fit, but I didn't install it just yet.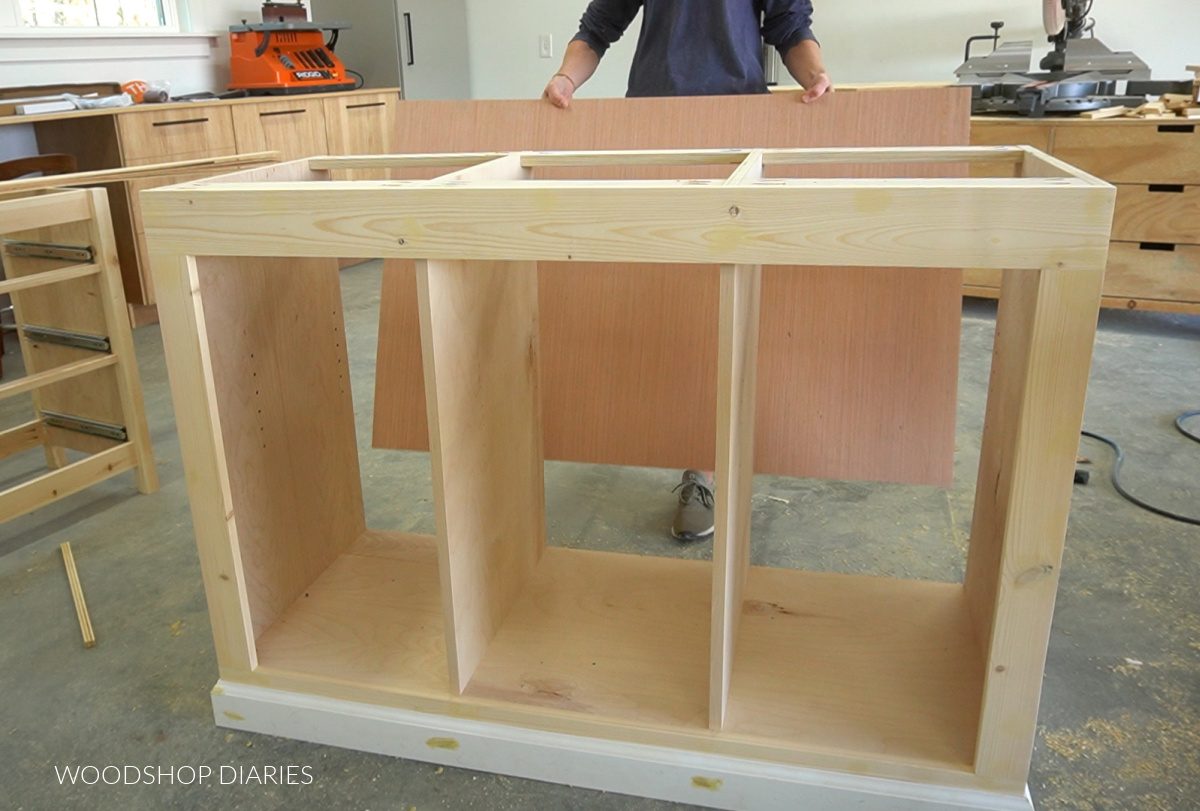 Before attaching, I went ahead and painted the cabinet, shelves and back panel pieces separately to make things easier.
I primed everything, then painted SW Cotton White.
RELATED: How to finish raw wood furniture
Once the cabinet, shelves, and back panel were all painted, I stapled the back panel onto the cabinet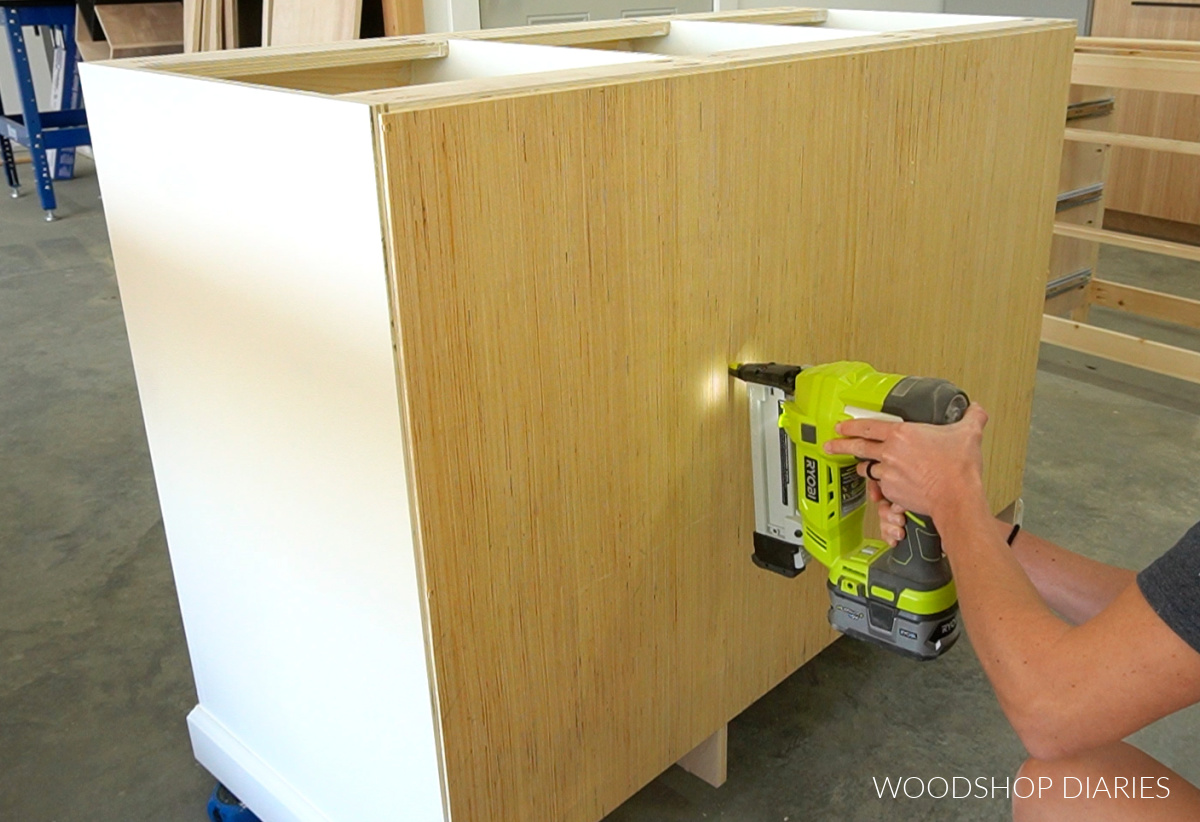 If you don't have a stapler, you can certainly just glue and brad nail the panel as well.
RELATED: What's the difference in brad nailers, finish nailers, and staplers?
Step 7: Add Top to Sliding Door Cabinet
I cut the top down to size earlier when I was cutting down my plywood sheets.
But, at this point, I applied iron on edge banding to the front and sides, sanded it, then stained it Minwax Provincial.
I centered it on the cabinet leaving 1″ overhang on both sides and the front.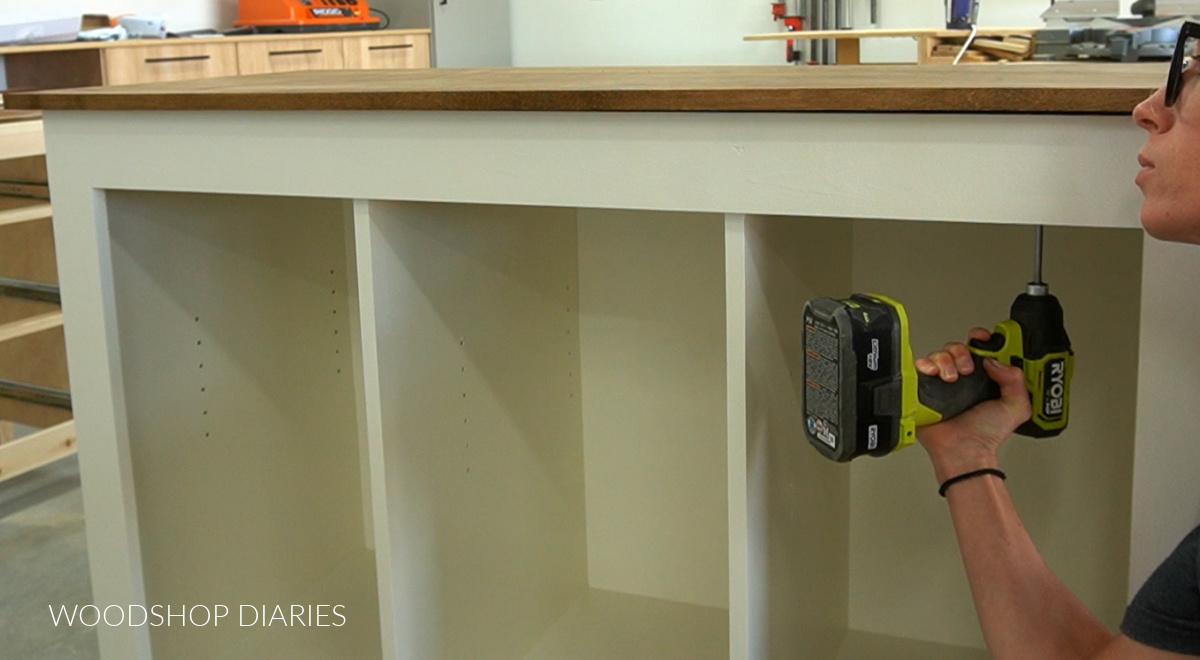 Then, I used 1 ¼" screws through the bottom side of the top supports to secure it.
Step 8: Assemble Doors
You can certainly make any style door you'd like for this, but I chose to make solid wood slatted doors.
So I cut down five 1×6 pieces for each door plus two thinner slats to run along the back side.
I cut my back pieces from scrap plywood, but 1x3s would work as well.
I went ahead and stained these pieces first before assembling–Minwax Provincial for the door slats and Minwax True Black for the back pieces.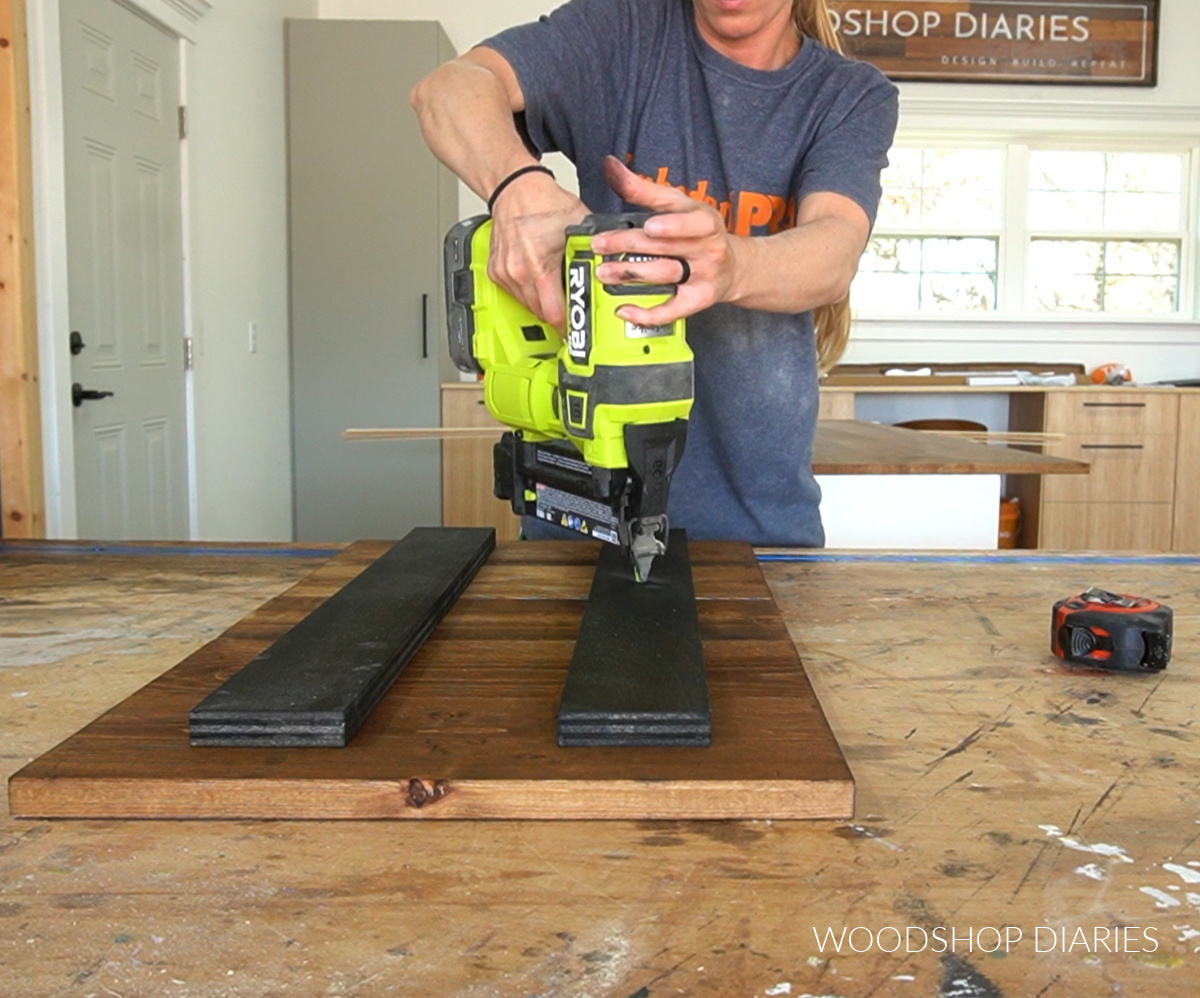 I laid out my 1x6s face down, and glued and nailed the back pieces on to hold it all together.
I did this twice to make two identical doors.
Step 9: Install Sliding Door Hardware
Check out the video above for more info about installing the sliding door hardware.
I used this 4 ft sliding door hardware kit and I definitely recommend it–it's a really great kit.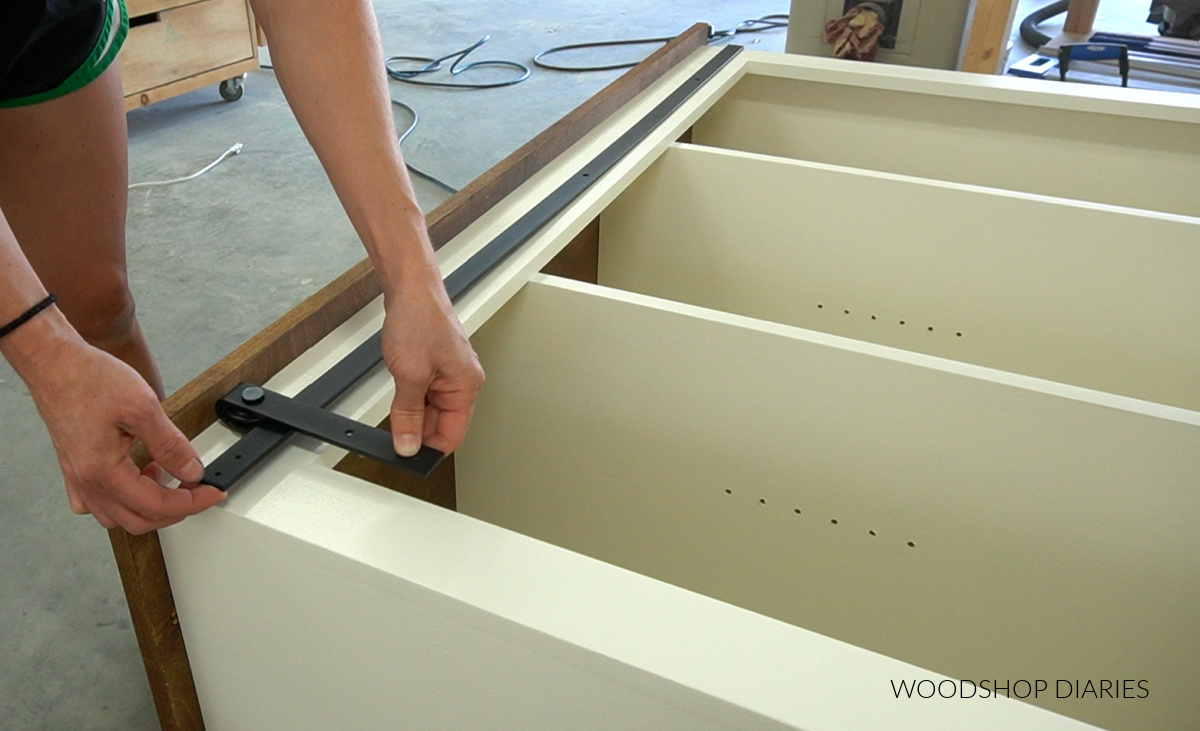 However, the instructions that come with it are quite…bad haha. So I share some helpful tips for installing it in the video here.
I predrilled the holes to mount the rail first, making sure it was far enough down from the top to leave room for the rollers to move.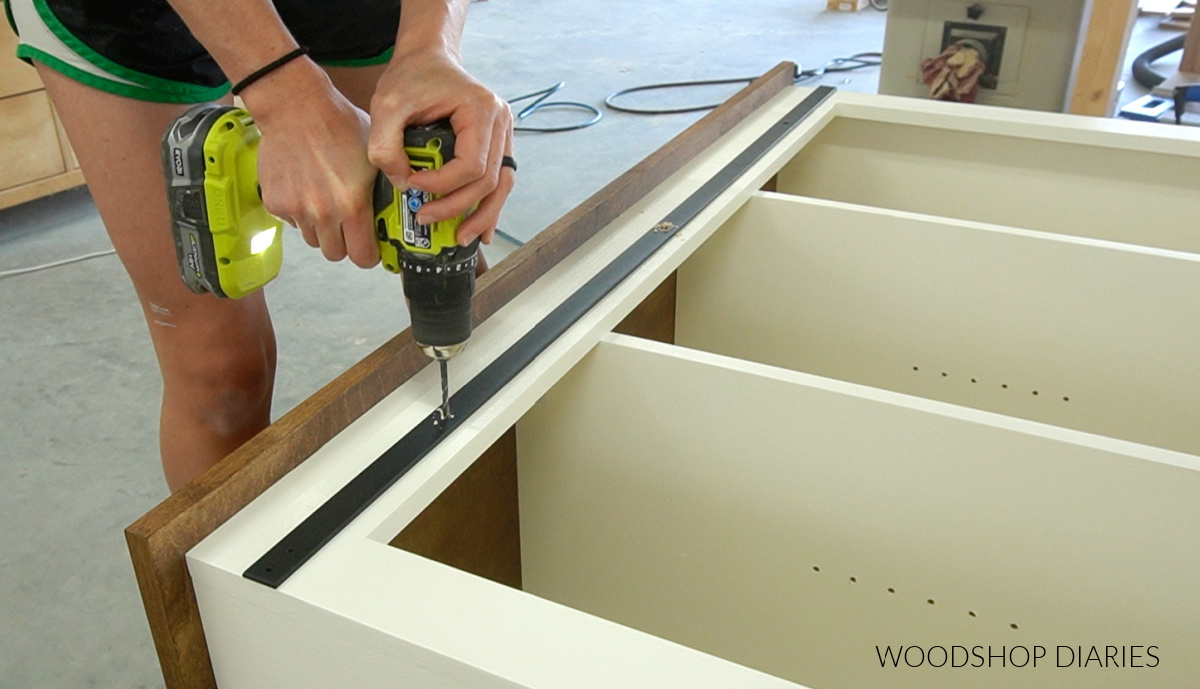 Then, I installed the rail using the spacers and screws included in the kit into my predrilled holes.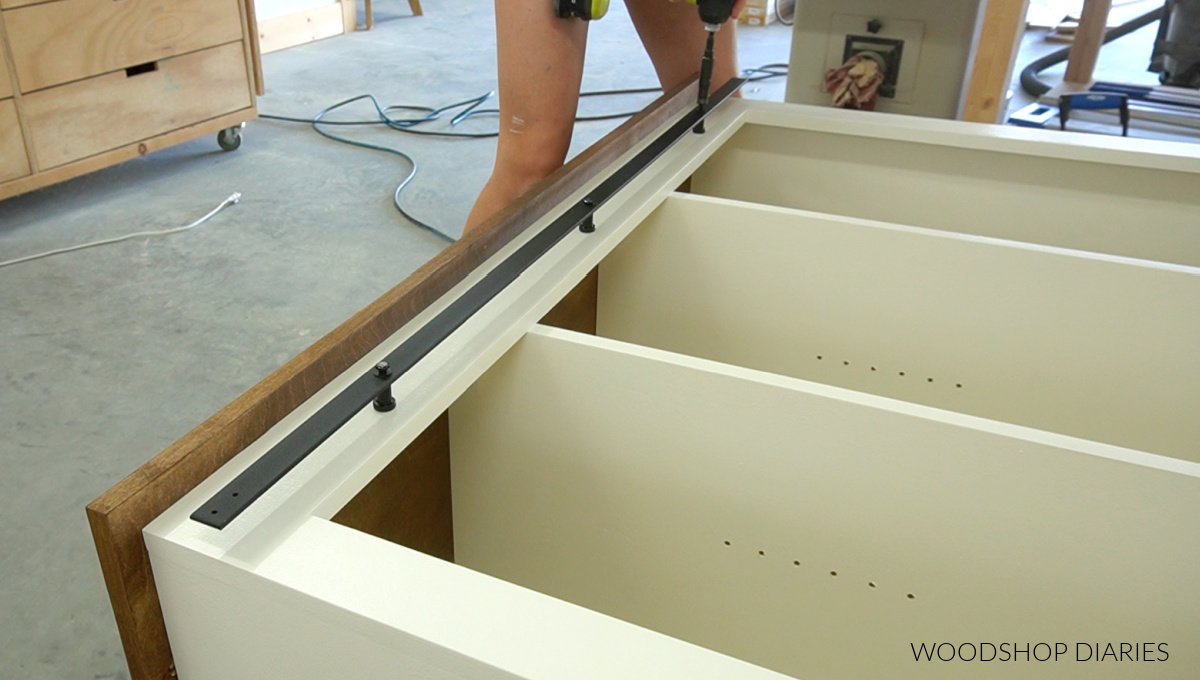 For the rollers, I mounted them so that the bottom of the hardware bracket was about 3 ⅝" from the top of the door.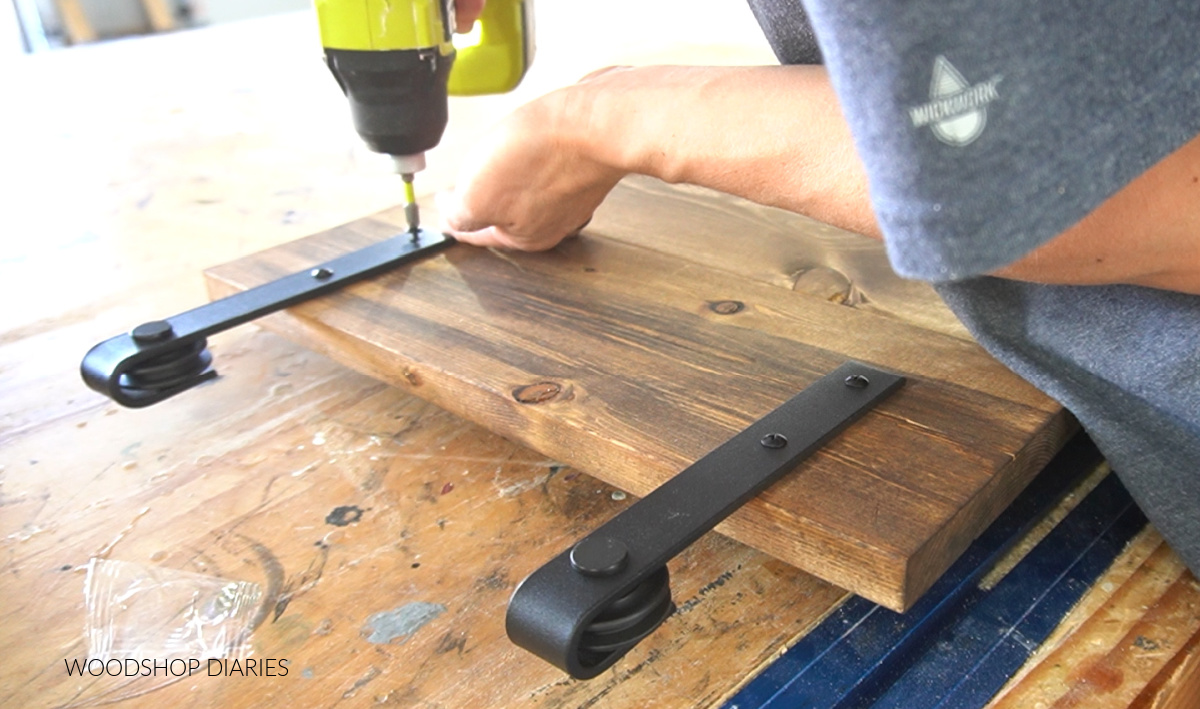 I used the included screws to secure.
This kit comes with anti-jump pieces which are basically plastic spacers that attach to the top of the door to prevent it from accidentally lifting up and jumping off the rail.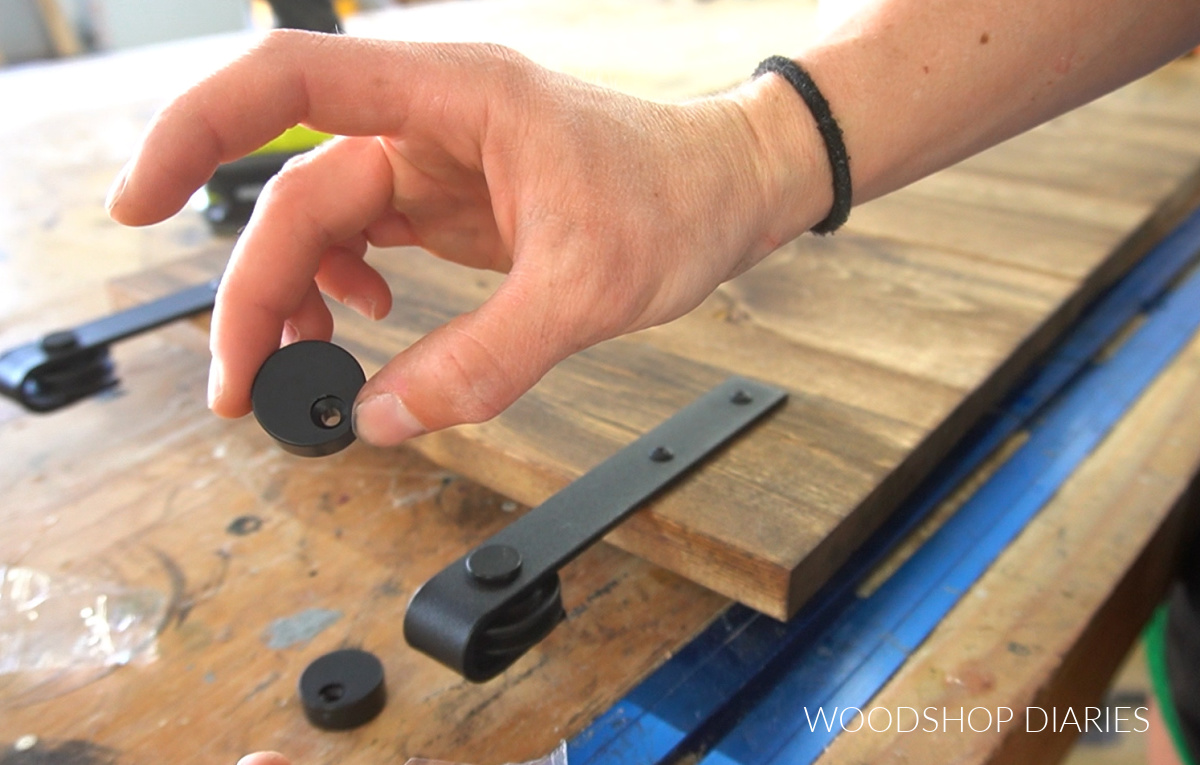 I screwed these into the top of each door.
You attach these with just one screw, so that when you place them onto the rail, you can rotate them in place so they can't jump back off.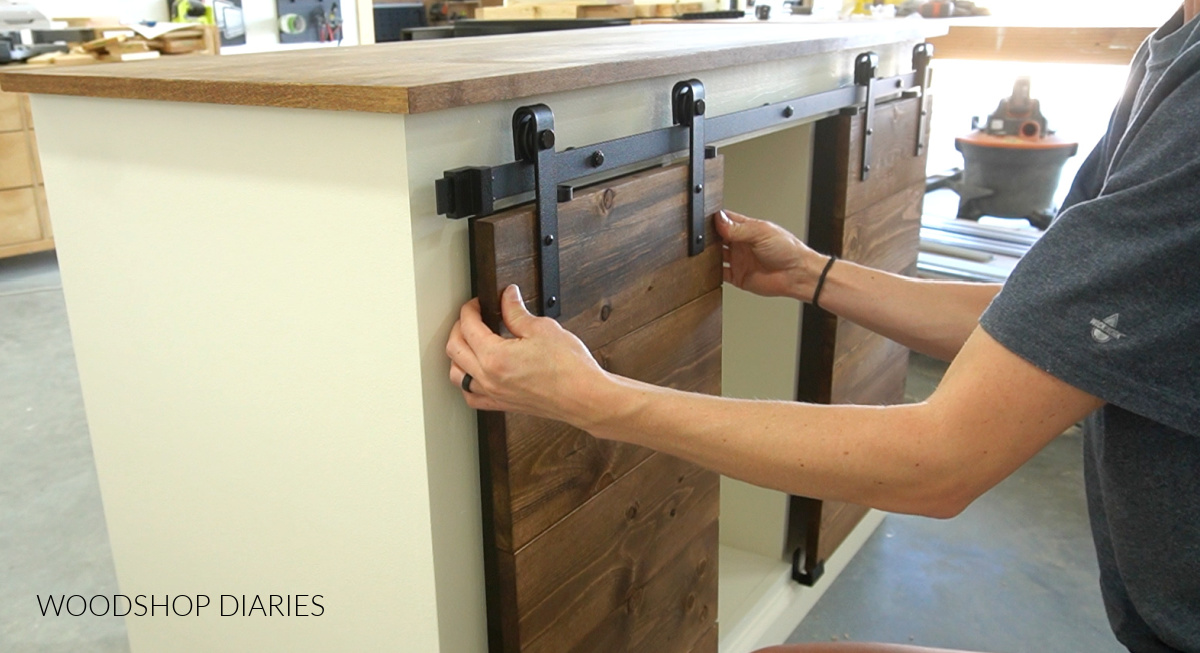 Now, the last part was installing the guides to help keep the doors from swinging back and forth.
The kit comes with these guides…they are made of two pieces like shown here.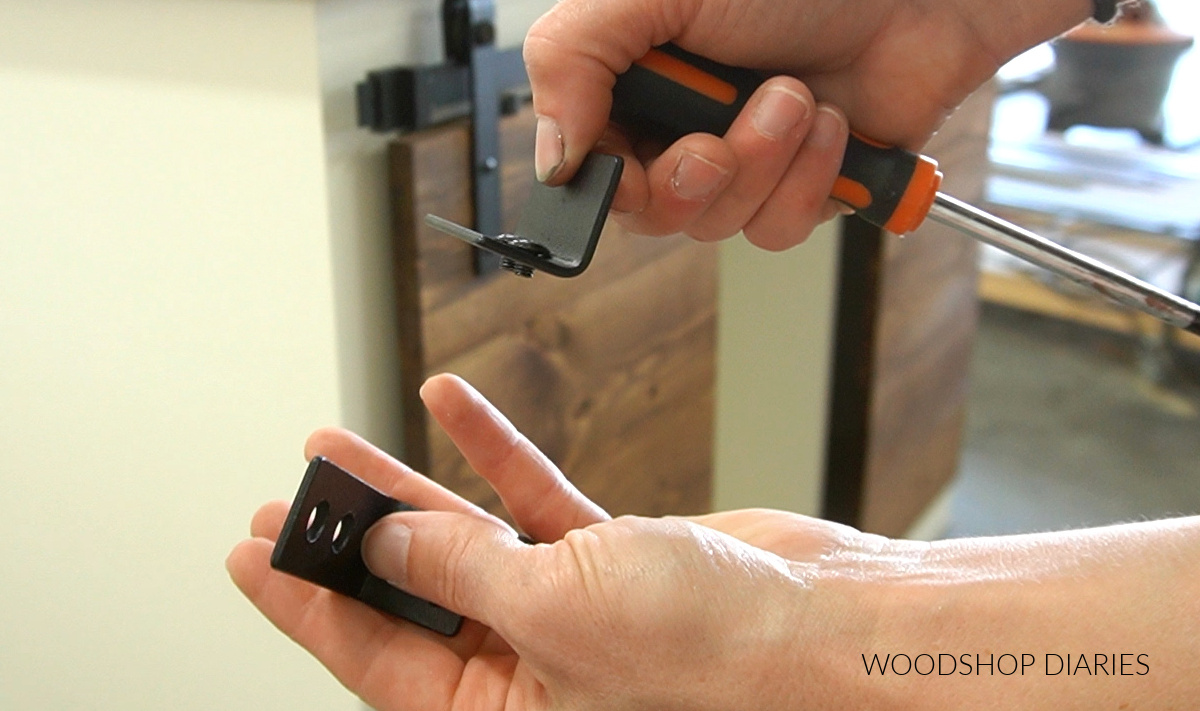 I only had room to use one screw, but I screwed the L shaped bracket to the face frame right above the baseboard.
Then, I secured the front piece of the bracket and adjusted as needed to get the doors where I wanted.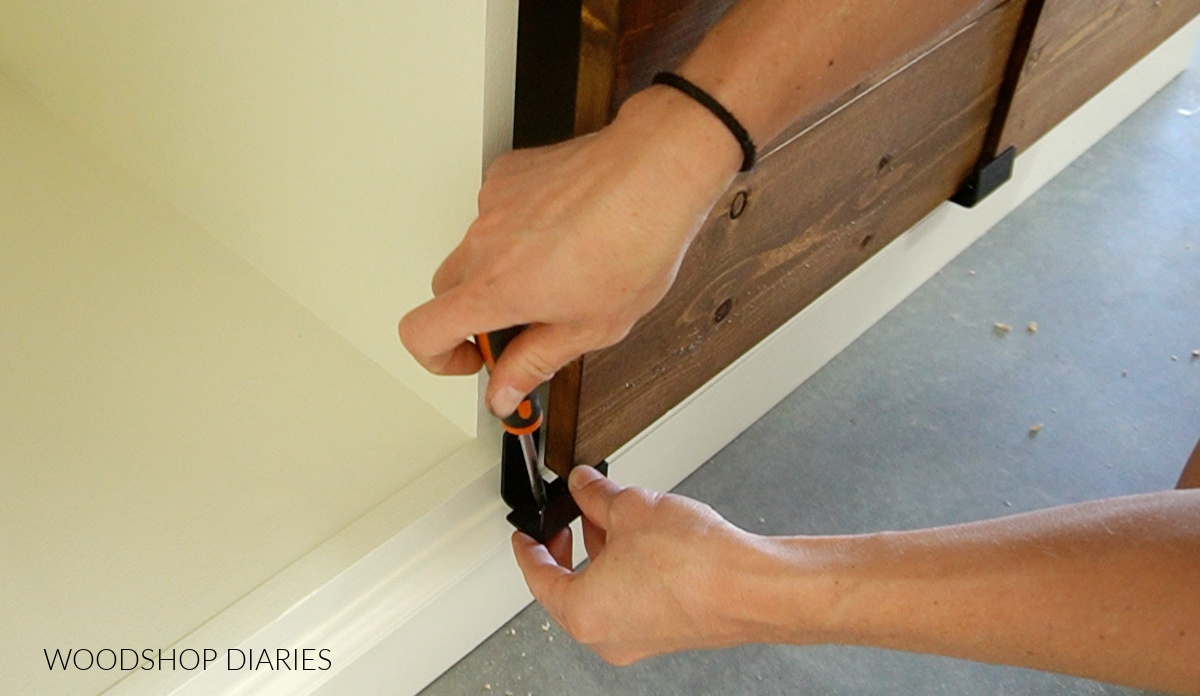 Then, finally, I adjusted the stops on the end of the rail where I wanted the doors to stop rolling.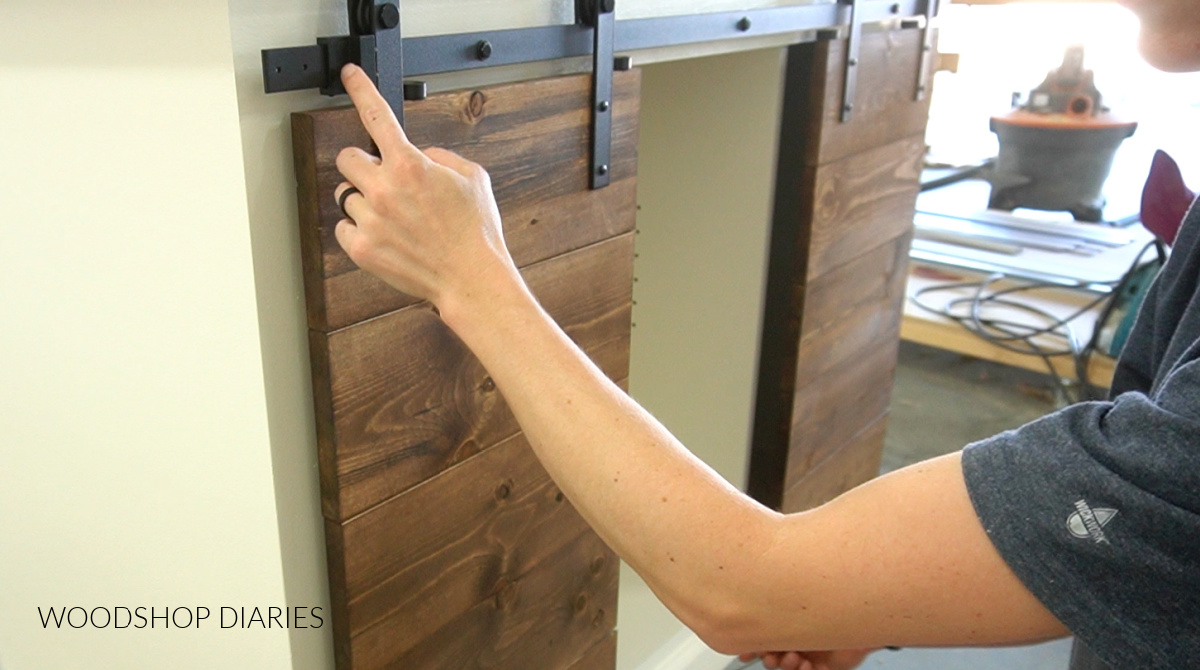 There are just some set screws on the bottom you can tighten and loosen as needed.
Step 10: Finish DIY Sliding Door Cabinet
And with that, I could add the shelves in place using shelf pins and step back to check out the finished project.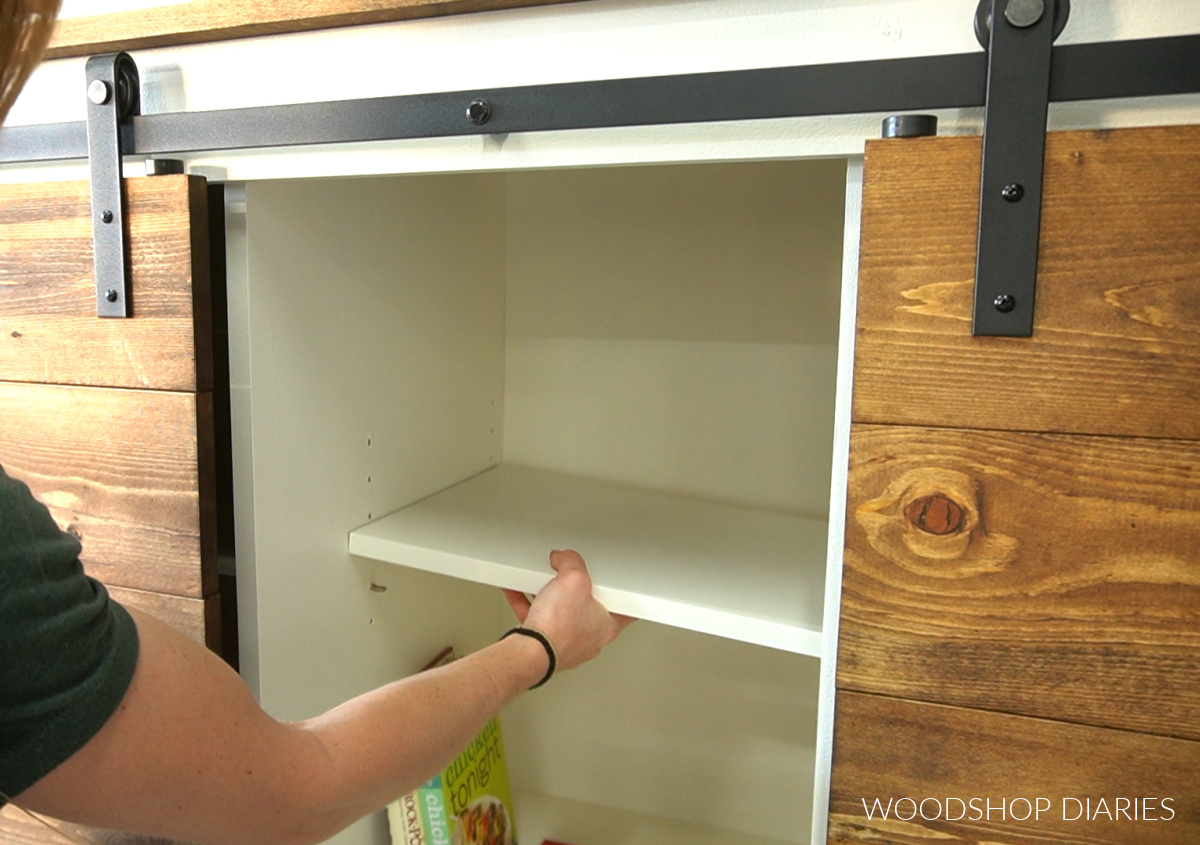 I've built DIY sliding doors before, but never added them to furniture.
That was definitely a fun addition I'd love to try again in the future!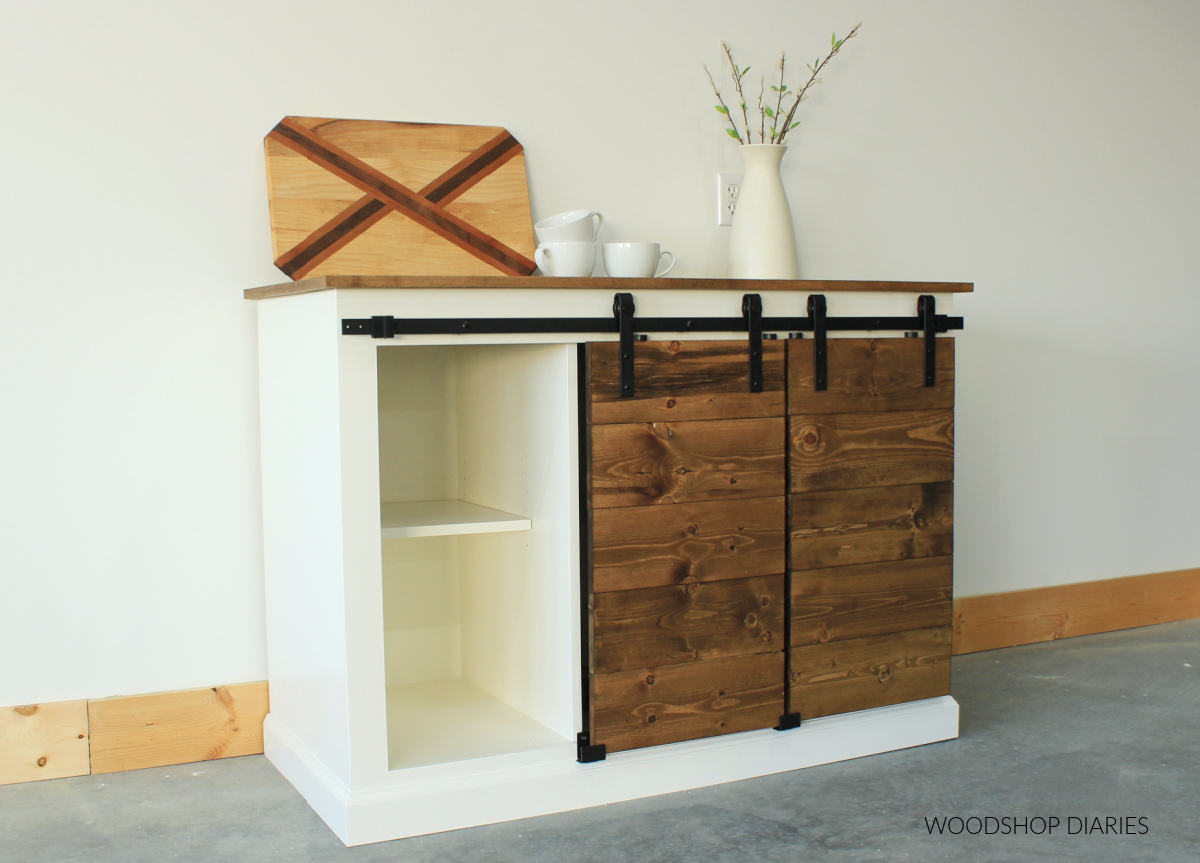 I hope you enjoyed watching this project come together and if you'd like to build your own, grab the building plans on KregTool.com here!
For priority access to the latest projects and plans on Woodshop Diaries, be sure to subscribe to the free newsletter below!
And if you'd like to save this for later, don't forget to pin it or share to your favorite social media channel!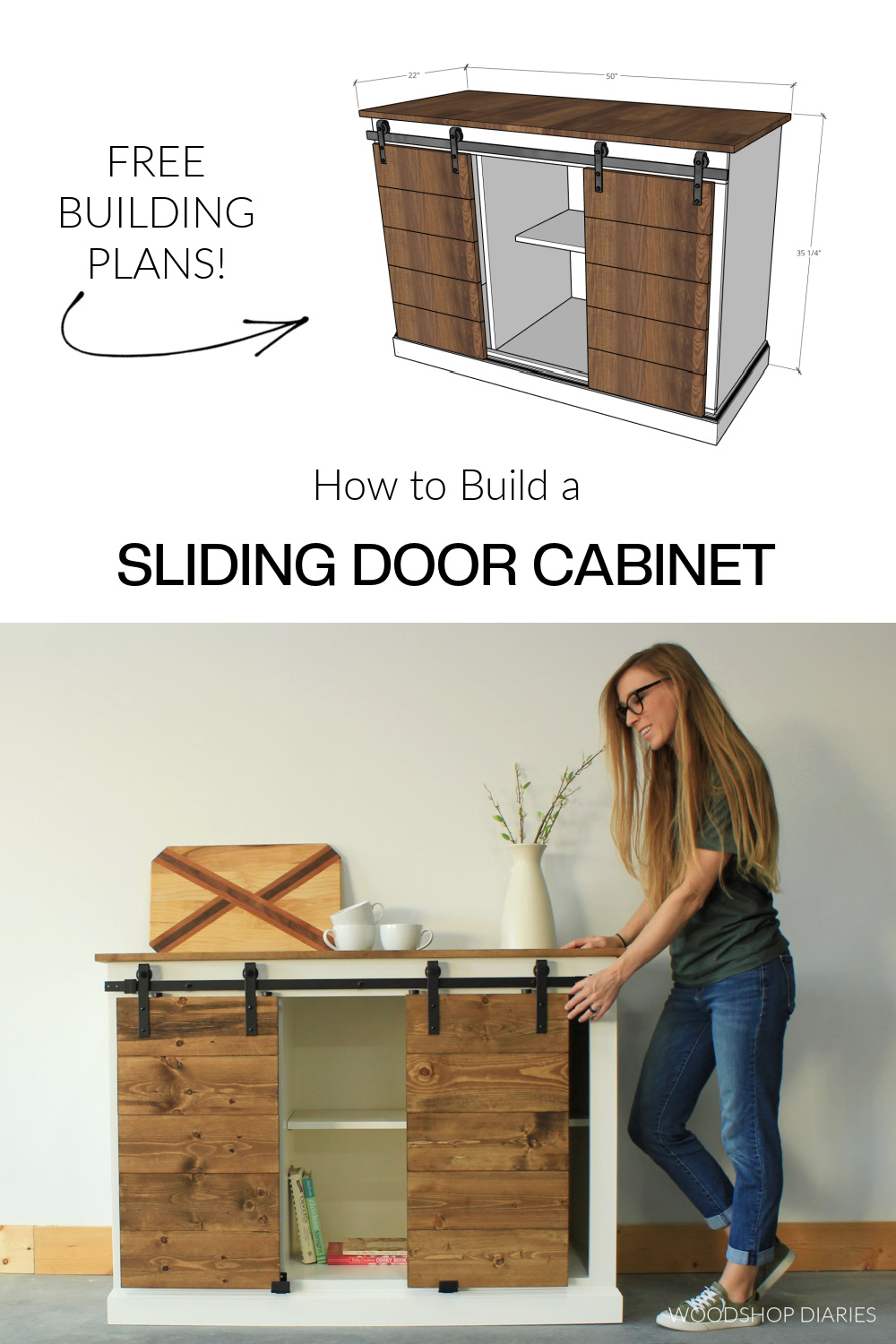 Until next time, friends, happy building!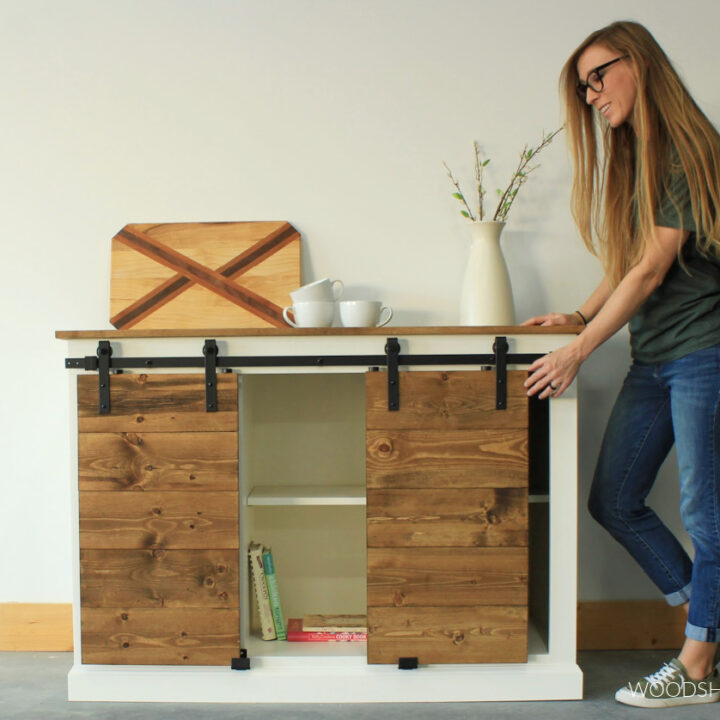 DIY Sliding Door Cabinet
Yield:
1 cabinet with sliding doors
Learn how to build your own DIY sliding door cabinet with these free building plans, helpful tips, and video tutorial!
Materials
(2) 4×8 sheets ¾" plywood
(2) 1x6x8 boards
(2) 1x3x8 boards
(1) 1x4x8 board
(1) 8' piece 3 ¼" tall baseboard trim molding
Iron On Edge Banding (optional)
1 ¼" brad nails
Tools
Instructions
Cut down plywood according to the plans and prep for building.
Assemble the sliding door cabinet body using 1 ¼" pocket hole screws.
Build the face frame and attach face frame to the cabinet body using wood glue and brad nails.
Add baseboard trim using glue and finish nails.
Cut and install shelves using shelf pins.
Staple back panel to the back of the cabinet body.
Add top to sliding door cabinet having a 1" overhang.
Assemble sliding doors face down and glueing and nailing the back pieces on to hold it all together.
Install sliding door hardware, attach doors and you're done!