When I was in college, x years ago (x=more that I care to think about), I got a degree in math.
.
I'm convinced that if you are good at college math, you would probably also make a decent lawyer. College math classes are basically writing long explanations about how this random fact is somehow related to this random fact and that somehow proves this statement (they're called "theorems").   SO. MUCH. FUN.
.
Anyway, I feel like that's what's going on today. I need to explain how getting a new watch meant I needed a new cabinet.  I promise this all makes sense.  Stay with me.
.
When Jord Wood Watches sent me this awesome new watch, I was ecstatic! I mean, what better watch for a woodworker than a WOOD WATCH?!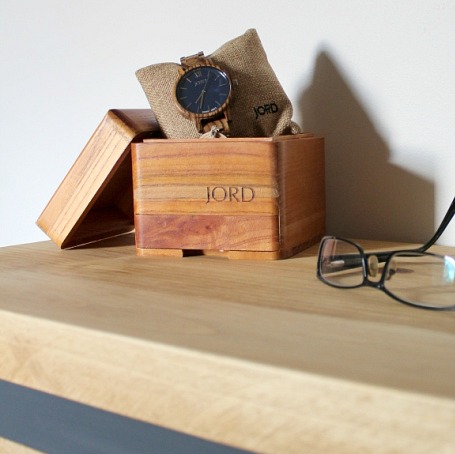 But, I'm not a big jewelry and accessories wearer. So I don't have a big collection with a fancy storage box.  I literally only have a wedding ring.  And now a watch haha.  Usually, my wedding ring stays on my nightstand in its original box, but when I put this pretty wood watch storage box (that comes with the watch!!) there too, it seemed way too crowded.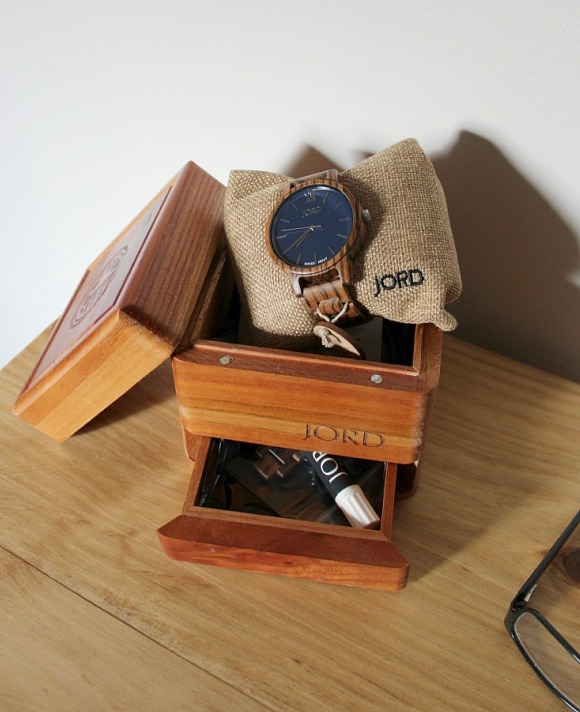 Luckily, I have this random space in my bedroom that's almost like a "bedroom foyer" that was begging for SOMETHING pretty to cover that boring wall. Plus, it would be nice to have a designated spot (that wasn't my crowded nightstand) for my glasses, ring, and watch.
.
So that's how getting a new watch inspired me to build this: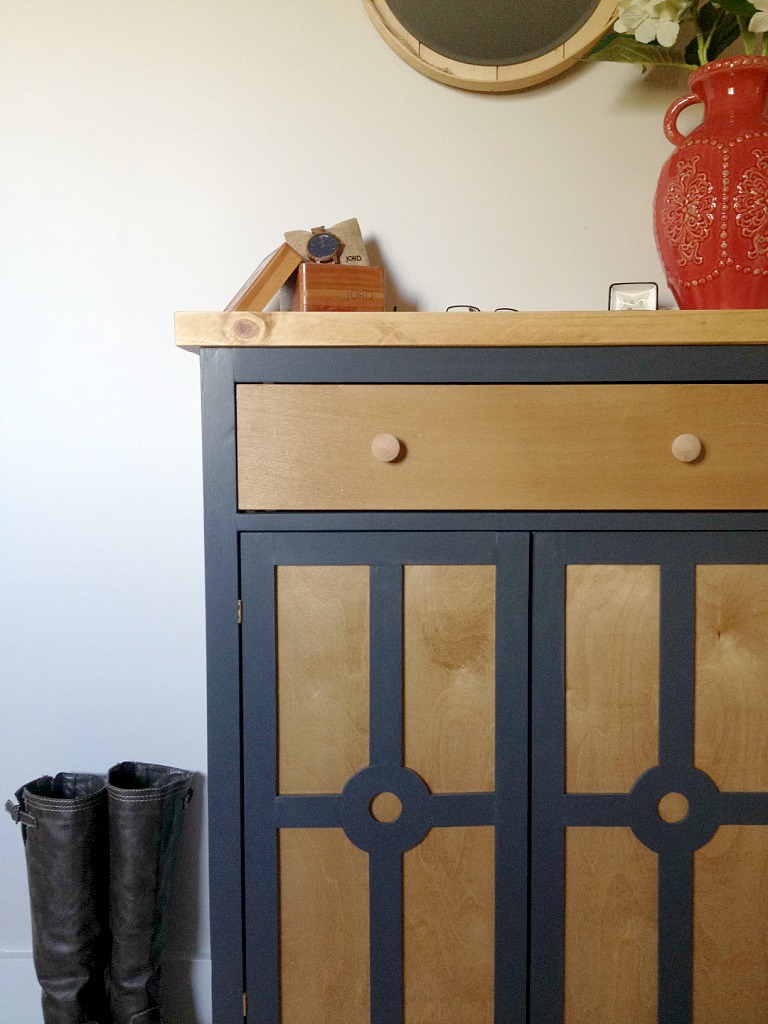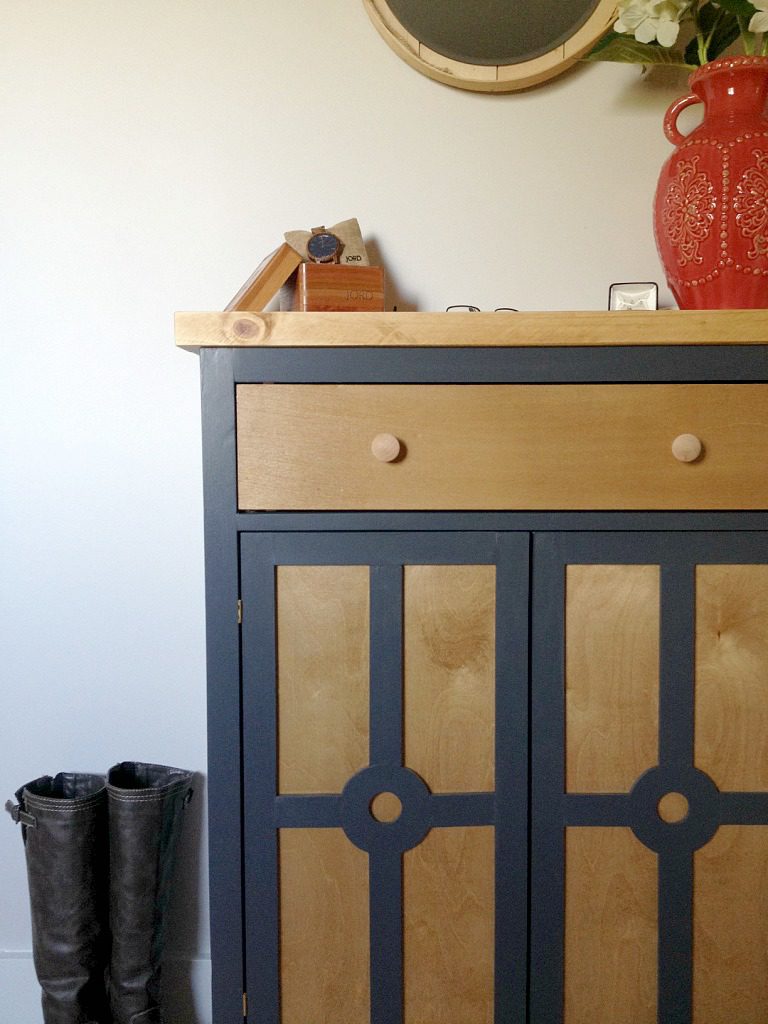 So if you need a cool place to put your awesome new watch (because I've partnered with Jord to host a giveaway at the bottom of this post!), I've got you covered with the how to 🙂
.
PS, about that giveaway…here's the deets: You can enter the giveaway at the bottom of this post.  Everyone who enters will receive a code for $25 towards the purchase of a new super awesome wood watch, but one lucky winner will get a $100 code!  The giveaway ends at midnight on March 26th.  All codes will expire May 31st.
.
Now, onto the building stuff!
.
This post contains affiliate links for your convenience.  Please see disclosure policy for more details.  Thanks for supporting this site and the brands that support this site!
Materials needed:
(3) 2x2x8
(2) 1x2x8
2x8x8
¾" plywood
¼" plywood or other backing material
4 small hinges
Knobs/pulls as desired
Wood glue
Wood putty
Tools needed:
Circular saw (or table saw) to cut down plywood
Scroll or jig saw (optional)
Staple gun
Step 1: Build the sides of the cabinet
I cut 2×2 legs at 38 ½" long and tapered two of them using my miter saw. I also ripped ¾" plywood to a 9" wide strip and cut two pieces at 33" long.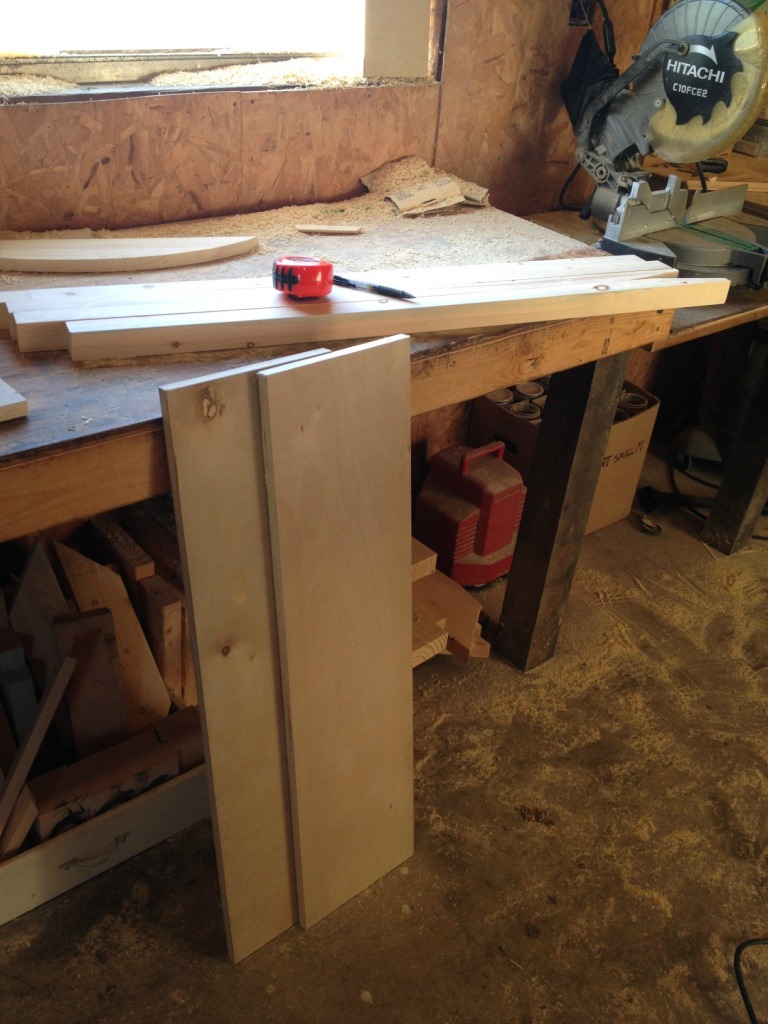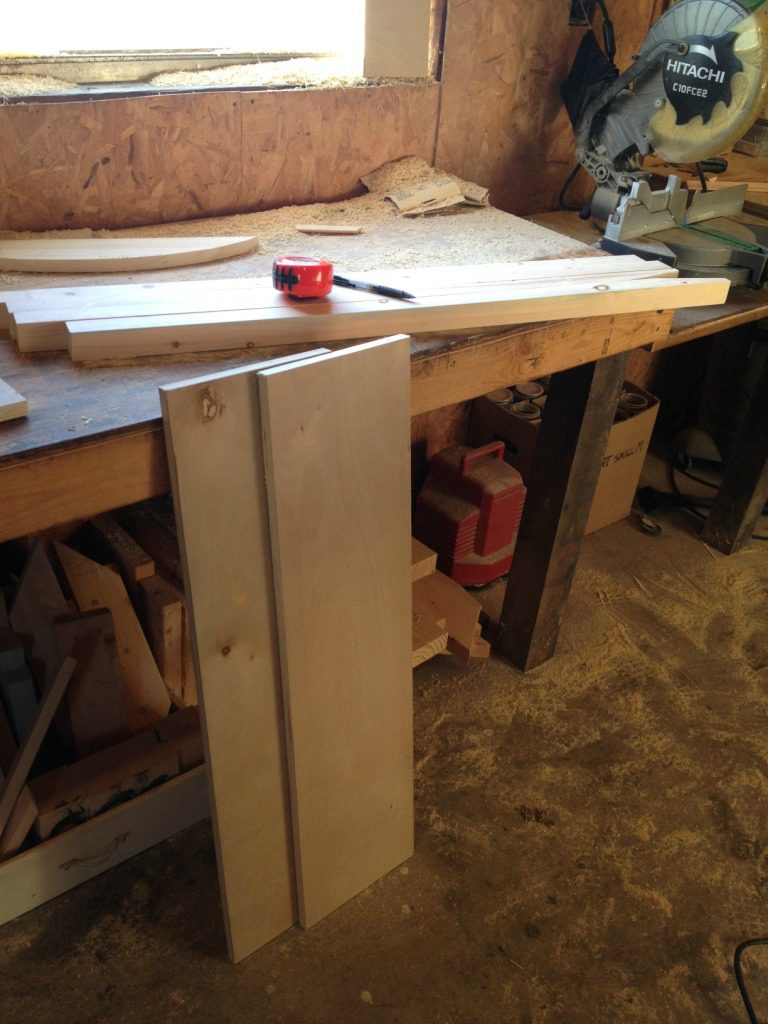 Then I cut four 1x2s at 9" long and drilled pocket holes into each and attached two legs together with them and 1 ¼" pocket hole screws like the picture below.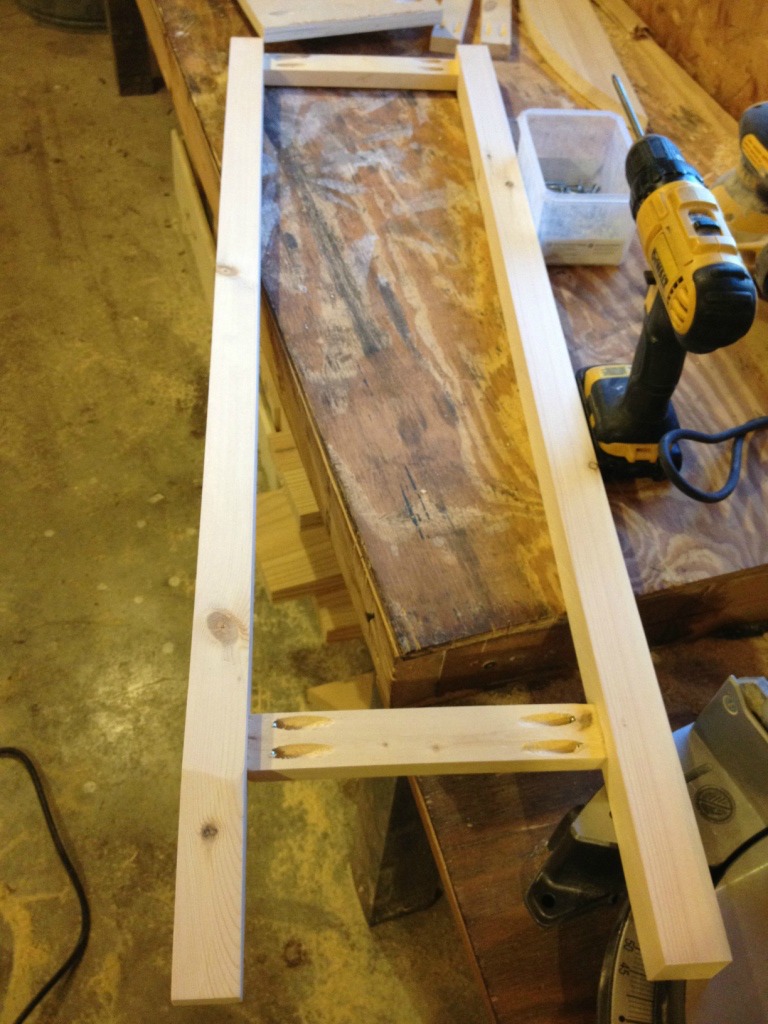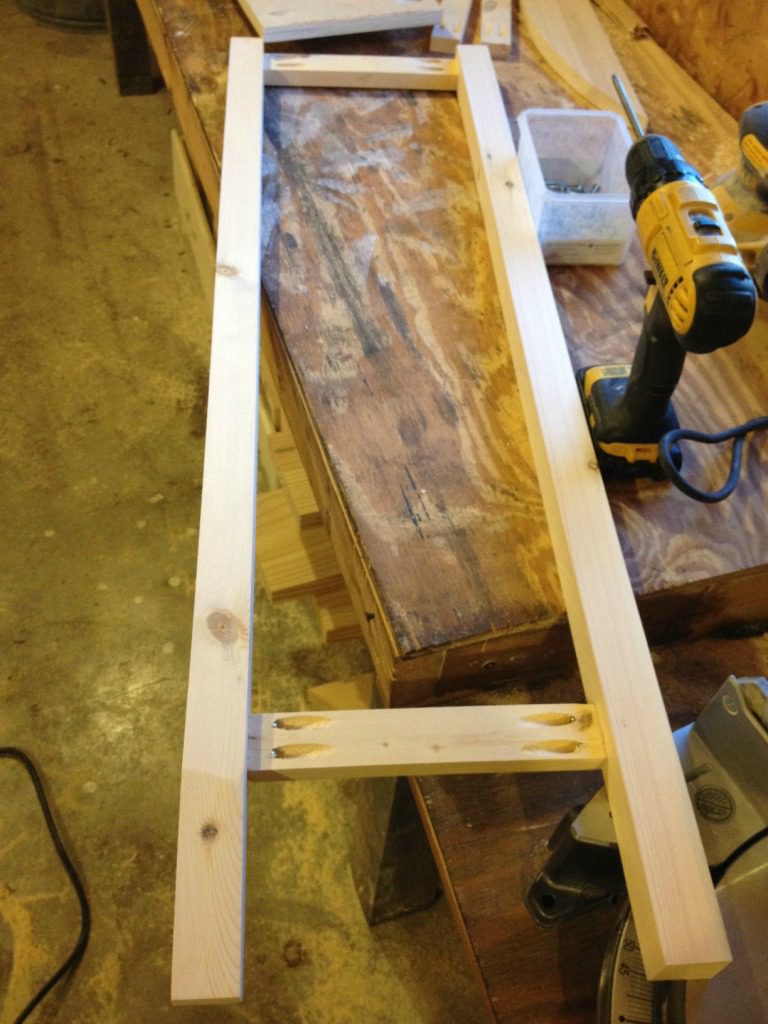 Then I drilled pocket holes on the sides of the ¾" plywood panels like shown below.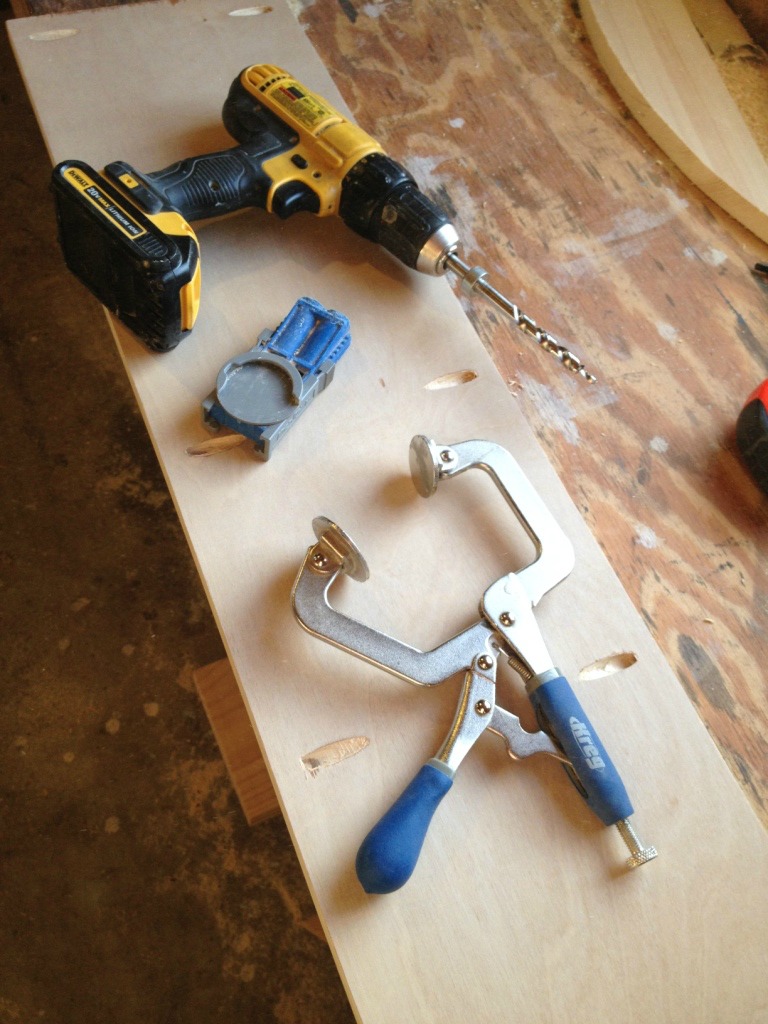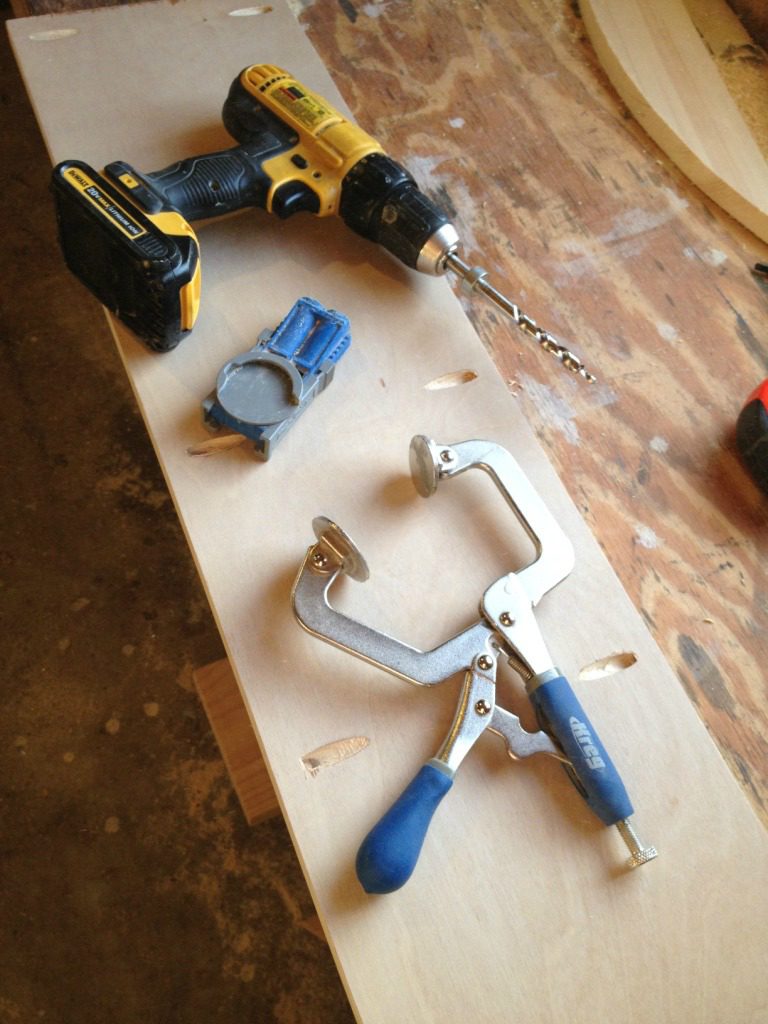 I placed these between the 2×2 legs and attached to the legs with 1 ¼" pocket hole screws.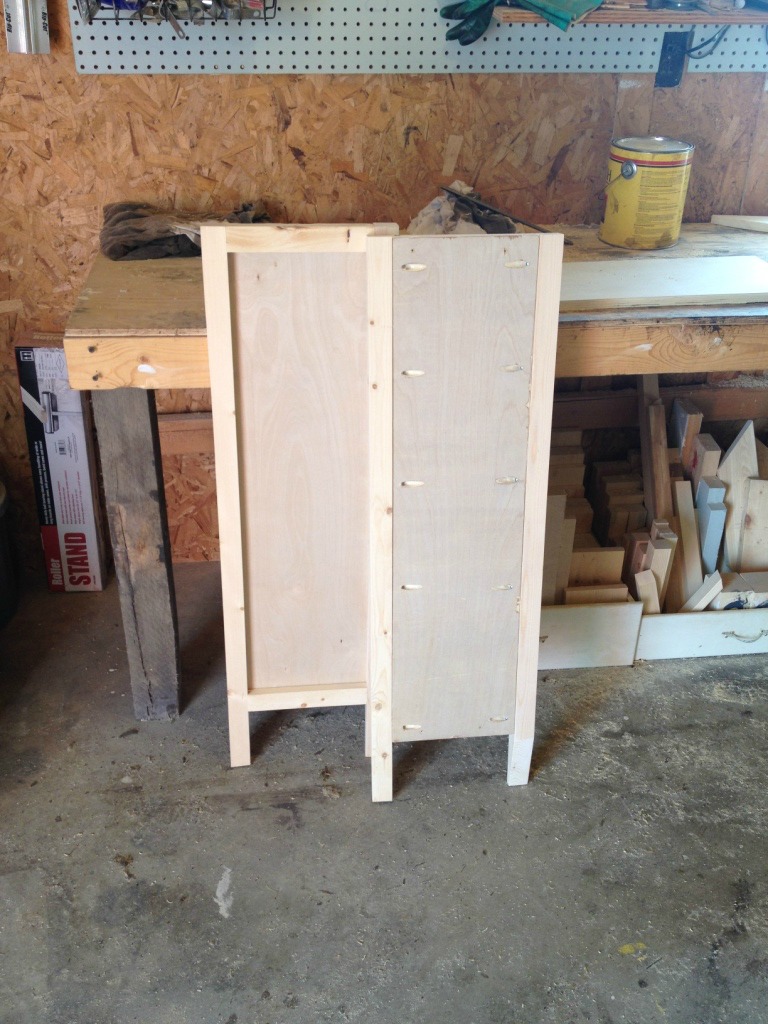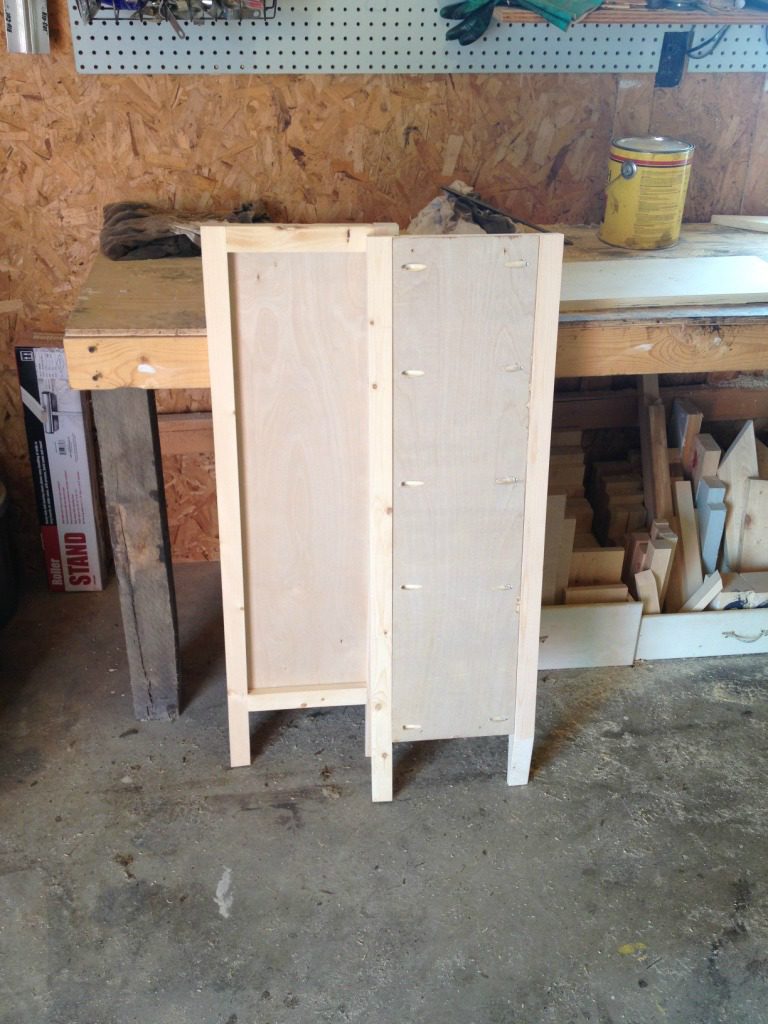 Step 2: Attach the two sides of the cabinet
When I ripped the 9" strip of plywood from step one, and cut two pieces of 33" from it, it left me with a 30" piece. I drilled pocket holes in the ends of it and attached it ¾" from the bottom of the side panels.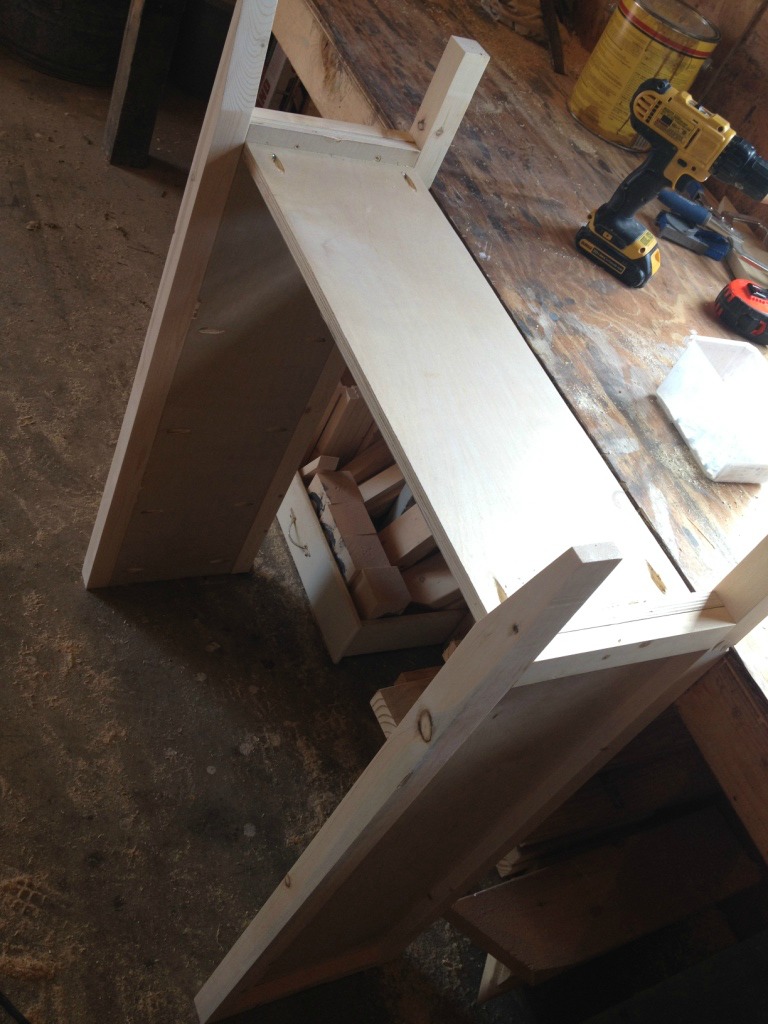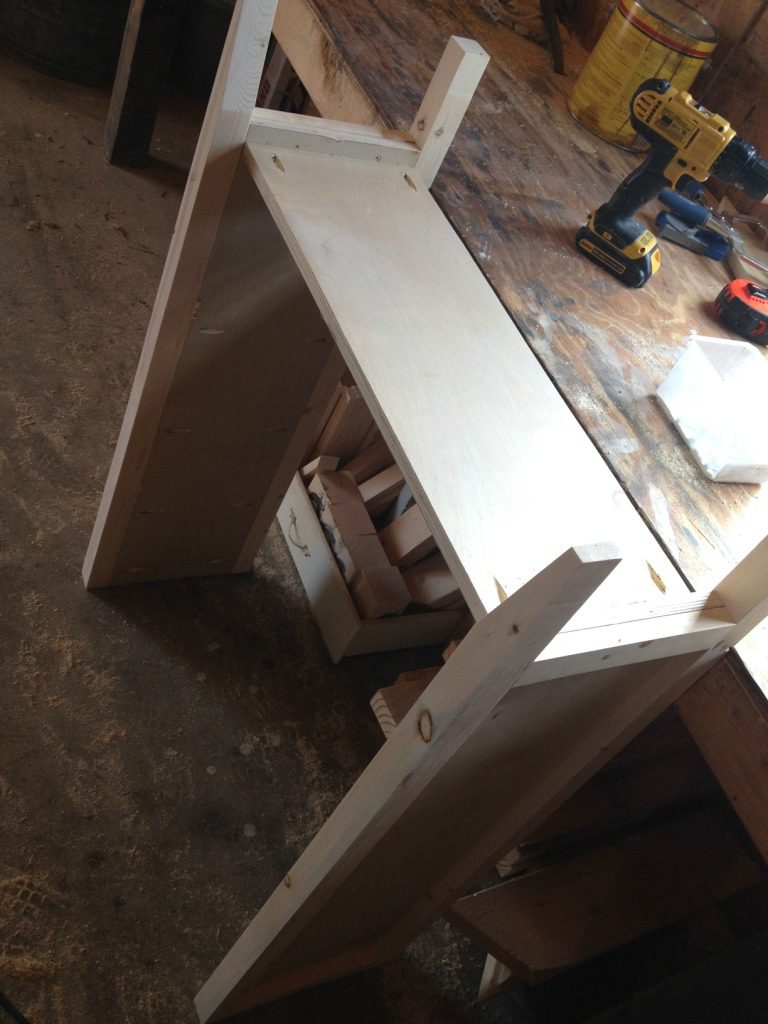 Then I cut 30" pieces of 1×2 and attached at the top front and back using pocket holes and screws.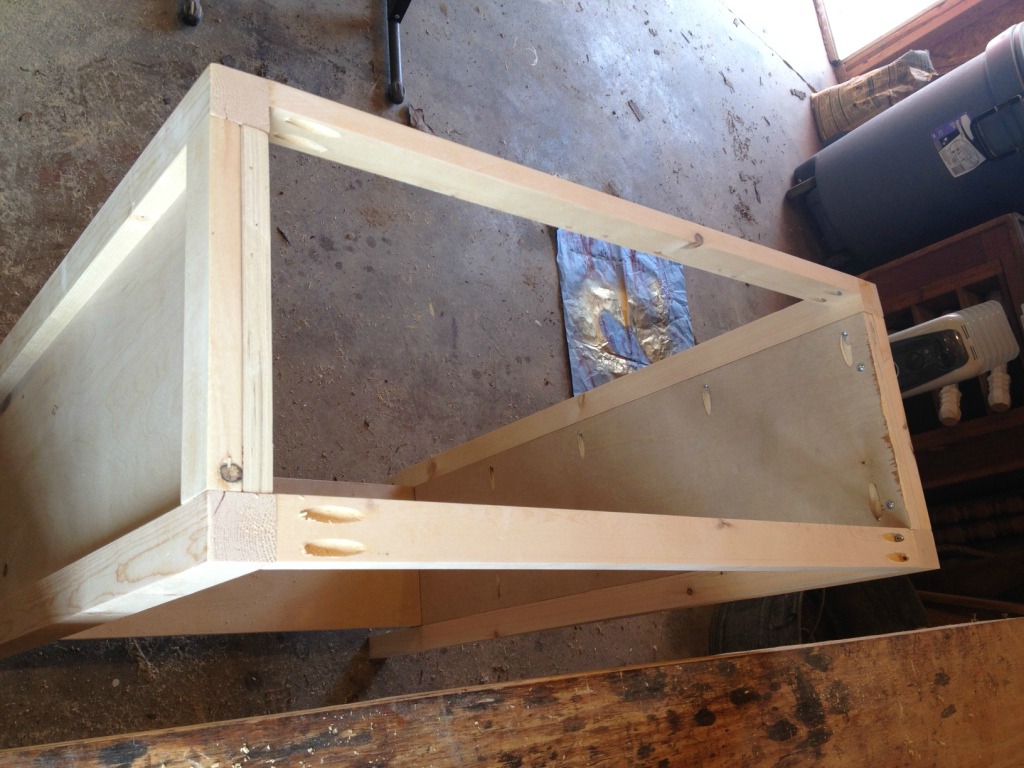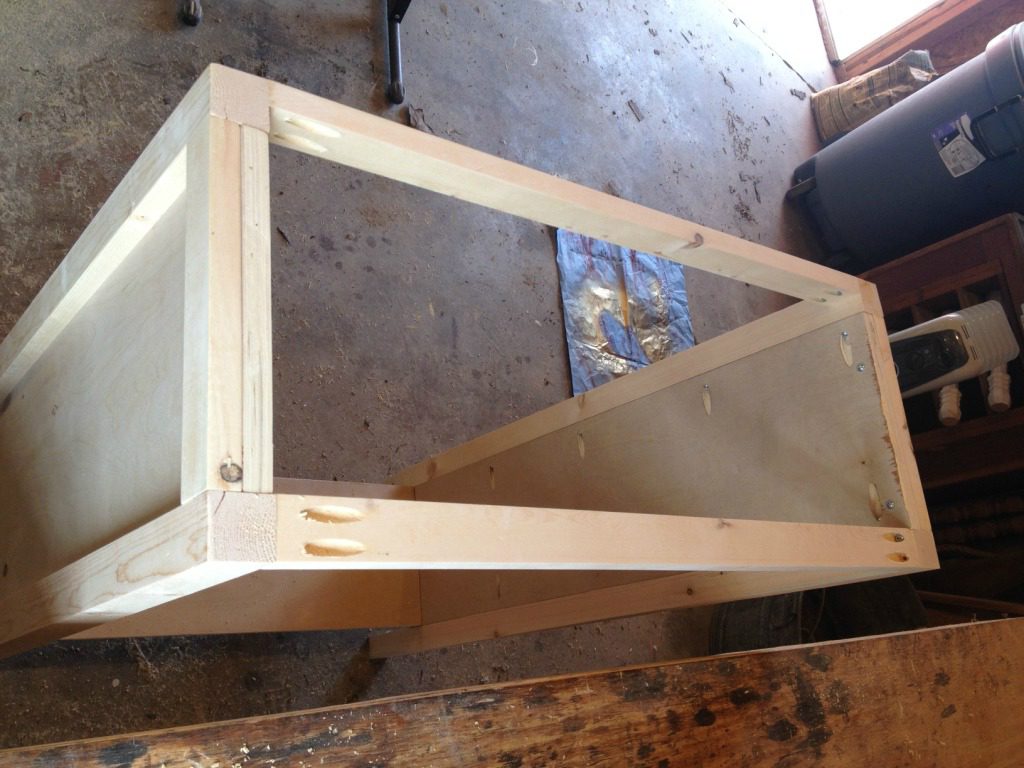 I cut another 1×2 and attached at the bottom in the back using pocket holes and screws.  And finally, added a 2×2 on the front at the bottom like the picture below.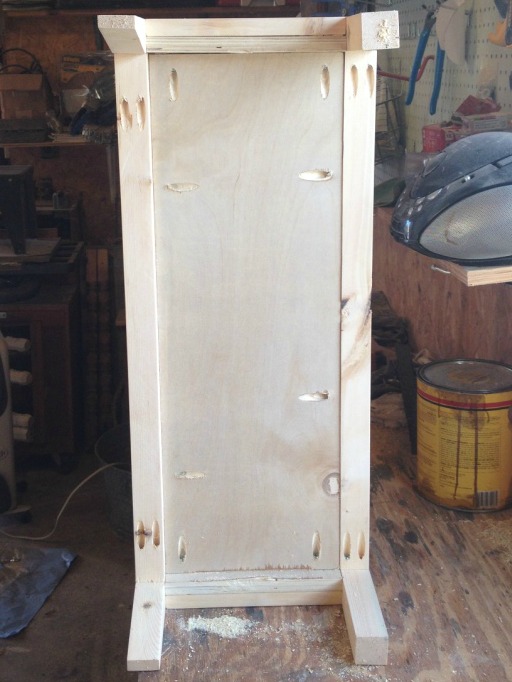 Step 3: Add the drawer
I cut one more piece of 1×2 and attached it between the two front legs using pocket holes and screws. You can make your drawer as deep or as shallow as you want.  Just attach this about ¼" further down than you want your drawer height to be.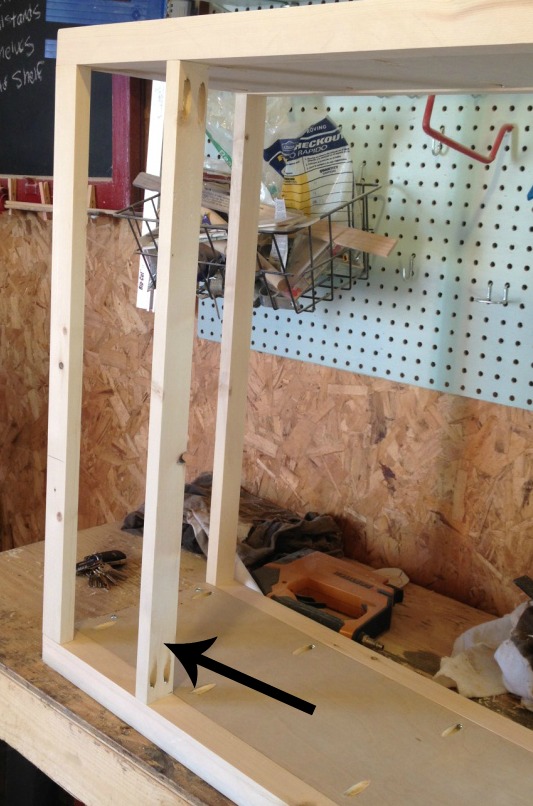 You can see my post here about how to make a drawer.
.
Because this cabinet is so narrow, I didn't use metal drawer slides. I screwed some scrap 1x pieces into the sides for the drawer to slide on.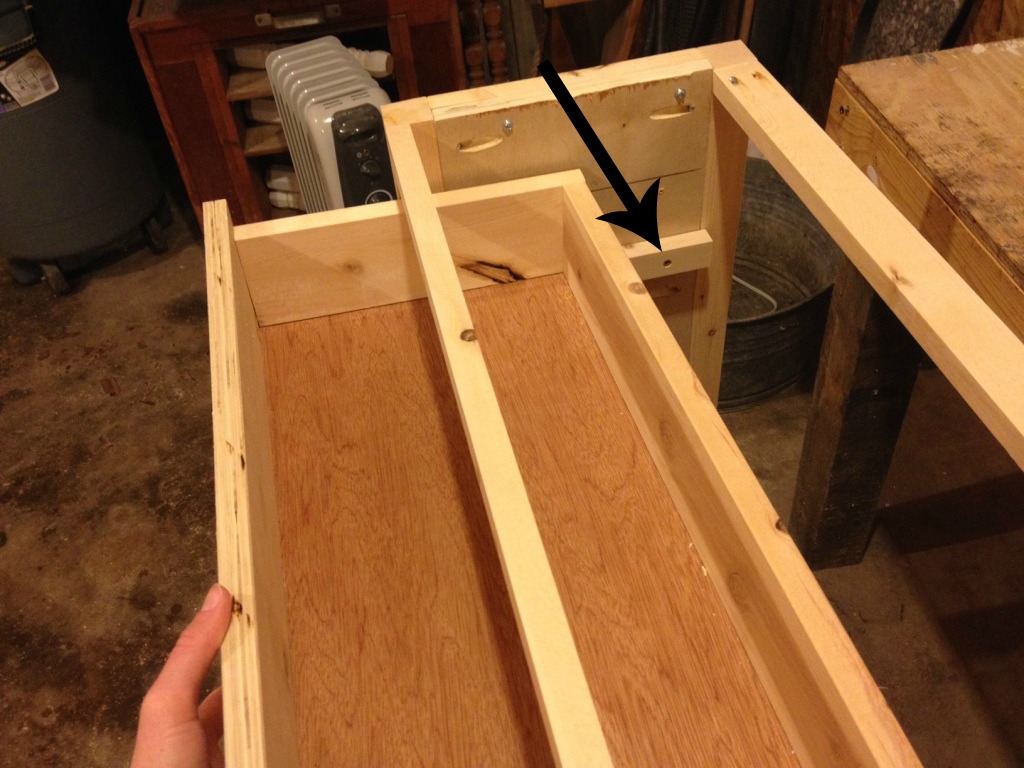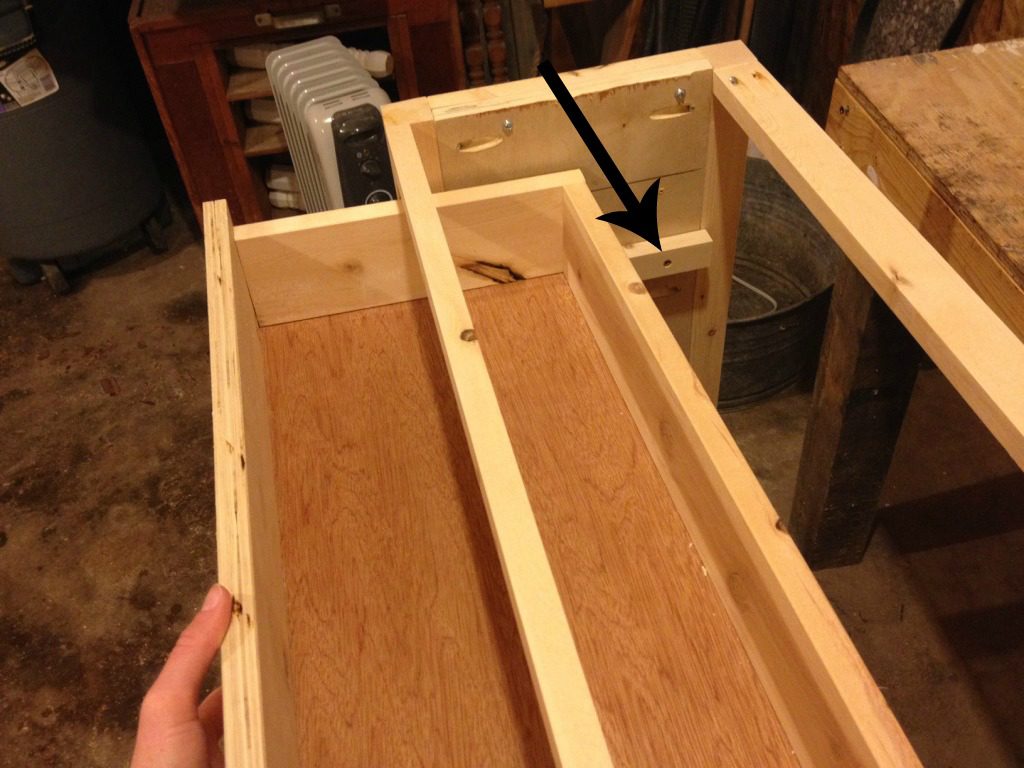 Step 4: Make doors
I wanted a little different design on these doors.  I cut a piece of ¾″ plywood slightly smaller (¼" shorter and about ⅜" narrower) than the opening for the doors.  Then I ripped it in half.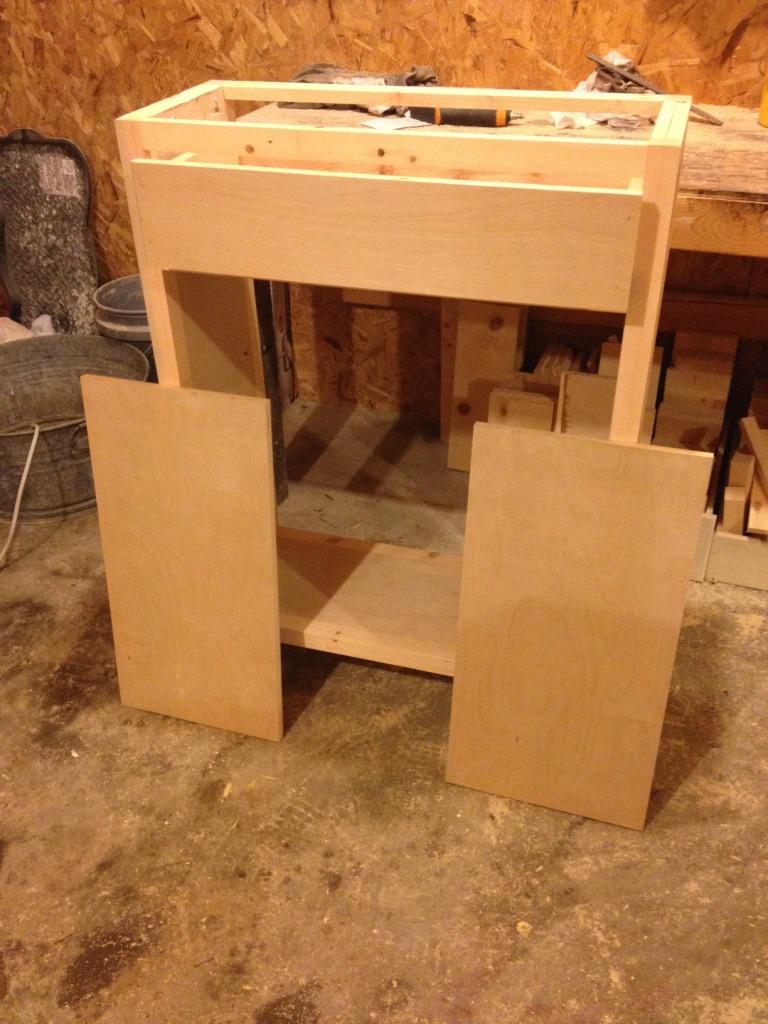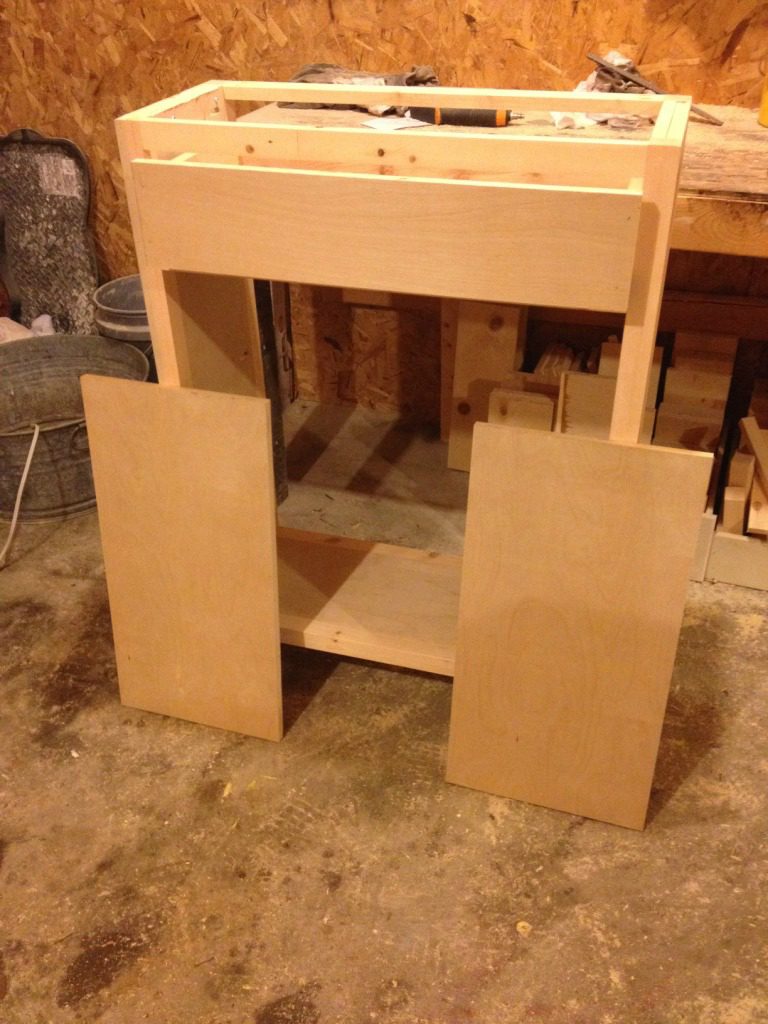 I used ¼" plywood and a scroll saw to cut out a ring for the middle of the design. Then I ripped ¼" pieces of 2x material.  You could cut off a piece of the 2×8 you will use for the top and do this.  In hindsight, you could also have ripped 1 ½" wide strips of the plywood as well.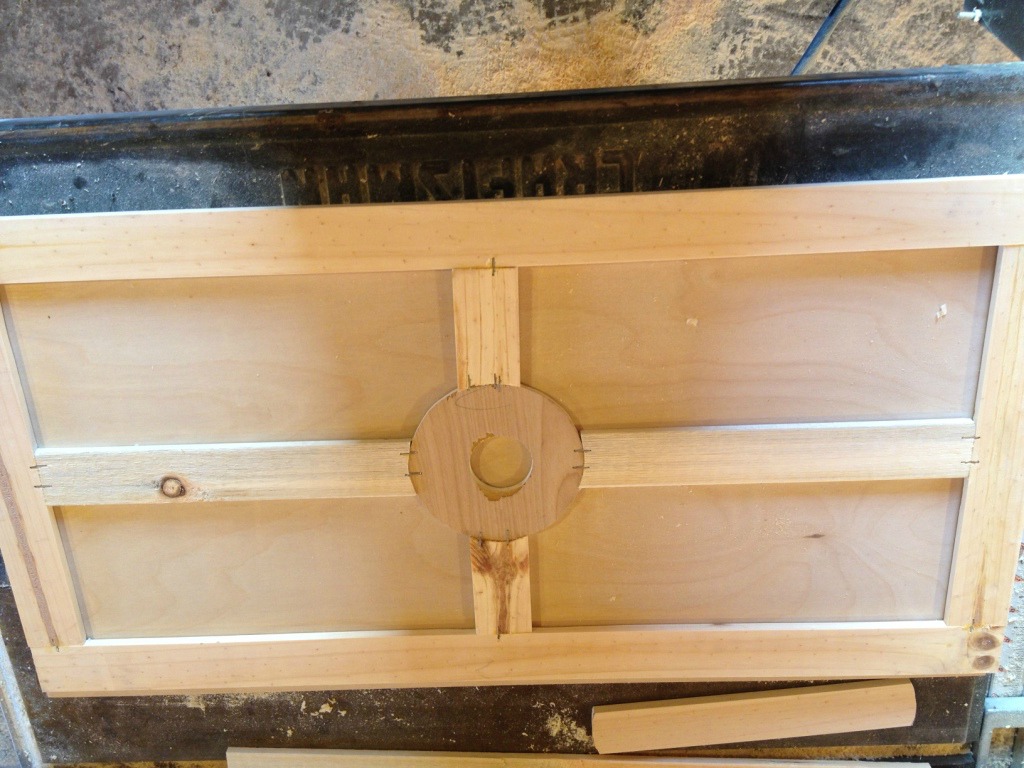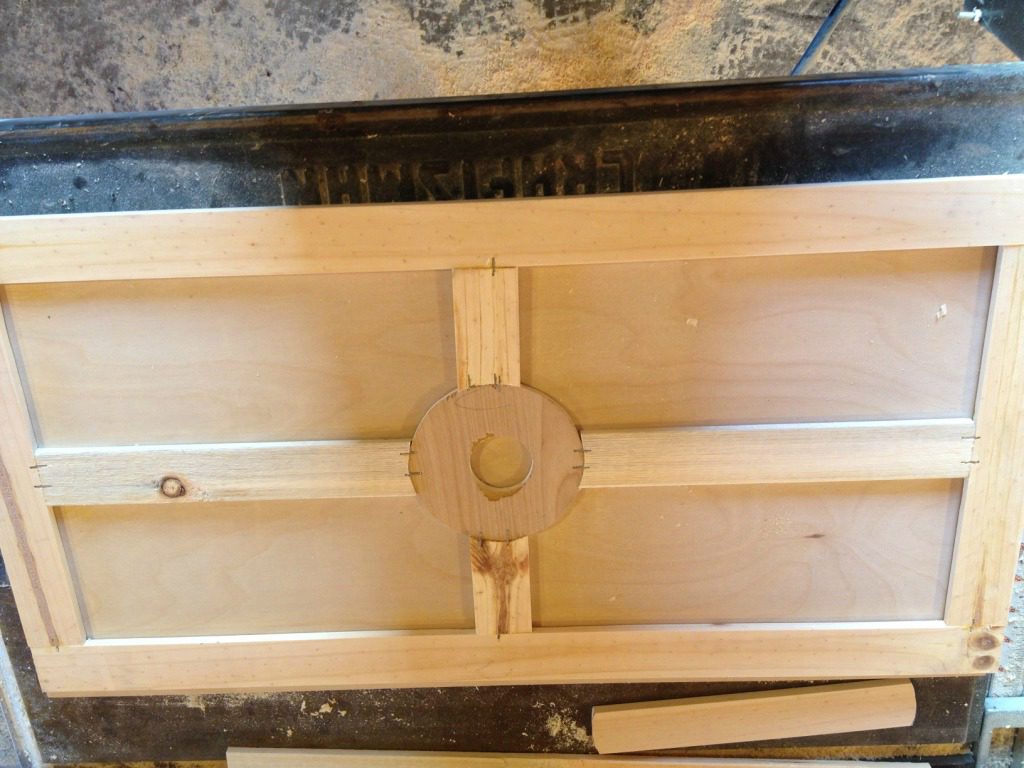 Then I laid it out on the door and pieced it all together and cut to fit on the door. DON'T ATTACH ANYTHING YET. I marked where I needed to trim the pieces that meet the circle and cut the curve on the scroll saw.  Trust me, this won't be perfect (that's what putty is for), but I tried to get it to fit as best I could.
.
Once it was dry fitted together and fit the size of the door, I glued all the joints then stapled them (NOT TO THE DOOR YET).  I clamped them, too, until the glue dried.  Then I puttied the crap out of them and sanded.
.
Once the ¾″ plywood was stained and the design piece was painted (see step 7), I glued the two together and attached them to the cabinet with small brass hinges.
Step 5: Add a backing
This part is easy. Just cut a piece of ¼" plywood to fit on the back and staple it on.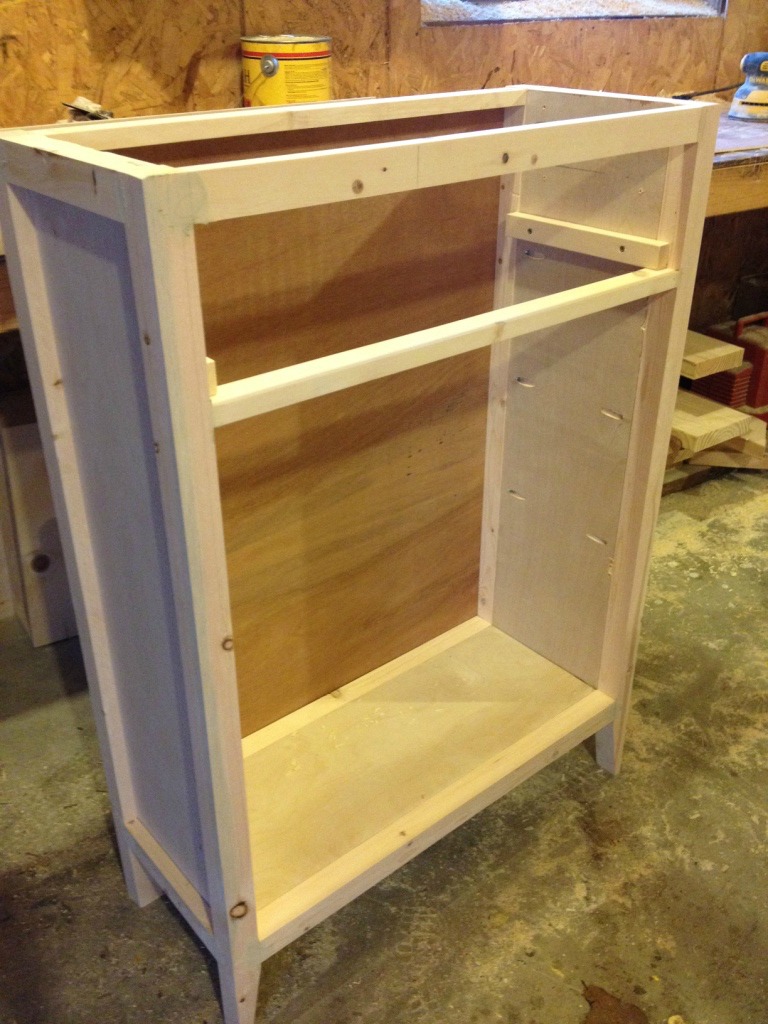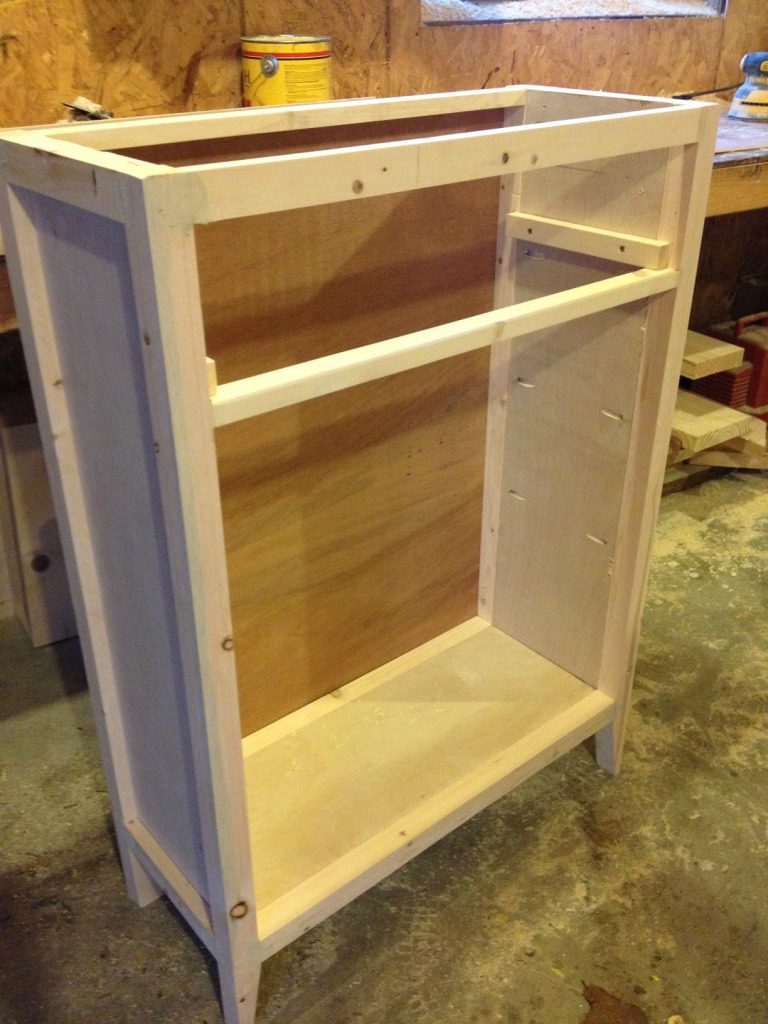 Step 6: Make a top
I don't have pictures of this (OOPS), but you can see how I make tops here.
.
I made my top 13×30. You can make this from two 30" pieces of 2×8 and trim it down to 13" wide.  Once everything was finished, I attached the top by screwing 2 ½" screws through the front top 1×2 into the top and 1 ¼" screws through the back top 1×2 into the top.
Step 7: Finish
I stained the top, drawer front, and back of doors with Minwax Puritan Pine, and painted the cabinet and door design in SW Naval.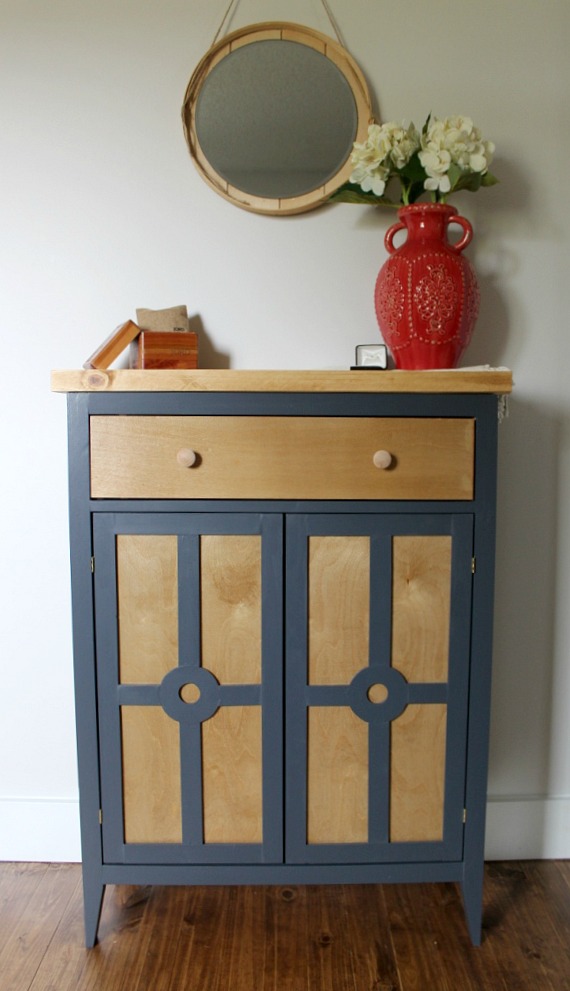 I really liked how my new watch matched the cabinet colors.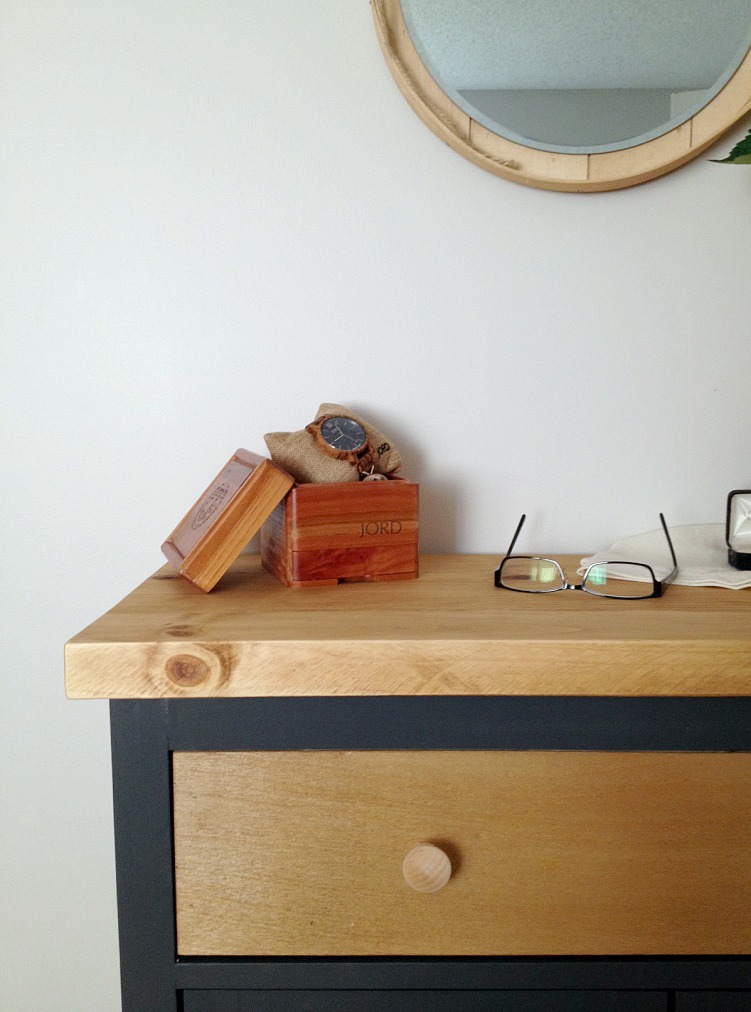 I'm super into navy and light toned wood. You can find the same color scheme in my latest bathroom vanity build and my office redo from last year.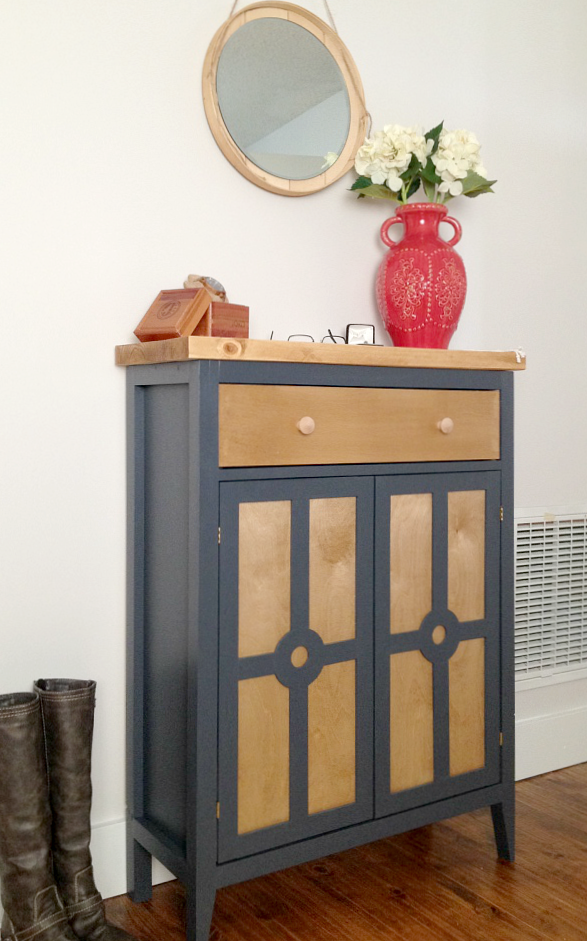 So, it's no surprise I wanted a navy and wood watch, right?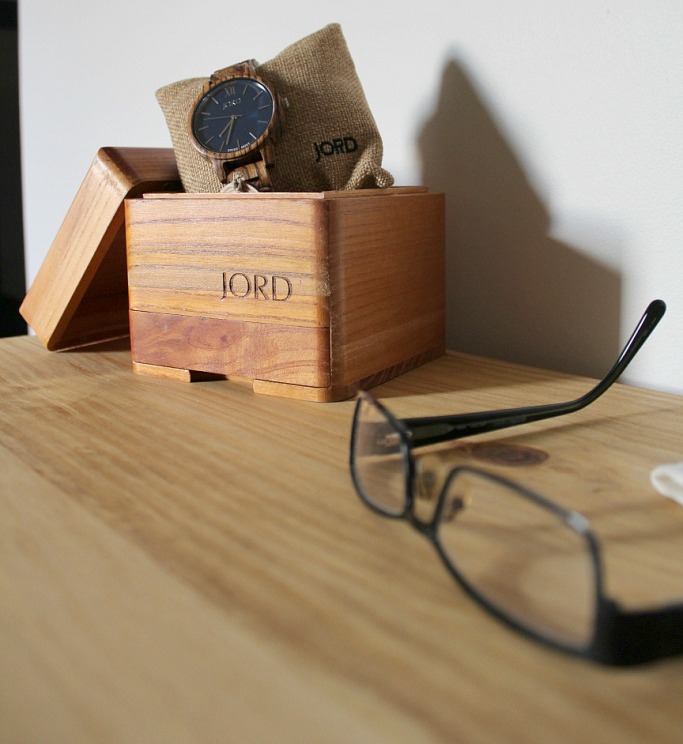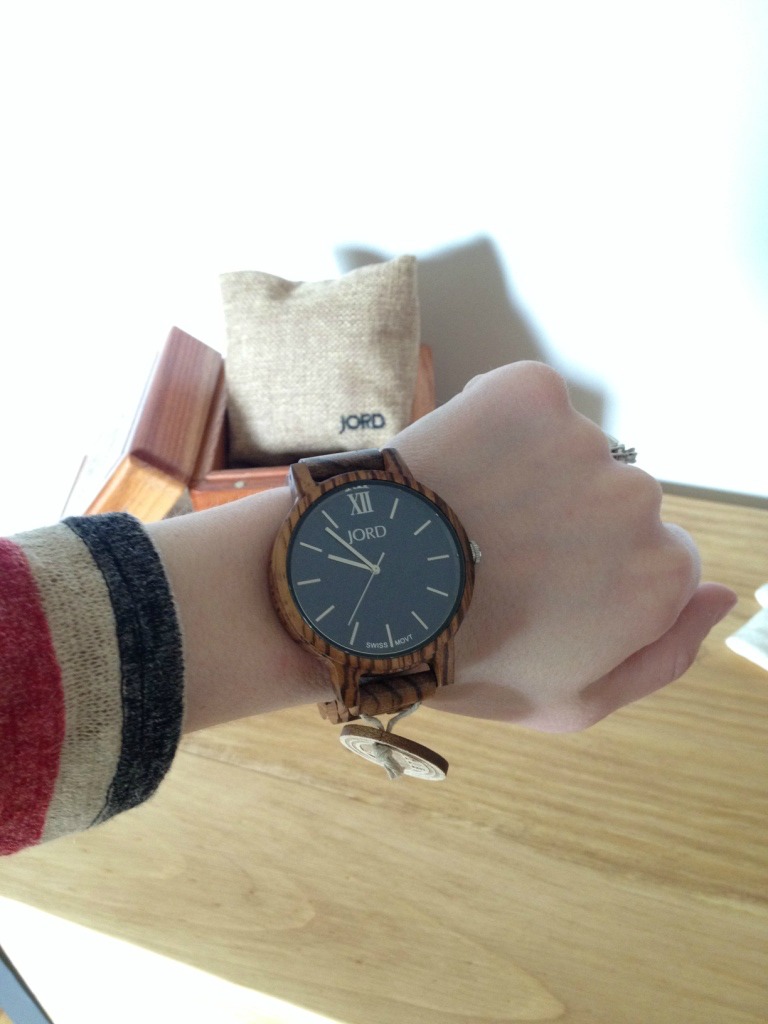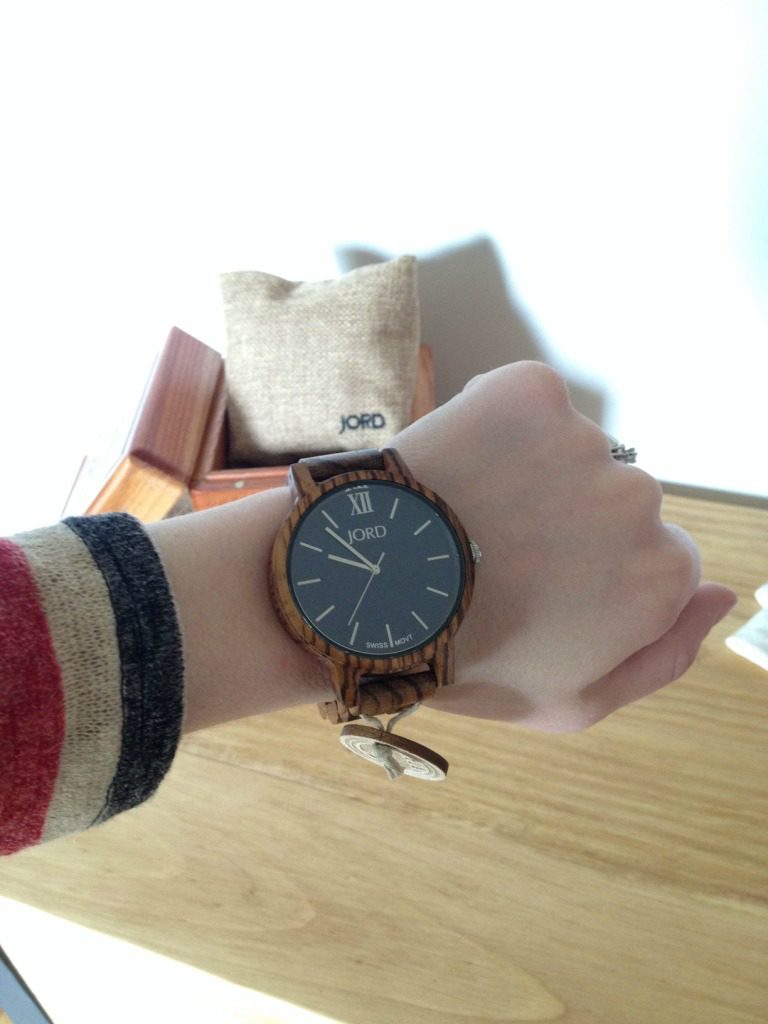 And, now I've got a super cute place to house it, too!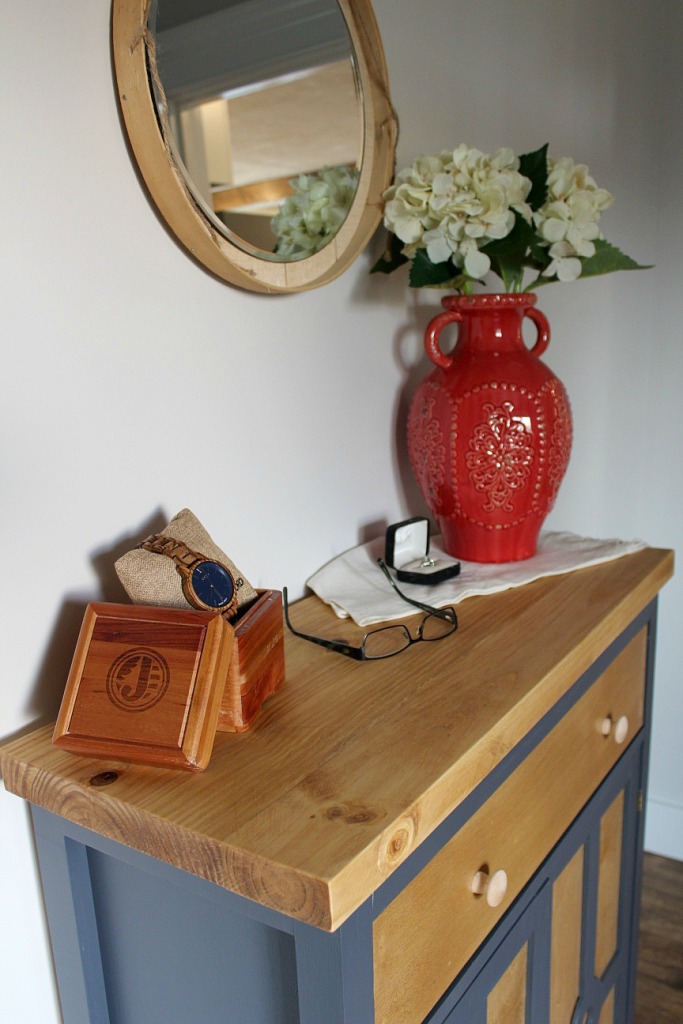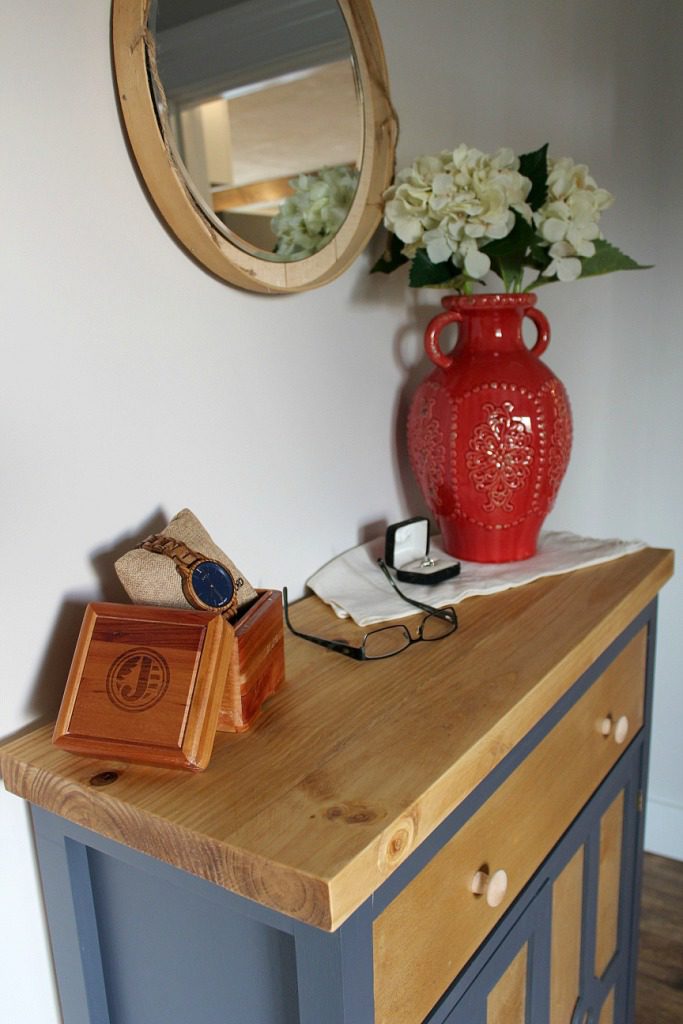 Hey, fun fact…when I got my watch, I saw that it was made ON MY BIRTHDAY!!!! WHAT?!  Danny told me I was the only one that thought this was THE coolest thing ever.  But, for reals…it is.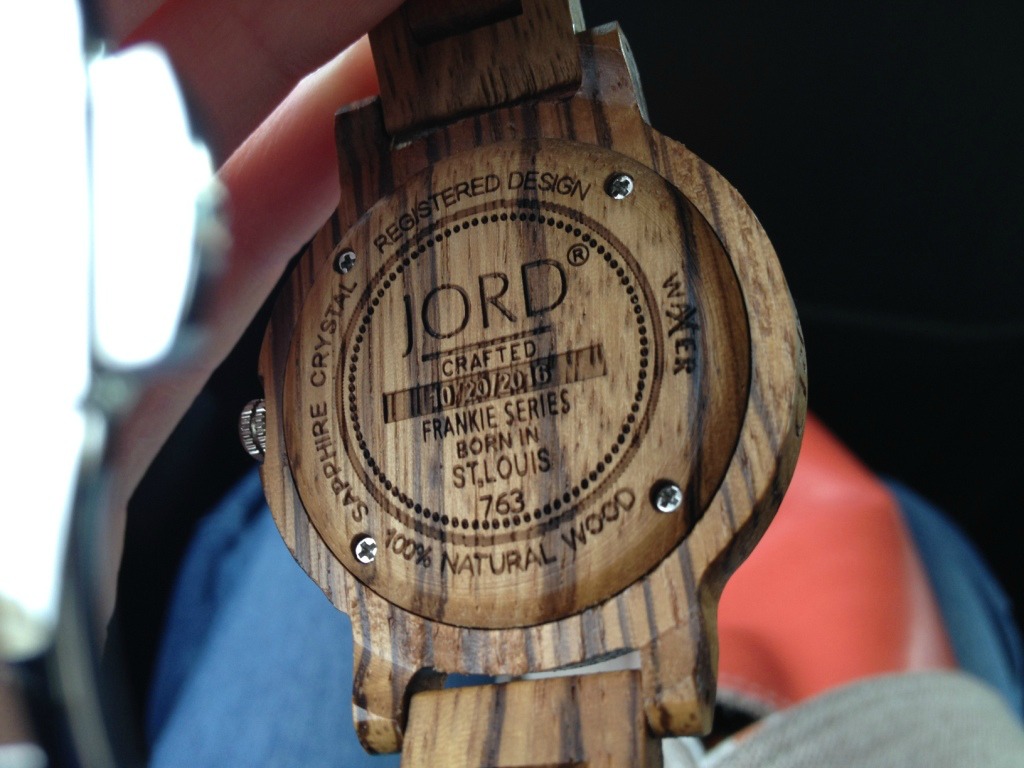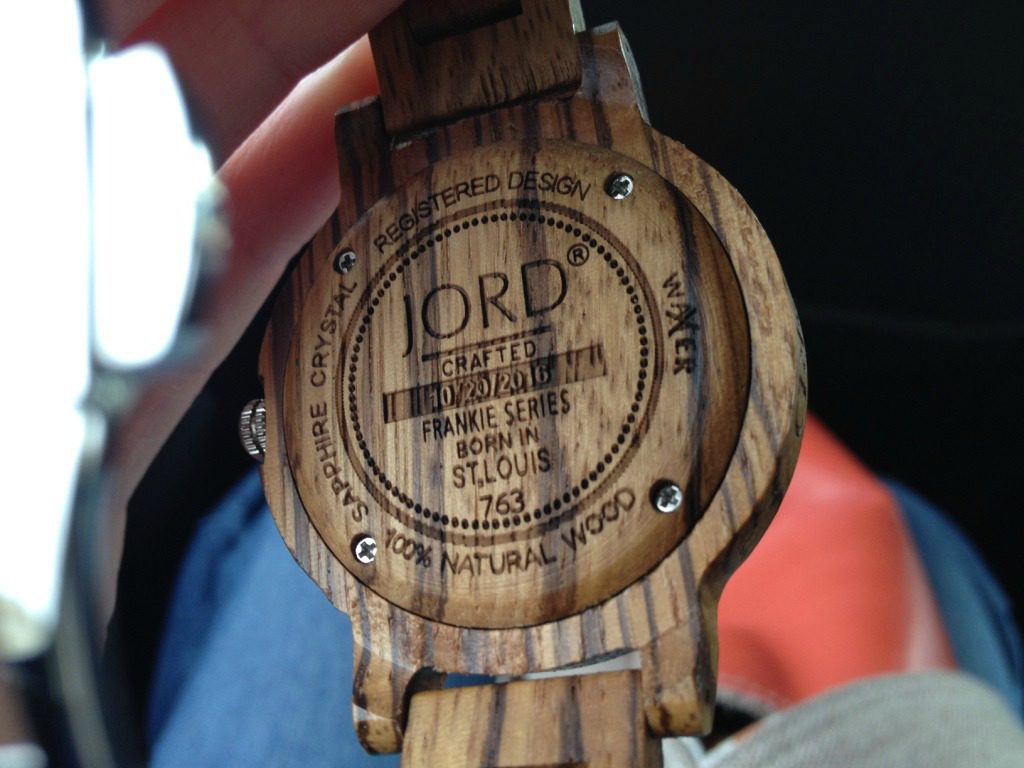 What do you guys think??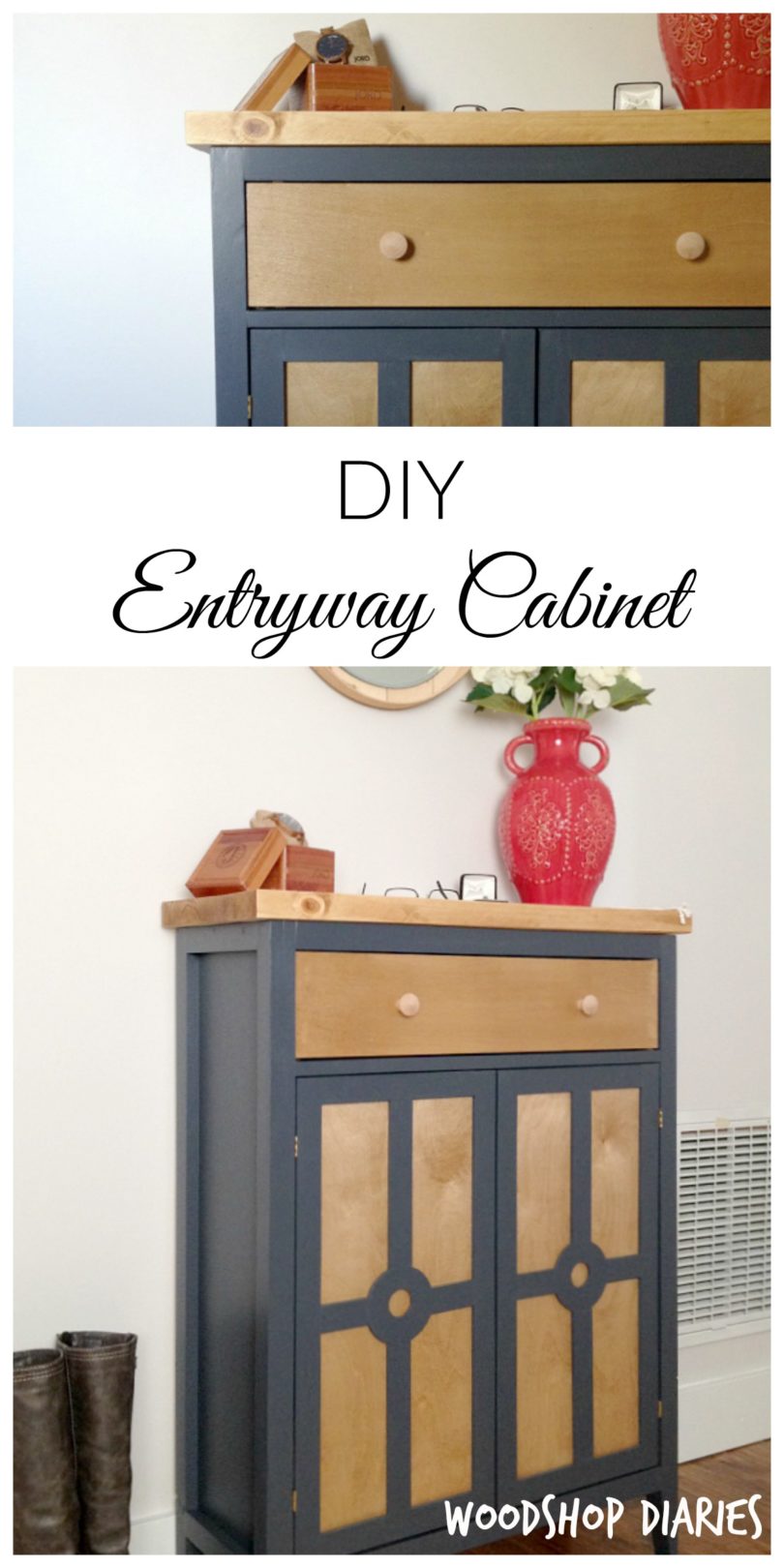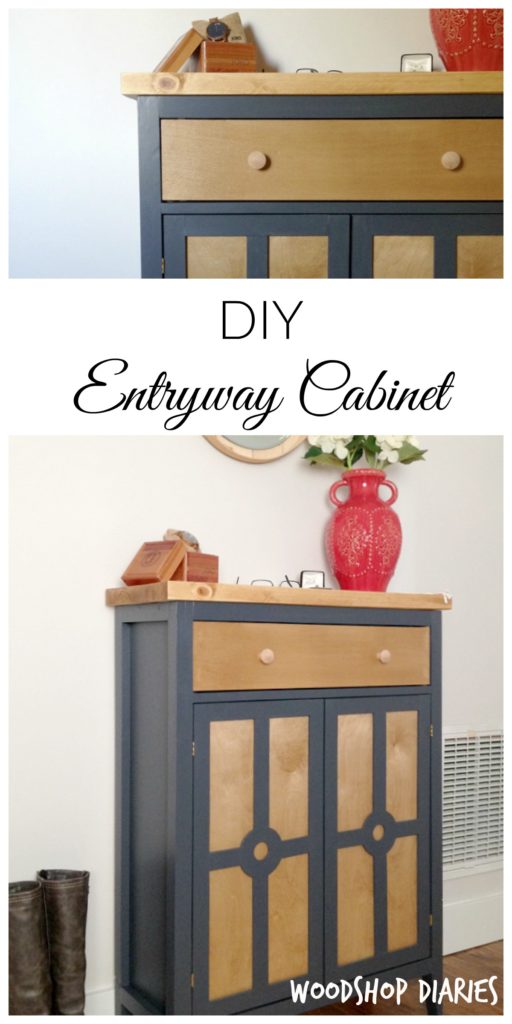 Don't forget to enter the giveaway here ->>(GIVEAWAY!!)!! A huge thank you to Jord Wood Watches for providing me with my new watch and for hosting this awesome giveaway!! Don't forget, either way, you get a $25 credit just for entering, so be sure to get in on that!
.
Until next time, happy building 🙂