Today, I'm doing something different.  Well, kinda.  Well, maybe not REALLY different.  But a little different.  I'm partnering up with PureBond Plywood to share how I built this beautiful traditional style DIY storage desk!
What's different about that?
.
Well, if you've noticed, lately, I've been building lots of pieces with a simple, modern feel.  (Like these closet cabinets, kitchen cabinets, and stacked shelf).  No fancy molding, just clean straight lines.  And while I personally love that style, every now and then it's really fun to dress up a piece of furniture with some fancy trim for a more traditional look—because not everyone likes things as plain as I do haha.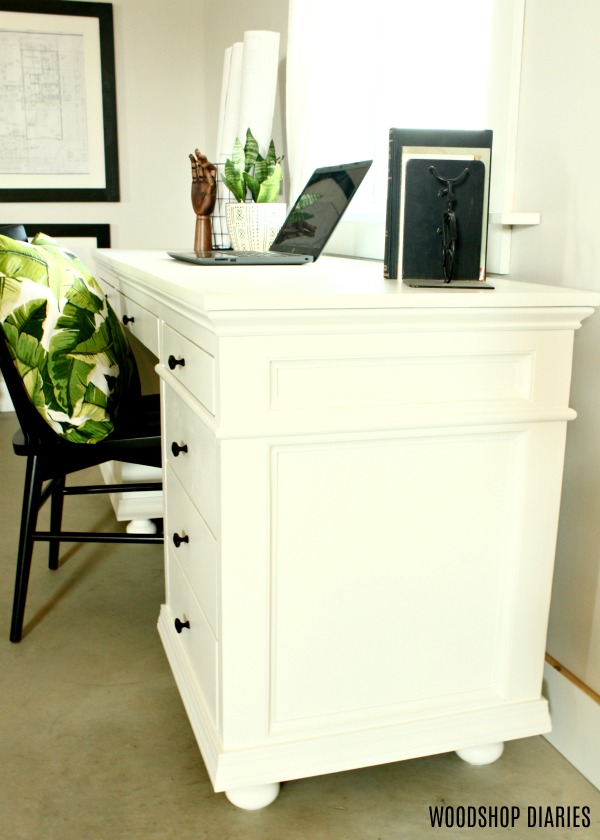 It's got TONS of storage with 9 drawers total, and you can customize the trim details and the foot styles however you wish.  It's designed to sit in the middle of a room if you prefer as the front is trimmed out as well as the sides, but it also works well against a wall, too.  I didn't have a good place to stage it in our tiny garage apartment, so just use your imagination with me haha.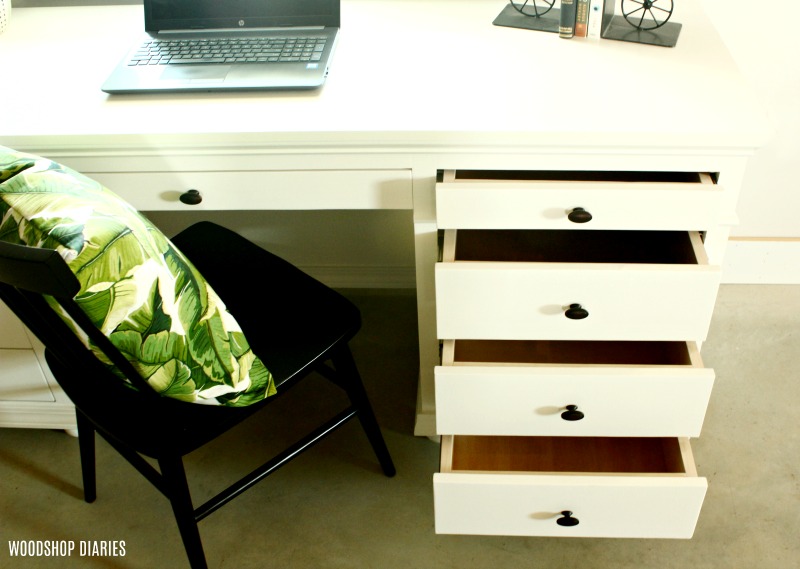 I used PureBond plywood as the meat and potatoes of the build—it's what makes up the structure of the desk and the drawers.  But the trim is the cherry on top—it's what catches your eye.  It's also what keeps you from having to pay for a gym membership…but more on that later..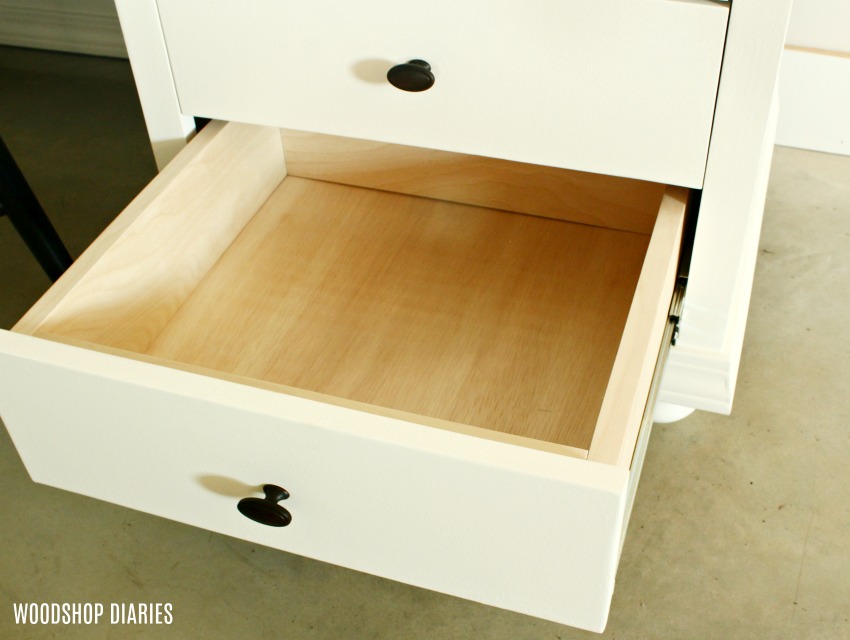 So, what else is different about this post?  Well, I've finally learned how to draw downloadable plans and you can find the printable PDF plans to this build here!  Bout time, right?  I hope to start posting some more plans as I have the time to draw them.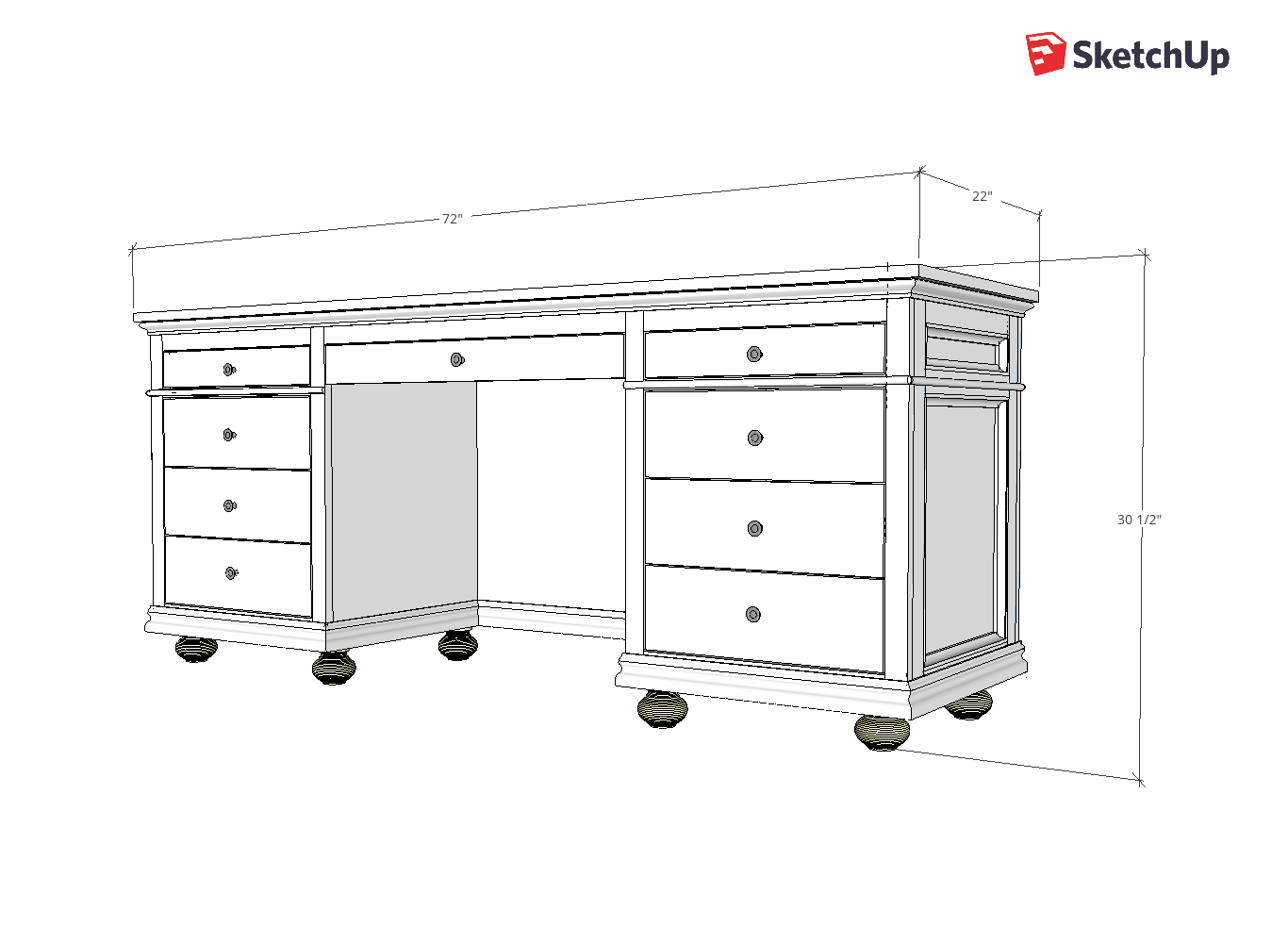 But, if you're like me, and you prefer a good old fashioned tutorial instead, I've still got that and an awesome video for you right here.
So, if you're ready to get building, let's do it.
.
This post contains affiliate links.  See policies for details.
.
You can find the full materials and cut list in the downloadable plans, but here is a quick breakdown of what you'll need for this project:
1x3x8 boards
1x2x8 boards
Cabinet Feet (Osborne Part Number #4115)
16″ Liberty Hardware Ball Bearing Soft Close Drawer Slides
Base Cap, Casement, Cove, Half Round Molding
Brad Nails
1 ¼″ wood screws
2″ wood screws
Table Saw (optional)
Cut Down Your Plywood
The first thing I did here was start cutting down my plywood.  People always ask me what type of plywood I recommend using for various projects.  And I always recommend PureBond plywood for any furniture project—even if you are painting it.
.
There are several reasons, but the top two are that it's a great high quality hardwood plywood that will hold up well over time, and it finishes awesome whether painted or stained—as you can see in this project.  And I hate painting anything, so whatever makes it easier for me is a winner in my book.  It's also formaldehyde free, made in the USA and Canada and available at The Home Depot.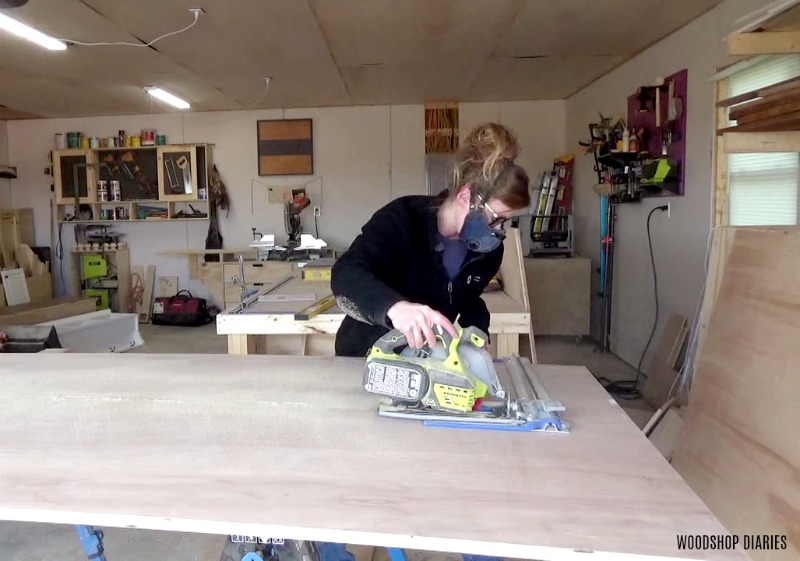 I like to cut down most of my plywood at the beginning so as I'm building, I can have all my pieces already cut, sanded and prepped, ready for assembly.  That way I don't have to stop in the middle of putting something together and go cut another piece.  Nothing kills the building vibe like having to stop and set up everything to cut one little piece of plywood to finish whatever you're putting together haha.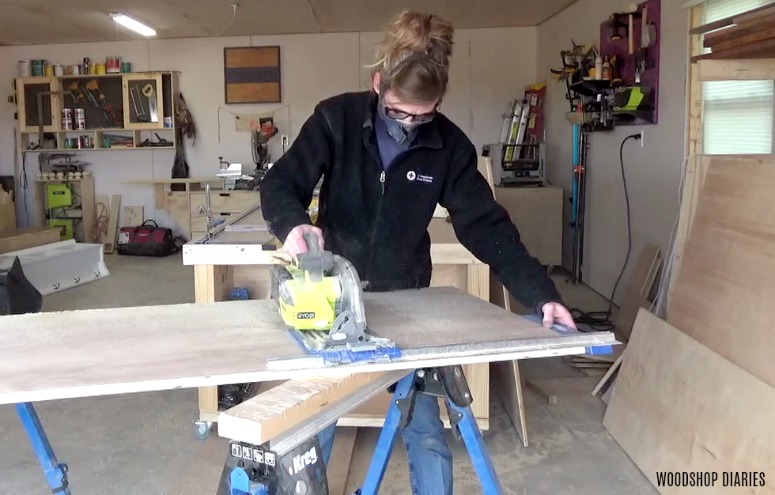 You can find the cut list in the plans here.
Assemble Desk Cabinets
Once my plywood was cut down, I started preparing the pieces that will make up the two side cabinets.  I had four plywood panels for this—two for each side cabinet.  And I drilled ¾" pocket holes along the bottom and back edges of these pieces.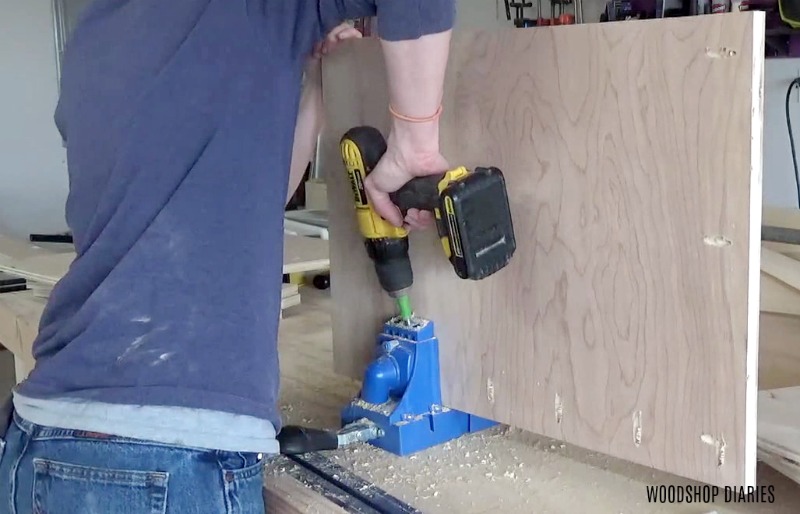 One thing to note here is that you want your pocket holes to be on the INSIDE of the cabinets and the orientation of the back holes will be opposite for each side of each cabinet.  It helps here to label them once you drill the holes so you don't get switched up.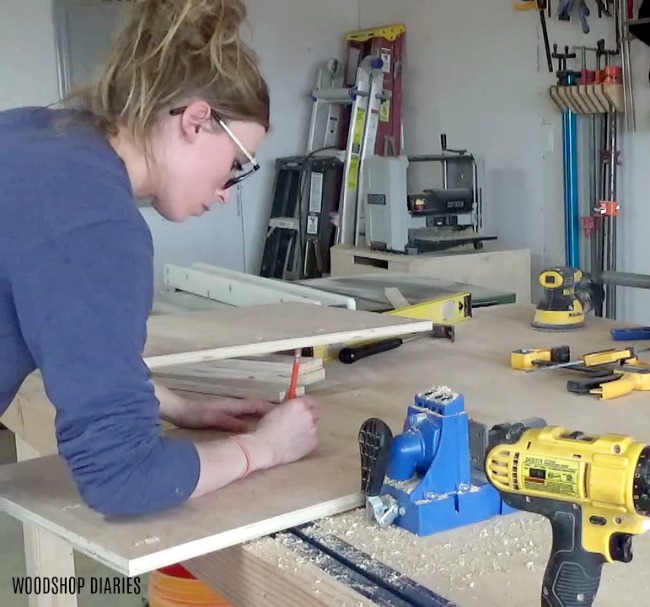 Once the pocket holes were drilled, I started assembling the cabinets.  Using wood glue and pocket hole screws, I screwed the sides of the cabinet into the bottom piece of the cabinet like shown making sure the pocket holes were on the inside.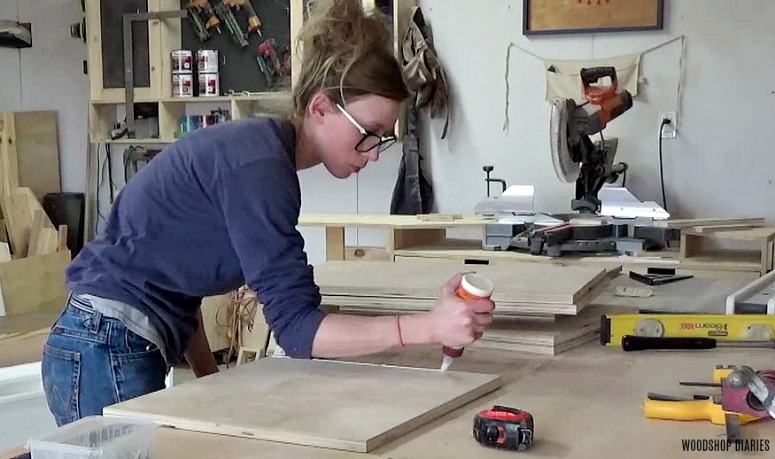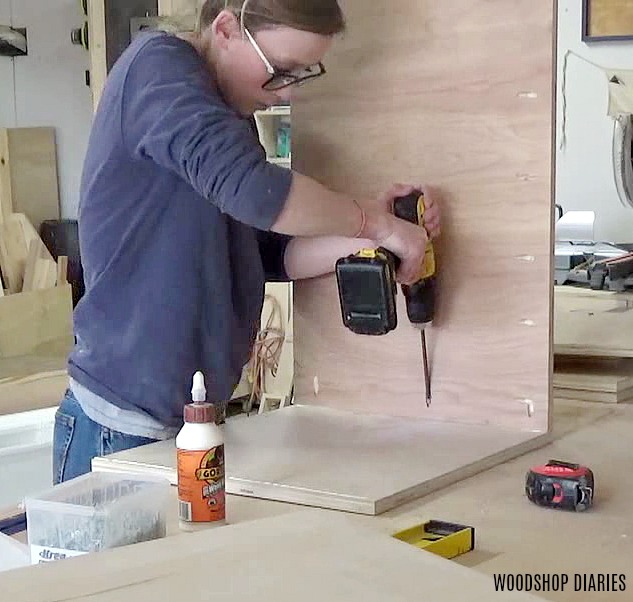 At the top, I used two 3" wide pieces of plywood scrap (or you could use a 1×3) and attached using pocket holes and screws.  These will serve as support pieces and a place to screw through later to attach the top.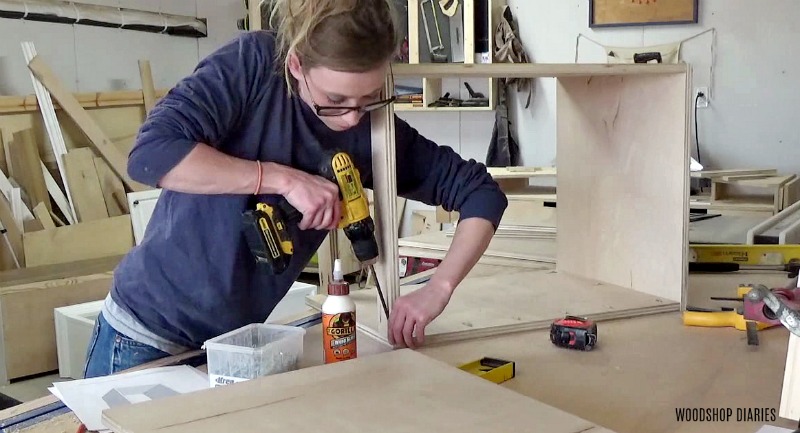 So once the cabinets were assembled, I glued and screwed on these cute little ball feet from Osborne wood products.  The link to the ones I used can be found in the materials list above and also right here.  I just applied a dab of glue, and attached through the bottom of the cabinet like shown using 2" wood screws.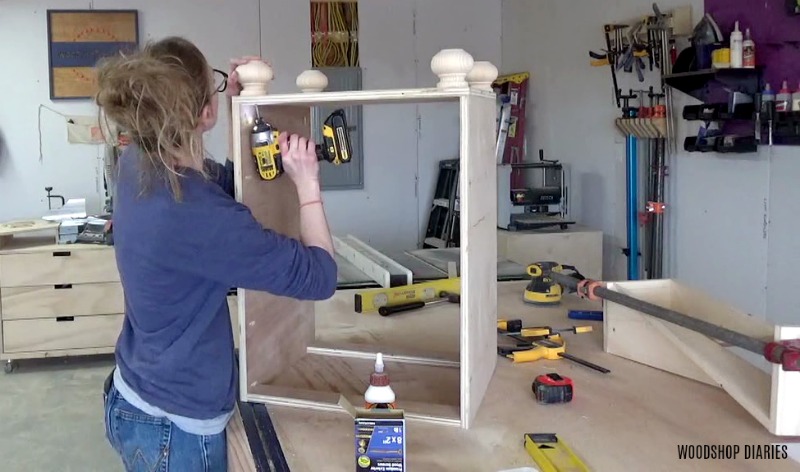 Add Face Frames to Desk Cabinets
Then it was time to start assembling the face frame of the desk.  I made the face frame out of 1x2s on the sides and 1x3s at the top and bottom.  I added a ¾" square dowel between the top drawer and the rest of the drawers as a decorative touch.
.
I assembled the frame using wood glue and pocket hole screws, and just attached the square dowel in place with wood glue (it was too small for a pocket hole).  I clamped lightly to keep the dowel in place and waited for the glue to dry.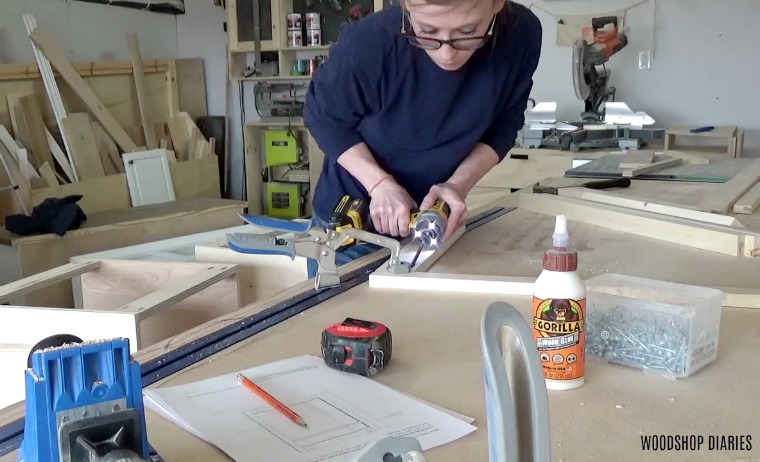 Actually, I waited for about 30 minutes, got impatient and moved on…I just crossed my fingers that was long enough.  (It was, but that's not good practice.)  Do as I say, not as I do 🙂
.
After the glue had dried I got tired of waiting for the glue to dry, it was time to add the frames onto the cabinets.  I applied wood glue along the FRONT edges of the cabinets and placed the face frame in place.  I attached with brad nails.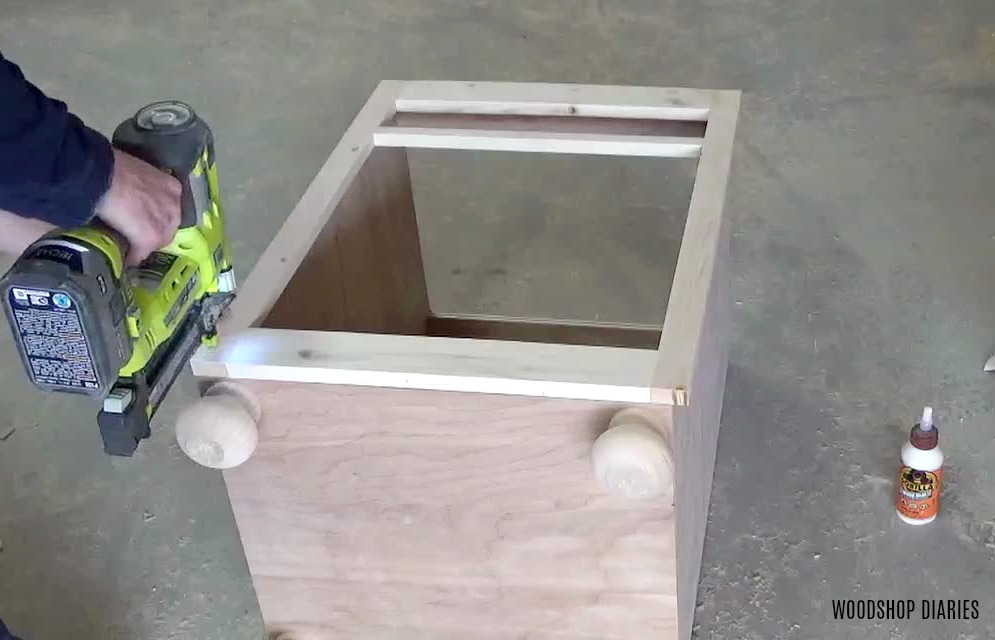 One thing to note here is that I made the face frames ¾" wider than the cabinet.  So it will sit flush on one side of the cabinet, but overhang the other side ¾".  This is so that later, when I attach the trim onto the sides of the desk, it kind of "meshes" with the trim.  It will overhang OPPOSITE sides of each cabinet.  So the overhang will be on the left side of the left cabinet and the right side of the right cabinet.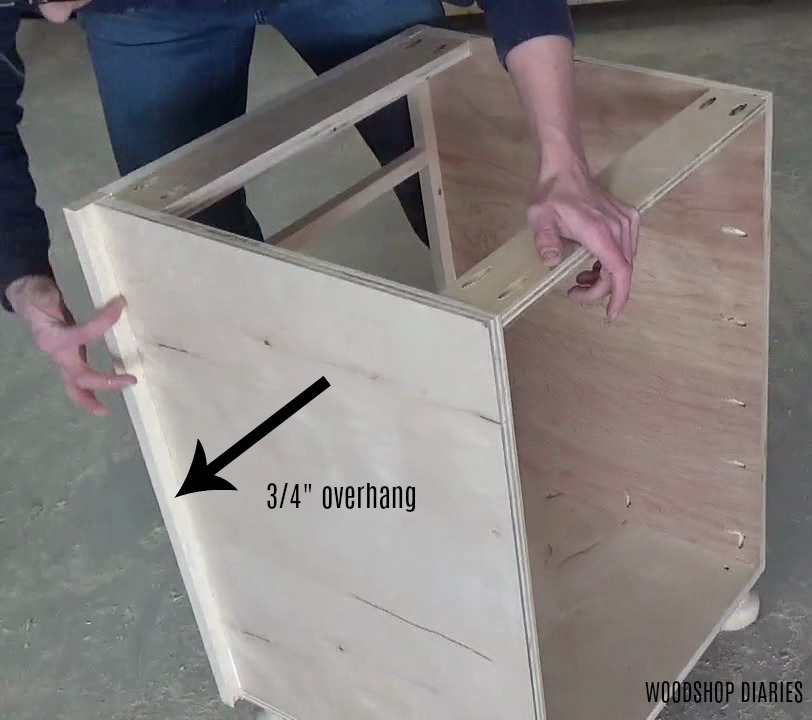 Put the Desk Cabinets Together
Once both face frames were in place, I cut a piece of PureBond Plywood for the front of the desk.  I laid it on the ground with the front side facing down, applied wood glue along the BACK sides of the cabinets and set them in place like shown and attached using pocket hole screws through the holes in the back sides of the panels.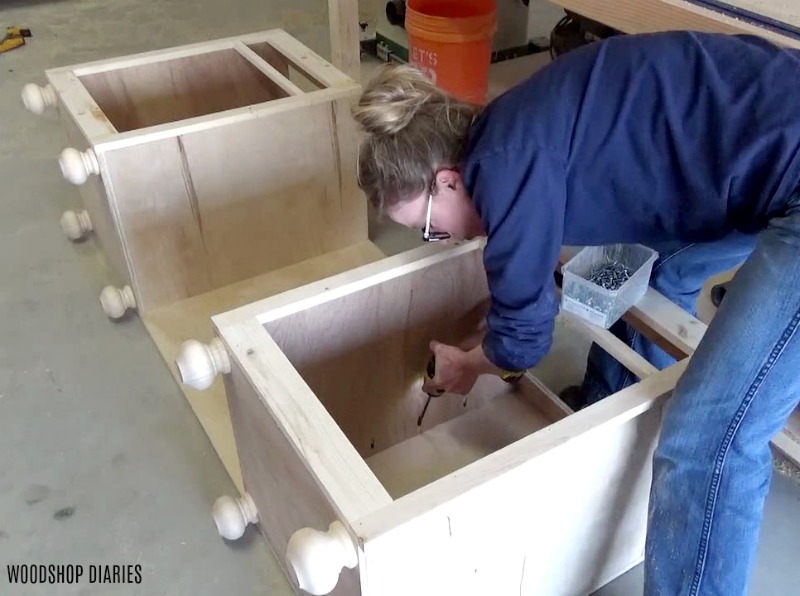 I made sure the sides of my cabinets where the face frame had the overhang were on the OUTSIDE of the desk, not the inside.
.
My shop floor isn't level, so to make sure the desk was level, I hoisted it up on top of my workbench (which I know is level) before moving on.  Once I saw that it was pretty level (THANK GOODNESS), I moved on to attaching this apron piece on the front of the desk with pocket holes and screws from the inside.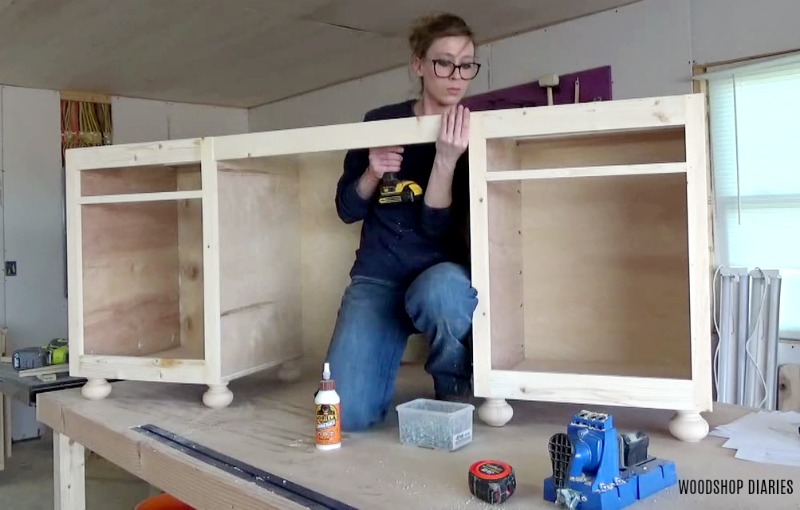 Add Trim Around Desk Sides
Then I moved the desk back down to the floor to attach the trim.  For the trim, I glued and nailed 1x3s and 1x2s everywhere except the vertical pieces on the desk sides.  Remember that overhang from earlier?  Well, since these boards were ¾" thick, I subtracted that from what a 1×3 would be and ripped pieces that width, which was 1 ¾", so if you looked at it from the side, it appeared to be a 1×3 and would match the widths of the other 1×3 pieces.
.
That may have been a little more complicated than it needed to be, but I tend to be a little technical sometimes.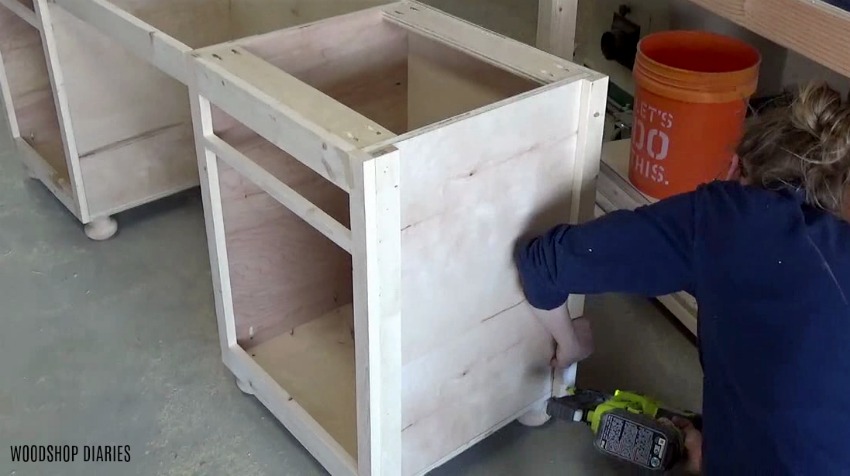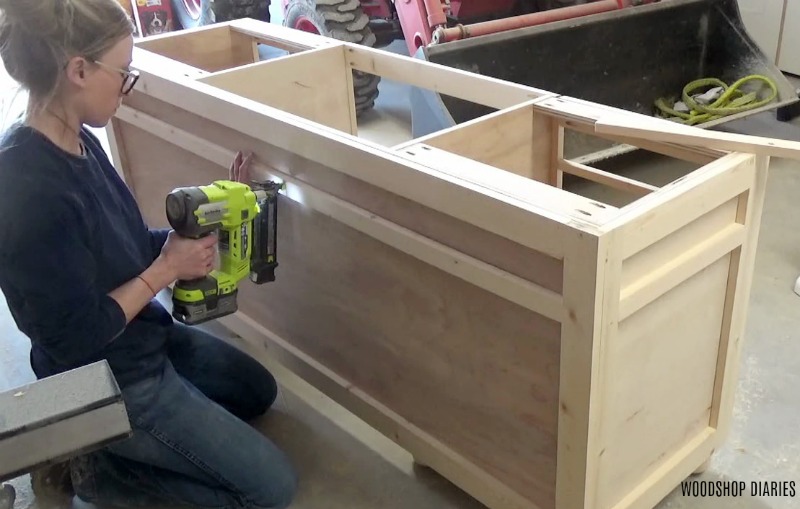 Attach Top
For the top, I cut a piece of PureBond plywood according to the plans and applied edge banding for a cleaner look.  I applied wood glue along the top edges and supports, then centered the top in place.  Once it was centered, I used wood screws and attached the top from the underside of the support pieces on the top of each side cabinet.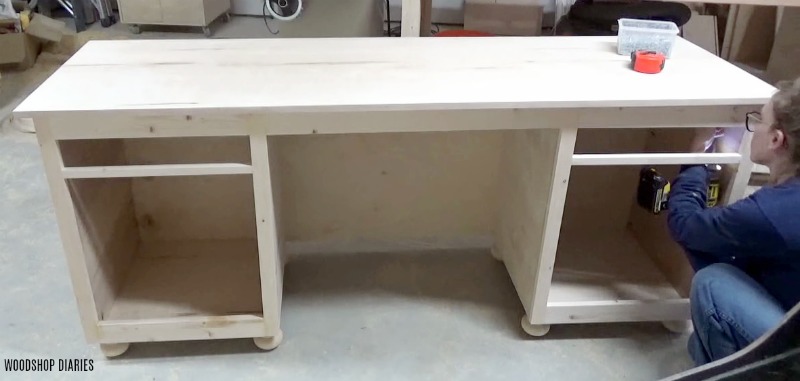 Add Drawers to DIY Storage Desk
Now time to focus on the drawers.  In order for the slides to work, they must be mounted flush with the face frame.  So for the INSIDES of both cabinets, where the face frame wasn't flush with the inside of the cabinet, I attached some scrap plywood pieces like shown to mount the drawer slides on.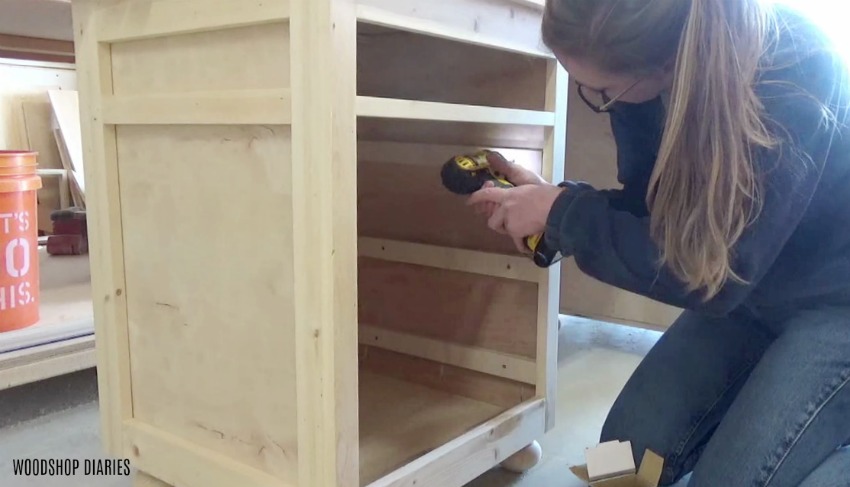 Then, I installed 9 pair of these soft closet ball bearing drawer slides from Liberty Hardware.  Soft close is the way to go—especially if you are like me and slam doors and drawers like a bull in a china shop. #whoops
.
Where there was a spacer block, I installed my slides on them.  Otherwise, I installed the slides directly onto the inside of the cabinet.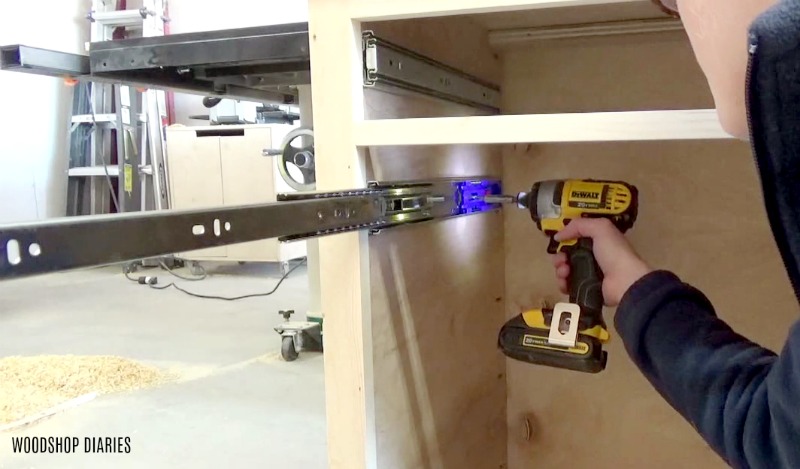 Then it was my favorite part of any project—time to make the drawers.  I cut down some of my remaining plywood into strips to make the drawers and used my table saw to cut ¼" dadoes into the pieces.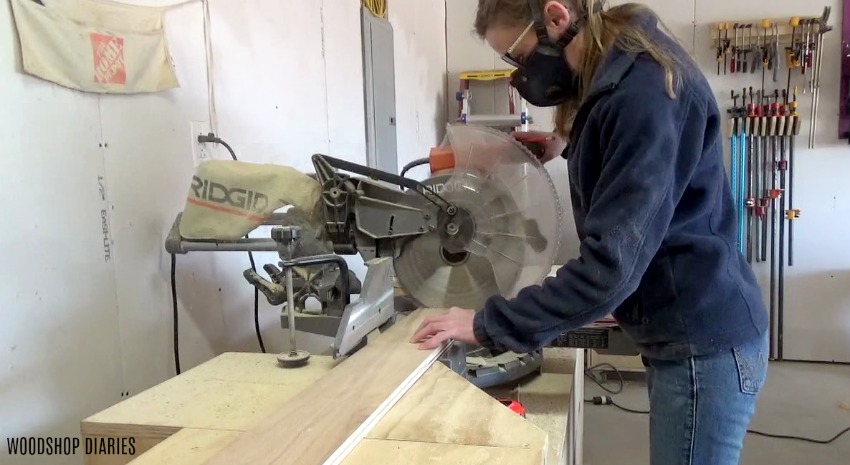 If you didn't want to do dadoes for your drawer bottoms, you can glue and staple the bottoms onto the drawers instead.  I just really like using dadoes.  Once I had the pieces cut, I applied iron on edge banding to the tops of the drawers.  It really makes for a nice, clean finish on plywood drawers.
.
I assembled my drawers like shown using pocket holes and screws. Then I attached them into the desk.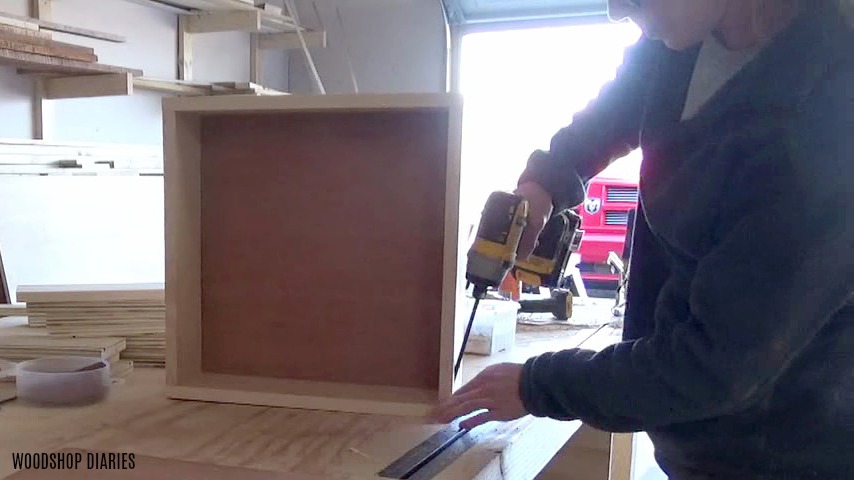 I used some scrap pieces as spacer blocks to make for easy installation.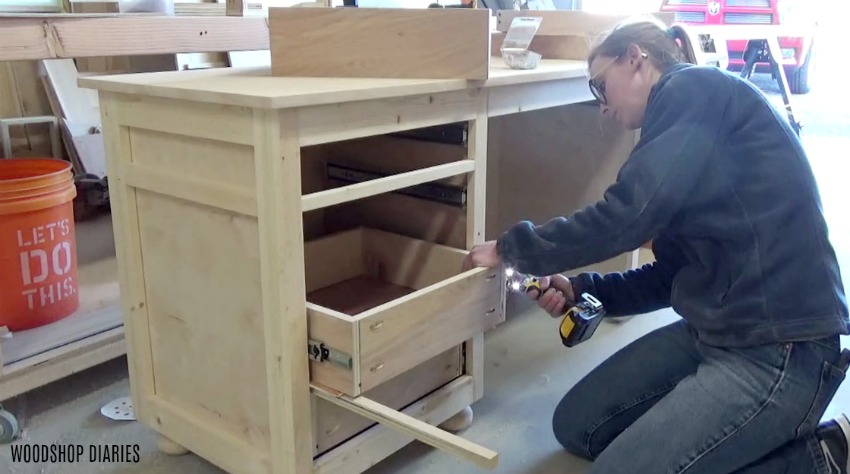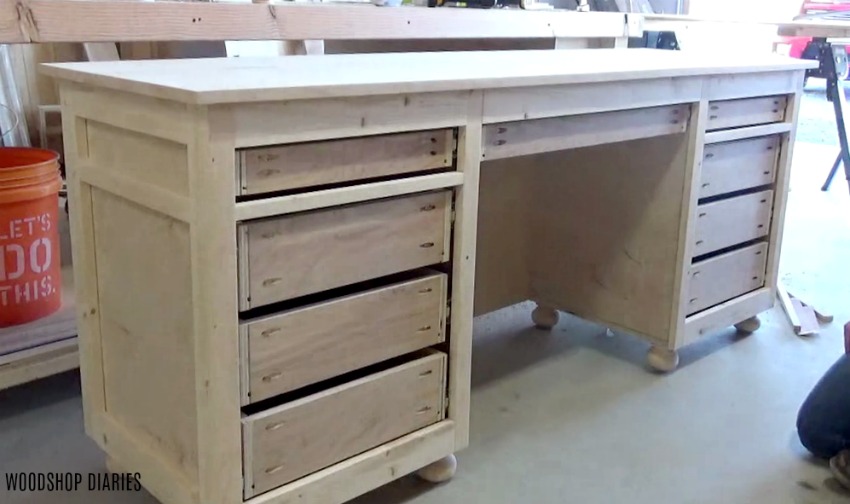 Dress Up Desk with Molding
Before cutting the drawer fronts, I went ahead and finished trimming out the desk with molding. I love making drawers, but drawer fronts are another story, so I tend to put those off until last haha. #confessionsofafurniturebuilder
.
I cut to fit base cap molding around the top, and I used 2 ¼" door facing for the baseboard around the bottom.  Then, on the insides of all my trim pieces, I lined it with cove molding. I just glued and brad nailed all the molding in place.
.
You get a really good leg workout cutting to fit all these pieces.  Up, go trim, come back, down, test, up, trim again, come back, down, test, nail, up, trim, down…you get the idea.  Haha—who needs a gym??  I was sore for two days after that.  And that says a lot about my (lack of a) workout routine haha.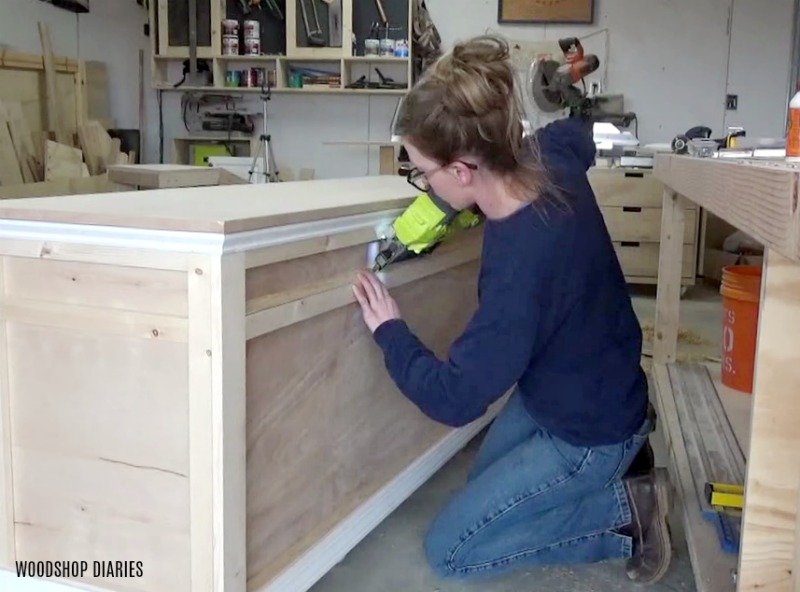 I also added some half round molding (FYI I've looked EVERYWHERE for half round molding in my area and I can't find it anywhere but online at The Home Depot here) along the ¾″ dowel piece on the face frame and around the sides and front.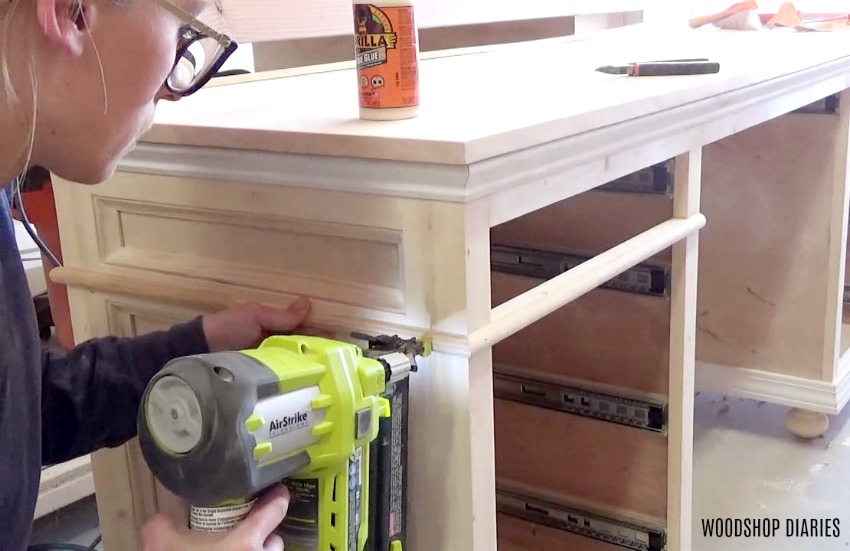 Once all the molding was done, I used wood putty to cover all nail holes, and clean up any corners or joints that weren't perfect.
Install Drawer Fronts
While the putty dried, I started cutting down drawer fronts.  I edge banded all sides of these before attaching to my drawers.  This just makes it nicer once it's painted.  Once they were ready, I applied glue and nailed in place leaving about ⅛" gap around all sides of the fronts.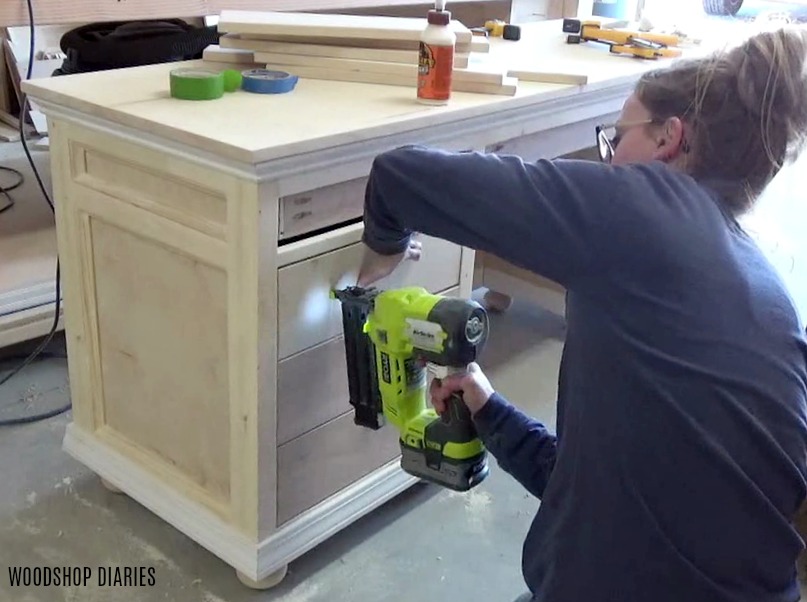 Once they were attached, I removed the drawers to make it easier to finish.  It's super helpful here to label the backs of the drawers so you will know where they went when you are ready to put them back in place.  I've learned this the hard way several times before. HA.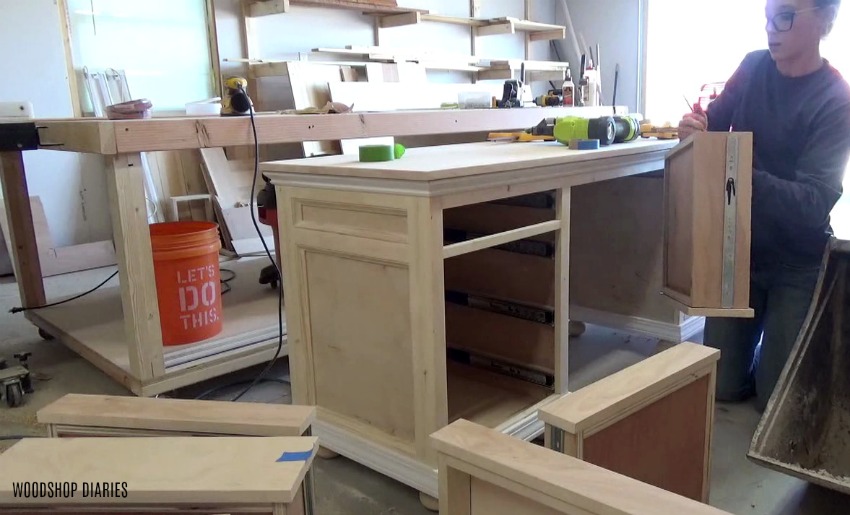 Then, I secured each drawer front with screws from the inside like shown.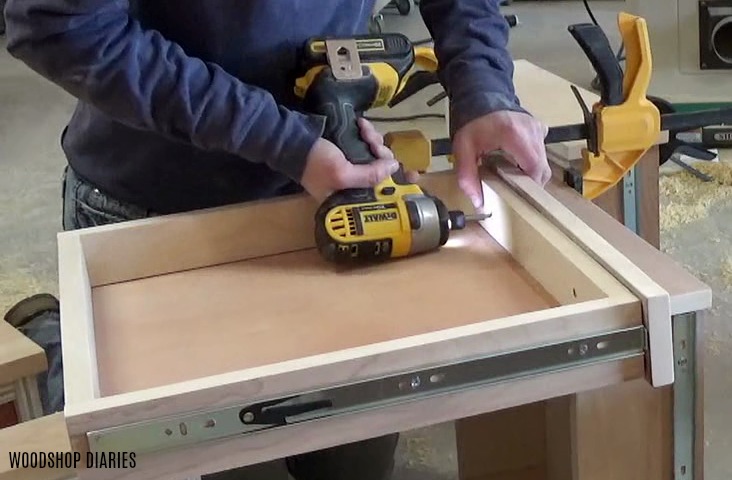 At this point, it's time for a good sanding, then prime and paint.  This is the worst part.  Painting stinks.  But, I have to admit, it's hard to go wrong with white paint on some fancy molding.  Once the paint was dry, I attached knobs to the drawers and installed them back in place.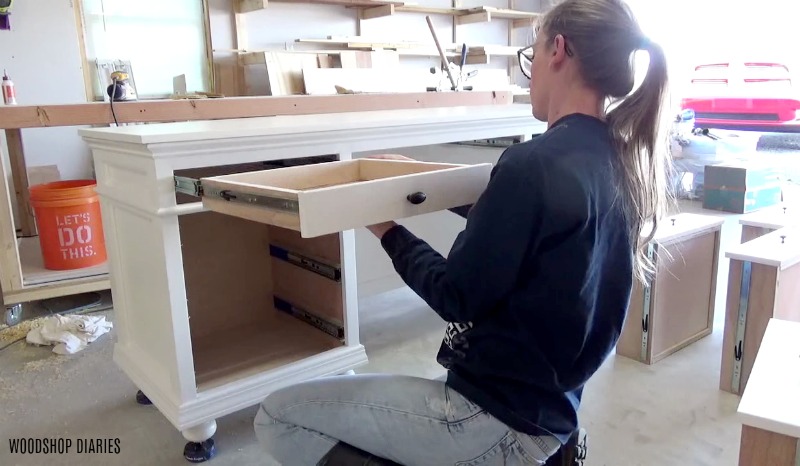 I loved the way this turned out and how the molding makes it pop.  And I also love that this desk has SO MUCH STORAGE.  Drawers are my favorite thing to add to any furniture piece.  Is that weird? #givemeallthedrawers
,
I also love how smooth this finish is on this plywood.  Nothing is worse than spending hours building something amazing, then having a horrible finish job.  Trust me…been there…done that.  Said a few choice words in the process.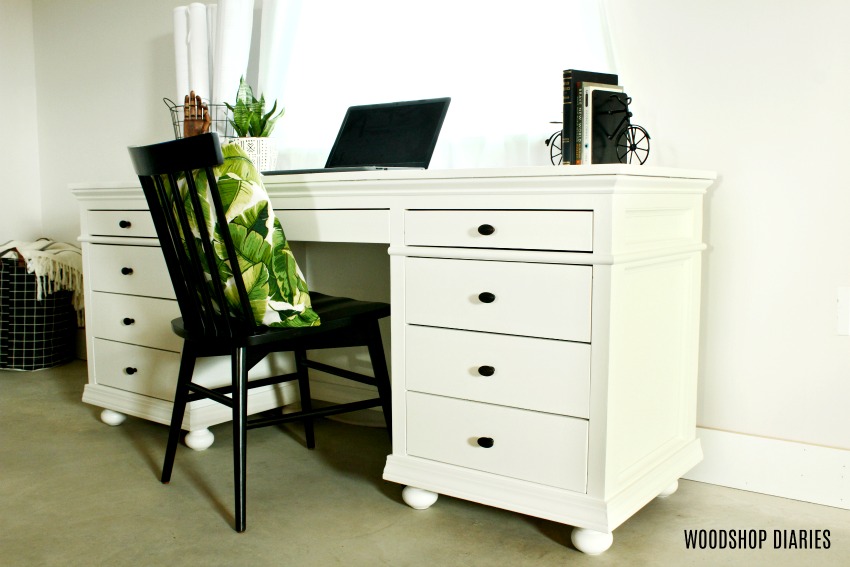 That's why I use PureBond whether painting or staining.  It's nice and smooth and made for building cabinets, so it finishes great.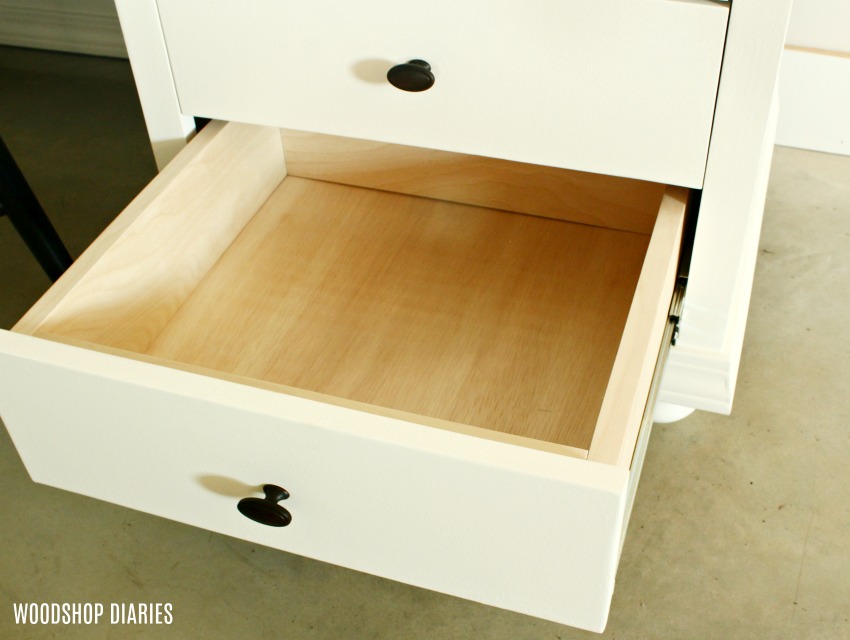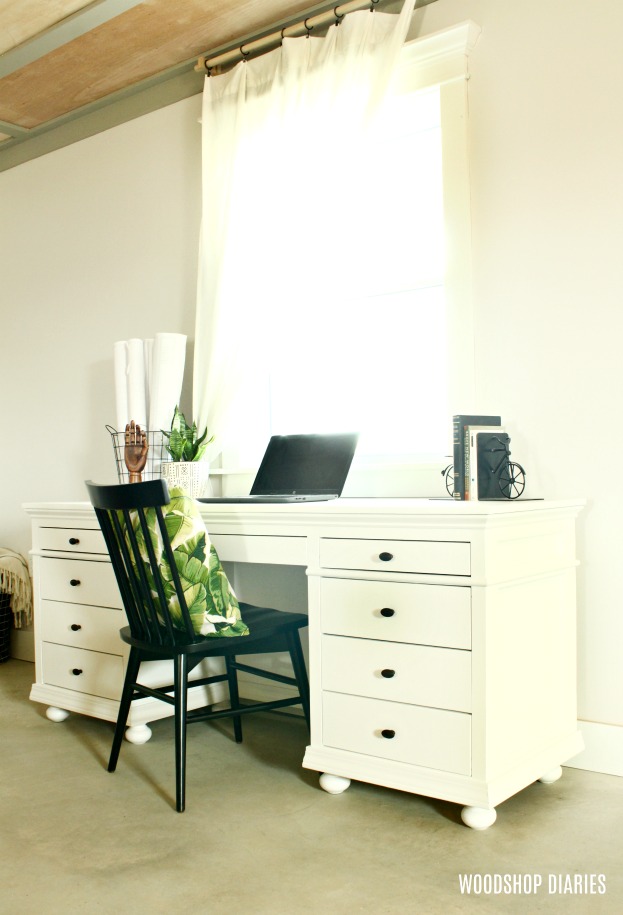 So if your office could use a fancy, new desk, don't forget to check out the plans and YouTube video.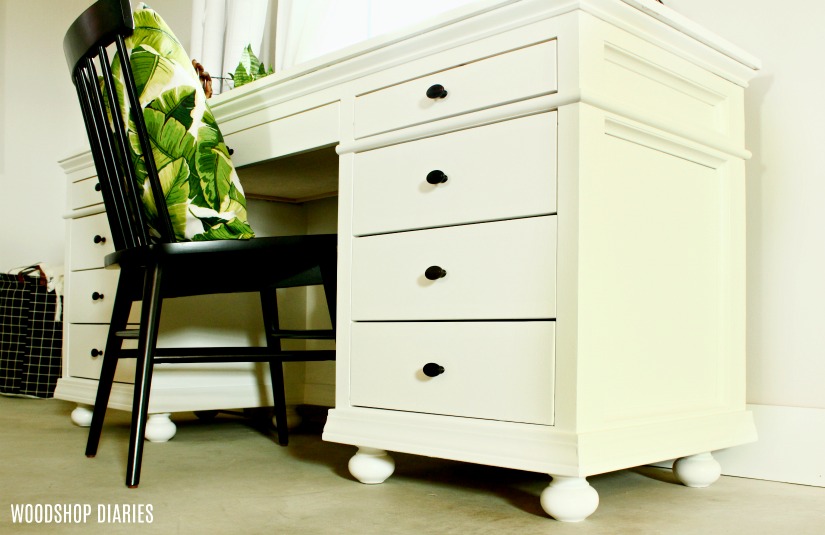 And also, a huge thanks to PureBond plywood for sponsoring this project and for making plywood that is so easy to build beautiful things with.
.
Now I'm ready to get back in the shop and build something new.
.
In the mean time, I'd love if you'd subscribe to my YouTube channel and check out a few of my other home office projects below and pin this for later 🙂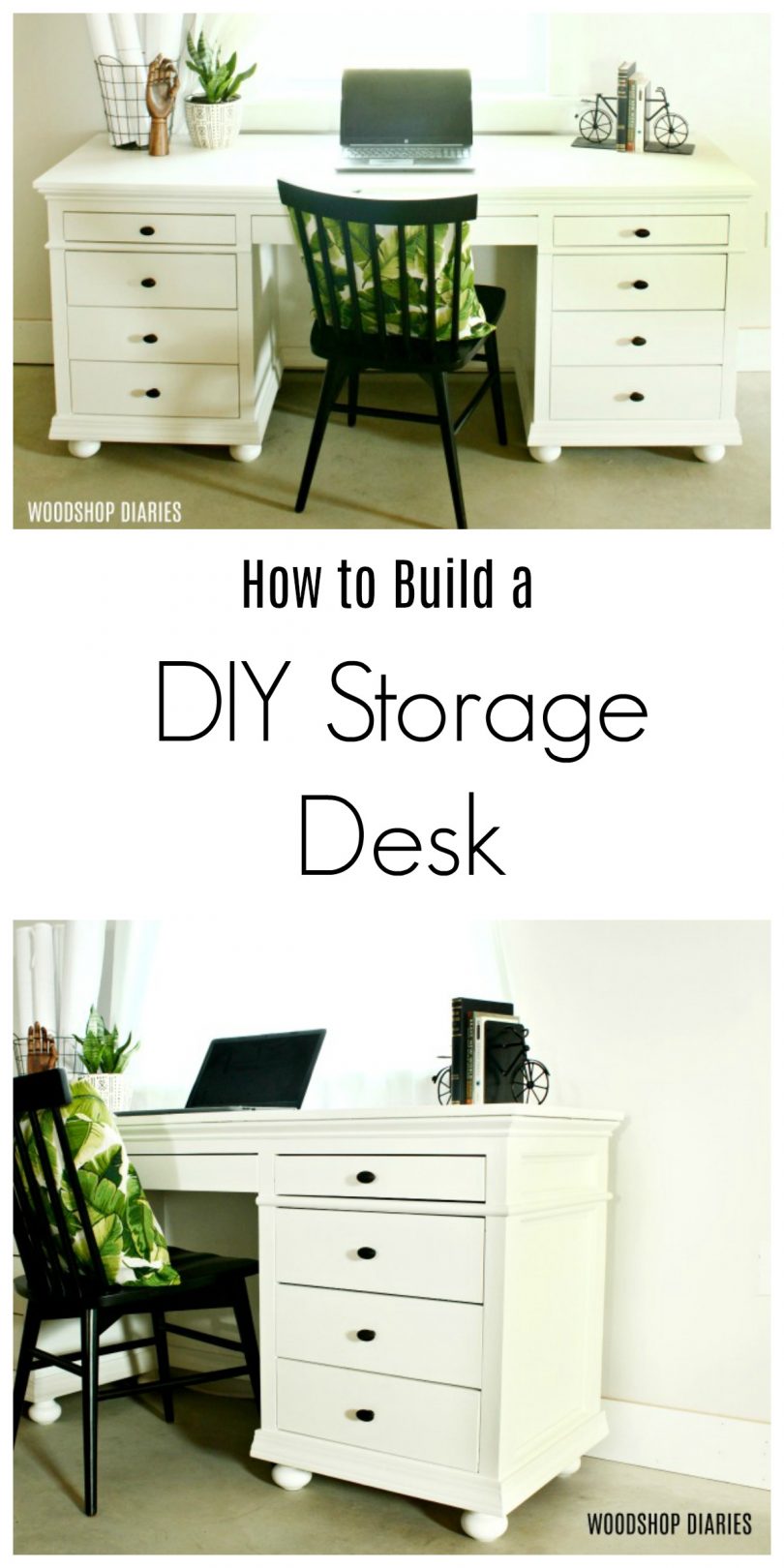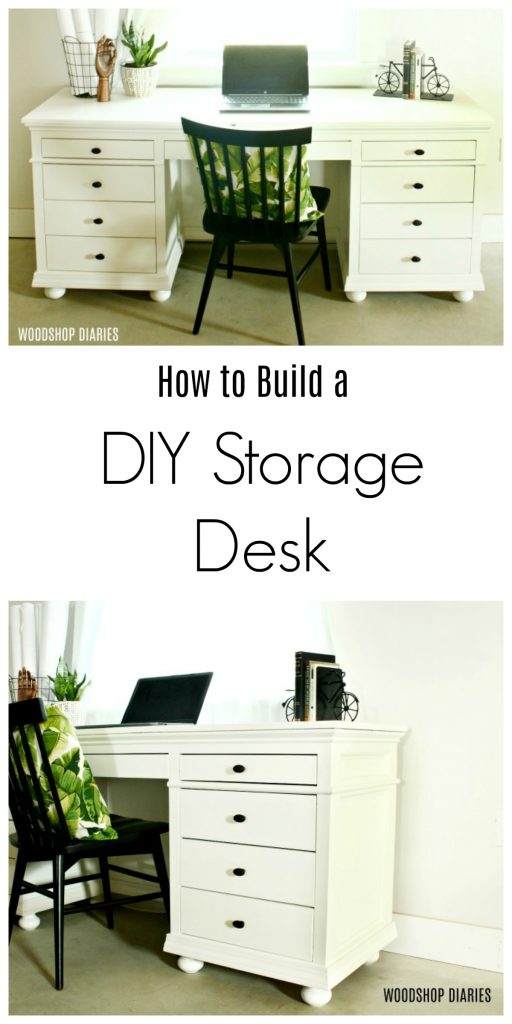 Until next time, happy building!
.
Need more office inspiration??  Check out these fun projects!