In this post, I'm sharing with you how to build your own DIY library bookshelf with a built in desk!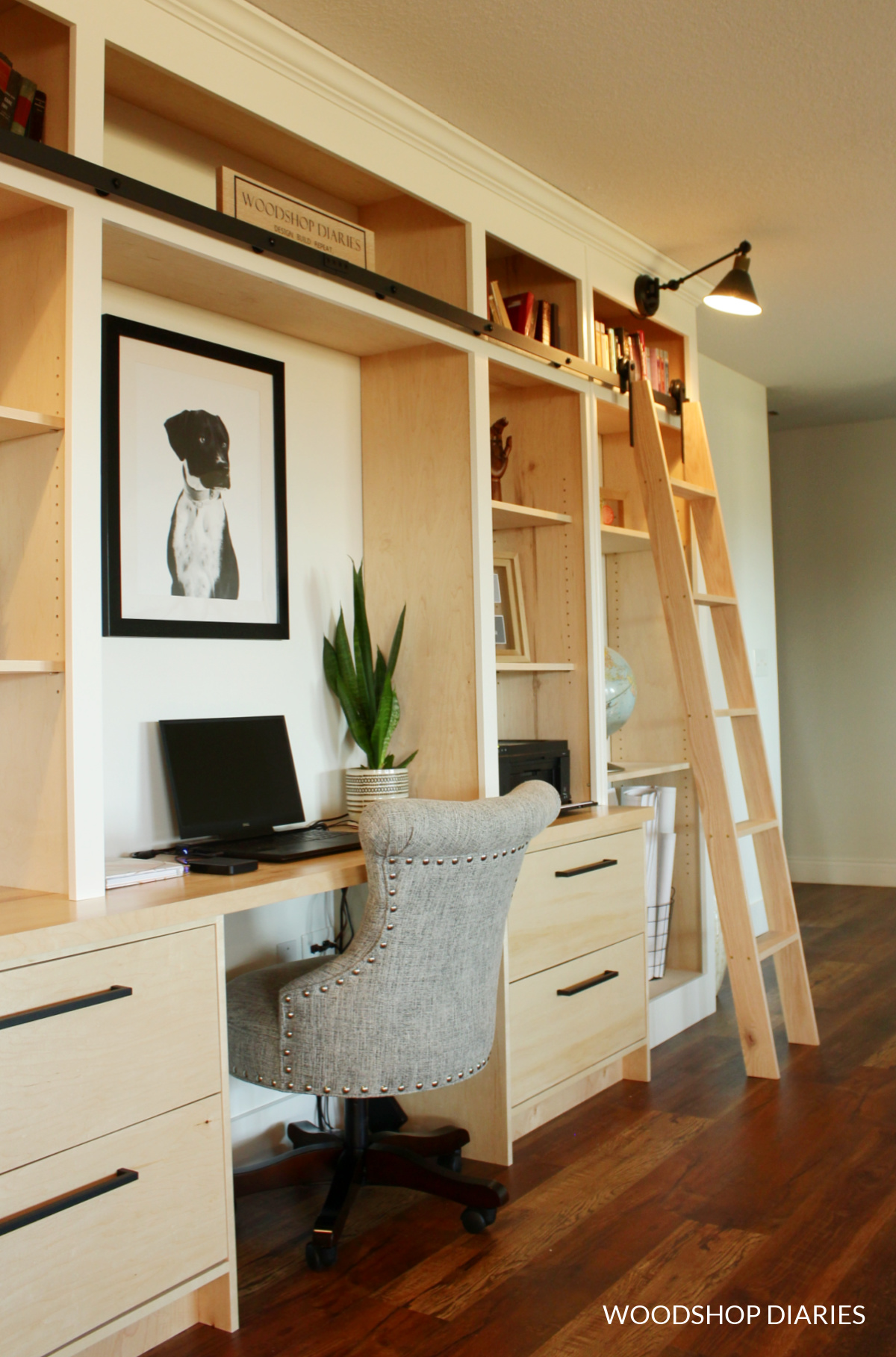 Welcome to my new home office space! I've wanted a legit library bookshelf desk/home office space for YEARS and I finally got around to building one that I'm SO excited to share with you. And…obviously excited to work at 😉
.
This project is both a built in "library"–basically, a wall of shelves–plus a desk and it could even be used as an entertainment center if you wanted.
.
It's complete with lights, a rolling ladder, storage, and plenty of display space.
.
The best part from the DIYers perspective?? It's built in sections to make it easy to build, set up, and install! There is a lot of info to cover here, so let's dive right in.
.
I'm sharing the video of the build process here and the tutorial with printable plans below:
Some notes about the build:
.
The ~2″ space between the top of the shelves and the ceiling will be covered with crown molding once installed.
.
If your ceiling is higher, than 8 foot, you'll have some open space above the shelves…which is okay. But if your ceiling is lower than 8 ft, you'll need to adjust the height here for it to fit.
.
Overall dimensions for the library bookshelf are approx. 8′ tall, 13′ 5″ wide, and about 20″ deep–not including the ladder.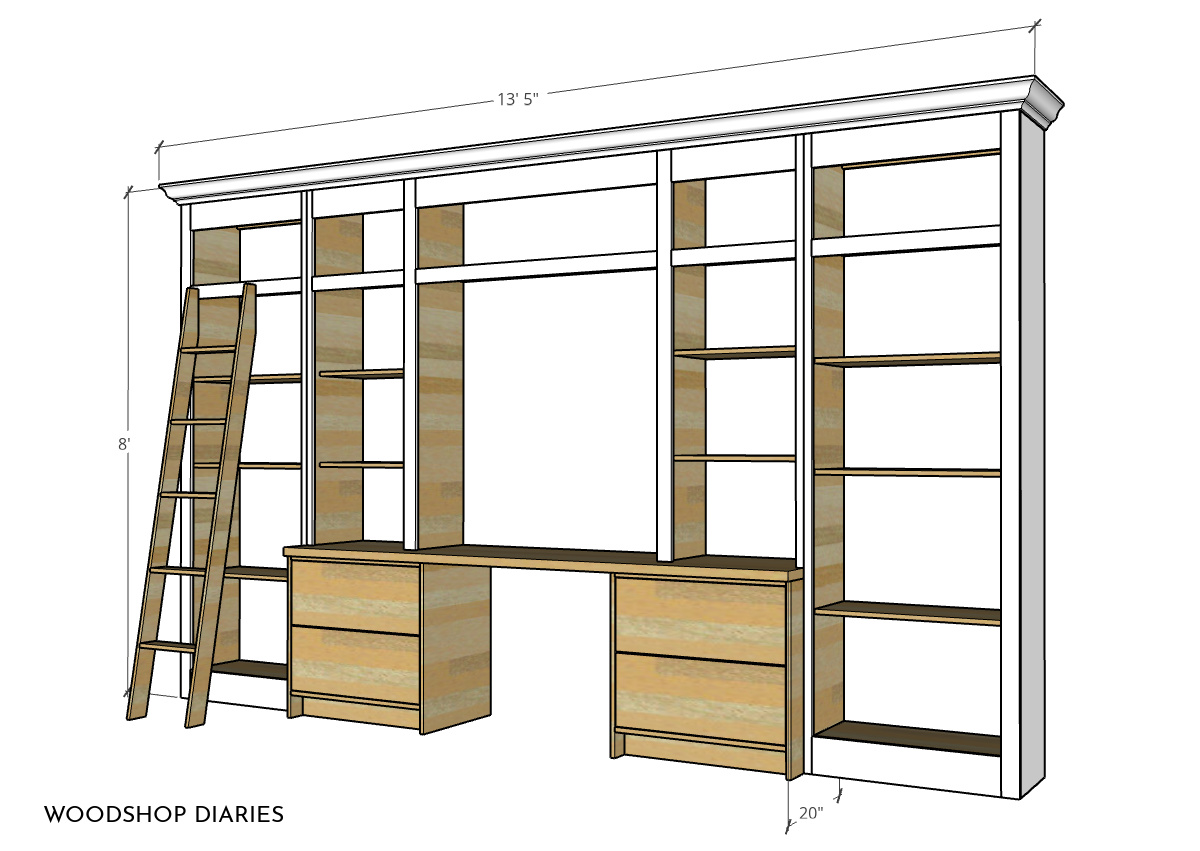 .
First, I built the tall outside bookshelves, then the desk cabinets with drawers, the countertop, the middle shelf section that sits on top of the desk, and once it was all put together, I added the crown molding, the lights and the ladder.
.
Then, I used my Kreg shelf pin jig to drill shelf pin holes up and down both sides of both shelves. Using shelf pins allows me to be able to install adjustable shelves.
.
.
I used 1x6s for the top and bottom, 1x3s for the outside and the middle and the 1 ¼″ wide (half of a 1×3) strip for the inside piece of the face frame.
.
.
.
.
Once the drawer boxes were in, I cut, edge banded and installed inset drawer fronts using screws from the inside to secure them.
.
.
.
This was so large, I needed to assemble it on the floor haha.
.
Notice also that I drilled shelf pin holes in the bottom parts of the smaller sections. These spaces will have shelves installed, but the wider middle section will be where the computer goes, so it didn't need any additional shelves–unless you want to add some.
.
When you build it yourself, you can customize how you wish 🙂 haha!
I assembled this face frame using wood glue and pocket holes and screws.
.
.
I chose to just apply a simple clear poly to the desk cabinets–but you could also stain or paint those as well.
.
Like I mentioned earlier, the baseboards need to be removed or cut out for these parts to sit flush against the wall. I removed mine because I didn't like them to begin with and I'll replace them later. But if you didn't want to completely remove, you could just cut out the sections where these shelves will go.
.
After all the pieces were in place and secured together, I used some 2 ½″ screws through the top supports in the tall cabinets to secure them to the wall studs.
.
One way or another, I wanted everything screwed together and secured to the wall haha.
Now, I tried to putty and sand over the seam where the tall bookshelf met the middle section, but I just wasn't happy with the result and I could still see the seam a little.
.
Then, I came back and cut to fit my new baseboards around the shelf as needed. I just butted the baseboards up to the sides of the shelves and added one in between the desk cabinets.
.
I used painted 1x6s for my baseboards to keep things simple.
.
.
You can install as many or as few shelves as you wish.
.
I looked for rolling ladder hardware online for this, but the prices I found were a little steep. I didn't see a big difference between rolling ladder hardware and rolling door hardware–except for the price.
.
So I actually used rolling door hardware for this and it worked great!
.
The rail connects together in the middle here, so that's why it looks like it's bent–I just haven't got the left side screwed in yet haha.
.
For the ladder, I built it using 1×4 oak. Pine would have probably been fine, but I thought a hardwood might be better here for using as a ladder so I went with oak.
.
I cut the ends of the ladder sides with a 10 degree miter so it would lean a little and used a speed square to mark and cut off the top back corner to give me somewhere to mount the rollers (see plans for diagrams and dimensions).
.
To install the ladder–since this was sliding barn door hardware and not rolling ladder hardware–I kind of positioned the rollers straight up and down on the track.
.
I lifted the ladder off the rail and used 2″ screws with washers to secure the roller to the back edge in that position. Then I repeated for the second roller.
.
I didn't add any wheels on the bottom of the ladder because they were pretty pricey and I didn't like how any of the ones I saw online looked.
.
The ladder is fairly lightweight and glides really easily, so I just lift it out a little and slide it where needed, then set it back down. You could add some felt pads to the bottom to slide easier, too, if you wanted. Or, you can add wheels if you'd rather.
.
I bought a pair of plug in sconce lights and just used some wood screws to screw them into the top 1×6 part of the face frame. The hardware that comes with the lights won't work for this application.
.
I used these plug in style lights so that I could drill holes into the plywood panels of the bookshelves and run the wires behind the face frames so they're hidden. Then, I just plugged them into an extension cord in the middle at the top and ran it down to an outlet to plug them in.
.
I am SOOOO excited about how this home office project turned out and so ready to get to work here at my very own legit home office station.
.
I really hope you guys enjoyed this library bookshelf and desk build as much as I did and I hope it's inspired you to set up and enjoy your own office space.
.
I'm at my computer A LOT editing videos and content, so I really wanted an enjoyable place to spend that time.
.
PS How cute is Lucy's black and white picture above my desk–I tell people when I think about quitting, I look up and remember why I keep working HAHA! Just kidding–kind of.
.
I know this was a lot of info to cover on a really big project, so be sure to check out the video for more information and to watch the whole process and grab the printable plans for all the dimensions and diagrams as well.
.
If you enjoyed this DIY library bookshelf project, be sure to subscribe to the newsletter to be the first to know about the latest projects and plans on Woodshop Diaries.
And if you want to save this for later, don't forget to share it on your favorite social channel or pin it!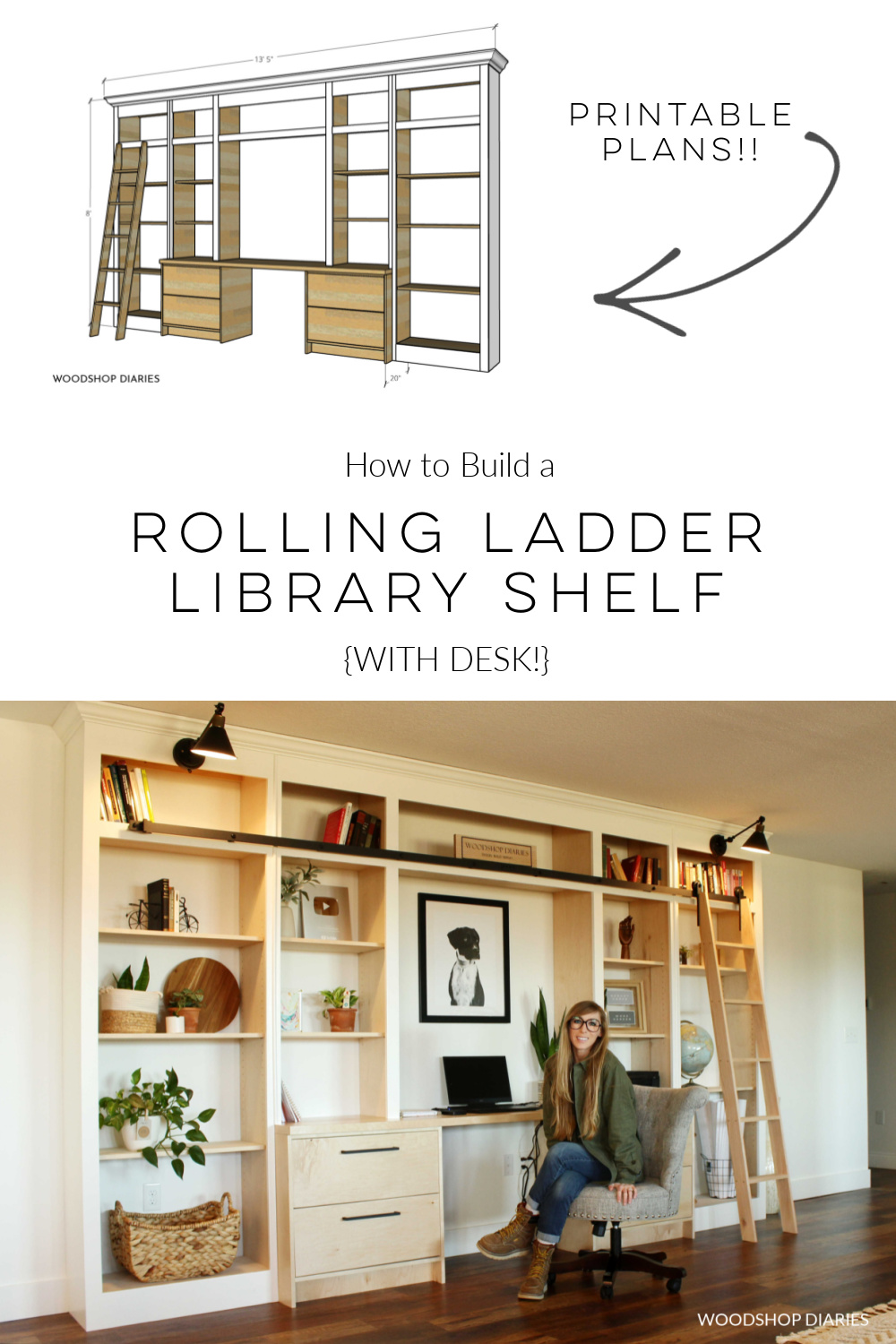 Until next time, friends, happy building! 🙂