Do you guys remember when I built a MODERN DIY Farmhouse Dining Table a while back and told you how it was built kind of backwards and totally different from a normal dining table?
.
Well, now I'm going to show you how to build a "normal" DIY Farmhouse dining table and it'll all make more sense 🙂  Today, I'm showing how to build a standard, 4 leg, typical farmhouse dining table.  And you won't believe how easy these are to make.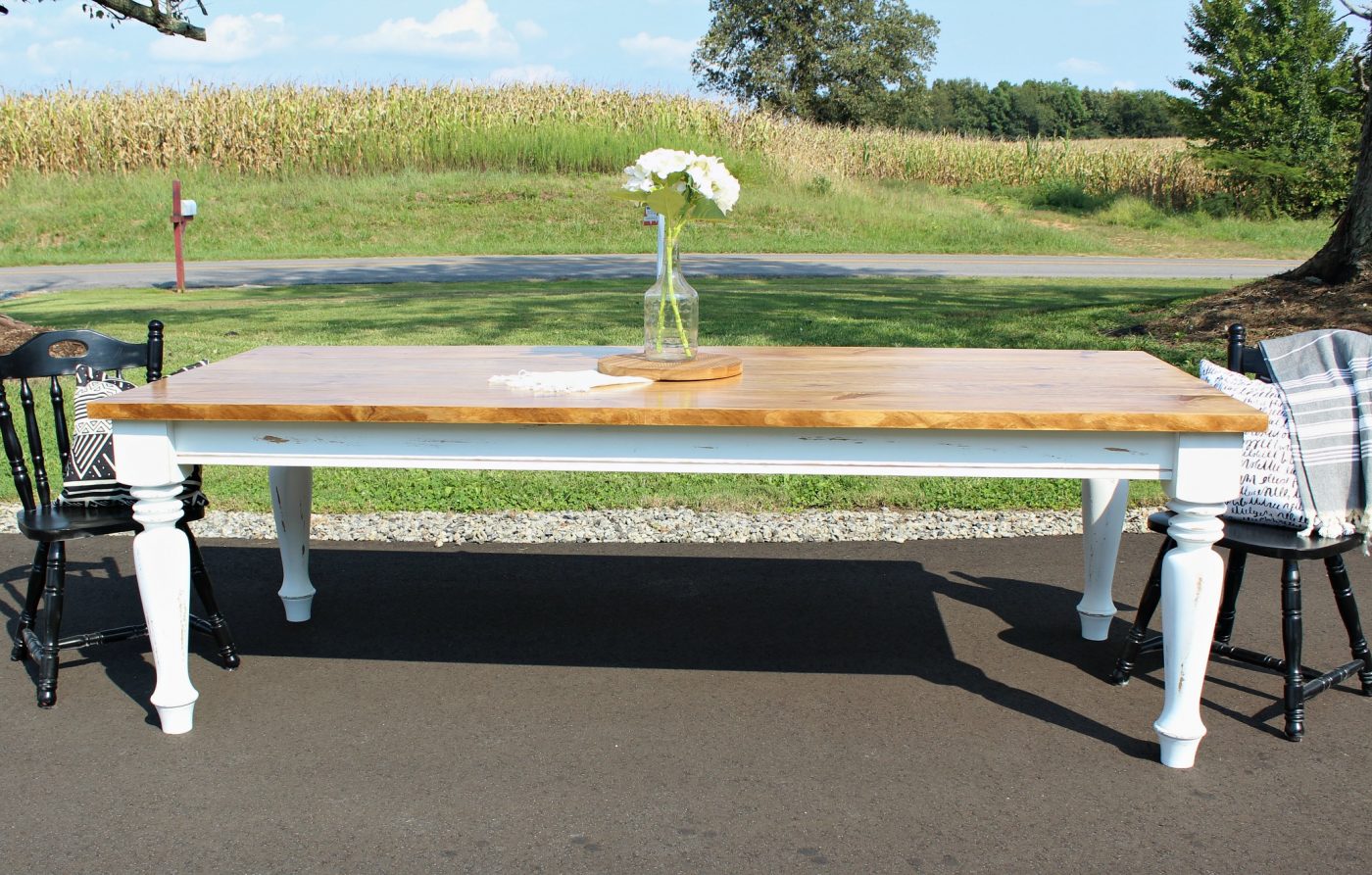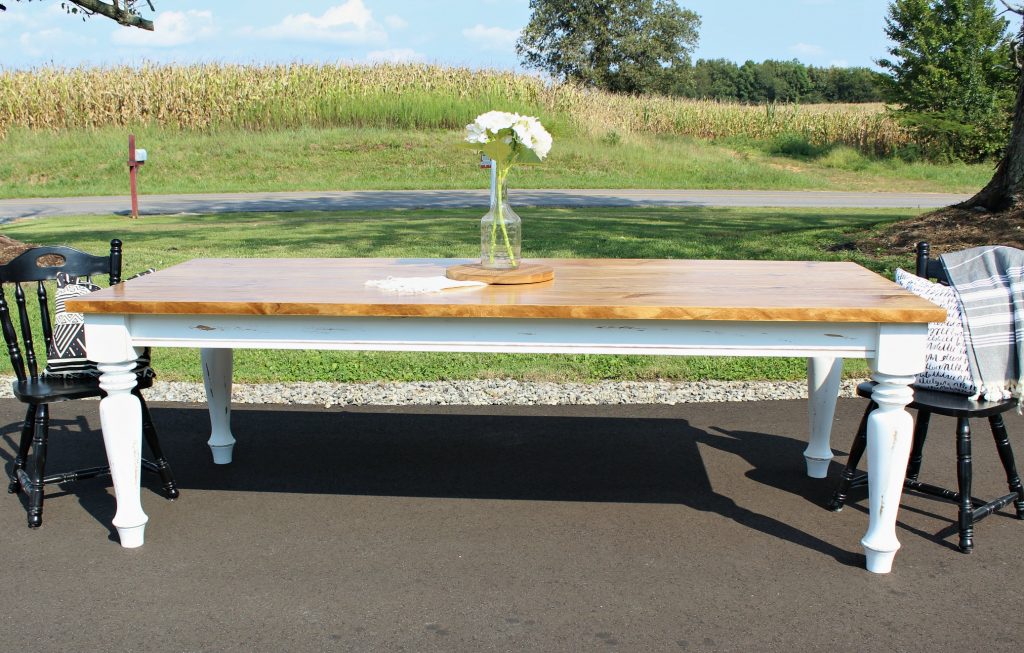 I made this one with 4 legs and standard construction lumber, so overall, it cost about $360 for an 8 foot long table.
.
This build was sponsored by Timber Wolf Forest Products.  They provided the legs for the build.  All opinions are my own and are uninfluenced.  This post also contains affiliate links.  See disclosure policy for details.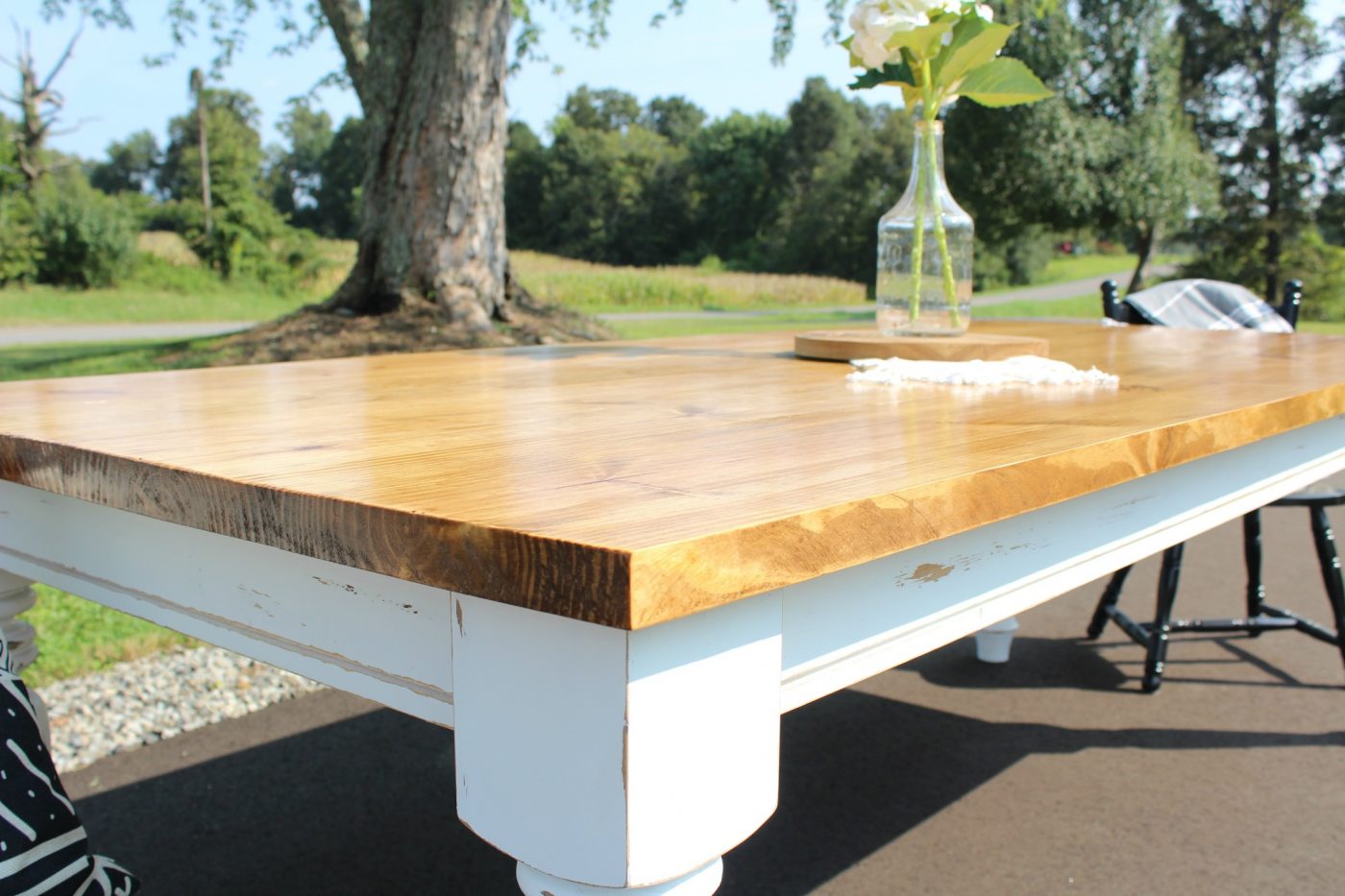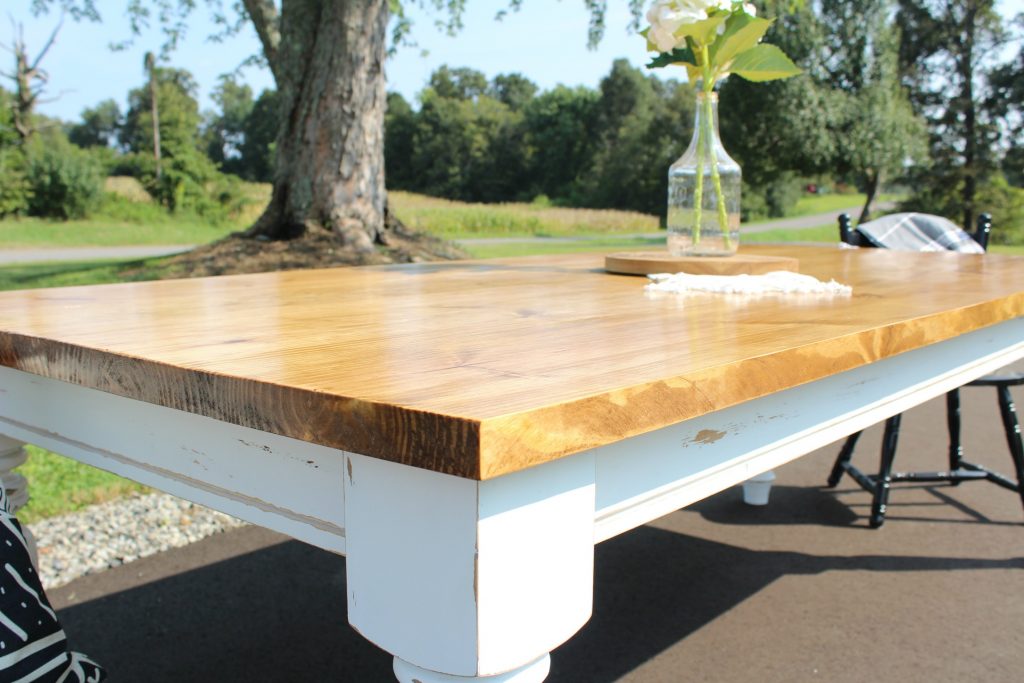 And I'm sharing the step by step to build your own below.  I actually recently had the opportunity to build another one–this time with a laminated walnut top so I took that opportunity to make a video to go along with the step by step 🙂  You'll see a little of both tables throughout this post.
 Tools and Materials:
4 table legs (I used these from Timber Wolf Forest Products)
(3) 2x6x8 (you could use 2x4s instead if you wish.  See Step 2)
(1) 2x4x8
(4) 2x12x8 OR 2x10x8 (See step 1)
Paint
Pipe Clamps (optional)
Tape Measure
.
Step 1: Build the Dining Table Top
I always like to start with the top before building the base.  That seems a little backwards, but that's just how I like to work.  I've got a post here detailing how I build dining table tops.  You can build the top however large you wish.
.
Typically I build my tops about 36″ wide (if you're using construction lumber for this, that would be about the width of four 2x10s).  But if it's a really long table–like 8 ft–I may go a little wider.  So I may opt for 2x12s instead of 2x10s.  It's all personal preference.
.
And for this particular table shown below made with walnut for the top, I was using rough lumber, so I just milled it down into five pieces that added together, gave me my total 36″ widths.  I also laminated these two boards thick to give me a thicker table top.  This is detailed more in my table top building post here.
Step 2:  Prepare the Apron for the DIY Farmhouse Dining Table
Just to clarify the terminology here, the apron is the board(s) running under the table top connecting the legs together.
.
So, now that that is clear, determine the total length and width of your finished table top, the amount of overhang you want, and the thickness of your table legs.  Let's say for example, the table top is 96″ long and 42″ wide.  I want 1 ½″ overhang on all sides (this will actually be 1 ½″ off each LEG), and the legs I'm using are 5″ wide.  So, my two long aprons should be 96″-3″ (which is 2x the overhang)-10″ (which is 2x the leg width)=83″ long.  So, I cut two 2x6s this length.
.
Then, I cut two short aprons to length using the same math.  So 42″-3″ (2x overhang)-10″ (2x table leg thickness)=29″.
.
Because the legs I used are rather large and chunky, I wanted my apron to be larger than normal so it looked proportional.  Typically, a 2×4 is fine for an apron, but I used 2x6s and cut them down to 4 ½″ wide using a table saw.  A standard 2×6 is 5 ½″ wide.  You could leave it at 5 ½″, just keep in mind the chair height and make sure you will have enough leg room to slide under.  If you wanted a less chunky leg, Timber Wolf has many other options on their website 🙂
.
This part is optional, but I like the little detail it adds.  I used a table saw to cut a dado down the trimmed down 2×6.  I cut it about 1″ from the bottom.  I adjusted my table saw blade about ¼″ high and ran it through, then adjusted slightly and ran it through again so that the groove was cut about 2 blade widths thick (slightly under ¼″).  You could do this with a router instead if you wanted.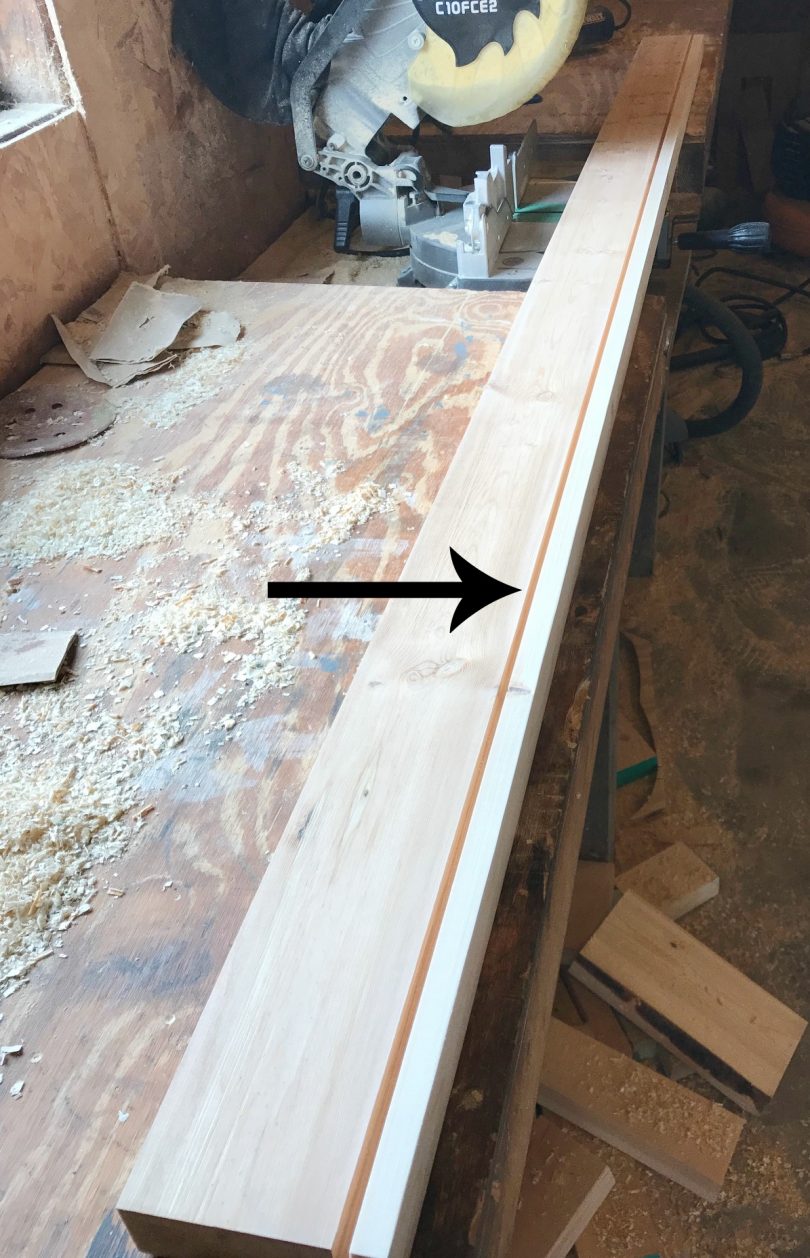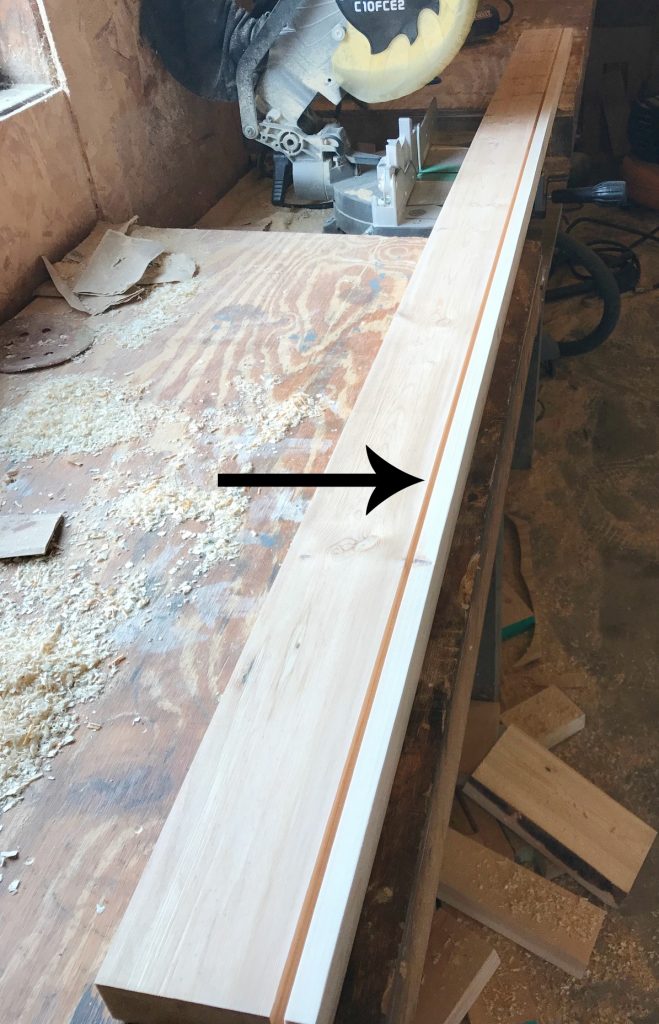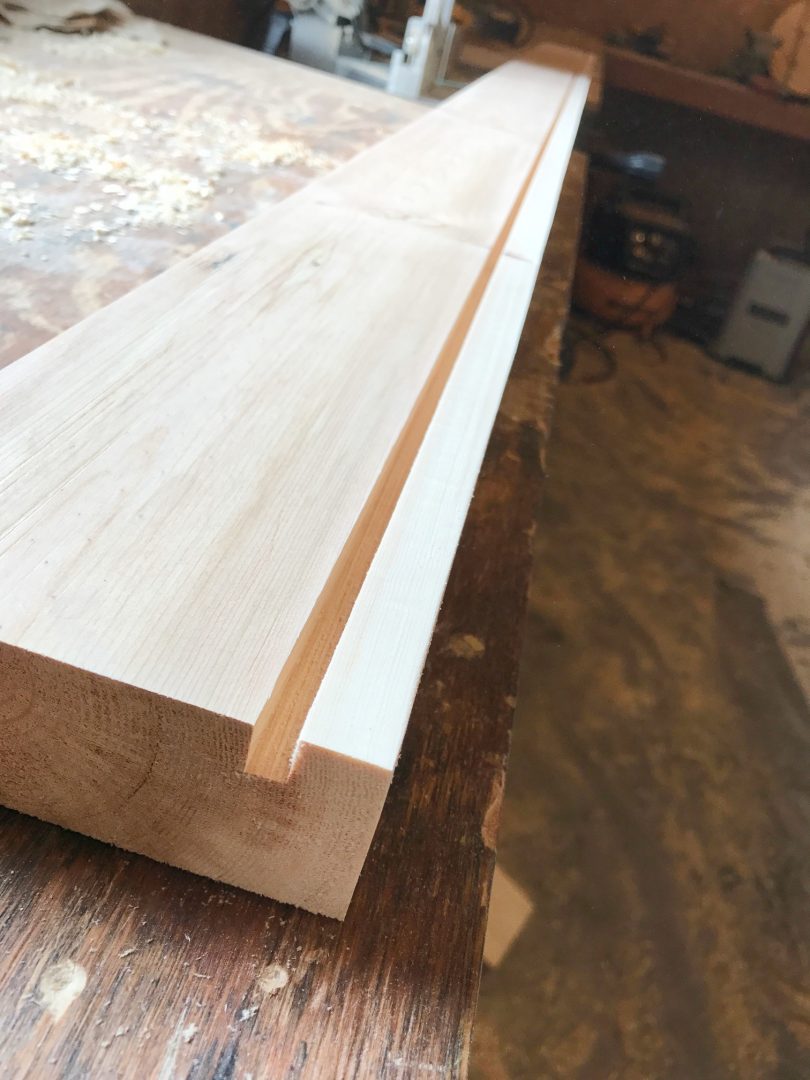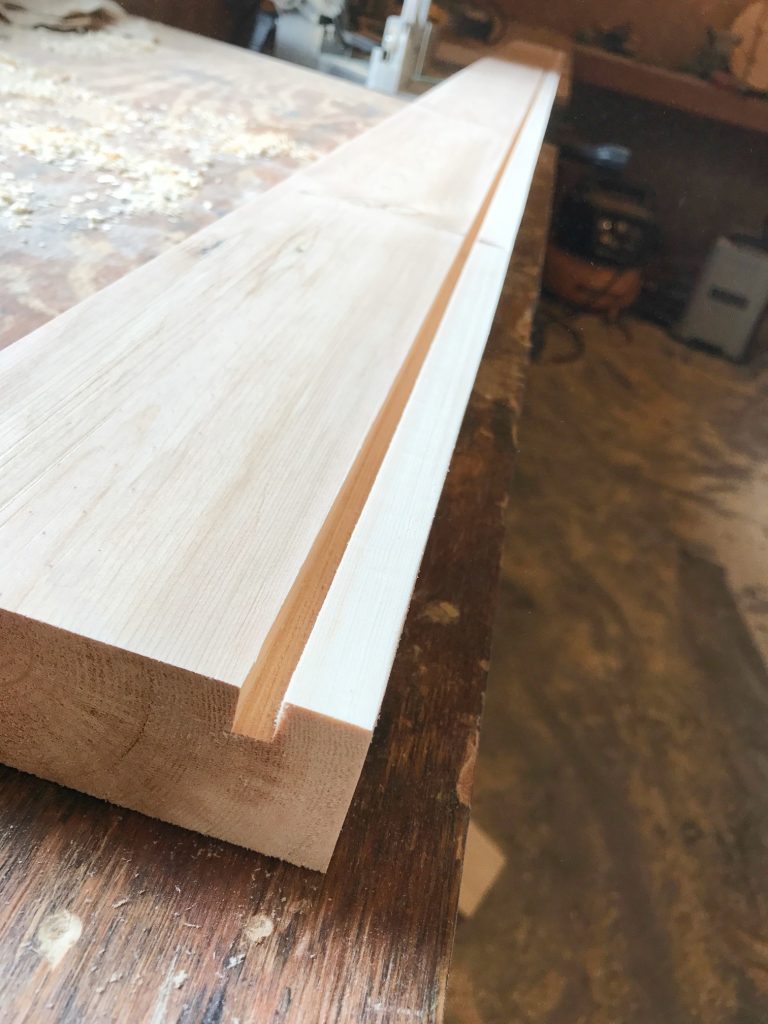 Now that I had my apron pieces ready, it's on to step 3 🙂
.
Step 3:  Assemble the DIY Farmhouse Dining Table Base Frame
Using a Kreg Jig for pocket holes, I drilled 1 ½″ pocket holes into both ends of all four apron pieces.  I made sure I drilled so that the groove faced the outside.
.
Then, using 2 ½″ pocket hole screws, I attached these apron pieces into the legs so that the apron is 1 ½″ in from the outside corner of the leg.  You should now have a base.  (You will add a few more supports later.)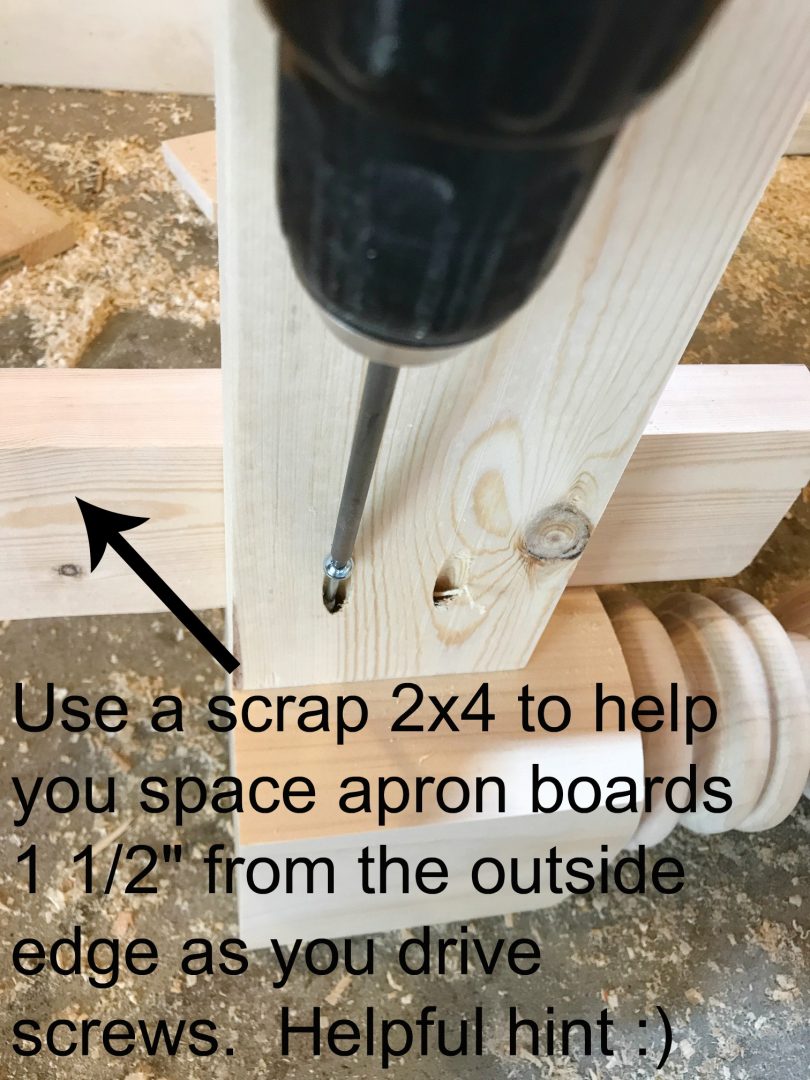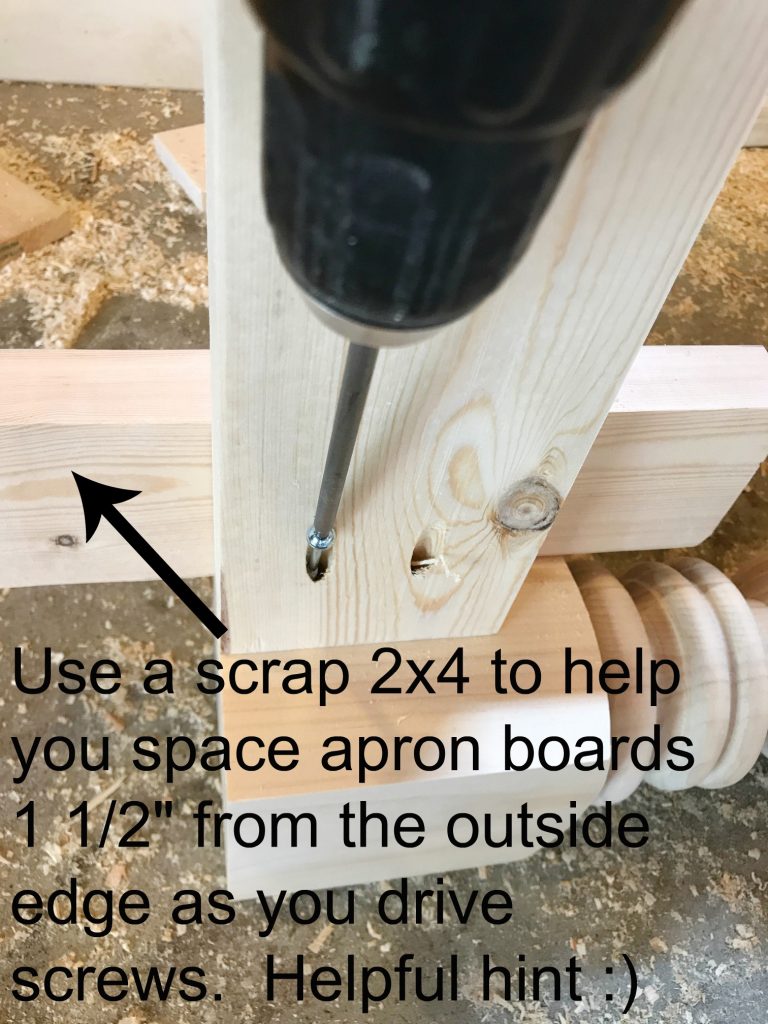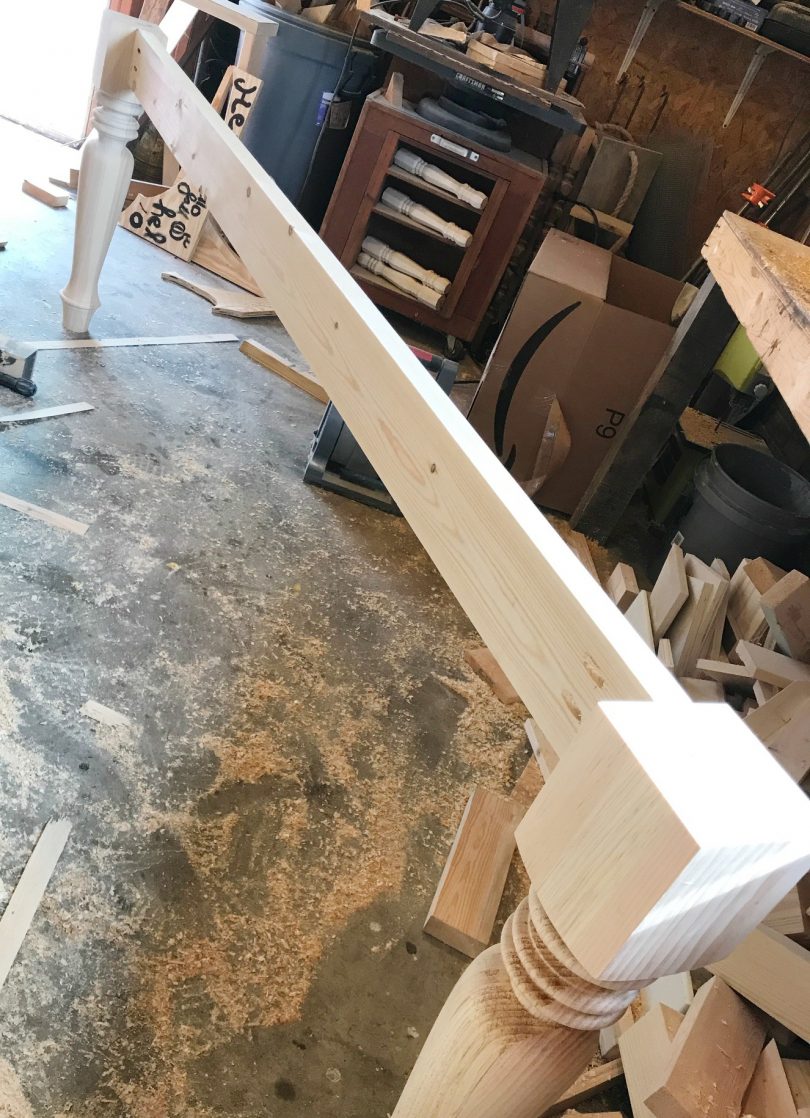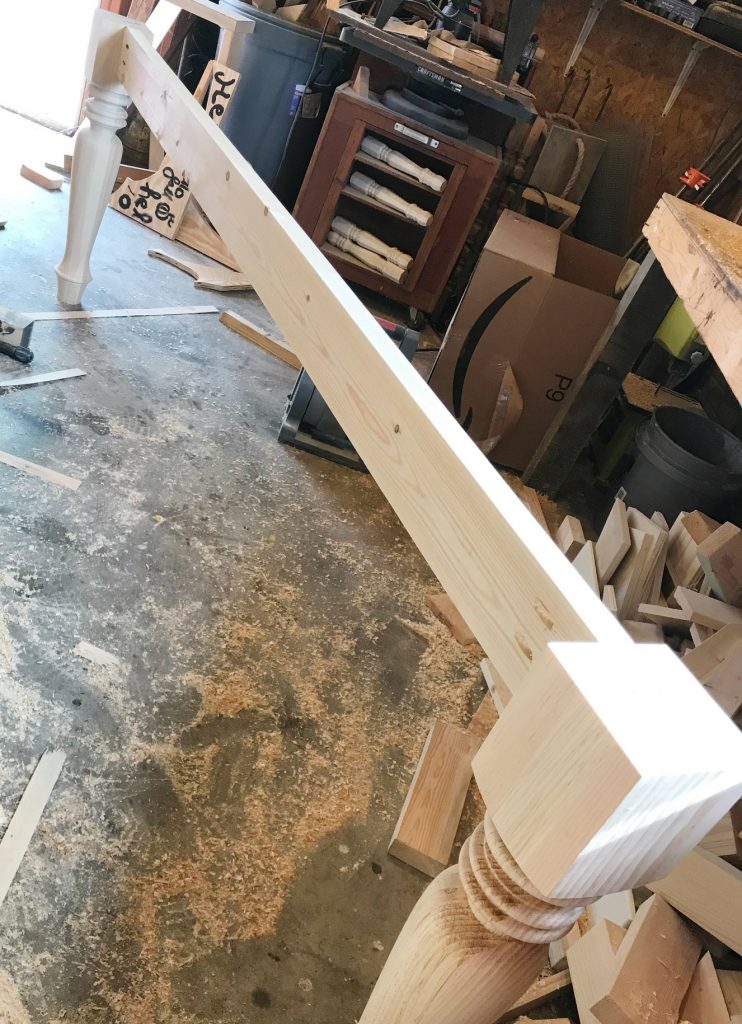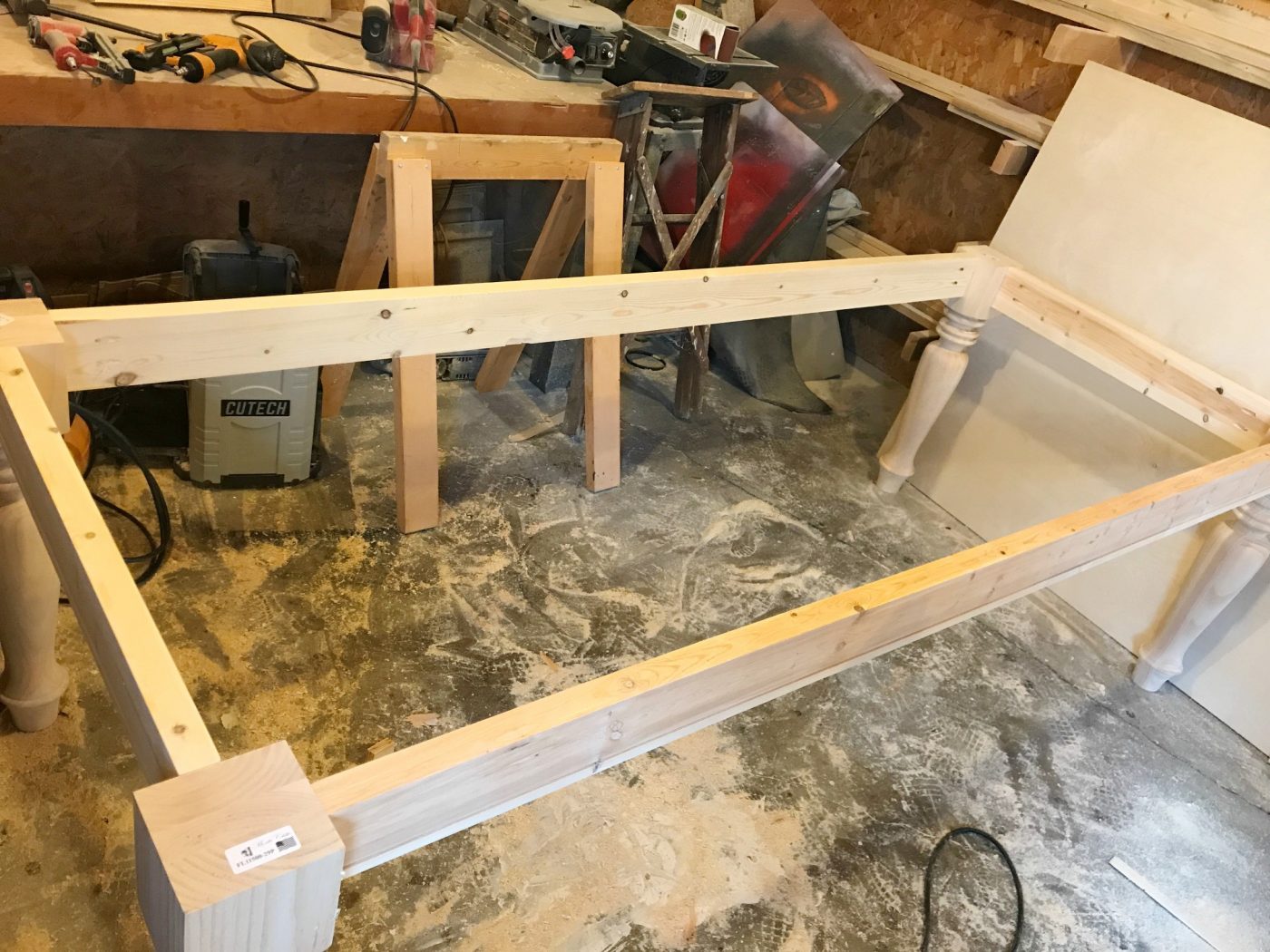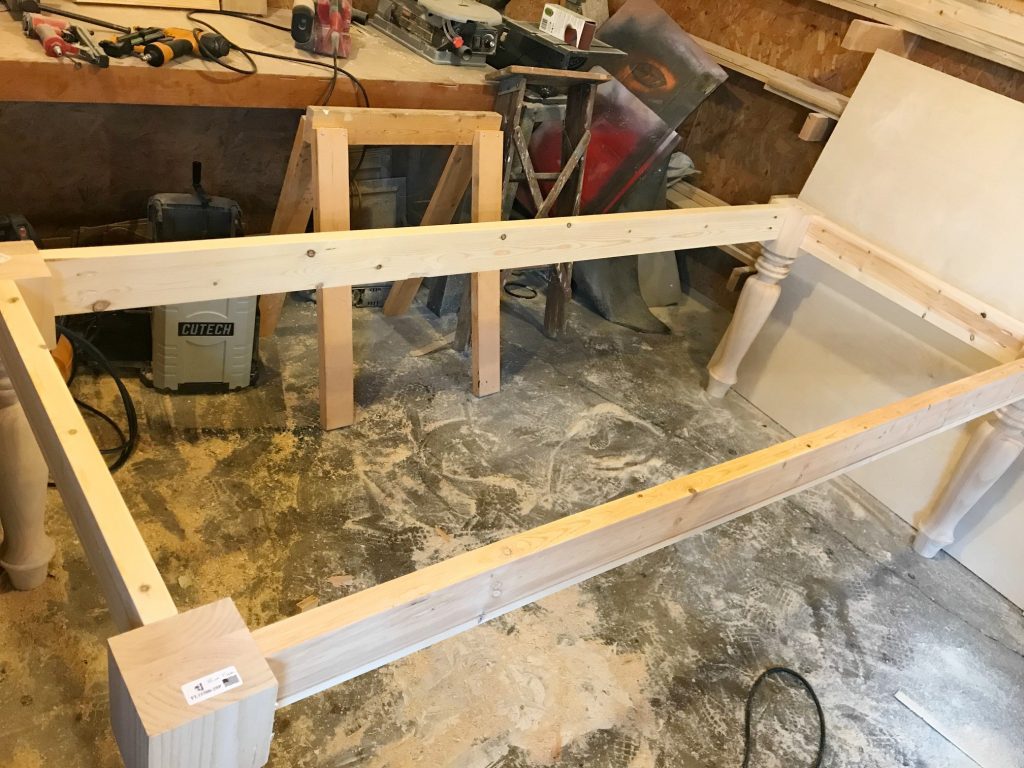 Step 4: Finish the Farmhouse Dining Table Pieces Separately
Because this is a "two toned" table and the bottom is painted and the top is stained, it's easiest to finish them separately, then attach.
.
I stained the table top and the table base both with Minwax Early American.  You don't have to stain the base, but since I was going to distress it, I went ahead and stained it so it will show through the paint when it's sanded down later.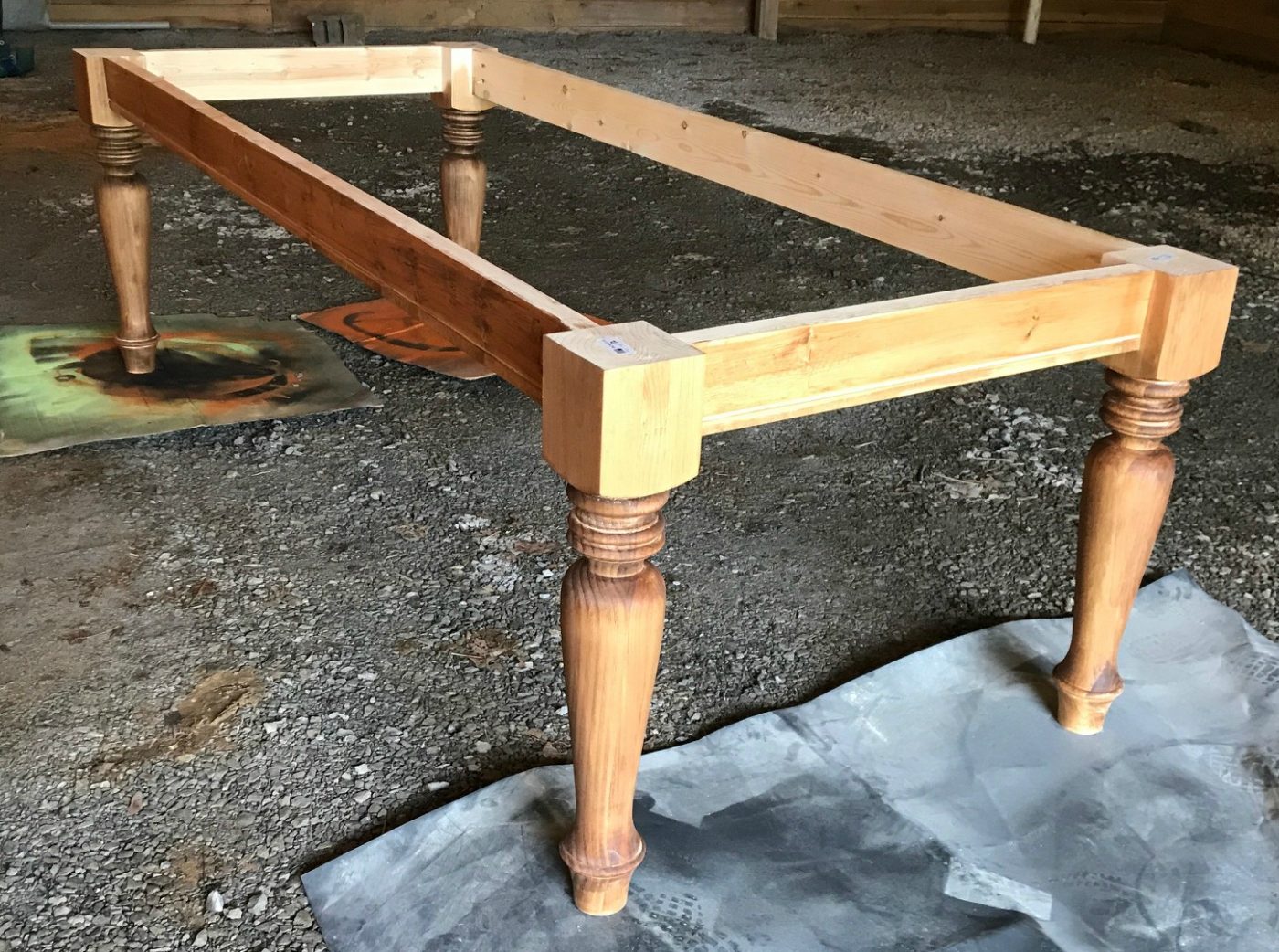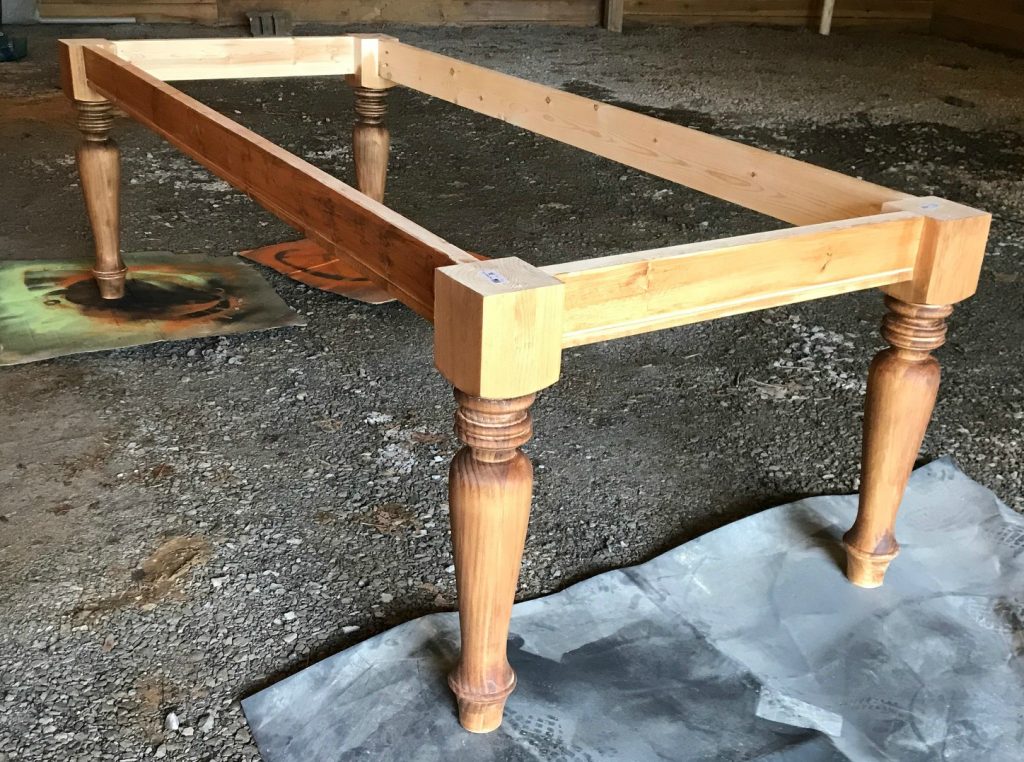 After the stain was dry, I polyed the table top with Minwax Polycrylic.  You can see below this same finish applied to the walnut table top as well. You can see my post about building table tops for more finishing information.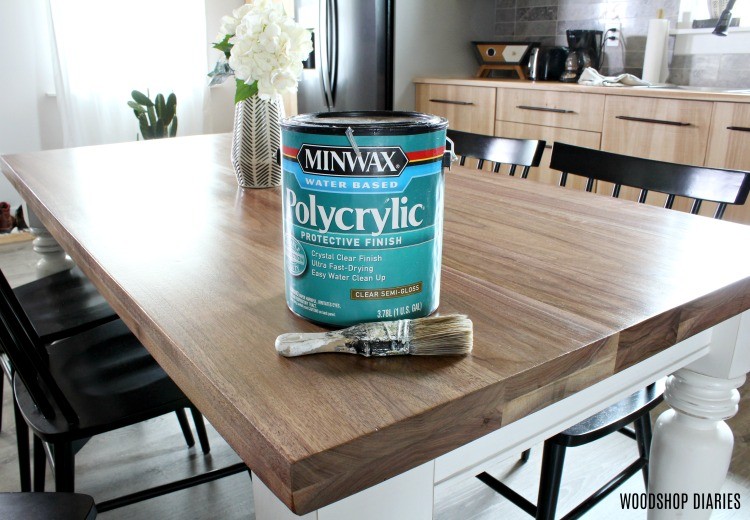 Then I used a paint sprayer to spray the table base white.  I tried out my paint sprayer on this project, but brush painting would work fine too…it just might take a little longer to get in all the crevices on the table legs haha.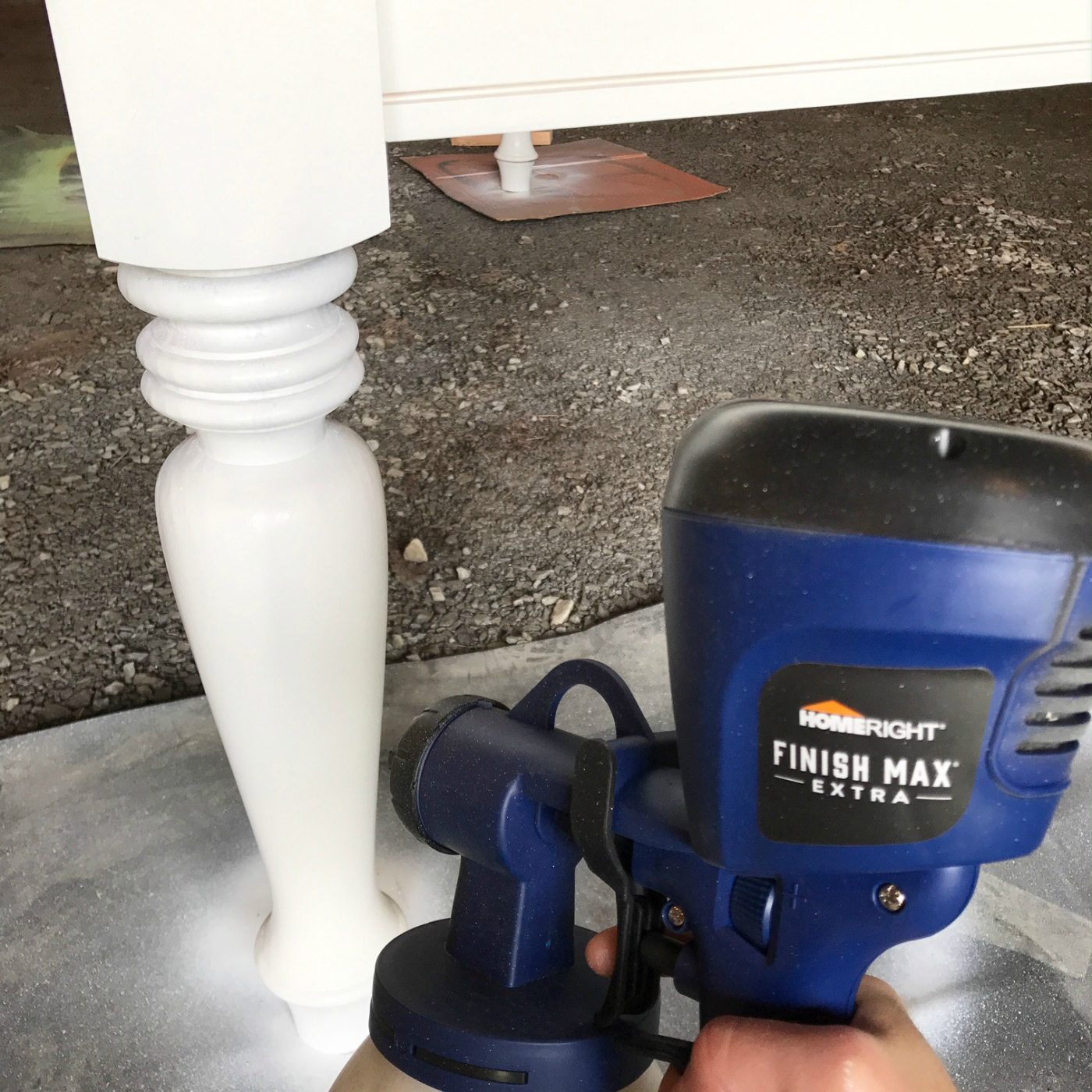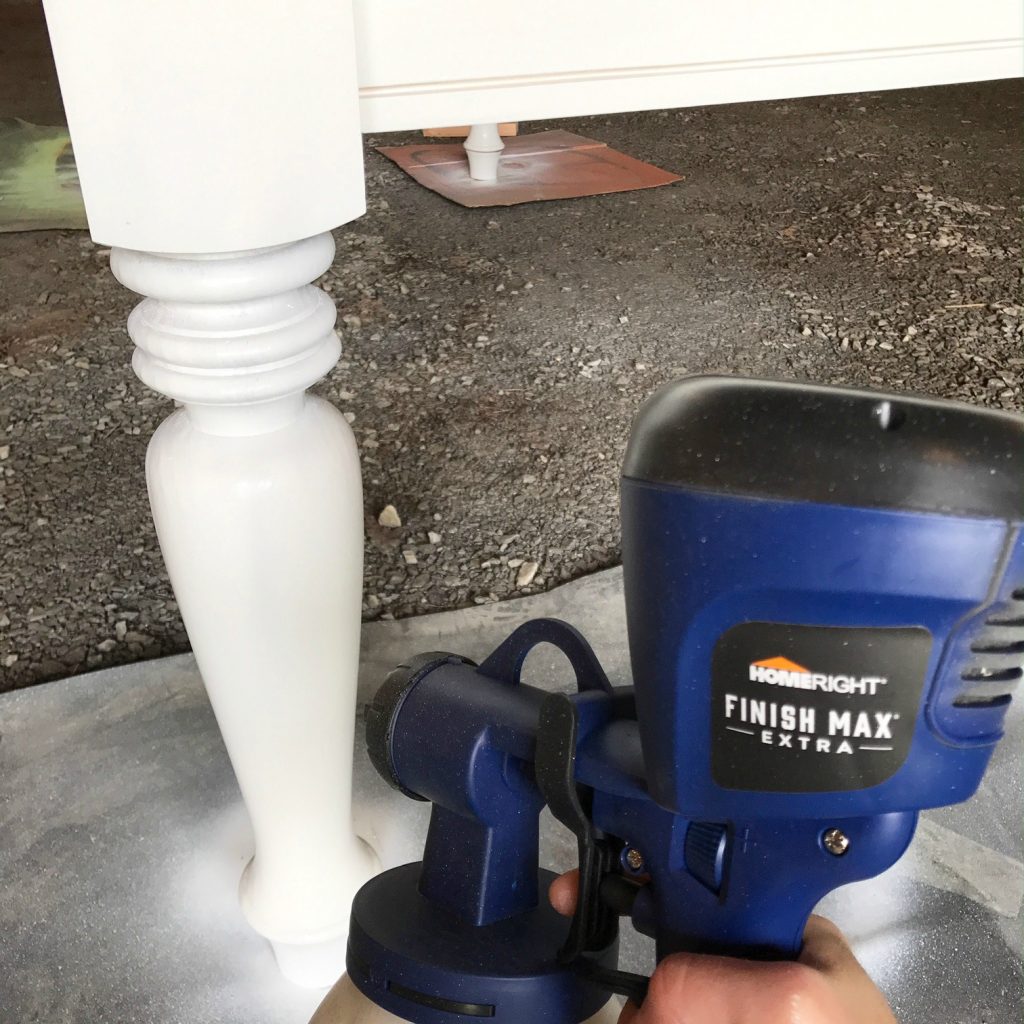 You can distress (if you choose) now or after step 5.  I just used some 120 grit sand paper and hand sanded the edges, corners, and all over the legs to give it a little more visual interest with the distressing.  Just keep sanding til you like it 🙂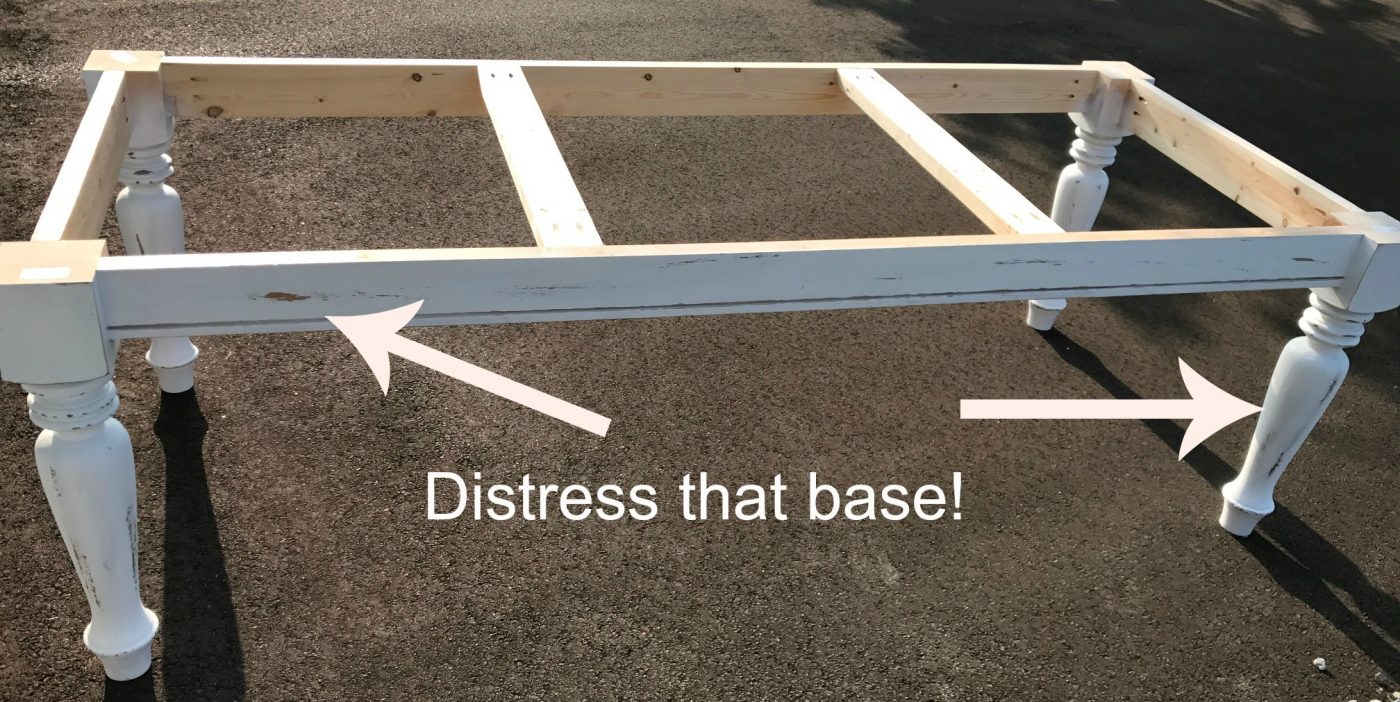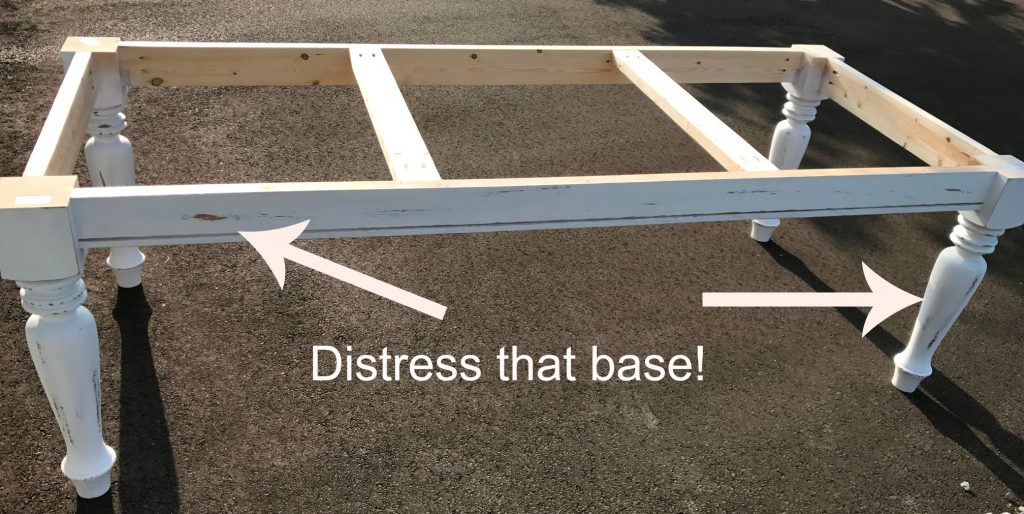 Step 5: Add top supports and attach top
I cut two 2×4 pieces to fit between the two long aprons of the table.  I drilled 1 ½″ pocket holes on both ends of each pieces and attached like shown using 2 ½″ pocket hole screws.  These don't have to be perfectly spaced here.  Just rough guess what looks like thirds and attach.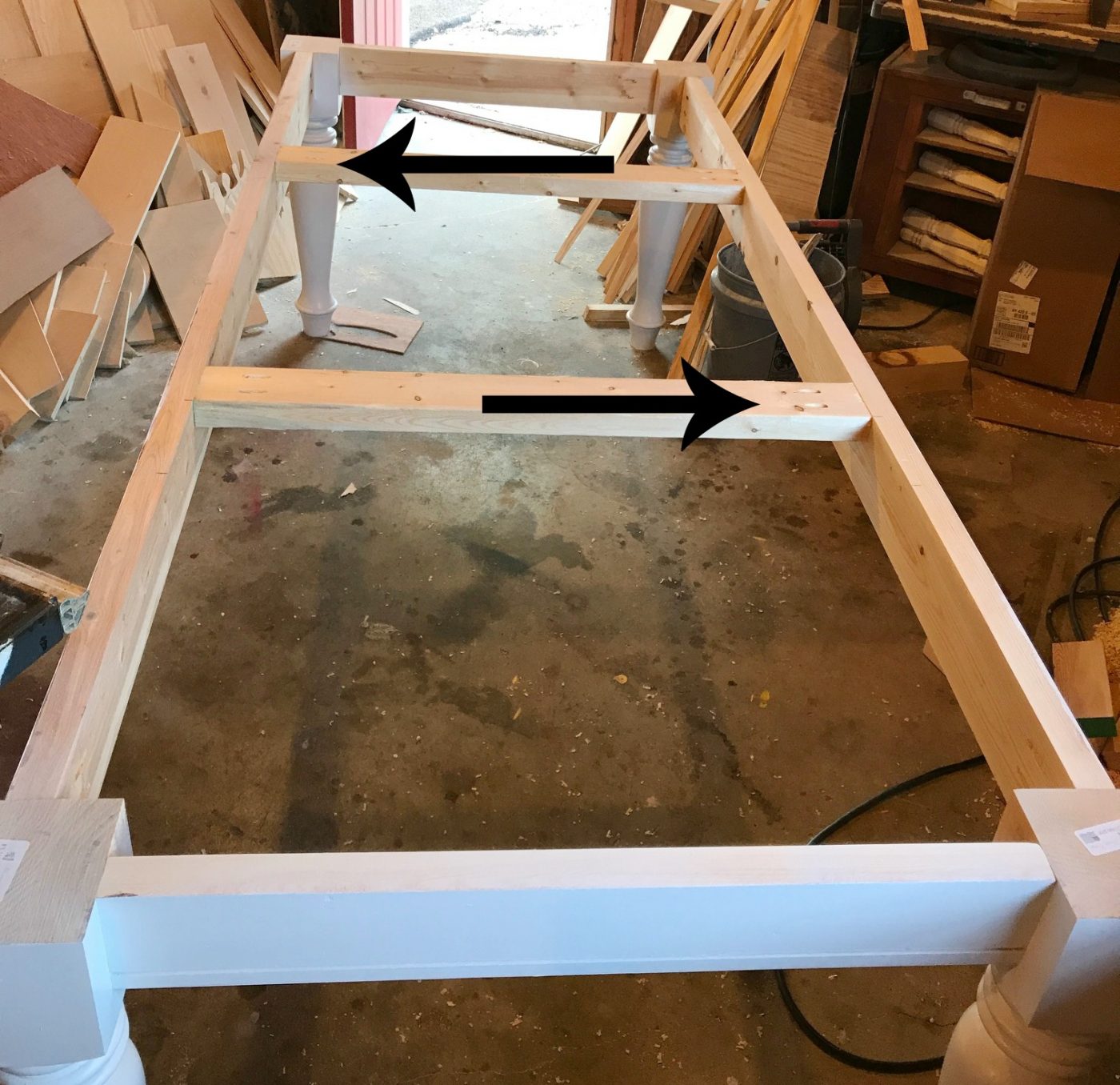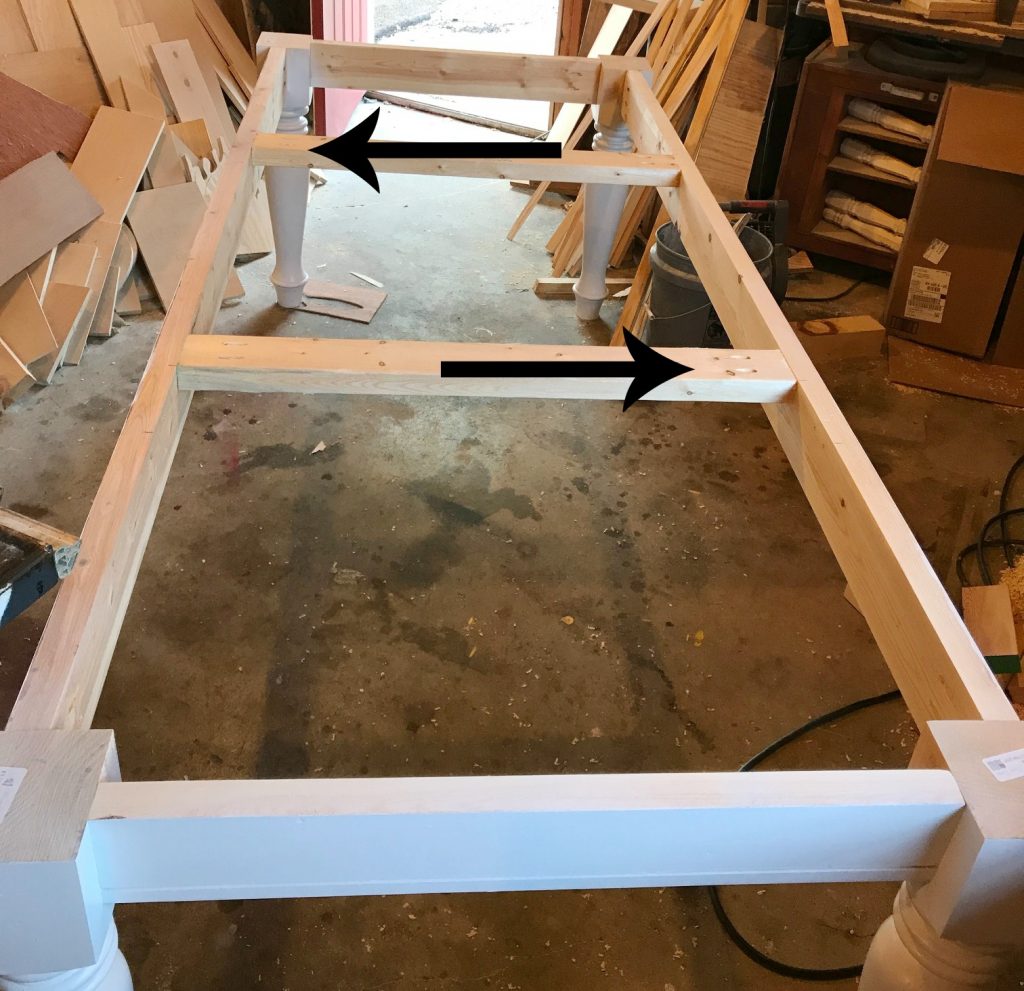 Then, I drilled 1 ½″ pocket holes going up along the insides of the aprons.  NOW…let me share some important information here.  I used to attach all my table tops like this…using pocket holes.  Most of them have been fine.  However, the more I learn about wood movement, the more I realize this may not be the best method for attaching table tops.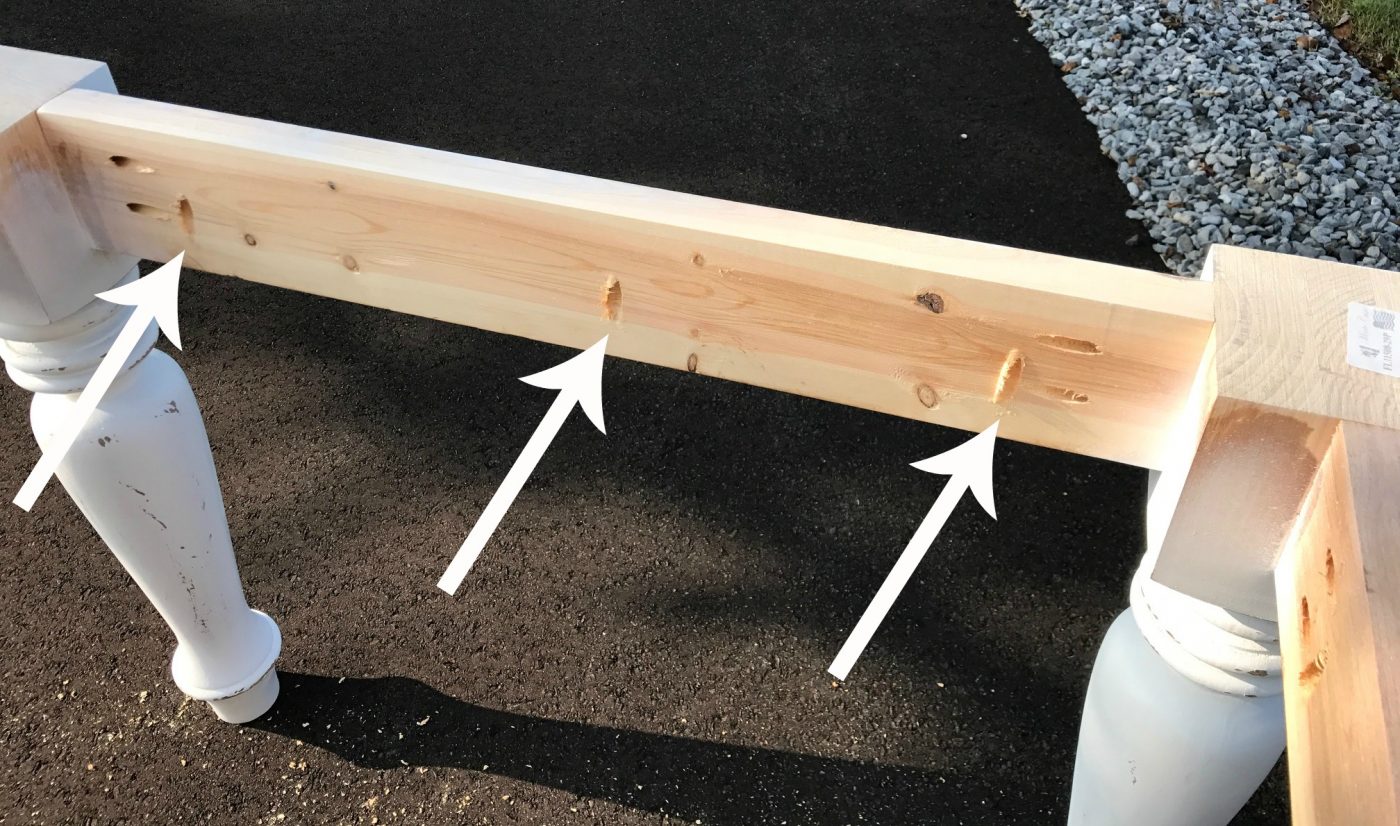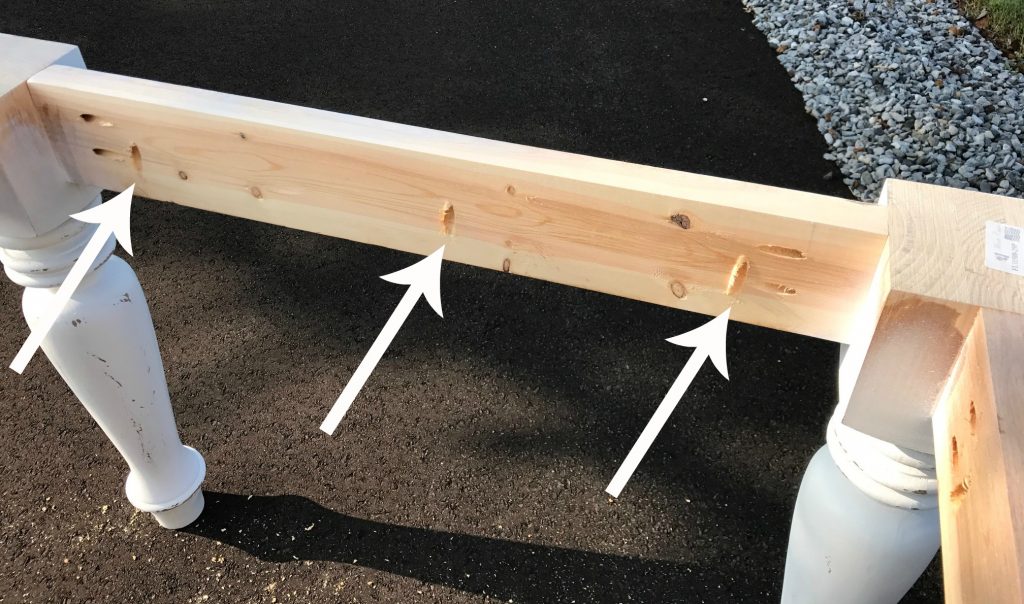 For this table I built years ago, I placed the top on the base and made sure it was centered. Then, I used 2 ½″ pocket hole screws to attach the base to the top through the pocket holes I drilled along the apron.  I also used a few screws through the 2×4 supports in the middle, too.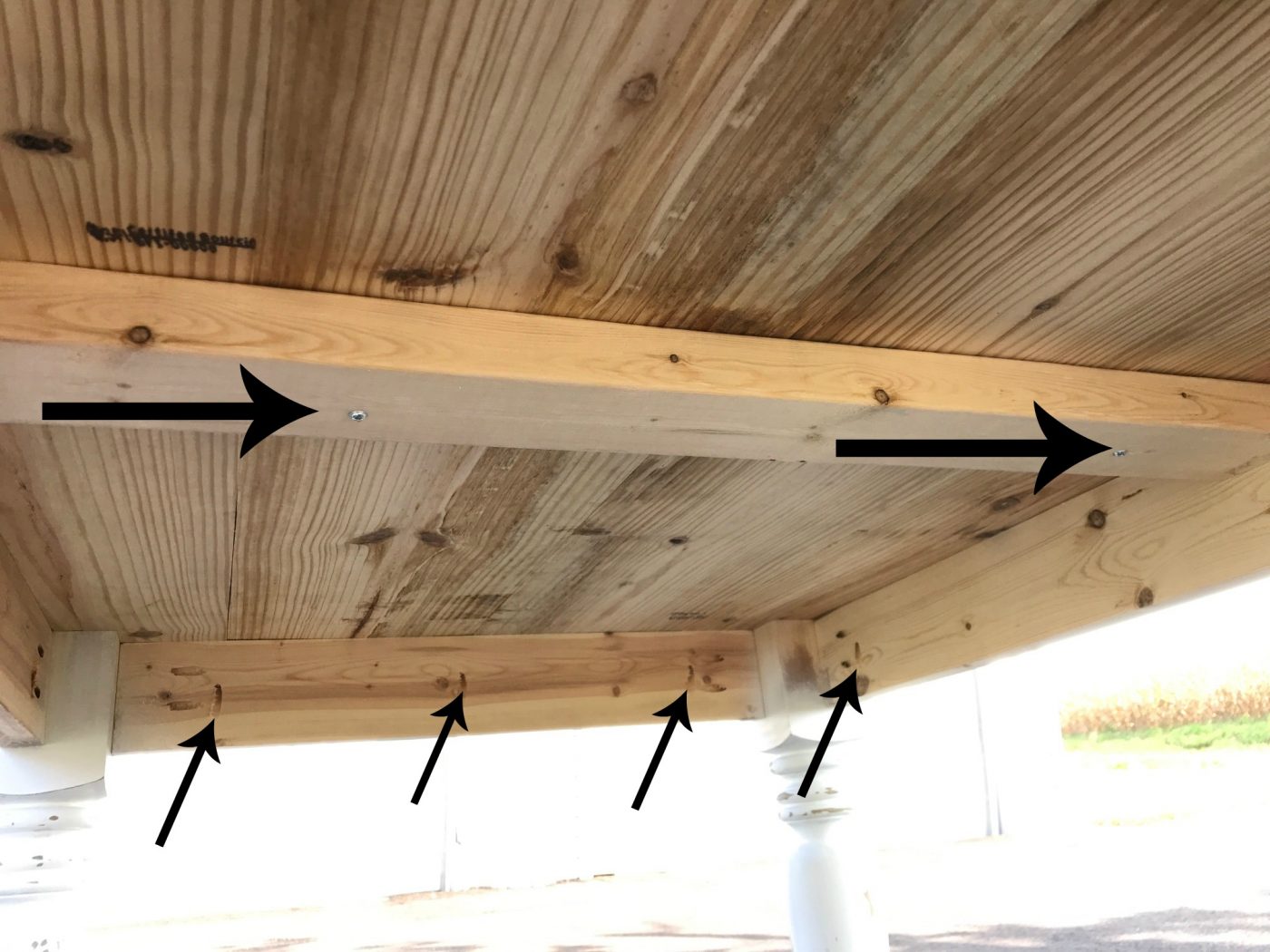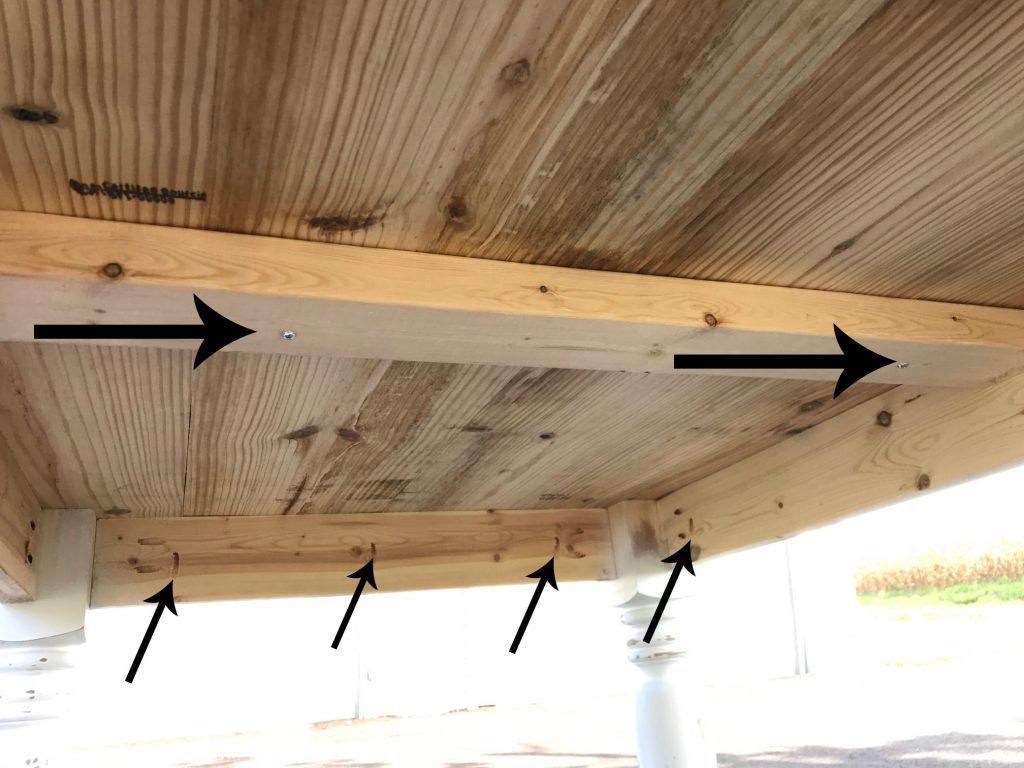 BUT, for this more recent table, I used these figure 8 metal tabs to attach.  These are supposed to be better for wood movement.  You can check them out in more detail in this post about table tops.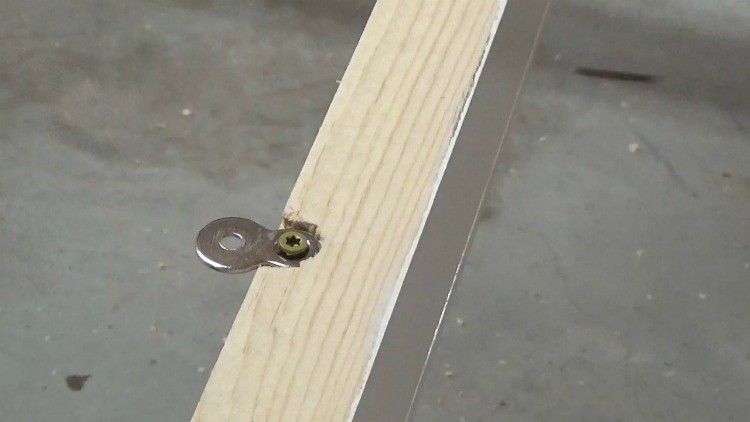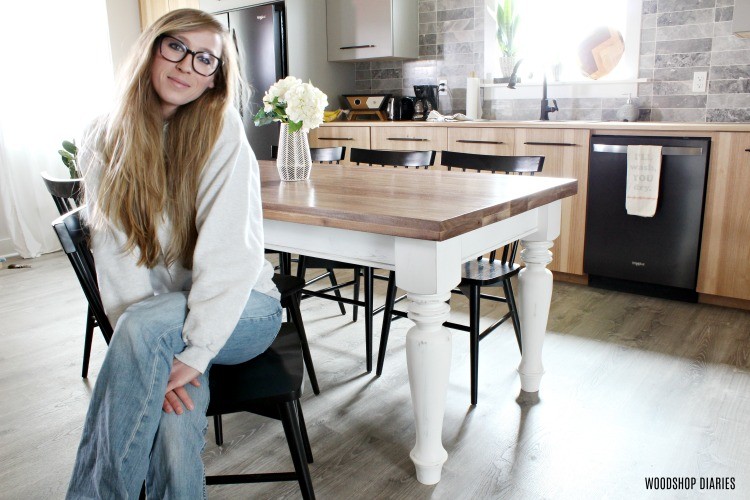 And that's how easy it is to build a DIY farmhouse dining table!  The hardest part is painting the legs haha.  Seriously, dining tables can be as simple or as complex as you want to make them.  Don't let that intimidate you.  Build the best one you can now and next time, build a better one 🙂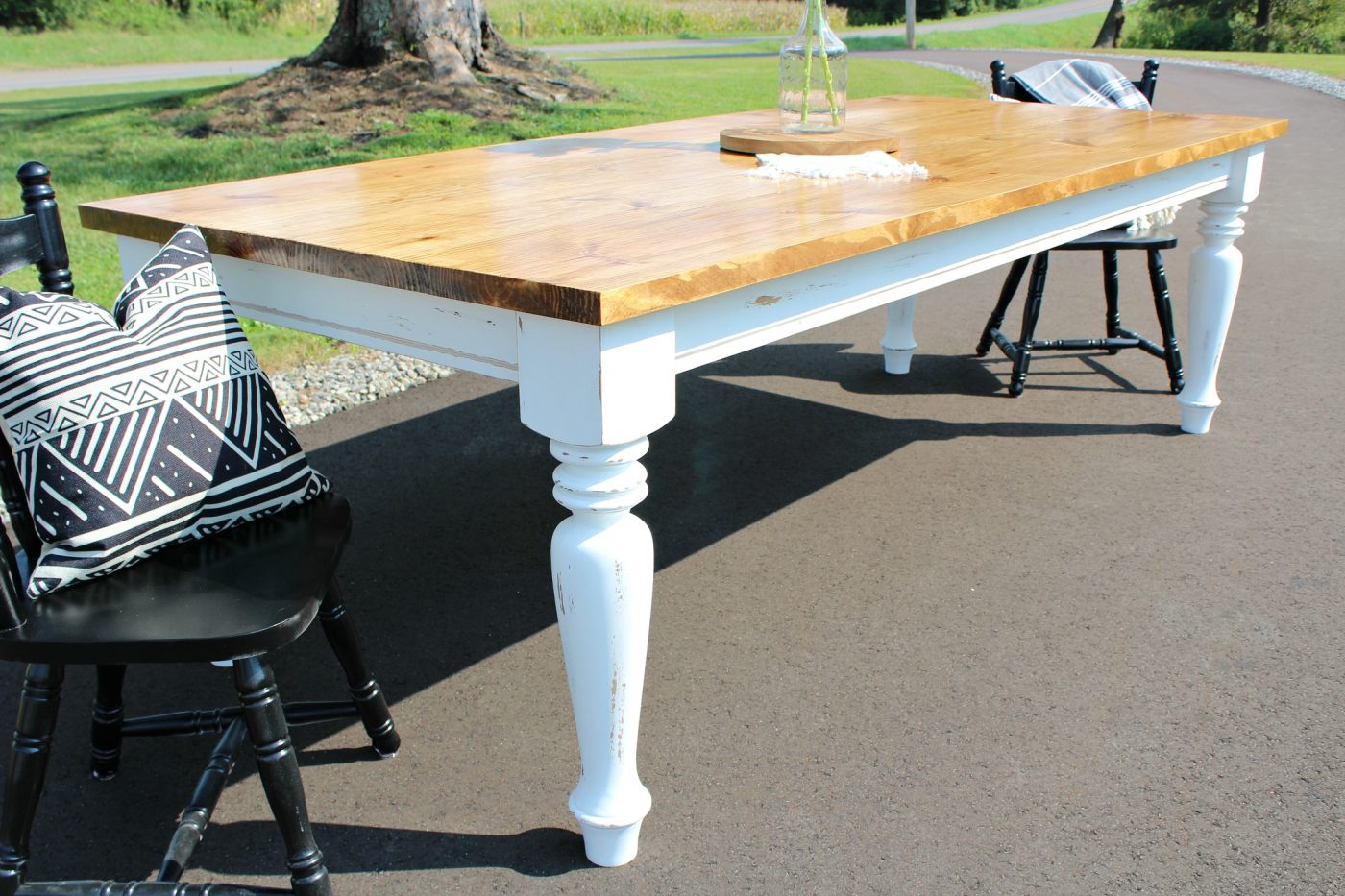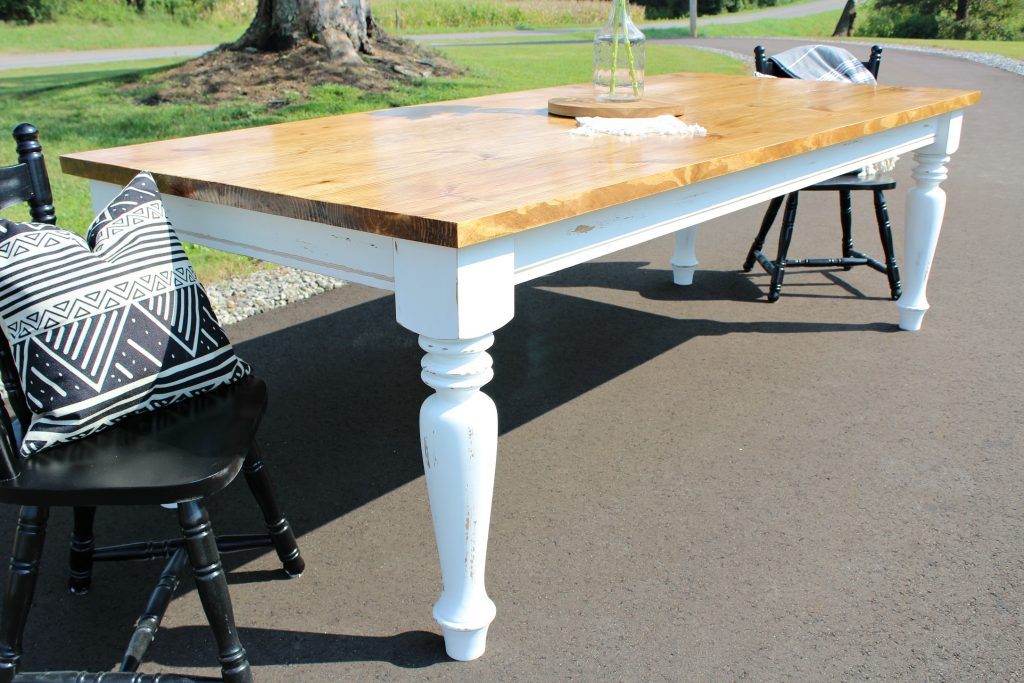 I highly recommend buying premade legs for a table style like this.  There are SO many options and they really make your table look nice without a ton of effort.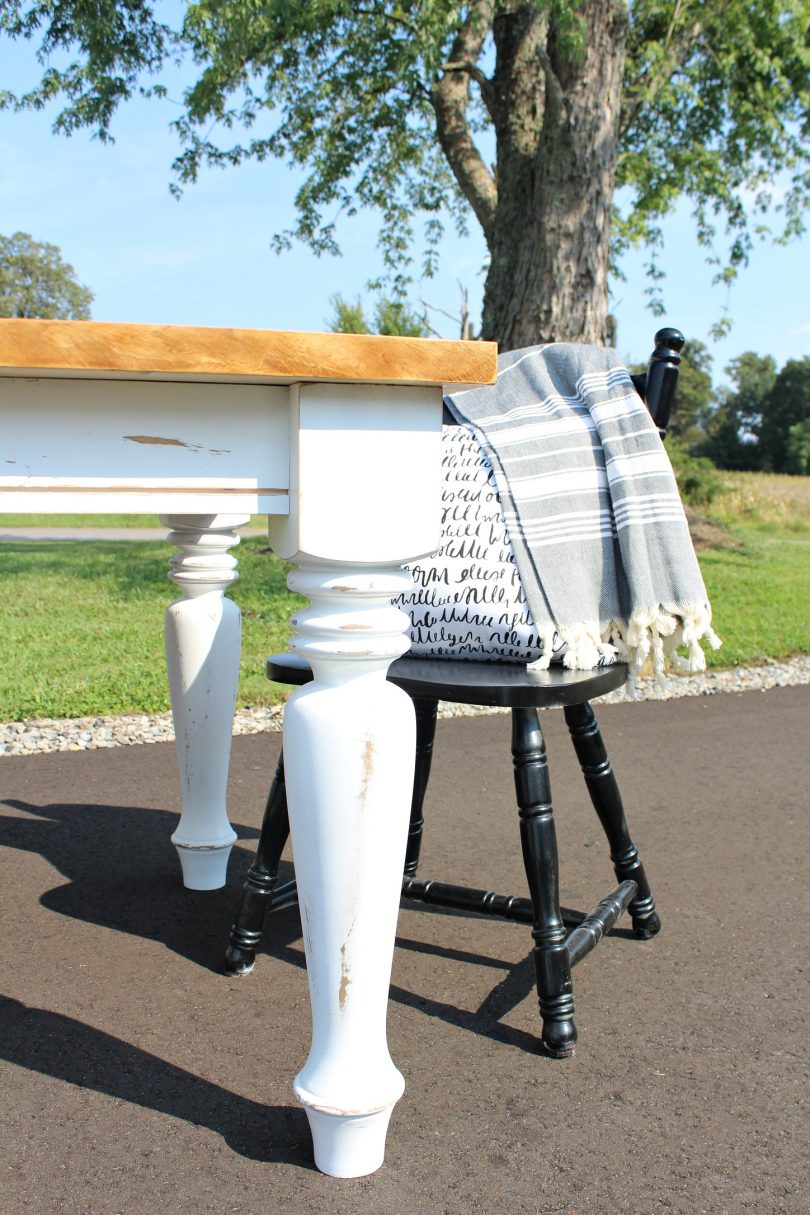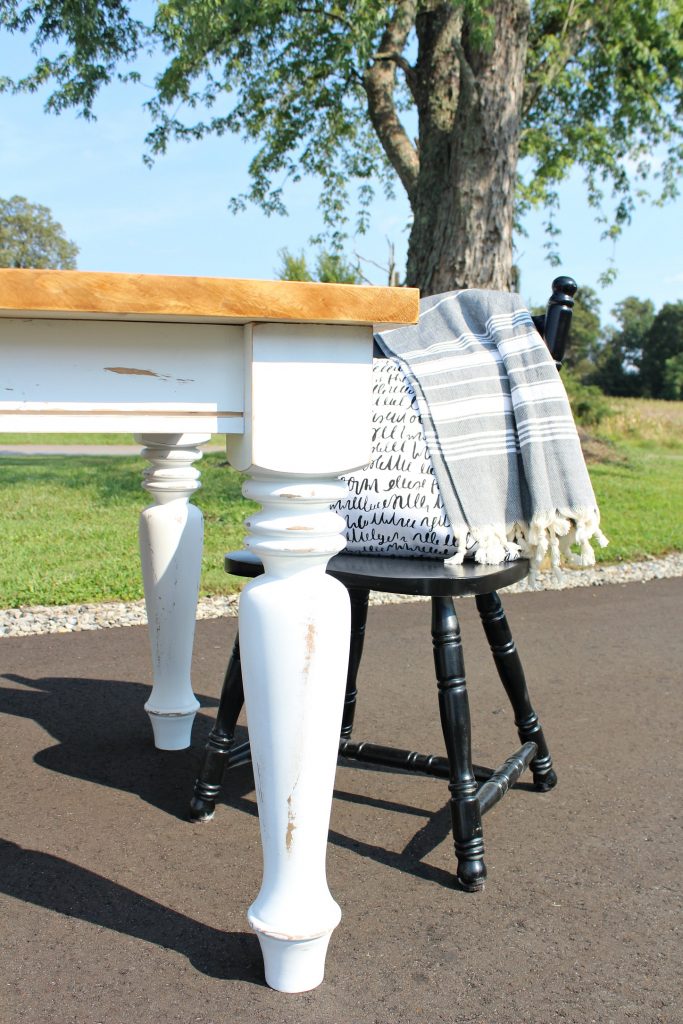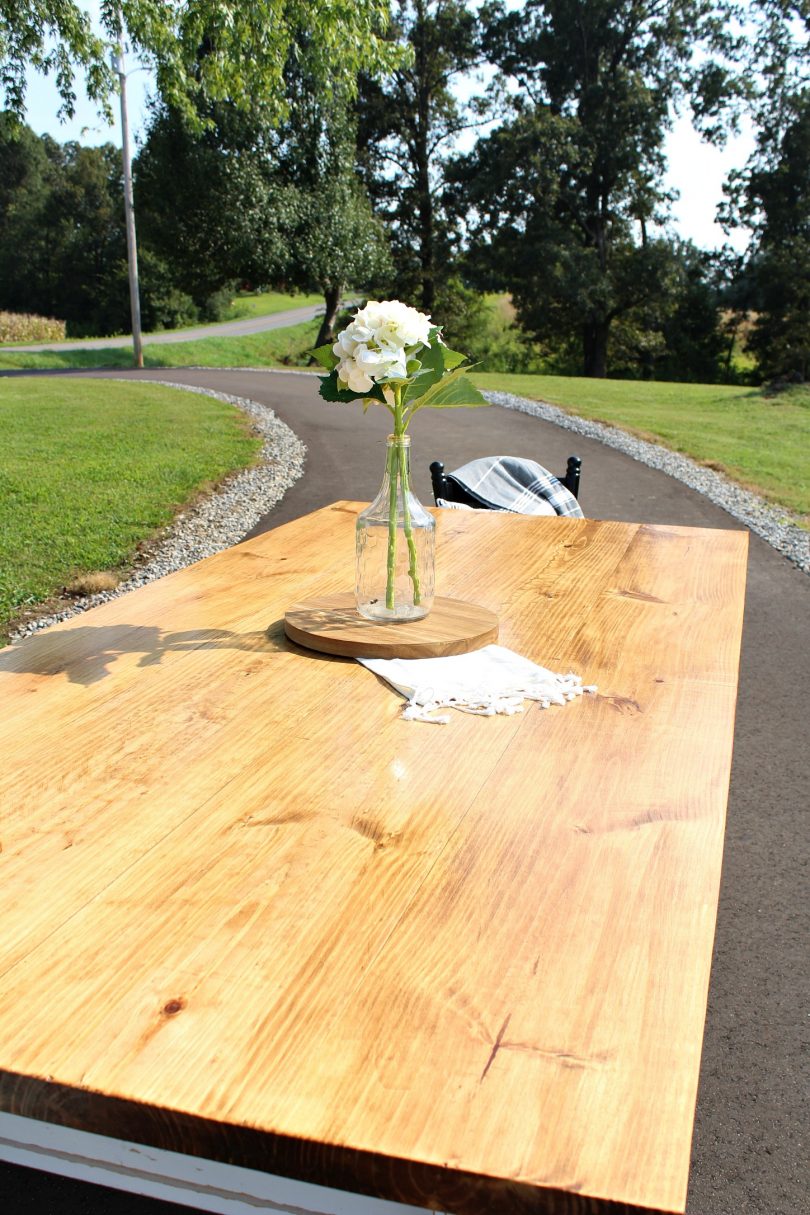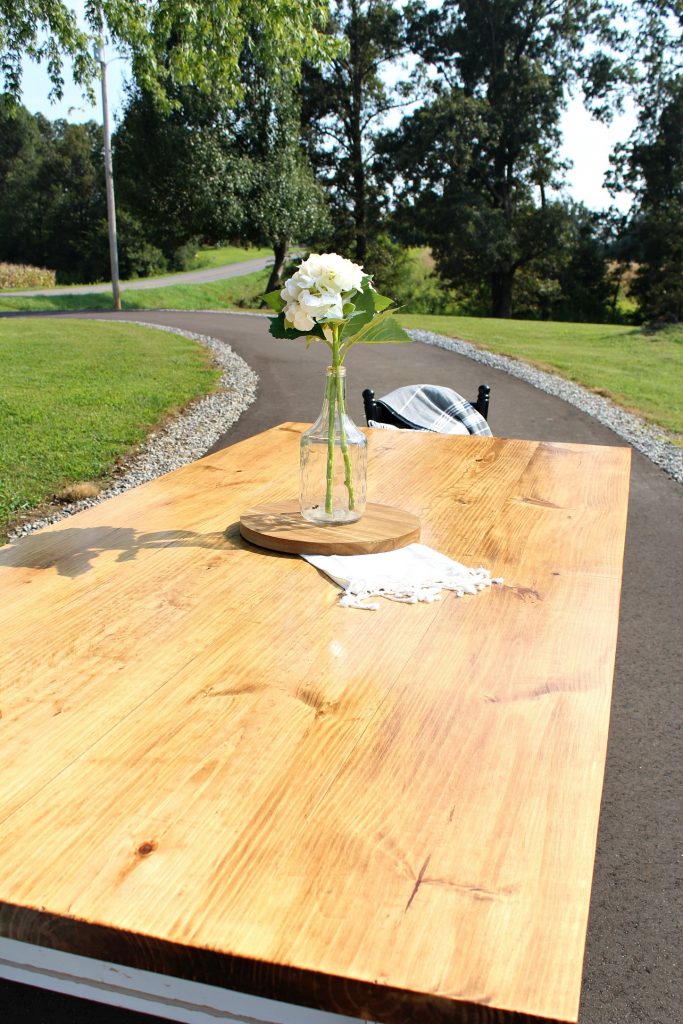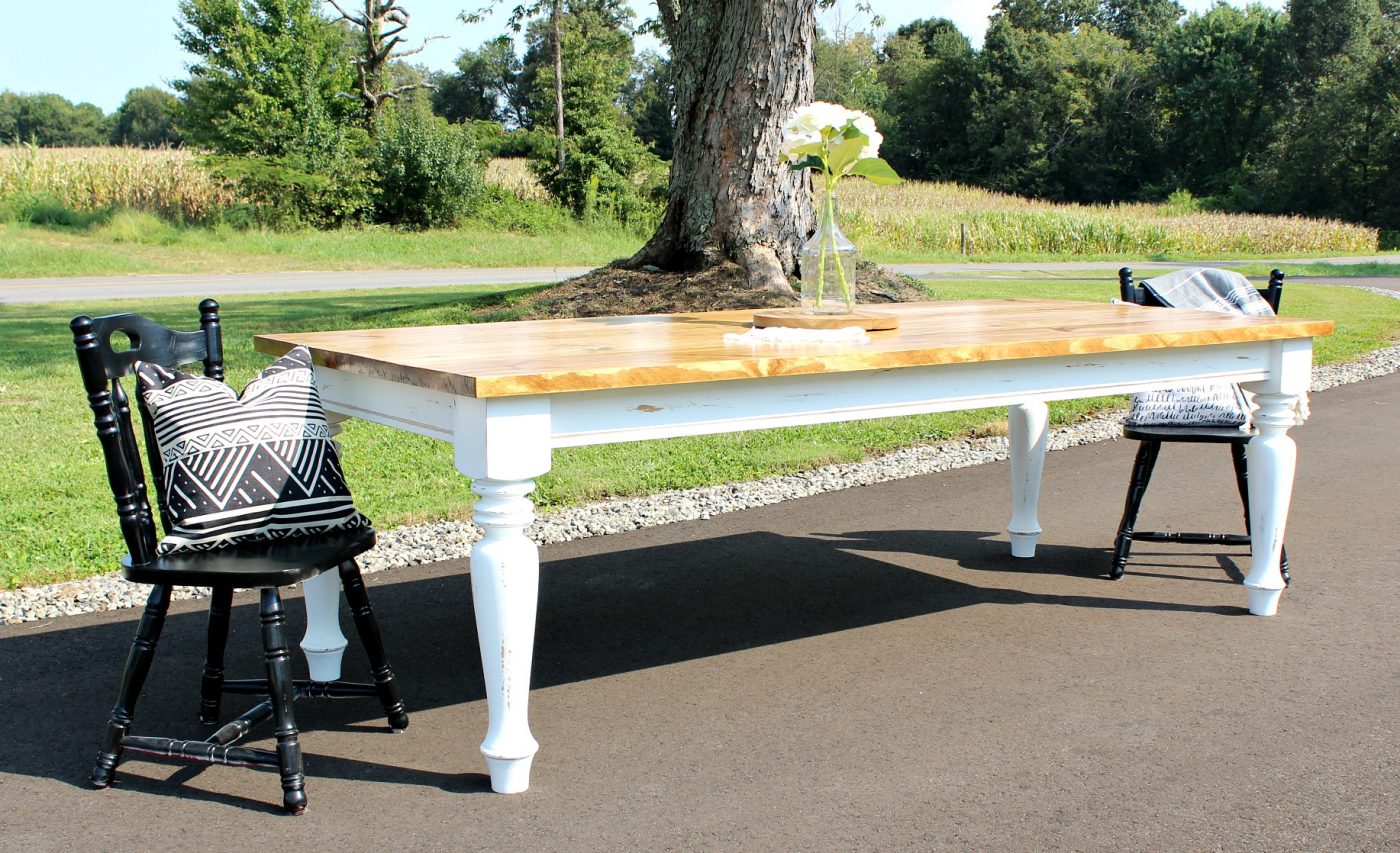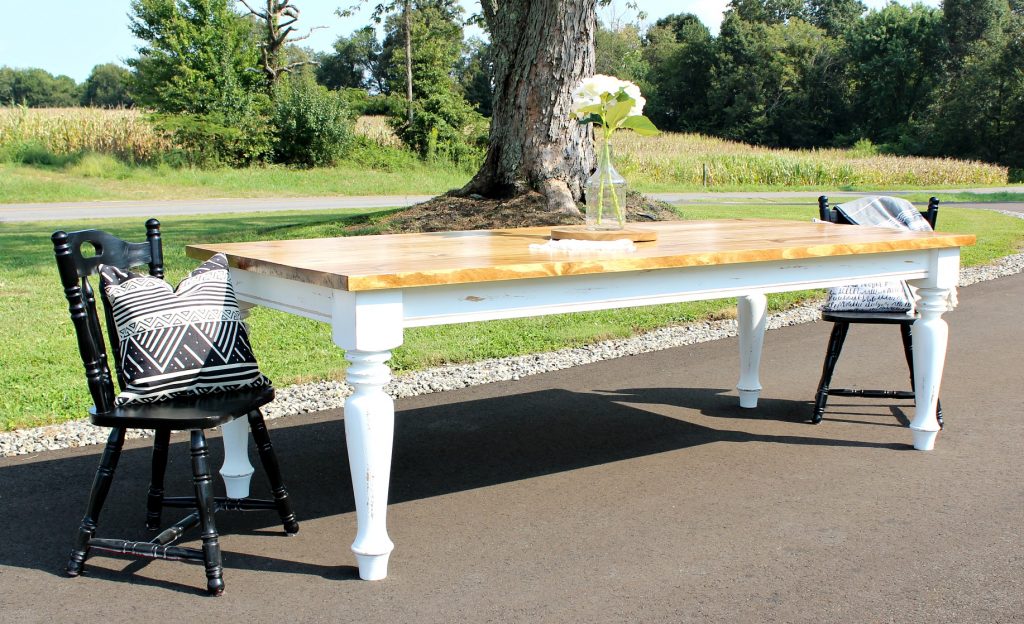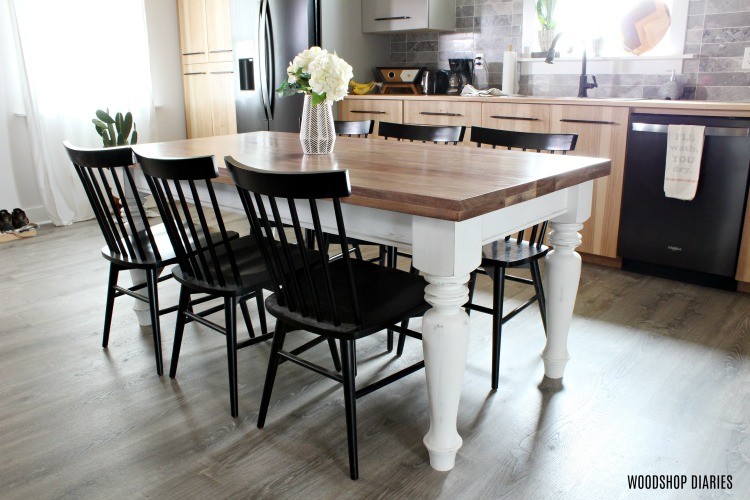 If you are looking for a nice DIY farmhouse dining table bench to match this style table, check out this one I made recently.  Or if you want some other dining table options, here are a few:
.I would love it if you'd pin this for later 🙂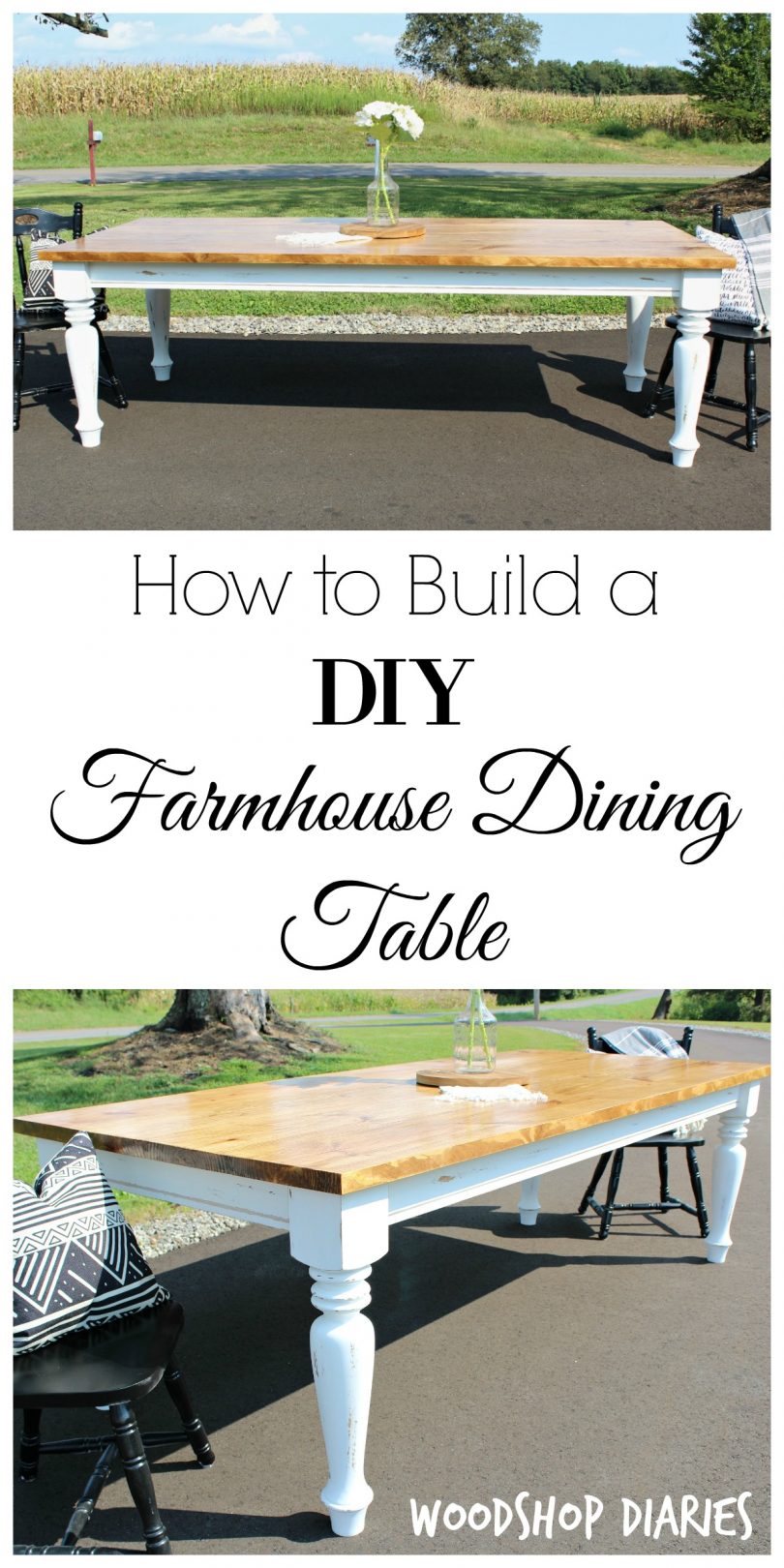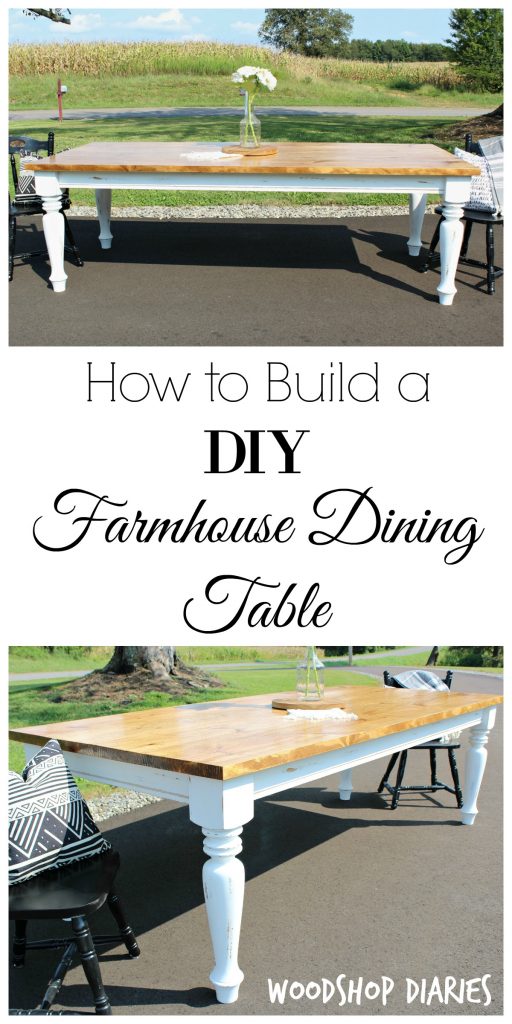 Until next time, happy building!! 🙂