We've all heard the story of "If you give a mouse a cookie," right?  One thing leads to another and it's never as simple as you give the cookie and go on about your business.  Then it needs milk, then you've got to read it a story and fluff its pillow and let it draw a picture.  (Side note…who would do any of this with a MOUSE?!  I would die.  I. CAN'T. EVEN.)  So things have played out similarly with my mom's recent projects….
.
Do you guys remember the bench I made her?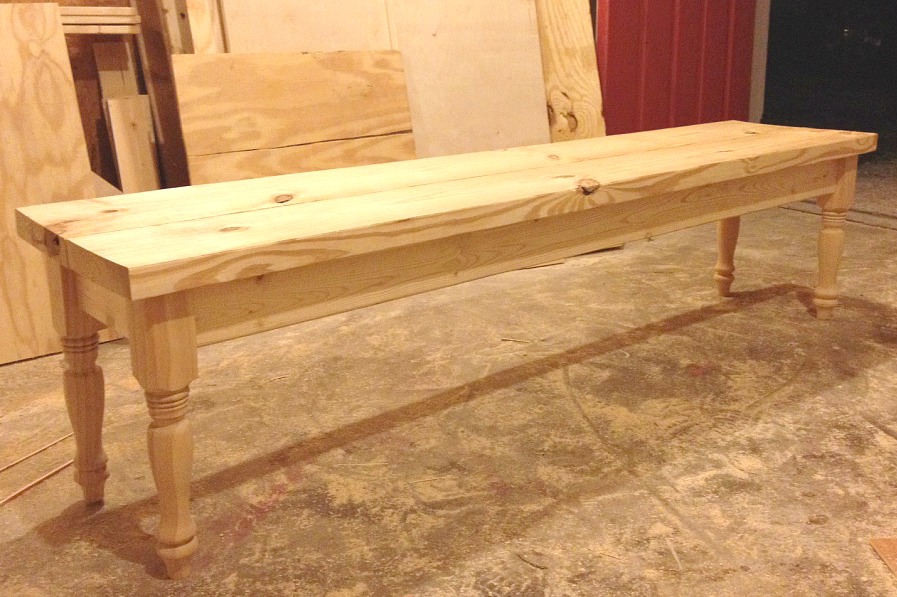 Then she wanted built ins.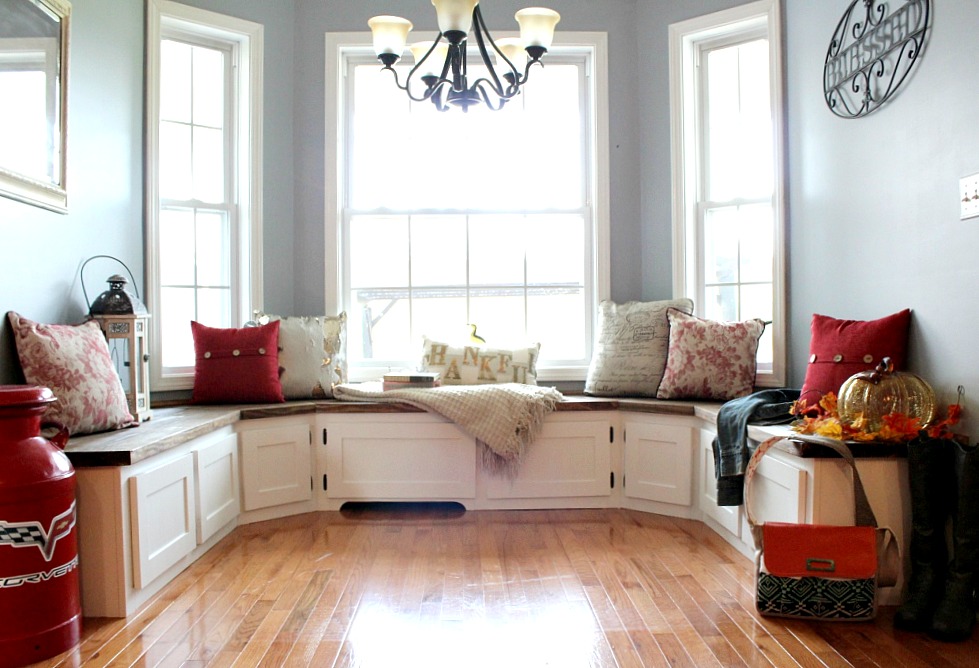 Then she wanted her first bench upholstered.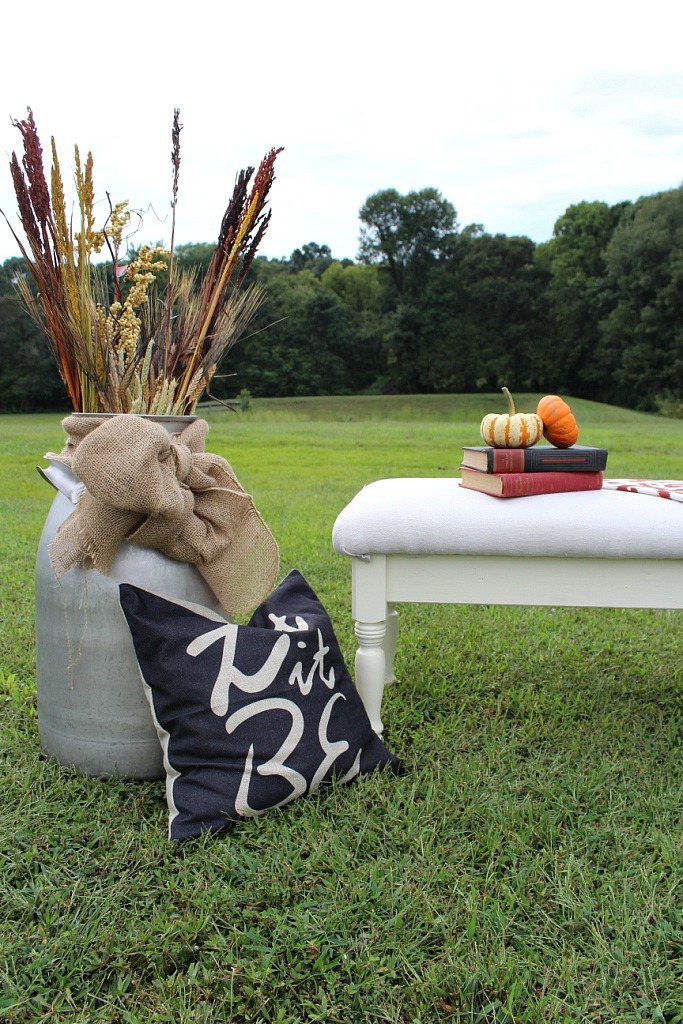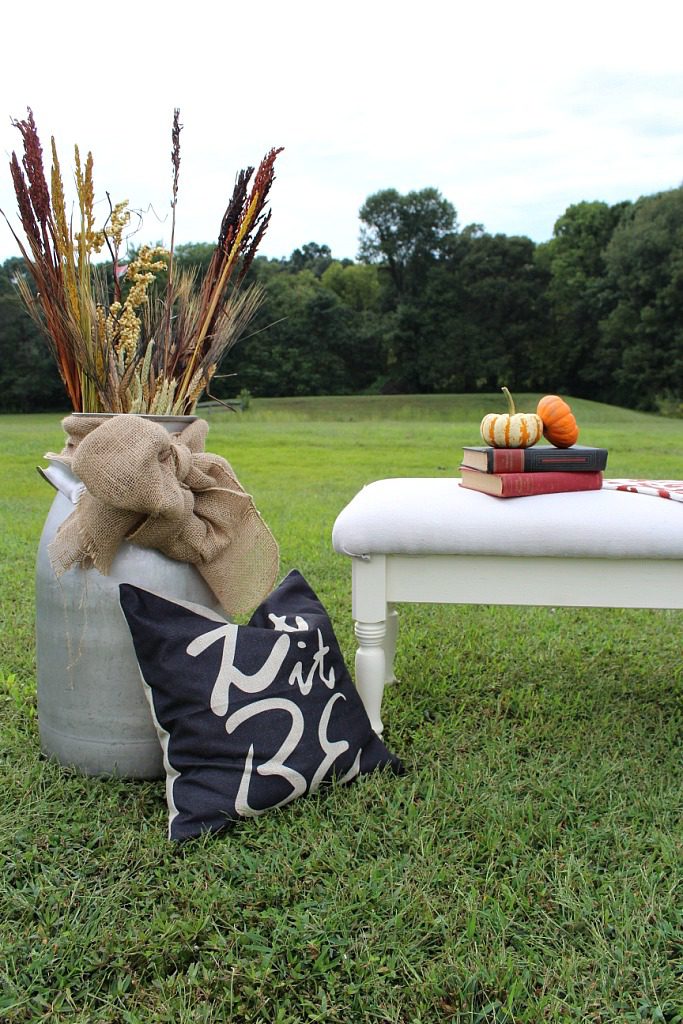 Well, here comes the latest project in the saga of "mom projects" and I'm thinking there is ANOTHER one coming after this, so that's fun, right? 😐
.
After the built ins were installed, she wanted a new dining table for the space.  Her old one just didn't fit that well and she wanted a new style.  I have to say it does hurt me just a little to cover up the view of those gorgeous built ins.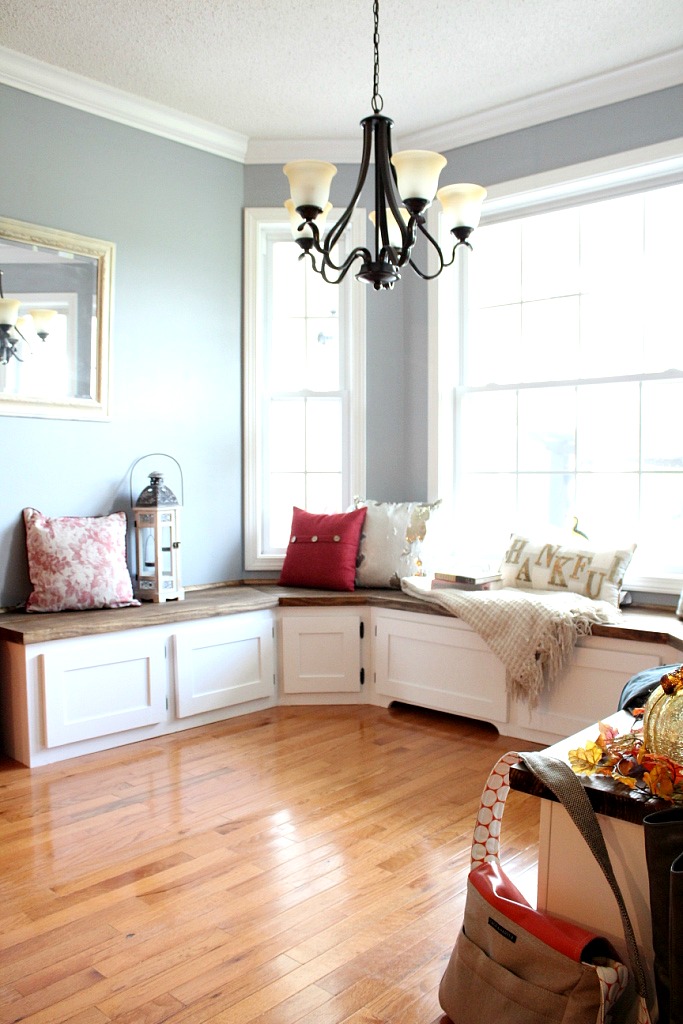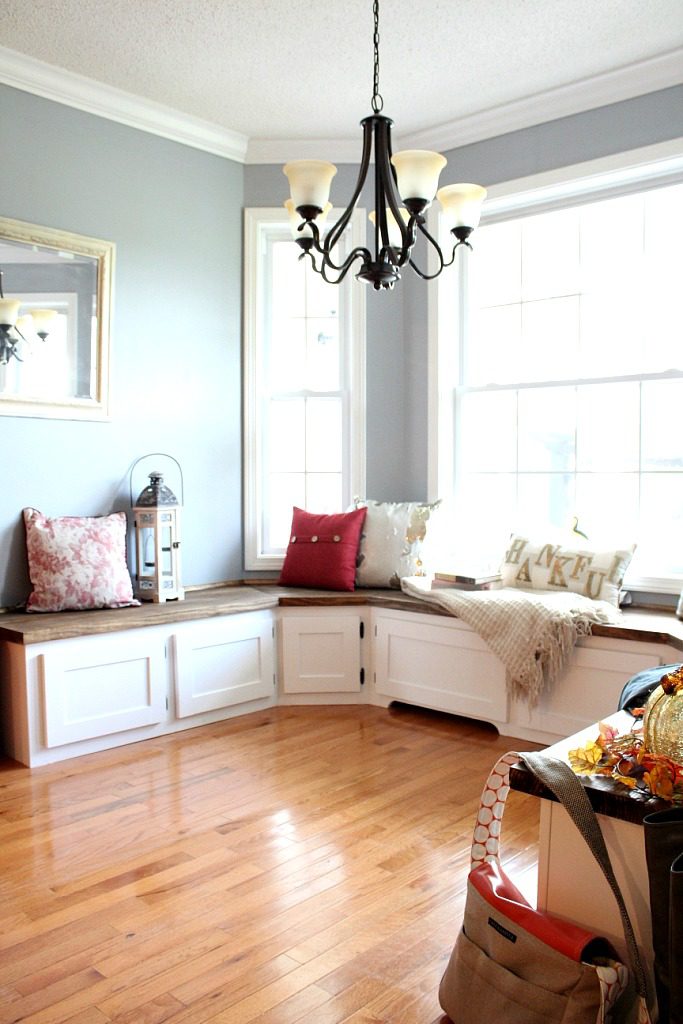 But, what good is a house if it's not functional?  And mom and dad needed a place to eat.  So I suggested a table style that would be a little more "minimal" and wouldn't block so much of the view.  Basically it's the same design as my clock table, but with a square top.
.
I used the same plans mentioned in the post here, but used 2x6s instead of 2x4s to make it a little more substantial.  I modified the plans to make the base 28 ½″ tall and about 36″ wide.  Mom needed her top to be 56″ long and 40″ wide.  Here's the quick how-to : )
.
Note: This post contains affiliate links.  Please see disclosure policy for more details.  If you purchase through these links, I may receive a small commission that allows me to keep this site free for its readers, but I only link to products that I personally use or highly recommend.
.
Tools Used for this Project:
.
Products Used:
Sand paper
.
Step 1: Glue up the table top
You can check out my post here about how to build a table top.  For this top, I used two 2x12s and two 2x10s to make the total width of the top about 40″.  I glued and clamped the boards while I worked on the base.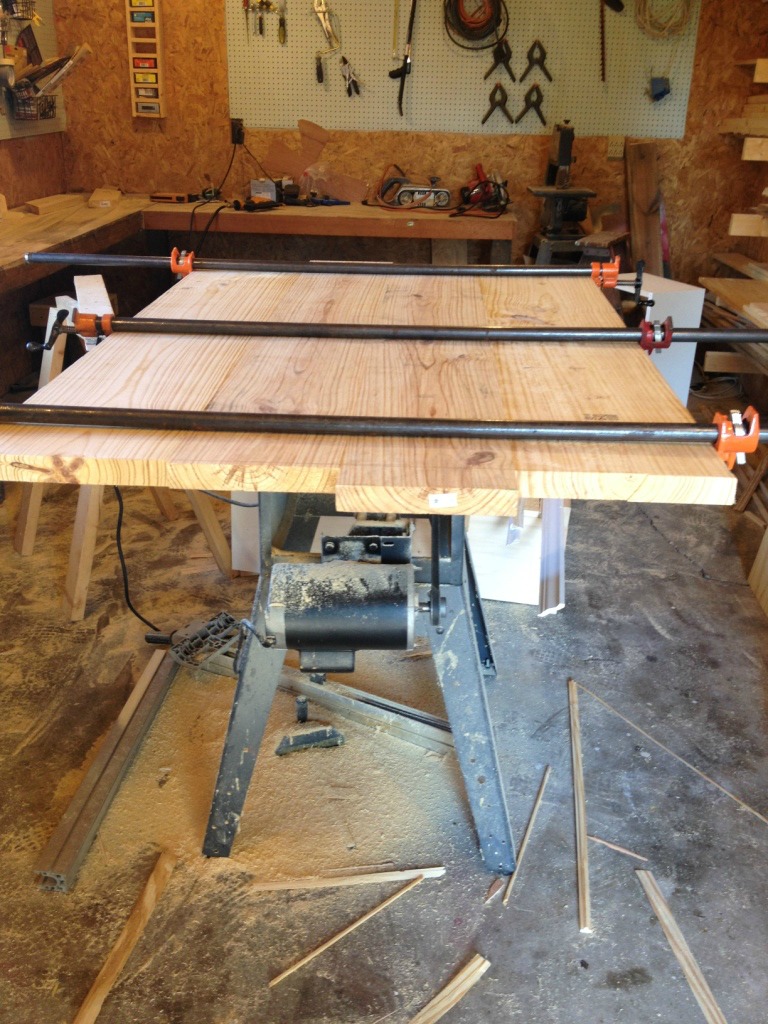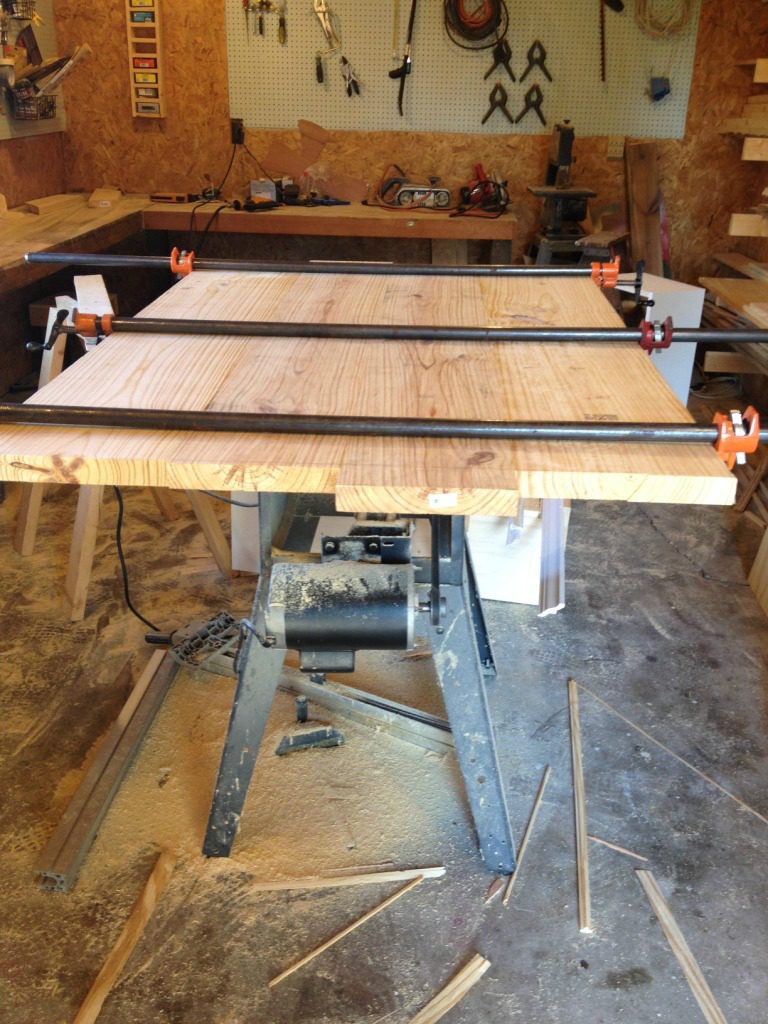 Step 2: Assemble the main X
If you check out the plans I mention in this post, you know that you have to make a "main X" first.  This is where I modify the plans.  Unless you want to do all the math, this is where you just trial and error.  As much as I love math, I still prefer the trial and error method.
.
This table couldn't be wider than the table top and needed to be about 28 ½″ tall so the total table height with the top would be about 30″.  So I played with the angles and figured out that 45 degree angles worked great to get me the size I wanted.  So I cut one long piece of 2×6 with my miter saw at a 45 degree angle and determined how long the piece needed to be to make it stand 28 ½″ tall.  It's easy to lay the piece out on a table top with the 45 angle against the wall.  Then measure down from the wall at 90 degrees and mark where that intersects the 2×6 at 28 ½″.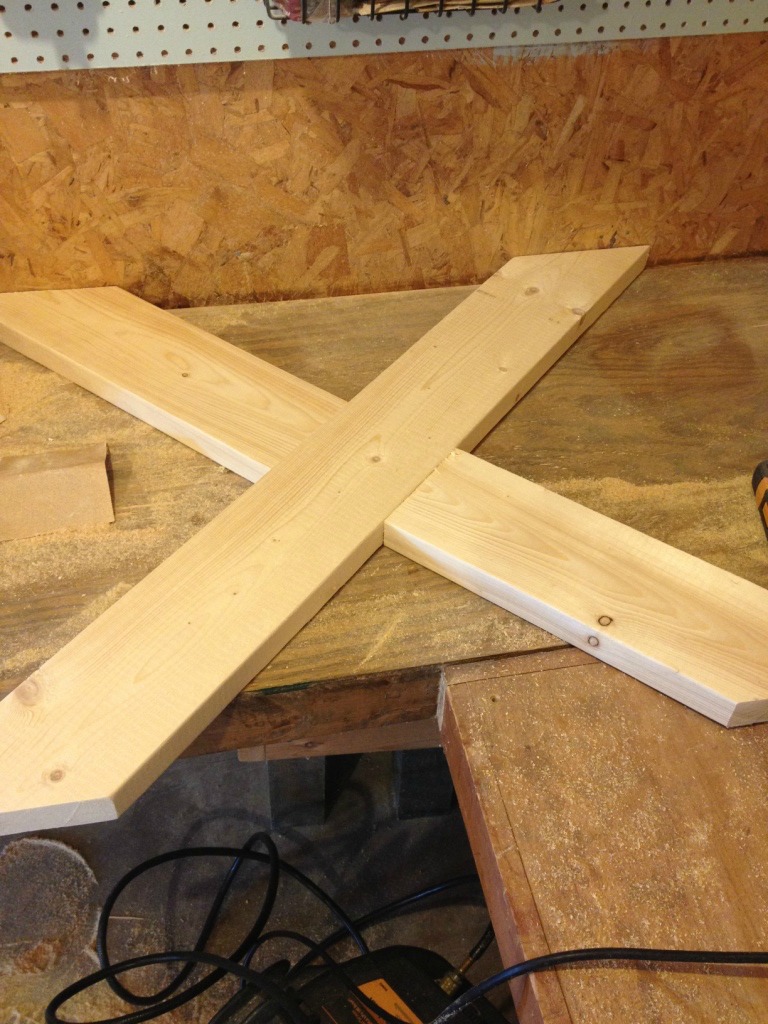 Then I cut two pieces like the picture shows with one regular 90 degree end and one 45 degree.  I could have taken the length of the long board, subtract 5 ½″, then divided by two to get the lengths these pieces should be.  But again, trial and error works, too.
.
Once I had my cuts made, I used my Kreg Jig and screws, to attach the two small pieces to the large piece.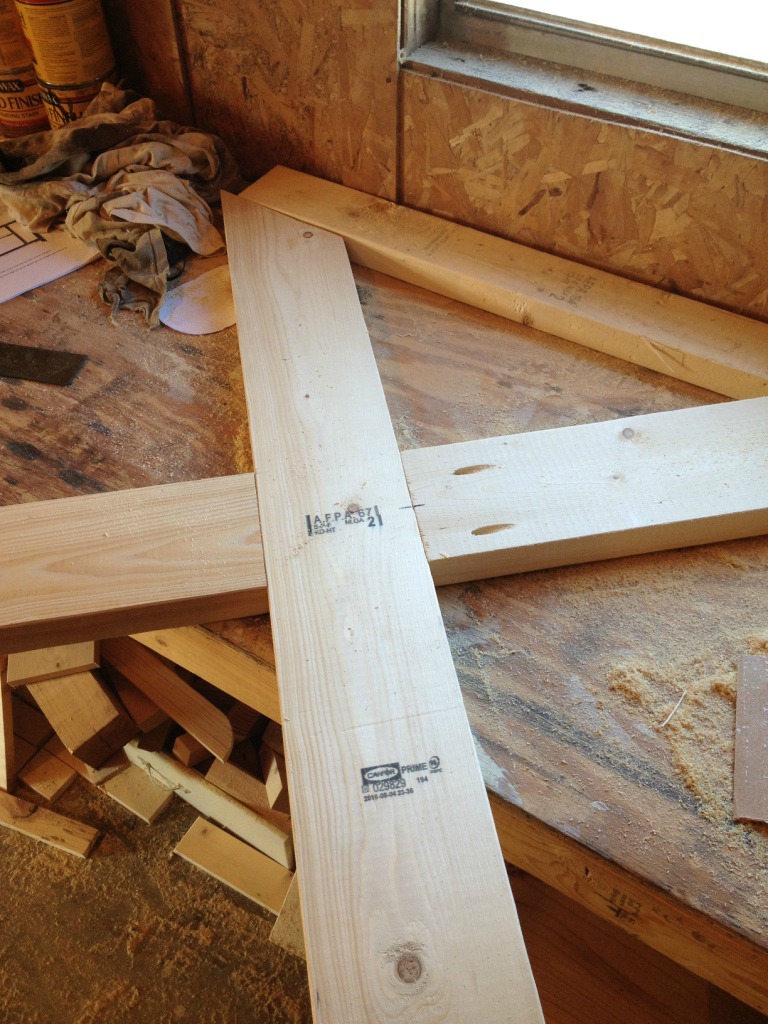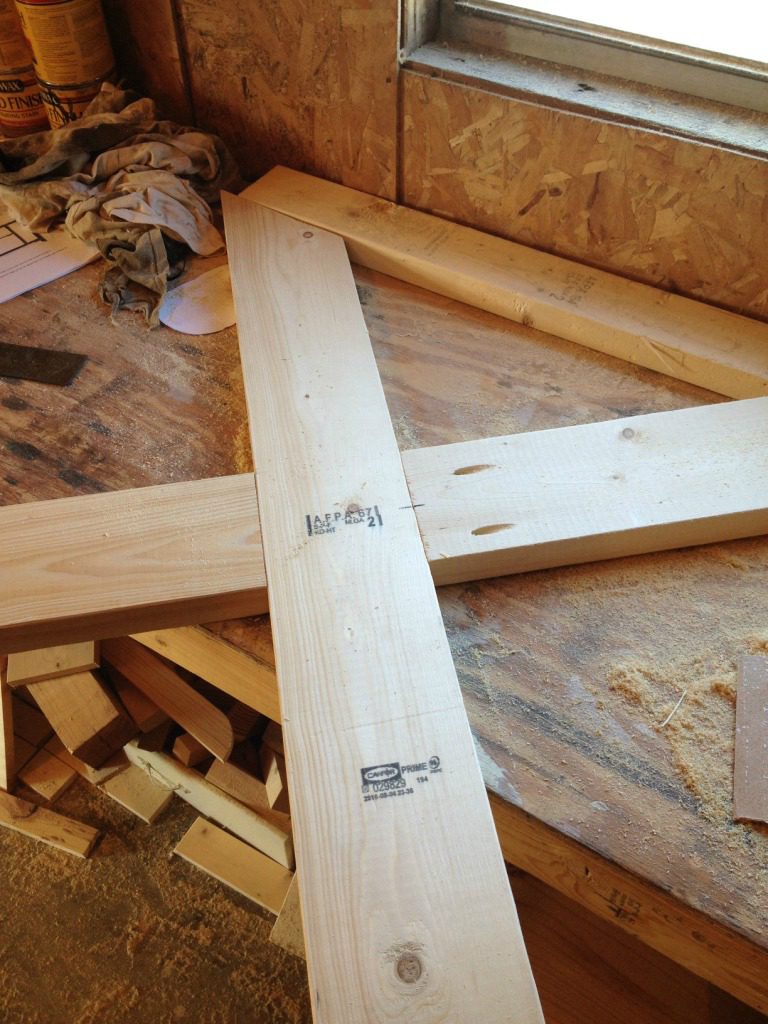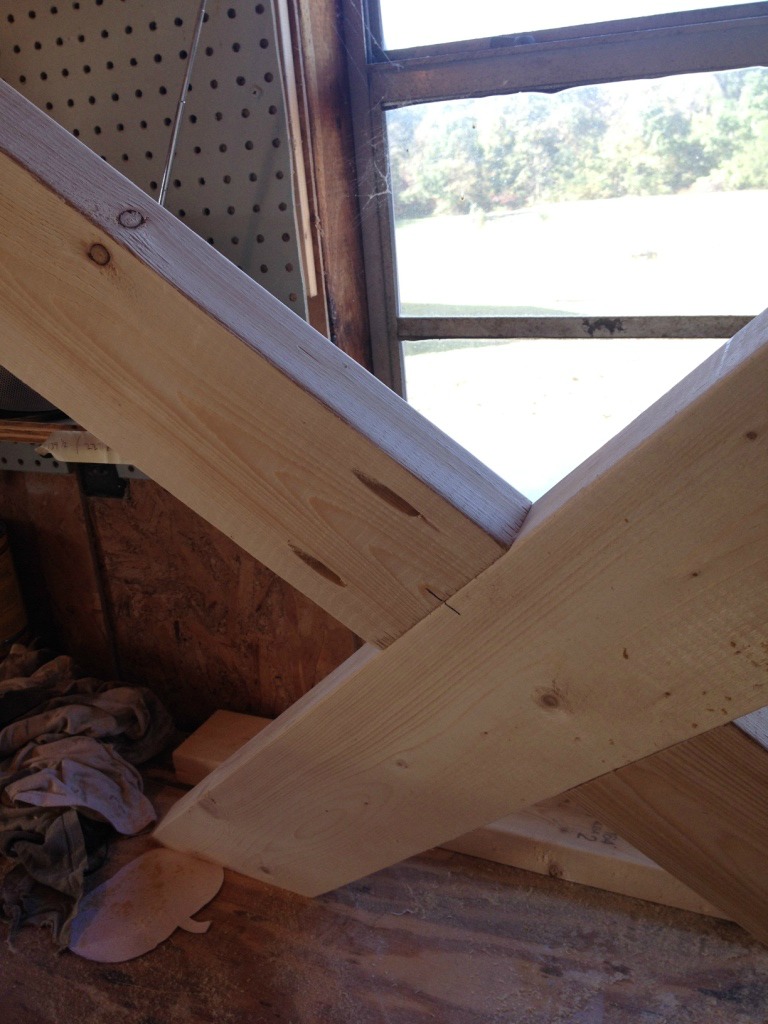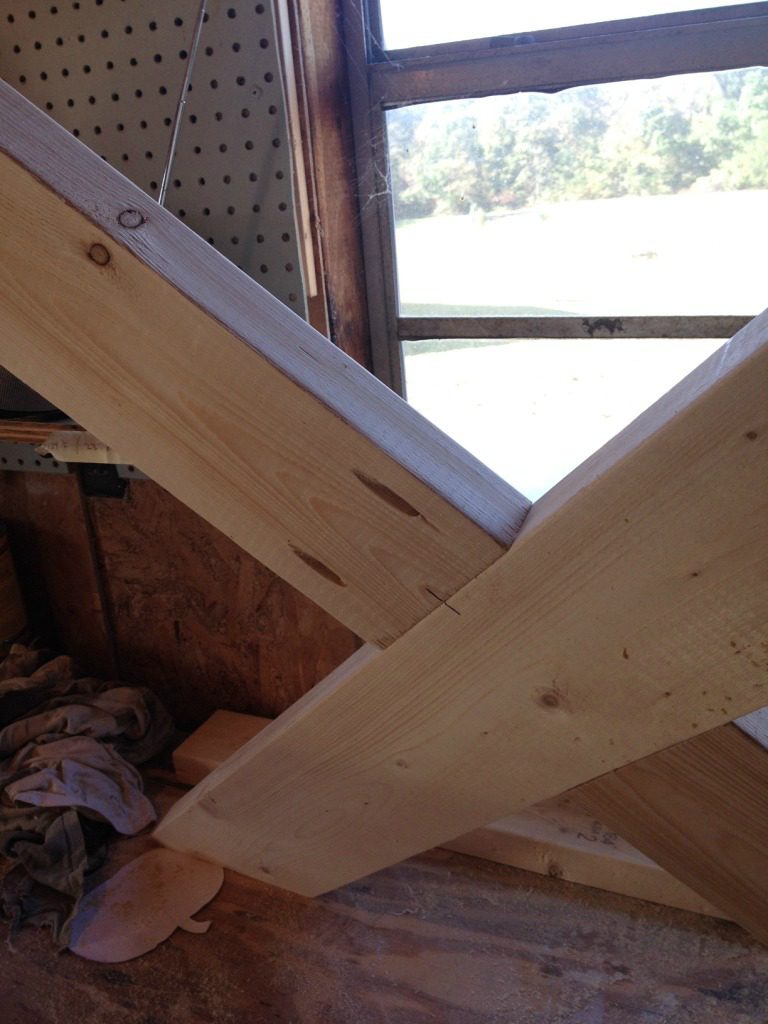 Step 3: Assemble the Side Xs
Once the main X is assembled, I needed to make two identical "side Xs."  In a nutshell, I need to make two pieces that when put together are the EXACT same size as the main X.  See this picture?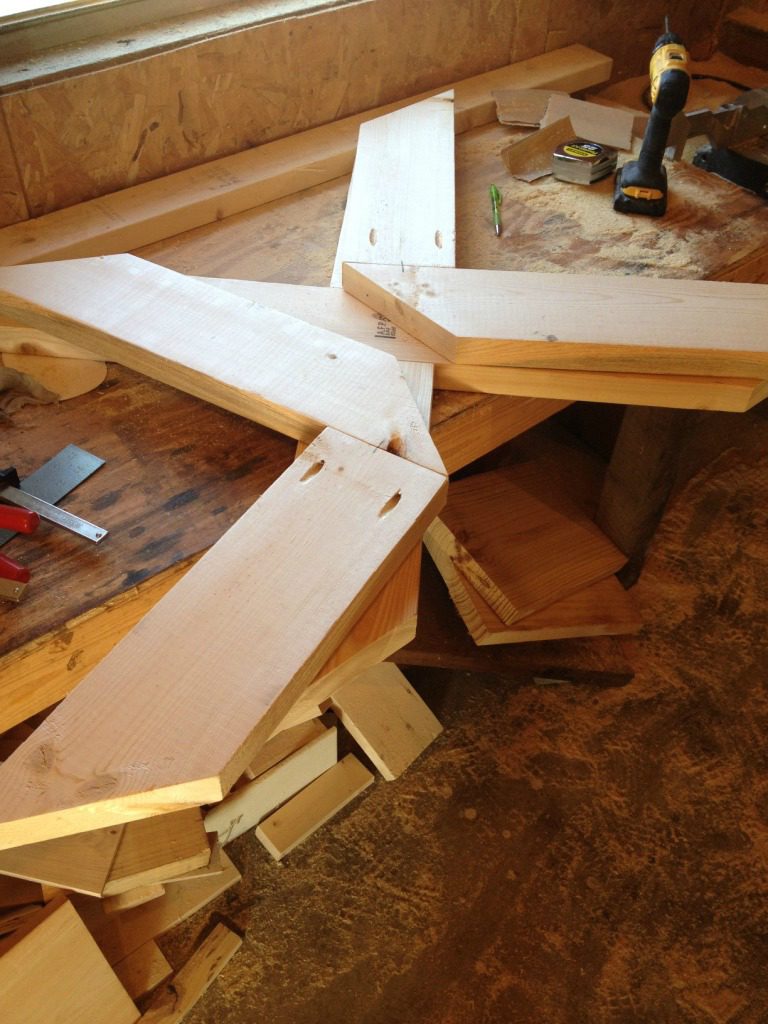 Those two pieces on the top are the "side Xs."  When I lined them up on top of the main X, they are exactly the same.  To do this, I simply cut two pieces EXACTLY like the two small pieces from step 2.  Identical lengths and angles. I laid them on top of the main X small pieces so they matched up.  Then I cut a piece of 2×6 the same length as the long piece from the main X and cut it at a 45 degree angle IN THE CENTER.  (See picture above)  Once I got everything fitted together, I used my Kreg Jig and screws once again to attach the boards like the picture above.
Step 4:  Assemble the base.
Once all the pieces were made, I needed to attach them together.  I used my Kreg Jig and screws again to drill pocket holes in the sides of the "side Xs" and attached them to the main X like the picture.  I make sure to do this on a flat level surface so the table doesn't wobble when it is assembled.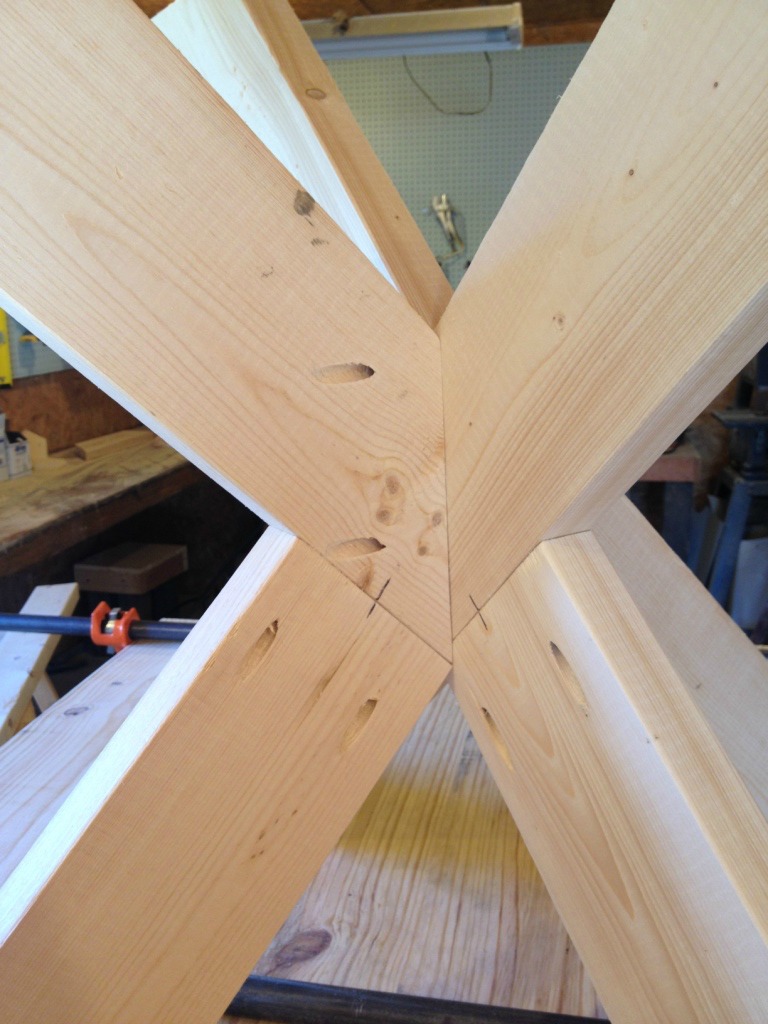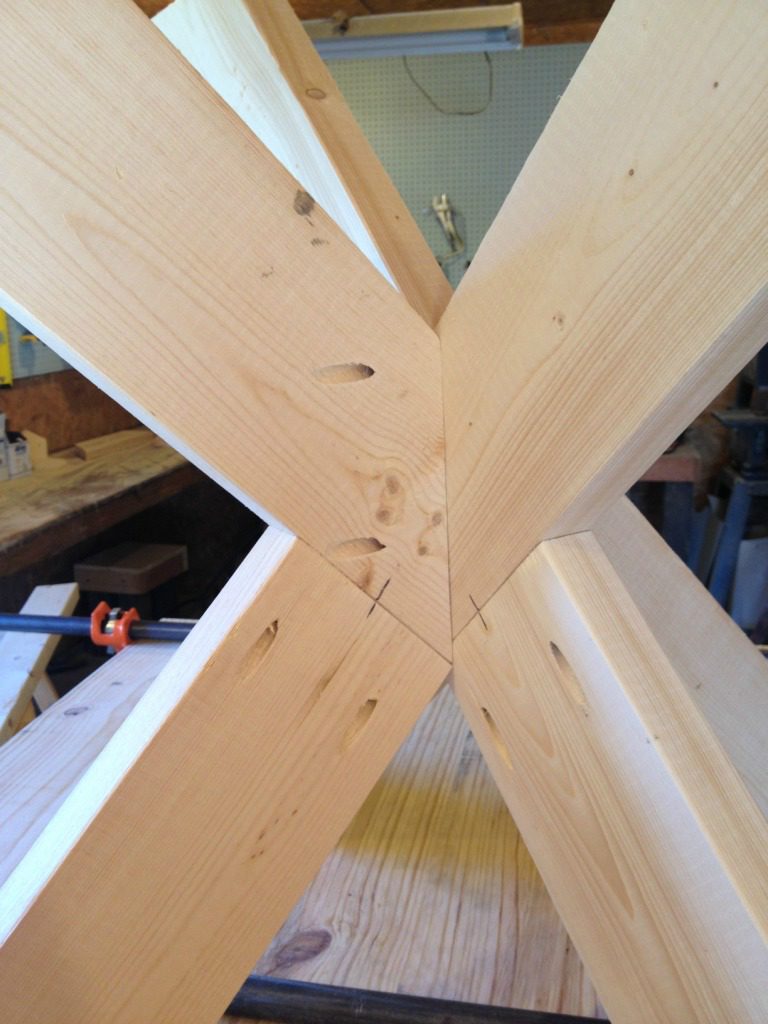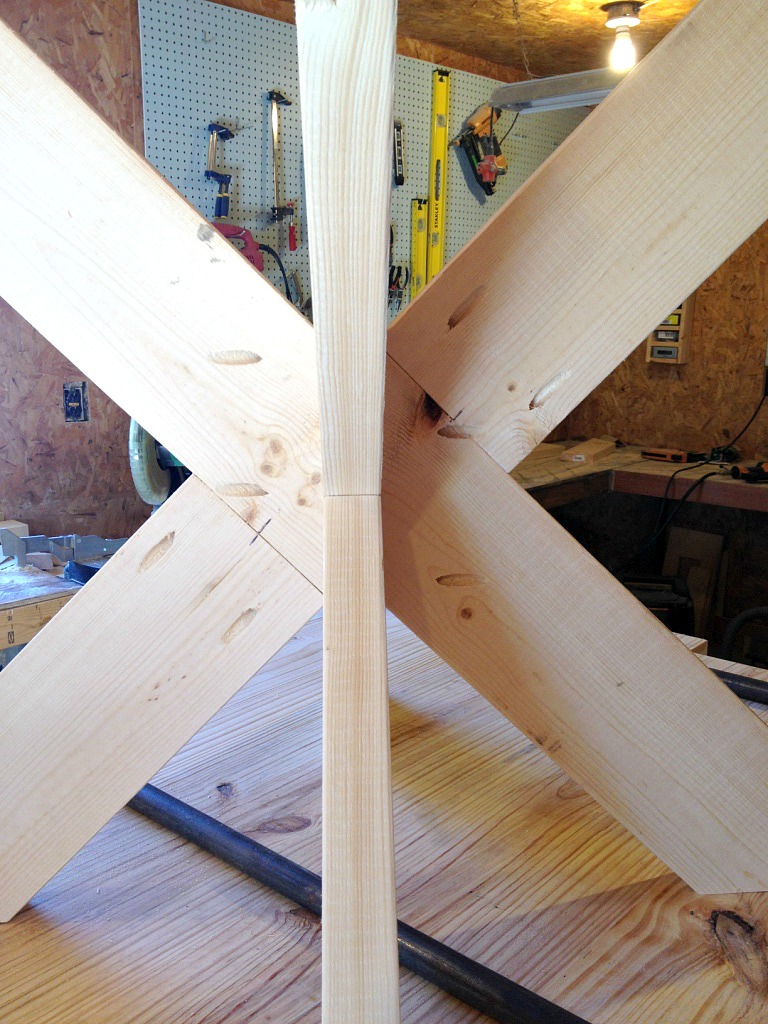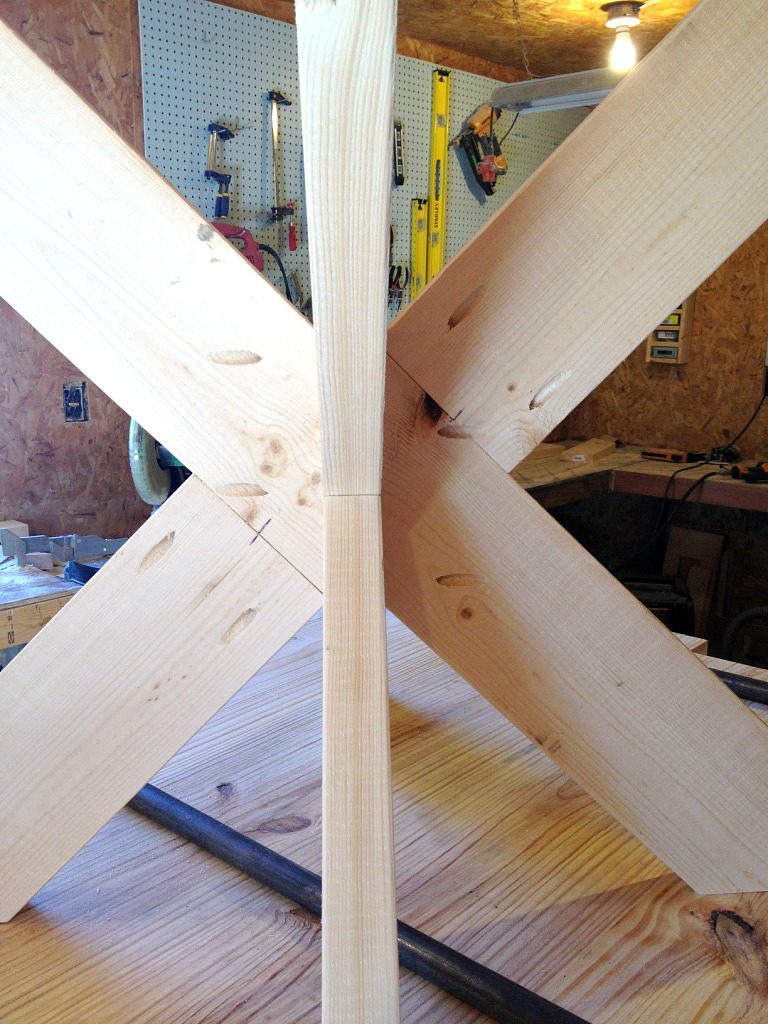 Step 5: Finish and attach top
Once I was done with the base, the table glue was dry.  I trimmed the top to size with my circular saw and sanded it really good.  Then I stained both the top and the base with Minwax Provincial.  I apologize, I don't have good pictures here (but I do in this post), but I drilled pocket holes with my Kreg Jig in the top of each leg and attached them to the underside of the top with screws.
.
I used Kreg Plugs to plug the pocket holes…you can see them here: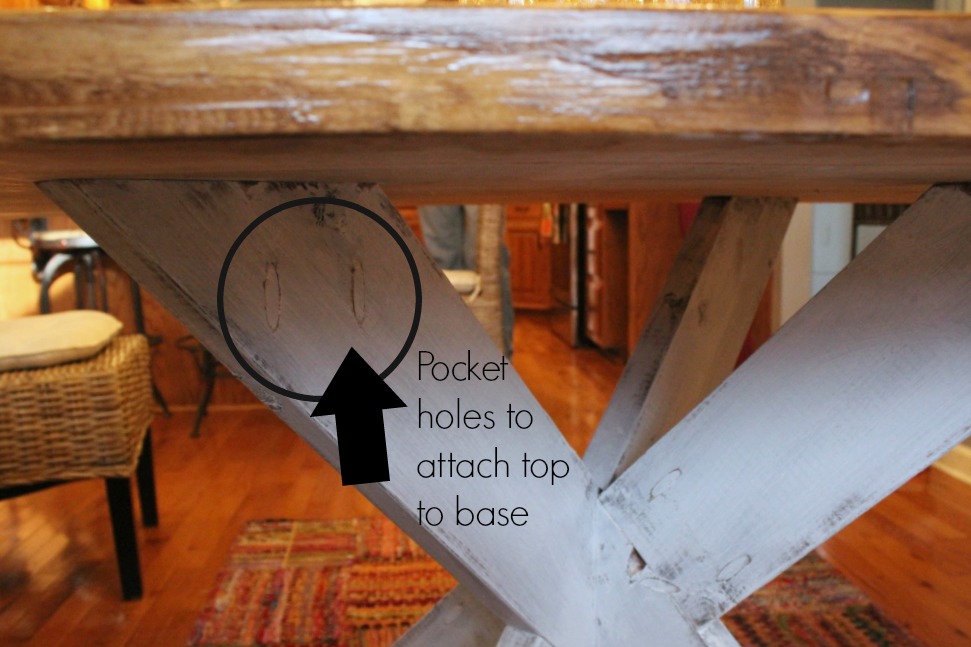 I made the table so most of the pocket holes were on the back side of the table.  You really don't notice them unless you are looking for them.  For a more disguised look, I recommend puttying around them and sanding. Since this was a "distressed" look, mom told me not to bother with the putty.
.
After the plugs were in, I wiped over them with the stain rag, then dry brushed the base with white paint.  Mom took it home and polyed the top with Minwax Polycrylic.
.
And here it is in its new home.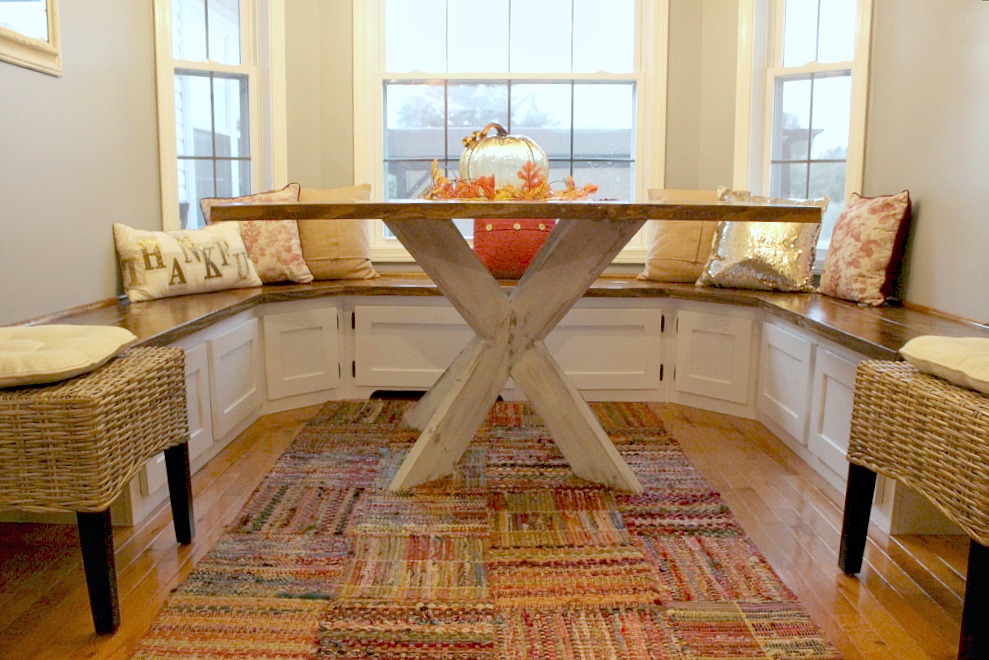 I recommended a different rug to mom, but she just loves this one…whatever makes her happy haha.  I love that the table doesn't block the entire view of the built ins, but still fits well in the space.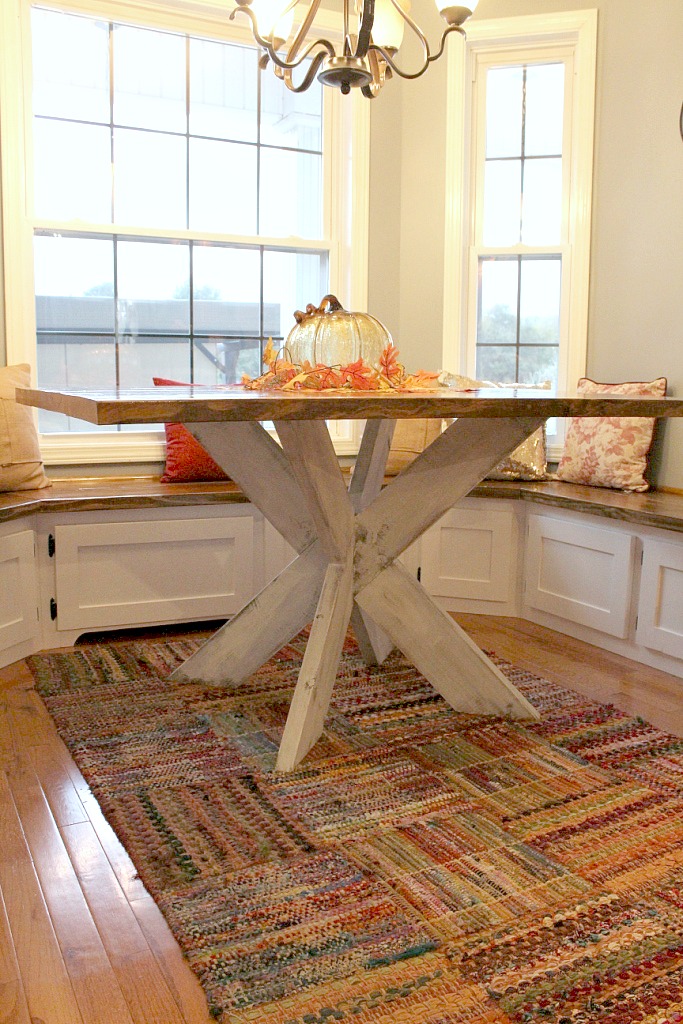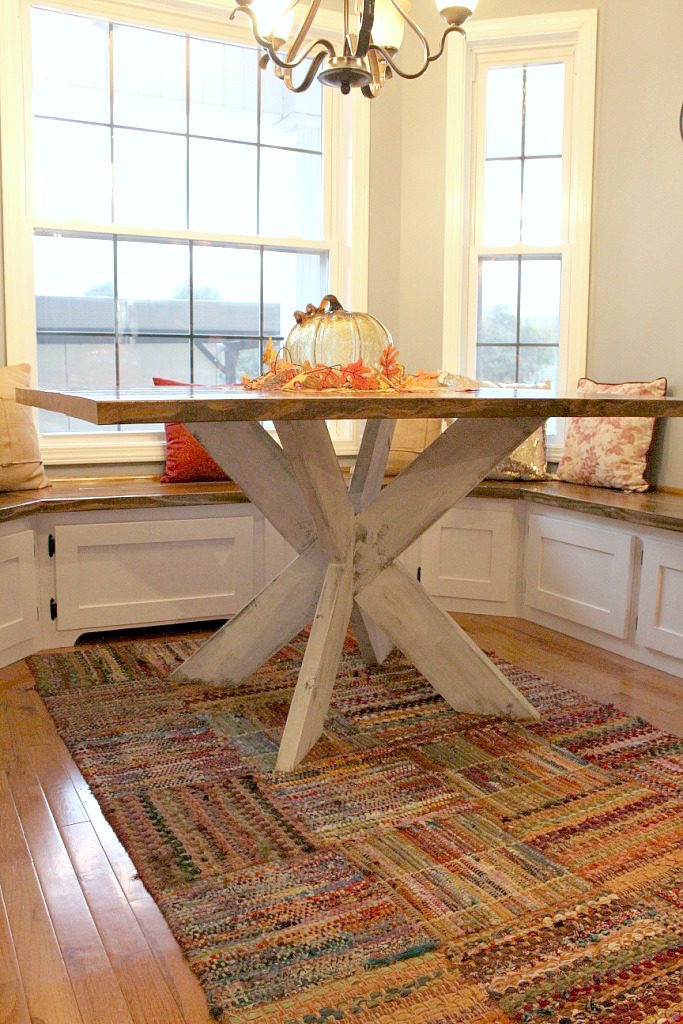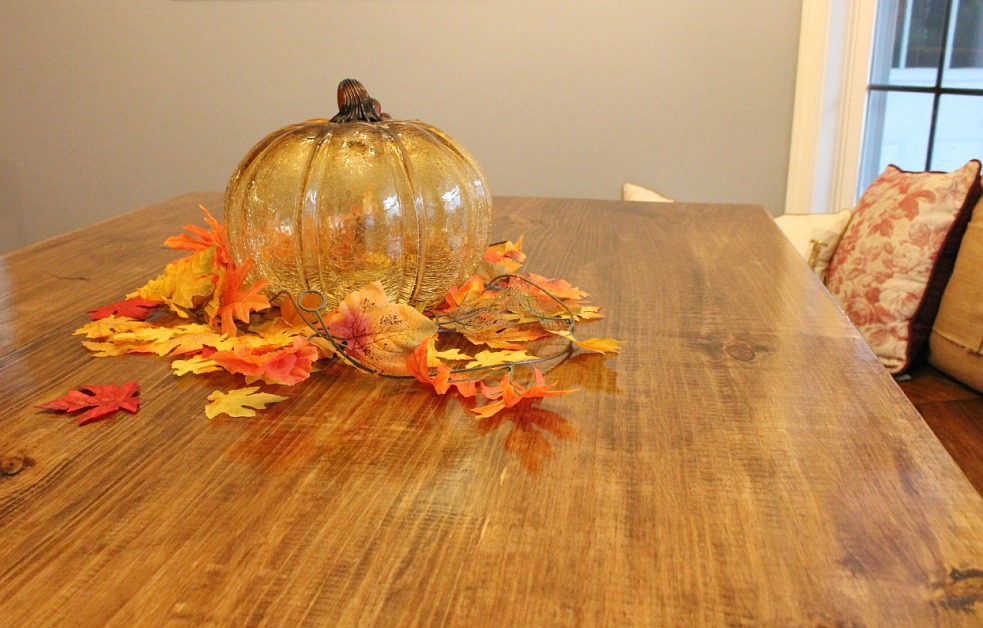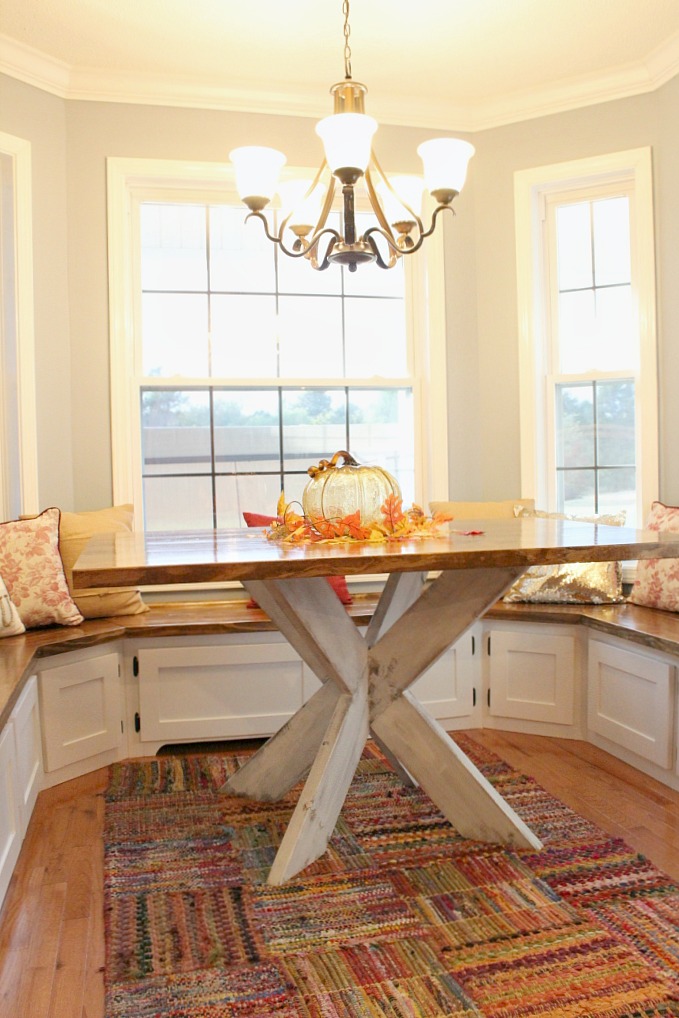 Now, obviously, they have some chairs to go along with the table, but you know how this goes….I have to get the picture of the table only first 😉  Here's what it looks like in its normal state.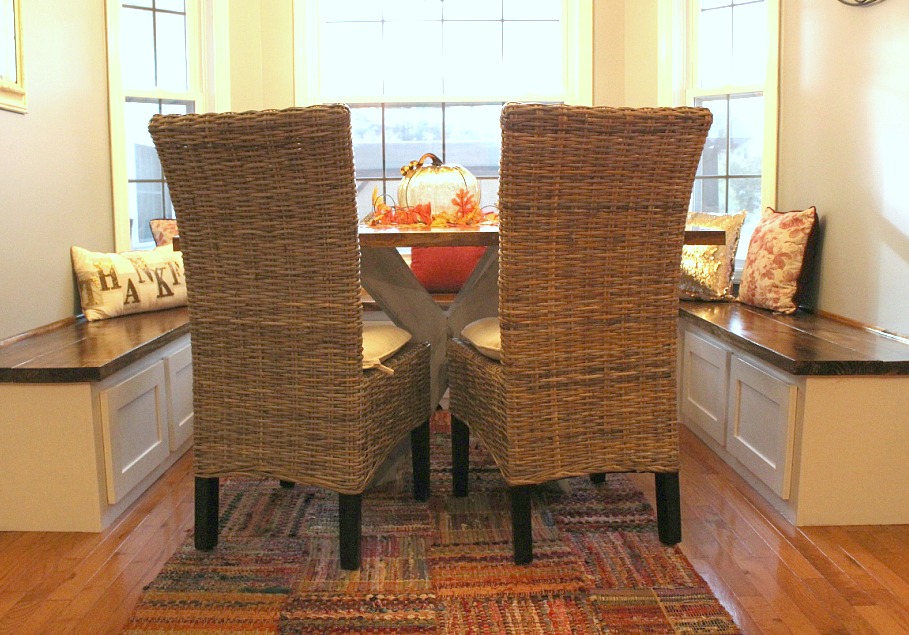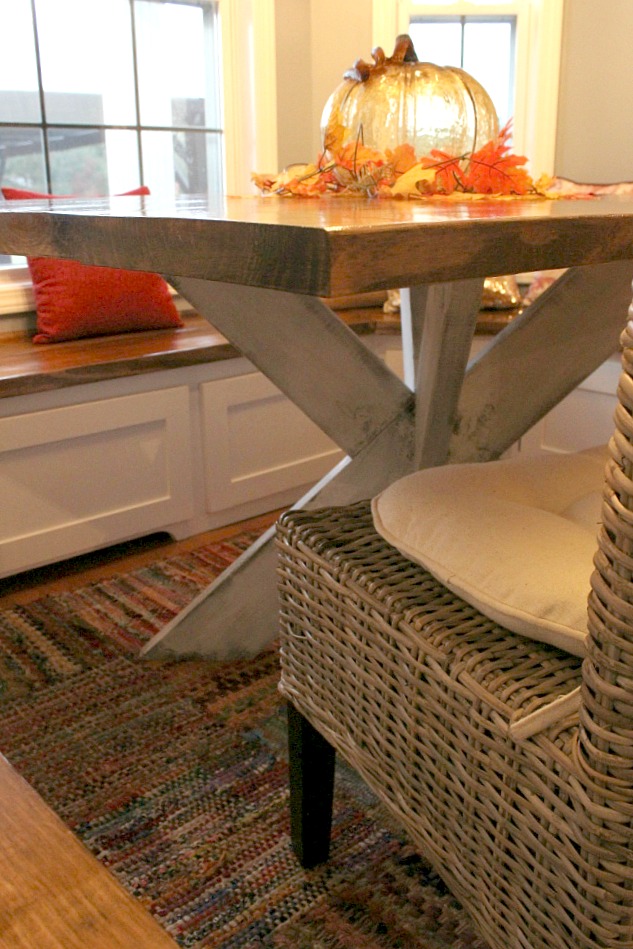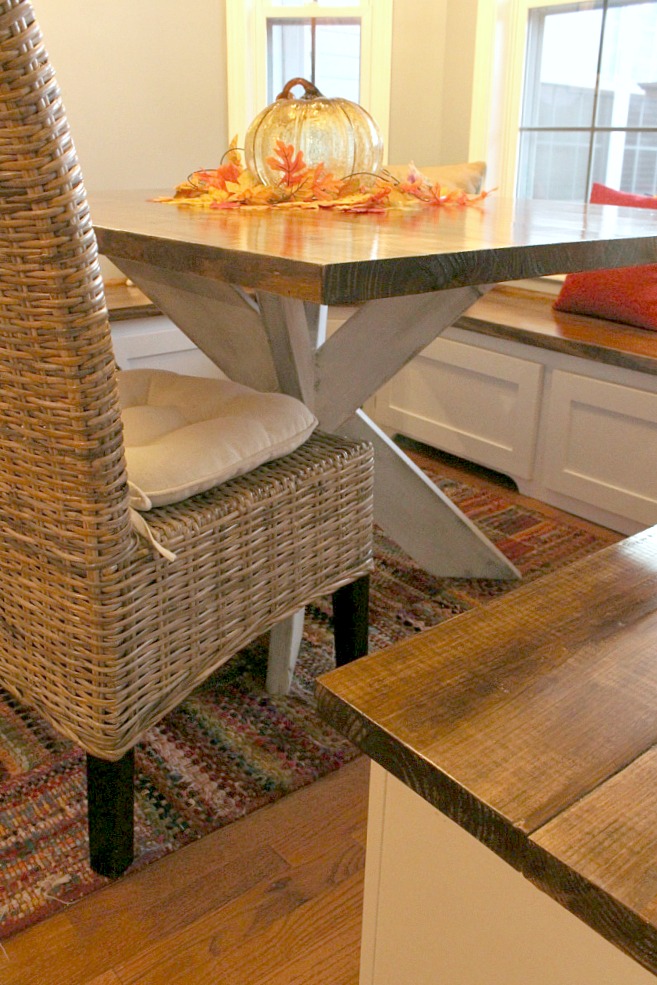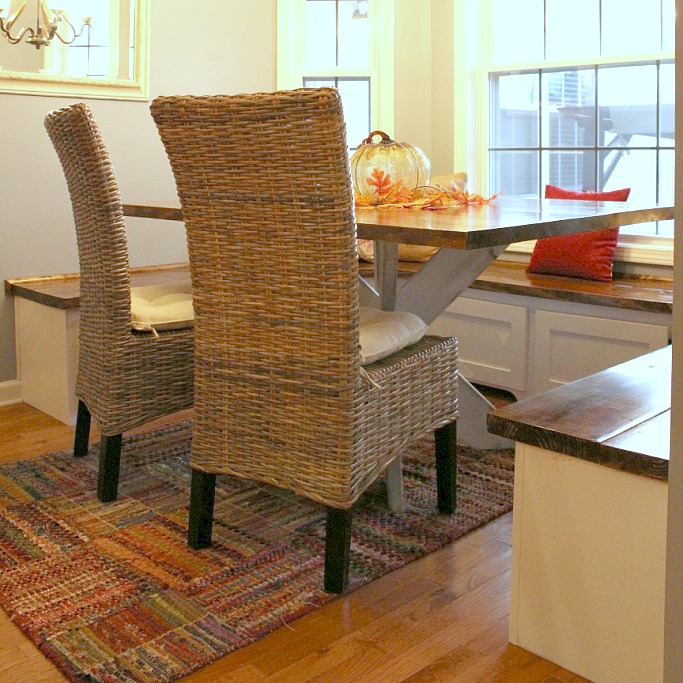 Gorgeous, right?  I really love this X base style.  It's unexpected and a great conversation starter.  I think it really fits this space well and allows room for people (*cough* me at these family dinners) to move around the table without knocking their knee on a table leg haha.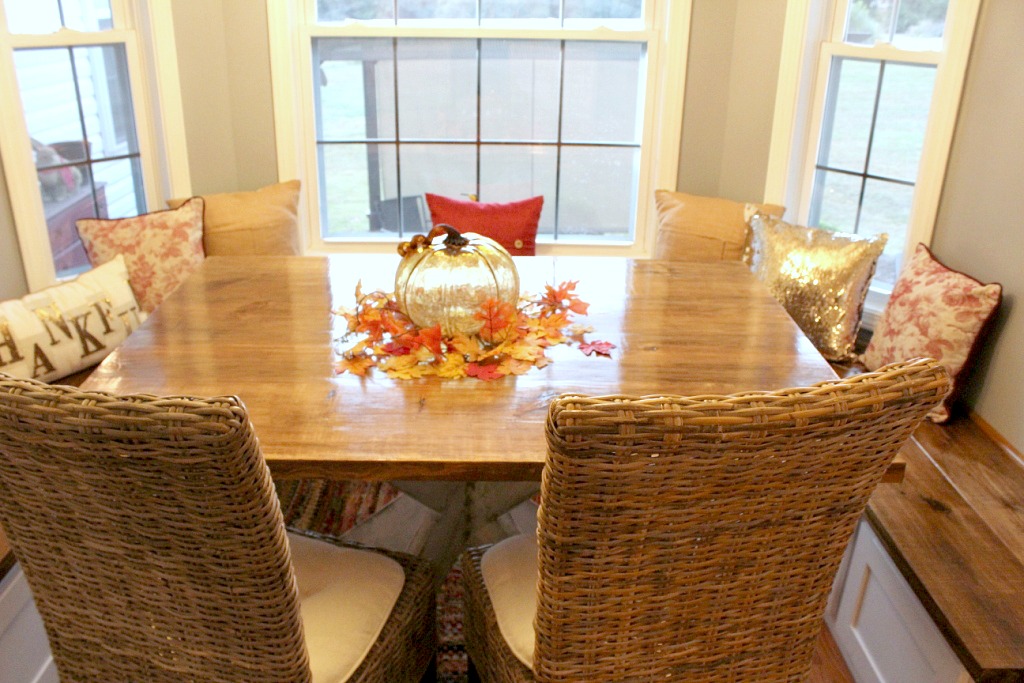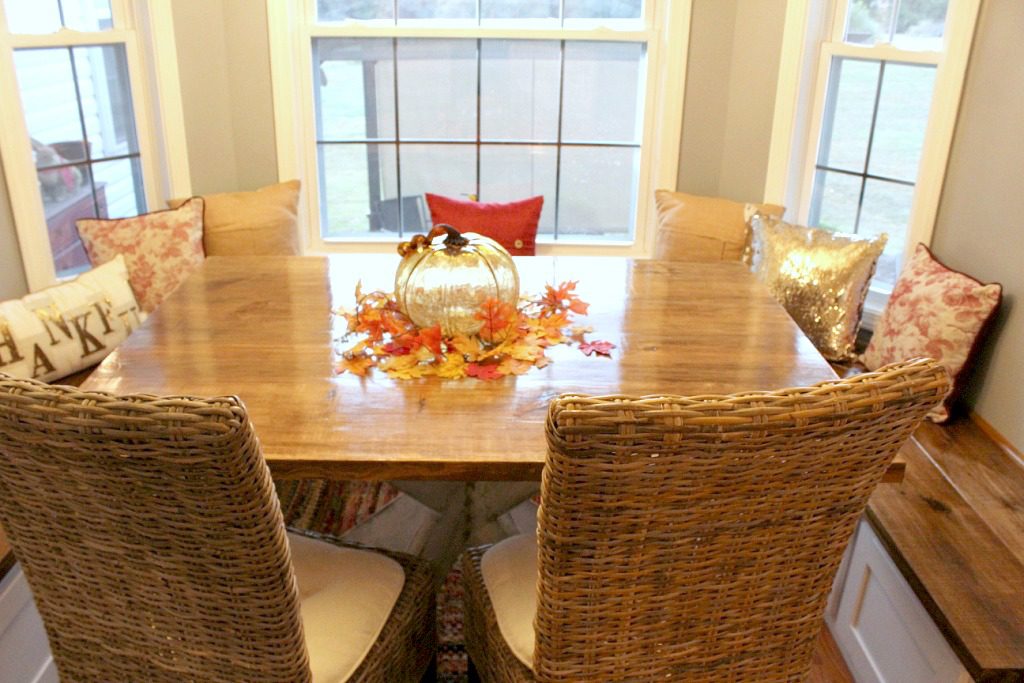 So what do you guys think about it?  Besides that fact she totally needs a new rug under this new table??  Maybe we could start a petition and convince her to switch it out? HAHA just kidding…to each his own and she likes it, so that's all that matters.  BUT, Christmas is coming up and I think I see a rug under the tree this year with her name on it 😉
.
Let me know what you think (about the table, not the rug) in the comments below and be sure to pin for later!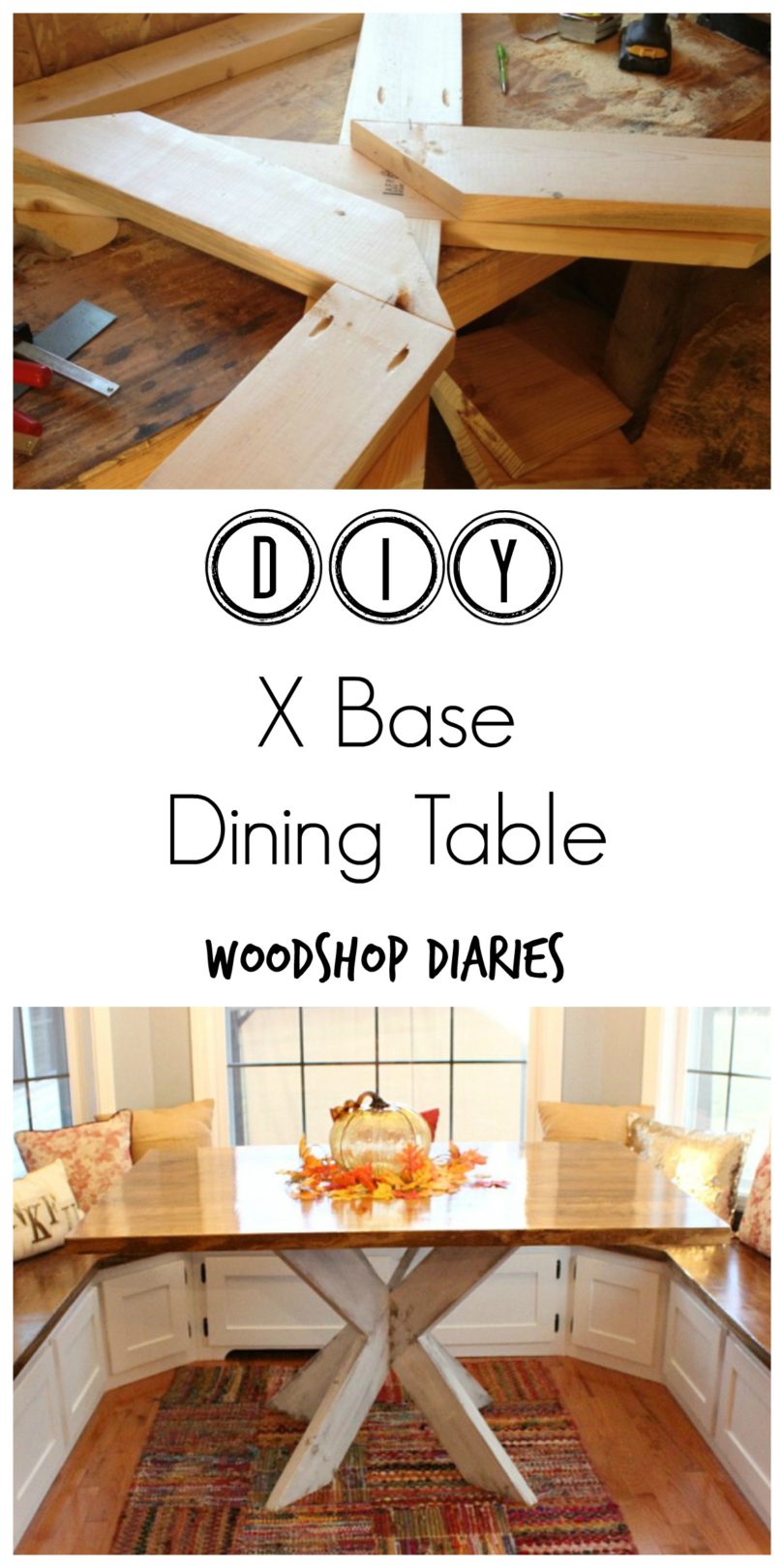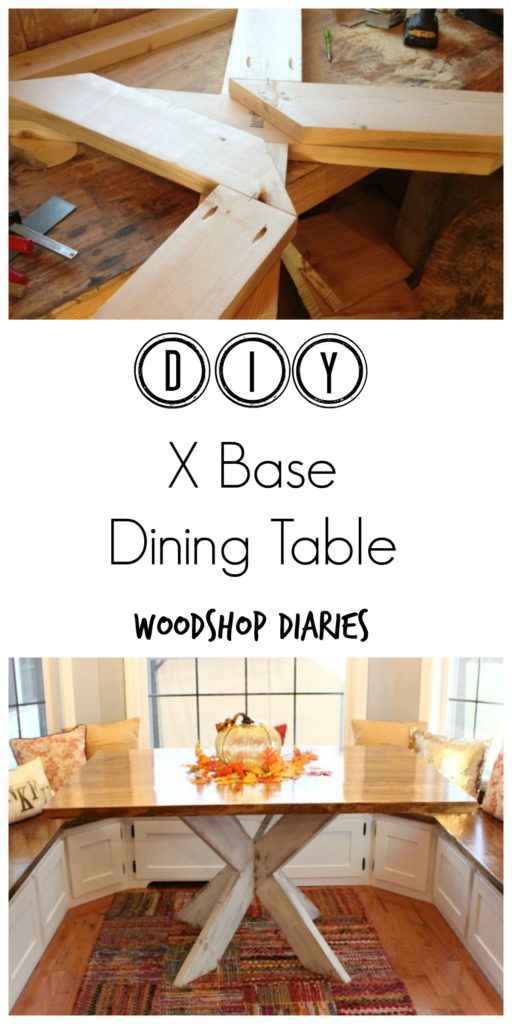 Until next time, happy building!