I've learned a few things in my short time as an adult.  One of those things is that the saying "when Momma ain't happy, ain't nobody happy" is 135.74% true.  So when Momma wants built ins, you make her some built ins.
.
My Mom has been going through her house (against Dad's will) and repainting and rearranging and buying new furniture and all that stuff.  It really looks a ton better.  Once she got her kitchen painted, she wanted me to make her some built ins in her breakfast nook.  Totally cool.  Except for I was about to start working on my bathroom remodel.  I figured out real quick that that wasn't going to work out very well since Momma wanted her benches….like now.
.
So I took some time off the bathroom (it's still not done by the way) and finished her built ins this weekend.  Now she's happy (and so am I 😉 ).
.
I could not possibly give you a detailed plan on how to build built ins because it's a totally custom project based on your measurements, but I will give you a overview.  And lots and lots of pretty pictures 🙂
.
This was her space before.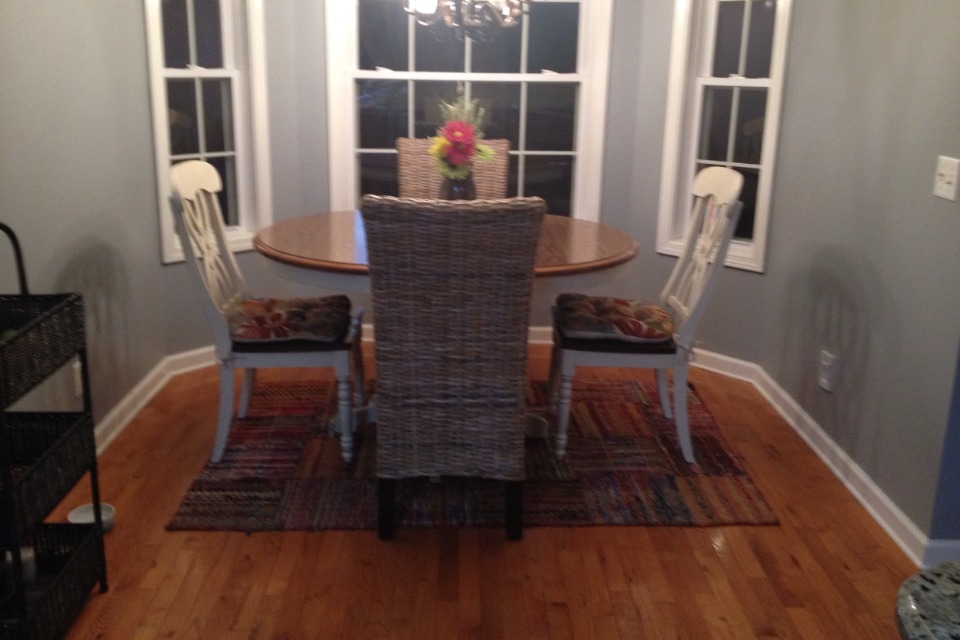 I made some detailed measurements and made the built ins in several sections.  First I started making the corners.  There are lots of ways to make the corner pieces, but I made them this way because it was easy to attach the side and back pieces.
.
I made two pieces like this based on the exact measurements of the corners.  One of her corners was ½″ longer than the other.  Always measure everything when doing stuff like this because no house is perfect and the measurements are NEVER exactly the same.  I used my (affiliate link) Kreg Jig to attach everything to make the cabinets.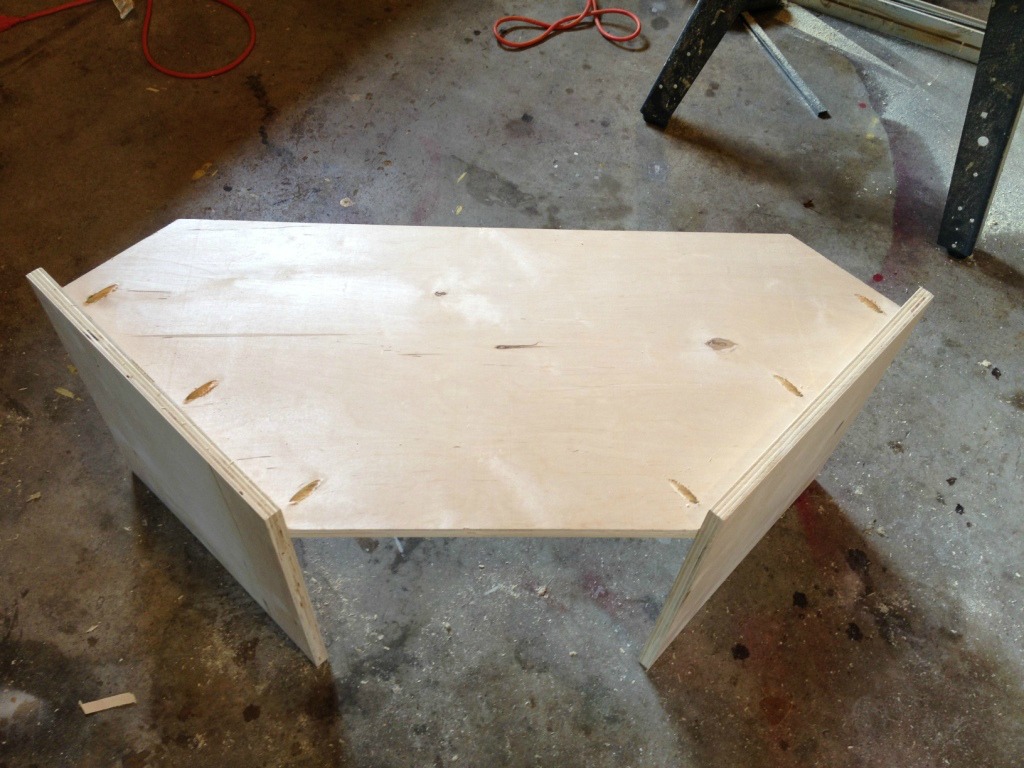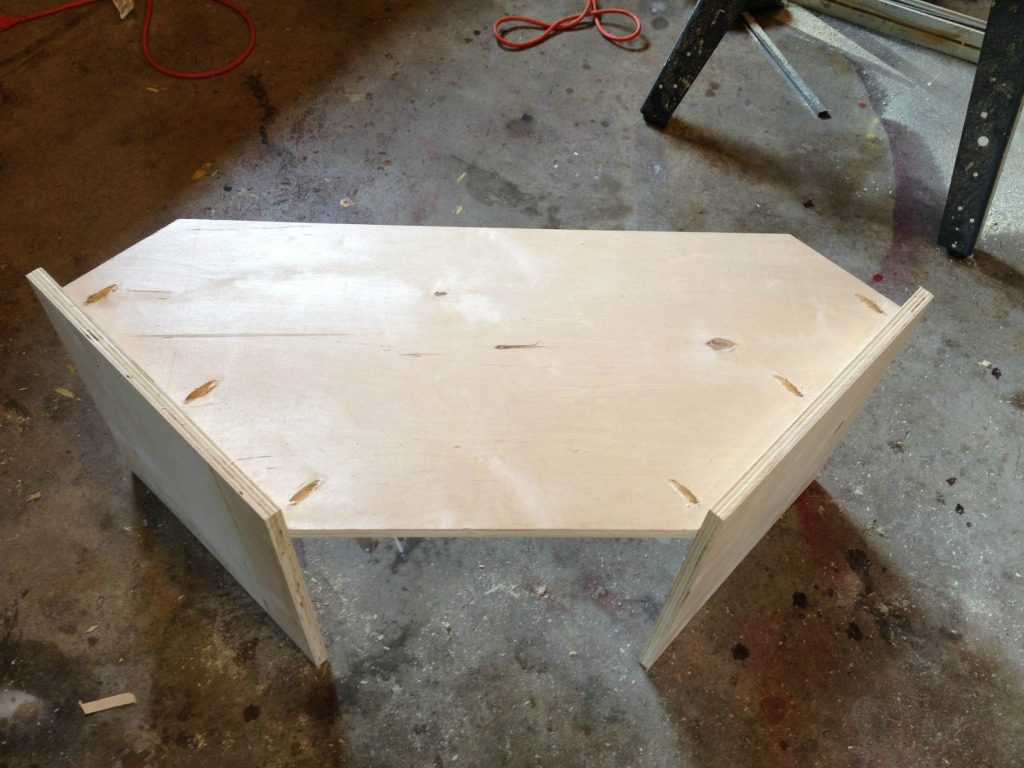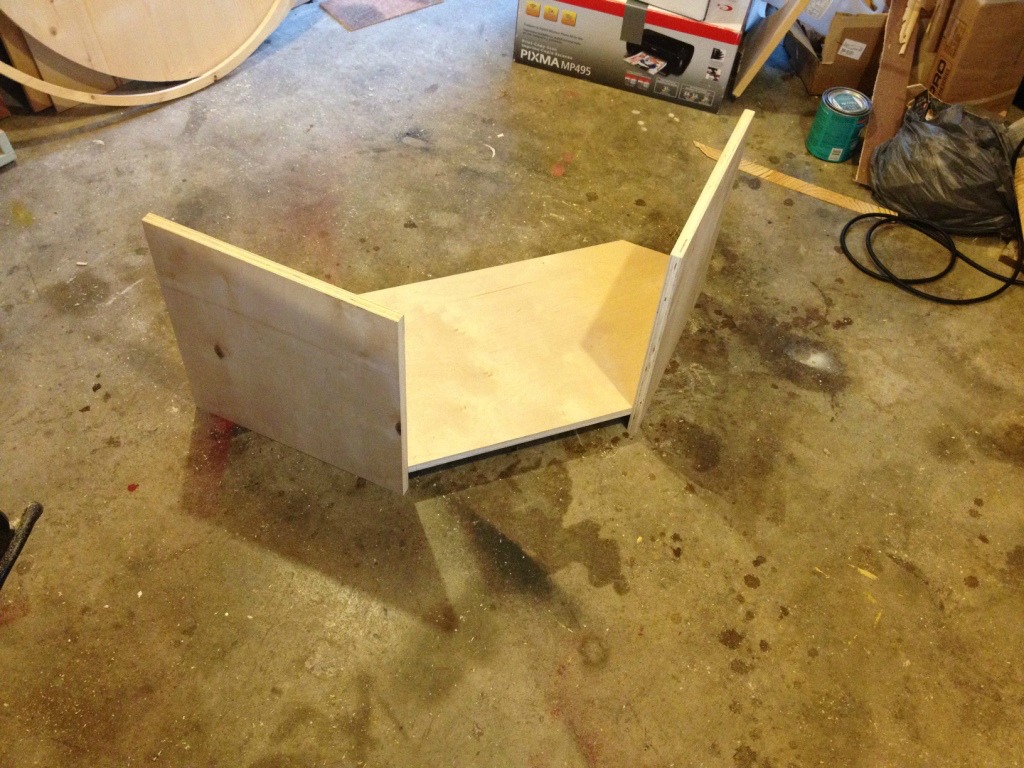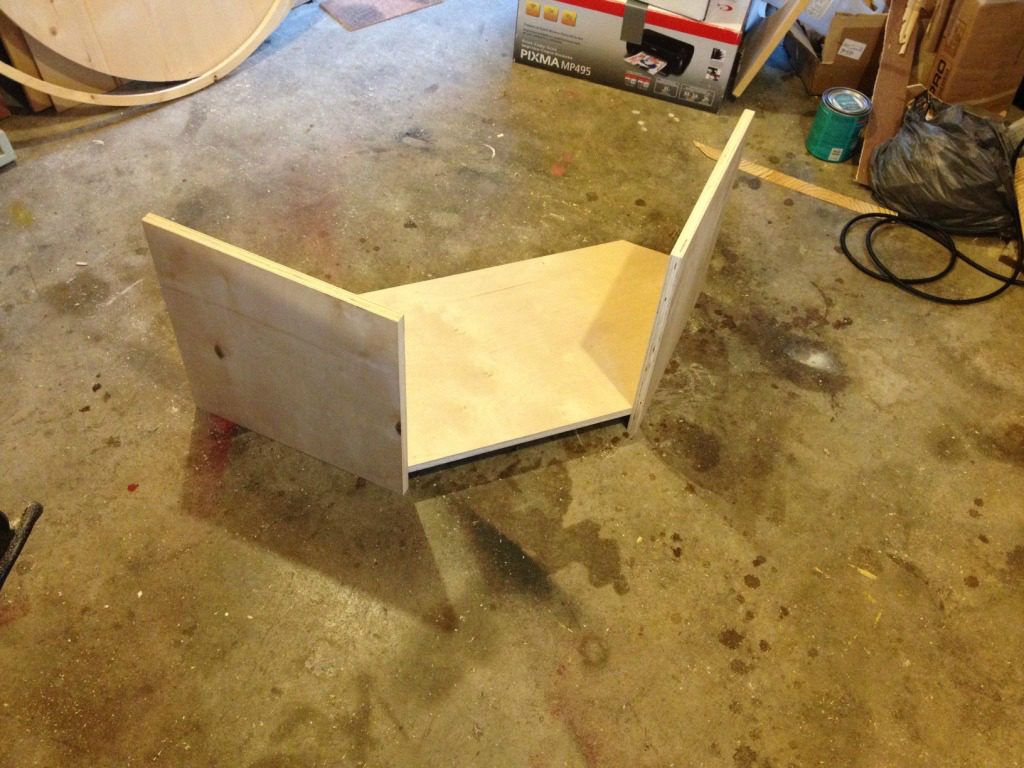 These two pieces fit perfect in each corner and allowed me to make the other cabinets straight without any weird angles.
.
I made the side cabinets and attached them to the corners.  I left the back cabinets detached until I could get them set in place at mom's house and see how they fit.  Here's a picture of my cat chilling out in one of the cabinets.  I'm sure you all totally wanted to see that, right?  He's the best cat ever.  And I don't even like cats that much.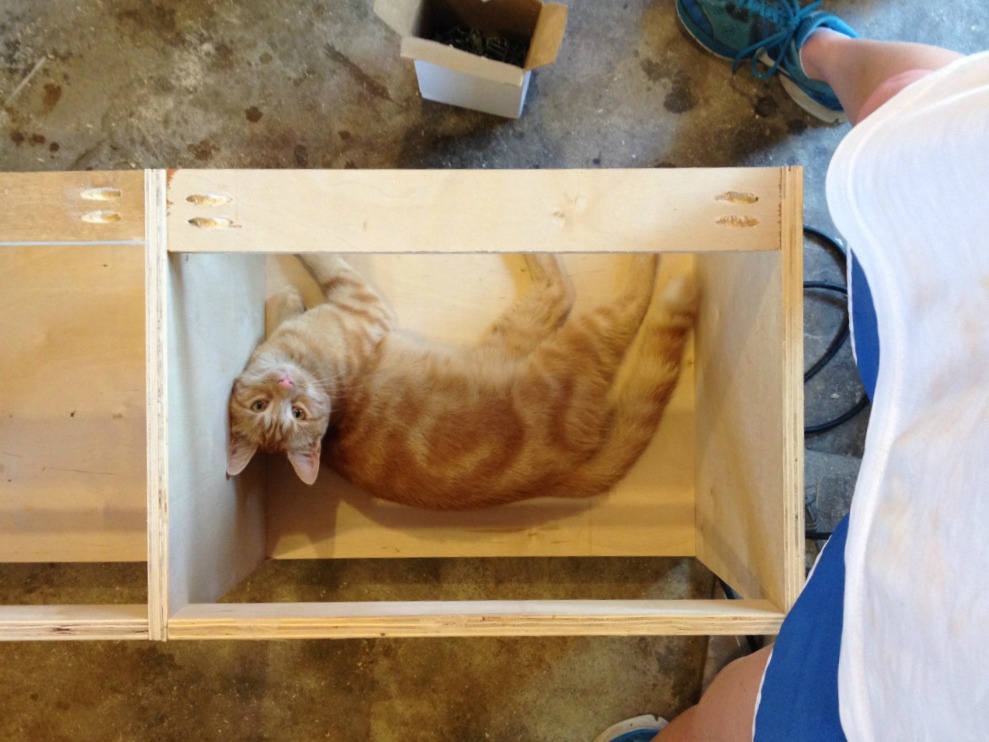 Sorry, I just had to throw the cat picture in there.  Moving on…I laid the cabinets out in my shop before we took them to my parent's house.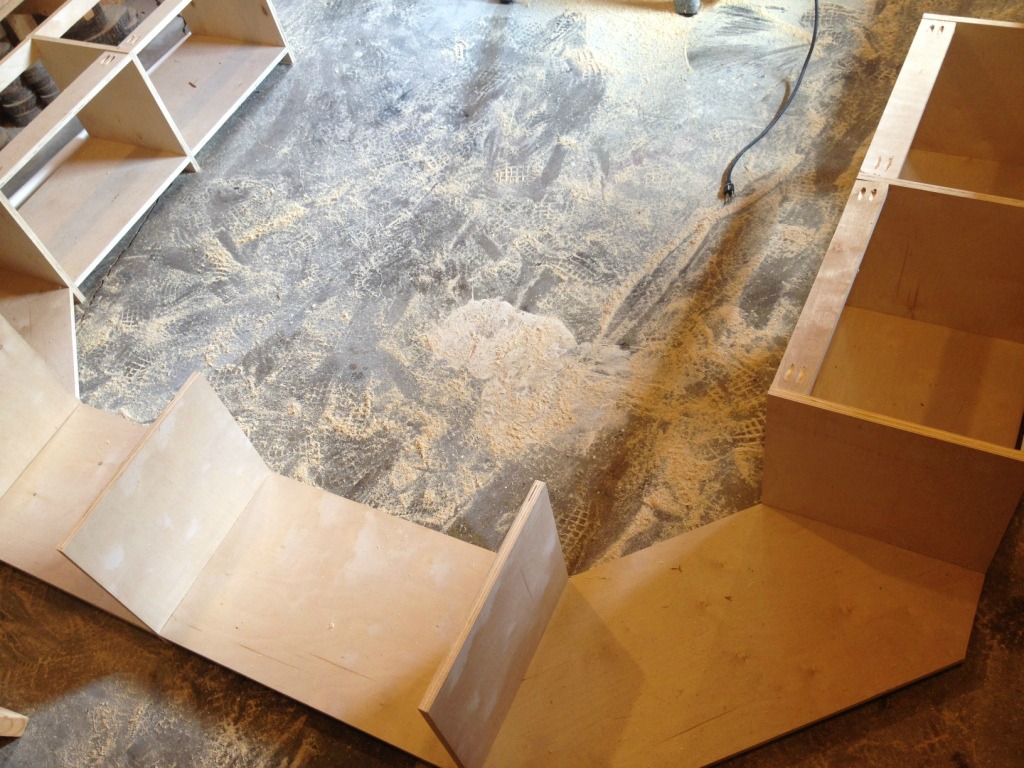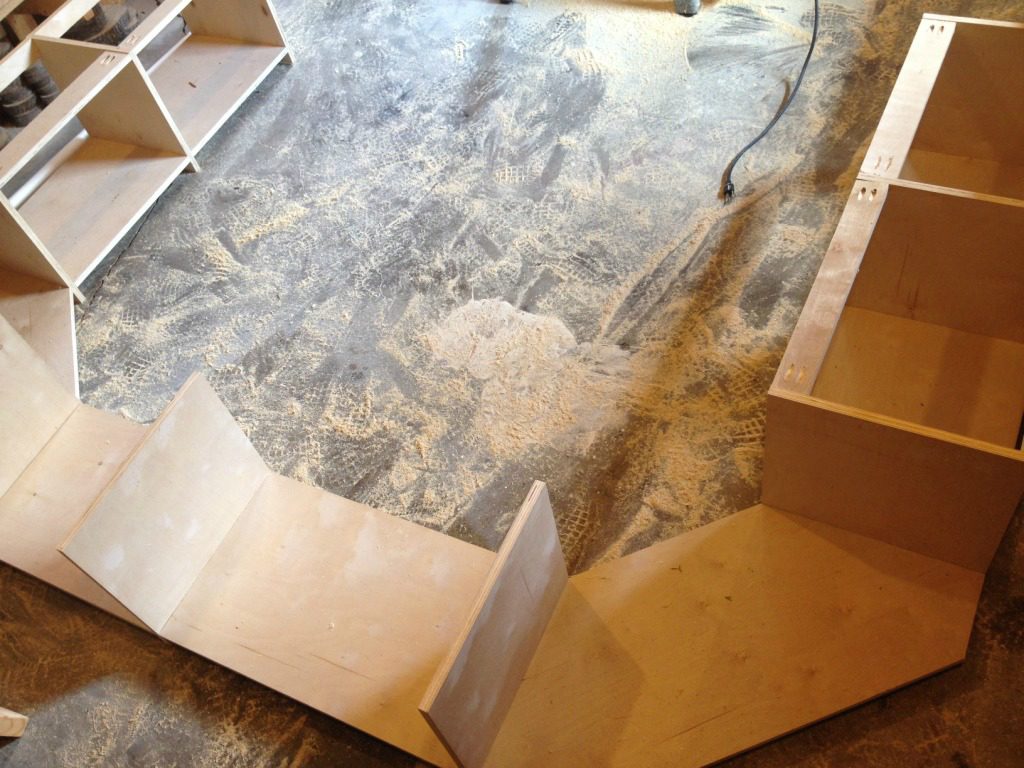 I added face frames to the corners and side cabinets before we took them to mom and dad's, but I didn't add the back face frames until I made sure everything was going to fit.  The corner face frames had to be beveled to fit the weird angle.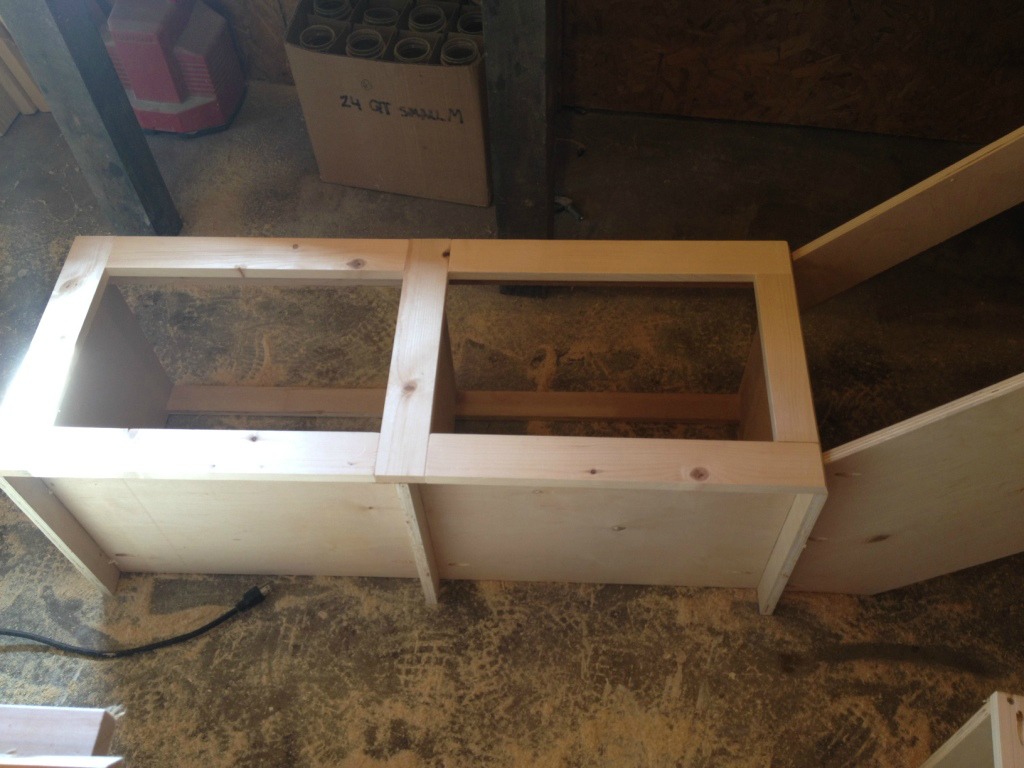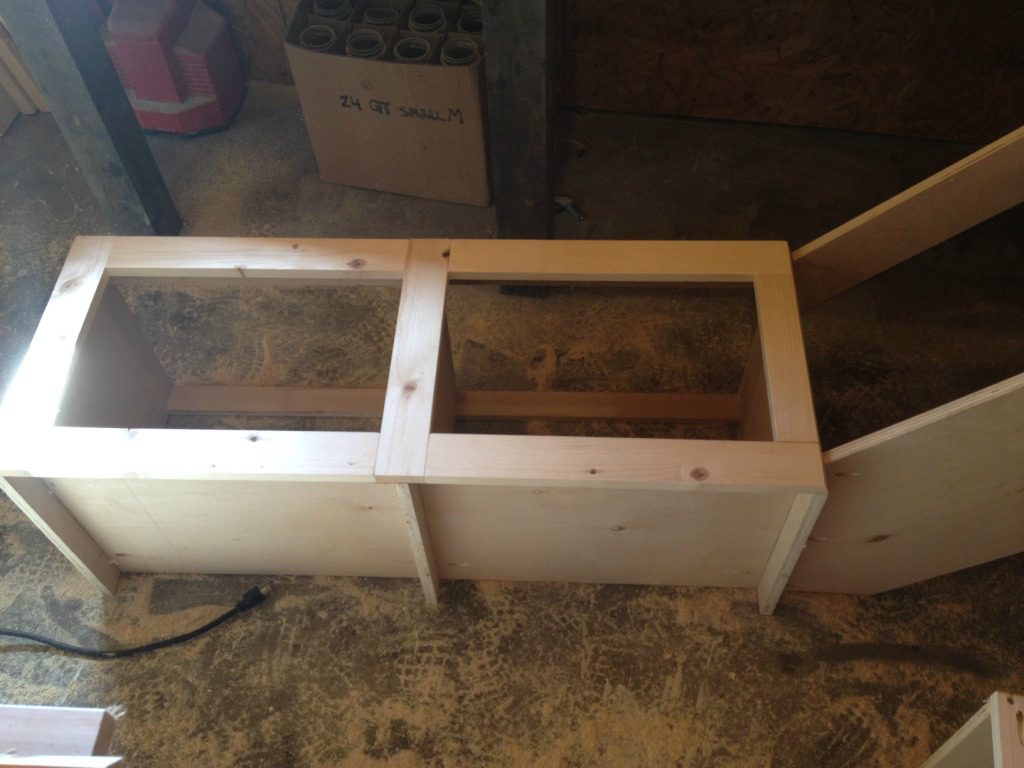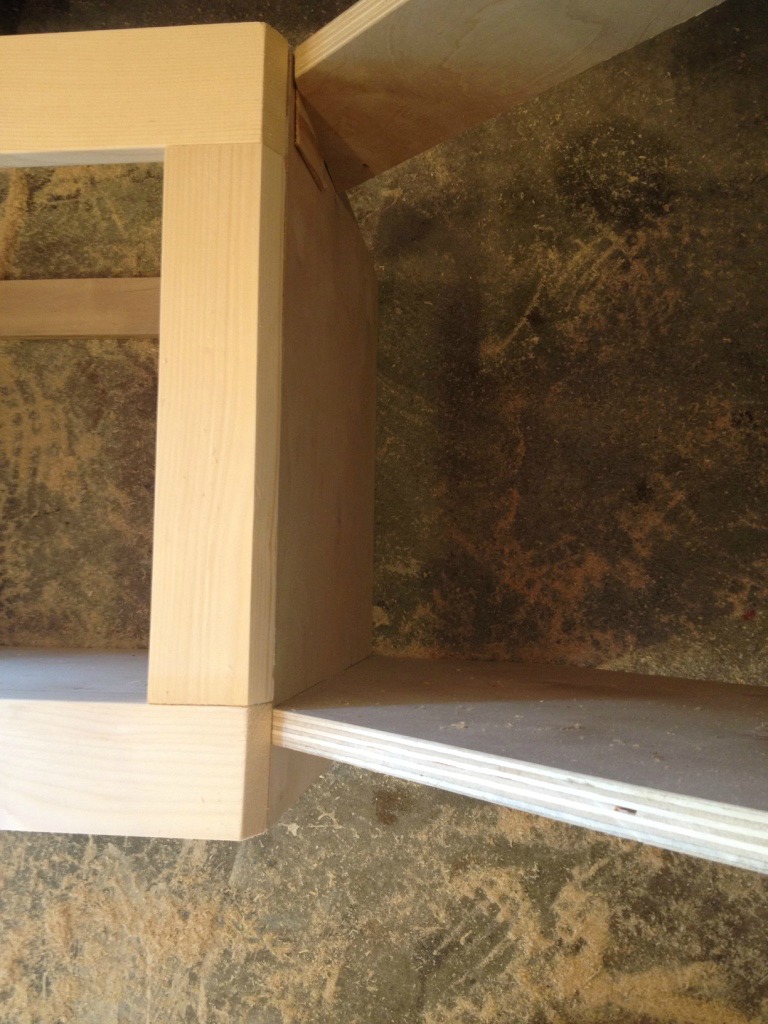 Once they were fitted in place in my parent's kitchen, we shimmed everything up and I attached the back face frames.  The piece on the back left is where the air register was, so the bottom of the face frame is left open for air to come out.  I added a decorative piece later that you will see.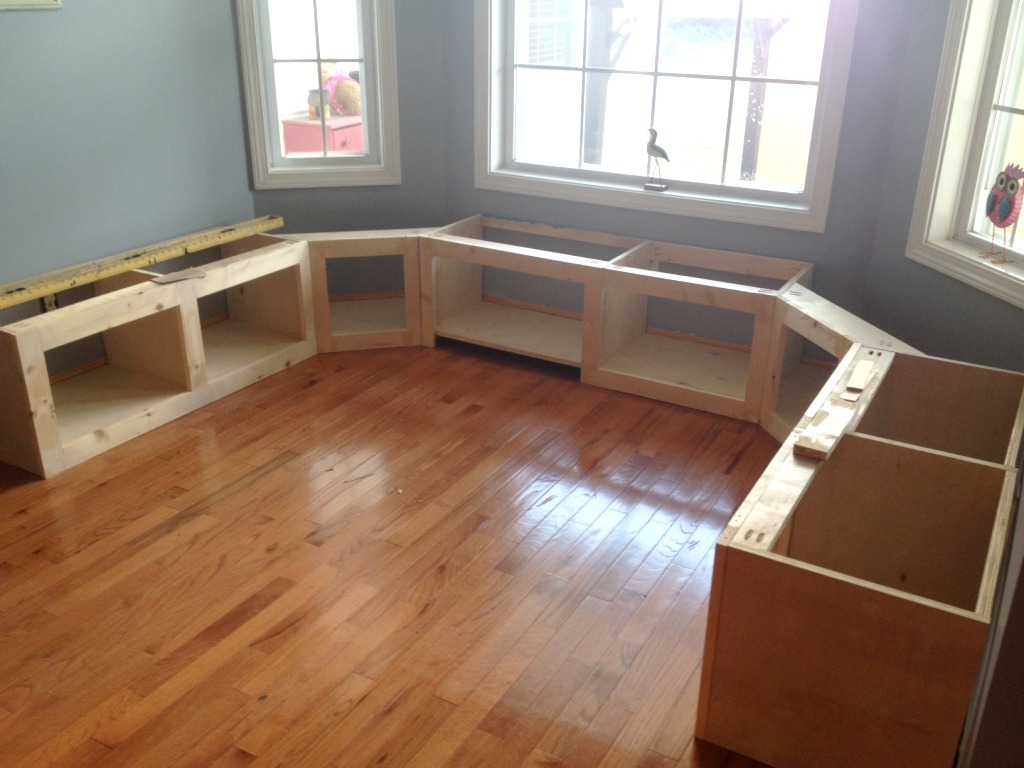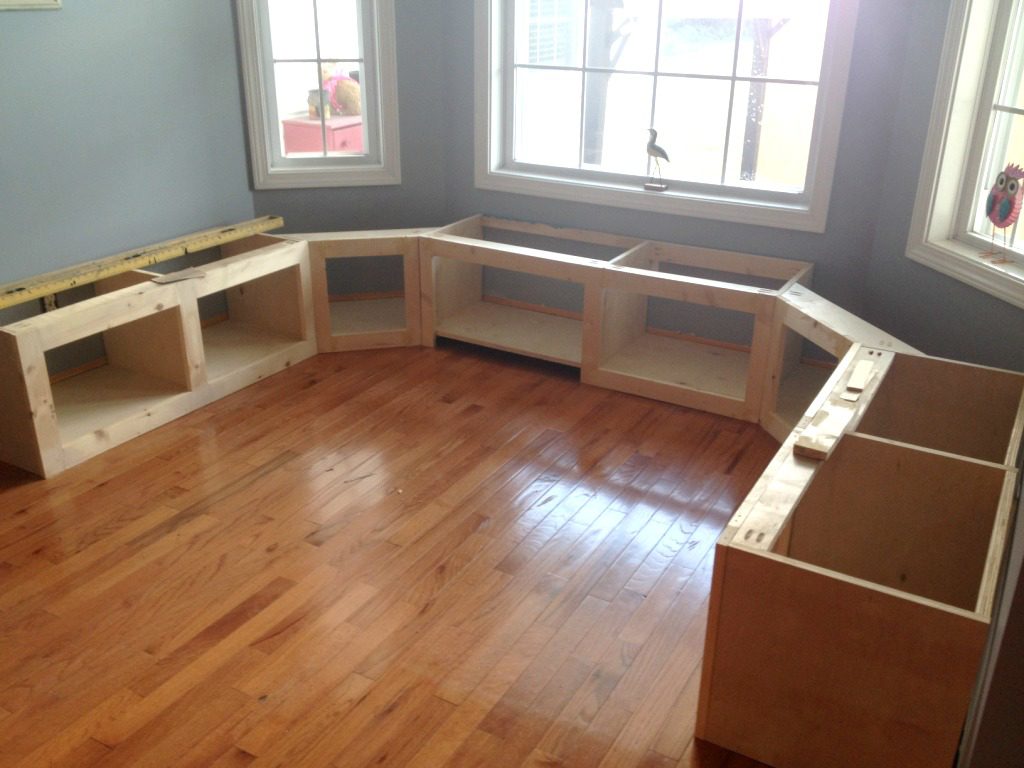 Mom painted the cabinets and the doors while I got the bench tops ready at home.  You can find a detailed post about how to make the doors here.
.
I glued 2x10s together for the tops and stained them.  I cut the tops to size this weekend and added quarter round on the backs for trim.  Then I installed the doors.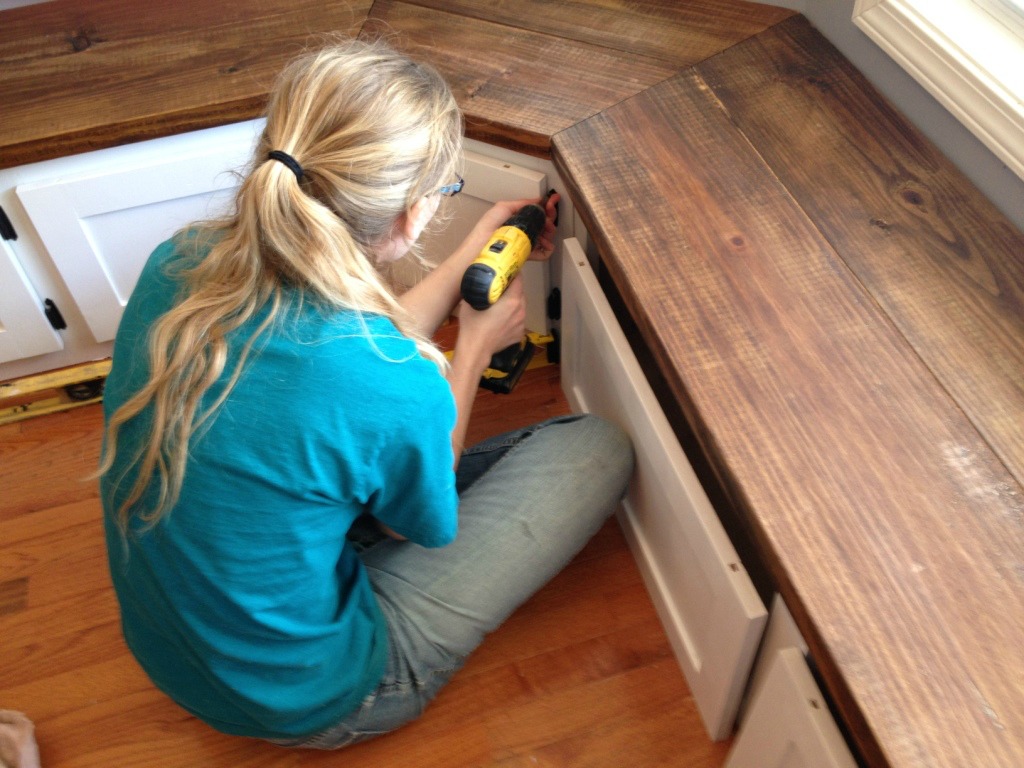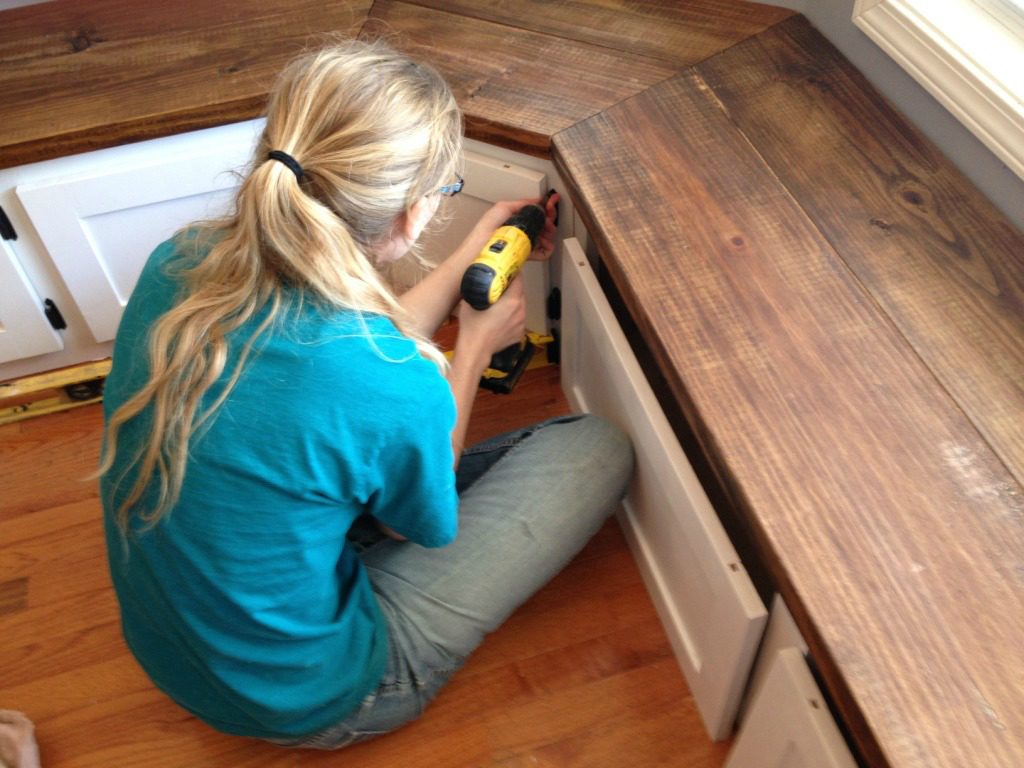 It was blazing hot outside and I was pooped, so I left them like this until I could come back the next day and fancy them up to take pictures.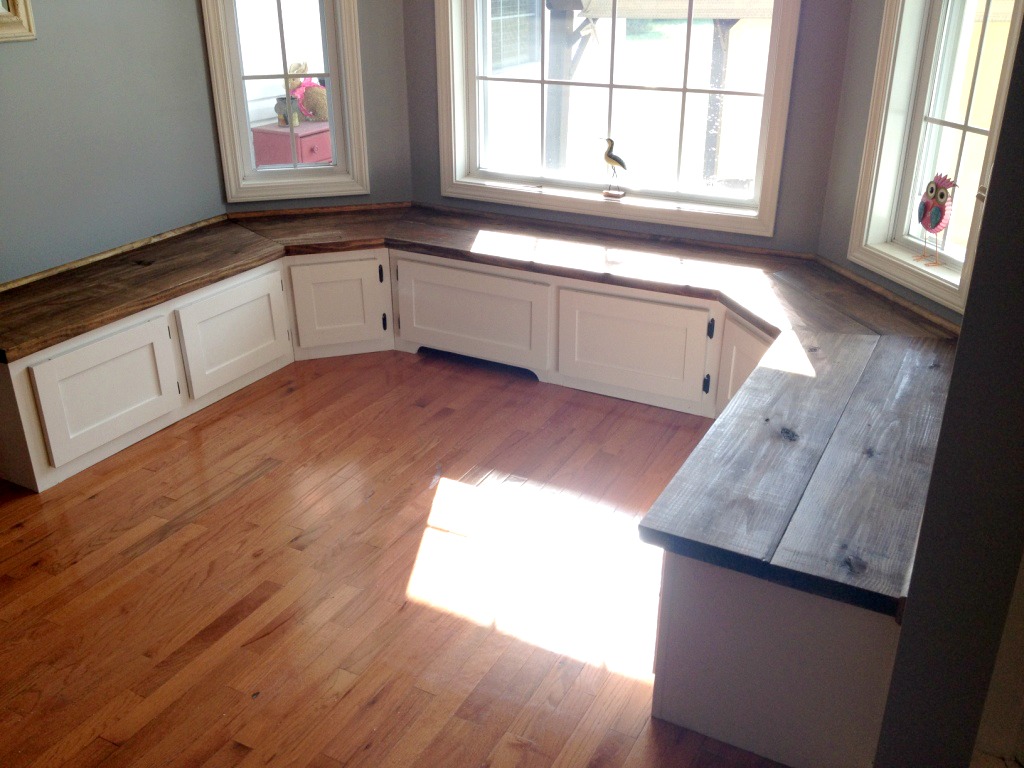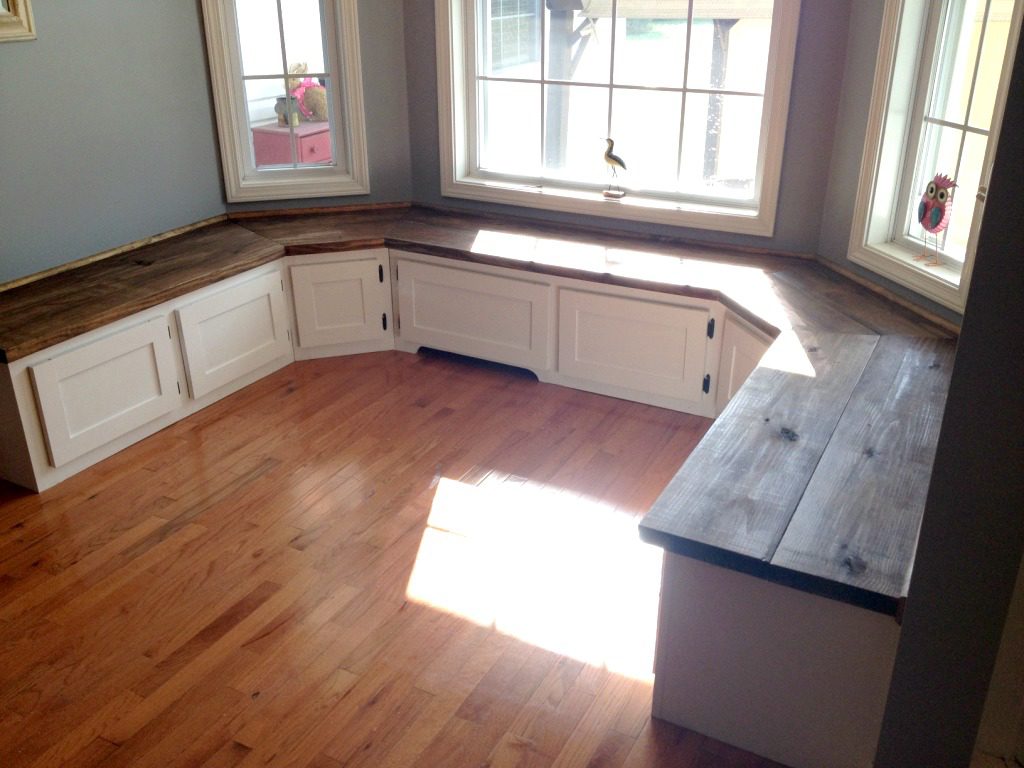 Now, you guys know that these final pictures are staged, right?  I came over and rummaged through all mom's stuff and found some cute stuff to "fancy them up" with.  I always use the same stuff over and over to stage my stuff with.  It was weird having to look through mom's stuff instead.  But, if I say so myself, I think they turned out really good!
.
What do you think?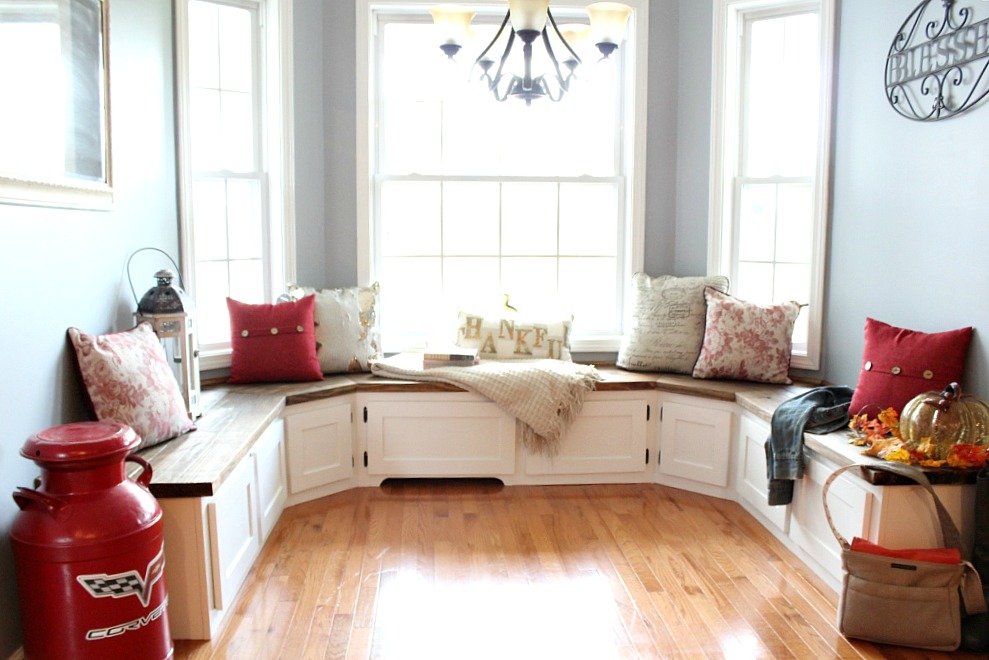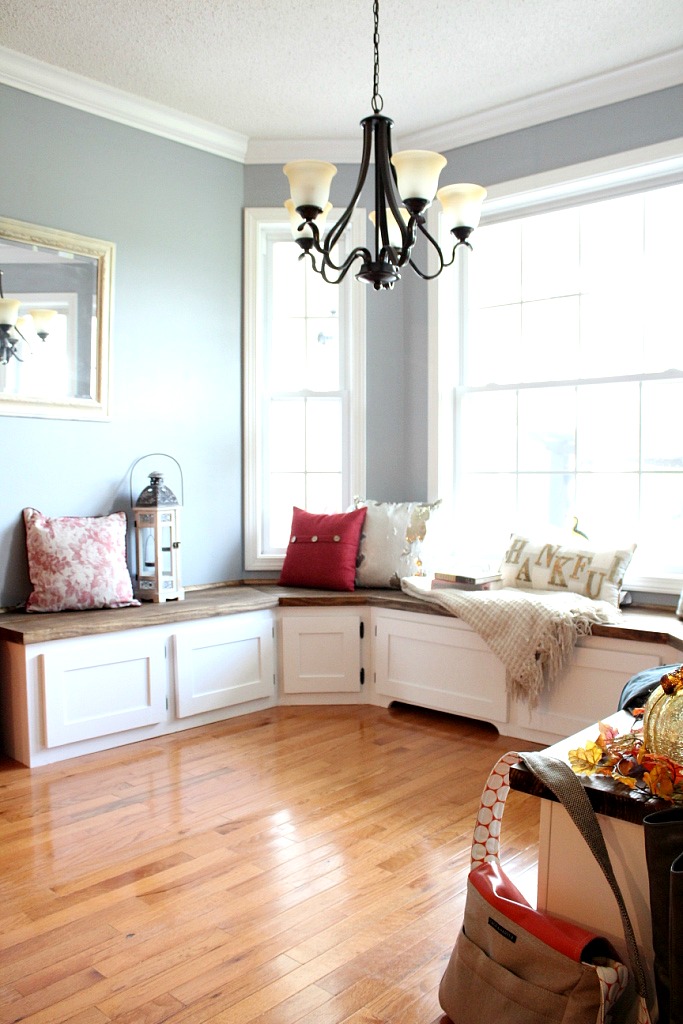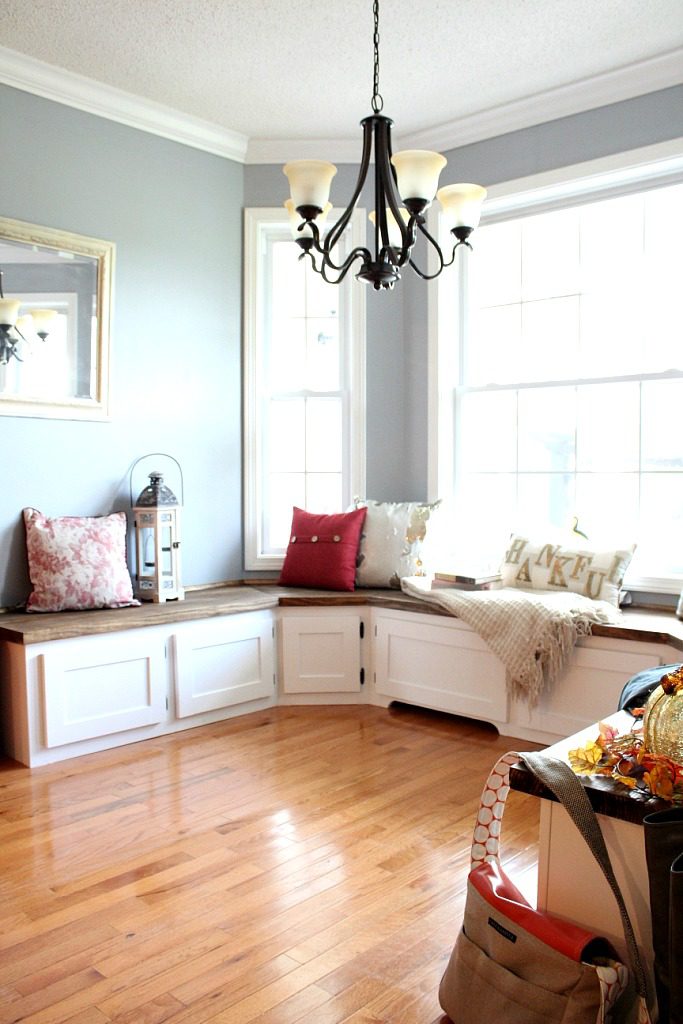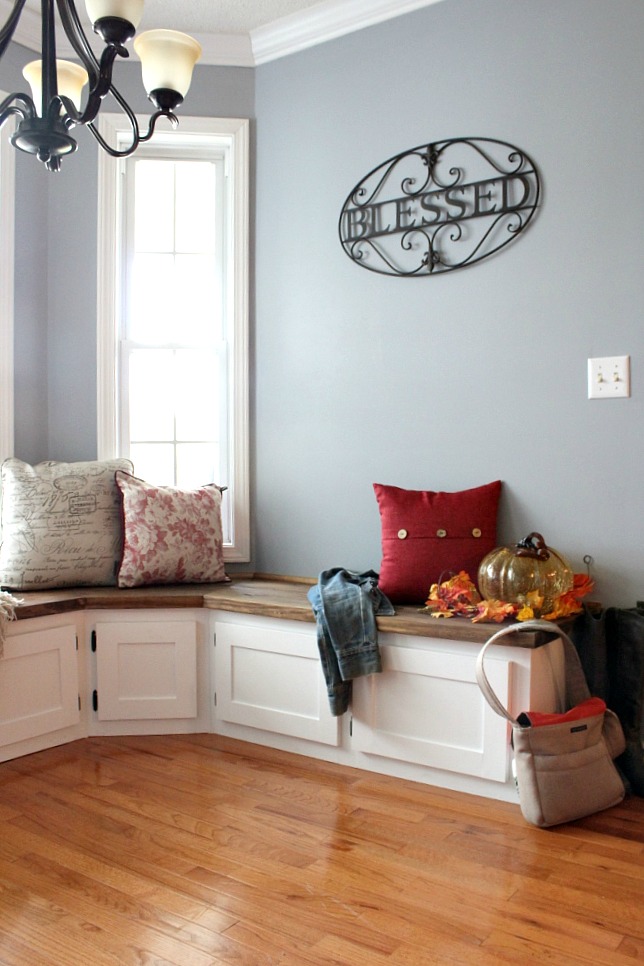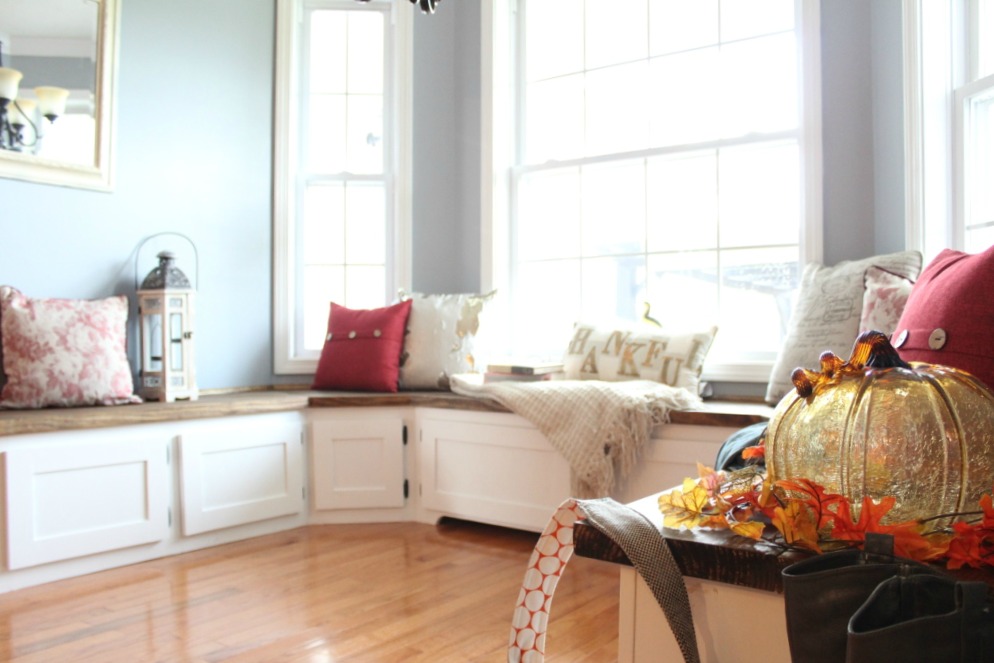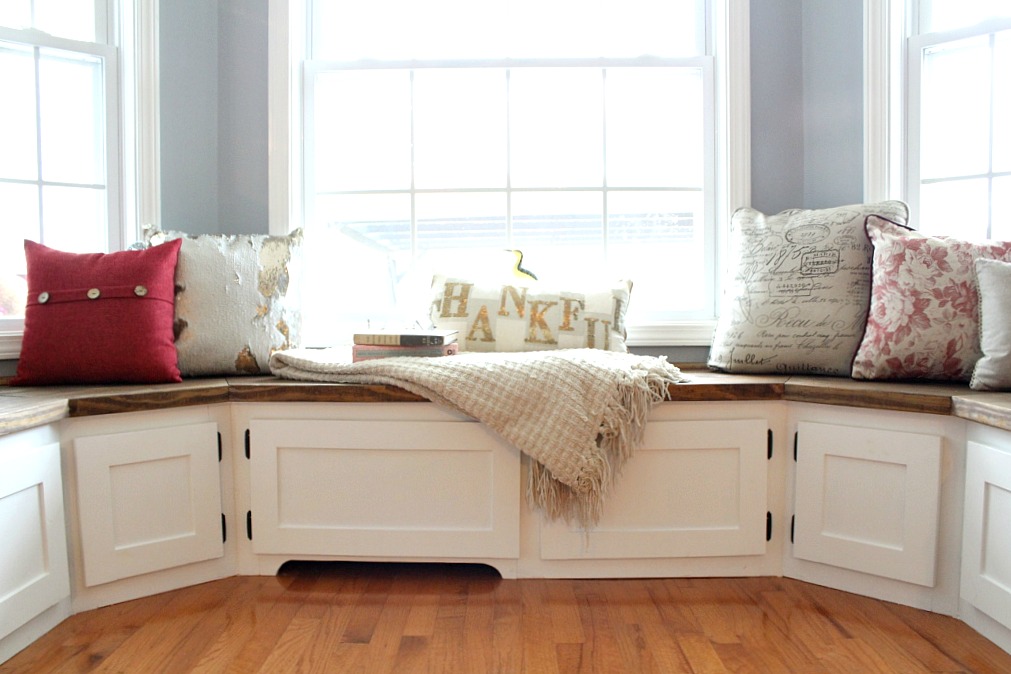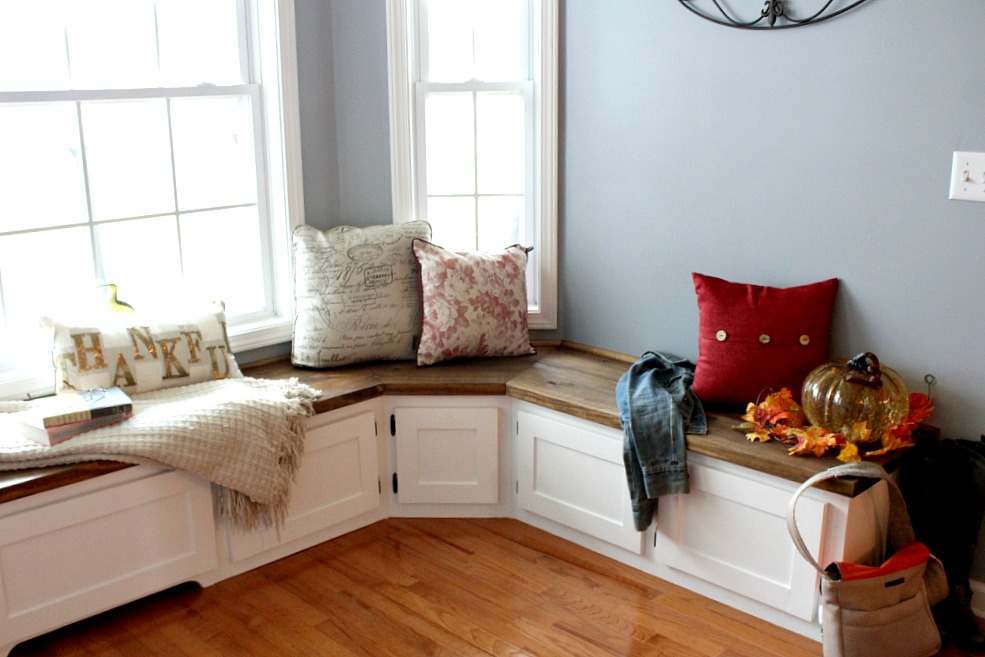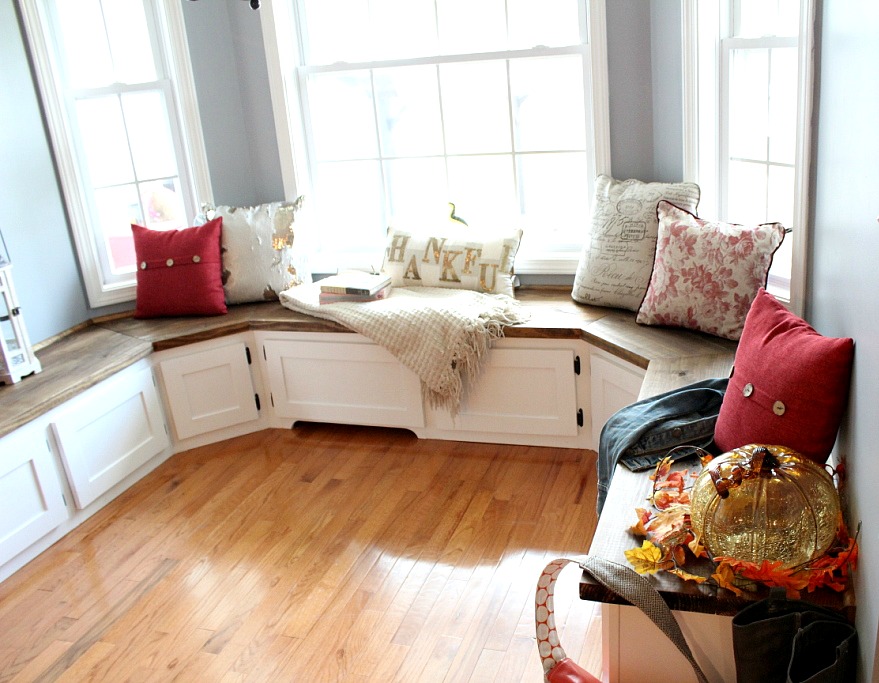 This is Bubba James–the baby of the family.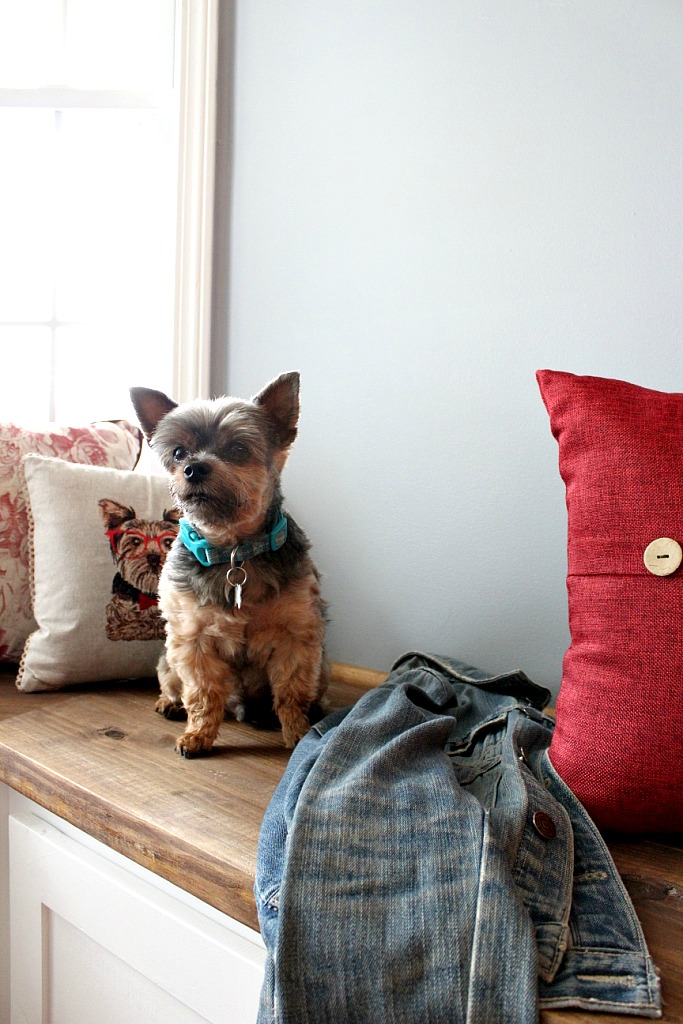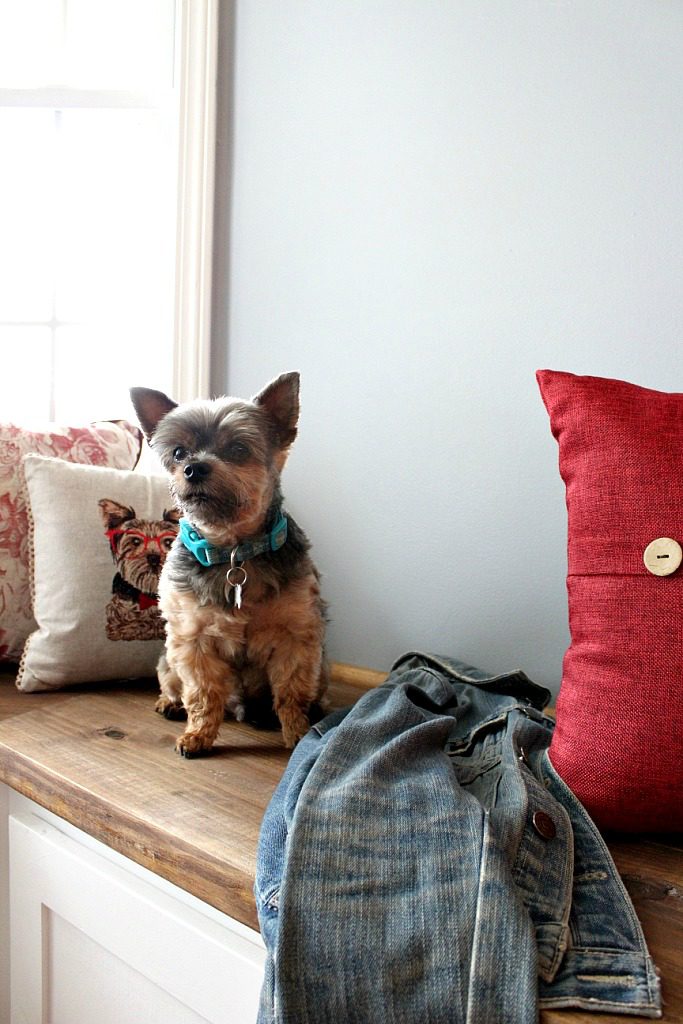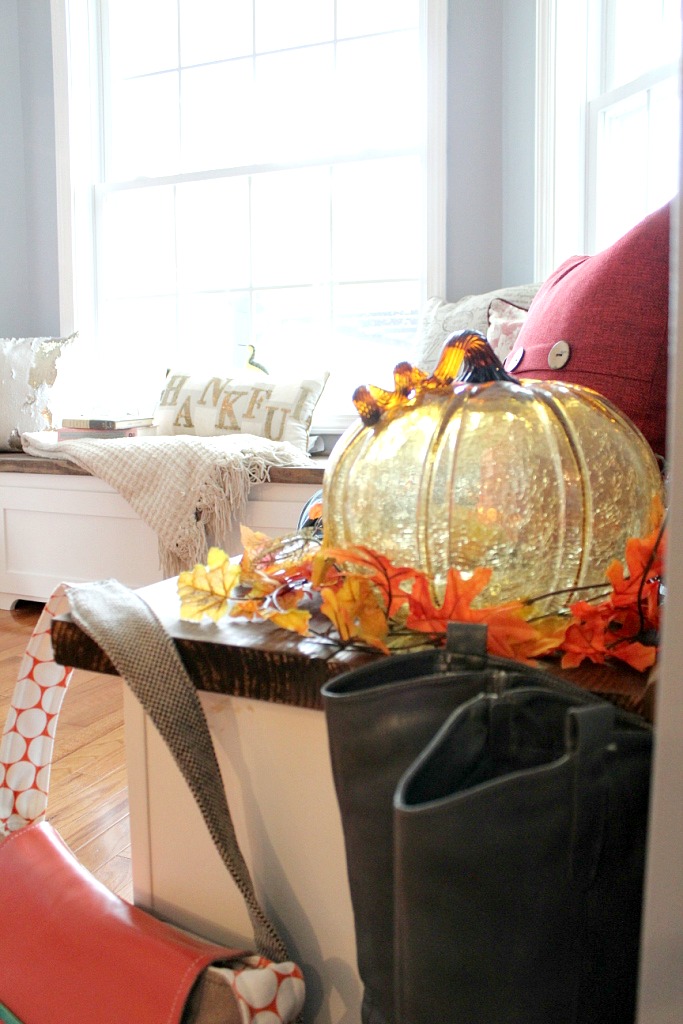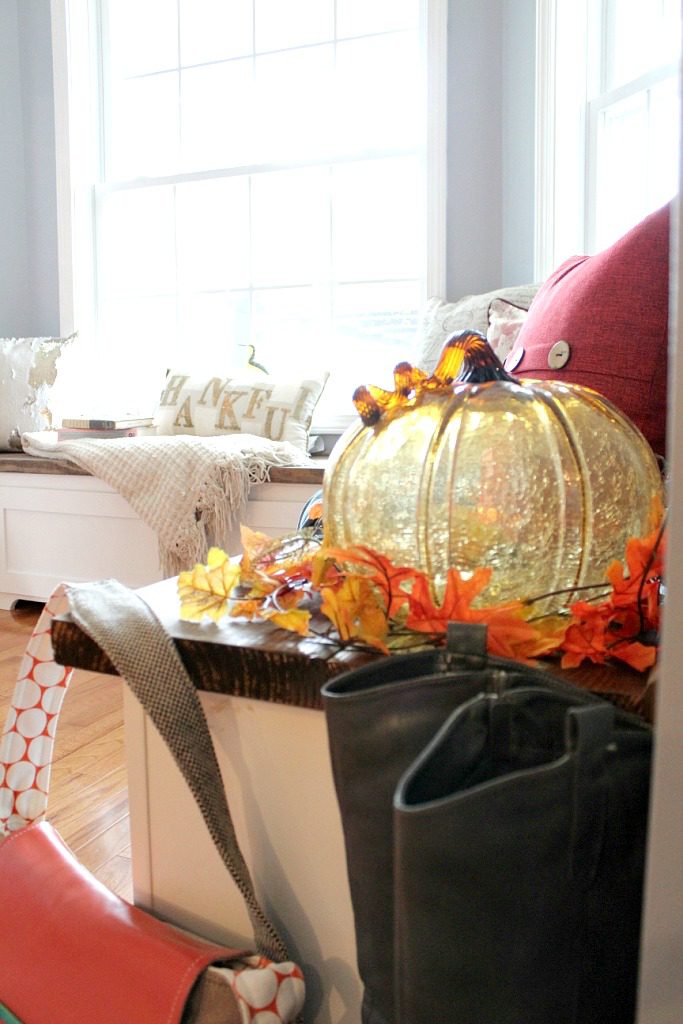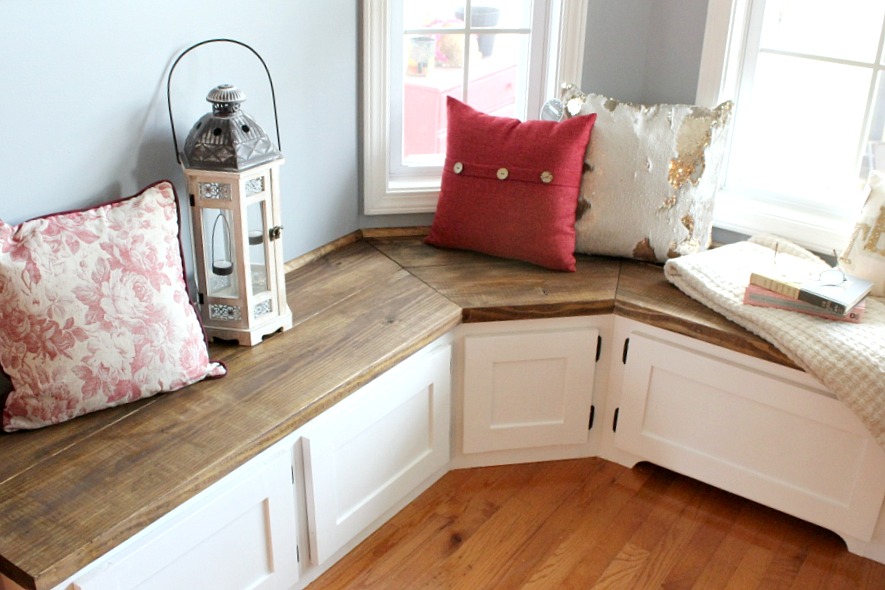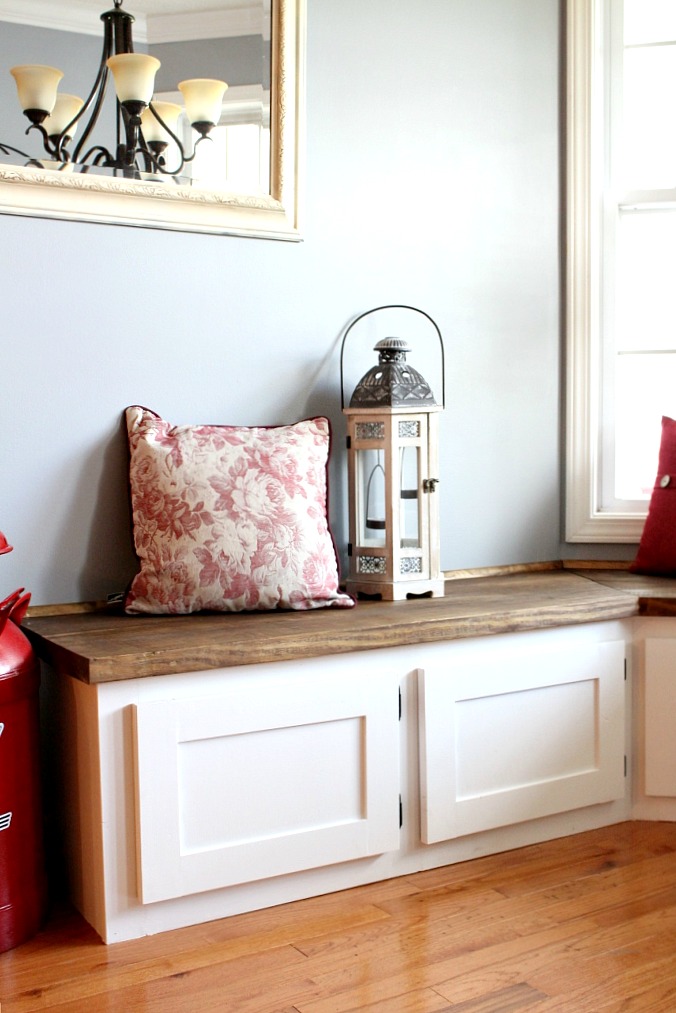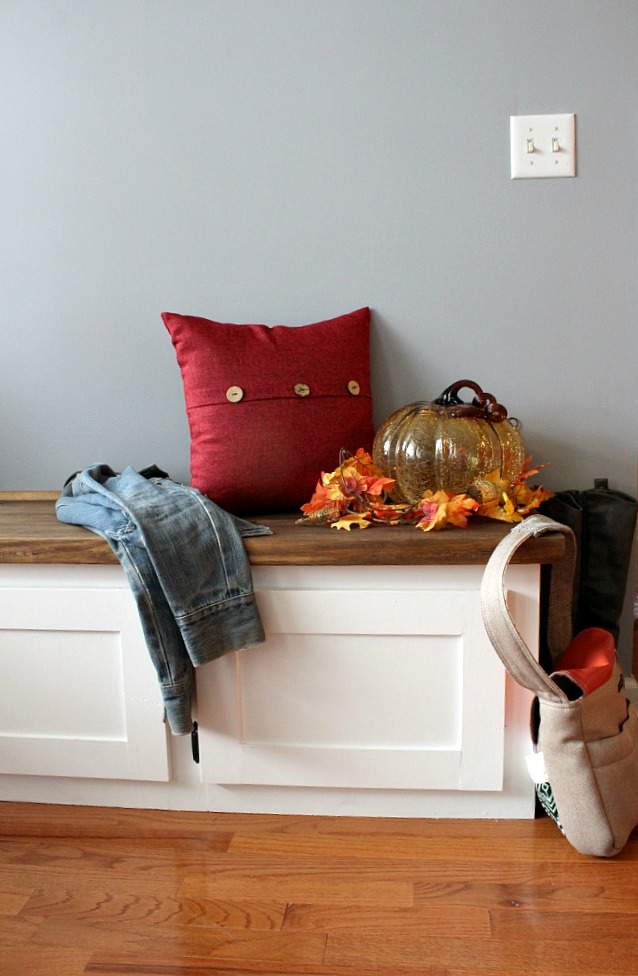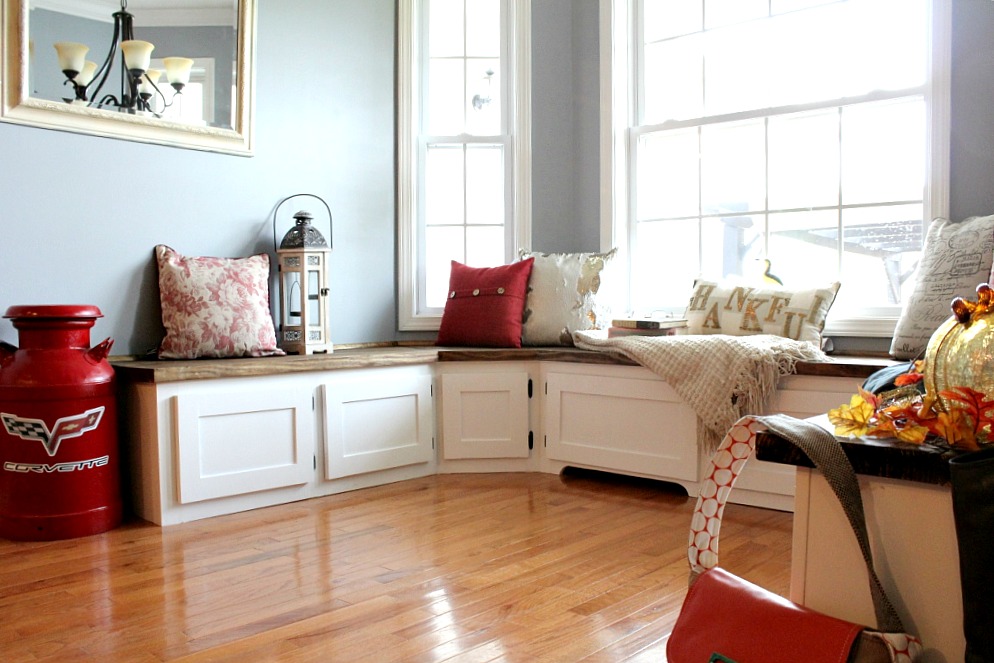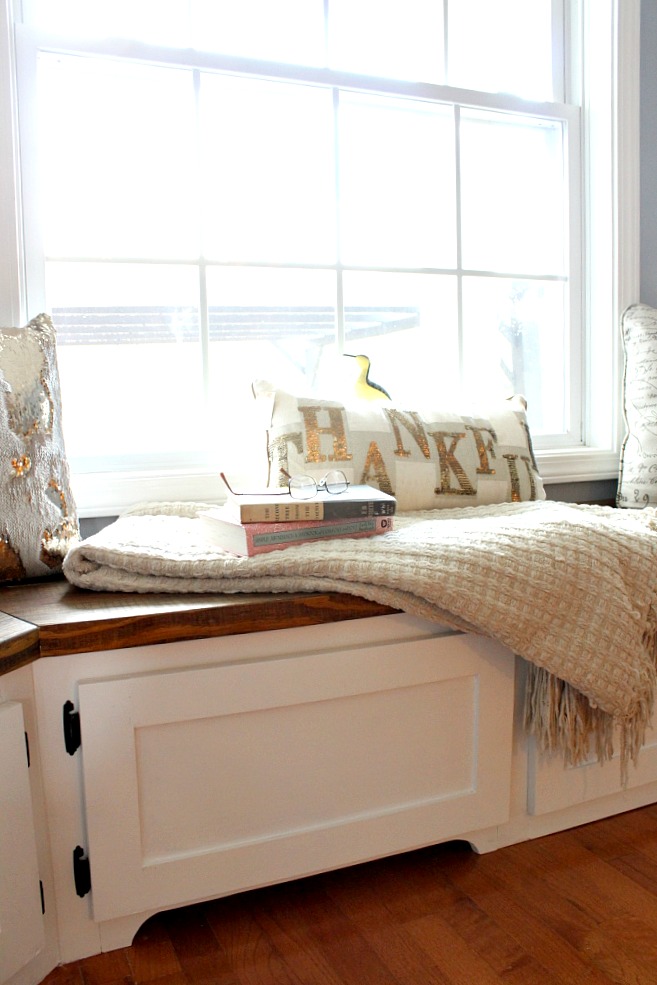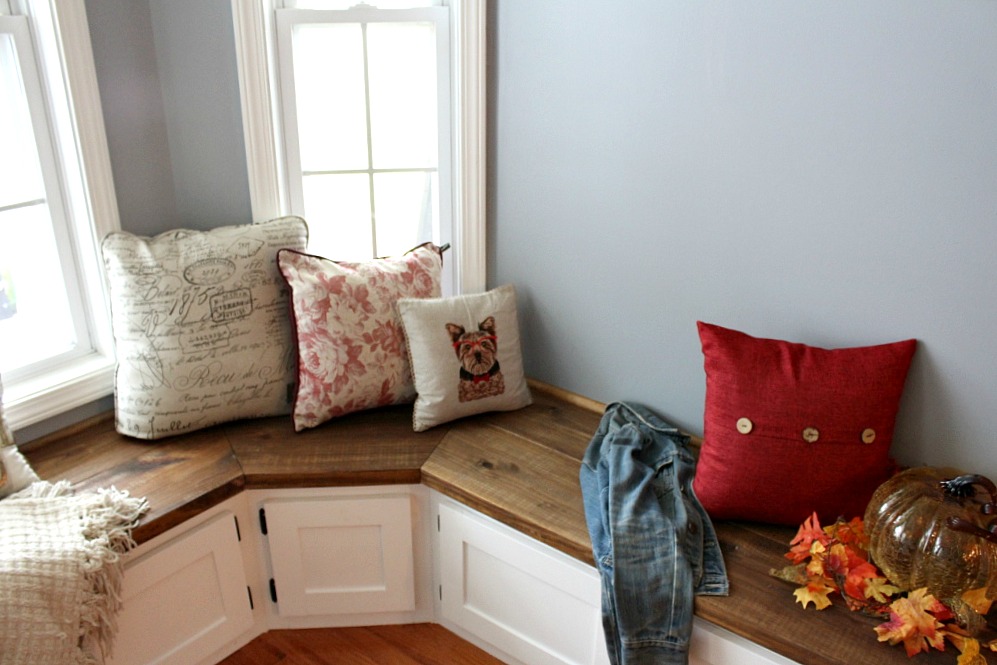 Now, I know, I know.  Some of you will say, "Yeah, but what about the table? Where are they going to eat?!"   It's cool, everything has been pre planned and thought out.  I'll be making mom a new table for this space so it will still function as an eating area.  But for right now, we can pretend this whole space is designated to sitting and reading and snuggling with a blanket and a million pillows, okay?  Because that's realistic, right?
.
So, seriously, what do you think?  It was kind of a rush job, so a few details could have been done a little better, but I think it really adds a lot of character to this space…plus storage and seating…and it turned out really good!  If you loved the transformation, too, be sure to pin for later!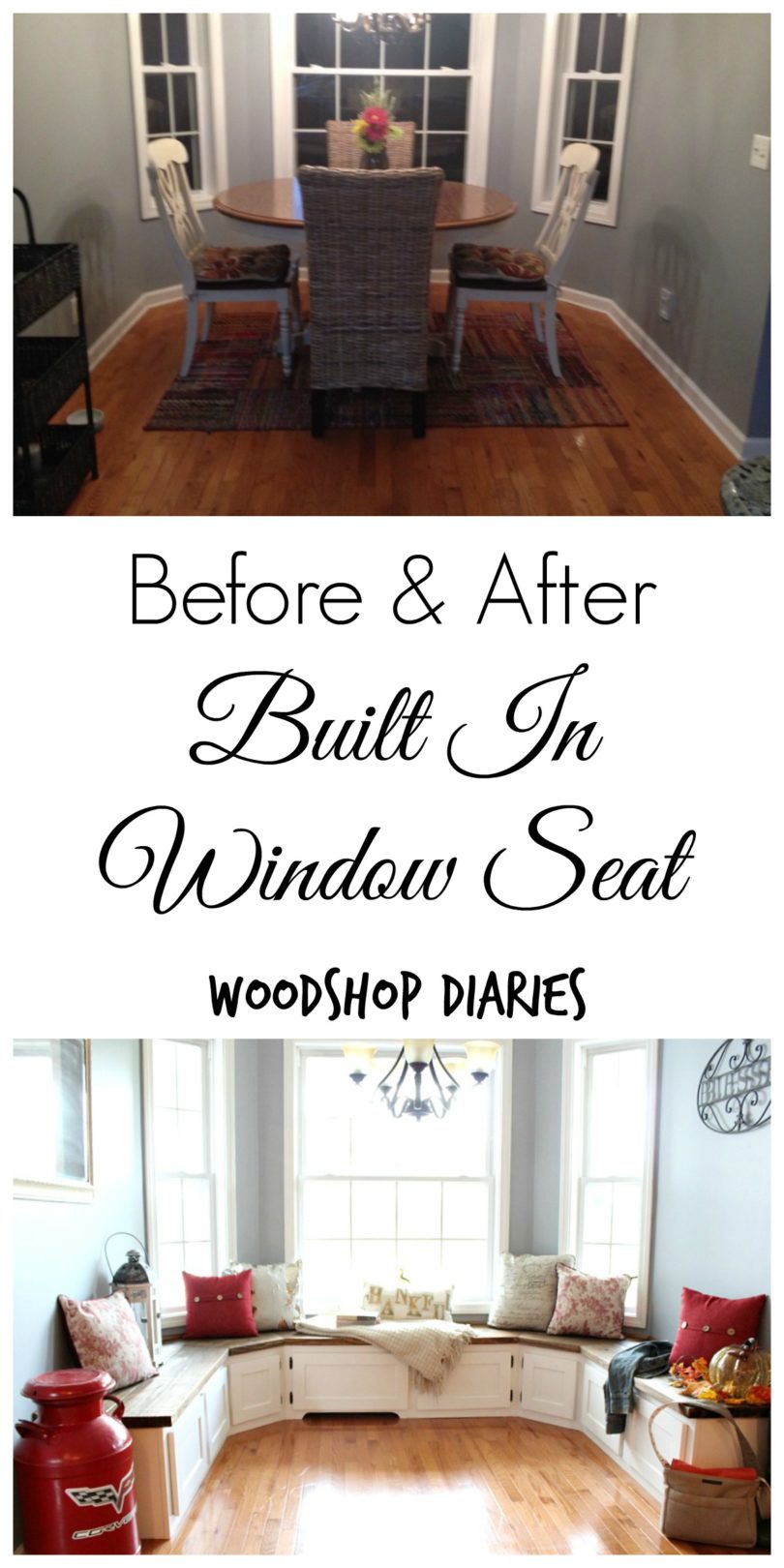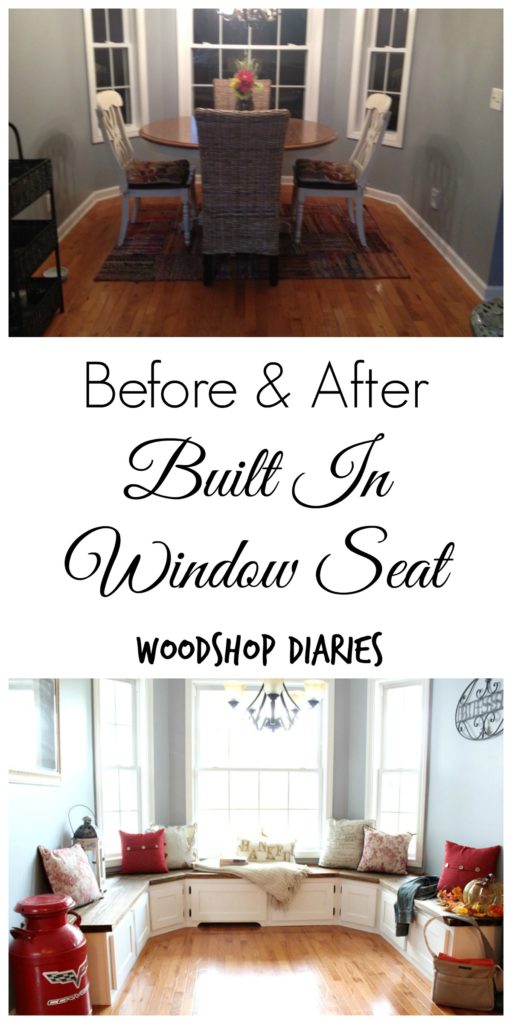 Until next time, happy building!