In this post, I'll show you how to build this EASY DIY firewood rack–that hangs on the wall!!–from some scrap 2x2s and plywood.
This post contains affiliate links. See policies.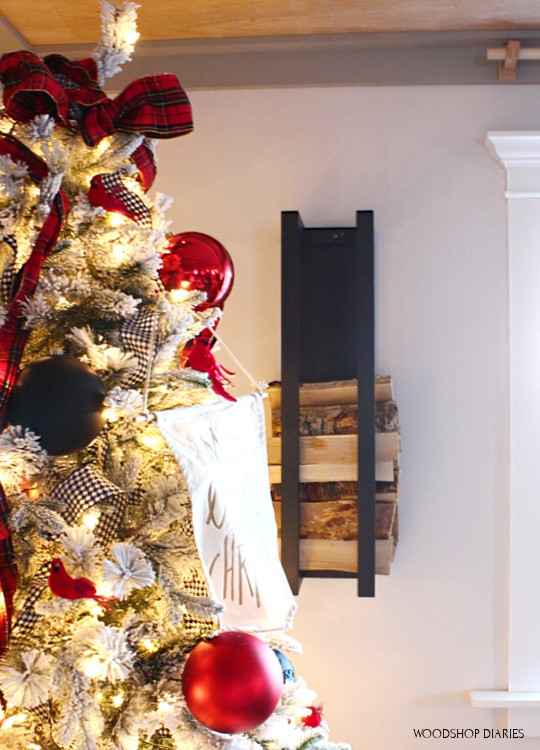 FYI–ours is just for decoration–we don't actually have a wood stove haha. But, we can dream, right??
.
If you've followed along for a while, you may remember that we are currently living in a small, one room garage apartment. Since this was supposed to be temporary, we didn't bother putting in the "extras" (like a fireplace) when we built it.
.
But, our dream is to build a home (hopefully soon!) that will have a real wood stove. So while we are still dreaming (and waiting), I found this cute little electric fireplace to make do in the mean time.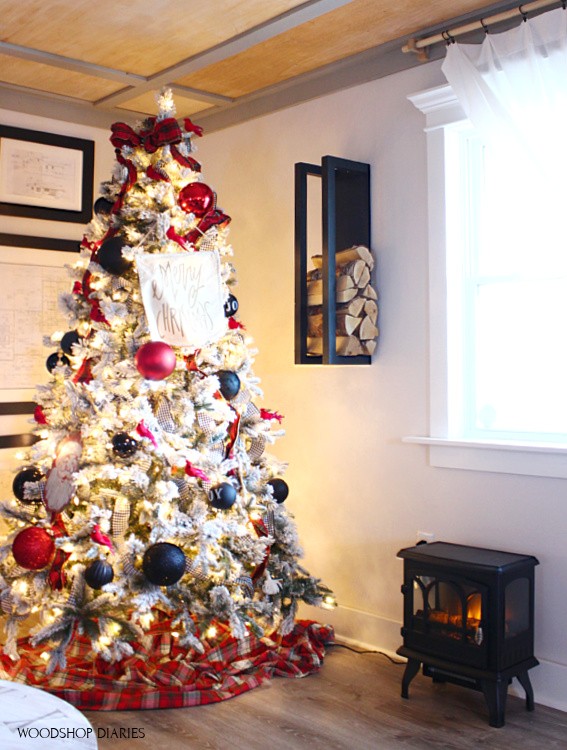 And although it doesn't require actual firewood, I still wanted a cute firewood rack to hang on the wall to make it feel a little more real 🙂 Sometimes, you have to just pretend, ya know??
.
So whether you need an actual firewood rack or are just dreaming like me, I've got you covered with a super simple step by step to build this one below.
For this DIY firewood rack, You Will Need:
RELATED: You may remember this simple scrap wood towel rack I made last spring for my parent's bathroom remodel. This is almost identical except for the size and the back plywood piece.
Step 1: Gather Materials and Determine Size for Rack
The first thing I did was measure the length of my firewood pieces. You can grab a bundle of firewood prepackaged at a bunch of stores (I got mine at Home Depot), OR you may get them from someone local or even cut it yourself.
.
Either way, measure the length of your pieces so you know how wide to make the rack.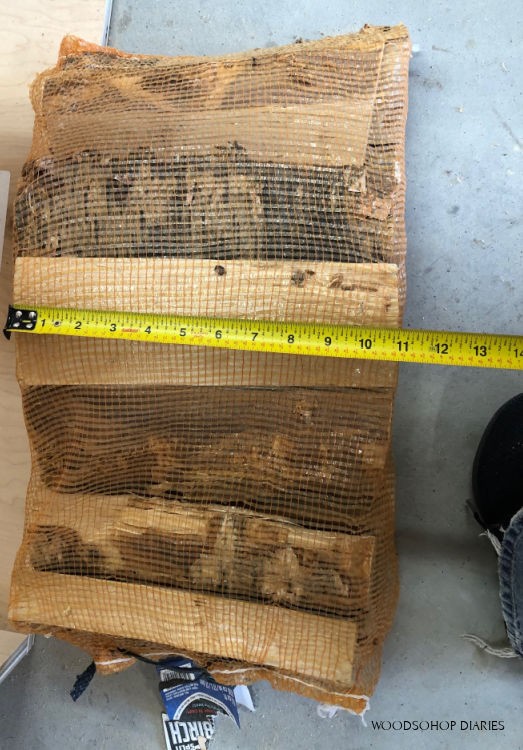 Mine was about 11″ long, so I made my rack about 8″ wide to give the pieces a little overhang on each side
.
Then, determine how tall you want your firewood rack to be. I made mine 30″ tall.
.
Gather up some 2x2s and ¾″ plywood about the size you want your rack to be.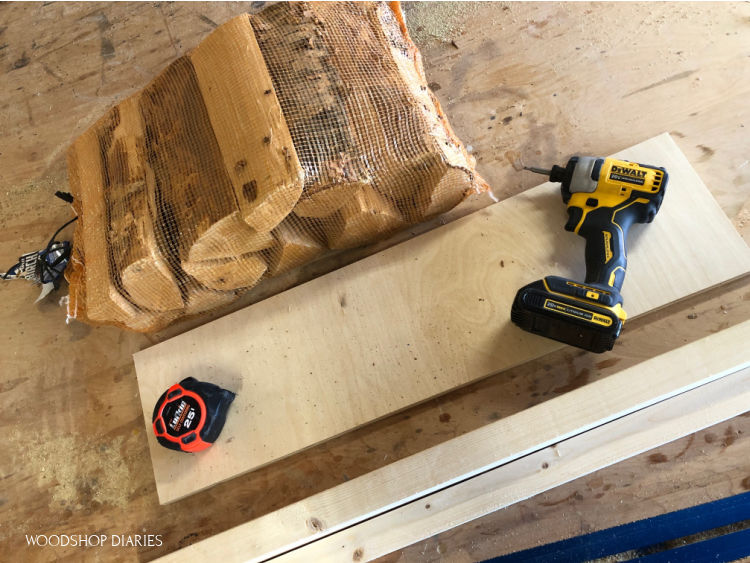 Step 2: Cut Pieces to Assemble Firewood Rack
My rack ended up being 8″ wide x 30″ tall and 9 ½″ deep. For this size rack, I cut the following:
(2) 2x2s @ 30″ long
(4) 2x2s @ 8″ long
(2) 2x2s @ 5″ long
(1) ¾″ plywood 8″ x 27″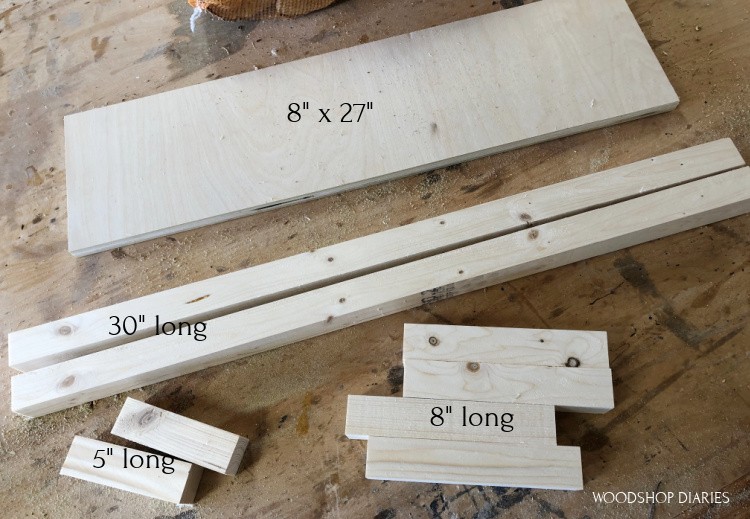 As a side note: you could use 1x material for the back in place of plywood. It's basically only there to protect the wall from being scratched by the firewood after it's hung on the wall. So whatever you want to use is fine.
Step 3: Assemble Firewood Rack
Once all the pieces were cut and sanded, I used wood glue and 2 ½″ wood screws to assemble the rack.
.
First, I screwed the 30″ long pieces onto the 8″ long pieces of 2×2 at the ends. PREDRILL FIRST TO PREVENT SPLITTING!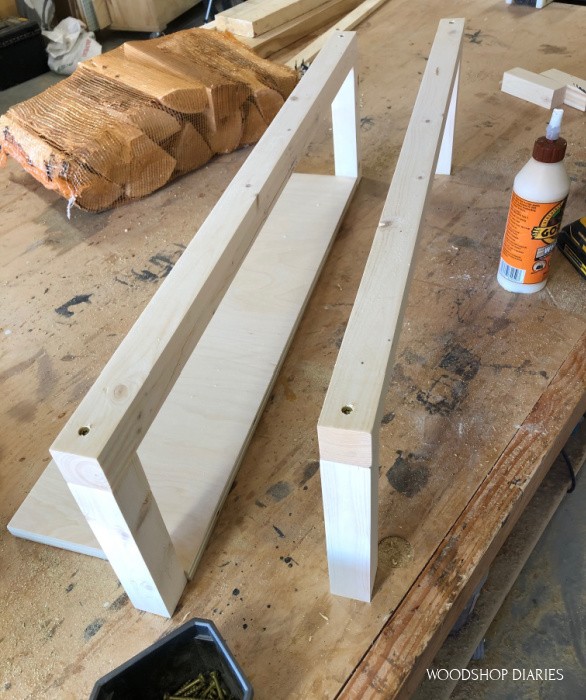 Then, I attached the 5″ long pieces between them at the top and bottom using wood glue and 2 ½″ wood screws.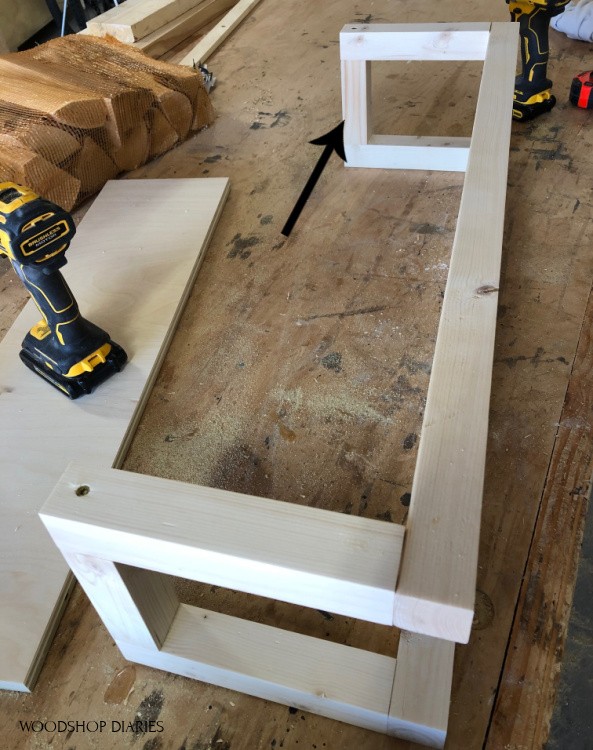 Last, I used 2 ½″ wood screws to attach the plywood piece between the top and bottom like shown.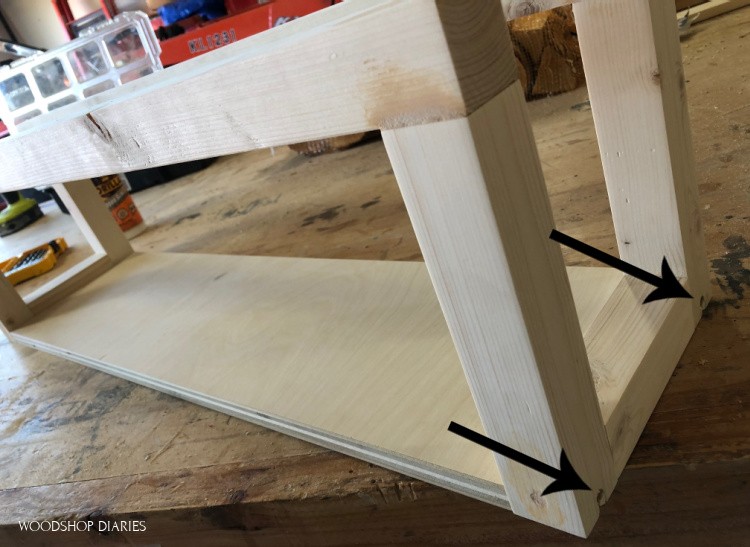 Step 4: Finish and Hang Wood Rack
Once assembled, I puttied the joints and screw holes, sanded, primed and painted mine black (SW Black Magic is the color in case you wondered 🙂 ). But you can finish as you wish.
.
Then, I hung it on the wall. Note: you can sit on the floor as well…it doesn't have to be screwed to the wall.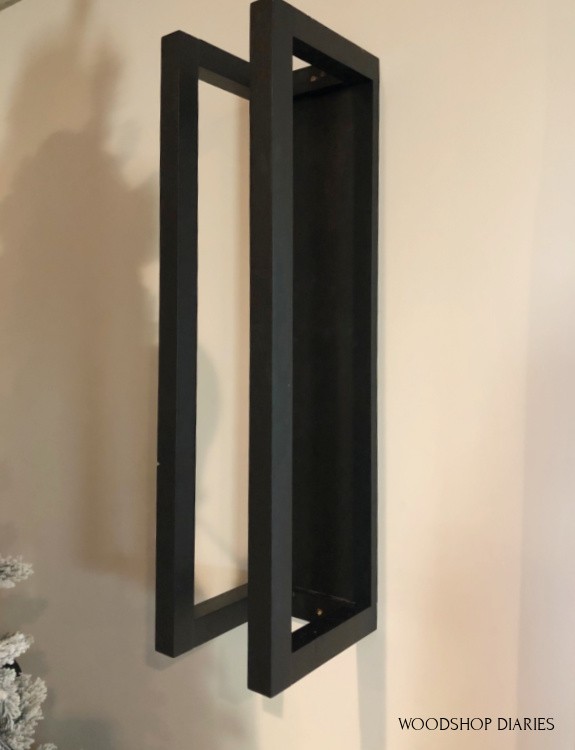 I used a stud finder to find a stud and used 3″ wood screws to secure it into the stud through both the top and bottom 5″ 2×2 of the rack.
.
Then, I set my firewood inside, flipped the switch on my electric fireplace, turned the Christmas tree lights on, and grabbed some hot chocolate to drink while I enjoyed the view.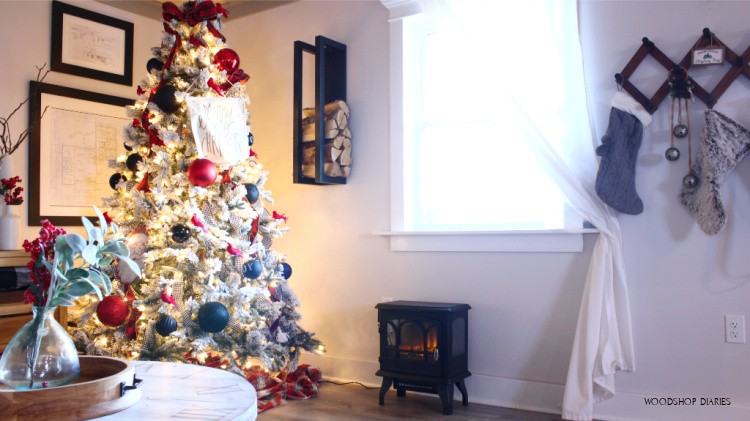 PS…see all the things in the photo above? Lots of them are DIYs I've shared already:
.
We may dream of bigger and better things for our next home, but right now, I'm enjoying getting creative and making do with the one we have–which includes pretending we need firewood for our tiny electric heater HAHA!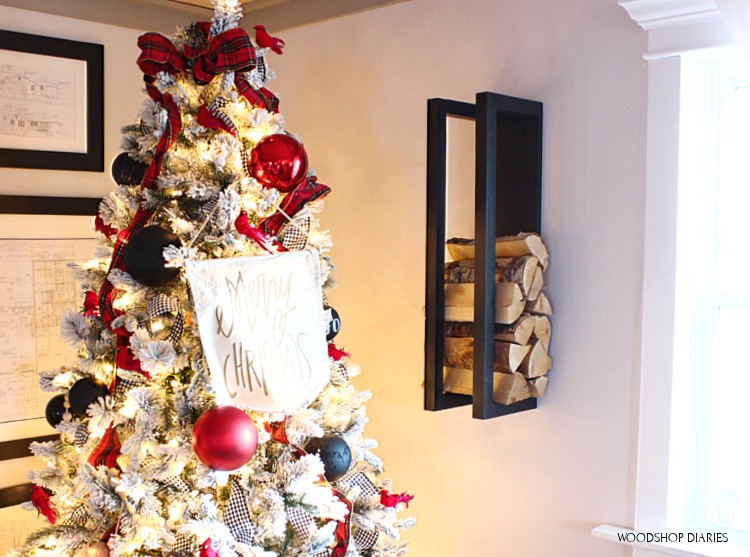 I hope this is a little encouragement to get creative and don't take life too seriously *wink wink*
.
If you've enjoyed this DIY firewood rack project, I hope you'll save it for later by pinning it!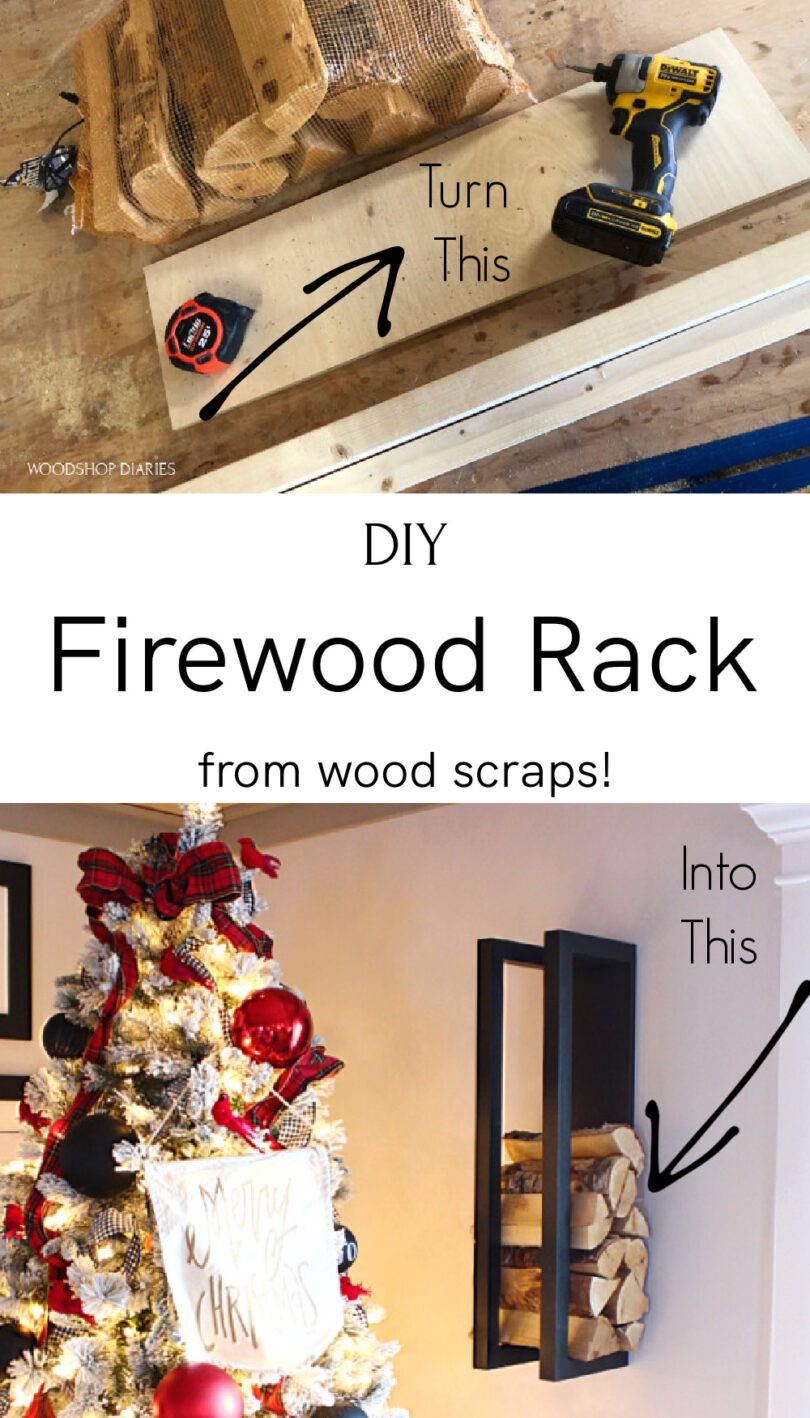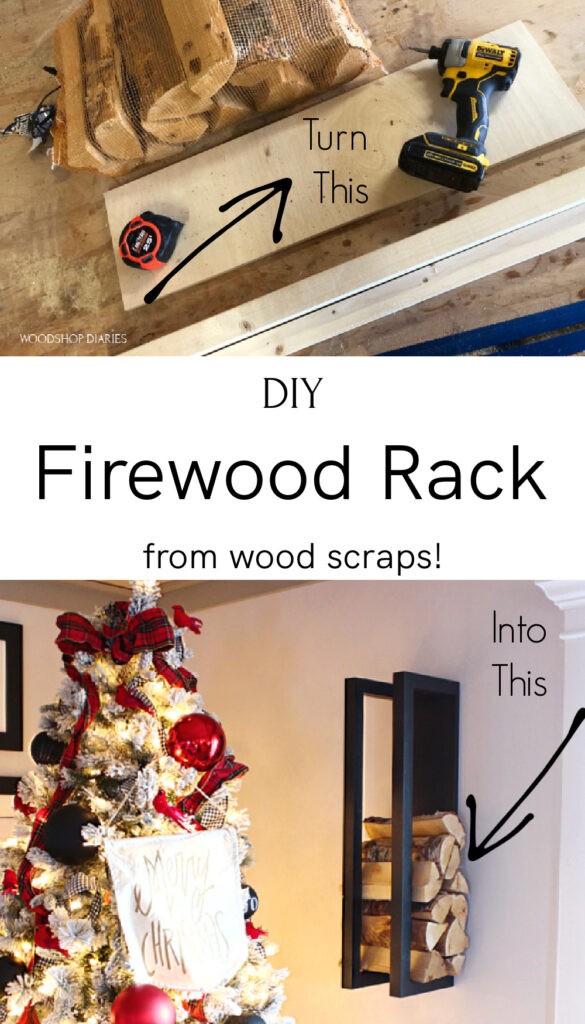 And if you're looking for more fun scrap wood projects, check out some good ones here.
.
Until next time, friends, happy building 🙂