In this post, I'm sharing the building plans to build this adorable DIY toddler floor bed using basic 2x4s and some wood dowels!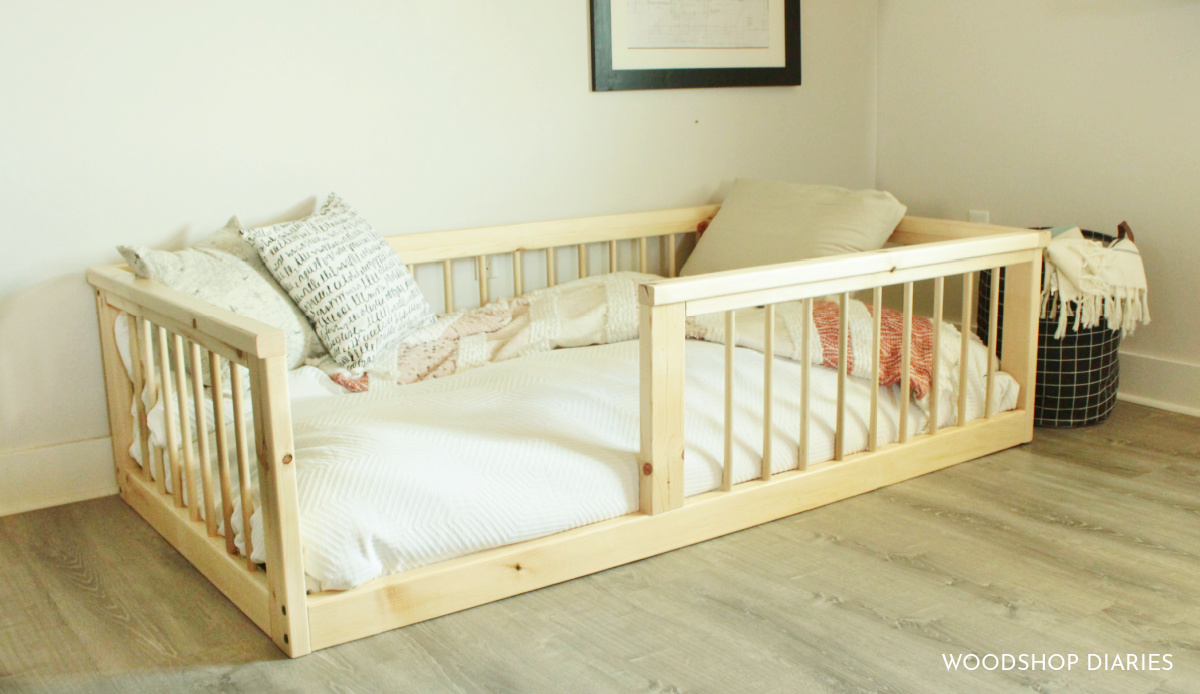 A friend of mine recently asked me to build her little boy a "big boy bed" so she could move him out of his crib.
But since he's still fairly young, she didn't want anything she would worry about him rolling out of.
.
So I built her this super simple floor bed and used some dowel rods as side rails.
HOW ADORABLE, amiright??
.
I've got all the plans and dimensions for a twin OR full size DIY toddler/kids floor bed below and I've got a quick video tutorial for you here as well.
Check out the full length tutorial video on YouTube here.
This post contains affiliate links. See website policies.
Tools:
Kreg Multi-Mark (helpful, not required)
Various clamps (helpful, not required)
Rubber Mallet (helpful, not required)
Some Notes About the DIY Toddler Floor Bed Project:
Dimensions:
The floor bed design shown below is made for a standard twin size mattress. Standard twin mattress dimensions are 38″ x 75″.
.
Printable building plans for EITHER a twin OR a full size floor bed can be found here.
.
The opening for the twin bed is 39″ x 76″ to allow for some wiggle room to get the mattress inside and to allow for some bedding around the edges.
.
Overall project dimensions ended up being 21 ½″ tall, 44″ wide and 81″ long.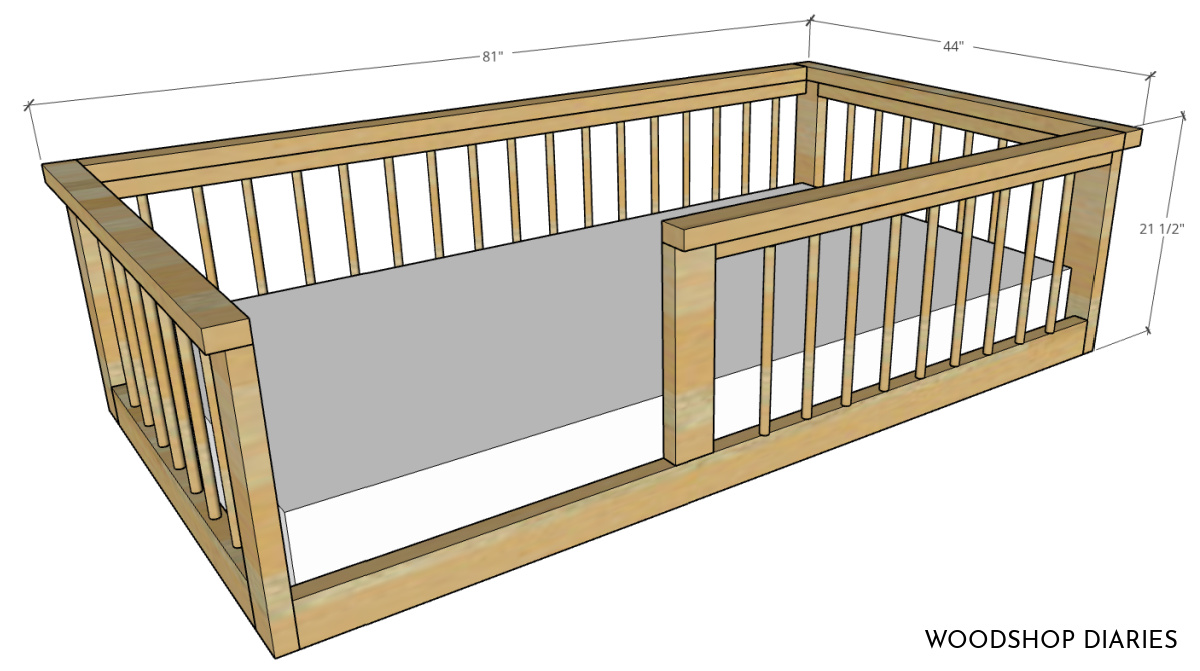 Bed Rail Spacing:
There are "industry standards" for rail spacing for cribs in certain countries.
However, since this isn't a "crib" for a baby, but is a bed specifically made for an older toddler child, the standards don't necessarily apply in this case.
.
So, please be aware, crib standards are not followed in this plan as it's not intended for use with infants/small toddlers.
.
The great thing about building it yourself is that you can customize it however you wish.
And since this particular project was built for an older toddler, the spacing for the rails used here are adequate for his larger size.
.
However, if you prefer to stick to the standards, please take note to do your own research before building your own as these "industry standards" are always subject to change.
I encourage you to do what you are comfortable doing and add more rails if in doubt.
.
If you want to change the spacing in the plans below to match the standard, it's a matter of simply changing the spacing between your marks where you will drill the dowel holes.
.
Another option is to install solid panels or bumpers on the INSIDE of the bed behind the dowels to leave the look of the dowels, but create solid sides. Then these can be removed as the child grows, if desired.
Lumber Sizing:
Instead of using precut 2x2s and 2x3s in my project, I opted to rip a few 2x4s into a 1 ½″ wide piece (which is the equivalent of a 2×2) and a 2″ wide piece (which is ALMOST the equivalent of a 2×3).
This saved me a few dollars in lumber.
.
Whether you make your own or purchase them precut, the project is the same except for the last step.
.
In the last step, you will add these "2x3s" along the top to trim out the top edge.
It's best to cut these to fit as the sizing will vary slightly based on whether you are using actual 2x3s (which are 2 ½″ wide) or 2″ wide pieces ripped from a 2×4.
Rounded Board Edges:
Normally, when working with construction lumber, I like to make my joints a little cleaner by removing the rounded over edges on the boards (like in this tutorial).
.
However, since this is a toddler bed, I kept the rounded corners on the boards to avoid having sharp edges.
.
I would need to sand down any sharp corners to prevent injury at the end of the project anyway, and since typical construction board edges are already rounded over, I used this to my advantage and left them as is.
.
GRAB PRINTABLE PLANS HERE:
Step 1: Assemble Toddler Bed Side Rails
I began assembling the side panels first by cutting a piece of 2×2 and a piece of 2×4 to 35″ long for the top and bottom (You need one of each PER SIDE, so two of each total).
.
Prefer to print? Grab the printable building plans here!
.
I used this handy Kreg Multi-Mark tool for making most of my marks. I set it to mark ¾" offset and drew a line down the middle of each of these pieces on the narrow side.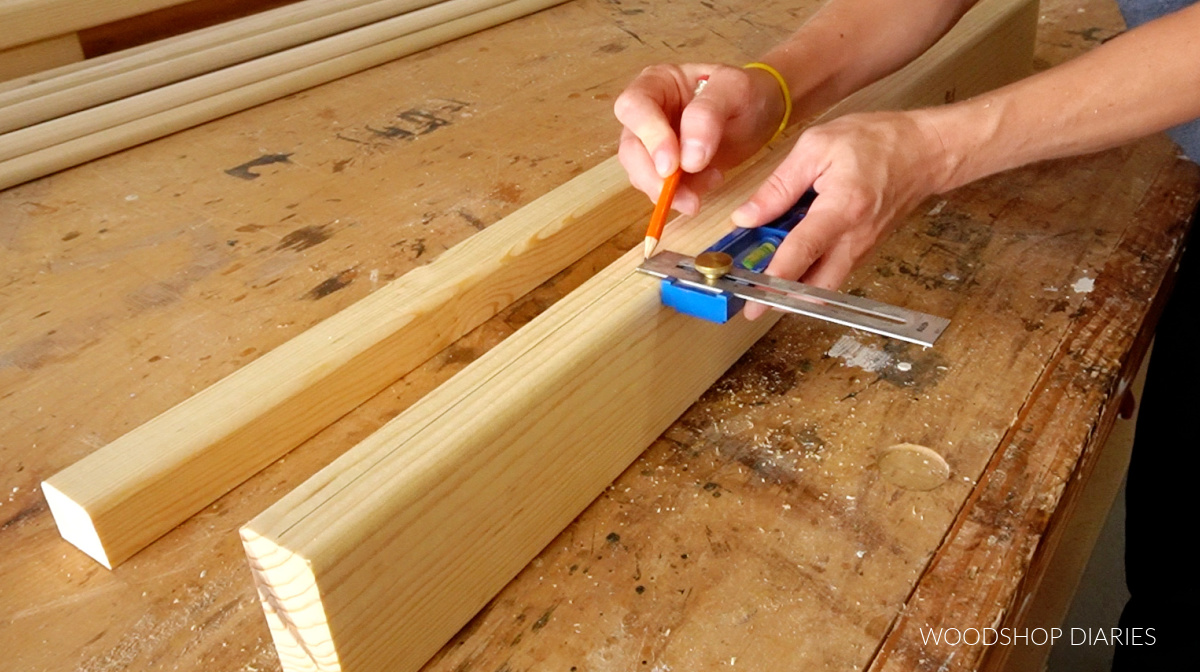 Then, I marked the center (17 ½″ from each end).
.
NOTE: For each side panel of this bed, to make things easier, I used an odd number of dowels so that I could start in the center and go out from there marking where my dowels would go.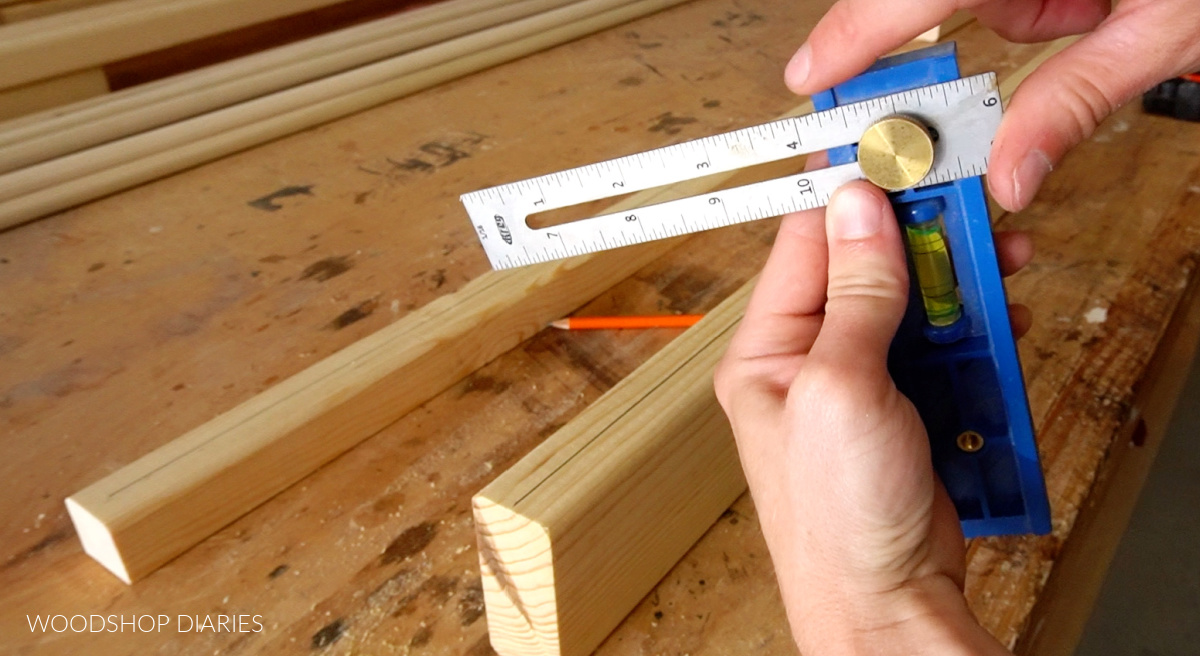 Then, I set my Multi-Mark to 4 ¼" and made several marks out from this center point down the length of the boards all 4 ¼" apart.
.
I clamped the top and bottom pieces together and transferred the marks to each piece so they'd match perfectly.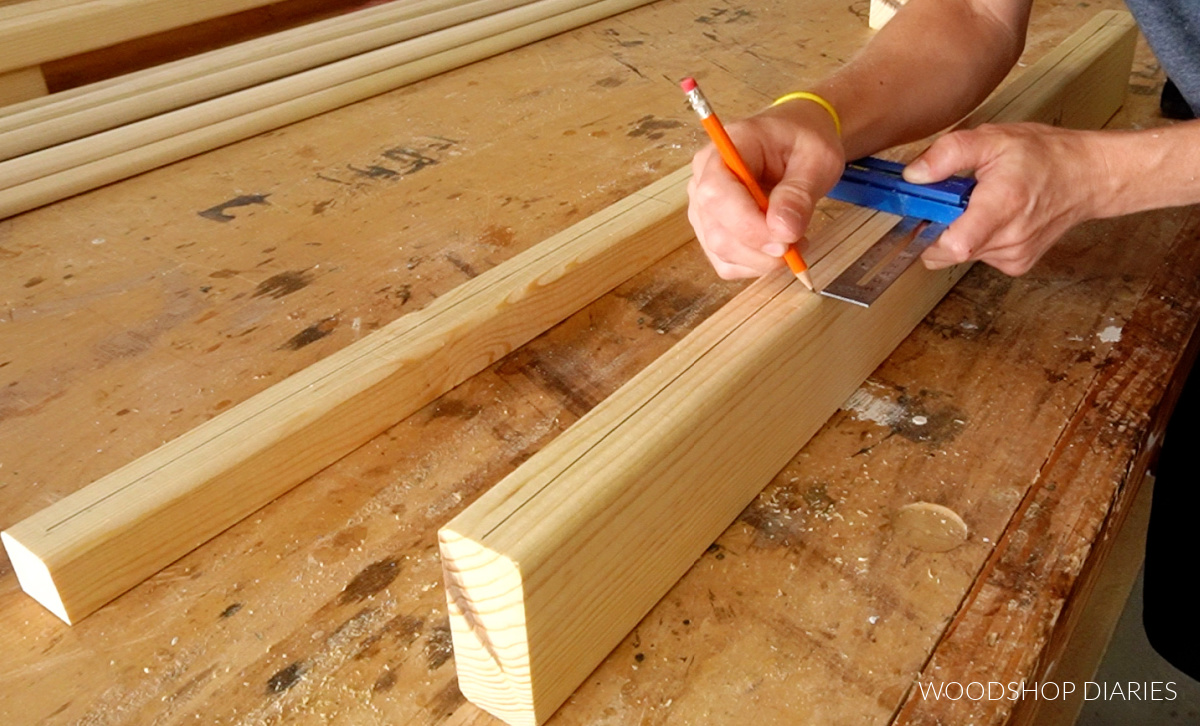 Once all my dowel locations were marked, I used a ¾" forstener bit to drill out each location.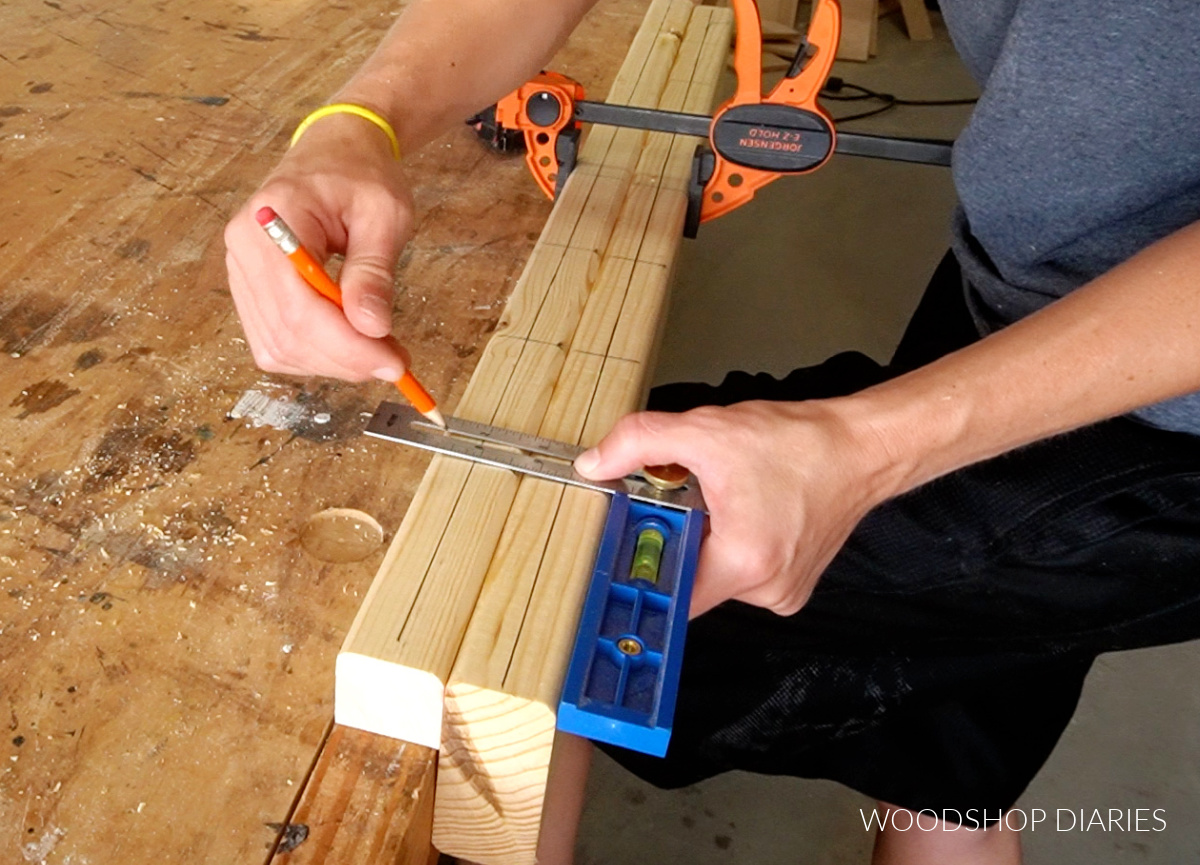 I drilled until the cutter head was flush with the top of the board for each hole (it was about ⅜″ deep).
You could use a stop collar to be extra precise if you wanted, but it's not super critical as long as you are pretty consistent.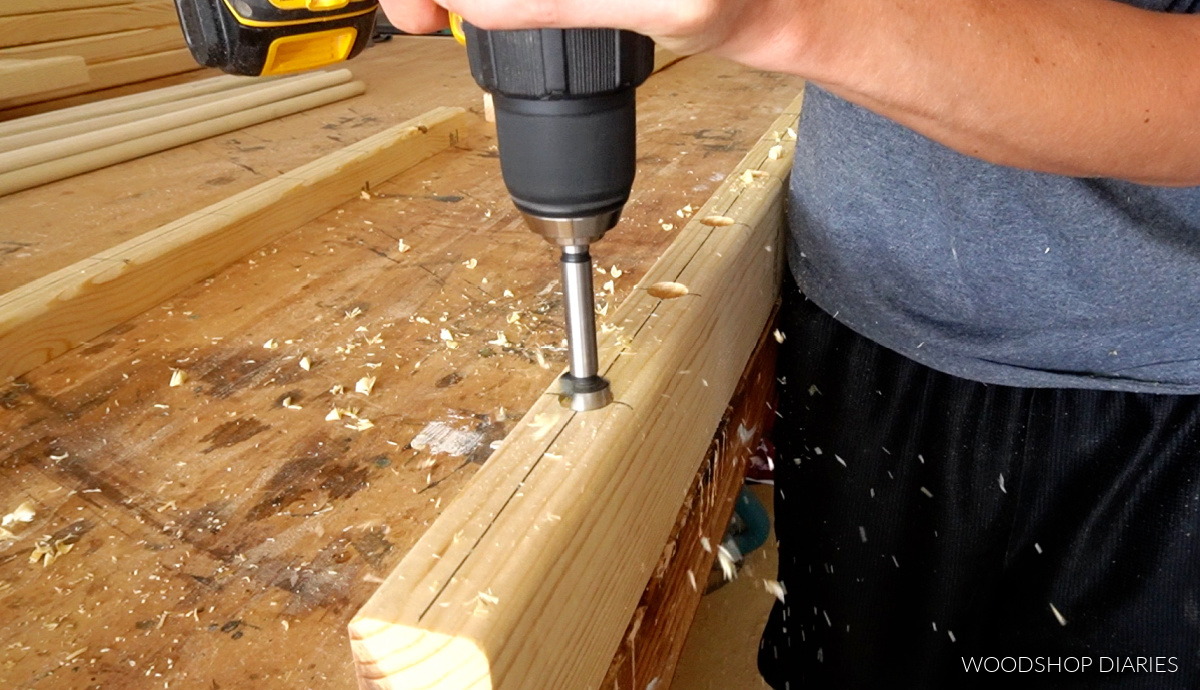 Once all the holes were drilled, I pulled out my pocket hole jig and drilled 1 ½″ pocket holes into the ends of the 2×4 and one on each end across the top side of the 2×2 piece.
RELATED: How to use a pocket hole jig
.
Then, I sanded these pieces really well, and cut my dowels to roughly 16" long.
.
NOTE: The dowels were exactly 48" long, so in order to get three equal length dowels from each piece, I had to cut them SLIGHTLY under 16" to account for the blade kerf when making the cuts. So these ended up being about 15 15/16" long.
.
Then, I applied wood glue into the holes and inserted the dowels.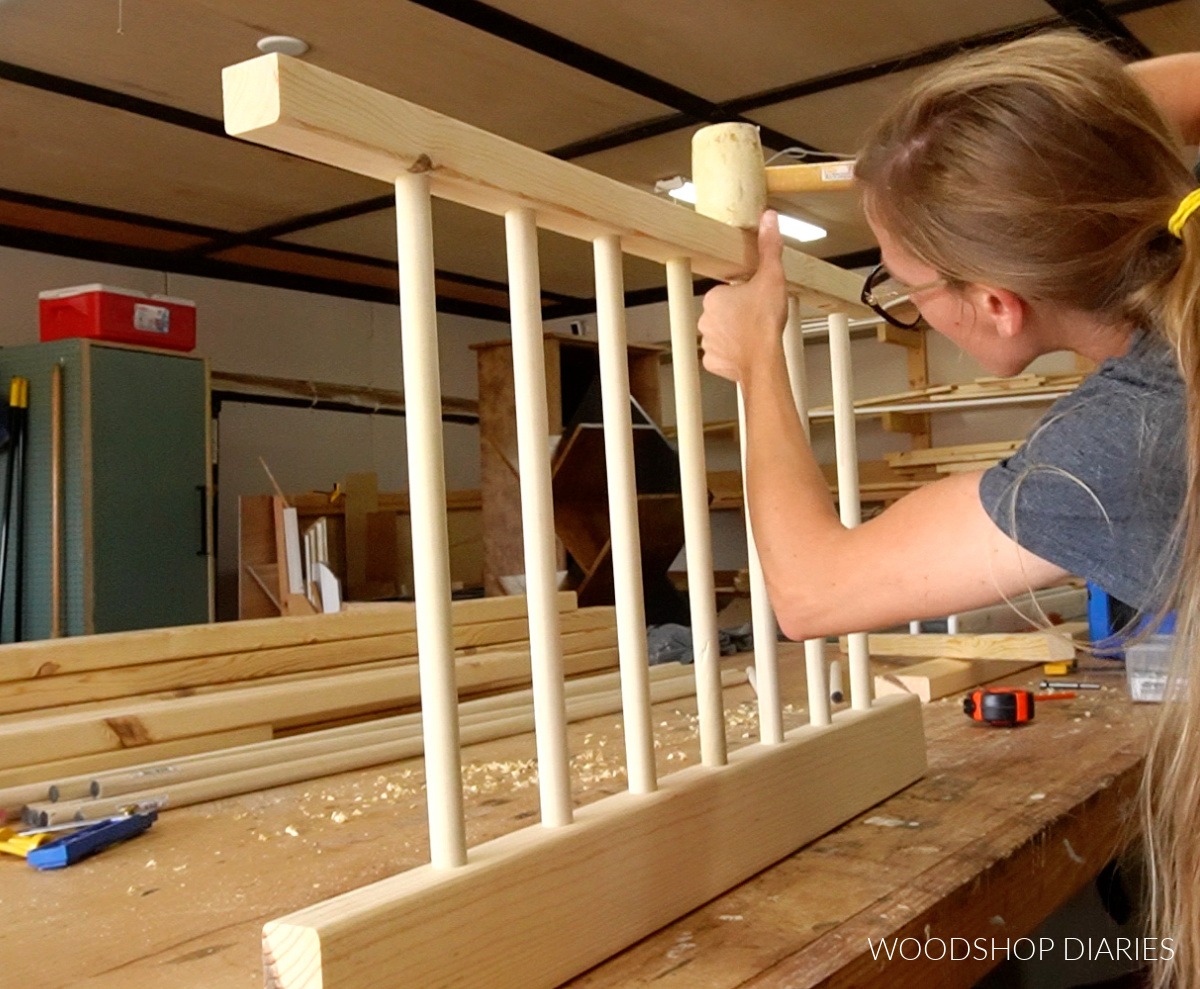 Getting everything to line up is a little tricky and will require some patience. I found it easiest to glue the dowels into the one of the boards first, then add glue into the holes of the other.
.
Then, I could flip the board with the dowels installed upside down and use a rubber mallet to tap them into the holes on the other board.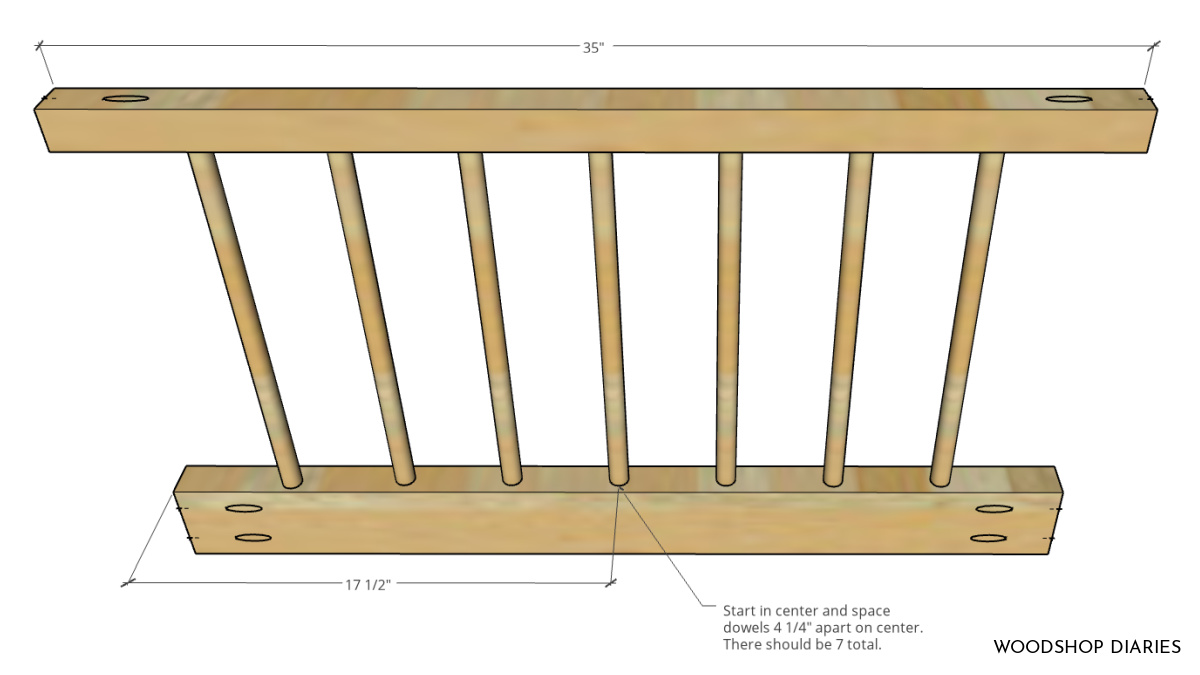 Once these rails were together, I used a large clamp to press everything together and checked for a consistent height from side to side.
.
Depending on the length you cut your dowels and the depth you drill your holes, your overall size may vary some, but mine ended up being about 20".
.
Then, I repeated this process two get two identical sides.
Step 2: Add Floor Bed Corner Posts
I measured the overall height of the pieces from step 1.
Again, depending on the length you cut your dowels and the depth you drill your holes, yours may vary slightly, but mine was 20″.
.
Printable plans for the build with cut list and diagrams available here!
.
So, I cut two pieces of 2×4 to 20" long for each side panel.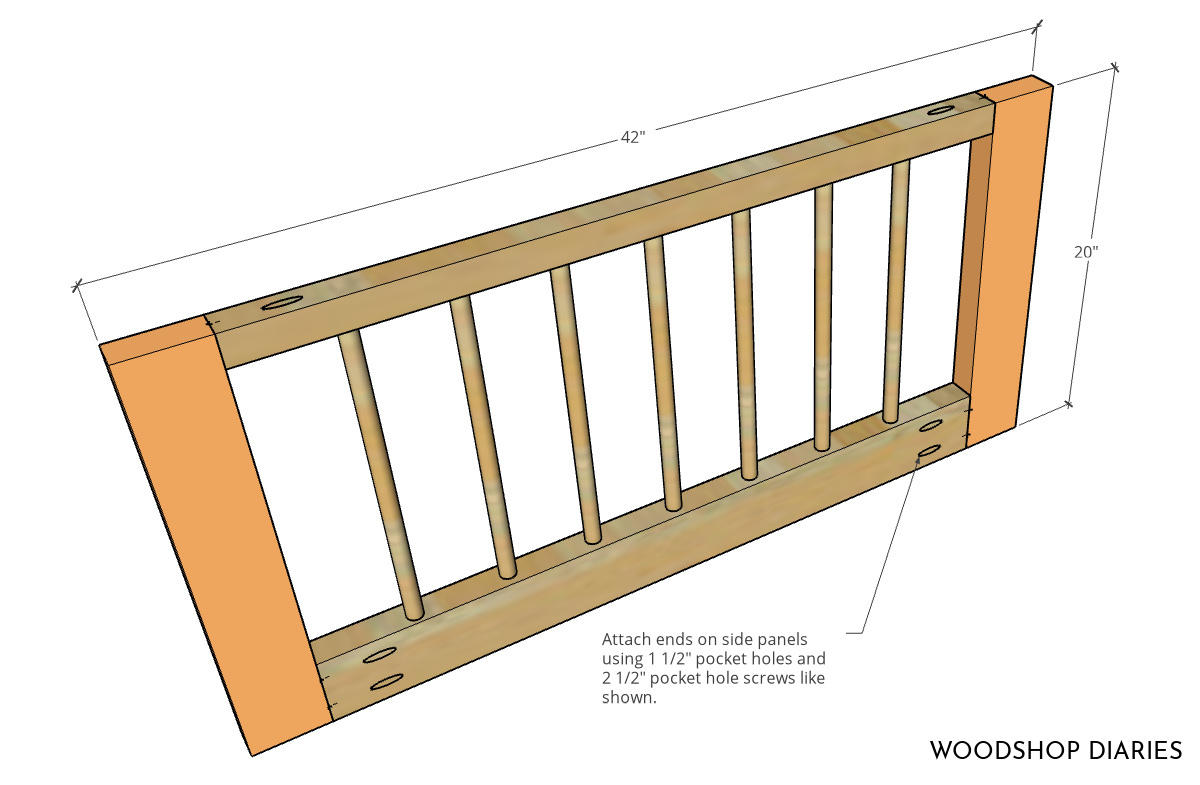 I used 2 ½″ pocket hole screws to assemble these 2x4s on each end and once this first side panel was done, I repeated because the other side is exactly the same.
Step 3: Assemble Back Bed Rail Panel
The back piece is exactly like the sides, only it's longer and won't have the 2x4s on the ends.
.
So I began by cutting down a 2×2 and a 2×4 to about 76" long.
I found the center of each (38″ from each end) just like I did for the sides earlier.
.
I used my Kreg Multimark tool to mark the center line and to make marks 4 ¼" apart.
.
I drilled out the ¾″ diameter holes just like before and cut the dowels just like before as well.
However, in this case, I didn't add pocket holes, and skipped right to sanding and gluing.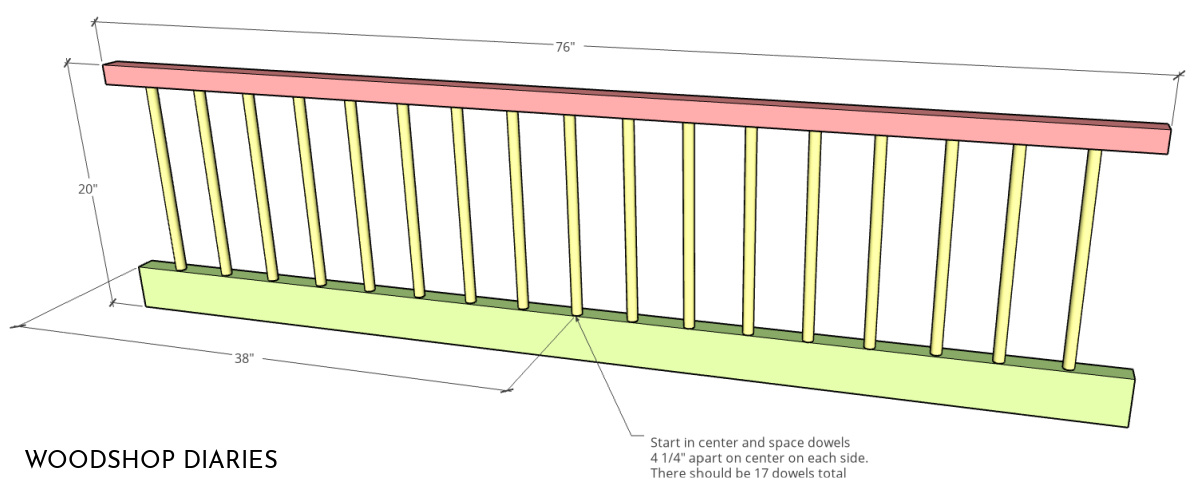 Step 4: Attach Back and Sides
Once this back panel was together, I pulled the side panels back out to attach them to it.
.
For this, I pulled out these 2 ⅞″ timber screws. You may have seen these in a few of my recent projects. (Like these DIY end tables, this DIY grill cart, and this DIY swing bed.)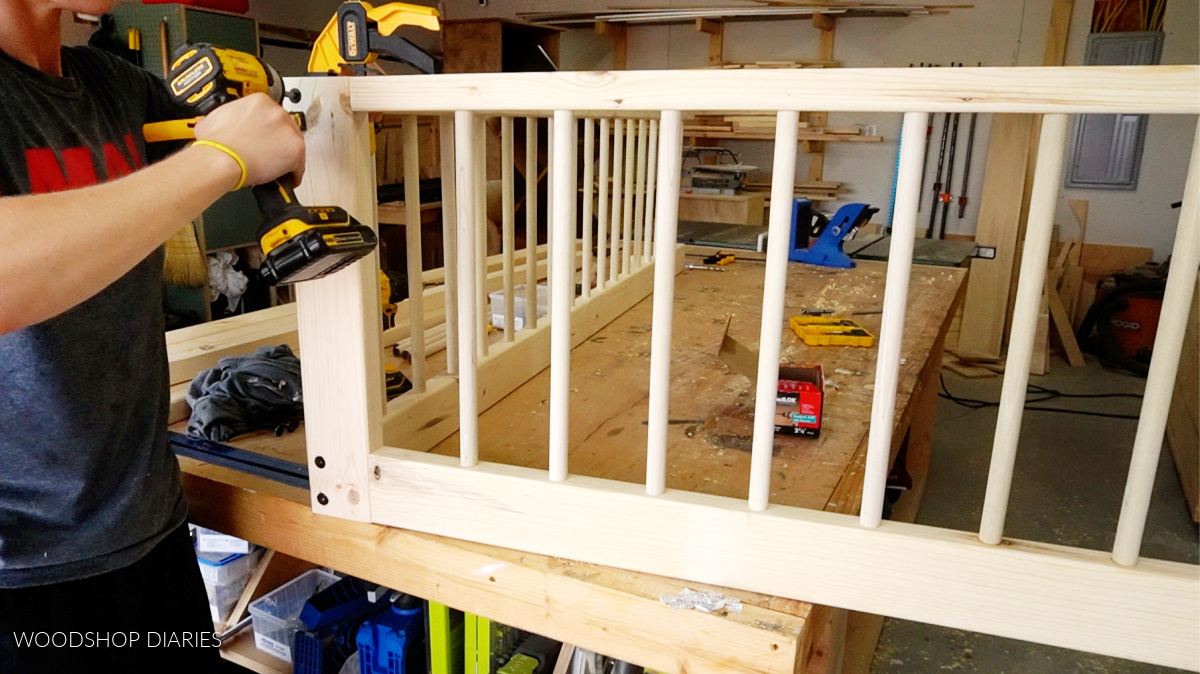 They add strength, but also a nice decorative detail.
.
I used these—two at the bottom and one at the top—to attach the side panels onto the back panel.
These screws are pretty big, so I do recommend predrilling to help prevent the wood from splitting when driving them.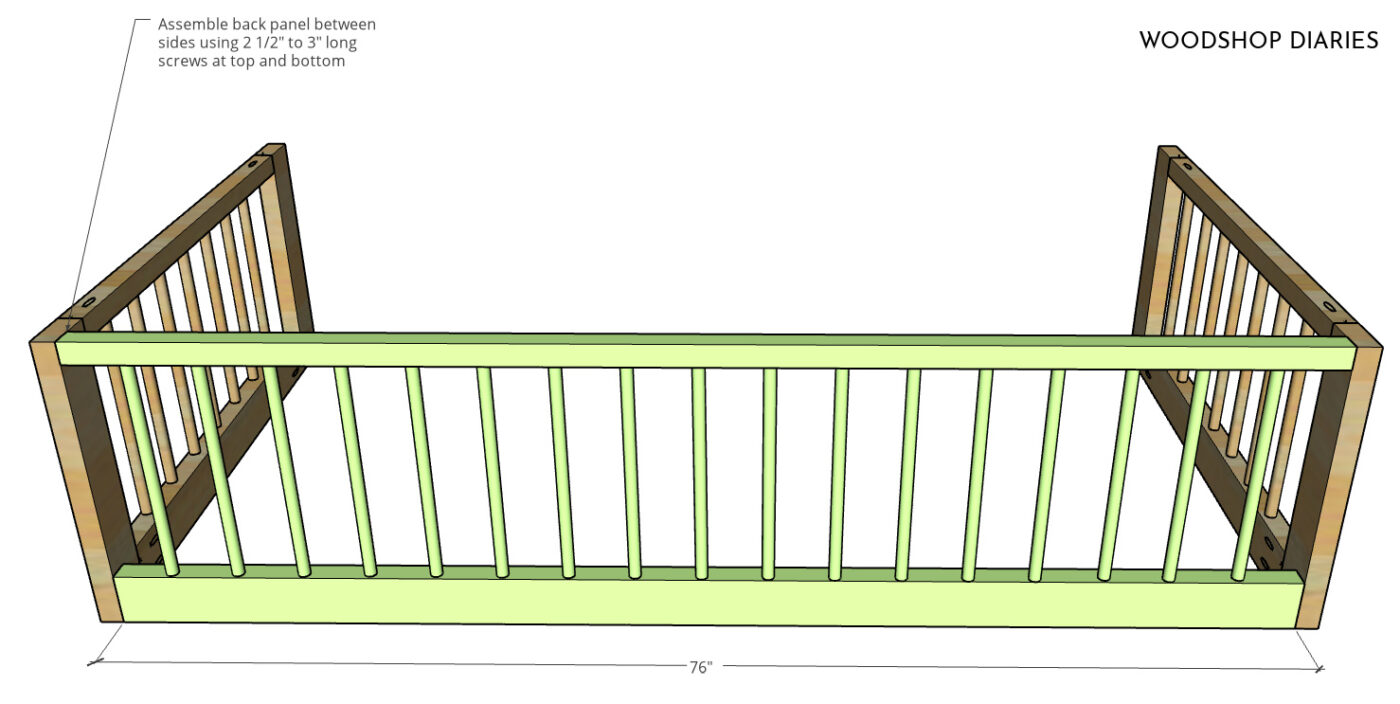 If you didn't want to use timber screws, regular 2 ½″ or 3″ long wood screws would work fine OR you could use 1 ½″ pocket holes and 2 ½″ pocket hole screws instead.
Step 5: Assemble Front Bed Rails
For the front, I cut a 2×4 to 76″ long and a 2×2 to 44 ½″ long.
.
Since these top and bottom boards aren't the same length, I found the center of the shorter 2×2 piece (22 ¼″ from each end) and measured my dowel locations on it just like before.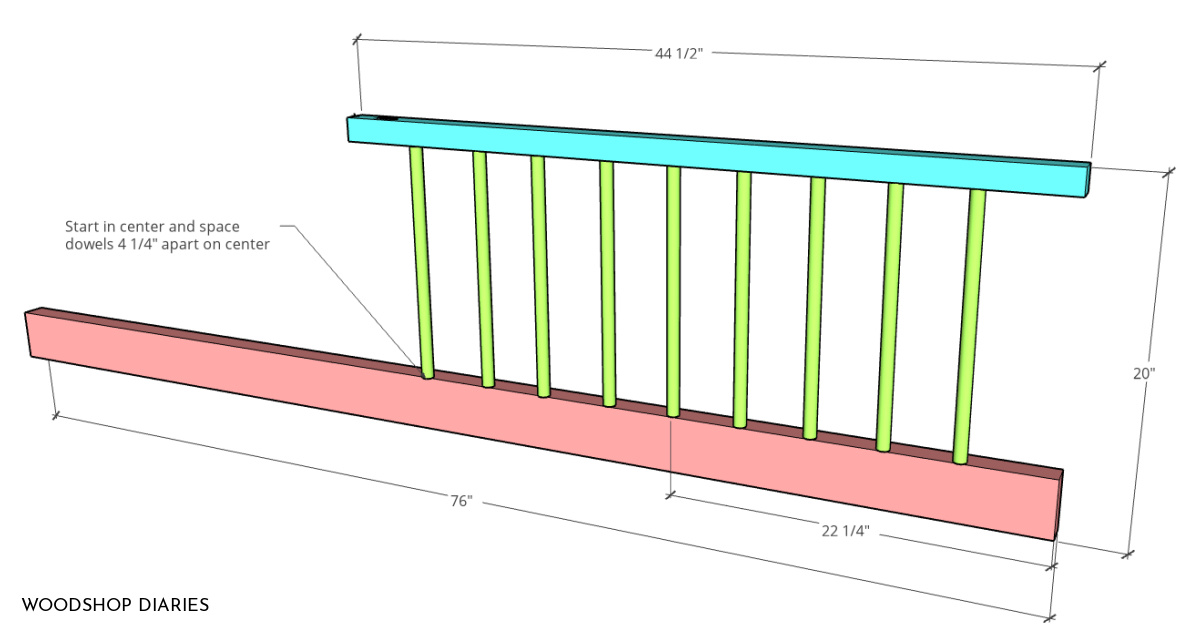 Then, I lined up the right ends together, clamped, and transferred these locations to the right side of the bottom 2×4 piece so the holes will line up properly.
.
I drilled a pocket hole in the inside end of the 2×2 (see diagram below), then glued and installed the dowels and clamped it all down.
.
Then I cut a 16 ½″ long (double check your own measurements to make sure that's the length you need) 2×4 to add on to the end of the dowel rails (shown in yellow below).
.
I drilled 1 ½″ pocket holes in the bottom end of this 2×4 and assembled using 2 ½″ pocket hole screws.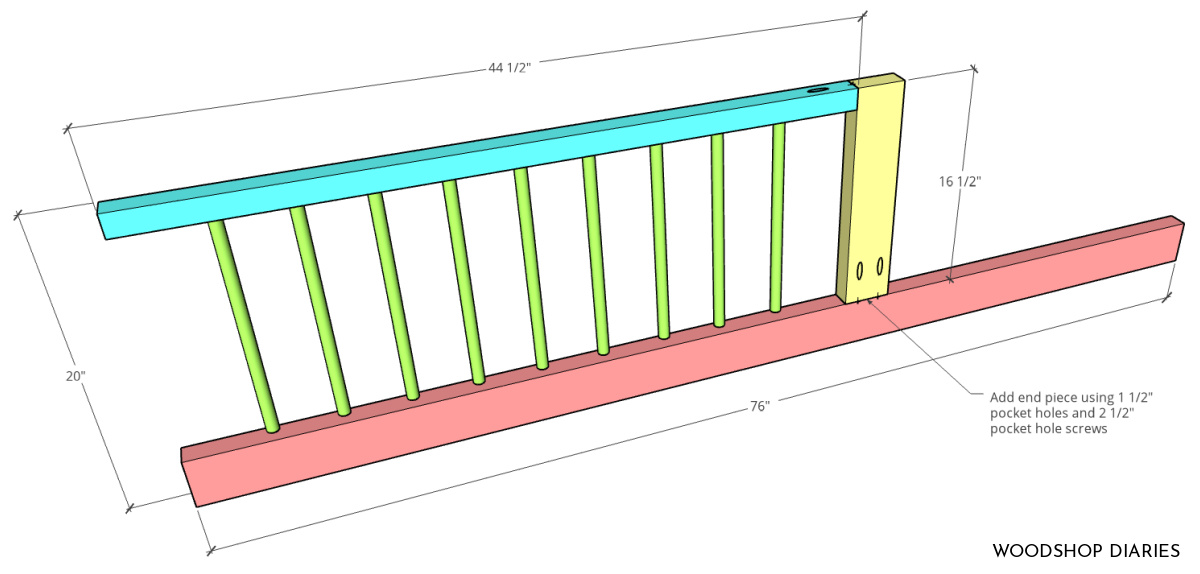 Step 6: Attach Front of Floor Bed
Once the front panel was assembled, I used timber screws again to attach the front panel between the two sides.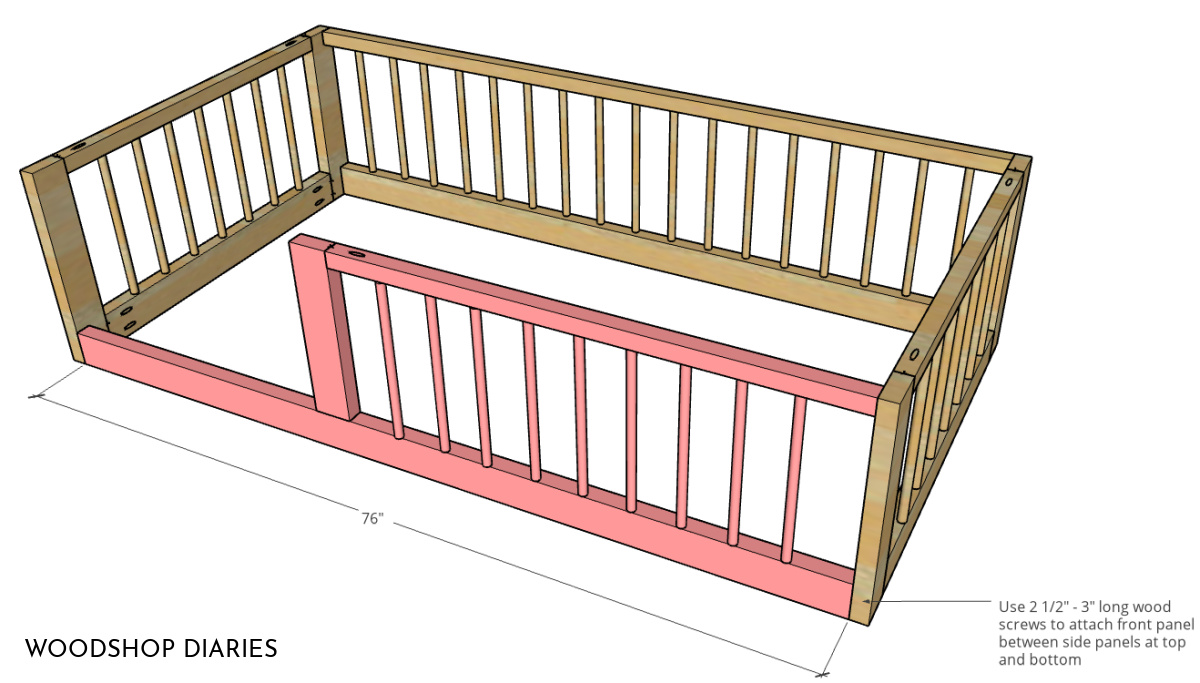 Step 7: Add Top Rails to Toddler Bed
The final pieces were the 2" rails I added along the tops. At the beginning of the post I mentioned that I ripped 2x4s into strips to use for this.
But, if you didn't have a table saw, you can use precut 2x3s instead.
.
Since I ripped these, they are 2" wide, but 2x3s would actually be 2 ½" wide.
These are basically just decorative pieces added to smooth out the top and cover up the pocket holes, so the difference in width wouldn't matter structurally.
.
Dimensions below are shown using actual 2x3s (2 ½″ wide boards).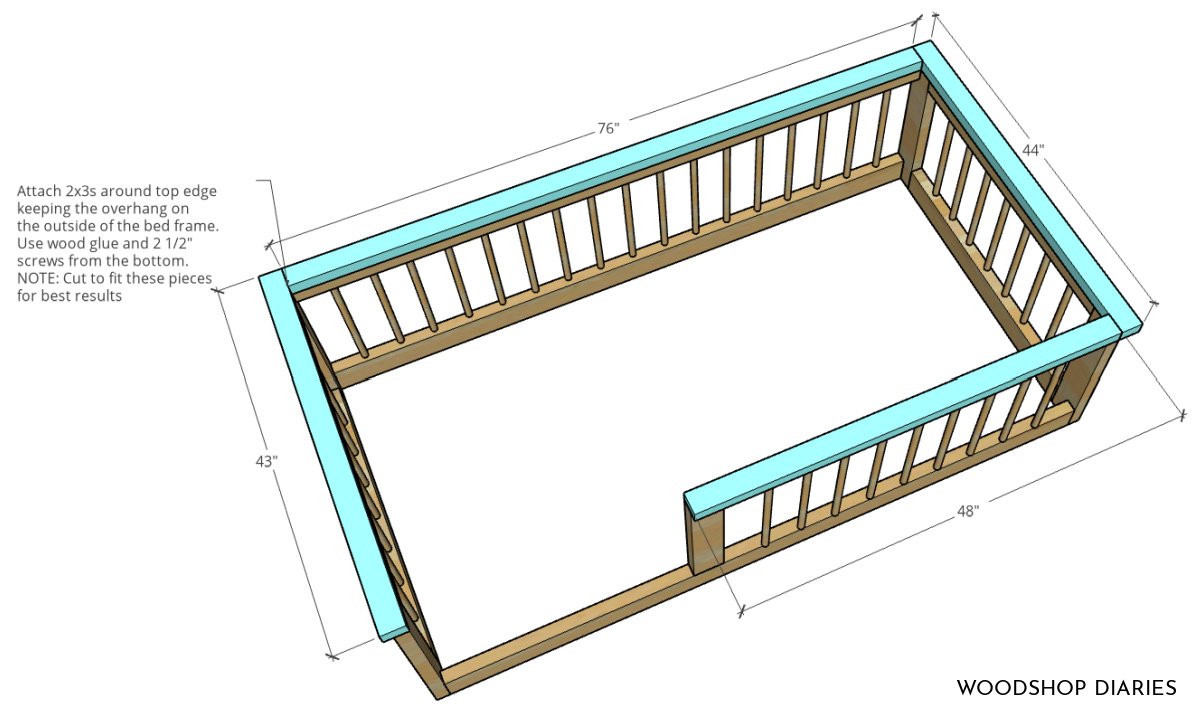 I trimmed these down to fit, then used wood glue and 2 ½" wood screws to secure them from the bottom side.
.
I started at the back and kept all the inside edges of the bed flush—so the overhang falls on the OUTSIDE of the bed frame.
.
Then, I added the left side. Then, the front. And finally the right side.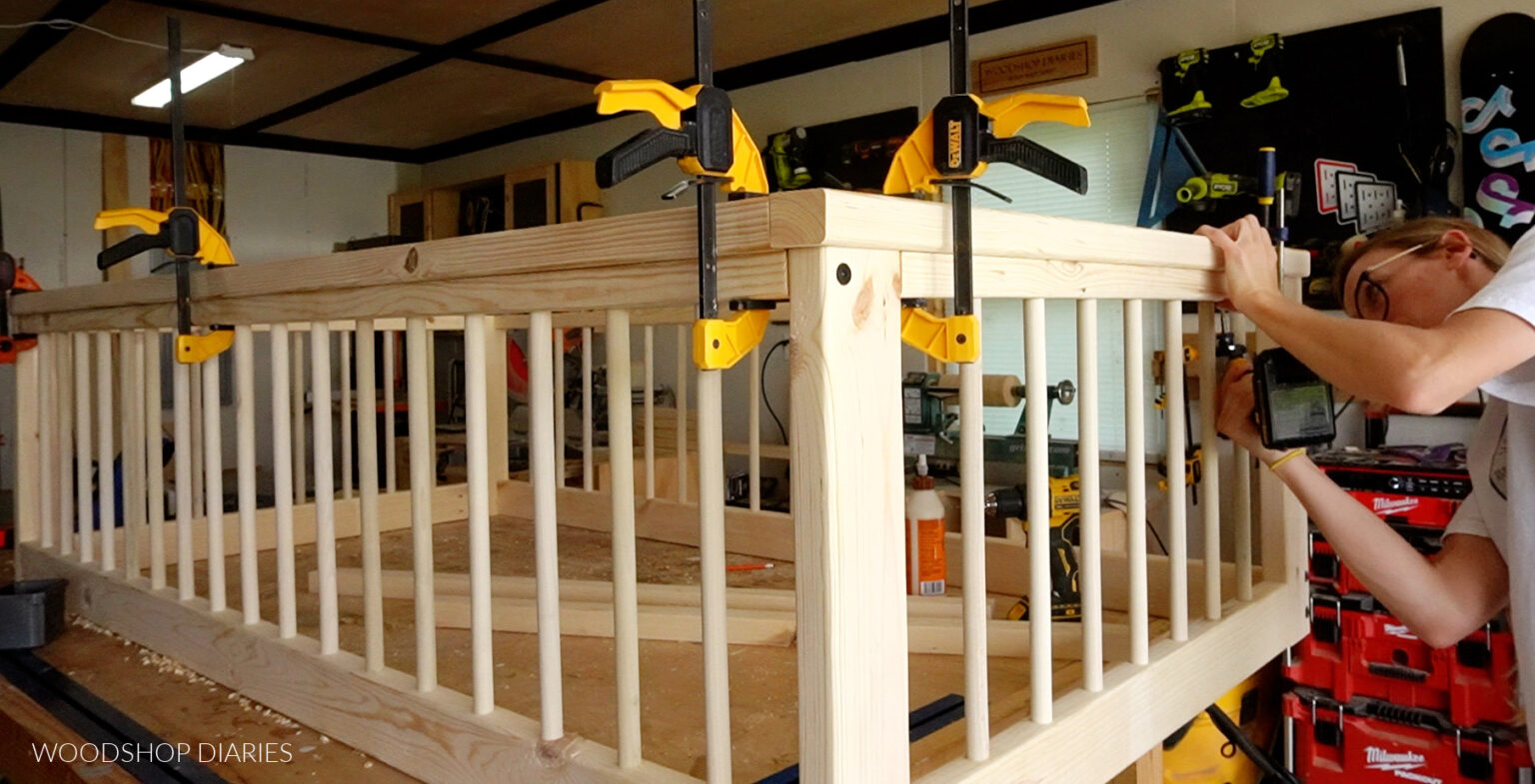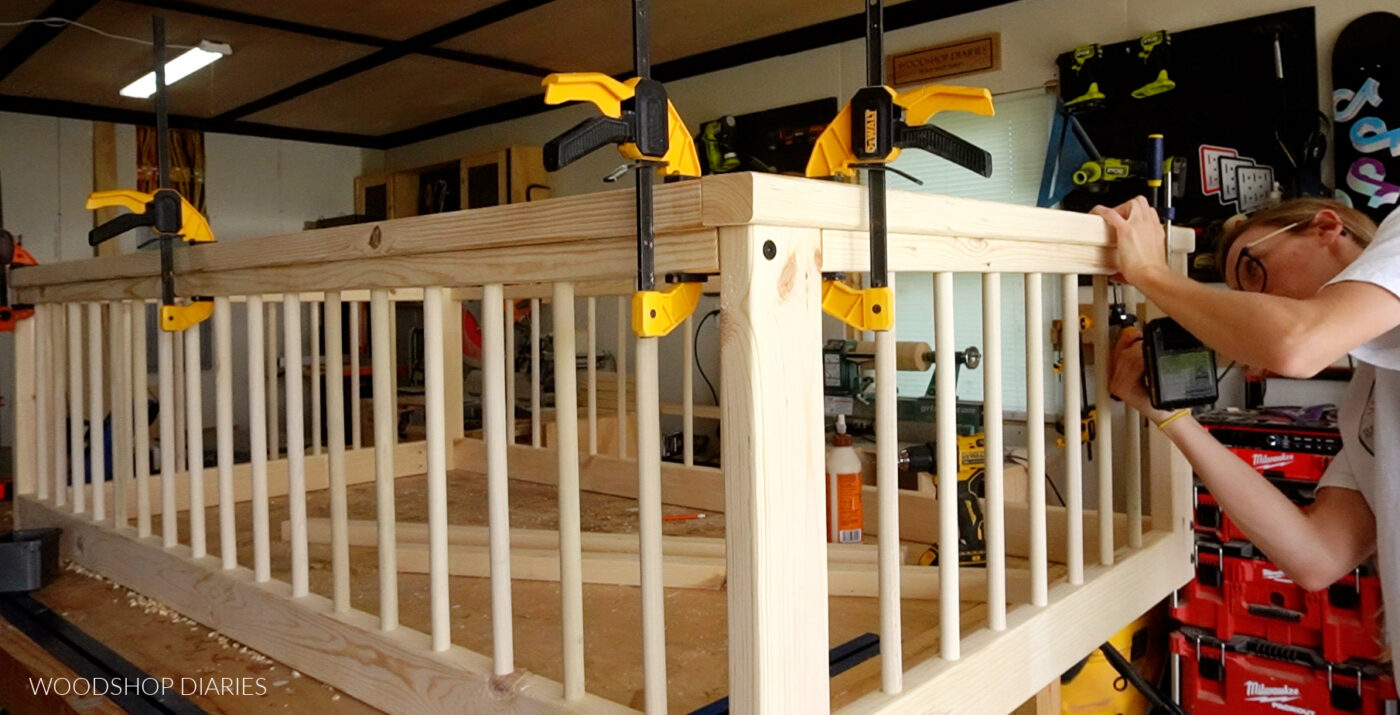 Since this is a kid's bed, I sanded out and rounded over any sharp edges left at the end.
Then, I applied a few coats of clear coat (Polycrylic), sanding well between coats.
.
But you can stain or paint as desired. Check out this guide for helpful tips on finishing raw wood furniture.
.
And finally, it was complete!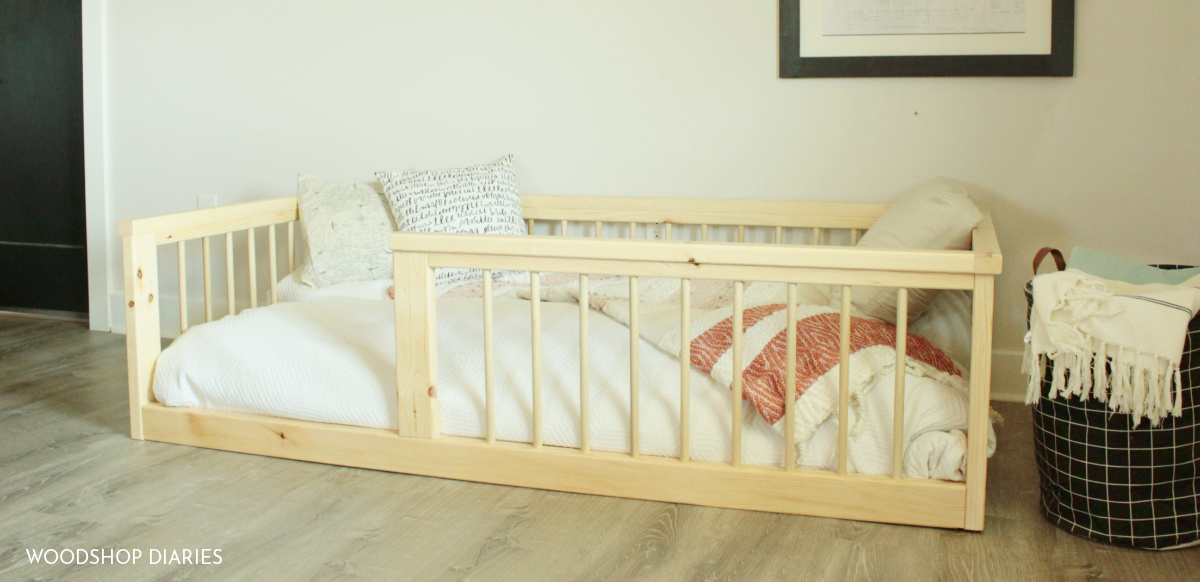 I actually didn't have a twin size mattress to stage this with, so I stacked up a pile of pillows and threw a comforter on top haha.
I'm sure this will look much better with an actual mattress inside.
.
This is such an adorable little bed for a toddler to grow into and will last for many years until they need something a little higher off the ground.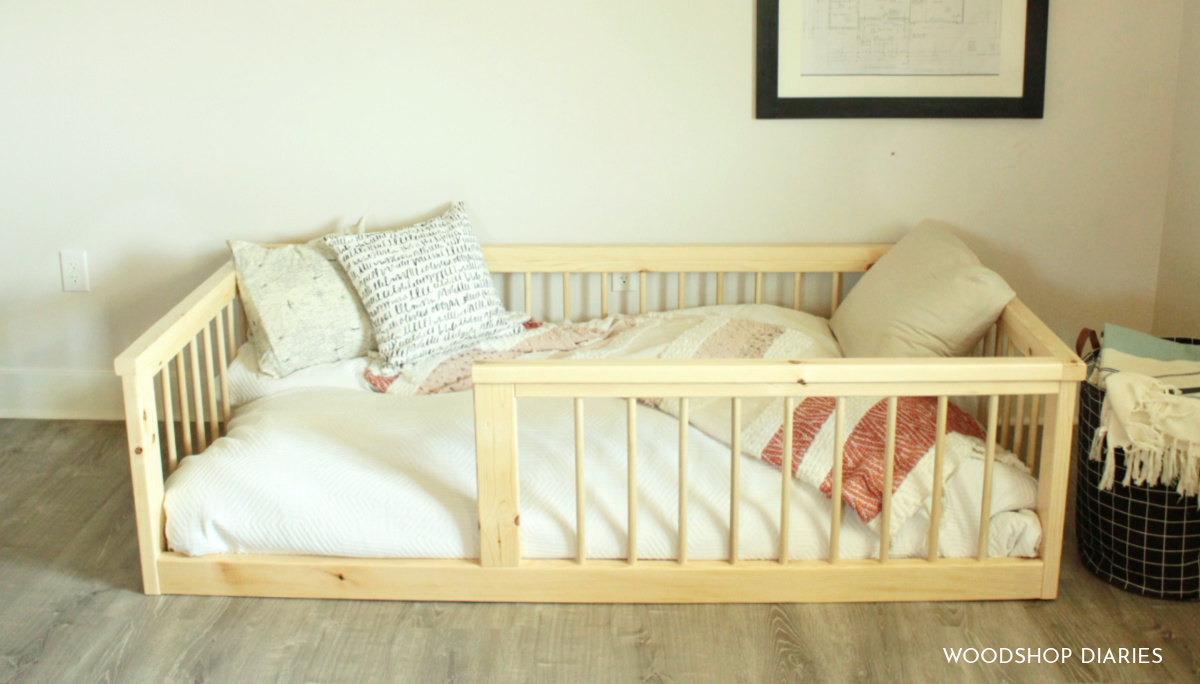 RELATED: Looking for more DIY bed projects?? Here's a few favorites!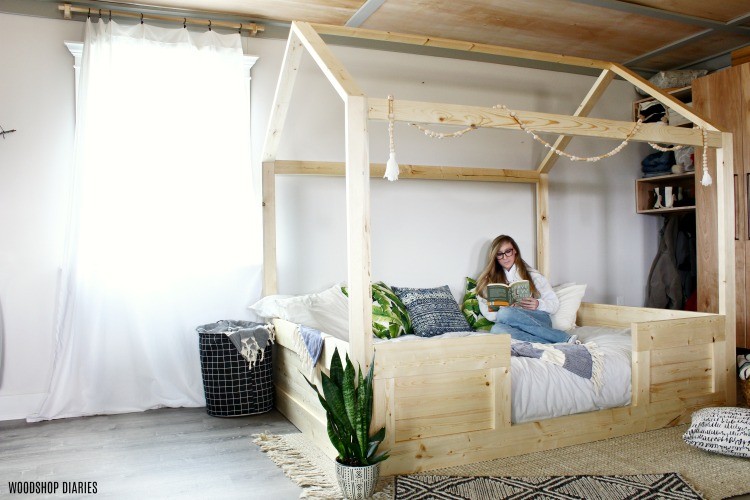 I hope you enjoyed this DIY toddler floor bed project and if you're interested in building your own, be sure to check out the full length build video for helpful tips to walk you through the build!
.
And if you can't wait to see what's next, I'd love if you'd subscribe to my newsletter for all the latest projects and plans!
Don't forget to share this to your favorite social channel or pin it!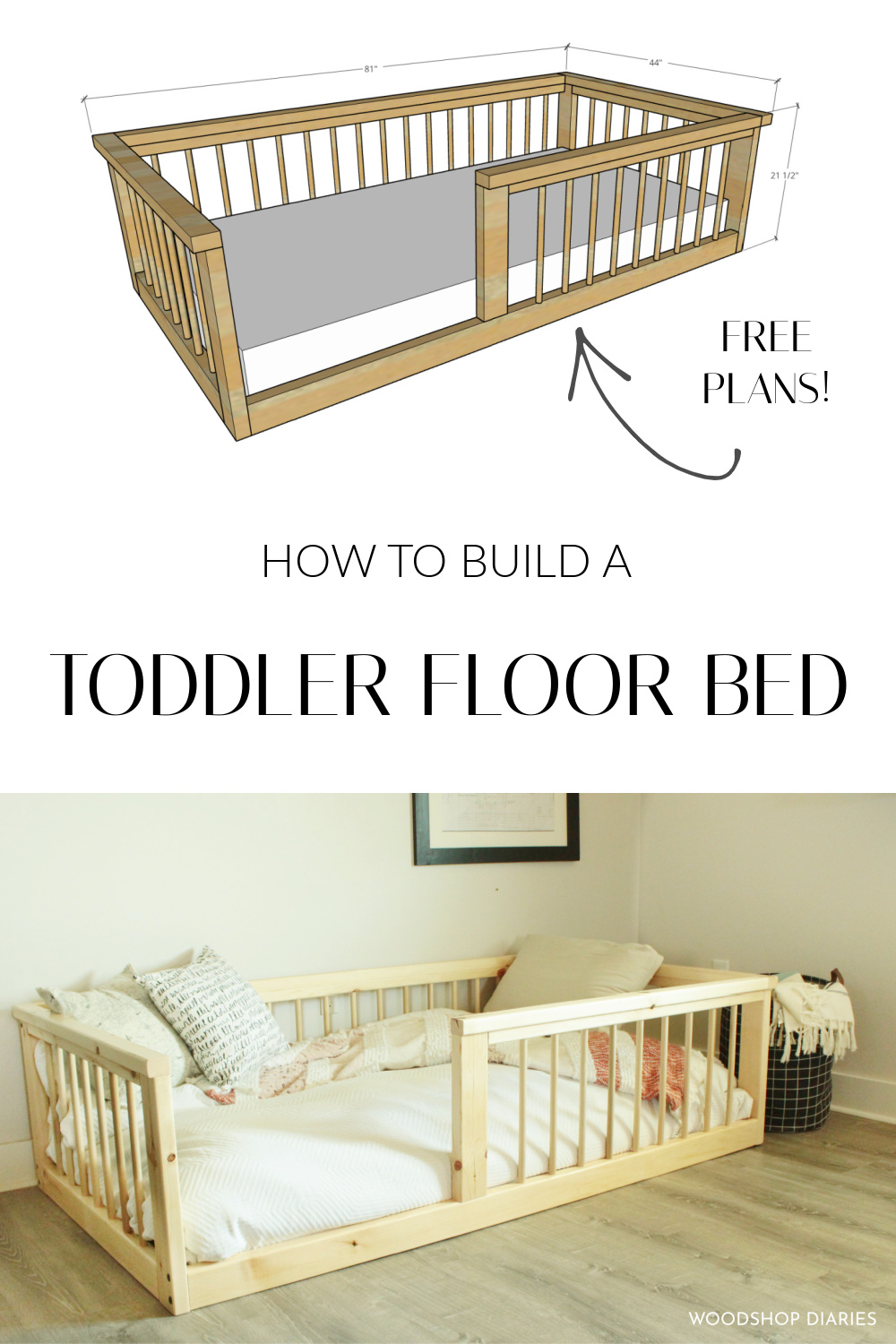 Until next time, friends, happy building!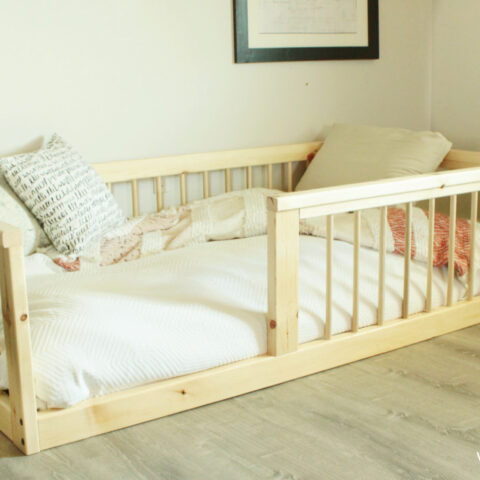 DIY Toddler Floor Bed
Yield:
1 toddler floor bed
Make this DIY toddler floor bed from 2x4s and dowels. Transition them from a crib to a regular bed without the worry that they will fall out.
Materials
2 ½" wood screws
Wood Glue
Sandpaper
Tools
Various clamps (helpful, not required)
Rubber Mallet (helpful, not required)
Instructions
Assemble the toddler side rails by marking drilling for the location of the dowels and glueing them into the 2x4s.
Add the floor bed corner posts using pocket holes and 2 ½" pocket hole screws.
Assemble the back bed rail panel the same as you did the side rails.
Attache back and sides using 2 ⅞" timber screws.
Assemble the front bed rails the same way as the side and back.
Attach front of the floor bed using timber screws.
Add top rails to the toddler bed using wood glue and 2 ½" wood screws.
Sand and round out any rough edges.
Add mattress and bedding and it's ready!