When the weather gets chilly, I start to get a little crafty.  I'm a wimp in the cold weather, so I have to find something to keep my hands busy inside where it's warm when I can't stand the cold out in the shop.  Sometimes I turn to sewing, but many times, I start making wreaths.  Wreaths are, after all, where my "making" all started.  This year, I wanted something kind of small and simple to hang on the wall, or above my fireplace, so I made this DIY modern Christmas wreath.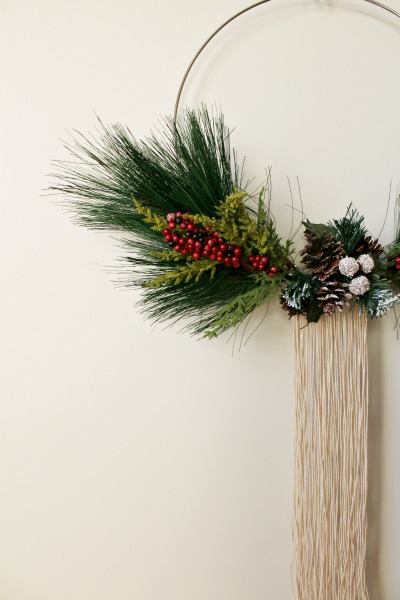 I've been seeing people use macrame hoops to make wreaths and LOVE the simple, minimalist look.  So, while this isn't a totally original idea, I'm going to show you how I made mine 🙂
.
This post contains affiliate links.  Please see disclosure policy for details.
.
To make this DIY Modern Christmas Wreath, you will need:
Scissors
Small floral stems (2 of one larger kind, 2 of a smaller kind, and one small center pick)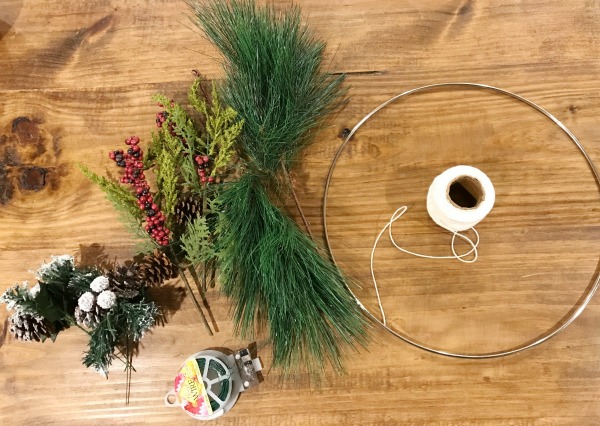 First, attach the macrame to the DIY modern Christmas wreath…
Decide how long you want the string to hang from your wreath.  Double that length and cut several pieces of cotton string this length.  So for example, if you want your string to hang down about 12″, then cut SEVERAL pieces about 24″ long.  Tie these strings onto the loop using a larks head knot like shown.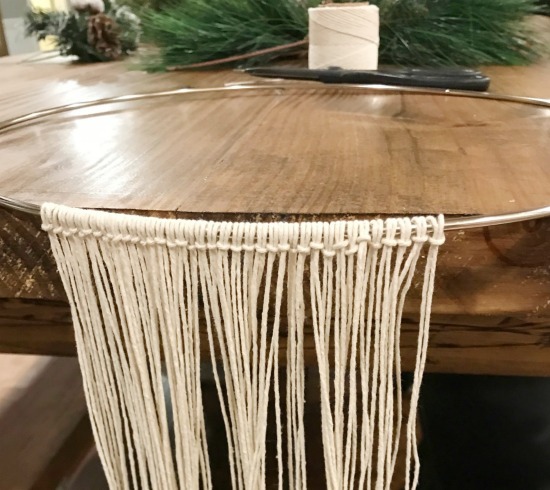 Next, attach the larger stems to the wreath…
Using floral wire, tie the larger floral stems onto the hoop like shown.  You can place wherever you want, but I did mine so that the intersection of the two stems was about the center of where I had my macrame strings.
.
You will need to use the floral wire to tie each stem in at least two places or it won't stay put.  I just wrapped my wire around the stem and the hoop and twisted several times to tie.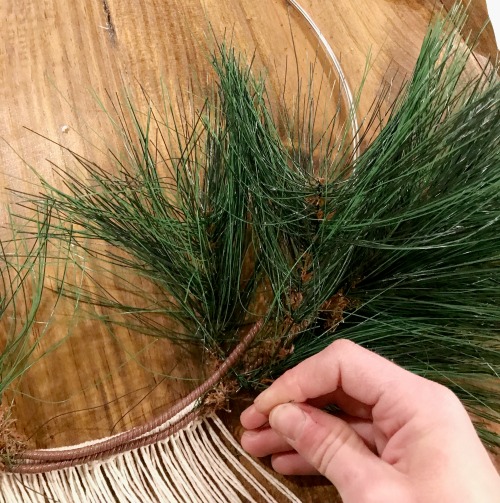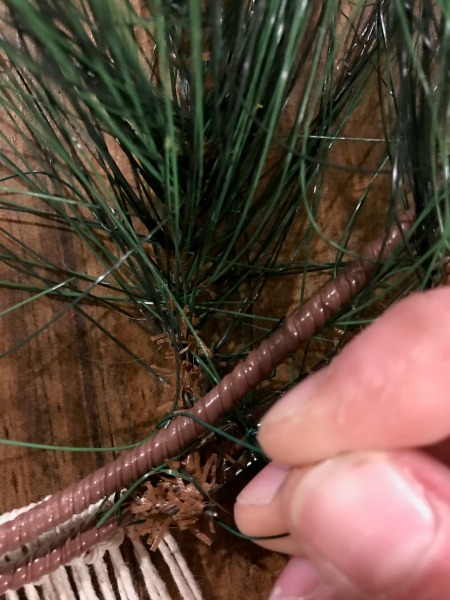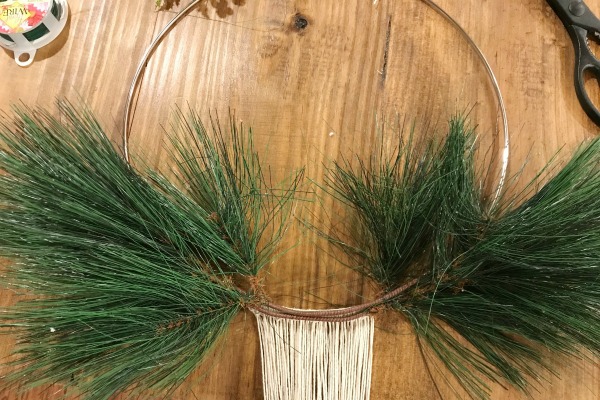 Then, add the remaining floral stems to the DIY Modern Christmas Wreath…
Layer the smaller stems on top of the larger stems and attach with floral wire like you did earlier.  Just wrap the wire around the hoop and twist together around the floral stems to tie in place.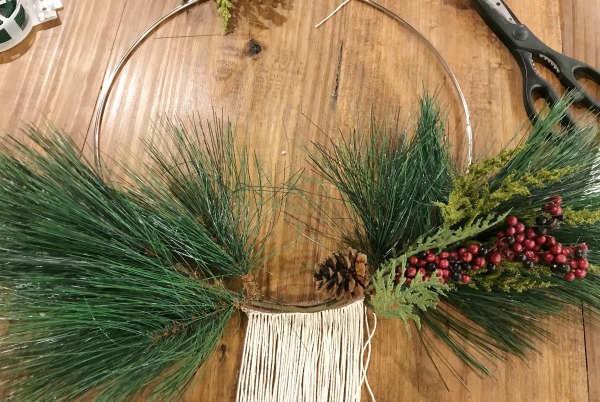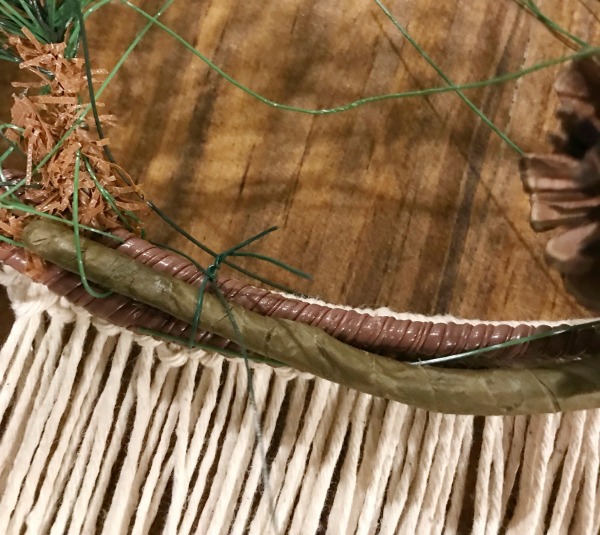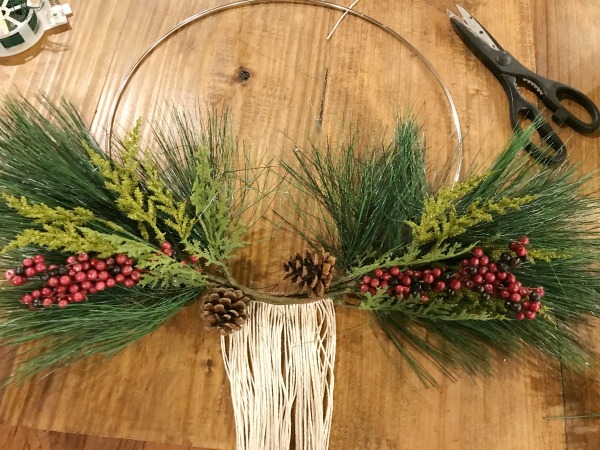 Once you have your smaller stems in place, add a little decorative floral pick in the middle to hide the stems and the wire.  Again, just tie it in place using floral wire.  Tuck any remaining wire towards the back to hide it.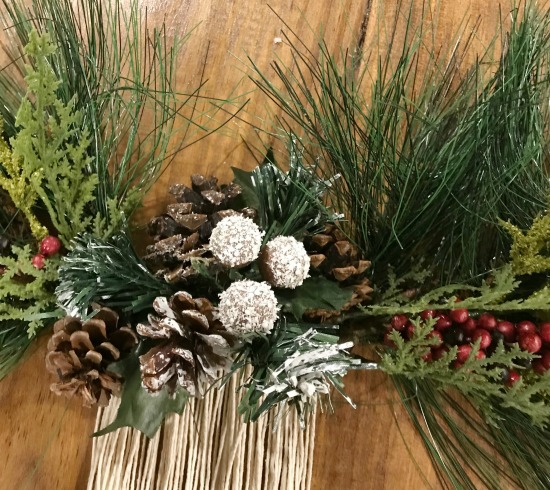 Lastly, trim the macrame string…
Lay your wreath on a table or counter top  and let the string hang off like shown.  Straighten the strings and trim off even (or you could do a V shape or something different).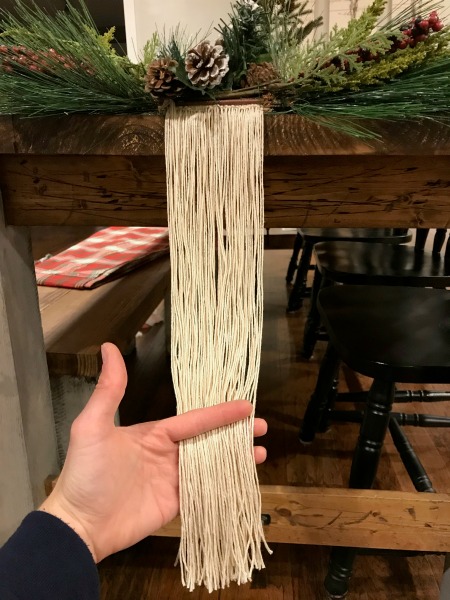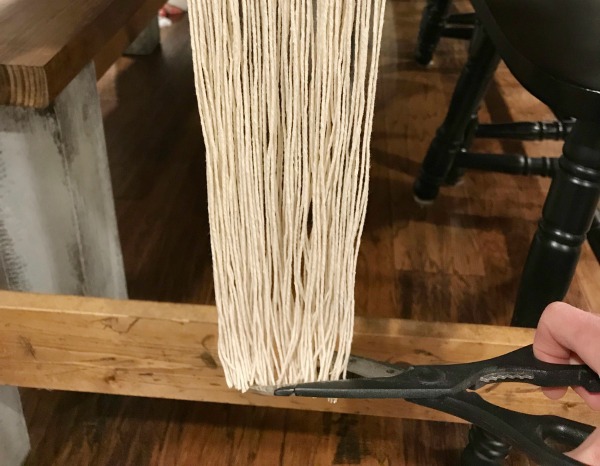 Now, just tie another string to the top (if you want…if not, you can hang still hang it without the string) and it's ready to hang!
.
I love the simplicity of this style wreath.  Plus, since you only have to buy a few small stems, it's really inexpensive to make!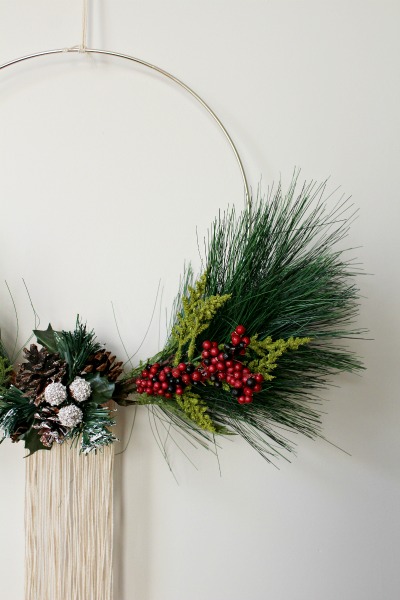 And when Christmas is over, it's still cute for winter, too!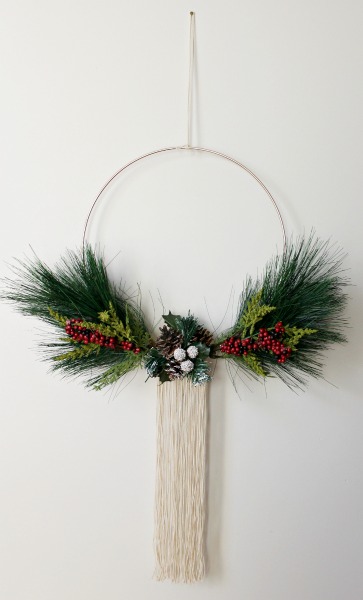 And when spring rolls around, keep the macrame string and just change out a few of your stems for hydrangeas or other colorful flowers and you're good to go.  This is great for your front door, but also hanging above the bed, or over a fireplace, or just on a blank wall that needs some life 😉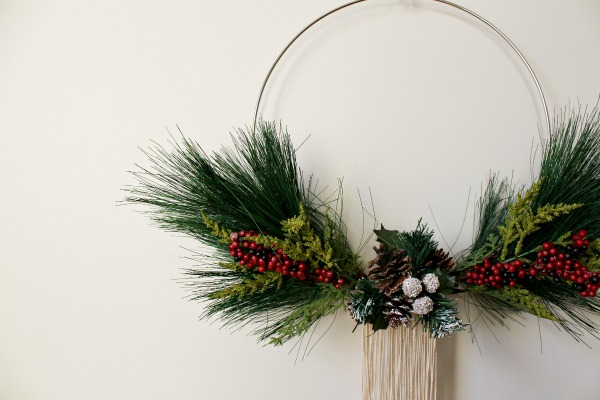 So how do you feel about the modern, minimalist look of this style wreath?  Would you give it a try??  If you're looking for more wreath ideas, be sure to check out this super easy 5 minute Christmas wreath and this super easy magnolia and cotton wreath, too!
.
But, first, be sure to pin this for later 🙂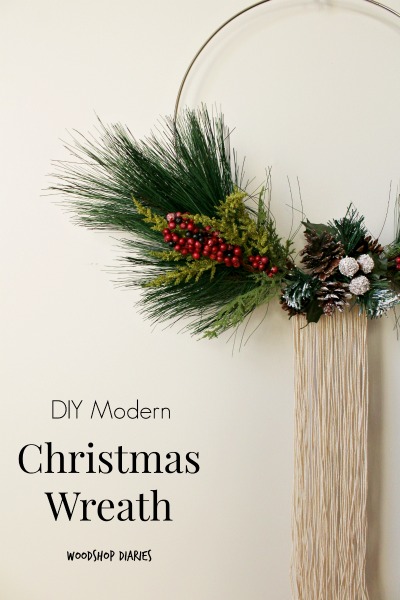 Be sure to check out these other fun Christmas projects:
DIY Christmas Lantern Post
.
Until next time, happy DIYing! 🙂