In this post, I'm excited to share with you how to make this super fun DIY Grinch Pillow!!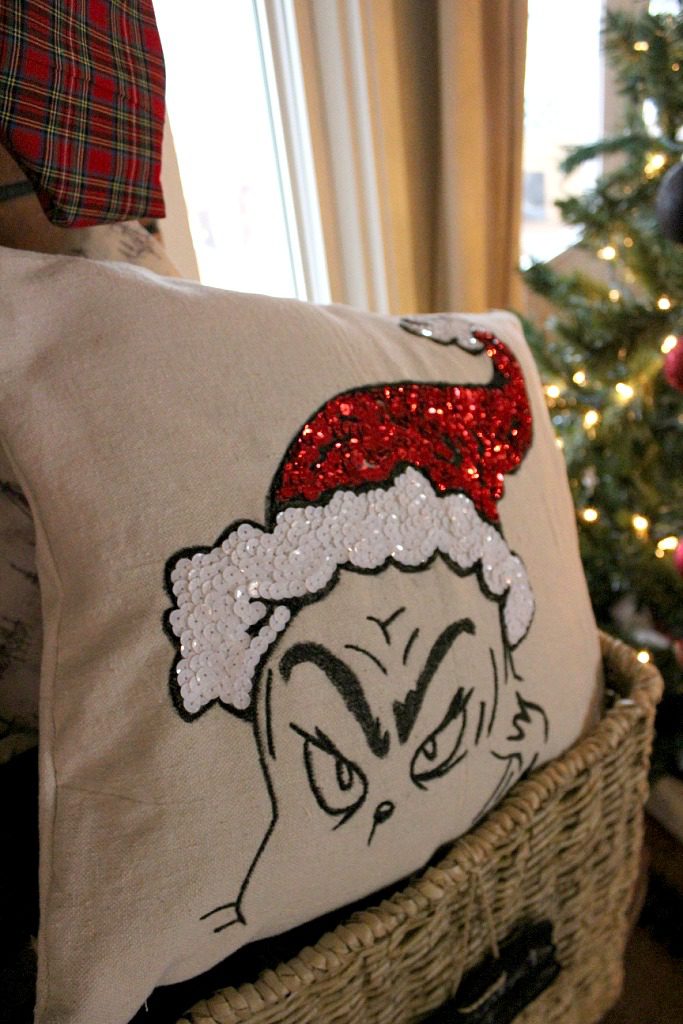 But first, enjoy a super cheesy poem I wrote when I figured out that this Grinch pillow cover from Pottery Barn was too expensive–plus out of stock–when I figured out that's what my sister wanted for her birthday. Or…skip the poem and scroll down for the how to 🙂
.
My favorite, only sister loves the Grinch a whole lot.
I, on the other hand, do not.
But she wanted this pillow with all it's sequins and shine,
I thought she was silly, the price was so high!
.
But, her birthday was coming and I knew what to wrap,
I searched for the pillow, but they were all gone in a snap!
What can I do, they are all sold out?
So I brainstormed and pondered and let out a shout!
.
I can make one myself, I'm a DIYer after all.
So I headed to the craft store right next to the mall.
I bought a few bags of sequins, red and white,
And a Sharpie that on fabric it claimed to write.
.
I traced out a face with a Santa hat dangling,
And my needle and thread repeatedly tangling,
Hand stitching each and every tiny sequin with love,
I sewed her a pillow cover that fit like a glove.
.
What's better than store bought, you ask so sincerely,
A homemade and thought felt gift, clearly.
So I will show you how I made this cute cover,
Just follow the steps and you will discover.
.
Okay, I'm done. I can't rhyme anymore. There towards the end it got a little weird, so I figured I need to stop while I was ahead.
.
So when I saw that BUYING her this pillow cover wasn't an option, I put my thinking cap on and decided to just make one.  It was super easy, just a little time consuming with ALL. THE. SEQUINS. But it's totally worth it.  Trust me.
.
This post contains affiliate links for your convenience. For more information, see disclosure policy.
.
To Make a Grinch Pillow, You Will Need:
Scissors
A couple sheets of plain 8×11 paper
Clear tape
Red and white sequins (you'll only need one bag of each. I used 8mm sequins from the craft store, but here is a link to some on Amazon if you'd rather buy online)
Red and white thread
Needle
Pins and sewing machine (if you don't have a sewing machine you can hand sew instead)
AND LOTS OF PATIENCE 🙂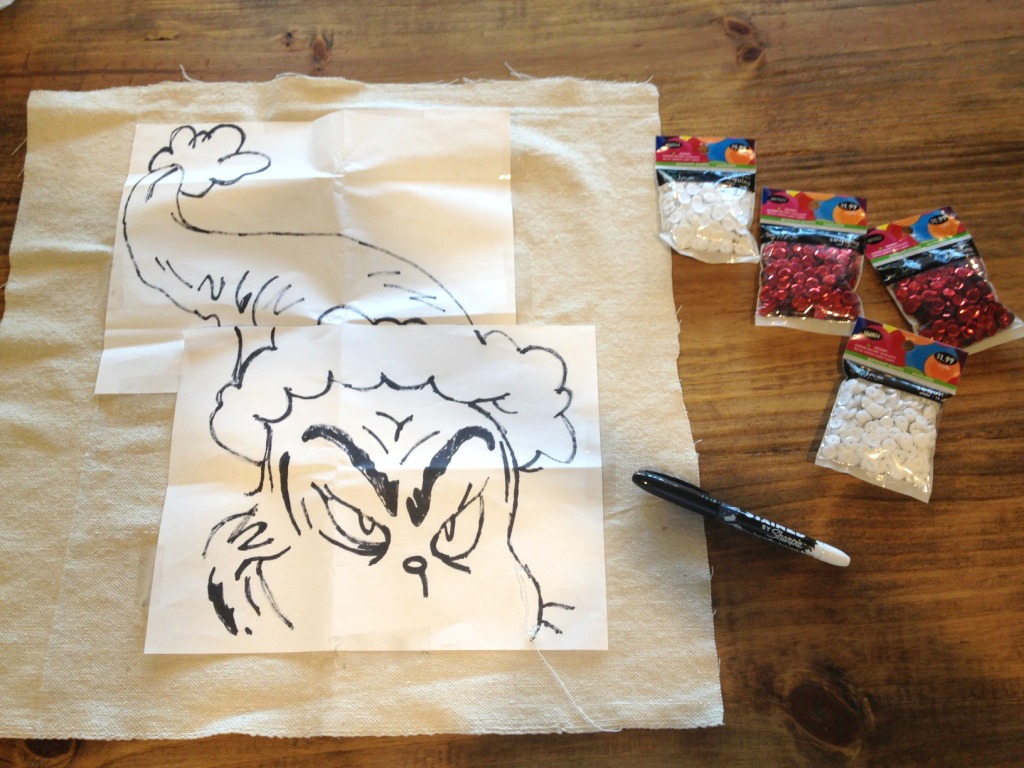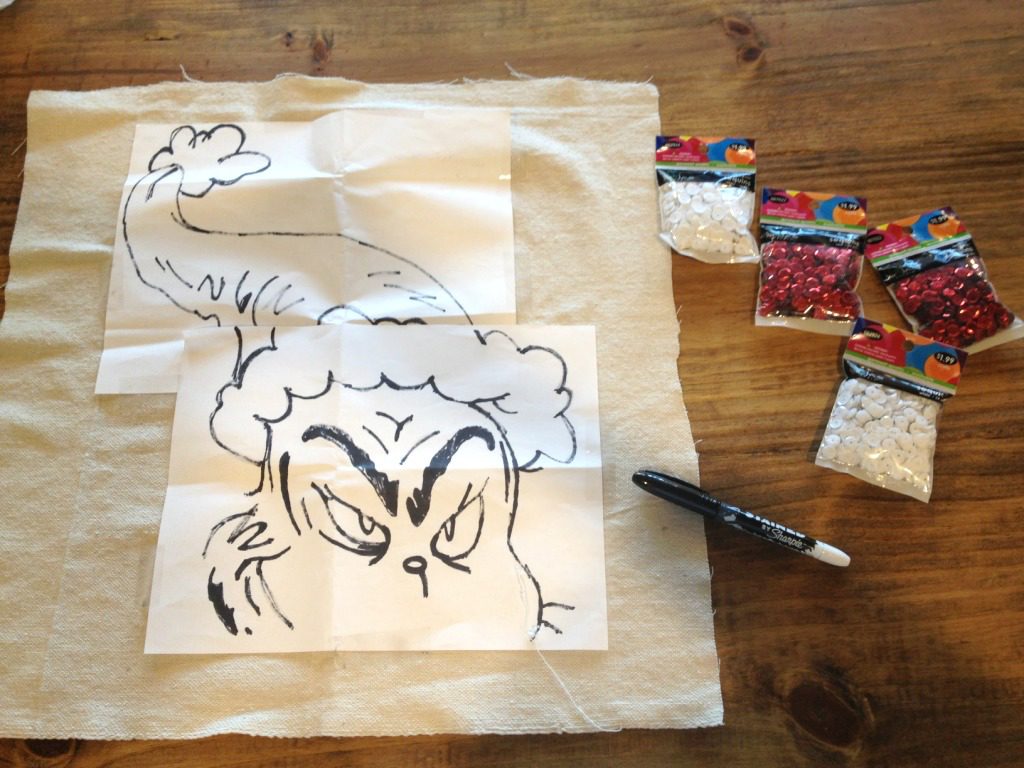 Step 1: Create Grinch Pillow Cover Template
I found the picture of the pillow on the website and copied it into a Microsoft Word document. I set the image to layer in front of text so I could adjust and move it around.
.
I sized the picture of the pillow in Word at 18″x18″.  Then I rotated it sideways and put only the bottom part of the picture on the blank page.  Make sure your view is zoomed to 100%.
.
I placed a blank sheet of paper on the screen and LIGHTLY (don't damage your screen) traced the outline of the face.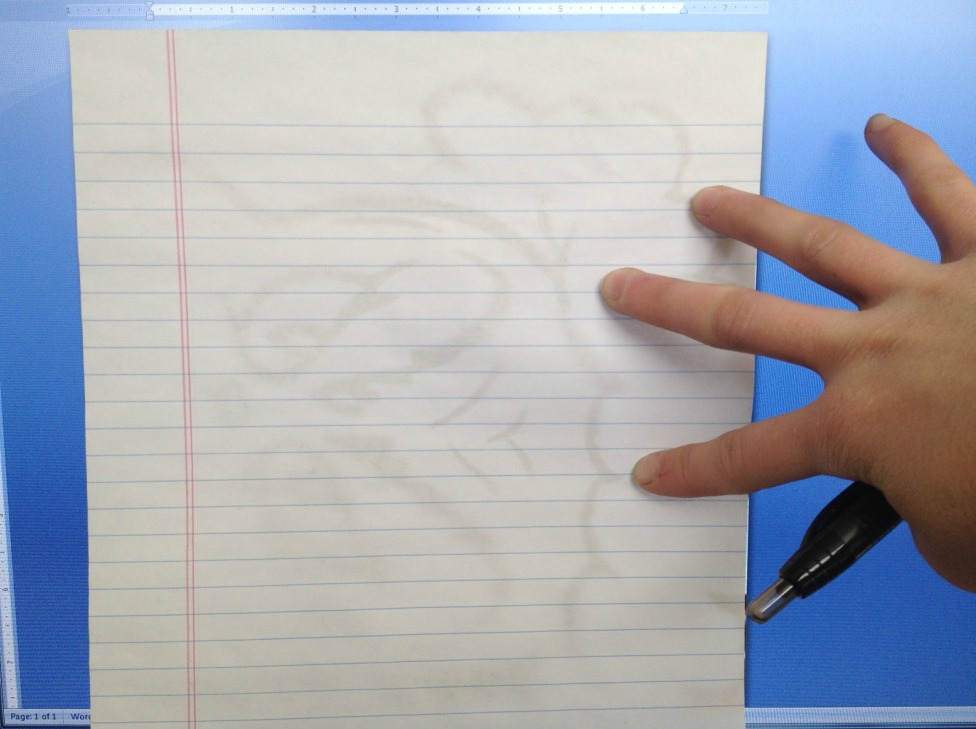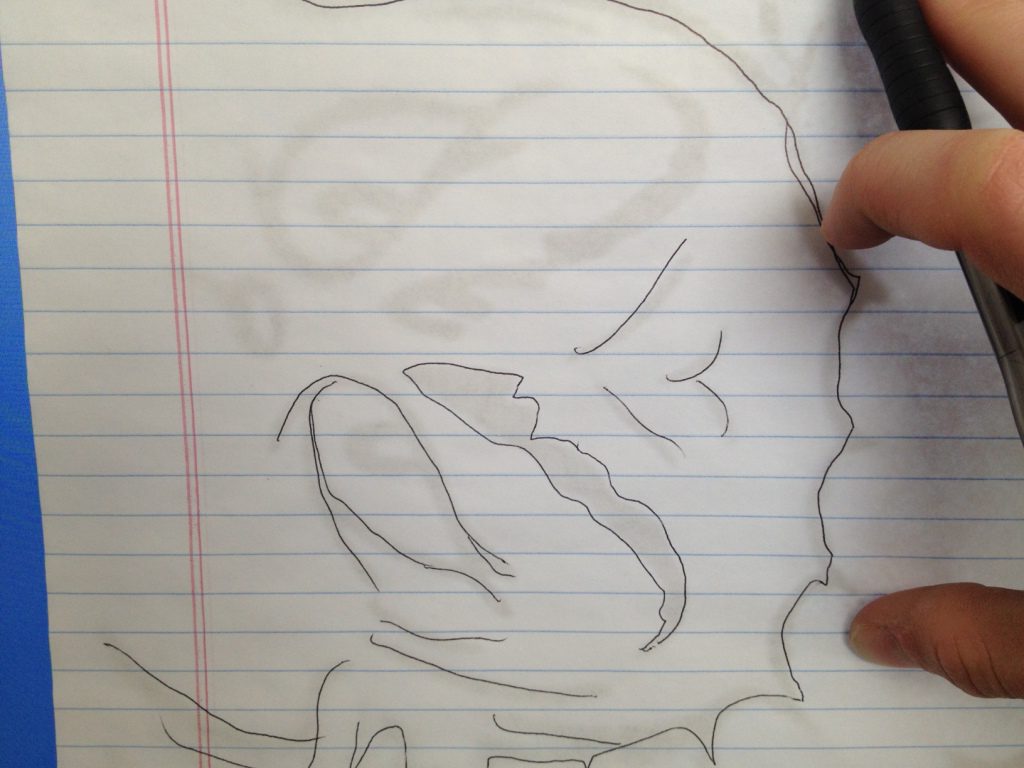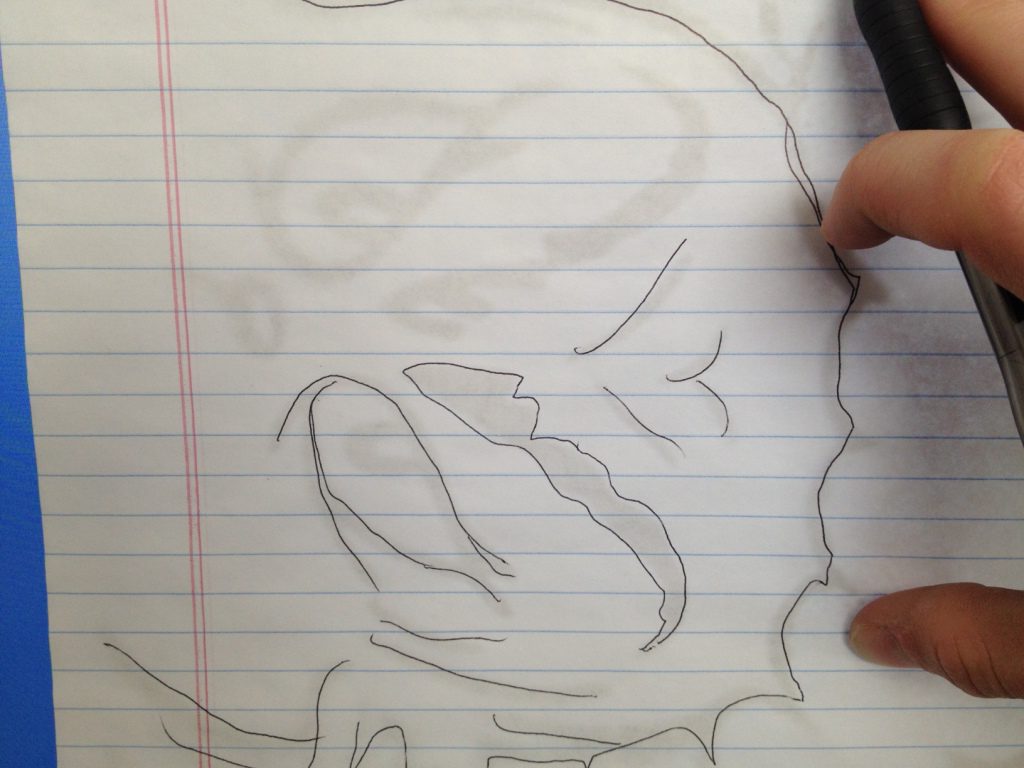 Then I moved the picture so that the top part of the pillow was on the blank page and traced again on a new sheet of paper.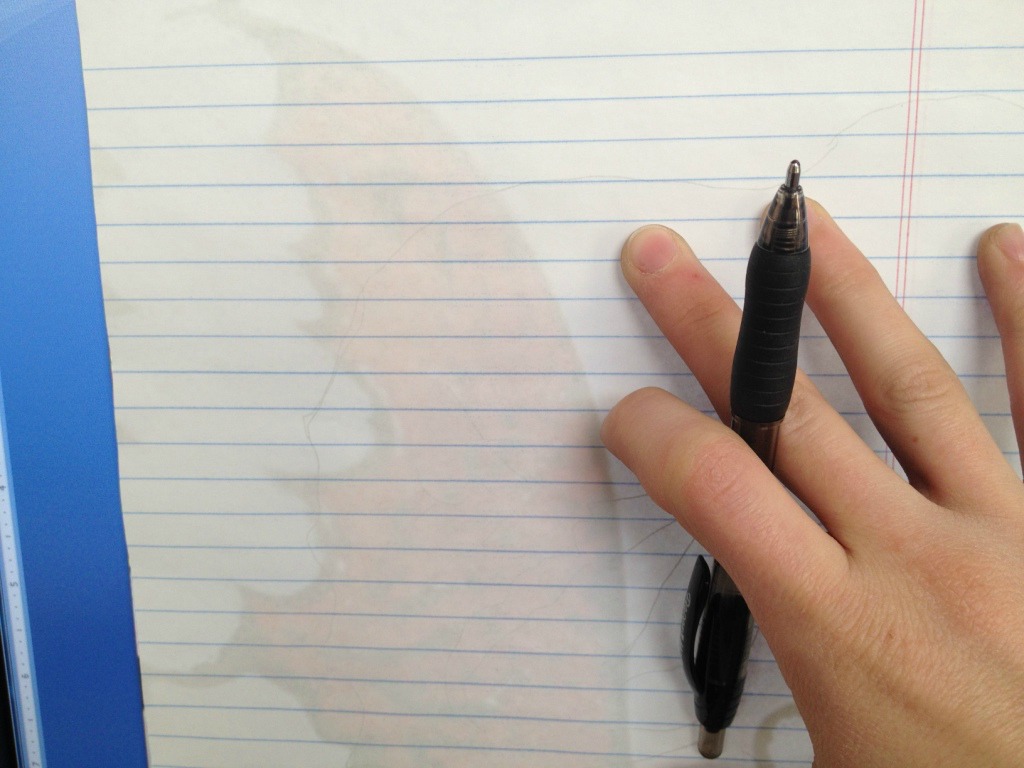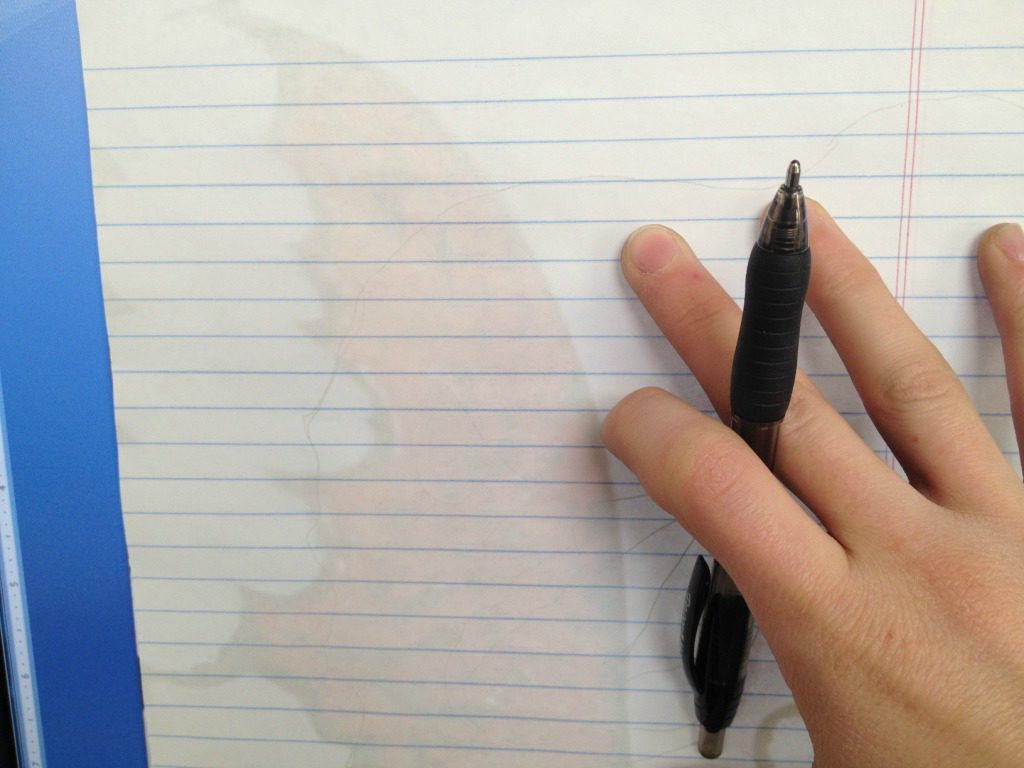 Once I had it traced out, I lined it up and taped the pieces together and used a Sharpie marker to make the lines thick and dark.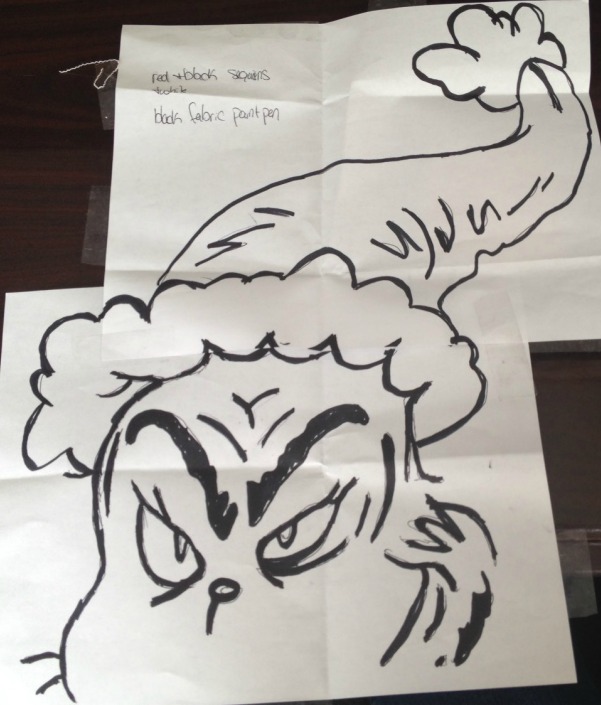 Step 2: Apply Template to DIY Grinch Pillow Cover Cloth
I wanted an 18×18″ pillow cover, so I cut a piece of drop cloth material (I keep this on hand because it's awesome for all kinds of projects) at about 18 ½×18 ½″ (leaving room to sew) and taped the drawing onto the back (notice I taped it so the image is mirrored).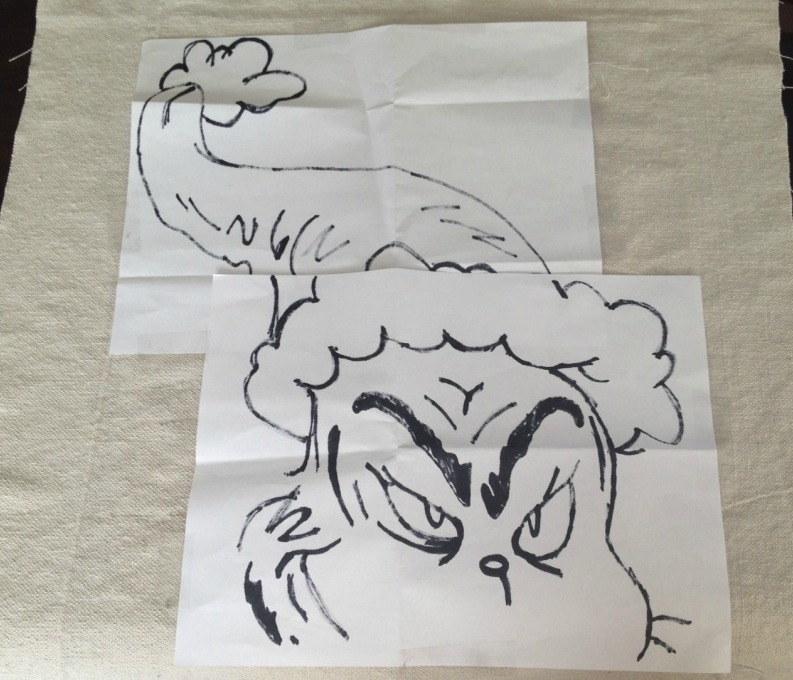 Then I taped it onto my back door when the sun was shining bright outside and traced the image onto the drop cloth with a pen.  Ignore the cat…you're lucky only one of them got in the picture haha.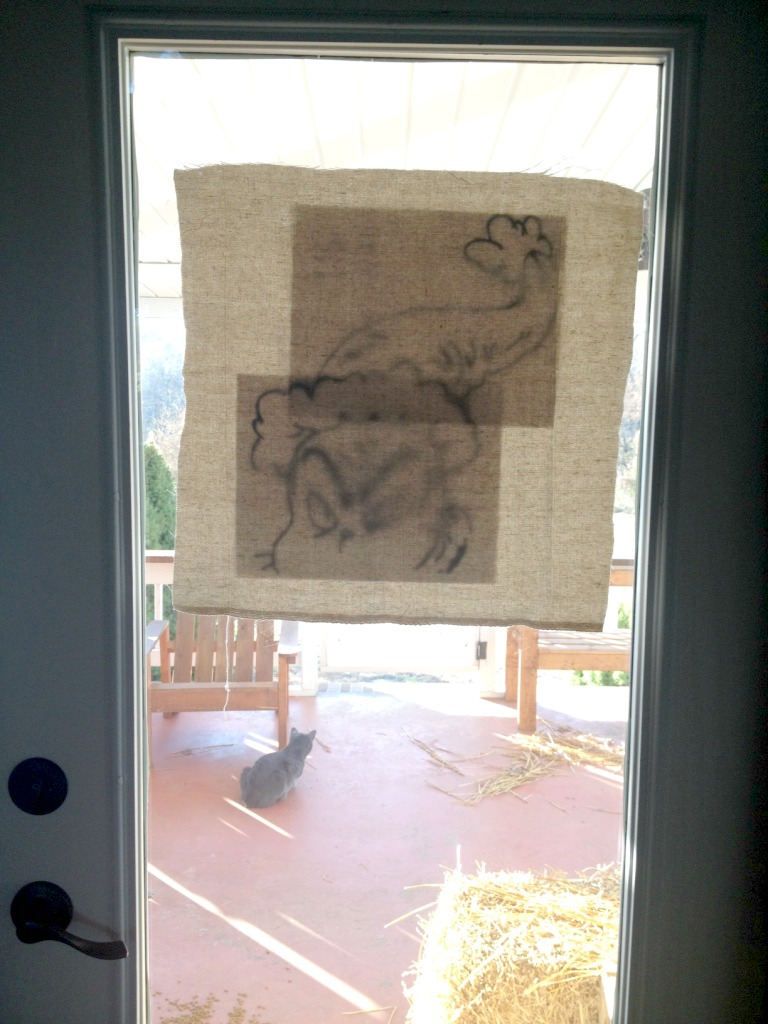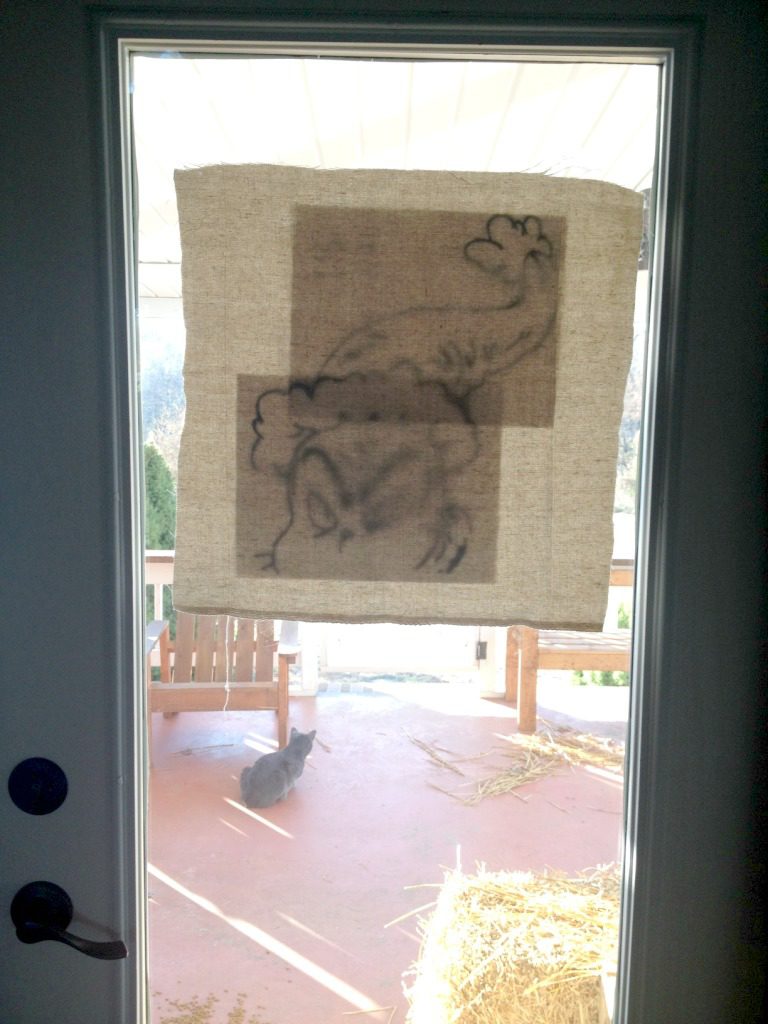 I took it off the window and over to the kitchen table and used my Stained Sharpie pen to color in the lines.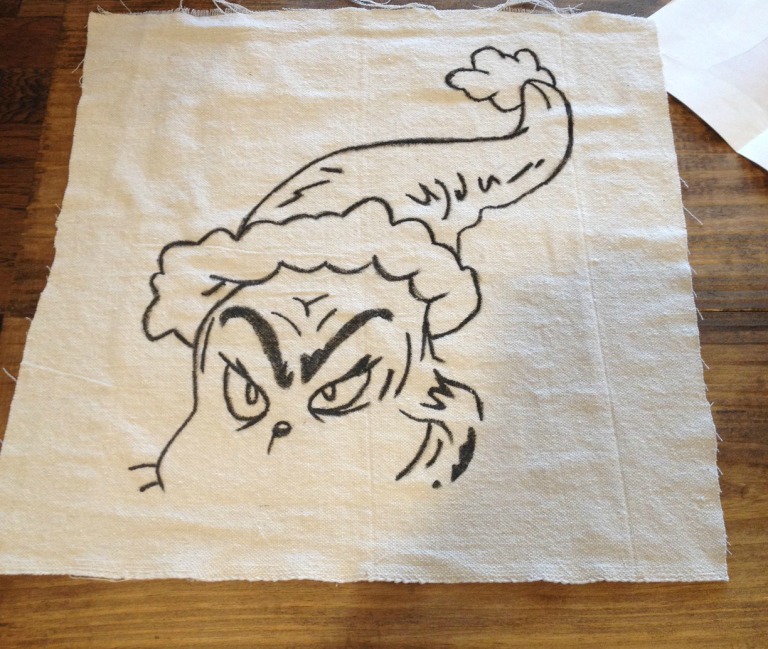 Step 3: Sew on Sequins
Then I began hand stitching the sequins on inside the lines of the hat.  I used red thread for the red sequins and white thread for the white sequins.  I filled all the areas where there weren't black lines.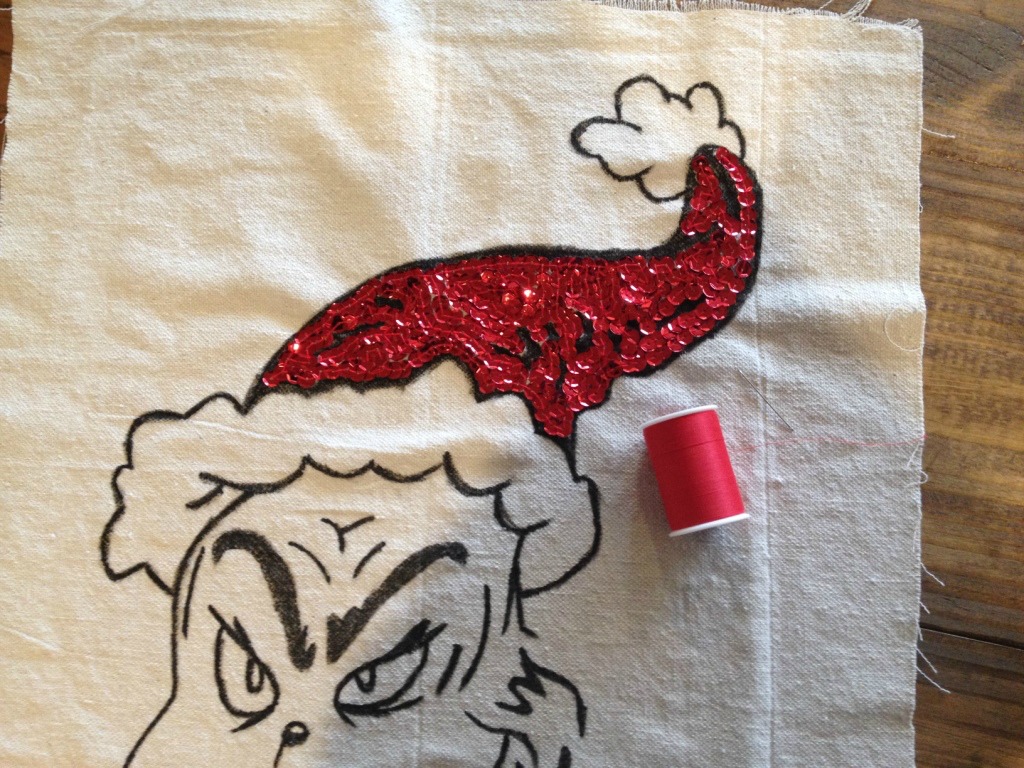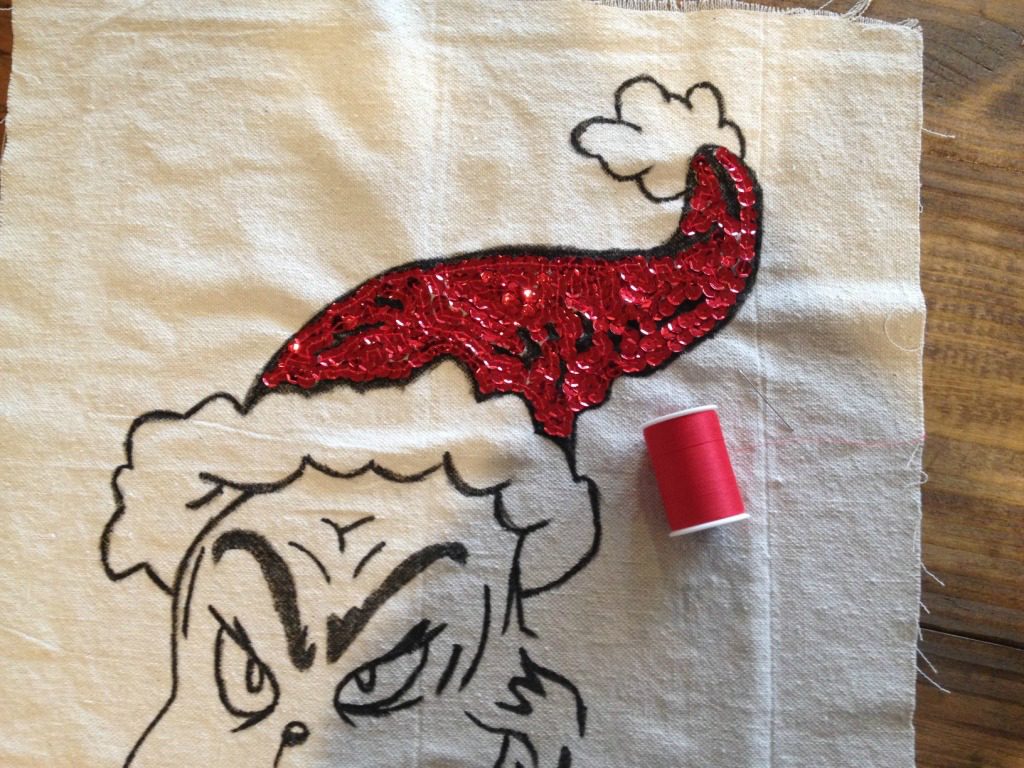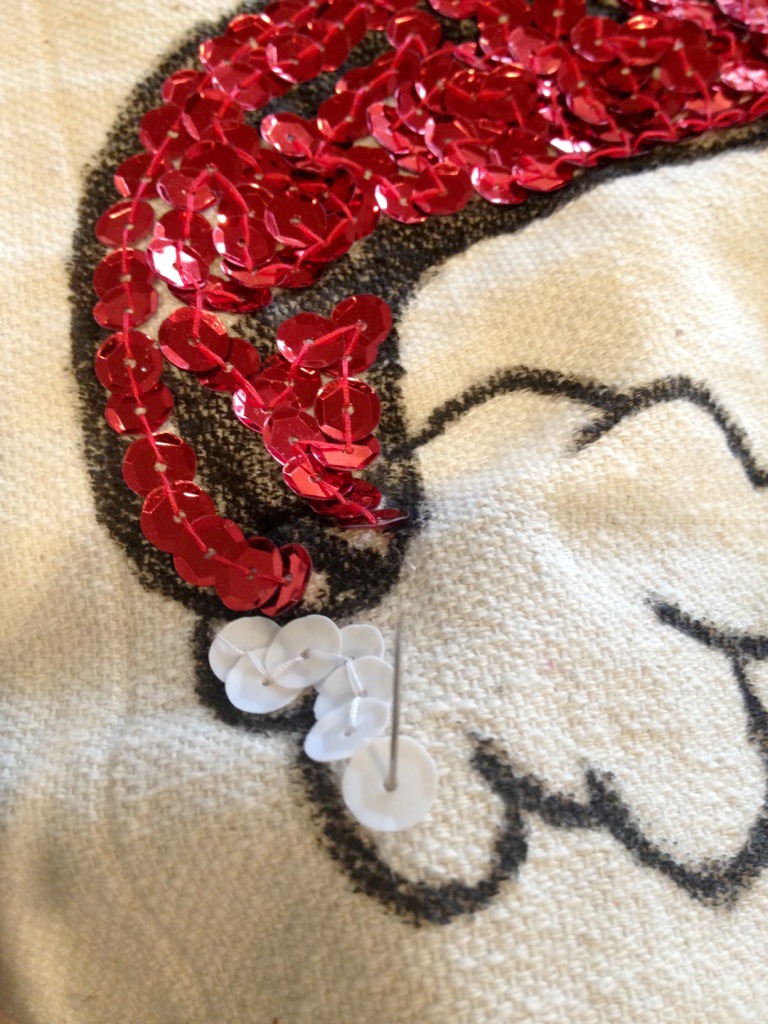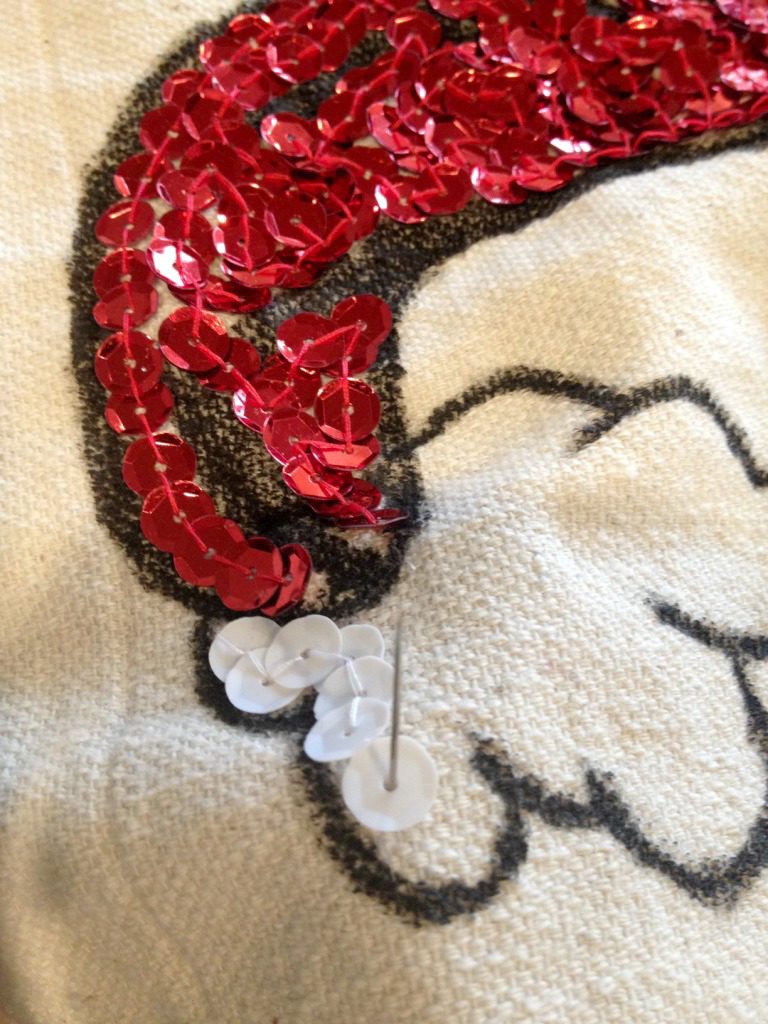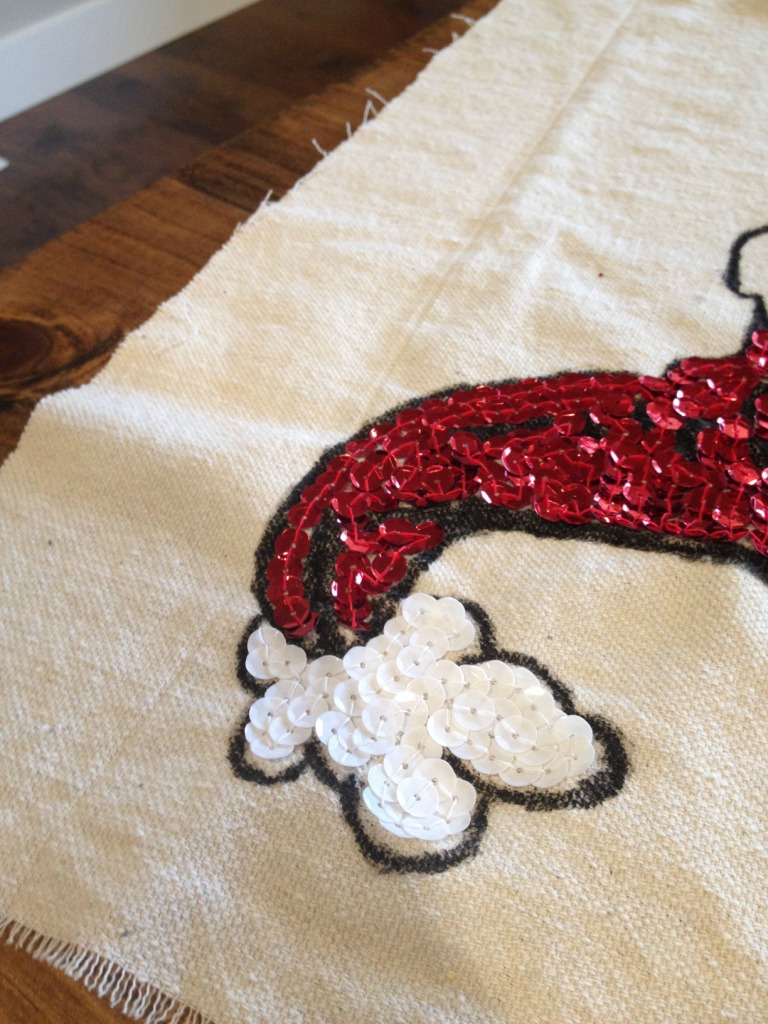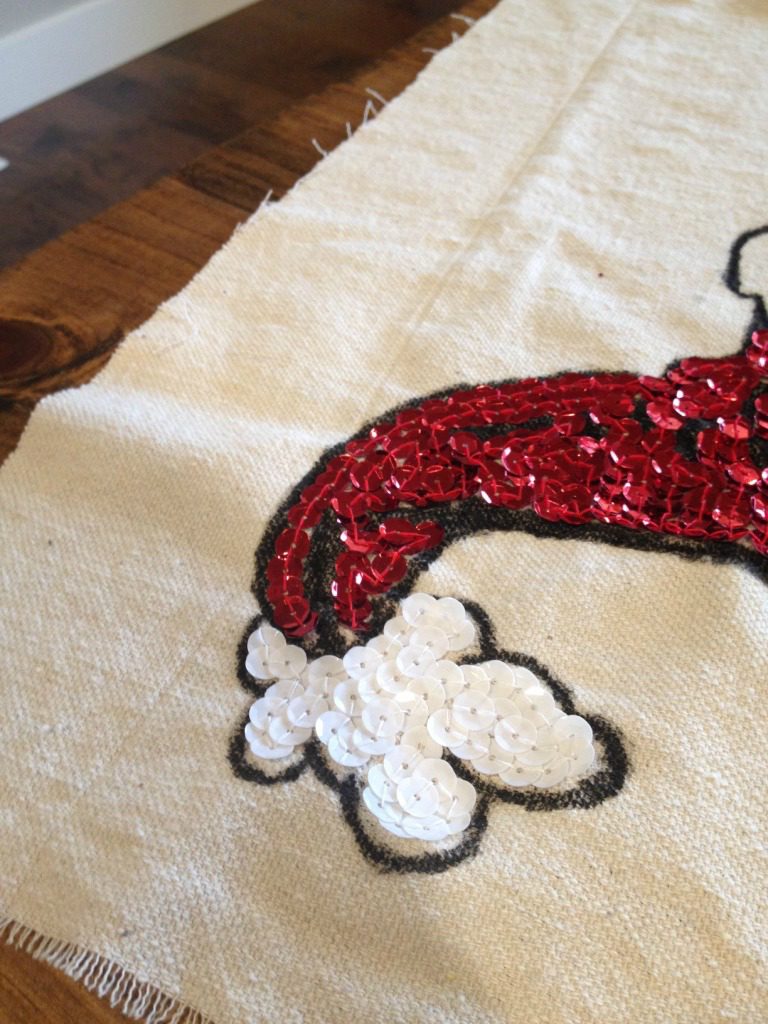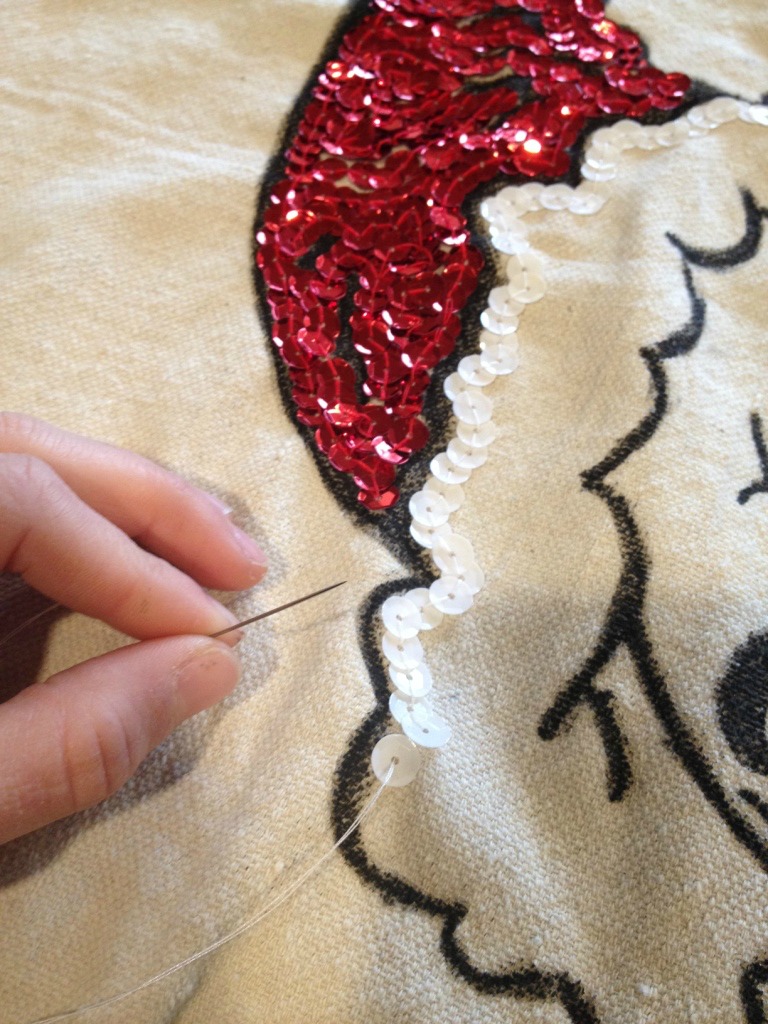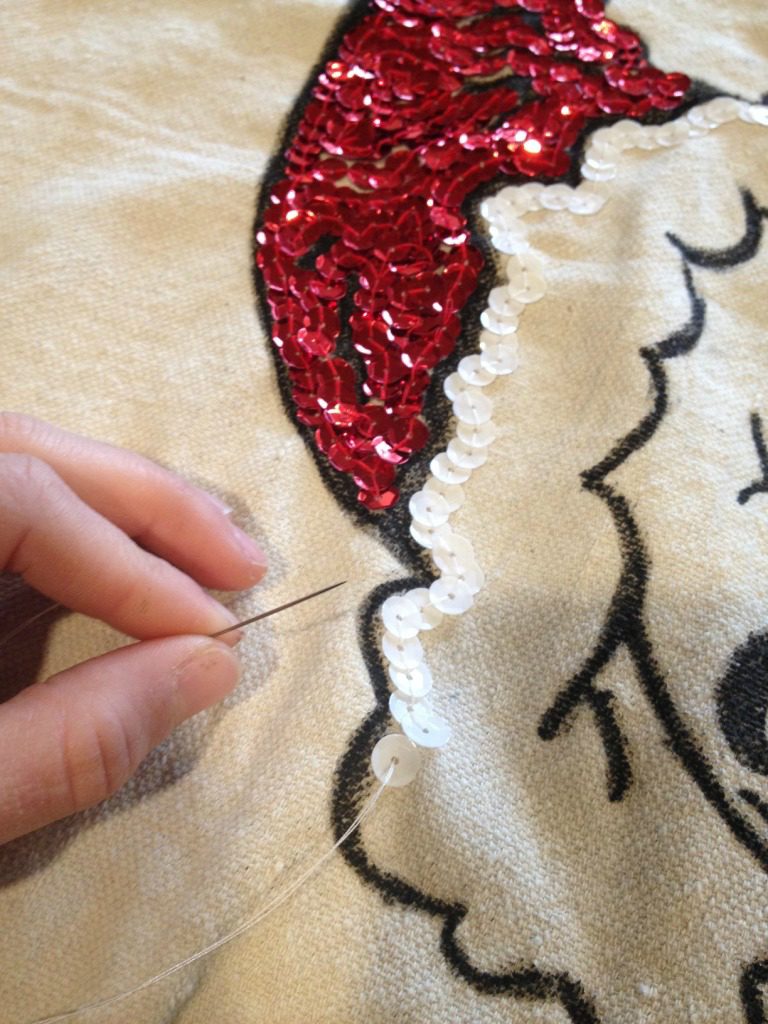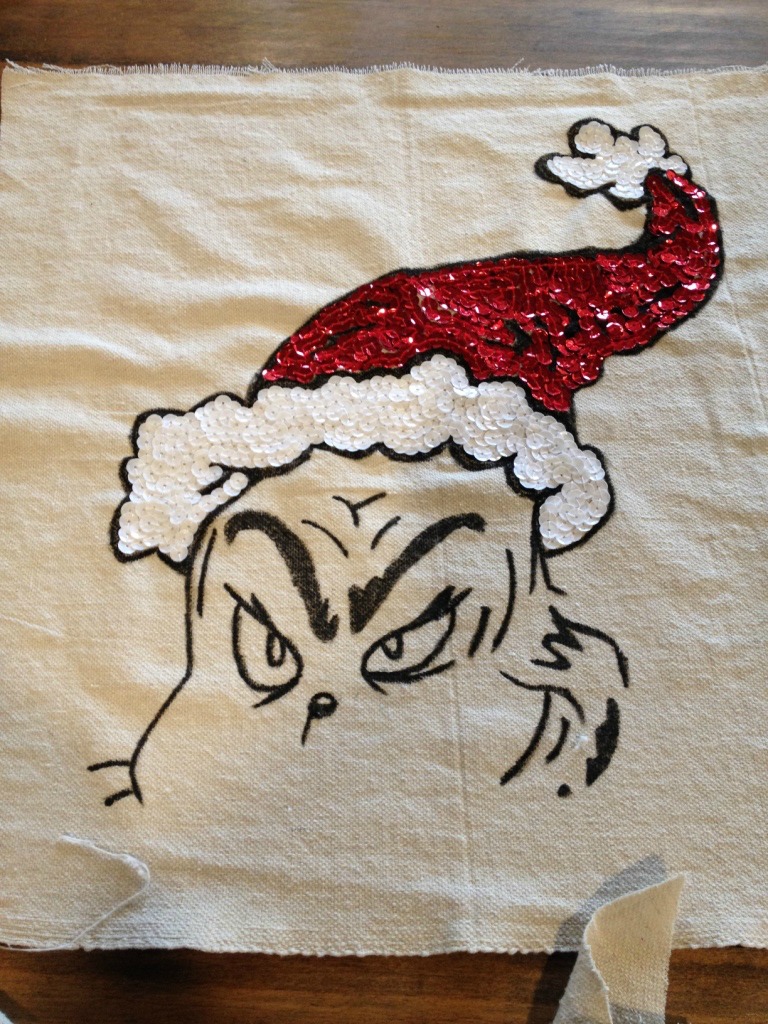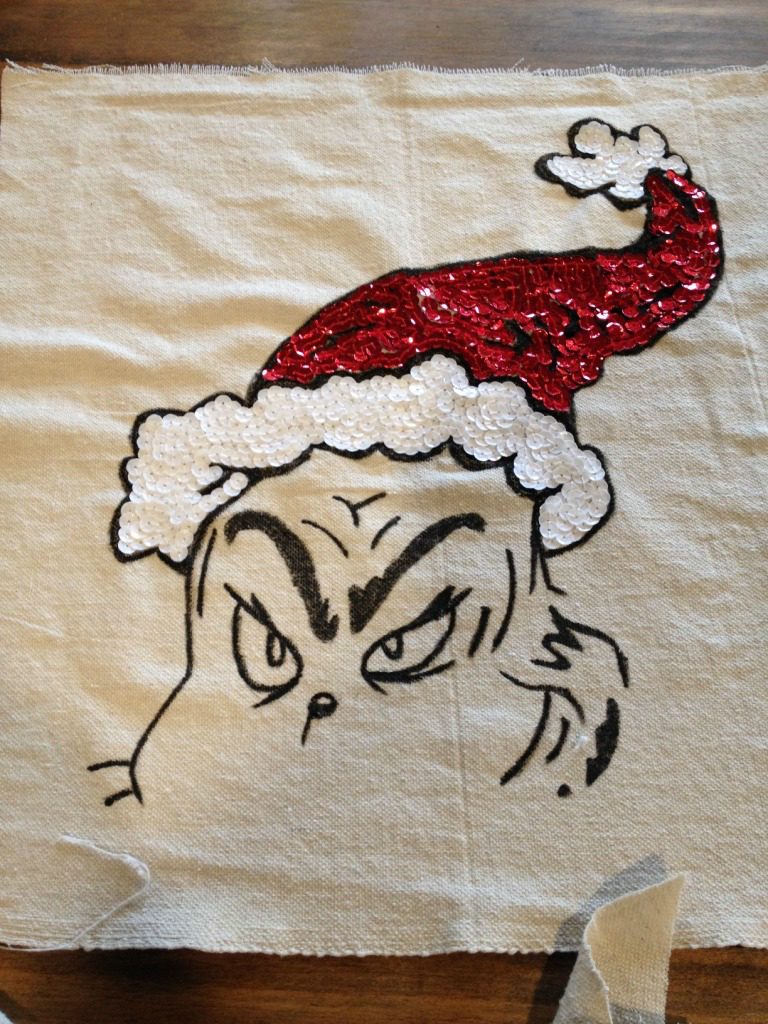 I felt like the Grinch when he is sewing his Santa outfit in the cartoon while I was stitching these on.  Appropriate haha.
Step 4: Sew Up Pillow Cover
Once I had all the sequins on, here comes the sewing part.  I'm just winging it, so you may want to read tutorials on this that are better than mine.
.
I cut two pieces for the back side of the pillow both the same height as the front piece (18 ½″) but, cut their width so that one piece overlaps the other a few inches.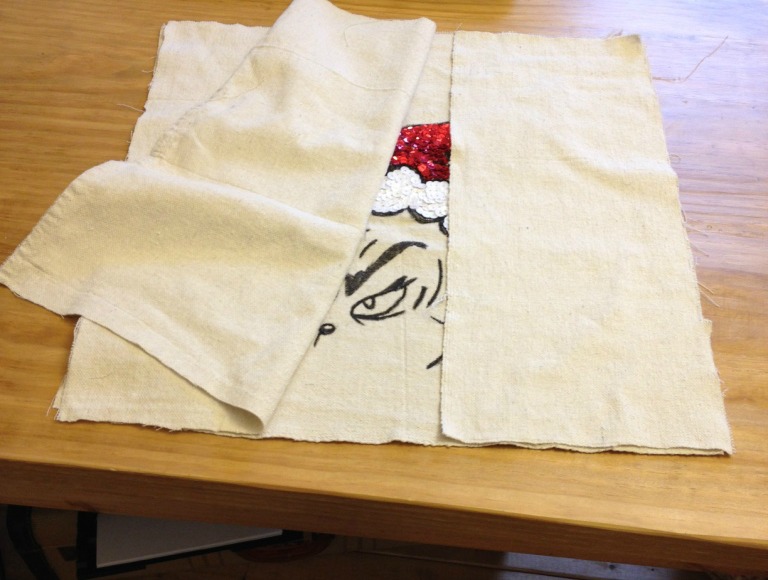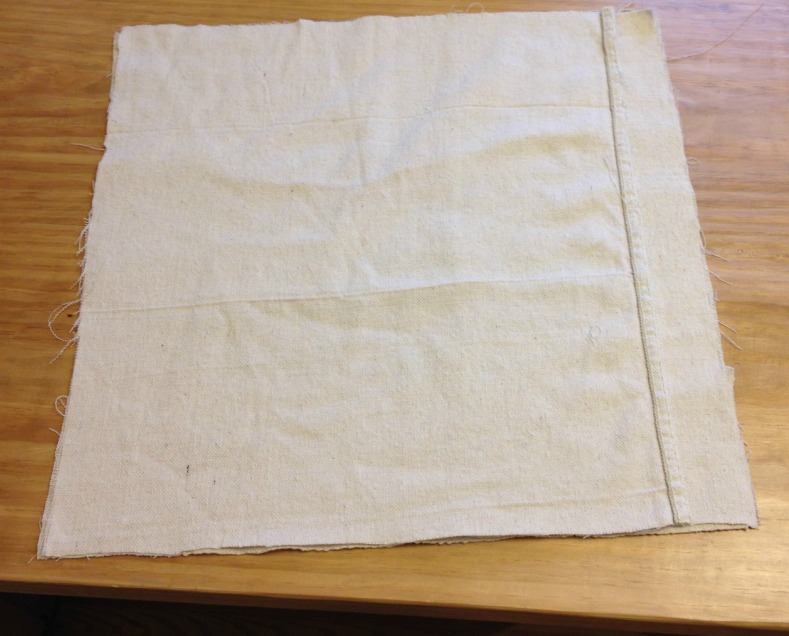 I turned the pieces so the pillow would be "inside out," pinned around the edges and sewed around all sides with my sewing machine.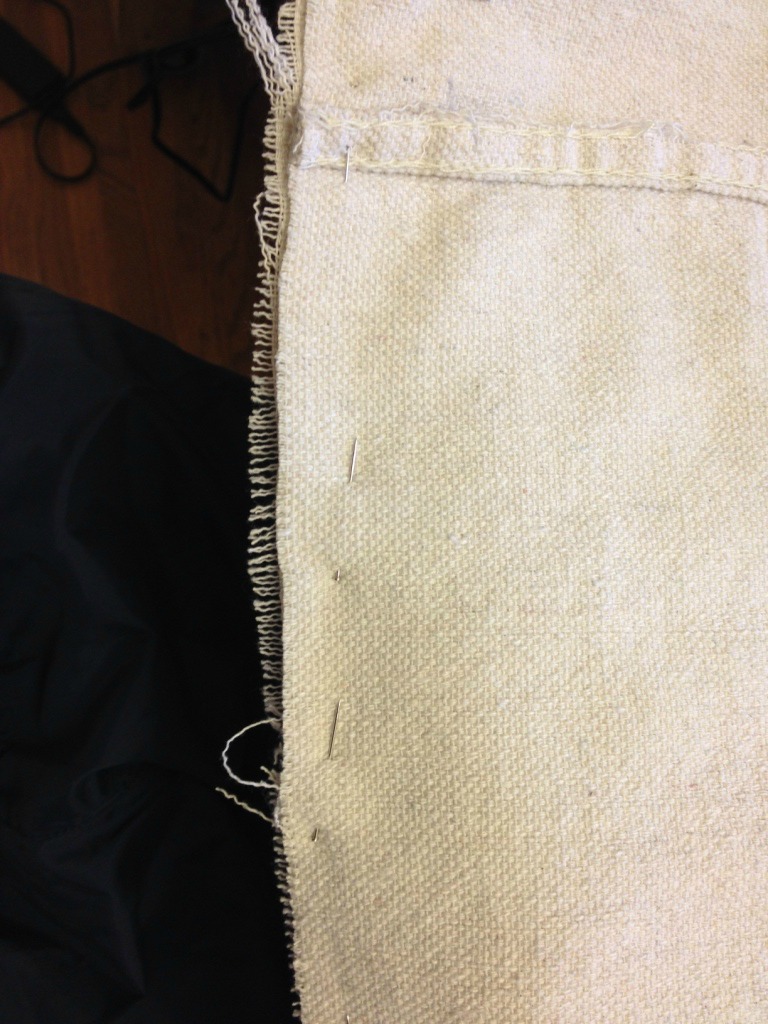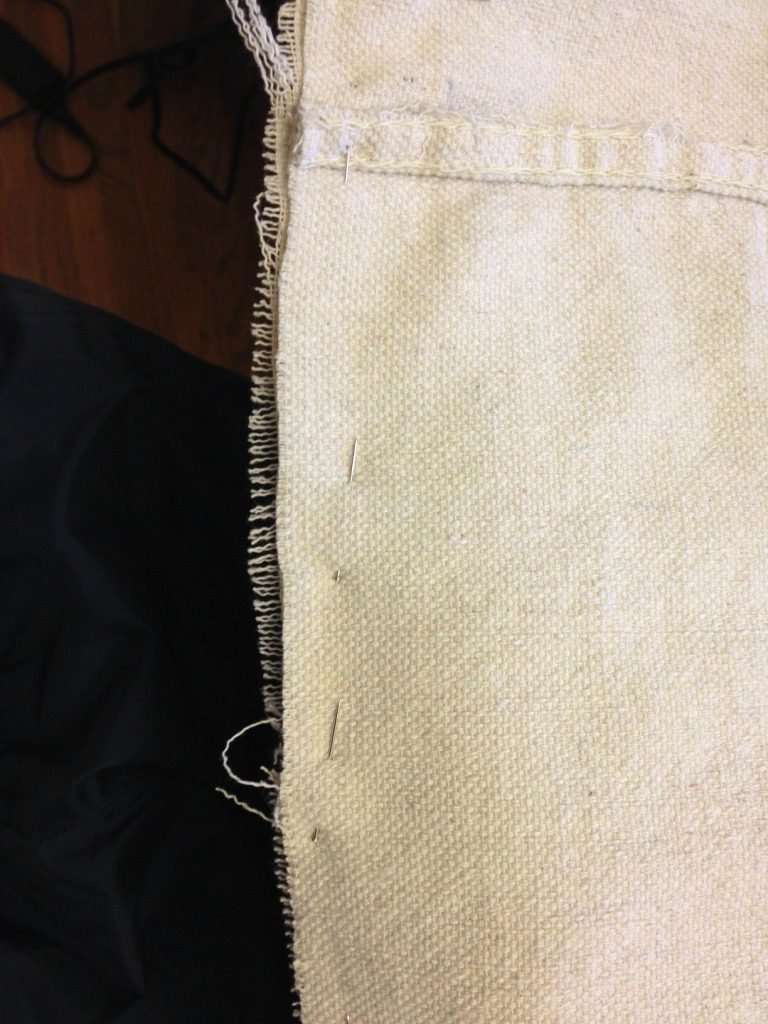 Then turned it right side out.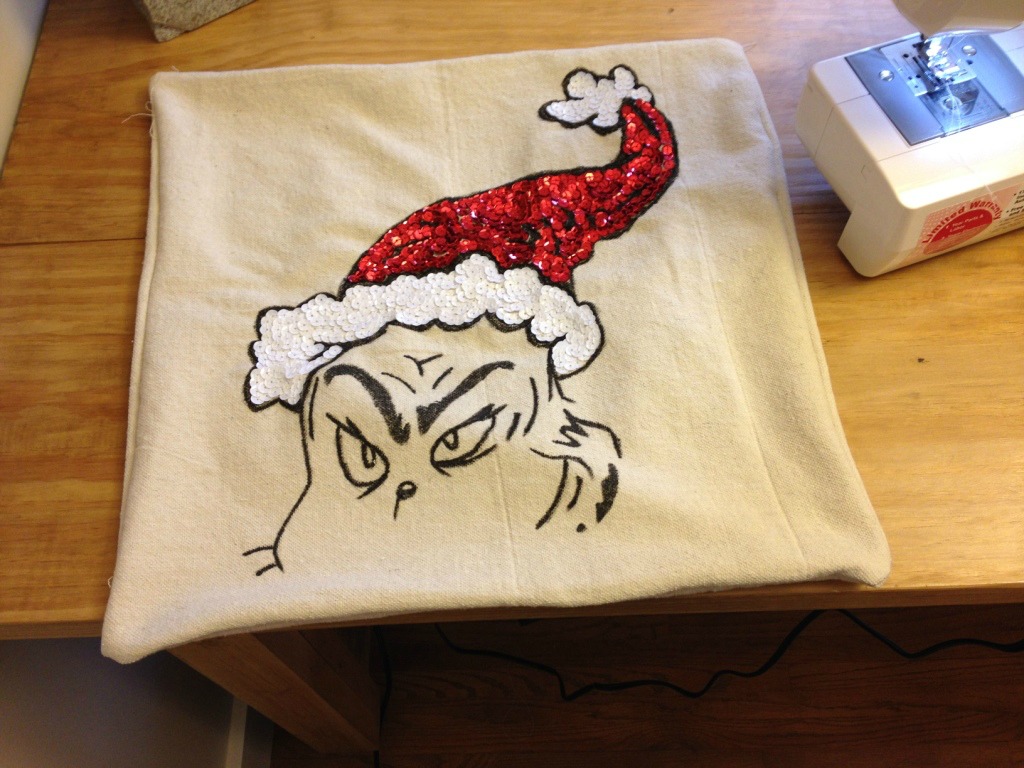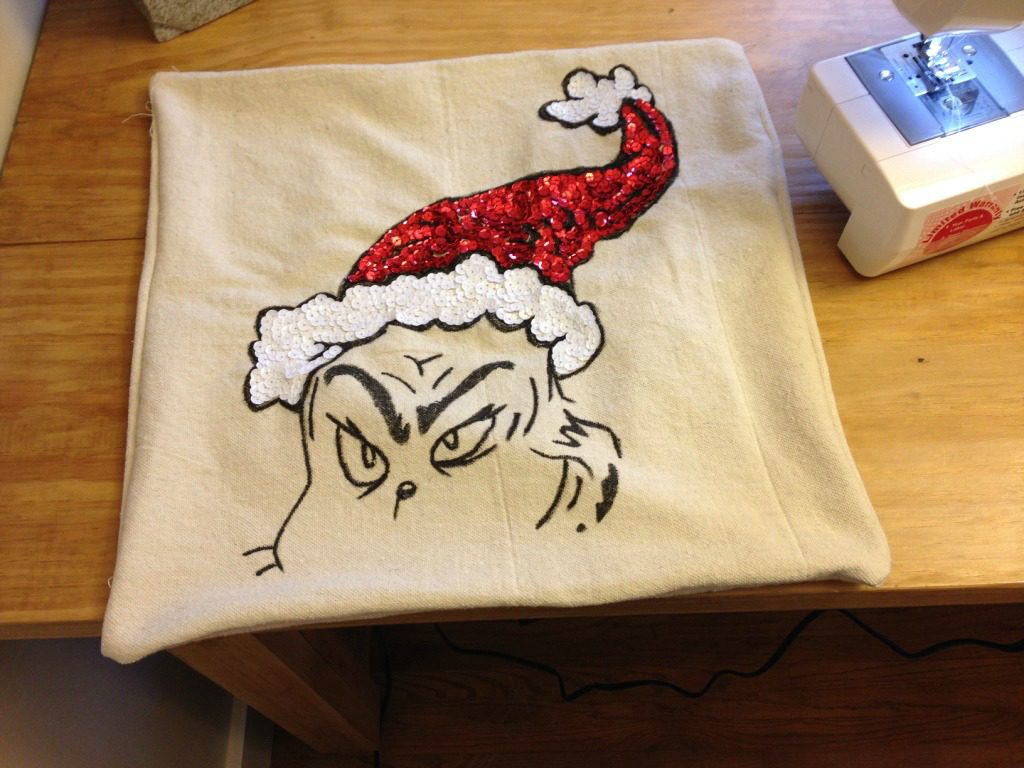 I stuffed an 18×18 pillow I had laying around into the back and that's it!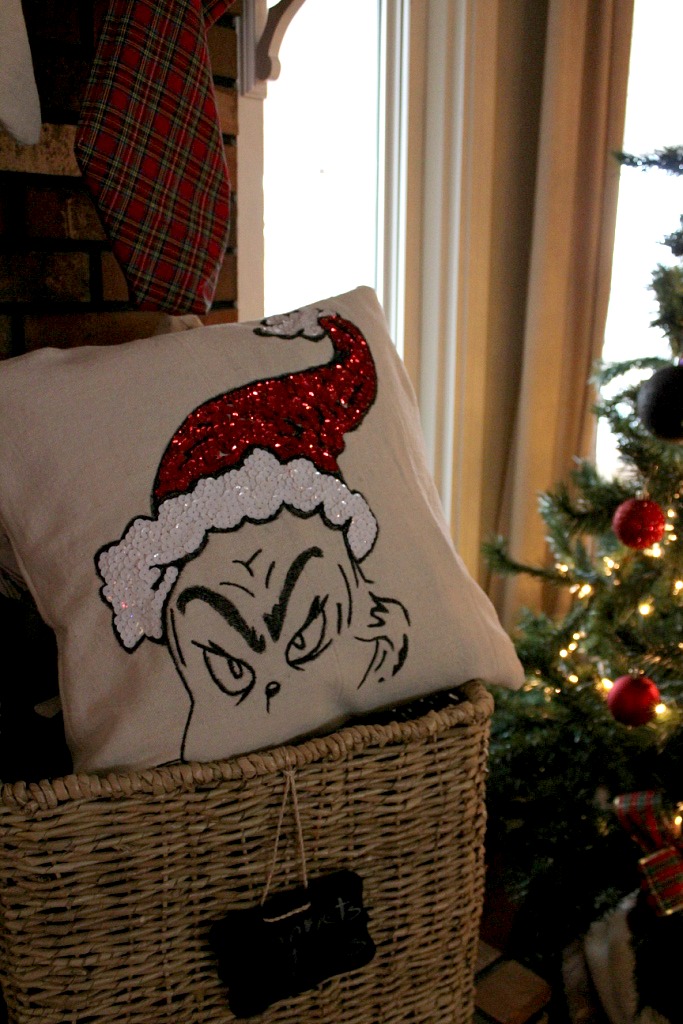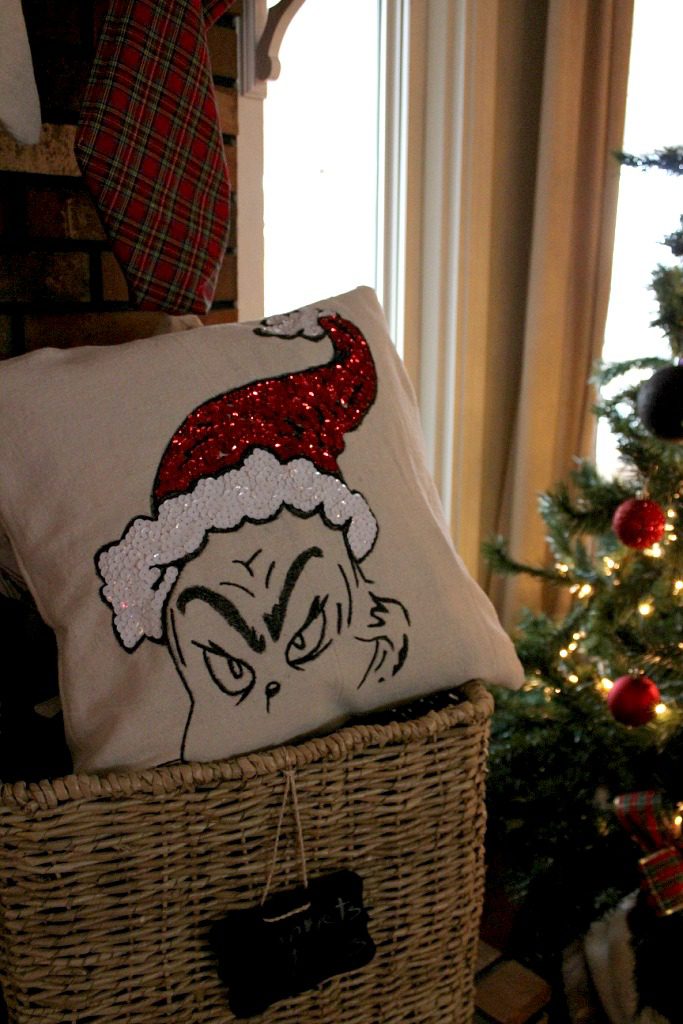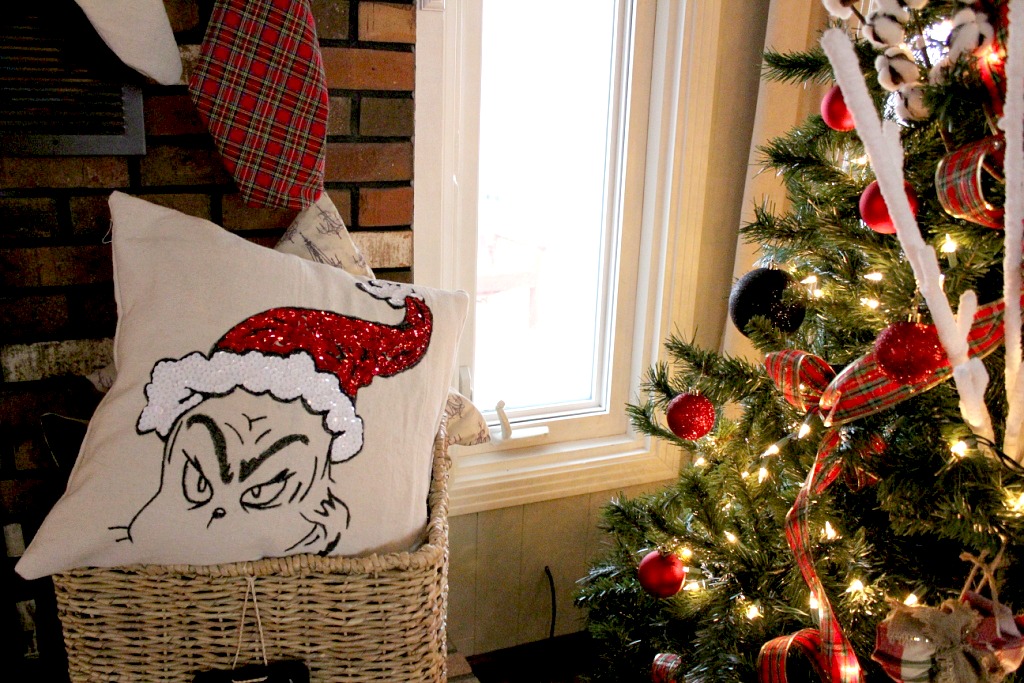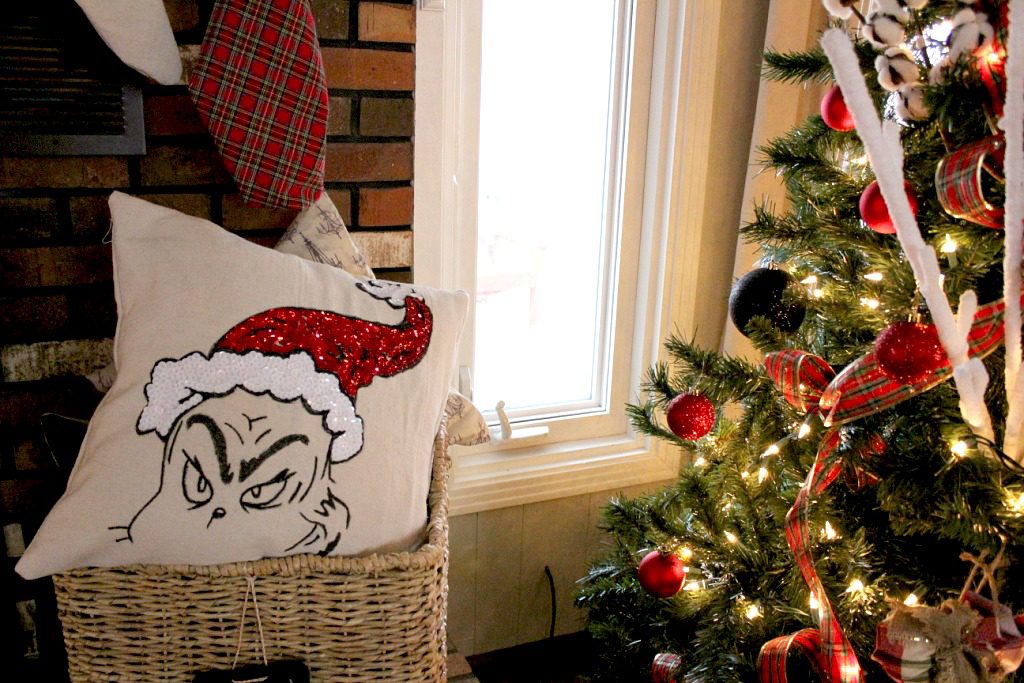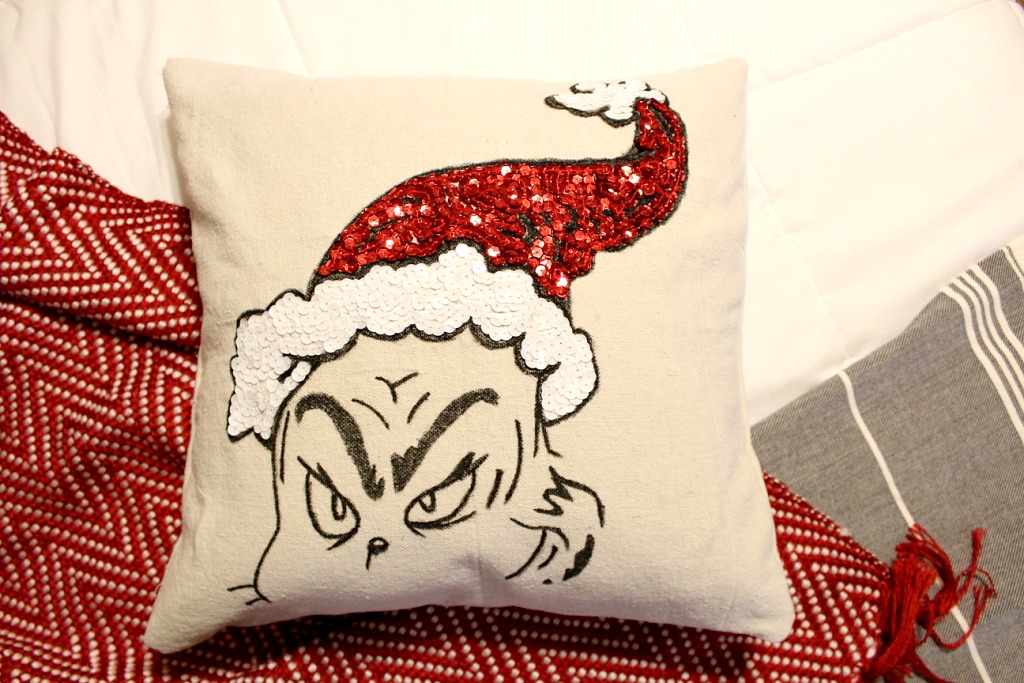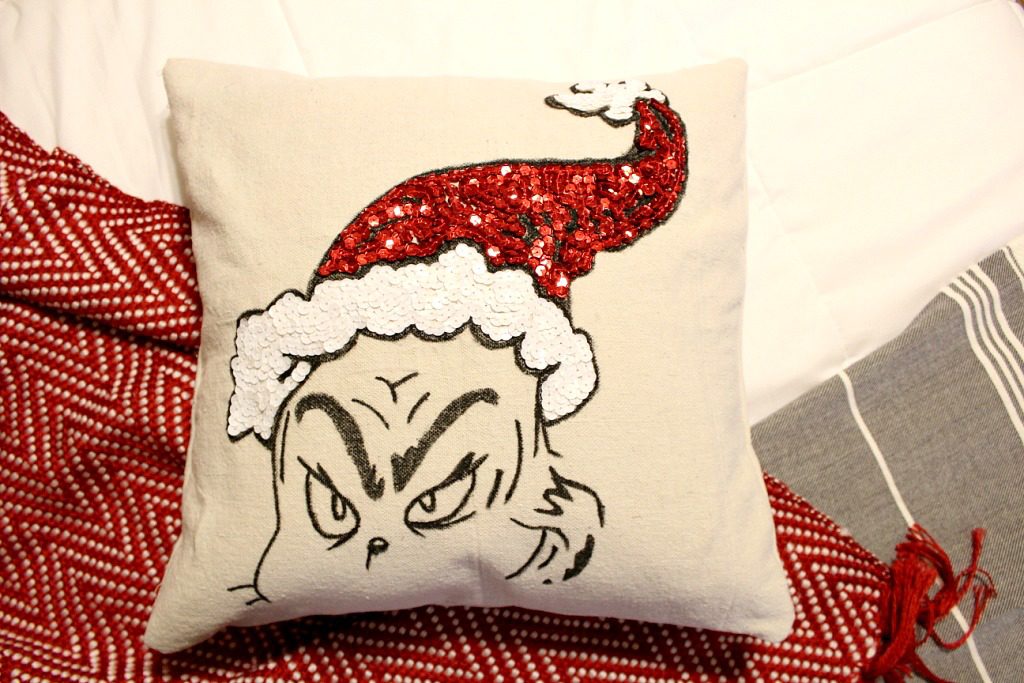 My sister loves it, and I'm so glad! This tutorial would work well for basically any template design you wanted and would be really cool for making seasonal pillows throughout the year!
.
I hope you've enjoyed this DIY Grinch Pillow and if you want to save this for later, be sure to pin it!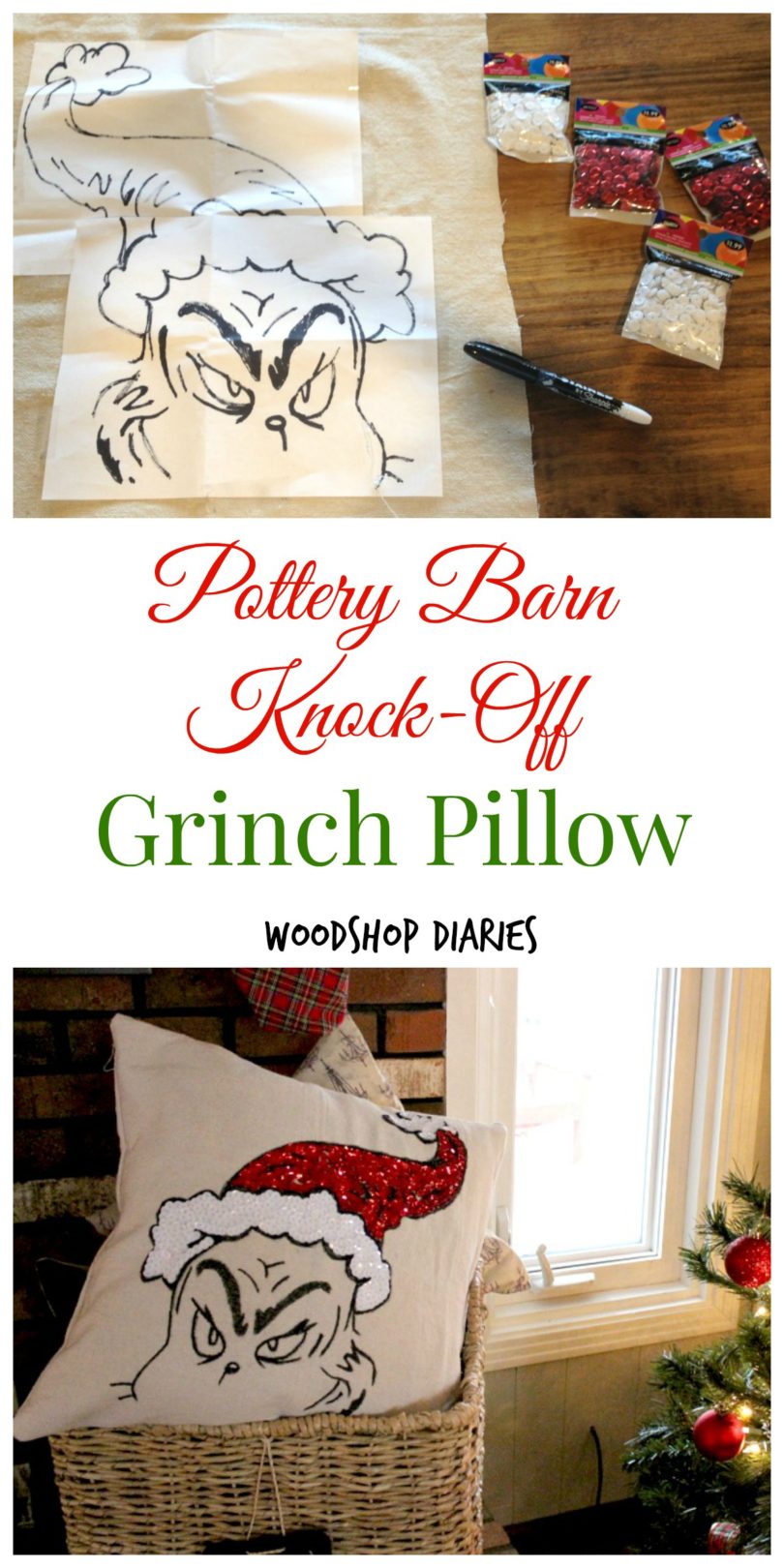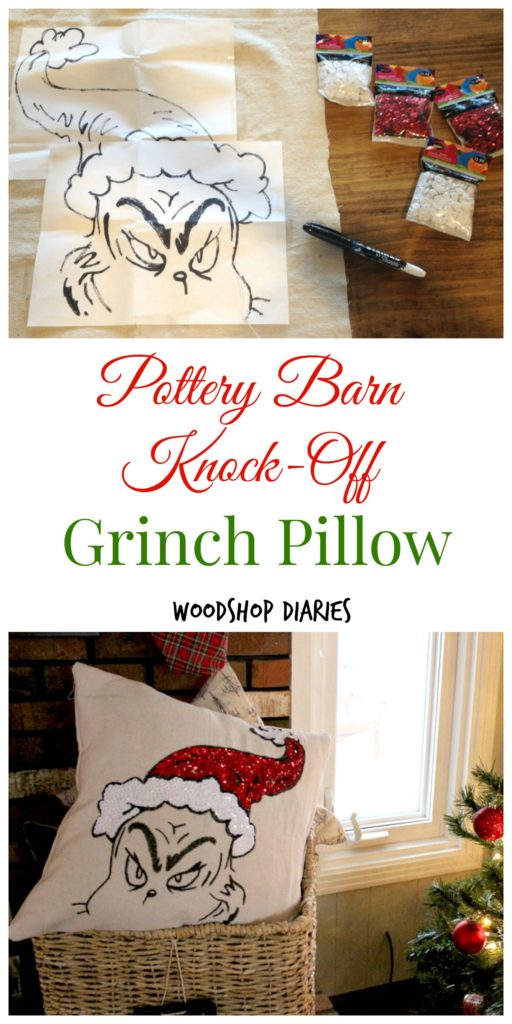 Until next time, happy DIYing! And Merry Christmas 🙂