I'm back with a building project–FINALLY after all this Christmas stuff. I'm sure some of you are glad that's over with right?  Joke's on you, though, because I have one more Christmas post for the year to show you later.  But it will be fun, so stick around.  If you've been hating the Christmas thing (I figure there are always a few), bear with me.  I'm back in the shop this week, so I have some fun things coming 🙂
.
So remember when I told you all (I mean ALL) about our bathroom remodel?  And remember a LOOOOOONG time ago, I told you about our closet remodel?  Well remember last year when I made sliding doors how I told you about my hatred of interior doors…especially boring ones?  Well if you put all those pieces together, it would make sense when I tell you that I removed the closet and bathroom door during remodels and they never got replaced.
.
Since we don't have kids, or inside pets, I really don't see a problem with not having doors on the master bathroom or closet, but Danny SOMEONE thinks doors are a necessity.  Here is what we had going on before.  The opening in the back is the bathroom and the one towards the front is the closet.  It's really awful right now after the bathroom remodel chaos, so it's on the to do list for next year.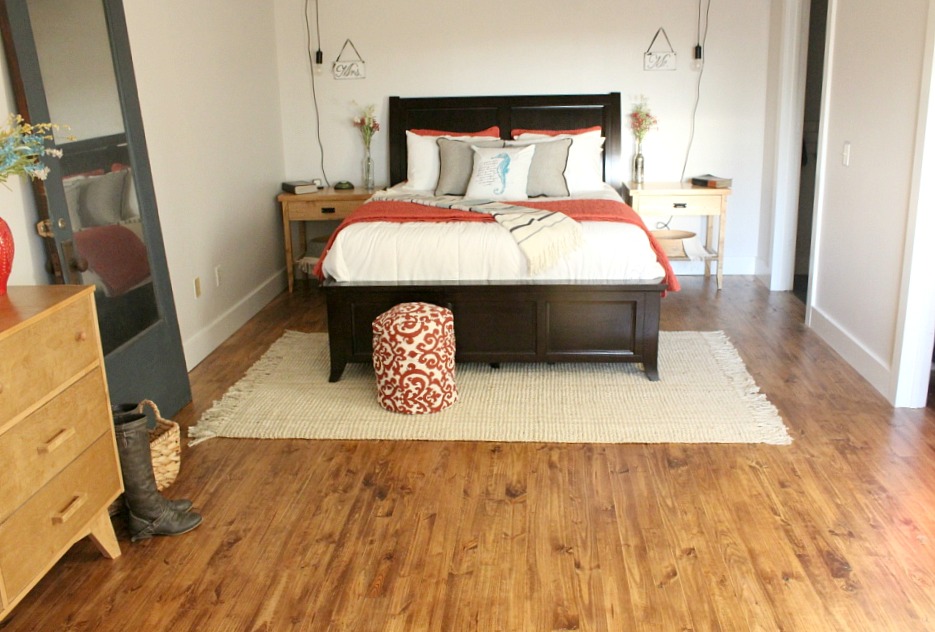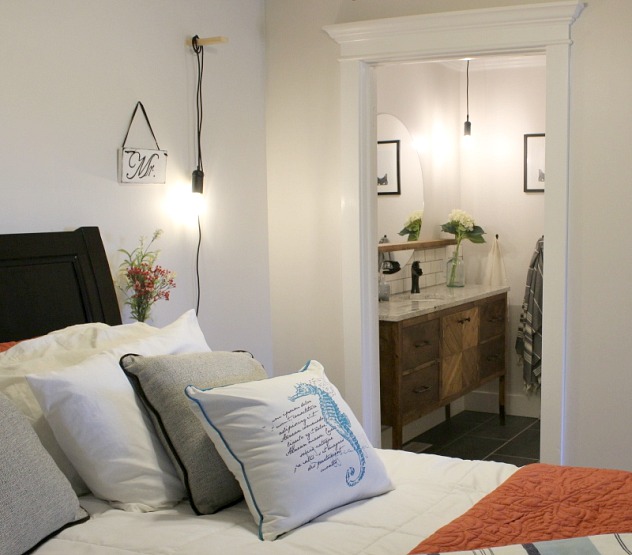 Danny has a thing about sliding doors.  And by "thing" I mean "hatred."  So sliding doors were out of the question for in here.  But all these stupid doors take up so much space (for real I hate doors) when they open, so I didn't want normal sized doors.
.
My solution was French doors that both opened INTO the bedroom instead of the closet and bathroom since they are both so small to begin with.  I wanted "fancy looking" French doors, so I did raised panels on the bottom and arched frosted glass on the top.
.
Here's a general overview of how I made them:
.
First, obviously, I determined the size my doors needed to be and I made a frame using 1x4s for the sides, 1x8s for the tops and bottoms and a 1×6 for the middle.  I cut the pieces to size using my miter saw (affiliate link).  I cut my tops with an arch using my jig saw (affiliate link) and an old metal bucket as a template.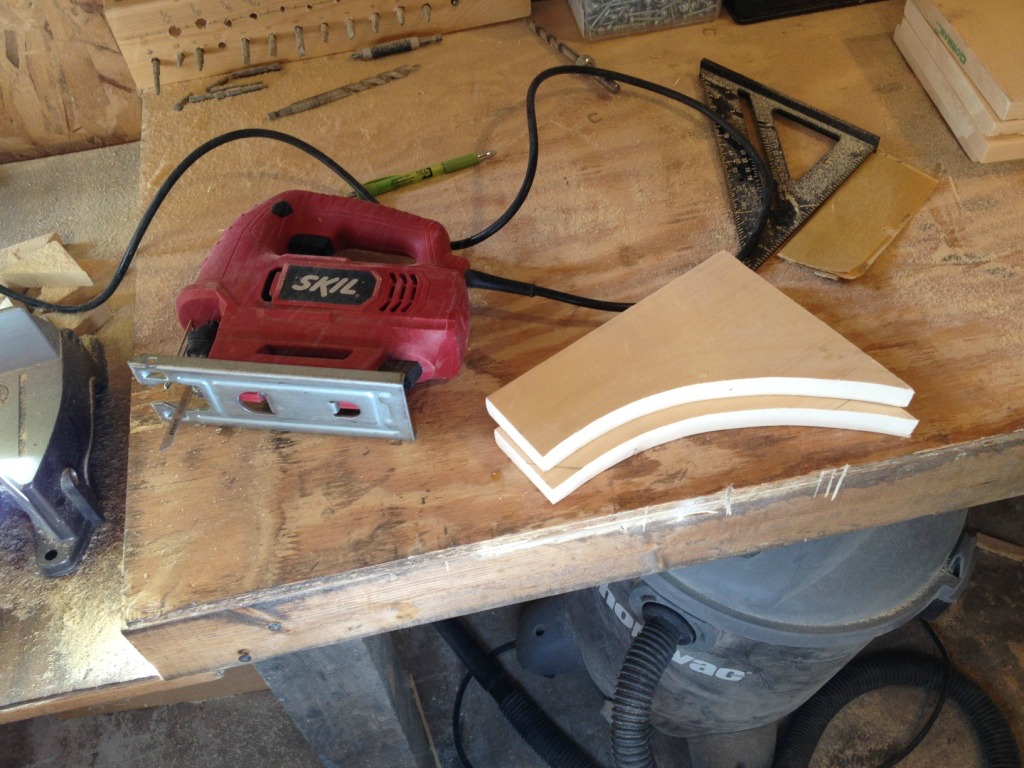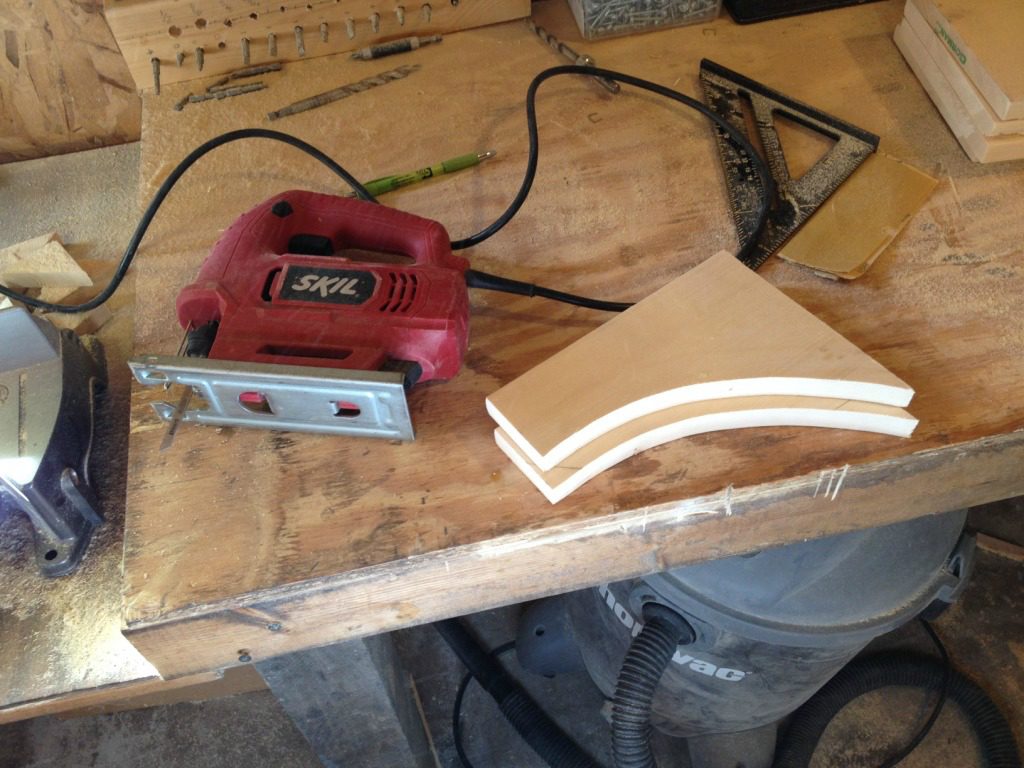 I built the frame using my Kreg Jig (affiliate link) and pocket hole screws (affiliate link).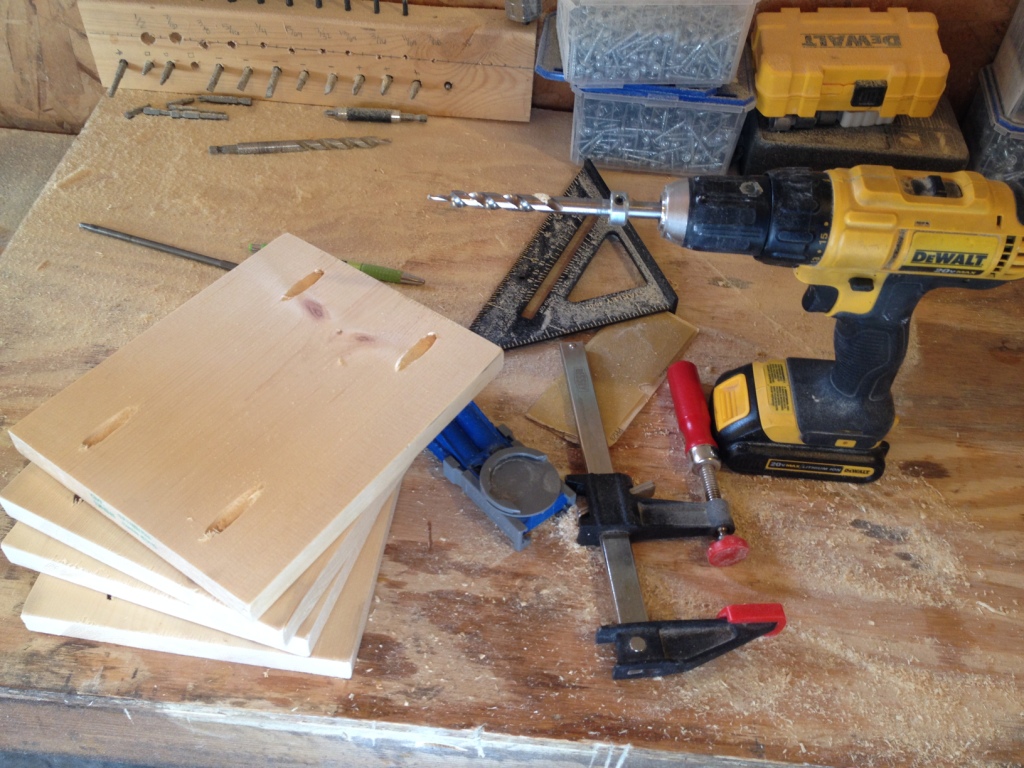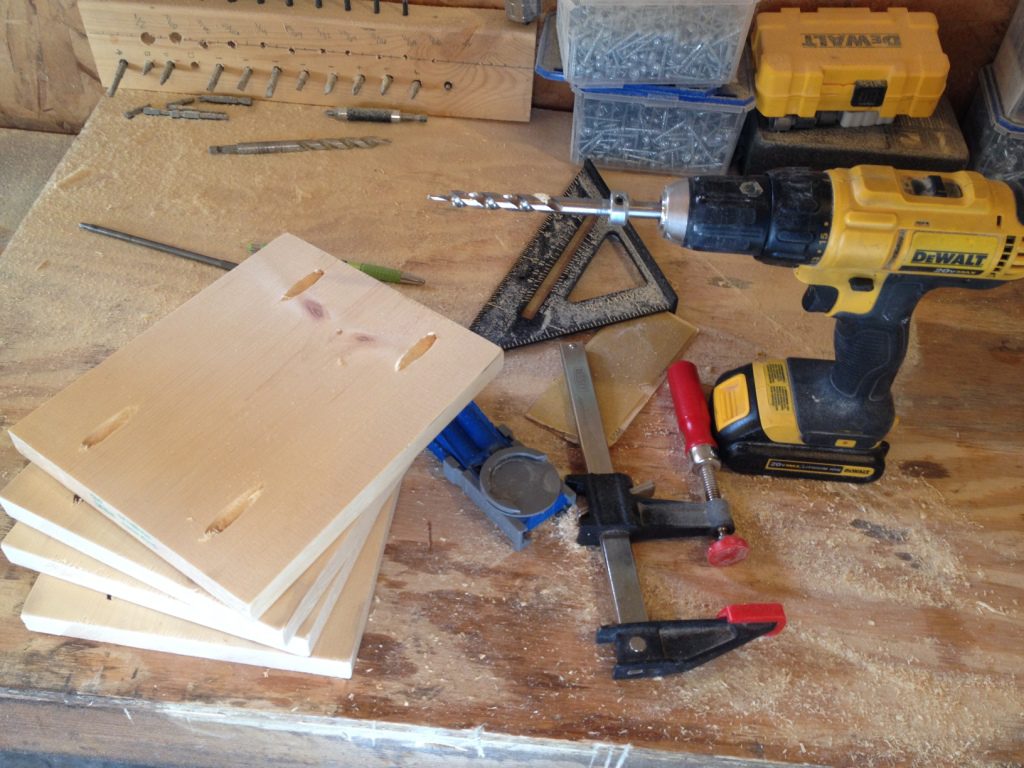 See my scrap/trash pile back there?  When my sister quit having bon fires, my trash can started overflowing… #bringbackthebonfires #someoneemptymytrashcan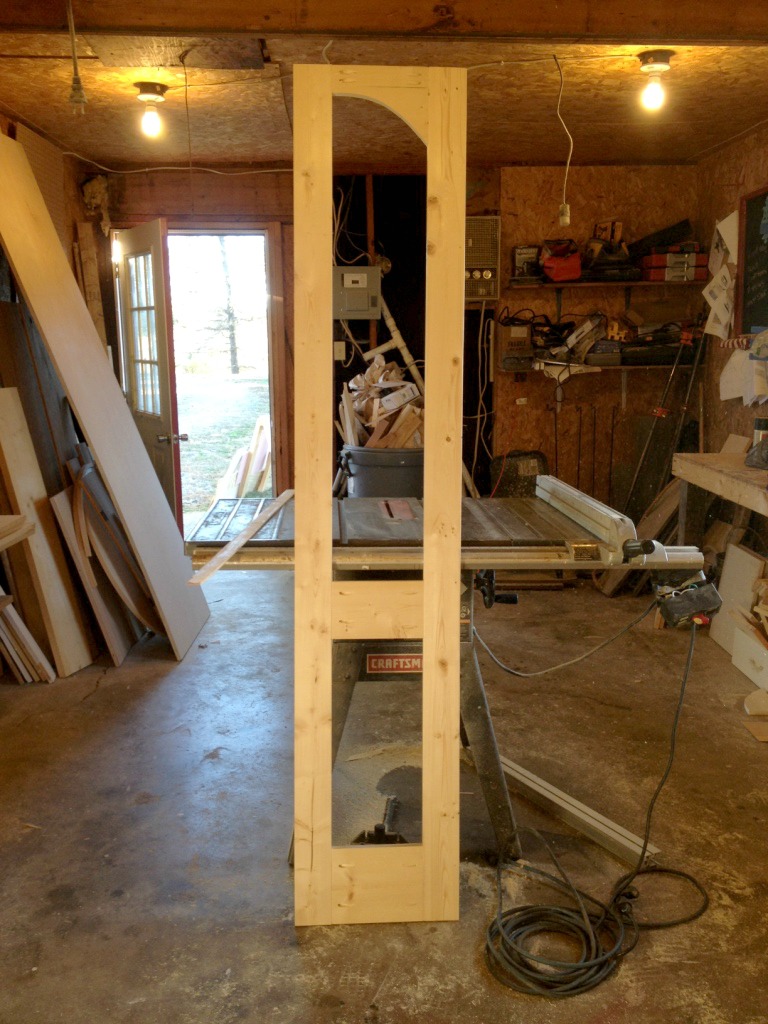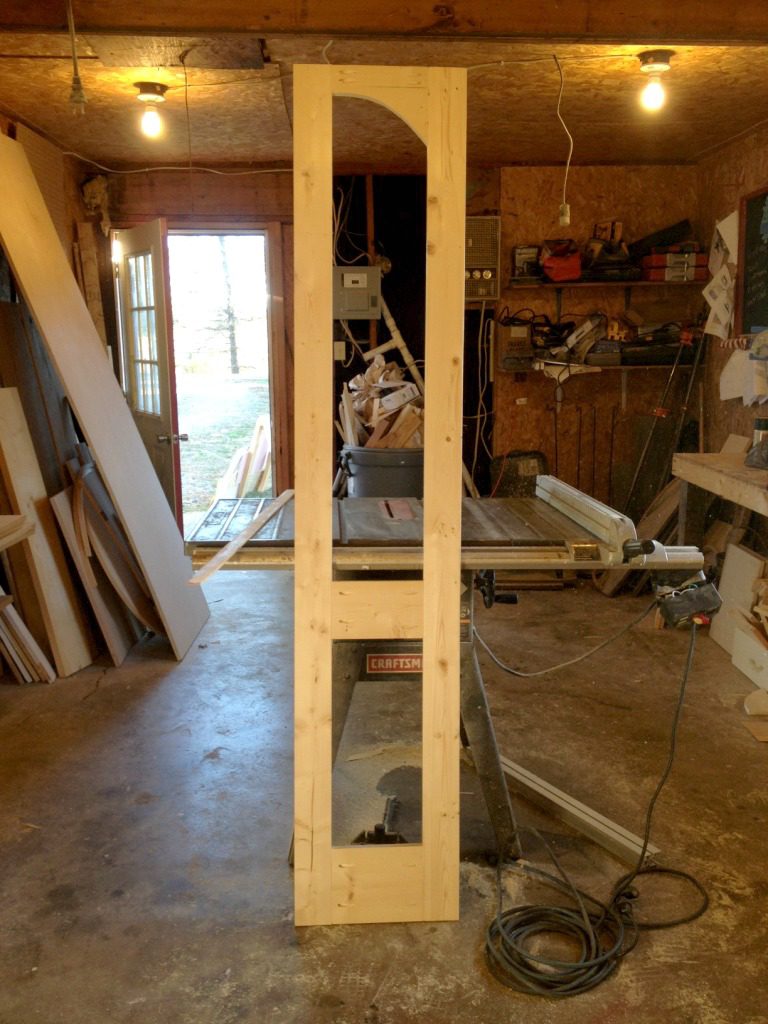 Then I used my router to cut ⅛″ deep and ¼″ wide groove around the opening where the glass will be.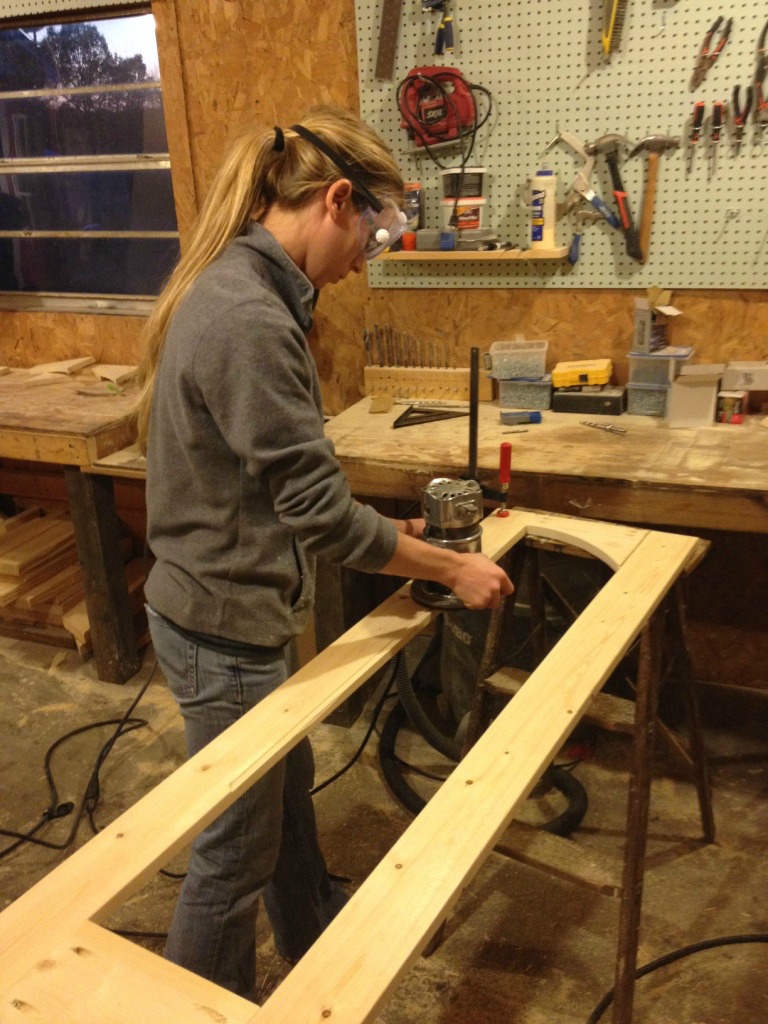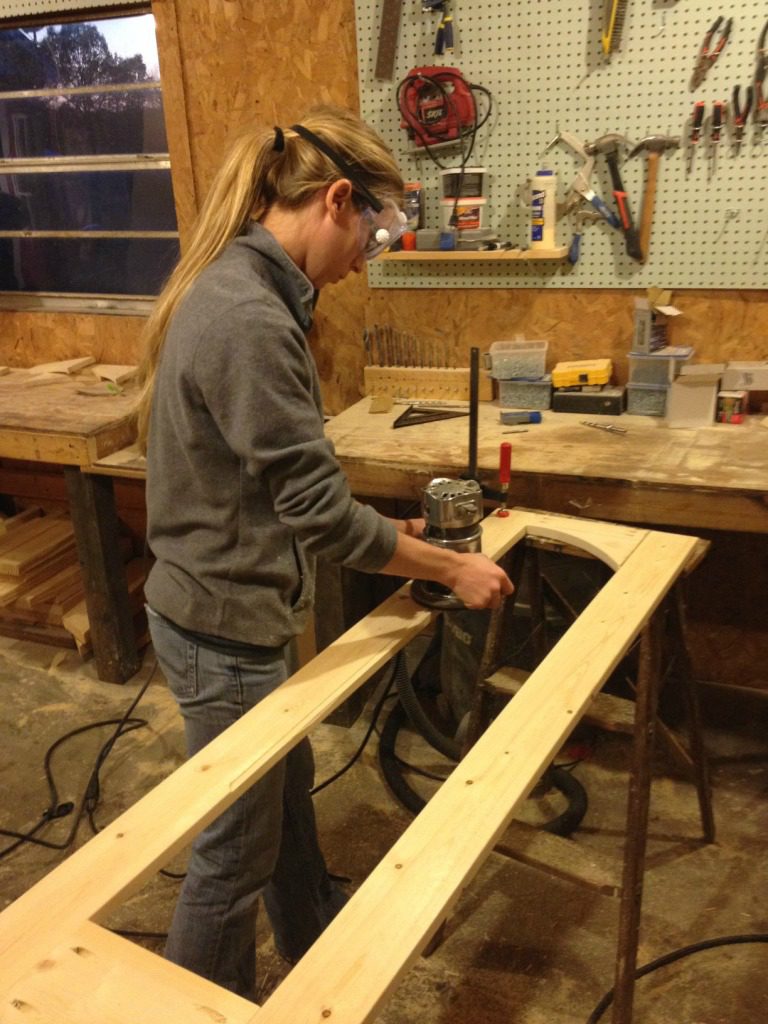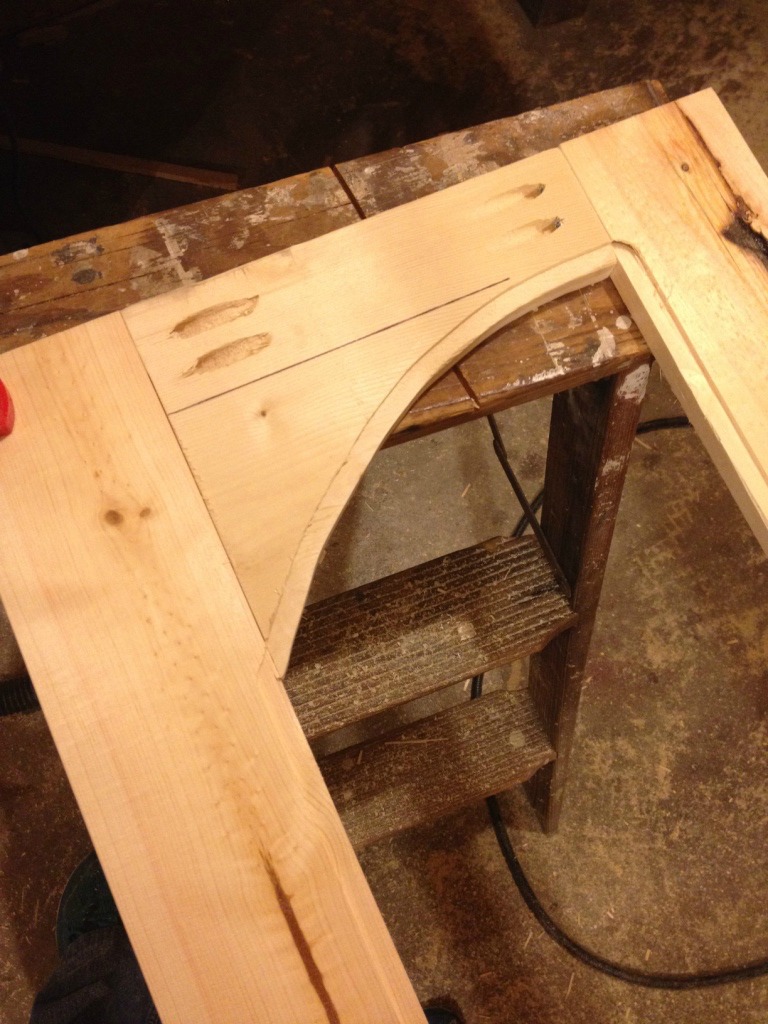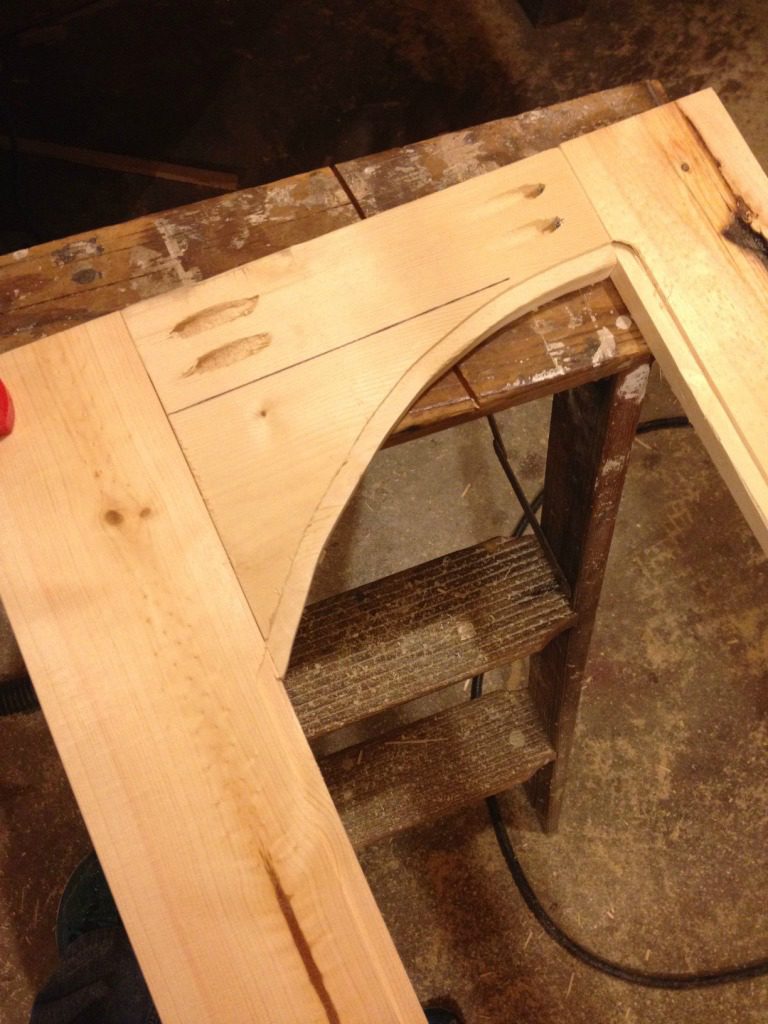 Ordering glass with an arch to fit in here perfectly would be expensive and it still probably wouldn't fit right, so I used a straight bit on my router and adjusted it to ⅛″ deep and free handed it to cut out the rest of this rectangle.
.
I just need to confess that this was the most therapeutic thing I've ever done.  Freehand routing is where it's at.  It's not pretty at all, but boy does the stress just fly away…probably along with all the sawdust…  TRY. IT. (NOTE: The picture is of a different door because the arches are different direction.)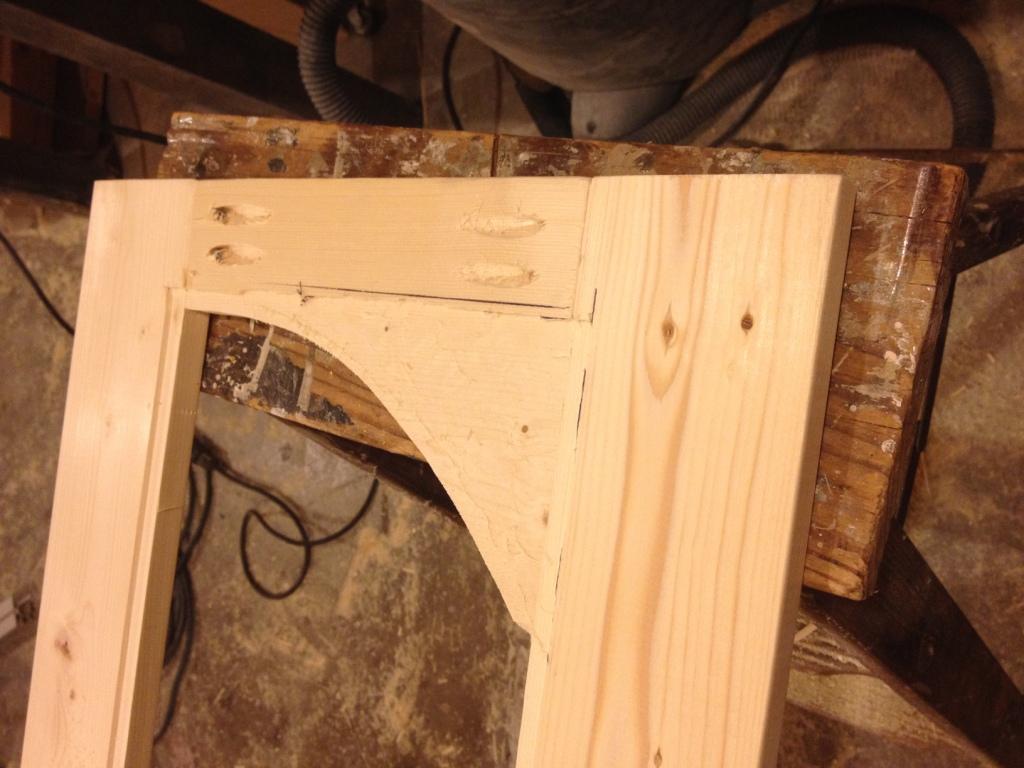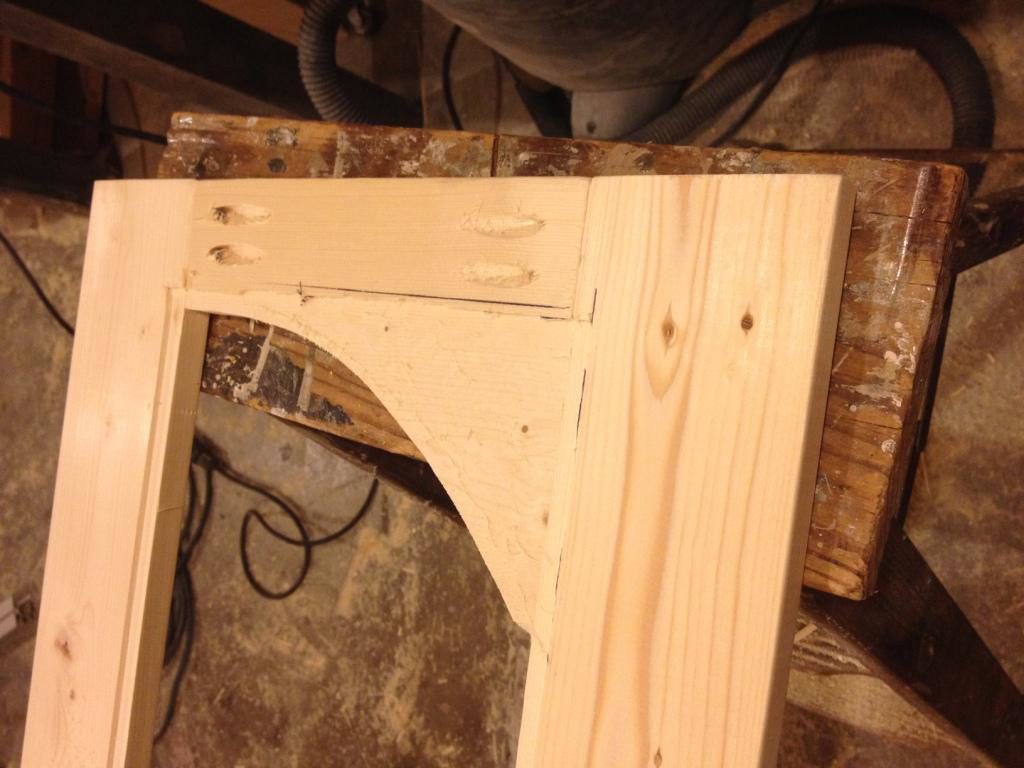 After I had all the doors cut like this, I measured carefully and ordered 4 glass panels (I was making 4 doors total) the same size that would fit in the openings.  NOTE: It's easier to cut first, THEN order the glass to fit than to order the glass and have to chisel here and there to get it to fit.
.
Once I made sure the glass panels fit well, I spray painted them with frosted glass spray paint (affiliate link).
.
In between coats, I worked on the bottom part of the doors.  Just like the top, I used a router to cut out ⅛″ deep and ¼″ wide groove around the openings.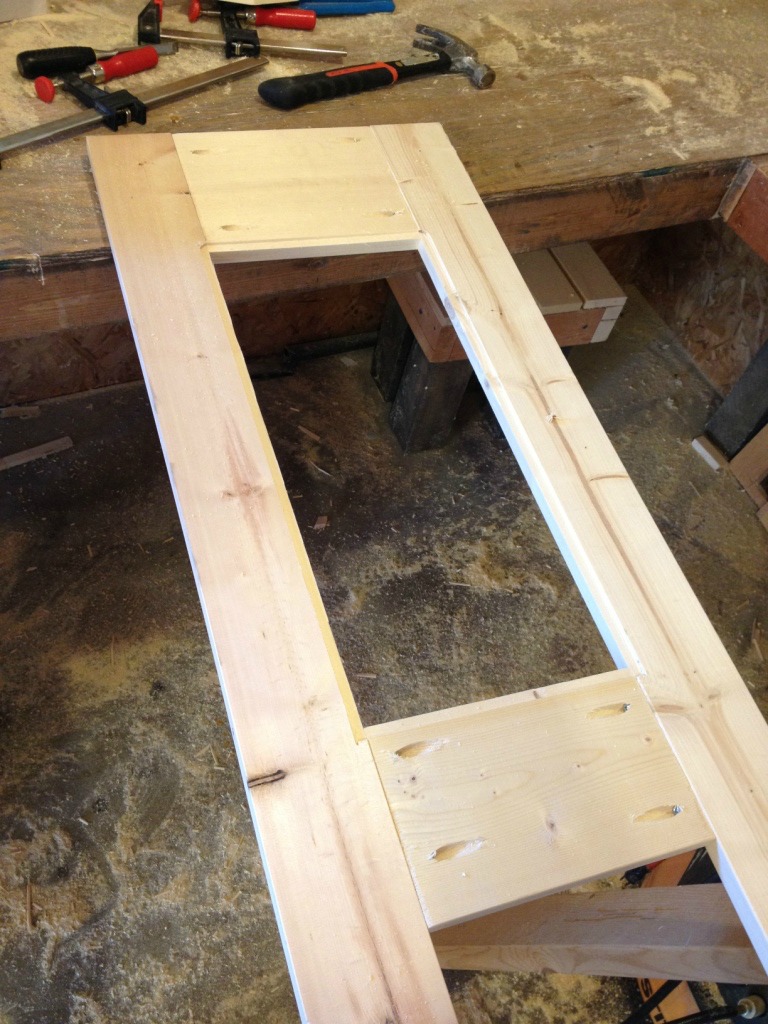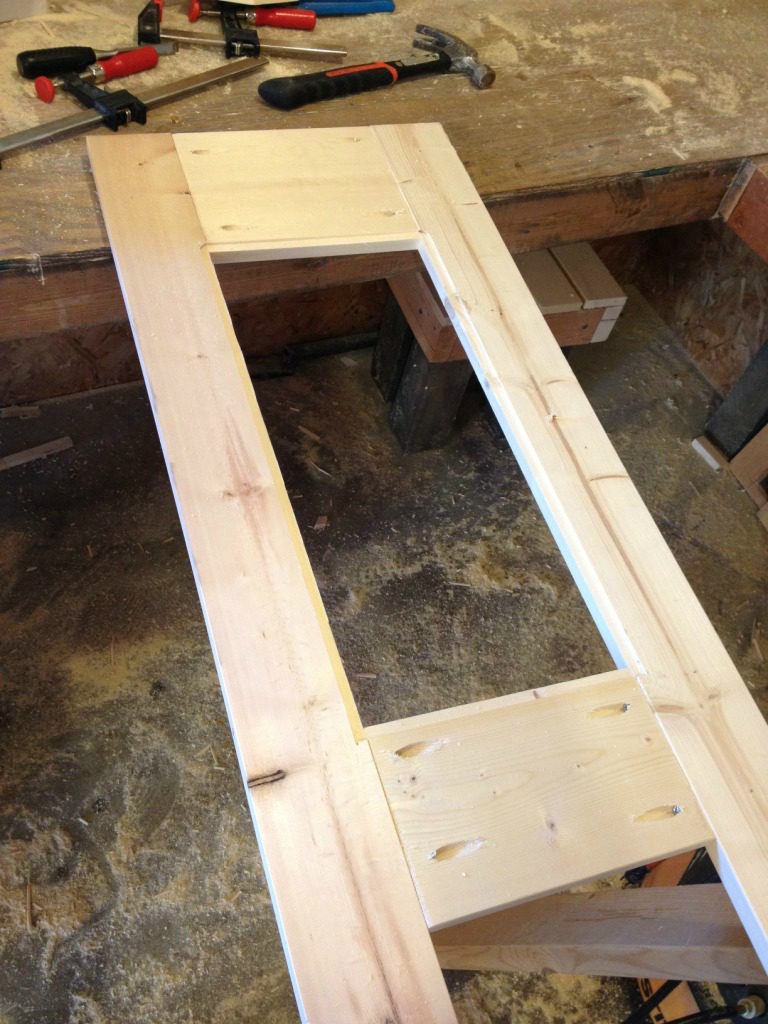 There are lots of tutorials out there on how to make raised panels.  I'm not going to show you step by step because I forgot to take pictures in the process, but it's very redundant…and plenty of people have already posted it before.  Once you get it set up, you just do things OVER AND OVER AND OVER.
.
I used 2x10s for my panels and "raised" them on both sides.  These panels were about ½″ wider and taller than the opening so that they fit inside the grooves I cut.
.
 I set up a simple jig on my table saw to help me run my board through. I just needed something to clamp my panel to that would keep it upright and straight along the rip fence.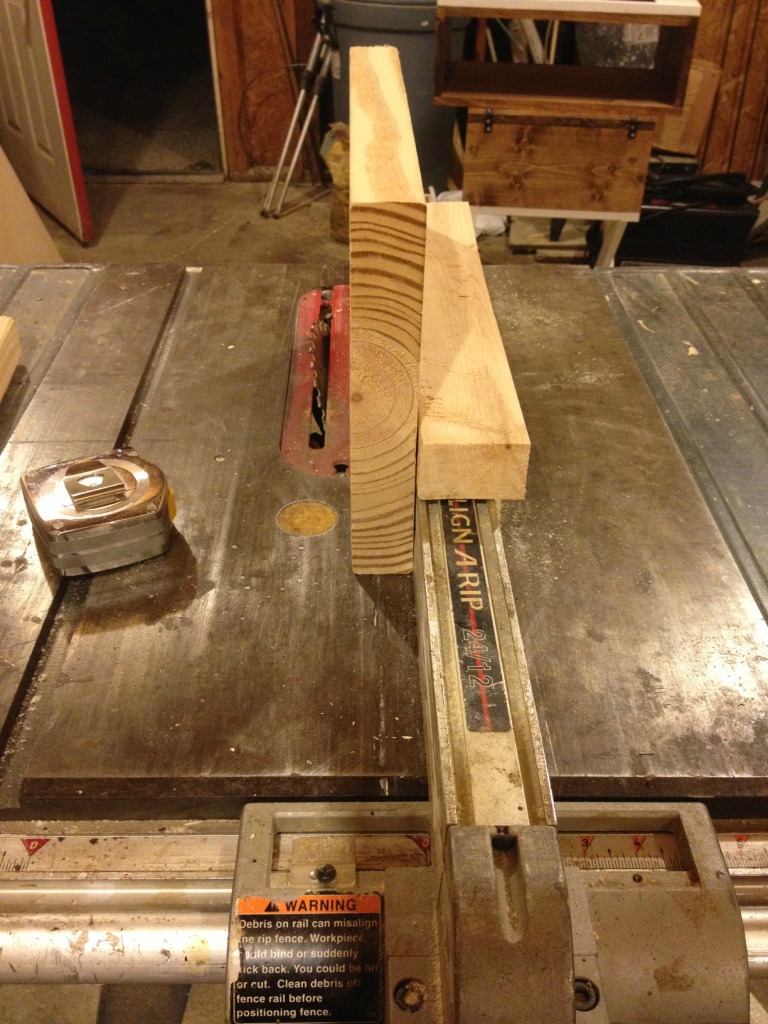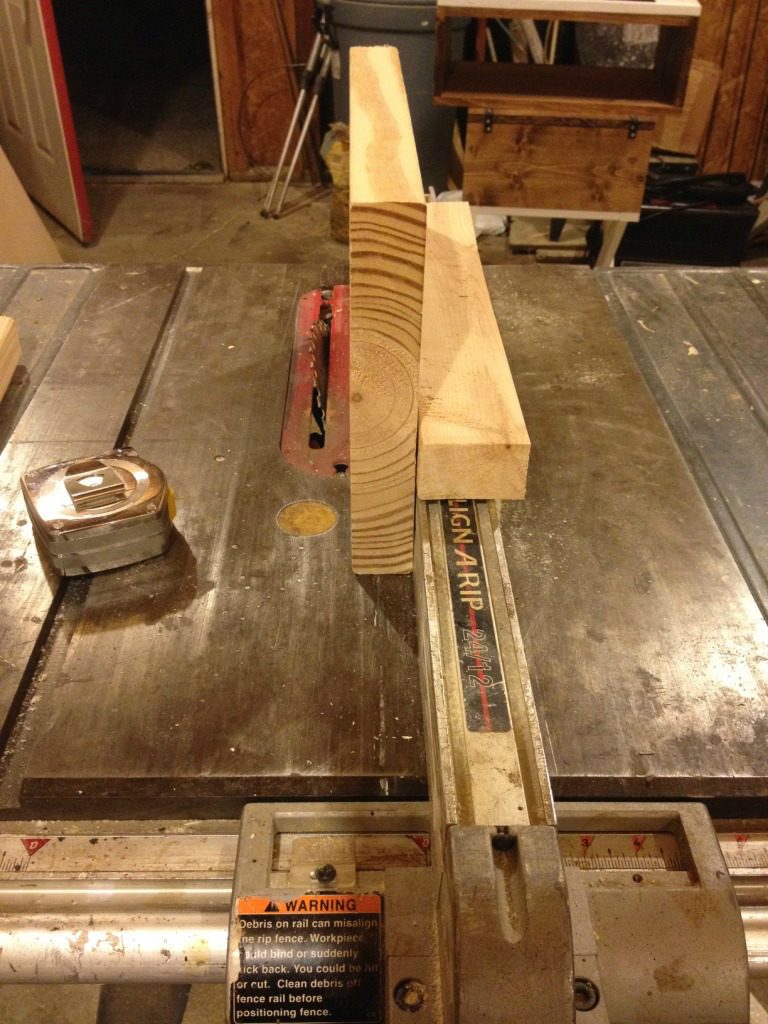 I tilted my table saw blade at 15 degrees and ran a few test pieces through until I had my rip fence to the location that I wanted.  Keep in mind, I was beveling both sides of the 2×10.  I wanted the bottom between the two bevels to be about ¼″ wide.
.
By the way, it helps to plane these 2x10s before running them through the saw.  This will keep all the bevels the same because most 2x10s are going to have at least a little bow to them.  When I had everything set up, I just clamped my 2×10 to the jig and ran it through.  Then unclamp, turn it, clamp again, run it through.  I did this on all four edges on both sides.  I had four panels, so this was super repetitive.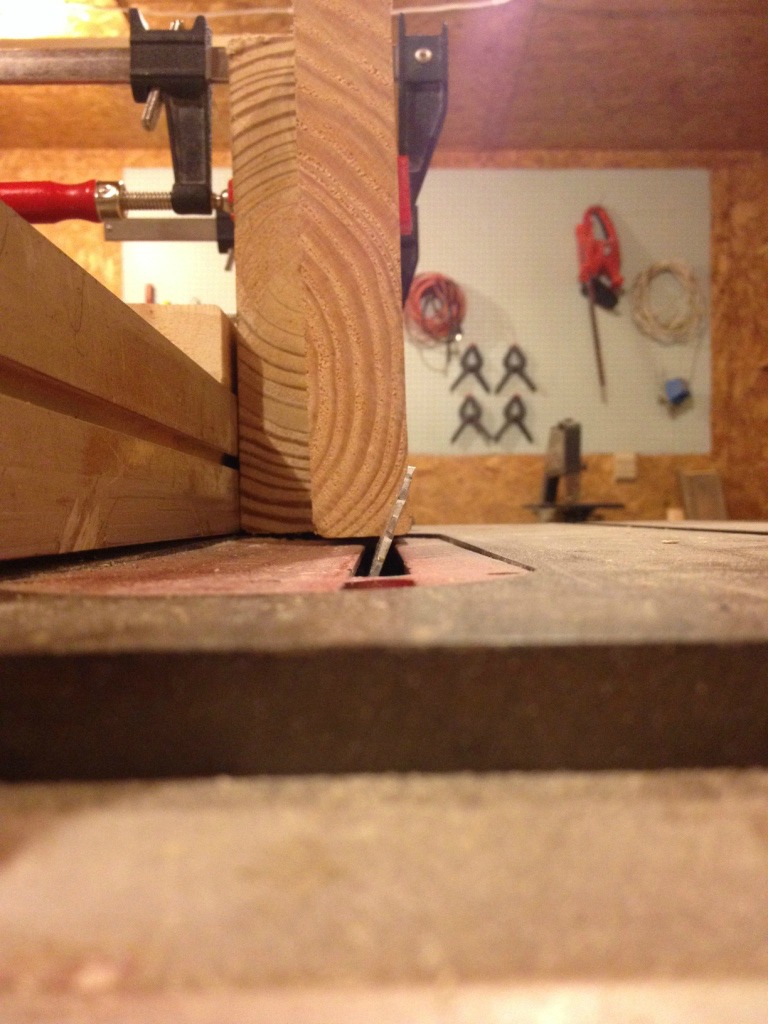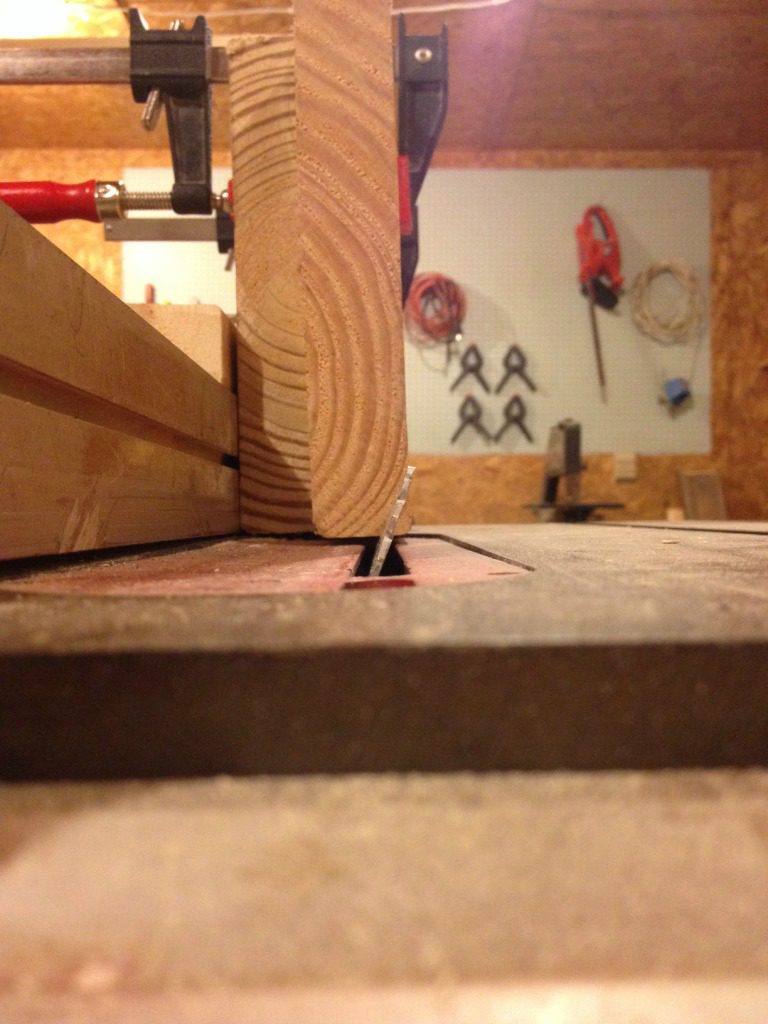 Once that was done, I used the router again (but you could use the table saw) to cut the outside edges flat so they would sit in the grooves of the frame.  I had already stained them when I took this picture, but you can see where I routed them along the outside edges.  I stained the frames and put some glue in the grooves I cut for these panels and placed them in.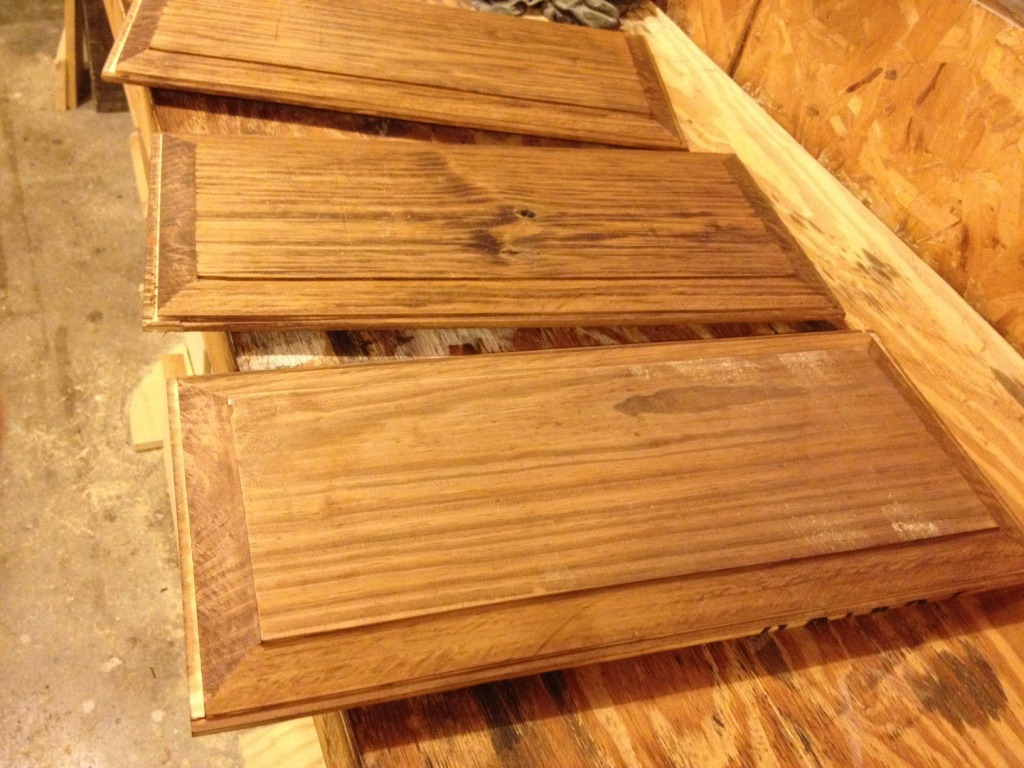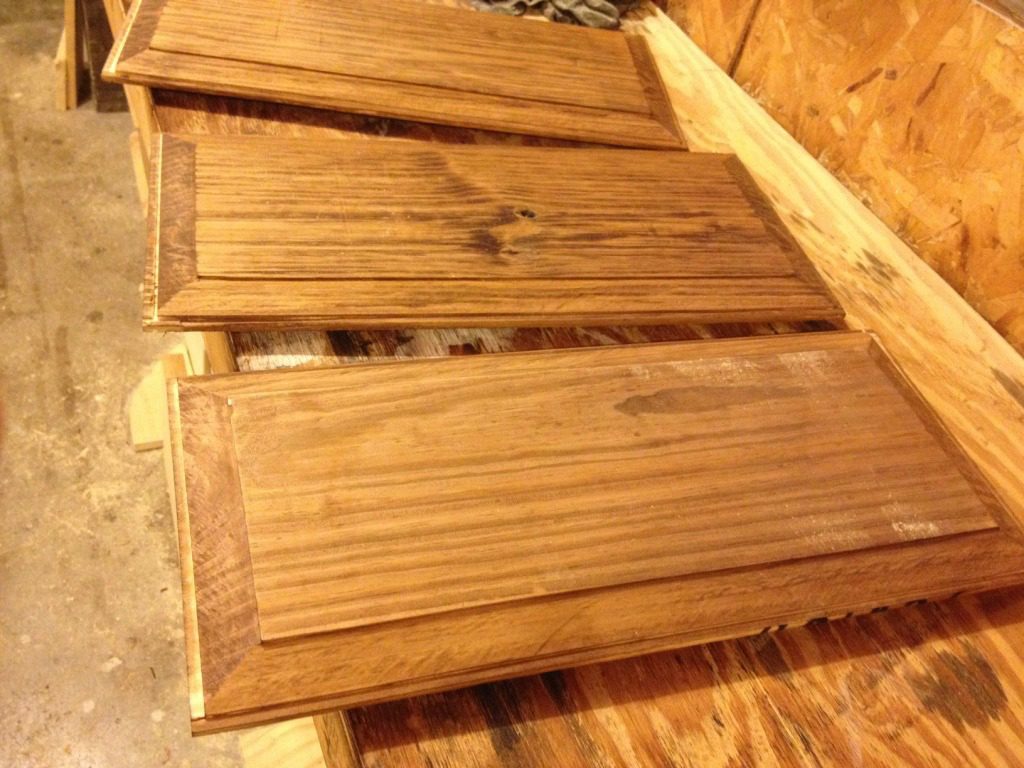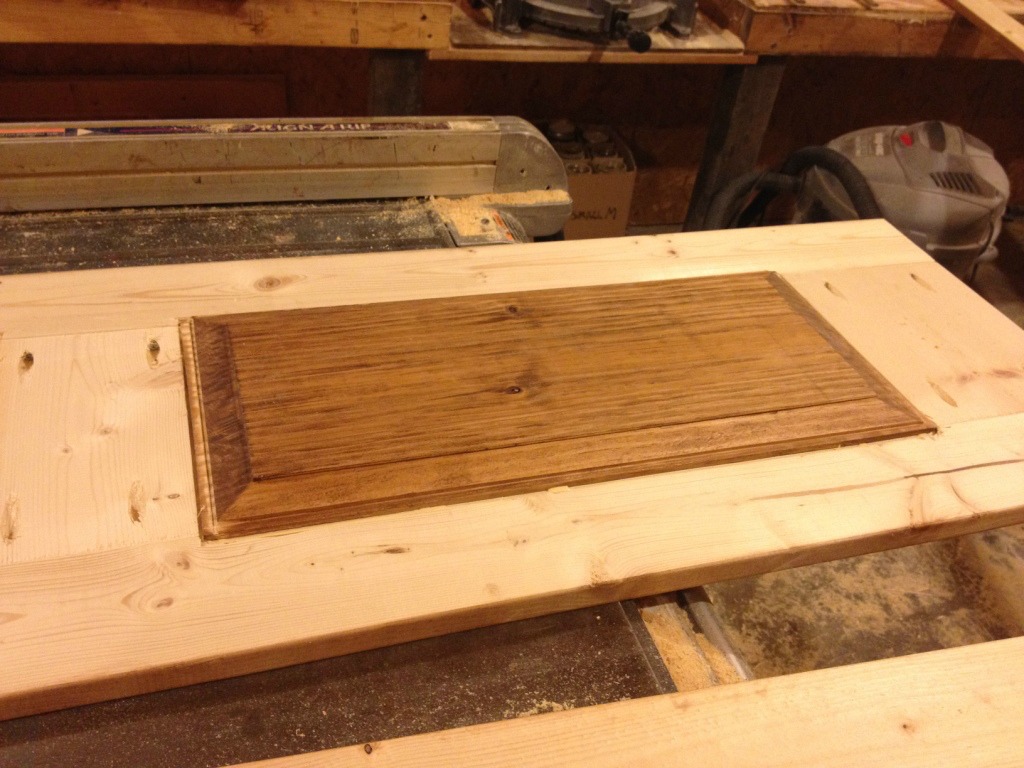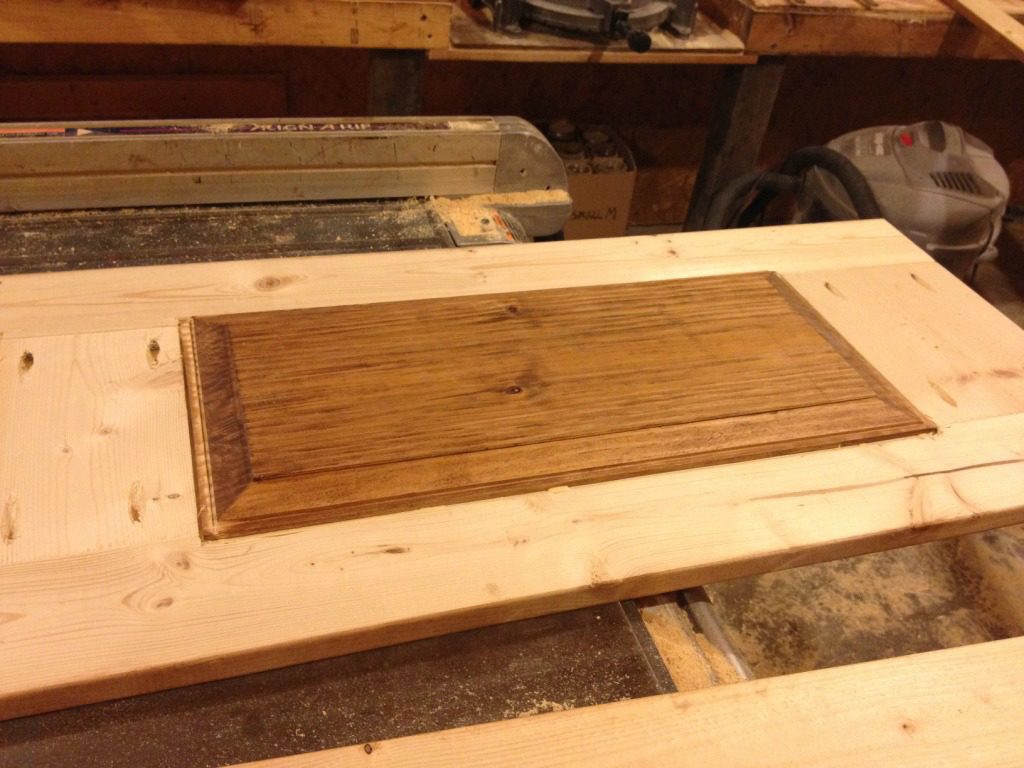 While the glue was drying, I built frames again just like I did at the beginning…same measurements and everything.  Only this time, the arches need to be mirrored because these frames will be glued on the back of the first ones.  Once the frames were built, I routed out grooves on ONLY the bottom opening in the frame.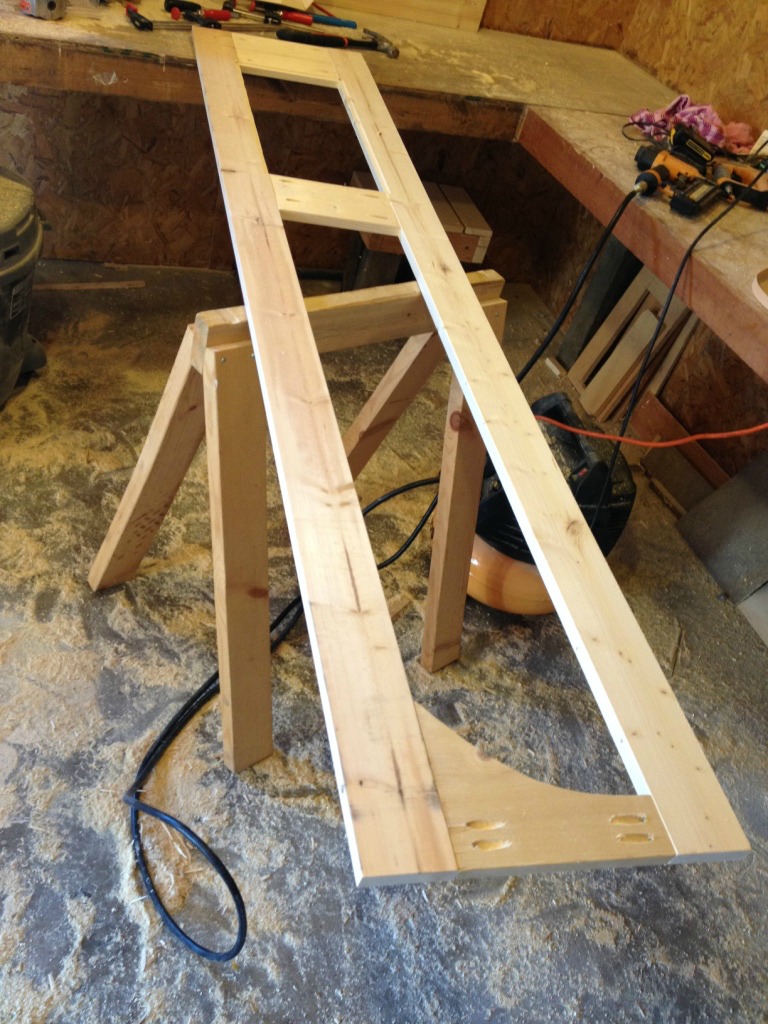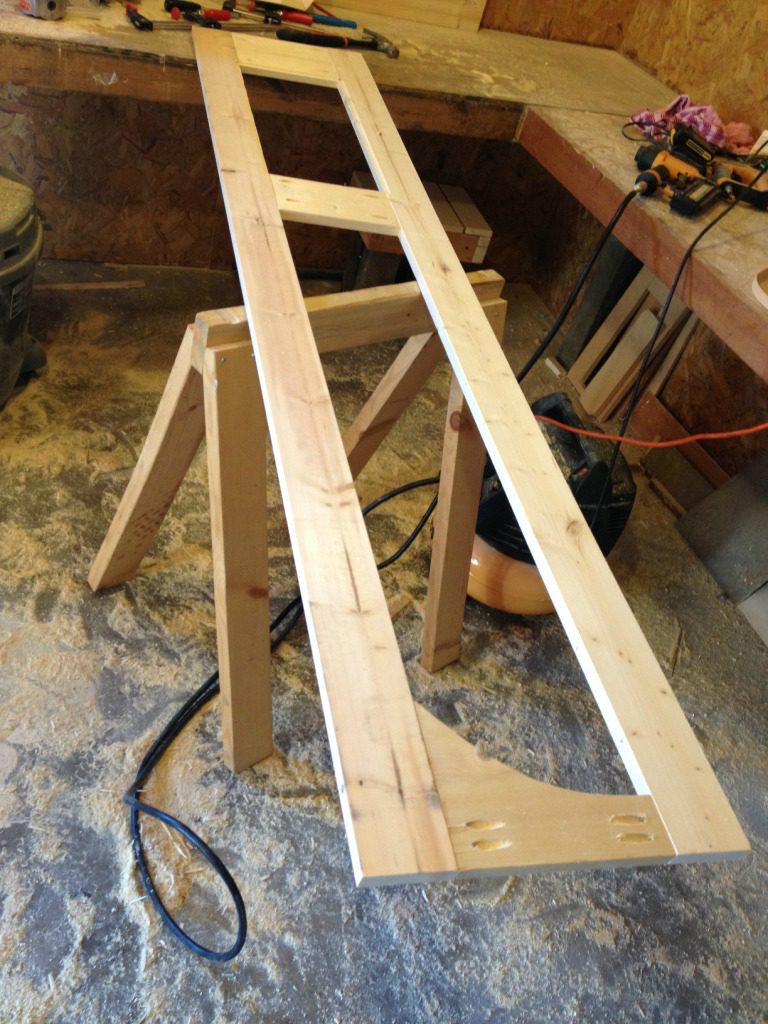 Then I stained these frames.  Once the glue from the panels was dry and the stain on the second set of frames was dry, I laid them out and placed the glass in the grooves on the first set of frames.  Then I glued the second frame on the back of the first one and added a few finish nails from my nail gun to keep them in place while the glue dried.  Basically, you are sandwiching in the raised panel and the glass panel.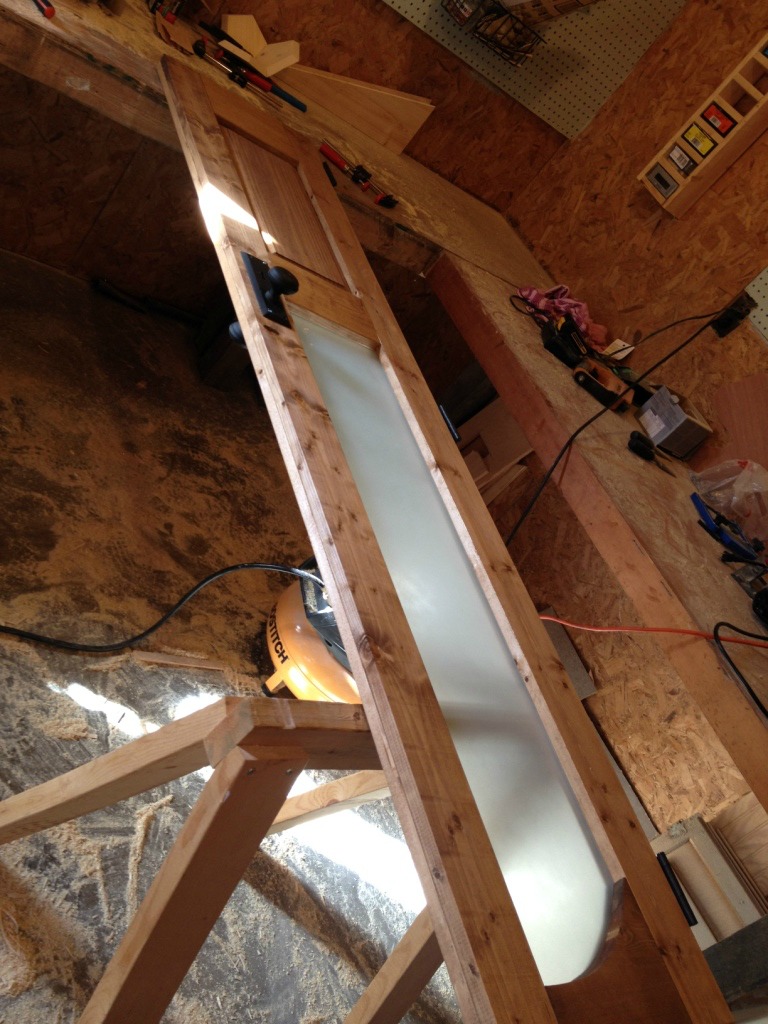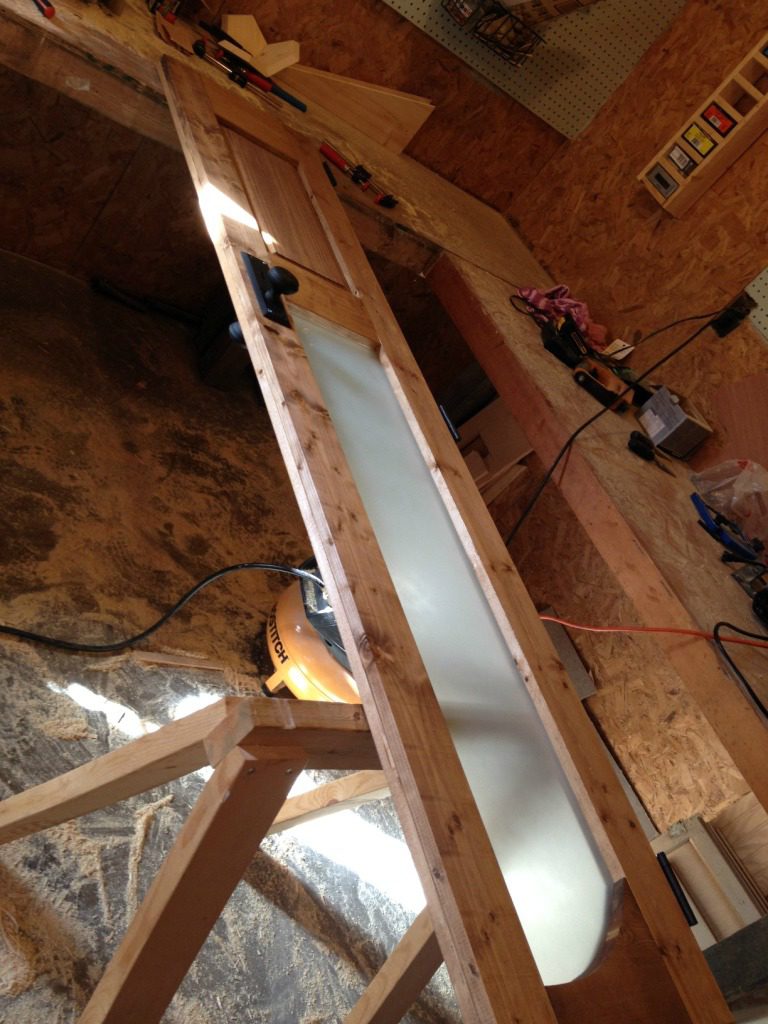 I attached hinges (affiliate link) and some antique door knobs that I found at the local "junk store." and hung them in place.  Oh and I was sure to hang some cute Christmas swags on them 🙂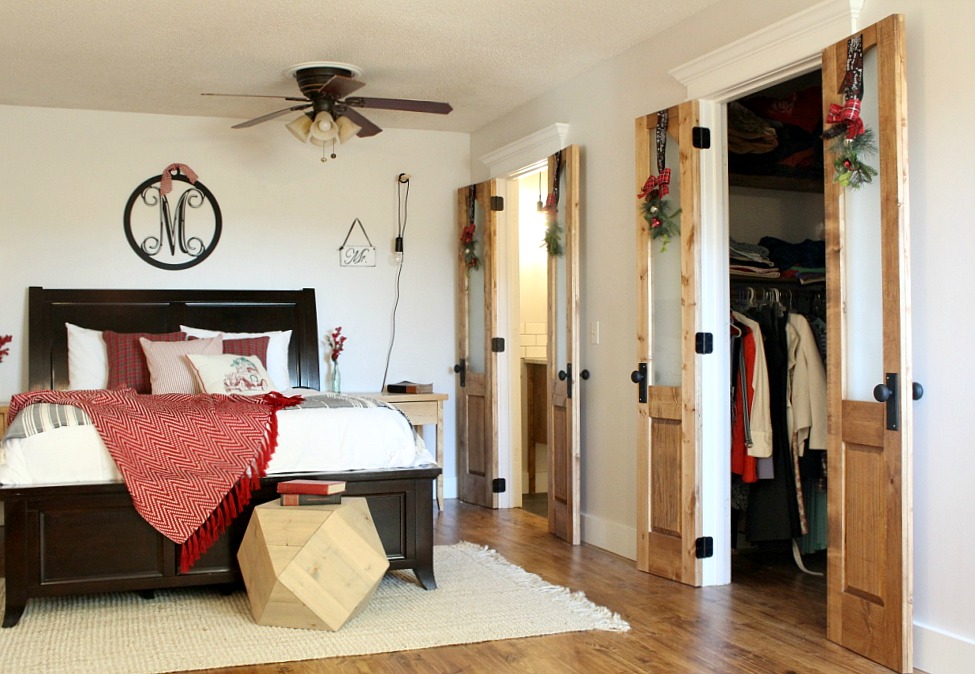 I originally planned on mortising the hinges, but wanted to get them hung first just to see how they looked.  Once they were hung, they fit well without mortising, so I decided not to mortise them.  I may later, but for now, I'm just glad they are up and function.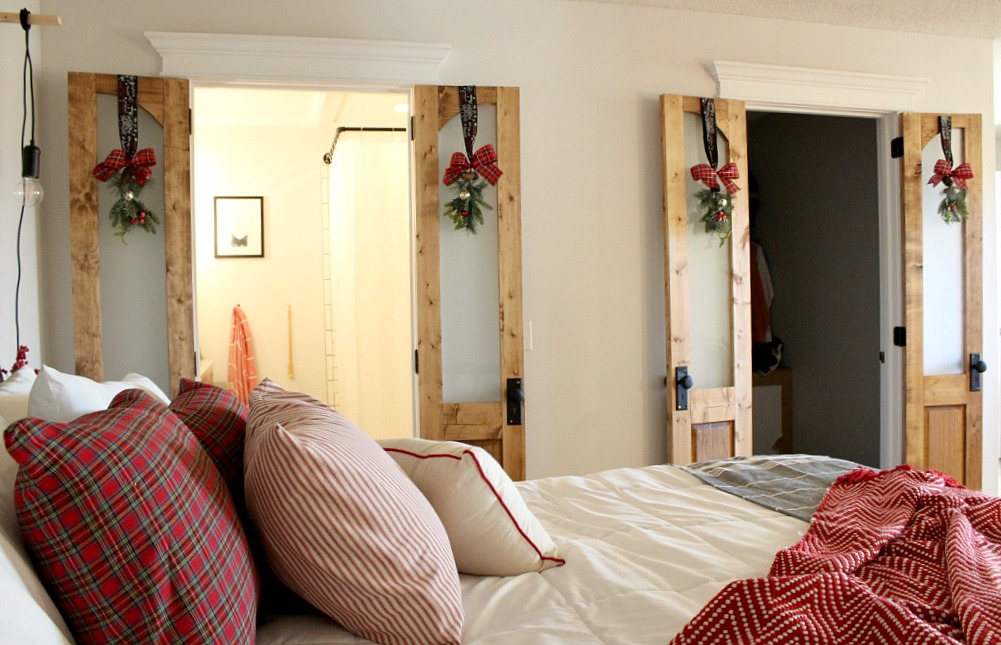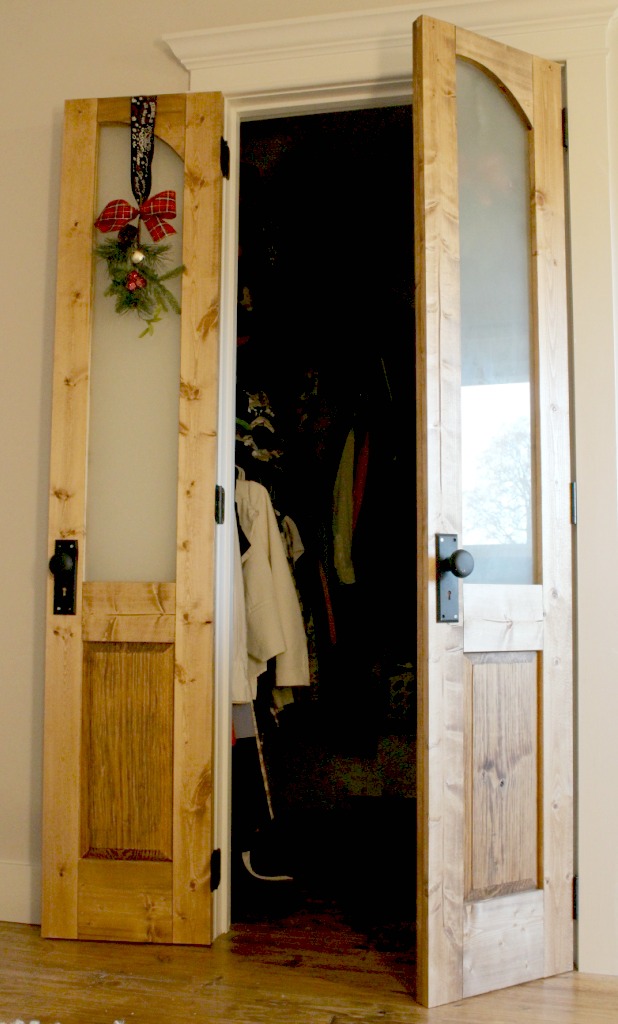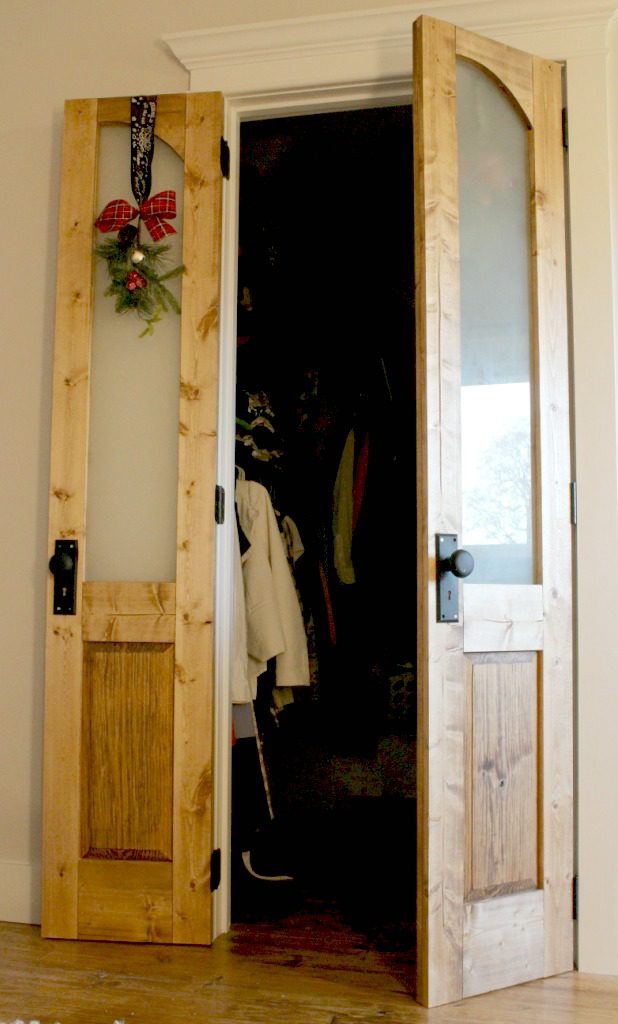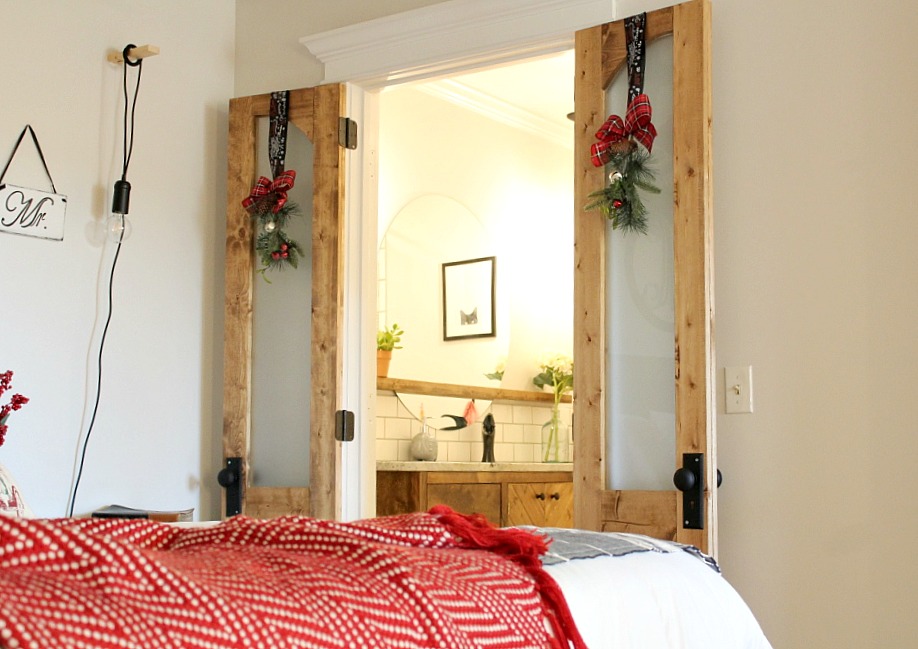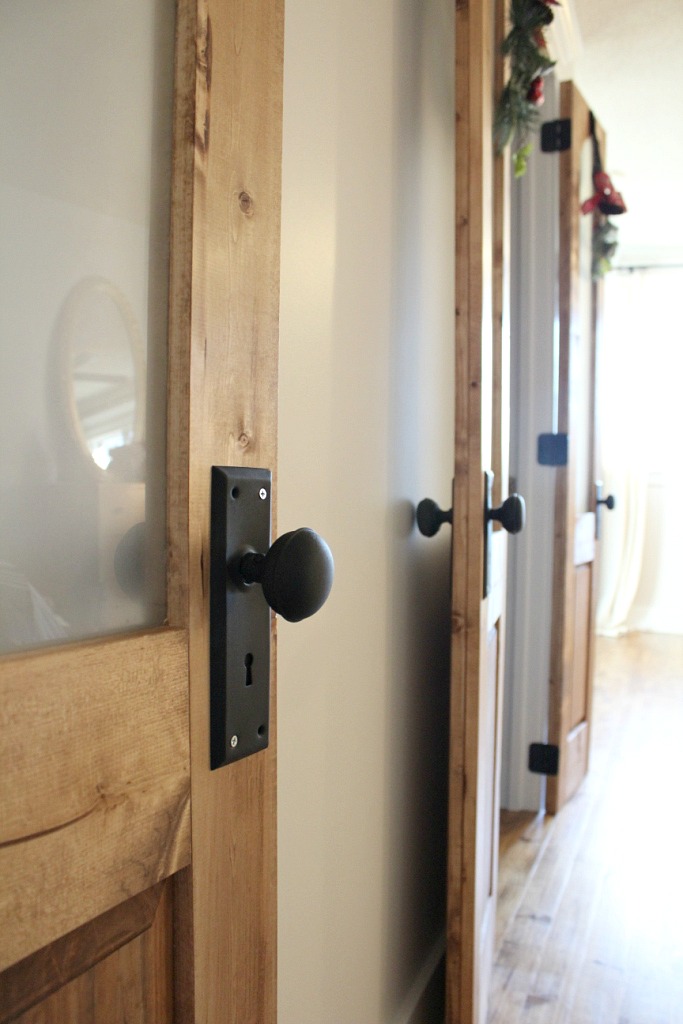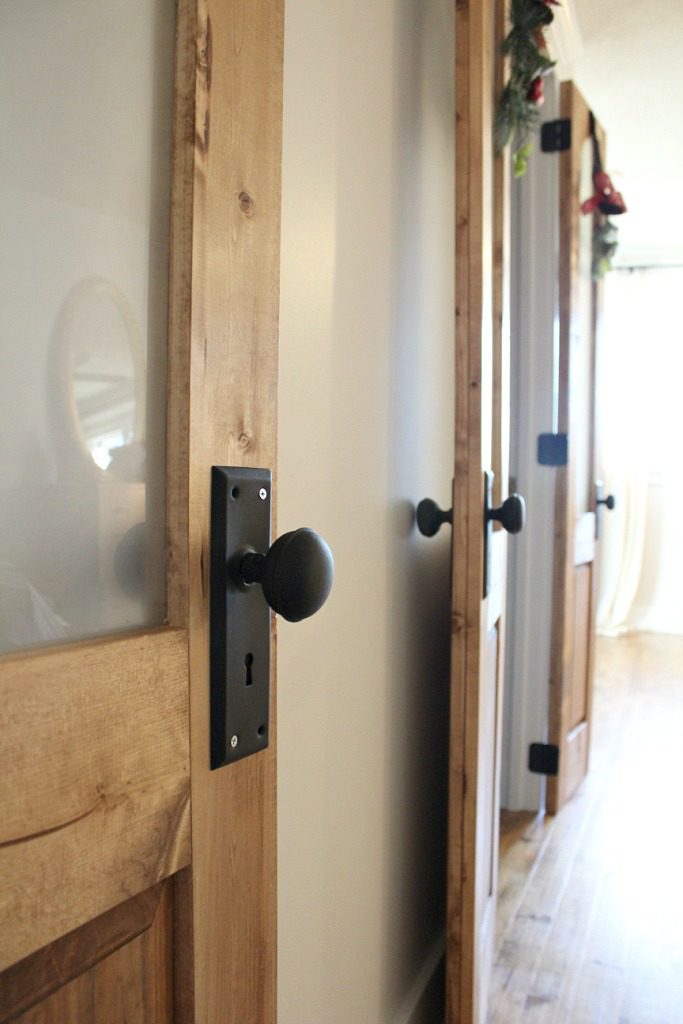 I liked how the reflection of the new doors looked in my "old door mirror" (tutorial coming soon) across the room.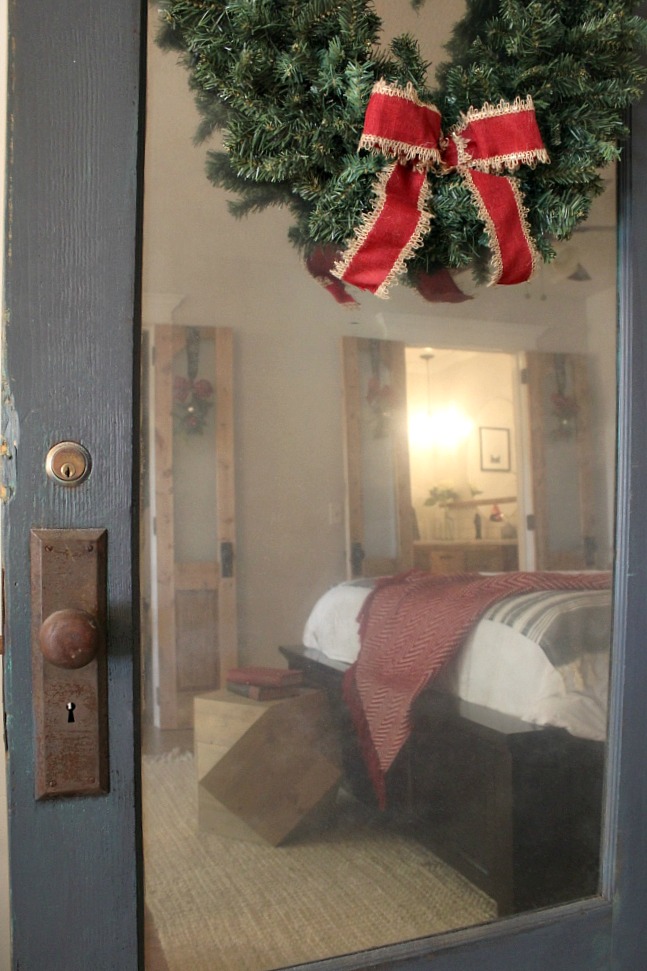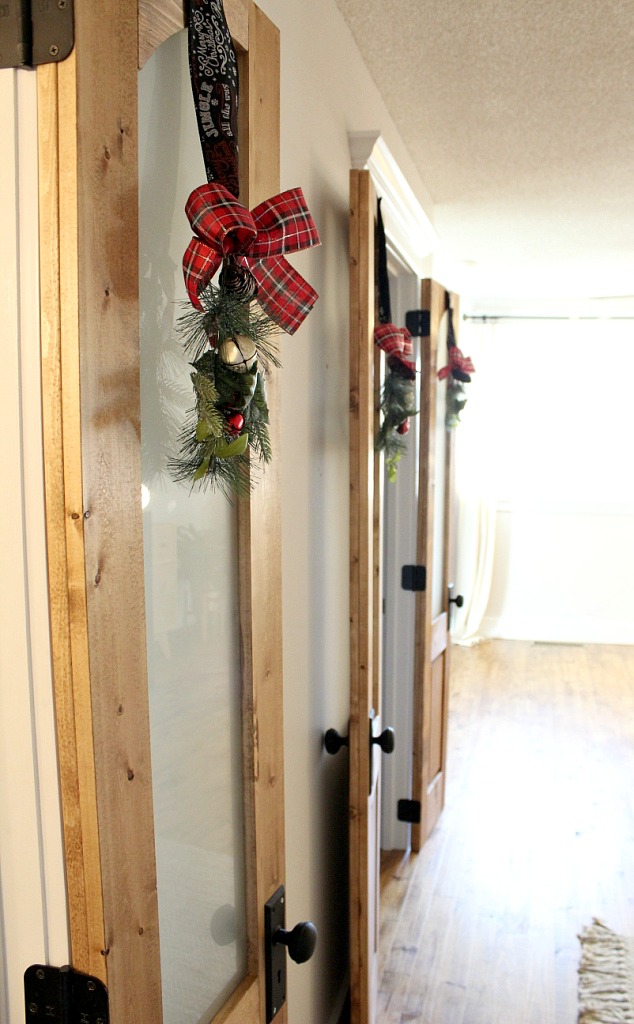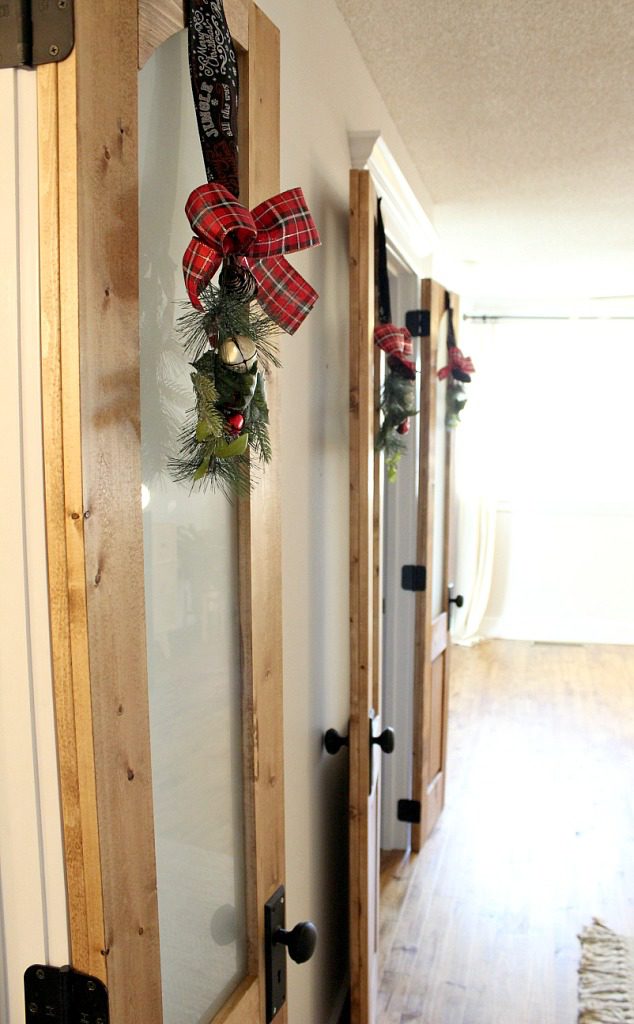 And again with the reflections 🙂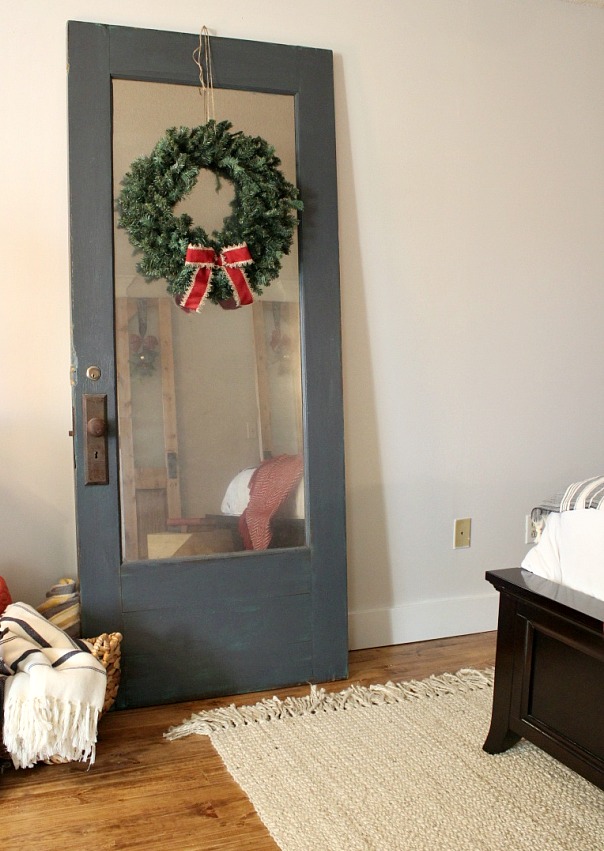 We literally NEVER close these doors, but I guess it's nice to be able to if we wanted.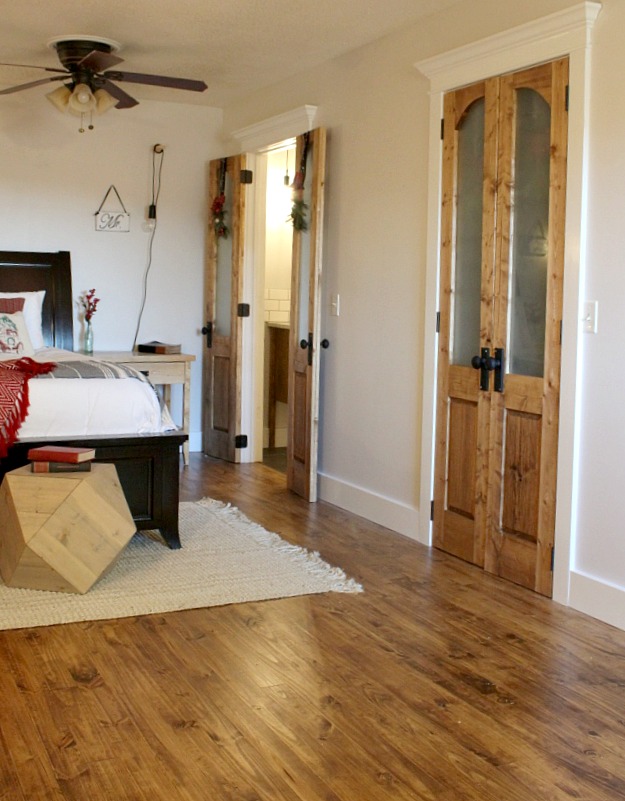 Don't judge my ugly closet.  It needs some TLC after that bathroom thing.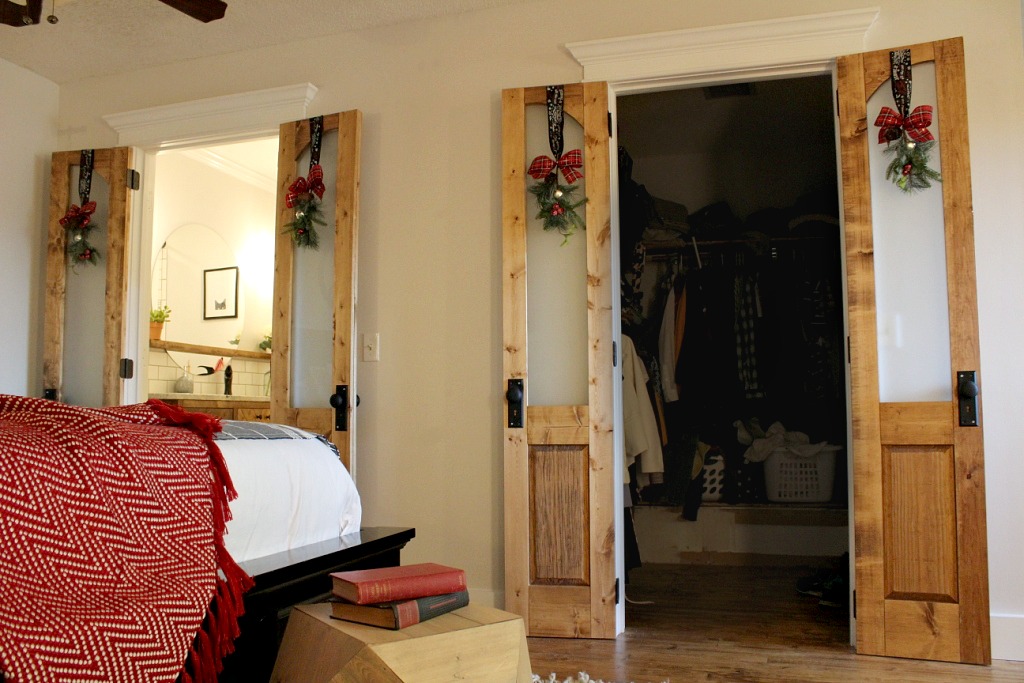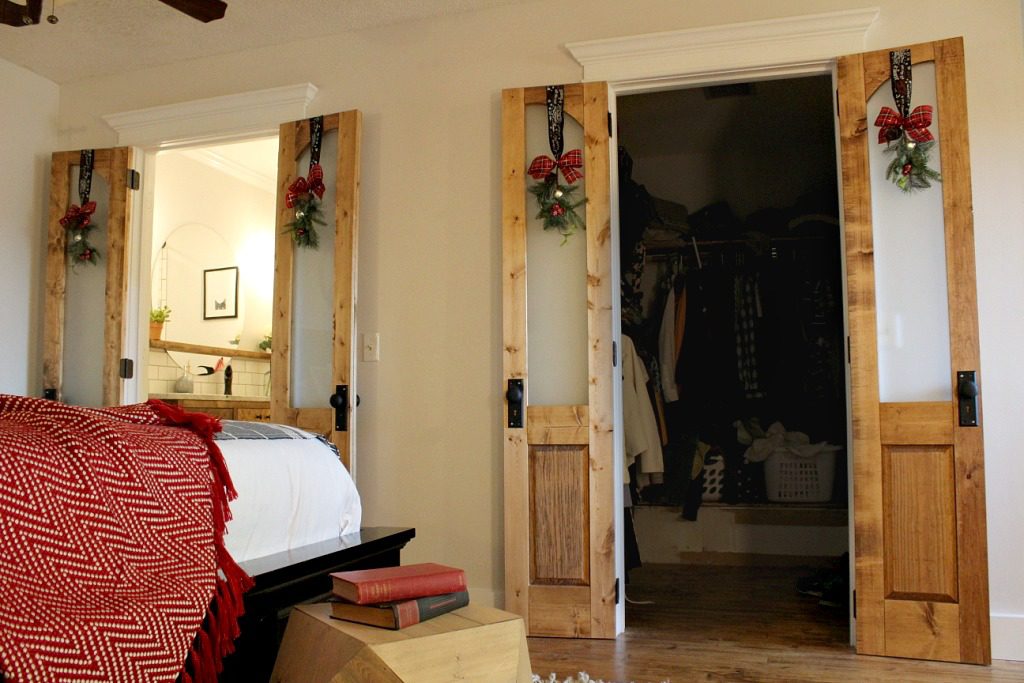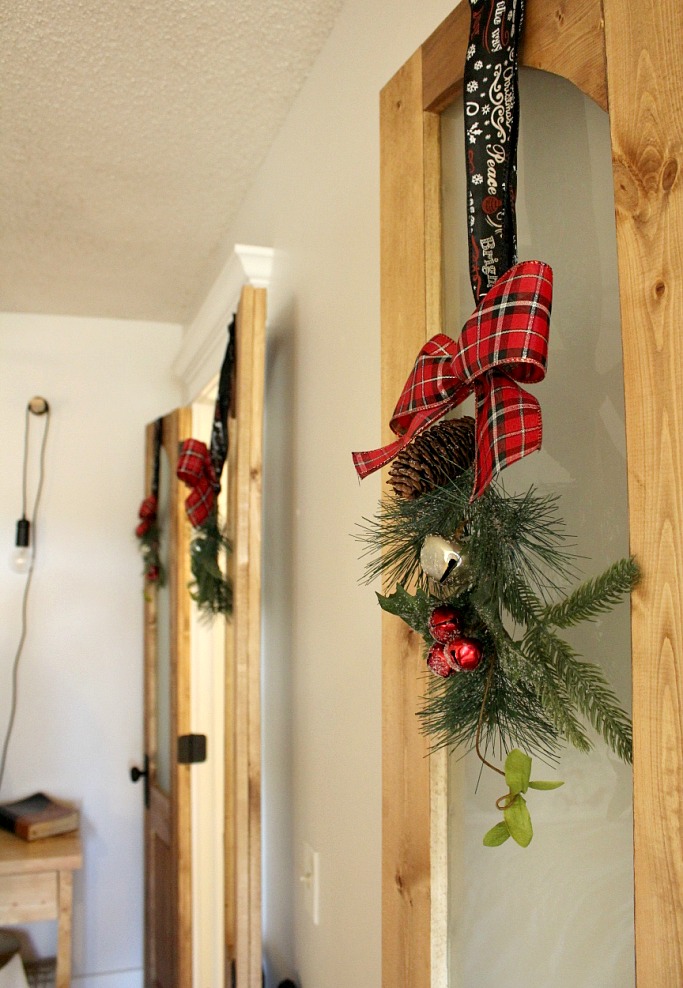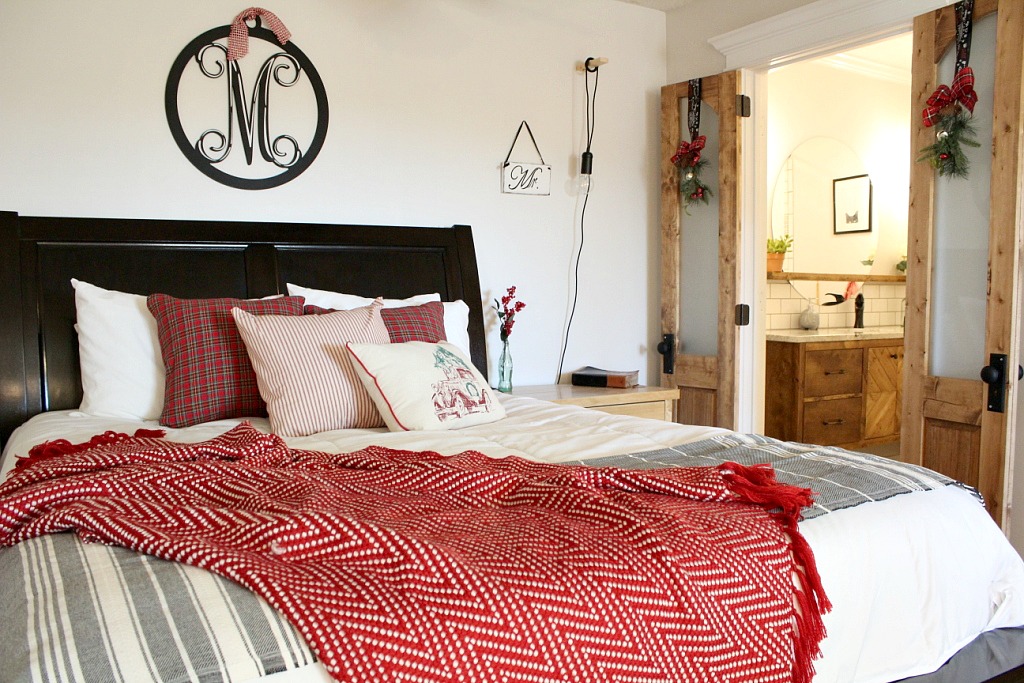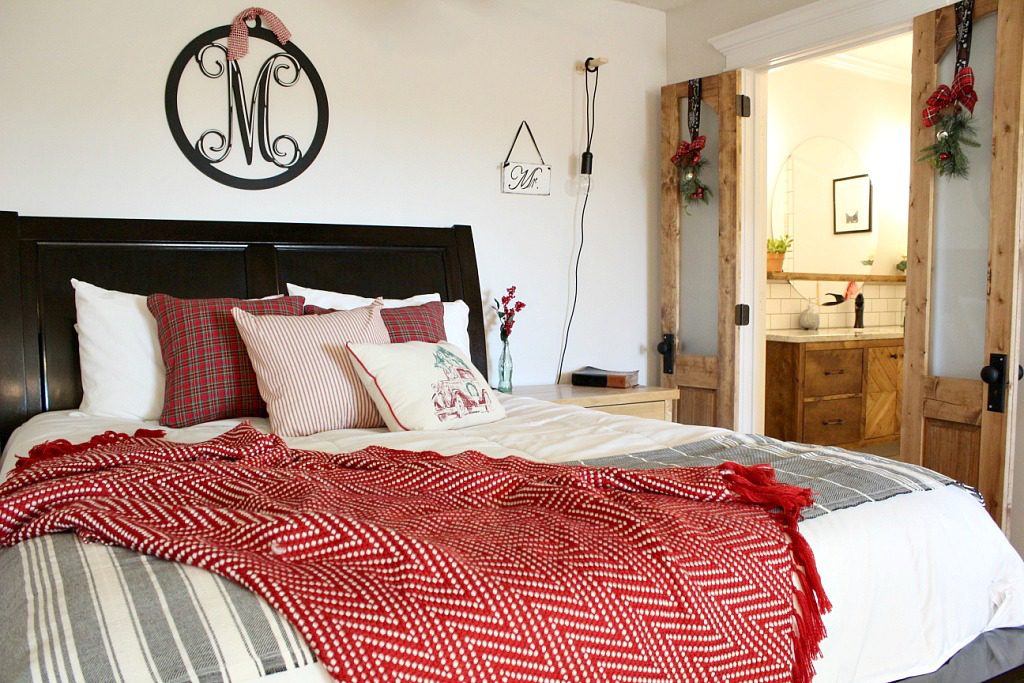 So what do you think of my new doors?  Sometimes I LOVE them and sometimes I think they are "too much" for this room.  What are your thoughts? I ALMOST painted them white, but I think I'm glad I didn't.
.
Either way, Danny's got his doors, and I'm glad they aren't hollow core 🙂  So I guess for now they are staying.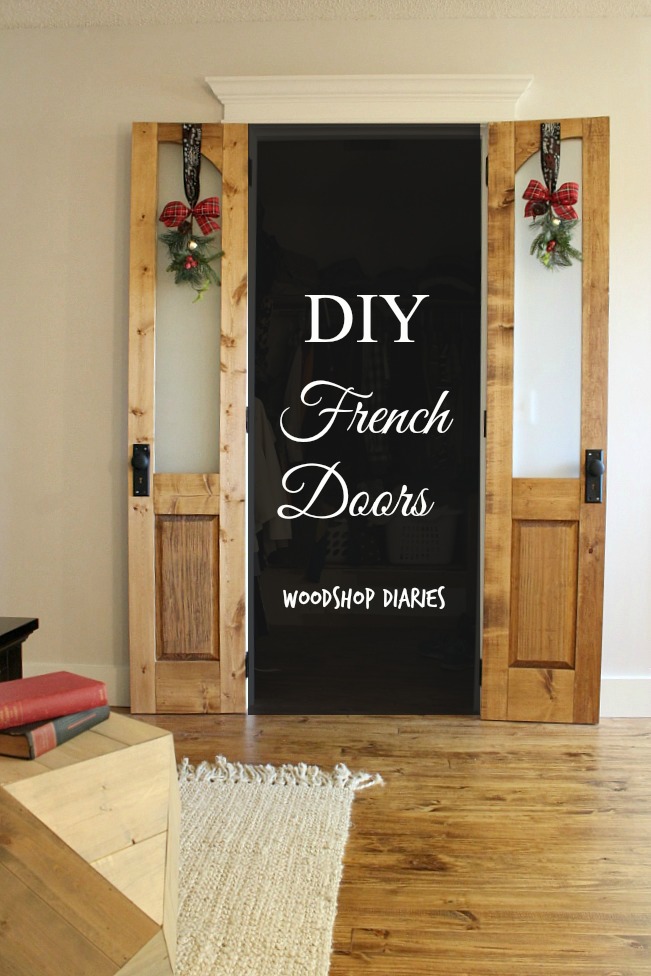 Let me know what you think!  And, if you guys have projects you would like to see in the new year, send me an email and let me know!  I'm looking for some fun new projects to tackle 🙂
.
Until next time, happy DIYing!