It's finally that time of the year when the turkey is put away and Christmas is in full swing!  The tree is up and the stockings are hung and I don't feel guilty in the least for the fact that my tree has actually been up for a couple weeks.  (Please no judgmental looks from all of you on team don't put your tree up before Thanskgiving.)  And I'm so excited to finally be able to give you guys a Christmas Home Tour!!
.
This year, I decorated the living room, kitchen, and bedroom and I took a more traditional theme with lots of red and green and a little gold.  Last year, Danny put his little tree in the kitchen, but this year he wanted it in the living room so he could see it when he watches TV.  It obviously didn't fit in my original "design," (you'll see why in a minute) but sometimes you just have to let it go and remember that there is more to life than having a perfectly designed living room….I would know because I've never had one hahaha.
.
Our home isn't perfect, and I'm not a professional decorator (as I've admitted many times before), but I hope you enjoy touring our Christmas home anyway 🙂
.
Let's start at the beginning…the front porch.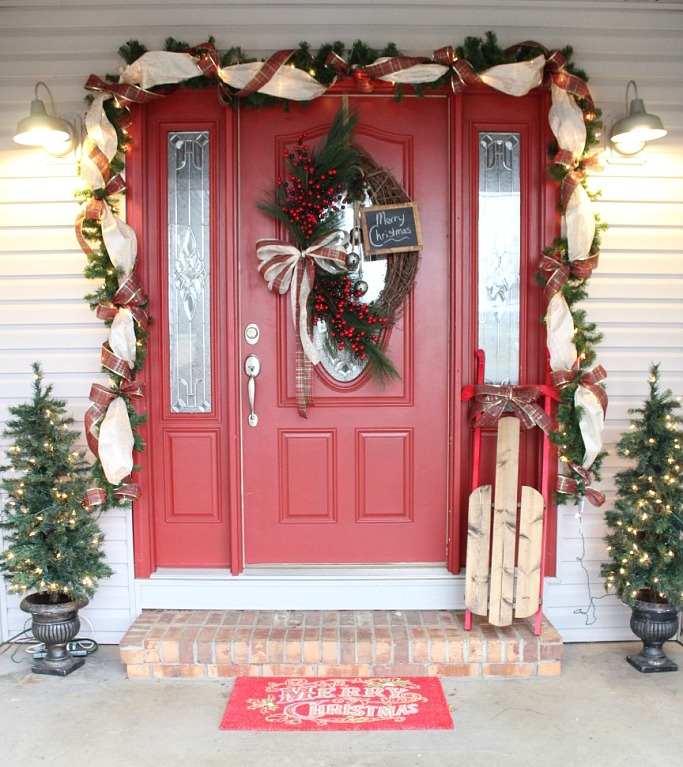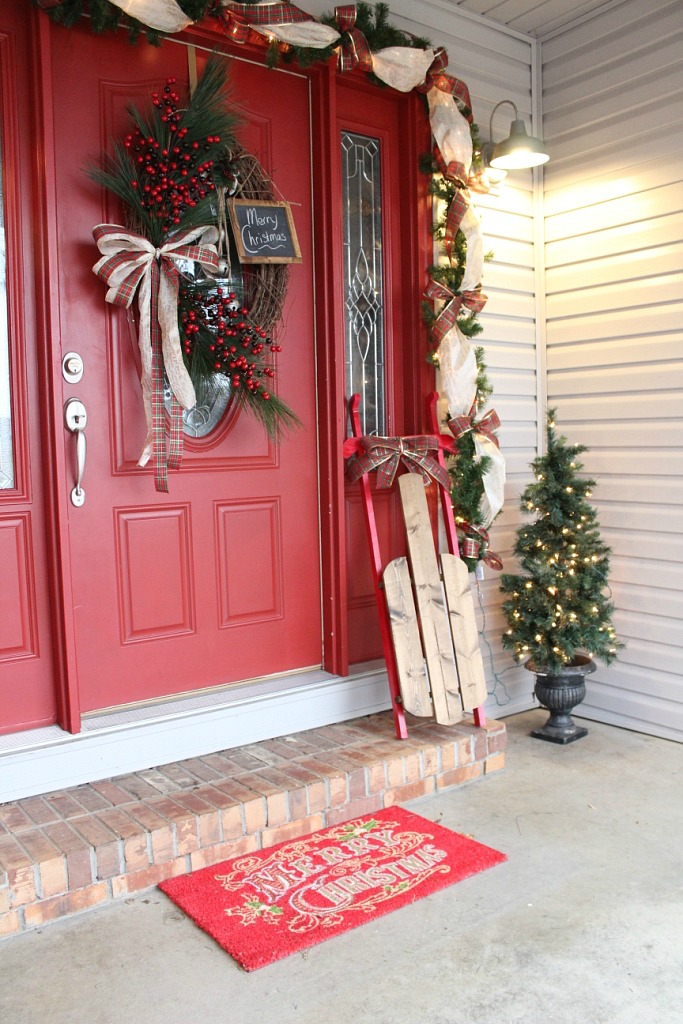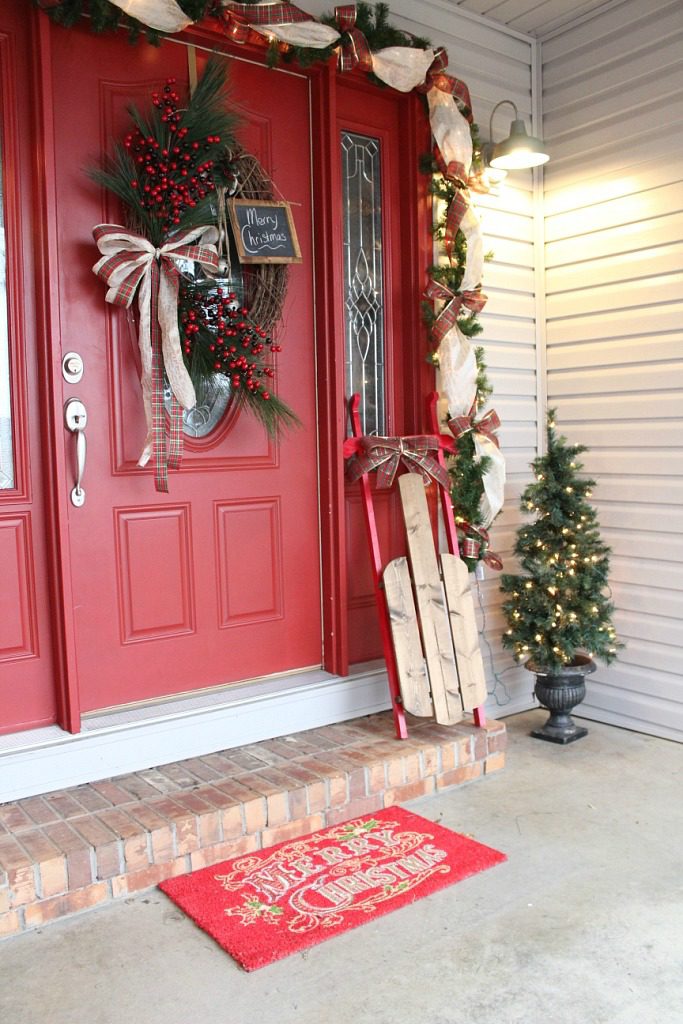 I've had the same Christmas wreath for several years, but this year I made a new one and I am really loving it.  It only took 5 minutes to make!  You can read all about it here.
.
I redid our garland around the door to match the ribbon in the wreath and I love this white and gold ribbon I found at Hobby Lobby.  It's a great reminder of the real reason we celebrate Christmas.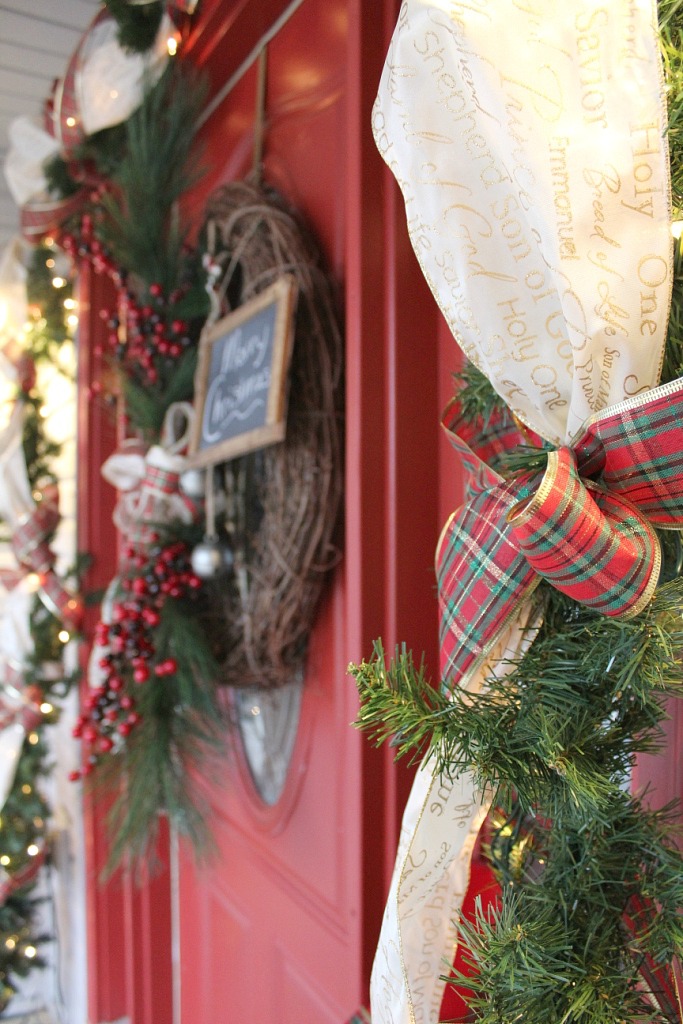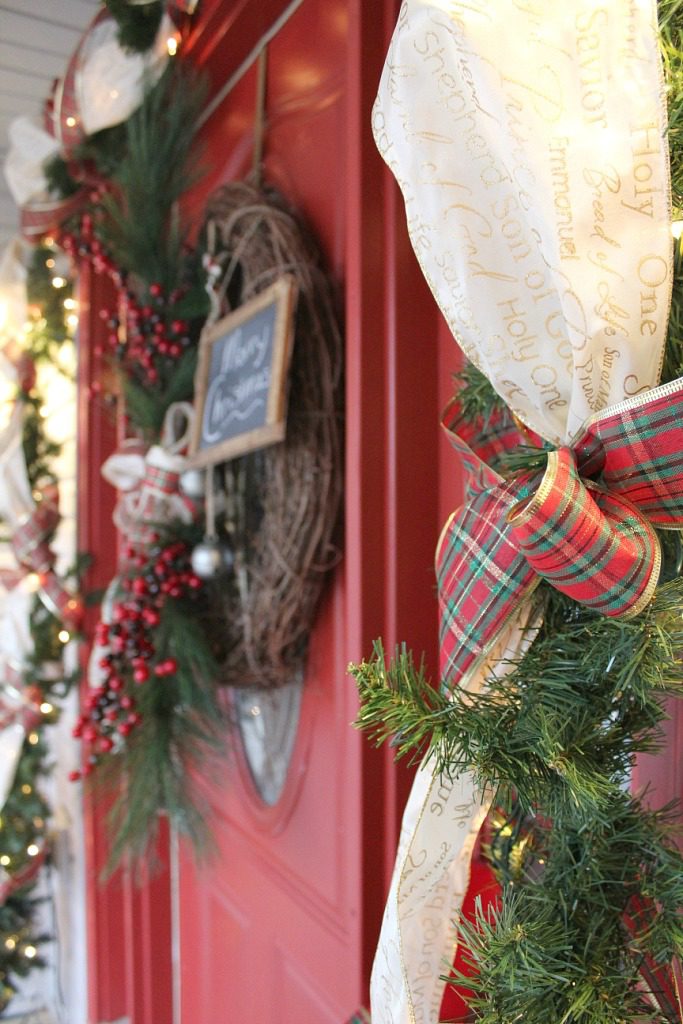 So now that we've peeked around the porch, come on in 🙂
I have so much to show you, but let me start with the living room. I bet you cant guess which tree is Danny's. He's a big fan of the multi color blinking lights….I'm not so much.  But he's happy and that's what matters.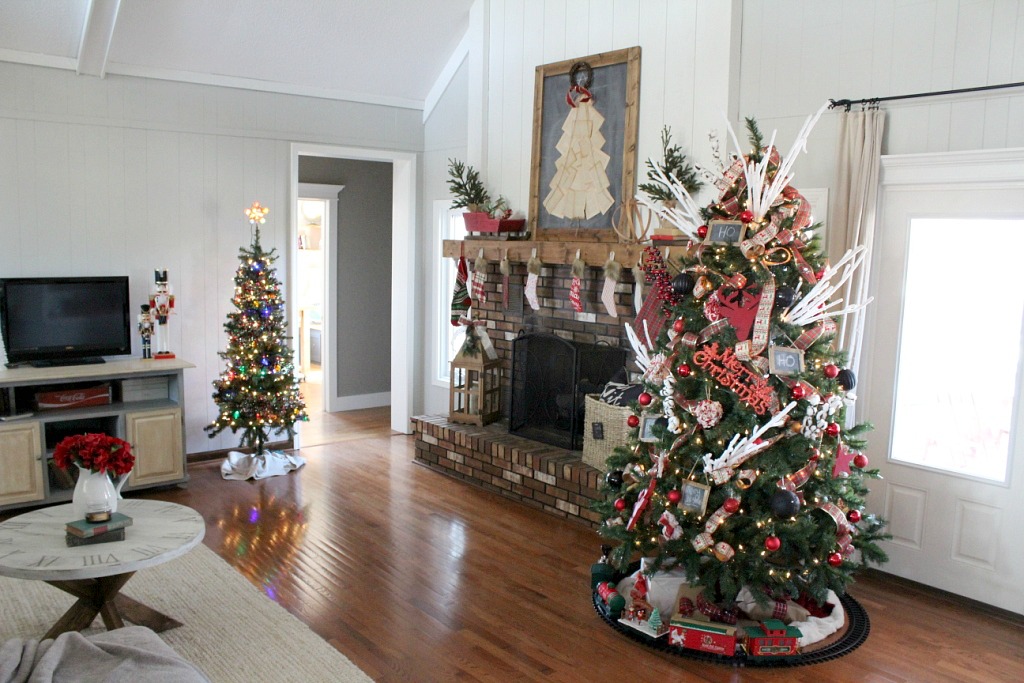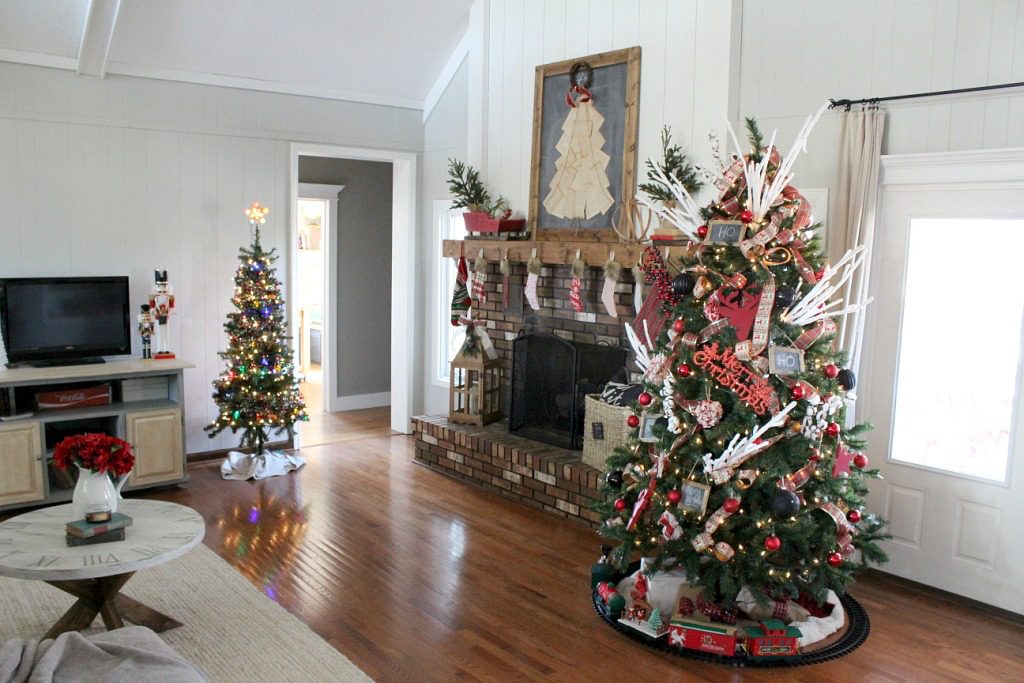 This year, Danny wanted a train around the tree.  I found one and surprised him with it on Black Friday.  He was SO EXCITED.  It runs on batteries and plays all these Christmas songs and horns and stuff.  Oh boy…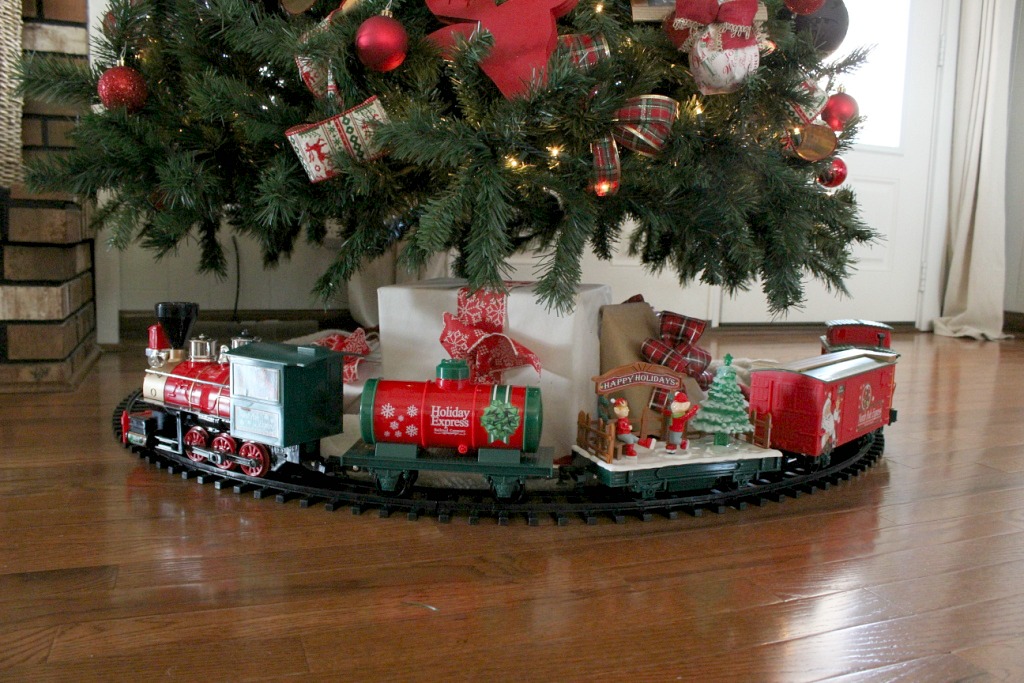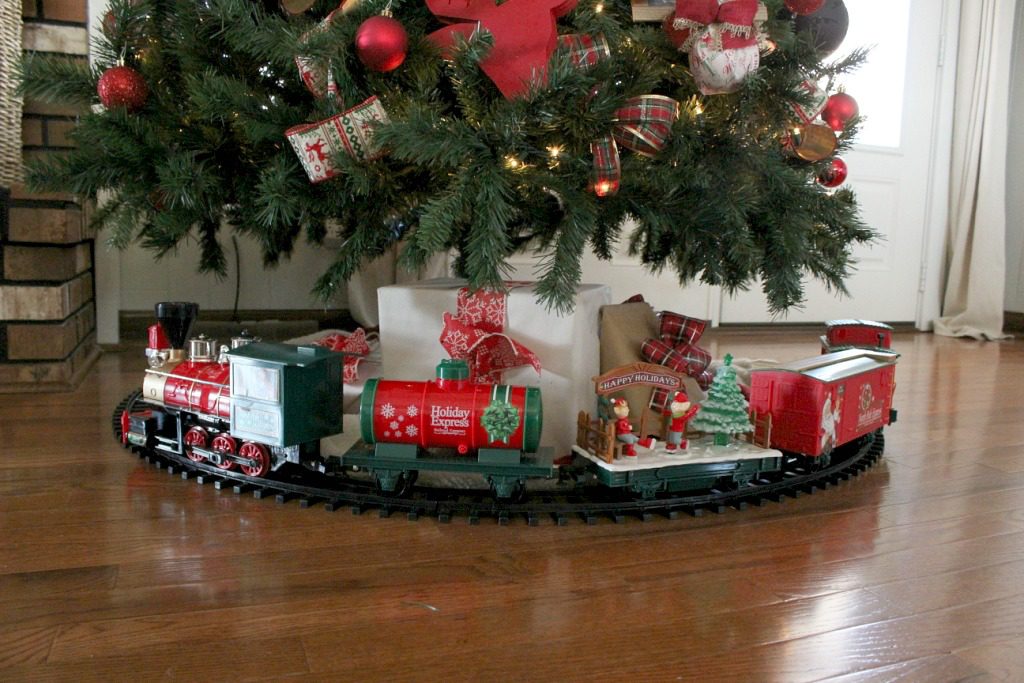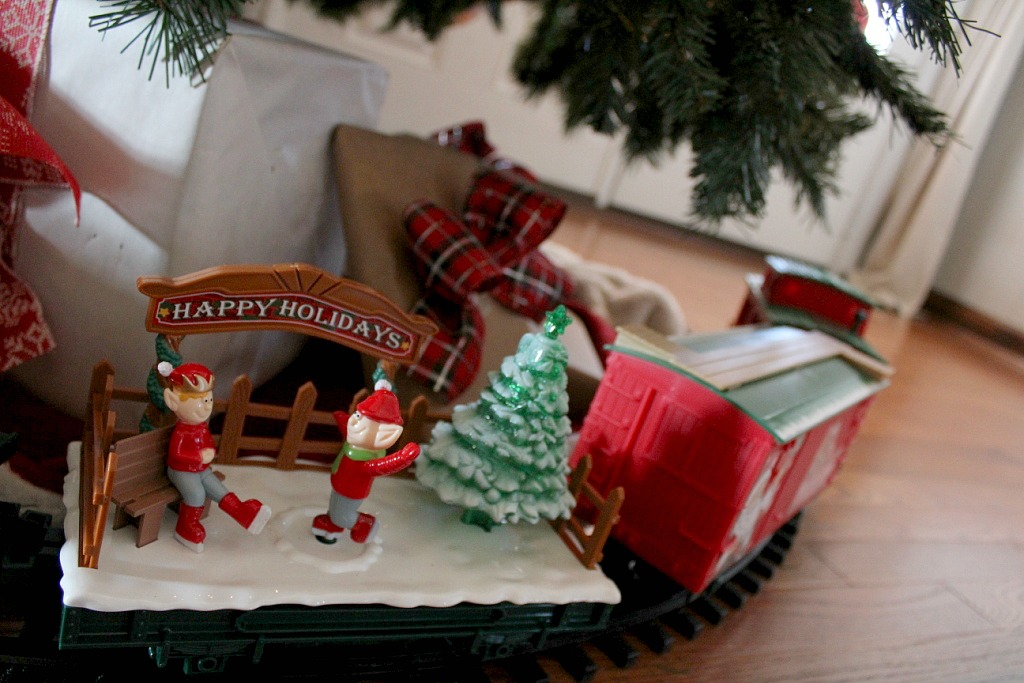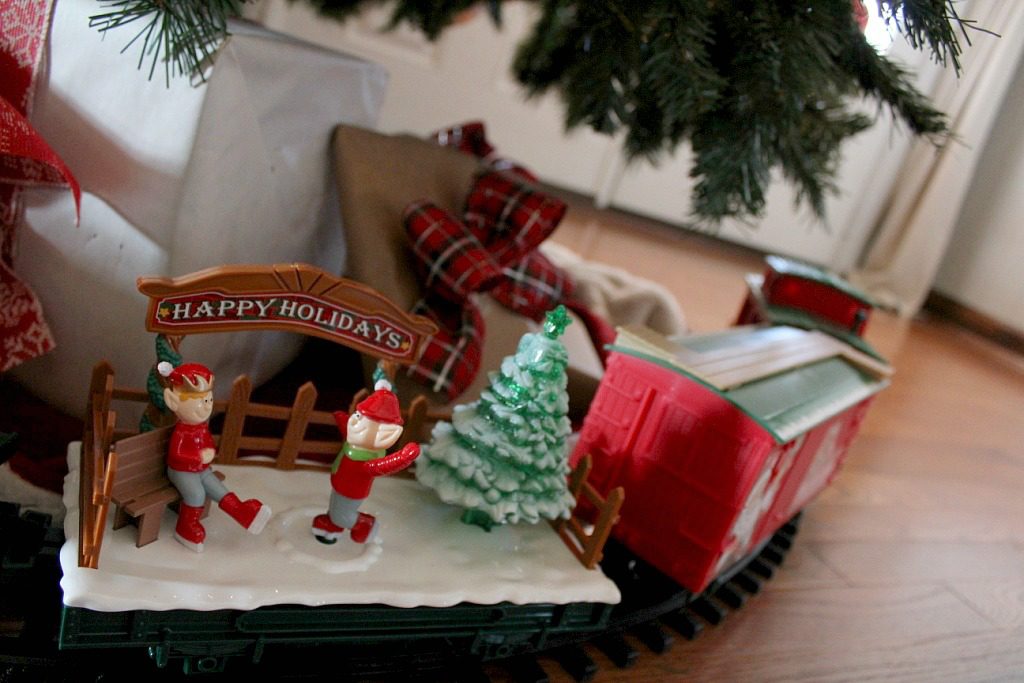 We have a cat with ALOT of personality and we thought he would love the train, but turns out he HATES it.  But I got a few cute pictures of him before we put the train out.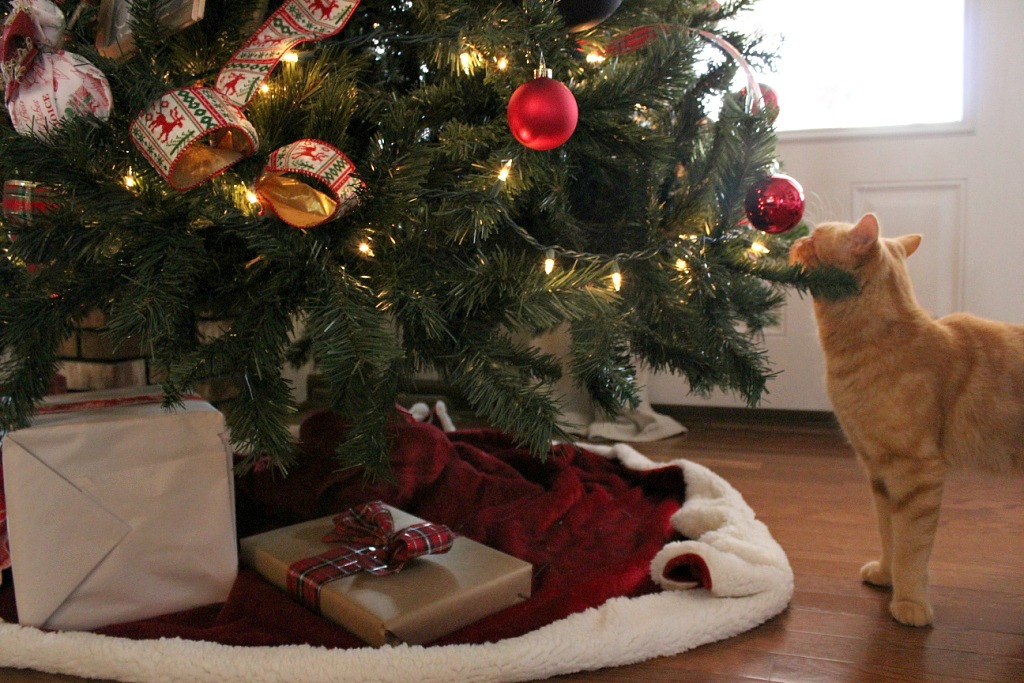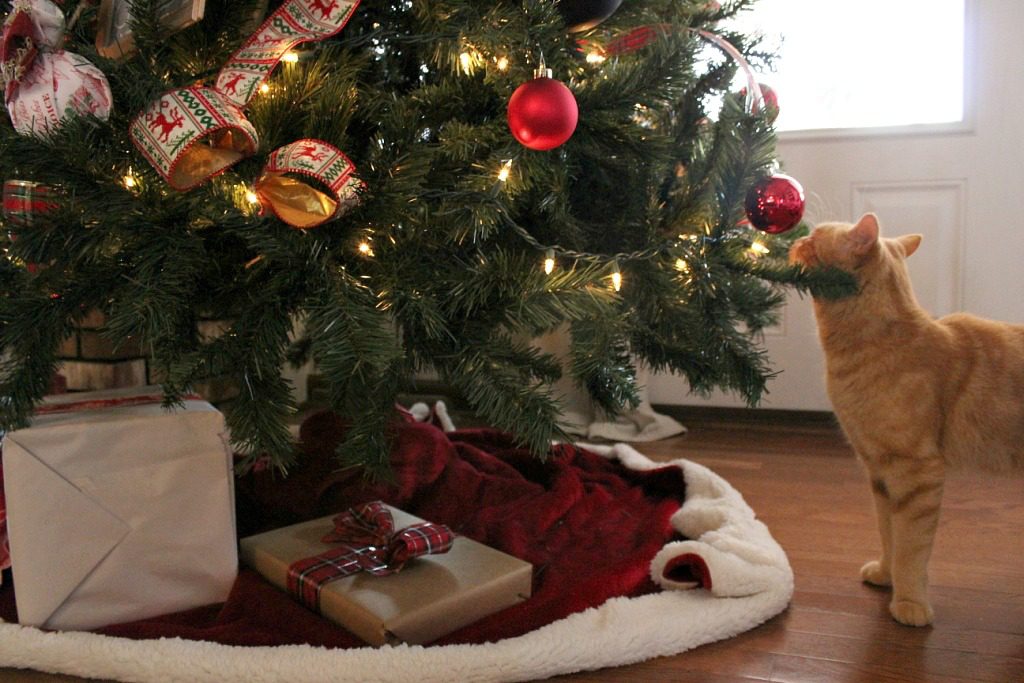 He's not an inside cat…he just likes to take the shortcut from the front yard to the back through the house occasionally.  I'm afraid we may not have a tree if he was an inside cat haha.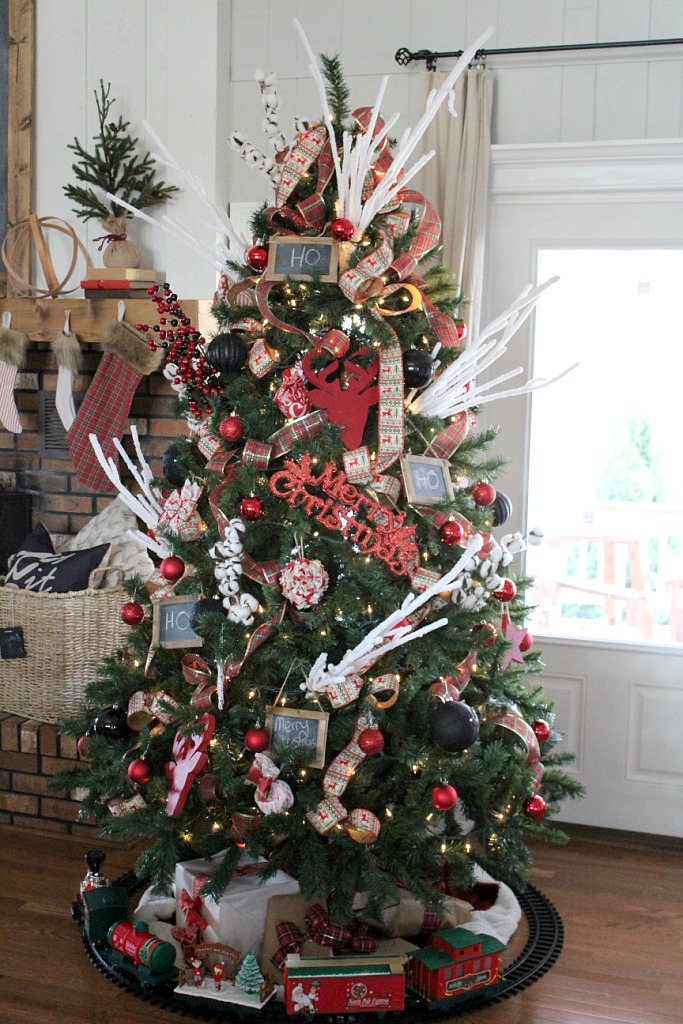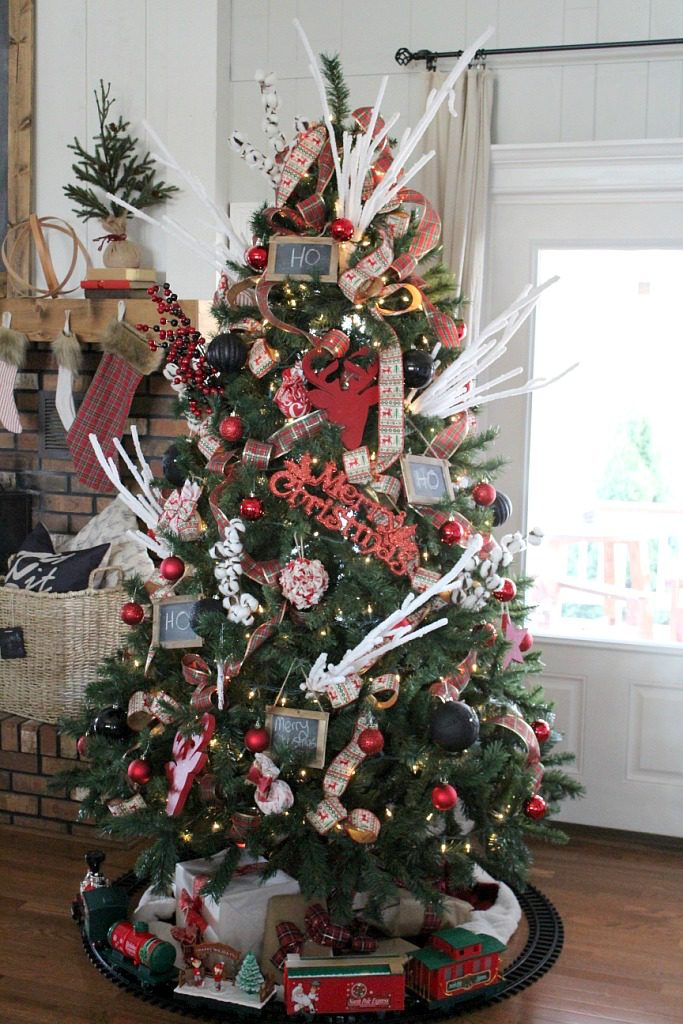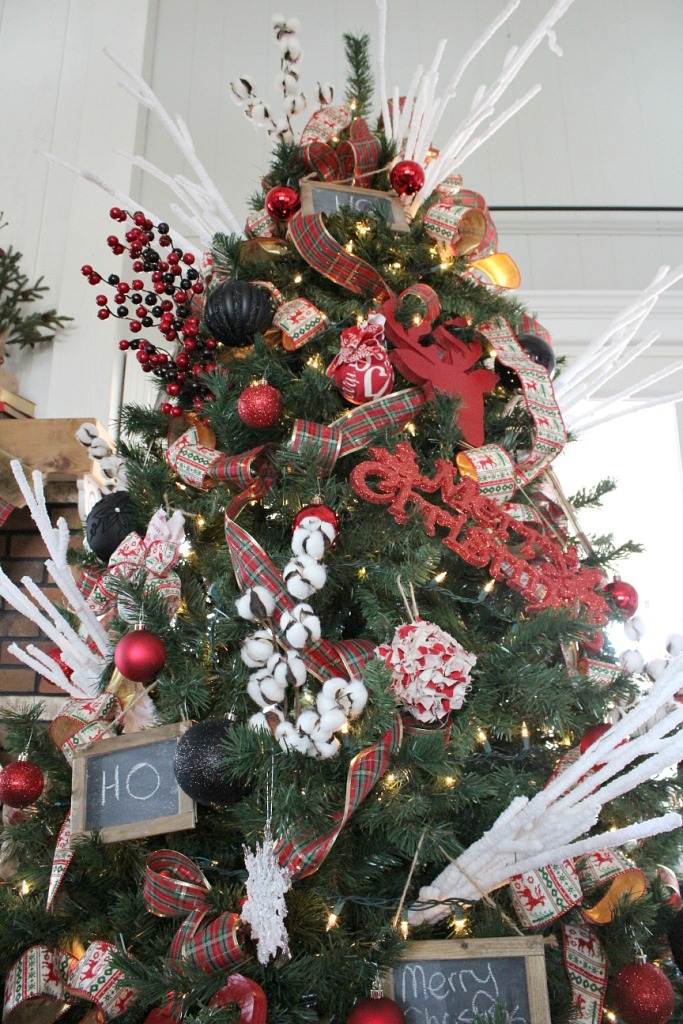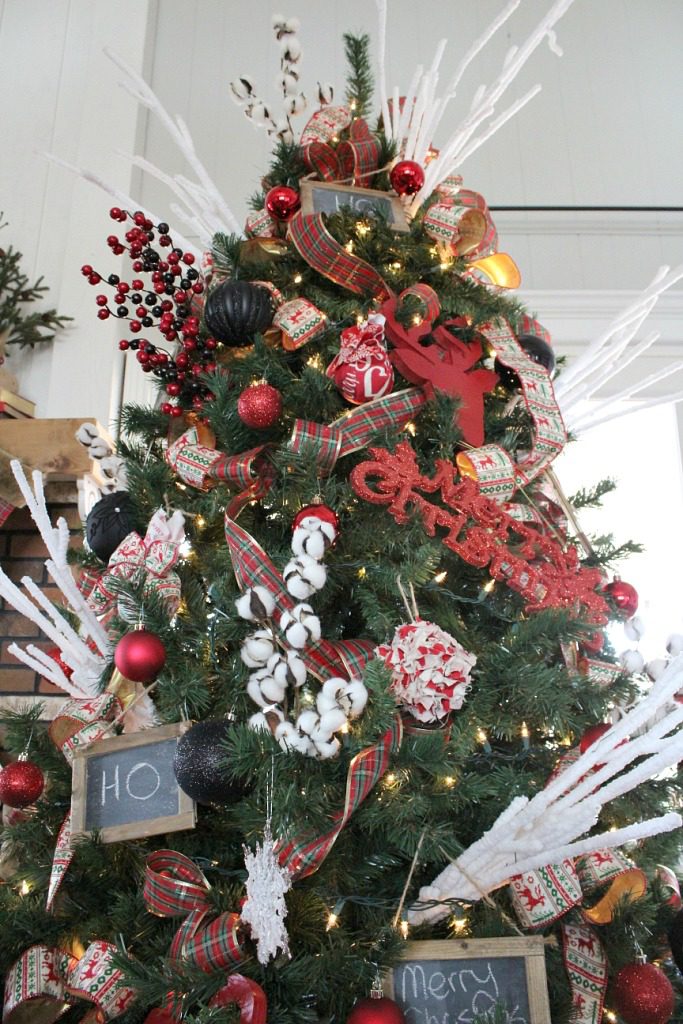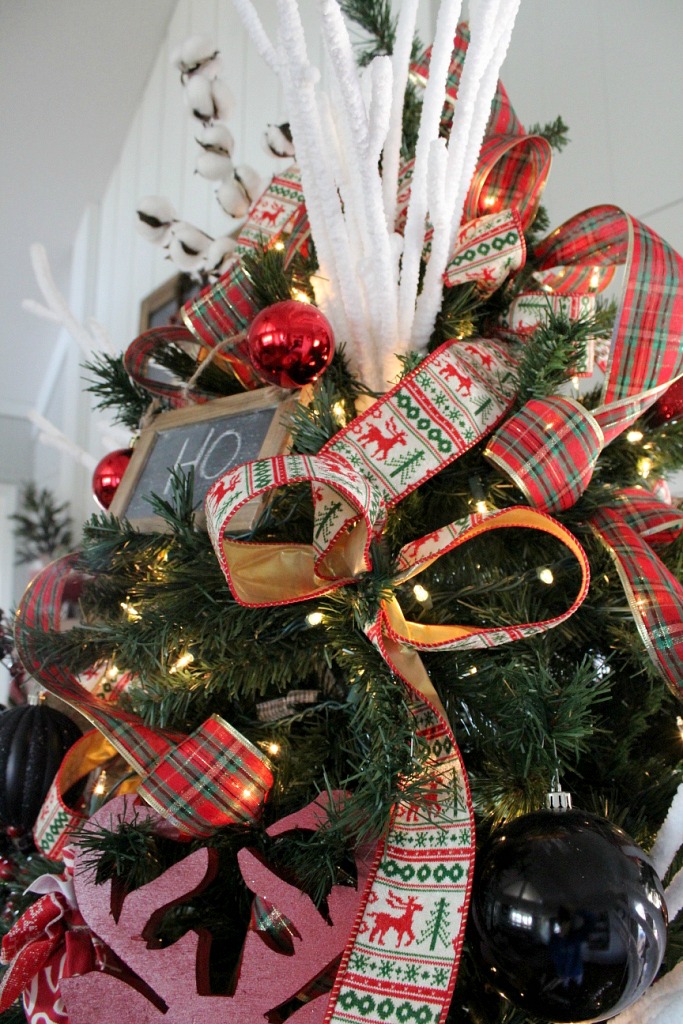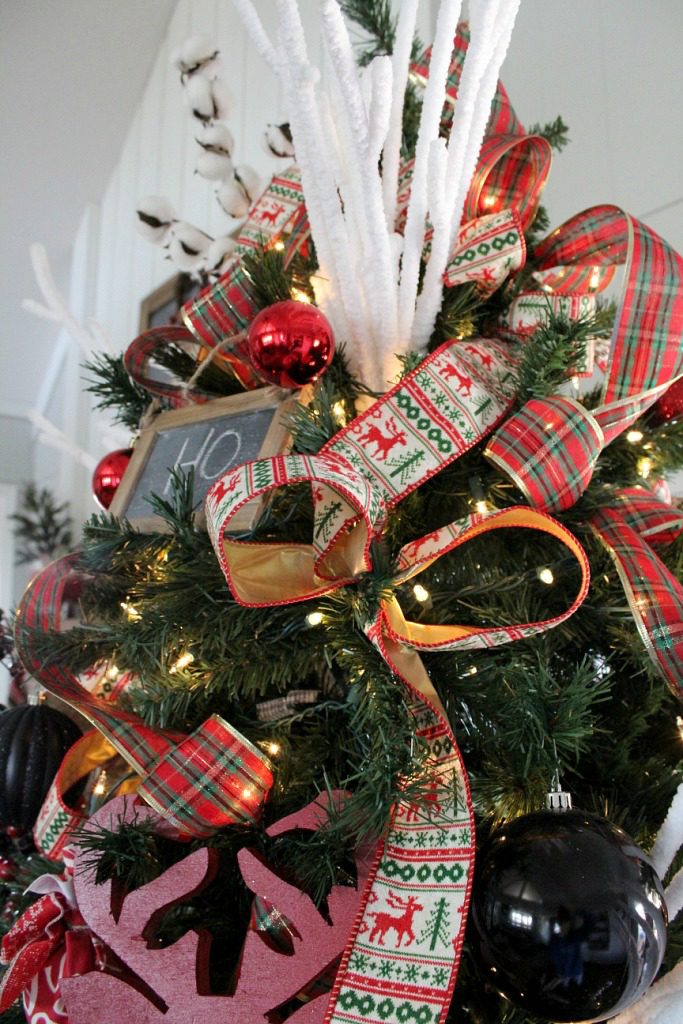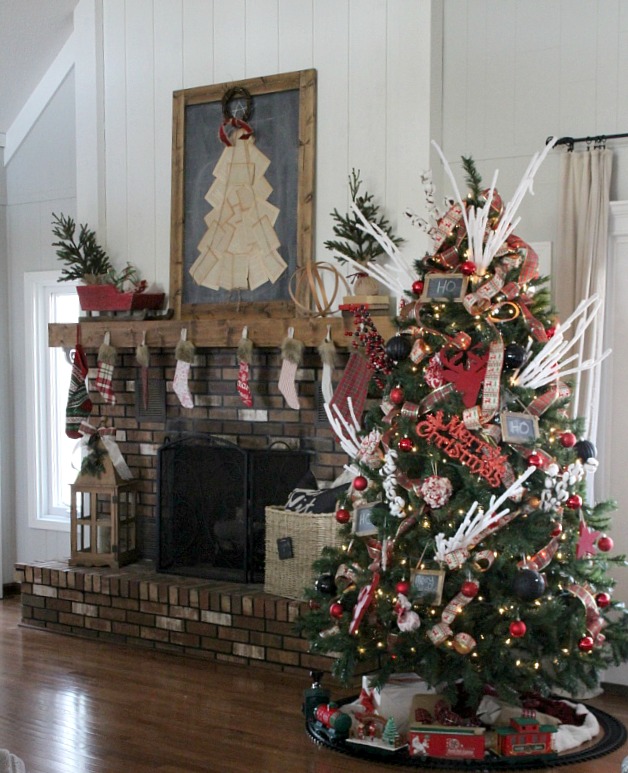 I drug out my sewing machine this year and made myself a new stocking from this plaid material and some fake fur.  The mantle felt bare, so I made six more from fabric scraps leftover from last Christmas…for our pets.  I thought they turned out cute.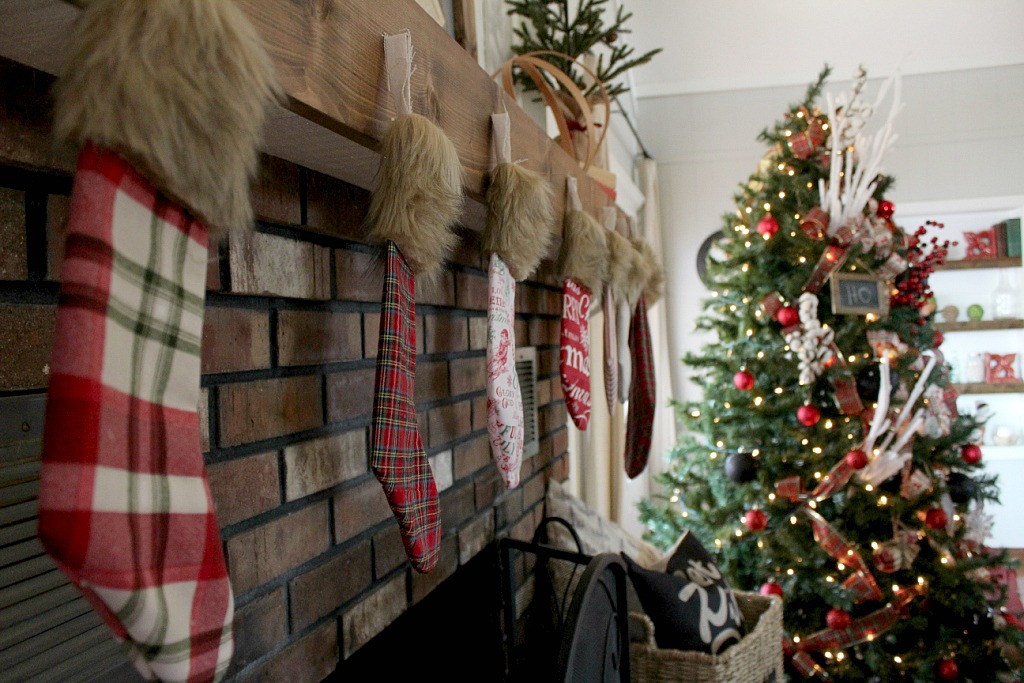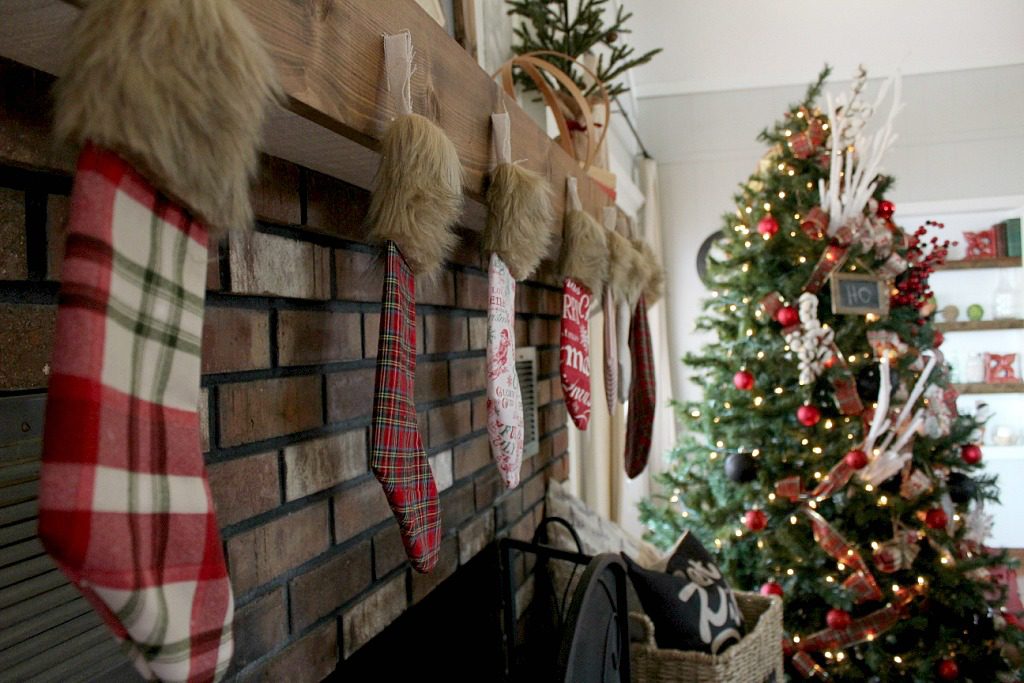 Who knew I could sew?  Let me clarify something–there is a difference in sewing and sewing WELL 😉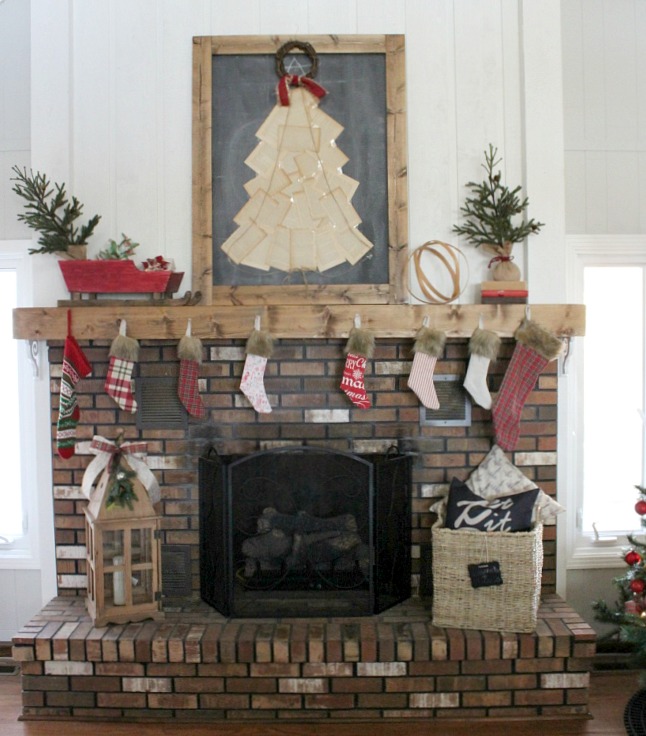 You can see the tape (OOPS), but for the mantle this year, I tore out pages from an old book I found at the junk store and taped them onto my chalkboard from last year in the shape of a Christmas tree.  I should have used the satin tape instead of the gloss, but it's too late now.  I liked the little tree accents on the sides.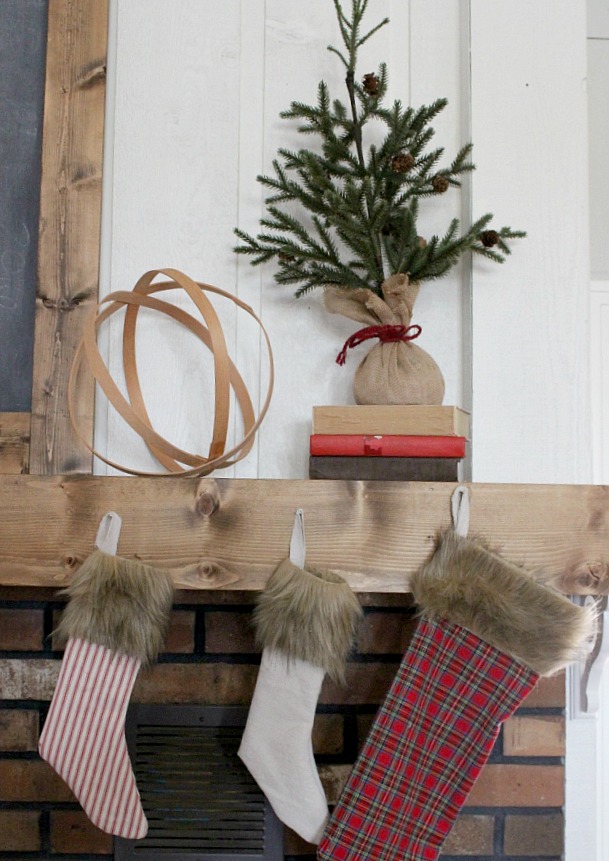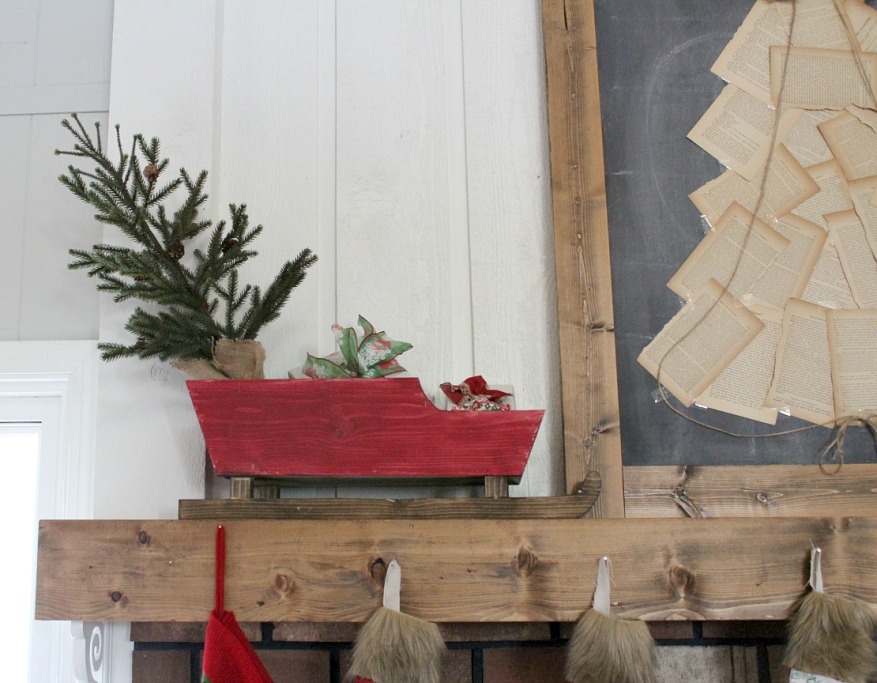 Instead of changing out the décor on our hearth, I added a little Christmas swag onto the lantern and it fit right in.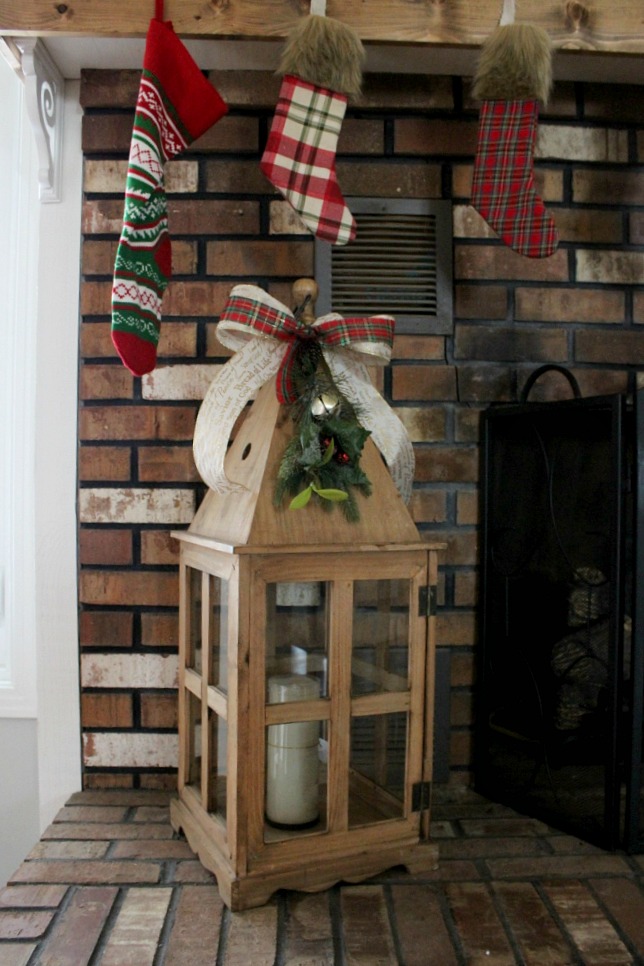 Over on the couch, I sewed a few new Christmas pillow covers (again with the sewing…don't look too close) and used a couple pillows I already had.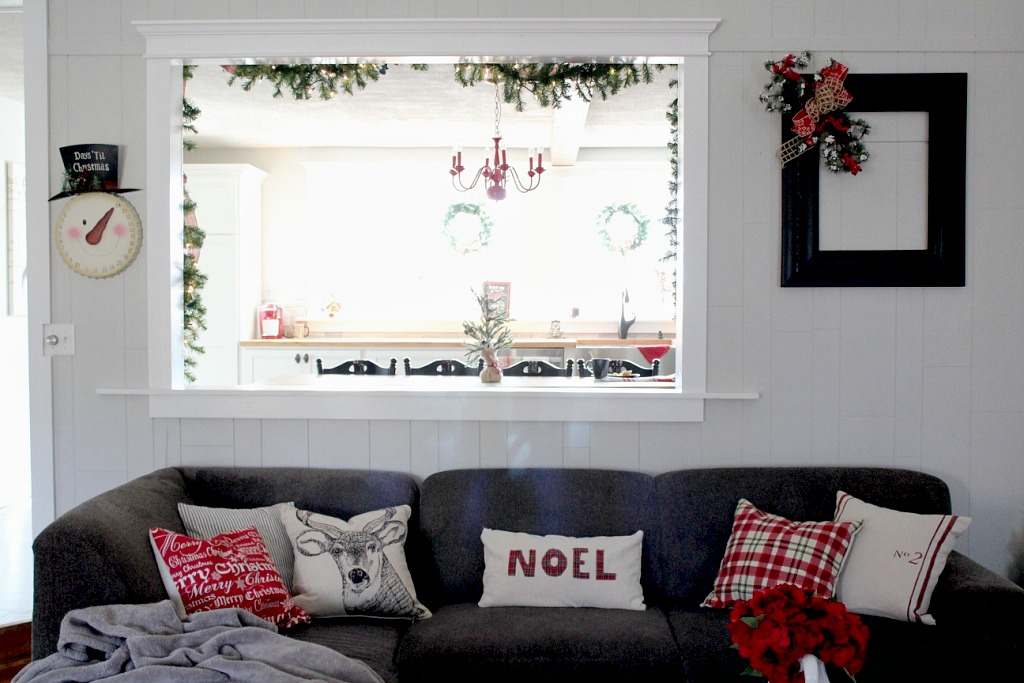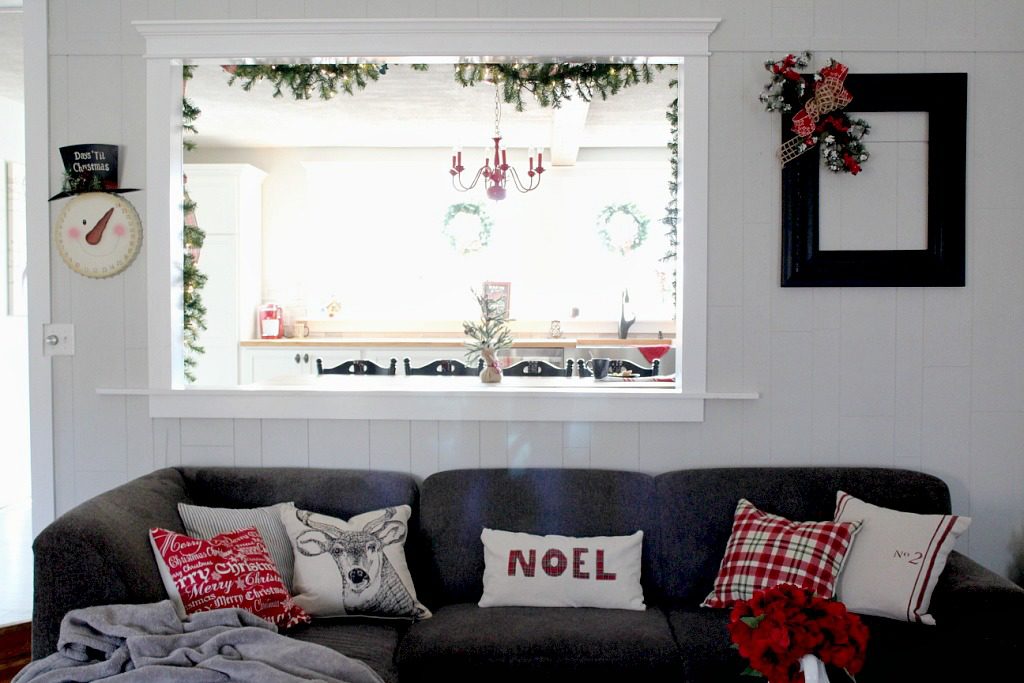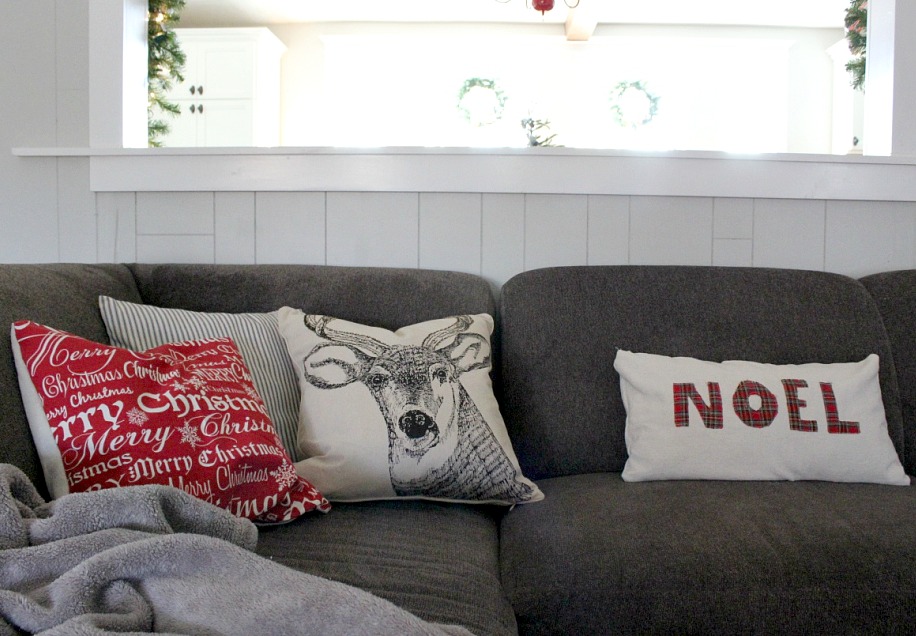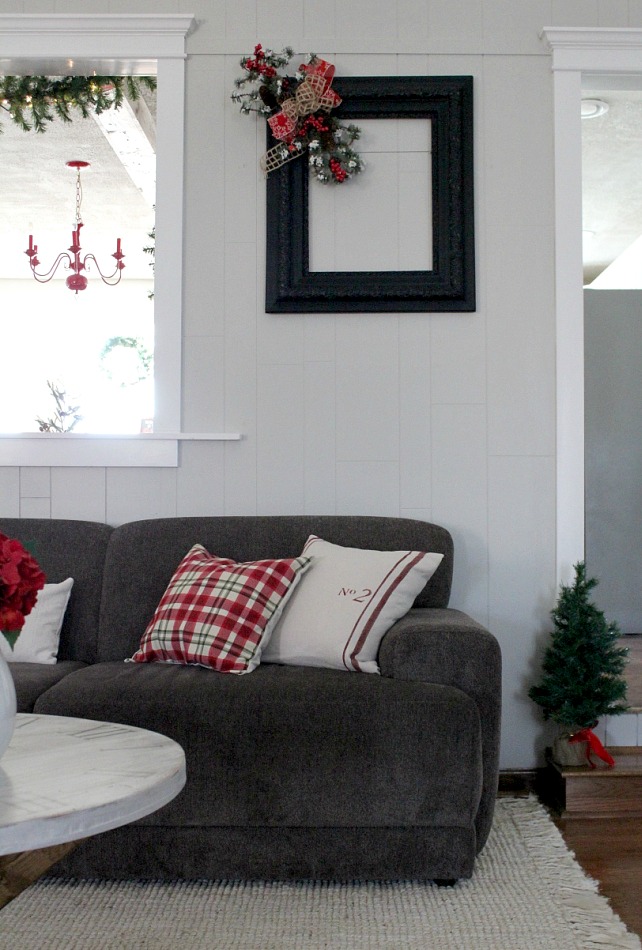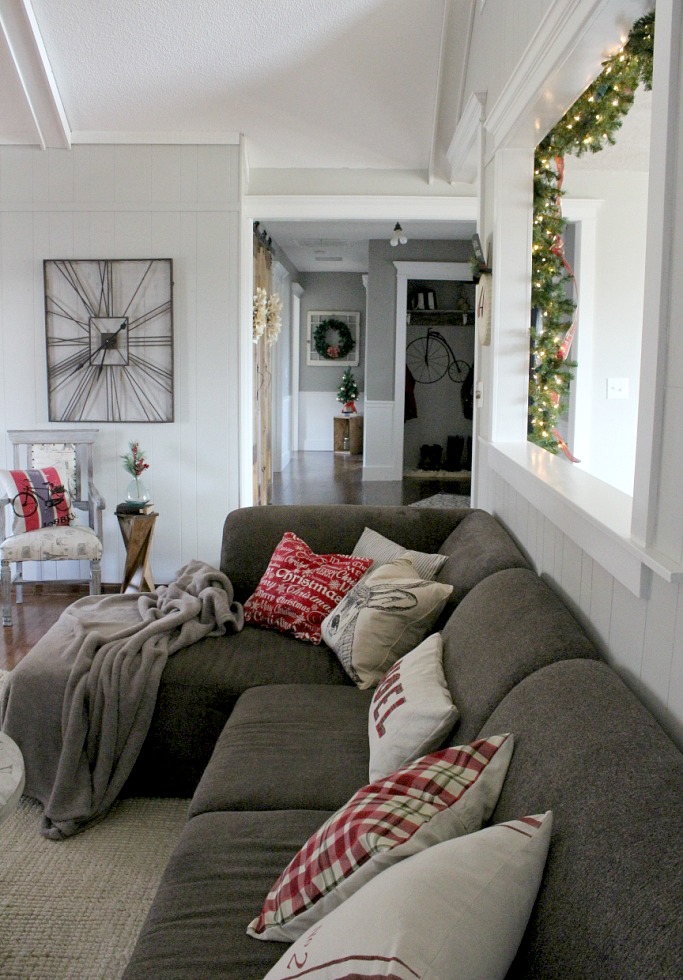 Oh yes, and I can't forget the twisty table.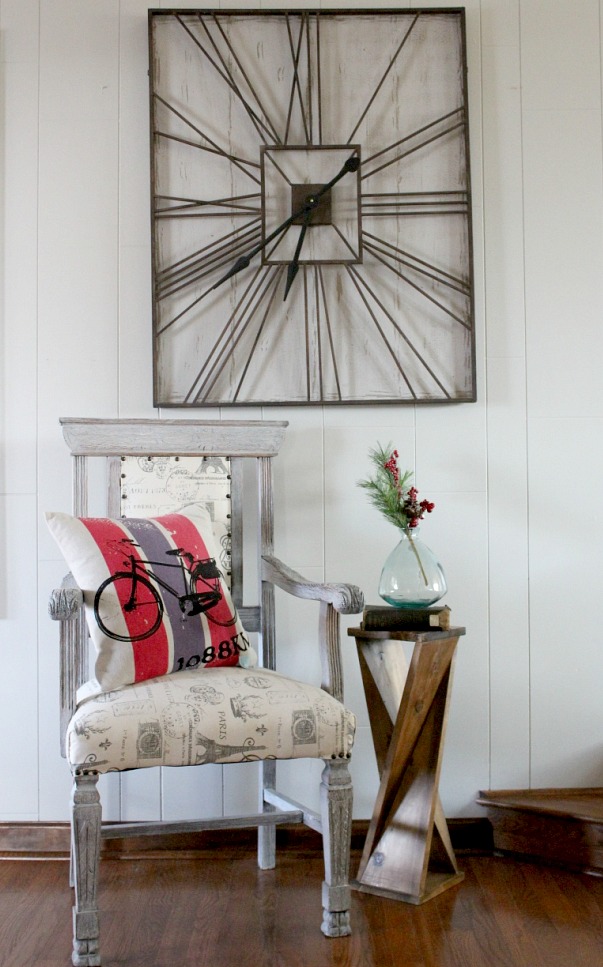 I added my favorite little decoration–the Charlie Brown Christmas tree–over next to the TV.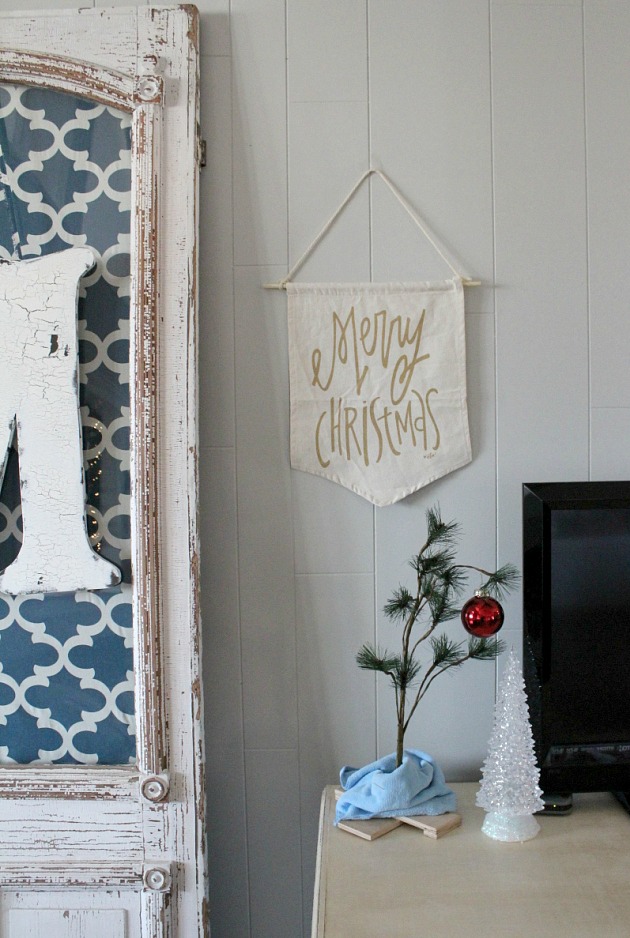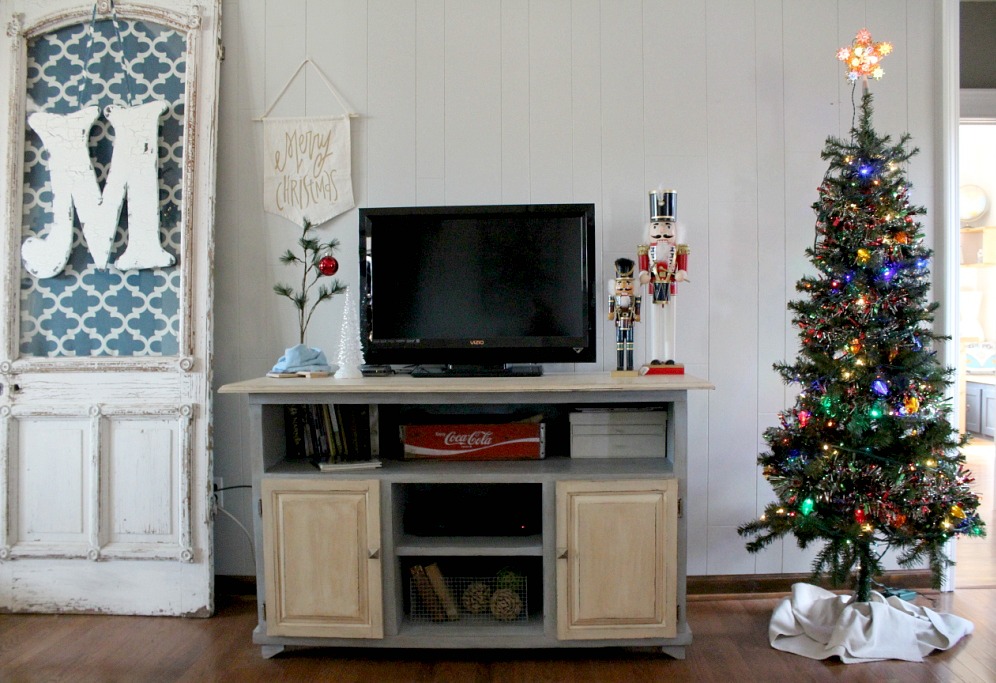 Now, take a small step up into the kitchen.  I kept it simple in here this year.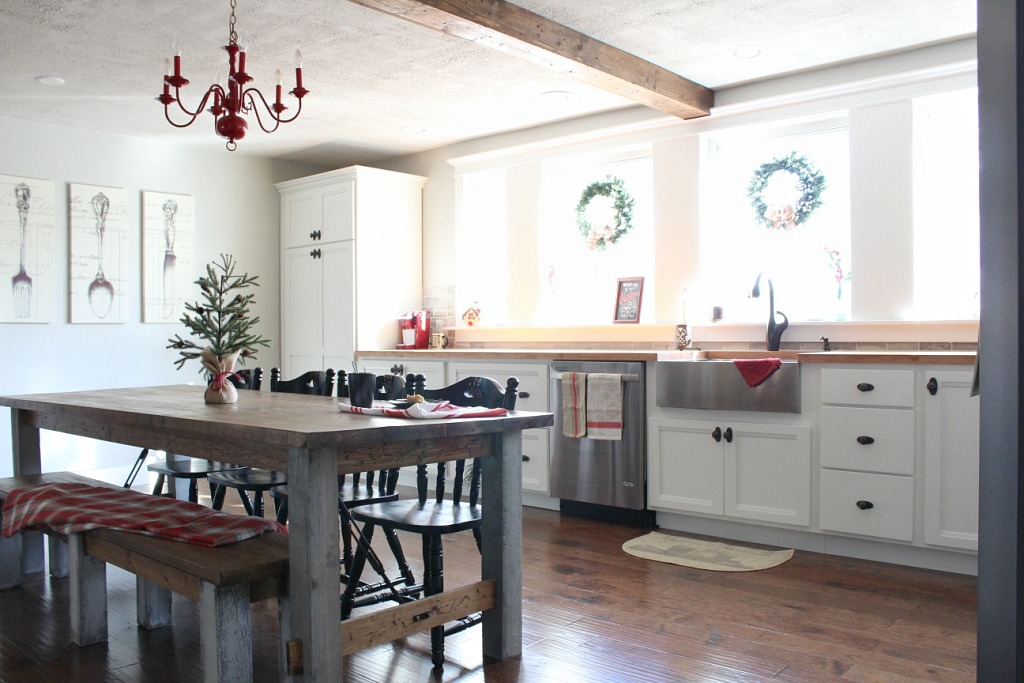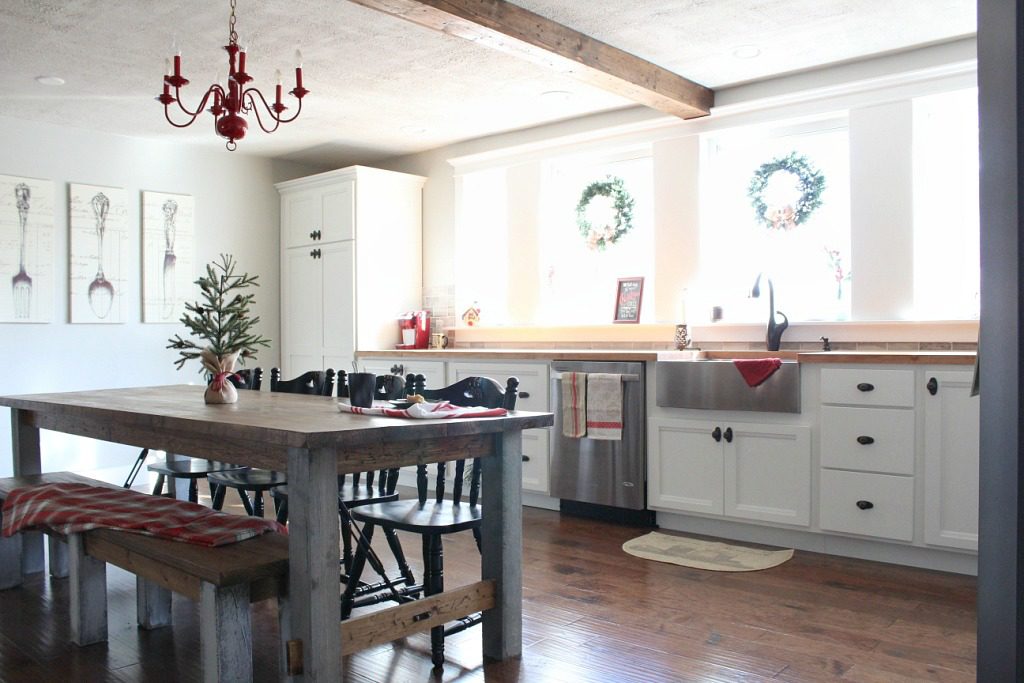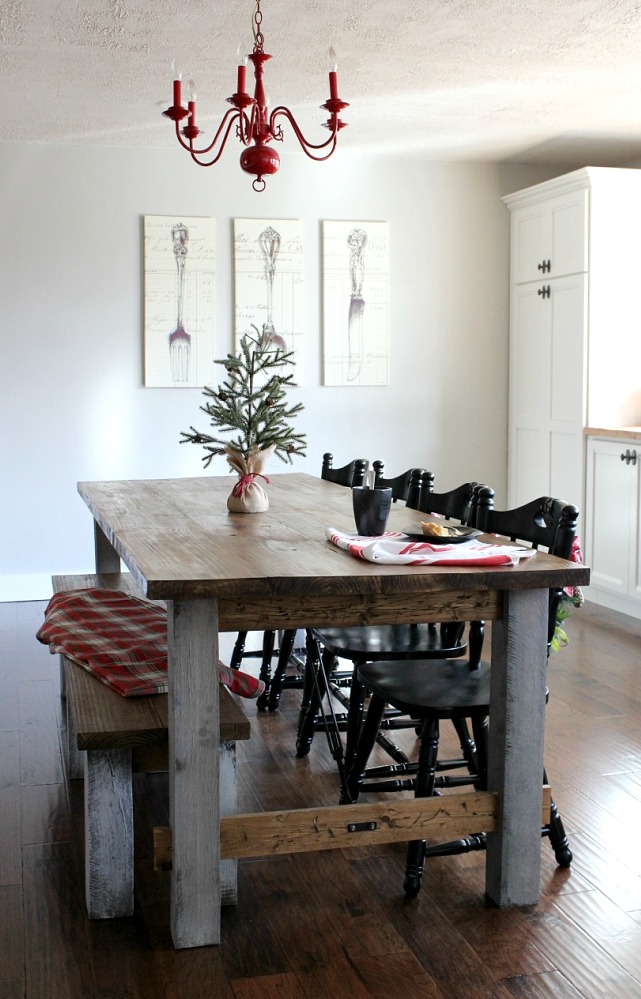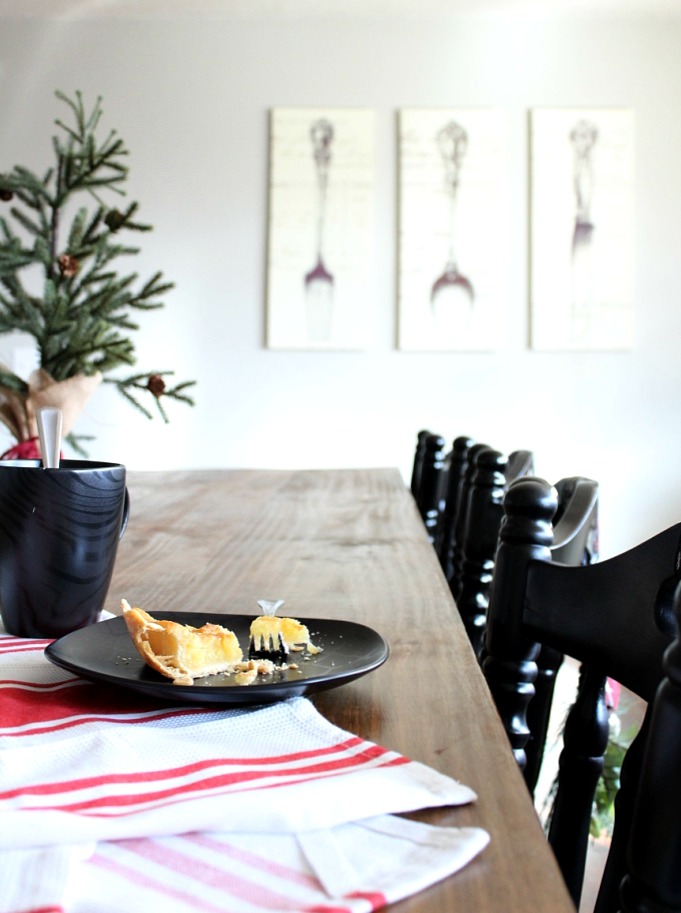 I'd offer you some pie and hot chocolate, but I'm pretty reluctant to share my homemade chess pie.  It's kind of like what I imagine everything in heaven will taste like.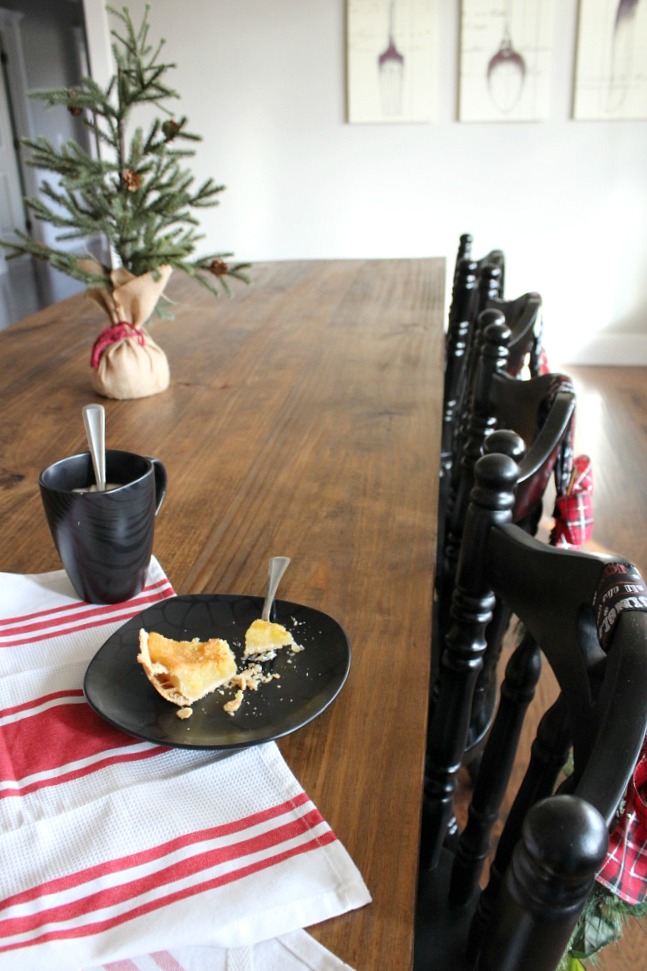 I finally got around to painting these chairs black this weekend and I love them!  I added these Christmas swags on the back and they are so festive!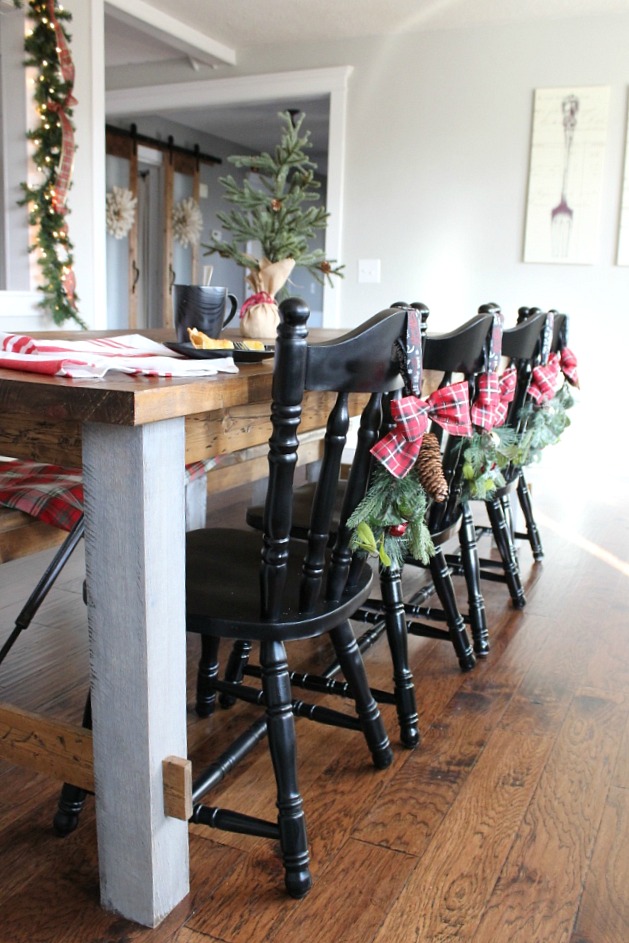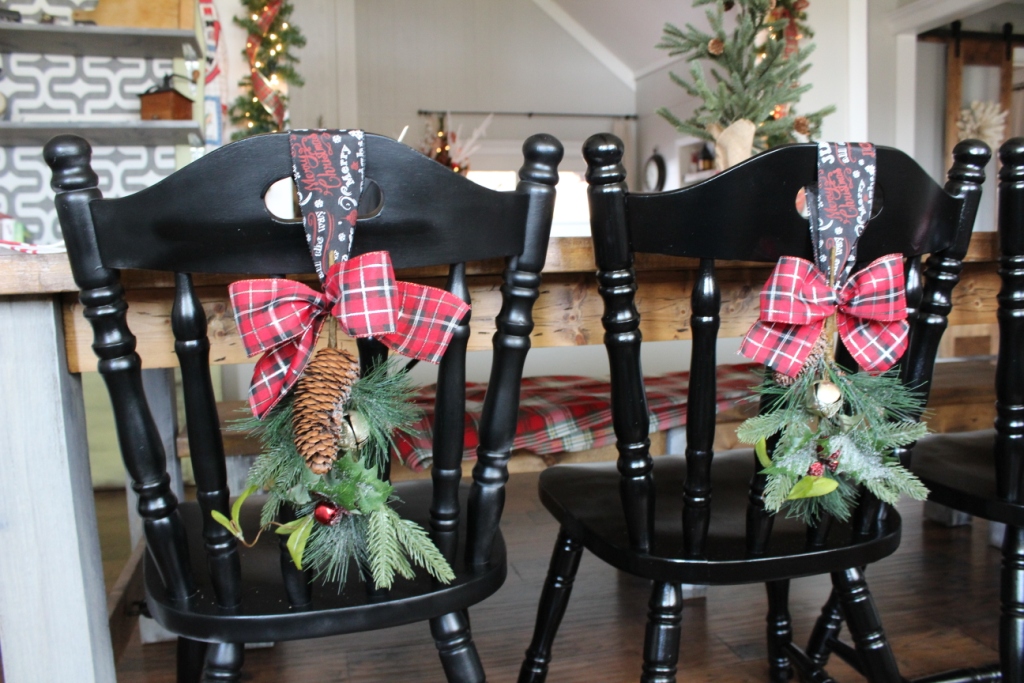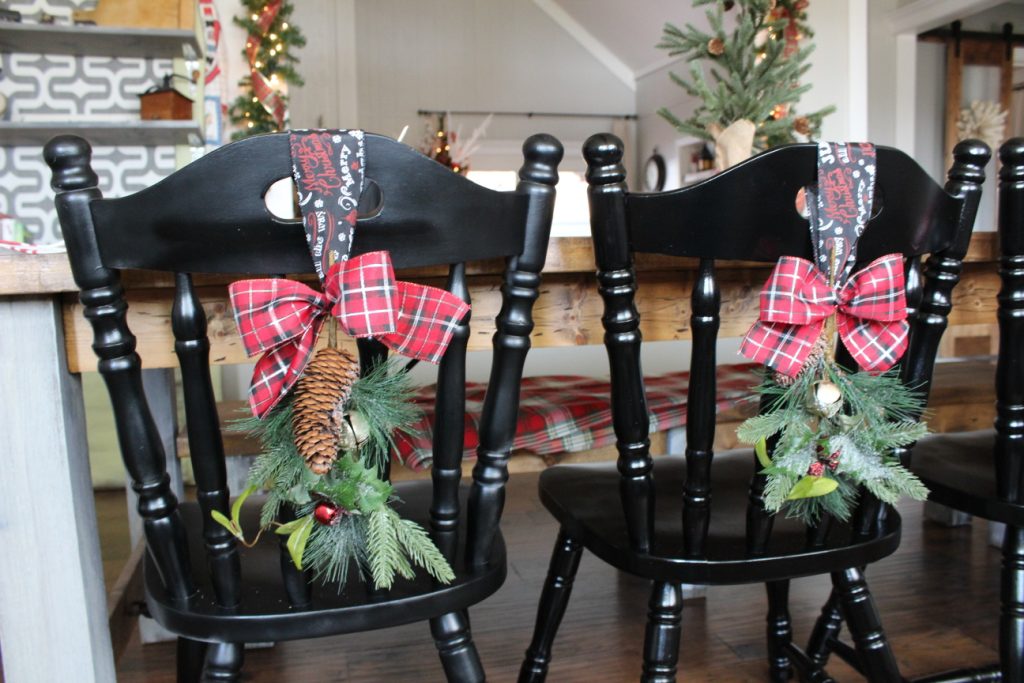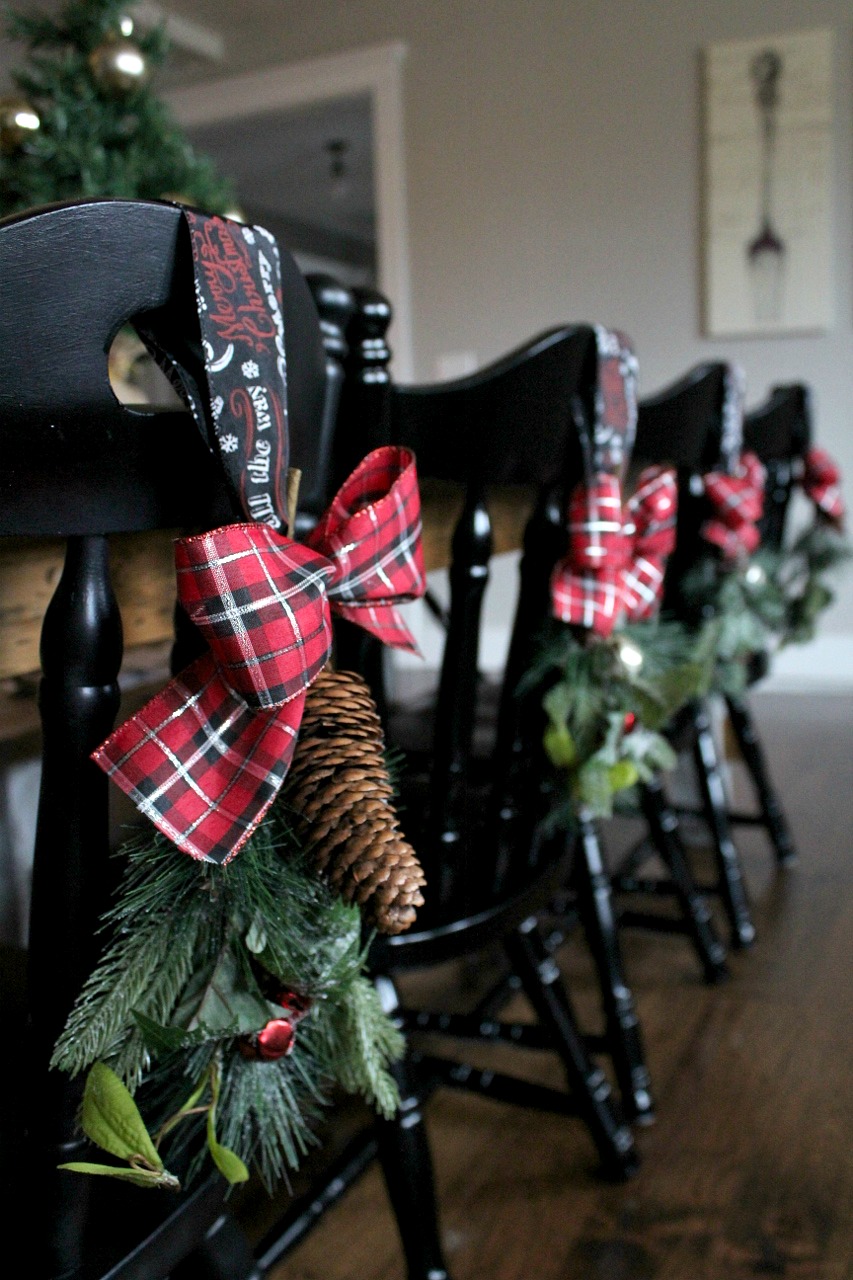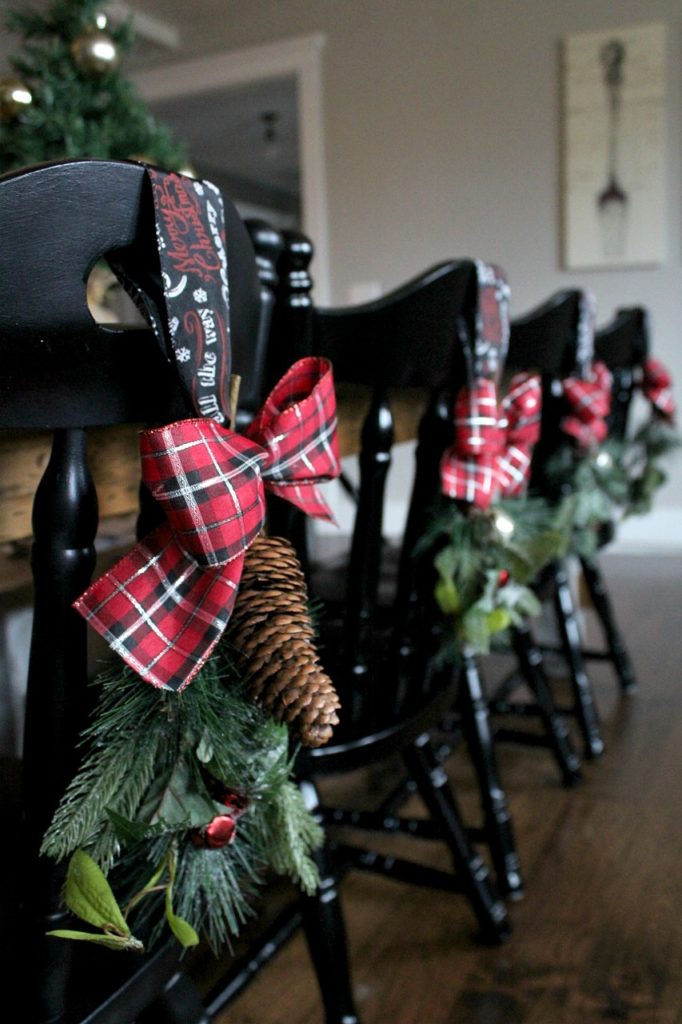 I love the simplicity of the little tree on the table this year.  It's easy to clean around 🙂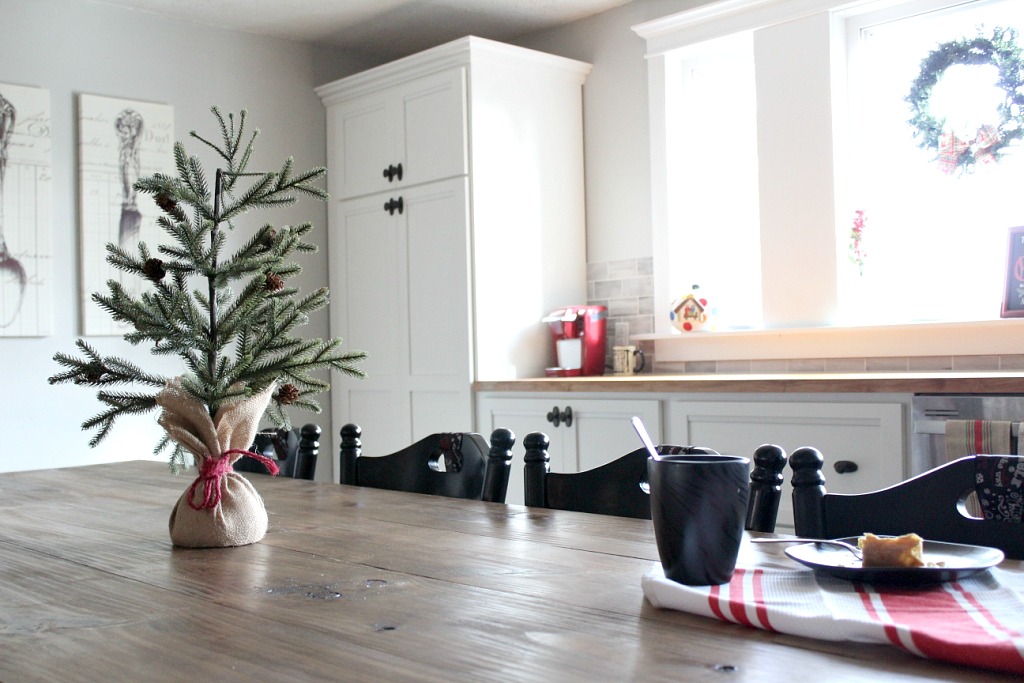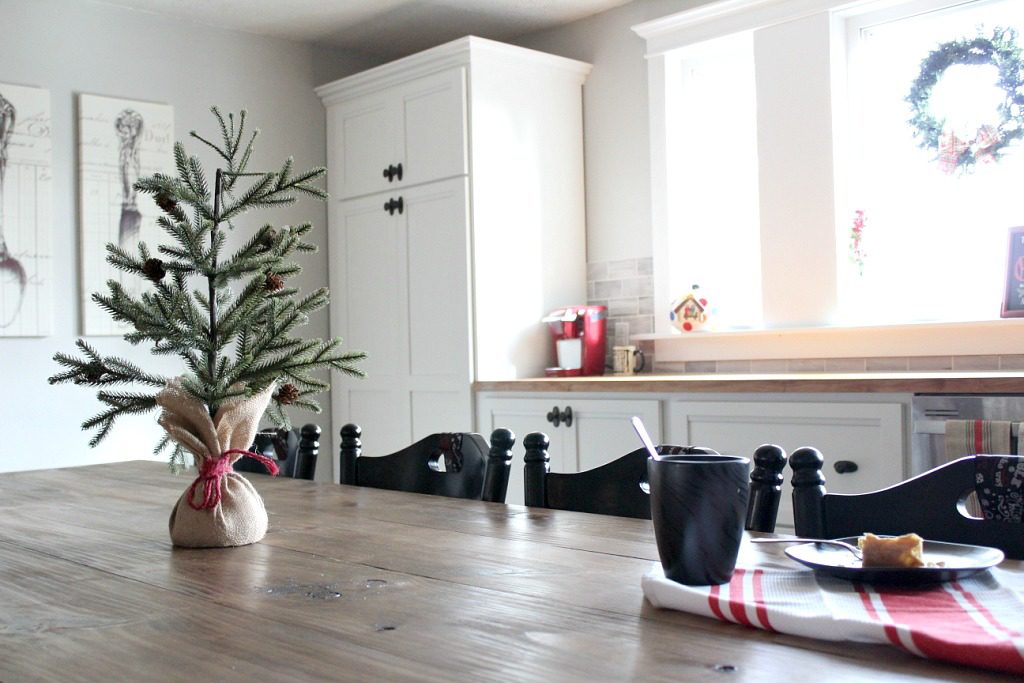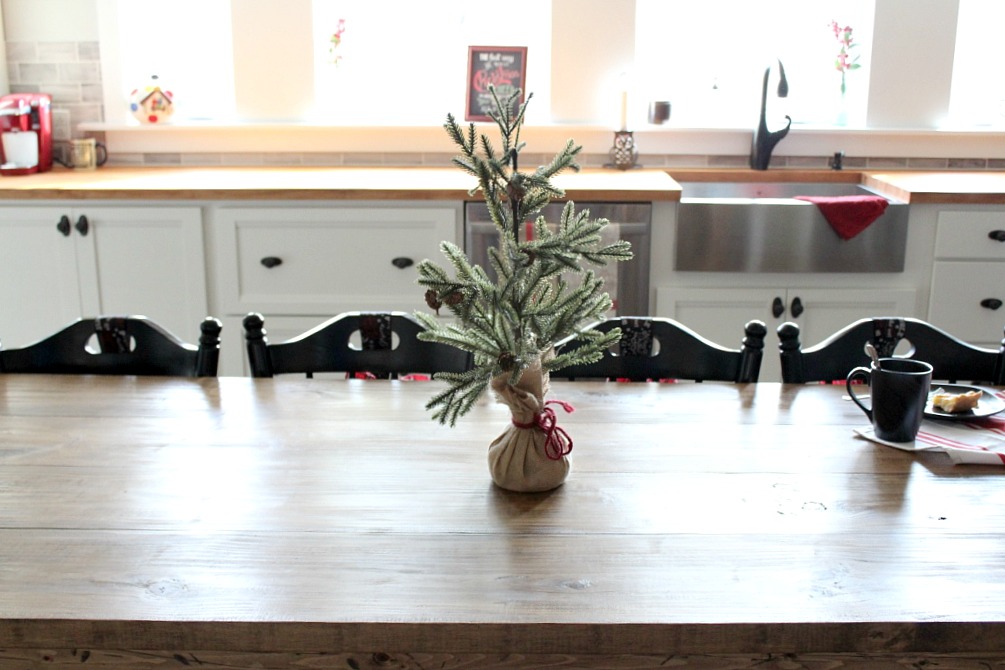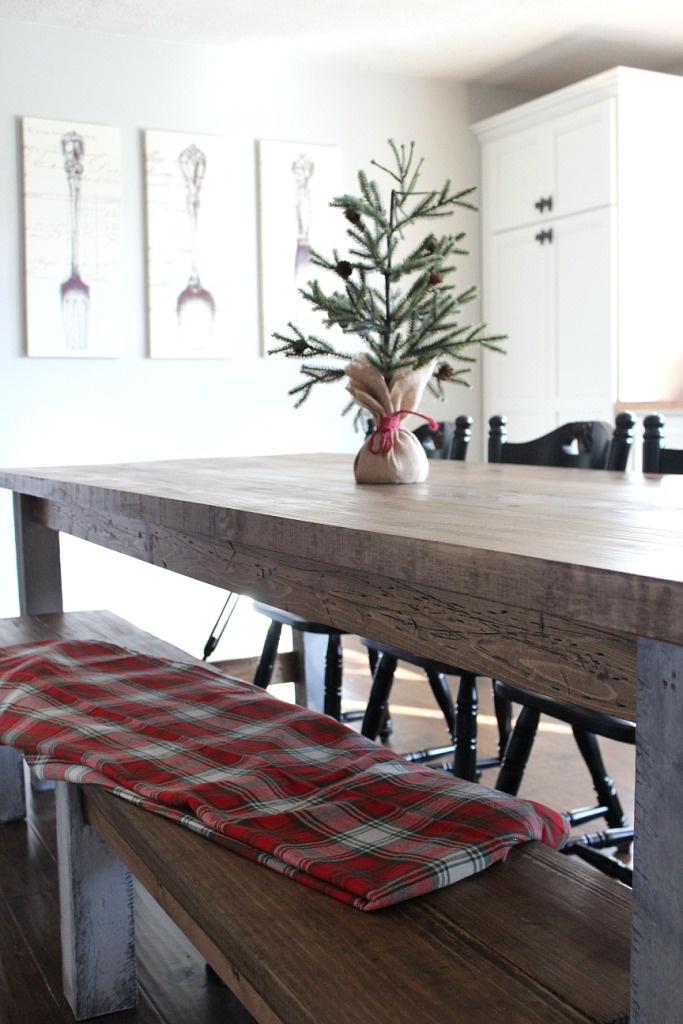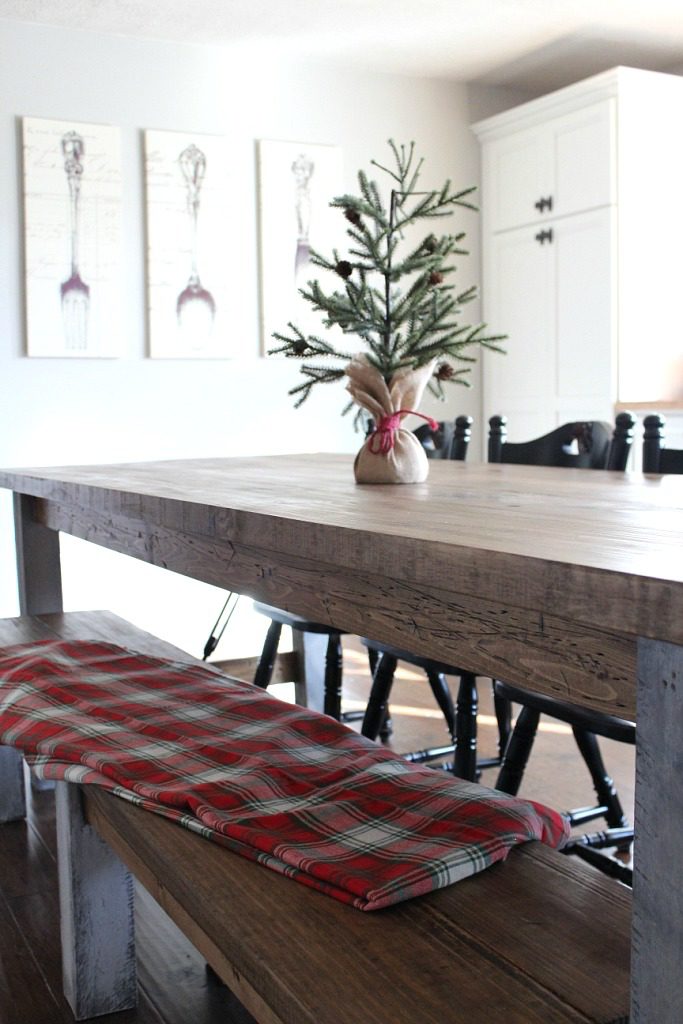 We added some garland around the opening, but didn't change a whole lot for Christmas in this area.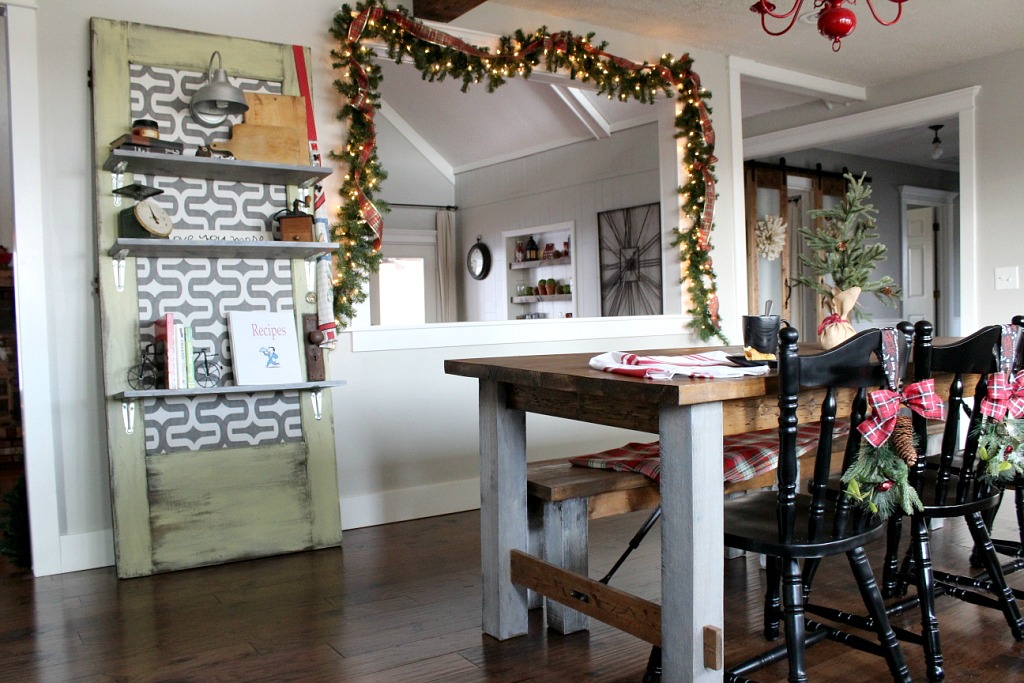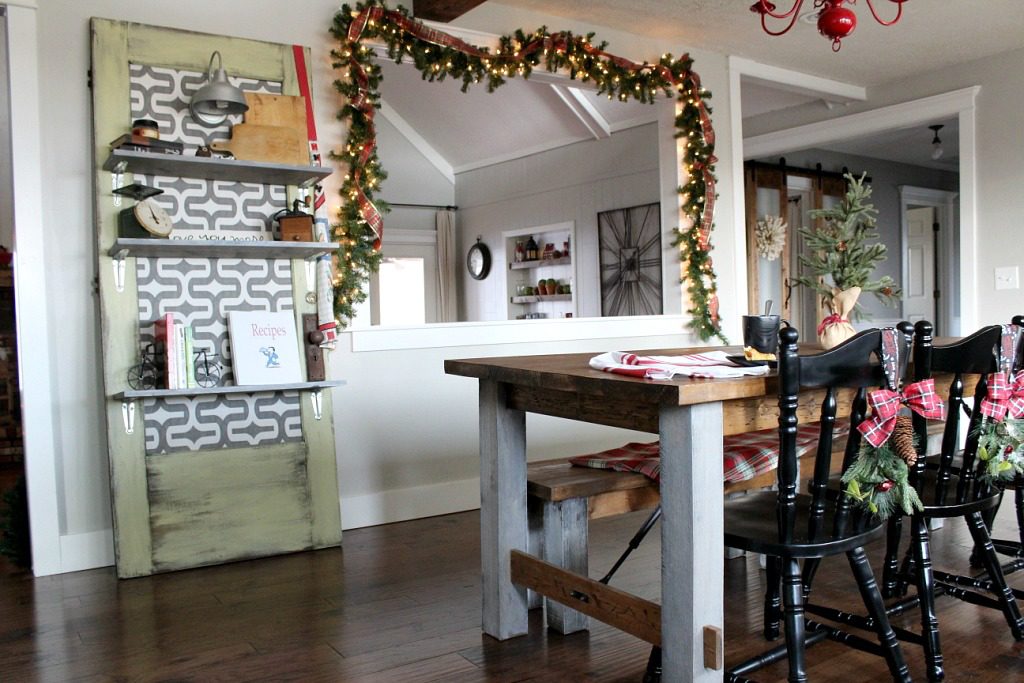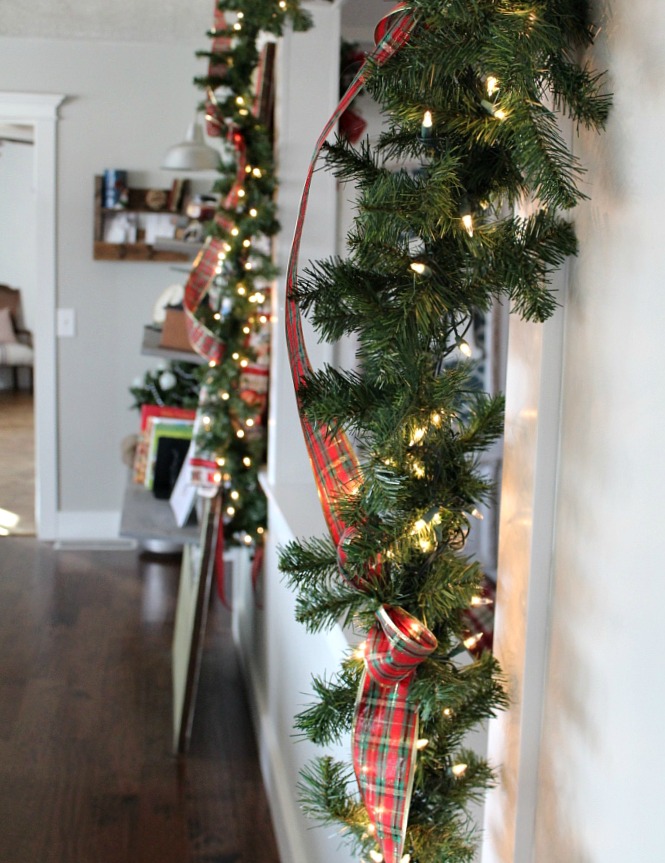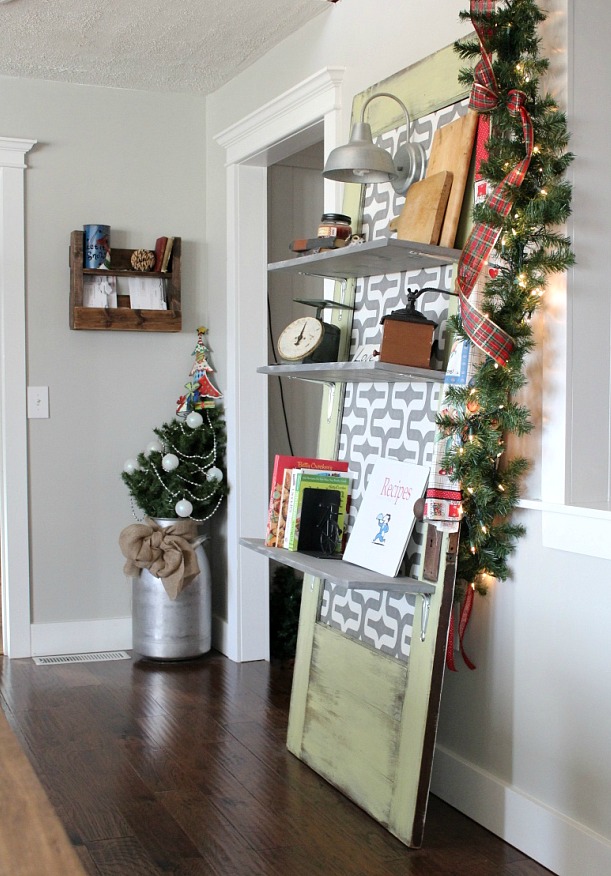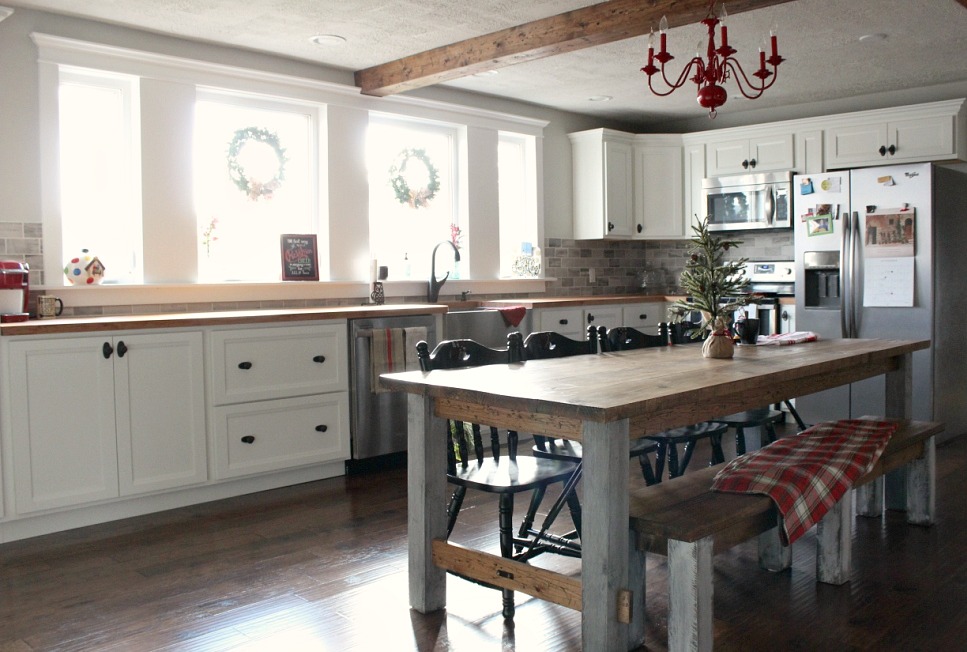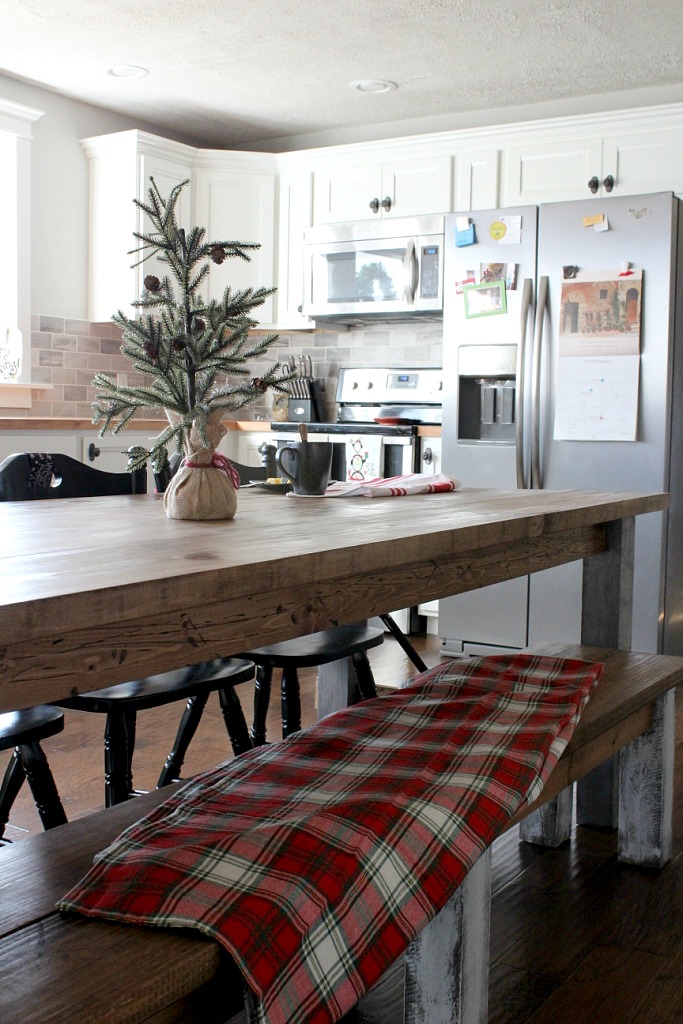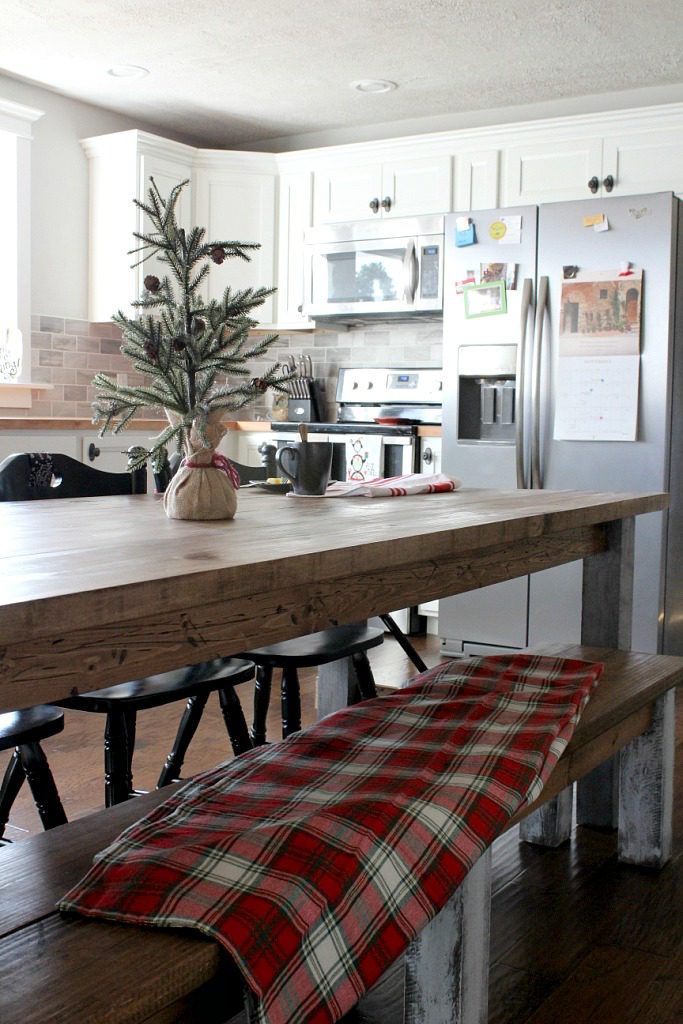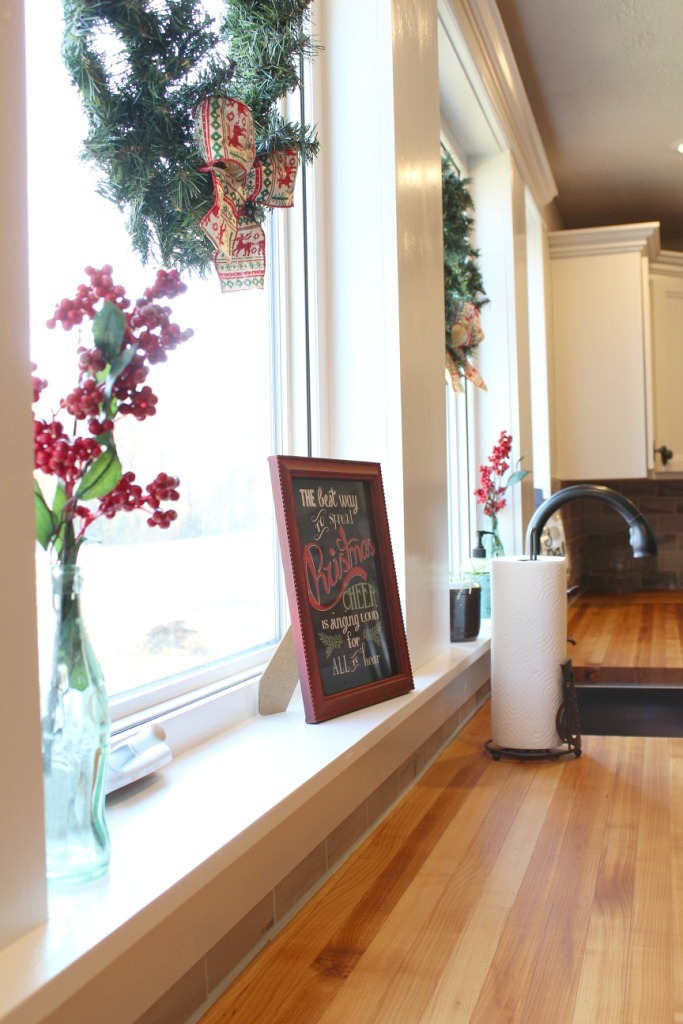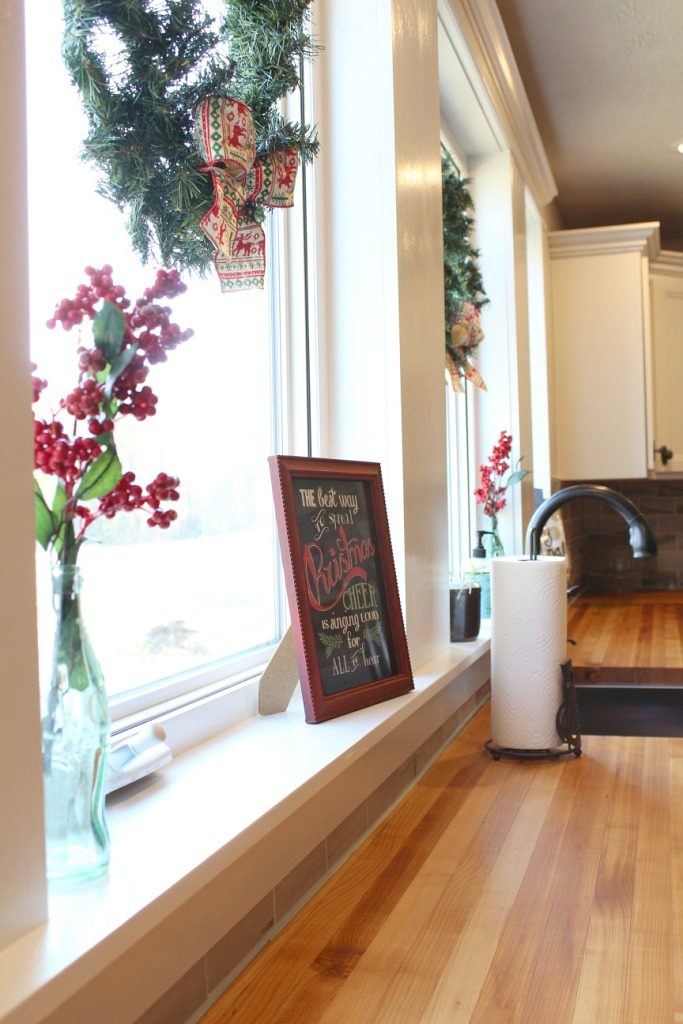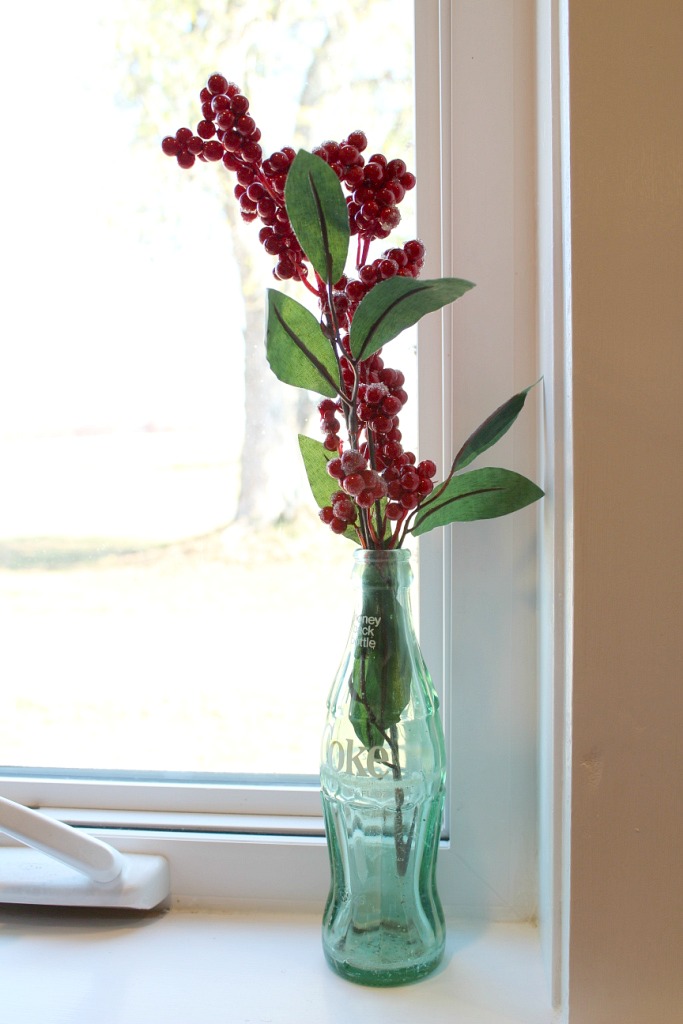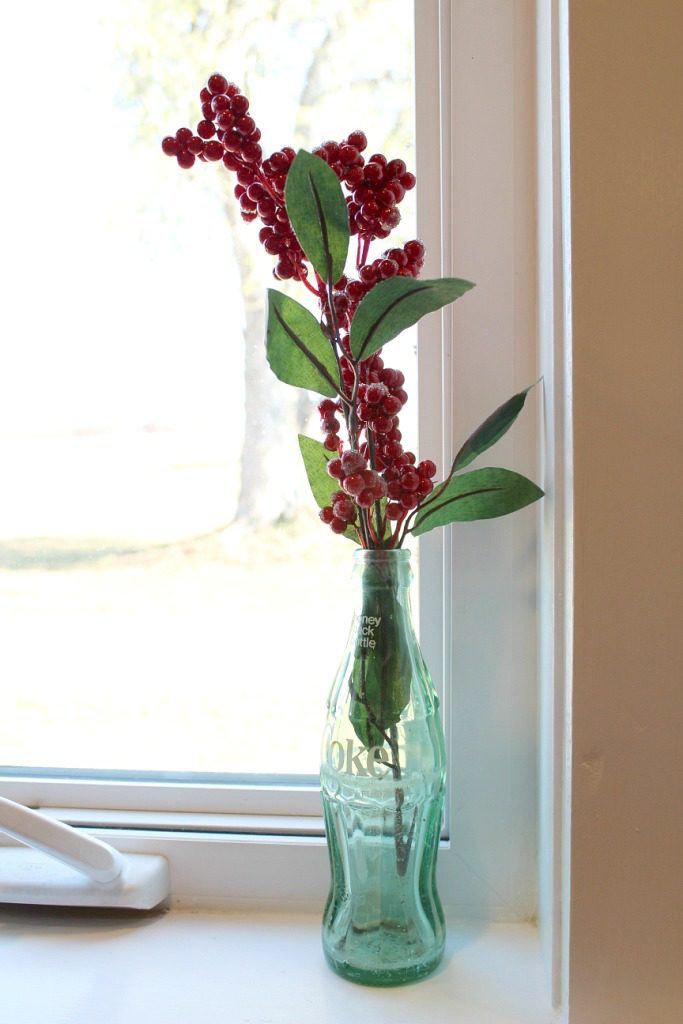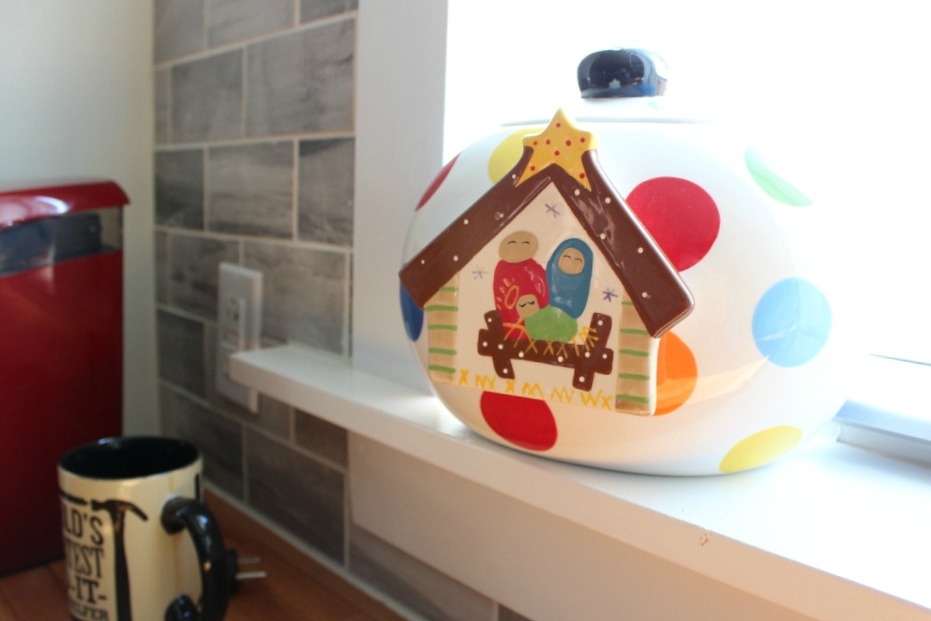 I think I have shown you a bazillion kitchen pictures, so let's move onto another room.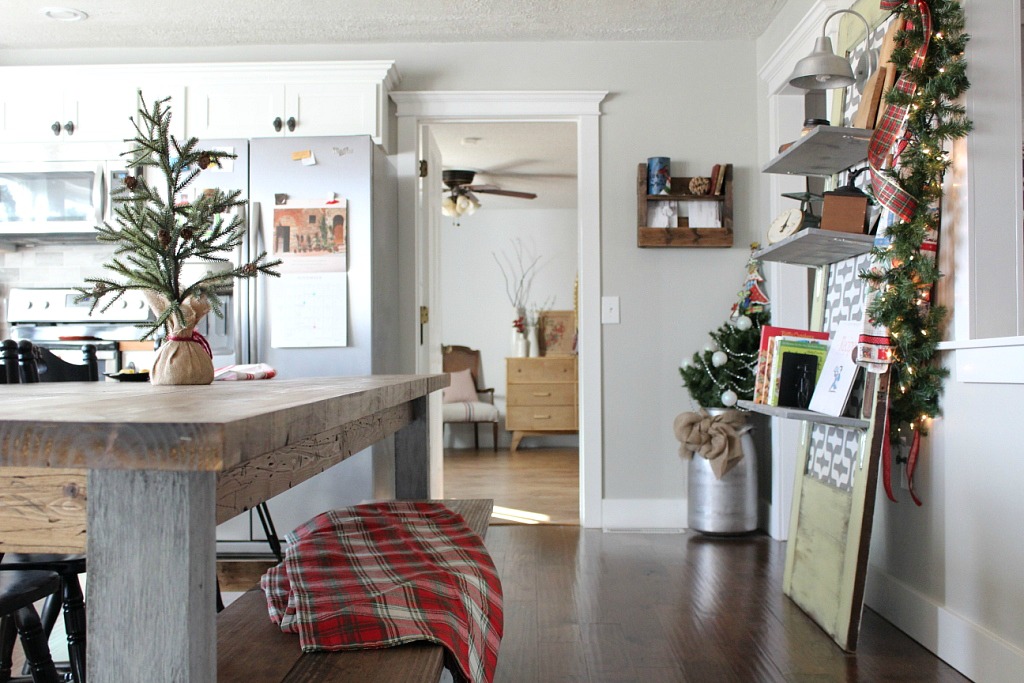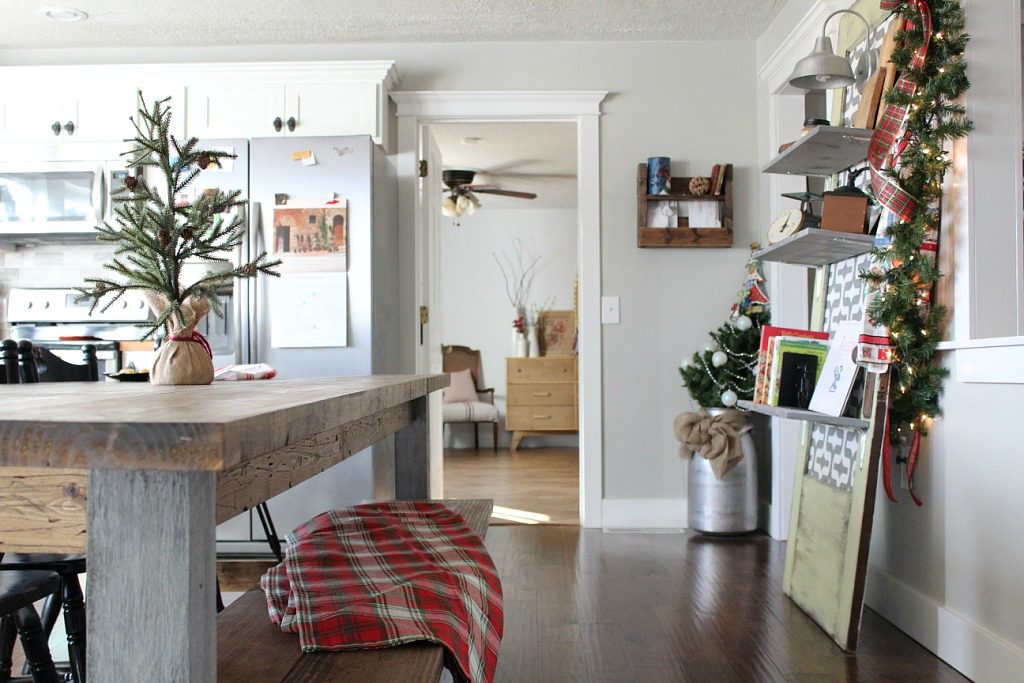 This year, I added some decorations to the bedroom.  Now that it's been redone a little with new flooring and a new layout, I thought it would be fun to decorate it a little.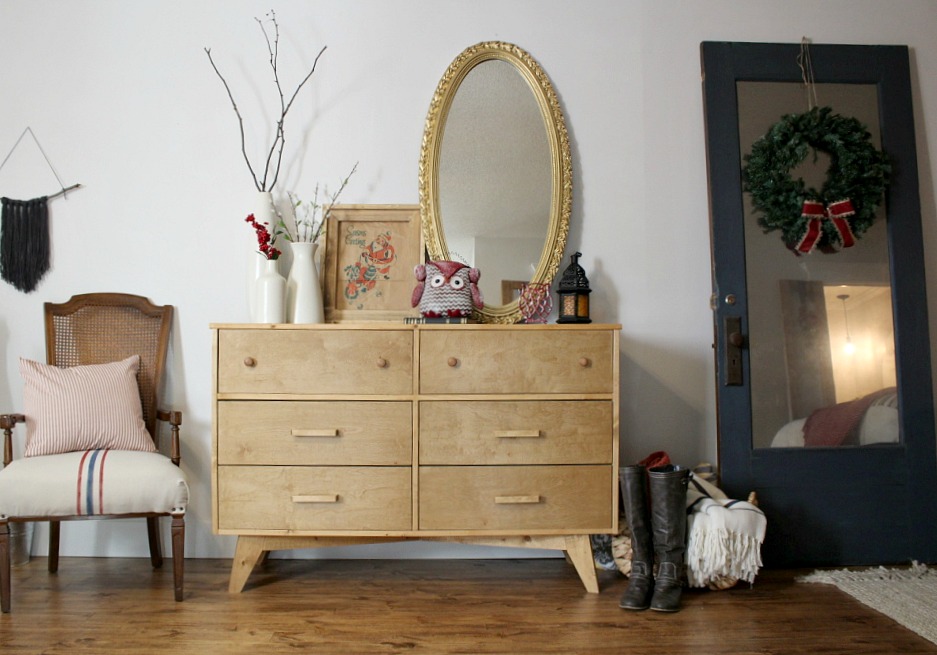 I love this new paper grocery sack art on the dresser.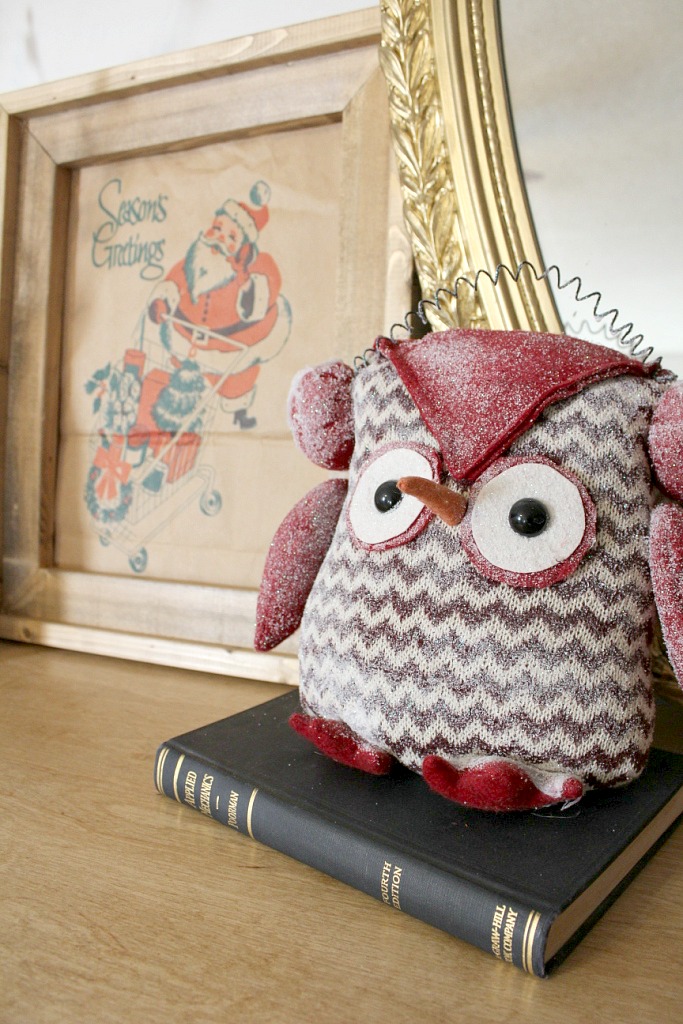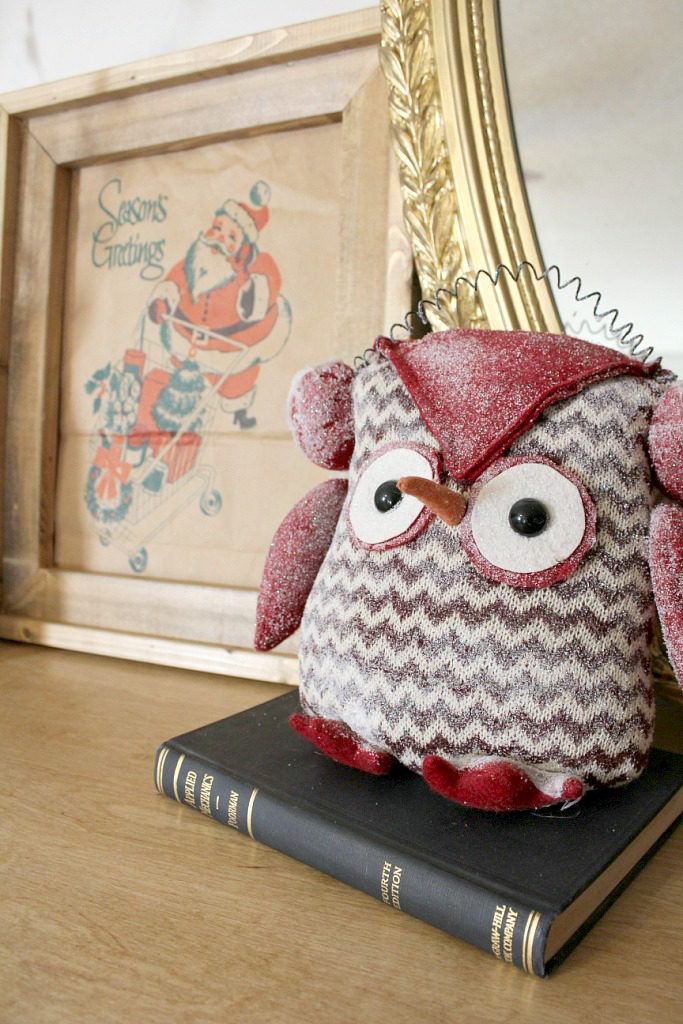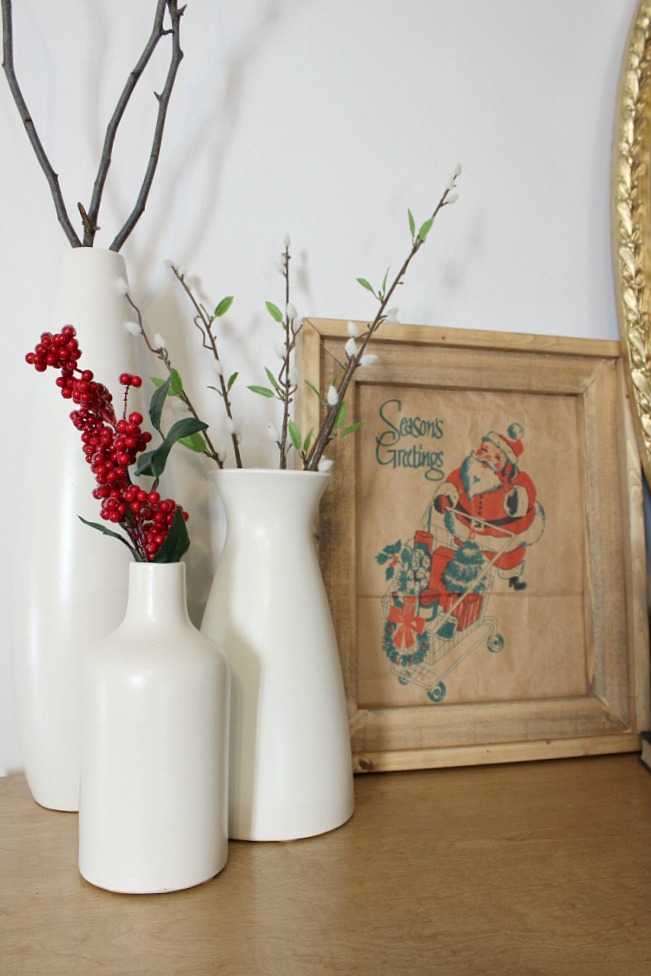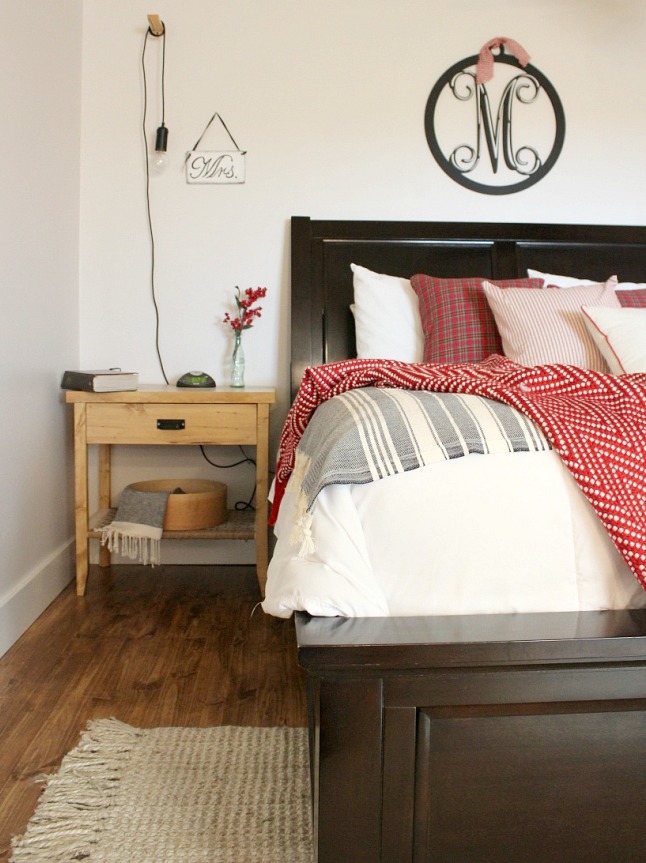 I kept it simple in here too.  A few pops of red make all the difference.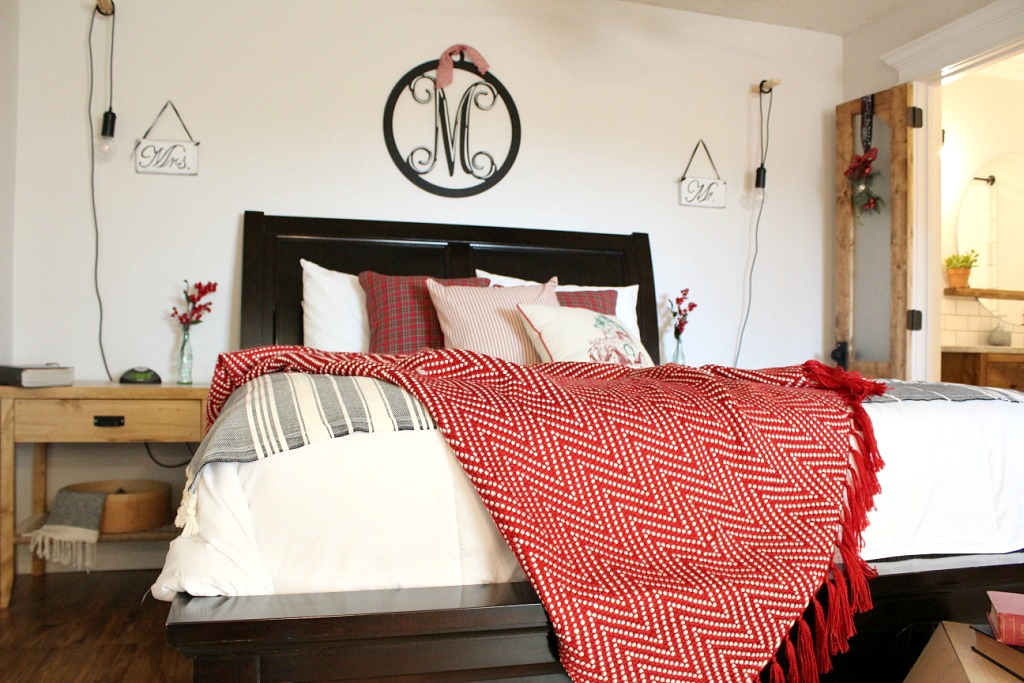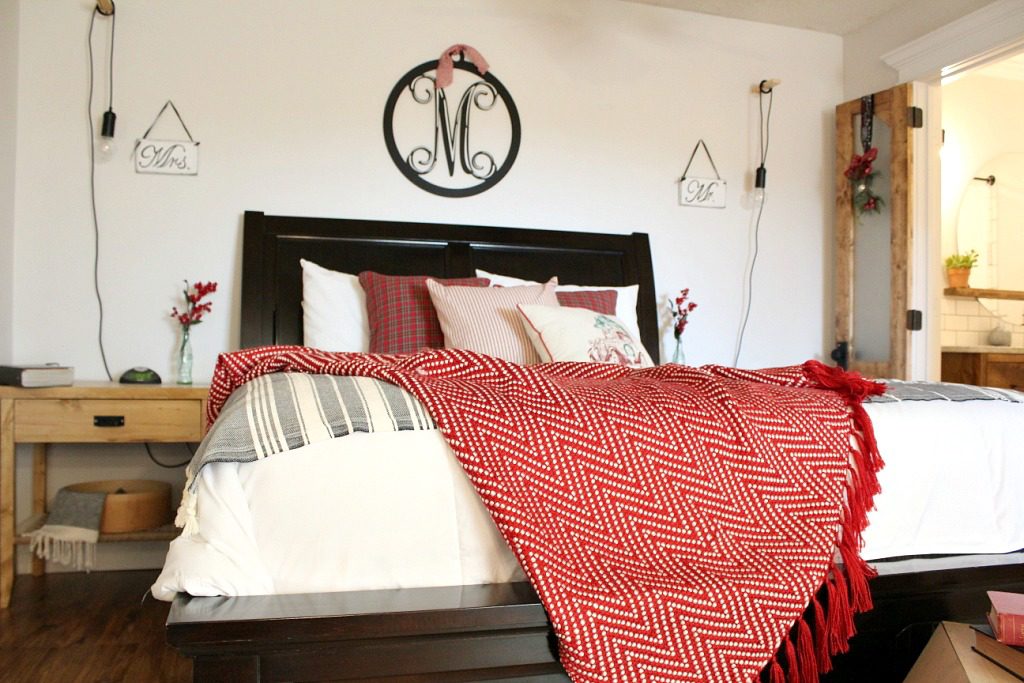 I sewed a few more pillow covers with some cute fabric and added this vintage pillow I found at Kirkland's.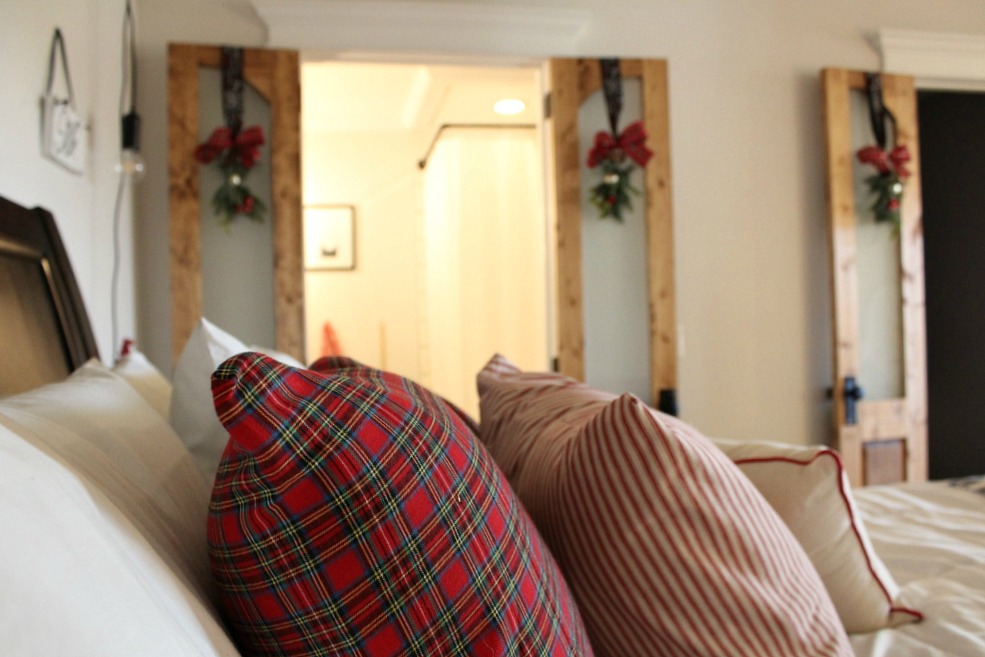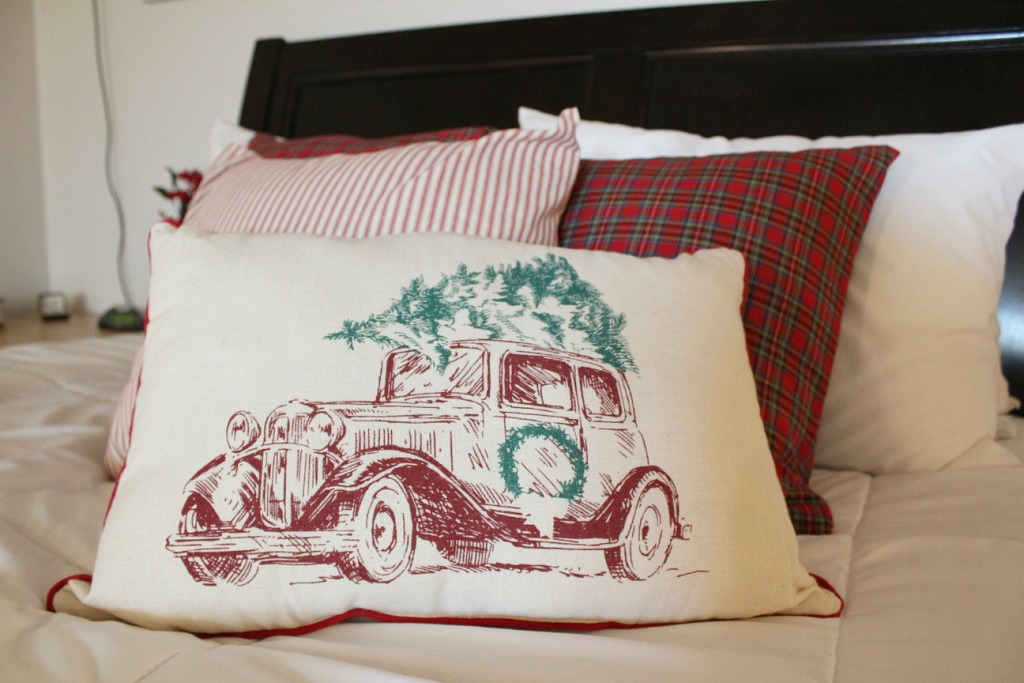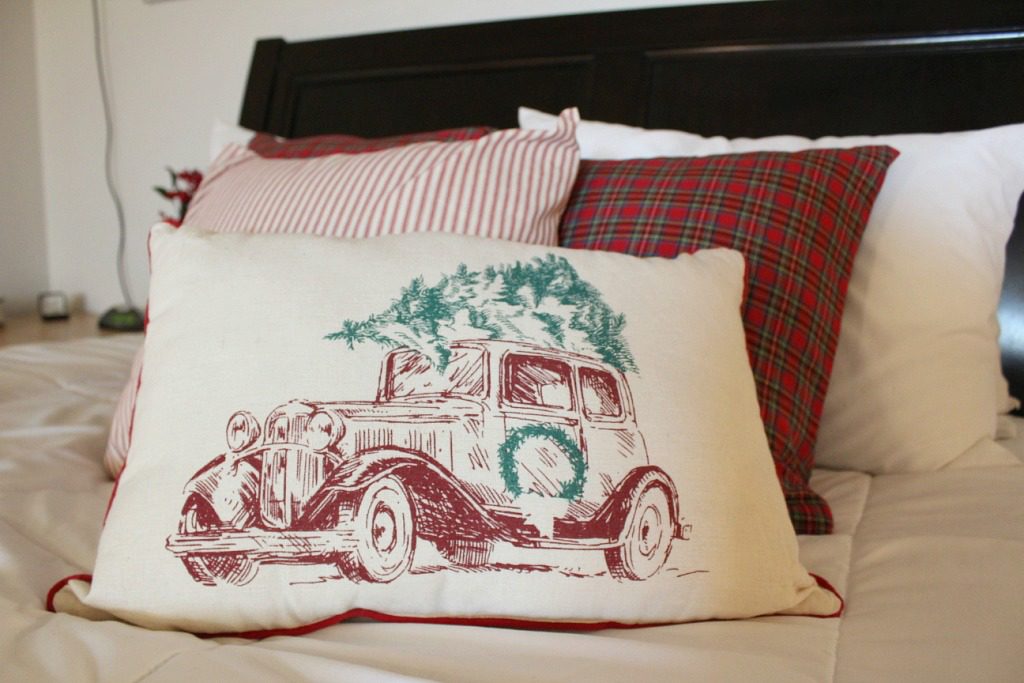 Stay tuned for the how to to make those French doors.  I'll post that soon!
.
But for now, that finishes off the Christmas tour.  I hope you enjoyed it!  As always, as you are celebrating and going through all the hustle and bustle of the season, don't forget to stop and remember the real reason we celebrate.  That is, the gift of Jesus Christ, which was given to all of the world on the very first Christmas night.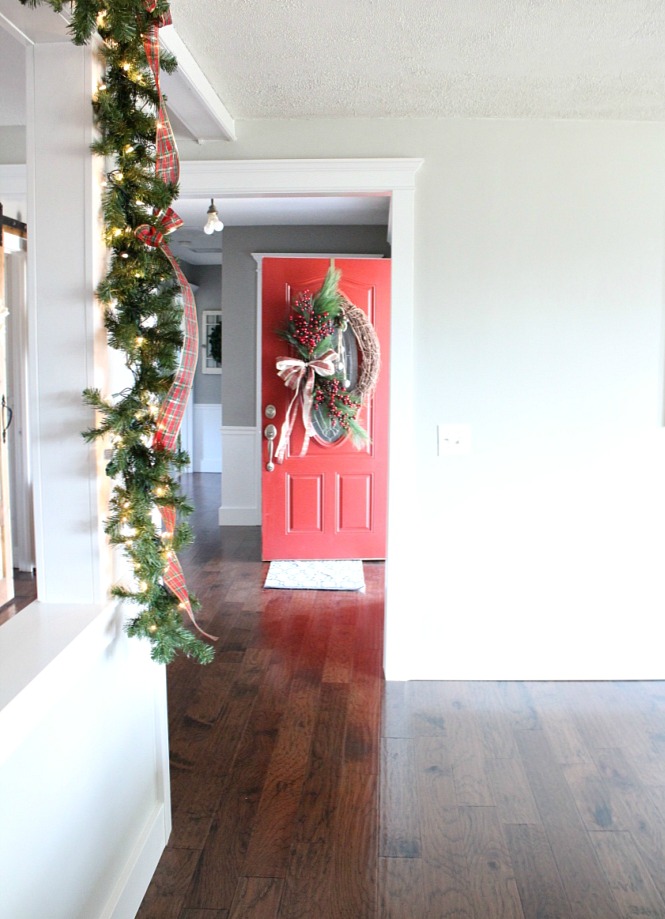 Merry Christmas and God Bless!