YOU GUYS!  I can't even with all the cuteness!  Doesn't this little vintage inspired DIY dresser give you all the heart eyes??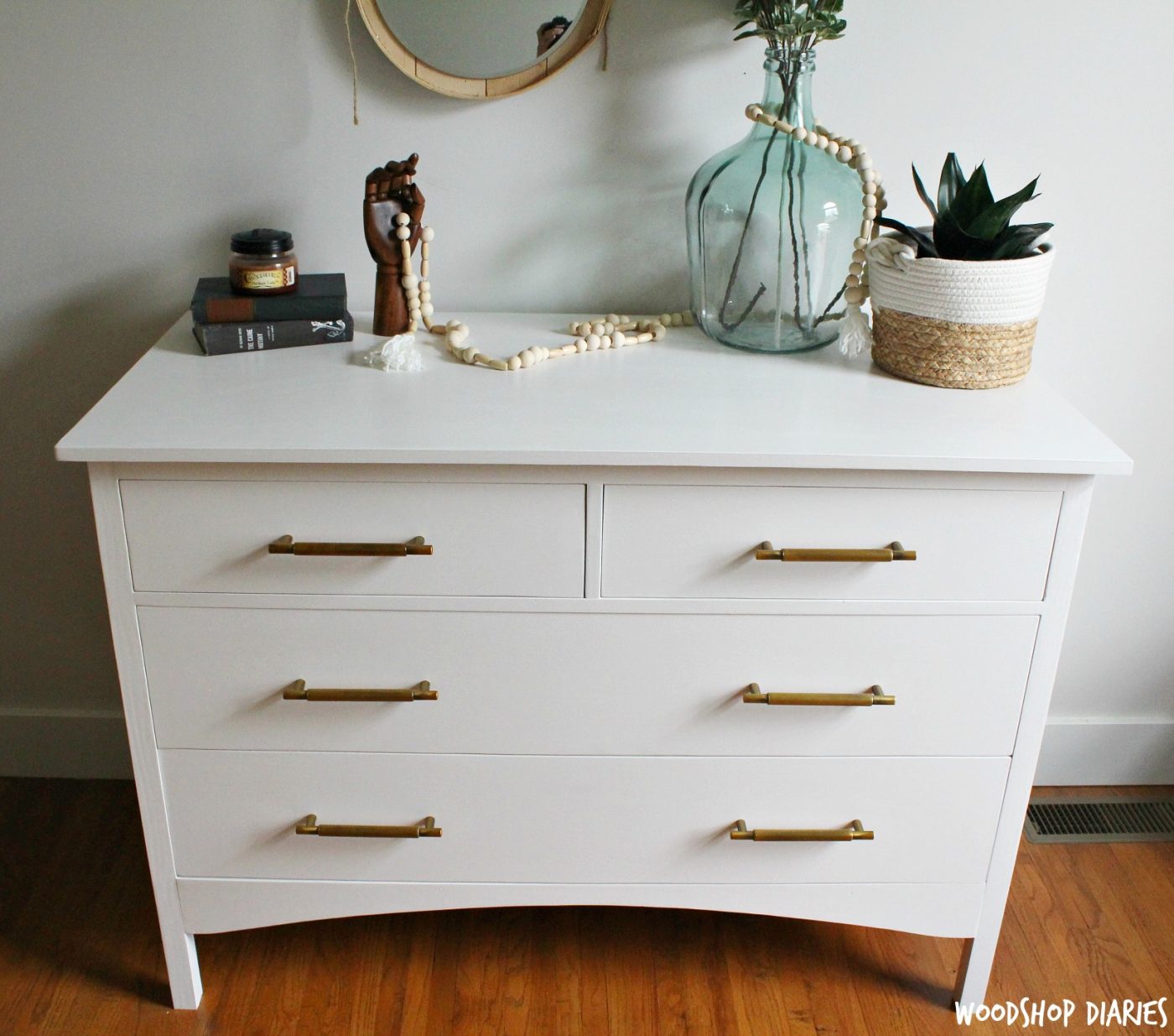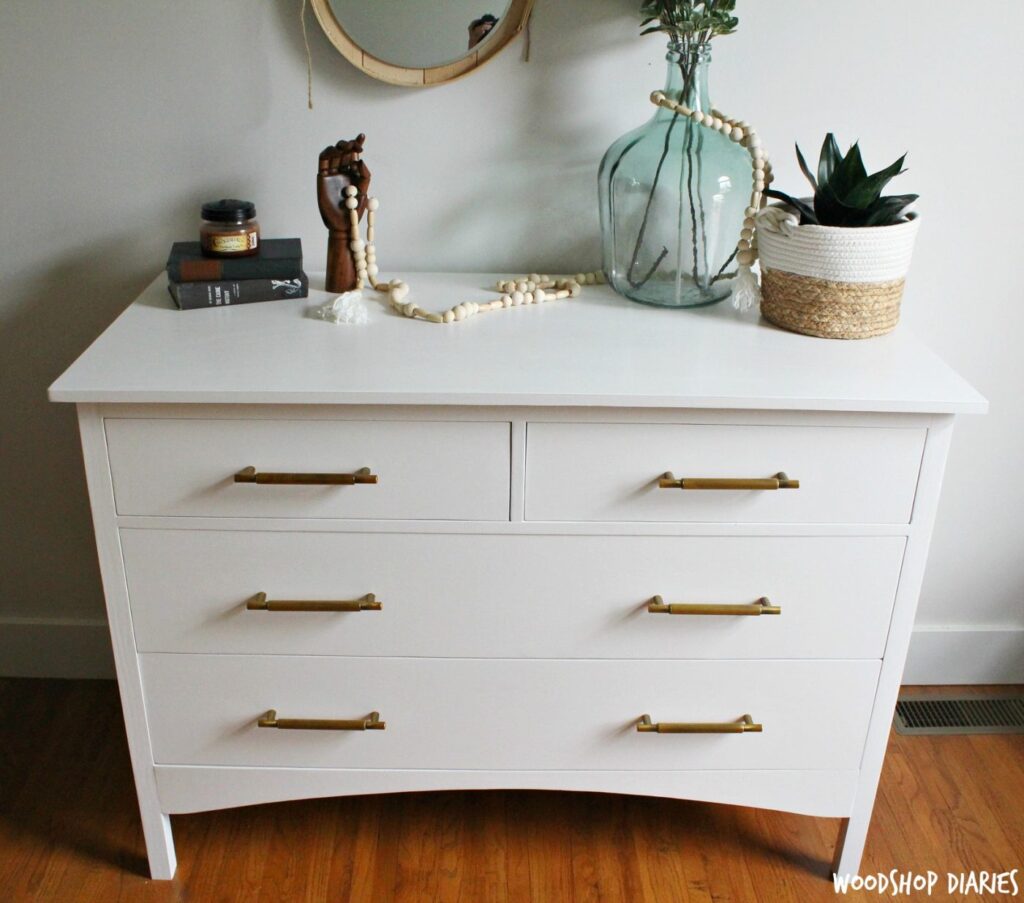 But, if that's not enough, just a few extra steps can take this dresser and make it a DIY changing table, too!!  (Speaking of changing tables, I've got free plans for another style changing table here)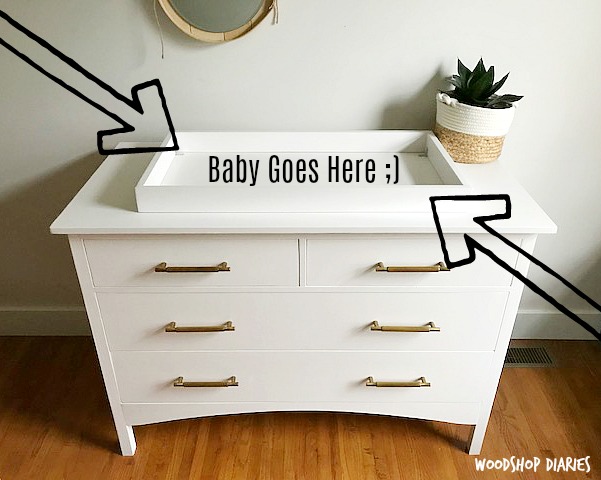 This post was sponsored by Build Something, Kreg Tool's website for free furniture building plans from small to large and for every room in the house…and outside the house, too!  This post also contains affiliate links.  See disclosure policy for details.
.
What what!?  I can't figure out if it's the little curve on the trim detail on the front, the large drawers, the white color, or the brass handles, but something about this dresser has me wanting to build one for every room in my house!
.
But, this particular adorable piece went to my husband's cousin who is expecting their first baby–hence the changing table 😉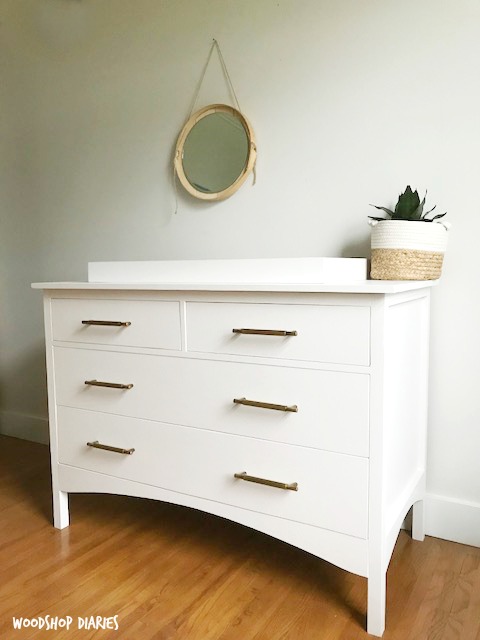 I've got the free plans for you over on Build Something and I have the video tutorial for you right here and on my YouTube Channel:
The simple design makes it a pretty easy build, and those GINORMOUS bottom drawers can really pack away the storage without taking up a huge footprint in your room. (The drawers make me think of that old Vacation Bible School song we used to sing…deep and wide, deep and wide, there's a fountain flowing deep and wide…or were we the only kids who sang that song?? Haha…anyway…)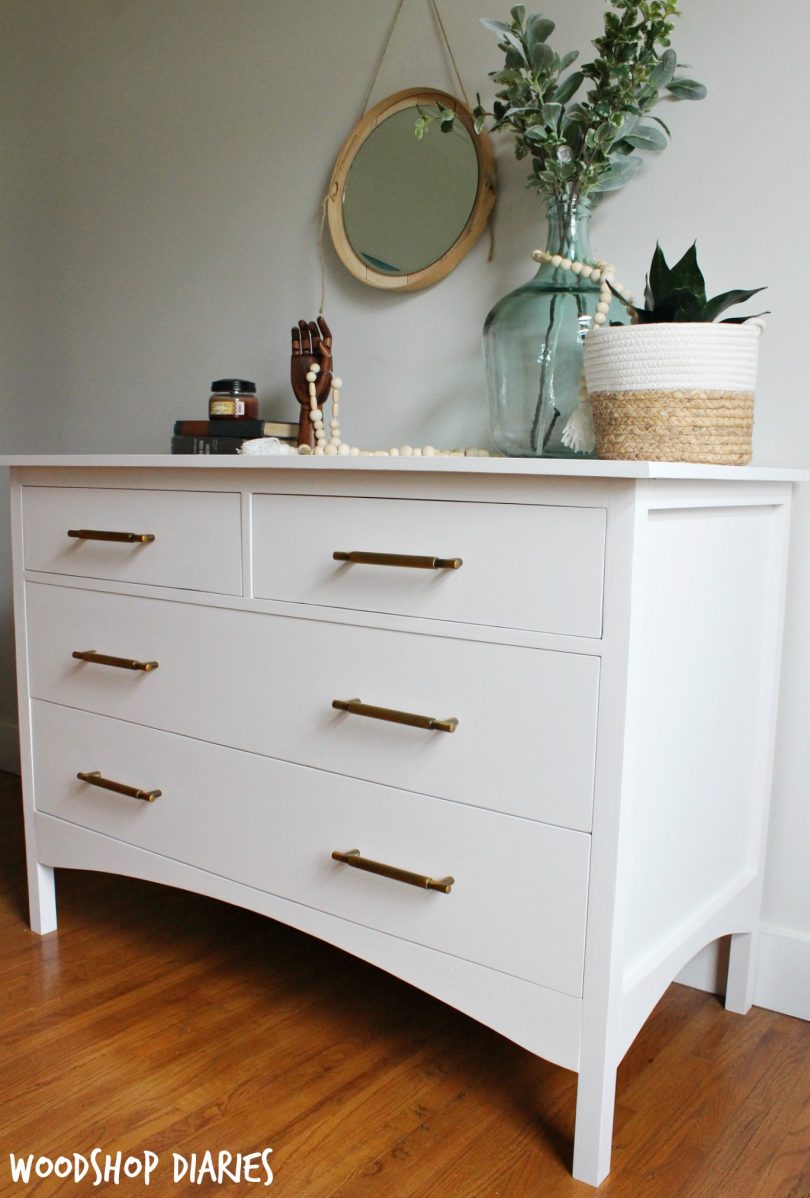 Speaking of drawers, one thing to note…on this and future builds too…is to consider the size of your fronts when you plan to add edge banding.  (By the way, this is the edge banding that I highly recommend…great quality and very easy to apply.)  General rule of thumb is to cut your drawer fronts so that you can have ⅛″ gap on all sides (so you cut it ¼″ smaller in both directions than the hole it should fit in).
.
Sometimes, I get adventurous and make these gaps slightly smaller (don't do that…it's almost always a bad idea), but then, when I add edge banding on your plywood edges, the thickness of the banding makes my drawer fronts bigger so they don't fit in the hole anymore and the sides rub.  A LOT of rework went into this dresser because I did that.  So take note: when applying edge banding, cut your drawer fronts slightly smaller than they should be so this doesn't happen to you 🙂
.
Also speaking of drawers, these gold drawer pulls are from D Lawless Hardware and they are gorgeous!  They were heavy, and high quality and very reasonably priced.  They give the dresser a nice modern, sleek look.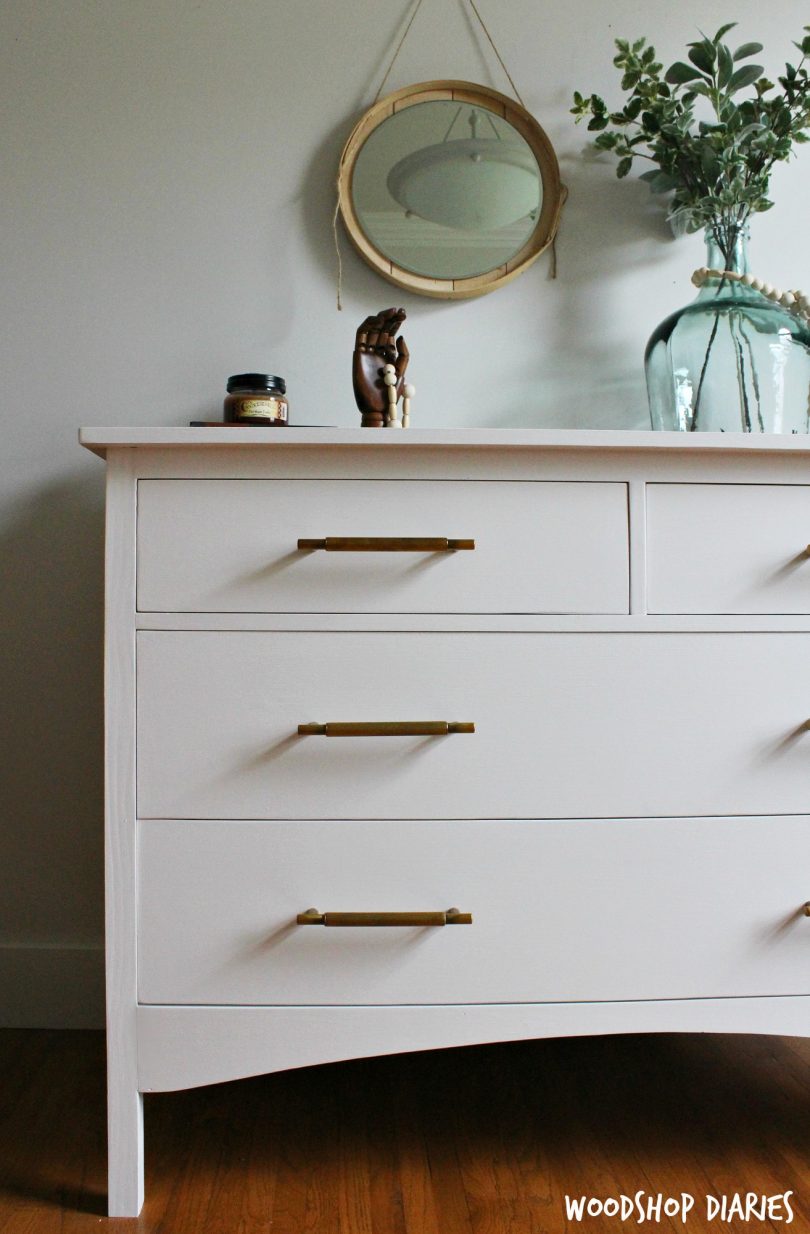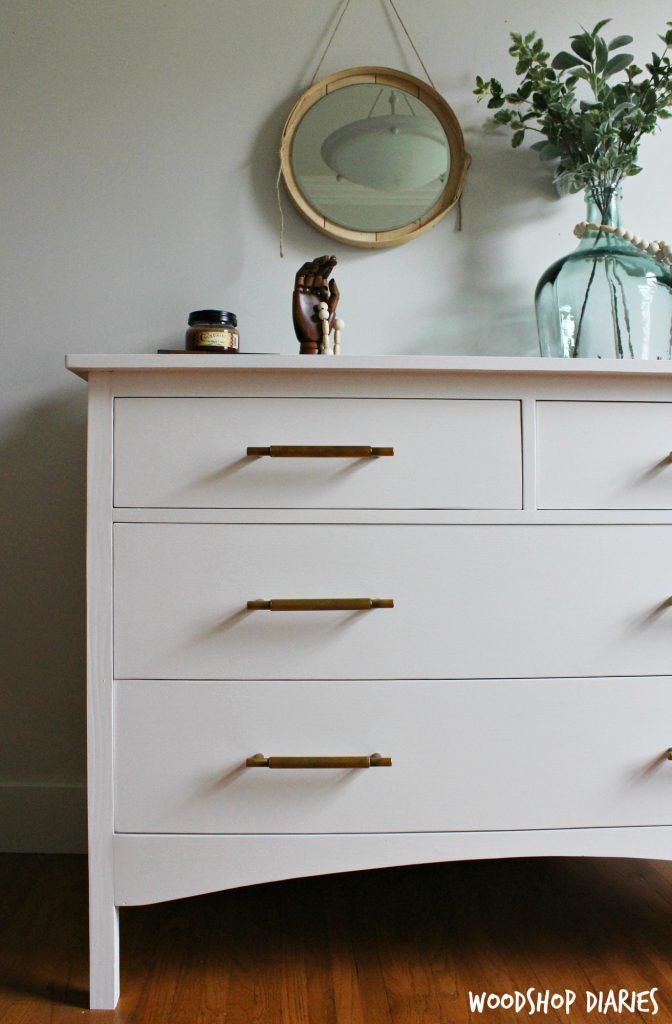 This whole dresser was made with just a few tools and some hardware.  It's mainly plywood and I always recommend using a Kreg Rip Cut and a Kreg AccuCut to cut down sheets of plywood.  They are massive time savers and help scrawny people like me cut full sheets down to manageable sizes haha.
.
The build also calls for several 1 ¼″ pocket hole screws and some ball bearing drawer slides.  I always buy my screws and drawer slides on Amazon…they are so much cheaper than anywhere else I've found.
.
So, if you are ready to get building, head on over to Build Something and grab these free plans to make your own dresser or changing table 🙂  And, don't forget to pin this for later!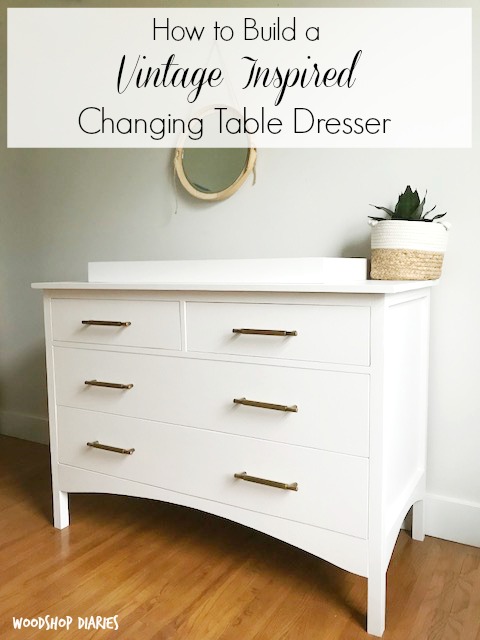 And if you need some more stylish storage ideas, check out a few of my favorites below.  Until next time, happy building 🙂