We are in the middle of summer.  And while I don't have any children of my own, I once was a child (many years ago), so I know how annoying antsy kids can be when they are out of school and starting to get "bored."  Give your kids a place to hang out, be creative, and stay off your dining room table/kitchen counter/living room floor with this easy to build DIY kids play table and chairs!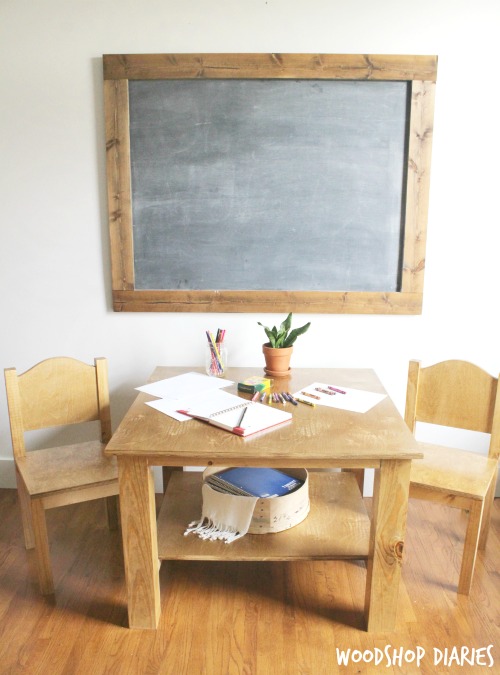 This is a great weekend project and, hey, while you're at it, get the kids involved to help you build it!  That'll keep them too busy to draw on your walls with crayons or put fingernail polish everywhere it doesn't go 😉
.
This particular size table is perfect for small children (2-8ish…honestly, I'm not sure what the "max age" would be, but measure to make sure, first.)  The table height is approx 24″ tall and the chair seats are approx 14″ tall.  But if your kids are a little older or need a larger size, just increase the length of the table  and chair legs and it's SUPER easy to modify.
.
Grab your tools, a few pieces of wood, and get building 🙂  Below you can find a quick video tutorial (PS if you haven't already subscribed to my YouTube Channel, you should do that!  Don't miss out on all the upcoming videos and updates 😉 )  After you watch the video, I've got the step by step for you too 🙂
Ready for the step by step?  Here's what you need:
.
This post contains affiliate links.  Please see disclosure policy for details.
.
(1) sheet ¾″ plywood
(1) 4x4x8 board
(5) 2x2x8 boards
(1) 1x2x8 board
Speed square
Measuring Tape
2″ wood screws
.
Step 1: Cut DIY Children's Table Base Parts
First, cut four table legs from your 4×4 board at 24″ long.  Then, six pieces of 2×2 at 24″ long.  That's all you need to build the table base 🙂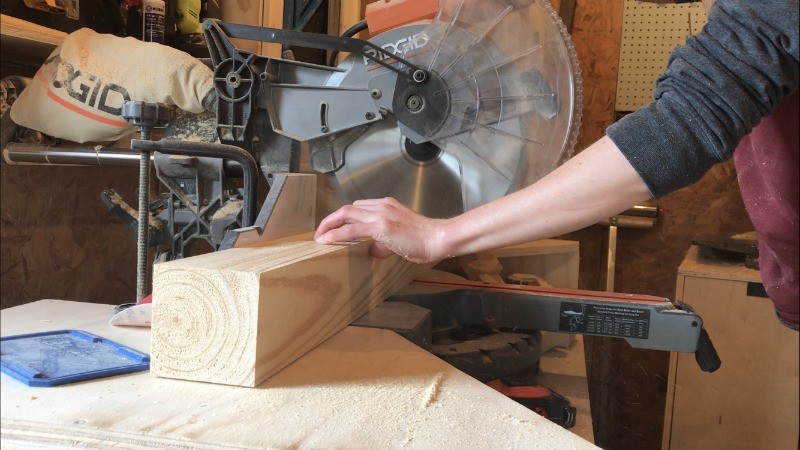 Step 2: Assemble DIY Kid's Table Base
Drill 1 ½″ pocket holes in the ends of all the 2×2 pieces.  It works better to only drill one hole per end and use wood glue instead of drilling two holes.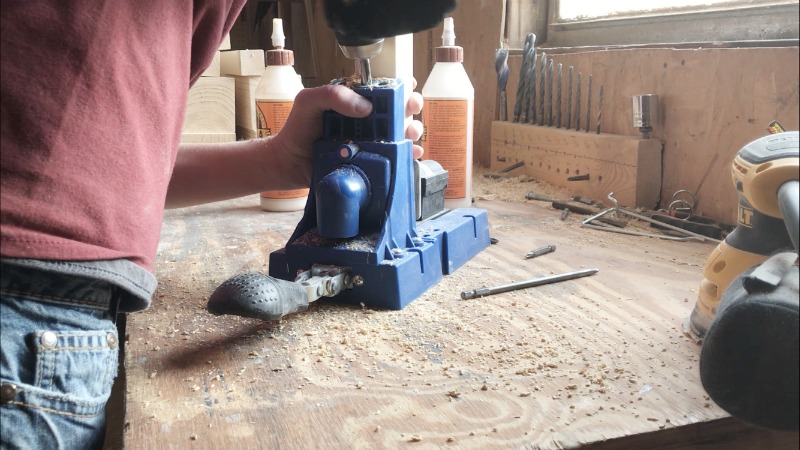 Then, glue and screw one 2×2 around each side of the top like a table apron.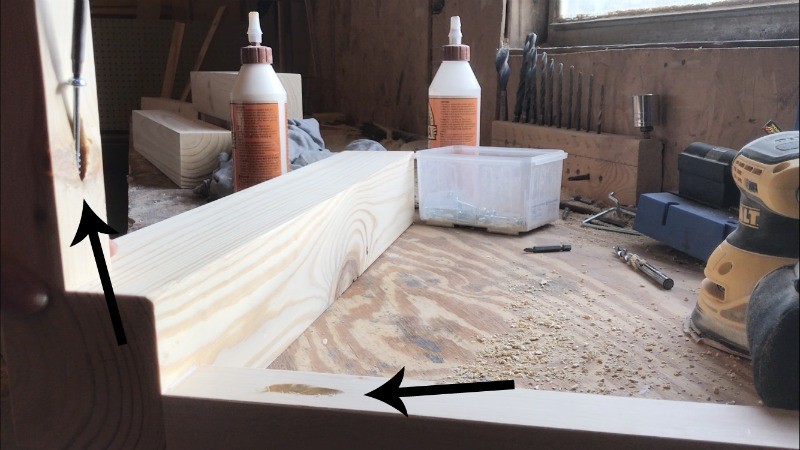 I also added a shelf to the bottom of this table.  To do this, screw the remaining two 2x2s between two opposite pair of legs however high up you want your shelf.  I screwed mine in about 6″ off the bottom of the leg.  That completes your table base.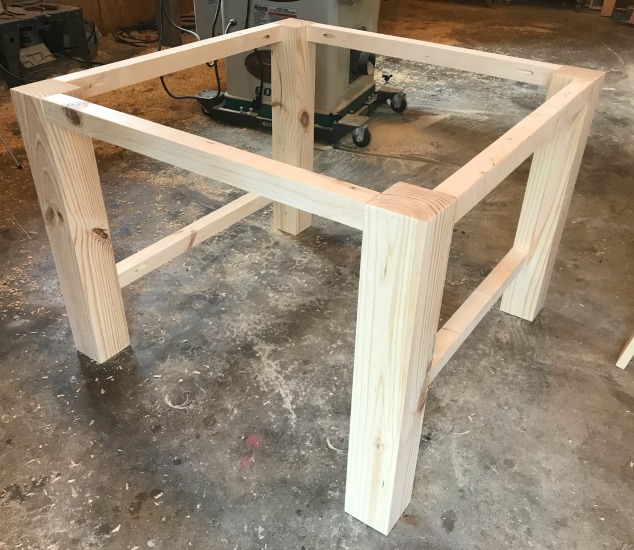 Step 3: Attach Table Top and Shelf
From your full sheet of plywood, cut one piece 33″ x 33″ using a Kreg Rip cut and/or Kreg AccuCut and a circ saw.  This will be the top.  Then cut another piece 20″ x 27″.  This will be your shelf.
.
Flip the top right side down and flip the table base upside down on top of it.  Center it so that there is 1″ hanging off each end of each table leg and screw in place with 2″ wood screws through the apron around the top.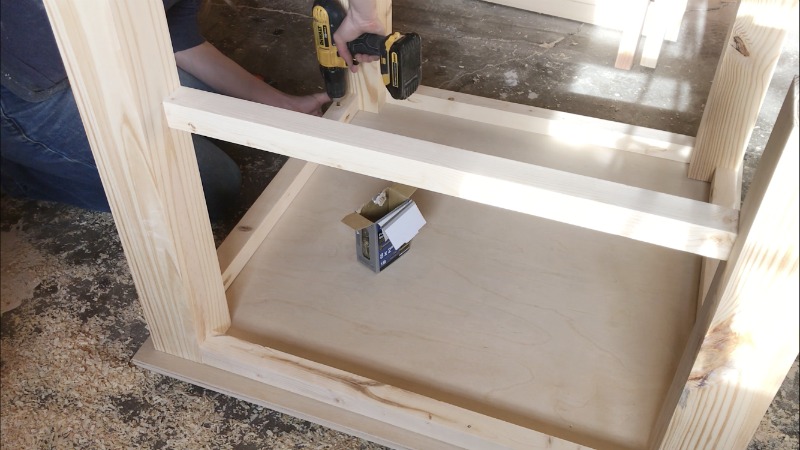 Then, center and clamp the shelf in place like shown and screw in place with 2″ wood screws through the bottom of the shelf supports.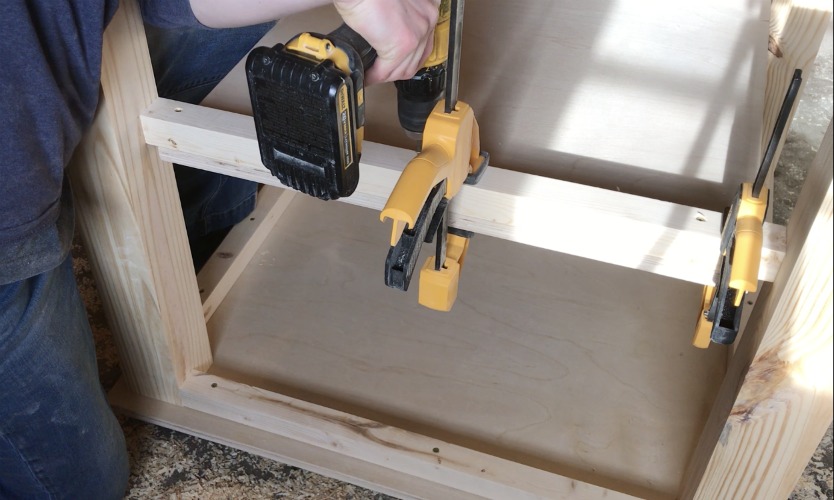 Now the table is finished and it's time to build the chairs 🙂
Step 4:  Cut Kid's Chair Backs
First, cut one piece of ¾″ plywood (one piece per chair) to 11″ x 11″.  Using a jig saw, cut a curve along the top if desired.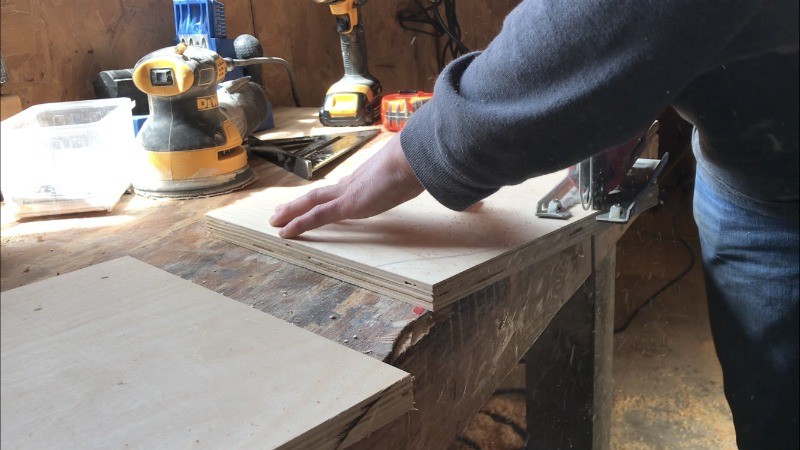 Step 5: Assemble Children's Chair Back
Now that the tops are cut, cut two 2x2s for the back frame pieces at 28″ long.  Line up the bottom of the chair backs from step 4 so that it is 18″ from the bottom of the 2x2s and screw together like shown to make the back frame.  It's helpful to clamp pieces in place, the predrill so as not to split the plywood.  Use 2″ wood screws.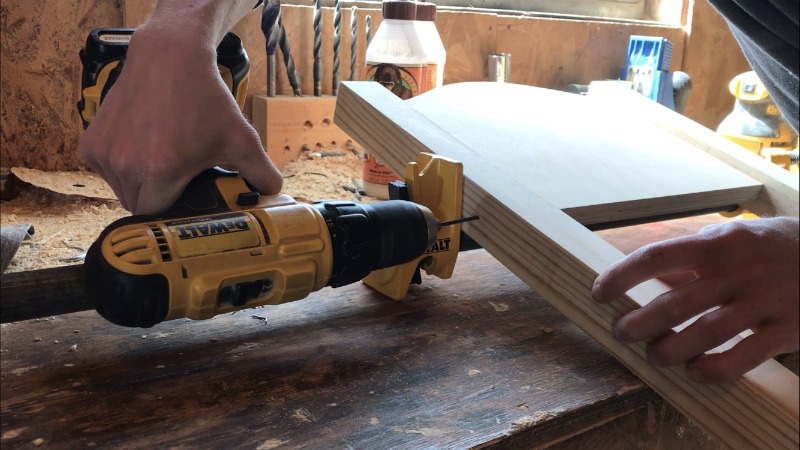 Step 6: Assemble DIY Kid's Chair Frame
Cut 4 pieces of 1×2 at 11″ and 2 pieces of 2×2 at 14″.  Drill ¾″ pocket holes in each end of the 1x2s and assemble the chair frame like shown using 1 ¼″ pocket hole screws.  Make sure to line up the 1x2s on the back side 14″ from the bottom so everything stays square.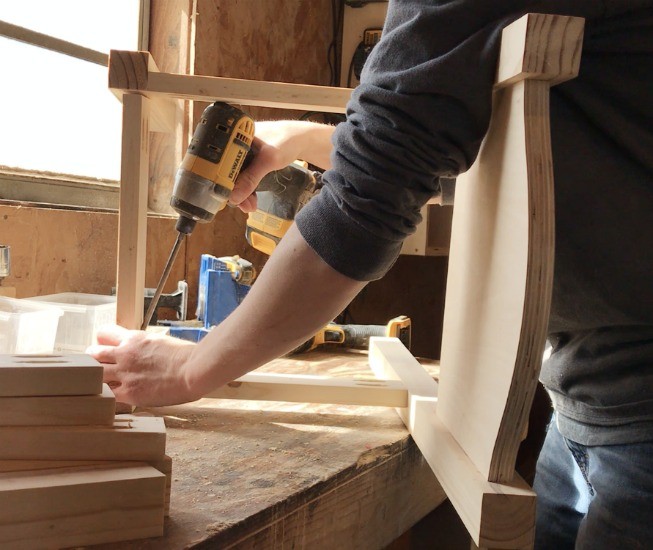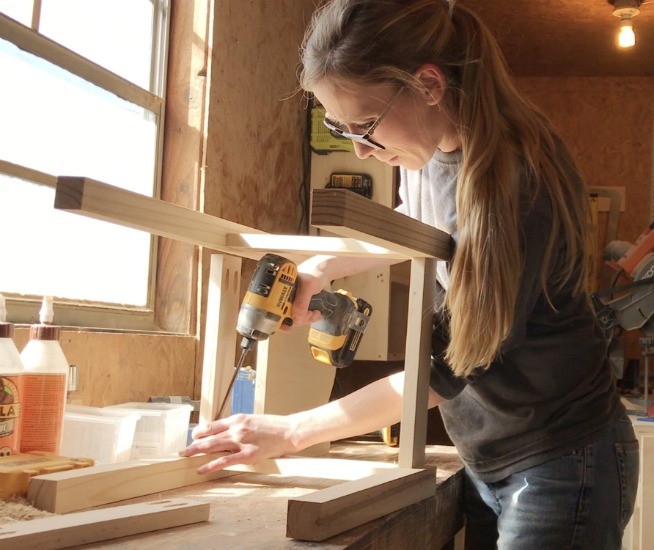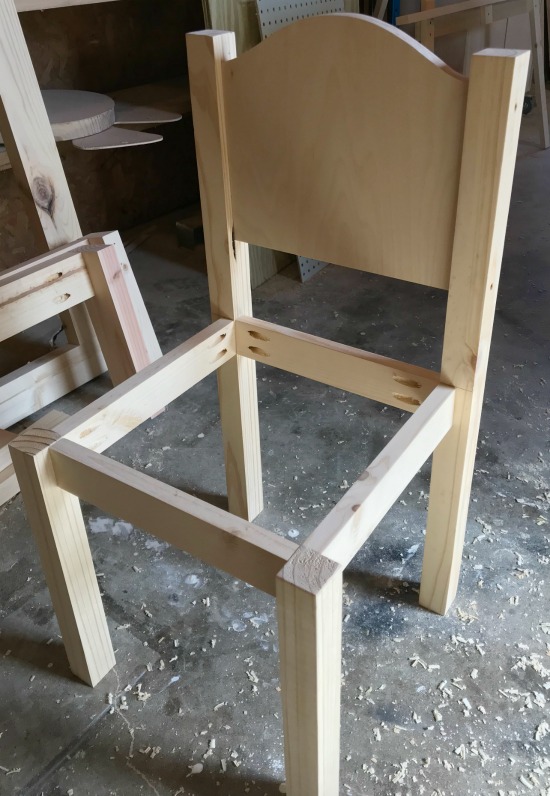 Step 7: Add Chair Seat to Child's Chair
Cut a piece of ¾″ plywood to 14″ x 14″. Place the plywood in place and use a square to mark out where to cut notches on the back corners like shown.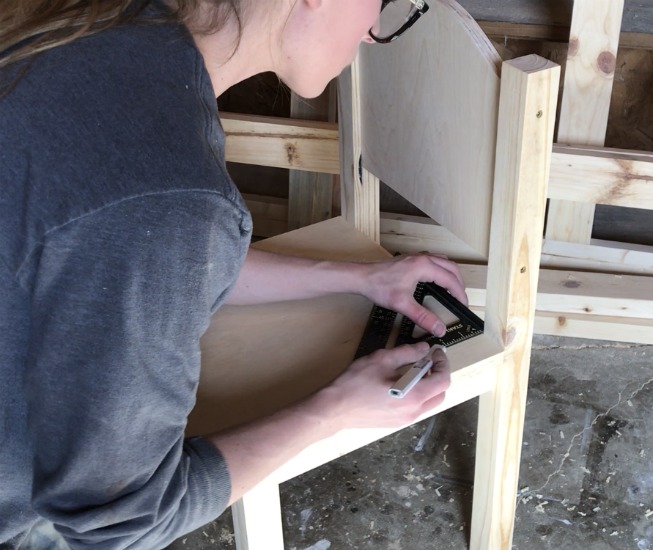 Basically, just mark out two 1 ½″ squares on each corner so the back can sit in flush.  Use a jig saw to cut the notches, then set in place.
Turn the seat sideways or upside down and use 2″ wood screws to attach seat through the seat supports.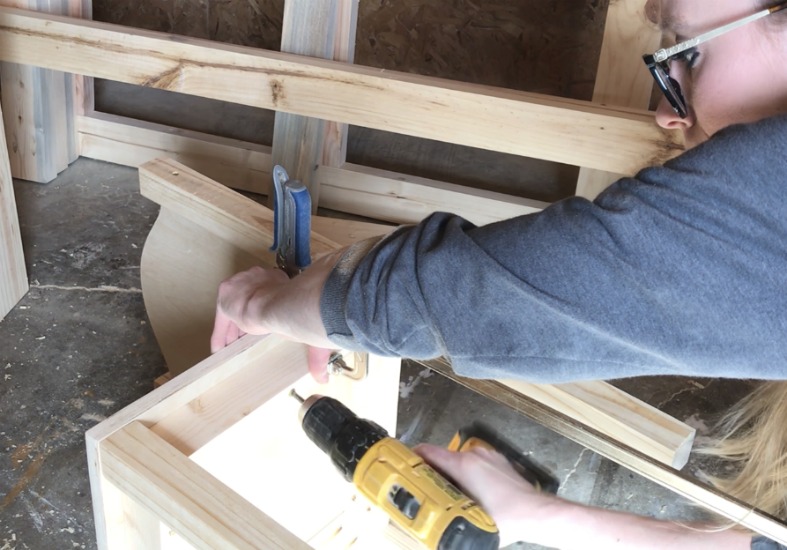 And now you have a table AND chairs 🙂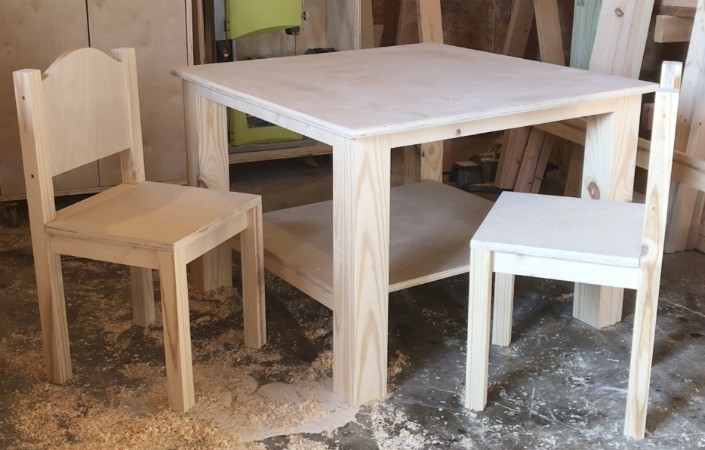 I finished mine with Minwax Early American stain and Minwax Polycrylic and it was ready for play.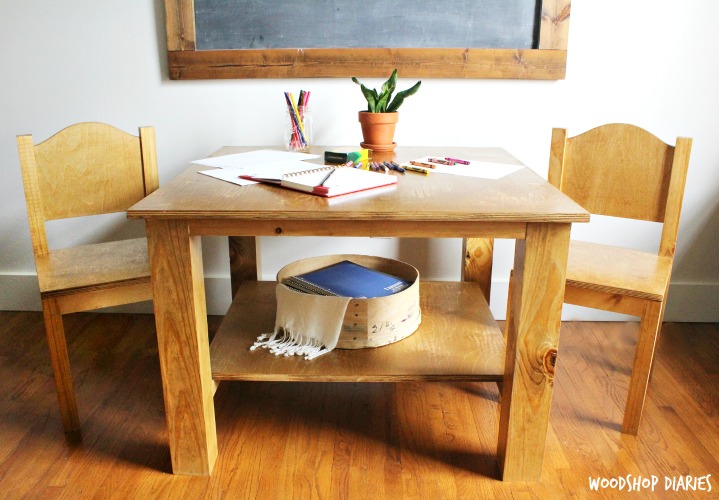 This is the perfect little table for a playroom or a kid's room.  It's small enough to put in the corner of your living room, too so you can keep an eye on your kiddos while you are doing your own thing.  The shelf underneath can hold craft or coloring supplies, or a basket of toys.  Such a cute little project!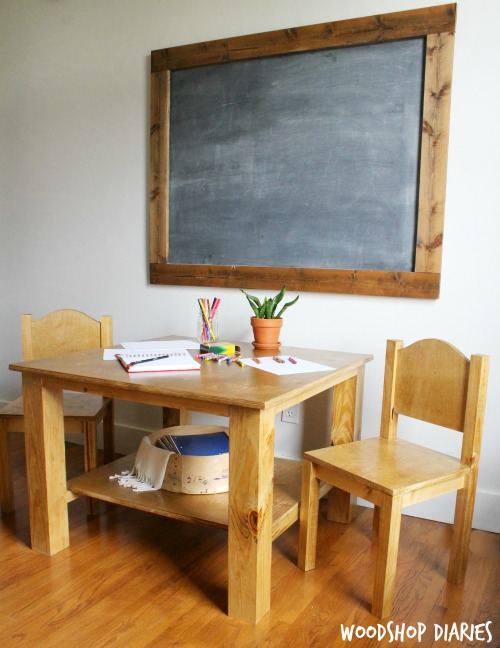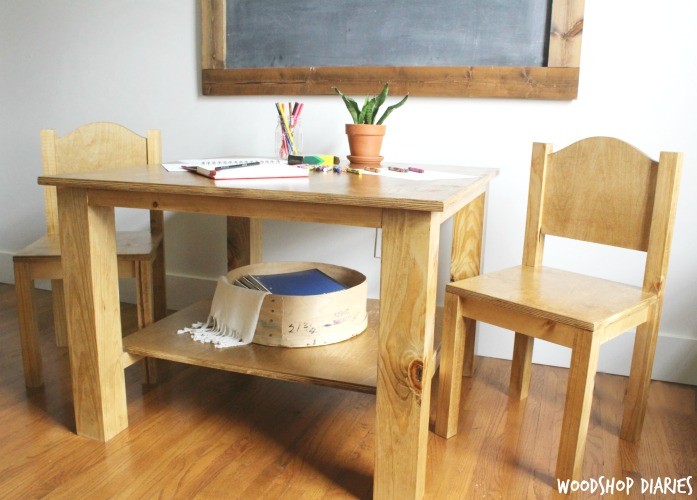 So get out there and get building while there's still some summer left 😉 PS don't forget to check out the video tutorial and I'd also love it if you'd pin this for later 🙂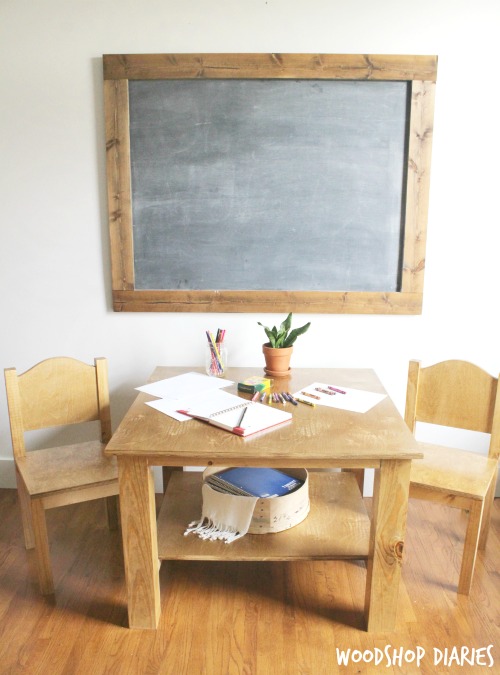 Until next time, happy building 🙂