Since we remodeled our kitchen almost a year ago, I have had several people ask me about my butcher block countertops.  Where did I get them?  Do I like them?  Did I make them?  How do I take care of them? Etc.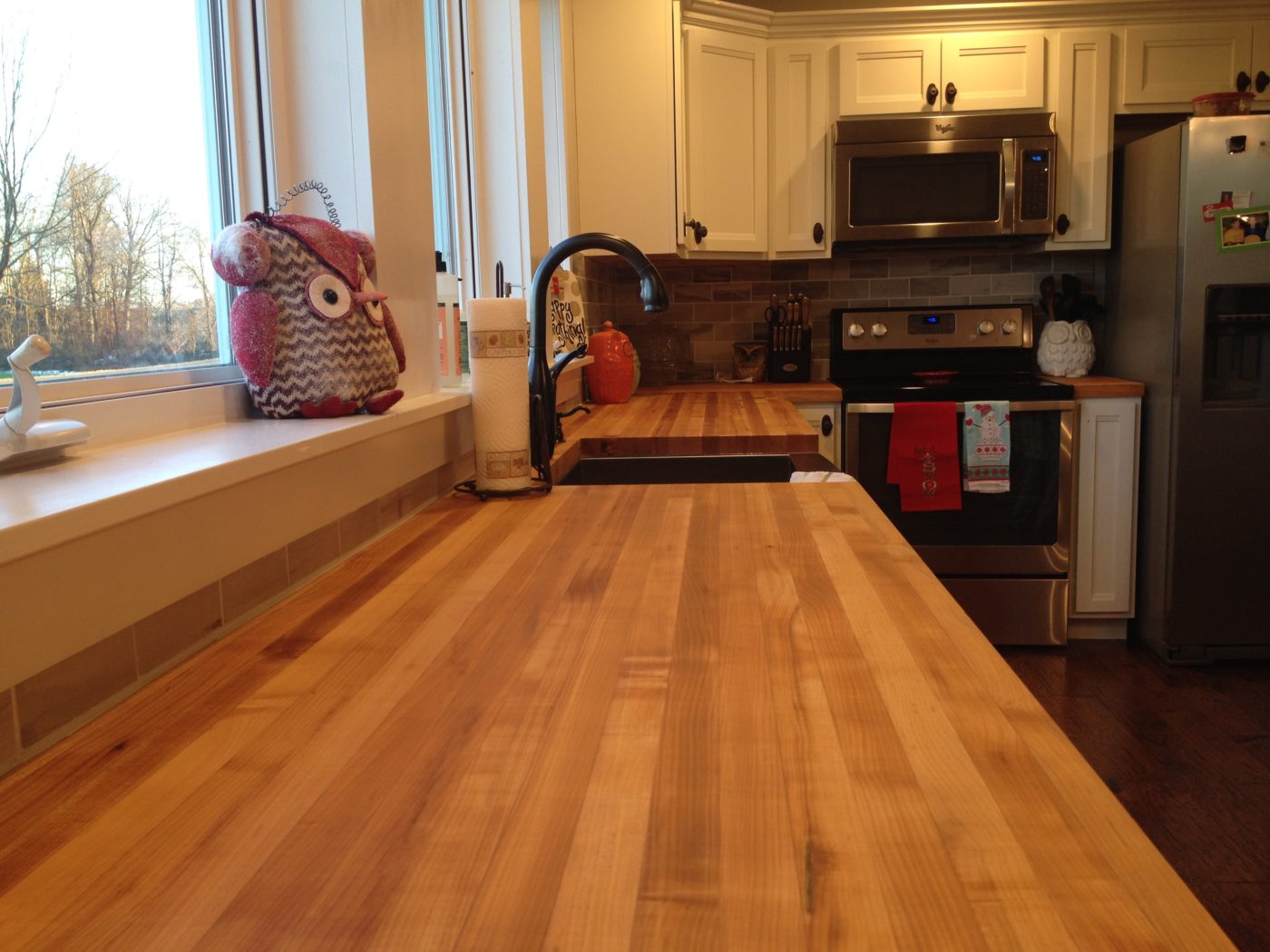 There are ALOT of differing opinions online about butcher block countertops.  Trust me.  I researched EVERYTHING before I got them myself.  Now that I've had them for almost a year now, I'll share my personal opinion from my own experience.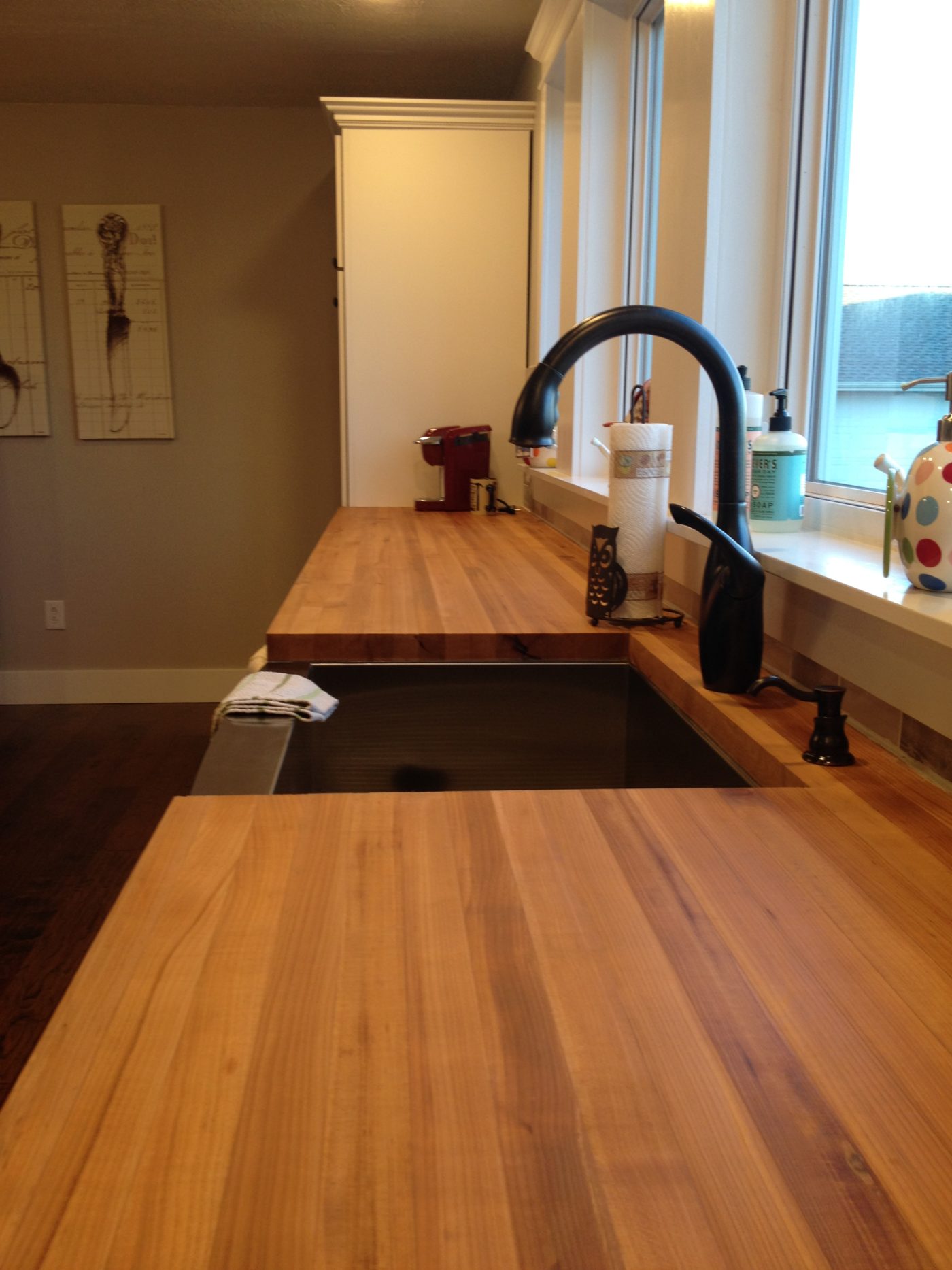 .
So, let's take a few minutes to discuss my butcher block countertops.  Seriously…is it weird to just chit chat with you about the giant slab of wood on top of my cabinets?  Are they really that big of a deal?  Well, no.  But maybe you're like the million others who have asked me about them and are a little curious?  That's what I'm banking on 🙂
.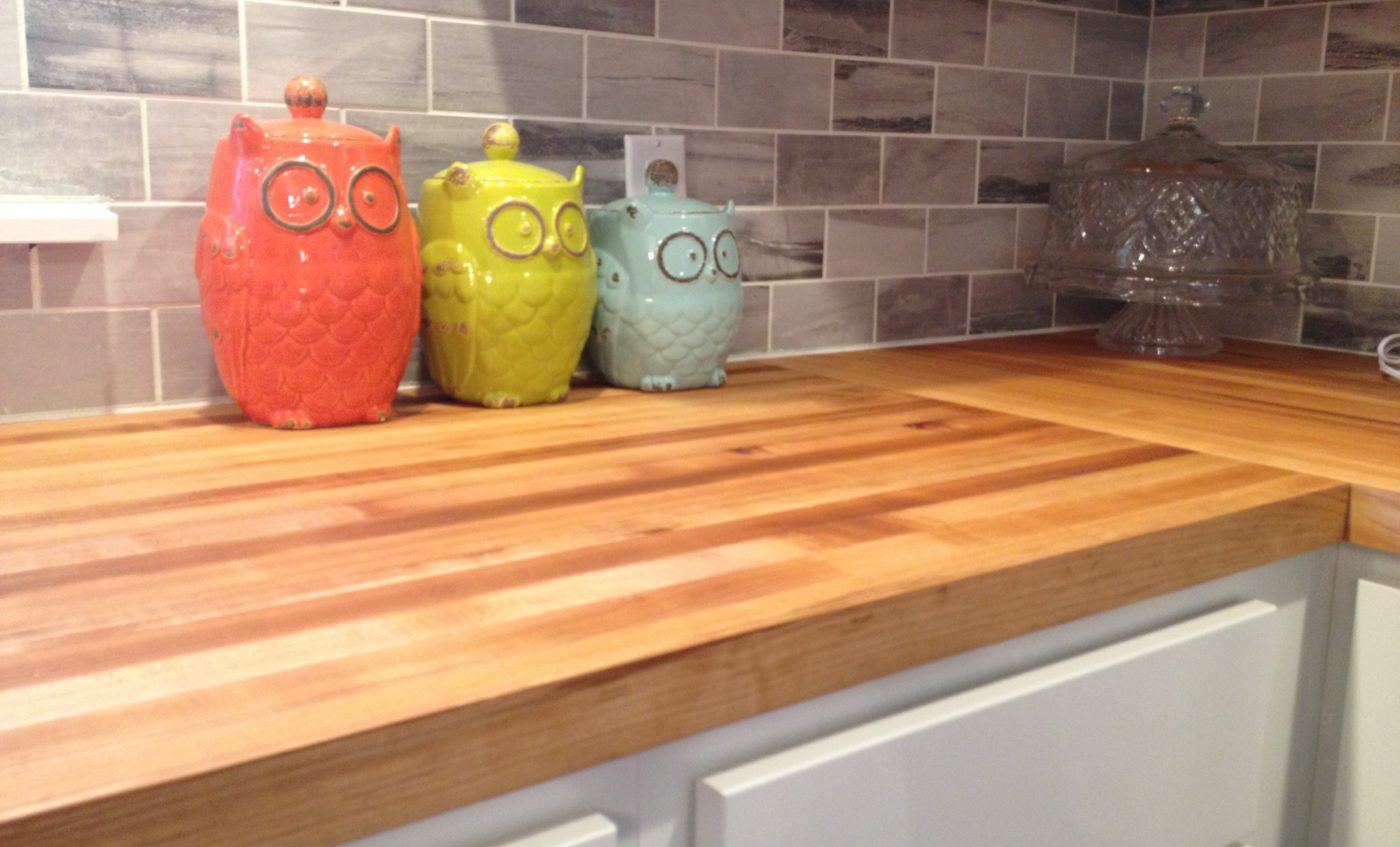 .
So if I haven't lost you yet, here we go…
.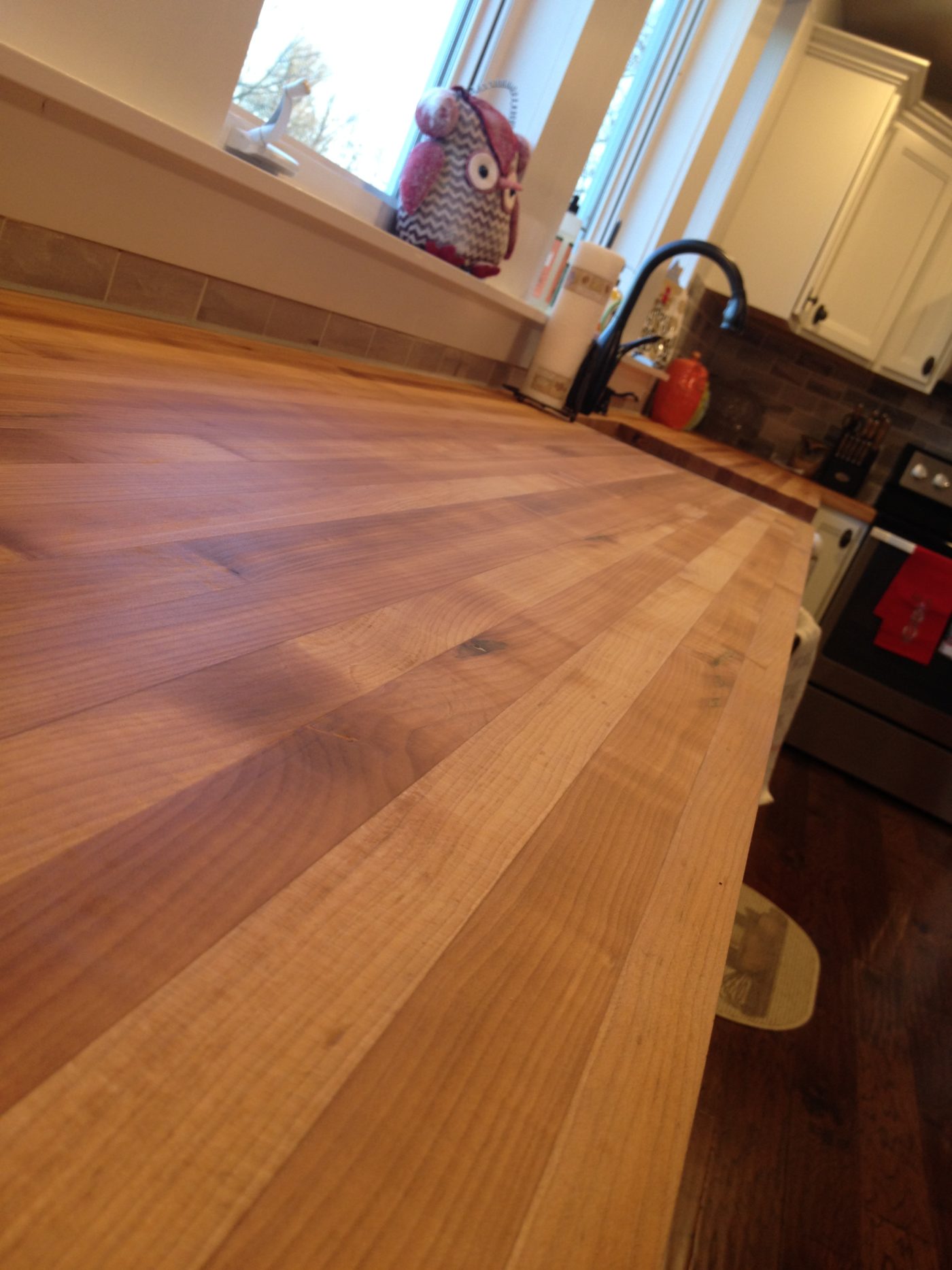 1. What are they?
.
My butcher block is made of maple wood.  Maple is considered a "hardwood," but it's kind of on the softer end of the hardwoods (from what I understand??) and it's typically cheaper (at least around here) than most other "hard woods."  They were cut into strips and glued together.  There are not any screws in them.  Wood glue is seriously amazing stuff….
.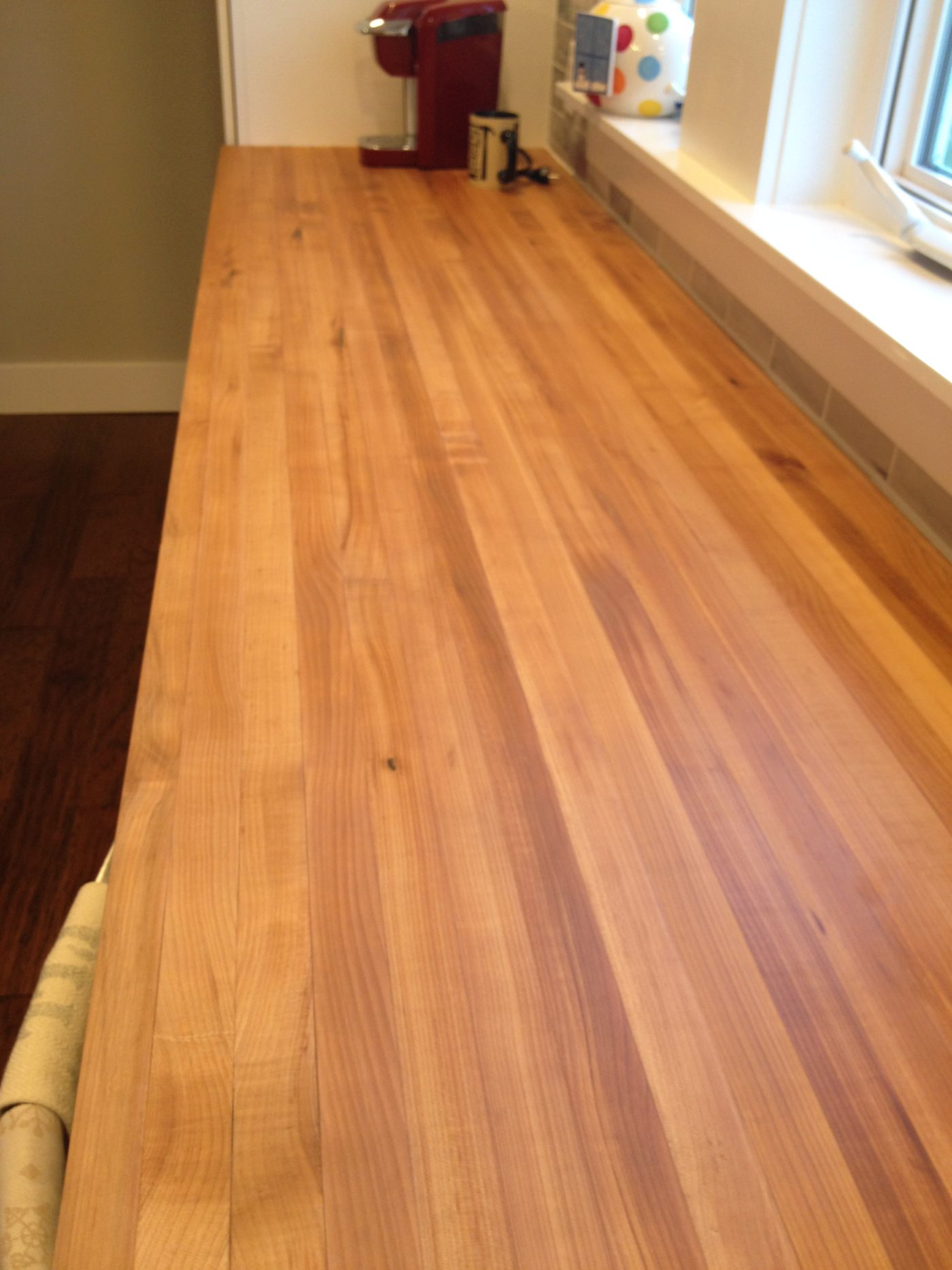 2. Did you make them?
Oh, no.  I'm not a "professional" now….and I DEFINITELY wasn't a professional a year ago when we got these.  I've come a long way, and at this point, I almost wish I had given it a shot, but what it would have cost me to get hardwood around here AND have it planed (because I don't have a planer), I could have bought it cheaper already made by someone who knows good lumber suppliers and has their own massive planer.
.
Off subject, but if we could do our kitchen remodel over again, I would have built my own cabinets, laid pine flooring and finished it myself, and made my own butcher block counters.  But since we had already invested so much in the "good stuff," we went ahead and had a professional make the counters.  Plus he already had the tools.
.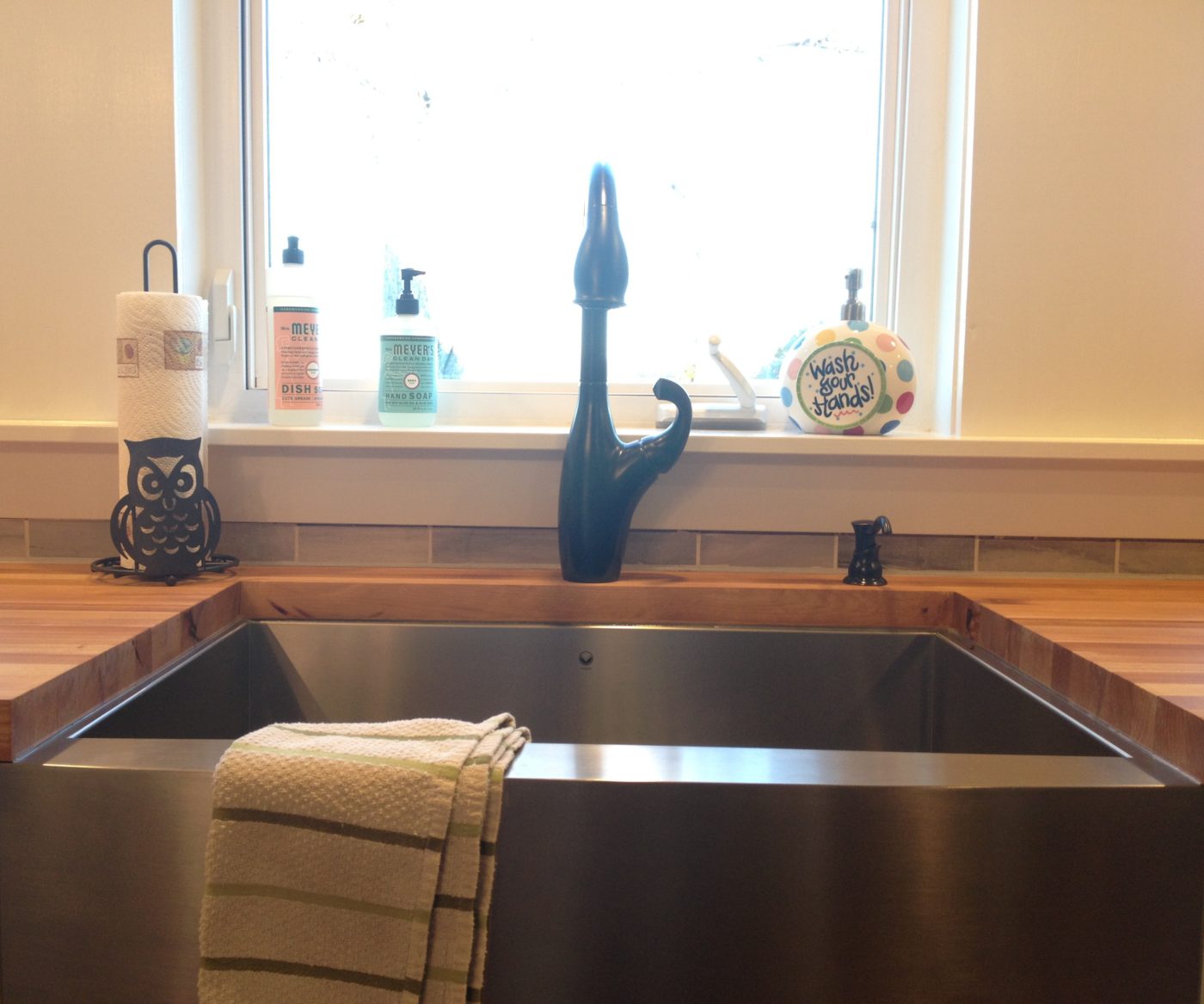 3. Where did you get them?
Our cabinet guy knew a guy who knew a guy….seriously.  I was determined I wanted butcher block countertops, but the cabinet places were charging CRAZY prices for it.  Like I mean twice the price of granite….um NO.  So he gave me the name of a guy who did woodworking on the side.  I called that guy and he was busy with other jobs, so he gave my information to Bond Brothers in Illinois.  They made it for me and dad and I picked it up one Saturday on his big trailer (since the countertop was 16′ long).
.
The place was like a MASSIVE super old barn FULL of random pieces of wood out in the middle of no where.  Super nice guys and I was pleased with the price and the product.  Highly recommended–it's just a long way from home.
.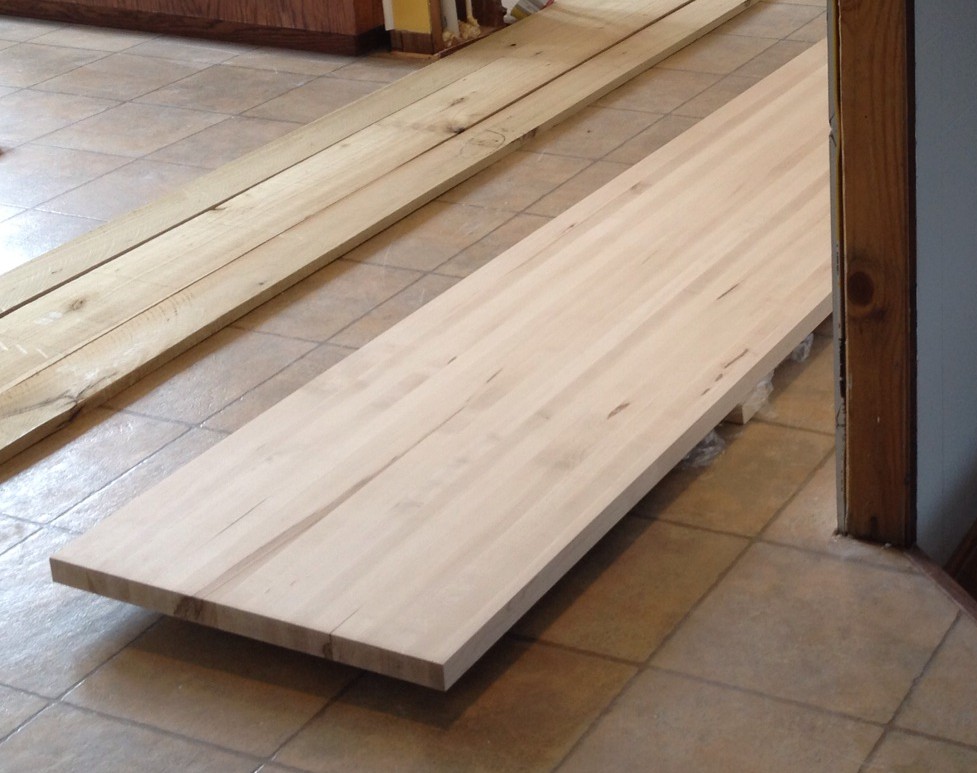 .
When we brought it home, it looked like the picture above.   It sat in our kitchen for a while before it was installed.  I oiled it every day for a few days.  More about oiling in a few minutes…
4. Did you install them?
Again, no.  The countertops were reasonably priced, but I really didn't want to be the one to screw them up and have to buy them AGAIN and wait forever for them to be made again AND drive to Illinois to pick them up again.  So we hired the guy that the cabinet guy knew….the one from question 3.  Below is a picture when they were first installed.  They darkened up a little from the oil, but they were still pretty light and dry.  They have really darkened up since this picture.
.

5. Were they expensive?
My one word answer: no.  My more elaborated answer:  the way we bought them, they were cheaper than we could have gotten laminate countertops.  If I had bought them from a cabinet place, I would have paid out the….you know.  And the installation was pretty reasonable, too.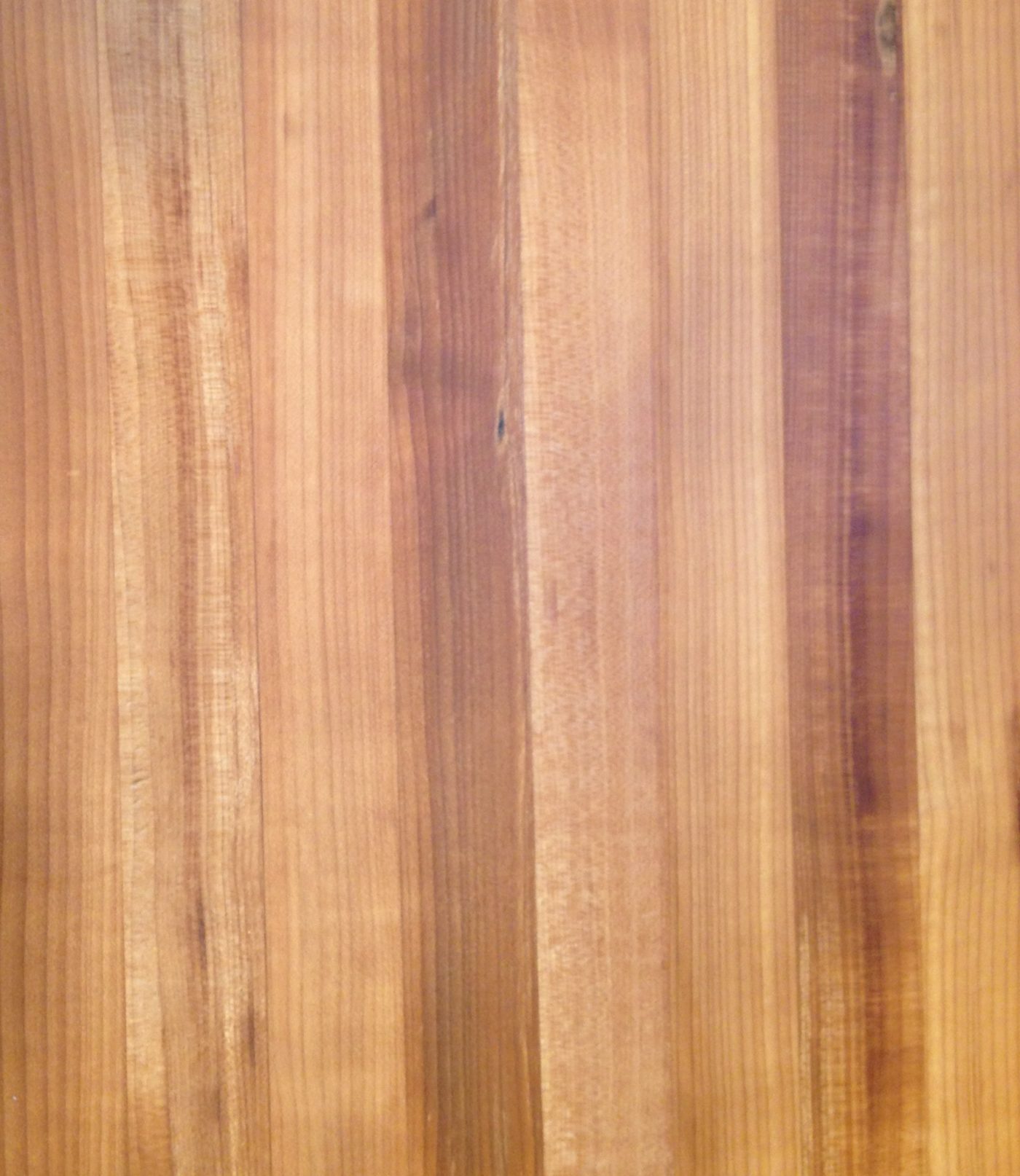 6. Do they stain easy?
Well, this is difficult to answer.  Danny was cutting a green pepper on a plate one time and dropped a pepper seed on the countertop and let it sit there a few minutes before he wiped it off and it left a little mark.  It has faded over time, but I still see it because I know where it was.  You can't hardly see it in the pic, but it's dead center…it's just slightly green.
.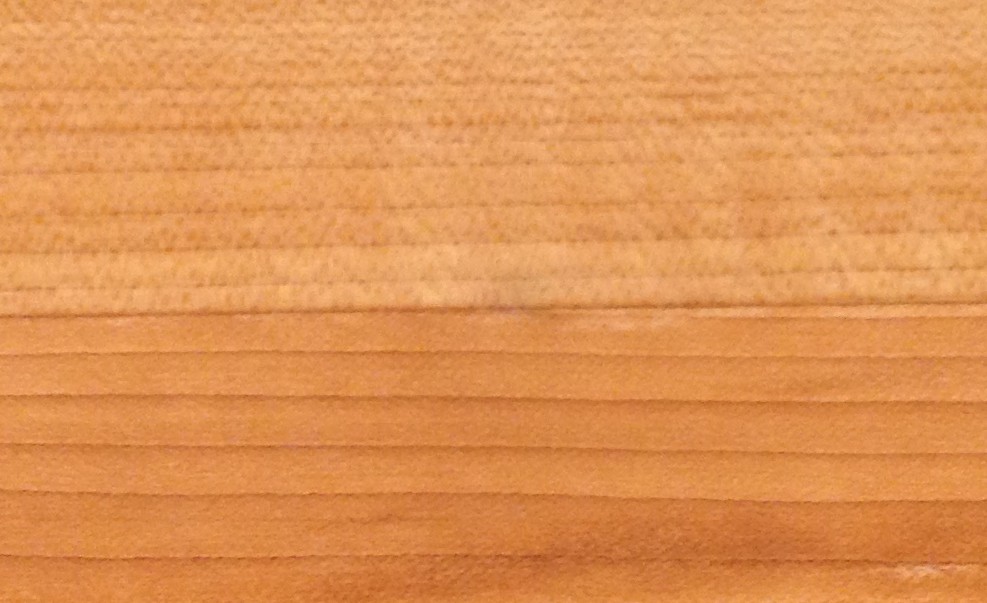 .
BUT, I accidently spilled an entire cup of HOT black coffee once when I was unplugging the Keurig, and it didn't leave a mark.  The wood grain raised some (it felt rough to the touch) and it dried out a little (probably from the heat), but I oiled it after I cleaned up the spill, and it went right back to normal.  THANK GOODNESS!!!!
.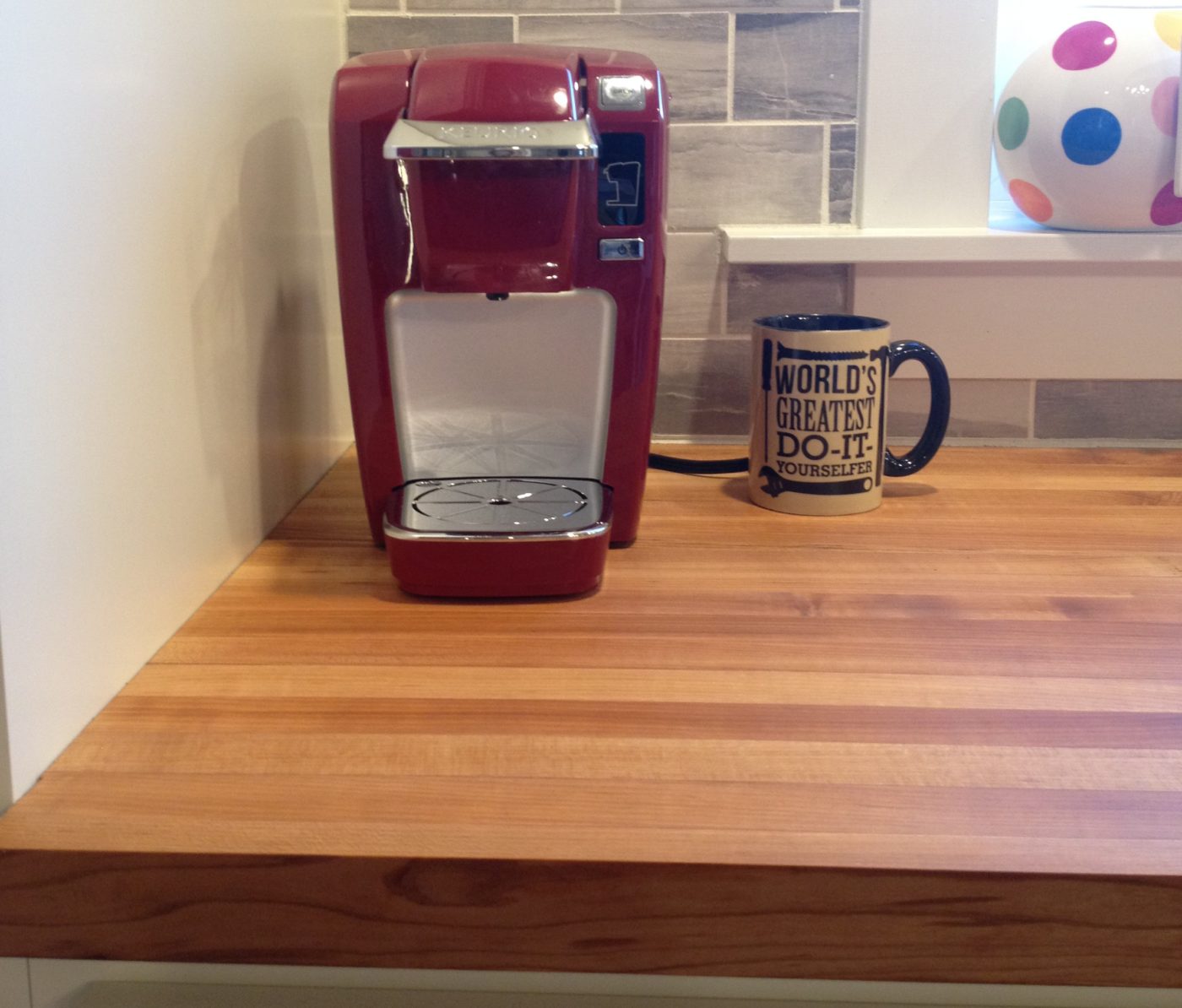 .
That being said, staining is a possibility, I just haven't figured out what stains and what doesn't.  We are careful to not get a lot of "red" sauces or juicy foods (fruits and veggies) directly on them, but I've been surprised at what will wipe right off without harm.
.
7. What do you mean by "oil" them?
.
Mineral oil.  You can find it in the laxative aisle 🙂 hahahahaha I laugh every time I buy some.  I've read a lot of differing opinions online about how to "seal" wood countertops and I decided on mineral oil.  They make fancy expensive oils for butcher block, but mineral oil is great for it and costs like $2 a bottle.  I've had them for a year and gone through 2.5 bottles.  Not bad.  The fancy stuff will cost you about $15 for a tiny bottle.  No thanks.
.
Some people suggest a SEALANT–like a poly.  And even within that, there are ALOT of strong opinions–regular poly vs. marine grade boat sealants.  For me, that was too much work and money.  I think (my opinion and $1.25 will get you nothing more than a coke from the vending machine) people get way too technical about all this stuff.  Understand what it is (wood), take care of it (oil them and wipe off water and spills), and go on about your business.  I just didn't want poly on my counters.    But, I did poly the bottoms with two coats of polycrylic to prevent any warping from heat from the dishwasher, oven, etc.  This was suggested by the installer.
.
When they are new, oil them OFTEN–like every day for a couple weeks, then once a week, then maybe once a month and then just when they start to look a little dry.  All you do is pour some oil on and use an old tshirt or rag and wipe it all over the countertop.  Lay it on THICK.  Let it set over night, then use a clean rag or tshirt to wipe off any excess oil.  Sometimes it will drink it all in.  If that's the case, do it again until you end up with some excess.  Heat, excessive wiping, sun–these will all dry them out faster.  It takes about 15 minutes total.
.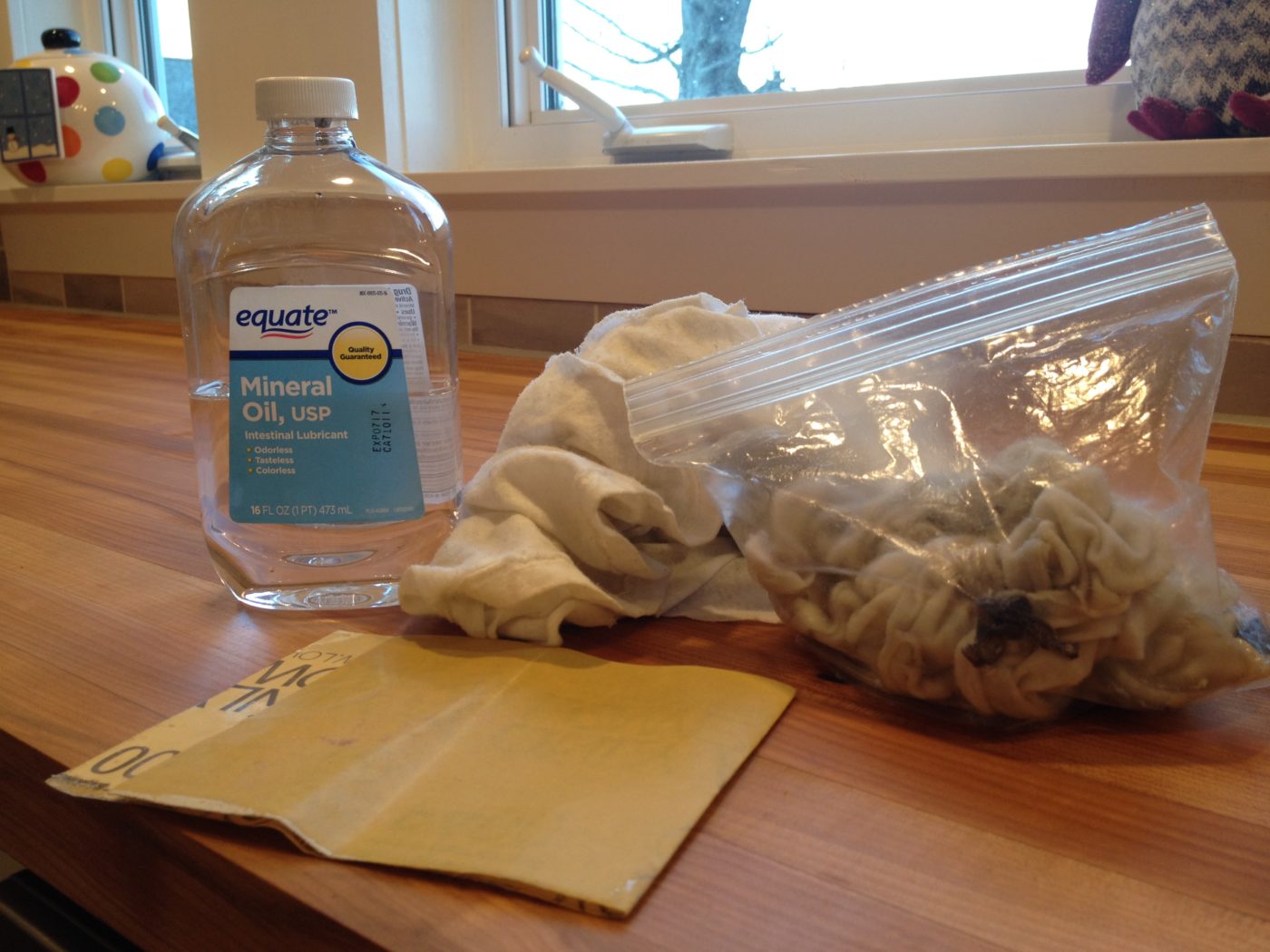 I save my "oily" rag in a plastic bag for use later.  If you get a new rag every time, the rag will soak up all the oil while you are trying to wipe it on.  Once it's saturated, it will wipe the oil on much better.  By the way, I do keep sand paper (400 grit) on hand if I notice any rough spots that come up if they get dry.
.
By the way, the more you oil, the darker they get. 🙂
.
8. What about water?
.
If they are oiled properly, water shouldn't be an issue.  Caulk and/or silicone around the sink area really good and wipe any water drips you leave after washing dishes or your hands, etc. and it's not too big of a deal.  At least it hasn't been for us over the last year.  If you leave water on them, it will look lighter and be rough where it sat and dried.  Just give it a quick sanding and oil the spot.  They should go back to normal.  You also know you need to oil when the water doesn't bead up on them anymore.
.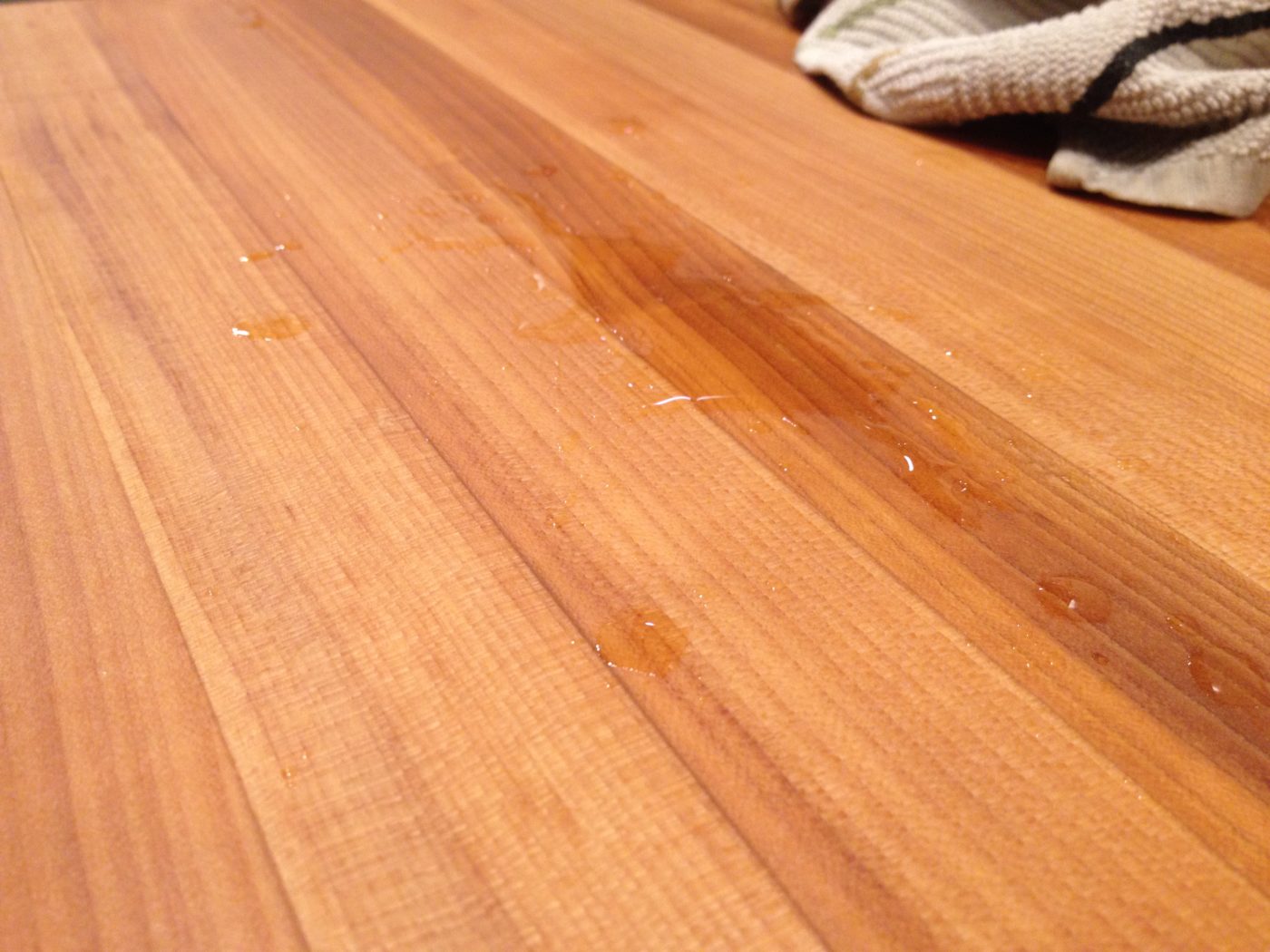 .
I use a drying mat when I wash dishes and wipe up any drips as soon as I notice them.  Better safe than sorry.  There is always the potential for water damage and rot, warping, etc.  You just have to pay attention and be careful.
.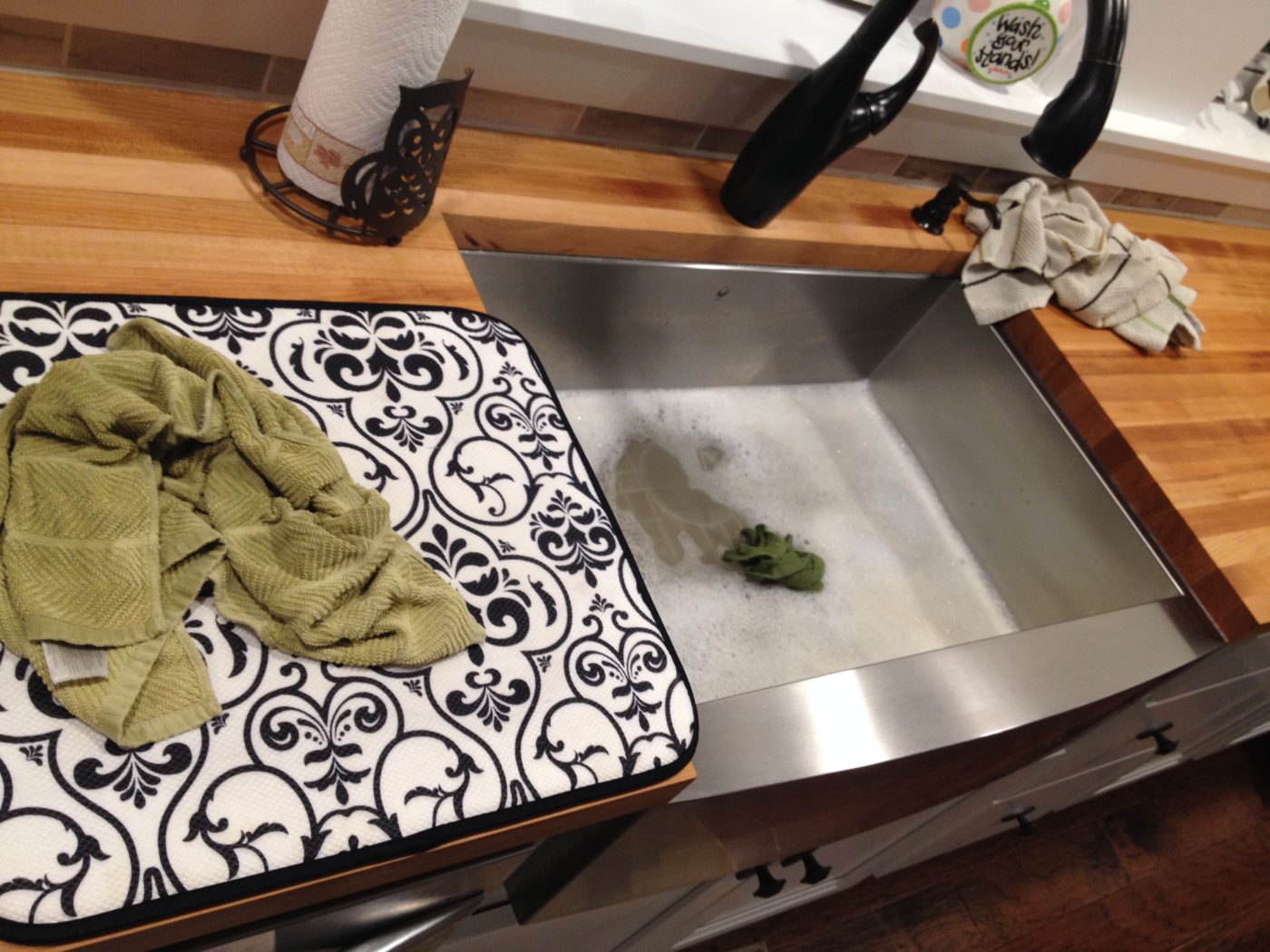 9. Do they scratch and/or dent easy?
.
I do not cut directly on them.  I use a cutting board or plate.  Normal every day use hasn't scratched them that I can see, but like I said, I try to be careful with them.  They will dent.  Although it is supposed to be "hardwood,"  it's still pretty soft–it's wood, not rock.  While I was installing the crown molding on our cabinets, I accidently dropped a piece and it left a pretty big dent in the counter.  You just have to be careful, and think of the wear and tear as character 🙂
.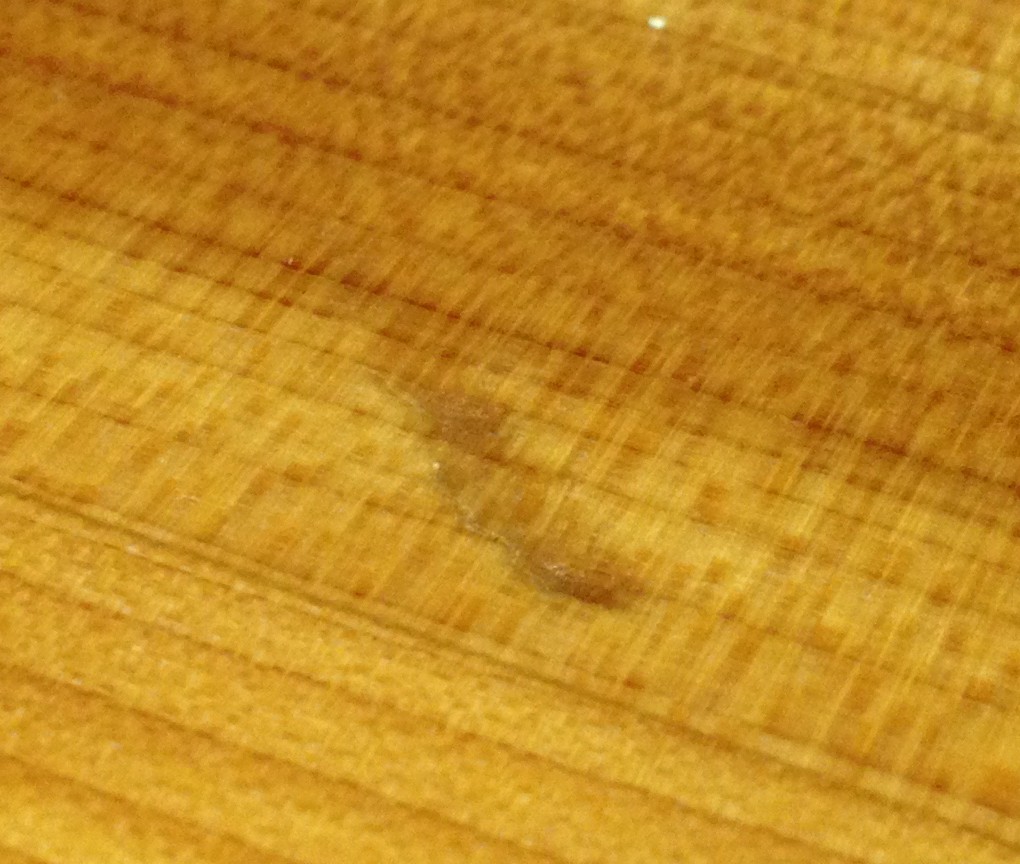 10. Do you like them?
.
Yes and no.  I love the look of them.  They add so much visually to our new kitchen and I'm ultimately glad we did them.  But they can be a pain.  We had granite at our last house and we've had laminate before as well.  Those are kind of no maintenance countertops (although you are supposed to seal granite every year or so)–most people aren't worried about staining, water, warping, dents, etc. with them.  Butcher block is just a higher maintenance material, and a little more delicate.  And since it is wood, it can sometimes have a mind of it's own–expansion and contraction with temperature variation, grain raising, etc.  But we haven't noticed any problems.
.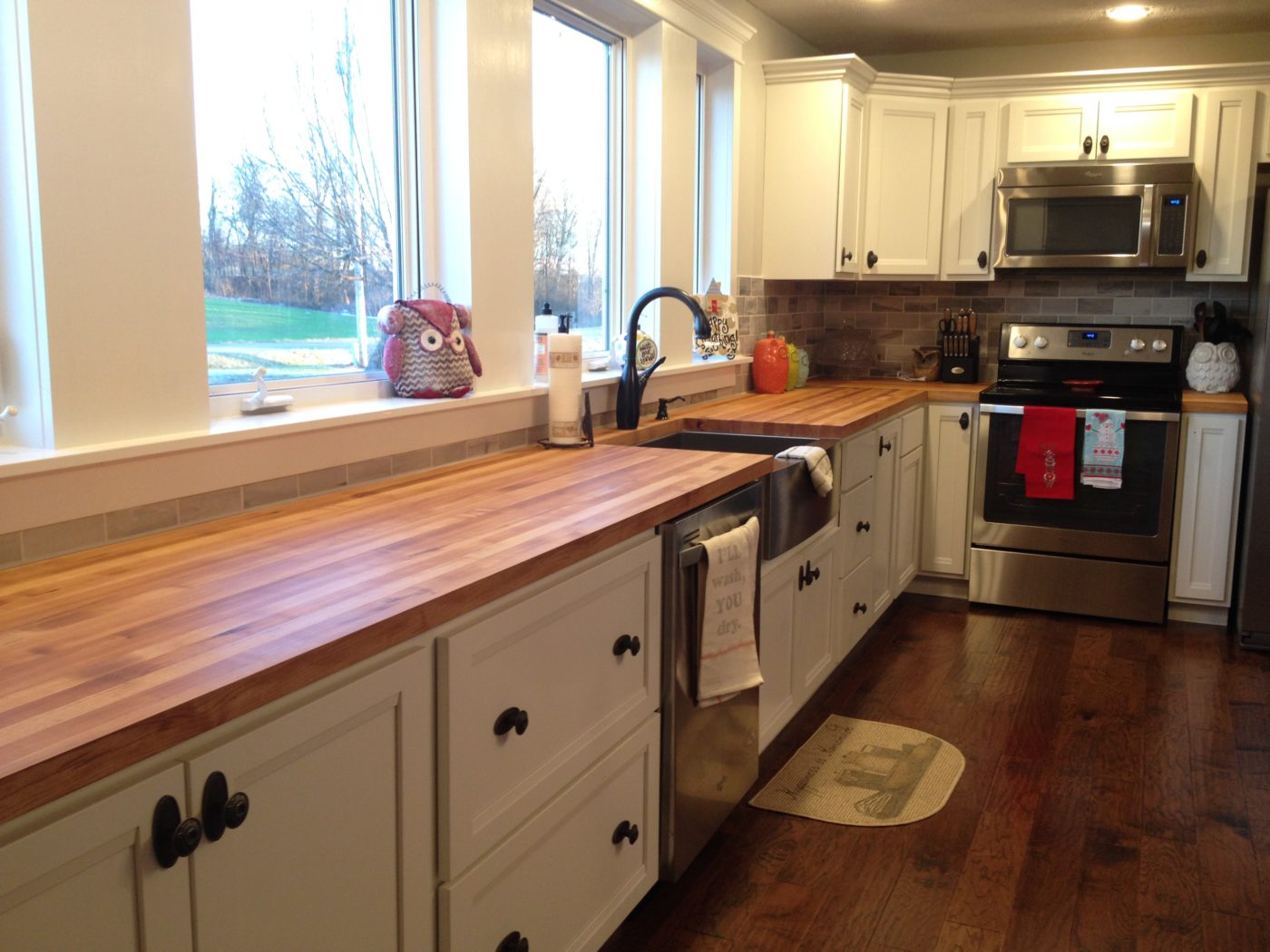 All in all, I'm still torn on if I would do them again if given the chance.  I kind of think I would have done granite instead, but then I think about how I LOVE that wood grain and I love flouring the surface and rolling out dough.  It's got it's pros and cons.  All in all, I like them and I'm glad we did them…I think 🙂  Ask me again in a few more years…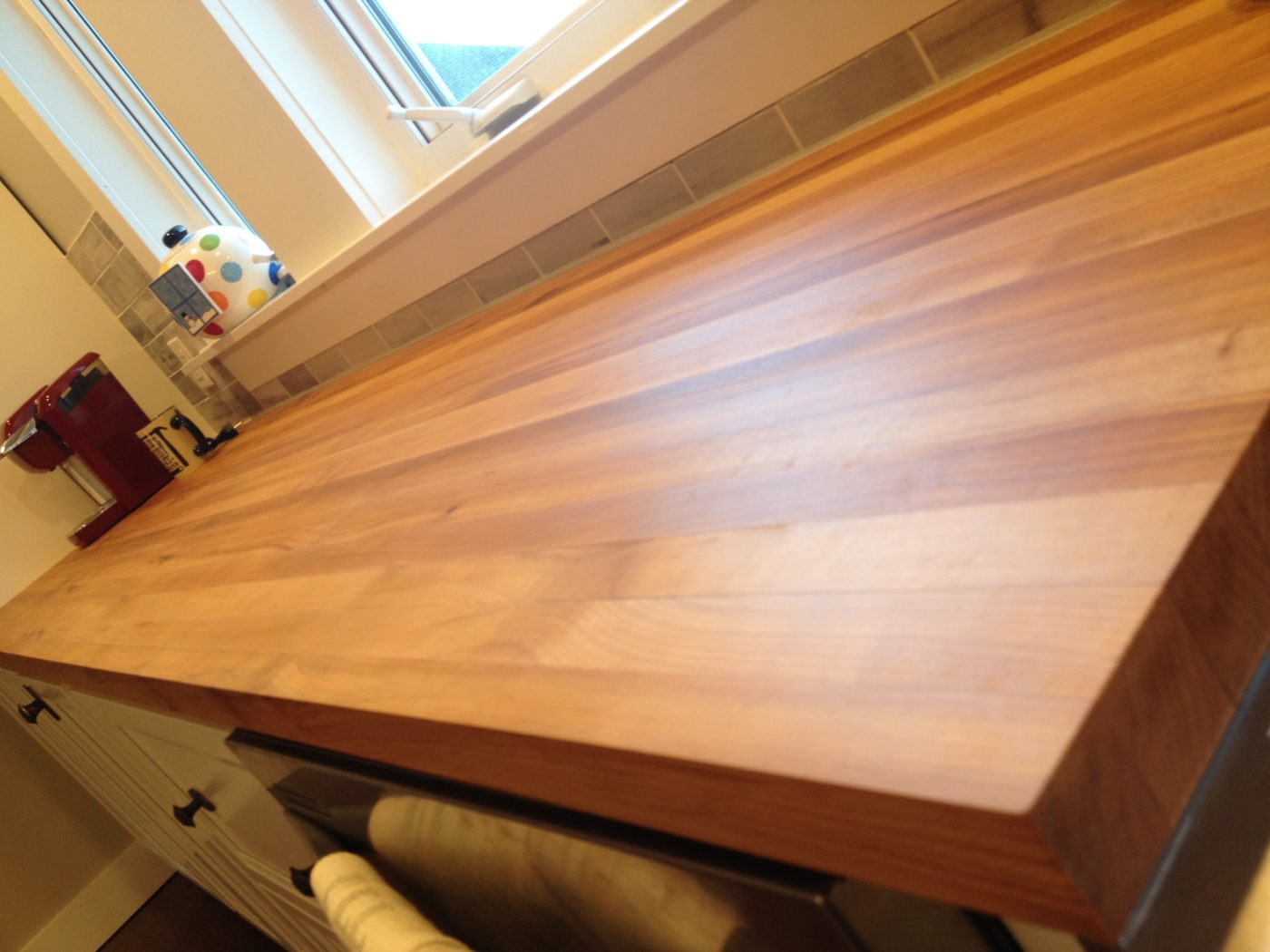 Other random things you may find interesting:
.
1.  Wood "tans."  Since the sun comes in these huge windows every morning, the counters see a lot of sunlight.  I left an old scale on the countertop once and the next time I went to oil it (about a month or two later), there was an outline of where the scale was.  The wood around it had darkened.  I moved the scale and it eventually evened out.  The more sunlight the wood gets, the darker it will get.  It also darkens as it ages and as it is oiled more.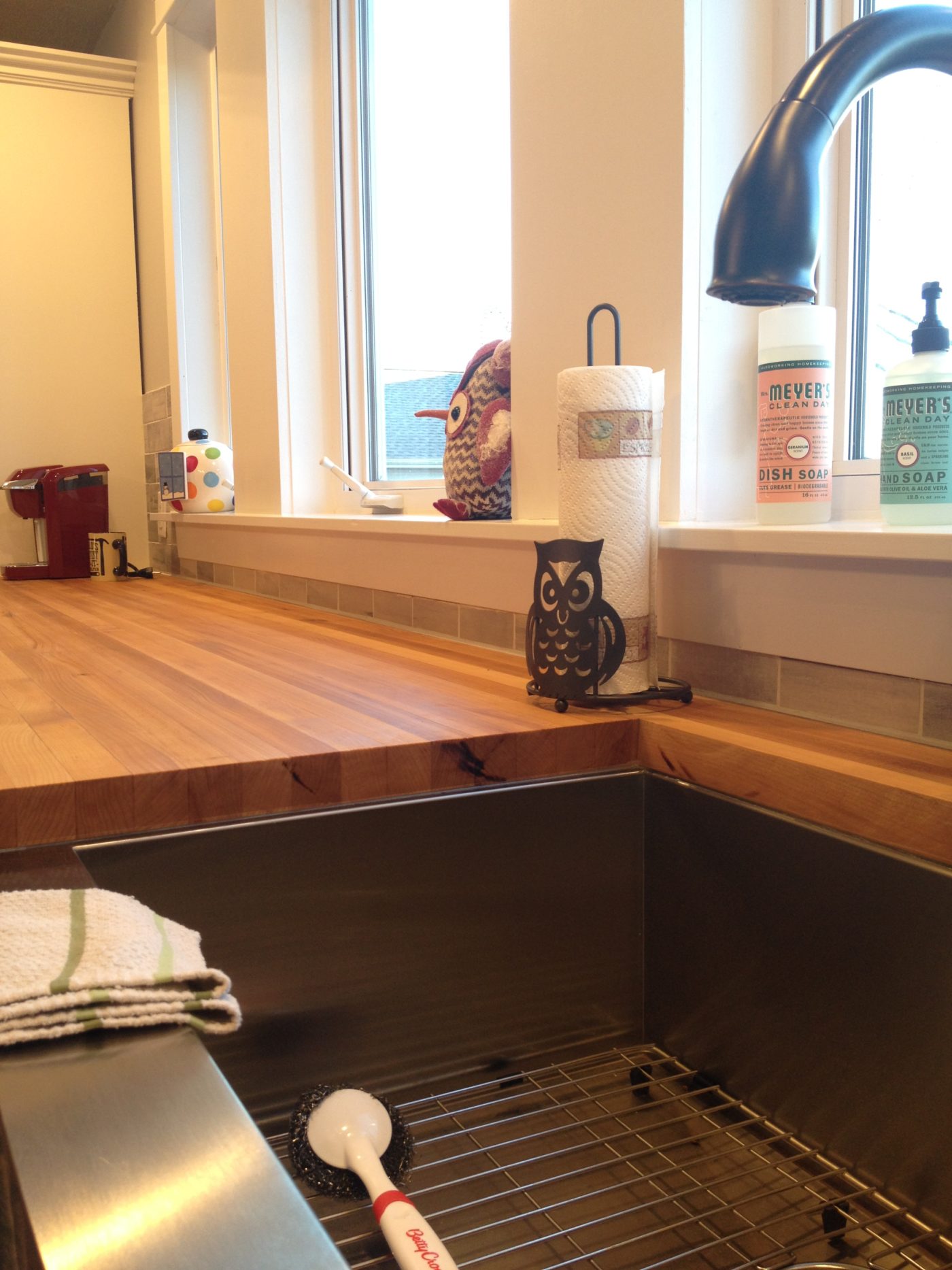 2. If you oil the countertops instead of sealing them with a poly, the oil WILL soak into things you place on it.  If you set a piece of paper on it, it will get an oil spot.  A cookbook–it will soak in the oil.  Set a cardboard box of macaroni on it, and the bottom will soak in the oil.  It's inevitable.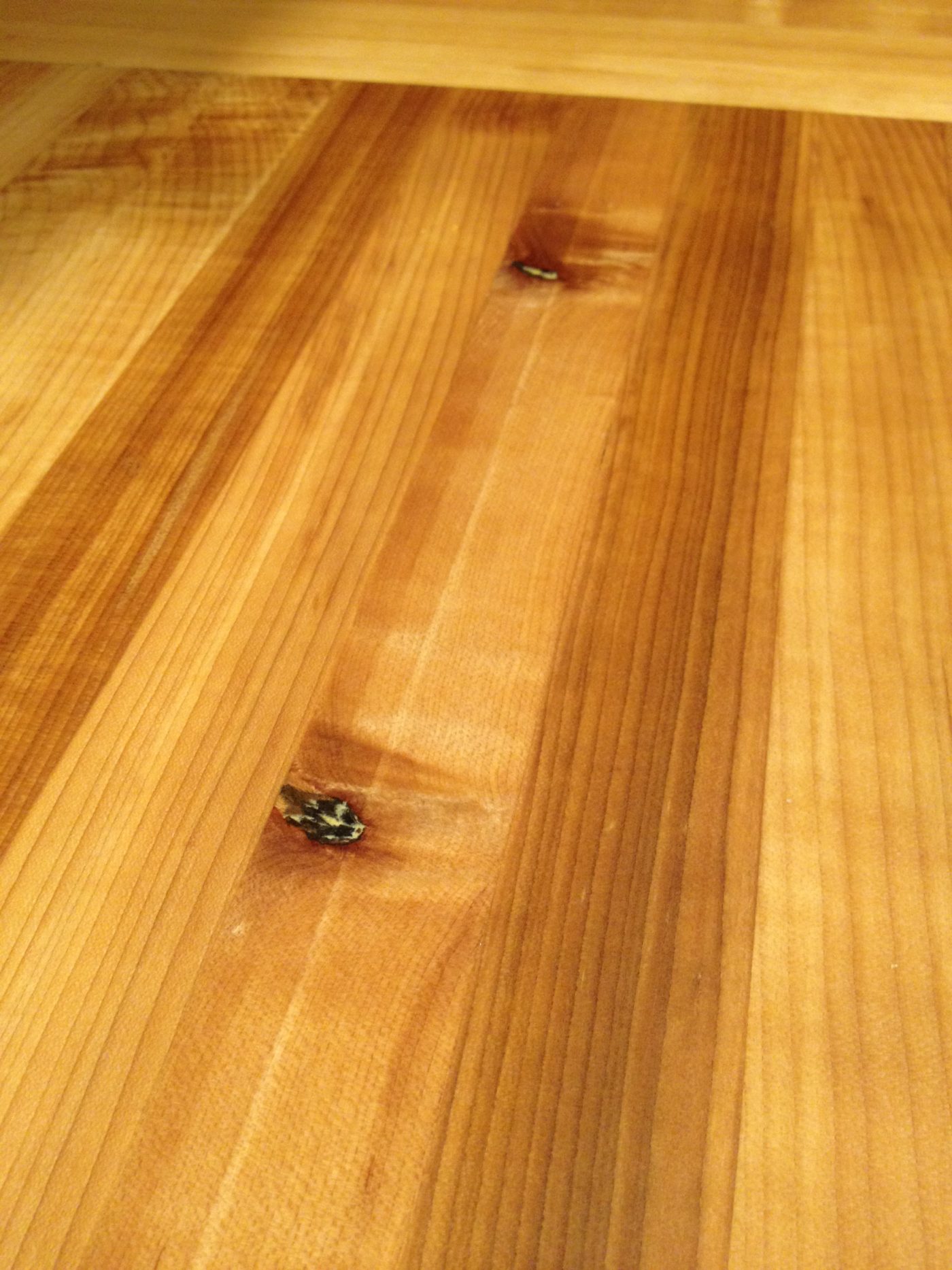 3.  You should disinfect with a water/vinegar mix.  I don't want to use harsh chemicals on it for fear of drying or discoloring the wood.  I use a 50/50 water/vinegar mix to clean and disinfect.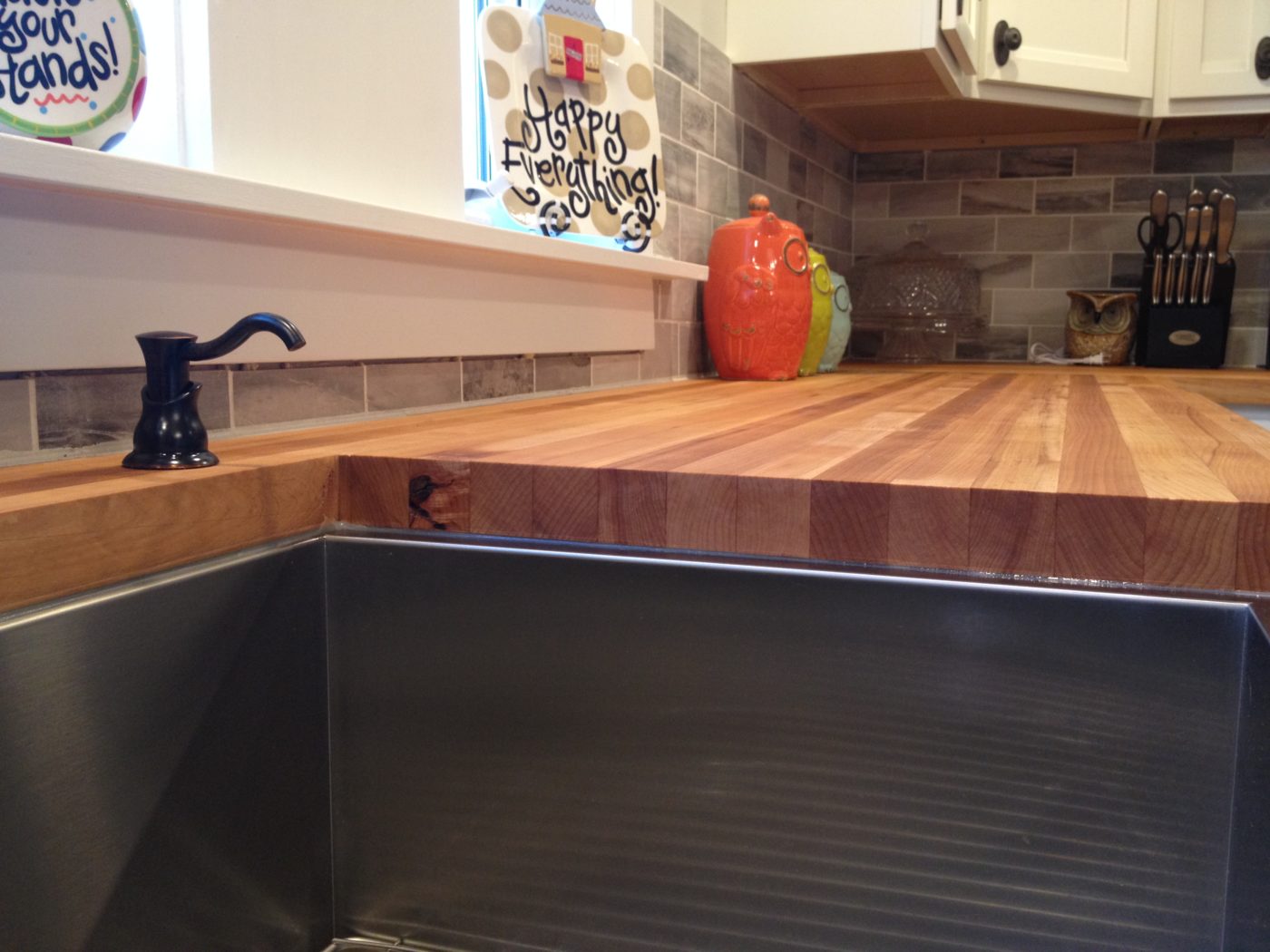 So, that is my take on butcher block countertops.  A lot of info, I know.  I'm sorry for such a long post, but there is a lot to say about them.  What are your thoughts?  Do you think it would be worth it to have them or would you rather have a less maintenance material?  It's a tough decision, I know 🙂  I hope this clears all the questions you may have about them!
.
Don't forget to pin for later 🙂