You guys! I have to show you this new laundry room.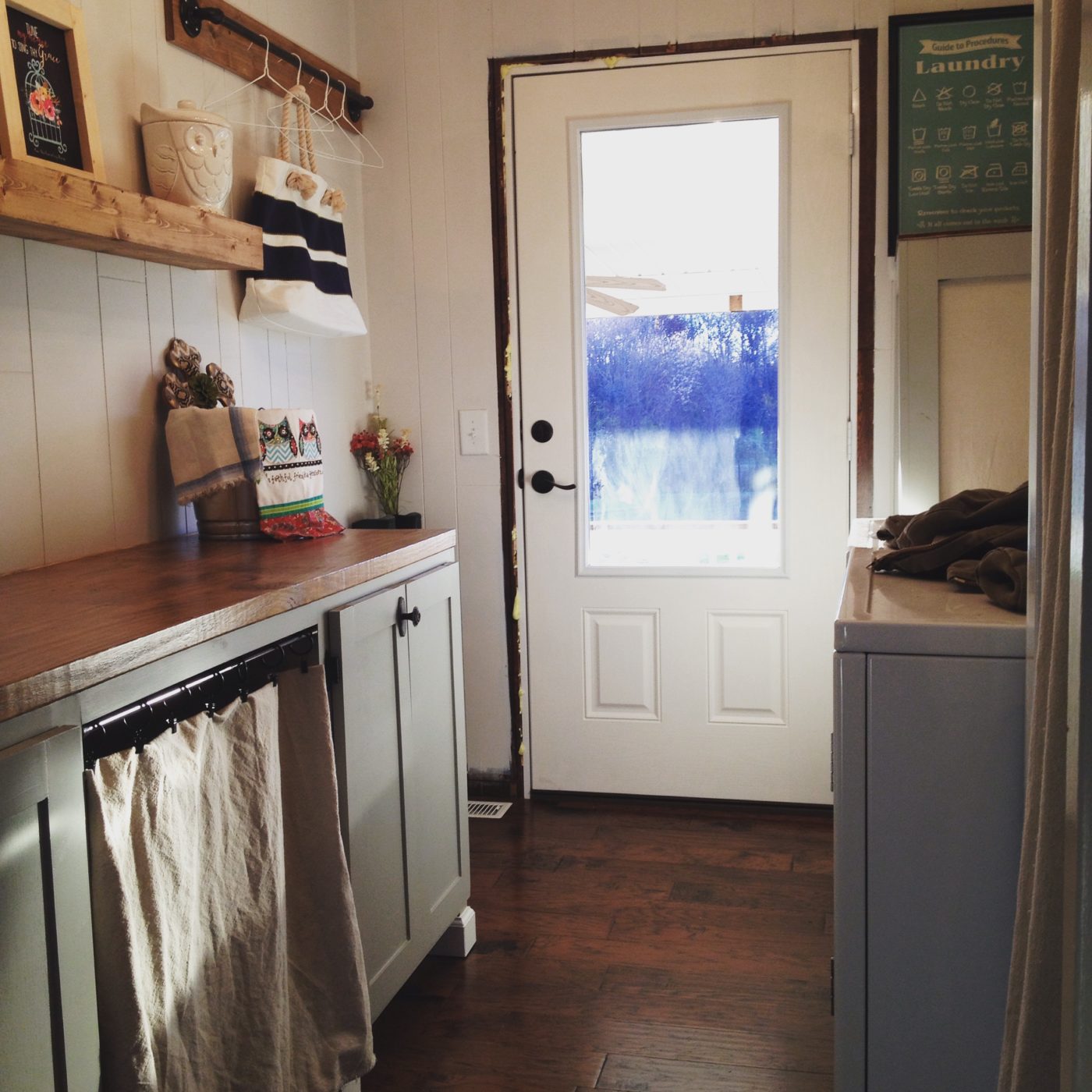 BAM! There it is…my new laundry room in all it's glory…missing a knob on the cabinet door, a dirty coat on the dryer, and missing baseboards and trim.  To be honest, I think this is the best picture I have of it because of the lighting, so despite the imperfections, I wanted to catch your attention right off the bat.
.
Okay, so now that I (hopefully) have your attention, I want to show you the details of my new laundry room.  This has been a long time coming.  Just don't even get me started…Life gets busy and full time jobs, plus holiday preparation, plus a million birthdays over the last two months, plus orders for projects for friends of mine (for which I am VERY thankful and I hope that continues) just take up a lot of my time.  Nevertheless, the room is DONE…for now.
.
Let's recap.  This is what the laundry room looked like when we first moved in.
The first thing that was done "to this room" was putting on new sliding doors.  You can see them peeking out on the left picture 🙂
Danny liked all the storage–it had these utility cabinets and a closet with a door so you could store ugly things and not have to see them.  The closet was actually our pantry until we remodeled the kitchen and then HALLELUJAH we got a pantry actually INSIDE the kitchen.  Which was (and still is) awesome.  But, (there is always a but…) I didn't like how cramped the room felt and I didn't like the cabinets–they were cheap MDF and I just have a "thing" about these kinds of utility cabinets.
.
Let me tell you something, though.  I sold those cabinets for $300 and that paid for the entire laundry room redo (and still had some leftover), except for the new back door.  We would have gotten a new door anyway because the old one was leaking air and needed to be replaced. So there's that….this was basically FREE.  Um, yes, please!
.
I'm really dragging this out, huh?  Okay, I'm almost done blabbering.  Really quick, you should check out the part 1 of the redo here.  I'll spare you all the details here and just show you the finished pictures.  Are you ready?? Okay here goes!
.
Ta Da!! This is as you walk into it from the foyer.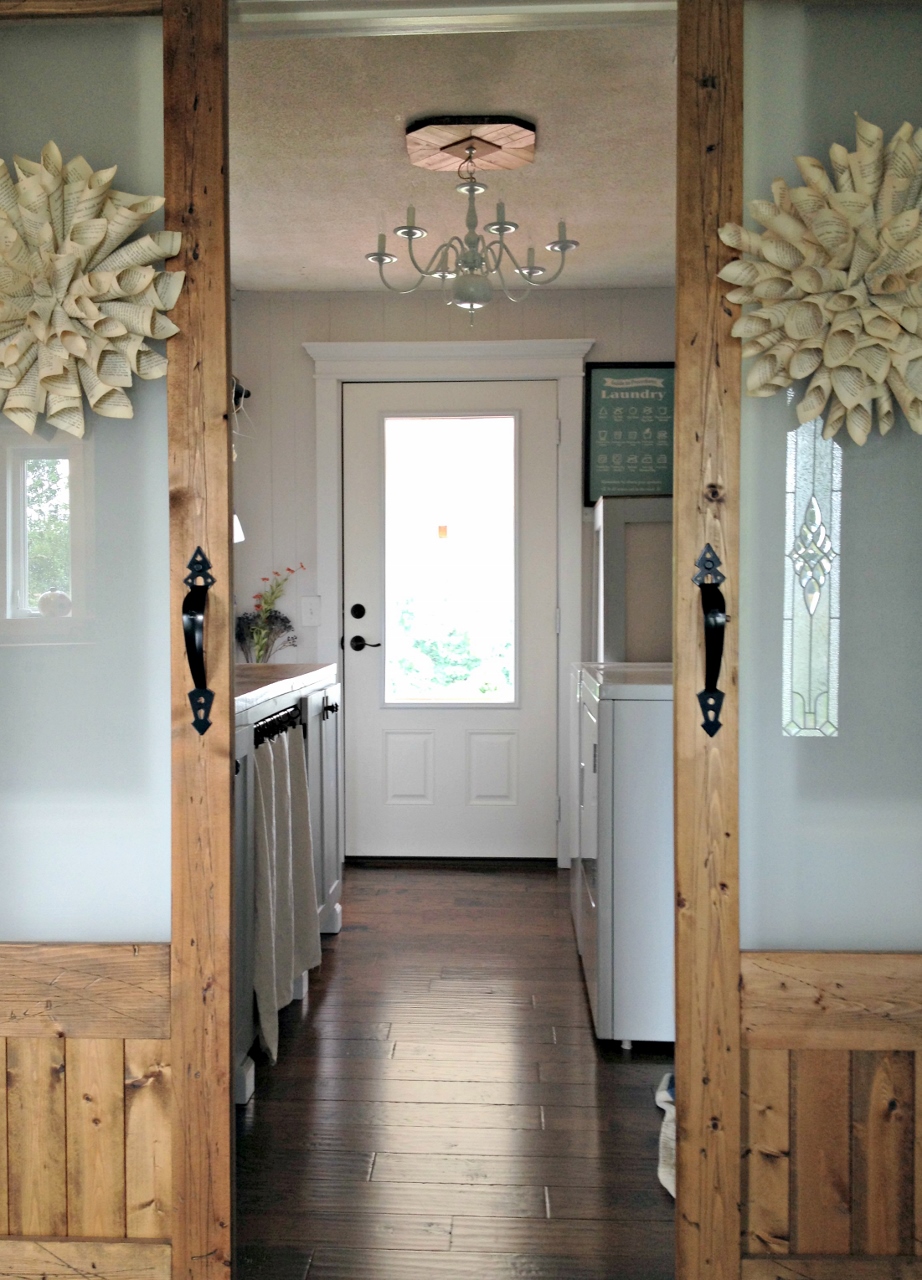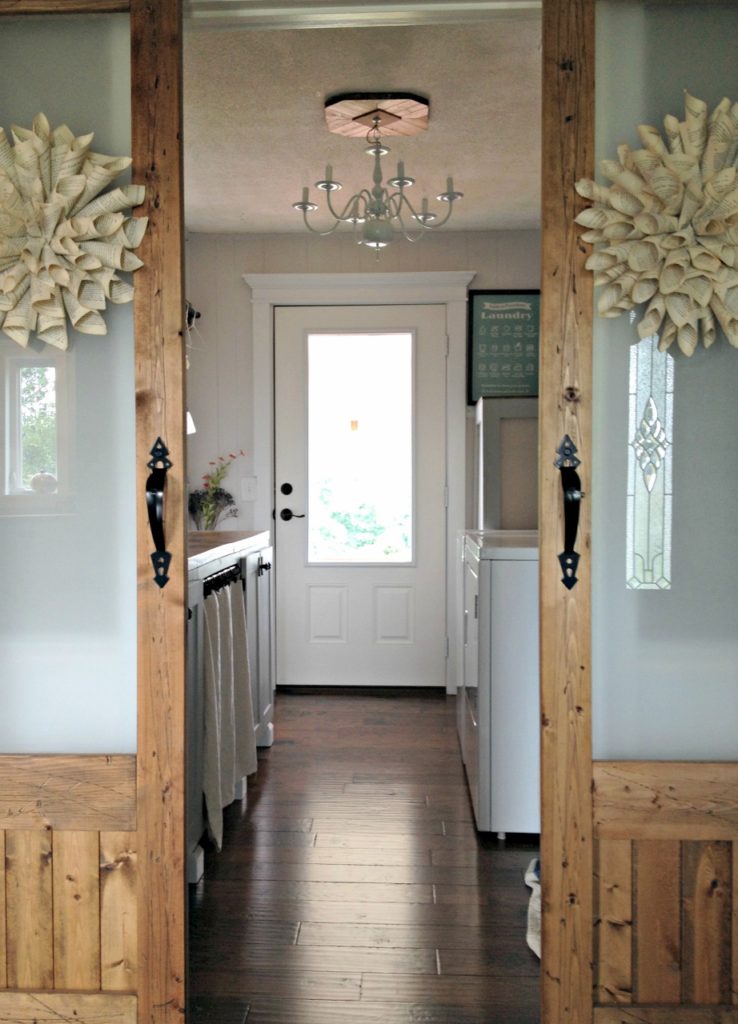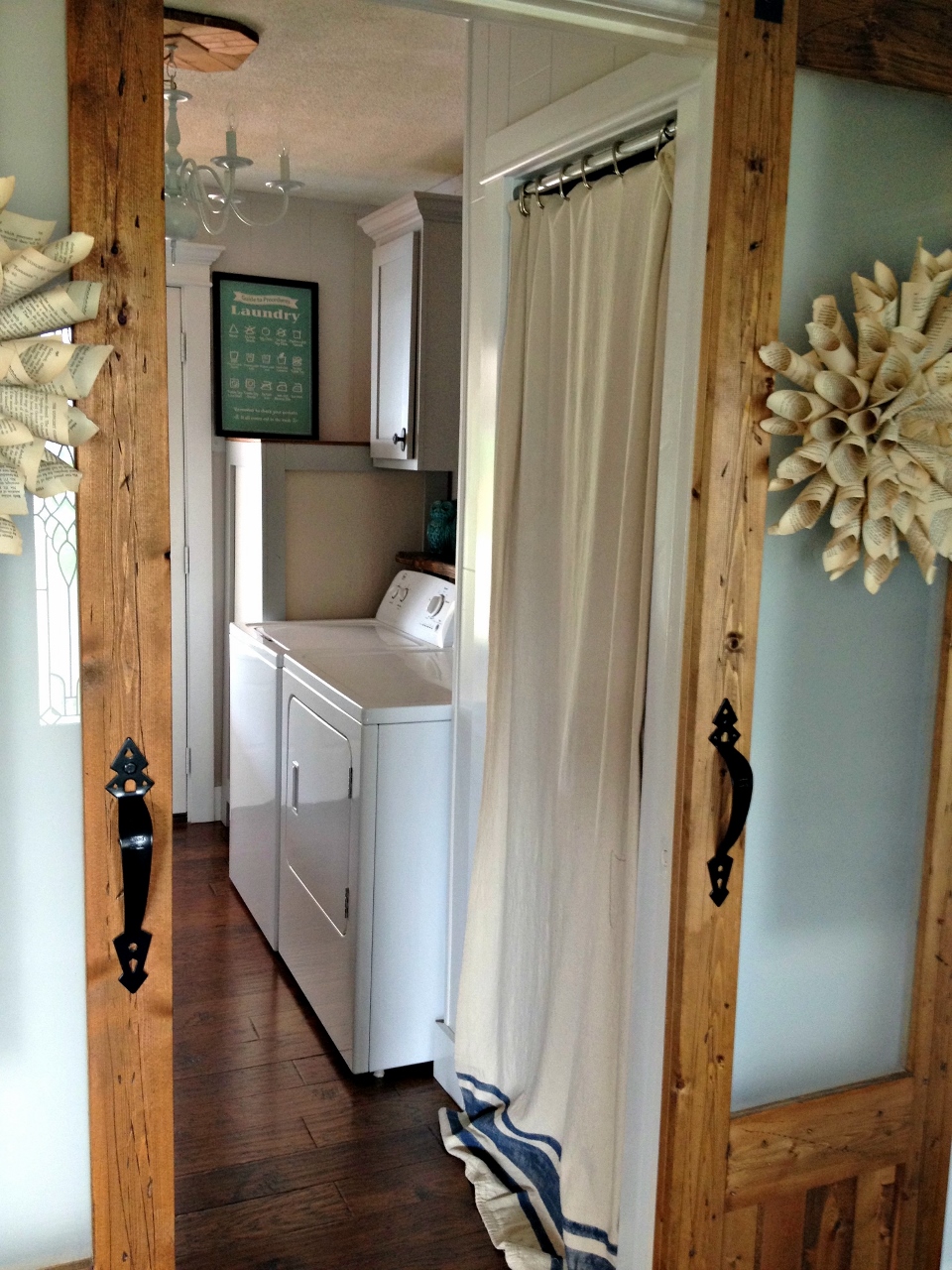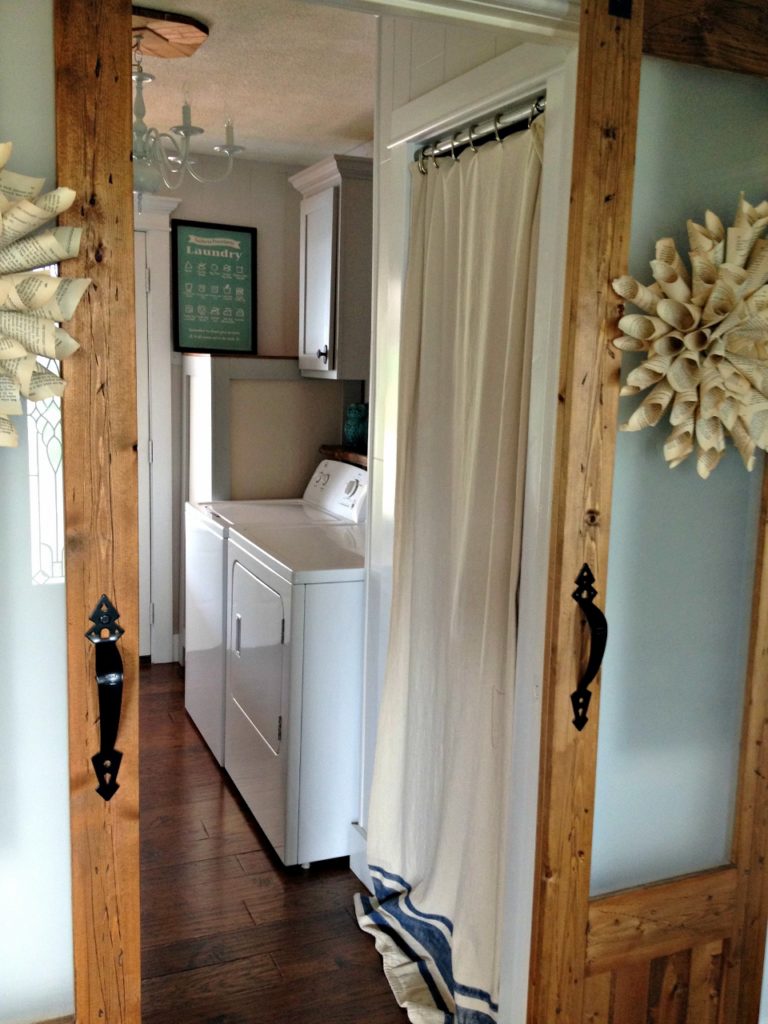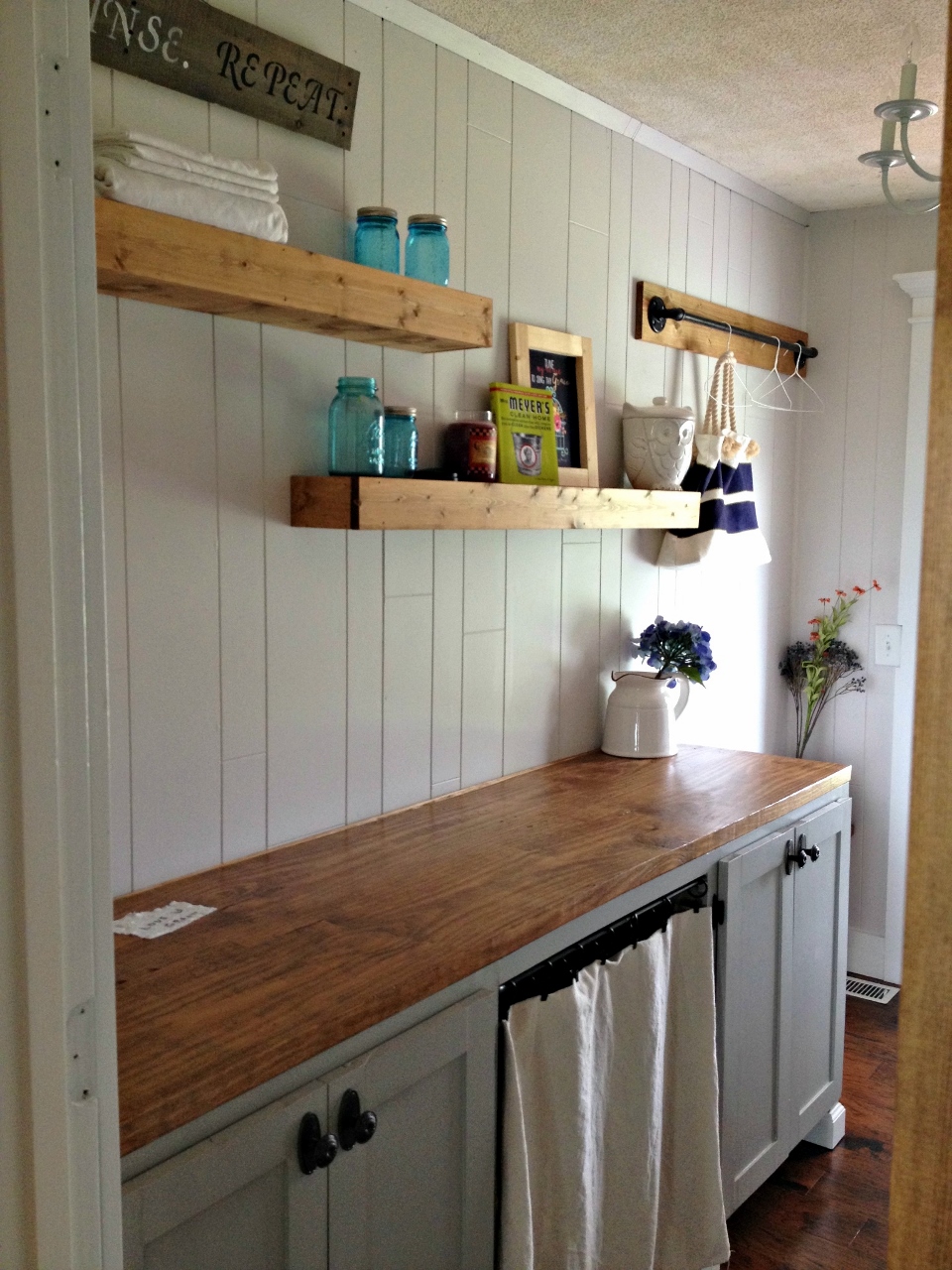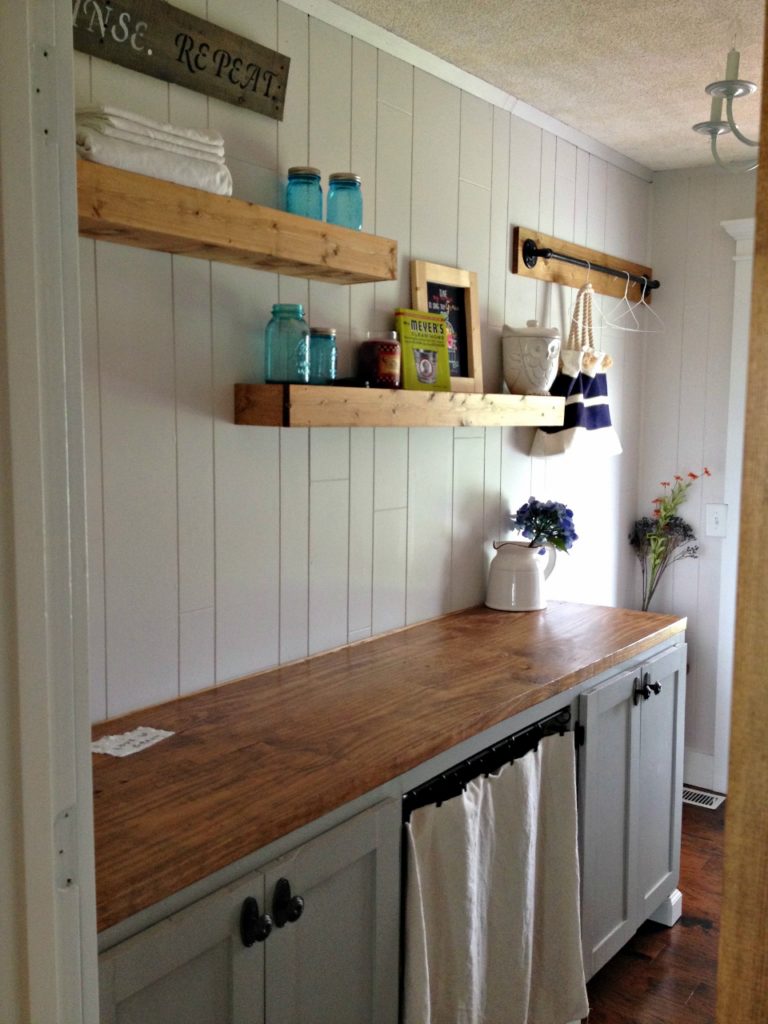 This room has little touches of my granny all over it.  She gave me this little tea towel a while ago that was hers.  The owl one was a gift from my mother in law.  SUPER CUTE!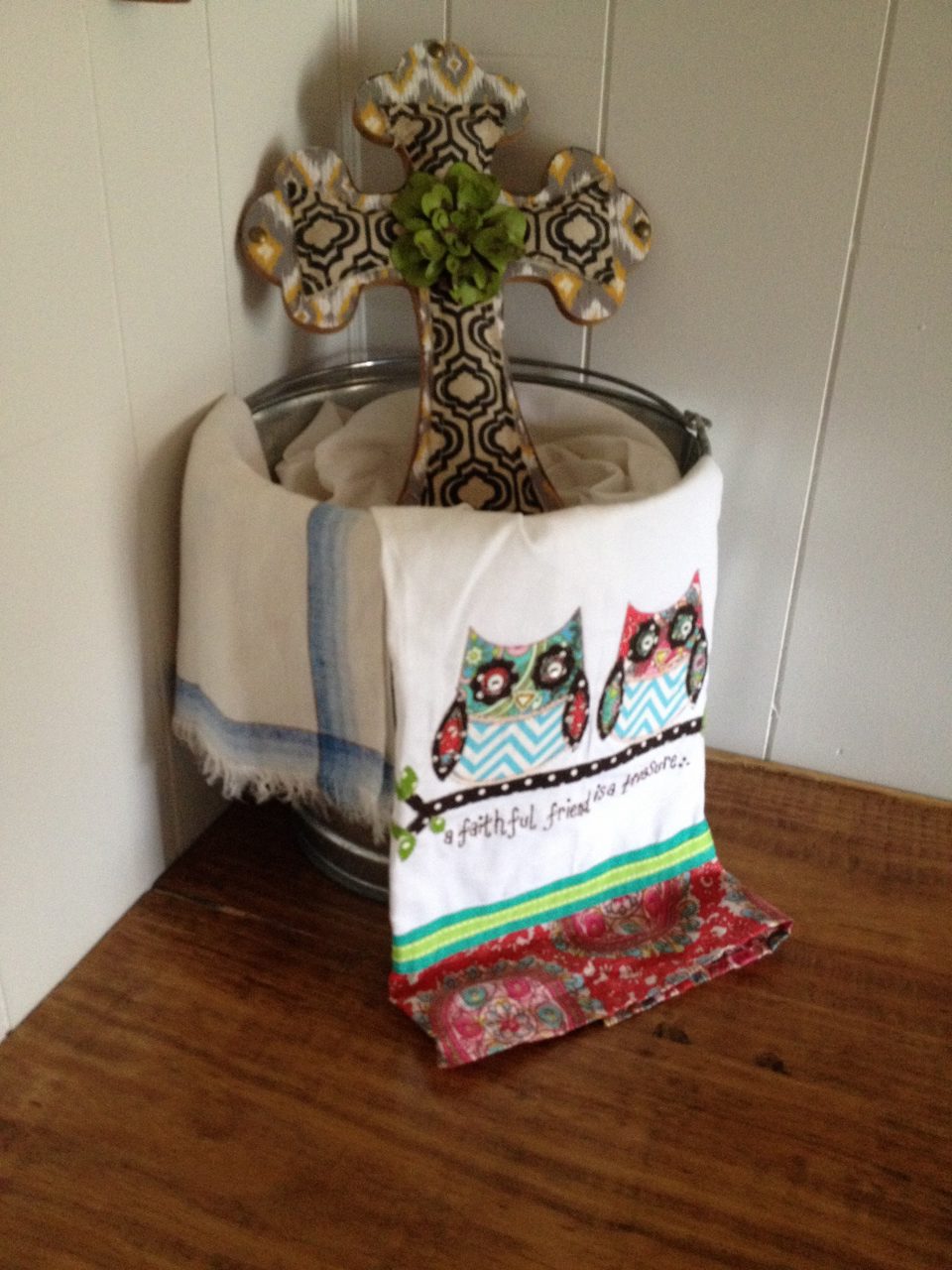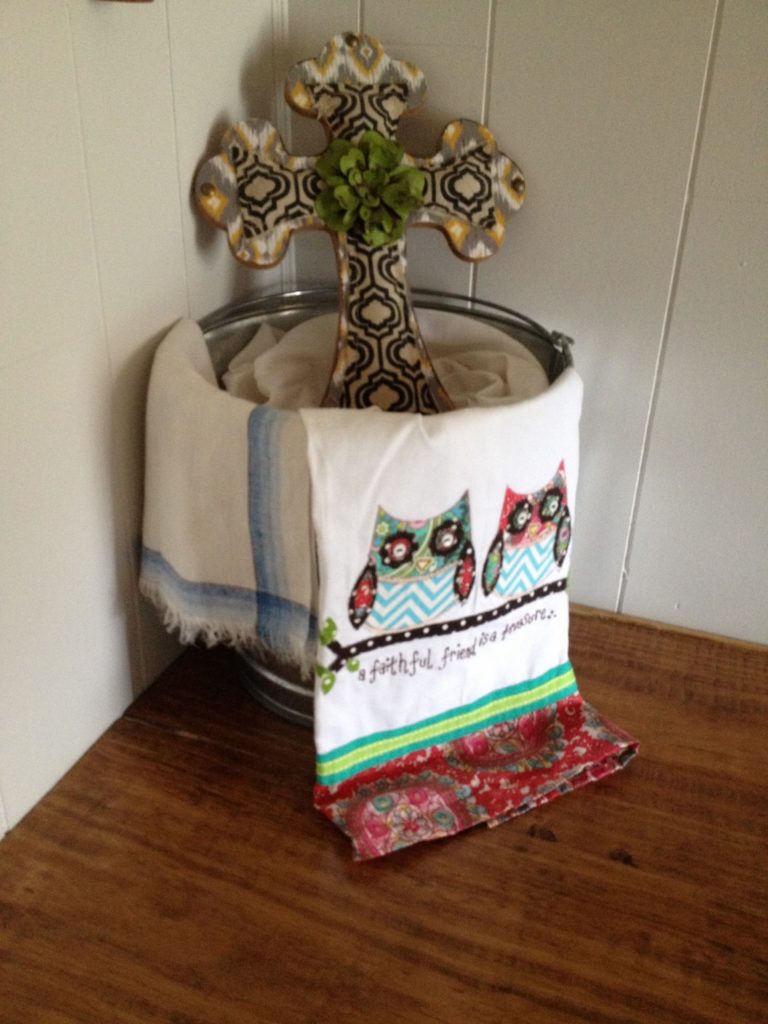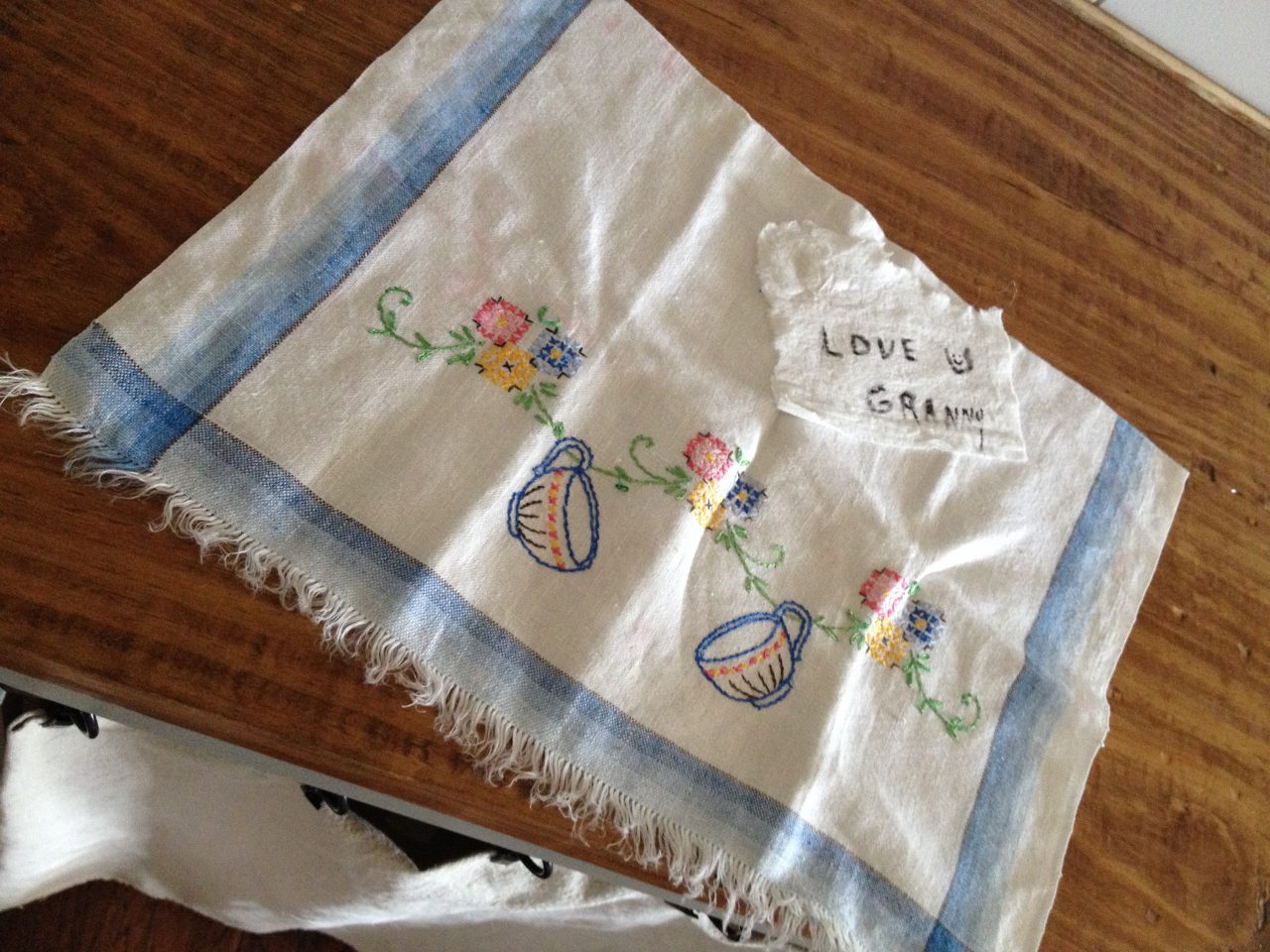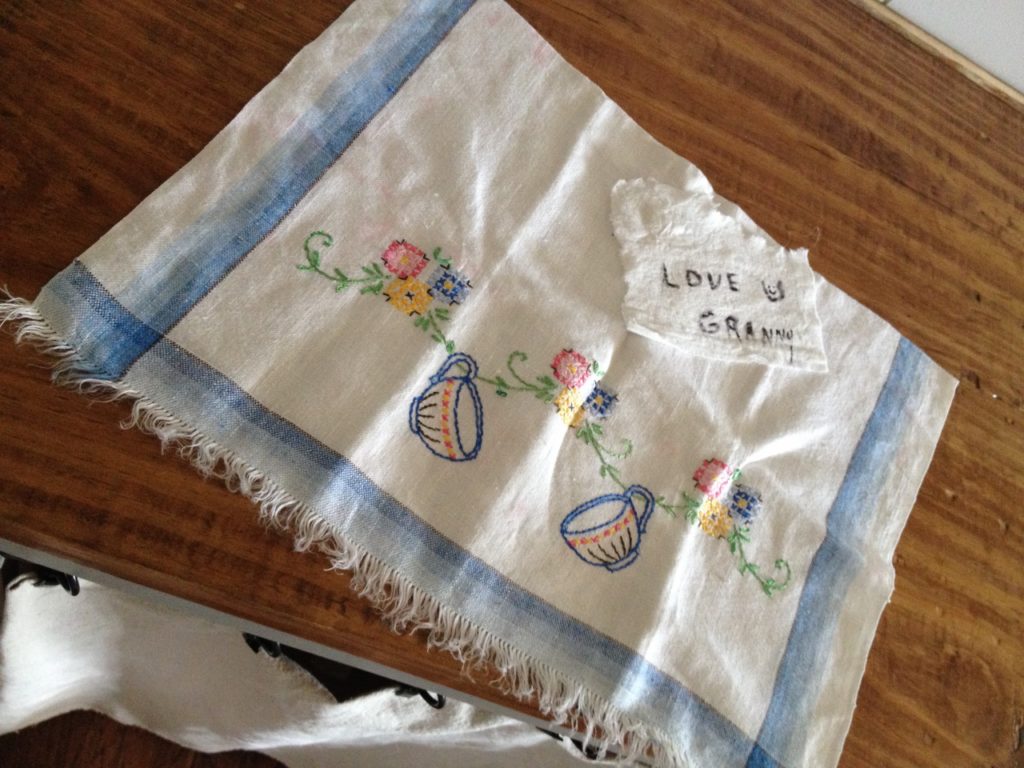 Granny also gave me that old washboard hanging on the wall.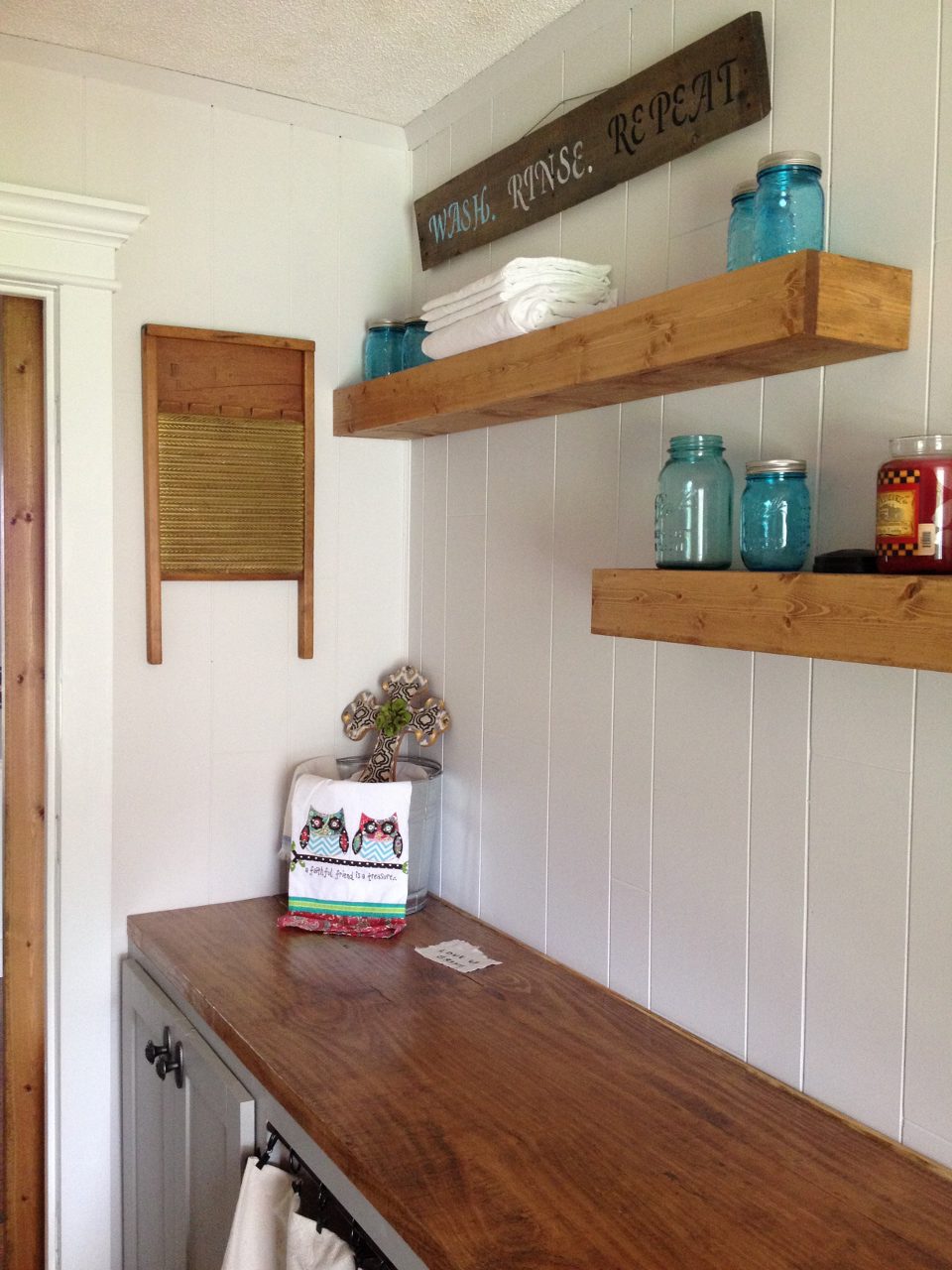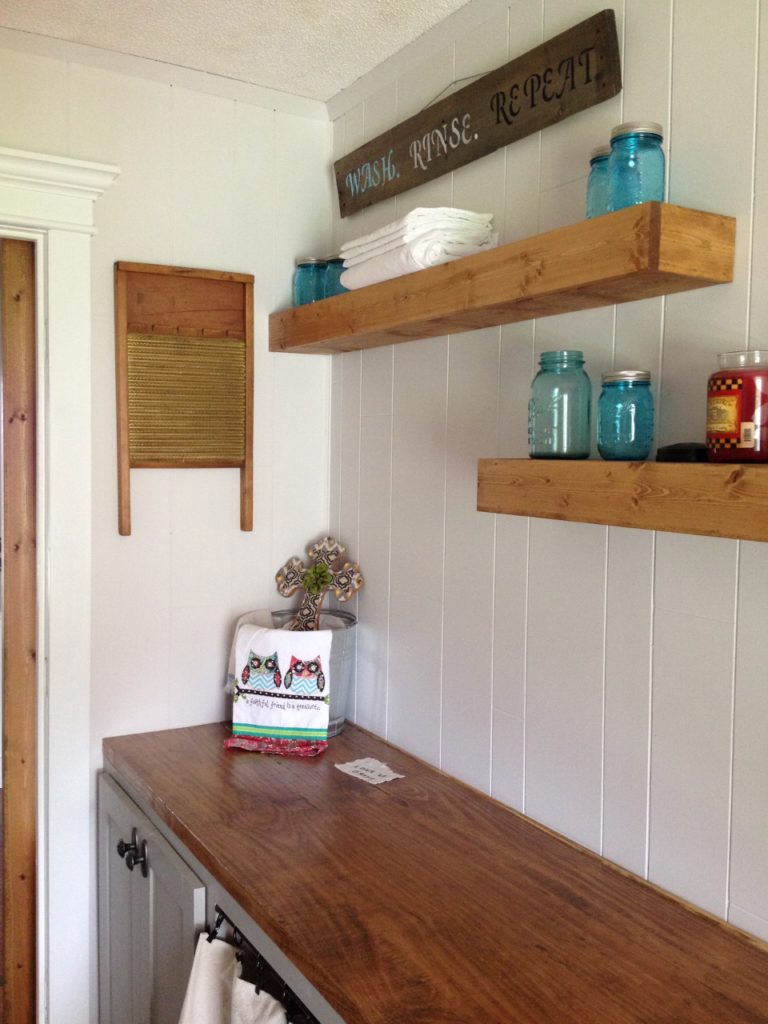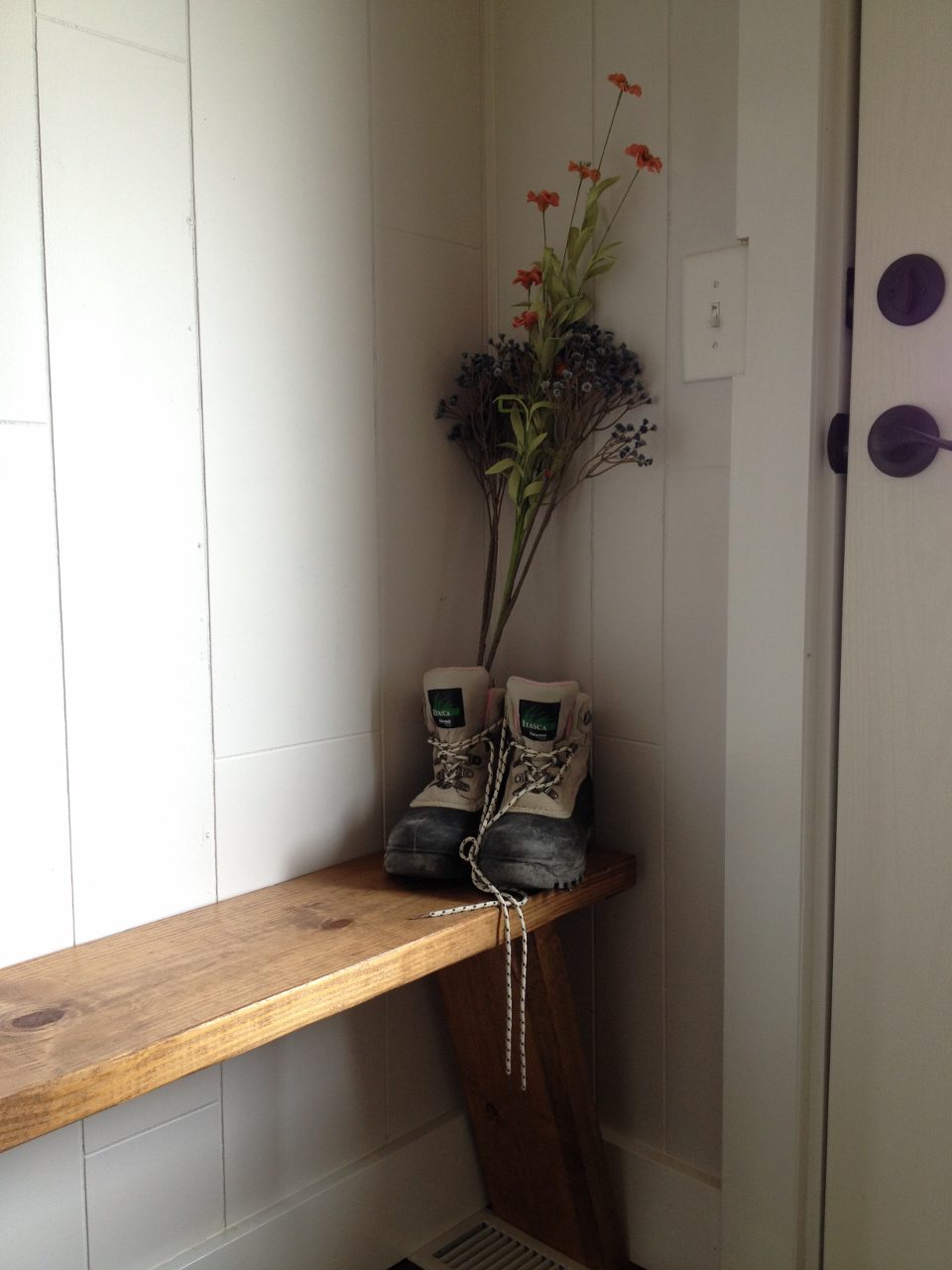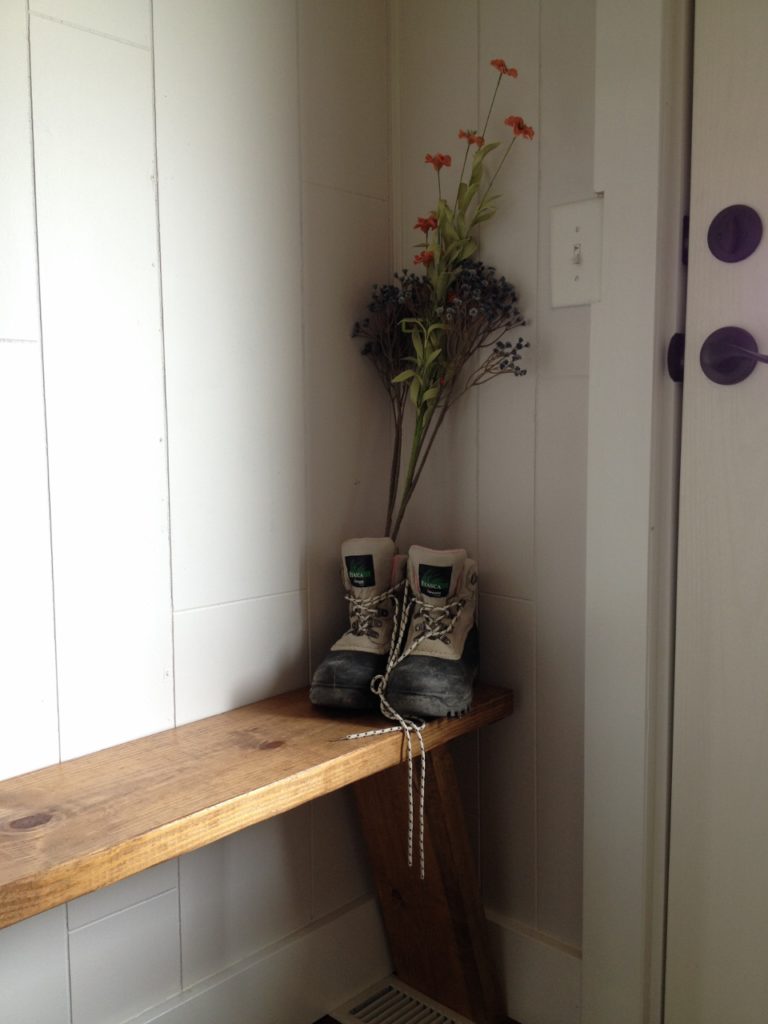 What? You don't use your dirty boots for decoration in your house?  At my house they do double duty 🙂 Is that weird?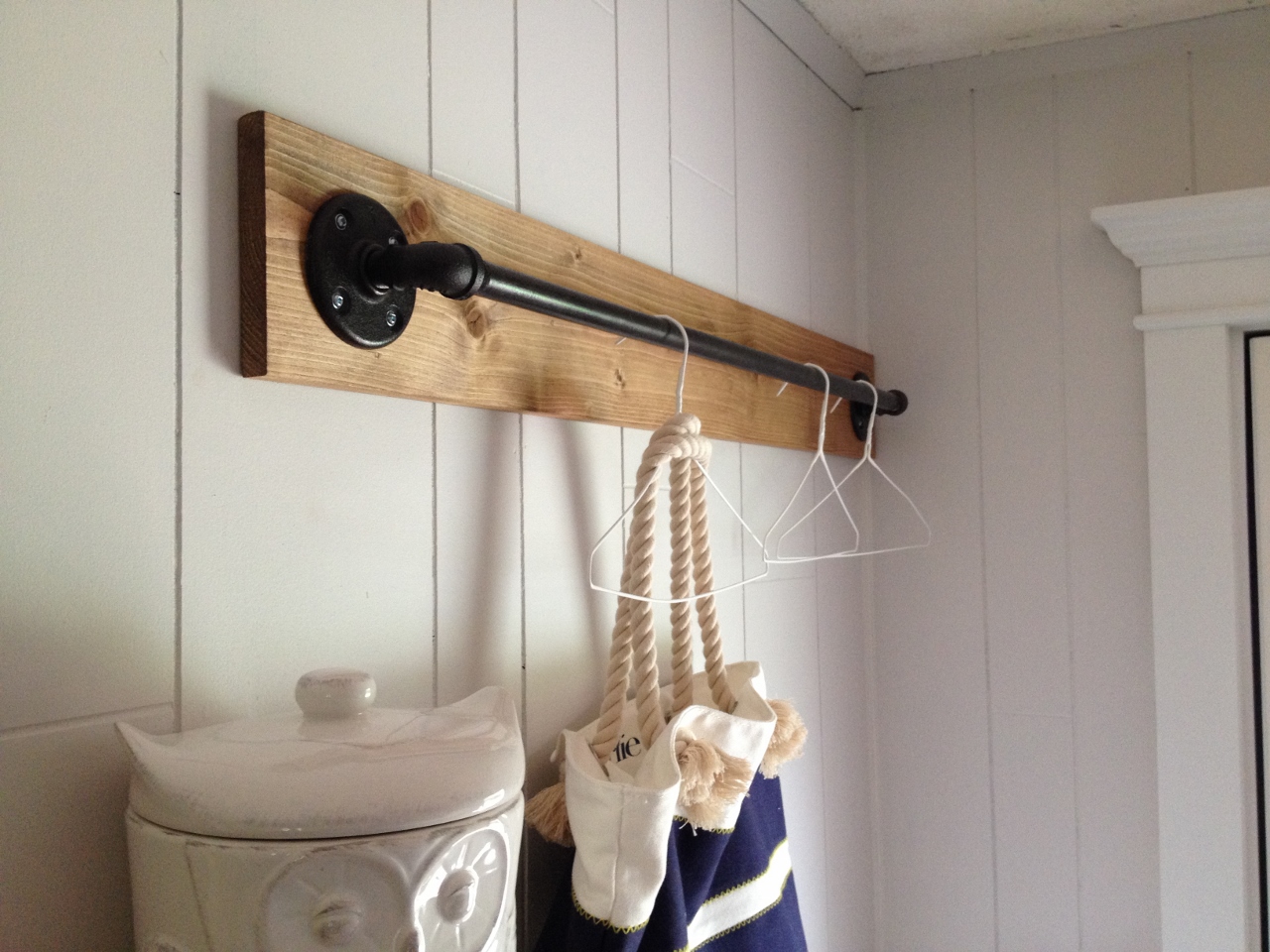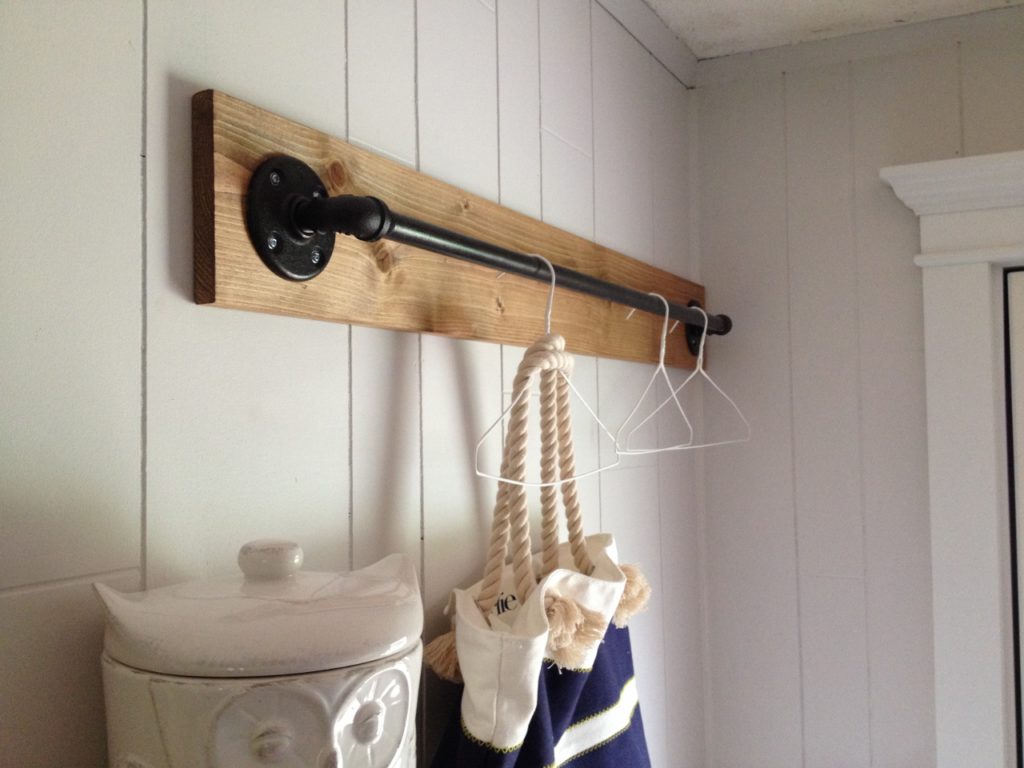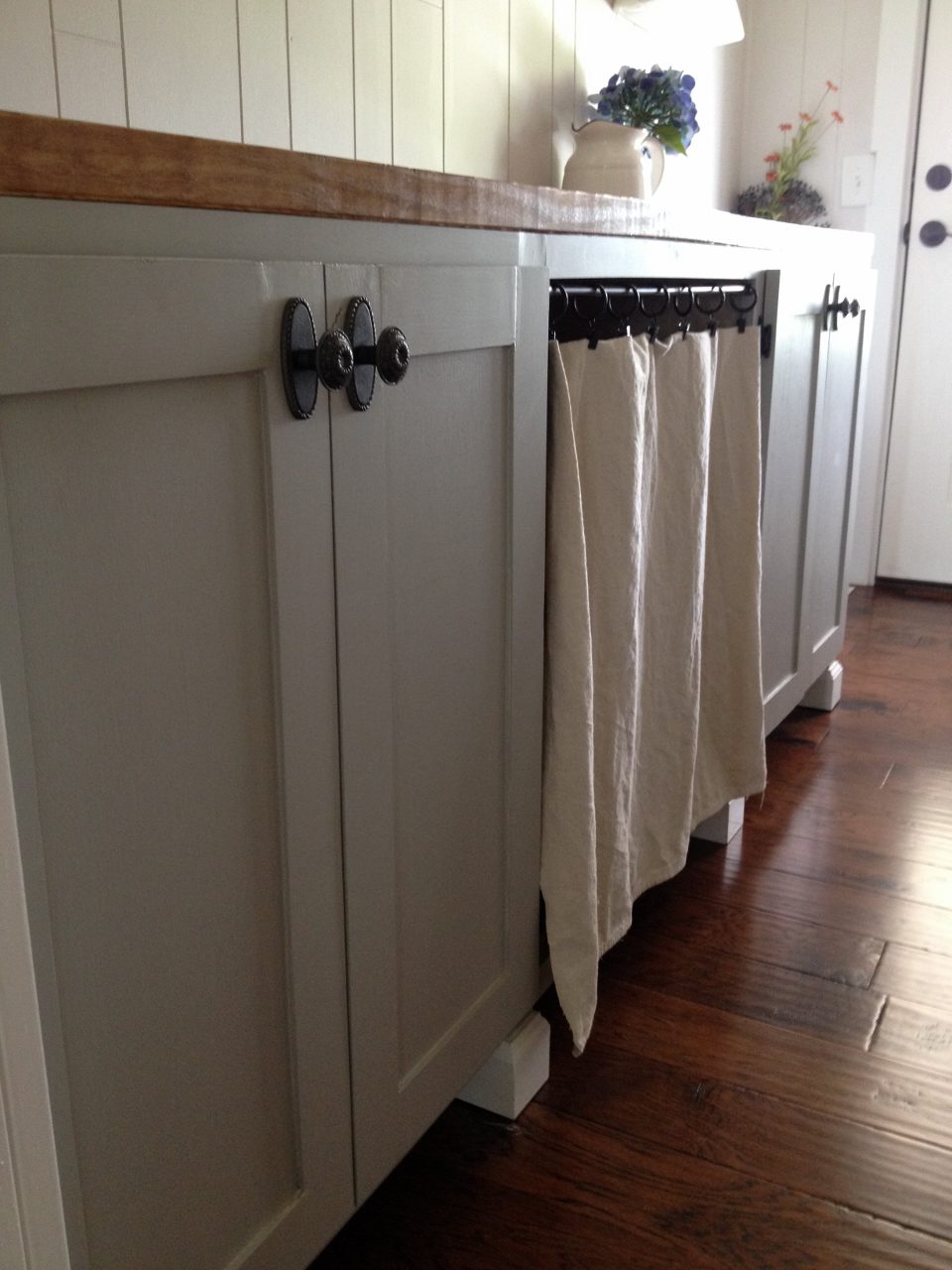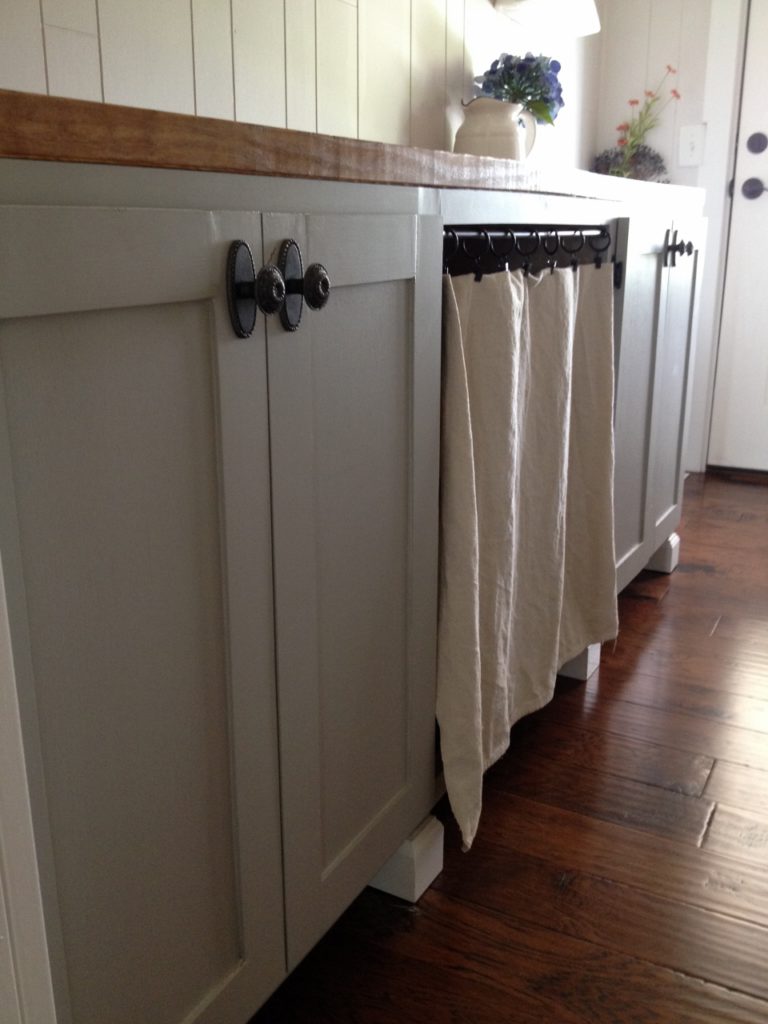 Oh, and please excuse my wrinkly curtain…character is what I like to call it 🙂
.
On the other side of the room, I made the shelf above the dryer, the cabinets, the water heater cover, and replaced the door on the closet with a curtain and made it our new broom/vacuum cleaner closet.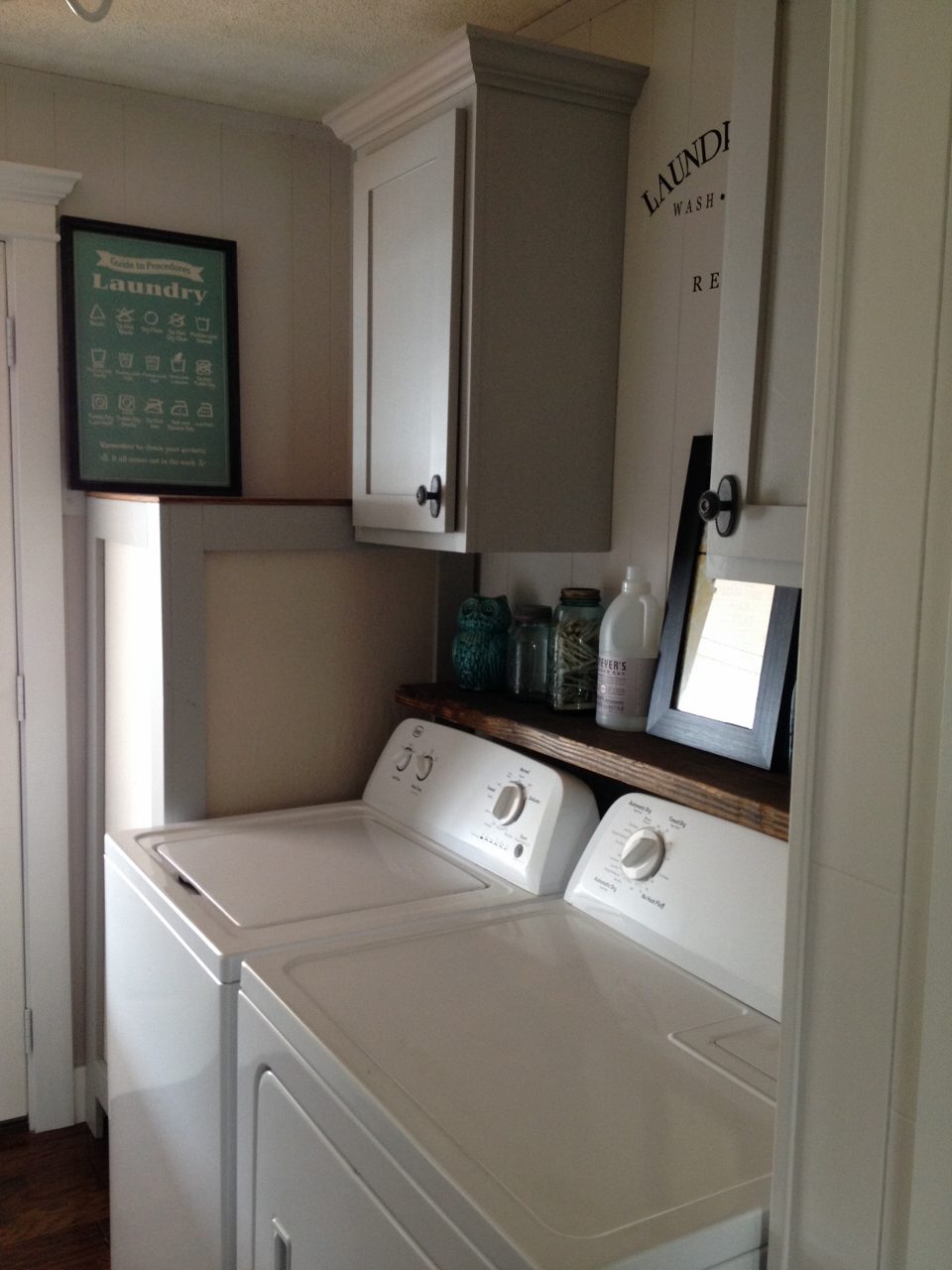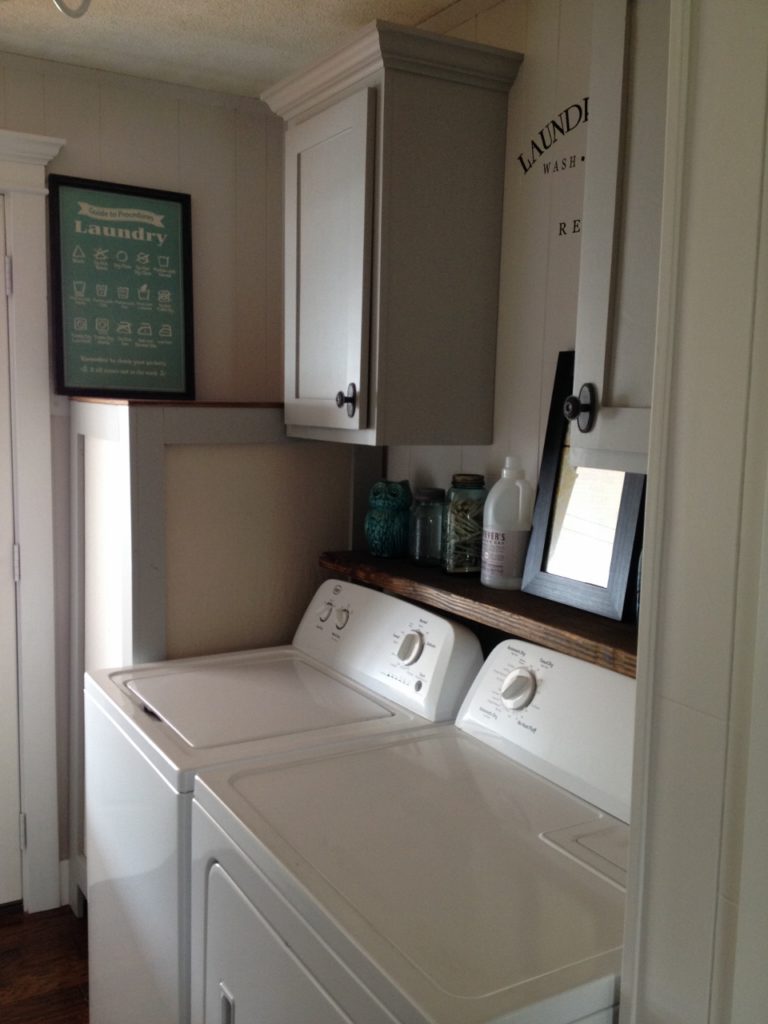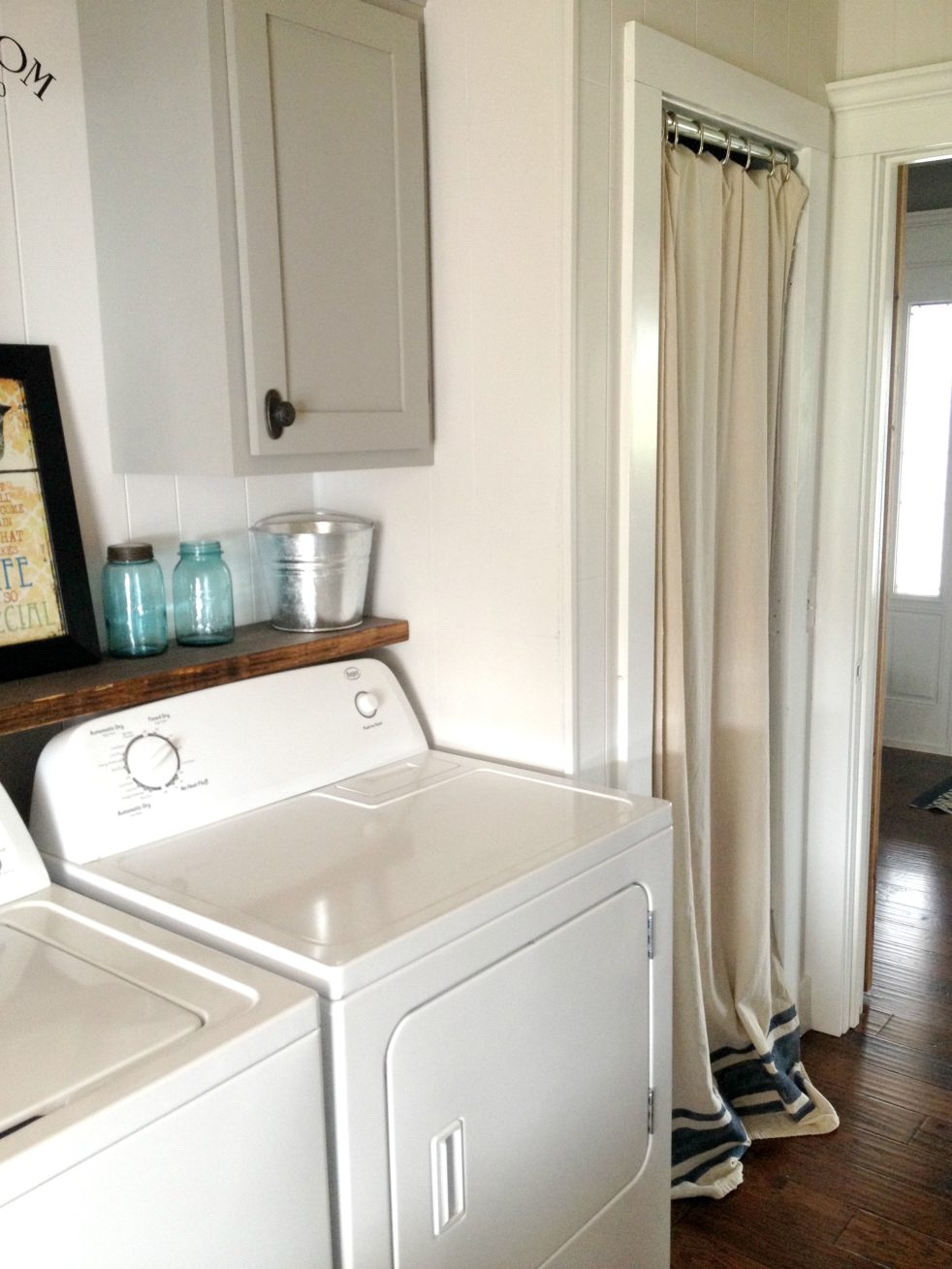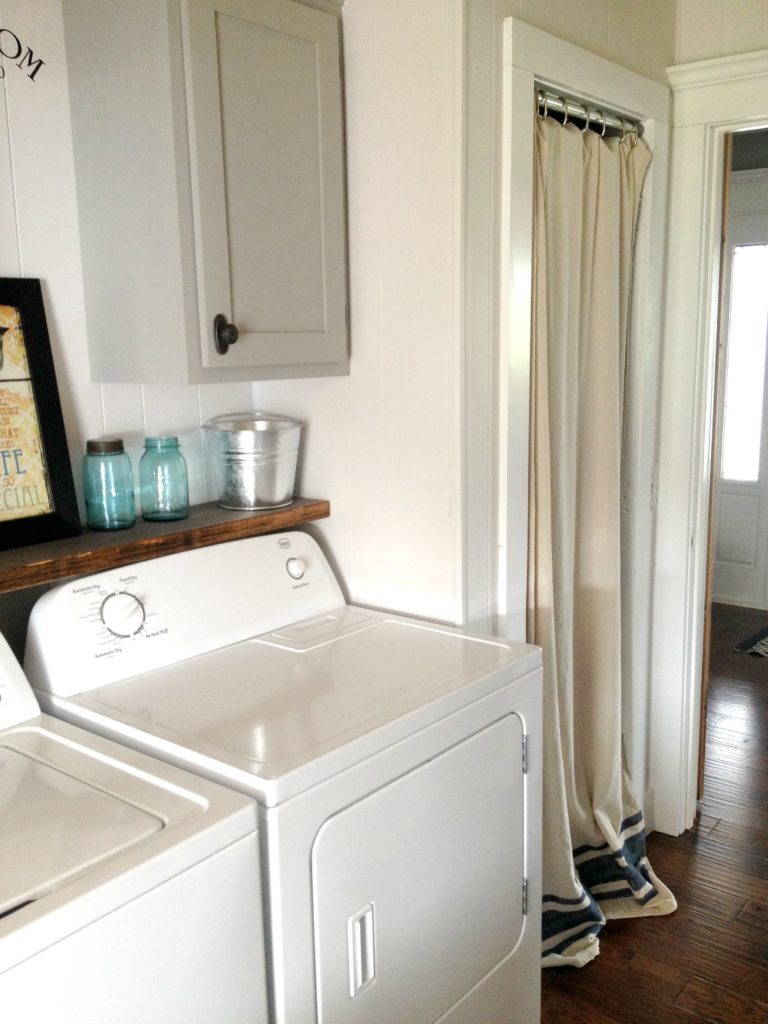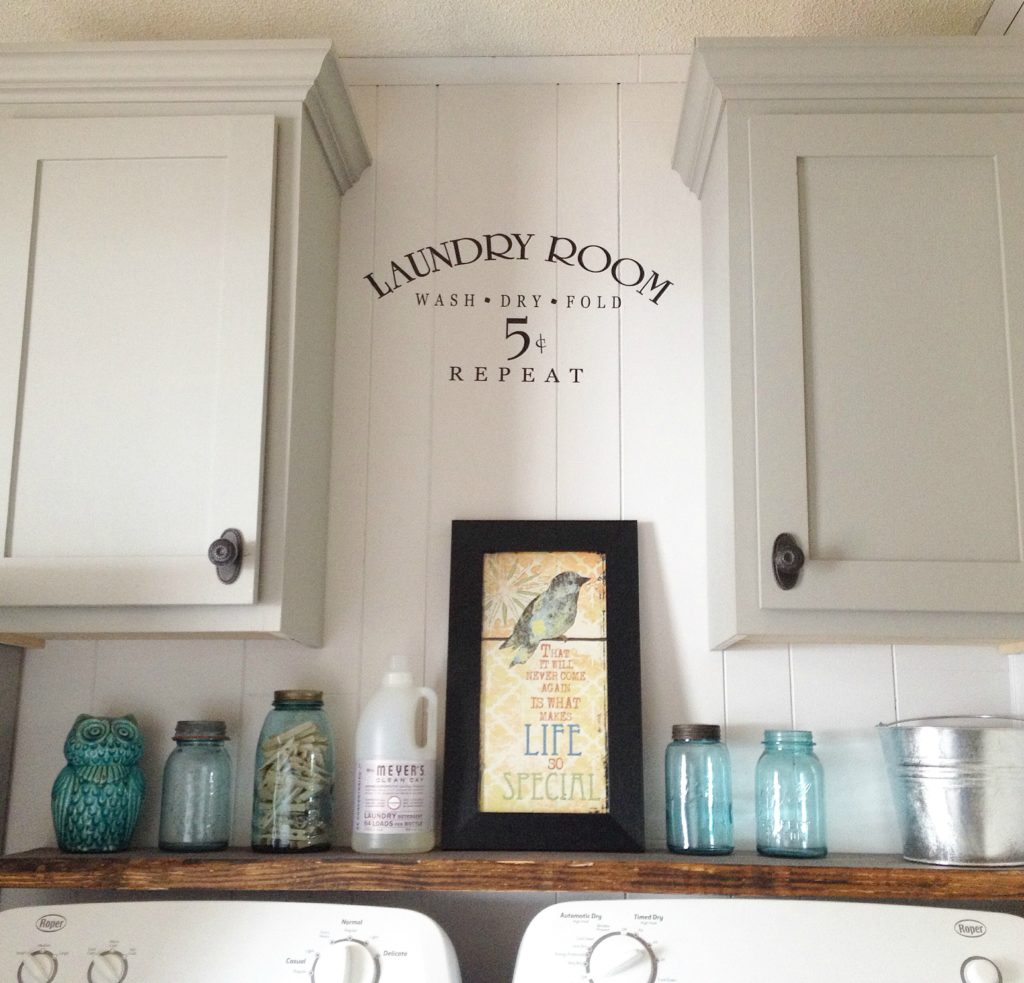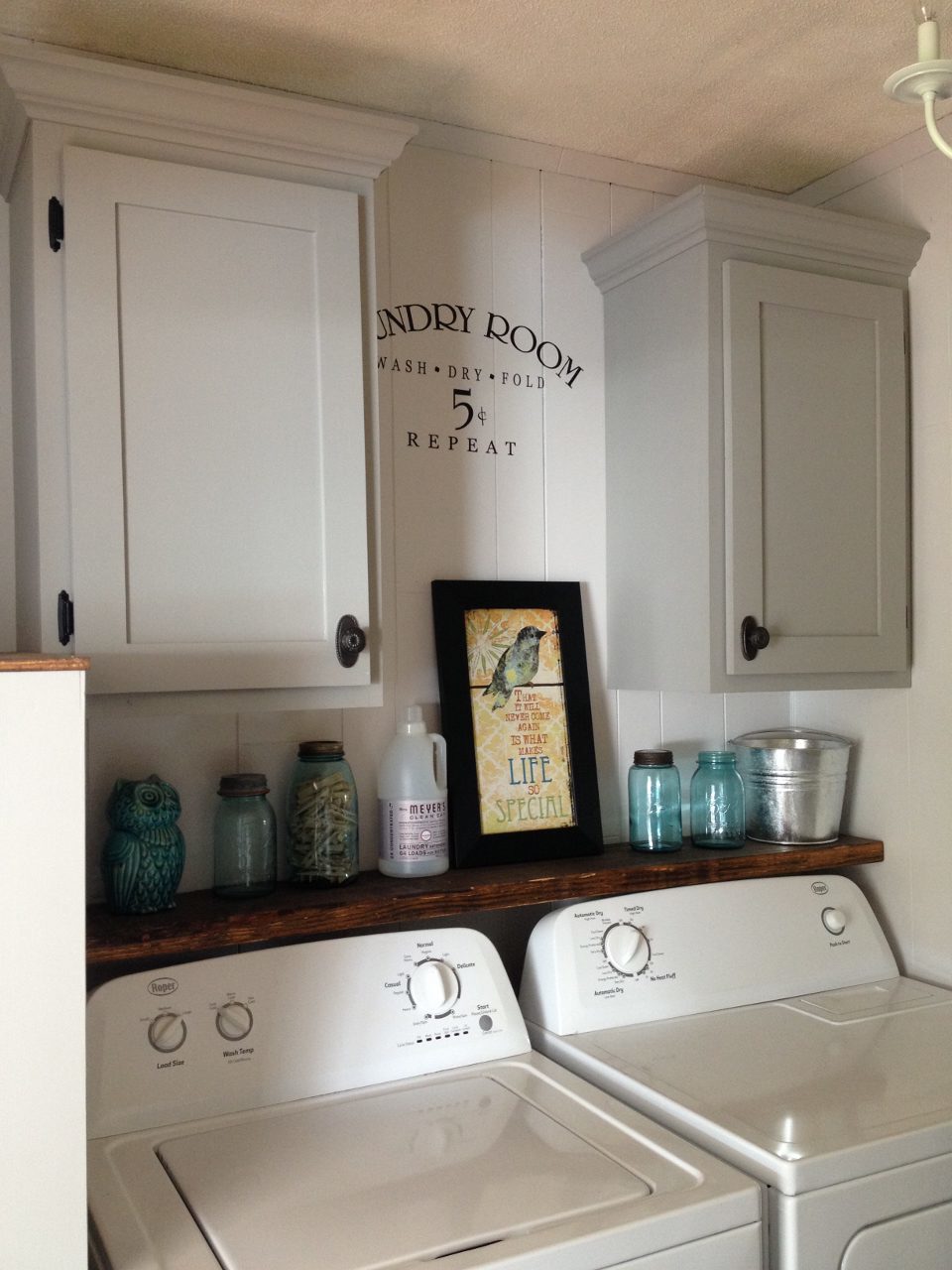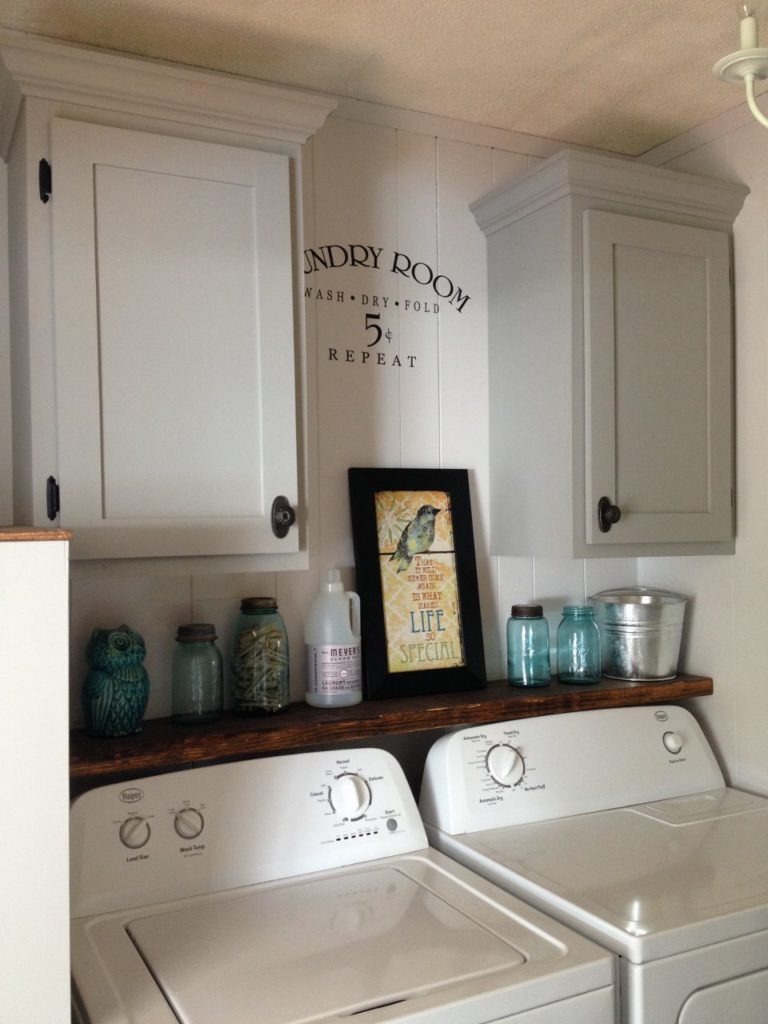 I used the big Guide to Procedures picture to cover up the electrical panel cover.  I made the medallion from scrap wood…it wasn't supposed to look like that originally…but that's another story. Long story short–that chandelier took us all day to hang and there may have been a few tears involved.  No pain, no gain, right? HAHA…no.  The bird picture was a gift from my other granny.  I have the best grannys ever!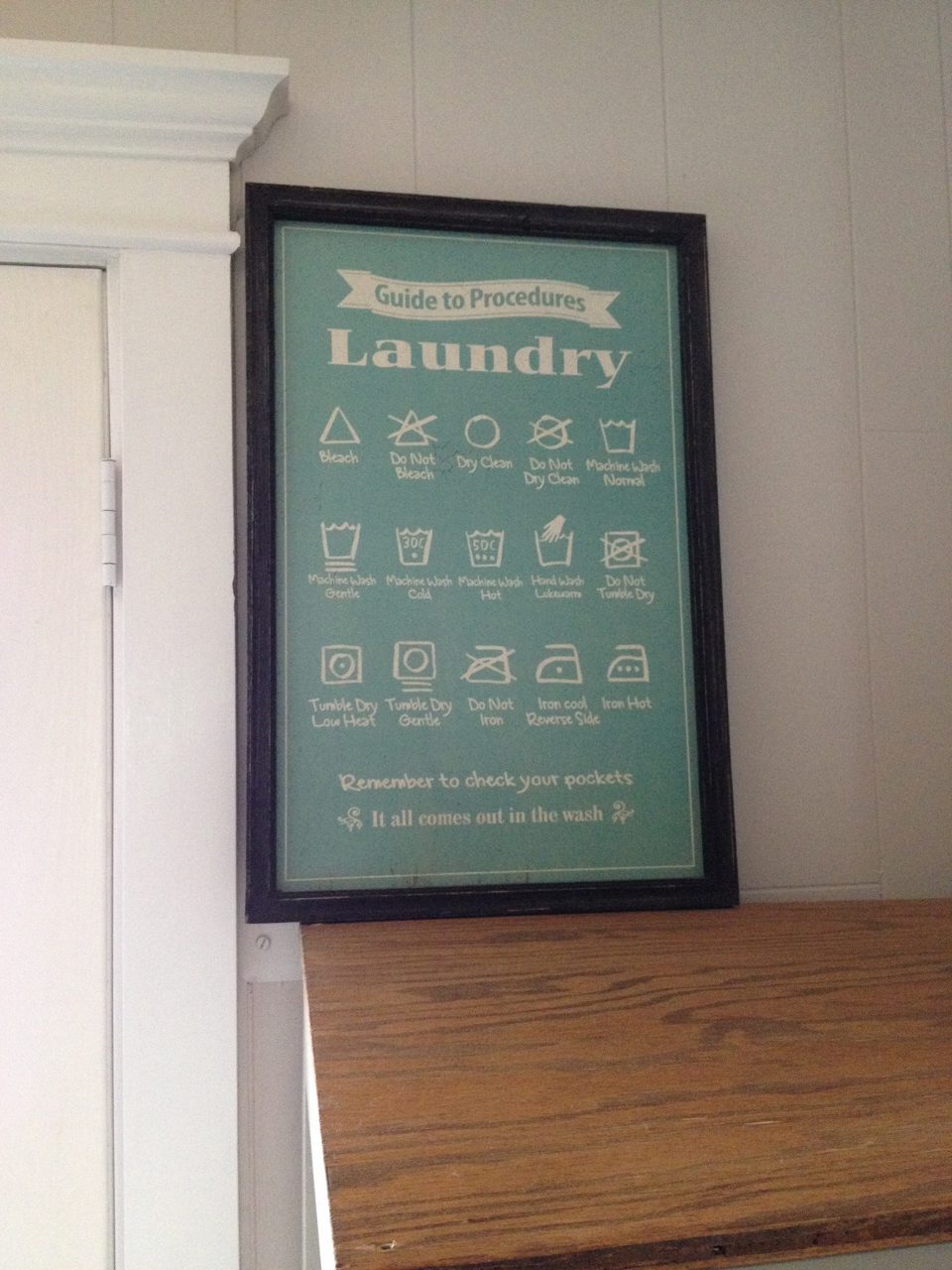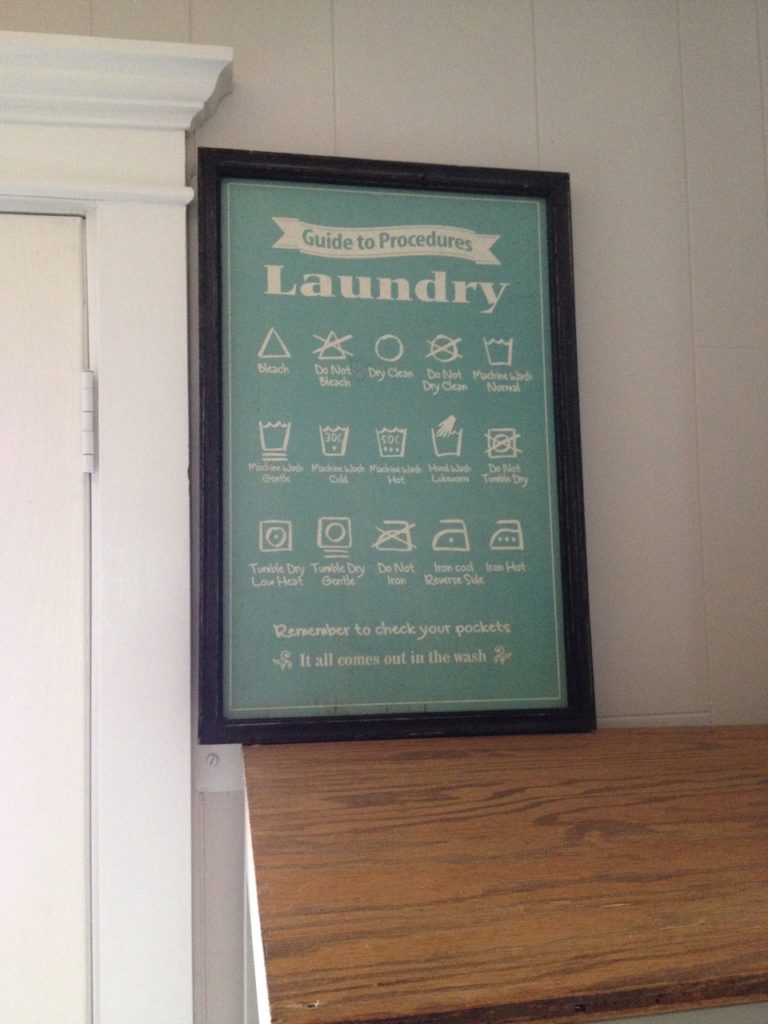 A few of these blue mason jars were my granny's, too.  She has so much cool old stuff!!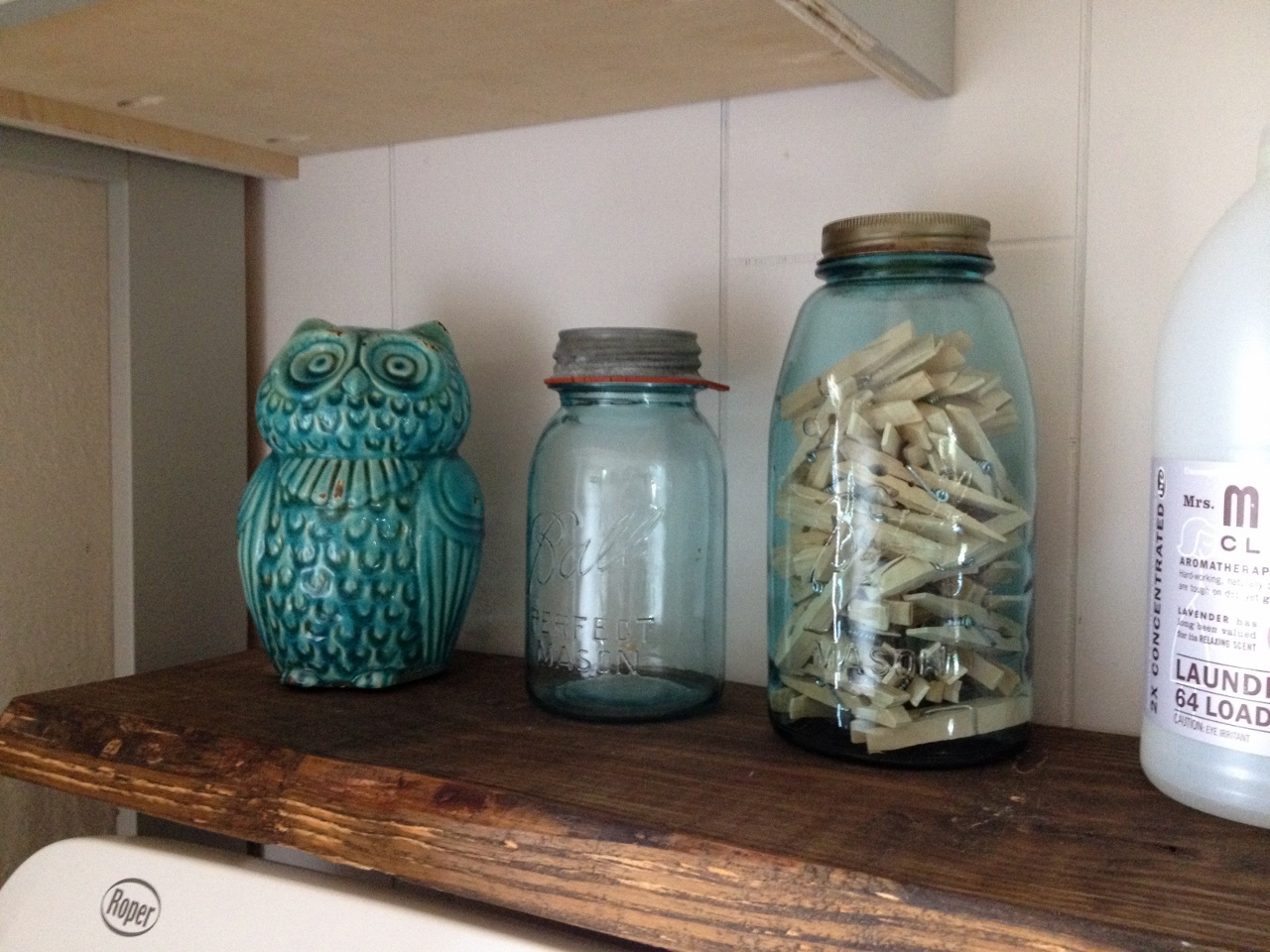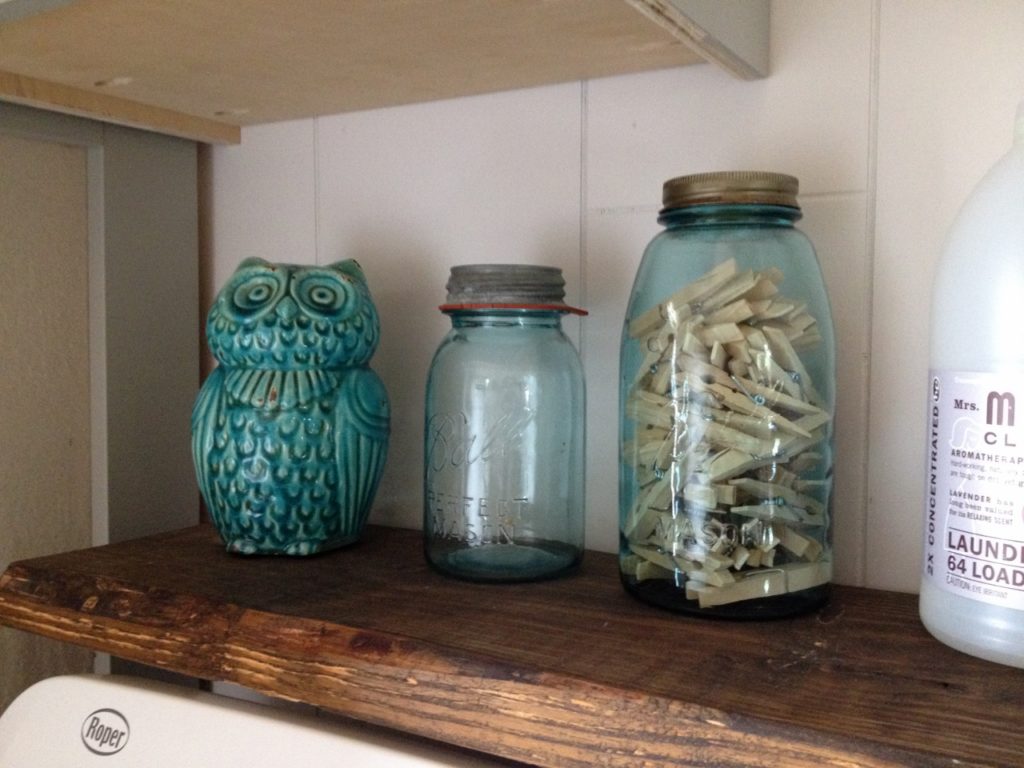 Speaking of granny, when Danny and I moved into our first apartment when we first got married, granny came over to help clean and she brought us all kinds of cleaning stuff and snacks.  She's so funny.  She brought a roll of paper towels and wrote Love, Granny on the outside towel with a smiley face.  I tore it off and have kept it in my Bible for five years.  I finally took it out this Sunday and have been thinking of how I can frame it and put it in this room to remind me of her.  She probably has no idea that I kept that piece of paper towel.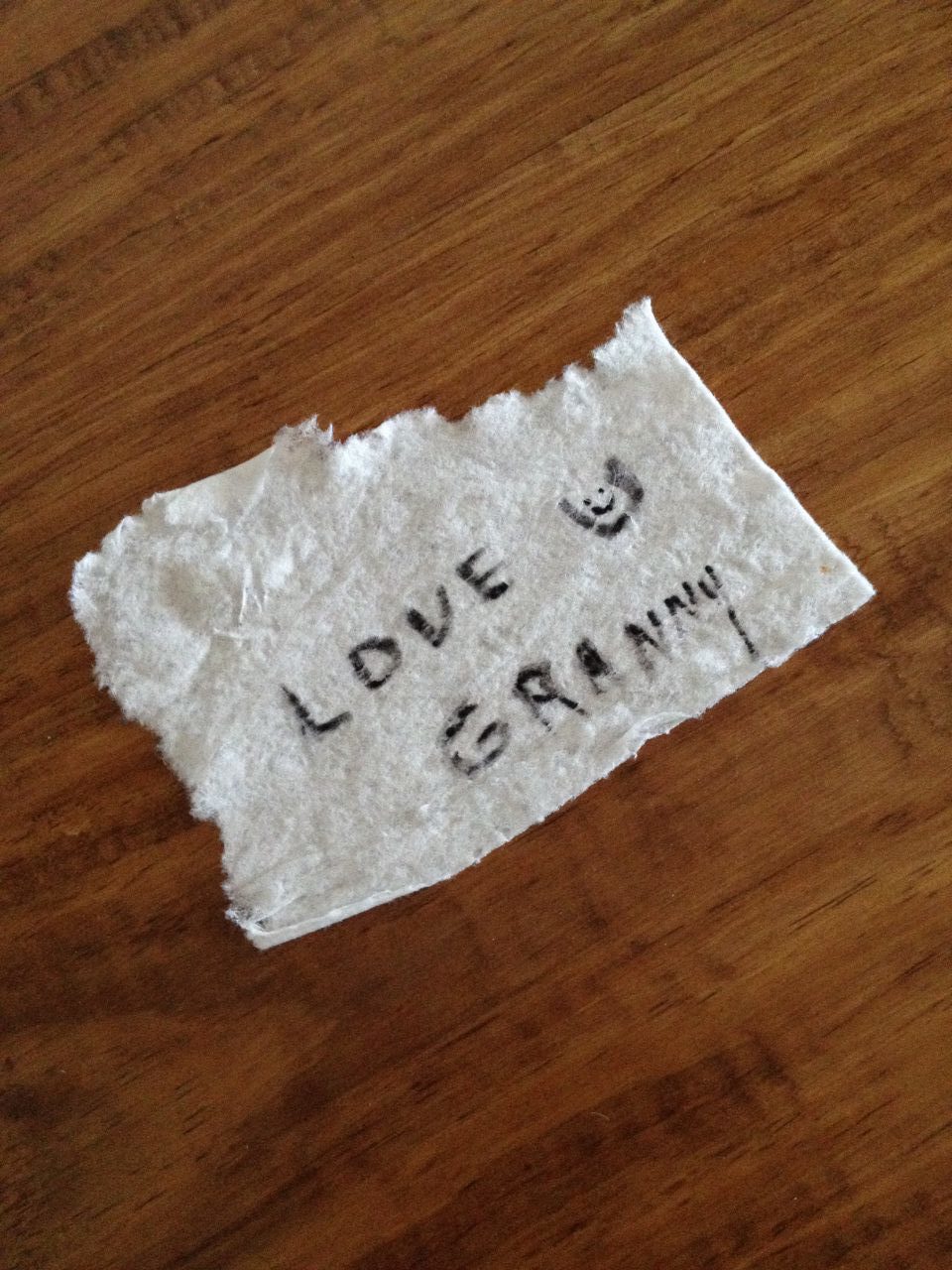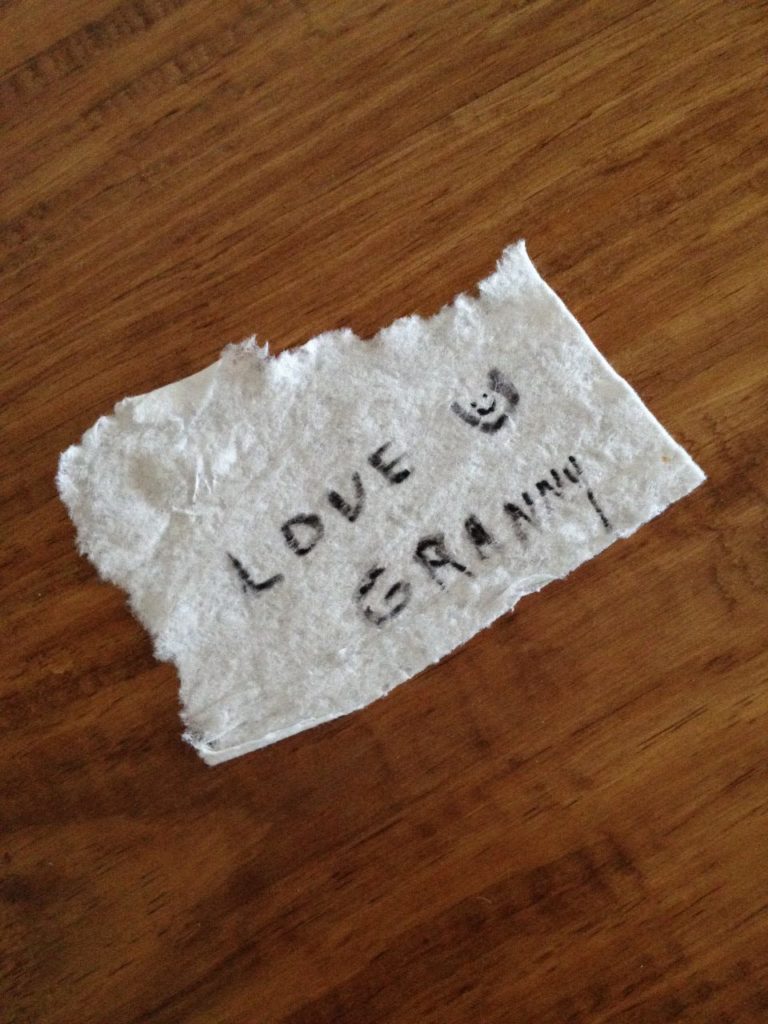 So anyway, back to the laundry room…It is so much brighter in here now and I can honestly say that I don't dread folding laundry in here nearly as much as I used to.  It's actually kind of fun to hang out in here and have a cup of coffee.
Or you know….TOTALLY STAGE drinking a cup of coffee in here to get a good picture.  Folks, you are looking at THE world's greatest do it yourselfer (wannabe).  No autographs, please.
So besides the fact that I was really hoping to stay neutral in here, but it ended up looking like someone pooped a rainbow all over it, I'm pretty pleased with the totally 100% DIYed, and practically free laundry room redo.  What do you guys think?
.
I've created this awesome Pin, so you should totally pin this for later 🙂

Danny says I have to take a break over the holidays and can't do another room redo until next year.  Fair enough.  But I still have plenty more projects to show you in the mean time, so be sure to follow along on Instagram, Facebook, and this blog itself!