We closed on our house last year on November 14 at 4:30 in the afternoon.  It was a day that we will always remember (at least I think so…).  We were living in a rental house like two houses down from my parents and we wanted to be out by the 15th because that would be the end of our "rental month" and I didn't want to owe any more money.  Cutting it close, huh? That's how I roll…
It was a whirlwind of a weekend.  Closing day was a Friday and we both took the day off work.  We rented a U-Haul first thing that morning and Danny, Dad, dad's friend Johnny, and me (and a little help from mom) all started loading it as full as we could.  We had three vehicles (two compact commuter cars and a truck specifically for pulling the trailer when needed and hauling my lumber) and we loaded them all full and loaded our trailer too, along with mom's car, and dad's truck and trailer.  Surprisingly, it went pretty quickly.
Then we had to go to two different banks to get cashier's checks for the down payment….which is a long story I wont go into.  One was in the town of our rental house and the other was in the town we were moving to.  We got the first check, then headed to the next town.
We drove my car and our truck and trailer to our new house and parked it in the driveway, and took my car into town. We got the check at the bank, then we ate lunch at Captain Ds.  I specifically remember us talking about how funny it was that we were eating at Captain Ds on a weekday and the restaurant was full of older people who were most likely retired.  We are old people at heart, so we fit right in.  I also remember keeping those checks in my pocket all day scared to death I would lose them.
We quickly ate and headed to the house again for our "final viewing" before we closed.  It looked different than I remembered when we first looked at it before we made an offer.  It always does look different the second time….we have been through this process a couple times before…
Then it was go time! We headed to the lawyer's office to sign the papers.  We signed SO MANY PAPERS!!!! I bet five trees died for us to close on our house.  And, who knew you had to sign a paper from the bank saying that you understood it was a bad idea to put carpet in a bathroom.  NO. JOKE.
As soon as the papers were signed, I called mom and dad and they headed over with the U-Haul and mom's car.  We unloaded everything as fast as we could. Then, we went back to the rental house and went to bed there for the last time ever!  The next morning we loaded up the remainder of our stuff, cleaned the house, gave the keys back to our landlord, and headed to our new home for good!
It was a whirlwind of a day unloading and finding places for all our random stuff and trying to get the washer and dryer hooked up and everything cleaned.  I took pictures that night with my phone.  Awful quality….awful lighting…awful decorating and placement (I'm here to tell you, folks, I still haven't gotten much better haha!).  Here was our home almost exactly one year ago: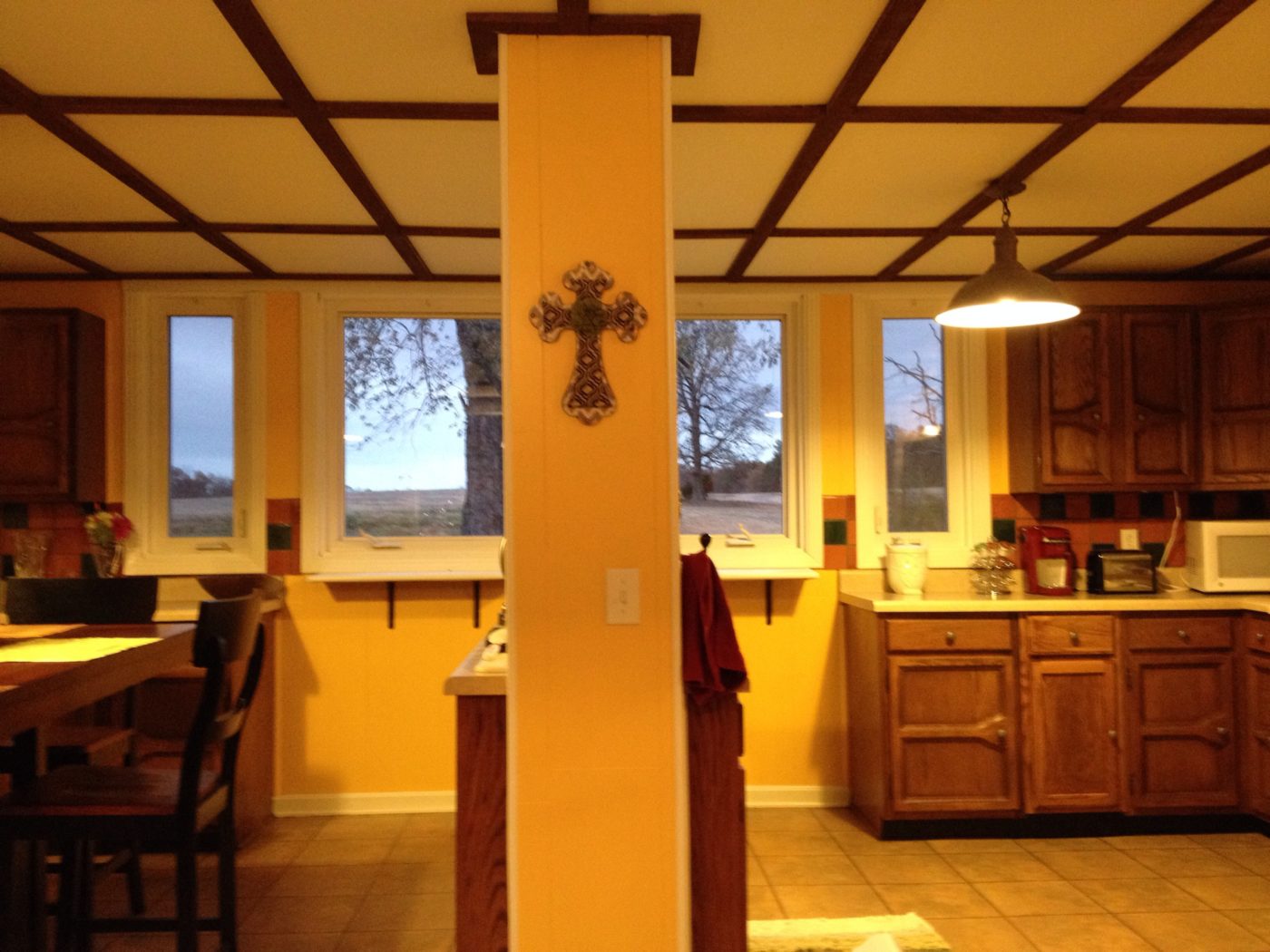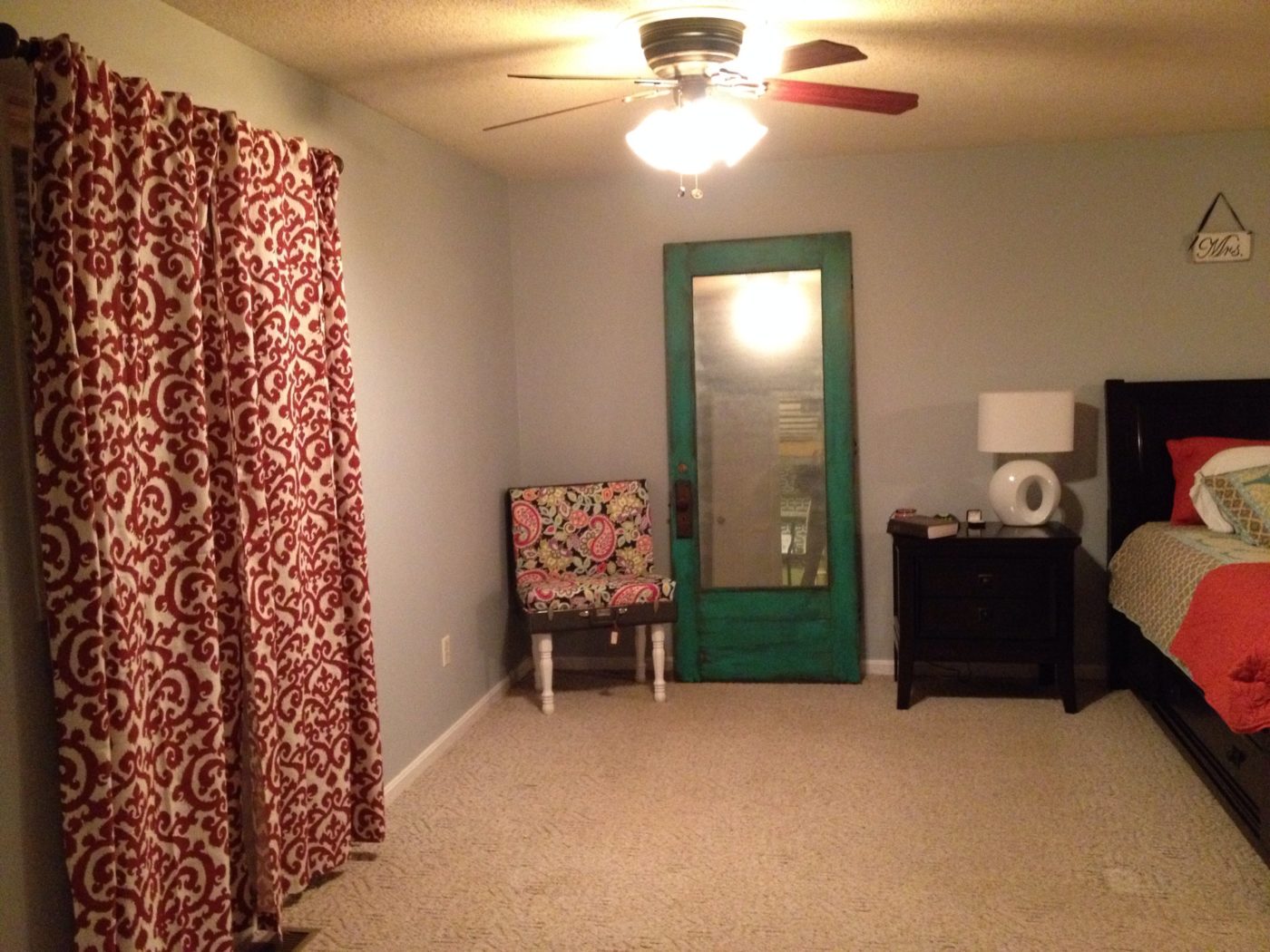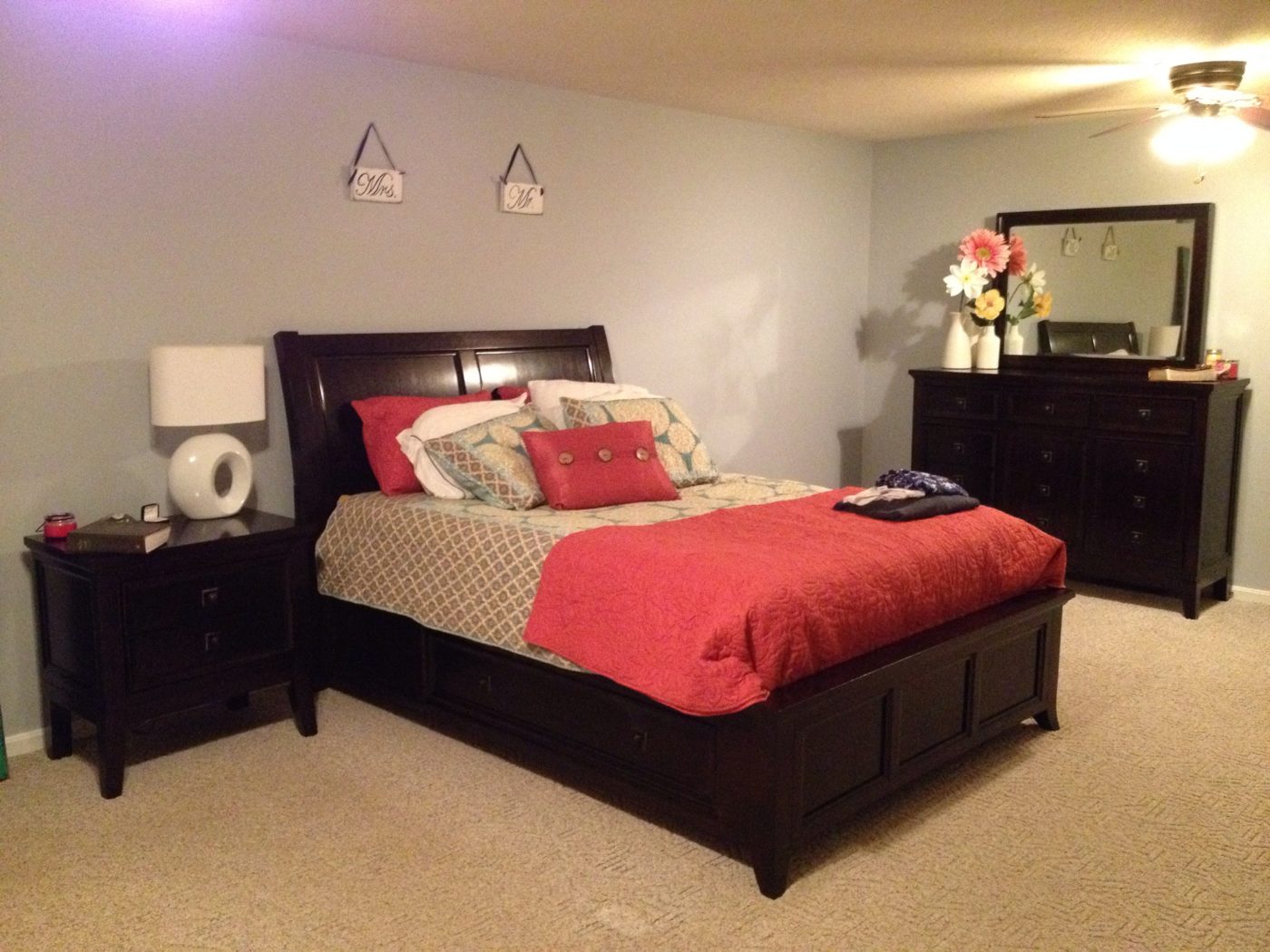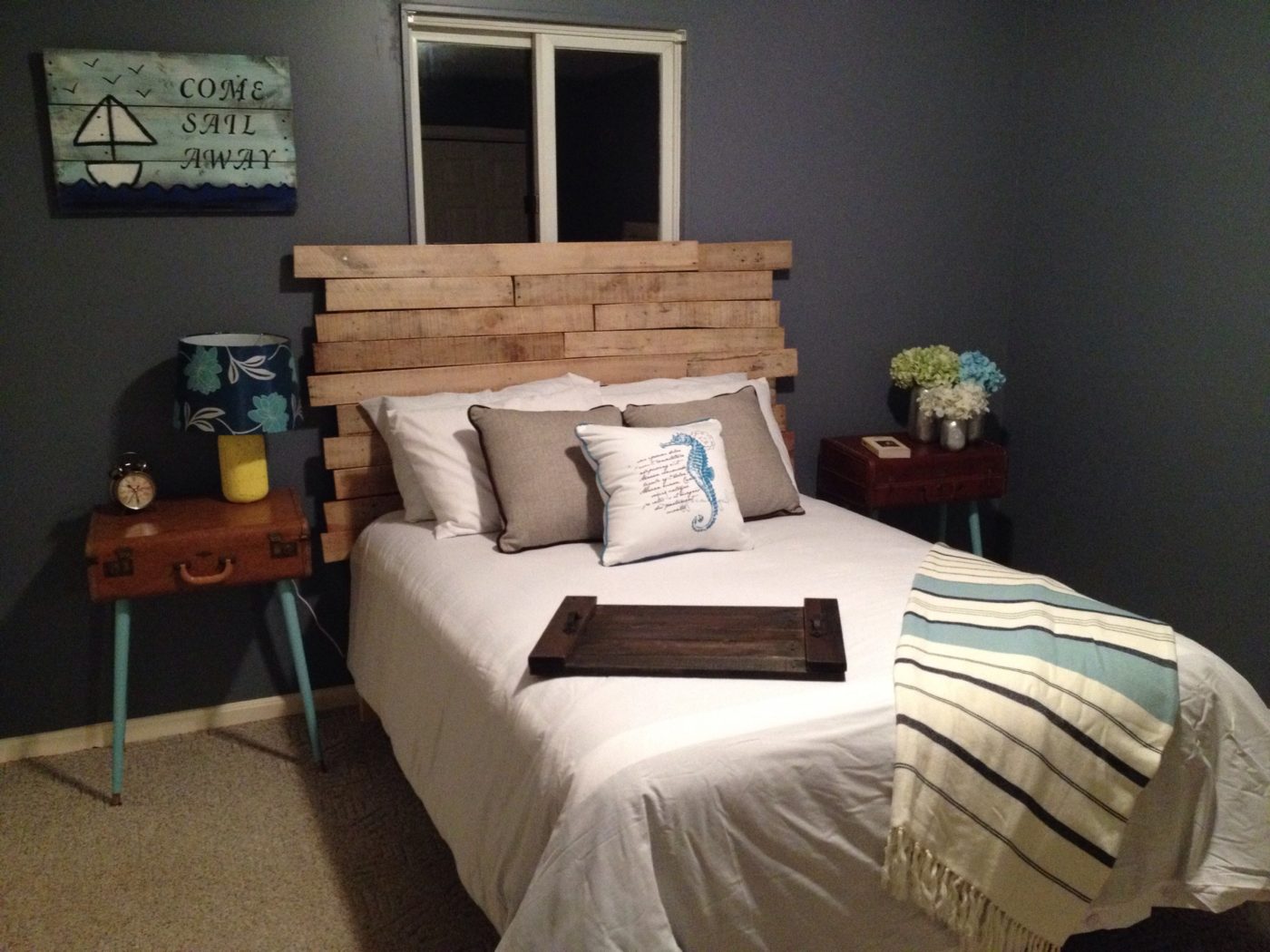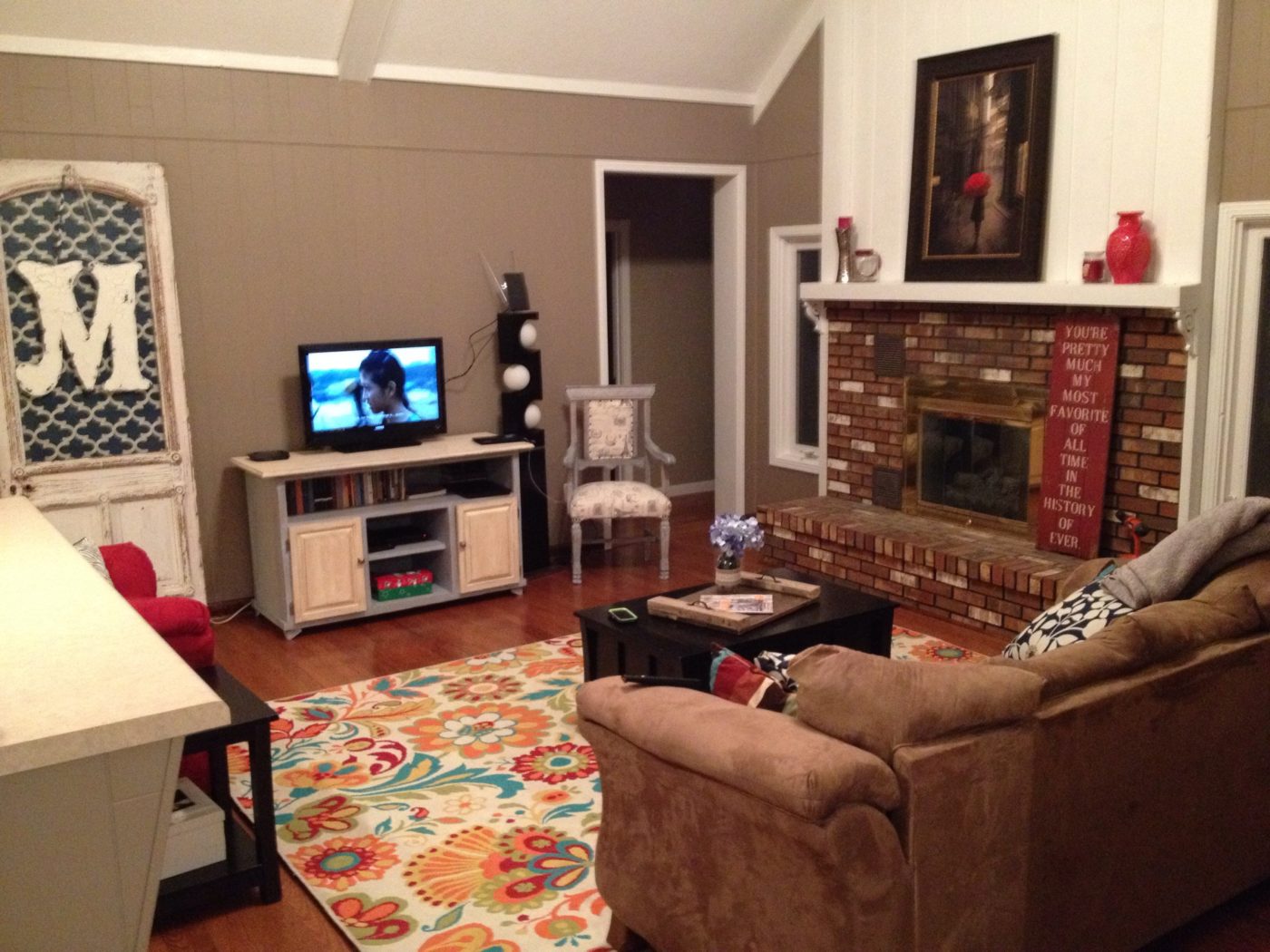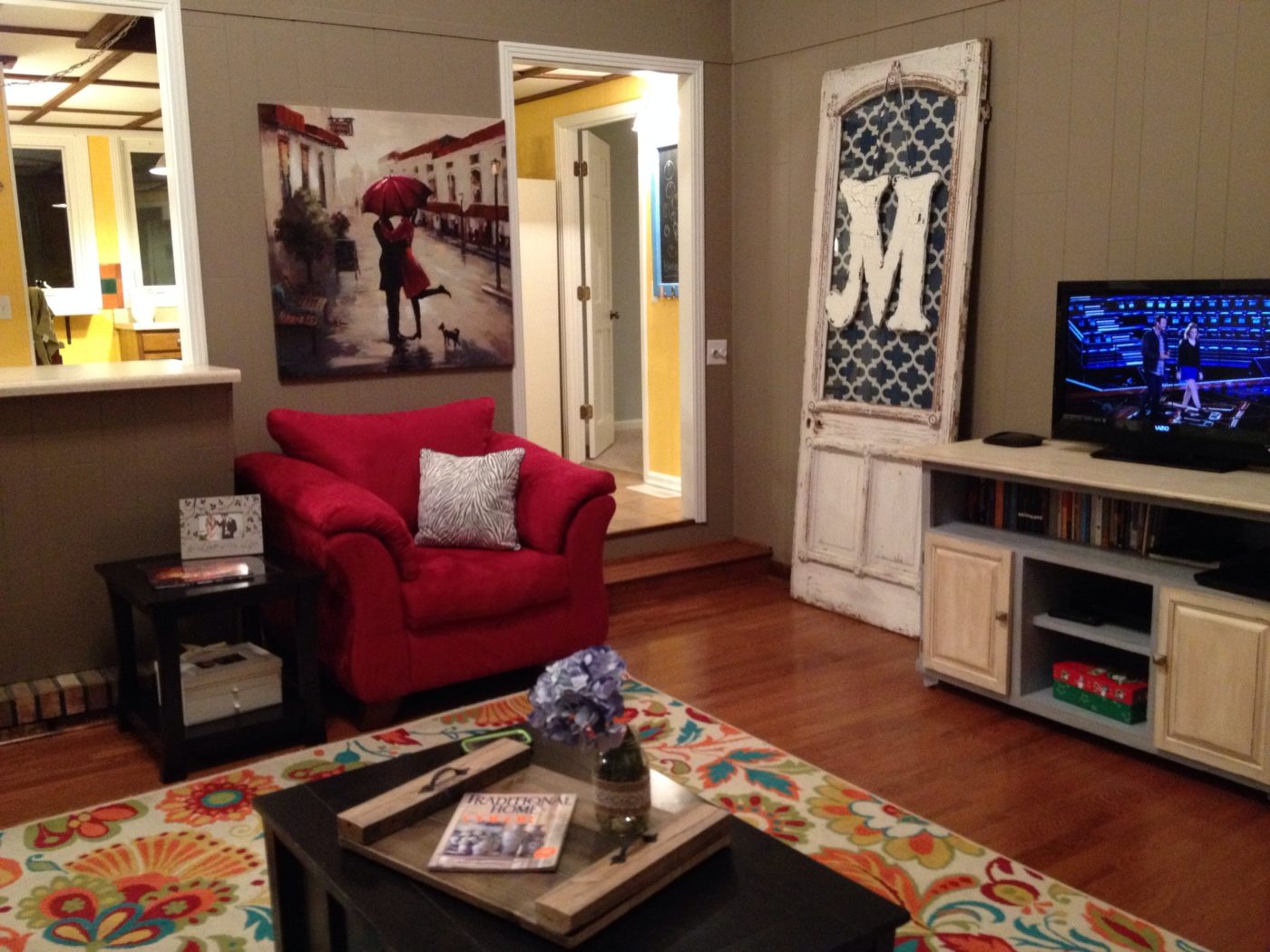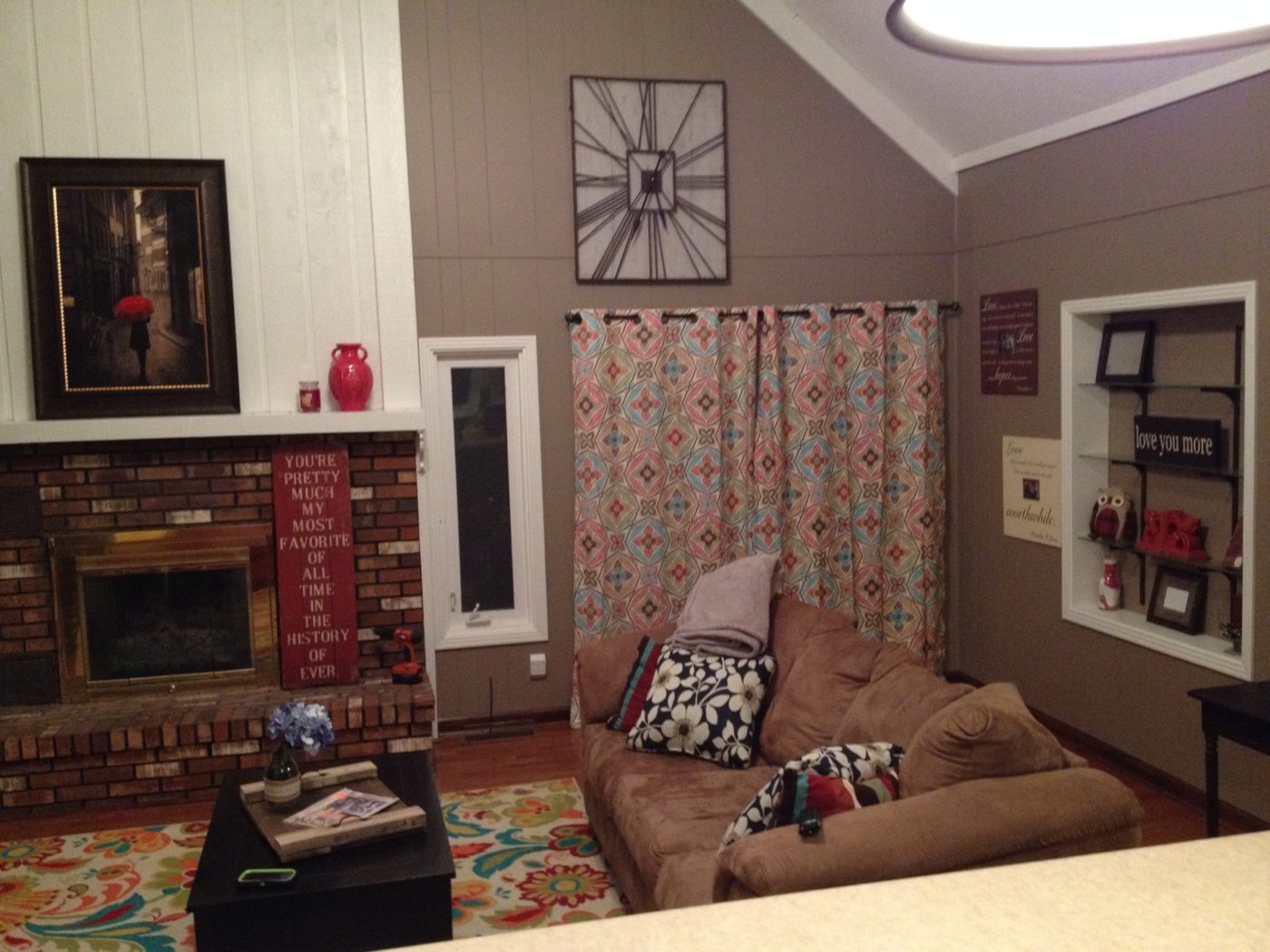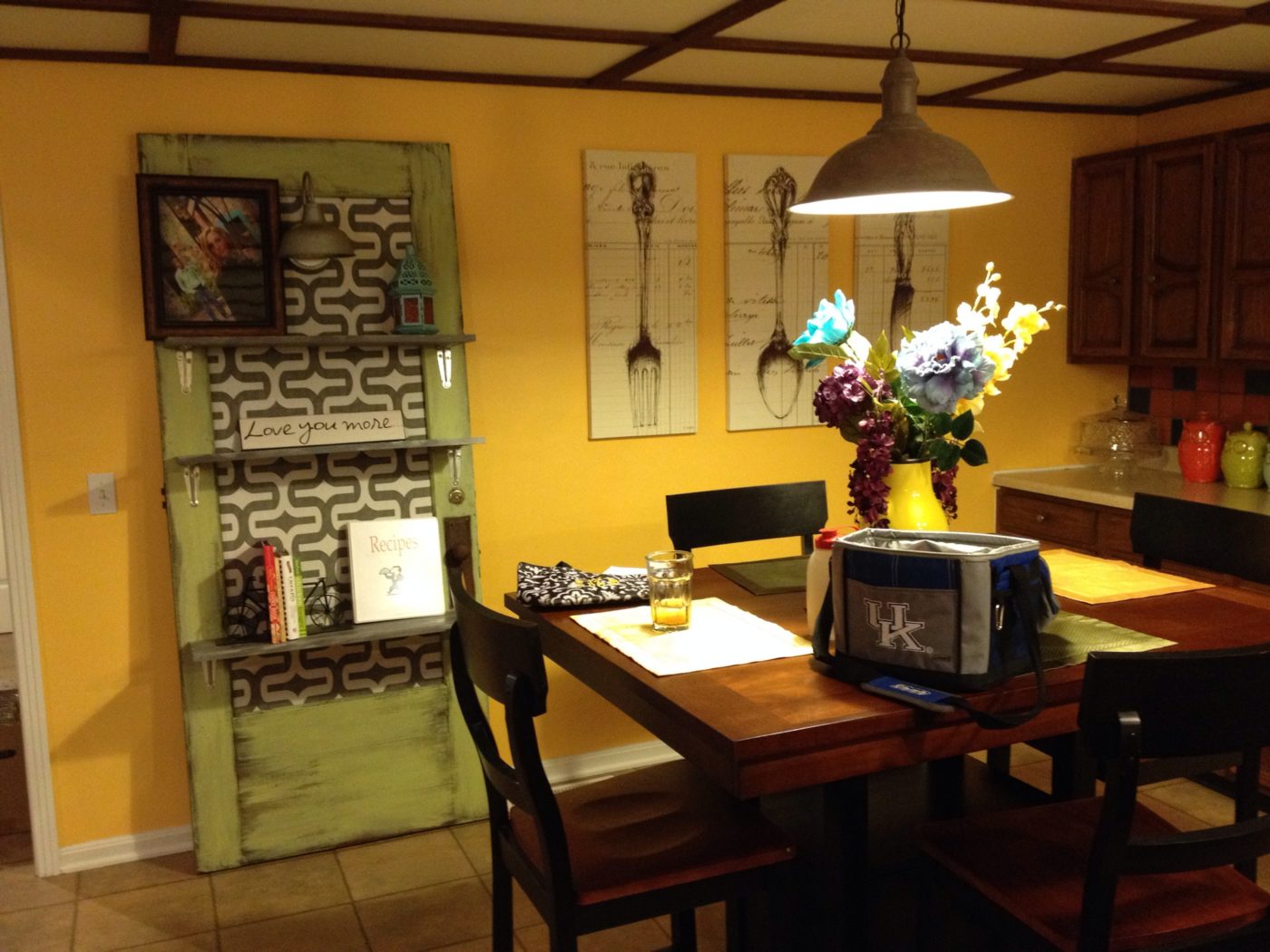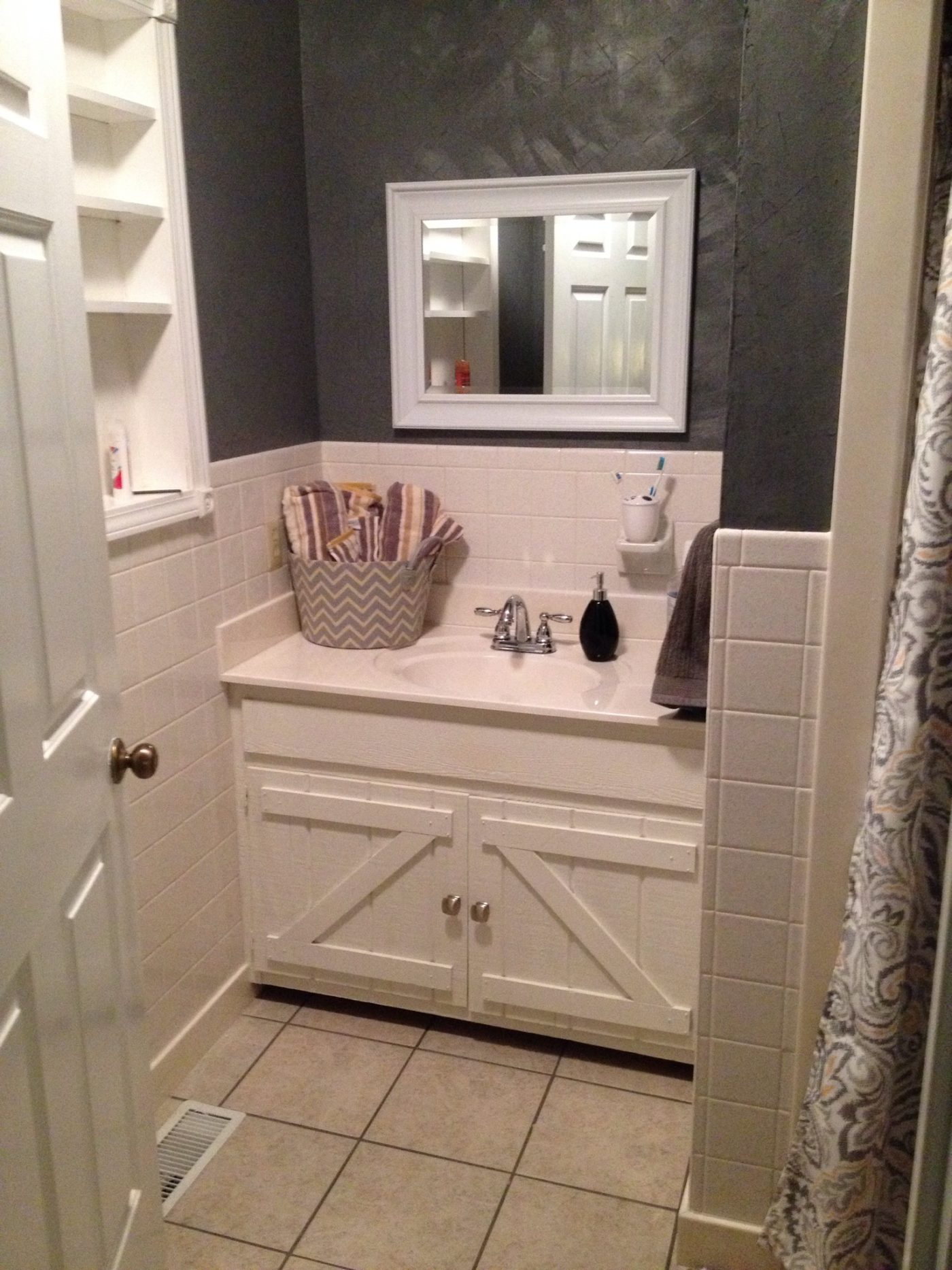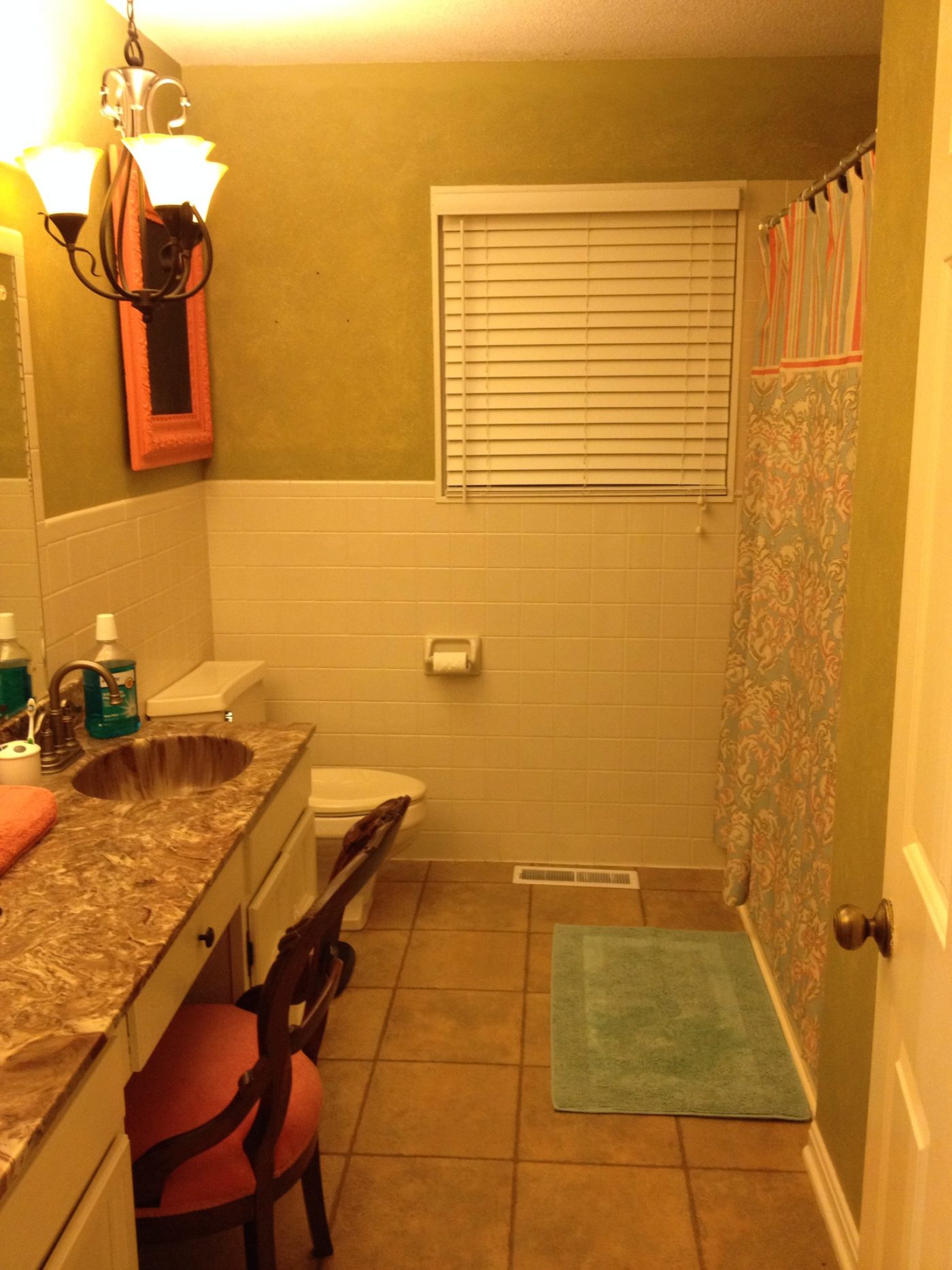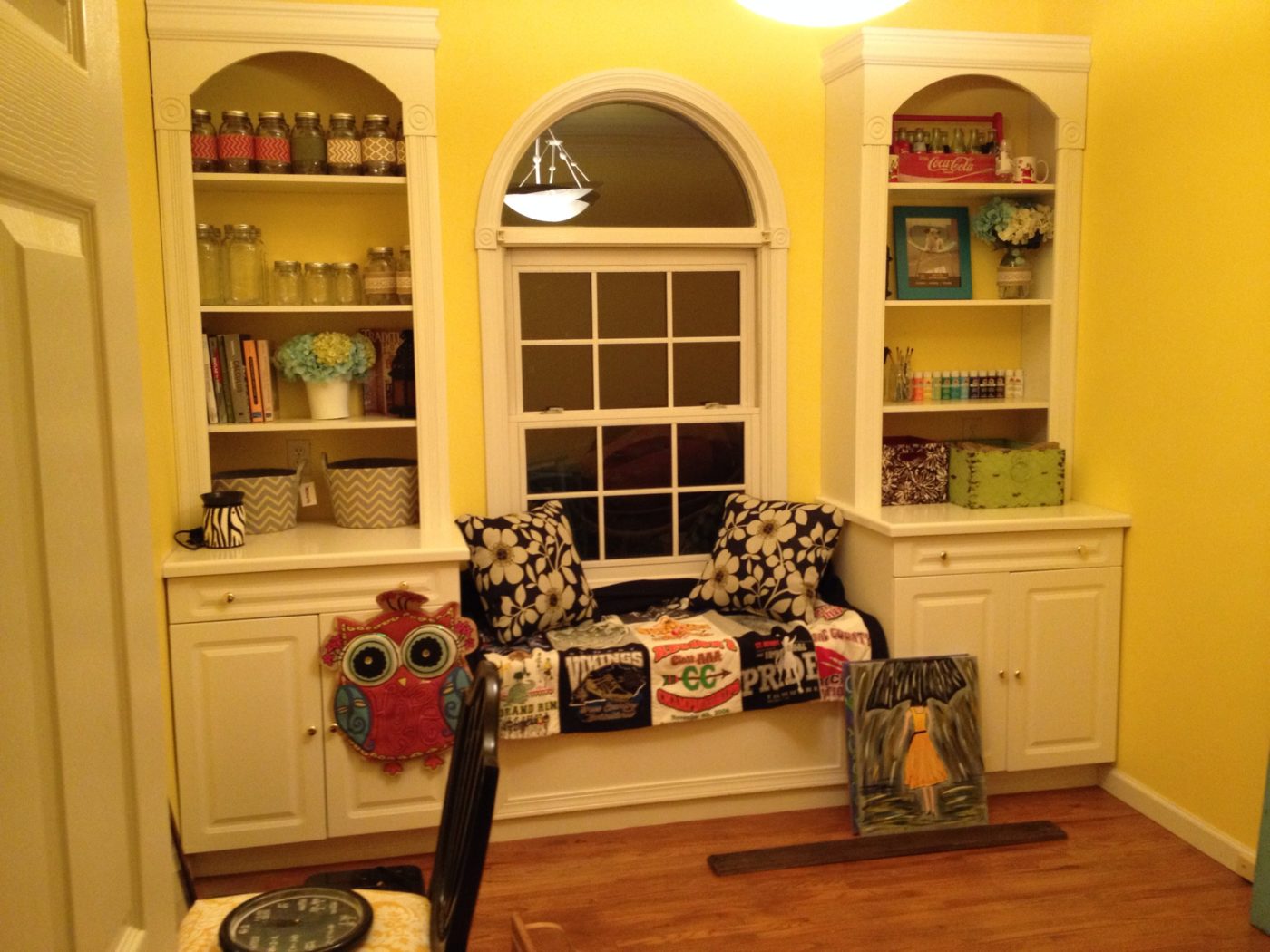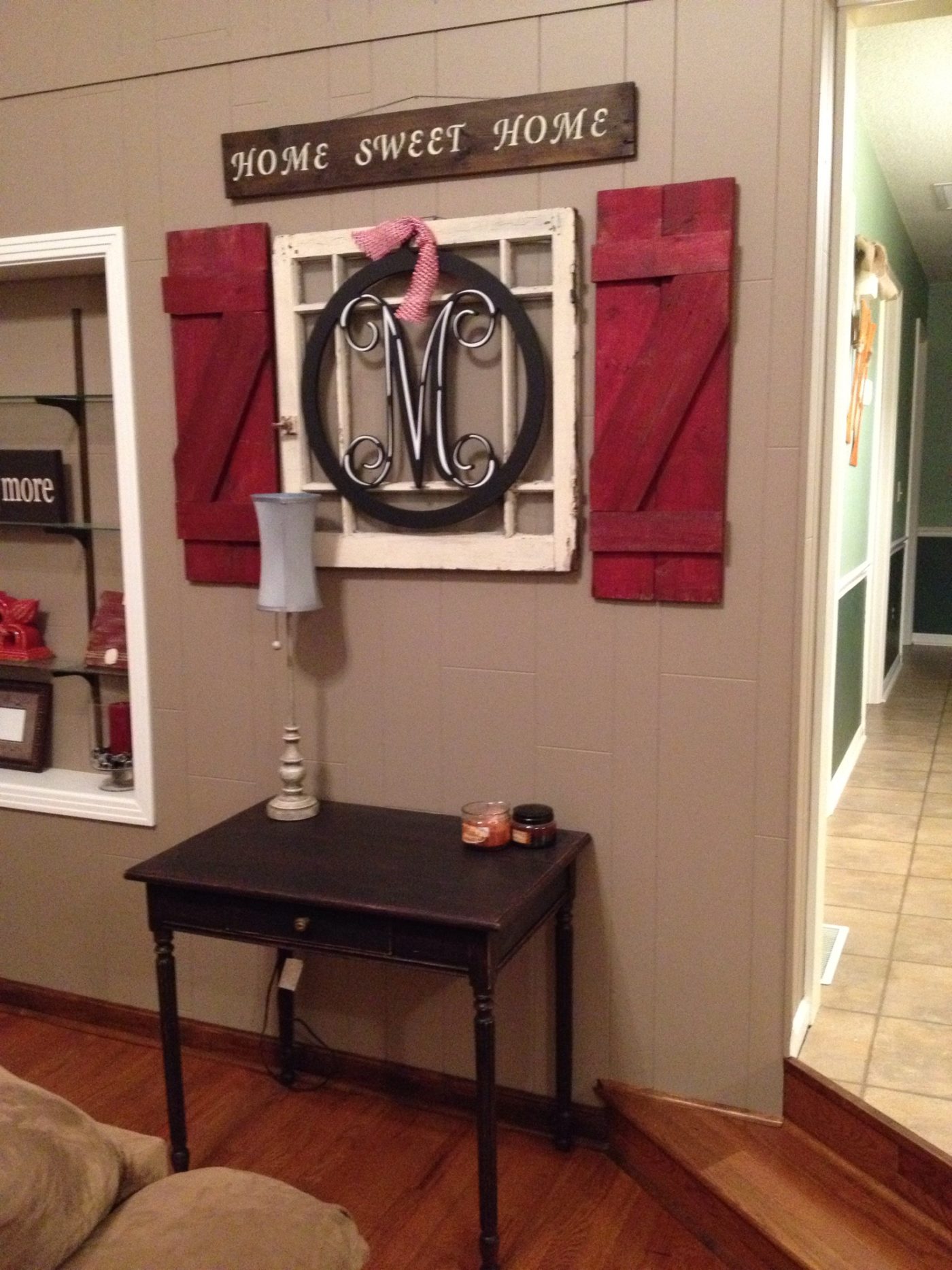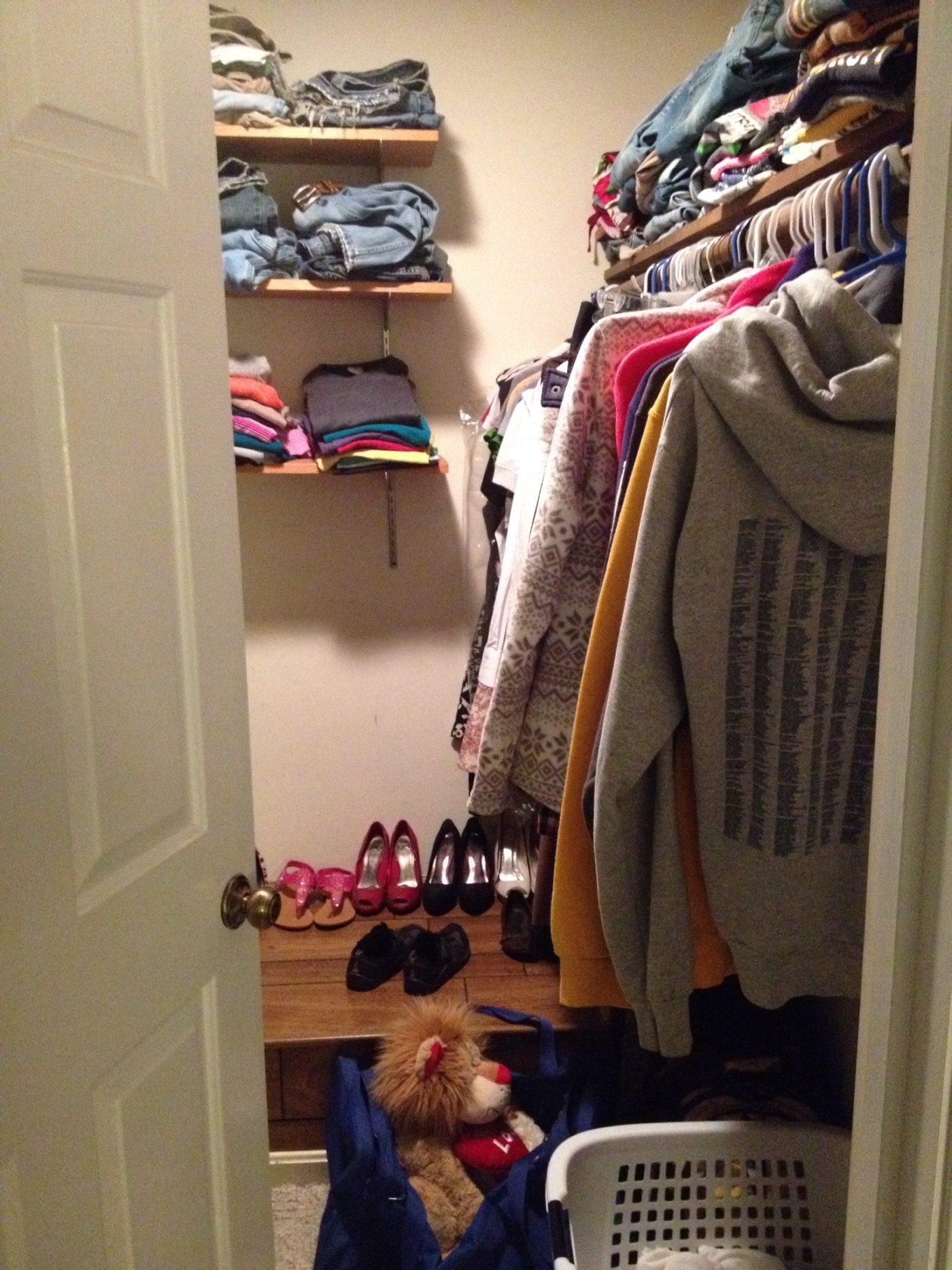 A LOT has changed in the first year since moving day.
First was our master bedroom closet.  If you remember from way back last Christmas, we tackled it on a whim while we were off work.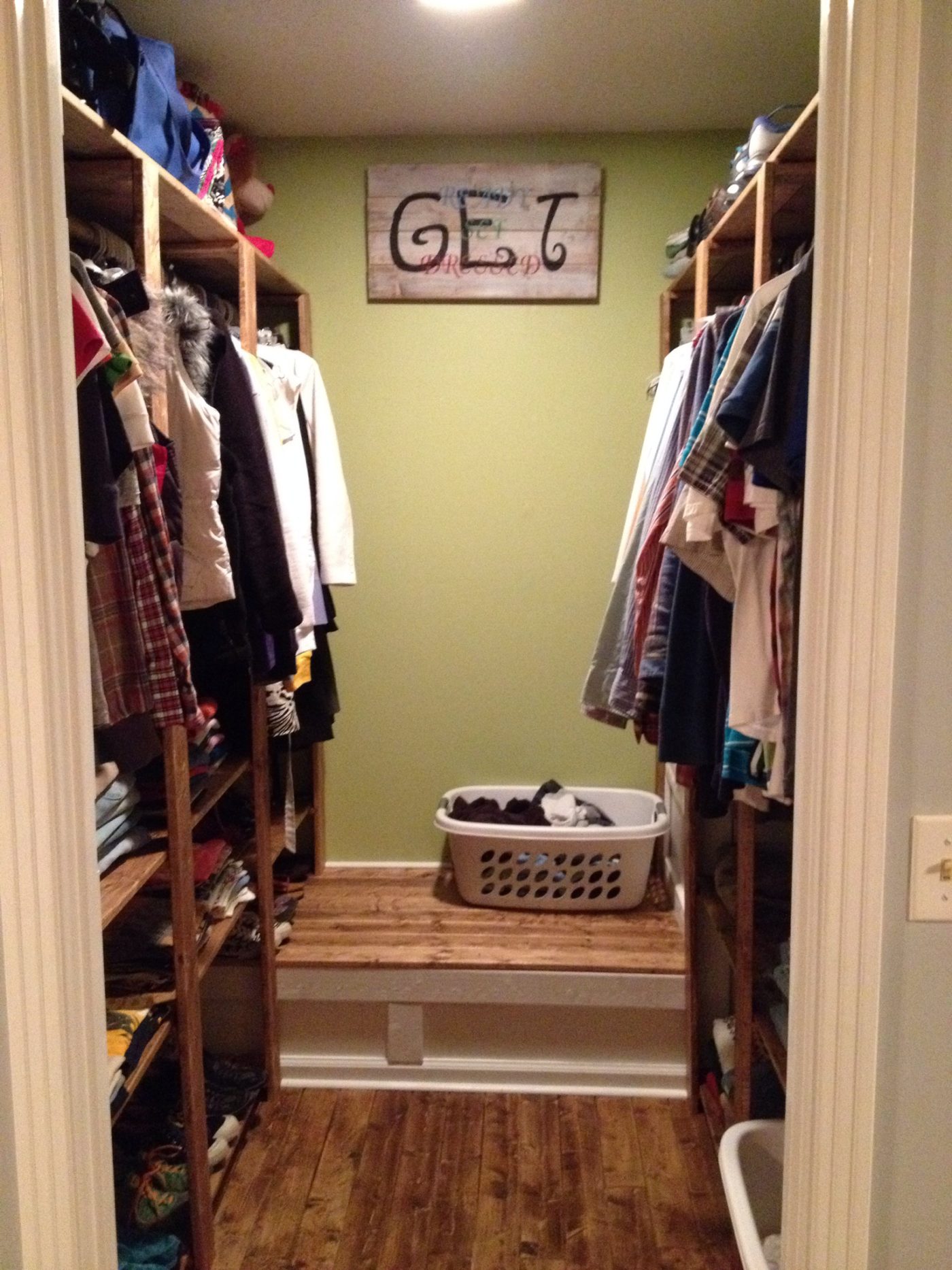 Then, we painted the living room.  After the kitchen remodel, we rearranged furniture.  I also painted the brass on the fireplace.  Then I built a few new pieces of furniture. The living room has been constantly changing project after project.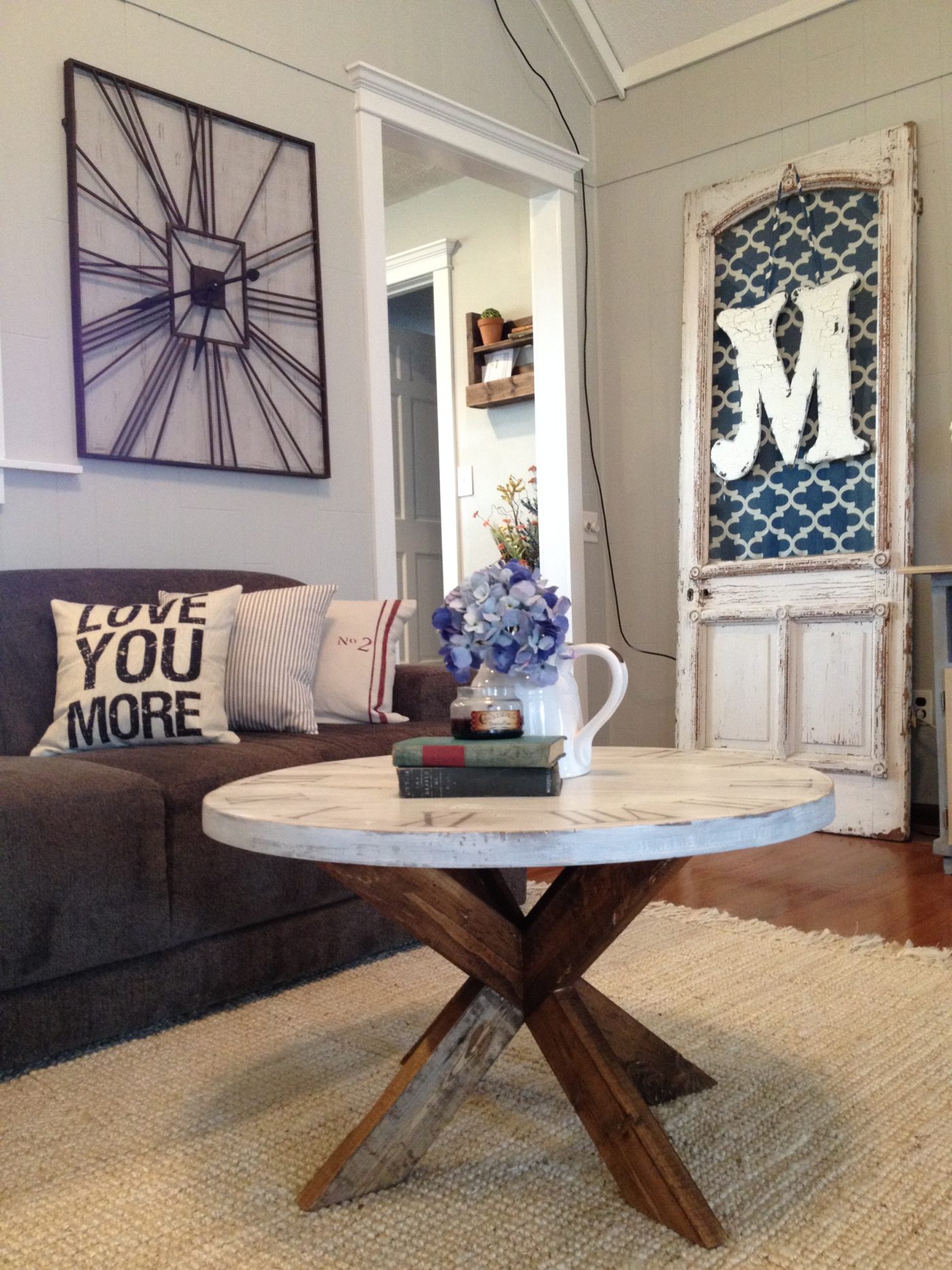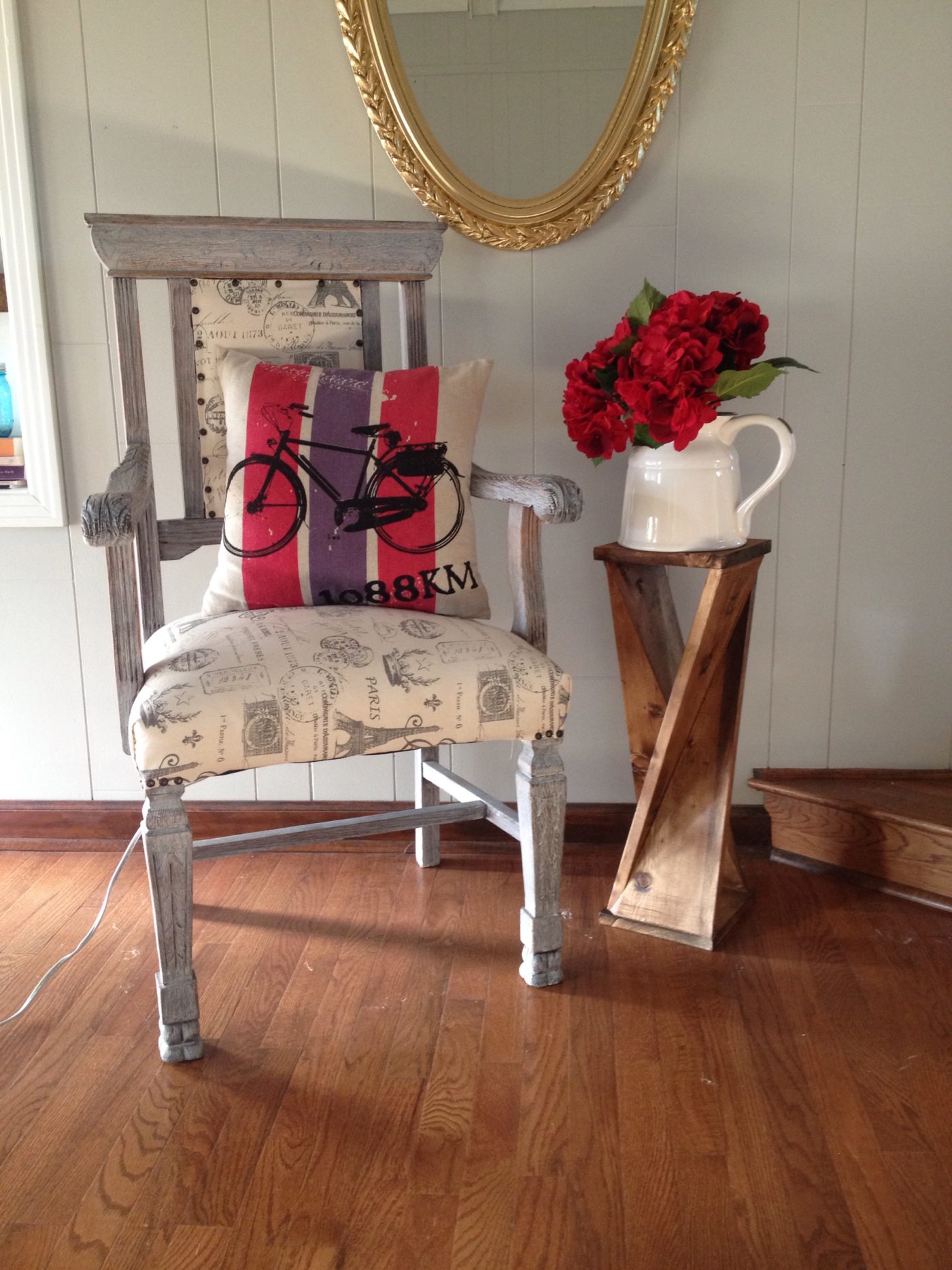 I gave the foyer closet a makeover right before our biggest project in the house.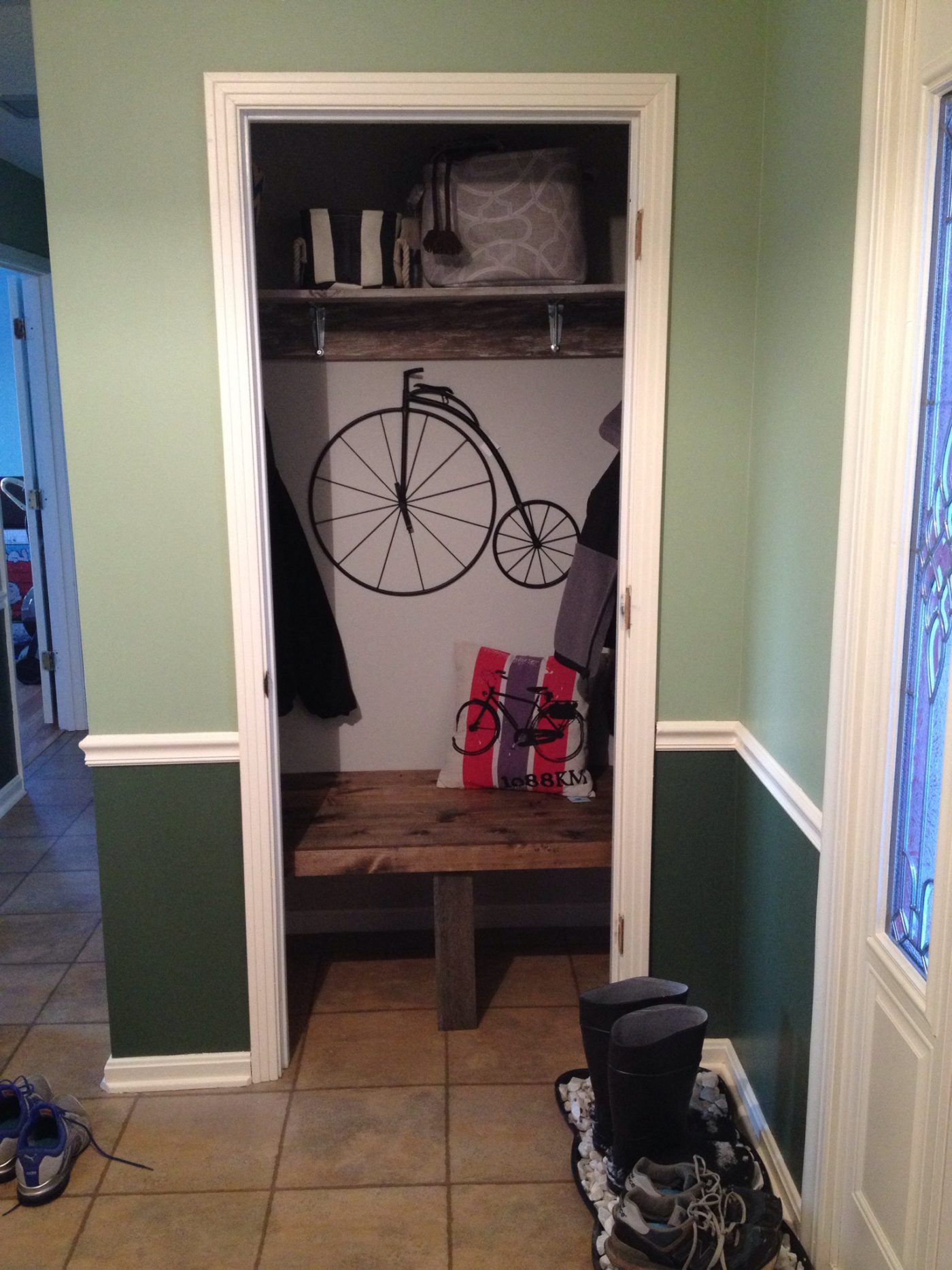 In March and April, the kitchen was torn apart and put back together.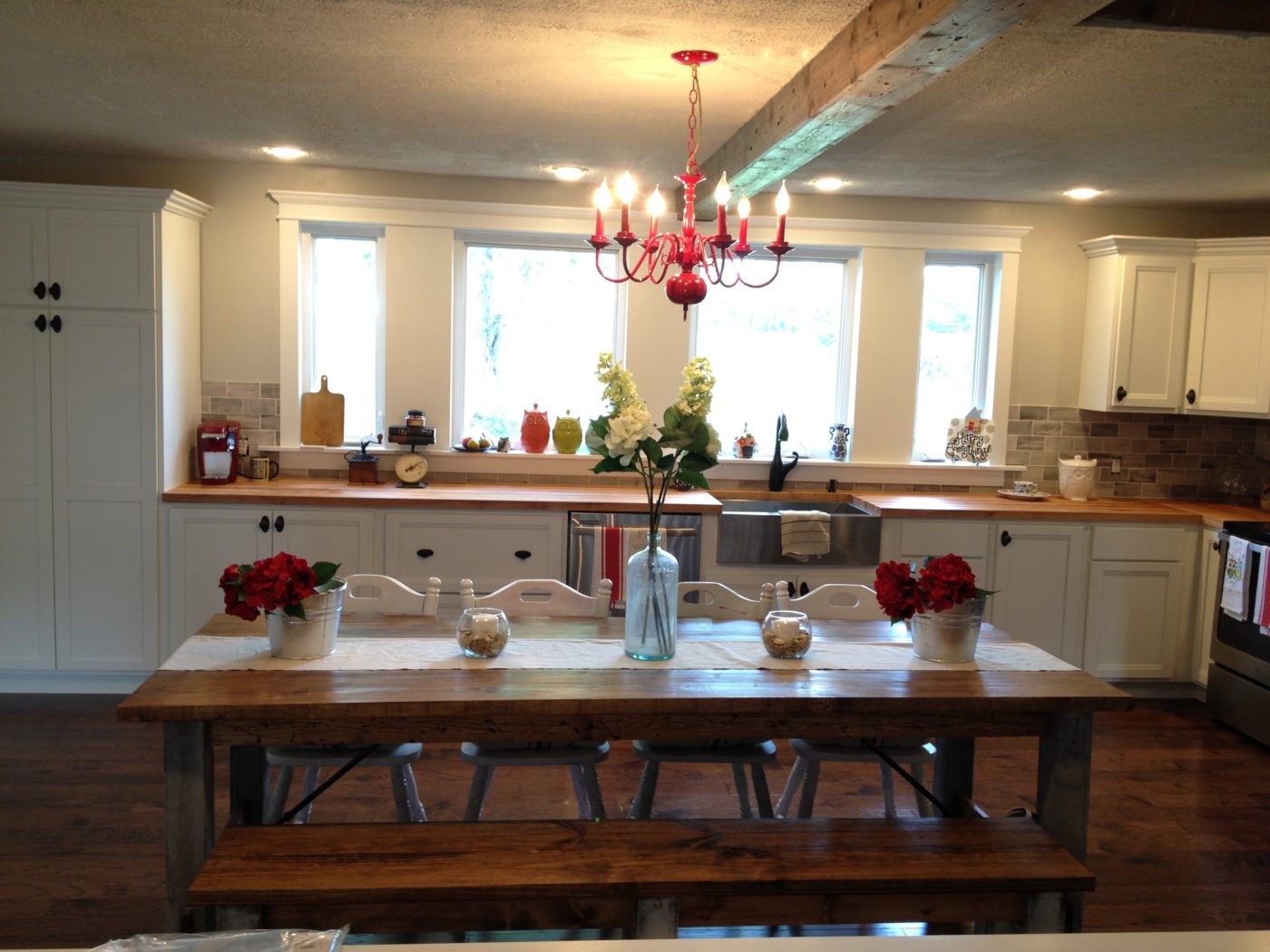 Once it got warmer outside, we cleaned and stained the deck and painted the handrails.  The "deck makeover" was the least fun, but was worth it.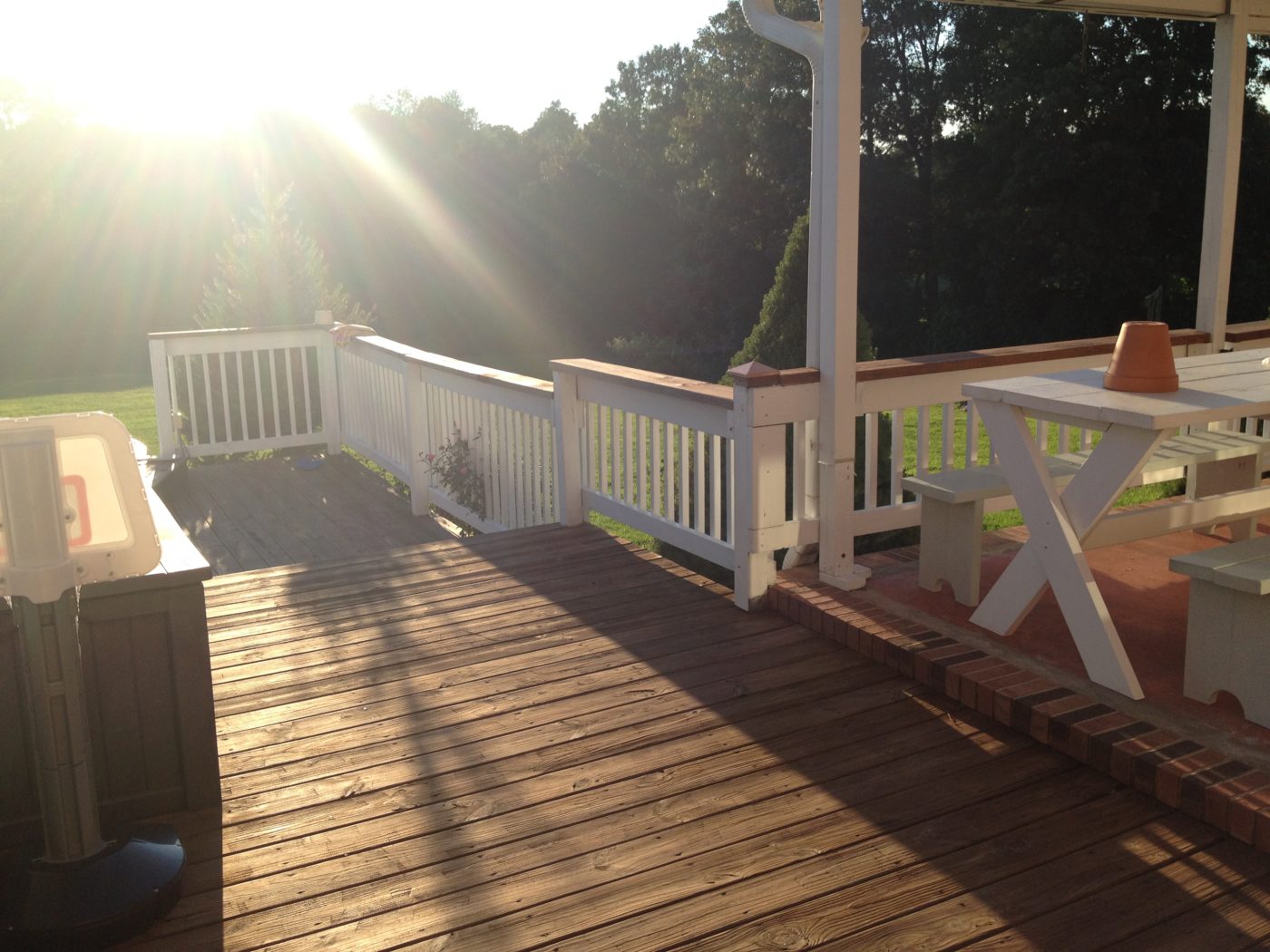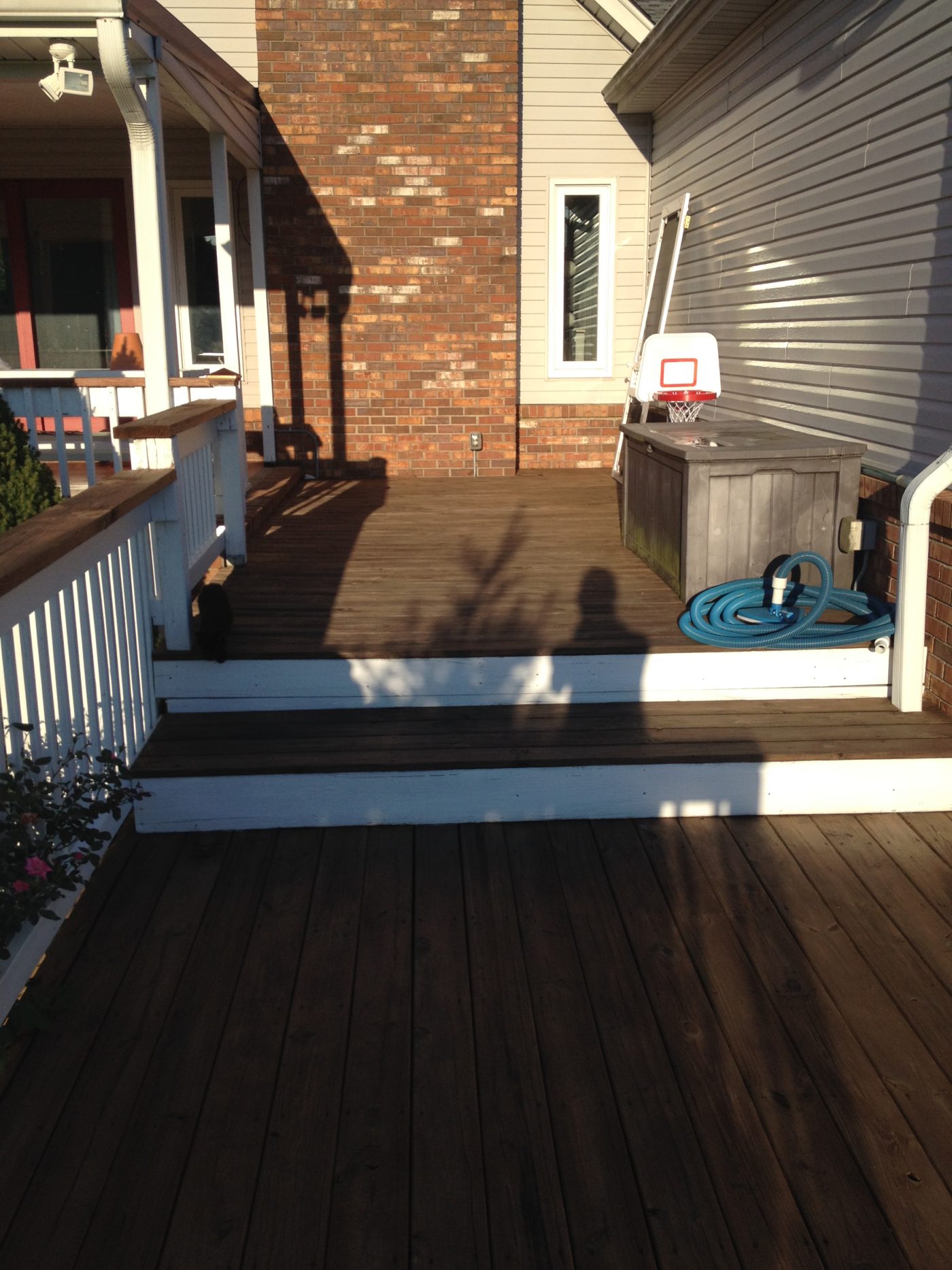 Although I didn't start my laundry room redo until recently, I went ahead and made the grand entrance for it this summer.
Notice how the hallway was painted here?  No post on that, but we did away with the green and went with the grey and white thing…pretty much my theme throughout the house 🙂
And now, we are almost done with the laundry room redo.
In addition to visual improvements, we have also installed new windows, (soon to be installed), new back doors, new gas logs.  Countless tubes of caulk have been used to seal "gaps" in various places.  Some electrical has been improved both in the house and the shop.  And, speaking of the shop….want to see another before and after?
I need more shelves….actually I "need" a lot of things in there that will just have to wait…I'm trying to learn patience and self-control.  Those are things I should have more of.
So here we are.  One year later, I can honestly say that a lot has indeed changed.  One thing I forgot to mention is that we got some new pets this year…two kittens to kill mice and moles…and to keep us entertained 🙂  Sadly, our black cat died on my birthday this year, but we got another super sweet kitten to keep our other one company.  Black cat completed our fall front porch this year.  Danny was just added decoration 🙂
In the year since we moved here, the house has definitely changed.  And, if all goes as planned, the house will change a lot more in the next year, too.  But, more importantly, in the last year, WE have changed.  We have learned, we have grown, we have gone through tough times, gone through good times, and good grief! We've gone through a kitchen remodel!  And survived!  This house is where our life happens….and we love that.  We look forward to coming here every day after work and being in the place we call home.  And I (not so much Danny) look forward to many more updates and opportunities to learn and grow in the year to come 🙂