The bathroom.  The home of the toilet.  Where the hairs left from the man of the house's last shave still reside in the sink.  And where you continuously find toothpaste splatters on the mirror and faucet (and WALLS?! How does that even happen?!  Husbands…that's how.)
.
It's where the p-trap gets clogged with disgusting things I'd rather not name, and where the shower drain collects the wads of hair that I swear couldn't have all come from my head.  Sorry for the visual…just being real here.  The bathroom is where real life happens.  REAL real life…the kind of things where "everyone does it" but no one wants to talk about it.  You know…
.
Despite all the "real life" events that occur in a bathroom, surprisingly it is really easy to find beautiful bathrooms all over Pinterest and in magazines of all sorts.  Bathrooms CAN be beautiful–even though what happens in them rarely is…
.
Unfortunately, this post is not about a beautiful bathroom.  It's about MY bathroom.  Dun dun dun….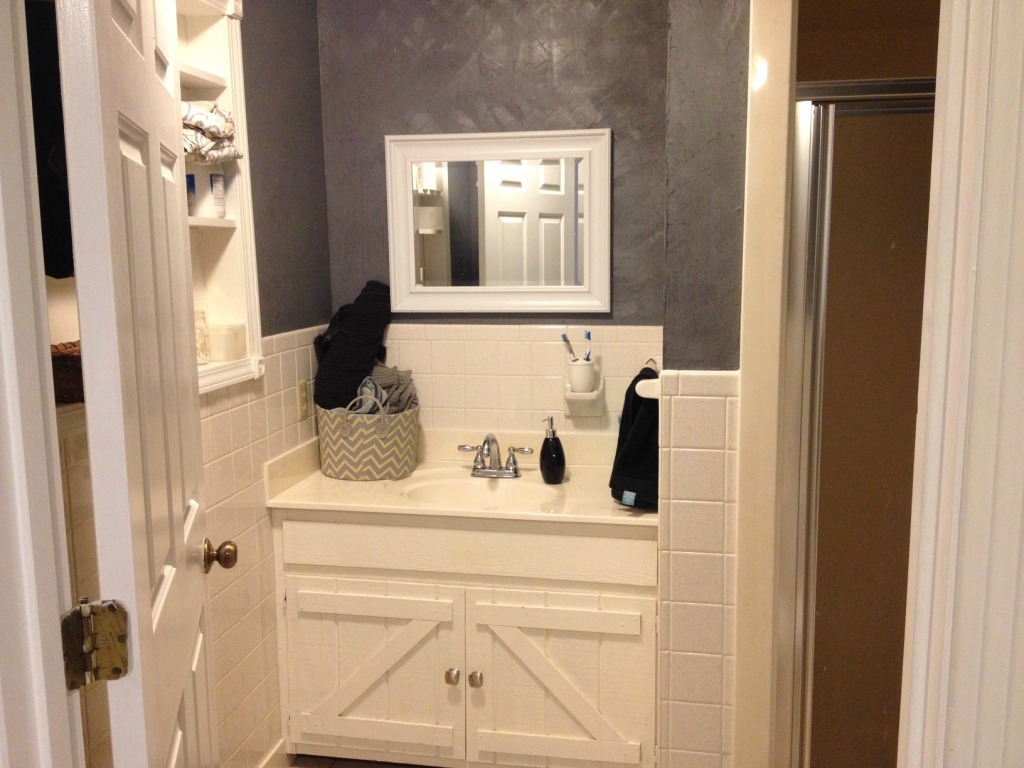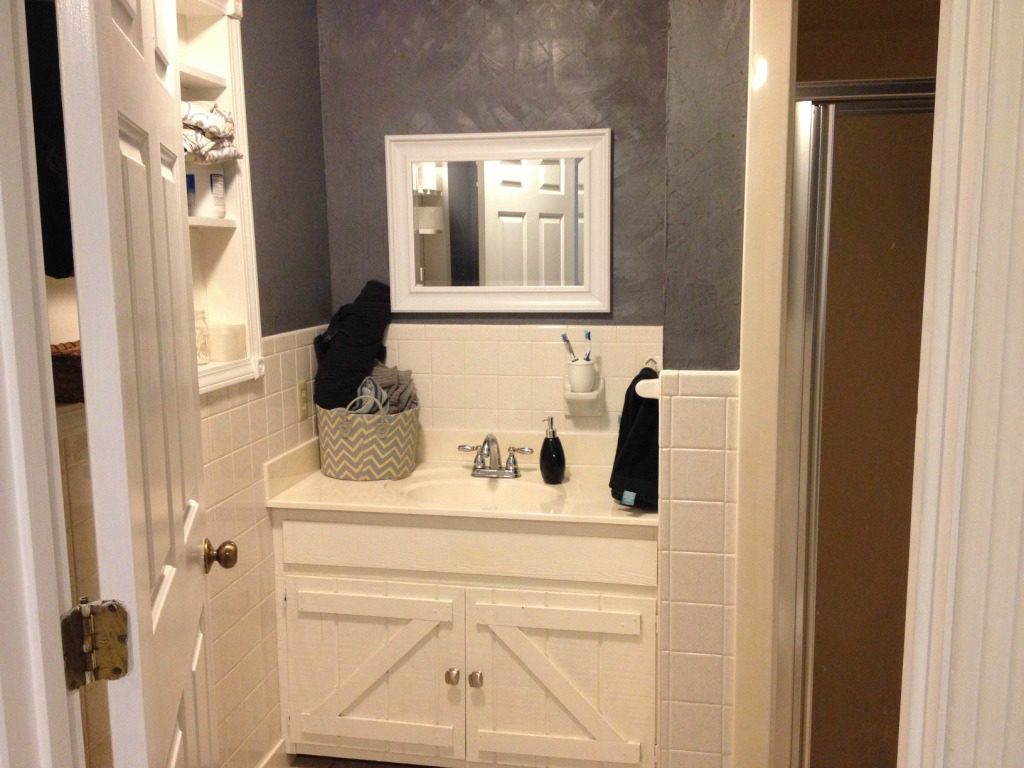 I've had several people tell me they thought my bathroom was cute when I showed them a picture or two.  So, I kind of feel bad about saying that I don't like it.  Maybe I'm the crazy one??  That's cool.  You can tell me.  I can take it.
.
Hate is kind of a strong word.  I don't really HATE the bathroom.  But I see a lot of potential and the current design just isn't doing it for me.
.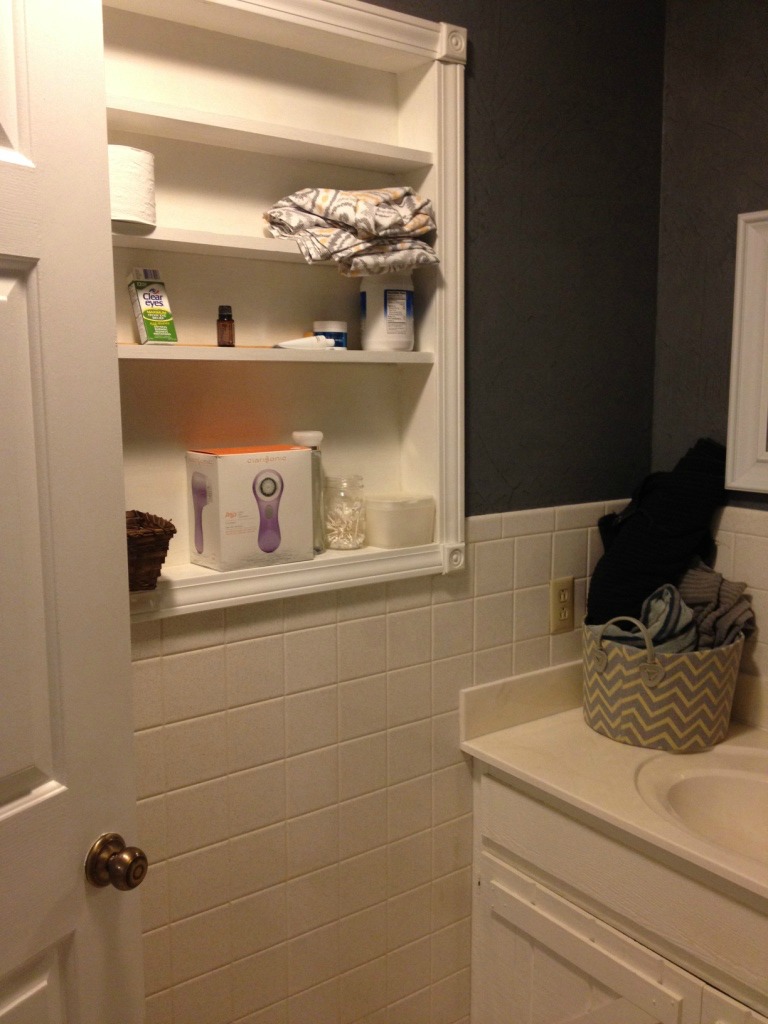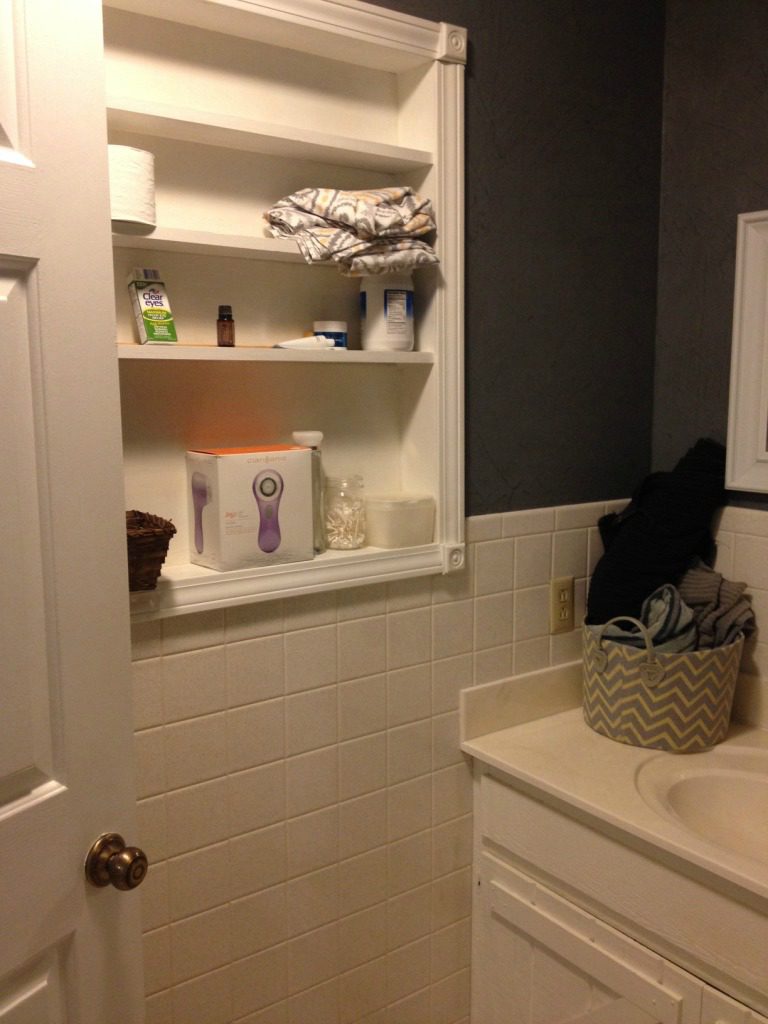 Either way, it's about to be gutted.  AND I. CAN'T. WAIT.  I'm sure I won't be saying that in a couple weeks (stay tuned, you'll find out soon enough because I will be documenting everything. EVERYTHING.  If I remember…) when I'm knee deep in drywall dust, grout, and trying to figure out how to install a new toilet.  We've been through a kitchen remodel, and I'm somewhat prepared for what's to come with another gut job, but I'm also aware that my expectations are clouded by the idea of how beautiful my bathroom will be after we are done.  I HOPE.  Oh, please let me be right about this…
.
But, because I've had several tell me they liked my bathroom as is, I feel the need to justify why we are remodeling.  So here's the list of the main reasons we are about to tackle another gut job against my husband's will.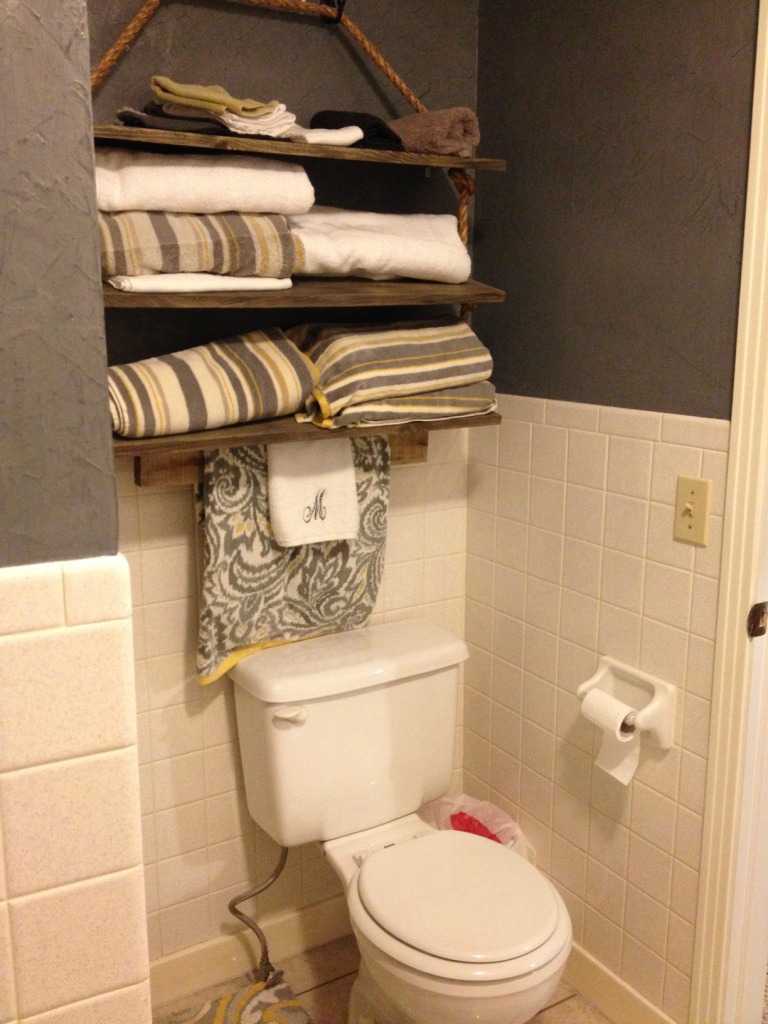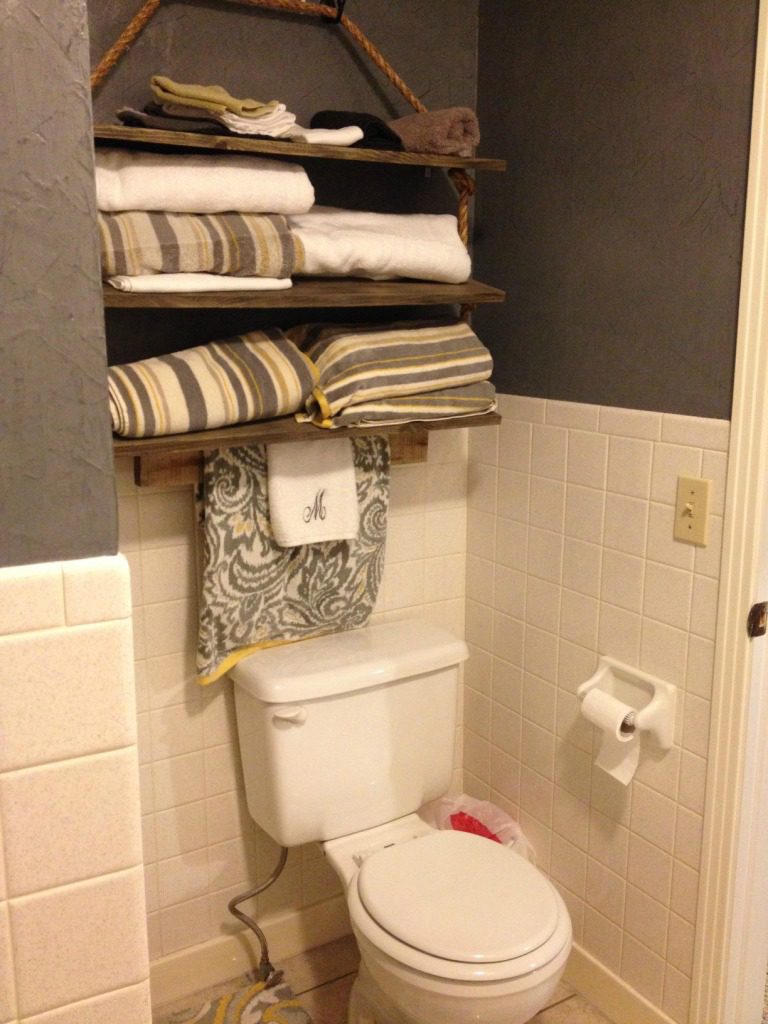 #1 We kind of have to.
When we redid our kitchen, Danny had to crawl under the house to move the plumbing for the sink and to run the wires for a few new electrical circuits we put in.  While he was under there, he noticed a pretty bad spot (rotten wood from a leak in the past) in the floor of our bathroom.  We had the house inspected when we bought it about two years ago and the inspector told us about the spot, but we were confused and thought it was under the OTHER bathroom.  When we looked at the floor under the other bathroom, everything seemed fine, so we didn't think anything else about it.  But after Danny saw it and showed me pictures, we agreed it needed to be fixed.  I'd rather not  fall through the floor during a shower one day.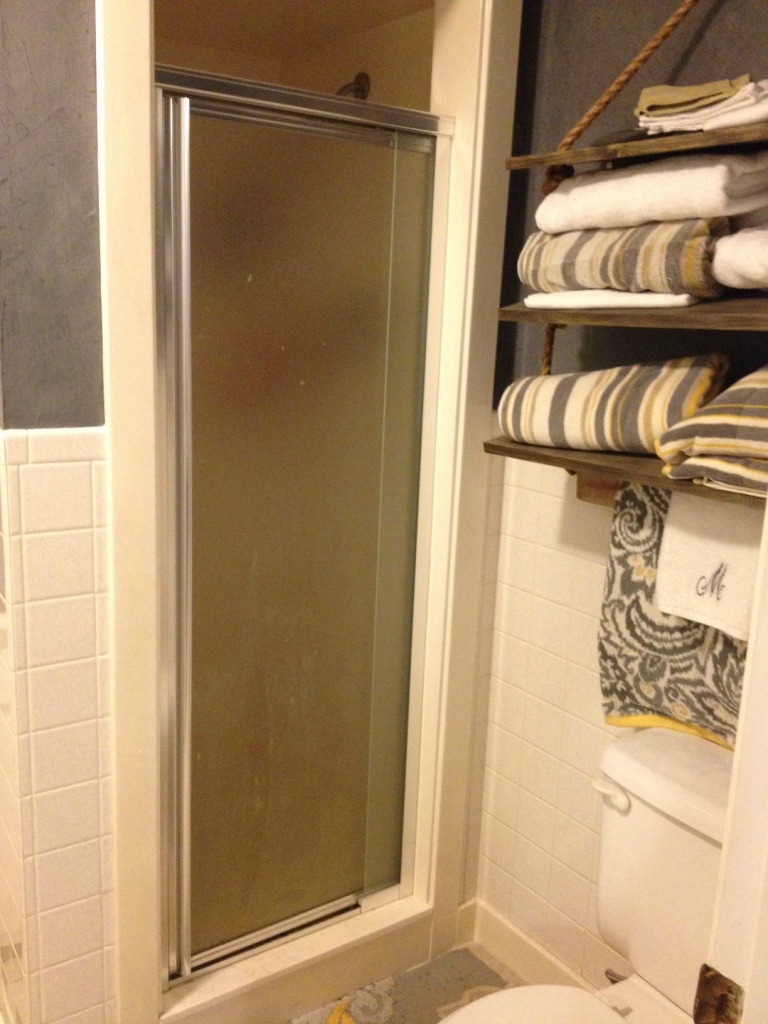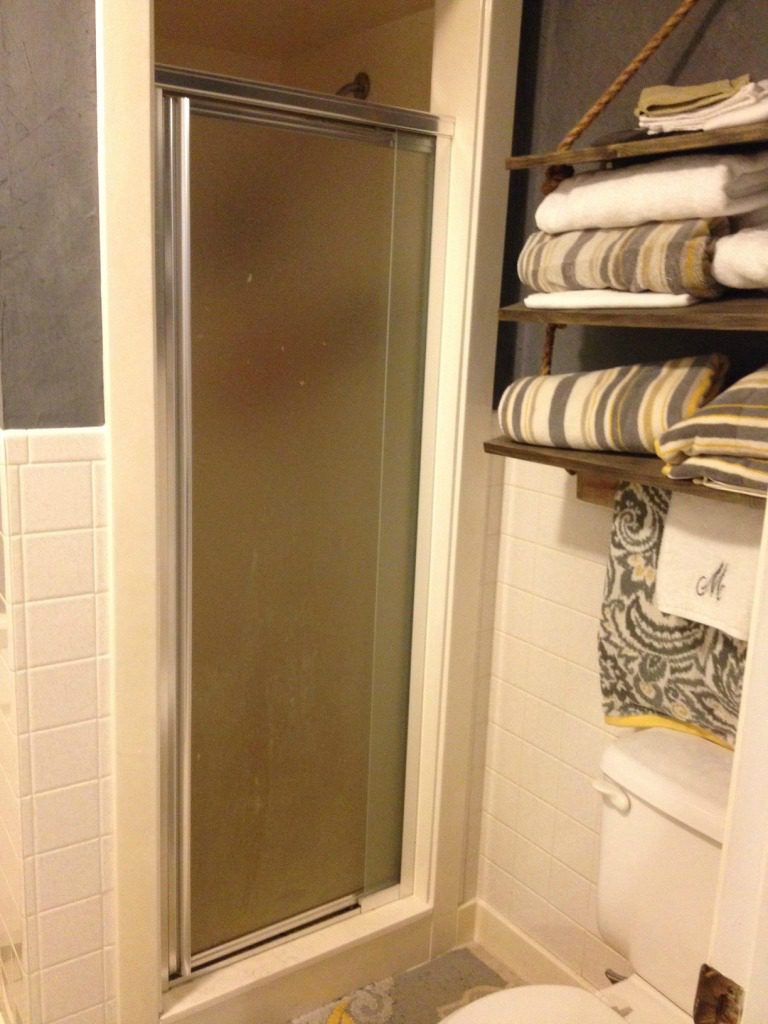 BUT, in order to fix it, we need to get down to the subfloor.  Which would mean removing the shower.  Which would mean removing the flooring, which would mean having to redo a lot of the tile work on the walls.  I mean if you're going to fix the floor, you're pretty much going to be redoing the entire bathroom.  So that's reason #1.
#2  It's REALLY dark
This bathroom has a single light fixture.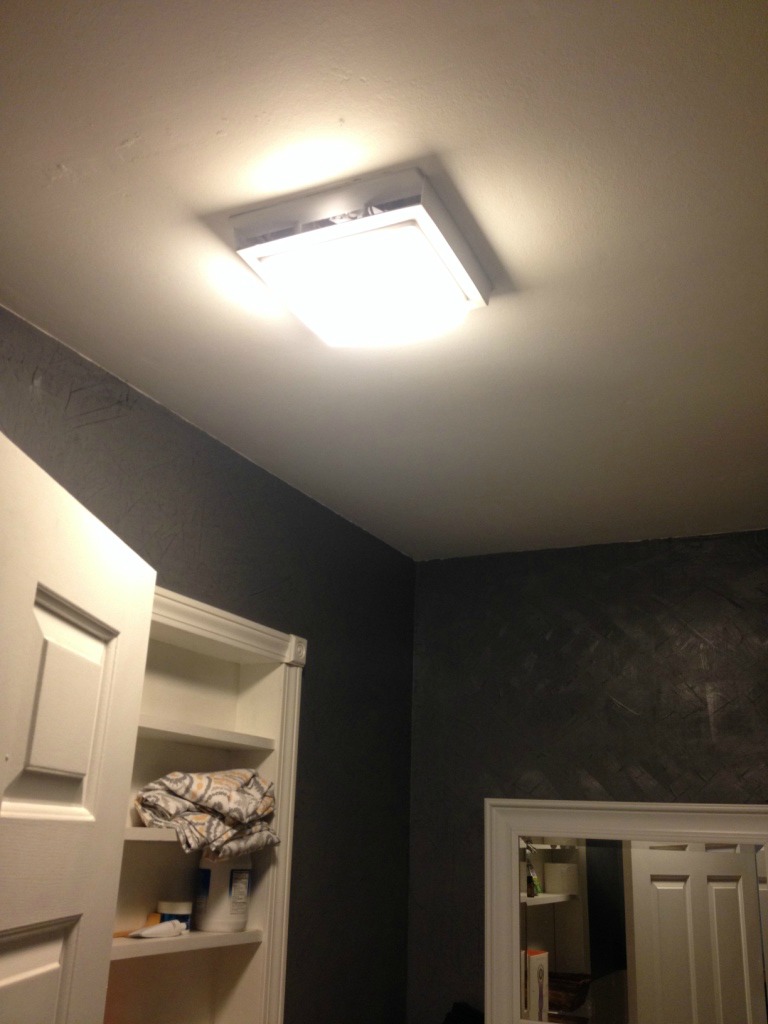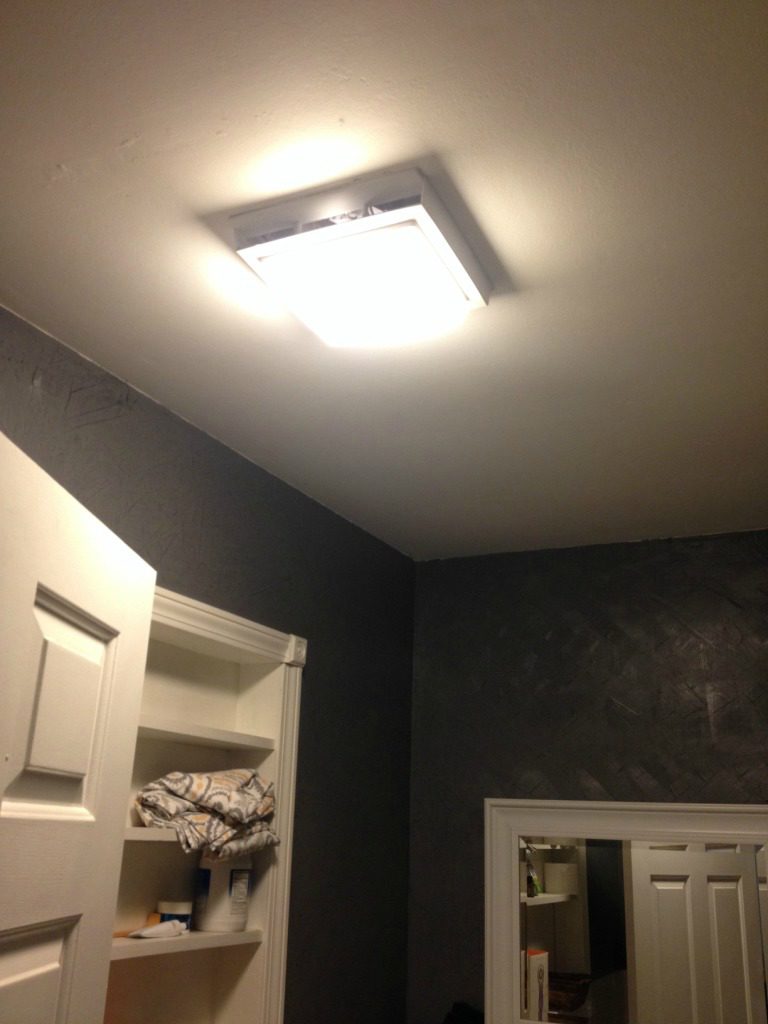 And that little dude is pretty stingy with the light, too.  We've tried all types of bulbs, but it's just not cutting it.  Plus its location compared to the shower entrance means that VERY LITTLE light gets into the shower.  Like you pretty much shower in the dark.  And it's really hard to clean a shower you can't see into, too.  Just saying…
.
Actually, when we first moved in, I didn't take a shower in this bathroom for the first week or so because it freaked me out how dark it was.  Not even kidding…
.
Oh, and I can't even put makeup on in the bathroom because the lighting is behind my head.  So I can't see my face in the mirror.  I sit in the floor in the bedroom to apply makeup.  Which is fine…just another reason to add to my list. (Can you tell that I'm kind of wanting to redo this bathroom whether it's justifiable or not??)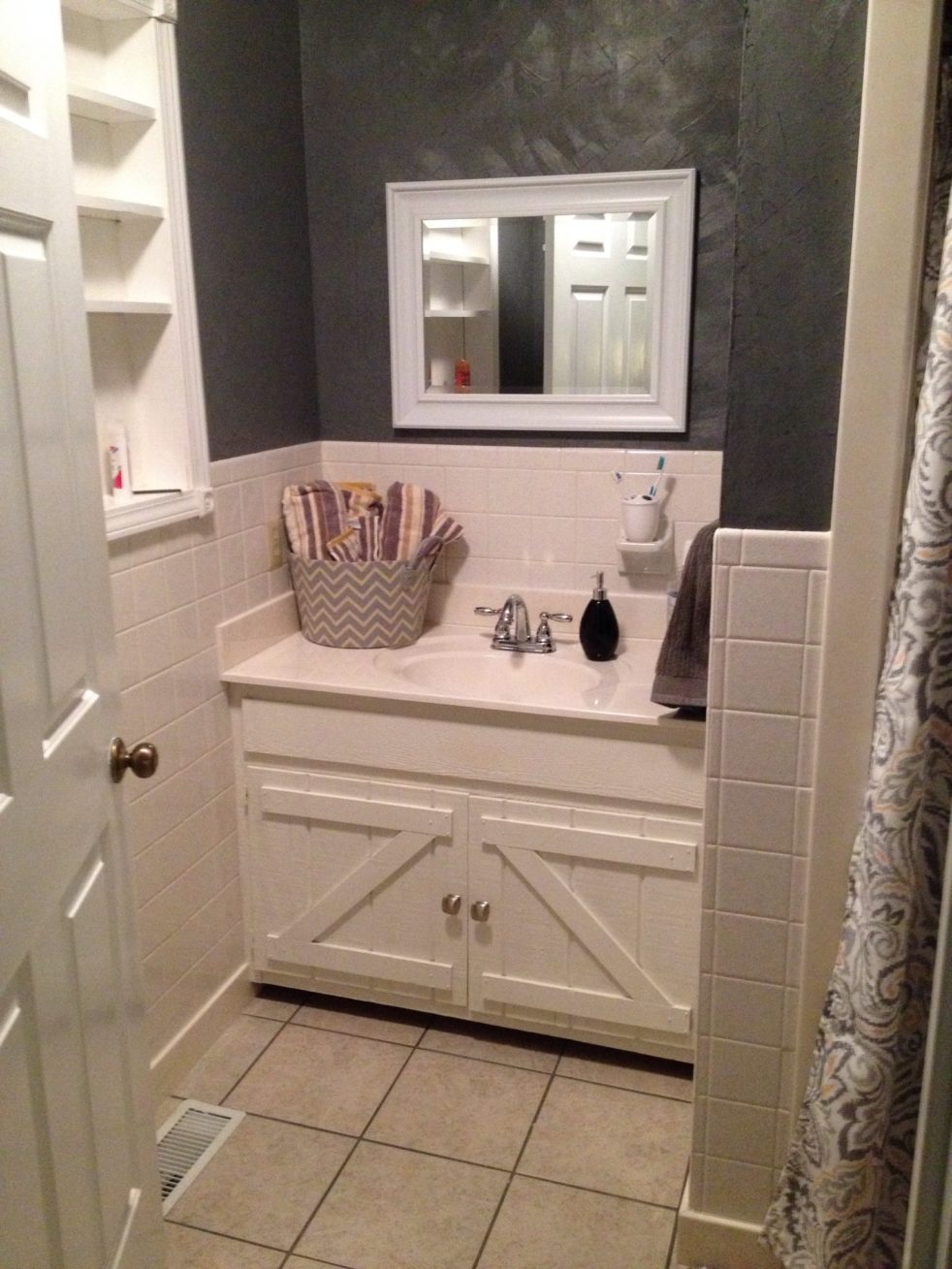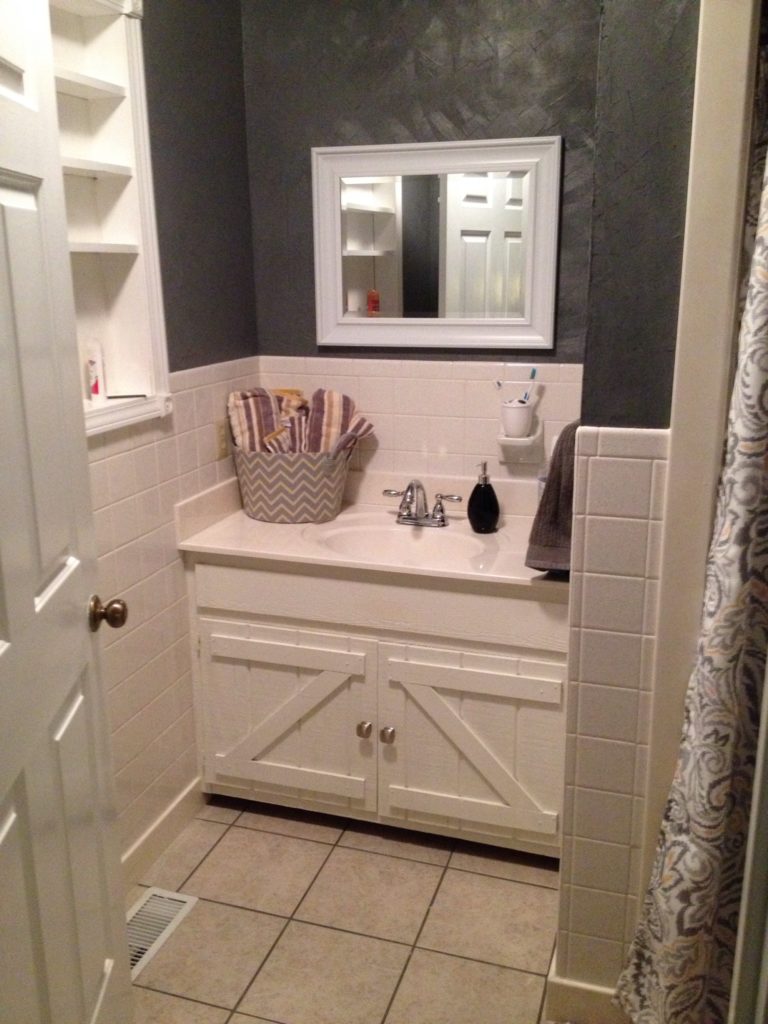 .
Adding lighting would be an option, but why make anything easy?  Remodeling would be so much better : )  Plus, it would have been hard to add a light above the shower since it's cultured marble on the top (which is something else that is weird to me).
#3 The vanity
I've had so many compliments about this vanity, so I feel kind of bad complaining about it.  But, I really don't like it.  I know, that makes me a terrible person.  Please forgive me.
.
But I made a new one already for the remodel and I really think it's much better.  Maybe this will make up for not liking the old vanity?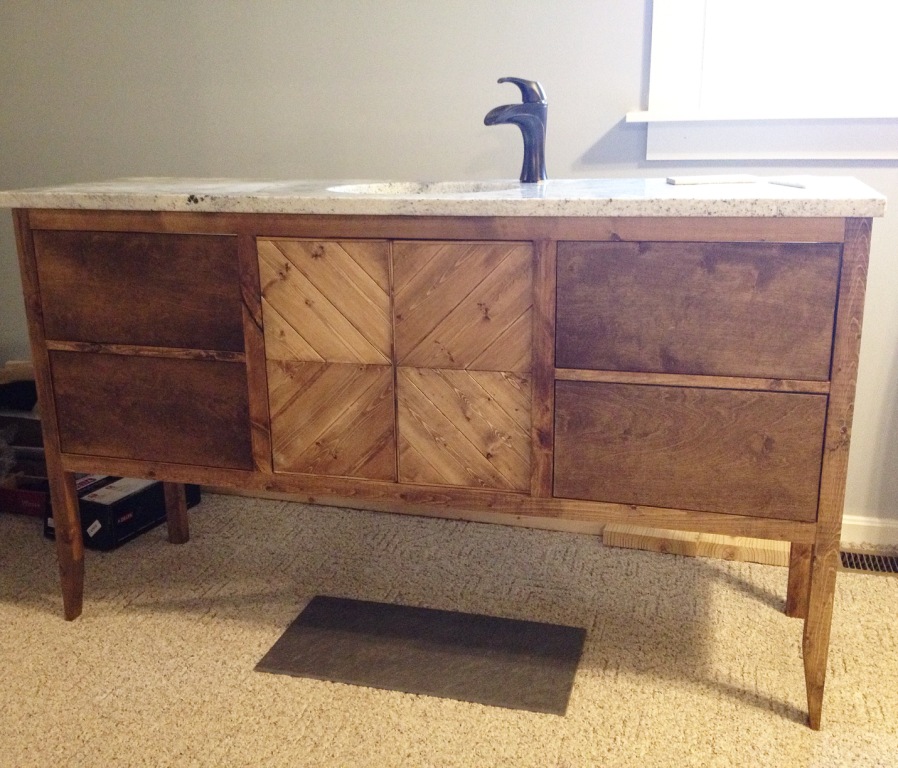 See, the old vanity has no shelves, and no drawers, and it's really just a front.  It doesn't have a back or any sides and the bottom of it is kind of in rough shape.  I wanted to replace it a long time ago…but again with the tile work and stuff on the wall.  The fact that the tile is all over the bathroom walls just wasn't making anything easy to redo without a big undertaking.
#4 The door
Okay, so this one isn't really a good reason, but I added it anyway.  This bathroom is small.  Like 7×7 small.  And a quarter of it is taken up by a door that swings into the room.  Our laundry room was like that, too.  Just doesn't make sense.  It would be much easier to switch the door to open into the bedroom instead of into the bathroom.  But if we did that, then I would want to rearrange the room.  Which would require a remodel.  SOOOOO, here we are : )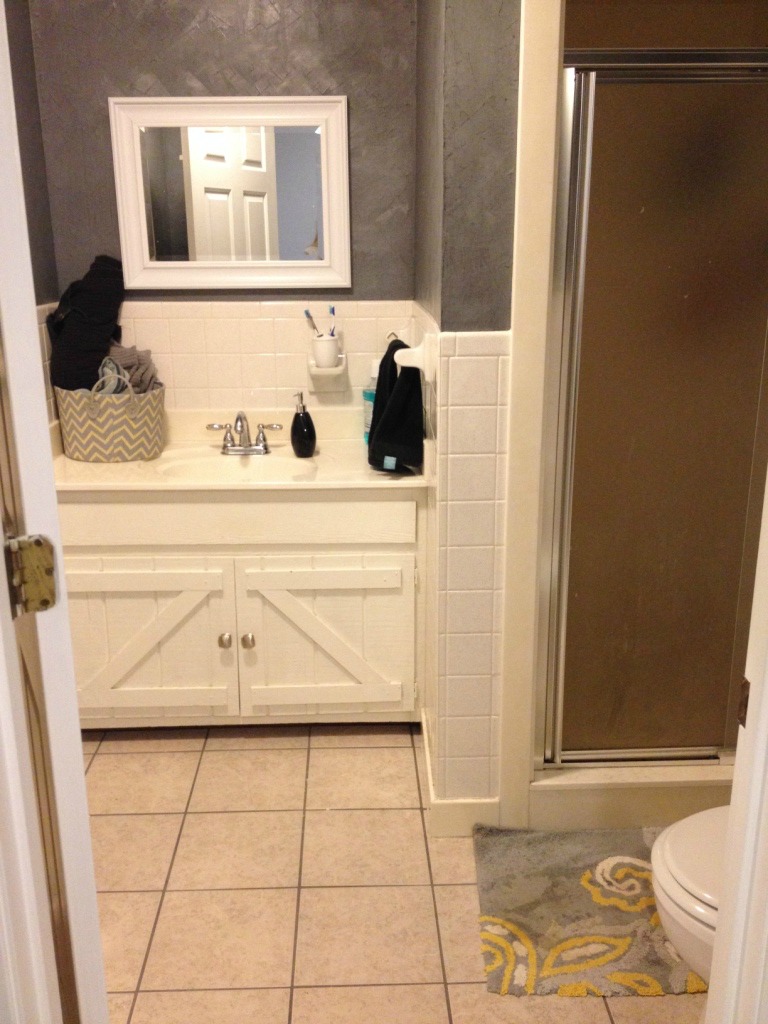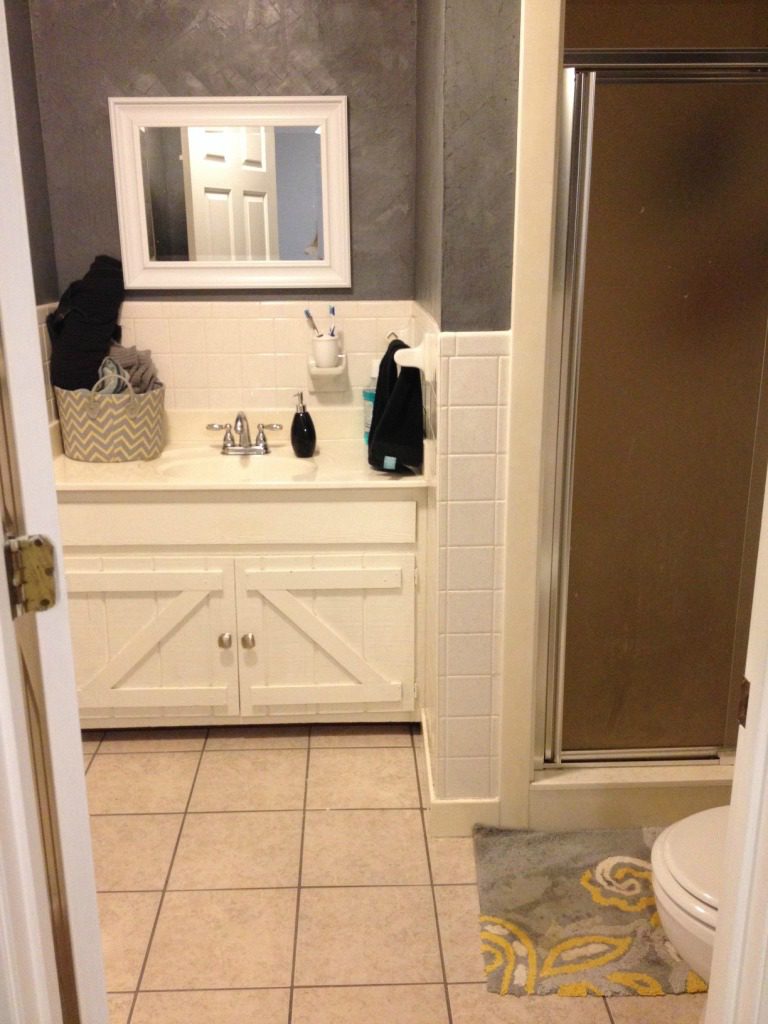 .
#5 I just really want to redo it
Truth: I just really like remodels.  It doesn't take much for me to justify doing one.  I'm sure you can tell that by now.
.
I have plans and ideas and sometimes what I picture in my head doesn't look the same as when it's done, but I'm really crossing my fingers on this one.
.
Here's the plan: we will be gutting it to fix the floor.  Then we are moving the plumbing for the vanity so it will be on the left wall.  Side note: We wanted a double vanity, but the depth had to be custom in order to fit in the space, and we would be losing a lot of countertop to have two sinks.  So we chose having more countertop space over having two sinks.  Most people would have chosen two sinks, but we don't mind sharing : )  It makes life a little more comical sometimes…you just have to have a good sense of humor.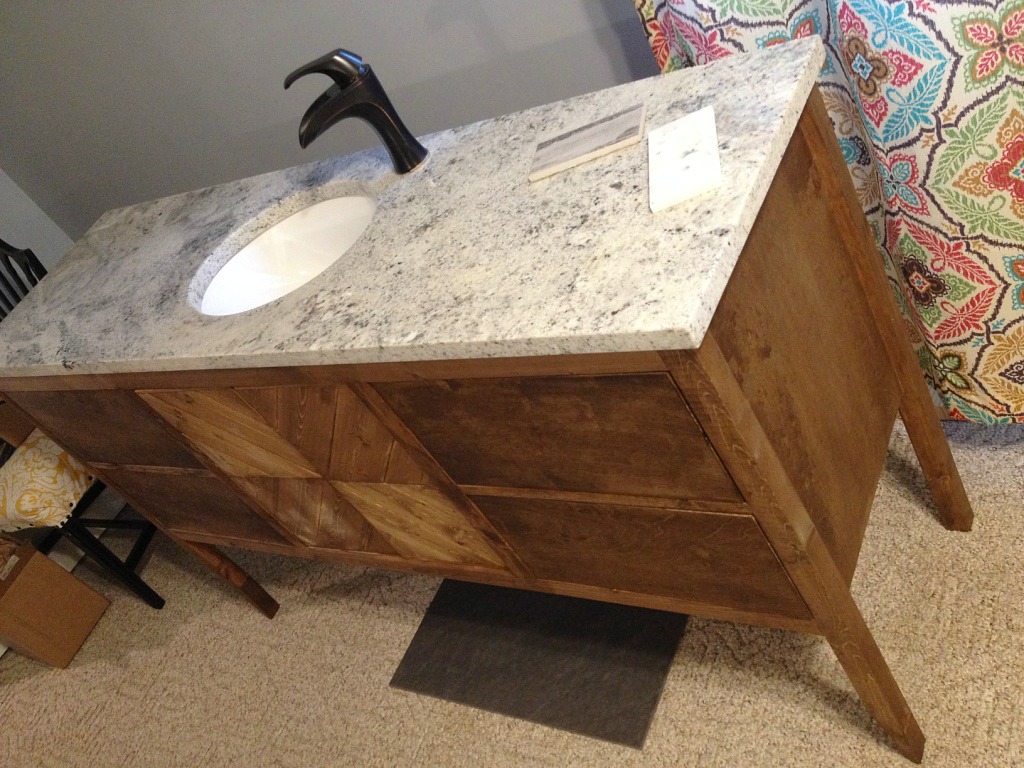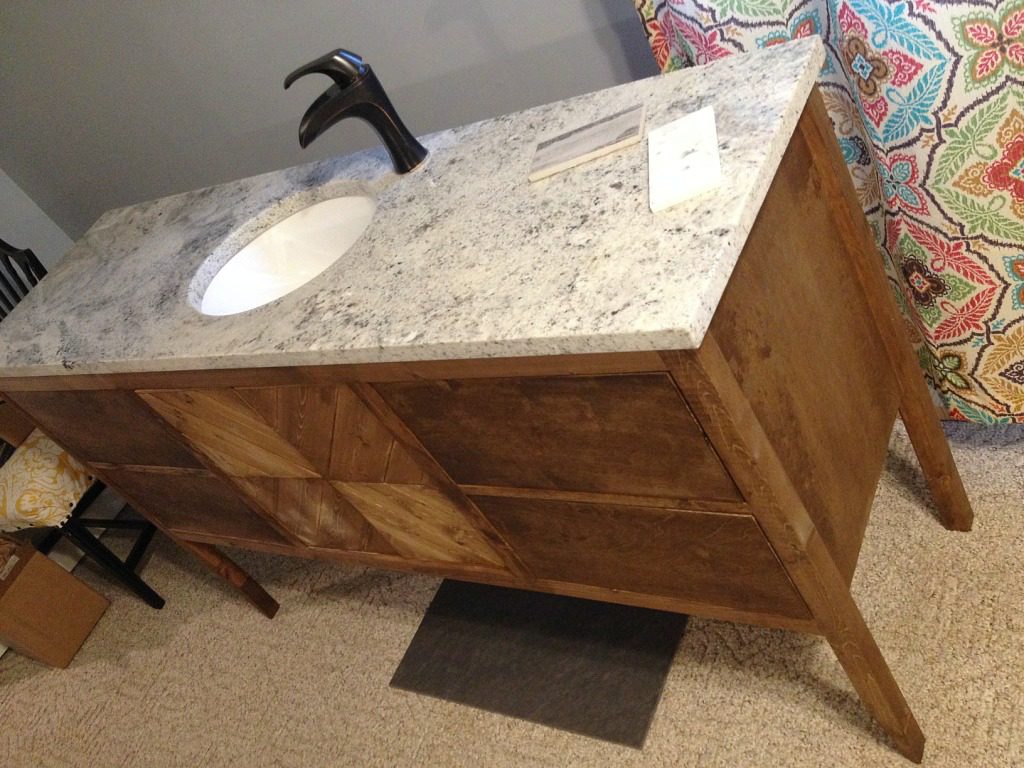 Then we will put lights over the vanity (HALLELUJAH WE WILL HAVE LIGHTS!!), and one over the shower.  We will be putting in a corner shower in place of the old one and replacing the toilet.  We will redo the drywall, retile the floor, add a backsplash, tile the shower walls (more on that in a later post) and add some shelving and storage.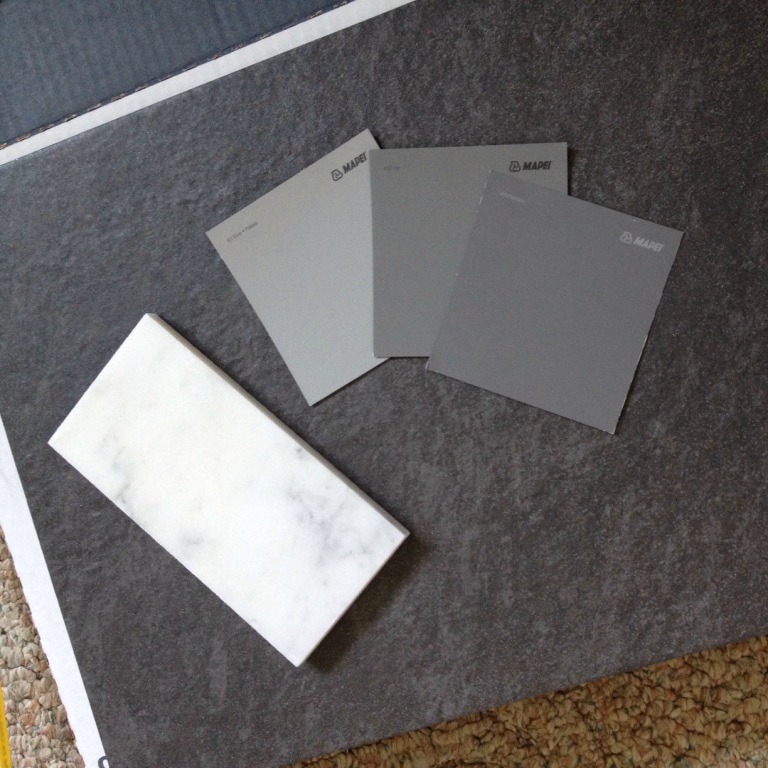 Stay tuned and be sure to follow along on Instagram!  I will update there often on the progress and will post on here with updates as we complete different phases of the remodel.  Demo starts Wednesday!!!
Until then, happy DIYing: )