It happened when we redid the kitchen.  It happened when I redid the laundry room.  It happened when we painted the living room.  And it happened when I redid the office.
.
We have once again reached the point of no return.  This time, it's with our bathroom.  As excited as I was to rip into this bathroom and do another remodel, I still started to question why I was doing this once I got to the point of no turning back.  We were about to this point when it really hit me.  Maybe I should have just left it alone.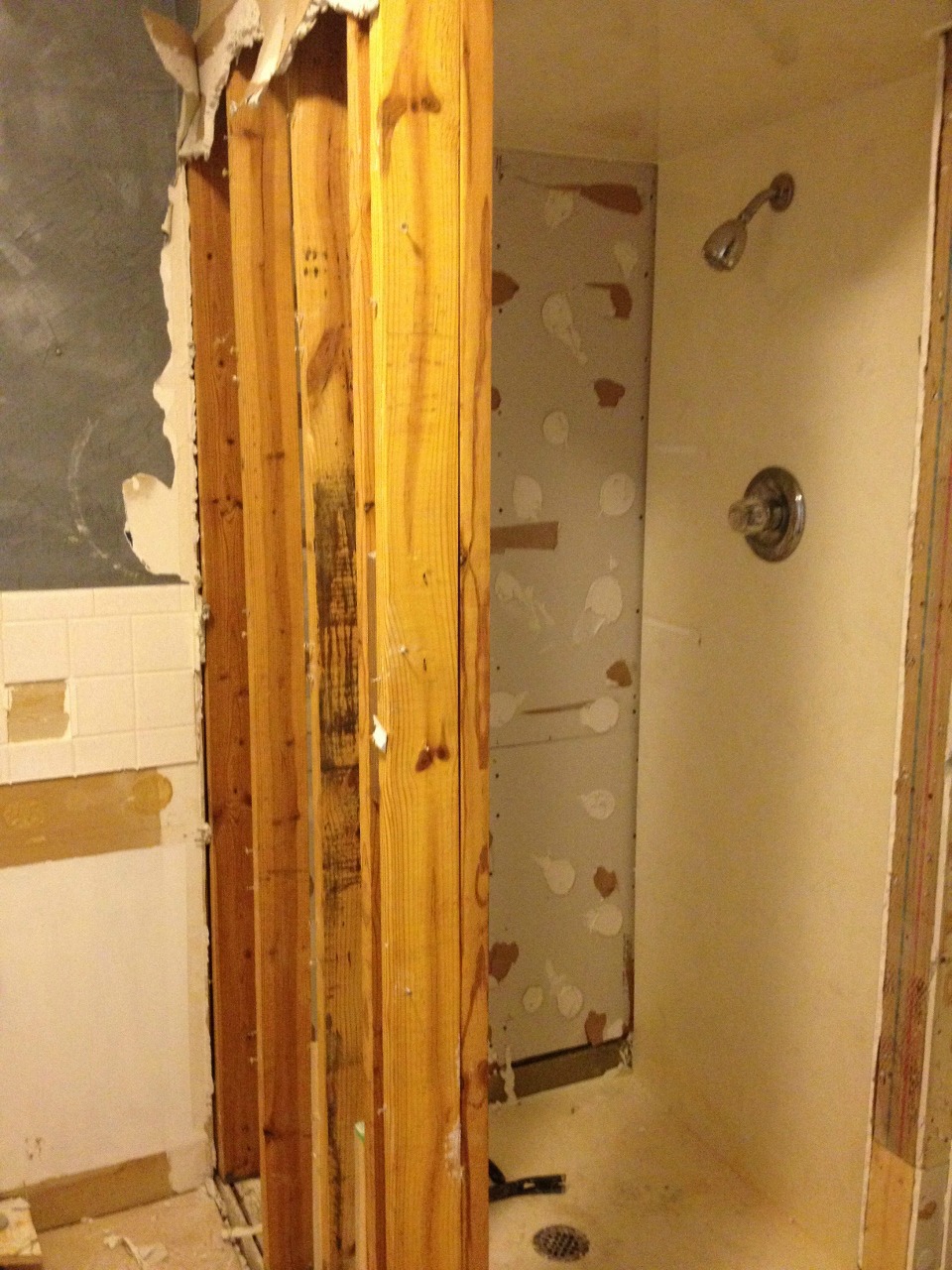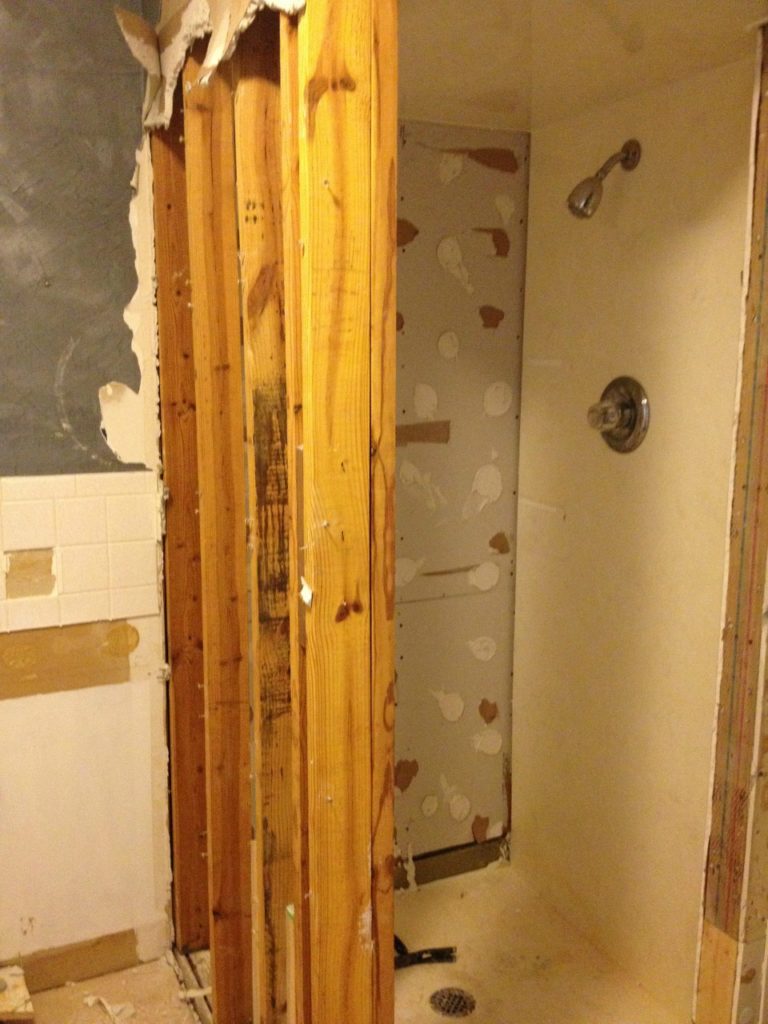 Of course, I would never admit this to Danny, but every time I've redone a part of the house, I get so far into it and question my decision.  Is this really going to be better than it was?  Am I really improving the house?  Is this really what I want to do with this space?
.
I think this must just be part of the process.  Either way, there is no turning back now.  Our bathroom used to look like this: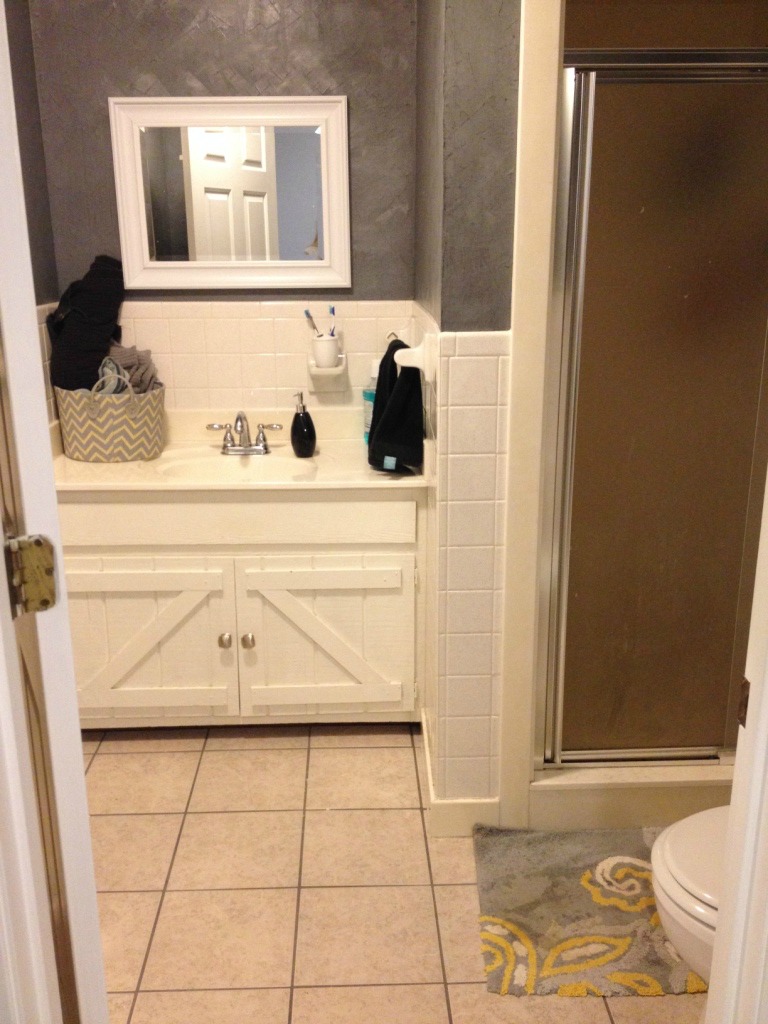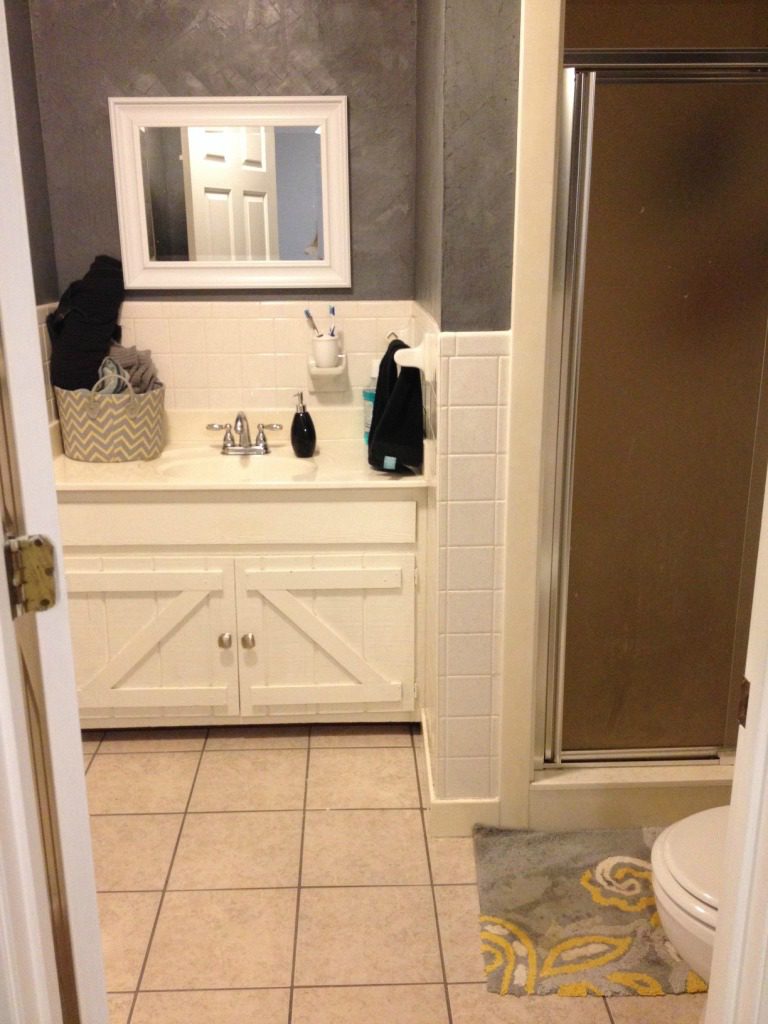 Not so bad, just not what I had in mind.  However, I had several legit (and a few not so legit) reasons as to why we needed to remodel.
.
Guess what it looks like now?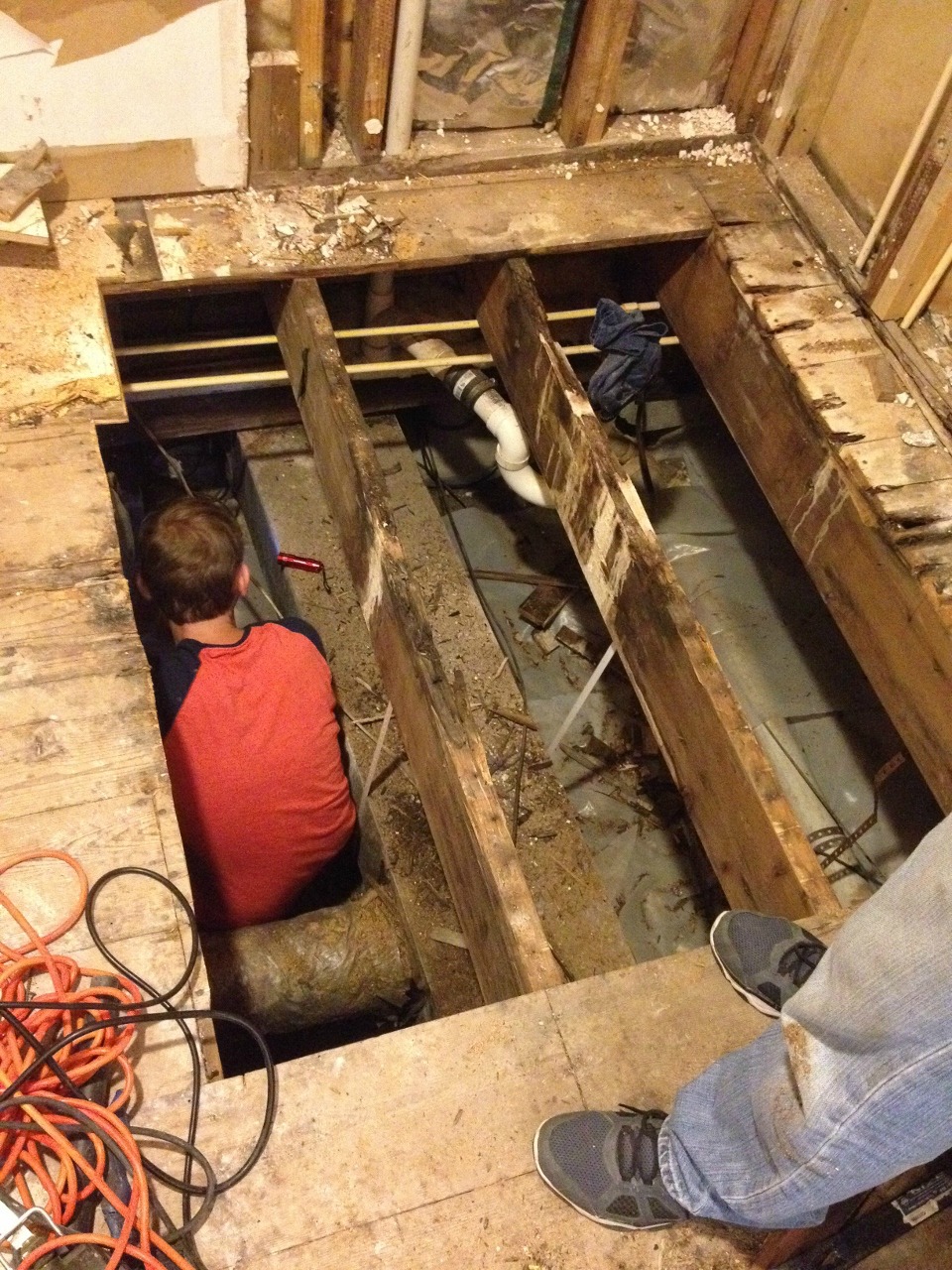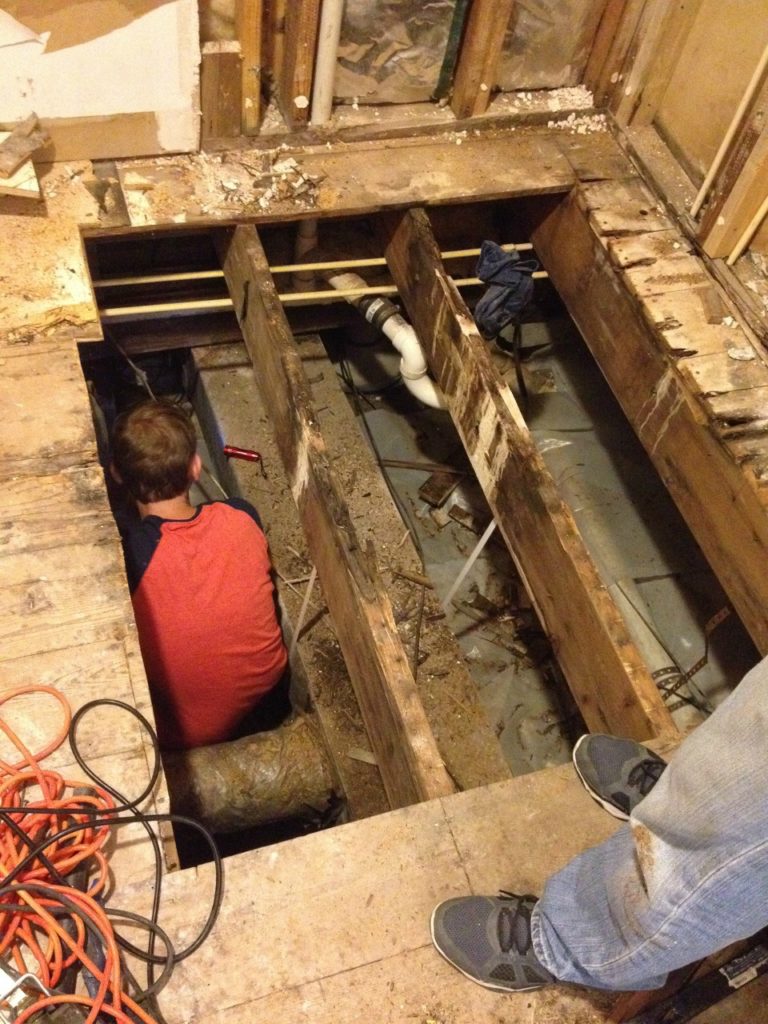 I know, right?  WHAT. HAPPENED. HERE?!
.
Well, it all started when I took off the baseboards.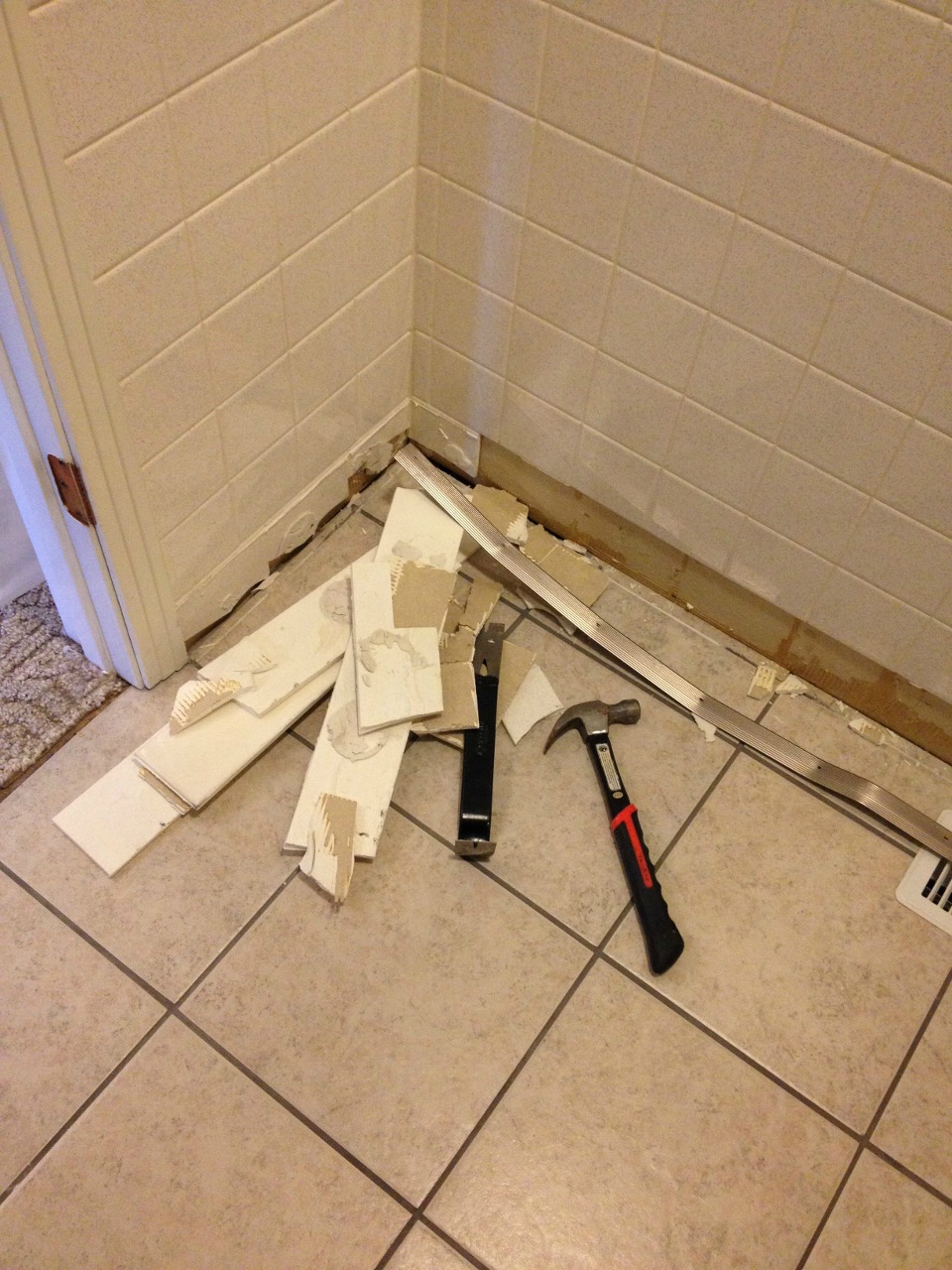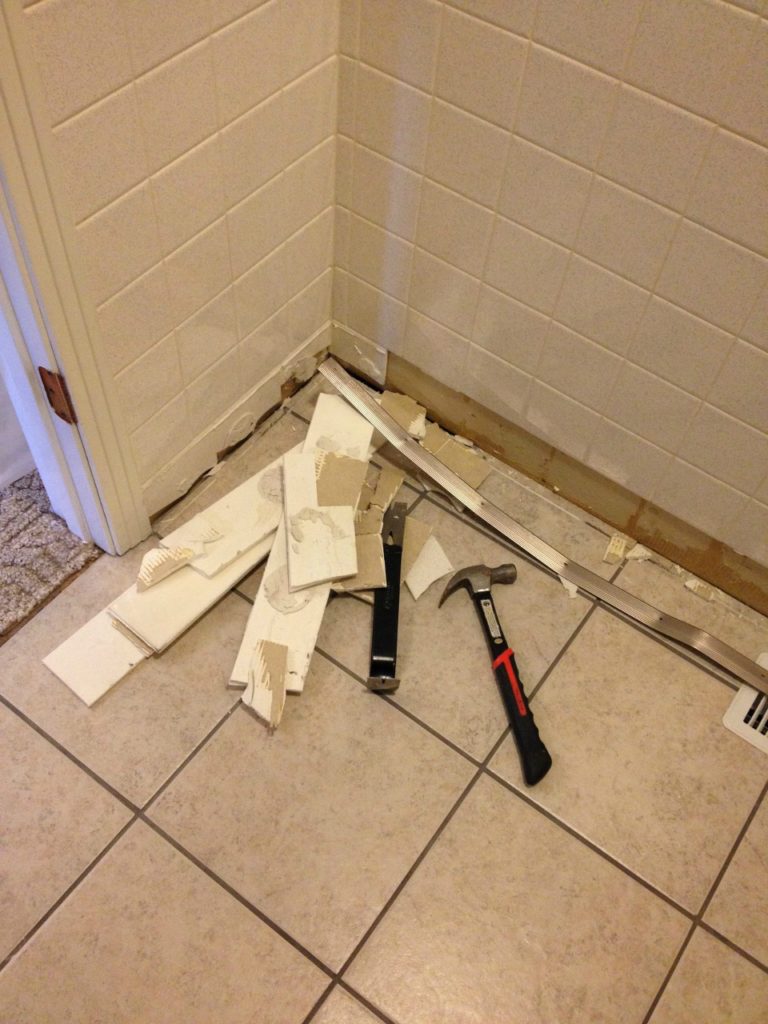 Okay, so then I knocked off a few wall tiles…just for fun.  And in the process, we uncovered this AWESOME wallpaper that used to be here.  ALL. FOUR. LAYERS.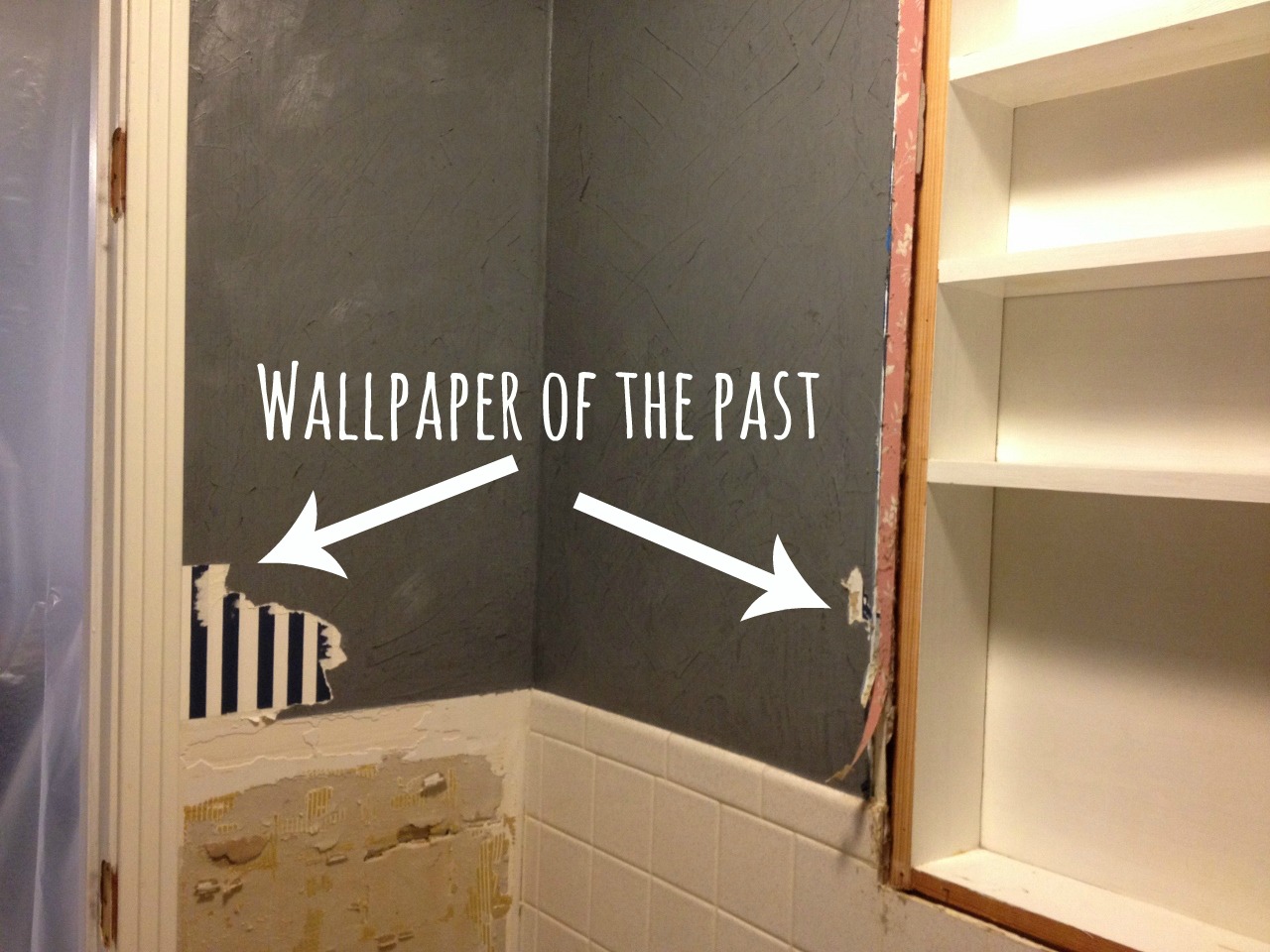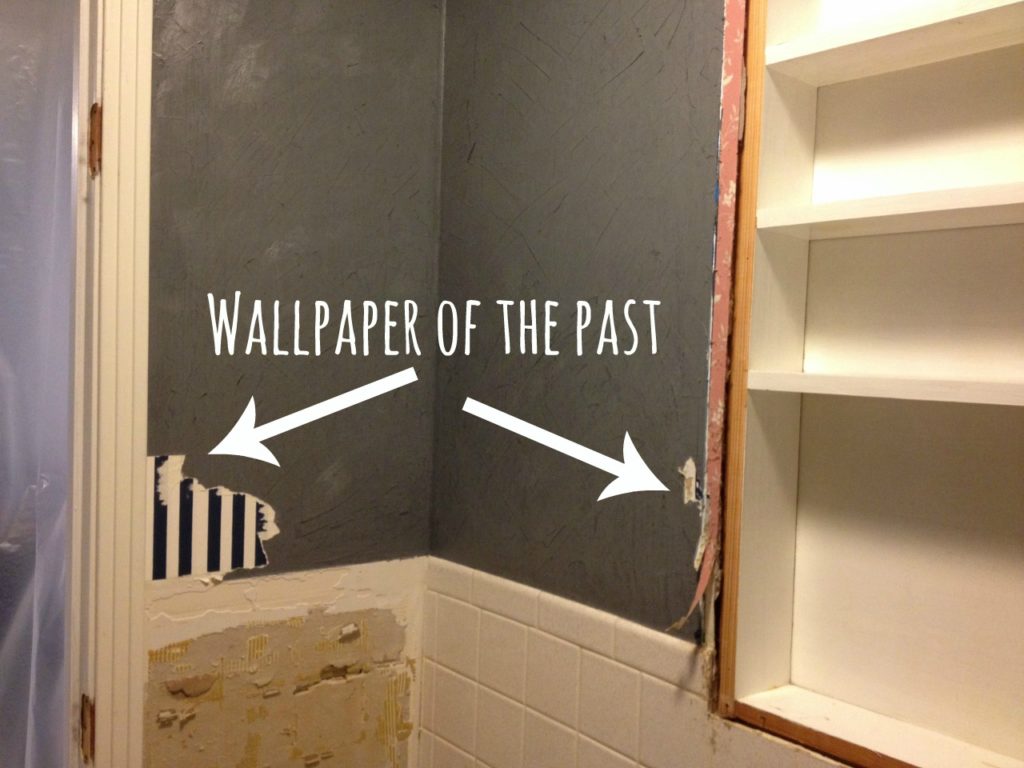 There was the top layer…the greyish stuff.  Not so bad.  But there there was the white and navy striped stuff.  Okay a little more "out there."  There there was this: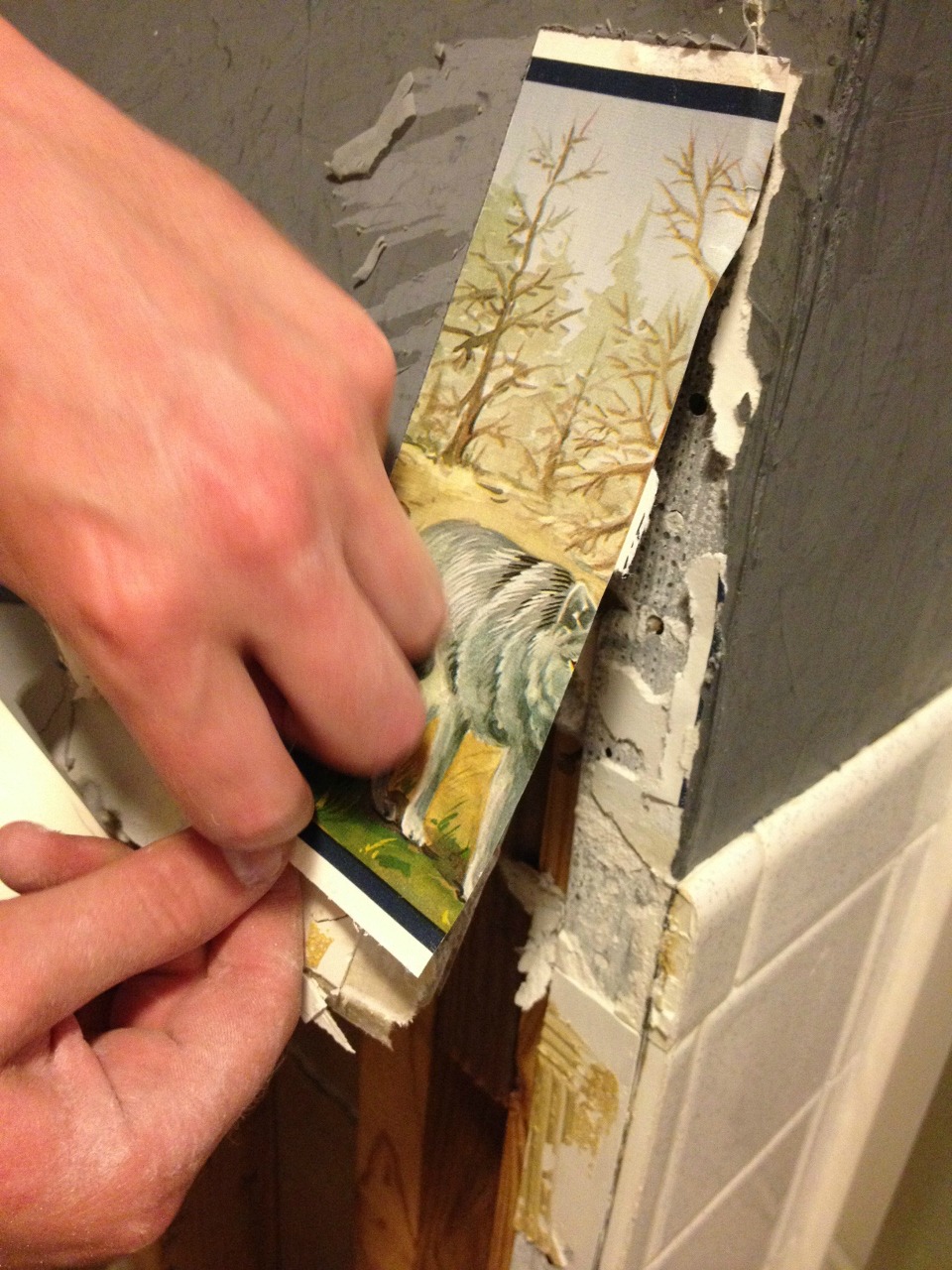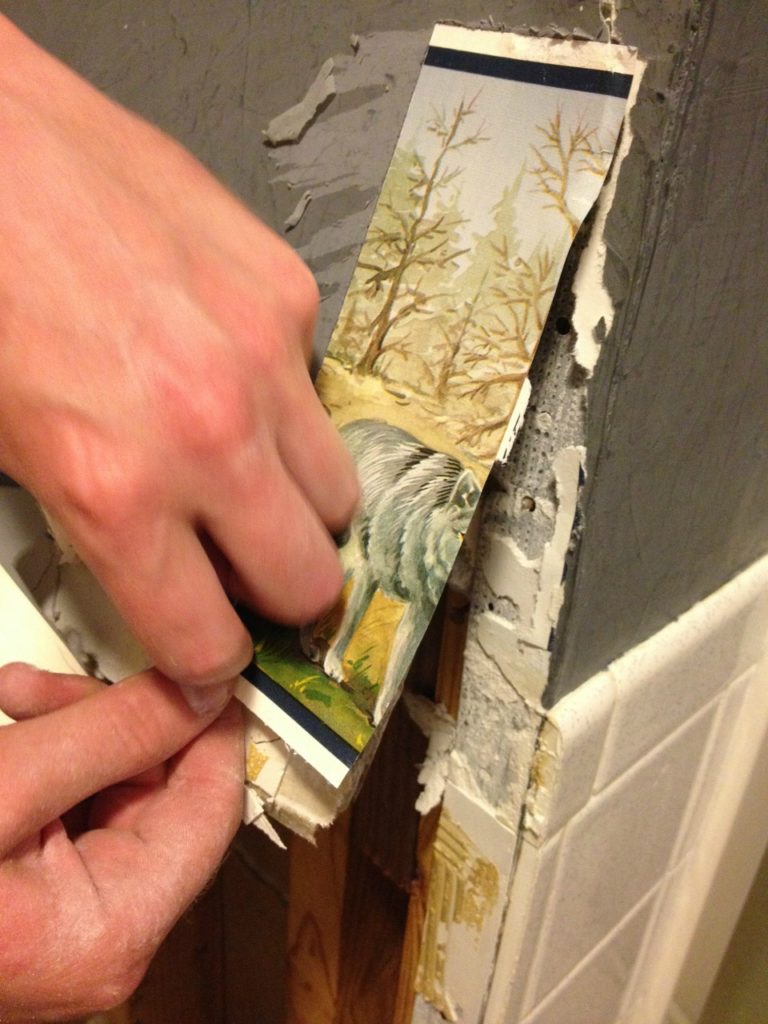 I really have no words.  Wolf. Wallpaper.  Did you catch that? WOLVES. ON THE WALL.  In the BATHROOM.  Who does this?  Who even makes wolf wallpaper?  Was this a Twilight fad or something?  I just…I don't even know what to say about this.
.
Under all of this was this pink stuff.  I'm guessing this was the original wallpaper.  The things you learn about your house when you remodel are so funny sometimes.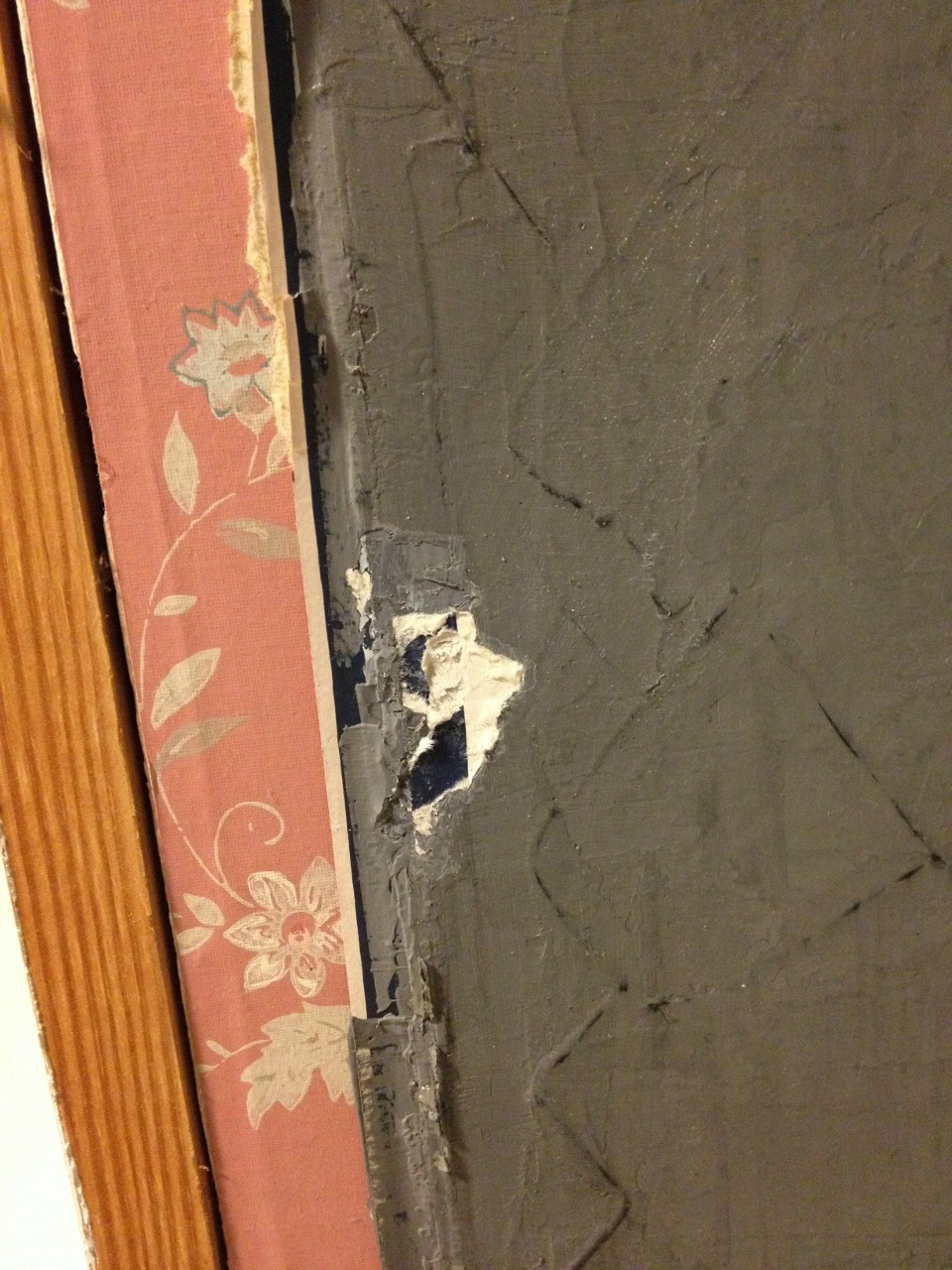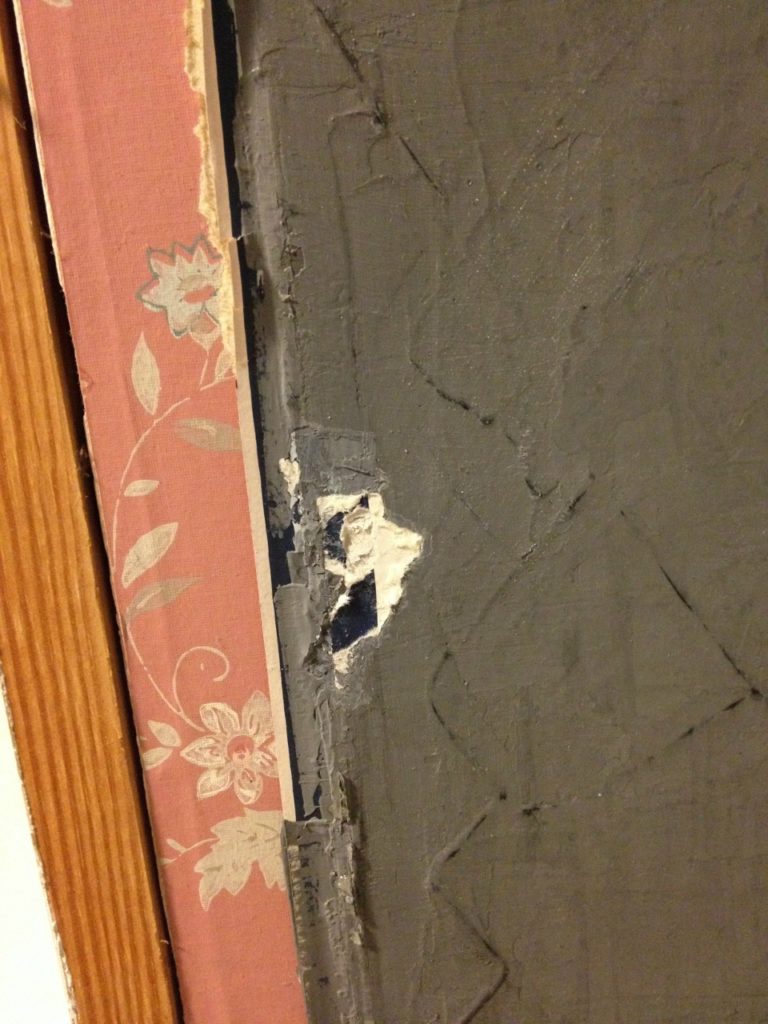 So after that comedic relief, Danny joined me and we continued with demo.  We removed the vanity.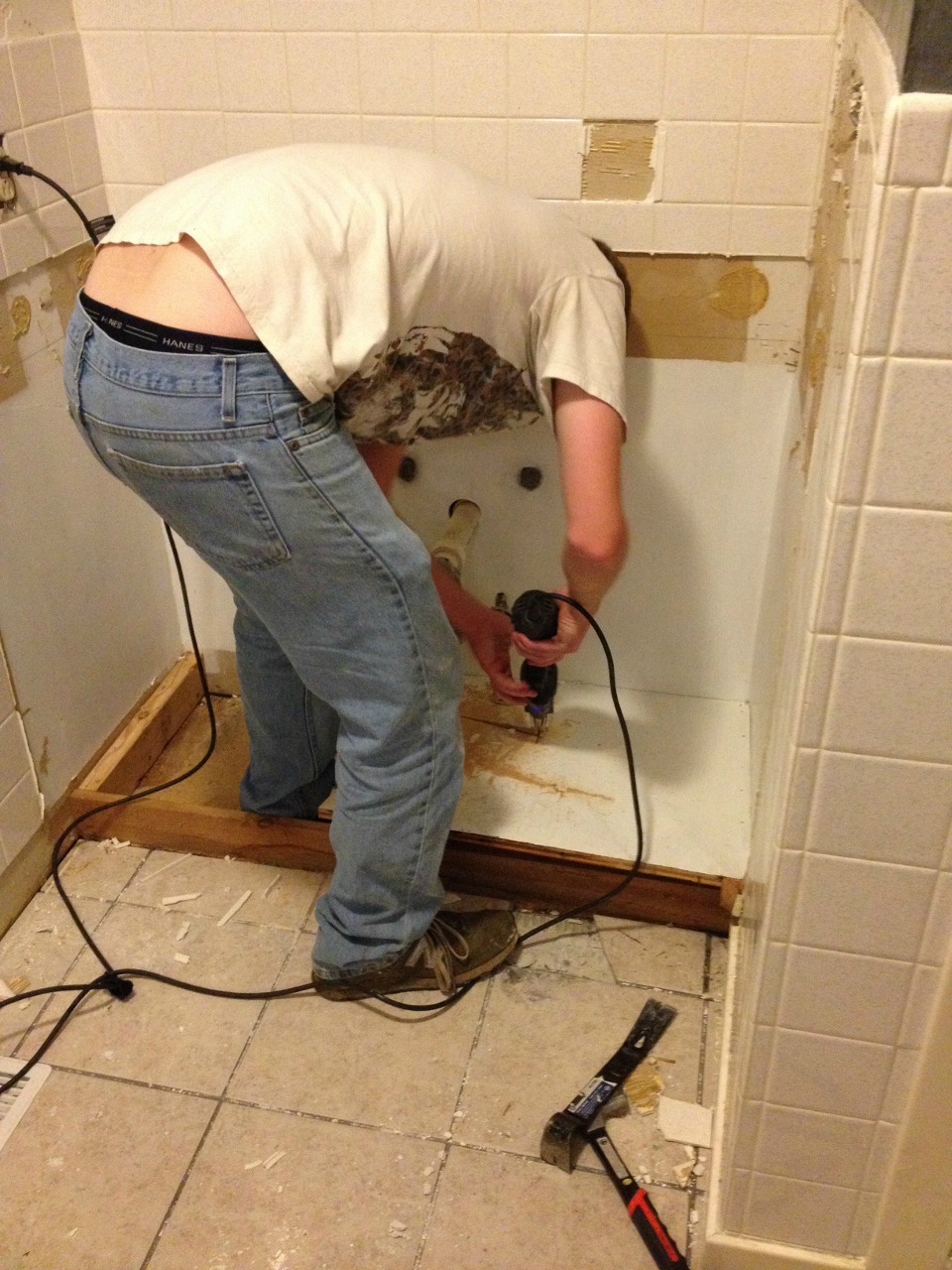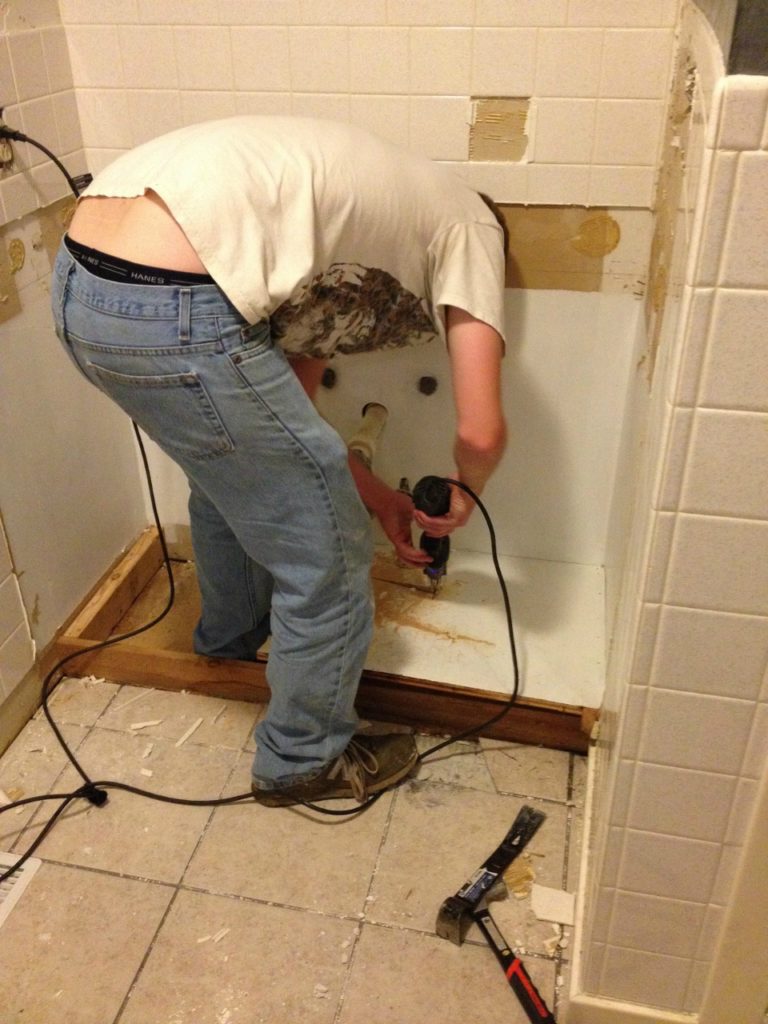 Of course, Danny is always the cool one in the pictures using the tools because I'm the one who has to take all the pictures.  Don't let him fool you…I helped him cut this out.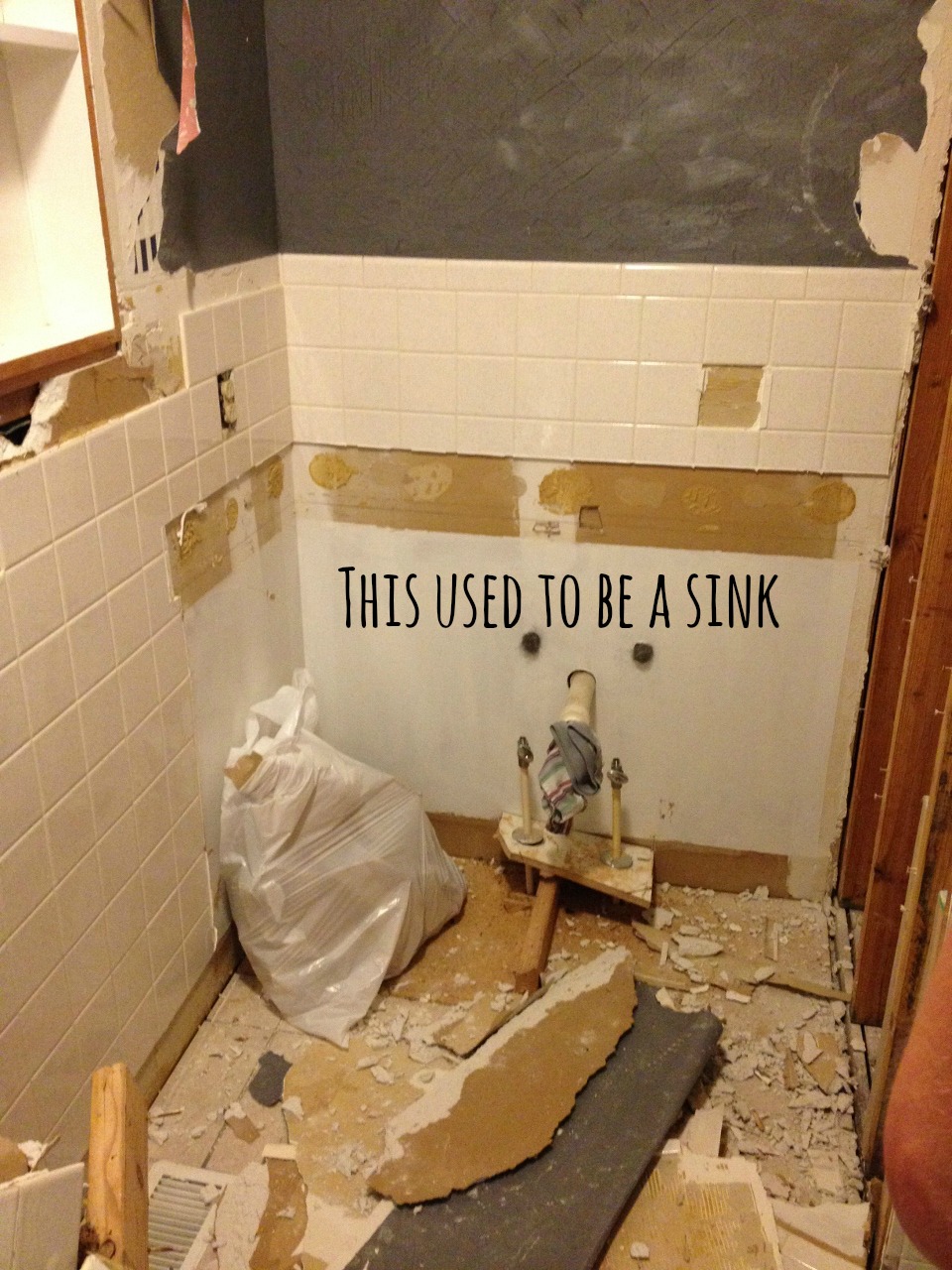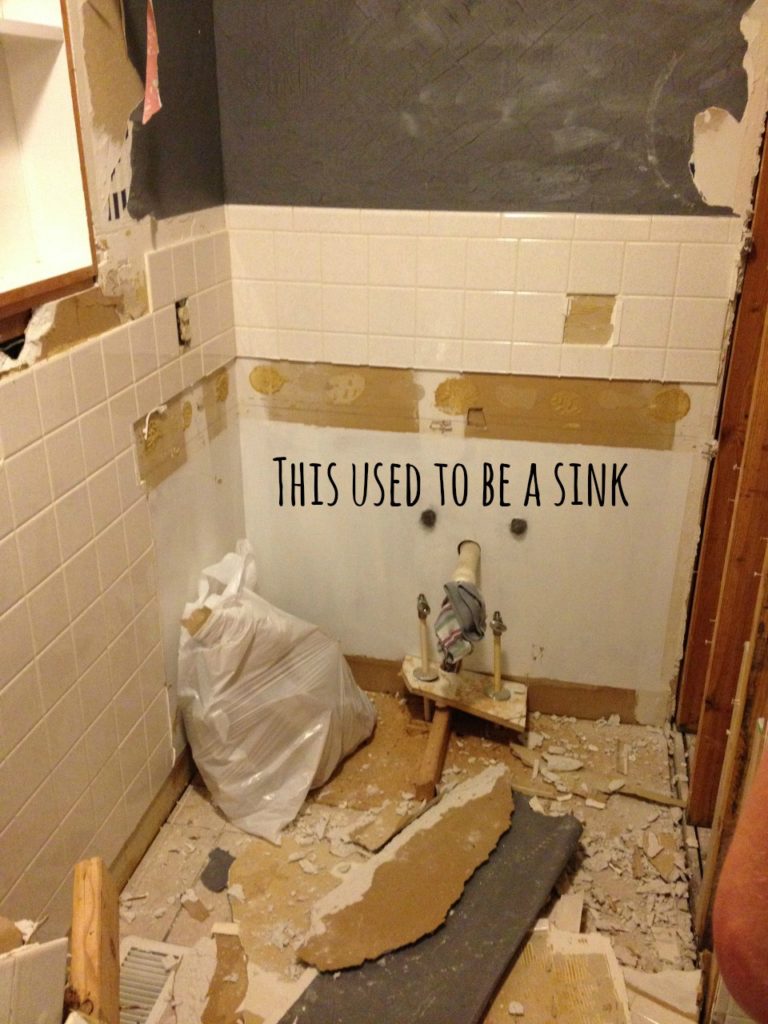 At this point, I thought, "we could just put in a new vanity and call it quits.  It was already getting dusty and hot in here.
.
But then we realized how easy and satisfying it was to rip large chunks of the wall off with the tiles still attached.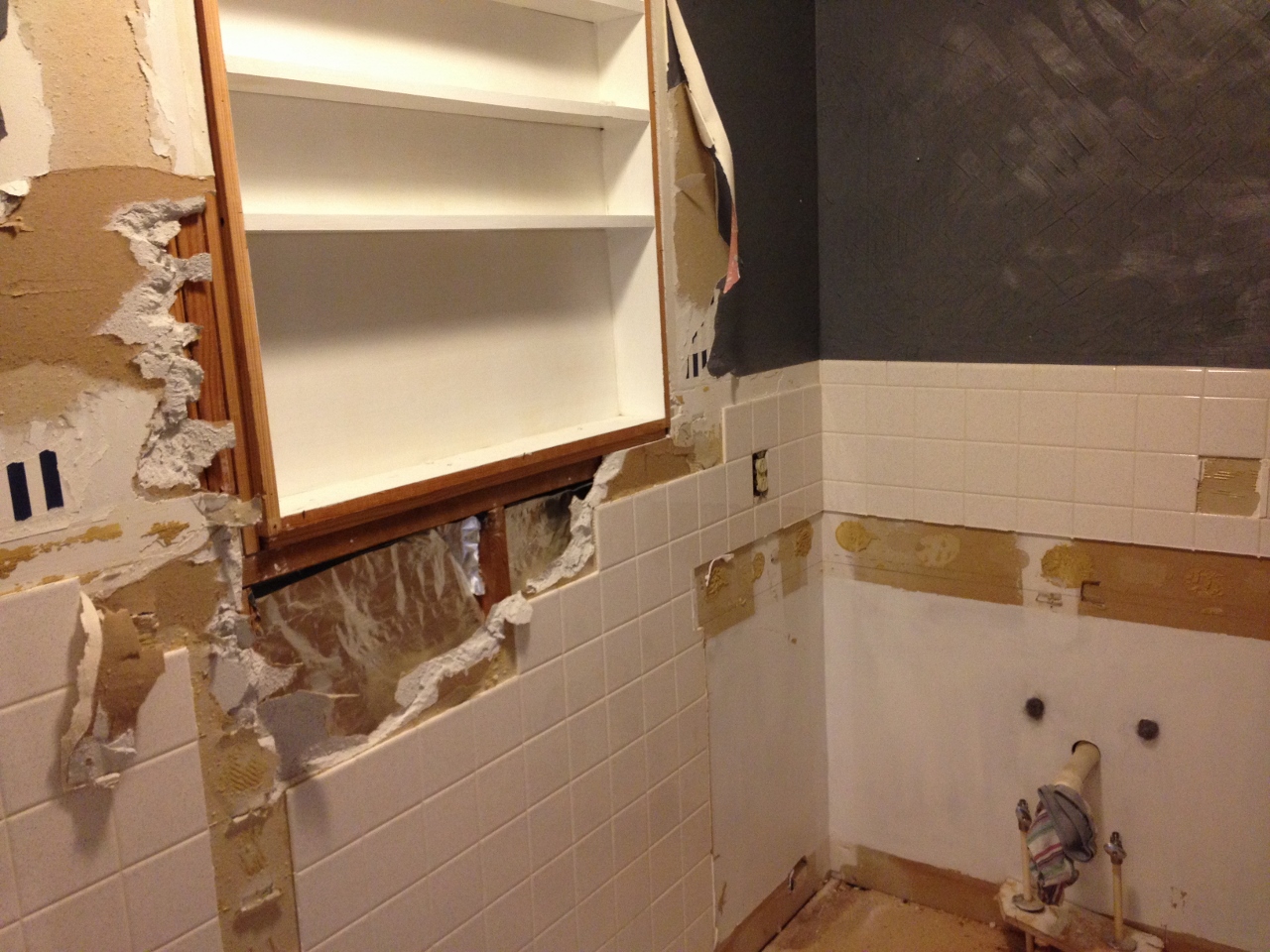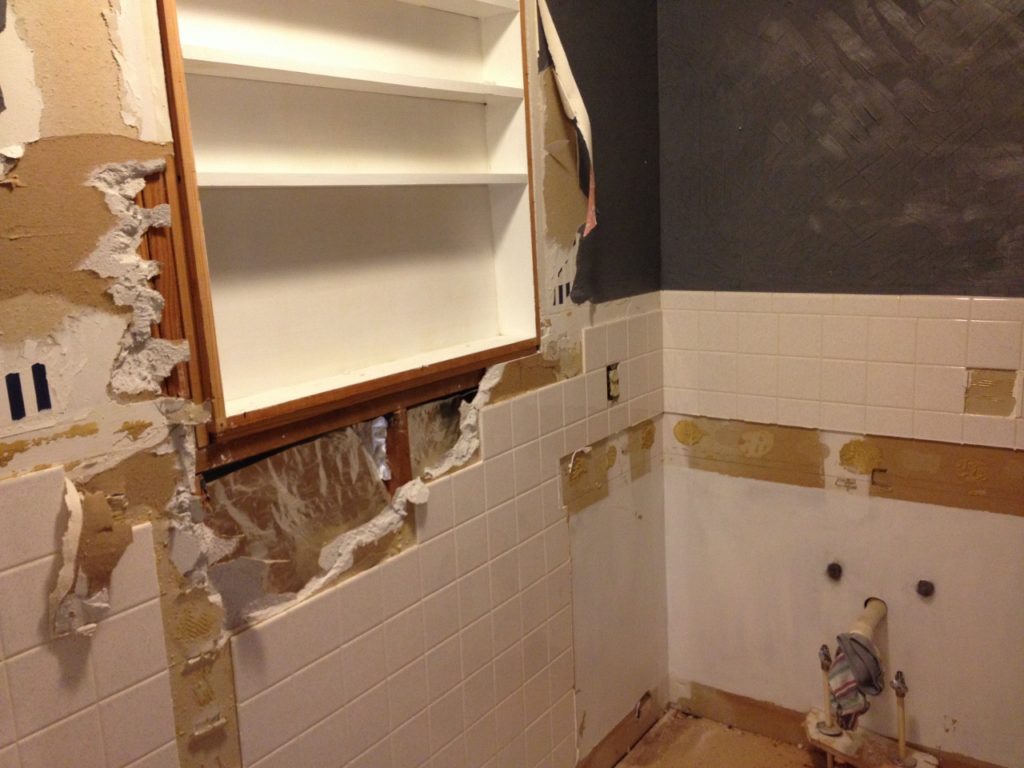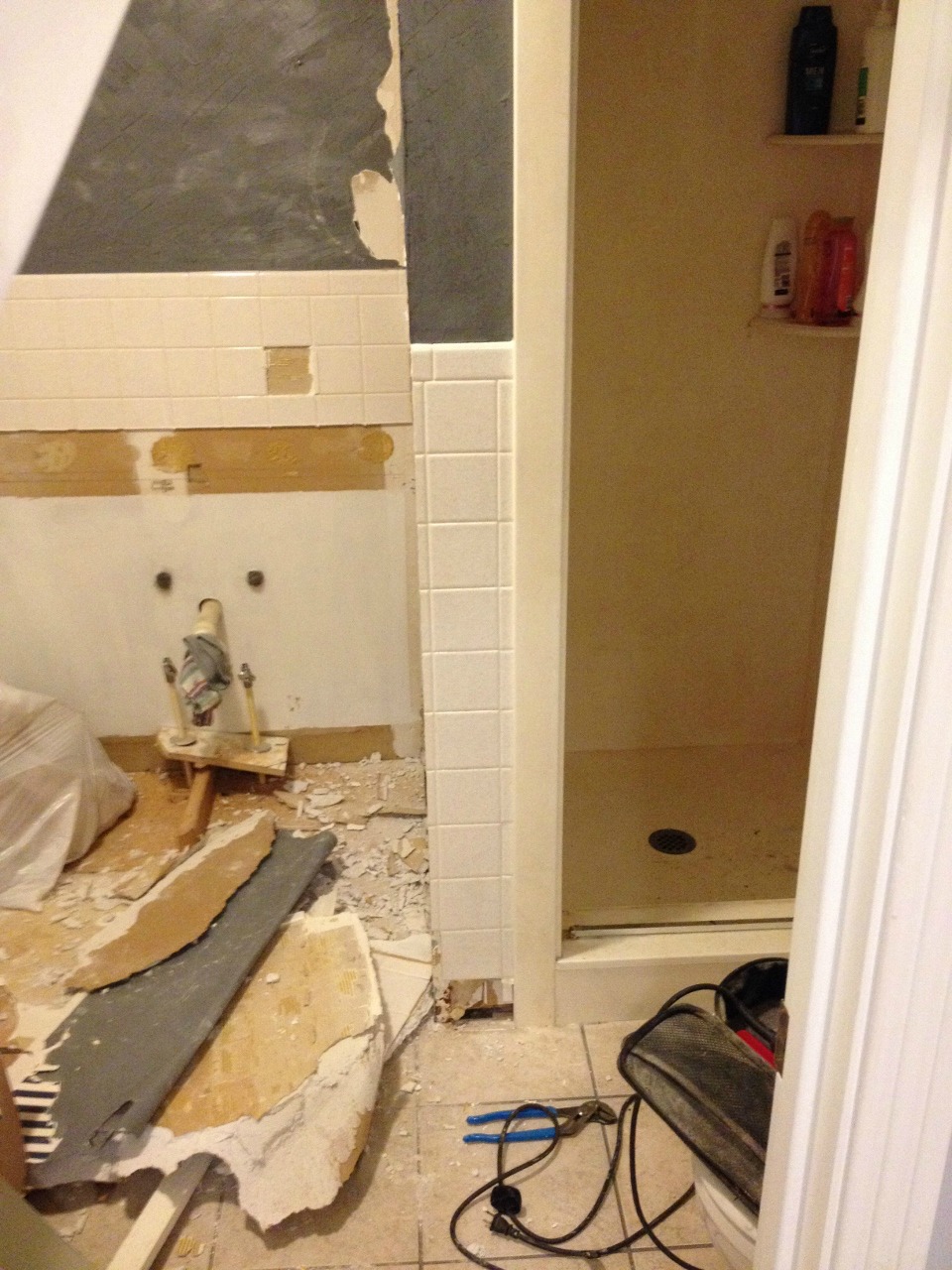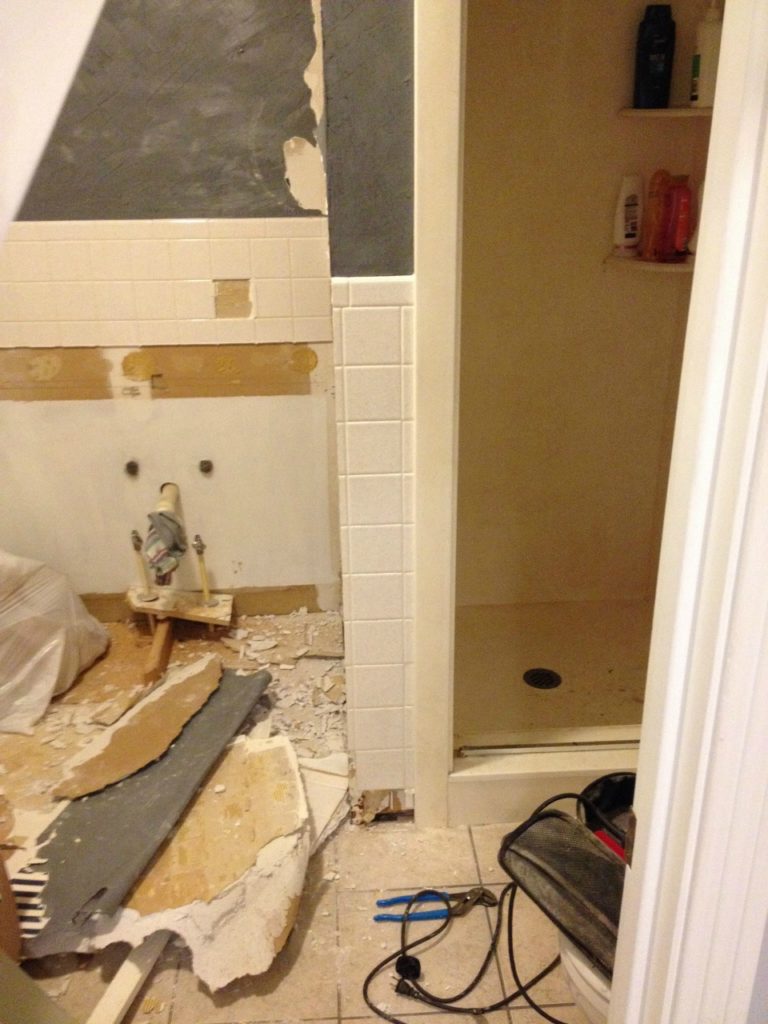 So one thing led to another and we started removing the trim off the shower.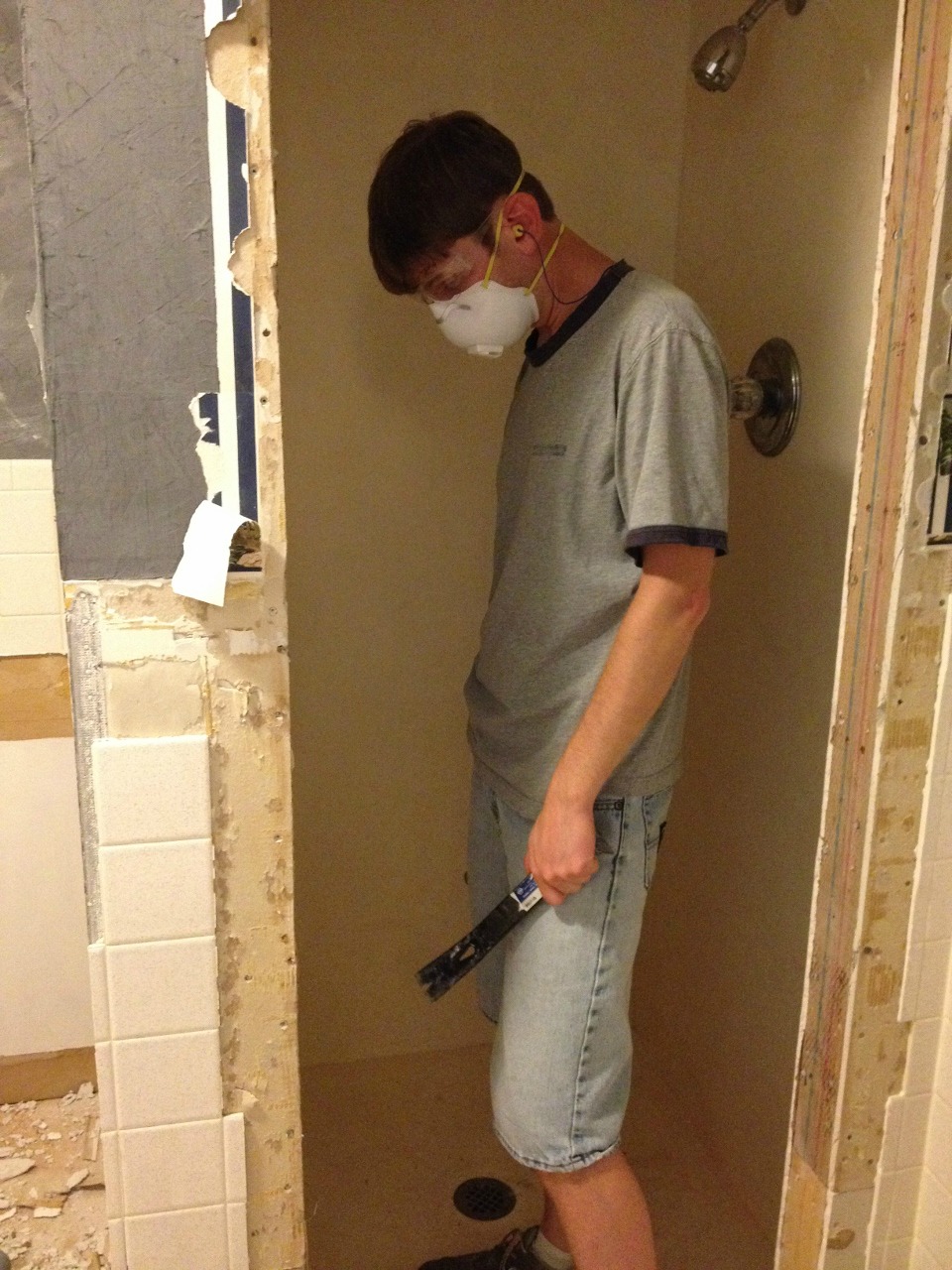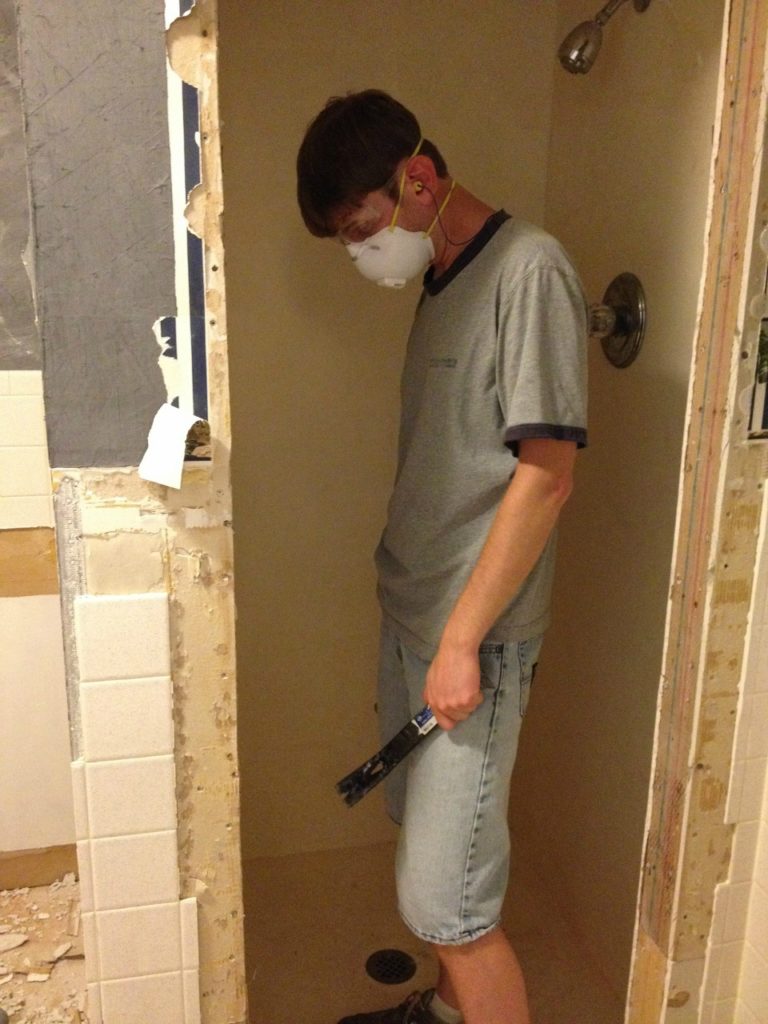 And that was even more fun because the large chunks of cultured marble came out in even bigger and cleaner chunks than the drywall did.  So the next thing we know, half the shower is gone.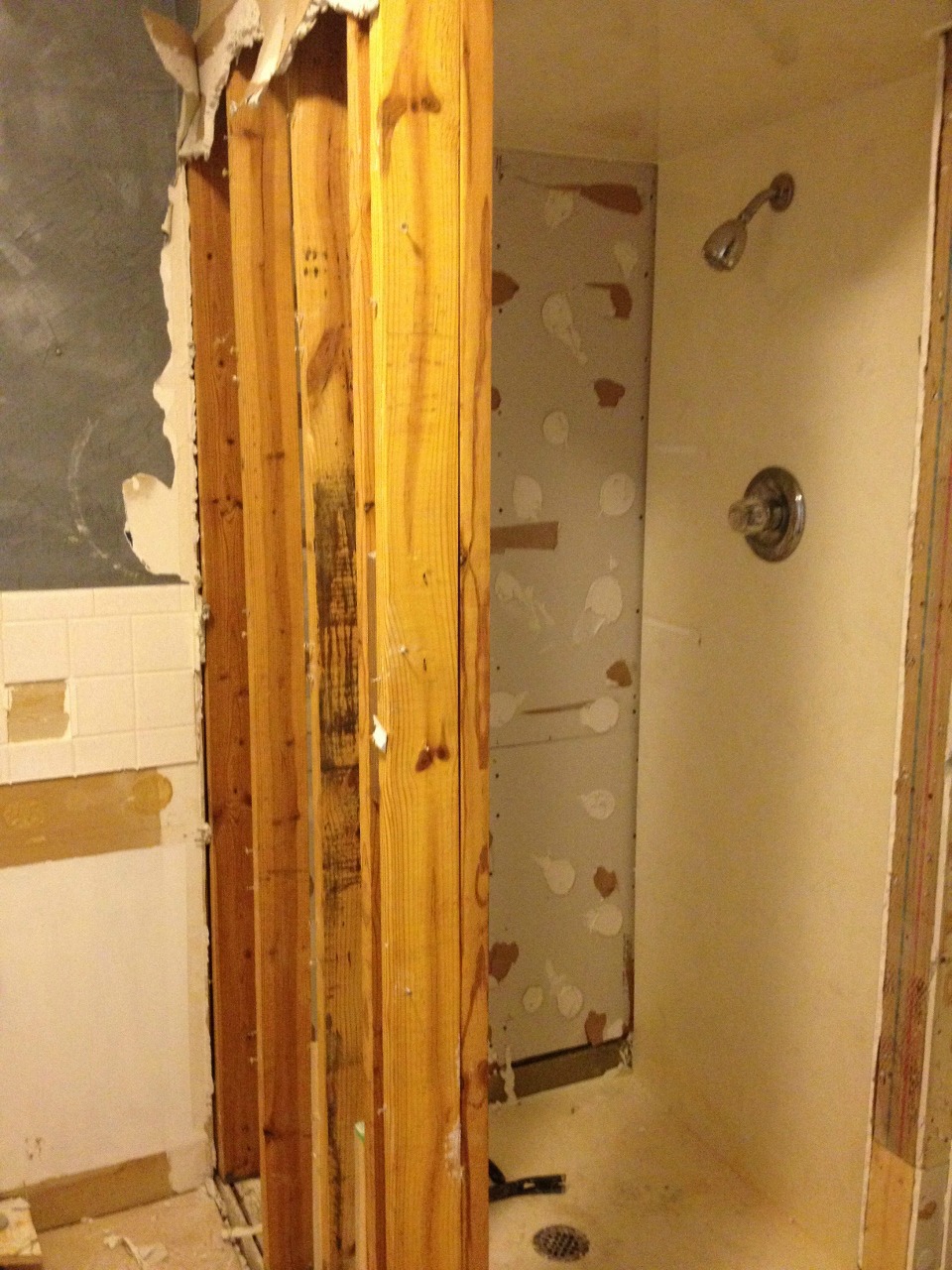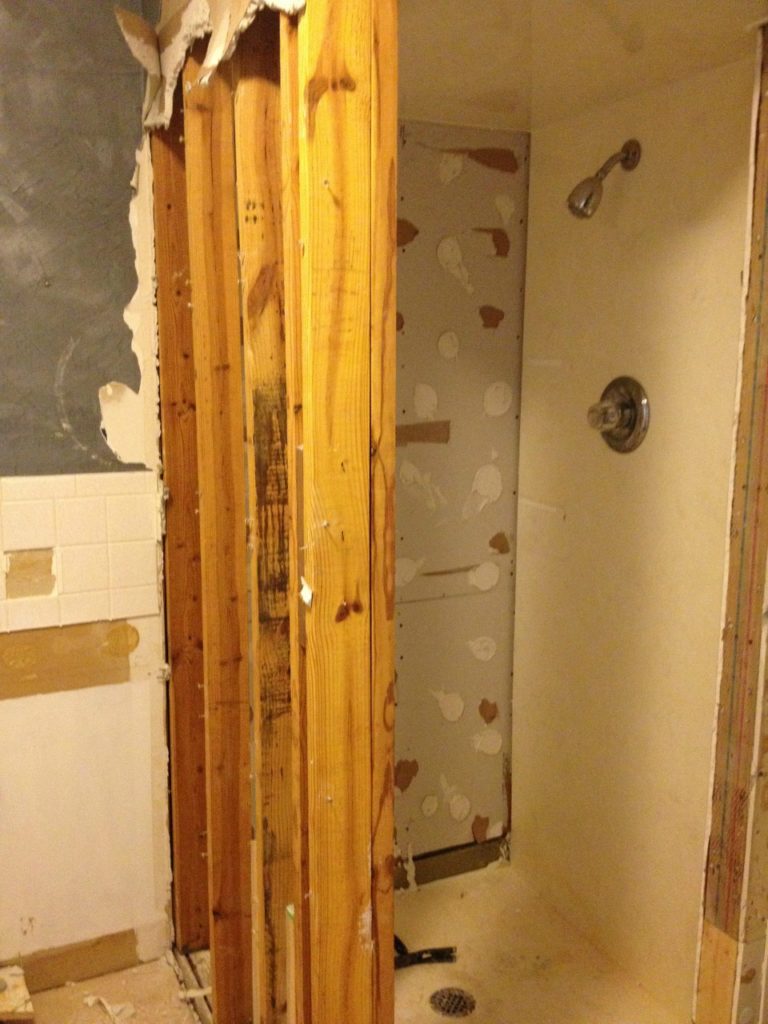 And funny story…we were trying to figure out how to get the shower head and faucet handle off and I accidentally turned it on on Danny. HAHAHA.  Shh…I told him it was an accident, but I did it on purpose.  Hey, it was a good opportunity for another moment of comic relief.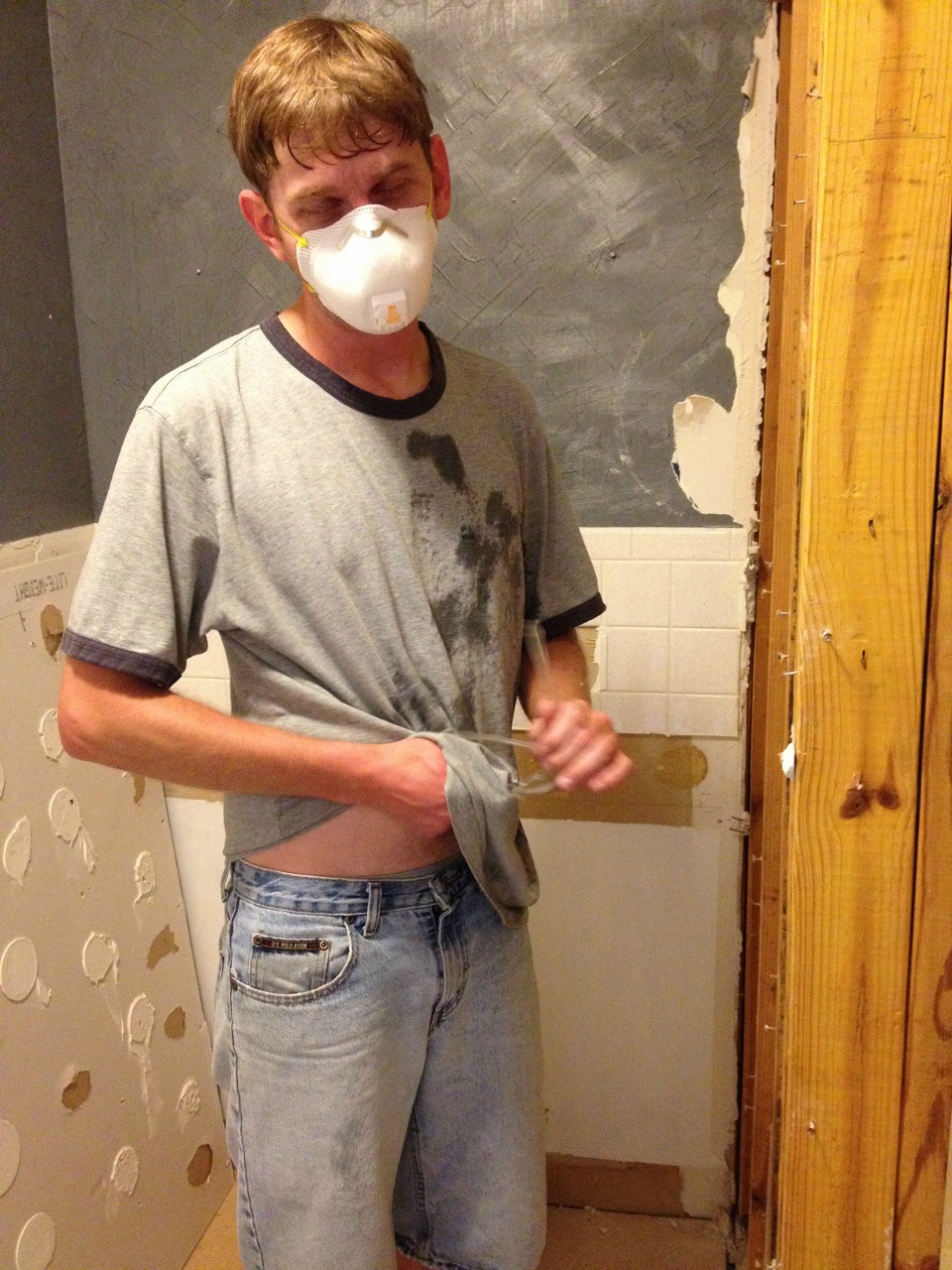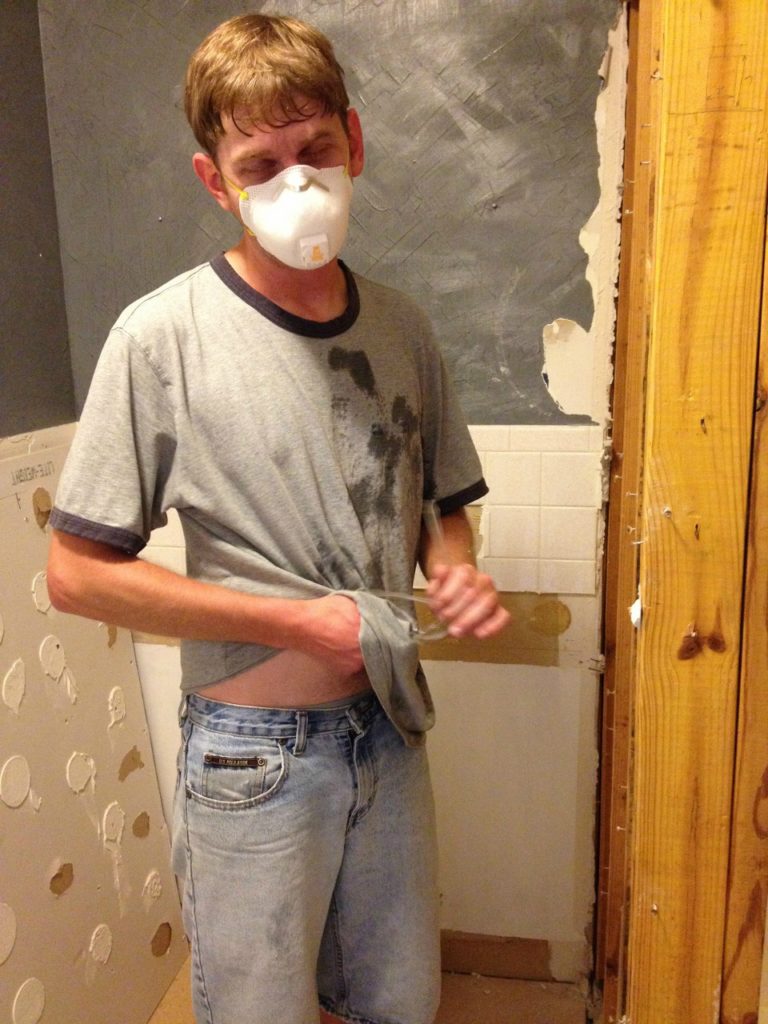 I took over with the prybar while Danny took a break after I soaked him.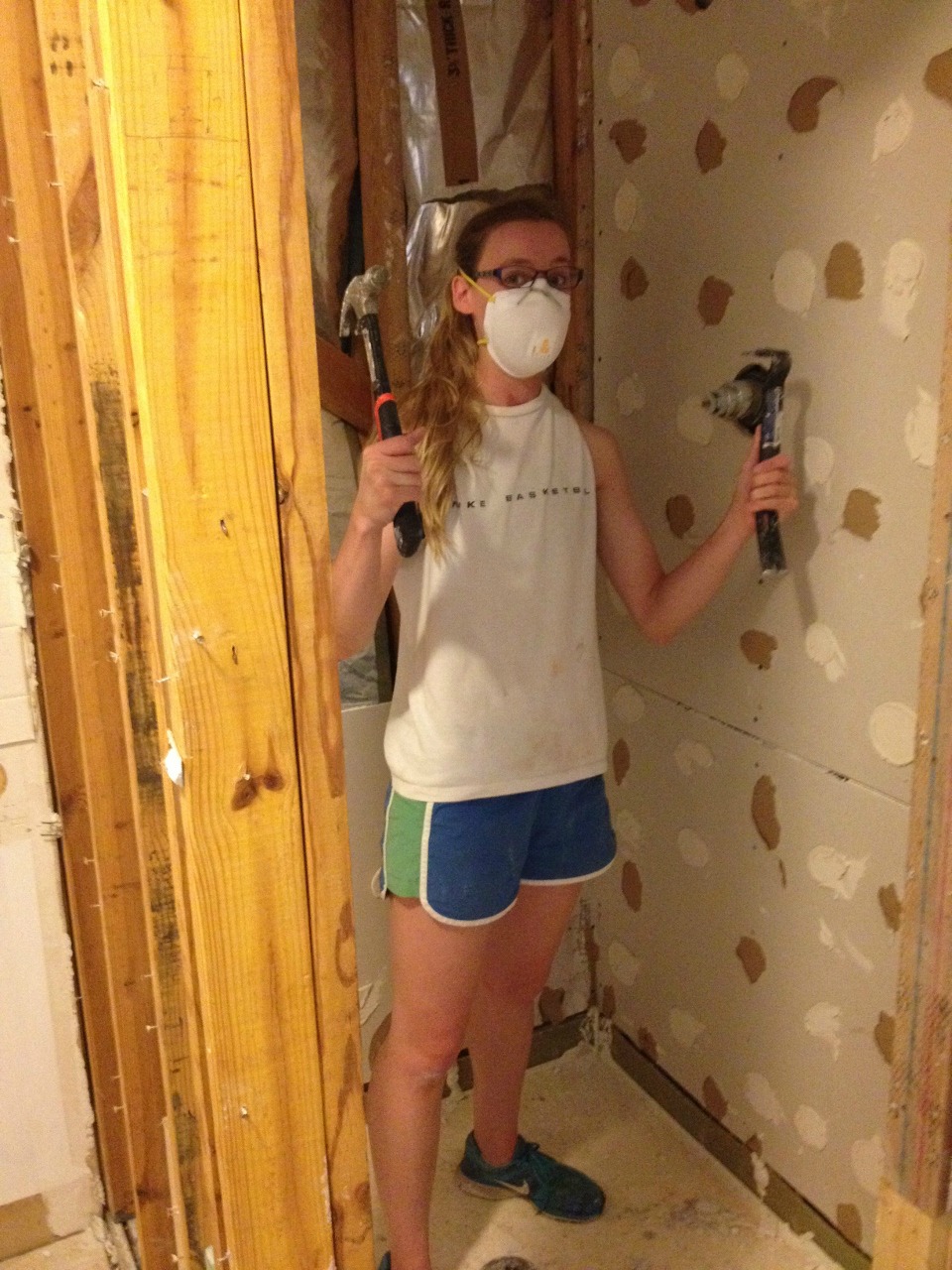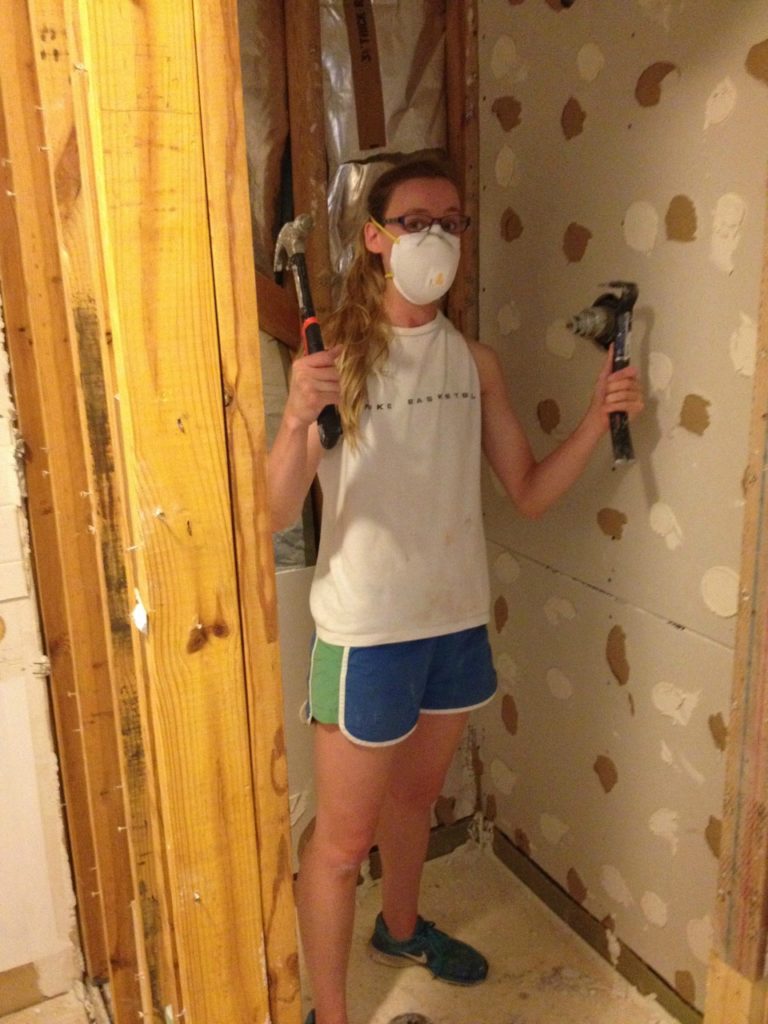 All the other drywall had been nailed, but in the shower it was screwed.  That was a HUGE relief, so I started removing all the screws.  The next thing we knew, most of the drywall was down.  By the way, this wall on the left is not an exterior wall now (an addition was added to the house in the late 90s), but it used to be (hence the insulation).  This shelf actually used to be a window.  The new bathroom mirror will go here when we get done.  Just a side note…one more thing we learned about the house during the reno.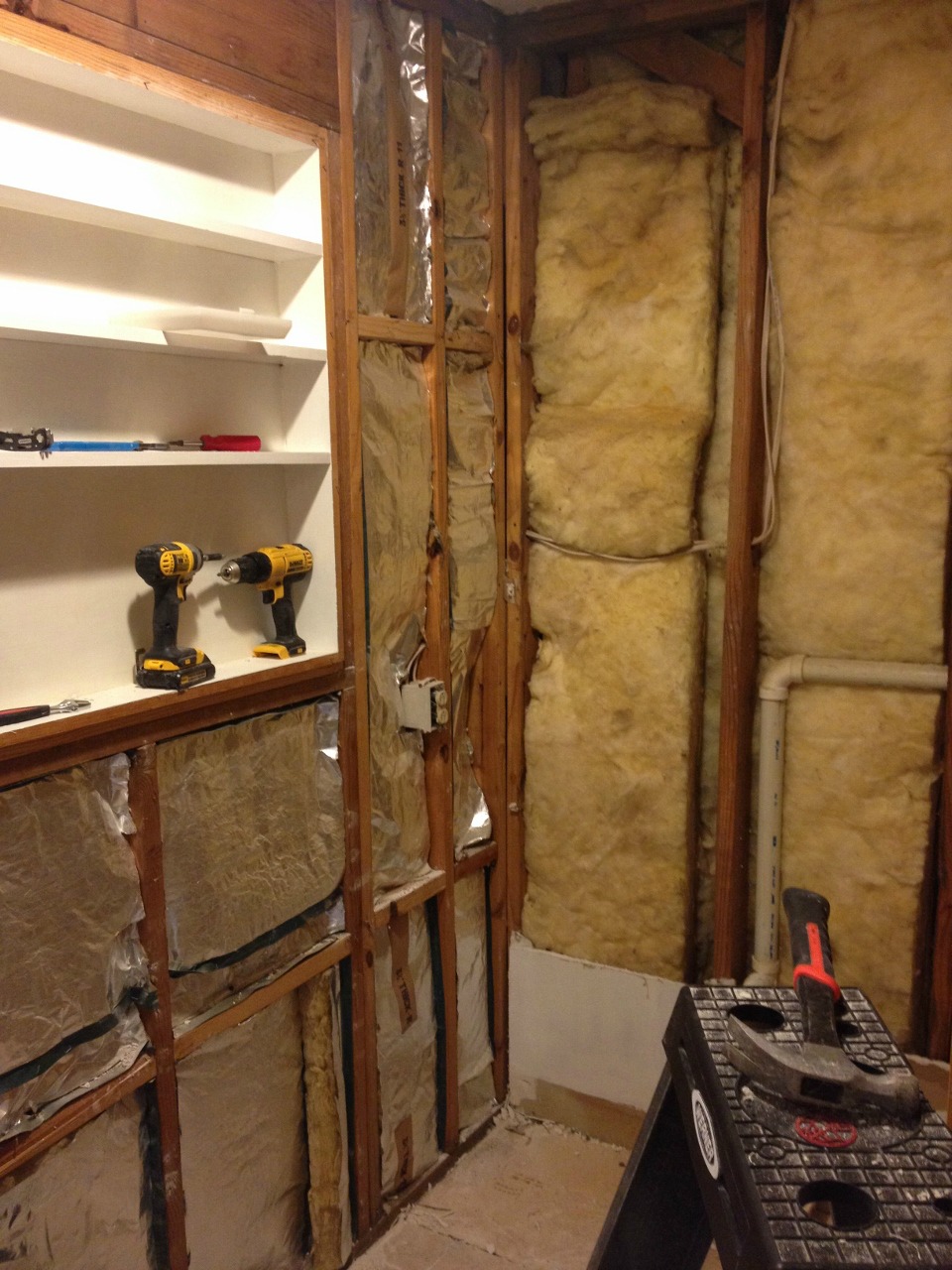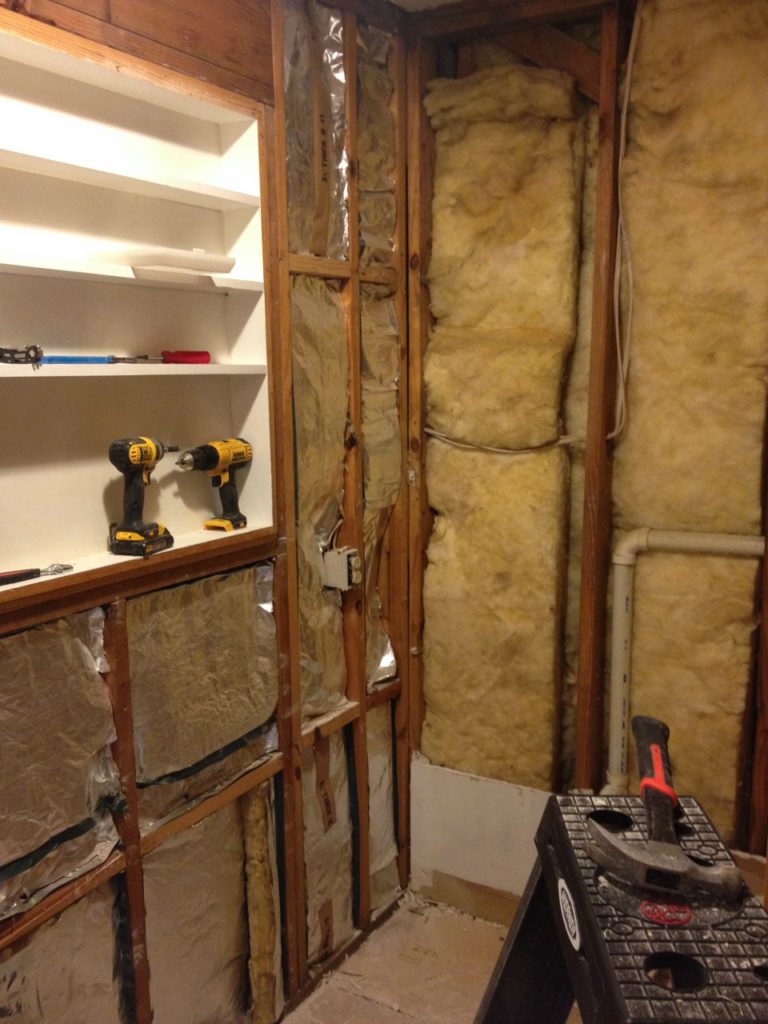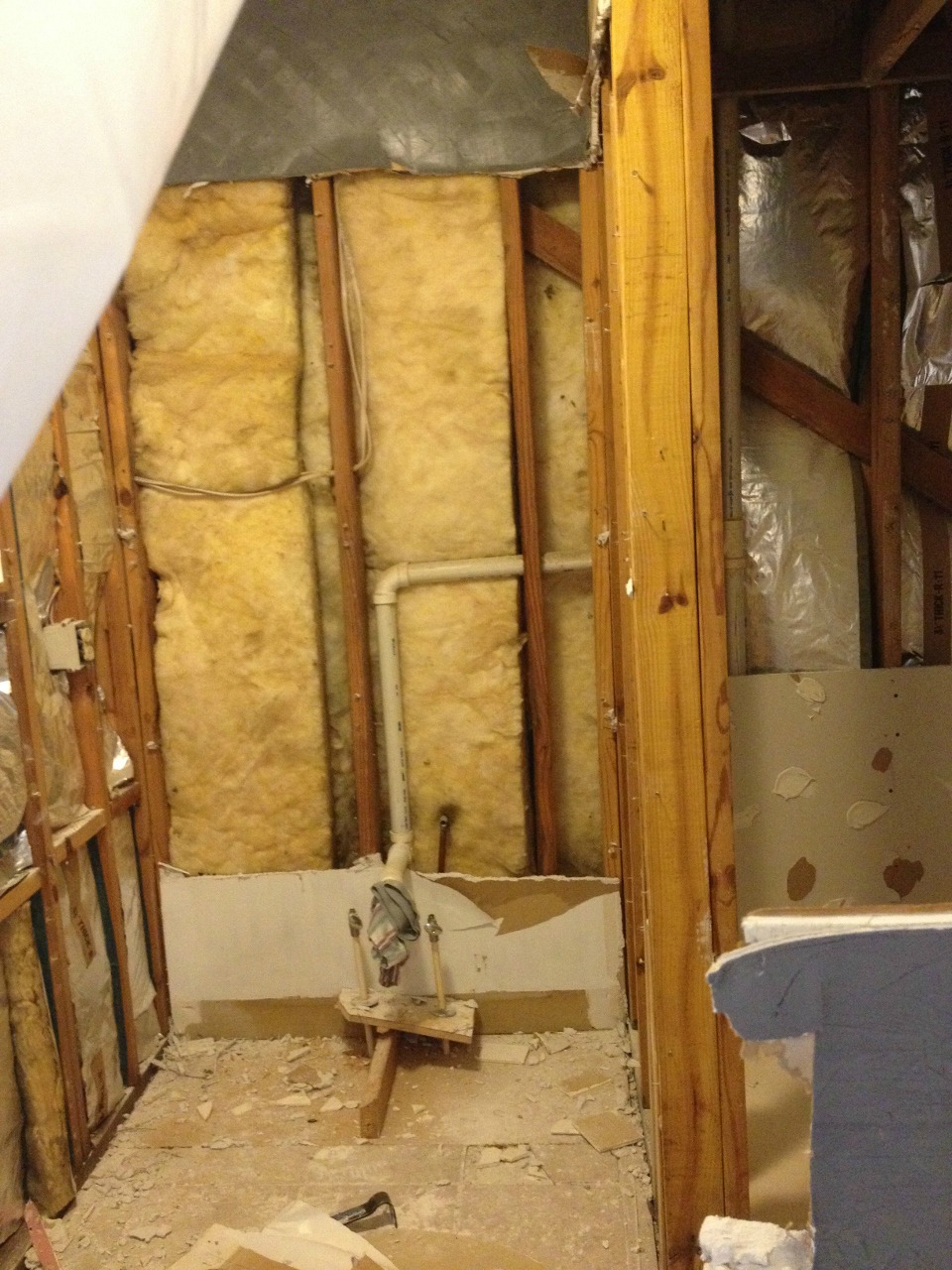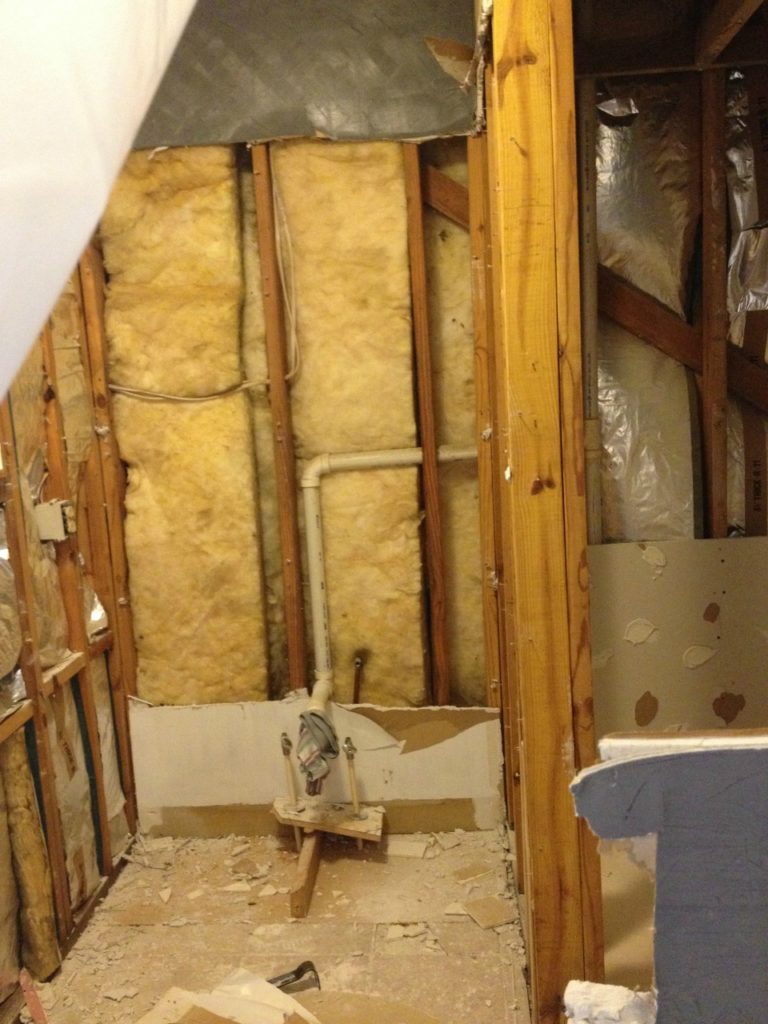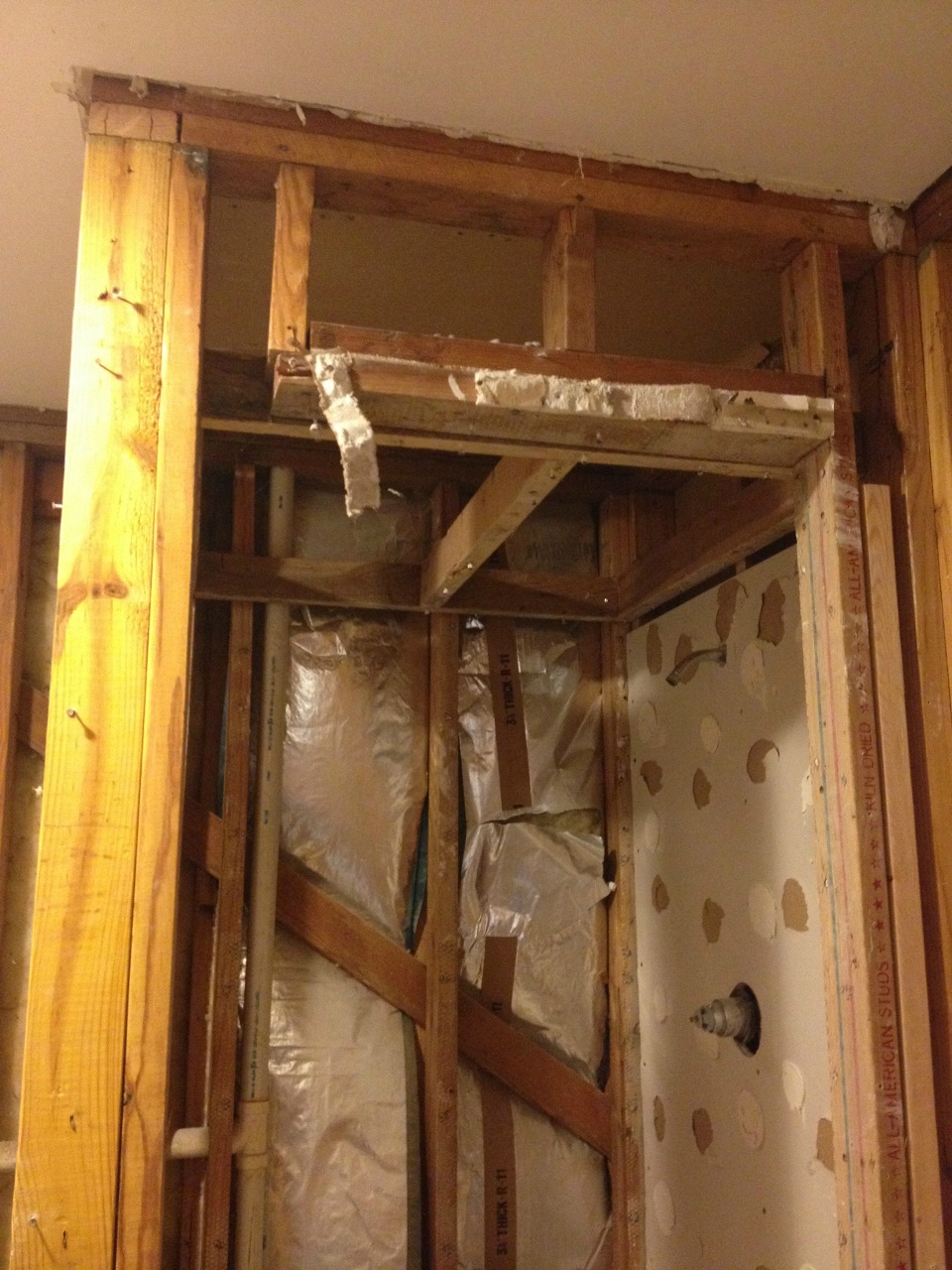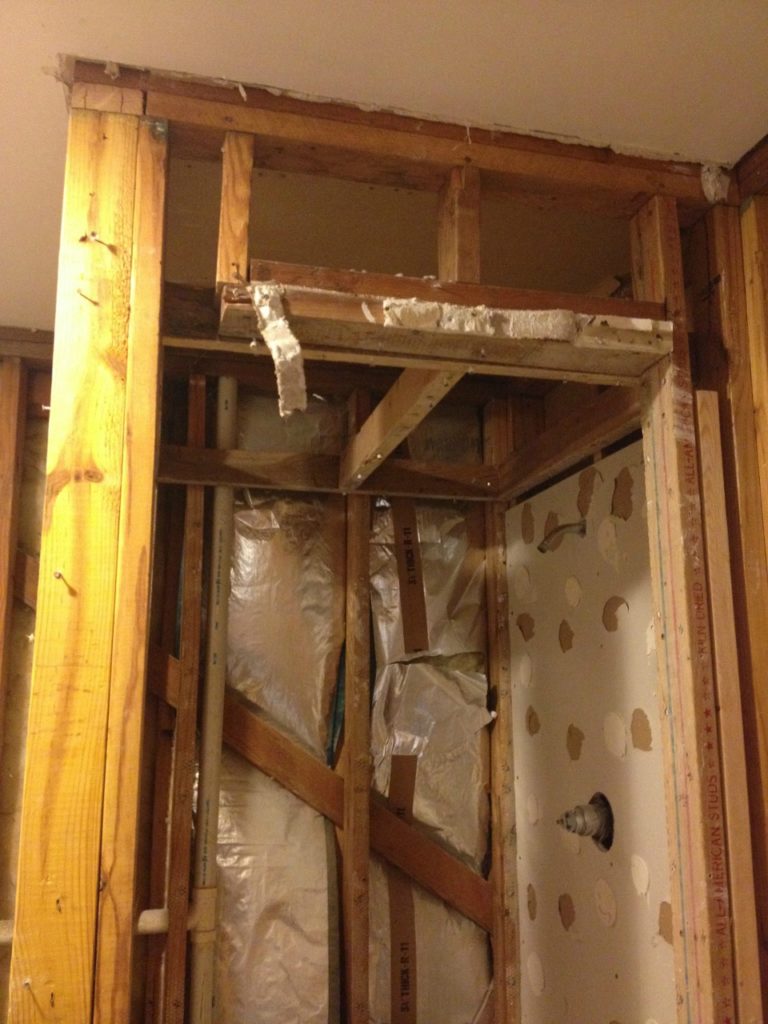 This is kind of the point where we started to get tired and realized this was kind of hard work.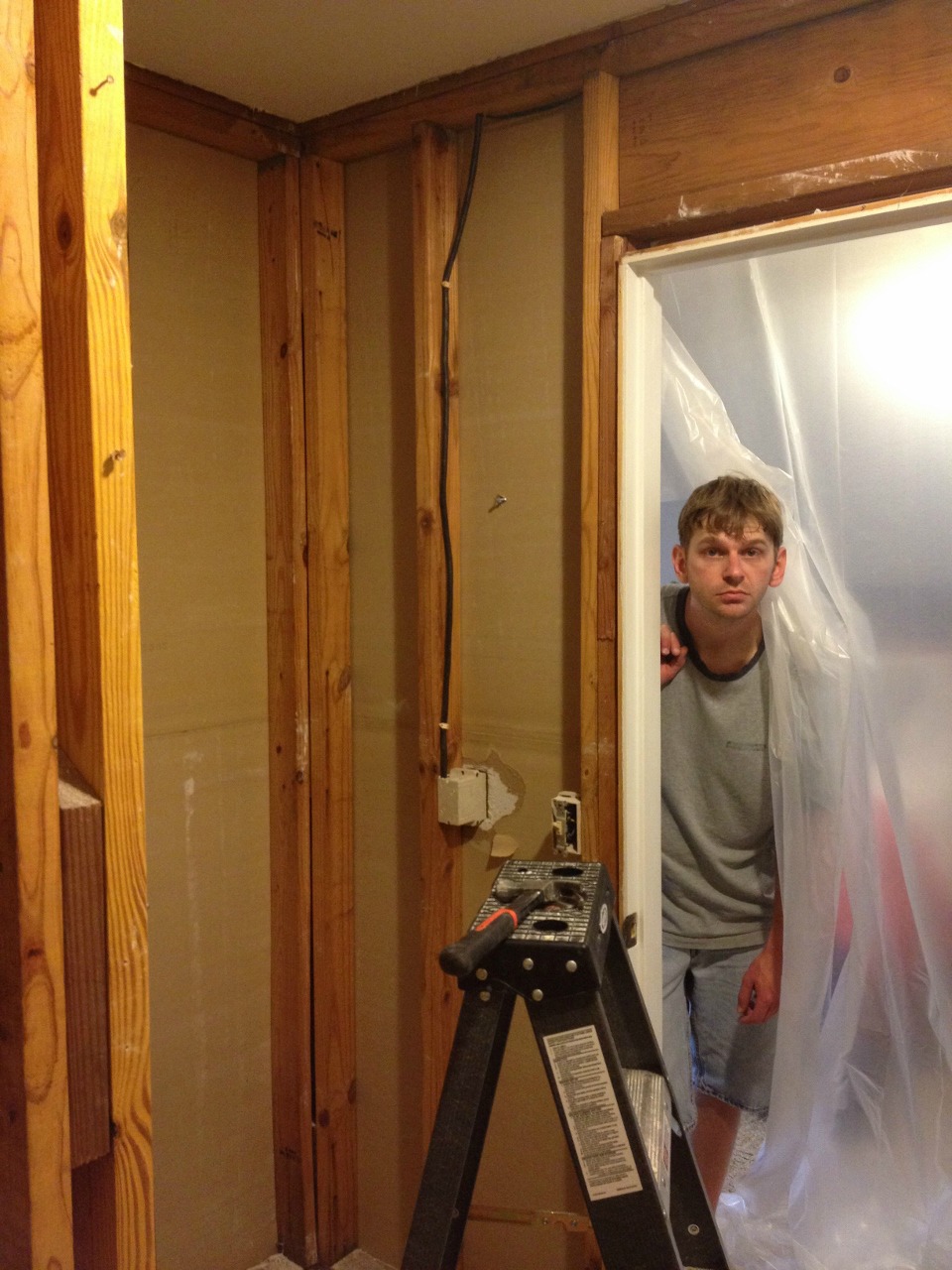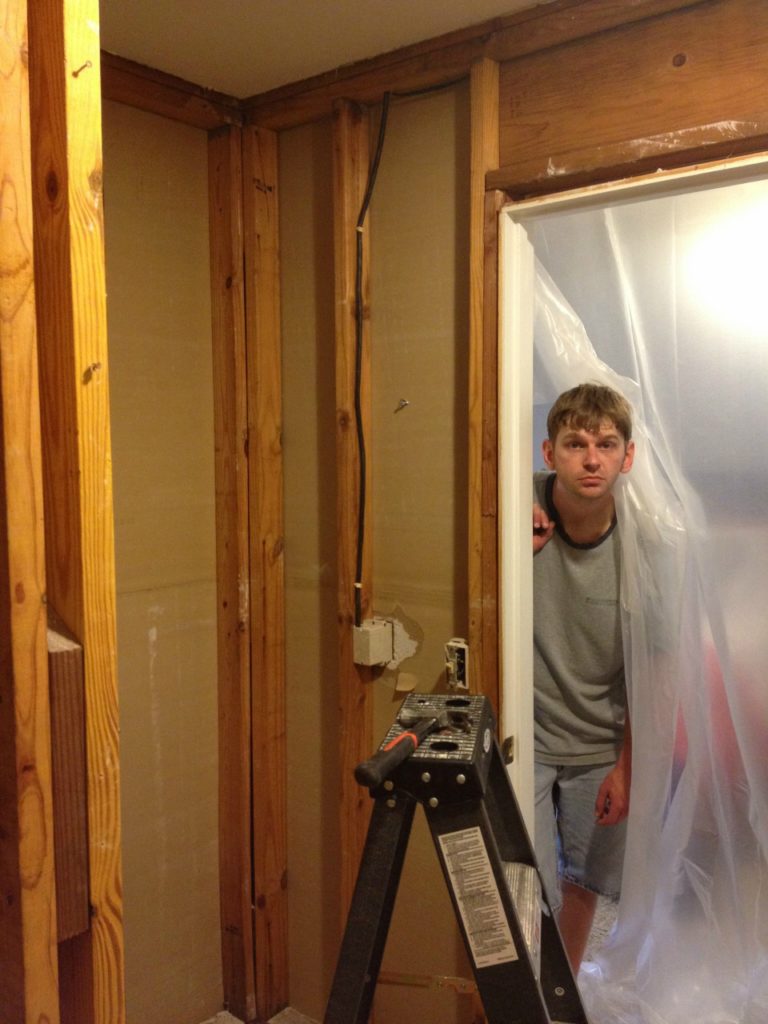 But, one thing led to another and we realized the floor tiles came up fairly easy, so the next thing we know, the floor is now gone.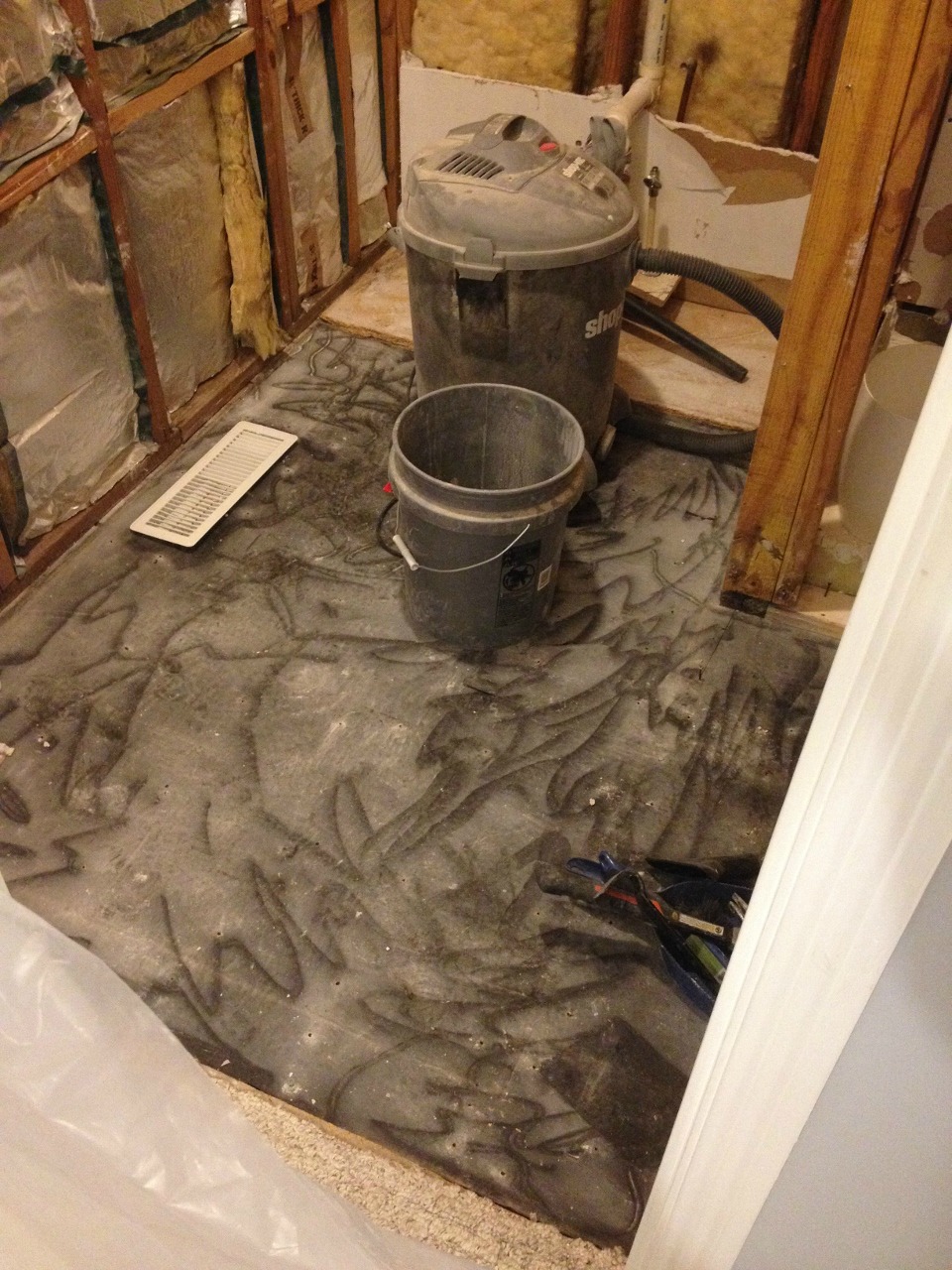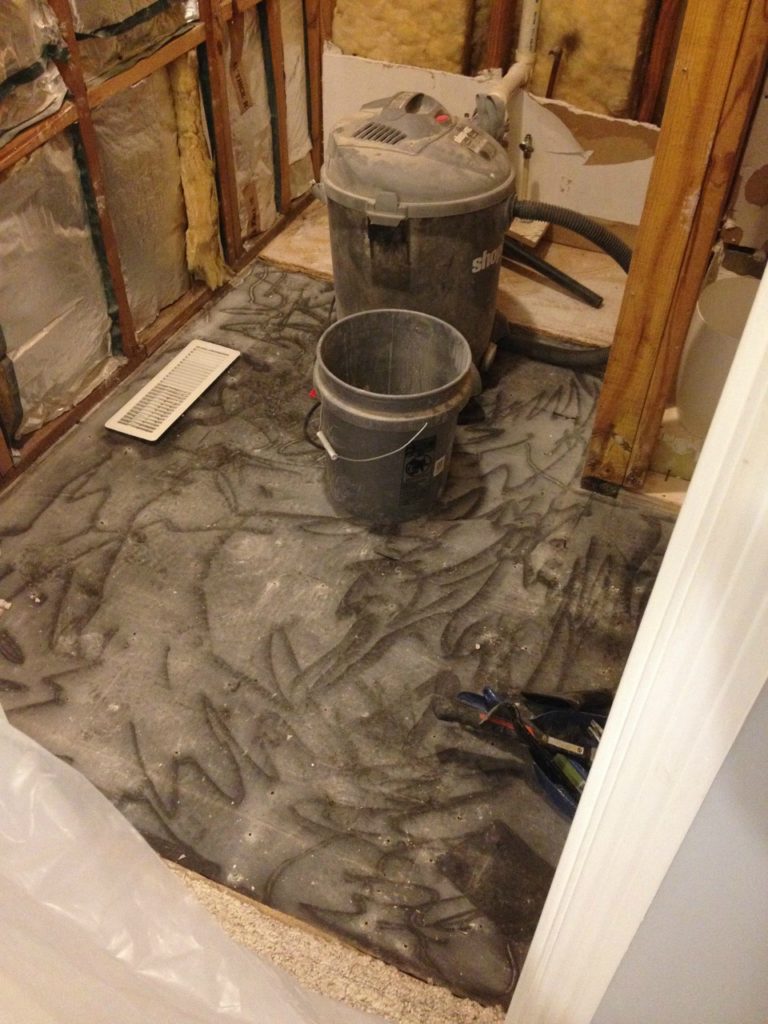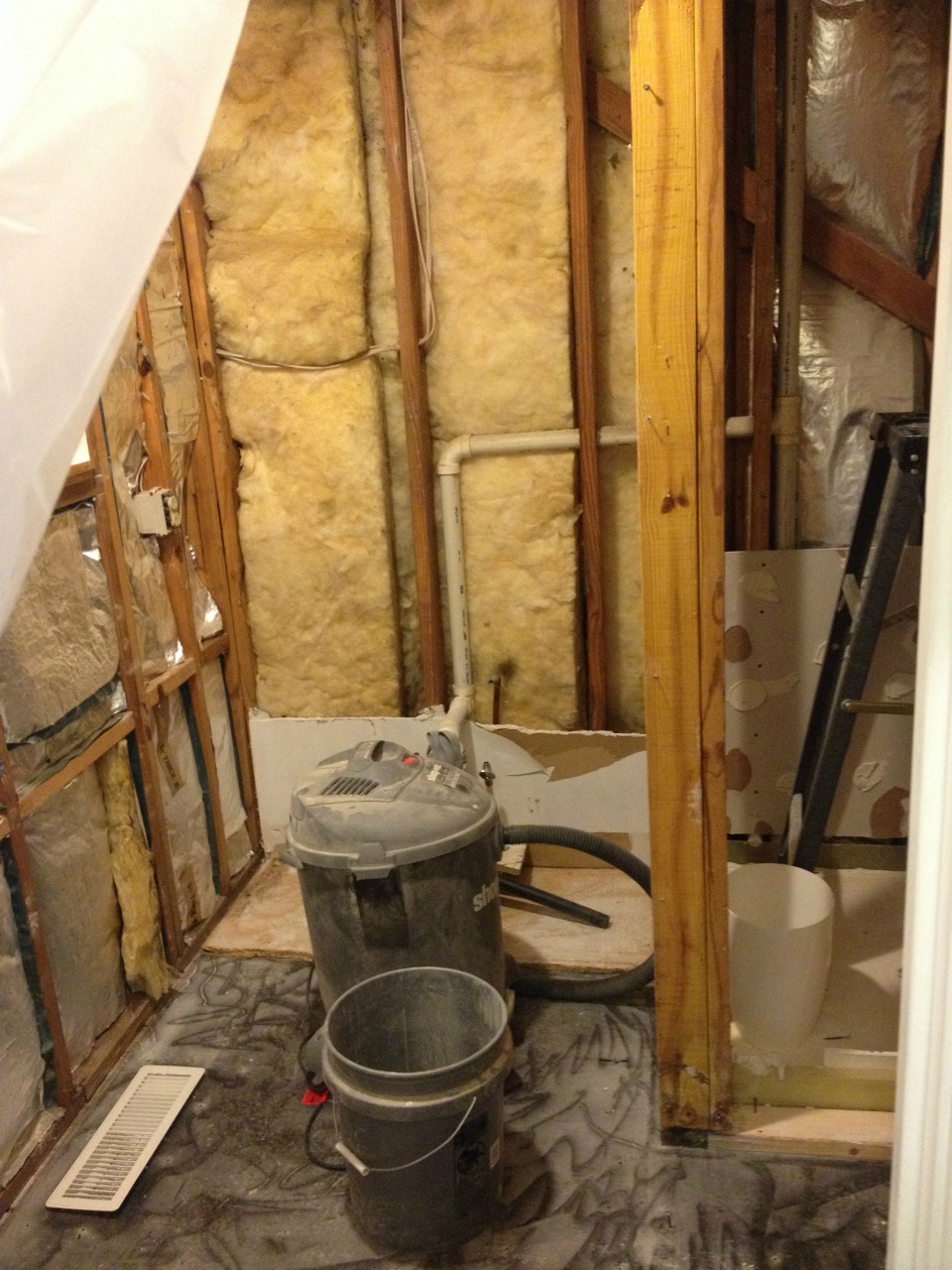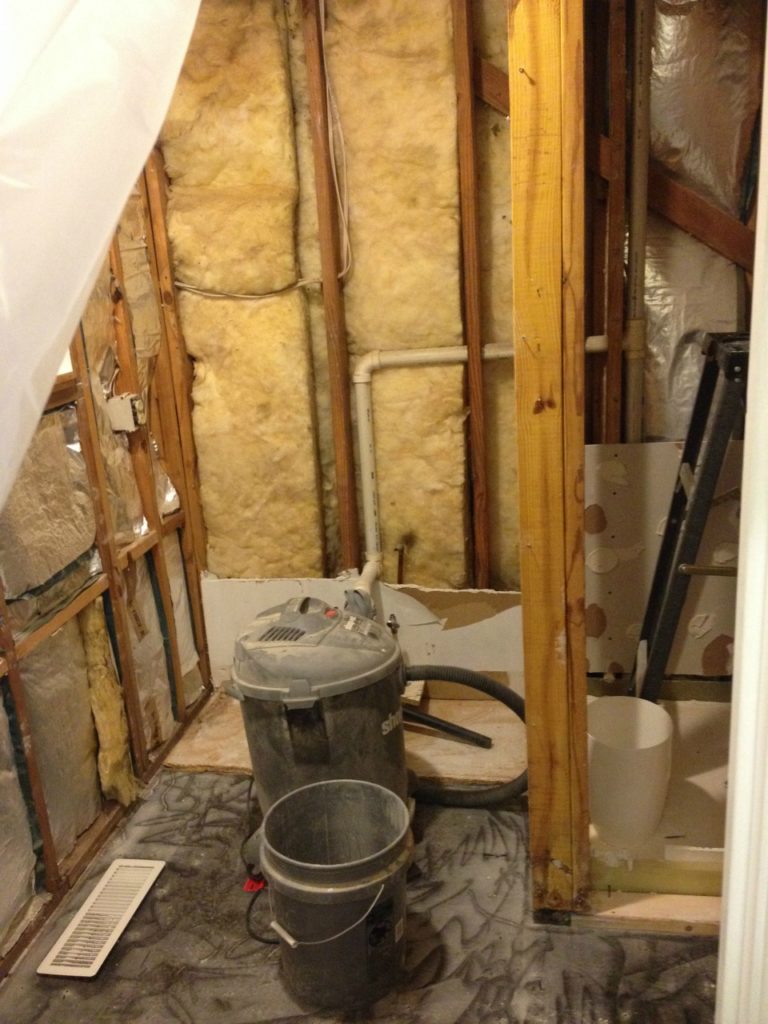 If you read my post about why we are remodeling this bathroom, you will know that the main reason was because of the condition of the subfloor.  So this was the moment of truth.
.
I pulled up the tar paper and we examined the floor.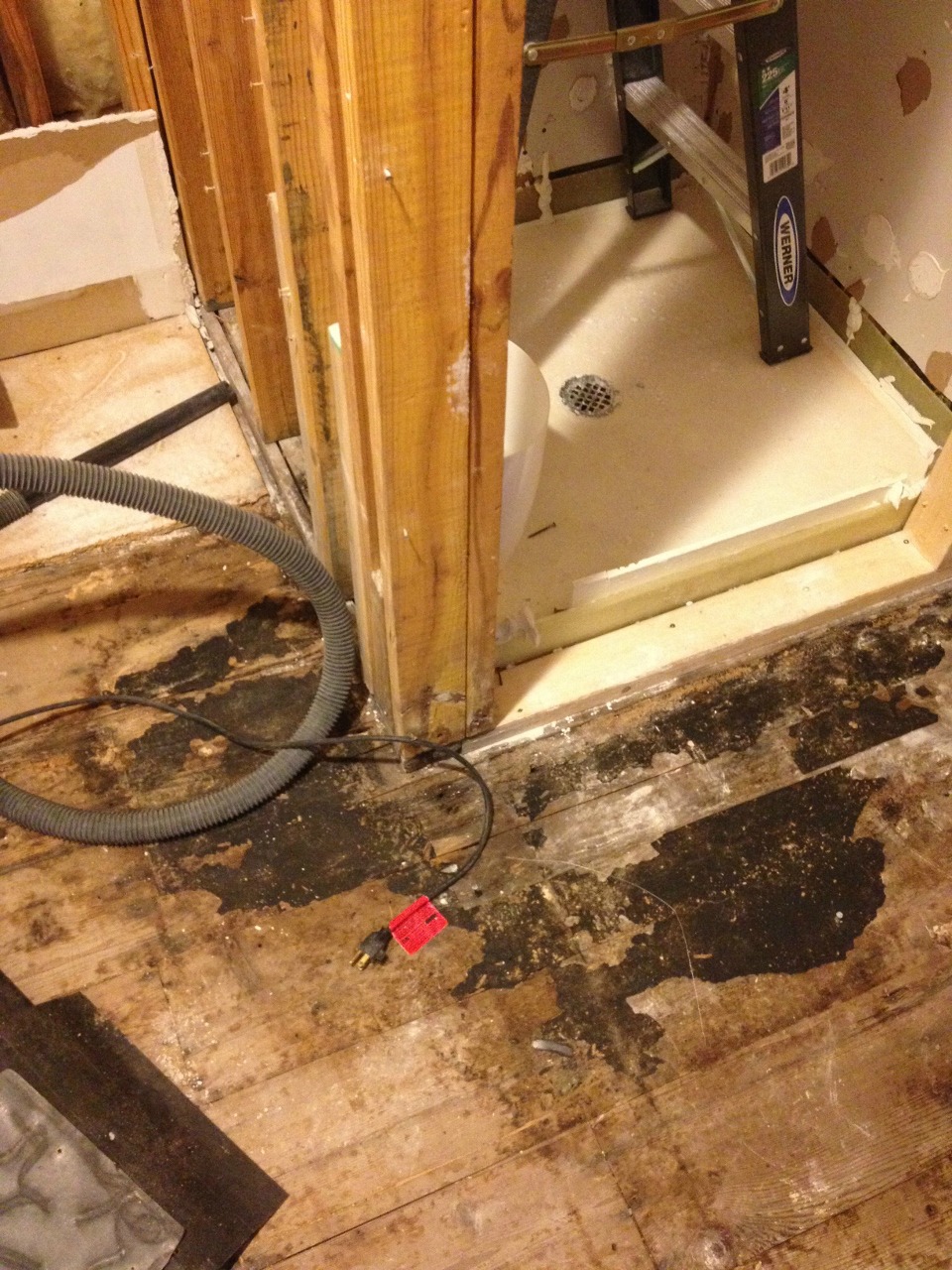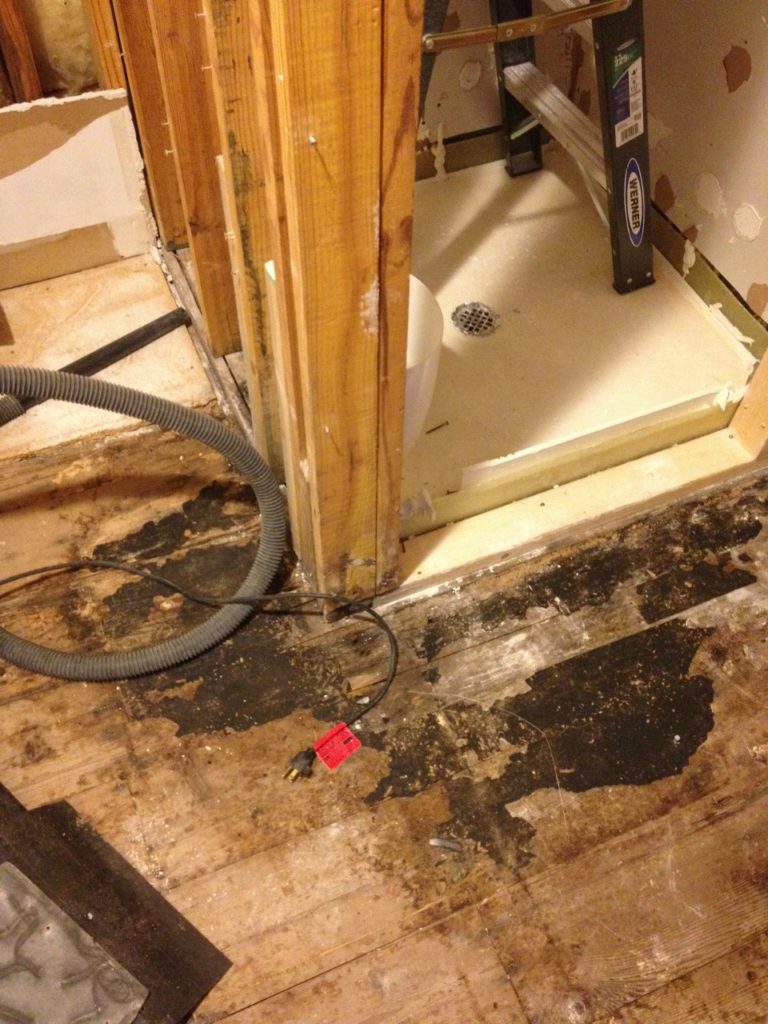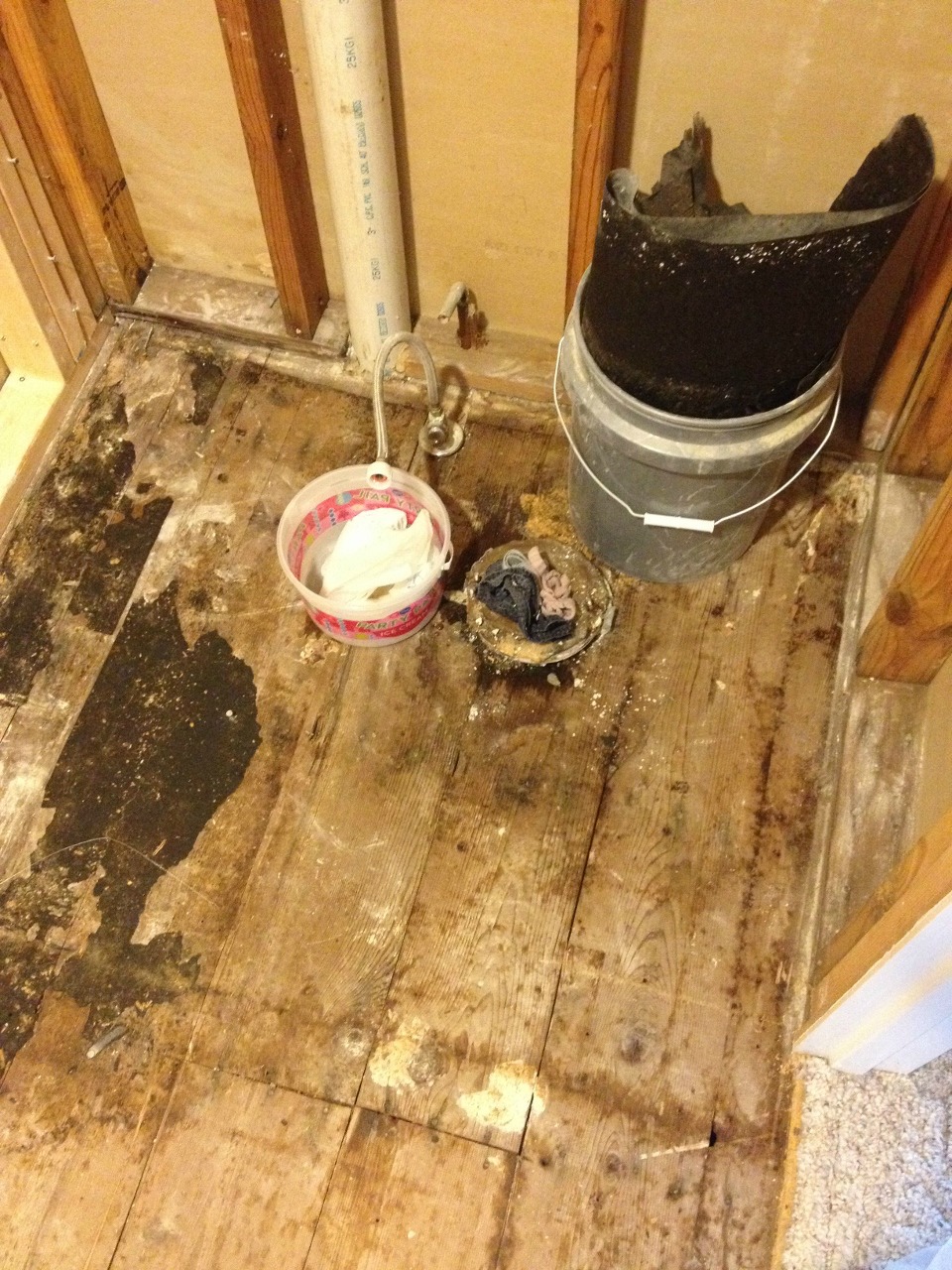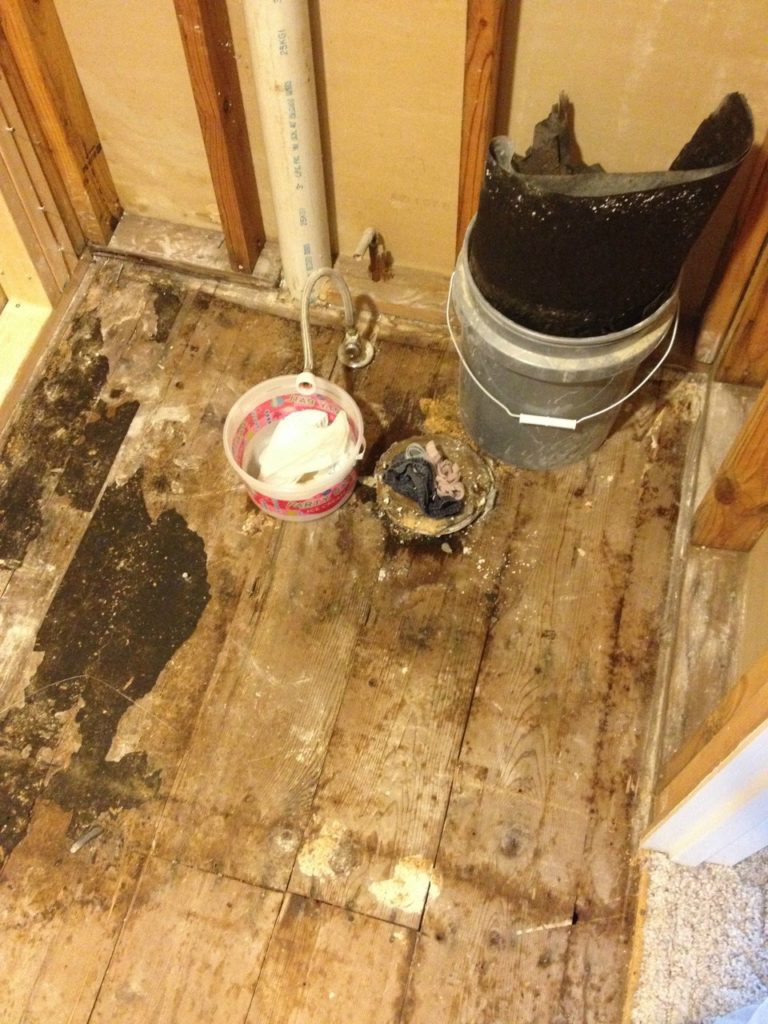 I've seen subfloors in pictures, but when you pull it up and realize this is YOUR OWN subfloor, well it kind of makes you cringe a little.  Some spots were worse than we had hoped for.  We removed the rest of the shower so we could get a better look.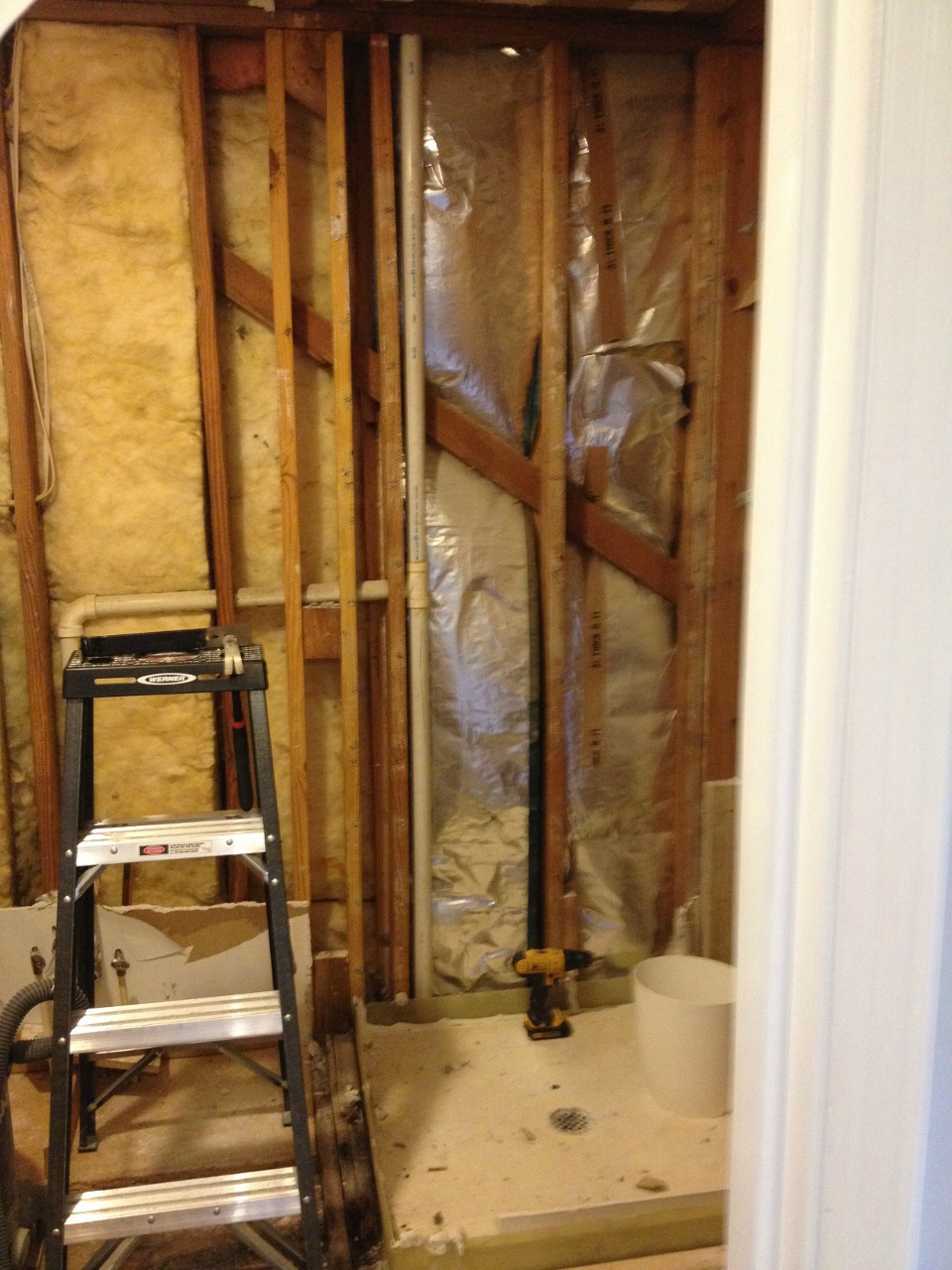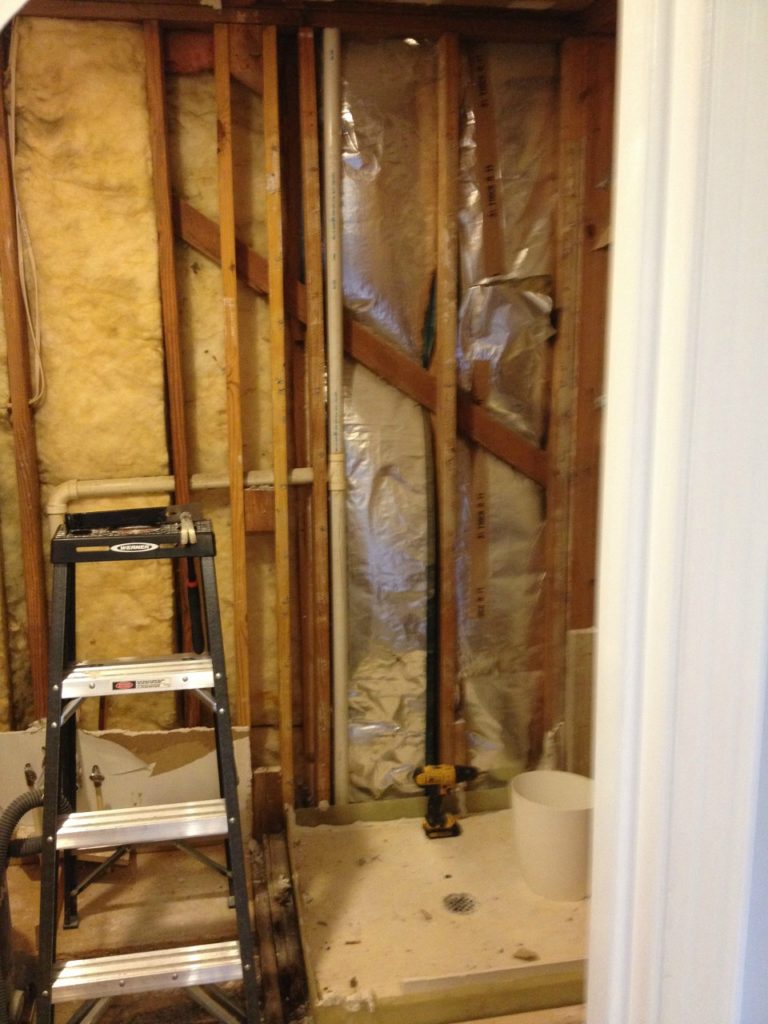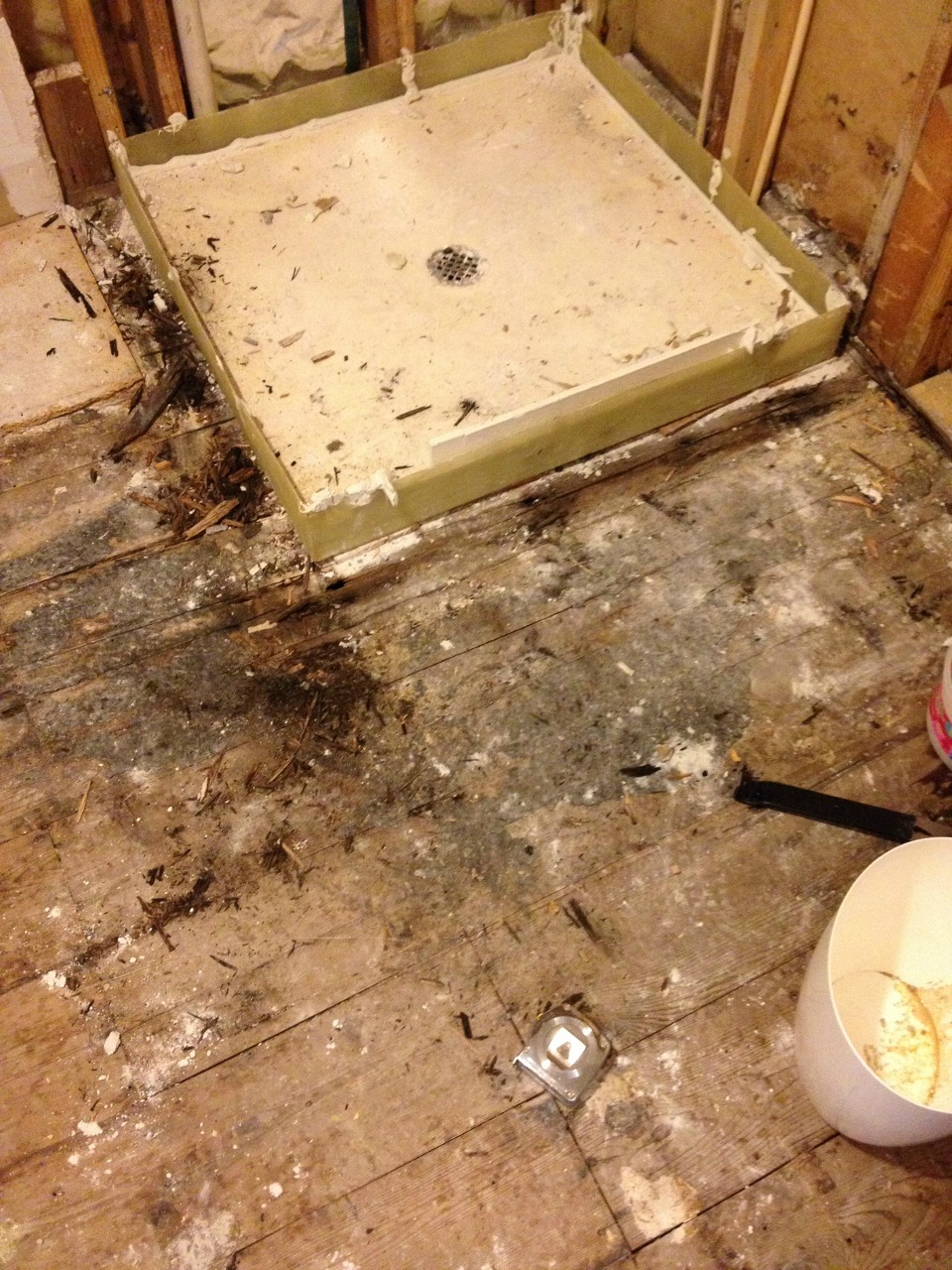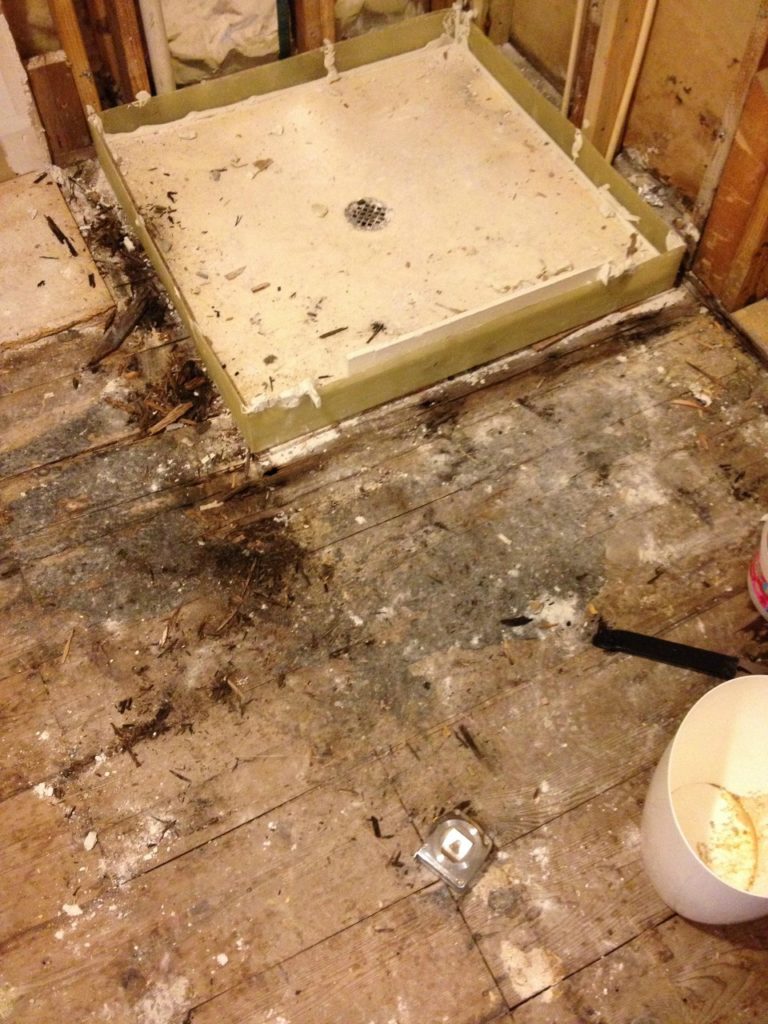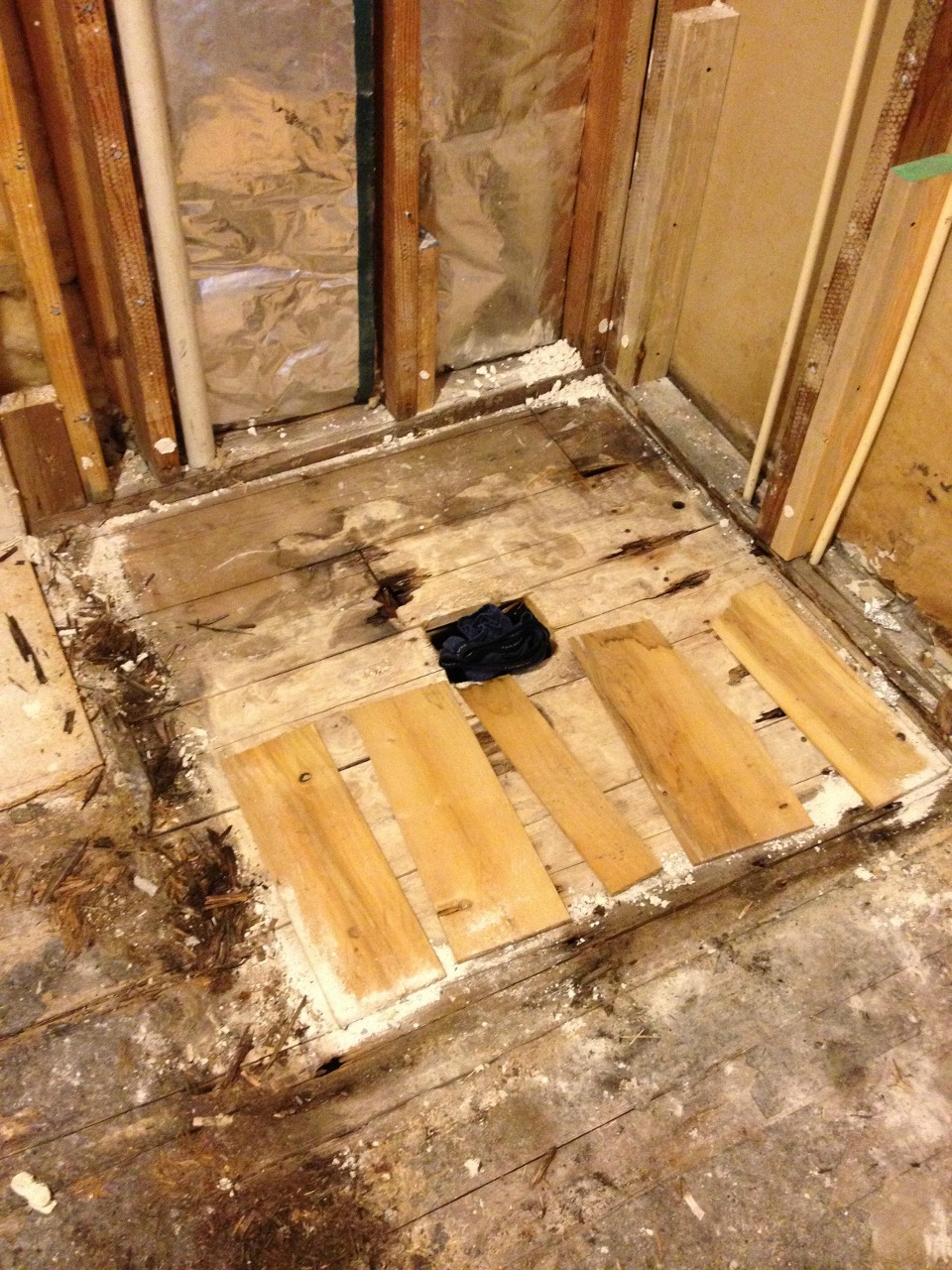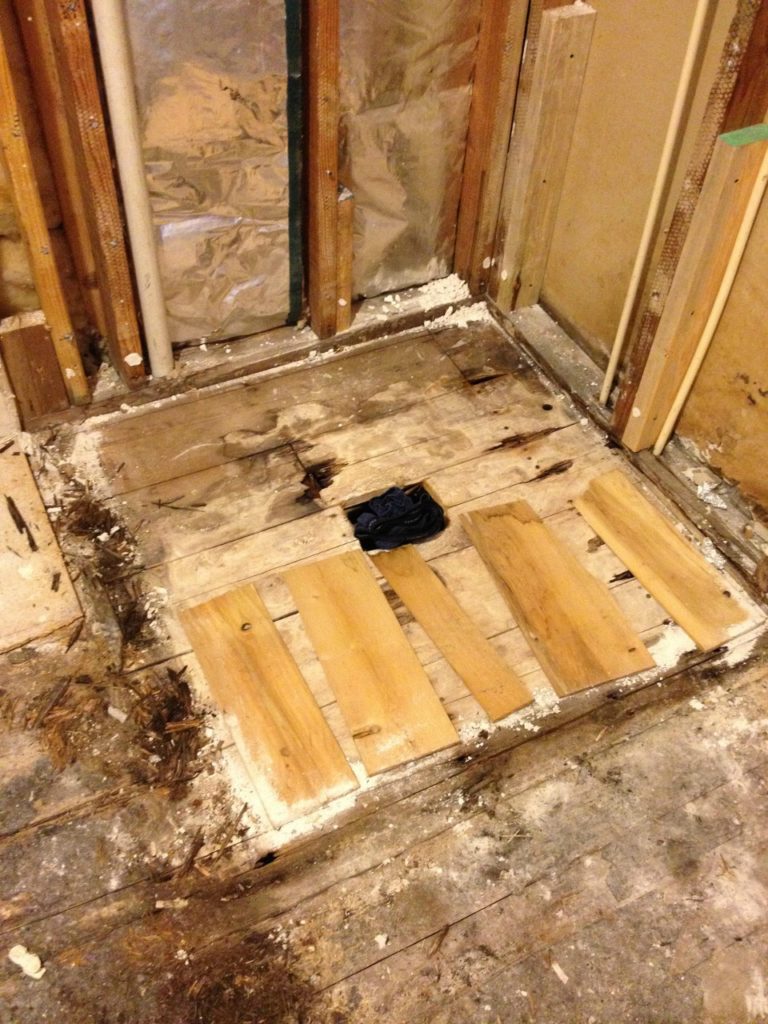 By the way, we both had fiberglass all over our arms for the rest of the day after removing this shower pan.  Word of advice, wear gloves, and sleeves…and PANTS…when messing around with fiberglass.  It's not pleasant when you get it all over you.  Especially on your legs.
.
So we decided to remove a large part of the subfloor where the shower had been.  Luckily the damage appeared to have been from the past and wasn't at all wet when we got down to it.  So we don't appear to have any leaks that are still ongoing.  However, whatever leaked in the past was able to do some significant damage in here.
.
We pulled up part of the subfloor and sistered two new joists to the old ones that had a little damage.  Danny really liked being able to get into the crawl space through the floor instead of the crawl space access all the way on the other side of the house.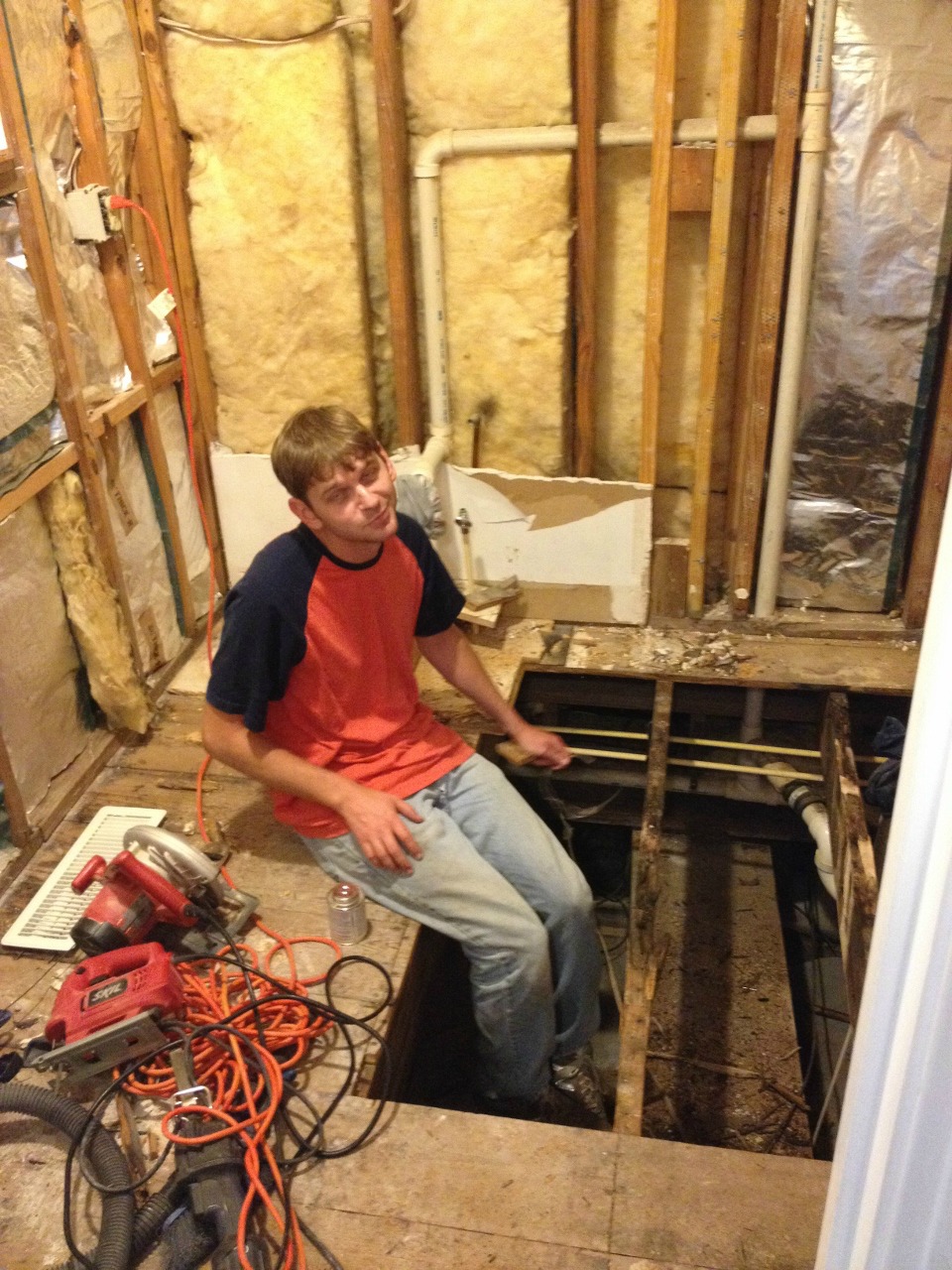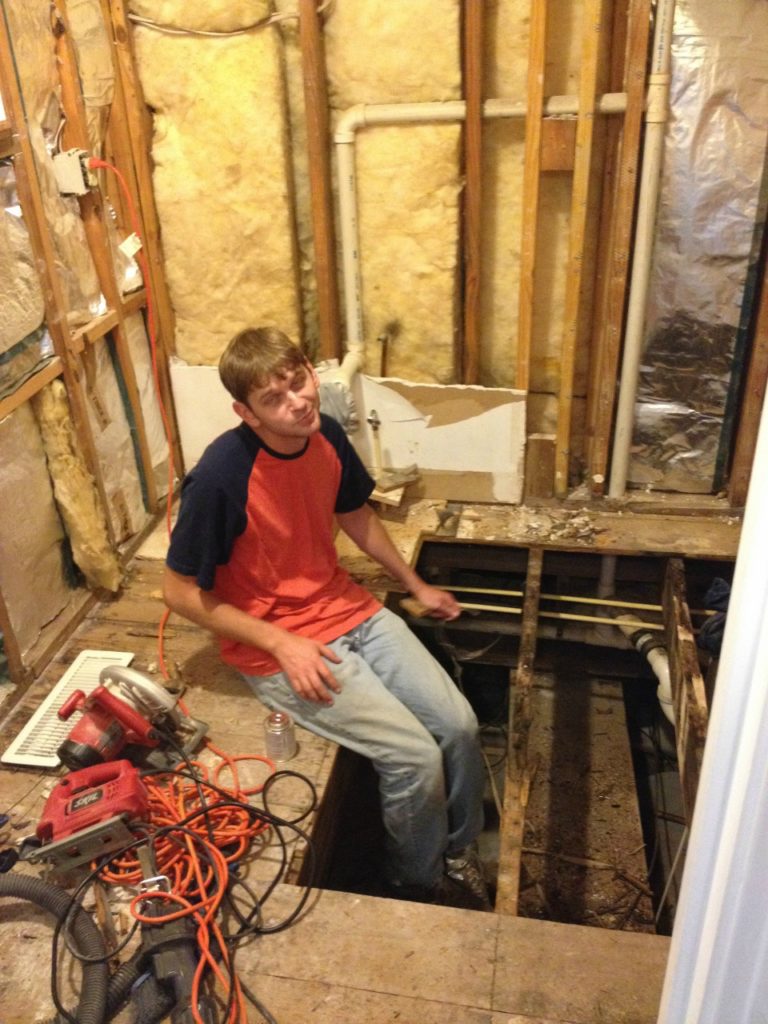 I told him we should keep a trap door in the floor for easier access.  He wasn't on board with the idea…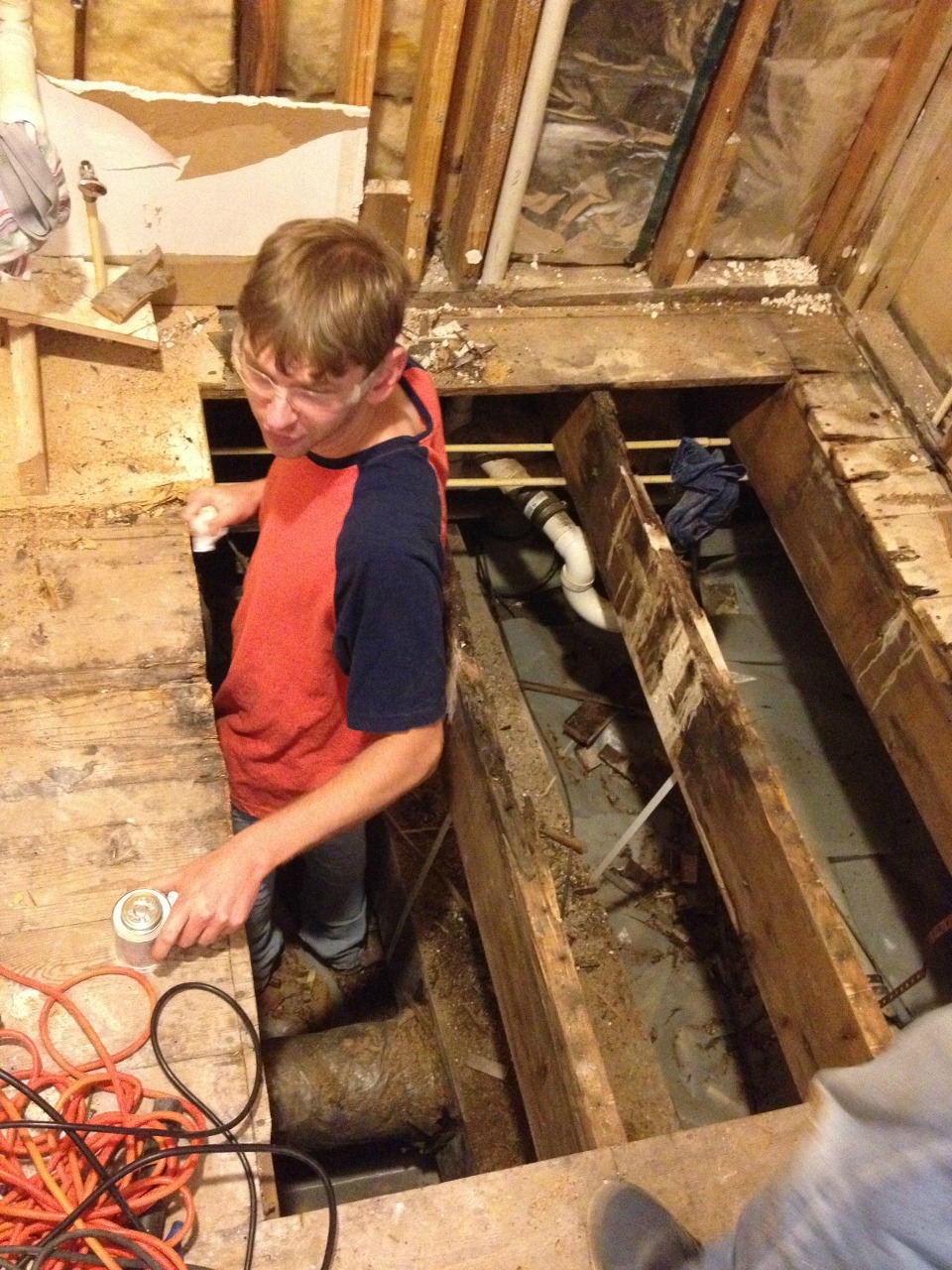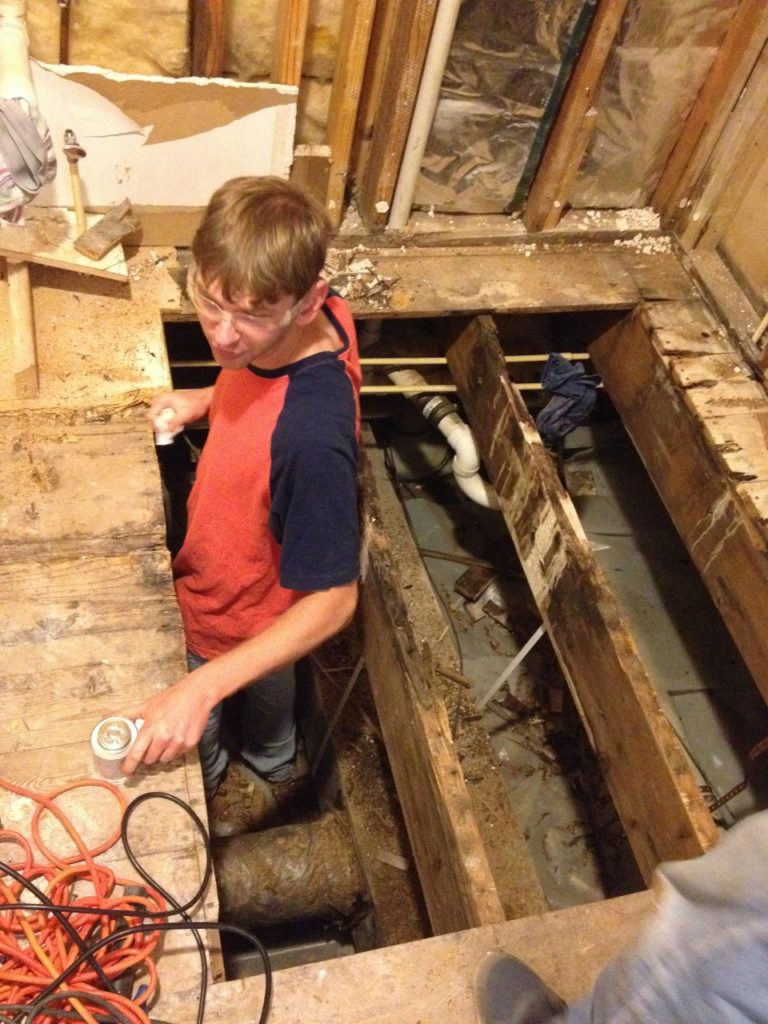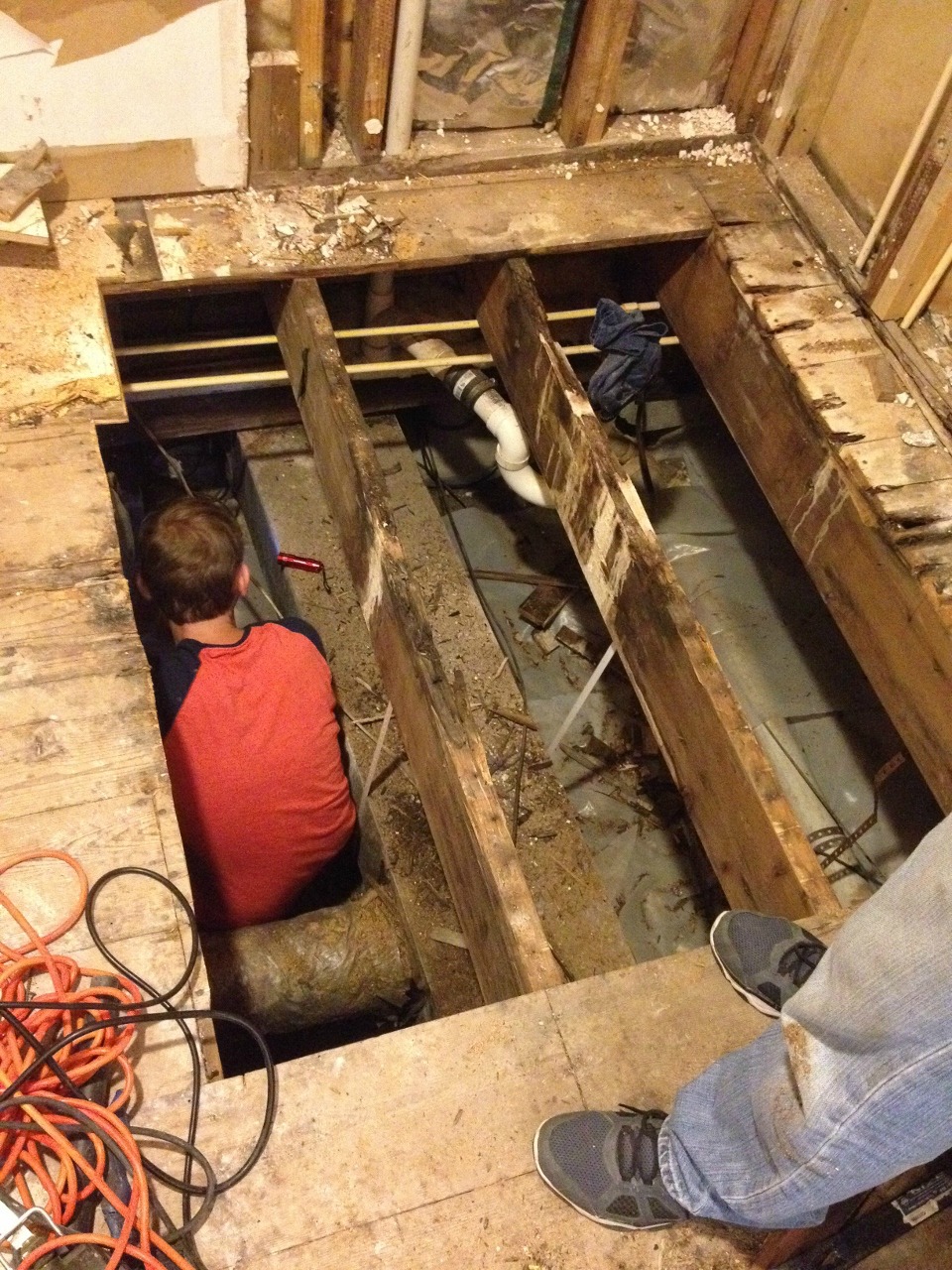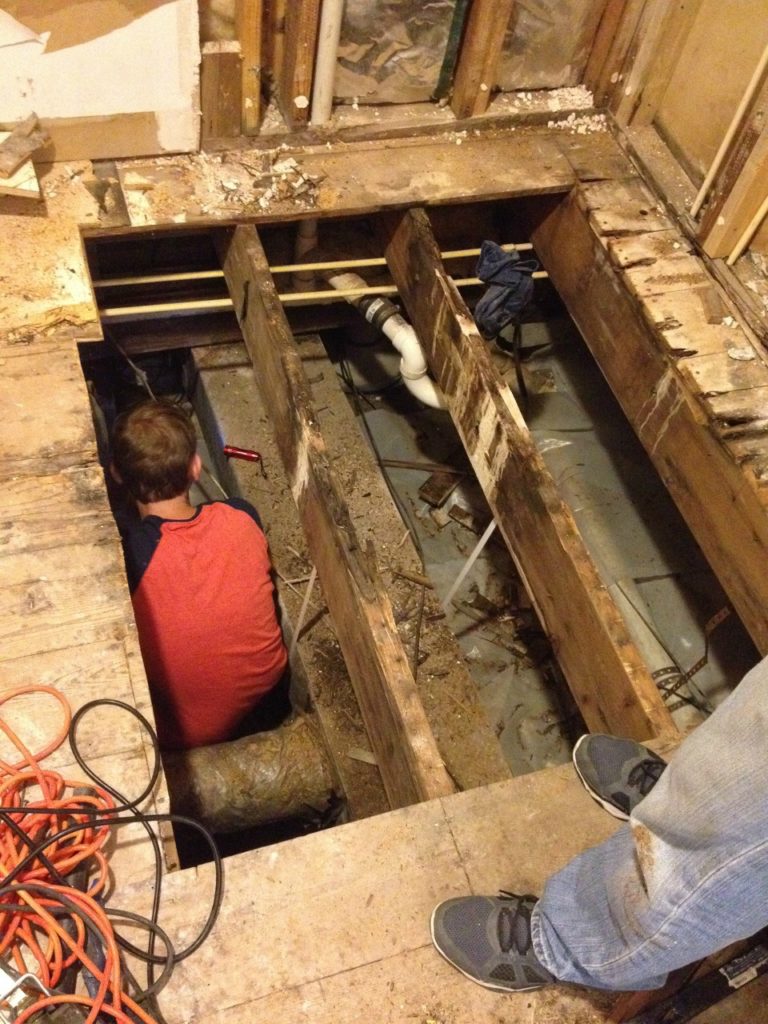 So, here we are.  We started with a normal bathroom and now we are here….with a giant hole in the floor, no drywall, all the plumbing cut off, and Danny's old underwear stuck in all the drainage holes so we don't smell sewer gases. AND there isn't really an end in sight.  We will still have to continue on some subfloor repairs this week that we weren't planning on having to do.  It will require us to tear apart some of our closet on the other side of the wall that we just redid about a year and a half ago.  That's kind of depressing, but it gives me an opportunity to redo my closet AGAIN…which will be fun : )  Don't tell Danny.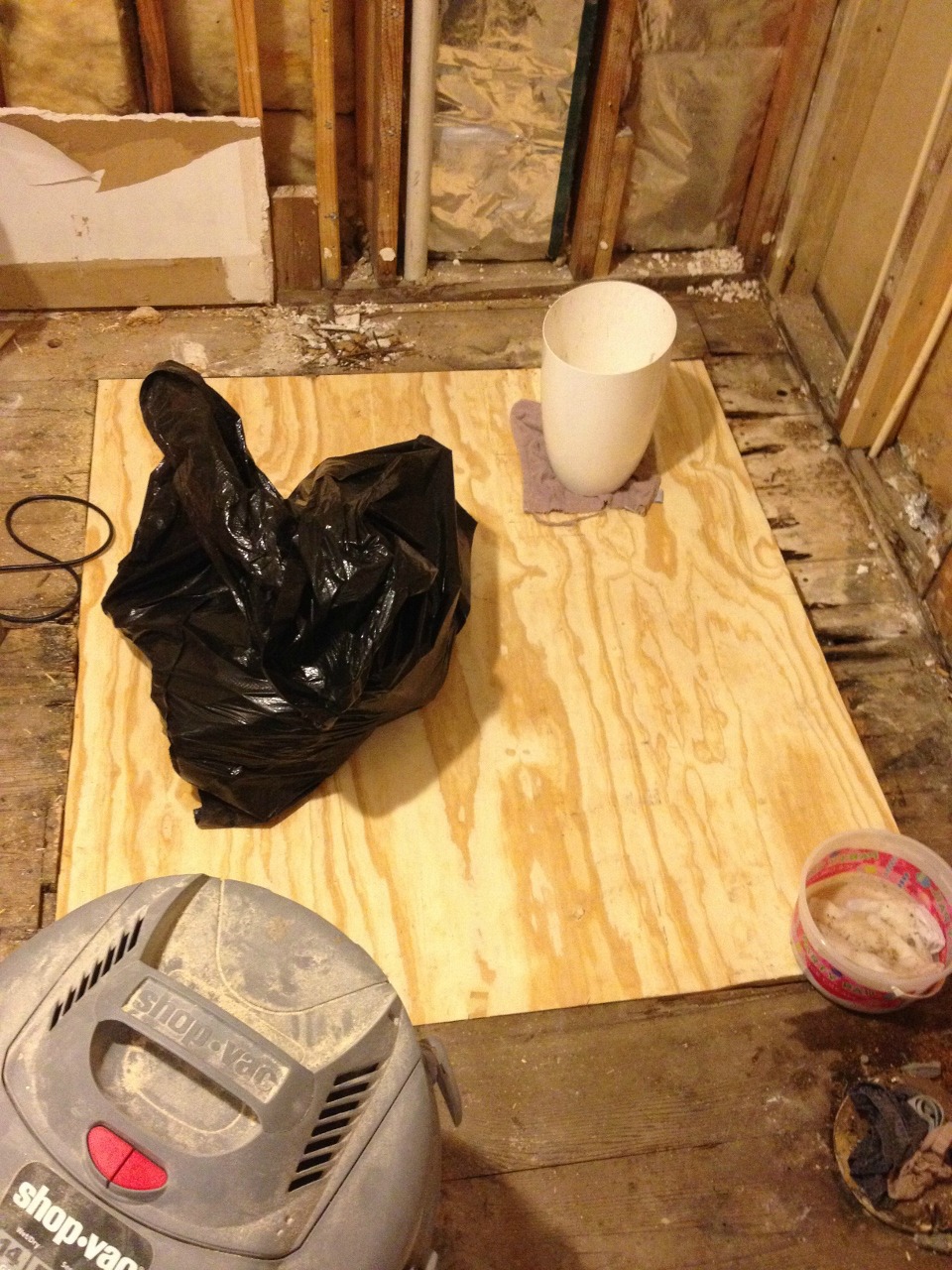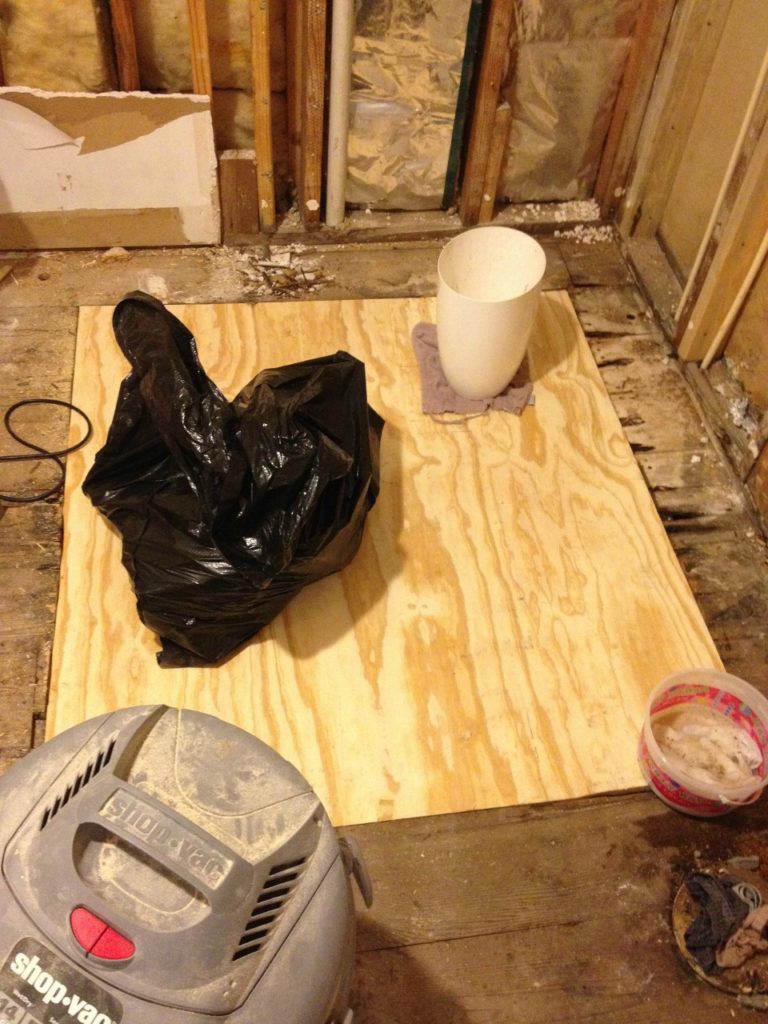 I've asked myself several times in the process if I was sure this was a good idea.  In the middle of all the mess and stress and frustration, it is so easy to wonder if this was a good idea or not.  But, I KNOW that once it's done, not only will the house be in better shape from the repairs, but the new bathroom is going to look AWESOME.  I keep telling myself that anyway haha.
.
Stay tuned, hopefully there will be a lot of progress to be made in the next several days!  By the way, I'm also working on some super cute built in benches for my mom and dad's kitchen nook and you will NOT want to miss them.  I will show you all soon!
.
Until next time, happy DIYing!