Is it too late to be doing a "year in review" post?  I mean it is like January 5th.  I've been "blogging" for a year and a half and I'm still totally clueless.  I'm so clueless that I put blogging in quotes because I'm not sure I can really call myself that when I have no idea how to even blog.  I know there are rules….I just don't know what they are.  Whatever, I guess I can't be THAT BAD.  You're reading it 🙂 HA Sincerely, thank you for reading.
So, 2015 was big.  SO BIG.  I started DIYing/crafting/building in 2013 (I think???), but BY FAR 2015 was the year I learned/grew/built the most.  Looking back, I'm like WHOA.  How did I get here?
I had never used a saw before in my life, or a nail gun, or done drywall, or used a caulk gun, until the end of 2014 to early 2015.  And I'm still no expert, but I can manage pretty well now.  The thought of ripping out a room and redoing it makes me feel the same as if someone handed me a box of cake mix and asked me to make one.  Okay…no big deal.  Just let me lick the bowl, okay?  So I may be slightly exaggerating.
Oh and in terms of blog numbers, let's just say that from 2014 to 2015, I had over 30 times more views.  That's an increase of 3,000%.  Too bad that's not the interest rate on my retirement account.  Let's NOT even talk about that…..
So let's look at what all happened this year:
We remodeled our kitchen.
When I say remodeled, I mean took it to the studs and started over.  We had NO IDEA what we were doing, but we learned SO MUCH by doing it ourselves.  We did have some help from dad and a friend of his with the drywall since we had never done it before.  But installing cabinets, doing trim work, laying flooring, building a new table–that we learned as we went.  And surprisingly, it turned out well.  Check it out here.
I DIYed sliding doors.
So far, my most controversial project was these sliding doors.  Some REALLY HATED THEM and some REALLY LOVED THEM.  Haters gonna hate, right?  Don't care…they don't live in my house.
I actually need to confess, though.  Okay, so I'm new to all this, you know.  Hometalk featured these doors and they got A LOT of attention.  I never realized this could be a bad thing.  Some people made some snooty comments on it when it got featured on Hometalk, and I replied back with a few snooty comments.  I know….immature.  But my feelings were hurt.  Then I started noticing the more attention things (not just my own) got, the more hateful comments there would be.  Welcome to life, Shara.  It's. Not. Just. You.  I've learned (am learning) not to take things too personal.  So, it didn't get me anywhere, but I did feel better because at least my comment was the truth and they didn't have any good way to respond.  Check.  Mate.  Seriously…when people hate, just let it go.  One more lesson I learned in 2015 🙂
Said all that to say…check out these doors!  But, please, no hating 🙂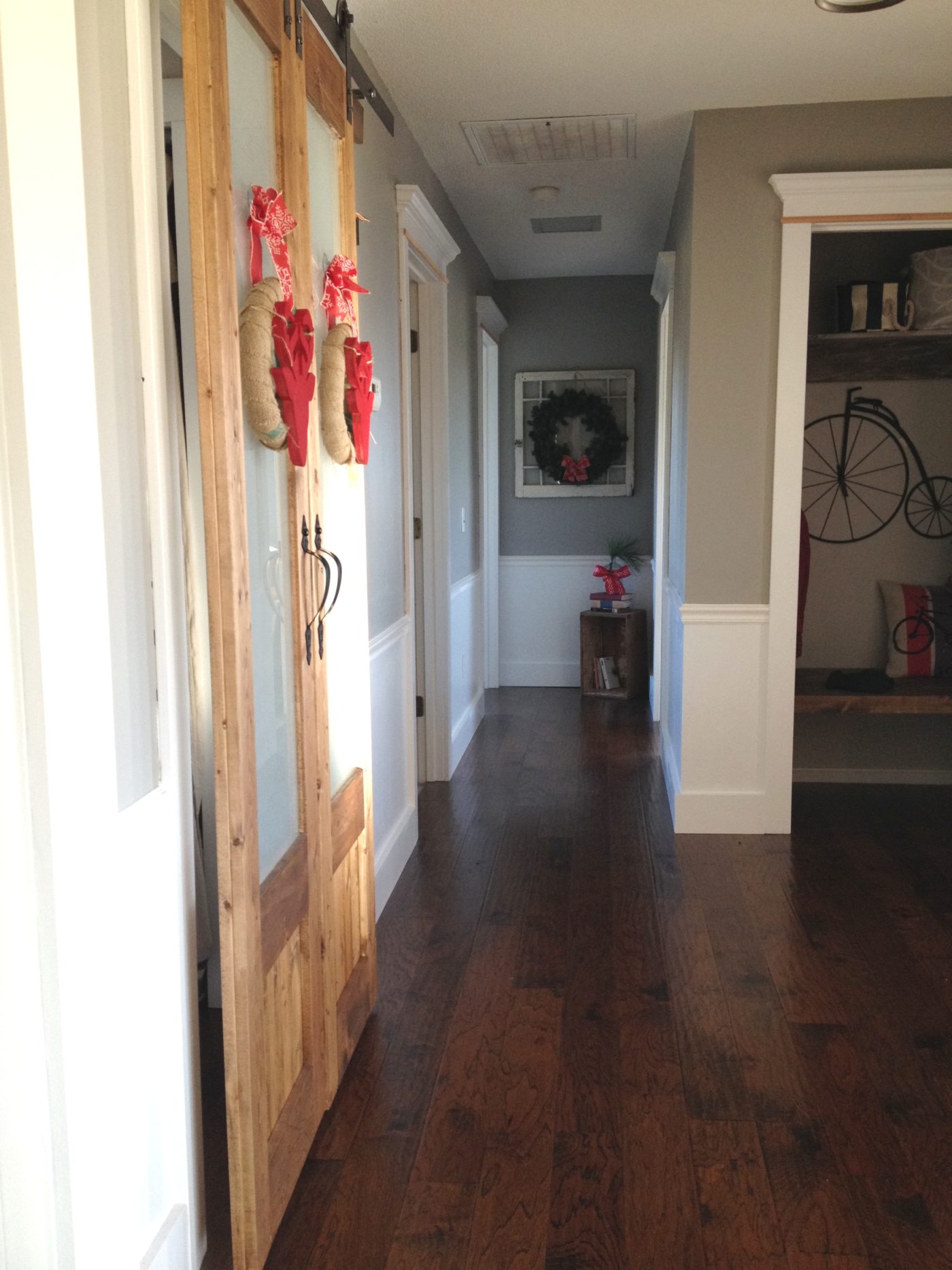 I became a fan of geometric tables.
Remember this twisty table?  This was my first Instagram hashtag contest haha.  I actually got an Instagram account this year SPECIFICALLY for entering the #oneboardchallenge contest with this table.  I guess I liked it once I got an account, but if it wasn't for the one board challenge, I would have never gotten on Instagram.  I'm just not a real "social butterfly."  Ask pretty much anybody…
I'm a math nerd and I like weird shapes and angles.  So I've become a fan of the geo stuff.  Like this table.  Check it out here.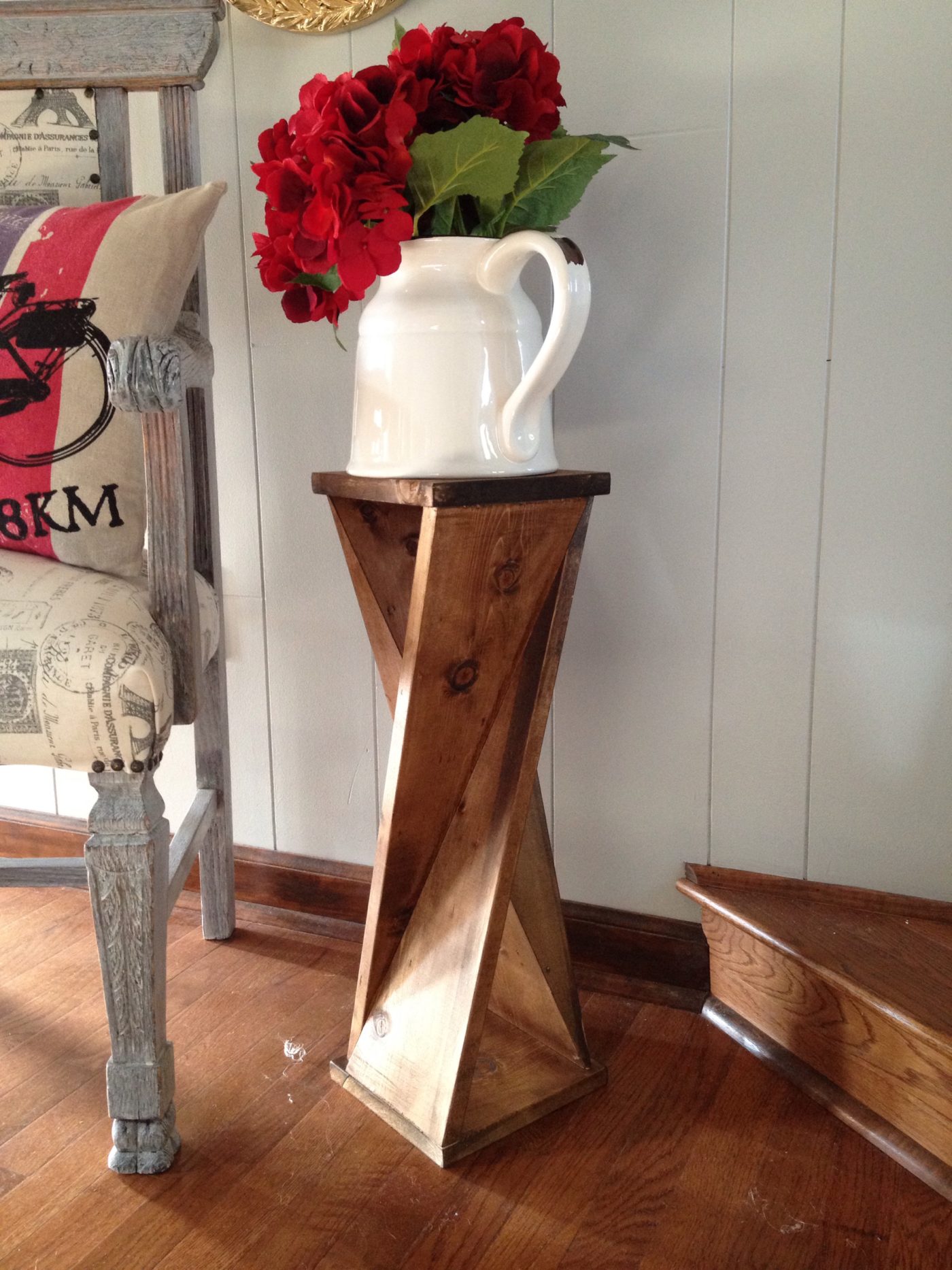 I made my sister a fake fireplace.
Fake it till you make it.  That's what mom always said 🙂  What do you know, that saying actually came in handy this year–in my 25th year of life.  Sissy gets what she wants and she wanted a fireplace.  But, her house didn't have one.  That's where I come in.  I can't make the fire….but I can build the surround.  Storage included 🙂  Check out the details here.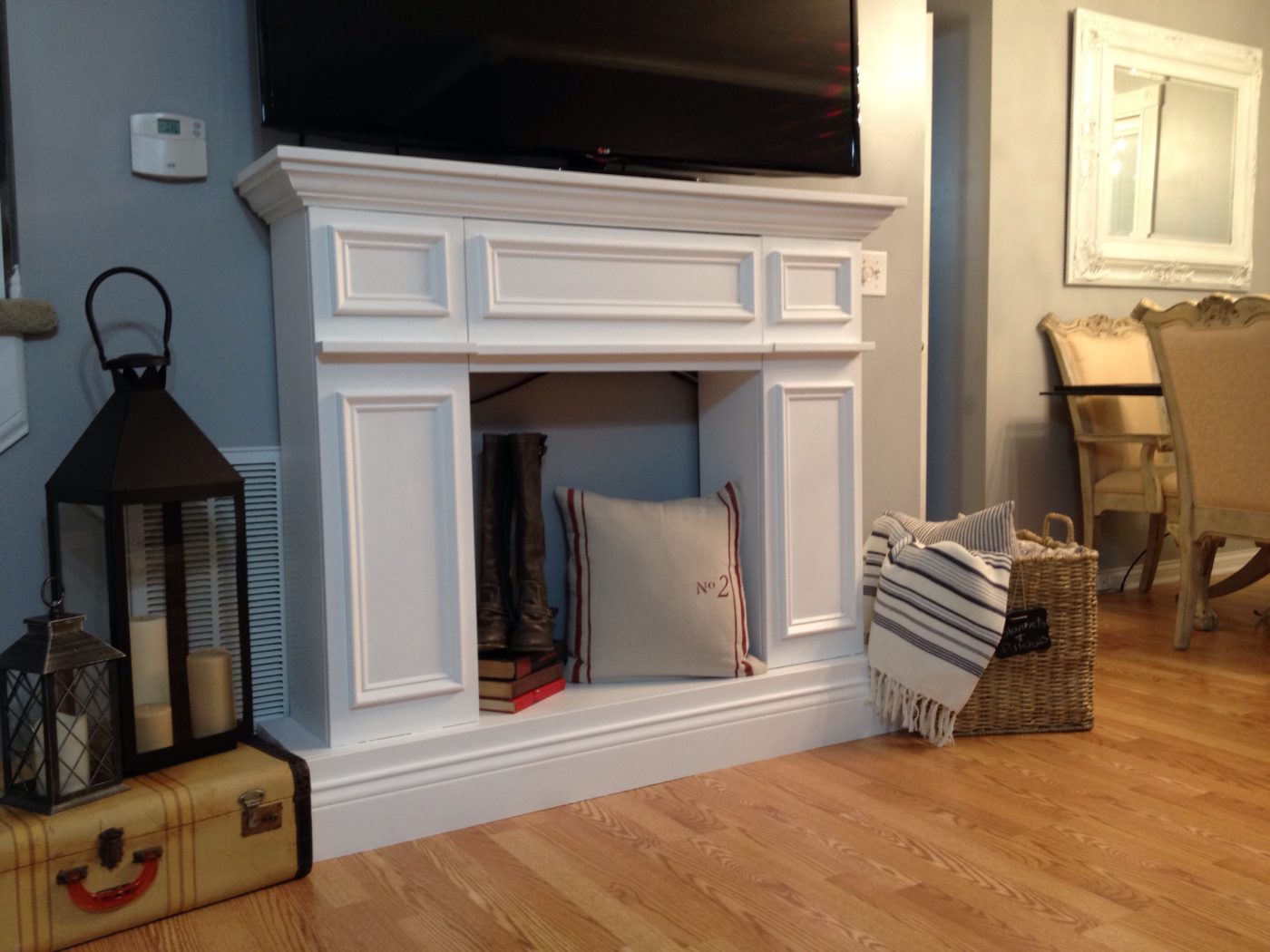 I entered another Instagram contest.
So I lied earlier.  I guess if the one board challenge didn't force me to get on Instagram, the # wooditsnow challenge would have.  Ana White hosted a "build a wooden snowflake" challenge and I wanted to make something "different."  This is what I came up with.  Ana White featured it on her site and I had more page views in the month of December just from it than I have ever had in a single month…ever.  Safe to assume people liked it.  I think??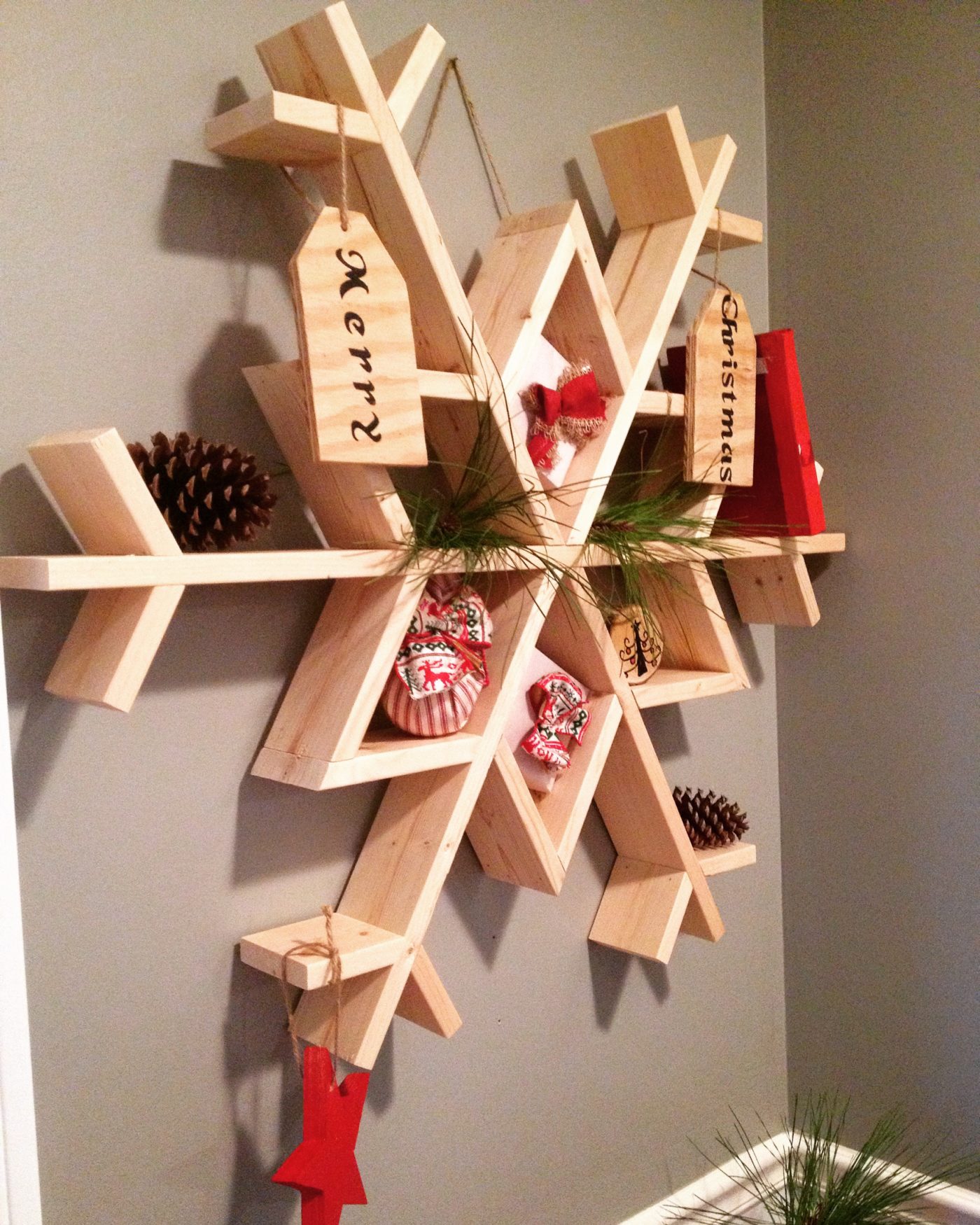 I remodeled our laundry room.
As much as I wished this was a complete gut like the kitchen, this remodel was pretty tame.  Just some paint and new cabinets.  But, it made a HUGE difference.  I actually really like being in the laundry room now…which makes folding clothes a lot less terrible.  I learned how to build cabinets, and I learned how to build floating shelves.  And I learned how to replace an exterior door.  That shouldn't come in handy anymore because these doors have a lifetime warranty, but good to know anyway, I guess. For only a couple hundred in paint and lumber, this laundry room looks a whole lot different.
Those are just a few of my favorite projects of 2015.  I also built a coffee table, gave our deck a makeover, and built several other odds and ends projects.  Like I said, overall 2015 was a big growing year.  I learned a lot, I made a lot, we improved a lot of our home.  If I can grow as much in 2016 as I did in 2015, I may need a shrink…JUST KIDDING.  I think Danny thinks I need one already….
So that's a look back at the highlights of last year.  Here's to 2016! I hope you follow along all the craziness that will be happening.  I'm so anxious to see what "A Look Back at 2016" will look like…but I've been told not to wish my life away, so for now I guess I will enjoy the present 🙂