This post is sponsored by The Home Depot. I have been provided product and/or compensation for my time. However, I value honesty and all opinions in this post are my own. This post also contains affiliate links. See policies for details.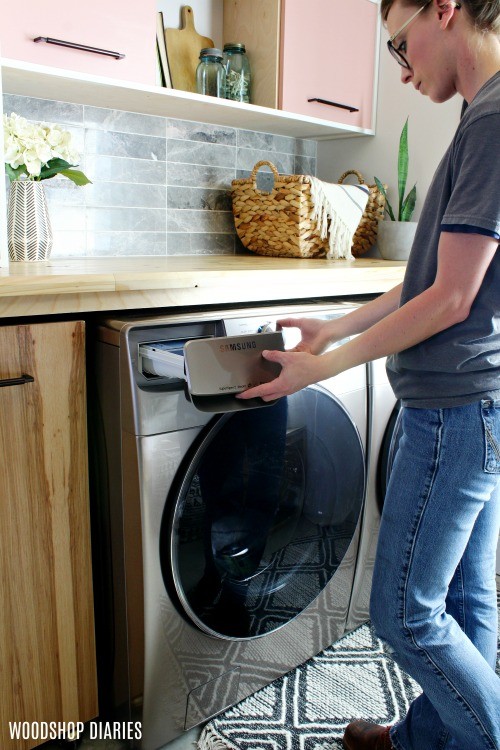 In a house with two grown adults who work filthy day jobs and where one of the two works an equally filthy second job after the day job (that's me with the whole woodworking thing 😉 ), laundry is a daily necessary evil.
.
But, why am I telling you about my laundry habits?
.
Well, I recently got the itch to tackle another home improvement project, but since we just built our new garage apartment last year, most everything is already new. EXCEPT for our halfway finished laundry nook.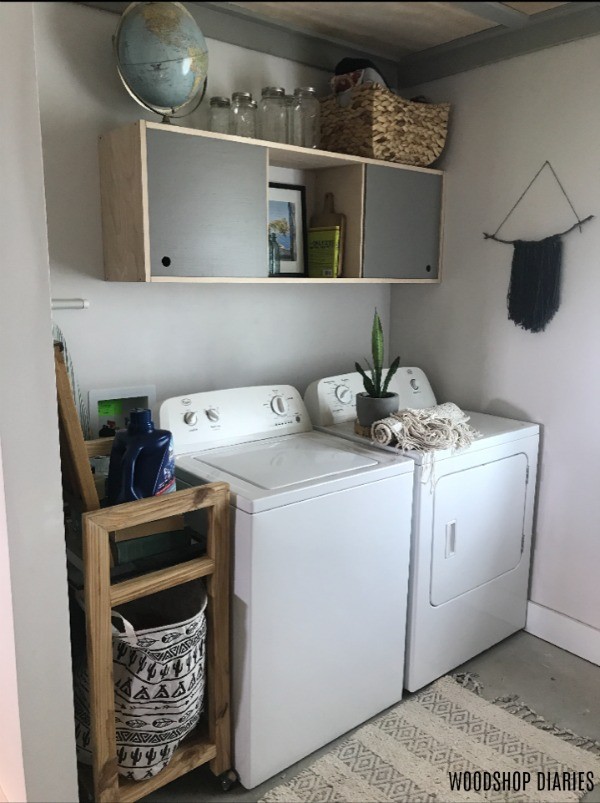 My 8 year old washer and dryer were running on their last leg and the space could use some…help. (PS check out the whole before and after in this post)
.
So I addressed the situation and I decided to tackle the project head on starting with FUNCTION above all else…because what good is a pretty laundry room if you can't wash your clothes in it?
.
And I've teamed up with The Home Depot to replace our worn out washer and dryer with this new Samsung Champagne Washer and Dryer Set. It's a whole different animal compared to our old pair, so I had a few hesitations at first.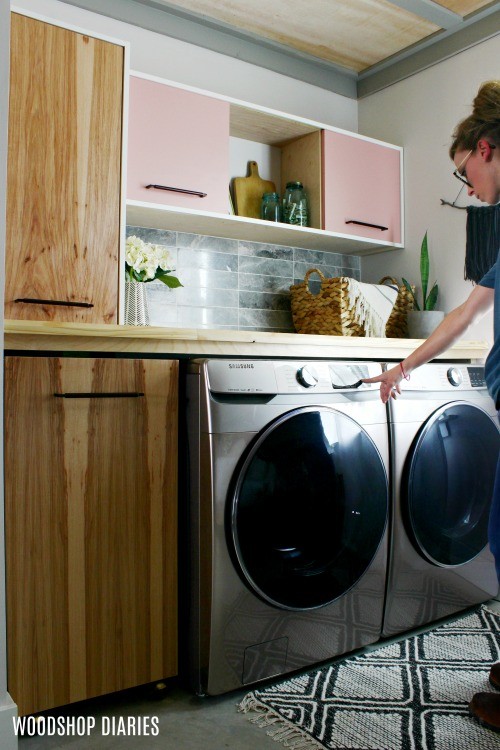 One: I've never owned a front load washer—will it clean our filthy work clothes as well without an agitator?
Two: I'm not used to having so many washing and drying options—isn't this too complicated for a simple girl like me?
Three: I've never had a "champagne taste"—isn't this color a little too….bold?
.
Nevertheless, we went with this set and I'm sharing my thoughts with you guys from an average, every day, simple (and pretty dirty) household. And stay tuned all week for more details on the rest of the remodel as I share details on the counter top, cabinets, and back splash here on the blog.
.
First, let's address the main thing here. Does it CLEAN?
Clothes and Towels
Let's get right to it. Yes, this machine cleans. And it cleans well. Surprisingly well. And it uses literally ⅓rd of the detergent I used to use in my old machine.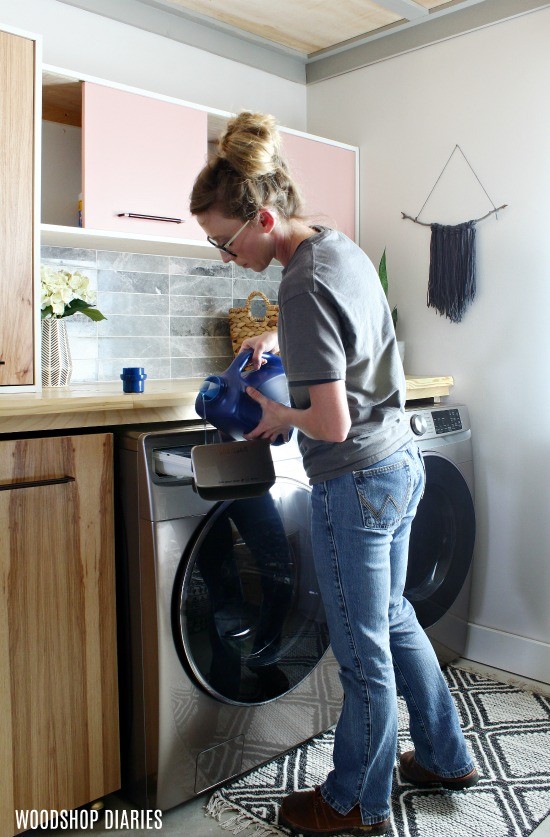 And let's be honest…I don't sort my laundry. I throw my towels and jeans, shirts and socks, and all the things in the laundry at once and wash. I'm sure it would probably clean even better if I sorted things out and washed them separately. But even with me doing everything wrong, everything still came out clean (even my soiled work pants), fluffy, and smelling fresh.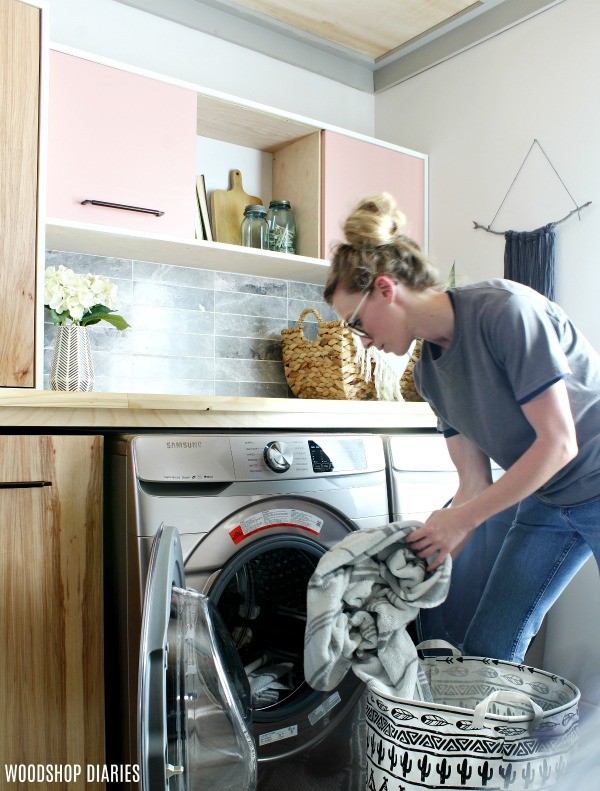 I like to think of washing all the things at once as multitasking, not poor laundry habits 🙂 And if the Samsung Champagne washer and dryer can handle my bad habits multitasking, it gets two thumbs up from me.
Itself
Among its many cycle options, it also comes with a self cleaning cycle to keep bacteria and residue build up from forming. The manual recommends running this every 40 cycles or so. And because it knows how forgetful we all are, it even reminds you on your control panel when it's time.
Speaking of cycles, let's address item number two—is it complicated?
Yes and no. It definitely has more options than I'm used to with my old machine. And at first it was a little overwhelming. But the manual explains everything really well (and I've read a lot of manuals…this one is well written) and once you wash a few loads, it's pretty intuitive.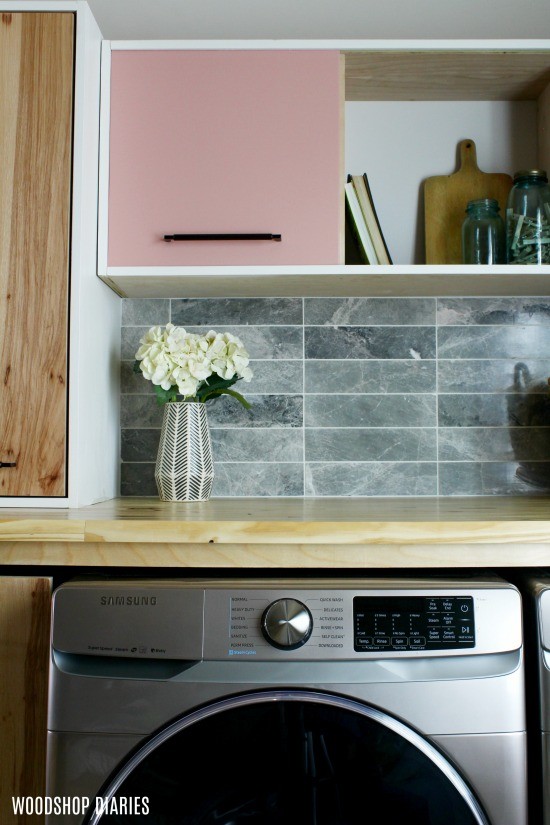 Plus, if you set it up in your SmartThings app, it can set up your laundry "recipe" for you if you tell it what you are washing. More on that in a second.
Washing Cycle Options
I'm pretty plain Jane, so I stick with Normal for my "any and everything" loads, but it's nice to have the options for bedding, activewear, and delicates if and when I need them.
.
I can also foresee when the Sanitize cycle would come in handy if you needed to clean and kill bacteria on towels, sheets or clothes that may have come in contact with germs you don't want to spread around (I'm thinking when one of us gets the flu and the other doesn't want it haha).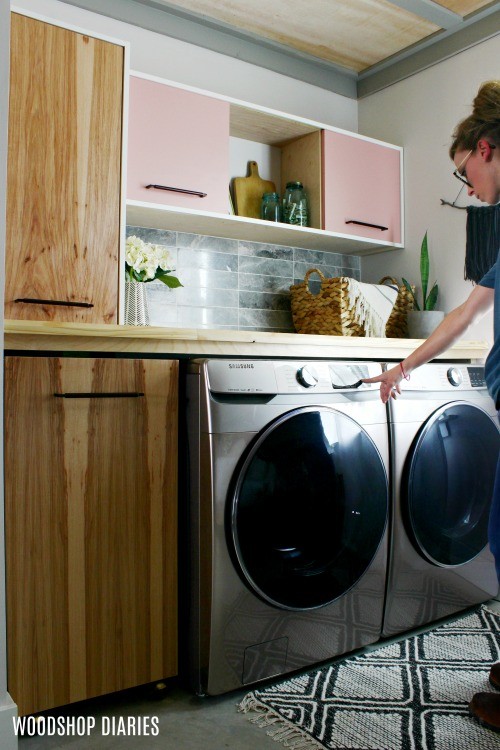 It's also got options for steam and presoak for even more stain removing power and a heavy duty cycle option for heavily soiled clothes. So basically, now I'm not going to feel panic when I'm playing in the mud and wondering if I'll have to replace instead of just wash my clothes haha.
Delay End Feature
Besides the options for better and more efficient washes depending on your load type, my favorite feature is the Delay End option. I'm terrible at forgetting to start the washing machine until bedtime and our old washer was so loud, I couldn't run it while we slept.
.
The Delay End option on the new washer allows me to set up my washing options and select to delay the end of the cycle until my alarm goes off in the morning. Now my load is complete when I wake up (PS this one's quiet enough to run while we sleep 😉 ) and I can move it to the dryer and have clean, fresh clothes by the time I leave for work.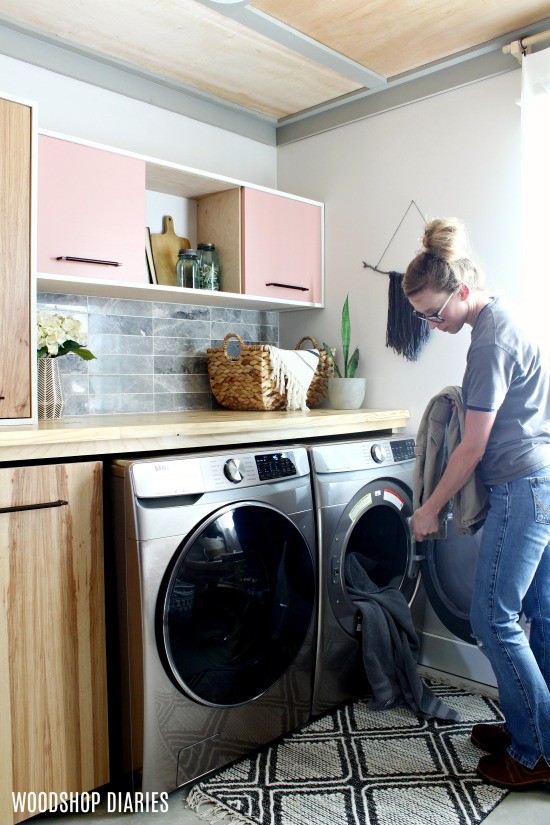 Obviously, you can set up your own routine based on your schedule, but the delay end feature is really convenient for busy (and forgetful) people like me.
Dryer Cycle Options
The dryer cycles are very similar to the washer cycles—the normal, bedding, heavy duty, and delicates. But what I really like about this dryer is the option to "refresh."
.
As a woodworker, my iron has made its way to my shop and is permanently covered in edge banding glue. Whoops. So I do not iron clothes. This new dryer has a steam option and a Refresh cycle that worked perfect for getting out wrinkles in our Sunday bests (or our favorite t-shirts) in just 15 minutes.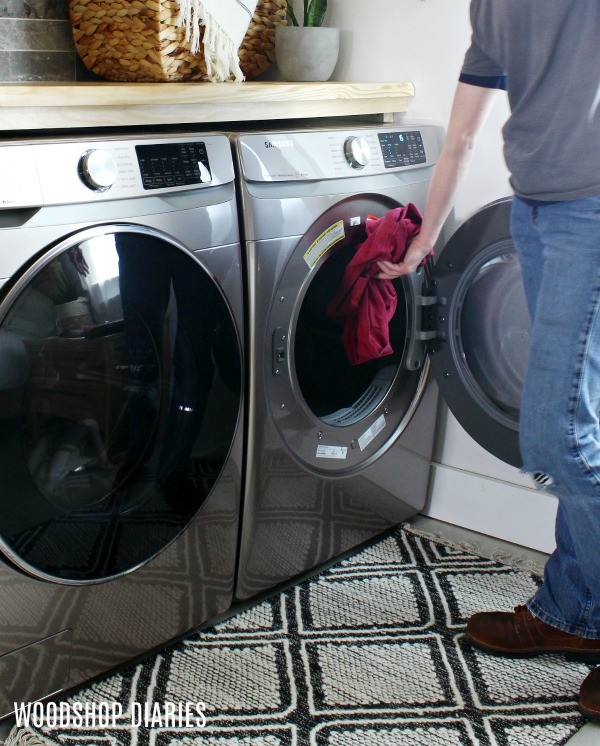 I've never had steam available in my dryer before and I think I could get spoiled using the two steam cycle options—refresh and steam sanitize.
Smart Control
To take it a step further, both the washer and dryer are capable of connecting to WiFi and you can set up, monitor status, and start them both from the SmartThings app on your smart phone. From the app, you can run even more specific cycles or set up your own custom cycles with the touch of a button.
.
Oh, and if you don't know what cycles you need to run for either the washer or dryer, the app allows you to tell it what you're washing and it will pick the best option for you. And you can link your washing and drying cycles, so the dryer knows what to run based on what you washed.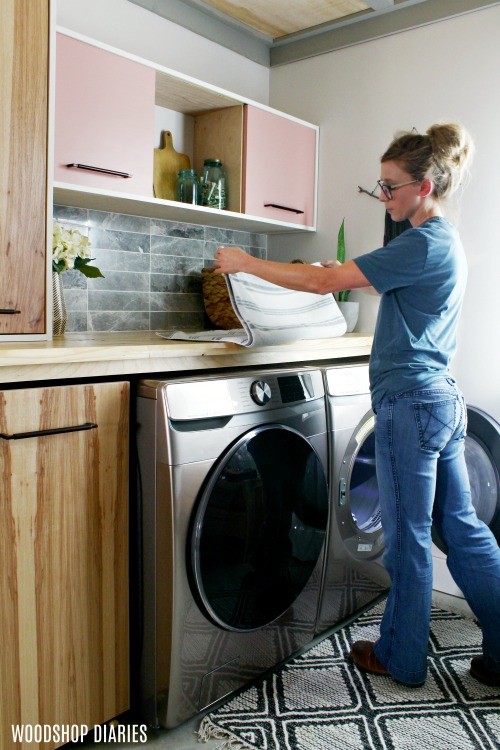 You can even set it up to automatically order more detergent when you get low, and remind you if you left your clothes in the washer once the cycle is complete.
.
It's literally like having a personal laundry assistant. I could definitely get used to this.
Now finally, let's talk about this Samsung Champagne color.
This new finish from Samsung is called champagne. And it's really hard to define. It's not BEIGE, but it's not GRAY. It's maybe like a greige?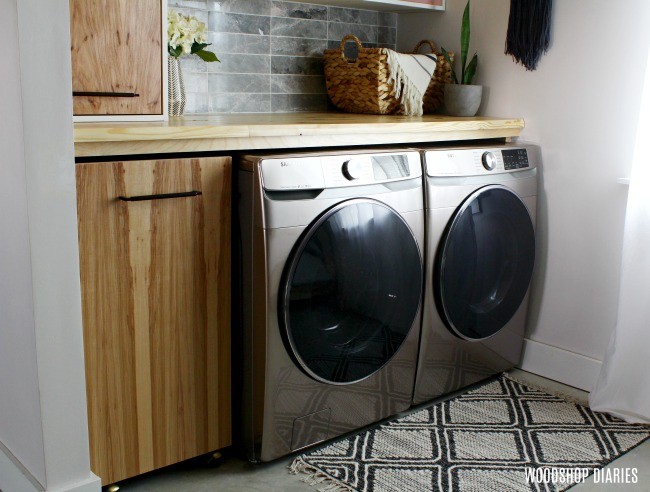 I was afraid this color would feel too traditional and a little too…brown for my modern black and white taste. But it actually pairs great with white and with gray and looks nice with pink, too. You have got to see this color in person. It's absolutely beautiful.
.
It's not too bold. But it's also not boring. It definitely has a neutral feel but is a really nice change from the typical black, white, and grey options you're used to seeing. And even more good news for really messy people…this color doesn't show dust and dirt like darker appliances 😉
.
I admit, I was a little resistant to change from my super simple, old top load set (who isn't resistant to change?), but I'm really glad we made the switch to this new Samsung Champagne Washer and Dryer.
.
It unexpectedly made life a little less hectic (you know…by actually having clean pants to wear to work in the mornings), and although I'm still getting used to having so many options, it is really nice to be able to make laundry a little more "set it and forget it" with the SmartThings app and all the convenient features.
.
If you're shopping for a new set, definitely check this one out at The Home Depot. They provide delivery and even install it for you, if you prefer. And, last time I checked, they were having a pretty good sale on the washer and the dryer both. But, if you do happen to find one cheaper, Home Depot also offers a price match guarantee.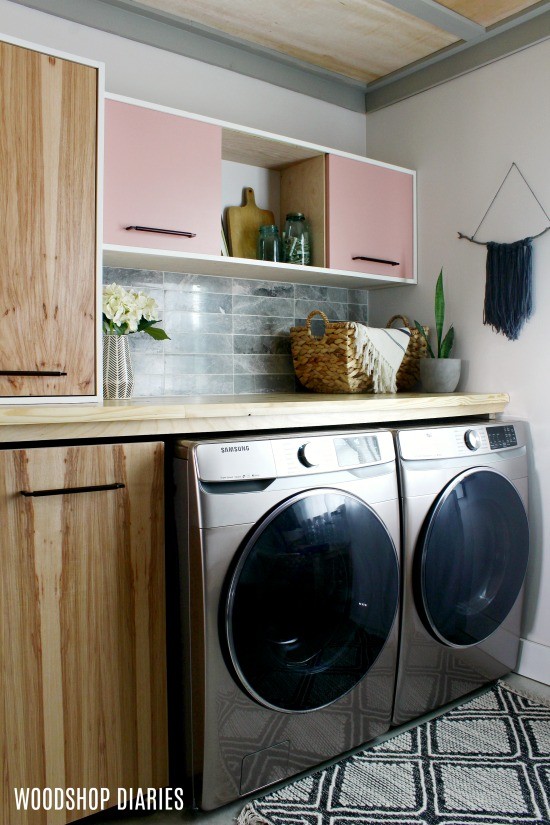 If you are looking for some inspiration for your own laundry room refresh, stay tuned the rest of this week on the blog for details on how I transformed my little laundry nook and tutorials for the countertop, cabinets, and backsplash. And if you haven't already seen the before and after post, check it out here.
.
Be sure and pin this for later and check out my first every IGTV video over in Instagram about the refresh and this new set.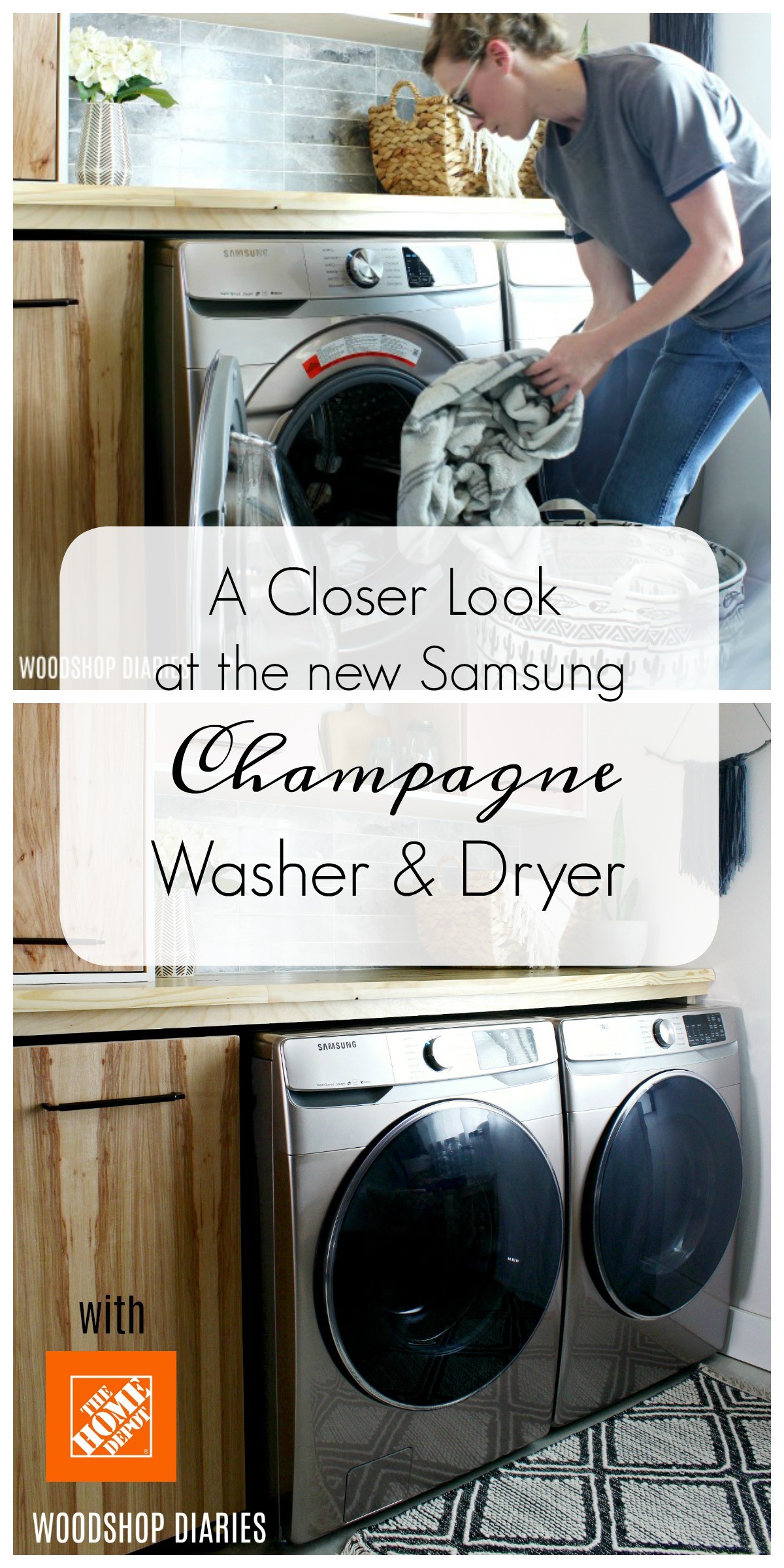 Until next time, friends, happy washing 😉