I've never been big on "fake" stuff. Fake wood, fake crab, fake friends, fake smiles at that coworker you want to punch in the throat (JUST KIDDING). I just don't like things that try to be something they aren't.
.
That's why I always try to be real with you guys. Honesty is the best policy and I like to remind you all the time that I really have no idea what I'm doing here and am a complete amateur.  Just keepin' it real, yo.
.
But lately, I find myself embracing the fact that some things are just better fake. Not wood, though.  NEVER WOOD.  You either go real with that stuff or go home, friends.  (Sorry to all my particle board and MDF lovers…it's just a pet peeve.  We can still be friends, ok?)
.
But things like fake fur are totally cool (because…bunnies!!). And fake antique mirrors.  And fake fireplaces (because sometimes putting in a real one just isn't worth it).
.
So when I decided I wanted a fake fireplace in our bedroom, I at least wanted it to look as real as possible. If you're going to fake something, at least make it somewhat believable, right?  Ironically, that required using even more fake stuff. Oh, the hypocrisy!!
.
But nonetheless, the fireplace turned out AWESOME (even if it is a total facade) and I'm going to show you exactly how I did it 🙂
.
This post contains affiliate links. If you purchase from one of these links, I may receive a small commission at no extra cost to you.  Thank you for supporting this site so I can continue to provide free content.  Please see disclosure policy for more details.
.
DISCLOSURE: This is meant to be a FAKE fireplace, just for decoration.  Do not place any heat source in the fireplace as the wood and fake brick paneling is flammable.  For applications where you will be using a heat source, contact a professional for their opinion.  This application is strictly for decoration.
Materials needed:
(3) 1x12x8 boards
(2) 1x8x8
1x2x8
Baseboard molding (optional)
Crown molding (optional)
Fake Brick panel
White paint
Drywall mud or plaster of some sort
Sandpaper
Plastic putty knife
Wood putty
Tools needed:
Miter or Chop Saw
Step 1: Build the insert for the fake fireplace
This fake fireplace is really two main parts—the inside and the outside. I worked kind of backwards and made the inside first.
.
I cut two 1x12s at about 36" and one at about 22". I used my jig saw to cut an arch in the 22" piece.  This is optional, but I wanted the fireplace to have an arched top.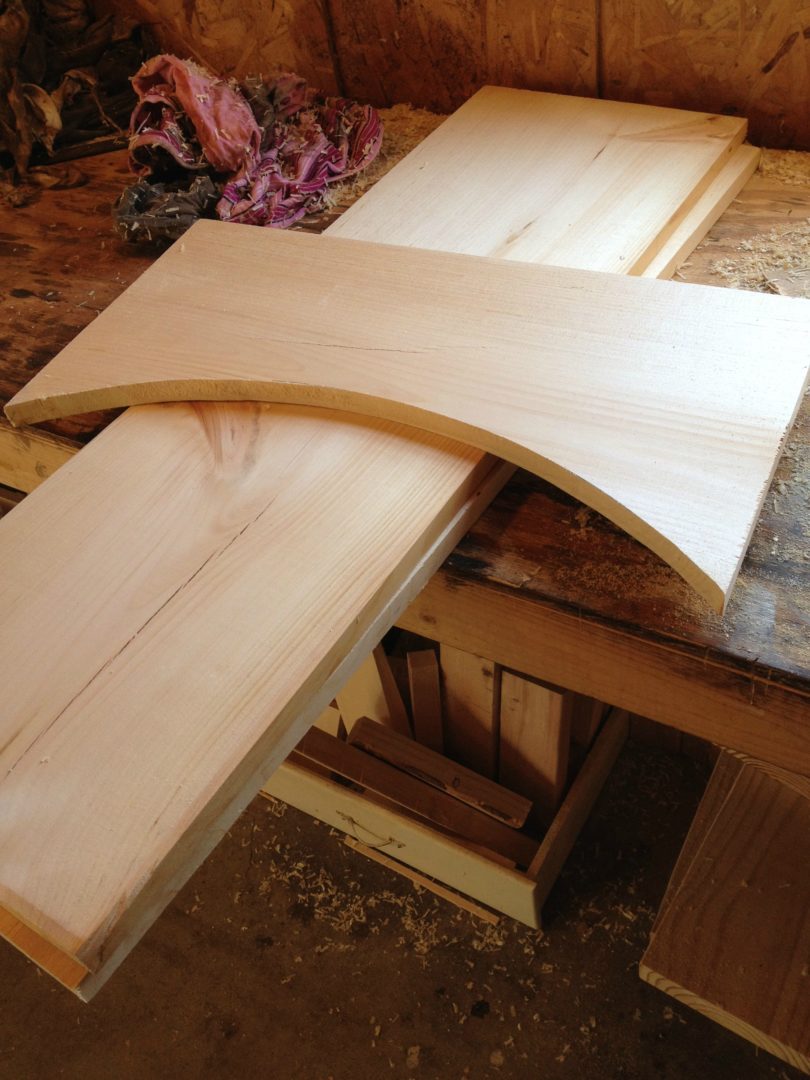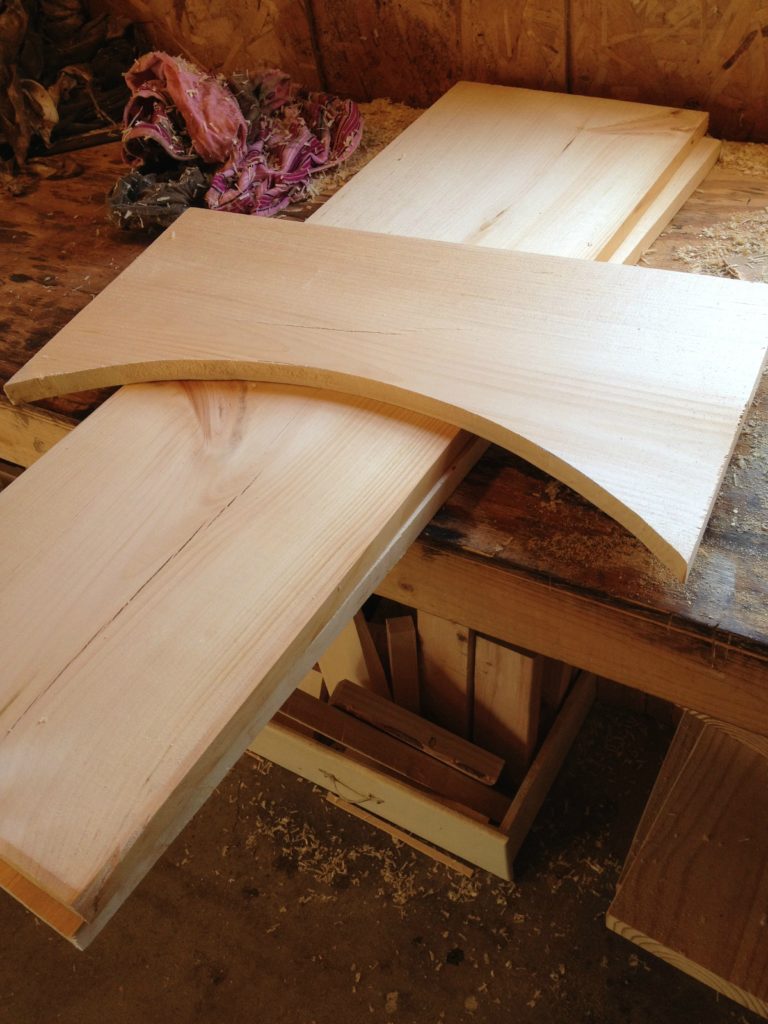 Then I used my Kreg Jig to drill pocket holes in the 22" piece and used 1 ¼" screws to attach it to the two 36" 1×12 boards like shown.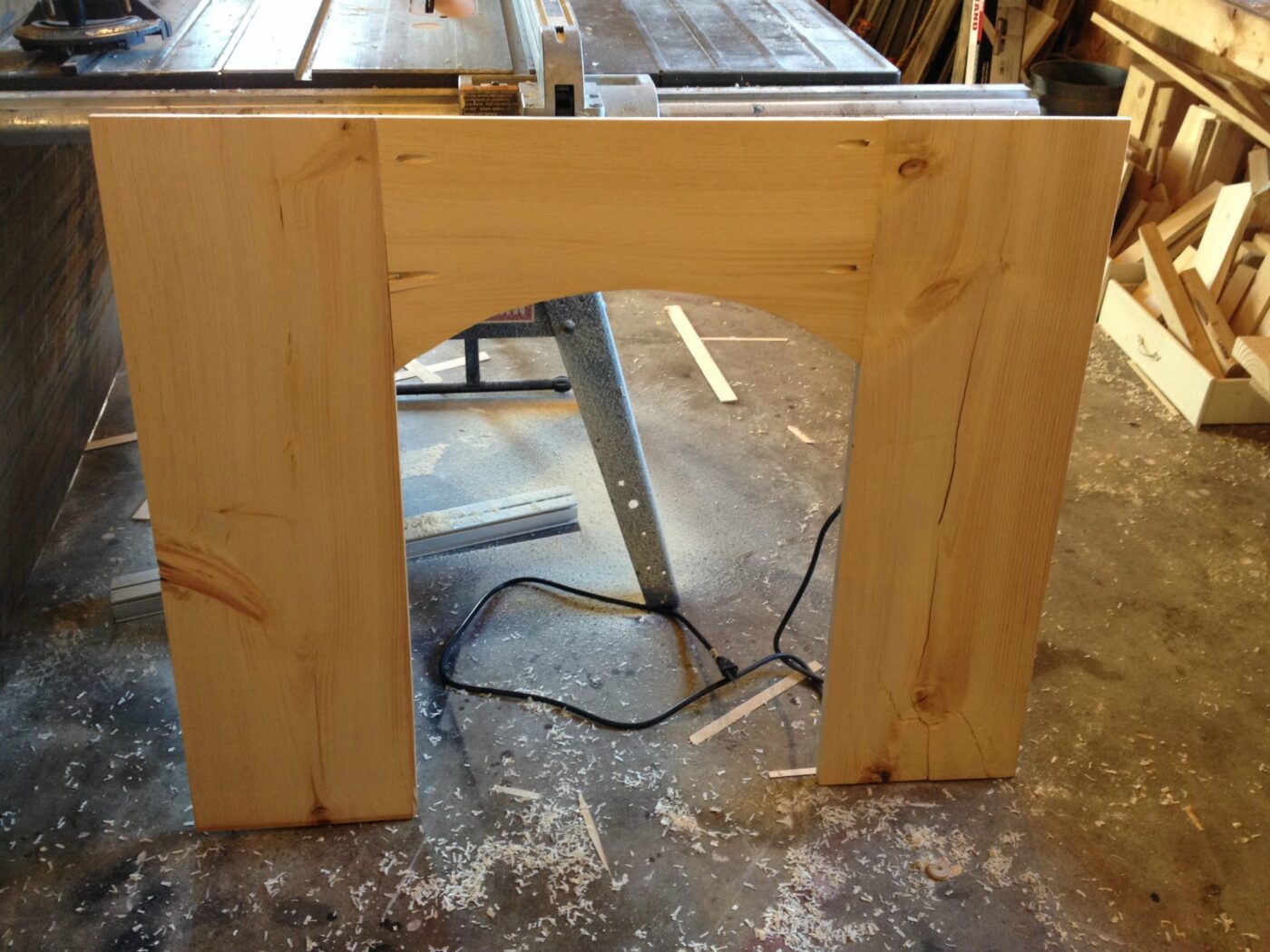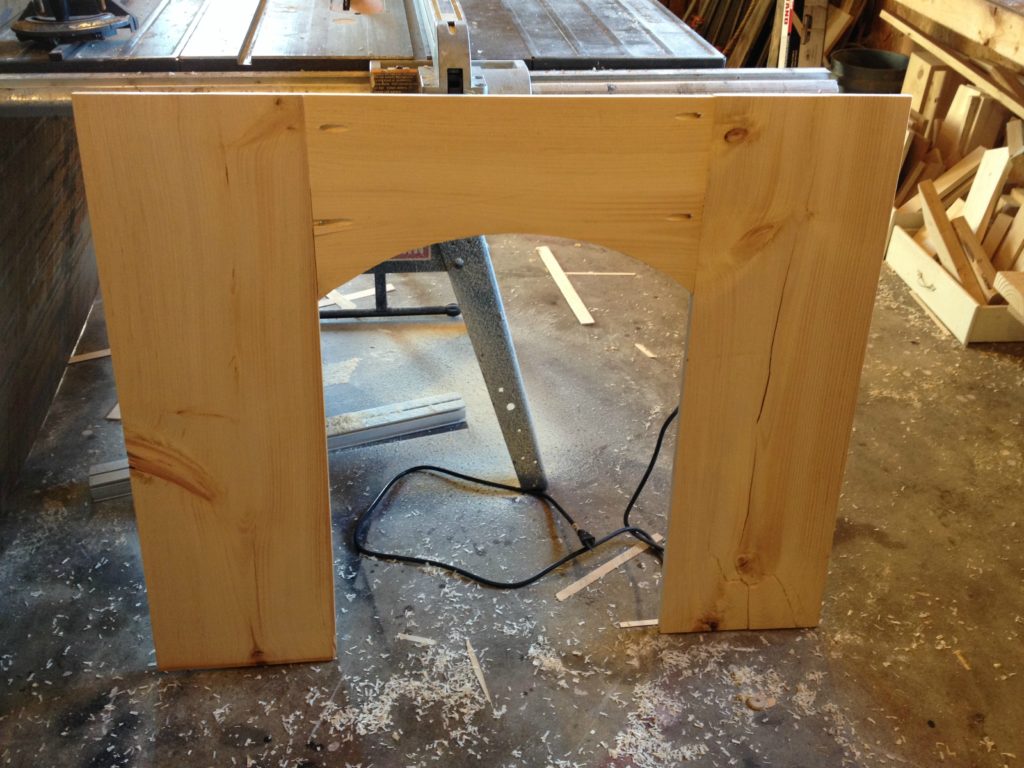 I cut two pieces of 1×8 at 36" long and drilled pocket holes in those as well and attached along the inside of the opening.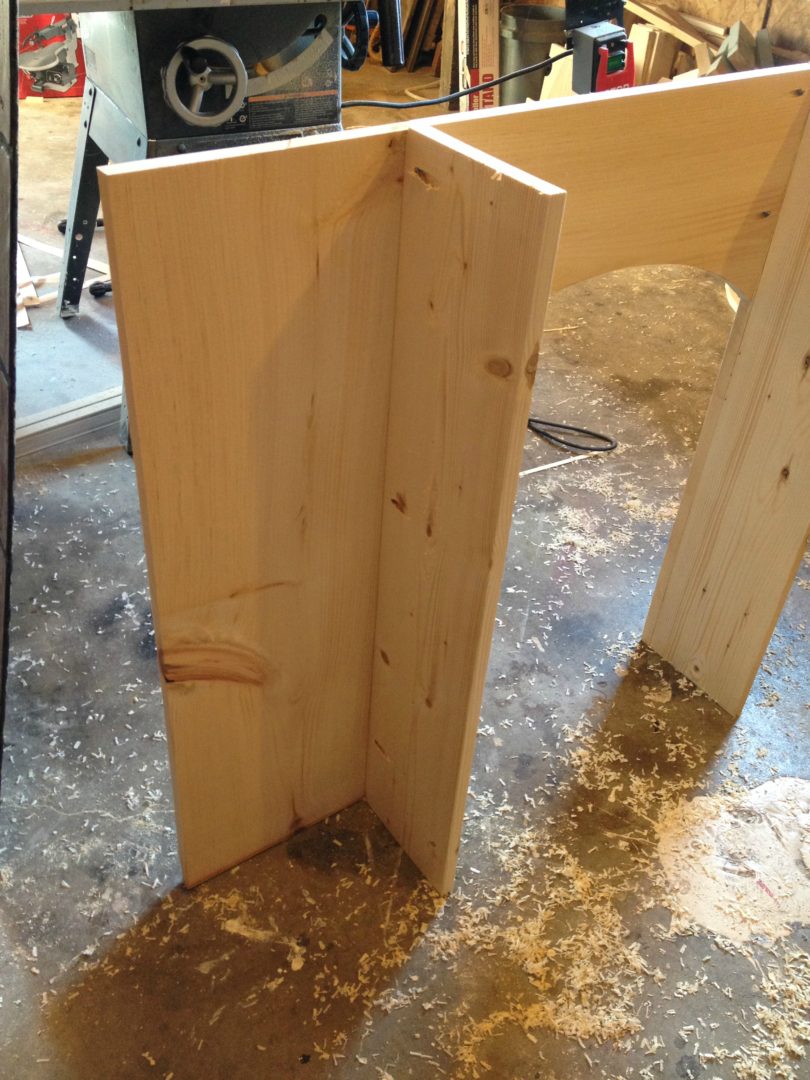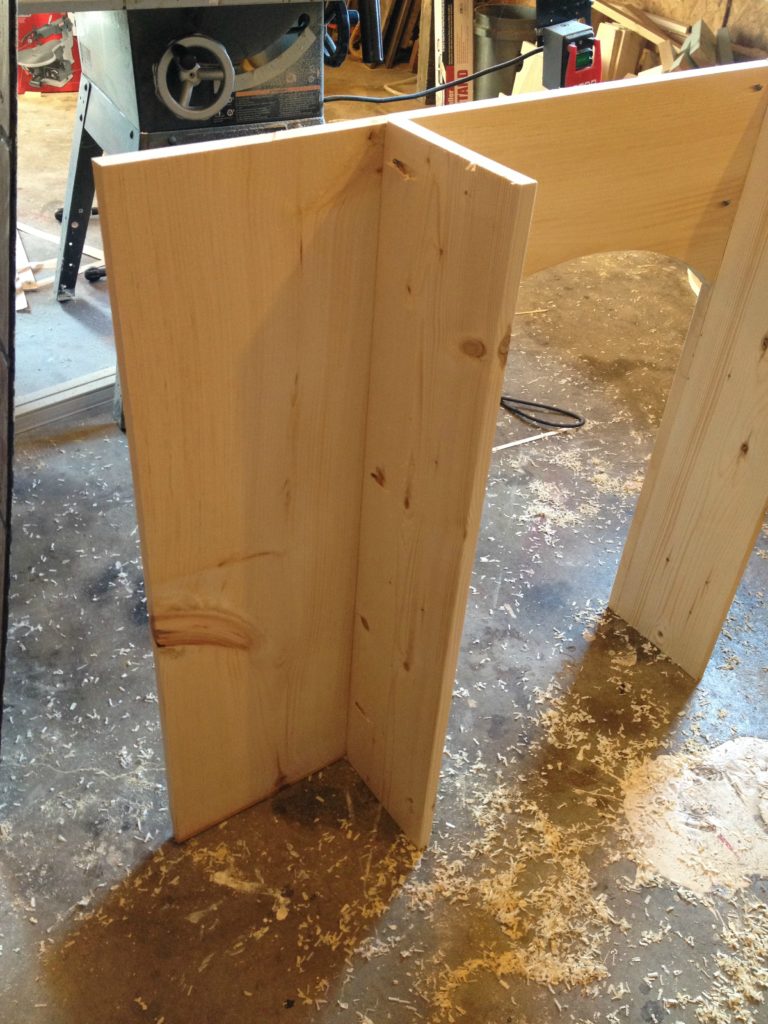 Step 2: Add the faux brick
I got a 4×8 sheet of fake brick panel from the local big box store. My local lumber yard could order it, but didn't keep any in stock.  If you can't find it at the bog box store, check the local places.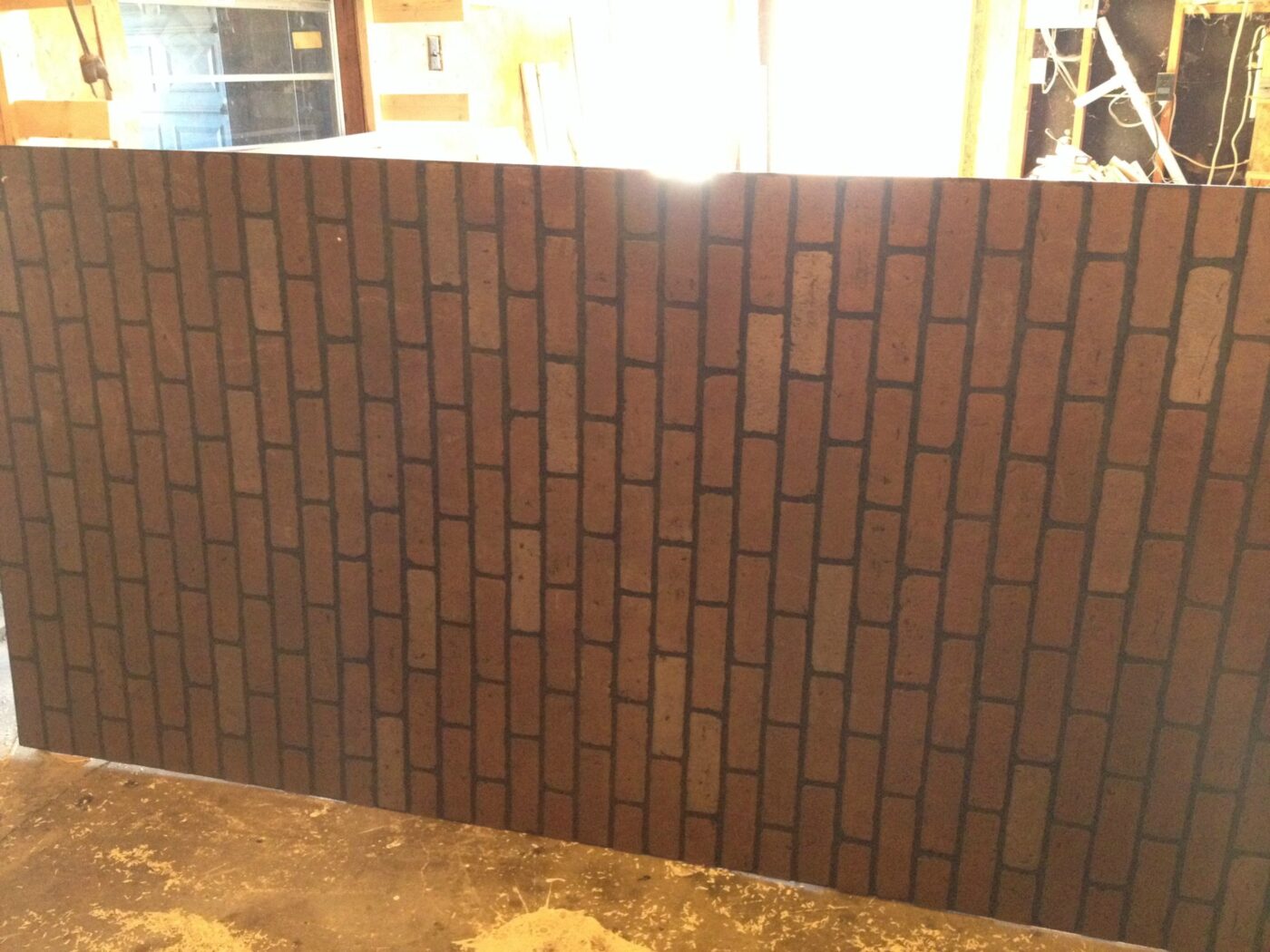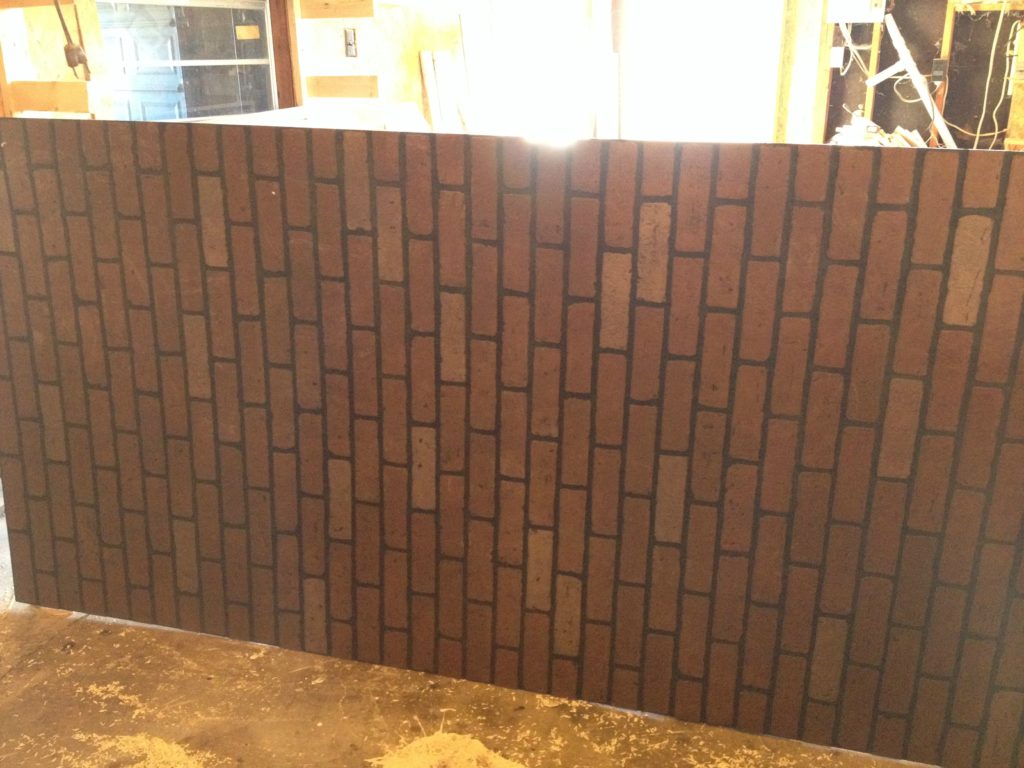 I'm going to warn you (here's me being "real" with you teaching you how to fake something…ironic), don't do it like I did it.
.
I pieced the front faux brick together in three pieces. Don't do that…you can see the seams and it took me FOREVER to get things to line up to where they looked halfway normal.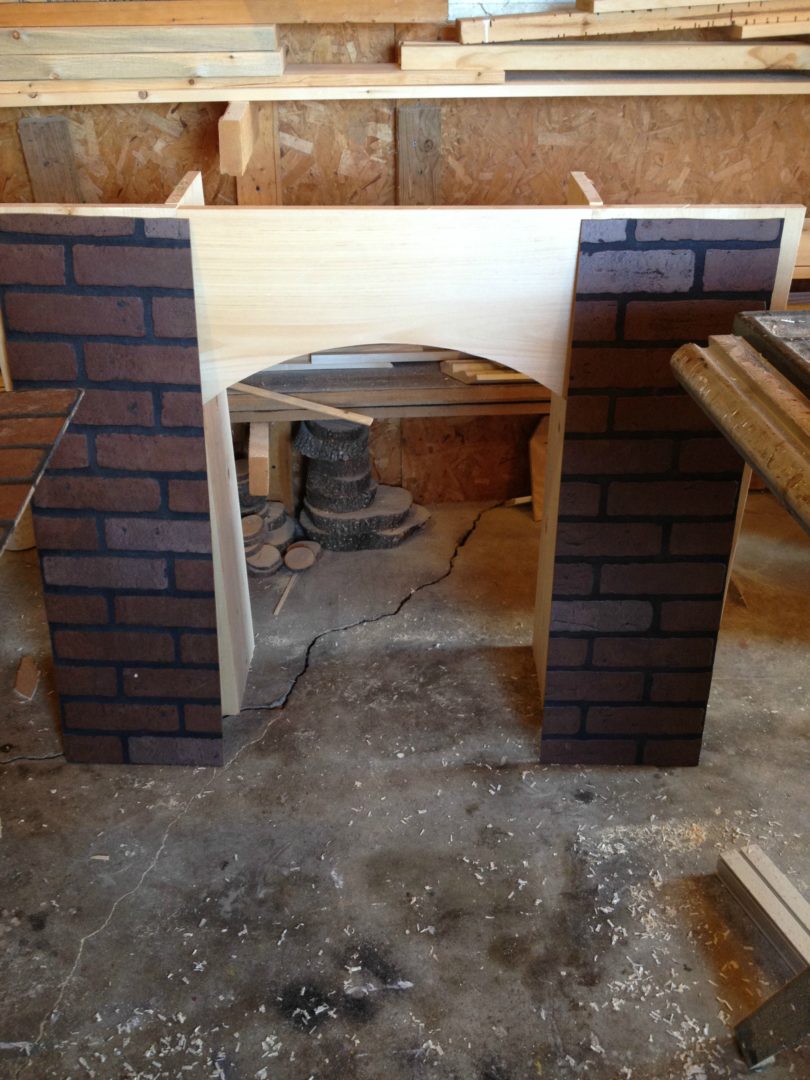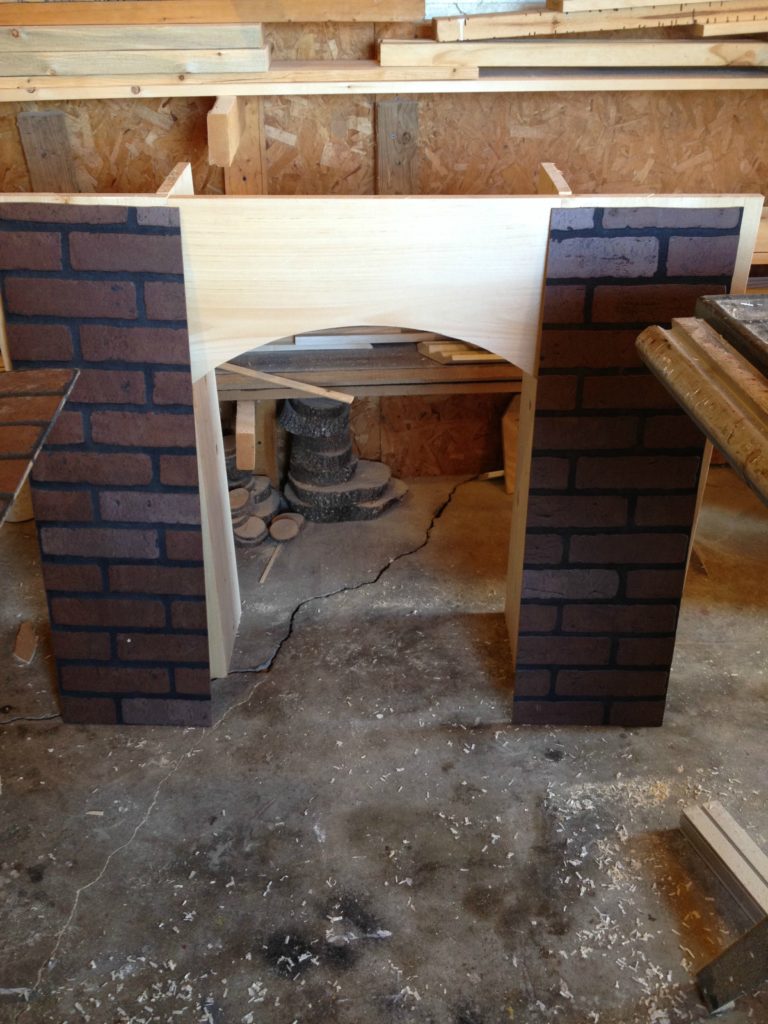 I recommend lying the board face down on the ground and trace out the shape of the front of the insert onto the back of the panel and cut the front brick as one piece with a jig saw.
.
Glue and nail the brick panel onto the insert as you go.
.
I attached the front pieces first, then lined the 1x8s and then nailed a large piece onto the back of the 1x8s so it was all completely lined with brick. I cut my pieces on the table saw so I got good straight lines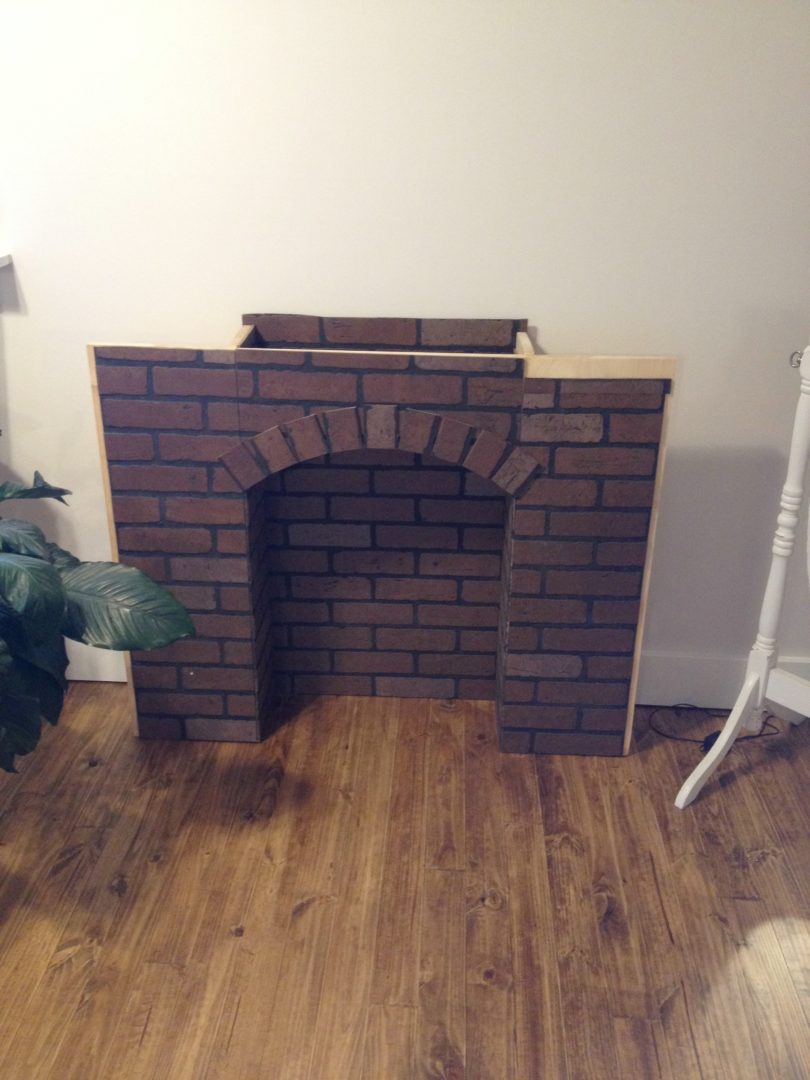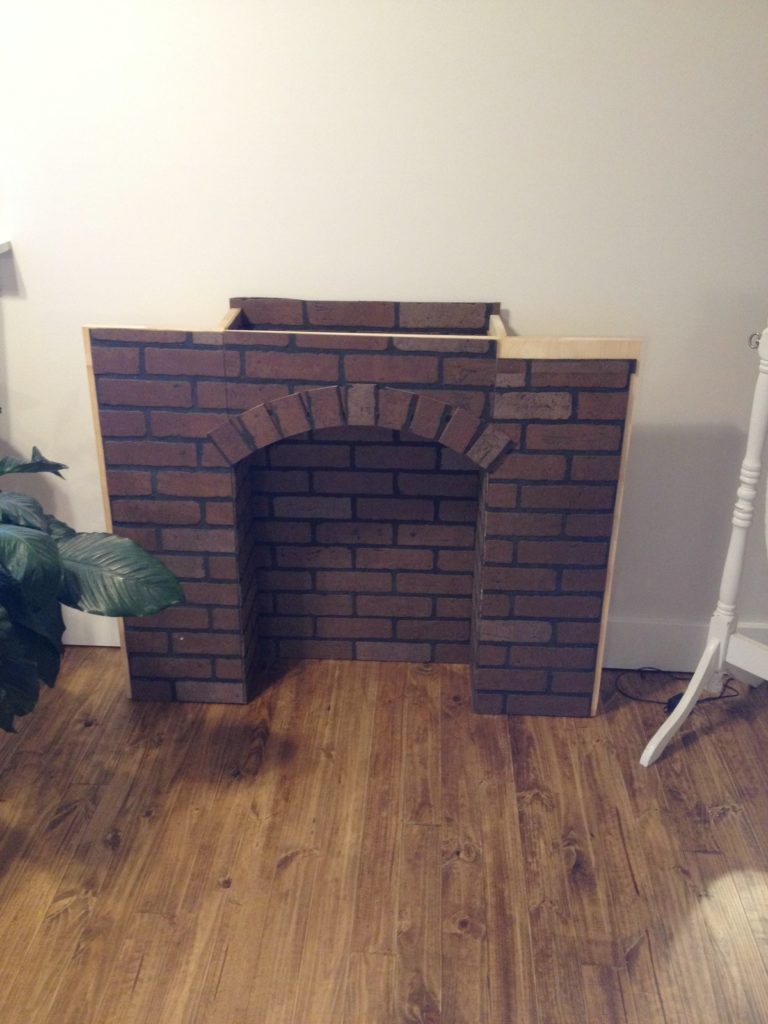 For the arch, I cut individual bricks out and cut them in half and just nailed them along the arch. Don't worry about gaps between them.  We will deal with that later.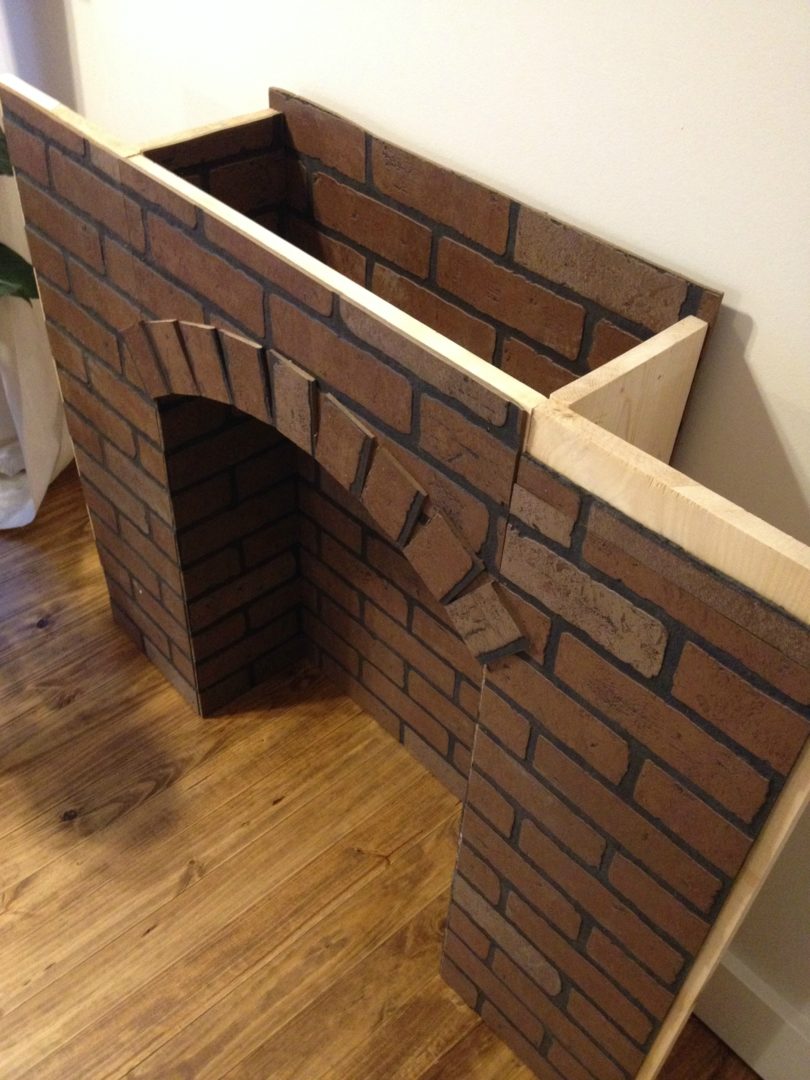 Step 3: Make the faux brick pretty
Let's be honest. This brick is UGLY.  It's so brown and dark and the mortar is black.  Apparently, back in the day, black mortar was more expensive.  WHAT?! Our real fireplace has black mortar (from the 80s) and I HATE IT SO BAD.
.
So first thing was first, I painted the black lines with plain white paint.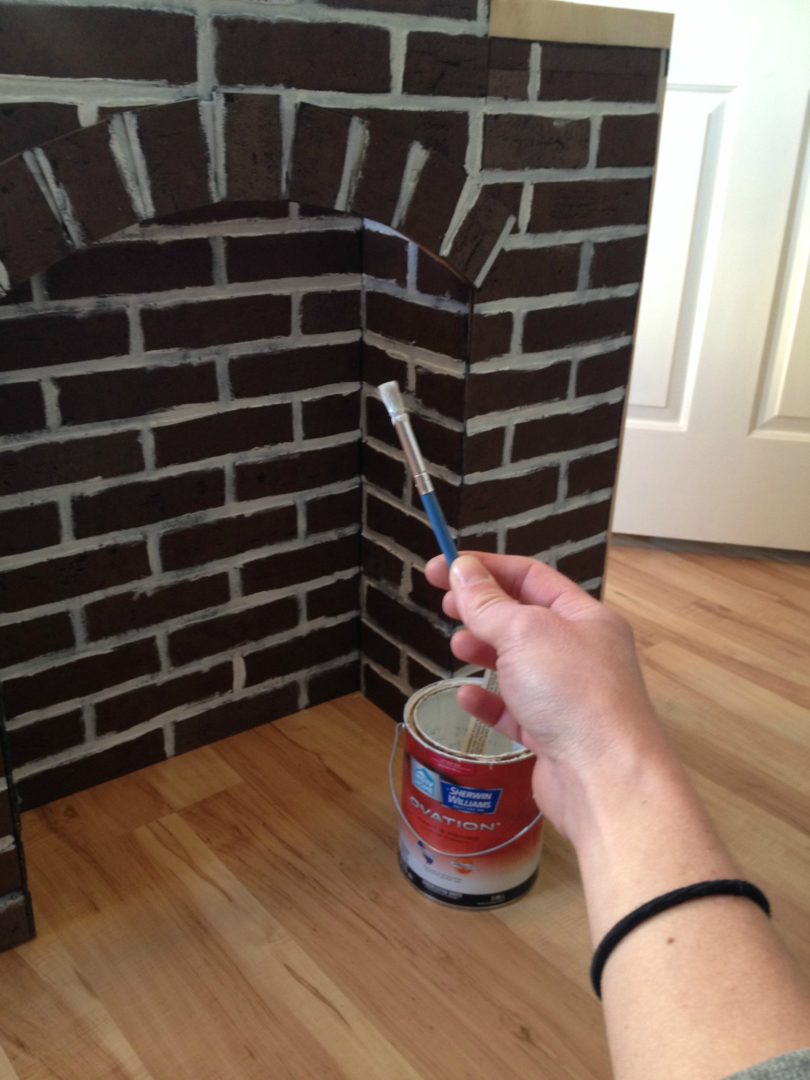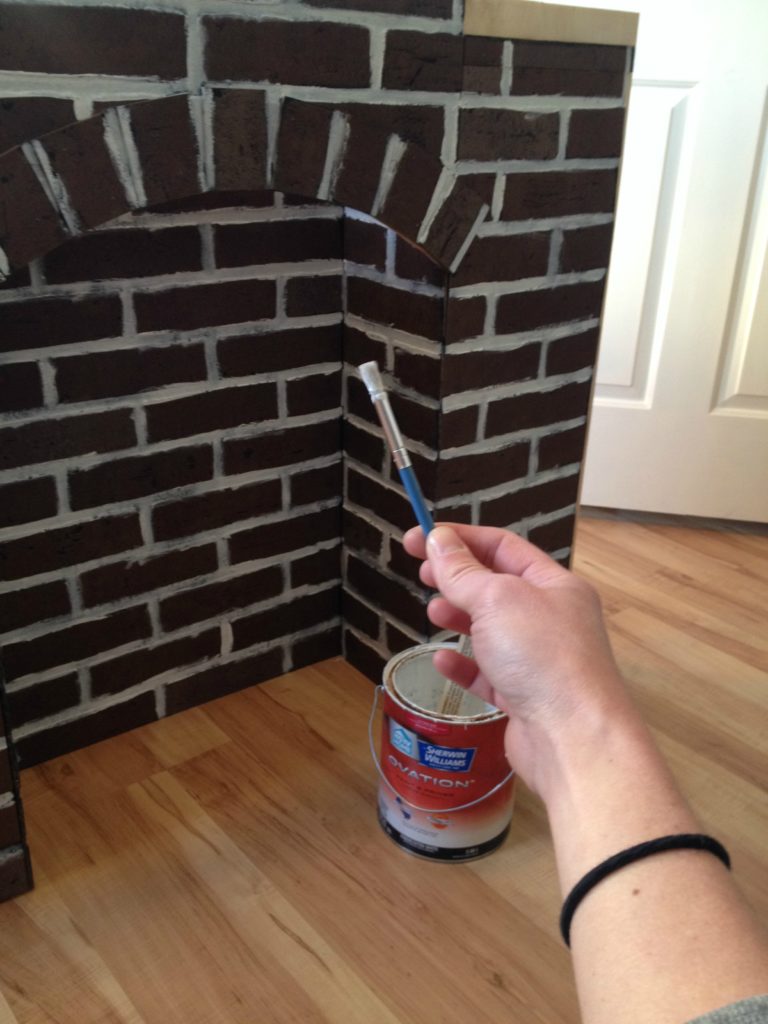 I was messy and not too concerned with it being in the lines. It'll be covered up later.
.
Once the paint was dry, I took a cheap plastic putty knife and a HUGE bucket of drywall mud and puttied all over the brick.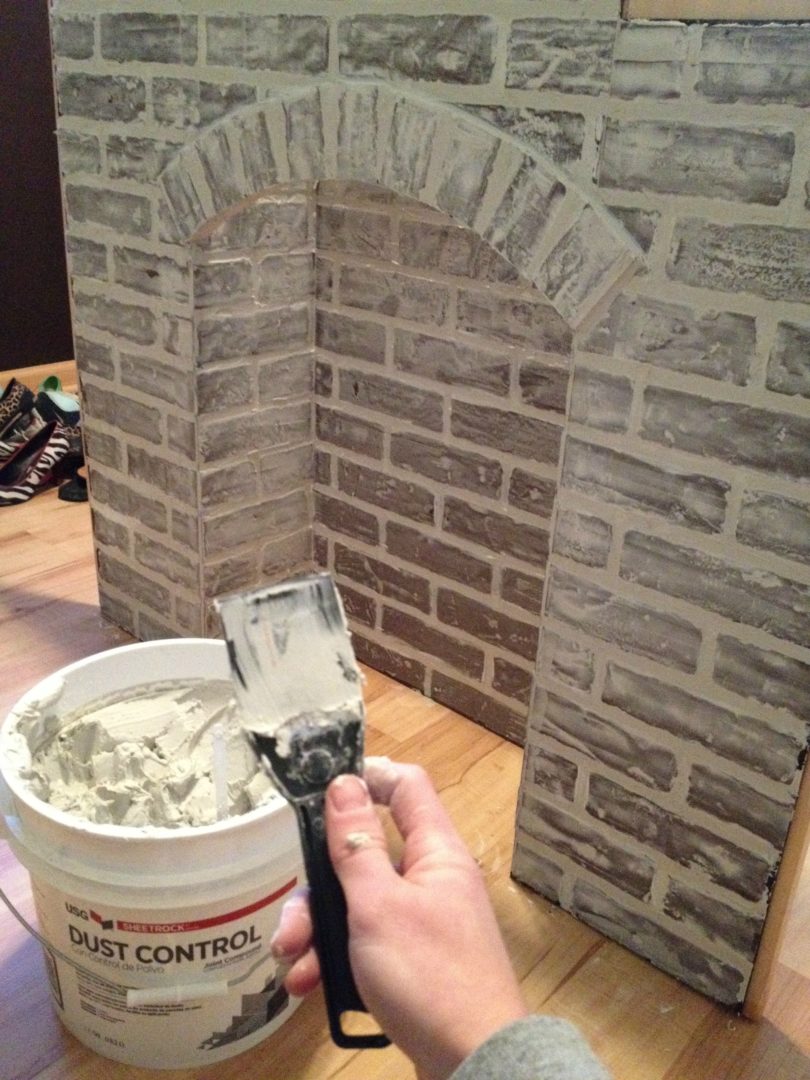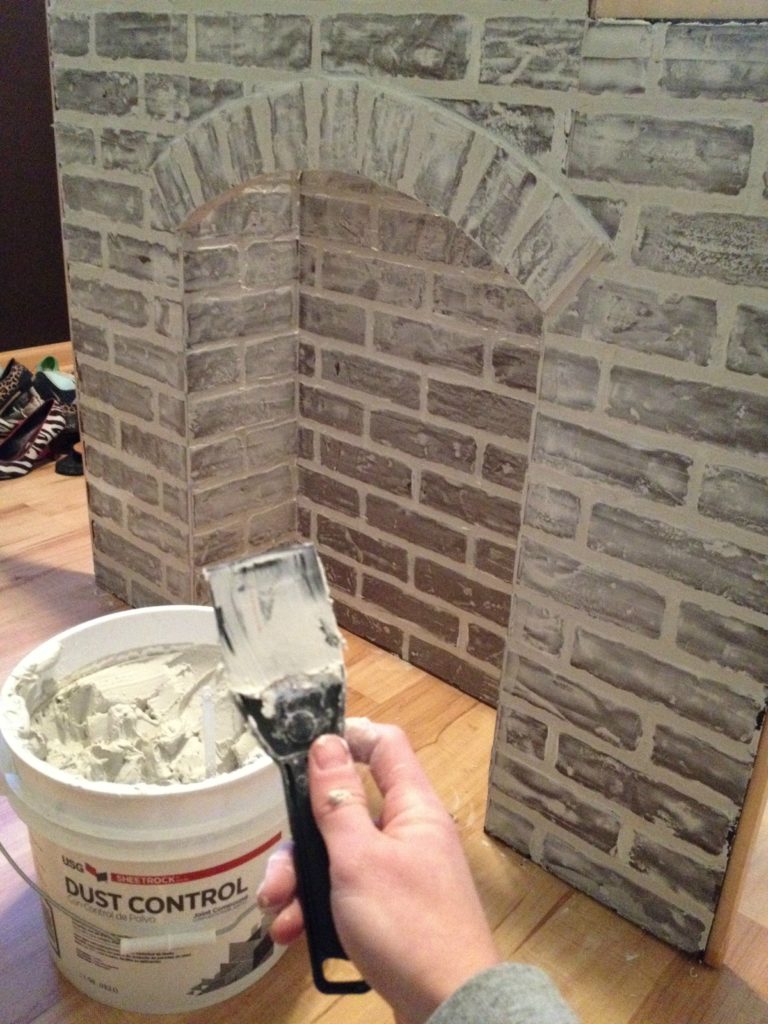 We had drywall mud leftover from the bathroom remodel, so that's what I used. You can get smaller containers of plaster and it should work the same.  You don't need a whole lot, but you will need more than you think.
.
I should have taken a video to show you, but I didn't. #badblogger I just scooped up some mud on the knife and smeared it all over.  Be sure to get it in all the mortar lines and the little dimples in the bricks.  Then scrape off the excess.  I worked in small areas as I went.
.
Be sure to fill in all the gaps between the bricks in the arch, too.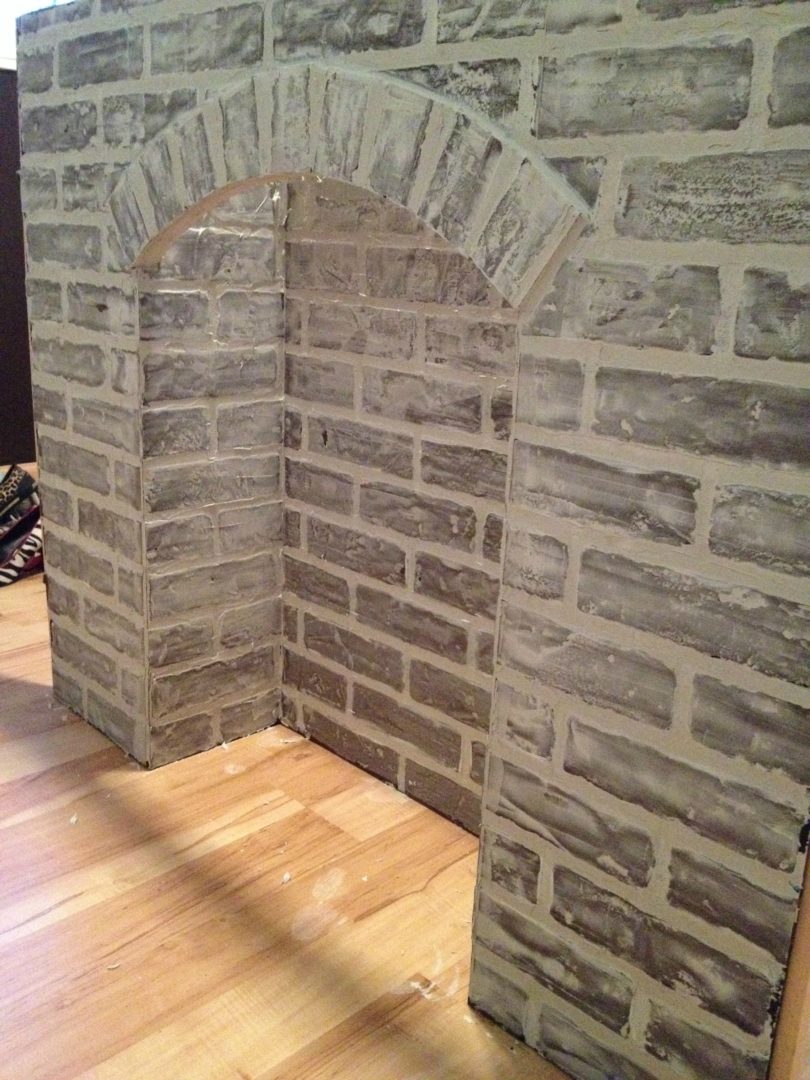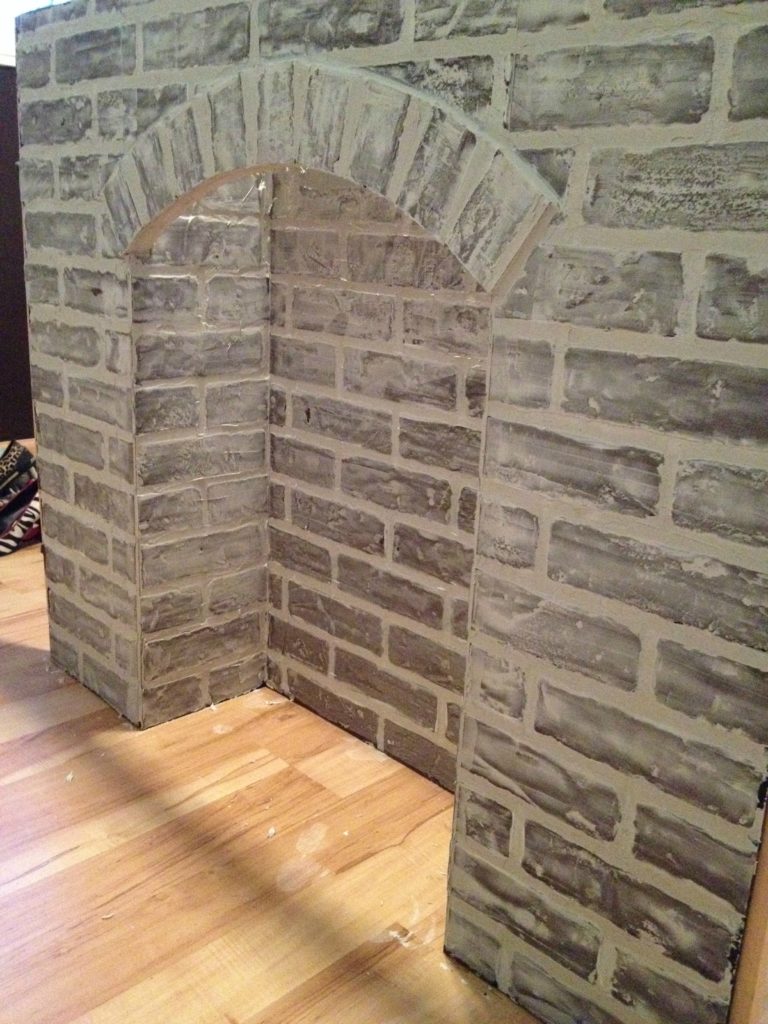 Just another warning…you will get the mud all over the floor no matter how careful you are.  This floor is cheap and we will replace it soon, so I didn't care. But I don't advise you to do this on bare floor…lay down some plastic.
.
Ta da!! Now let it dry…it'll take a while.
.
Once it was good and dry, I sanded it with drywall sandpaper. You can use regular sand paper too.  After the mud, it was whiter than I wanted, so I just sanded until I liked it.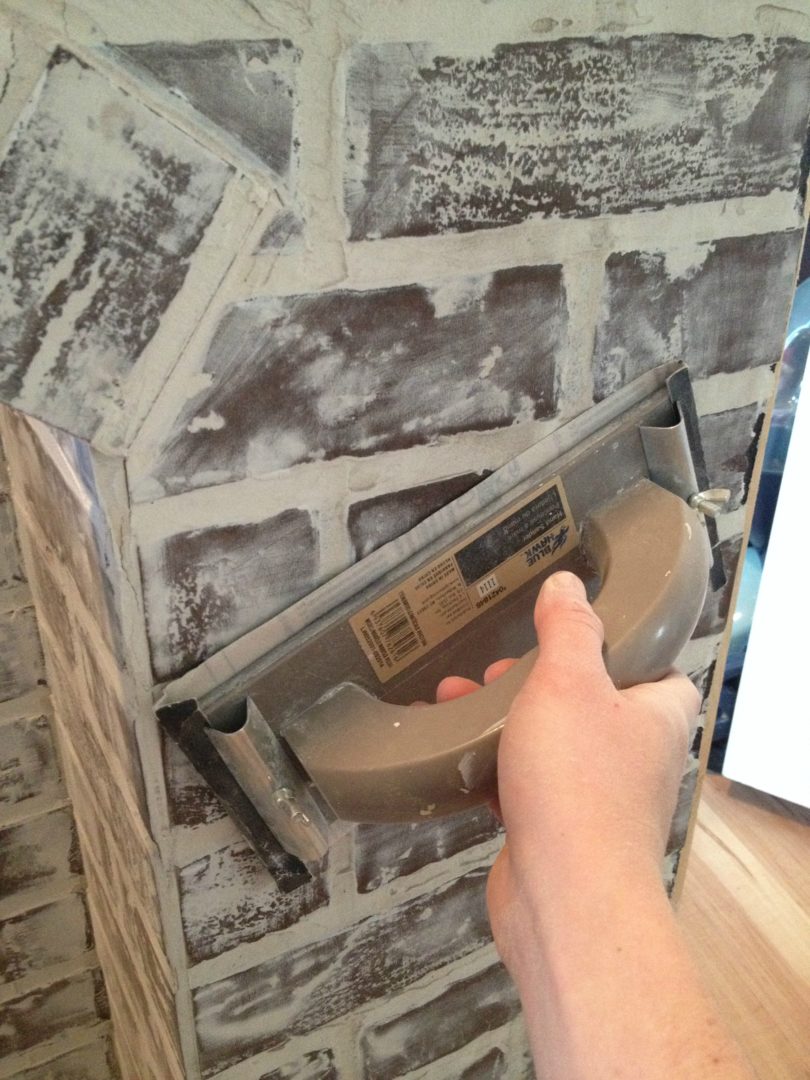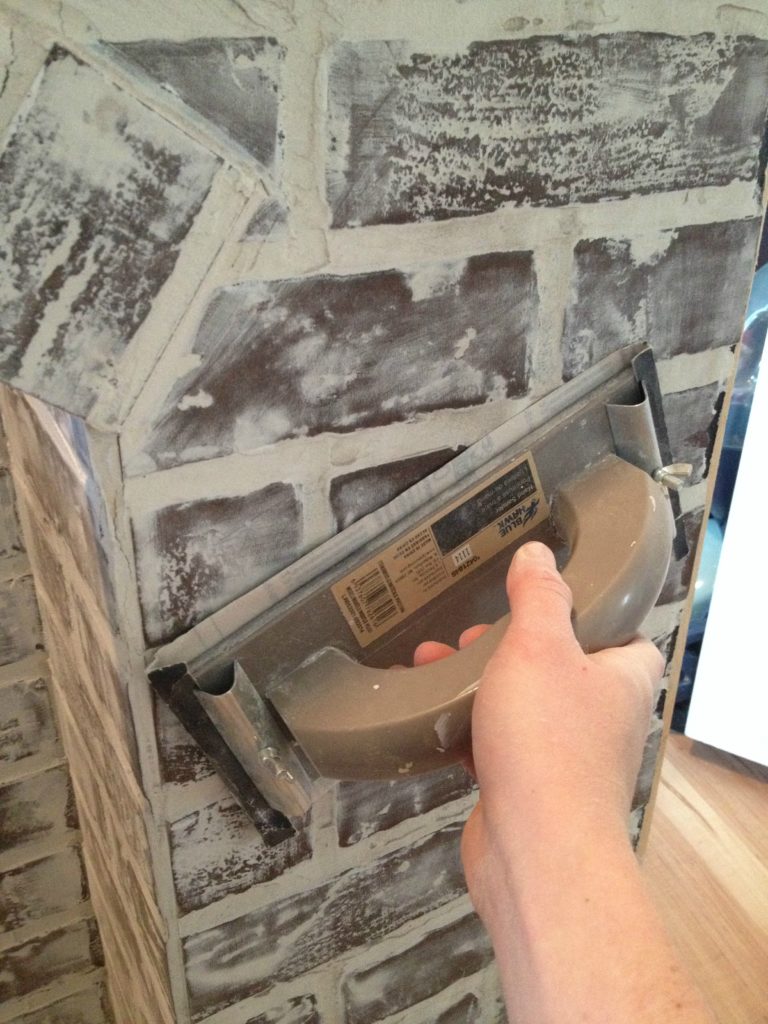 This is what I ended up with. It will be very dusty…just a warning. Wipe it down with a damp cloth after sanding.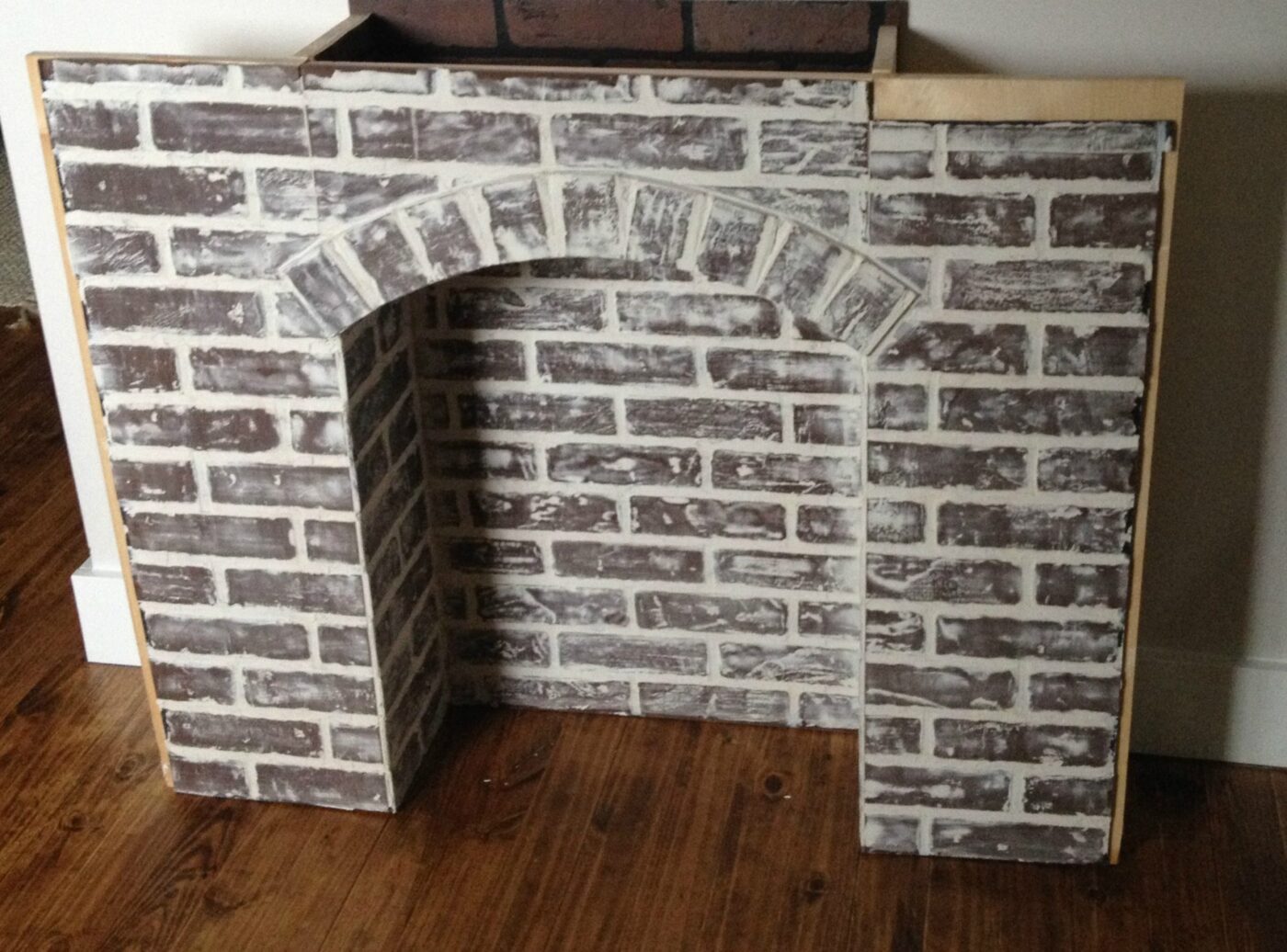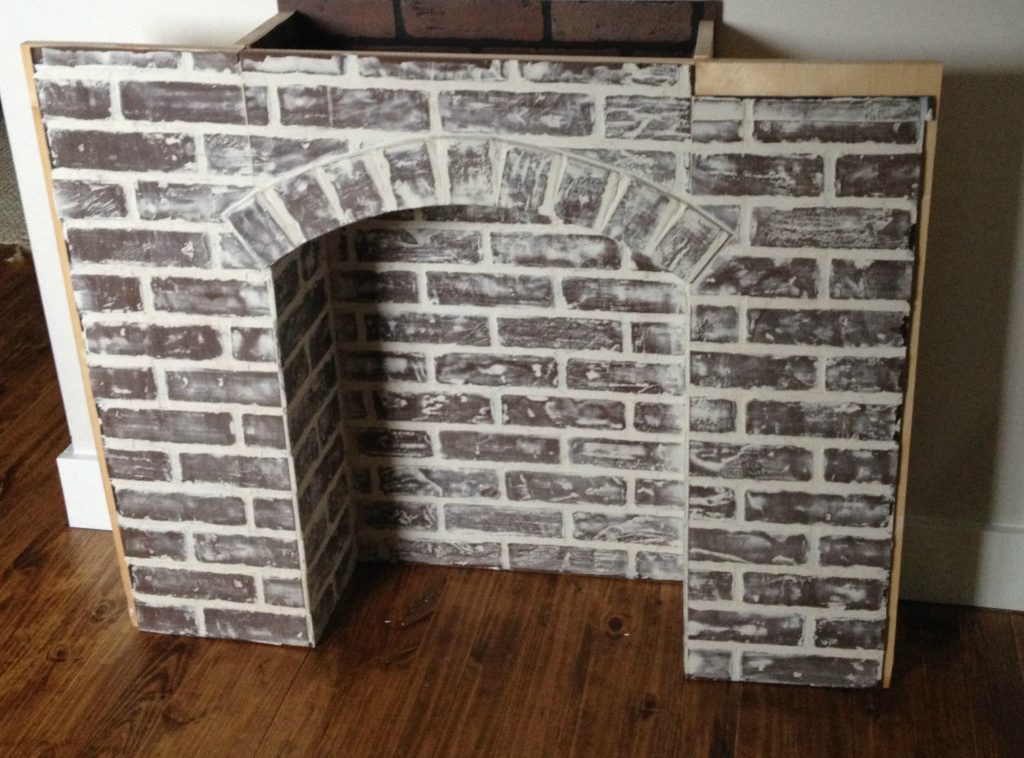 Step 4: Build the outside of the fake fireplace
I cut 2 pieces of 1×8 at about 34" long and one 1×8 at about 48" long. I drilled pocket holes in the tops of the 34" long pieces and attached it to the 48" piece using 1 ¼" pocket hole screws like shown below.
.
Then I ripped two pieces of 1×12 to 8 ½" wide for the sides. You can use a 1×10 or 1×12 for the sides and not rip it if you want.  But I didn't want my fireplace very deep, so I ripped it.
.
I drilled pocket holes along the sides of the 8 ½" wide pieces and attached them to the front piece using 1 ¼" pocket hole screws.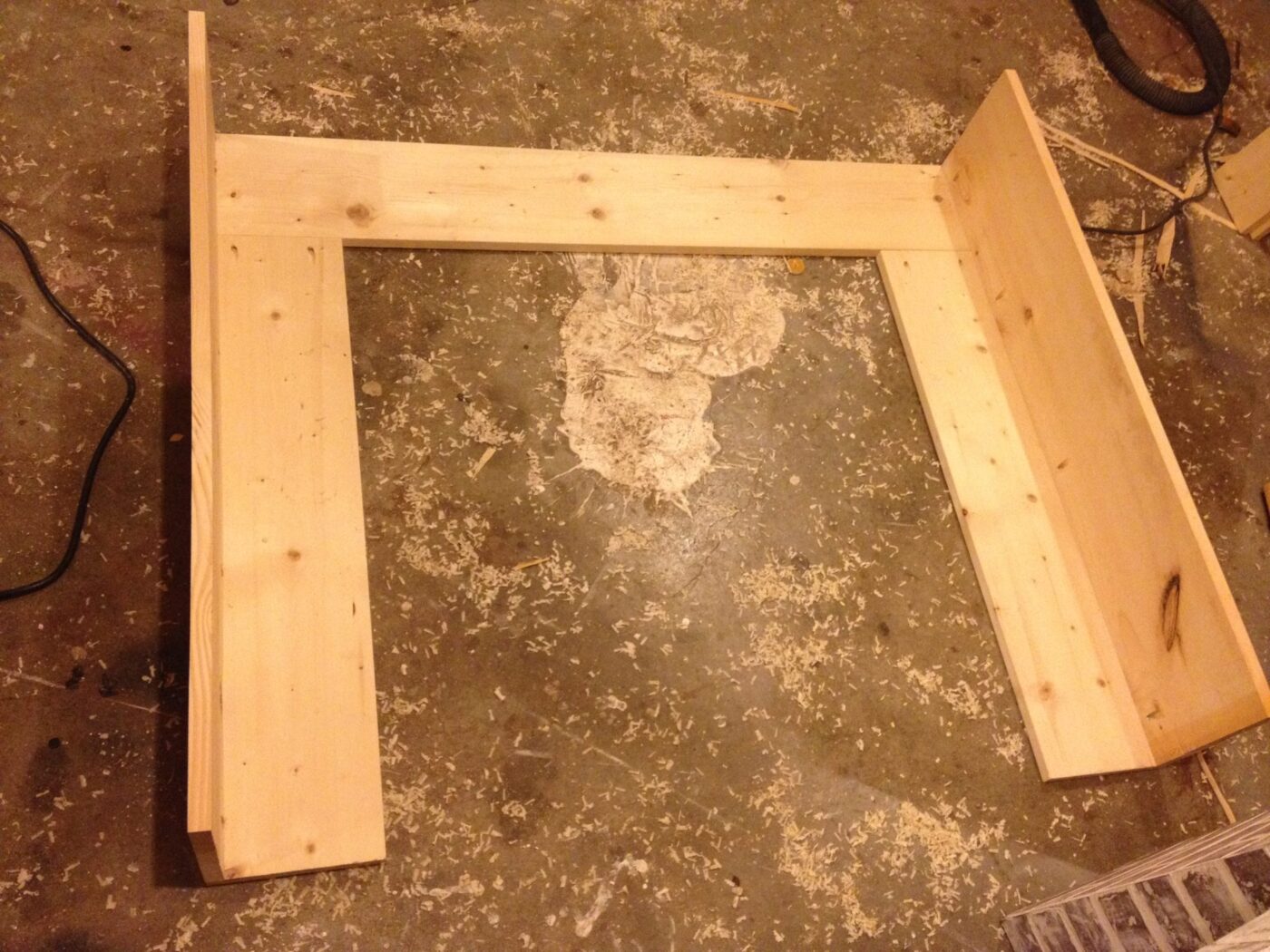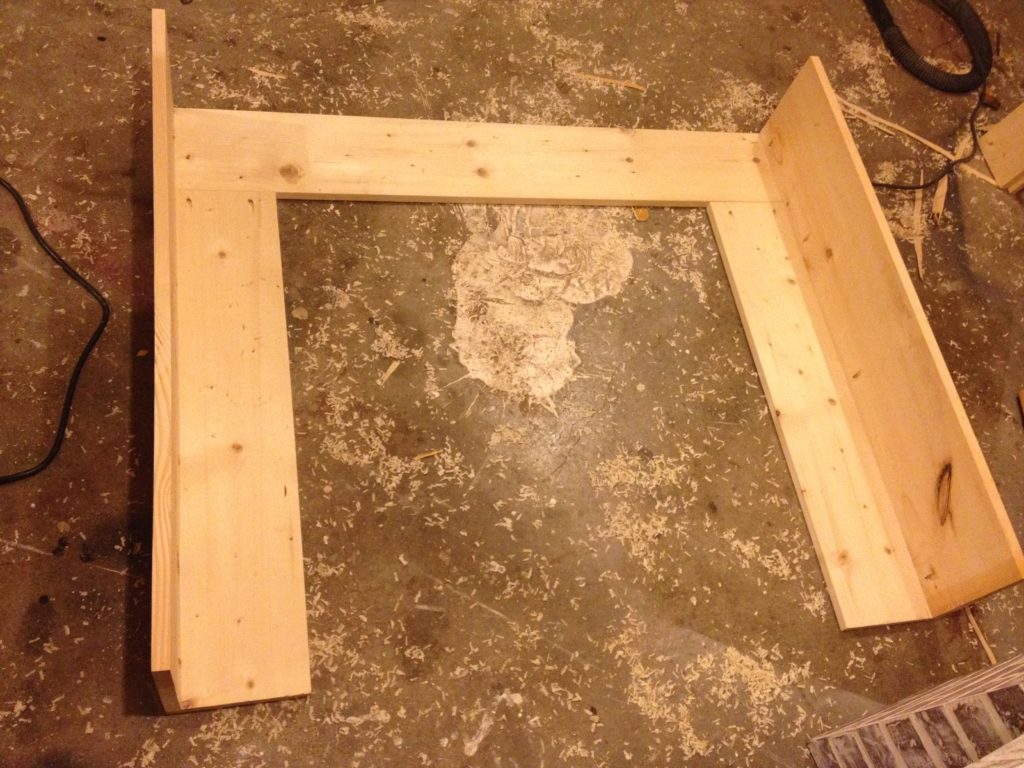 Then I cut a 1×2 and a 1×12 at 53" long and glued them together. This will be the top.  You could also attach them using pocket holes and screws.
.
I drilled pocket holes along the top of the box I just made and attached top using 1 ¼" screws.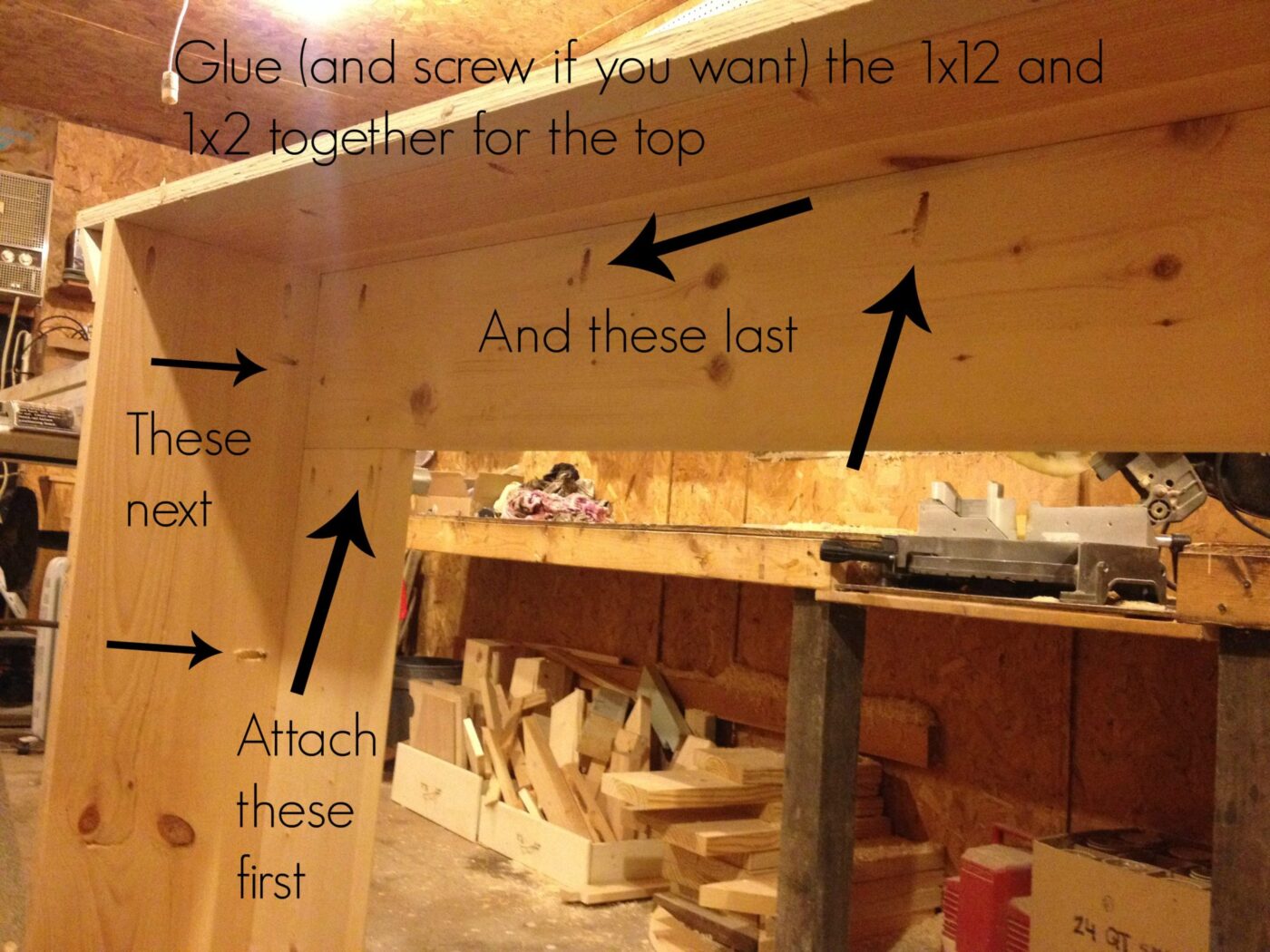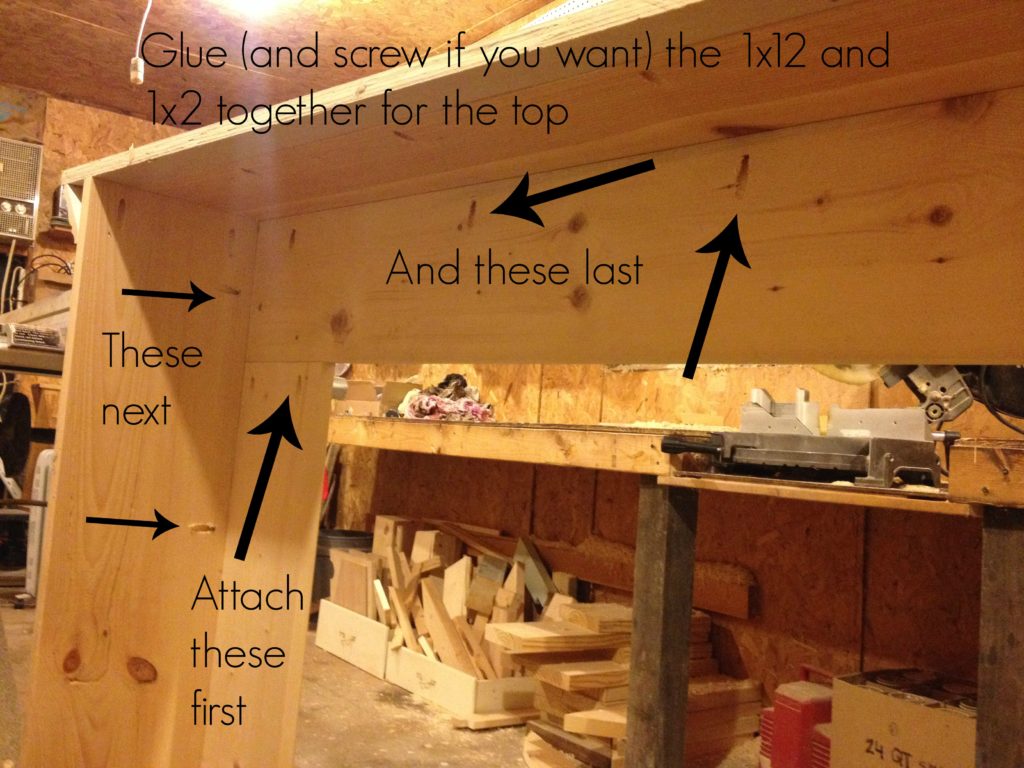 The rest of this is optional and can be customized however you want. I added some interest to the front by nailing pieces on the fronts to make "boxes", then adding cove molding along the insides, crown molding to the top and baseboards at the bottom.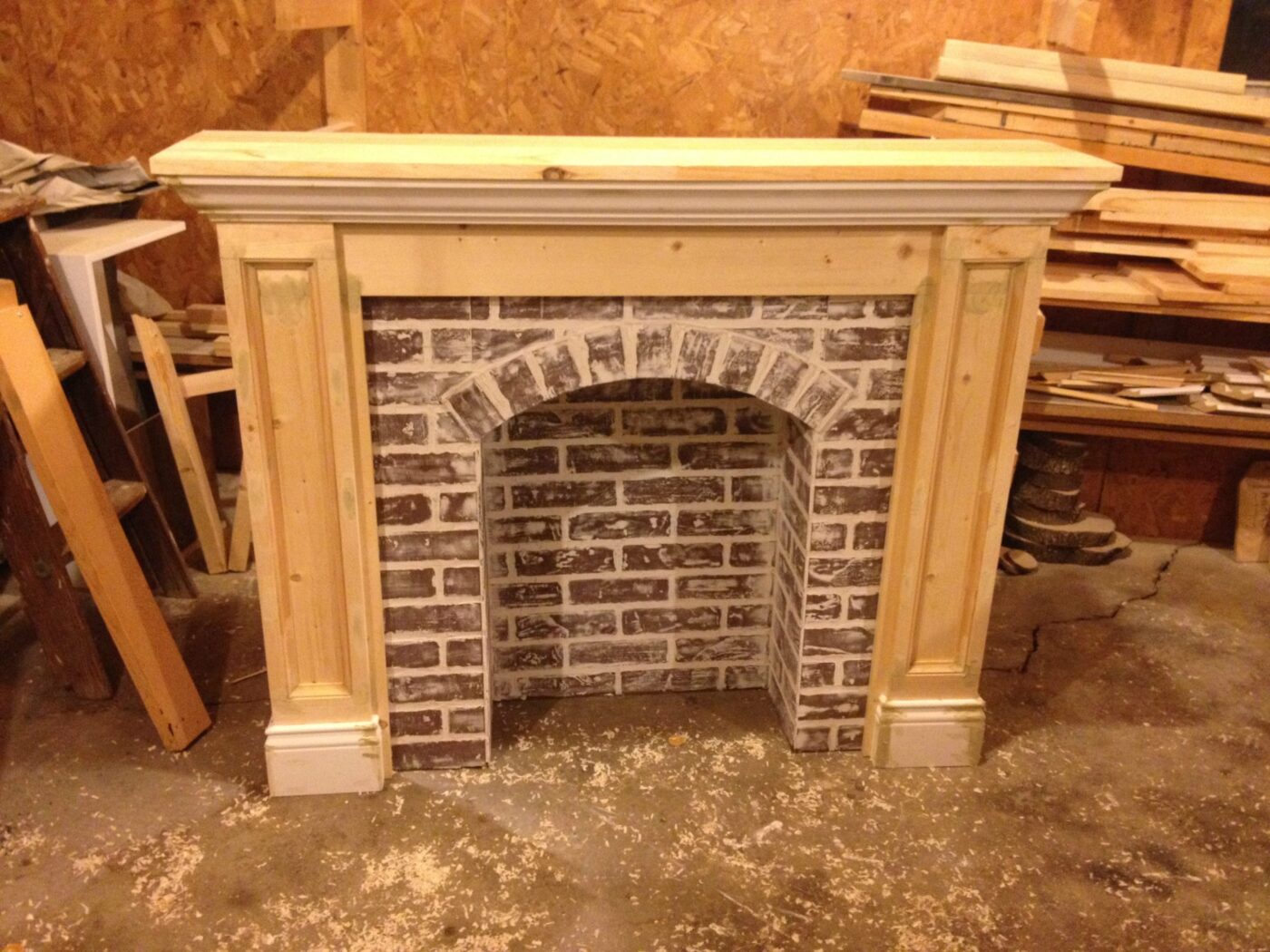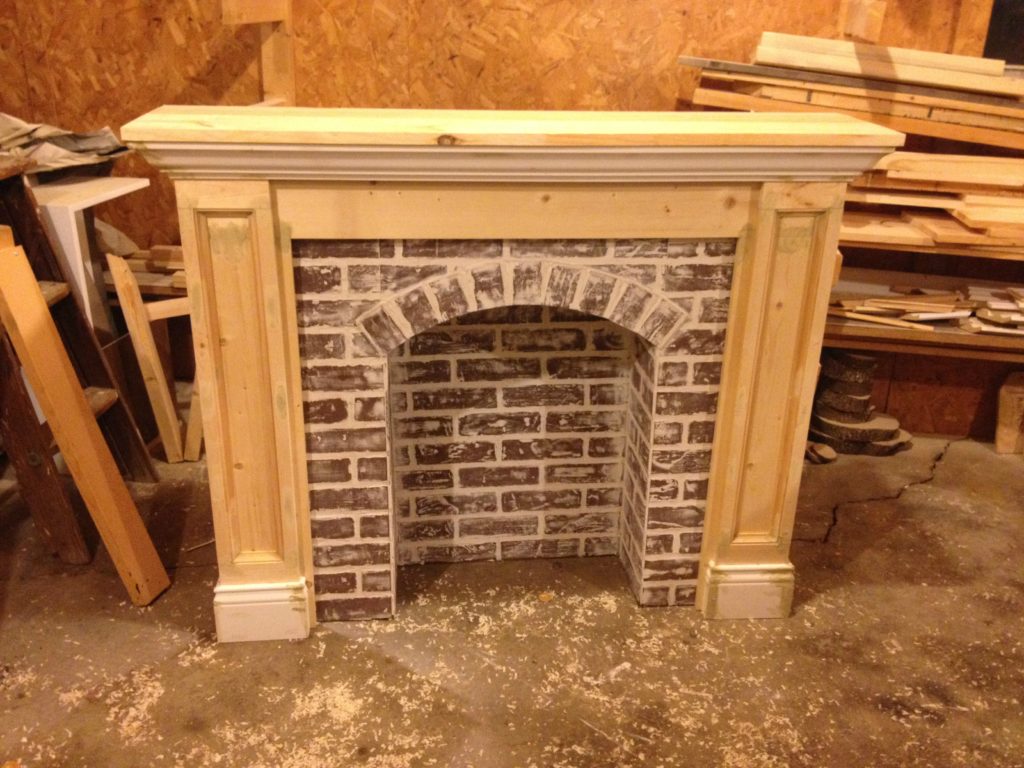 I puttied, sanded and caulked as needed and gave it two coats of primer and two coats of white paint.
Step 5: Attach the inside to the outside
Once the paint was dry, I simply screwed the inside piece to the outside piece from the back side.   In hindsight, I could have made the 1x8s in the inside piece go all the way to the top and attach there too, but oh well.  It works fine like this.
Step 6: Stress out about decorating then give up and just enjoy 🙂
I've always admitted that an eye for decorating is not my strongest asset.  So, like always, I spent hours putting stuff on and taking it off again to decorate this thing.  Then I just quit and said whatever, this is good enough.   So don't judge my decor…I just wanted to stand back and admire the fireplace 🙂
.
So here are some pictures of that…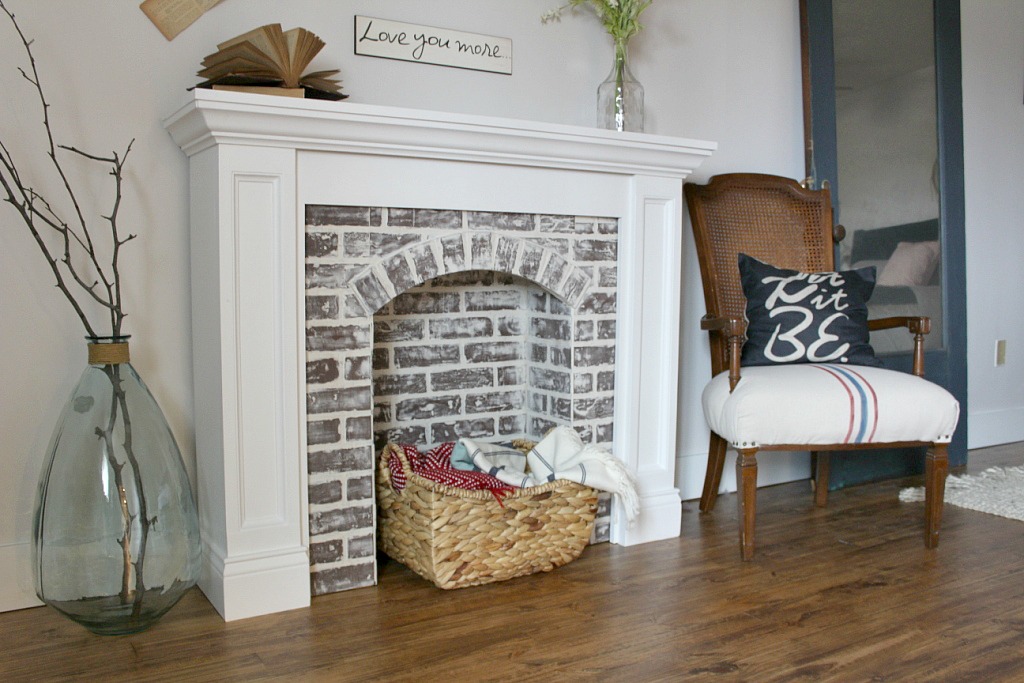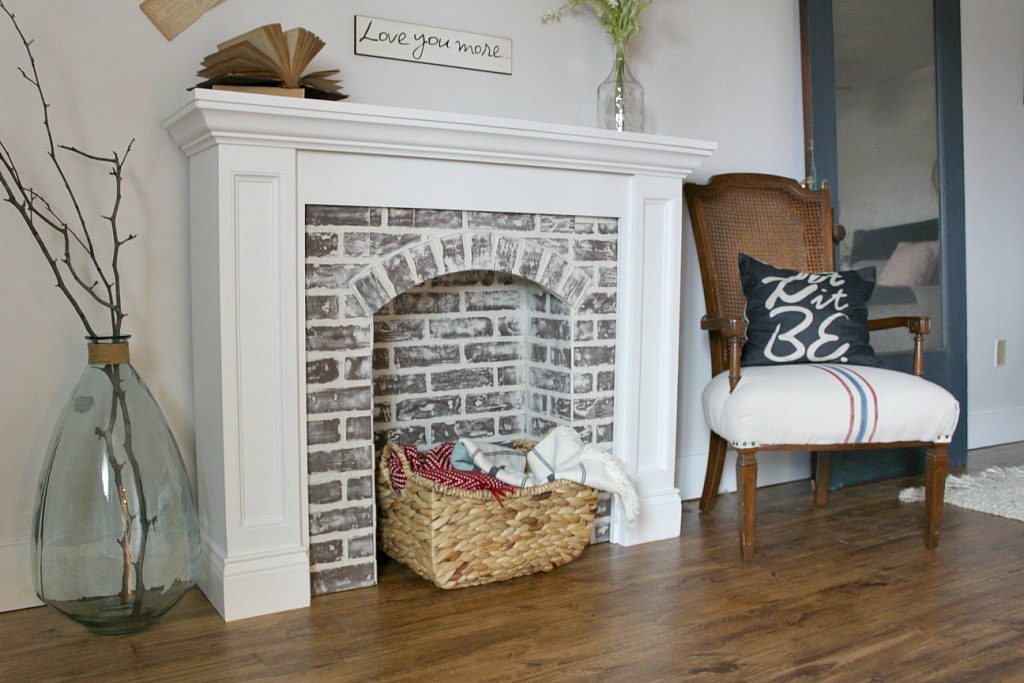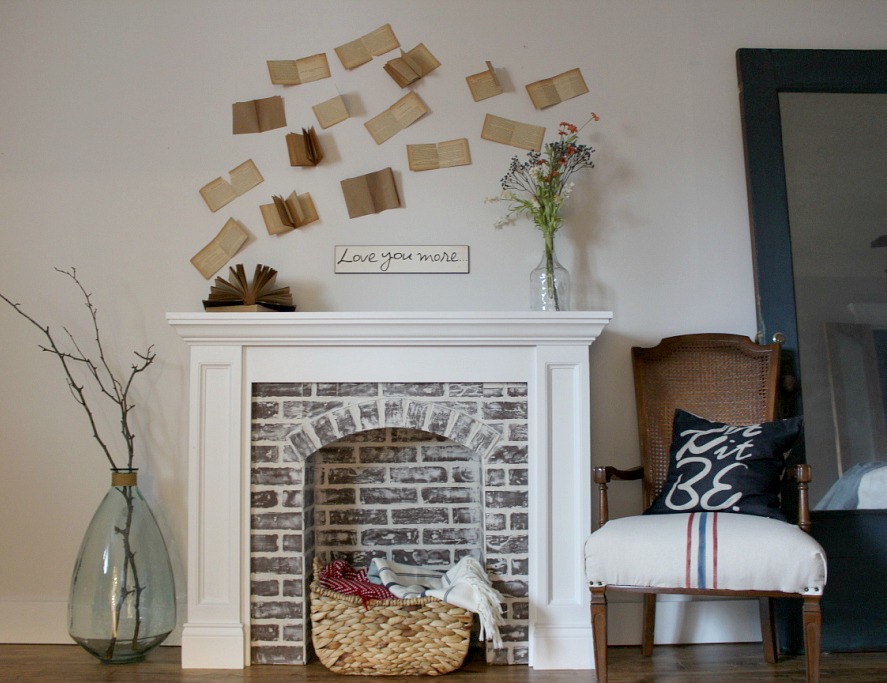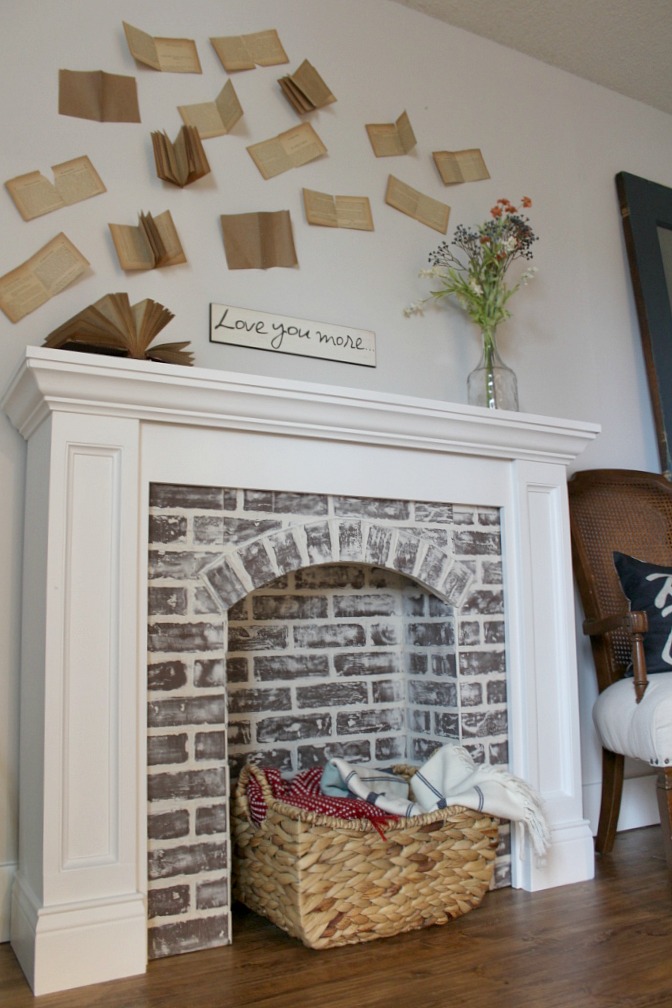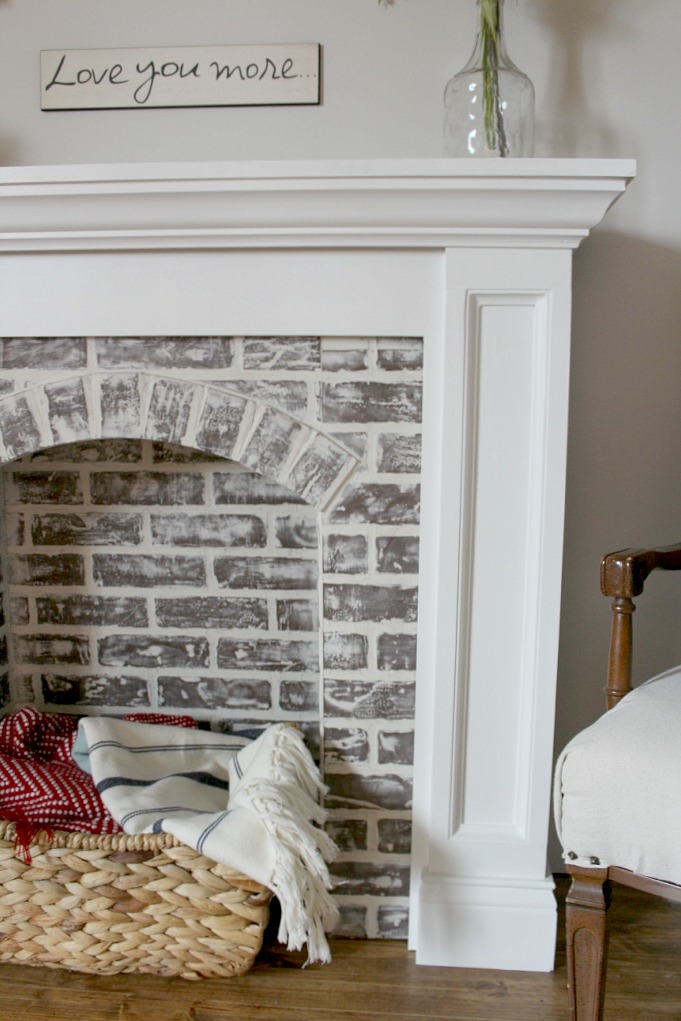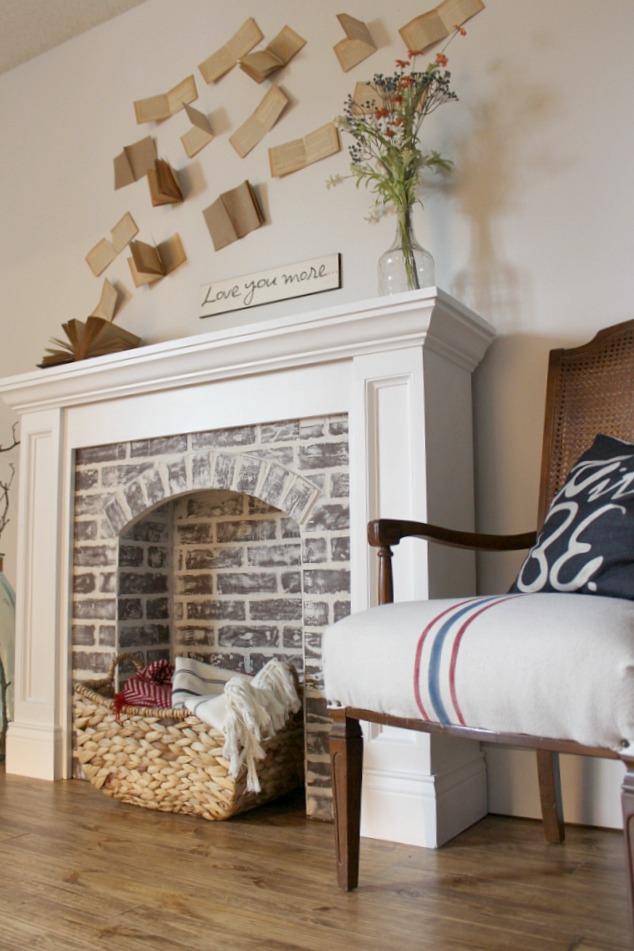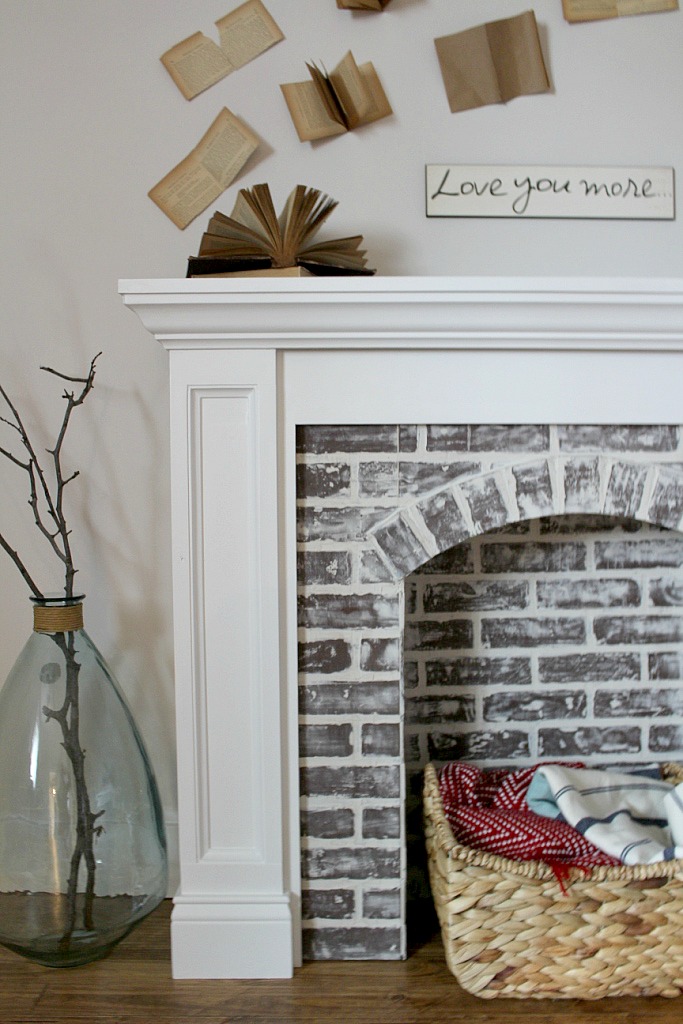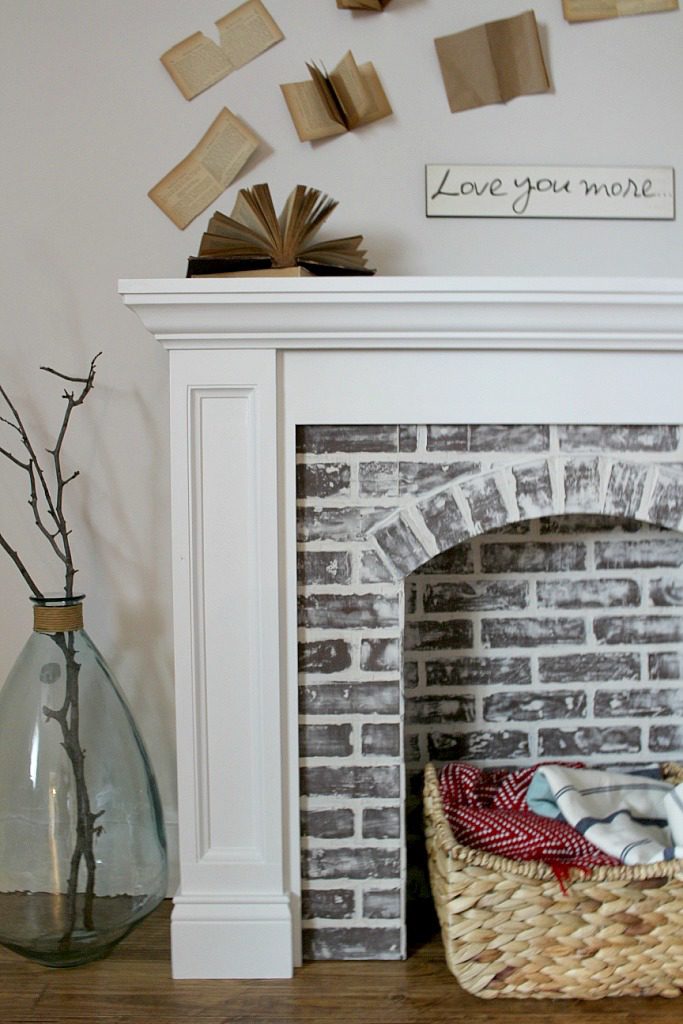 SOOOOOOO, tell me what you think?  I have been so excited about this project since I started working on it and COULDN'T WAIT to show you all!!  If you love it too, I'd love for you to pin it 🙂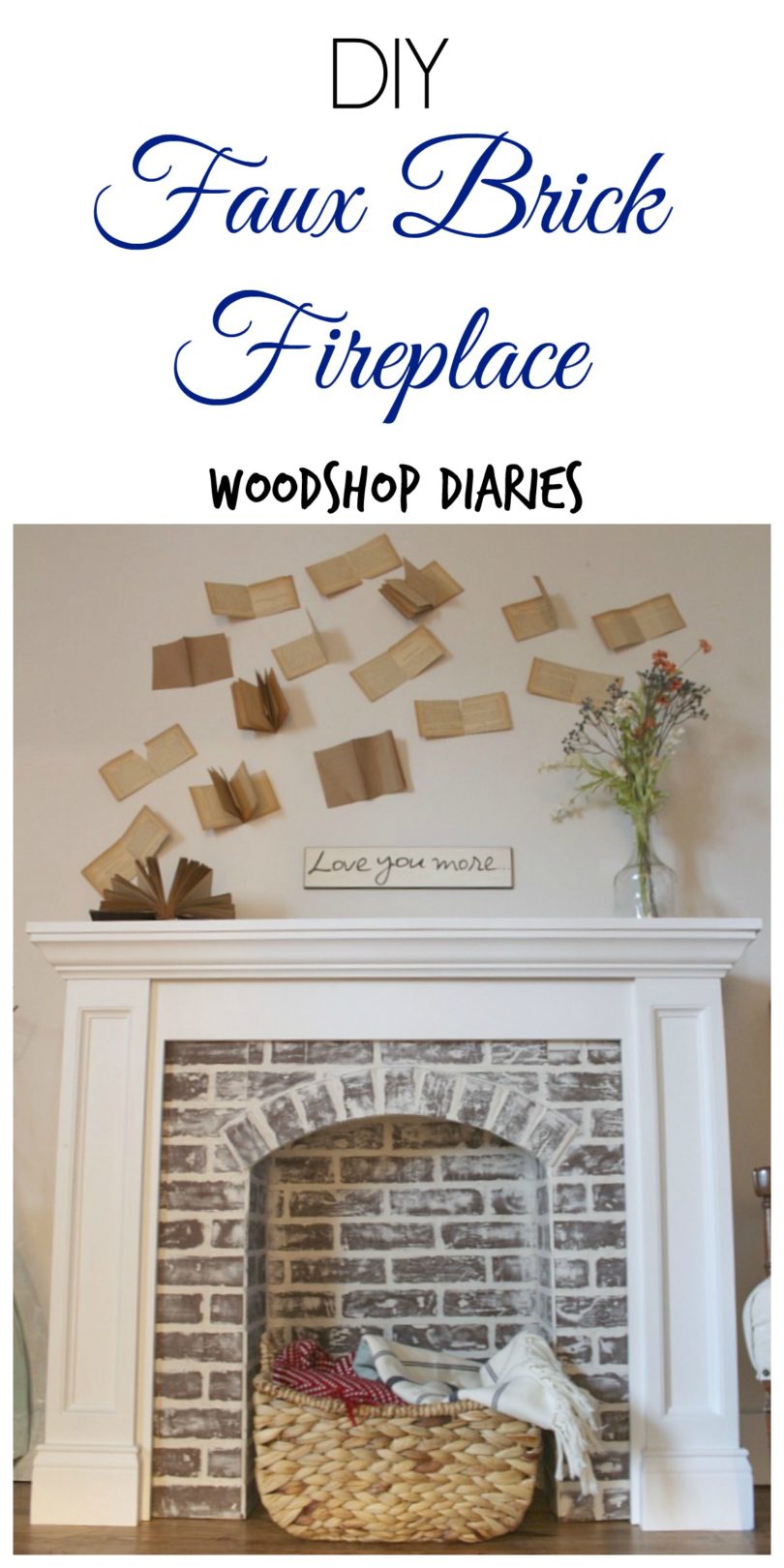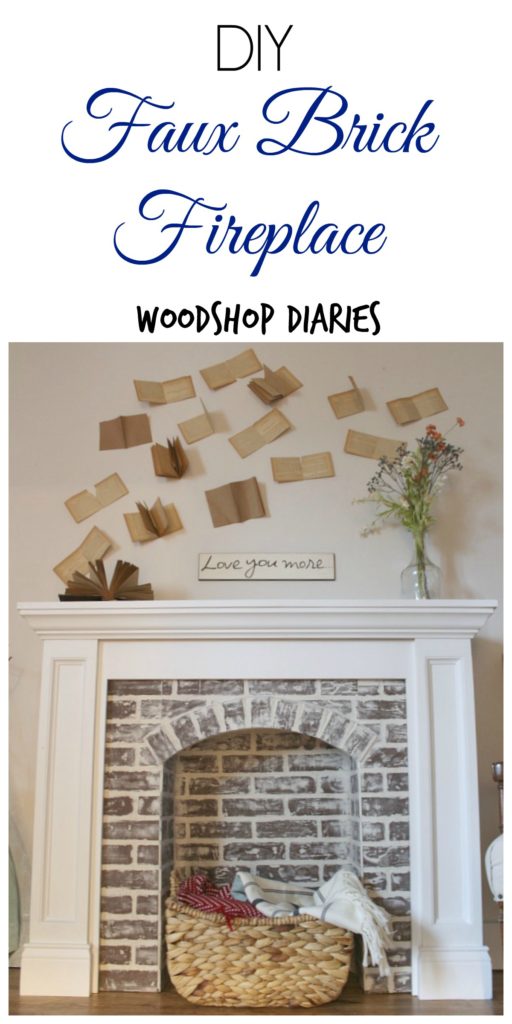 Whew, what a long post.  I'm gonna cut out right here, but I'll be back again soon with some more fun projects 🙂  Until next time, happy DIYing!!