In this post, I'll share my picks for the best ladders for DIYers and homeowners and the pros and cons of each type!
This post was sponsored by The Home Depot as part of the ProSpective Program and contains affiliate links.  See policies.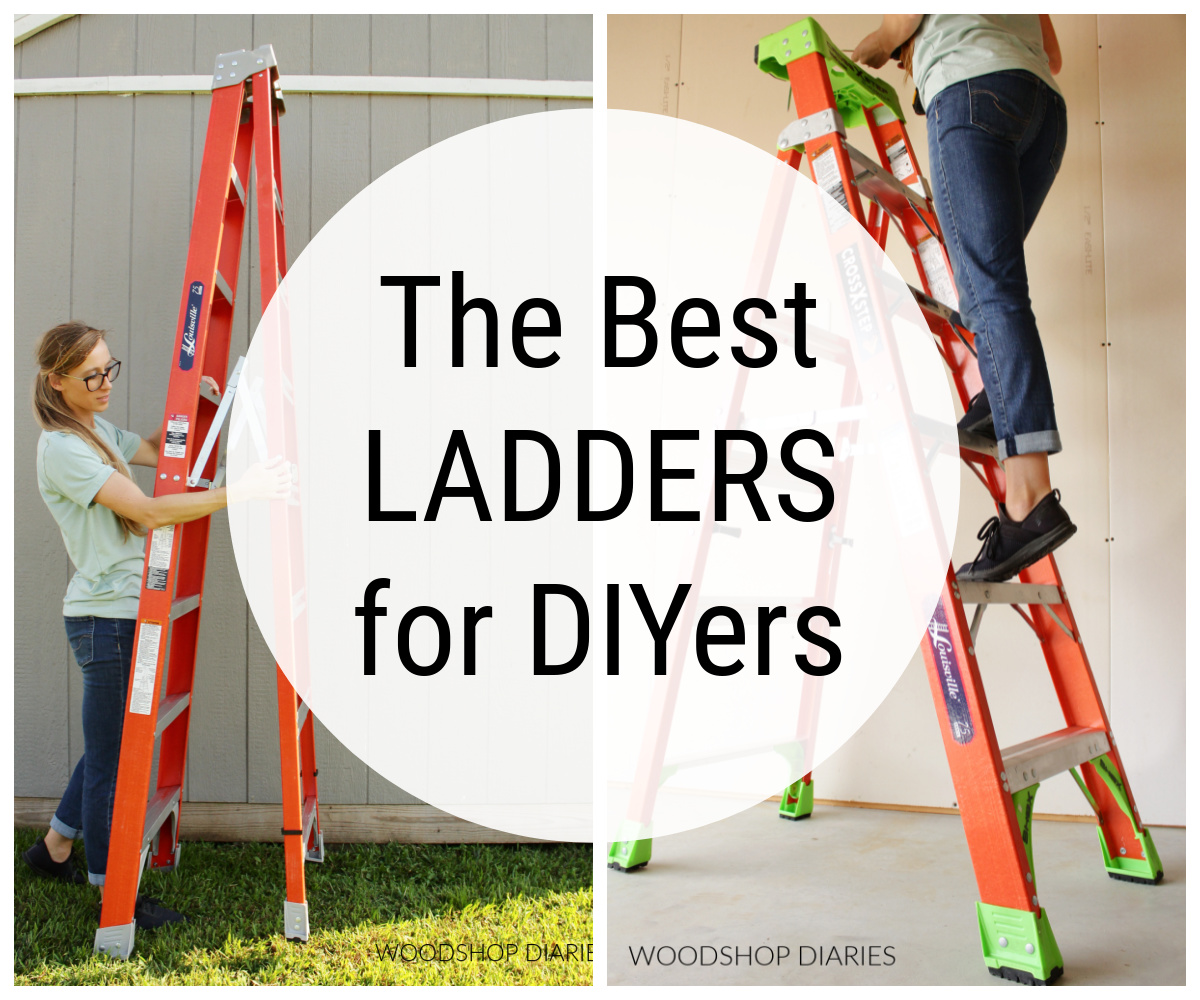 There are a few essential items I recommend every homeowner or DIYer have in their garage or their toolbelt.
RELATED: You can check out a few of my recommendations here!
.
And one of those things is a ladder.  Without a ladder, you're limited to work you can only do about head level or below.  That means you can't clean your gutters, paint your ceiling, caulk your trim, or reach the top shelf!
.
But with so many ladders on the market, which kind do you need for the basic household stuff? Here are a couple of my favorite styles that are easy to use, easy to store, and feel safe/comfortable using.
Louisville Ladder Cross Step Fiberglass Leaning Ladder
Check out the Cross Step Ladder on The Home Depot's website here.
So…why this particular ladder?
Overall, this is my top pick for a ladder if you only have the space or budget for one in your home.  The selling point for me is the fact it is two ladders in one! That's great for your budget and great for saving storage space.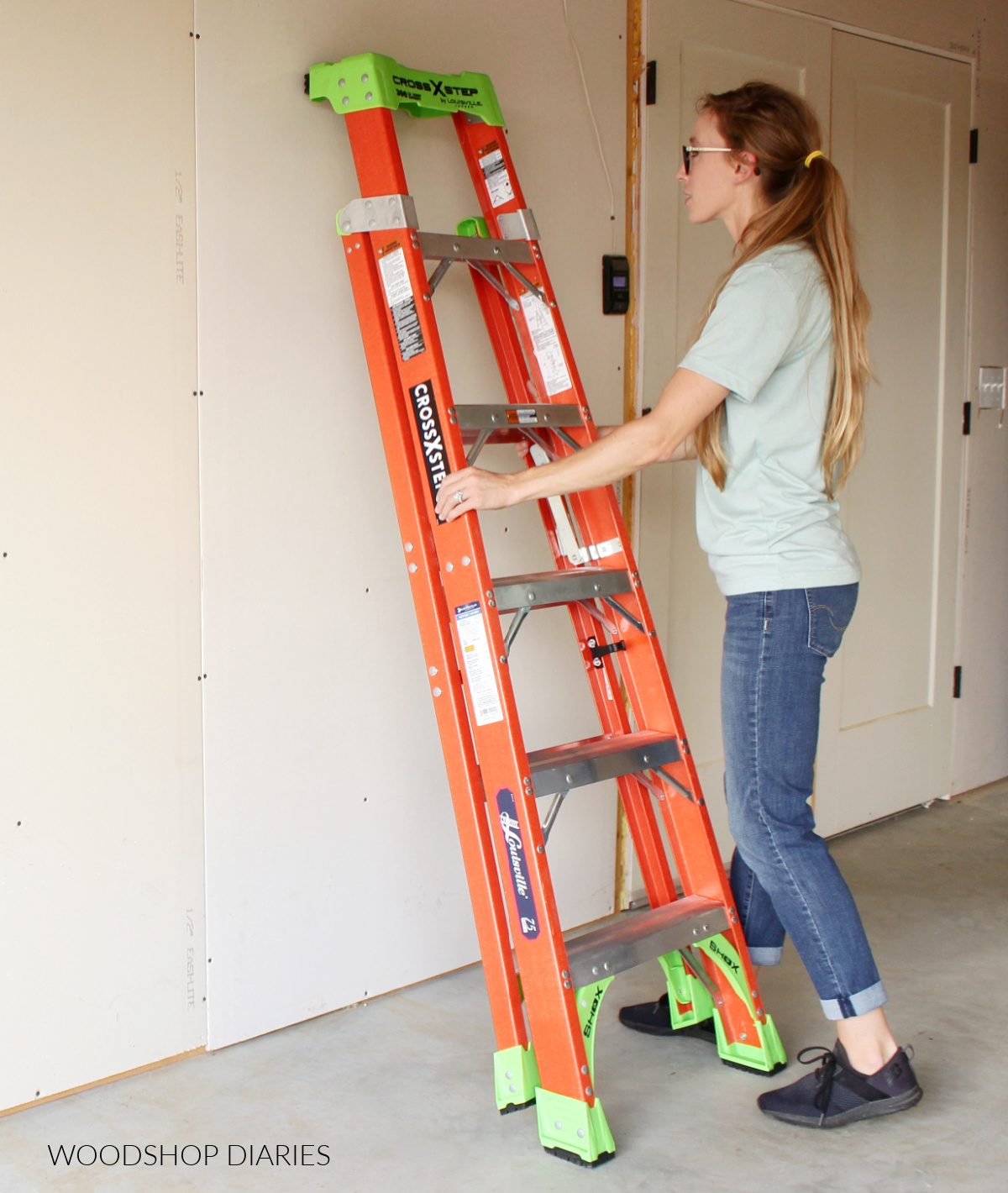 All the added features I'll mention in detail below are great, but to sum it all up in two words, I love that it's both sturdy and versatile. 
.
I was seriously impressed the first time I used this style ladder.  I felt comfortable and safe using it as both a leaning and a step ladder. And with it's dual functionality, the 6 ft size shown here is great for almost any application around the home.
.
Oh and to top it off, it's lightweight and easy to carry!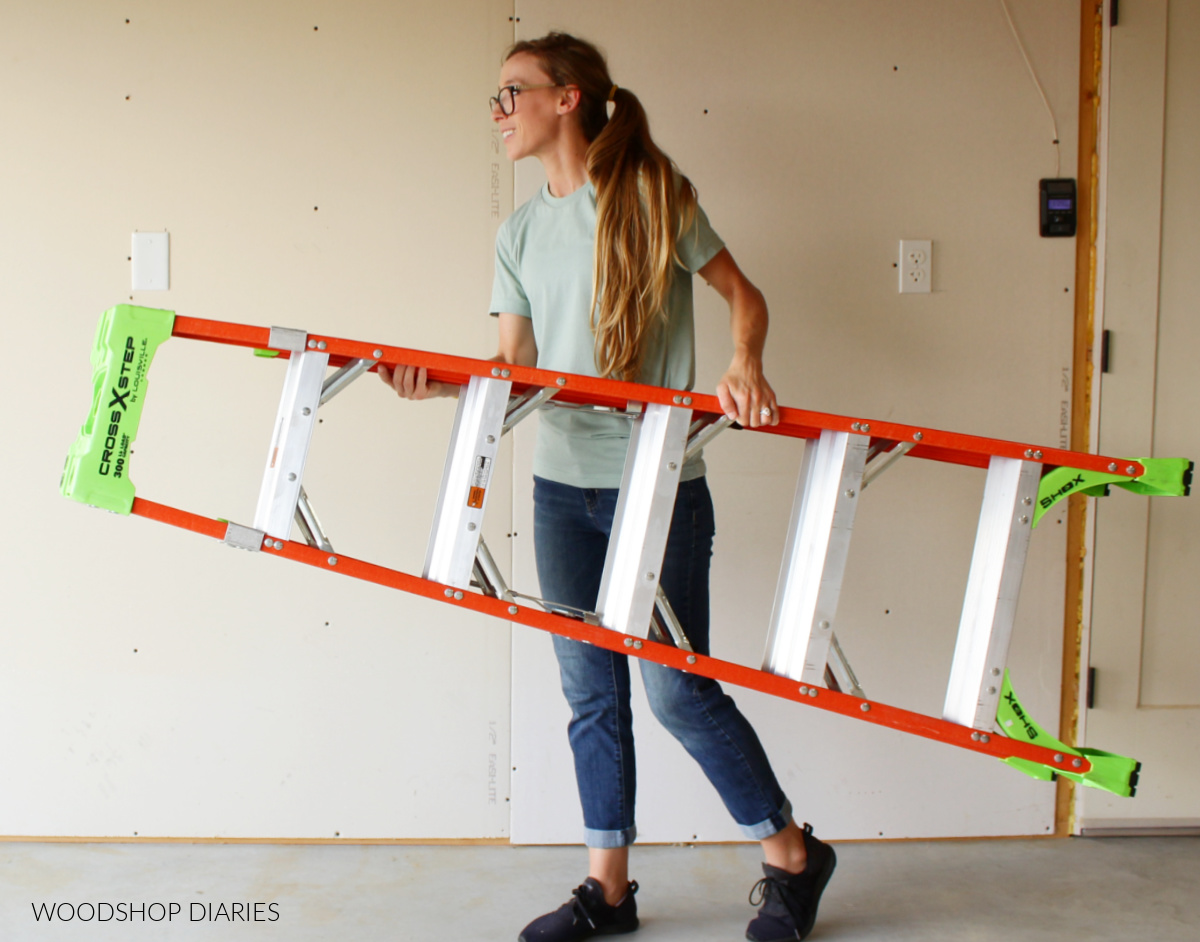 I'll list some of the key features this Louisville Cross Step Ladder offers below.
It's 2 Ladders In 1
This is definitely my top pick for versatility.  Like I mentioned already, it's basically a 2-in-1 ladder that you can use for applications that need a step ladder, or applications where leaning is best. 
.
You can open it up, like your typical step ladder for maximum height reach.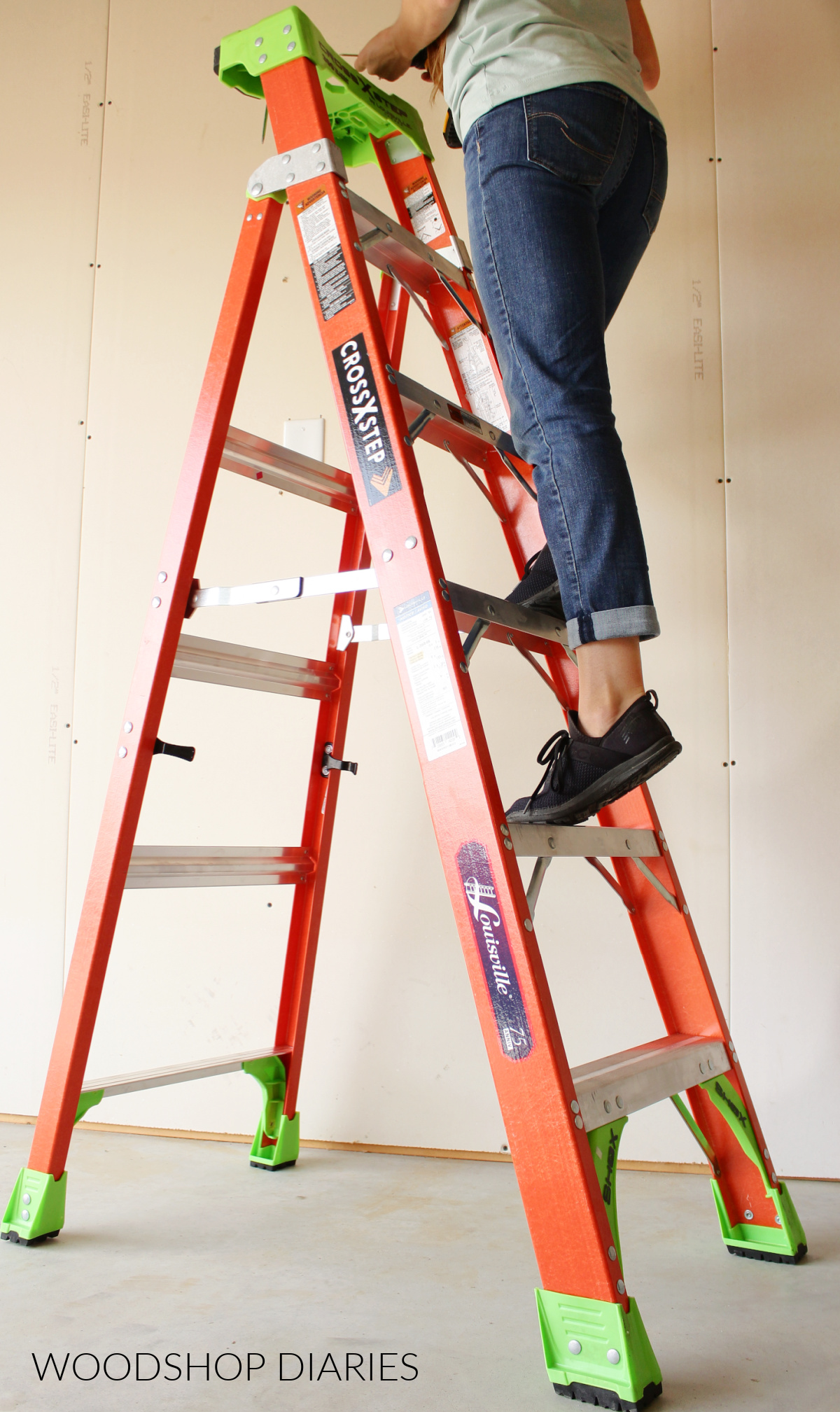 But, the top area also has these "rubber grippies" designed for securely LEANING the ladder against the wall, or on the corner of a post. So you can use it either way!
.
Take note, though, that leaning the ladder will slightly reduce the maximum height you can reach vs. using it as a step ladder. You can see the grips below.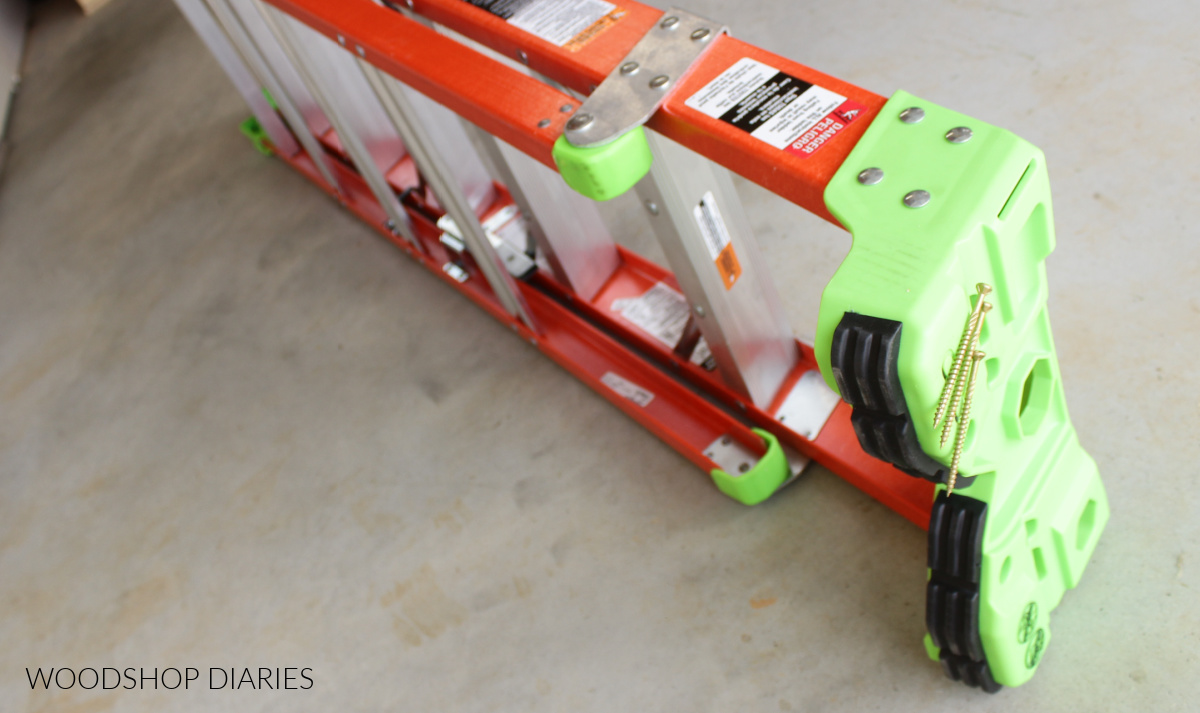 Storage Features
And speaking of the top area, it has holes to secure your most used tools, and a magnetic strip to help hold screws, drill bits, etc. so you don't keep losing them while you work.
.
The center hole is large enough to accept a drill which is convenient as well!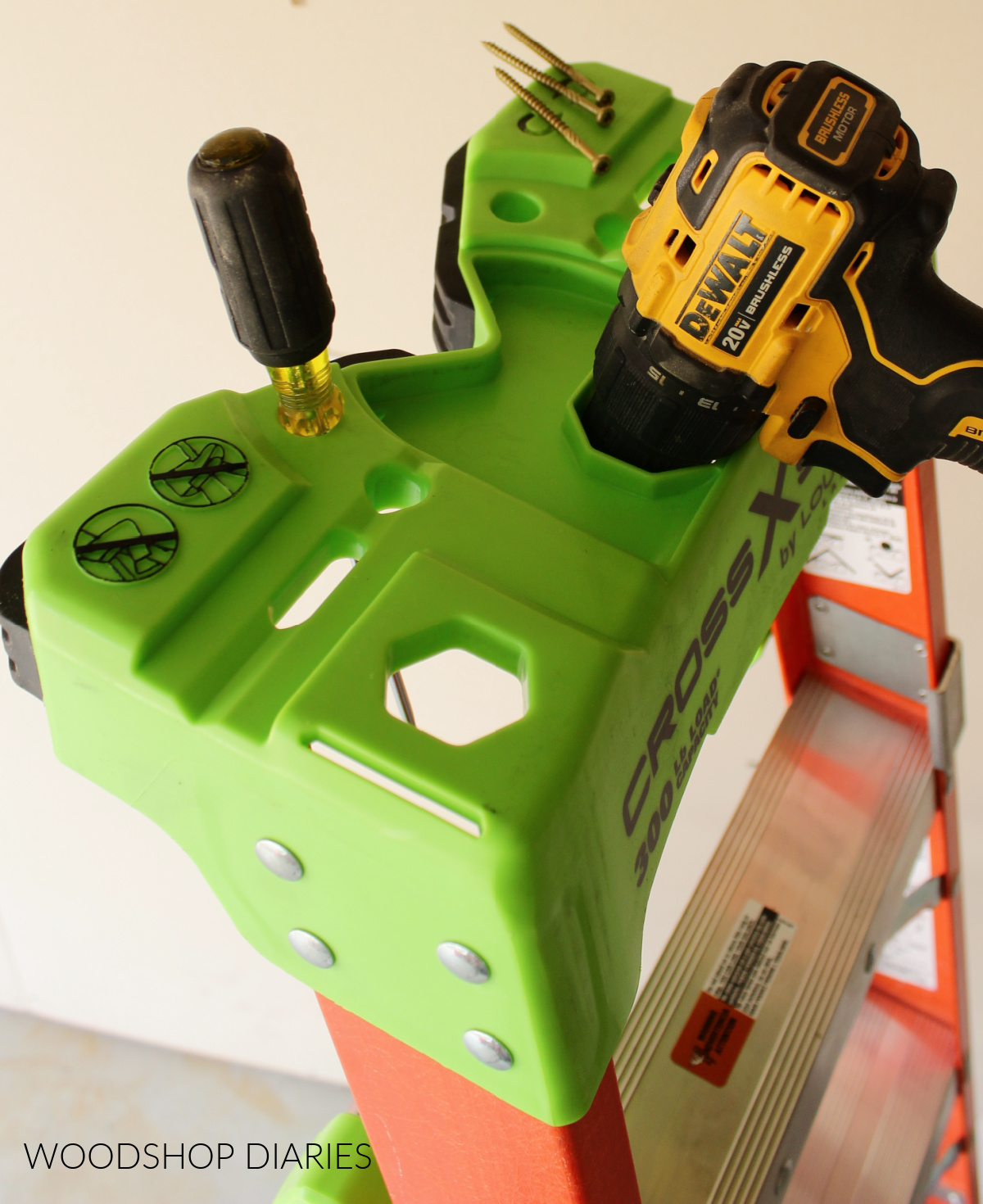 Size Options
This Cross Step ladder is lightweight since it's made of fiberglass, but boasts a 300 lb load capacity and comes in various sizes for whatever height you'd need.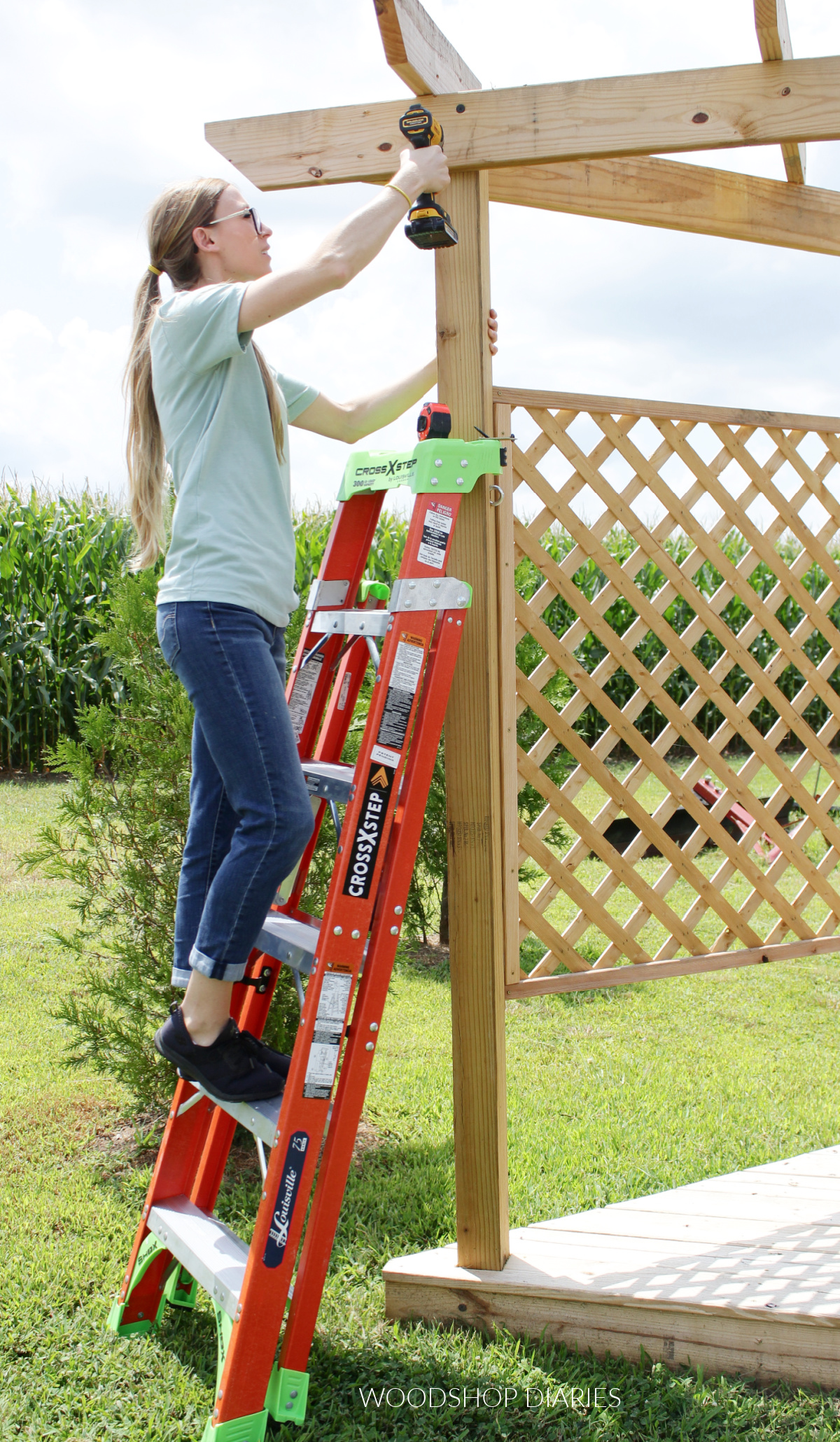 The smaller 6 ft ladder is ideal for shorter heights, but has a reach of about 10 ft so it's great for 1 story homes, or around the house use.  But it also comes in a smaller size as a 4 ft, and a larger size as an 8 ft.
Safety Features
The ladder comes with lock latches that secure the ladder from opening/shifting while using in a leaning position and storing.
And when unlocked, and opened, the angles on the ladder allow you to get 20% closer to your work area than average step ladders.
.
These Cross Step ladders also come with Shox impact absorption and raptor boot non-marring, slip resistant tread on the bottom to keep them from slipping or moving while you work.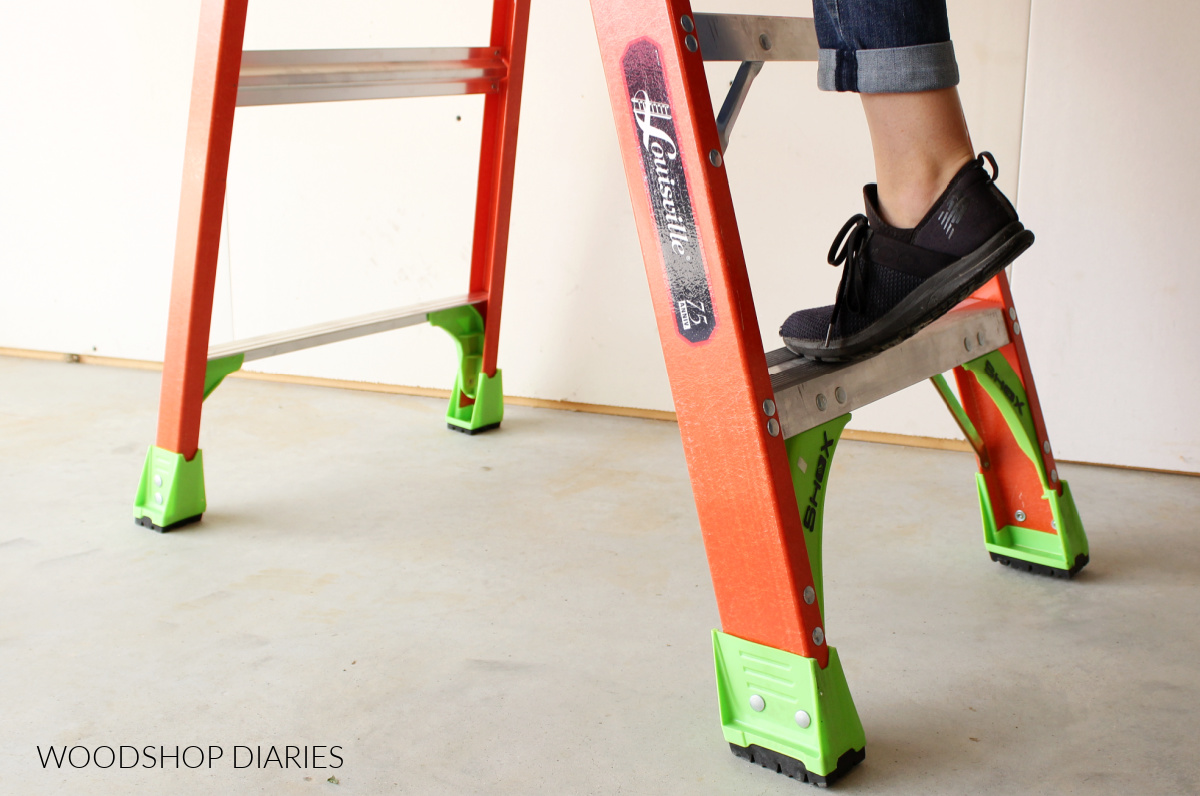 Overall, I would definitely recommend the Cross Step ladder for around the home or the worksite use. It can easily replace some of my older, heavier, bulkier ladders that are a pain to set up and use.
.
But, if you want to check out some other options, I'll share another below.
Louisville Ladder Fiberglass Step Ladder
Check out this ladder on The Home Depot's website here!
So…why this particular ladder?
Step ladders are my go to for doing work up high.  Step ladders are the kind that "fold open" so they make an A frame.  For most of my work up high around the home, I feel safest on a step ladder with wide feet.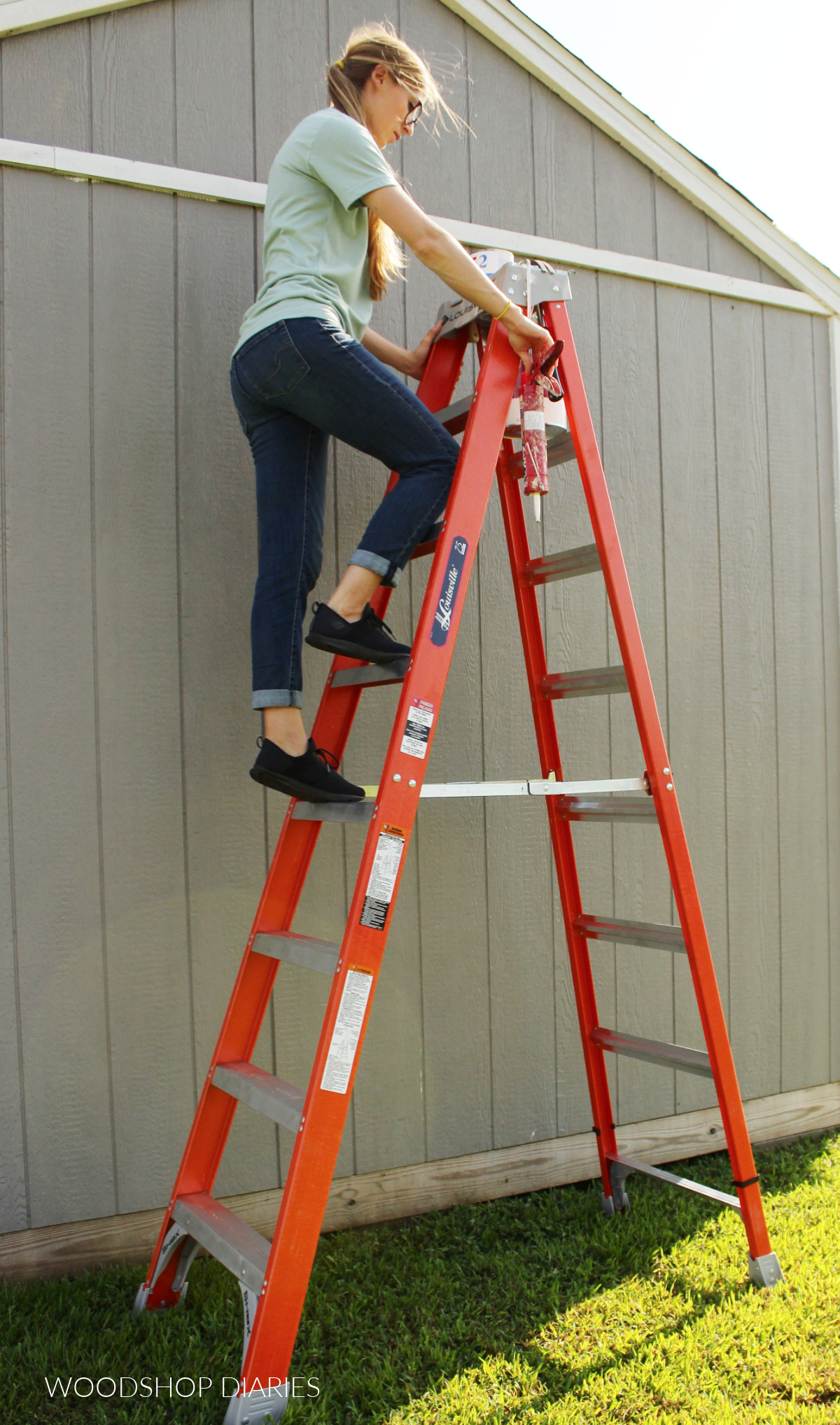 Louisville Ladders makes several great options for step ladders in various sizes, but this style is a great general purpose option.
.
The cross step ladder I mentioned earlier is a great option if you can only get one.  But if you have budget and space for multiple sizes and styles of ladders, I'd definitely recommend grabbing a step ladder in at least one, if not more, sizes.
.
These basic types of ladders are quick to set up, store away, and typically provide a good size work area up top to set things, hold things, and keep your tools handy.
Size Options
Now, the cross step ladder I talked about before is nice in that it's a 2-in-1 option.  But, the downside is that it's only available in "shorter" sizes.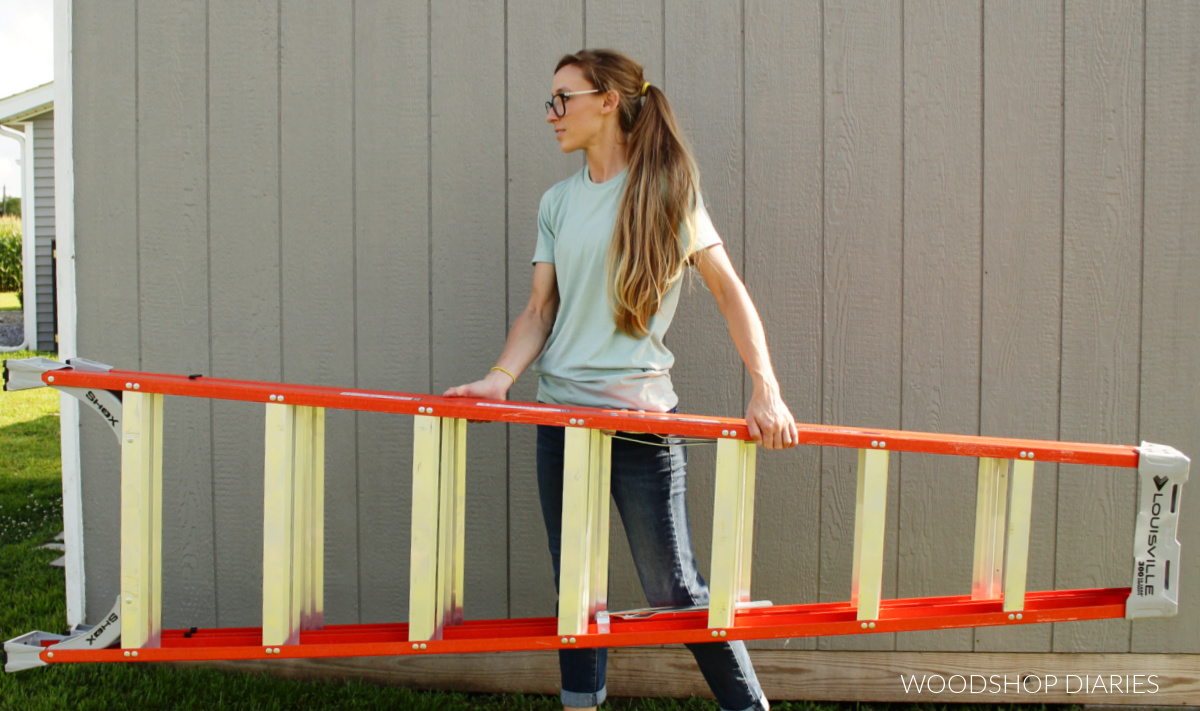 Louisville makes several sizes of step style ladders up to 16 ft tall!  Keep in mind that the ladder height is the height the ladder is when it's set up.  Your REACH height is the height you should be able to reach.
.
Your typical expected uses with it will determine which size is best for you. I'm using an 8ft ladder in these images and it's the perfect height to reach the top of my one story house to clean the gutters or repaint the shed. But it's a little too tall to use inside with 8 ft ceilings.
.
So if you plan to use it mostly indoors with average ceiling heights, a shorter size is recommended.
Lightweight & Sturdy
I love fiberglass ladders because they are strong, but also fairly lightweight.  I can easily carry and set up these ladders wherever I need to work.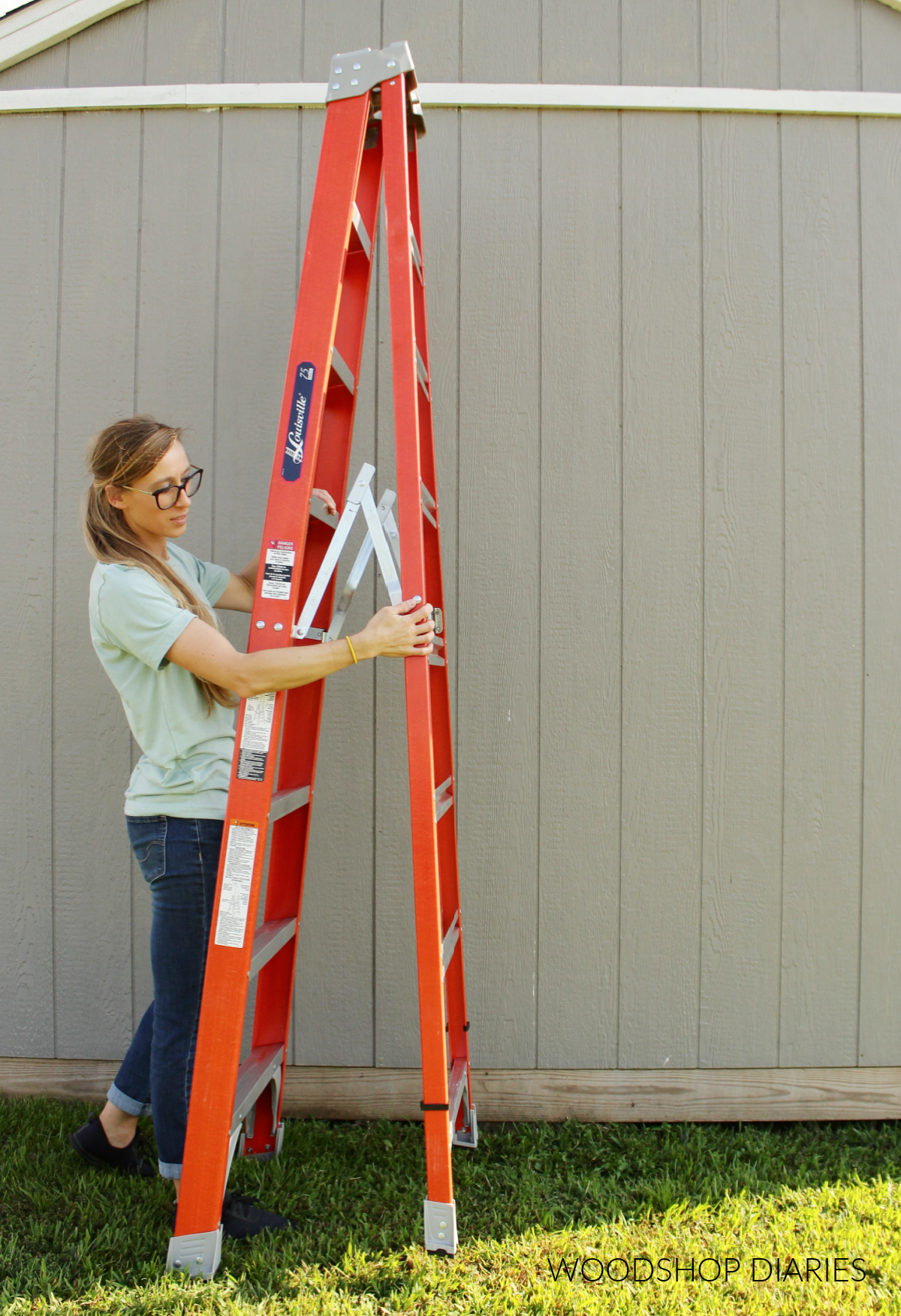 But, they can hold up to 300 lbs, so despite they are a lightweight, they can carry a heavy load.
Storage Features
Like the cross step ladder I talked about earlier, this step ladder also has tons of up-top storage including a magnetic strip to hold screws, drill bits, paint can openers, etc.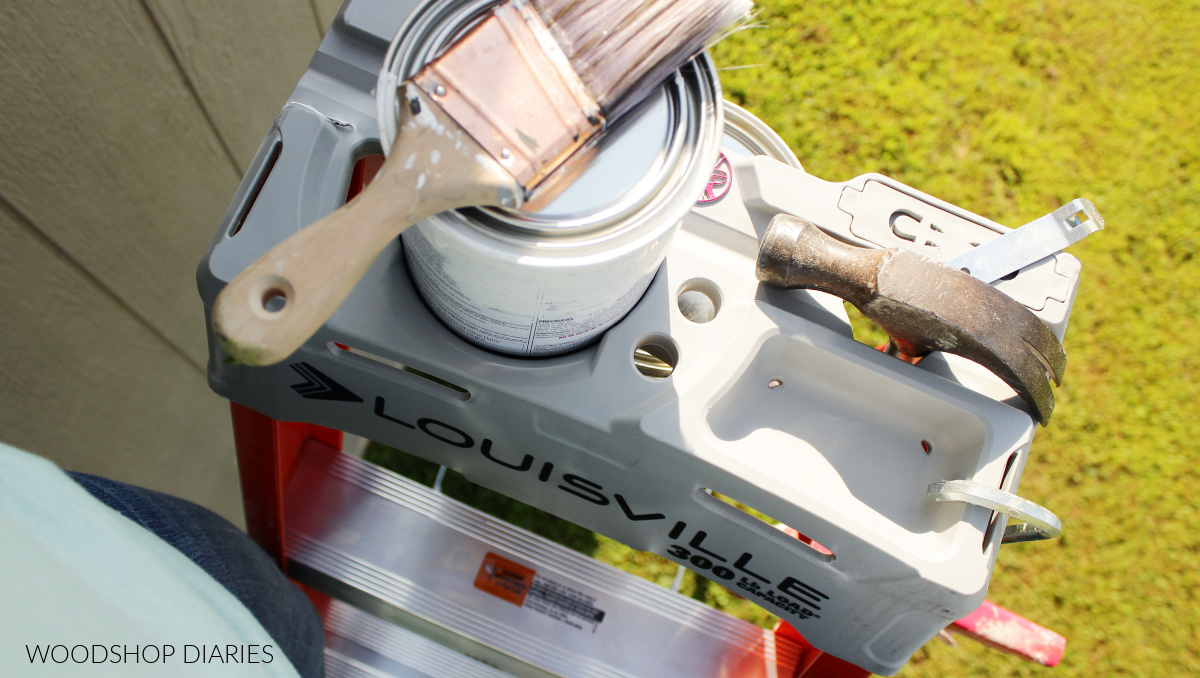 And it also has a handy little lip here on the edge to hang a paint can.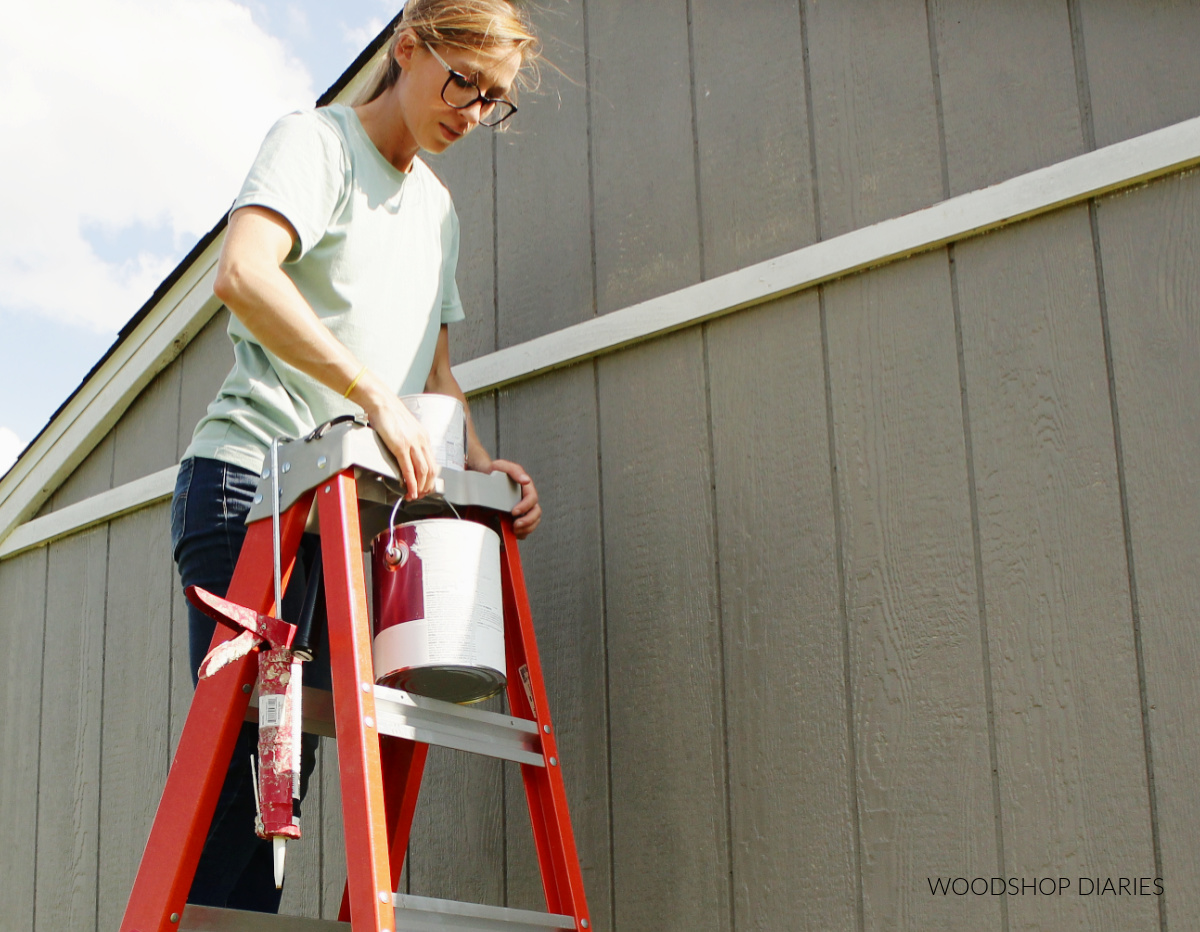 Safety Features
Just like the Cross Step ladder, this step ladder also has Shox impact absorption and raptor boot non-marring, slip resistant tread on the bottom to keep them from slipping or moving while you work.
.
Overall, if you're needing a study, lightweight, and well built general purpose ladder, these Louisville Fiberglass Step Ladders are a great option.
.
.
I hope you enjoyed checking out the features of these ladders and if you're in the market for one, I hope this helps you as you make your decision.
.
If you'd like to check out more tool guides and reviews, I've got a few you can browse here.
And if you want to save this for later, be sure to pin it!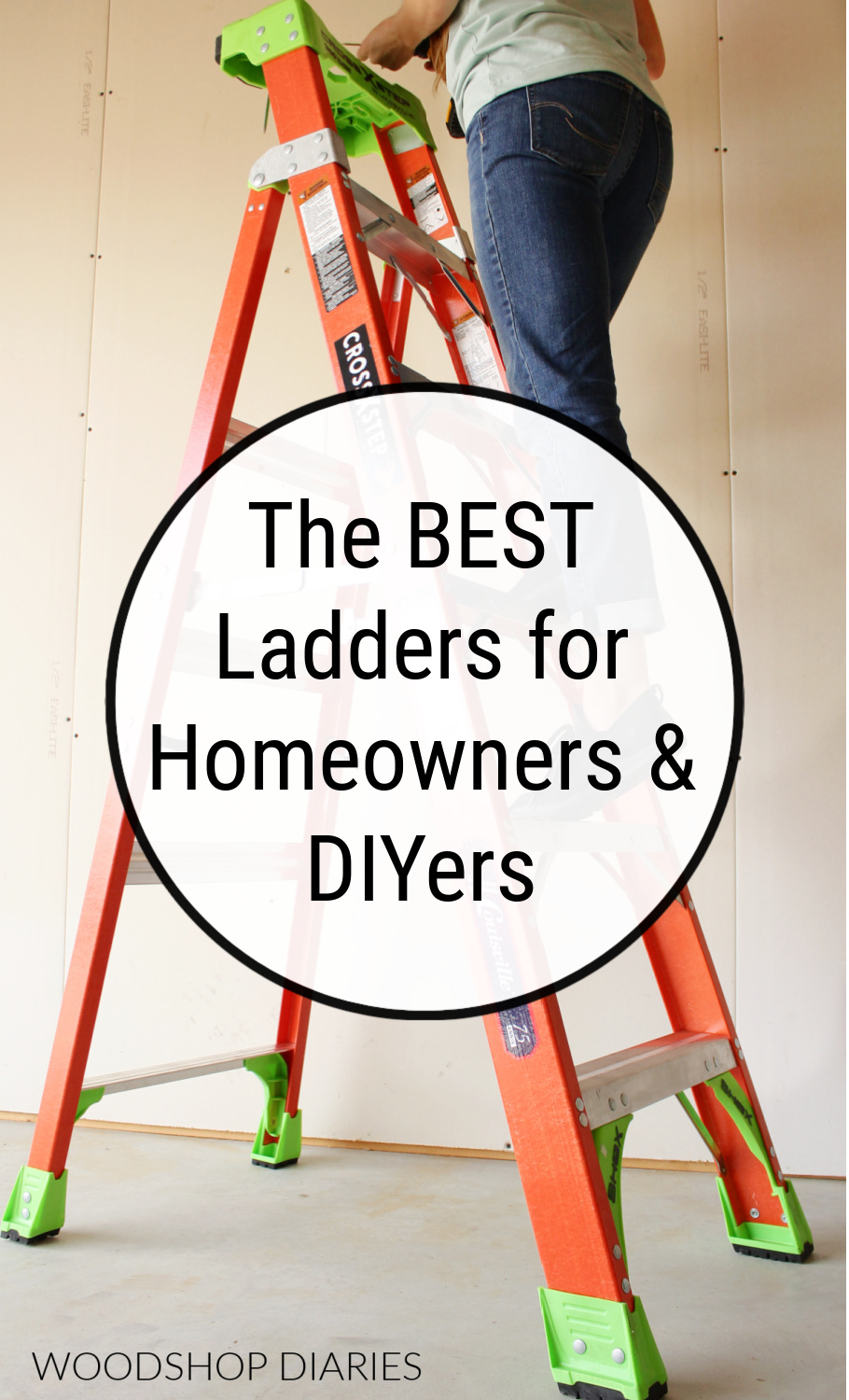 Until next time, friends, happy building 🙂