My grandma is hilarious.  Not in a "joke-telling" or "slap stick comedy" kind of way, but she's just….funny.  I just love her.
.
The most exciting part of anyone's birthday party or Christmas get together is seeing what random thing she put in everyone's gift bag.  She always throws in a little something silly with the actual gift and you NEVER KNOW what it will be.  A couple Christmases ago, she threw in a random little cow figurine with my gift and a fat little owl statue with my birthday gift.  Danny got a solar powered turkey with his birthday gift this year and we leave it in the window sill and it flaps it's wings like crazy!  In years past, I've thrown these things in a "junk drawer," but lately, I try to find places to set them around to make me think of Granny and have a giggle or two.
.
So I said all that to say that last year, the best Christmas gift I got was a random paper grocery sack that Granny wrapped my gift in.  She sometimes wraps gifts in any kind of random container…I swear, she cracks me up.  She's so frugal.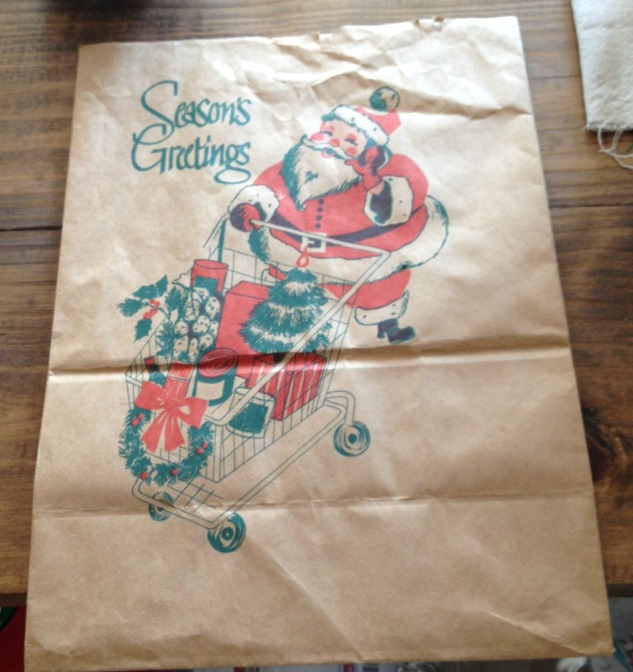 And I thought this sack was the coolest thing I had ever seen!  I kept it all year to use as decoration for this Christmas, but wasn't sure what to do with it.  I thought about some sort of decoupage but I didn't want to do anything permanent or damaging.  So I finally decided to just frame it.  But obviously, paper sacks don't come in standard picture frame sizes, so I had to make a simple little frame from some 1x2s.  It's a really quick project and easily customizable.  Exact measurements will depend on your desired size for whatever you are framing, so I'll just give the instructions here and leave out the measurements.
.
I ripped a 1×4 in half to make my 1x2s, but you can buy 1x2s at the local Lowes or Home Depot if you don't want to rip them.  I also used my miter saw (affiliate link), some glue (affiliate link), and my nail gun (affiliate link) to put it together.
.
I cut four pieces for the frame all at 45 degrees on both ends.  Again, measurements will depend on your specs.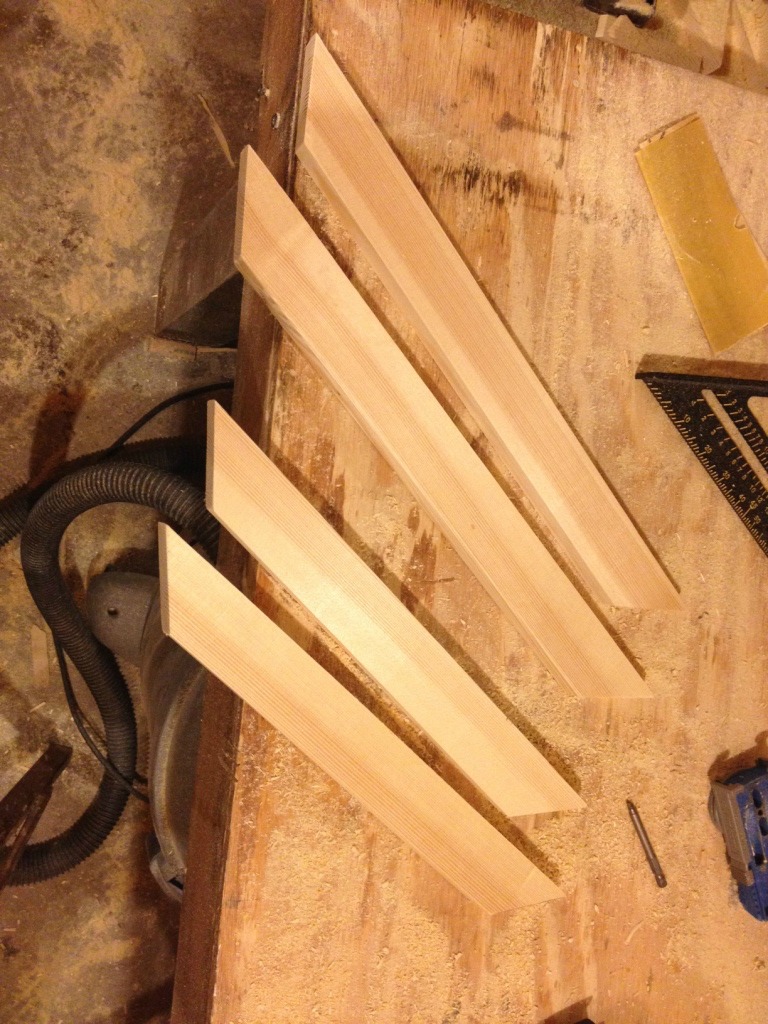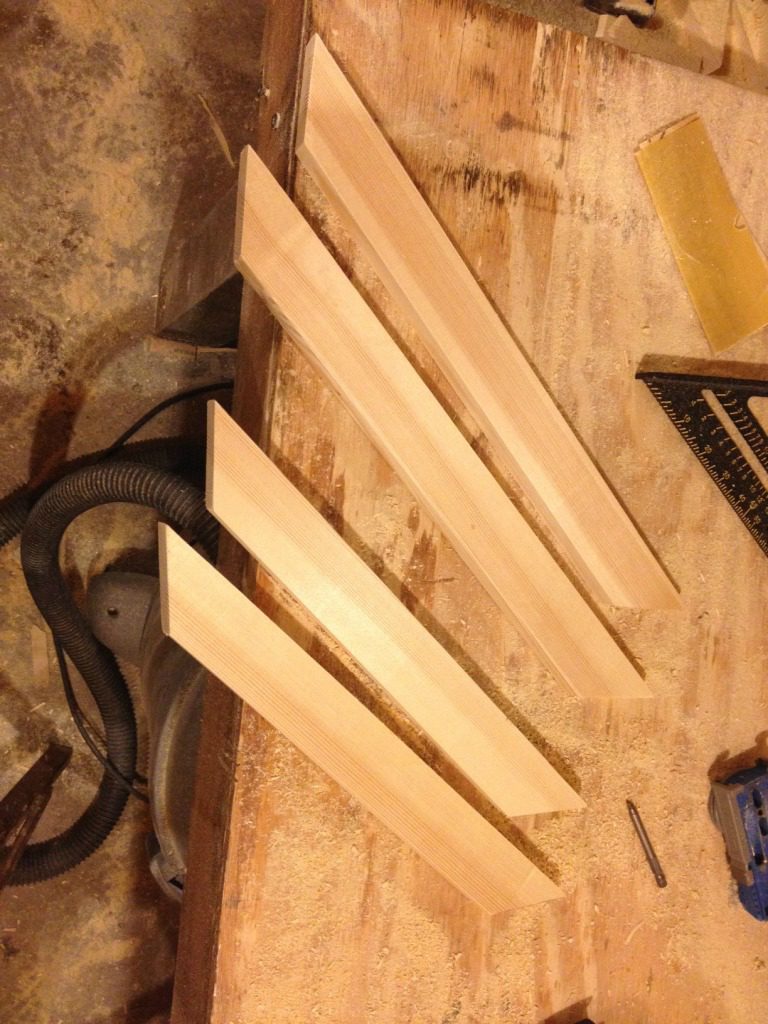 I put a little glue on each end and stapled them from the back.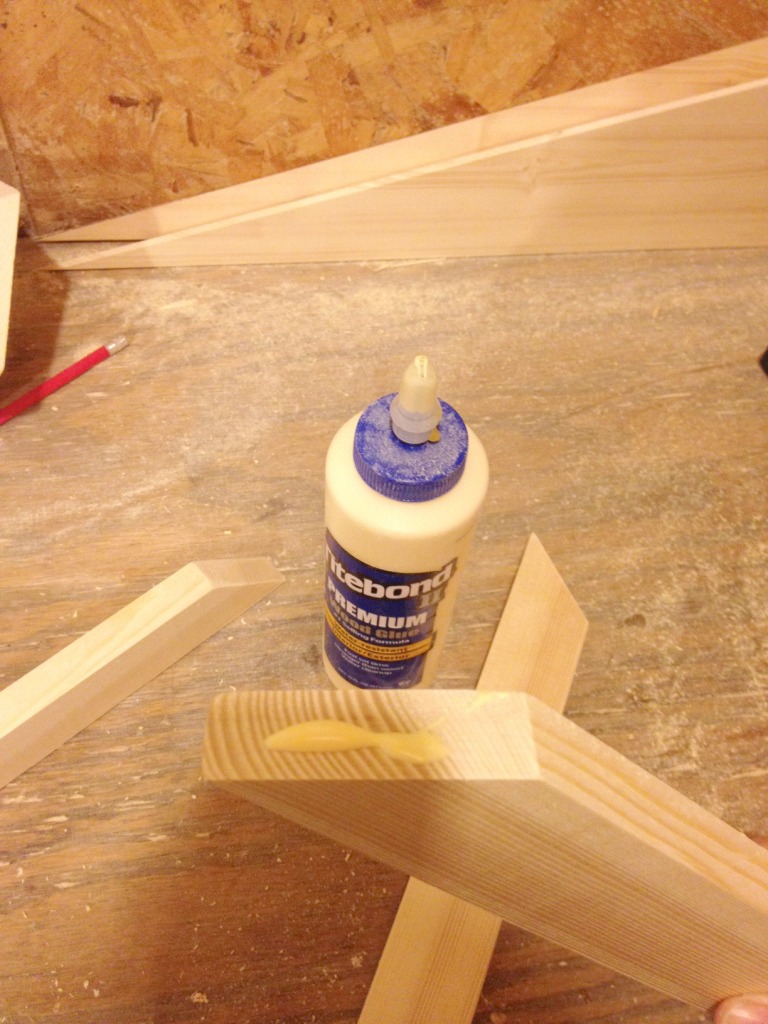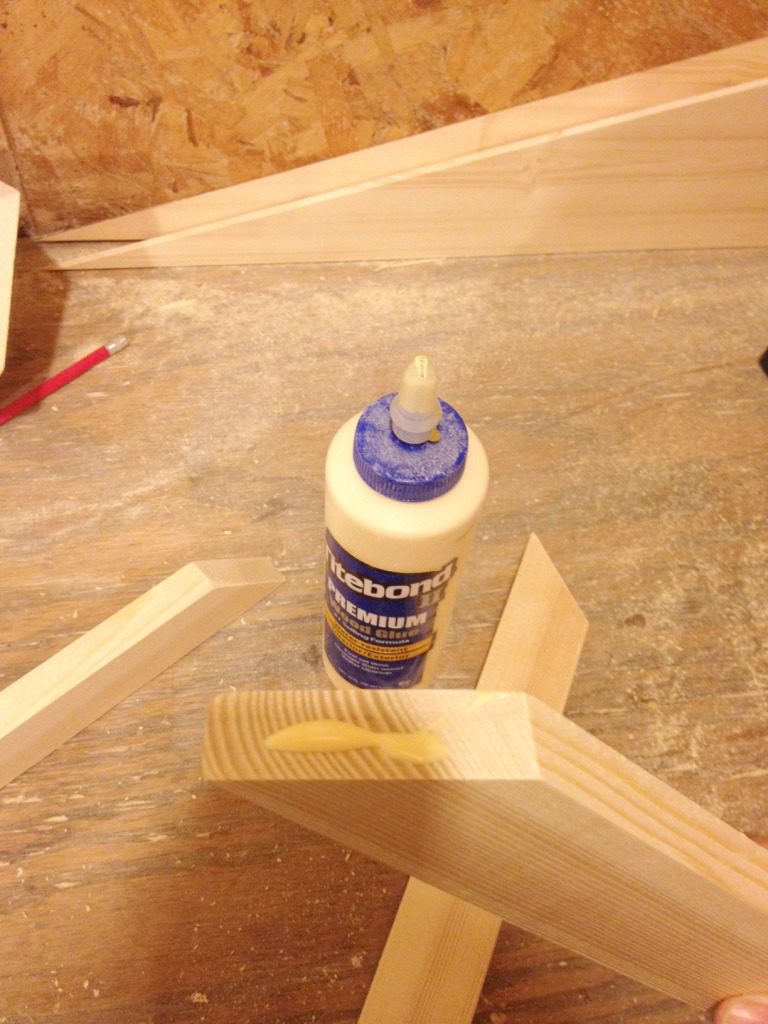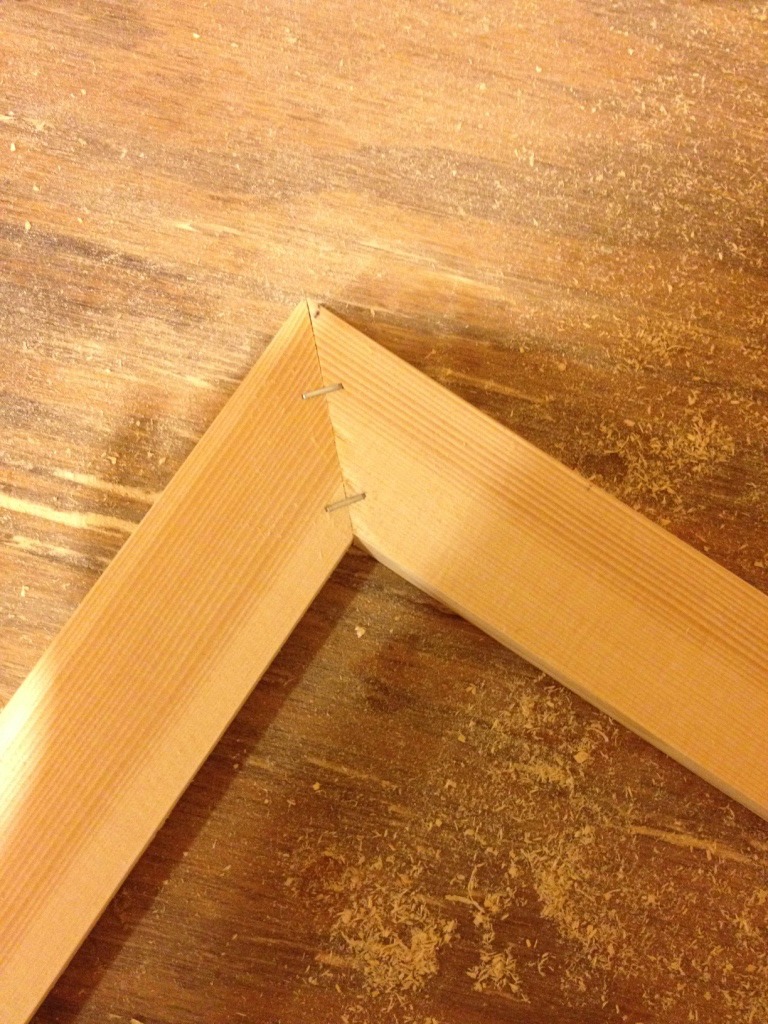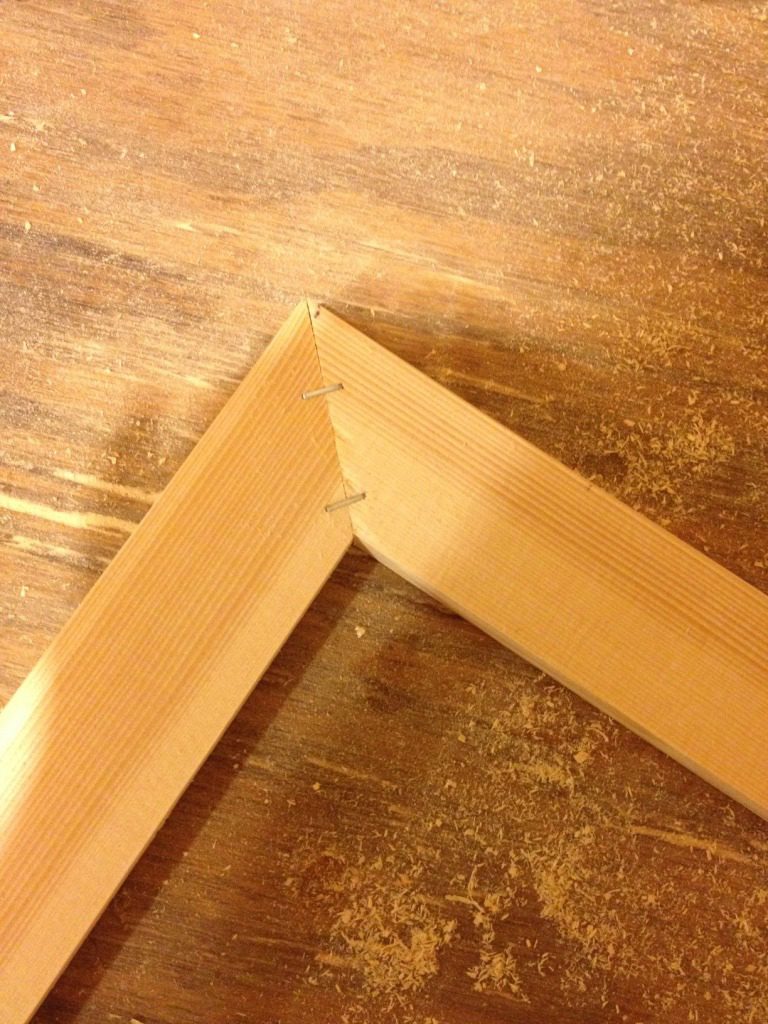 I did this all the way around until all four pieces were stapled.  Then when I picked it up, all the corners wanted to bend backwards.  I didn't want to wait for the glue to actually dry to move on (HELLO! Mrs. Impatient here….), so I used my nail gun and shot a couple nails in each corner like the picture below shows.  I could have used a Kreg Jig (affiliate link) and done pocket holes for this, but I just wanted a simple, quick frame…it didn't have to be super sturdy.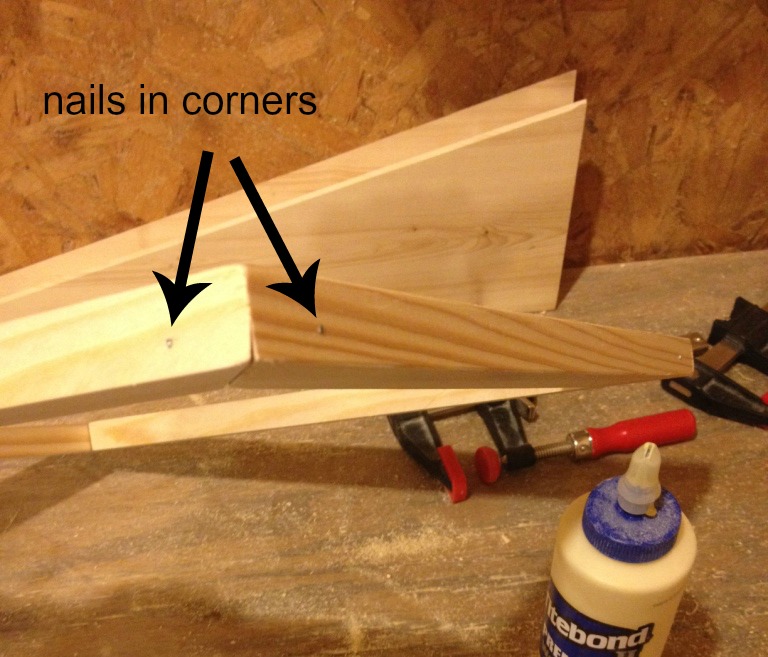 Once I got the frame pretty sturdy with the nails, I cut some more 1x2s to go around the outside. These pieces will have a beveled 45 degree angle on them.  (See pictures below.)  I nailed them onto the outside of the frame like the picture (I know it's blurry…I'm sorry!).  I left ¼″ hanging over the back side and ½″ hanging over the front.  That way, you have room to place a piece of glass (if you choose) and a backer behind your picture (if you choose) on the back side.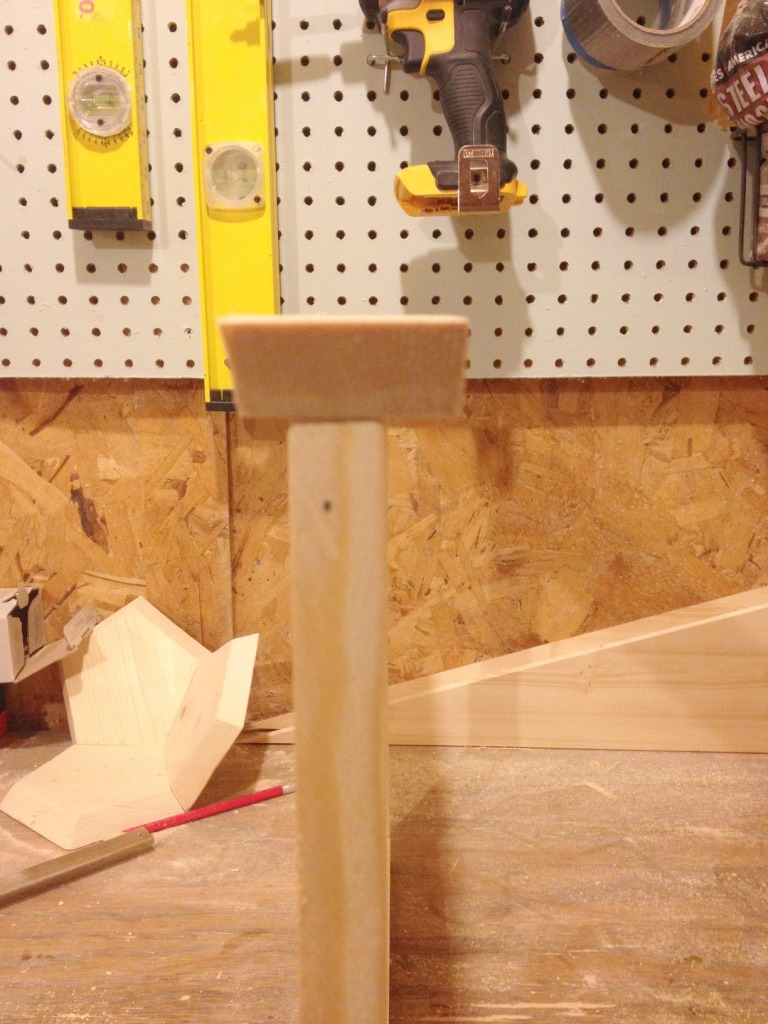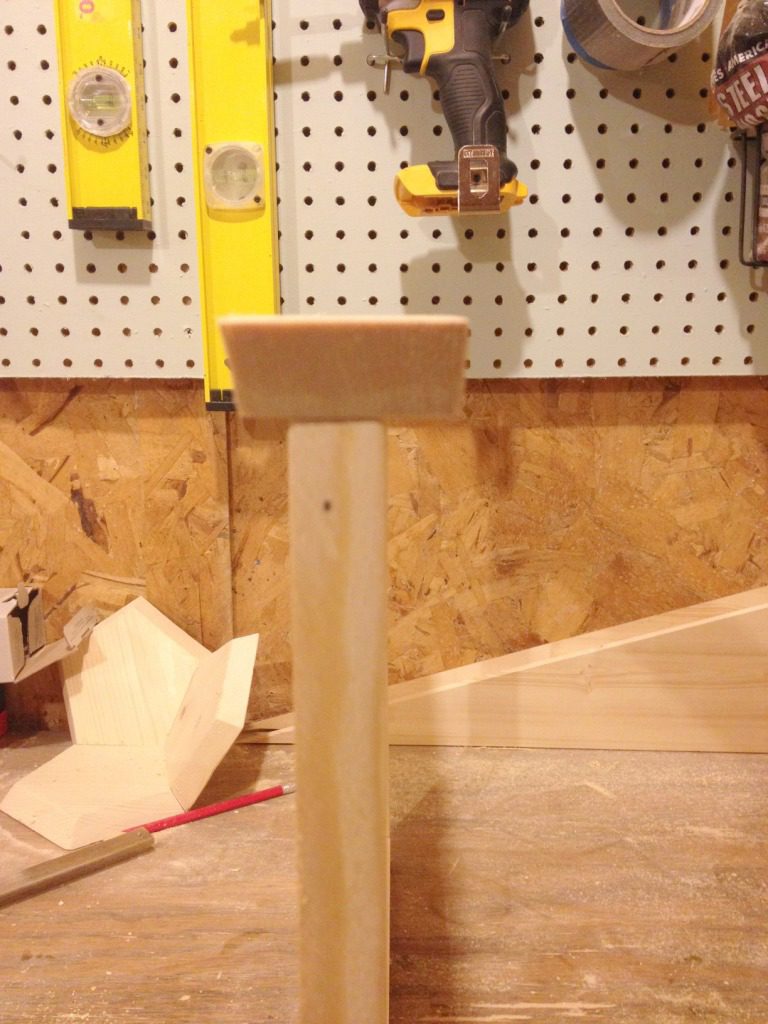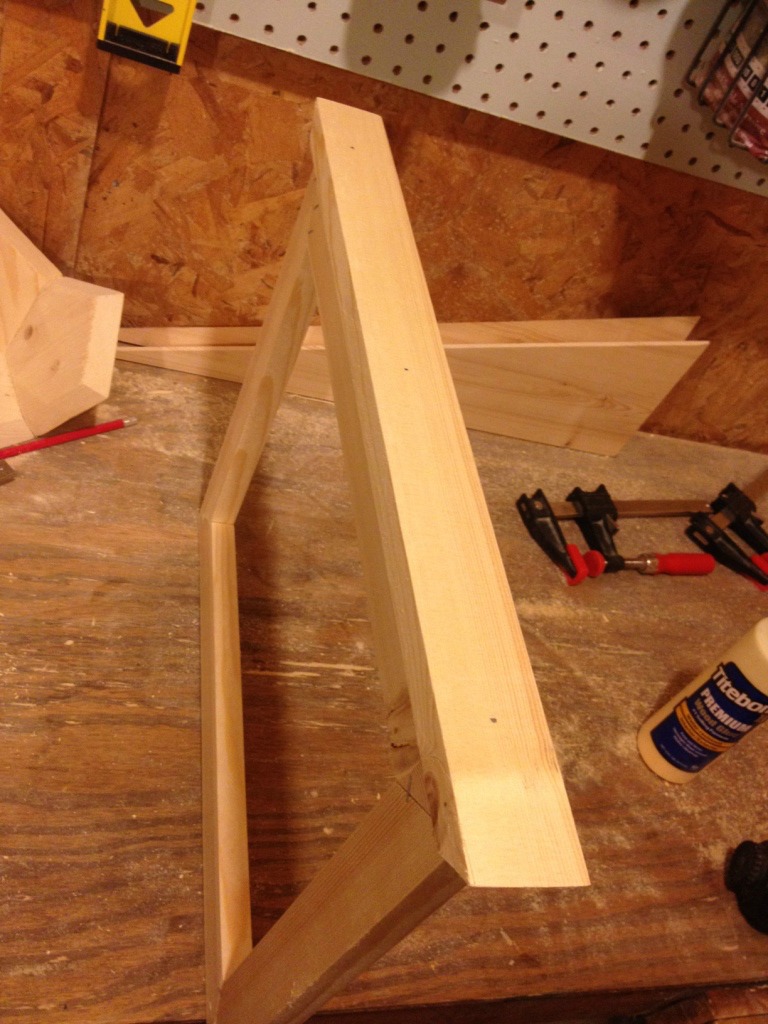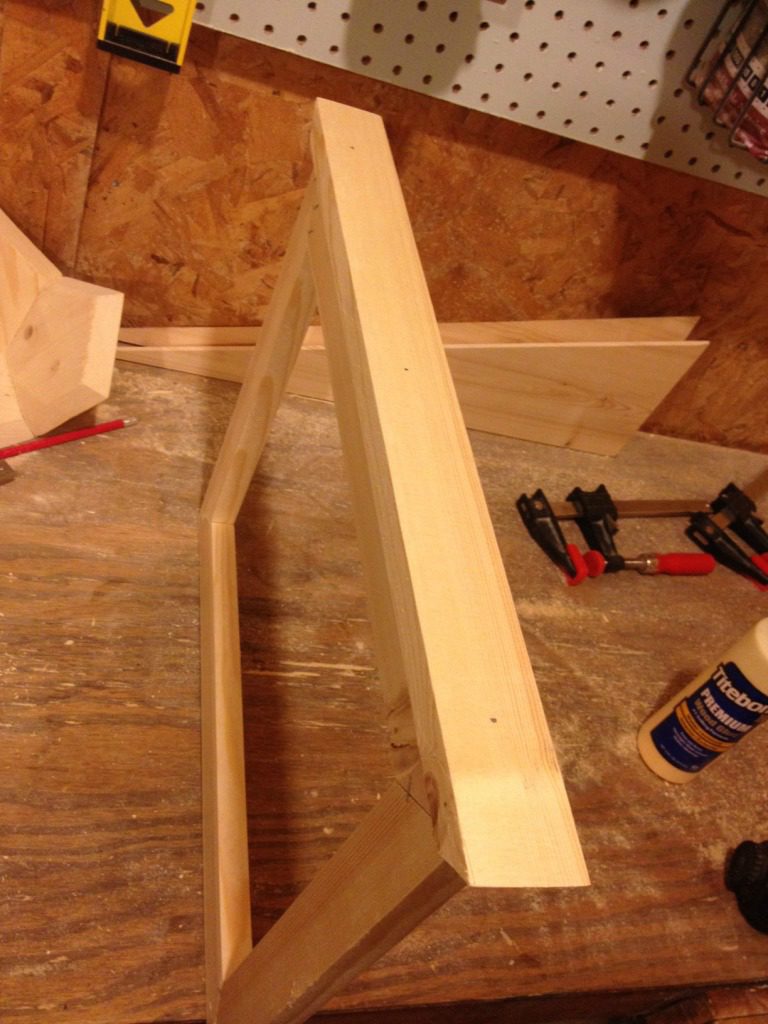 I cut and attached the pieces all the way around then stained it.  I didn't bother puttying the holes or anything.  I just wanted a super simple frame.  I had some leftover "experiment stain" where I had mixed a little Minwax Provincial and some Minwax Weathered Oak and it ended up being like the exact same color as the sack.  I'm still trying to decide if that's good or bad…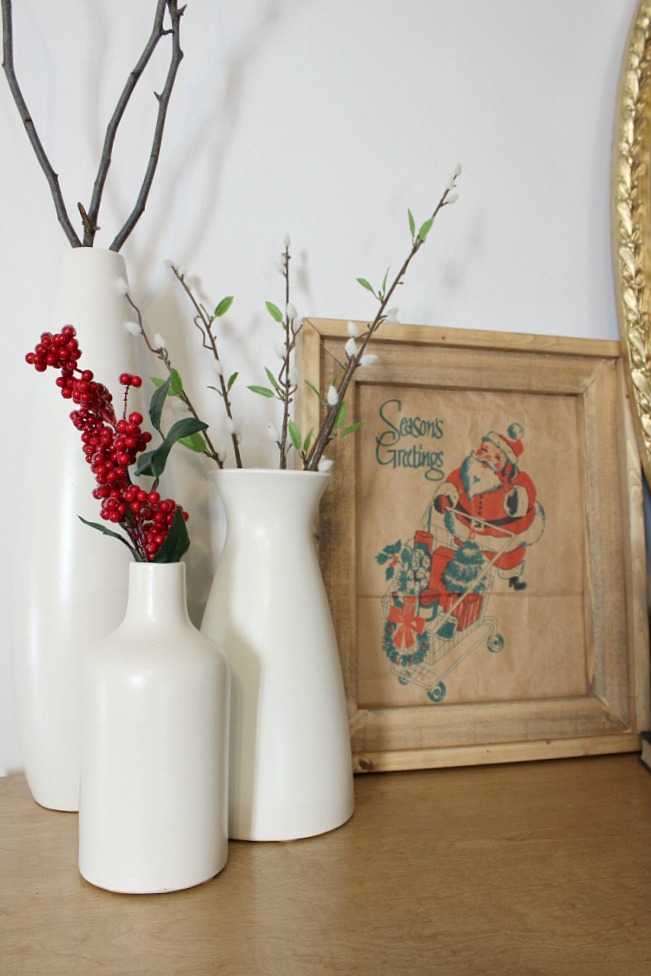 Like I mentioned before, you could put a thin (⅛″) piece of glass in here and a thin cardboard backer with those little turny things (you know…those things on the back of the frames you buy at the store that twist) to hold it in place.  But I just used some clear tape and lightly taped it on the back to hold it in place.  I'm all kinds of cheating on this project, you guys.  All kinds of it.  Christmas is coming and ain't nobody got time right now to follow the rules. I got wreaths to make and decorations to get up!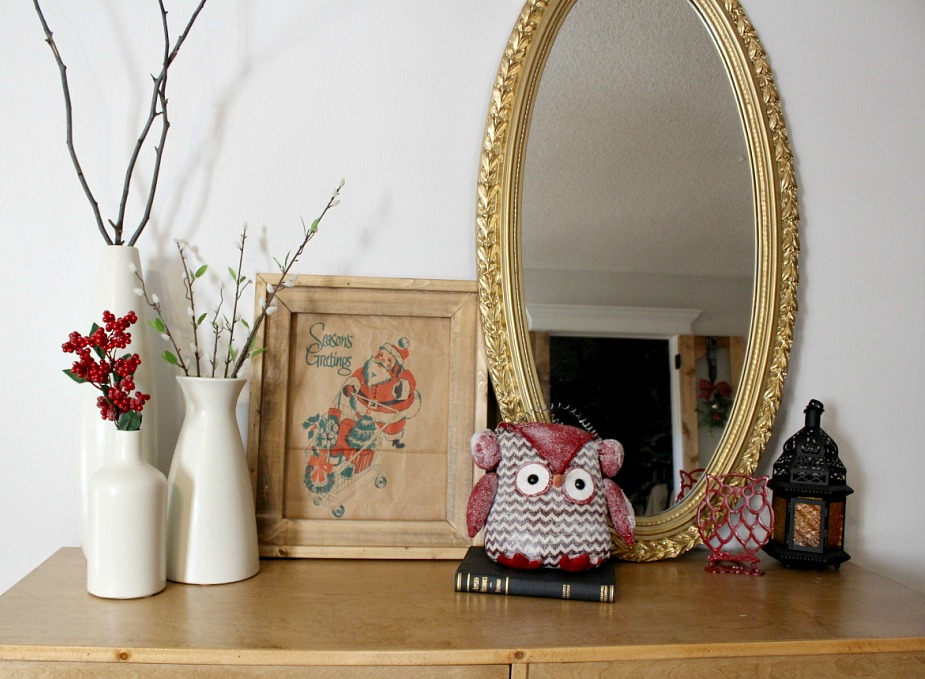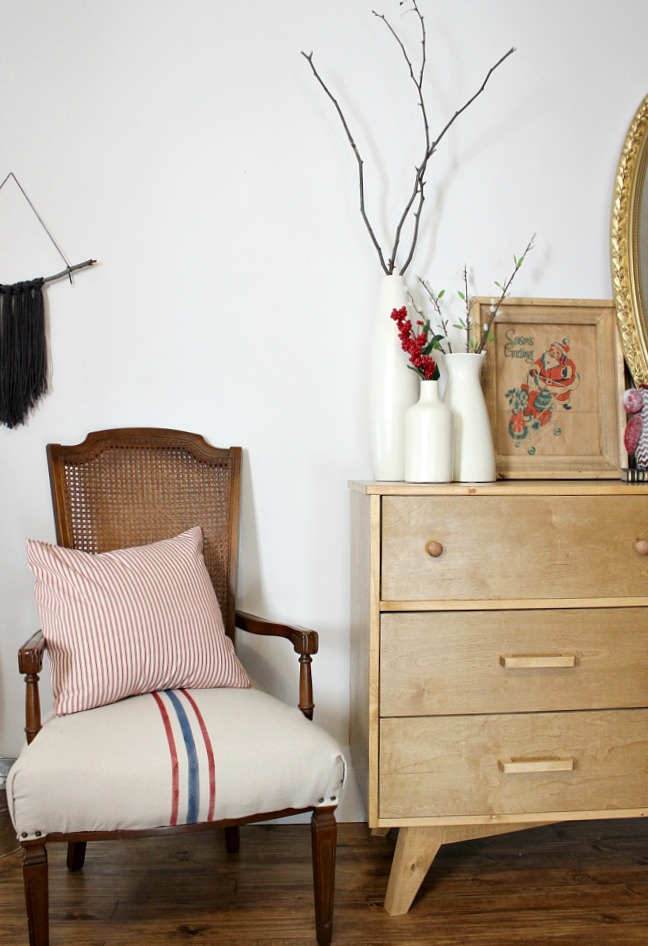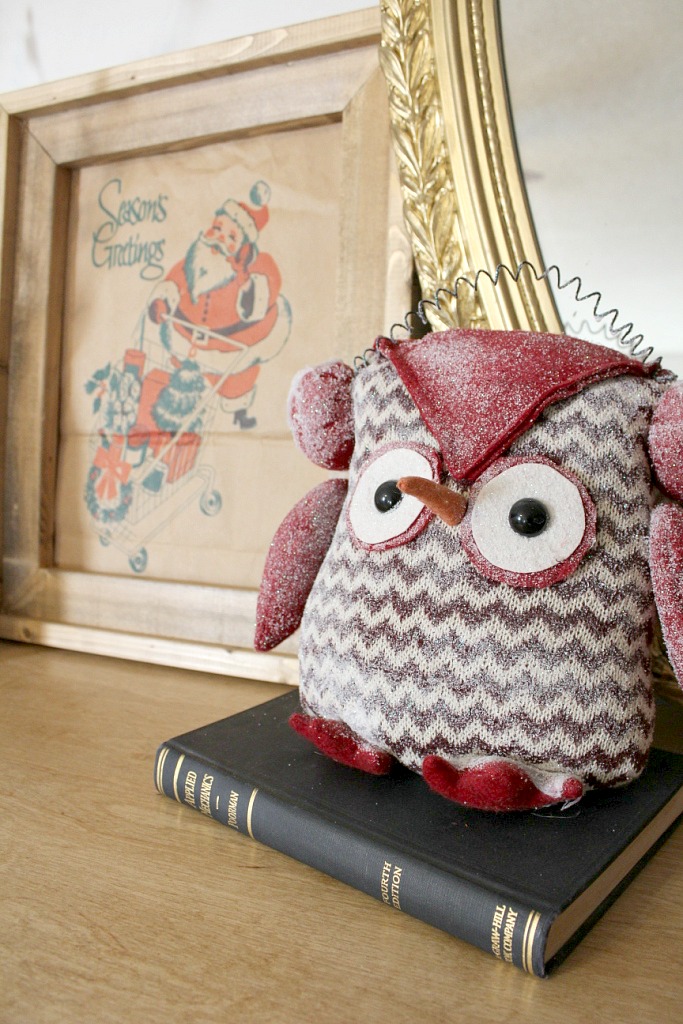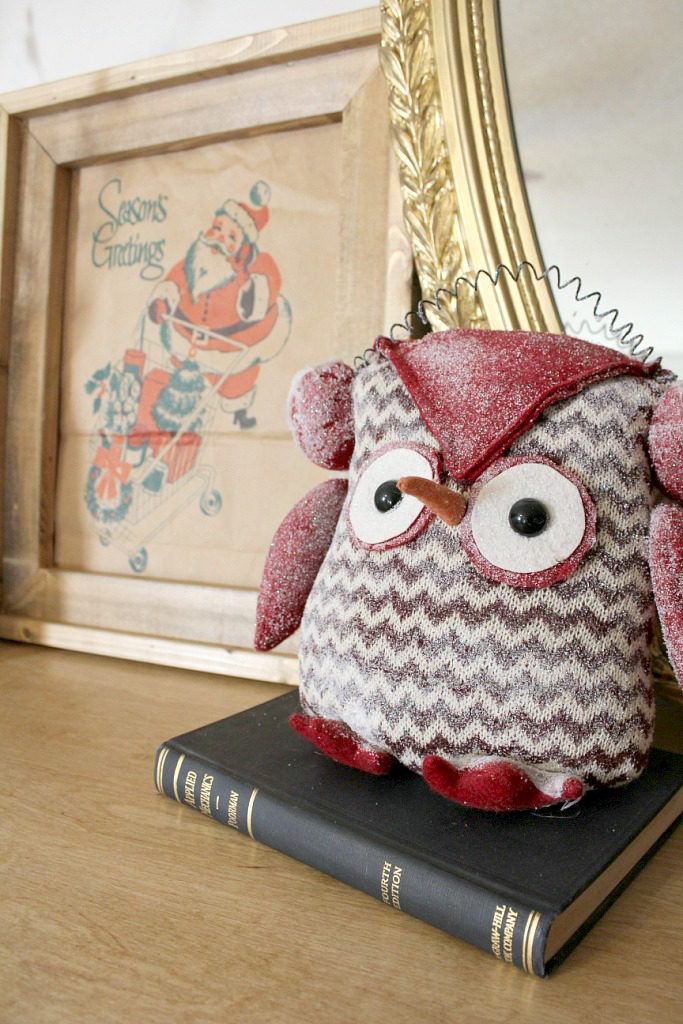 PS nothing says Christmas like an "Applied Mechanics" book, right?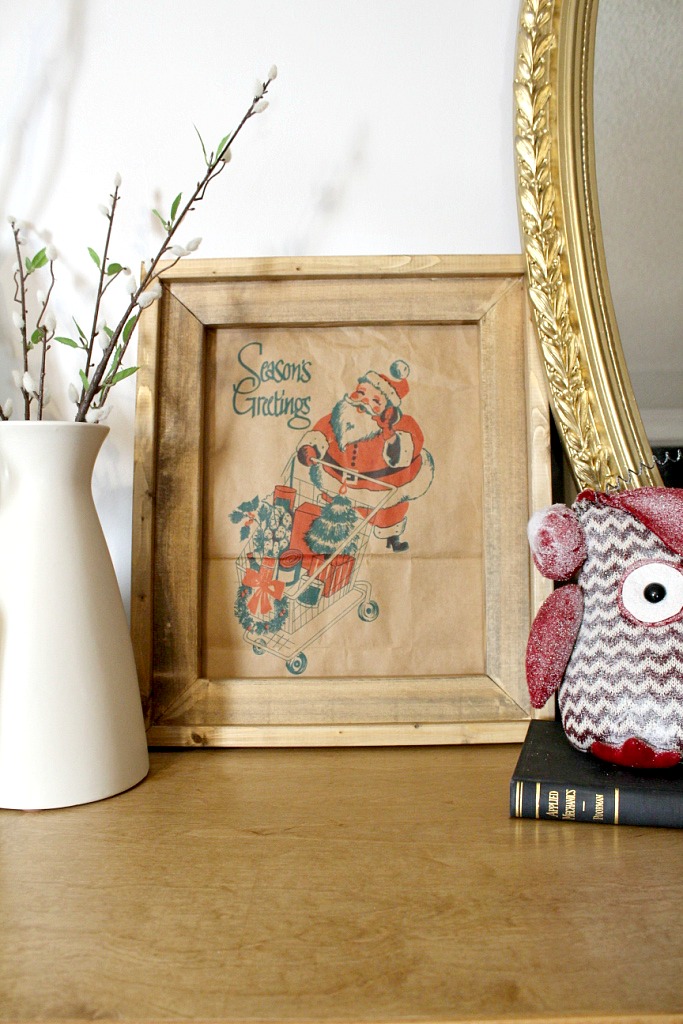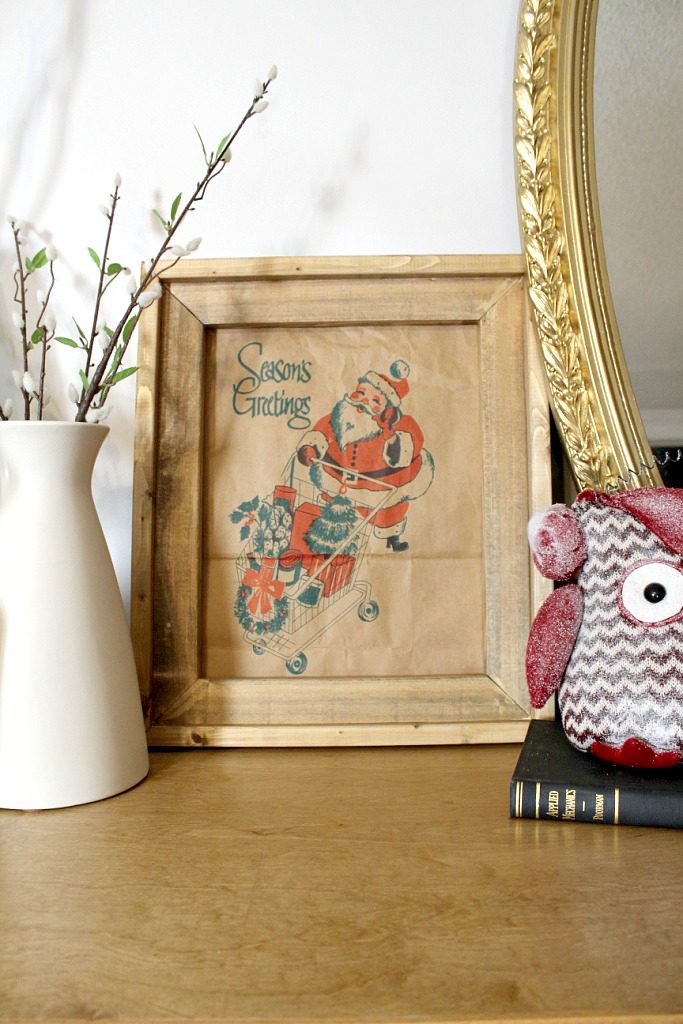 How's that for super simple Christmas art?  Who would have thought that silly paper sack from last year's Christmas gift would be my favorite decoration this year?
.
Do you guys have anything like this…random paper sack, old record cover, newspaper, etc that you want to do something with, but don't know what?  Making your own custom frame is a super fun and easy solution.  You know the best art is the kind you make yourself 🙂  And the kind that's cheap….and the kind that no one else has…
.
So what are you waiting for?  Go FRAME ALL THE THINGS!!


Stay tuned…all through the next couple weeks I'll be posting fun and easy Christmas projects as we head full force into the upcoming Christmas season!!
.
So until next time, happy DIYing!!