It's the most stressful time of the year!!!  It's Christmas!!!  And the stores are crowded and the traffic is awful and you have no idea what to get Aunt Sally or Uncle Bill.  Or your nieces and nephews.  Or anyone else on your list for that matter?  Or is that just me?
.
But, it's cool, you guys, I'm here to help!  All year long, I've been making notes on little things that I would love to find in my stocking on Christmas Day because every year Mom and Dad ask what I want and I.  Never.  Know.  Until now.  And I'm going to share my list with you because these are really, really great stocking stuffer ideas for the DIYer/crafter/home improver in your life.  Big projects, small projects, whatever they like to do, all of these stocking stuffers will come in handy…and they are all under $10 each!  For those prices, snag a few for yourself while you are at it 😉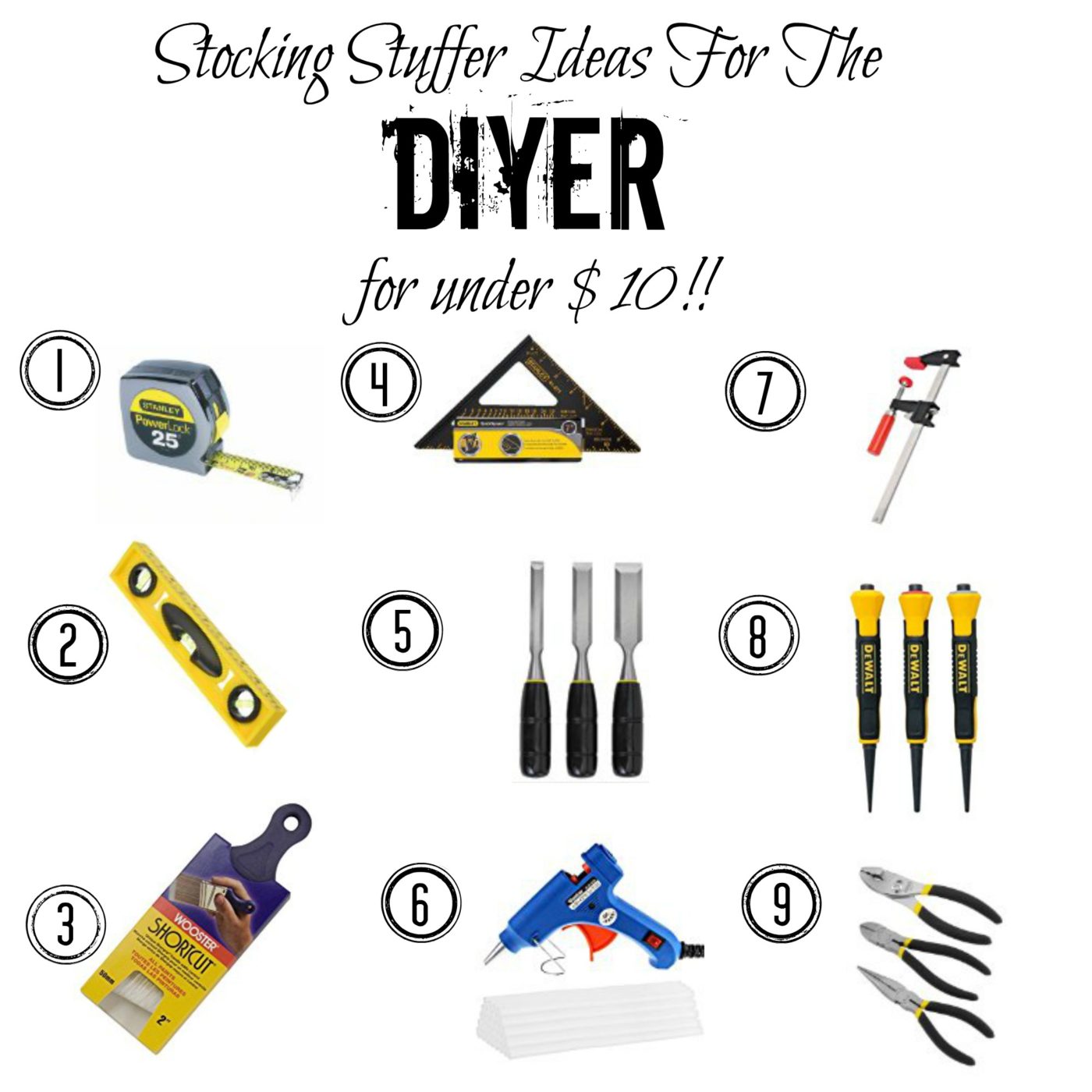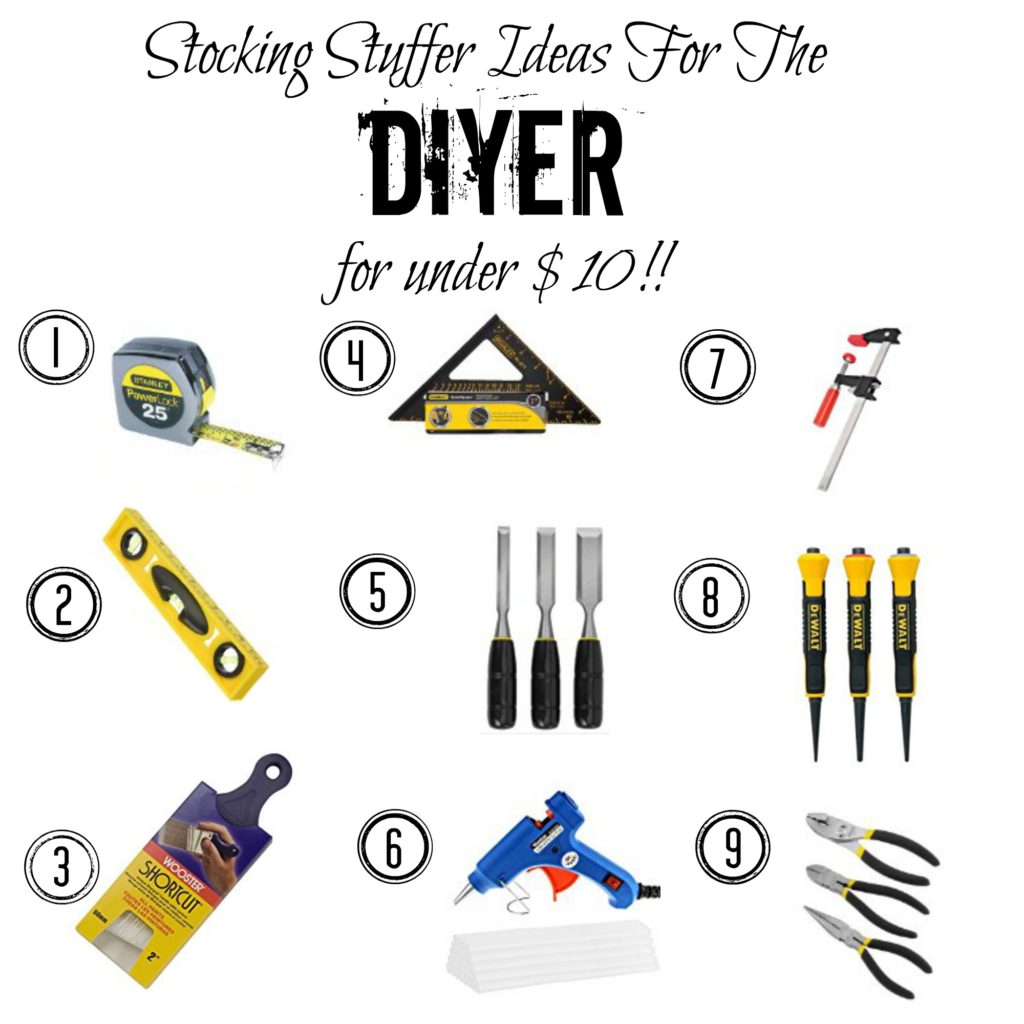 .
All images are links, so if you are interested in an item, just click the picture 🙂
.
This post contains affiliate links for your convenience.  Although I may receive a small commission at no extra cost to you if you purchase from these links, I only link to products that I personally use and/or recommend.  This allows me to continue to provide readers with free content.  See disclosure policy for more details.
.
I literally just broke my measuring tape last night and I am LOST without it.  I don't think you can ever have too many of these.  A good measuring tape is not only handy for DIYers, but for anyone to have.  I keep a mini tape measure in my purse and I cannot tell you how many times it has come in handy if we are out shopping, and even when we were house hunting.
But, this is my favorite tape measure to use in the shop and around the house.
This is one tiny tool that comes in handy ALL THE TIME.  I use it to check for square when I'm building and I use it to mark where to cut on a board.  I've even used it for laying out stencils to make hand painted signs and for making small wooden clocks.  It's not just a woodworking tool…I've used mine for all sorts of crafts! Super handy tool to have.
You guys, have you ever chiseled wood?  It's addicting.  I'm NOT ANY GOOD AT IT AT ALL, but it's the most relaxing and stress relieving thing I think I've ever done.  Even if you don't have any projects to work on, GET YOURSELF A WOOD CHISEL SET and just play with it.  I just bought this exact set about a month ago and I've used in a couple projects already and have been looking for more projects to use it on.
There are lots of different types of clamps.  Pipe clamps are AWESOME, but they are more than $10, so to keep with the under $10 theme here, I recommend these
smaller bar clamps.  These are my every day use clamps if I need to clamp something to a work surface, or clamp down a straight edge to make a cut.  I literally use these on a daily basis and I could never have enough of them laying around.  These are highly recommended.
I can't speak for this exact set, because it's actually on my own wish list this year, so I haven't used them yet.  But, I have an old nail punch that my Dad gave me that I use all the time and I'm ready for some new ones.  These have good reviews and seem like a good price from a good brand.  You really can't go wrong with a nail punch, though.  I use my old one often, especially when adding trim to a project and I need to punch the nails in a little further in.  It's also handy if you work with pallets a lot and you need to drive those pesky nails back in their place…or out of their place.  It's another one of those tools that you never really think about until you need it.  So it's good to have on hand 🙂
These can be used for crafting of all sorts. Originally, I was only going to suggest buying side cutters, but I found this whole set for only a couple bucks more, and all three of these are super handy tools.  Side cutters and pliers are your best friend whether you are making a wreath, a wood sign, or a piece of furniture.  Side cutters will easily cut apart the wires on fake flowers for decorating and wreath making.  They will cut and bend your wire for hanging wall décor.  And they will cut your nail (or pull it out) when you miscalculated and shot your nail gun at the wrong angle and it went through the other side (oops!).  This is another handy tool that you can really never have enough of.
You can never go wrong with a glue gun.  They are a staple in every DIYer/crafters tool box.
Good paint brushes can't be beat.  And I, personally, can never have too many.  I'm sure I'm not the only DIYer out there that is trying to paint several things at once and they are all different colors and that means you need a brush for every color.  And I never have enough.  For the price, you could afford to buy your DIYer (or yourself) several of these little guys just for that reason 🙂  By the way, this is my favorite brand of brush…highly recommended.
Any homeowner can benefit from a level.  How many times have you stared at that thing you just hung on the wall trying to figure out if it's level?  Exactly.  Levels are great for everything from hanging that new painting on the wall, to making sure you are hang your cabinets straight.  This little one would be a great addition to any tool box, but if you're willing to spend a couple bucks more, this one is twice as long, and this one is four times as long and both are highly recommended as I use them in my shop OFTEN.
These are just a few ideas for great and versatile stocking stuffers whether you're buying for a professional DIYer, or a weekend crafter.  Personally (hint hint…Mom and Dad are you listening?), I would love to find all of these in my stocking this year, so I know they would be glad to see them too!
.
If you are looking to buy beyond just stocking stuffers, I have a great post here about the best tools to get started in woodworking.  Those range from $40-$200 and you can buy all five that I suggest for less than $500!  I know tools aren't cheap, but you don't have to have the most expensive tools to get the job done.  I promise…because I don't have the most expensive tools!
.
Tools or no tools, whatever you give this year, make sure you give it from the heart and remember the true meaning of the season 🙂  With all the hustle and bustle that the holidays bring, don't forget to stop and take a moment to be grateful for the Gift that was given us in Jesus on the very first Christmas Day 🙂
.
Until next time, happy DIYing, happy shopping, and Happy Christmas from Danny and I 🙂