This post is a review of the Ridgid 18V Drywall Screwdriver with Collated Attachment and is sponsored by The Home Depot and contains affiliate links. See policies for details.
.
Hi friends! This past year I've had a really fun opportunity to try out some new tools in partnership with The Home Depot as part of their ProSpective Program.
.
And it got me thinking…you guys may be interested in knowing my thoughts on them and the features they provide.
.
So I'm excited to begin doing regular tool reviews on both the tools I try out from this program and also tools I pick out and purchase on my own. I hope you find it helpful when searching for your next favorite tool, a gift for your favorite handy man or woman, or just learning more about what tools are out there.
.
So today, I'm talking about this Ridgid 18V Octane Drywall Screwdriver with Collated Attachment.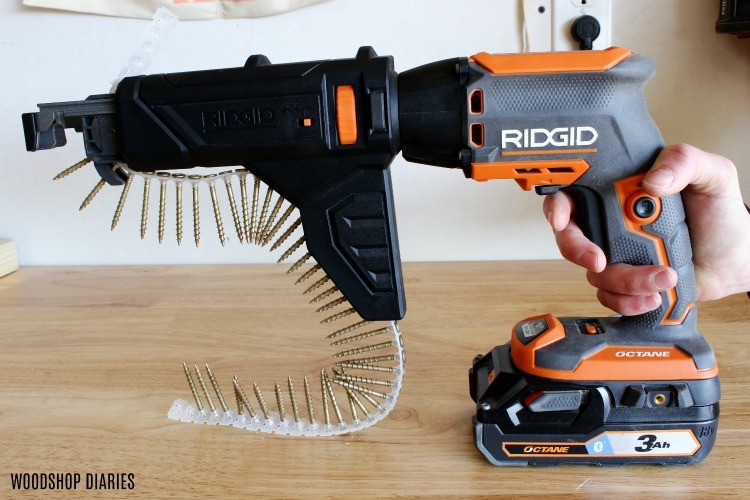 Now, at first glance, you may think this is just your average drill/driver, but it's more like the drill/driver's second cousin–similar, but it's got several distinct features.
.
First of all, what exactly is it?
It's a brushless, battery powered screwdriver that utilizes either a drywall nose cone or a collated screw attachment to drive screws repeatedly and to a precise depth each time. It runs on Ridgid's 18V battery platform and is backed by Ridgid's Lifetime Warranty.
Second, what's it used for?
This tool would be ideal for hanging drywall, laying subfloors, building sheds, installing slats on fences, boards on decks, or basically anything that requires repetitive screw driving. (I wish SO BAD I had known about this tool when I was hanging the drywall in our garage apartment. The collated attachment would have made the job a lot quicker and a lot easier on the fingers.)
So…that's cool, but how do you use it?
This tool comes with two attachments for the front end. First, let's discuss the collated attachment. Collated screws are basically just screws that come in a little plastic strand…like this: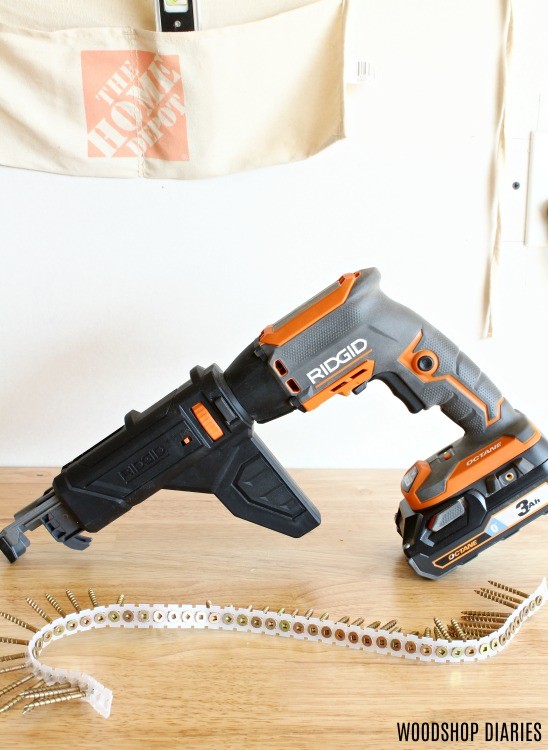 You can purchase collated screws in many varieties–drywall screws, subfloor screws, decking screws. Different lengths, different styles, etc. I purchased a pail of 1 ¾″ subfloor screws to play with for this review, but drywall screws are pretty popular, too.
.
Once you load the screws, the tool automatically advances to the next screw when you push to drive OR pull the trigger depending on your settings. This saves so much time (not to mention saves your fingers so much wear haha) not having to repeatedly load after each and every drive.
.
To use this attachment, simply load the long drill bit (the tool comes with a long Phillips head and a long square head bit) into the tool. It loads similar to an impact driver, depress the head and insert the bit and it should latch in place.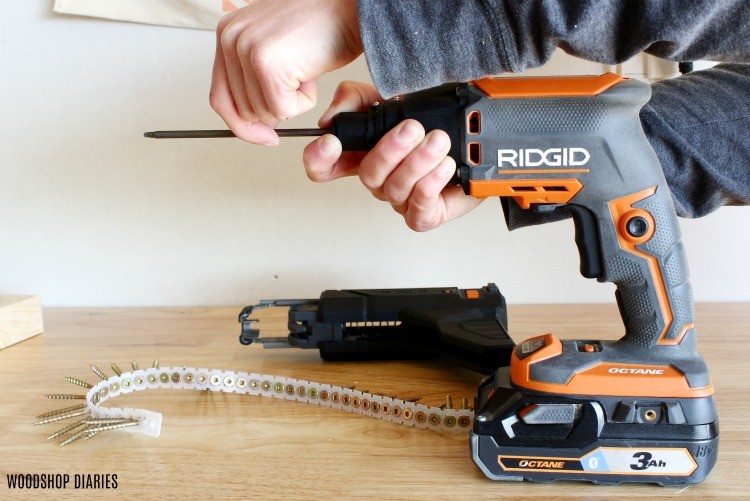 Then, slide the collated attachment onto the front. The long bit slides through the hole and it locks in place. Also note that you can load the screws into the attachment prior to it being installed onto the screw driver, or after the fact.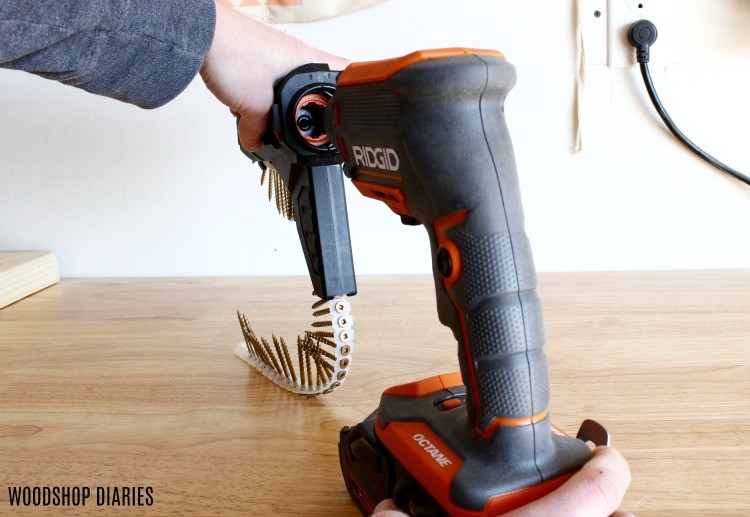 Once the attachment is in place, it's got a couple adjustment settings you may need or want to change. First, you need to adjust the attachment to suit the length screws you are using. Slide the orange lever on the front to adjust the depth to match your screw length.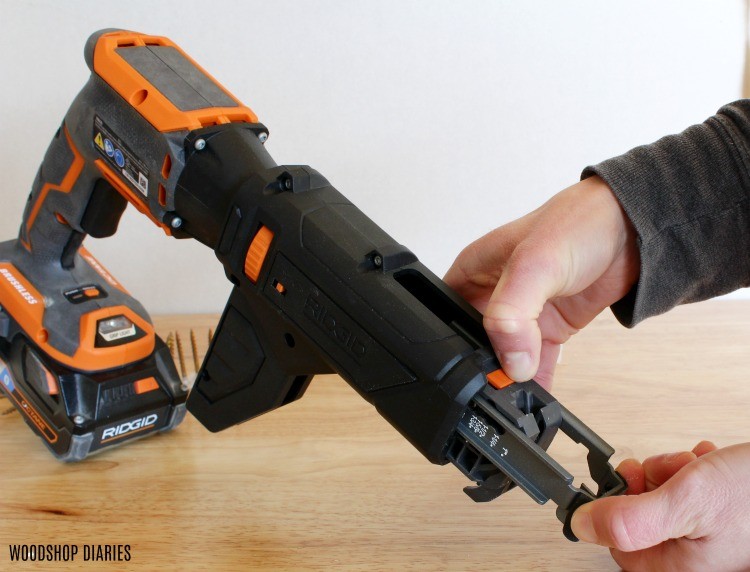 You can also adjust how far the driver drives the screws. Maybe you want it JUST flush with the wood. Or maybe you want it sunk in just a little…or a lot. You can simply turn the orange knob shown below on the attachment to adjust the depth deeper or shallower as desired.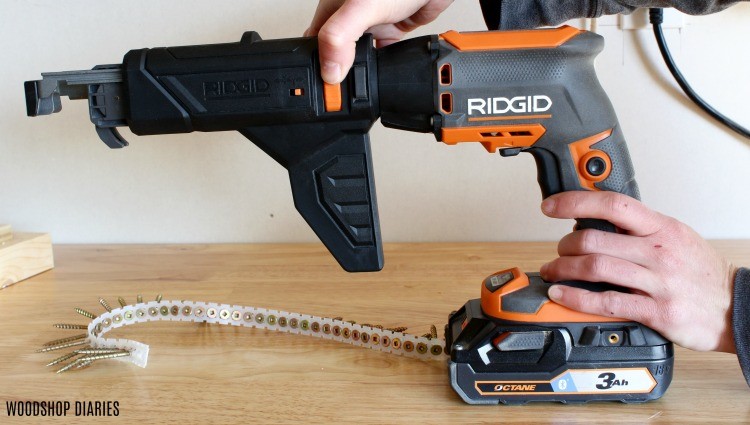 Load up your screws and you're ready to roll.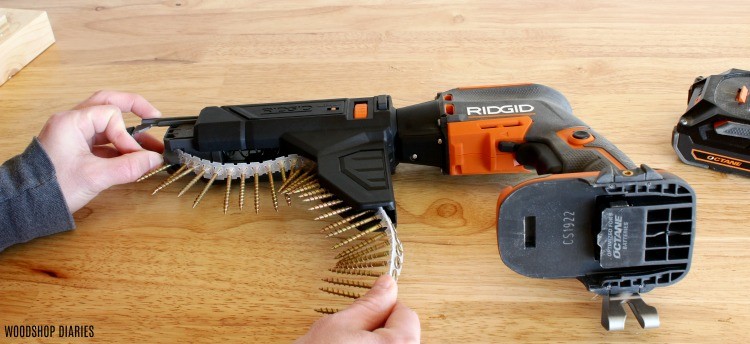 One feature that I personally really love on this tool is the Push to Drive feature. You can set this driver up to simply push in the head on the attachment in order to drive the screws. You don't even have to pull the trigger. This can make that repetitive screw driving go much quicker.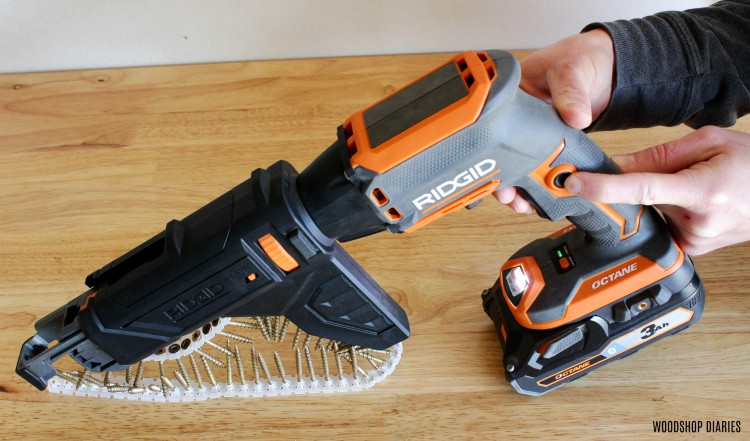 To activate this feature, simply press the little orange Push to Drive button on the base of the tool, then press in the lock button on the handle and push in the trigger to active the trigger lock (see image above). Now you can simply push in the head to drive a screw.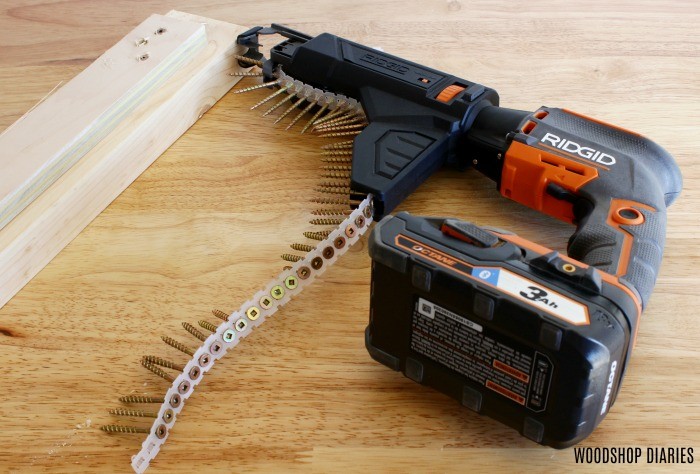 Now, maybe you don't want to use this with collated screws. Totally understandable. It also comes with a drywall nose cone attachment if you'd rather use that instead of the collated attachment.
.
To remove the collated attachment, press the grey rectangle button on the back of the attachment and pull away from the driver.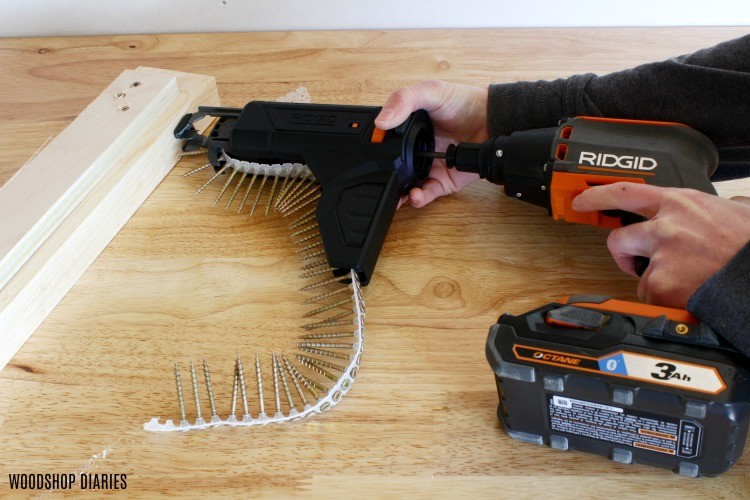 The tool also comes with a couple shorter bit options. You can swap out the long bit for one of these shorter ones and slip on the drywall nose cone. Just like with the collated attachment, this just snaps in place.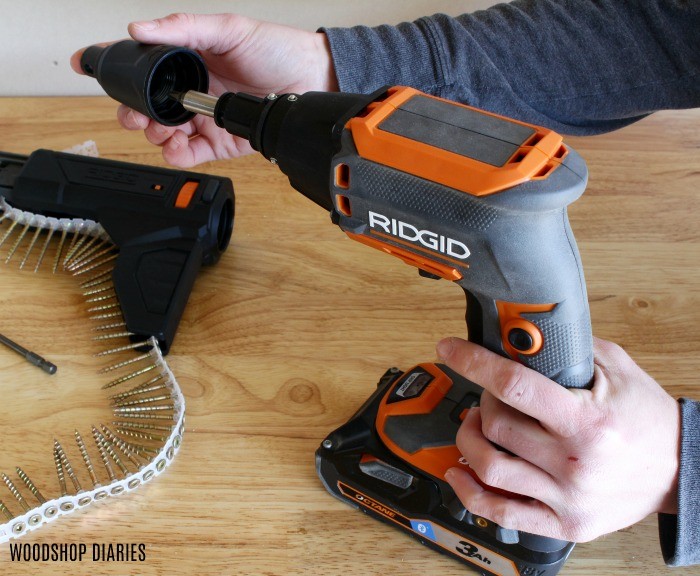 Also, just like with the collated attachment, you can easily adjust your screw driving depth. With this attachment, adjust by simply turning the nose cone clockwise or counterclockwise. The nose cone is perfect for drywall screws driving just deep enough to mud over them for finishing.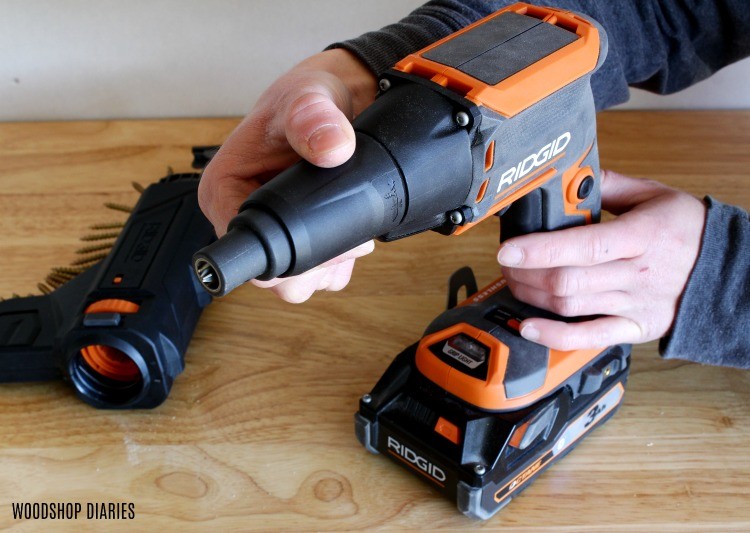 And again, just like with the collated attachment, you can also activate the Push to Drive feature with the nose cone as well the exact same way–press the orange Push to Drive button on the base, and locking the trigger.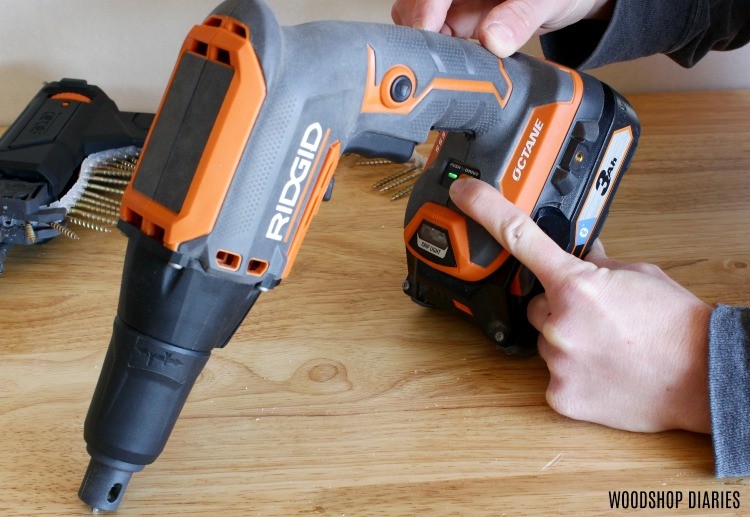 Pros…Cons…What else you need to know
Let's start with the pros:
Backed by Ridgid's Lifetime Warranty
Runs on Ridgid 18V battery platform (so uses compatible batteries with other Ridgid tools)
Multiple head attachments for various applications
No tools required for depth adjustments and switching out heads
Push to Drive feature makes repetitive driving quick and easy
Comes with multiple bits for various screw types and applications
What about the cons?
The biggest "con" I see with this this tool is that when using the push to drive feature with the collated screws, if you didn't hold constant pressure on the driver once it's started driving a screw, it would stop driving and leave your screw half way out. And since it automatically advances to the next screw, you can't go back and drive it again.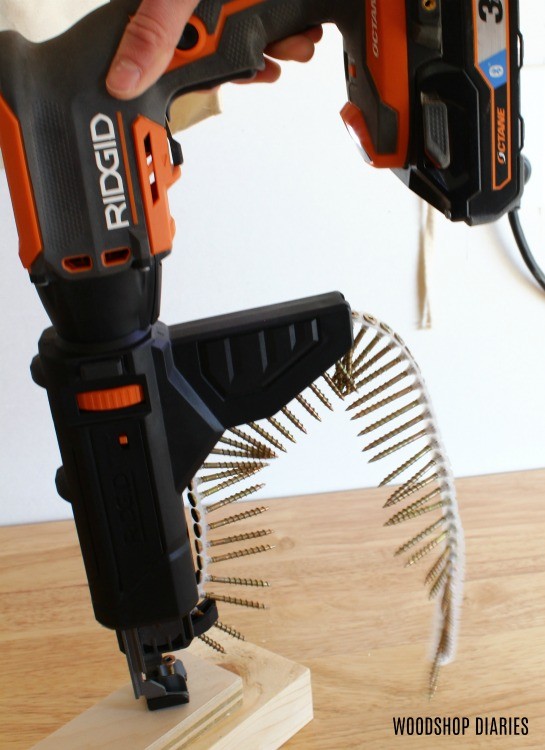 But, obviously, this is kind of common sense. If you were actually driving a screw, you'd keep constant pressure until it's driven, so mostly this is just operator error (AKA my fault haha), but I could see where this may become annoying if you weren't careful and unintentionally bumped the tip here or there while working. Not a huge deal to me personally, just something I noticed while using it.
My Final Thoughts:
Overall, I was personally really impressed with how easy this tool was to use and how easy it was to change out the heads and adjust the settings while I was testing it out. In full disclosure, I tested this out by driving (and backing out) about 50-60 screws into some scrap blocks using the collated attachment and about 20 screws with the nose head.
.
But, I'm looking hard for a good project to work with it on because I really enjoyed playing around with it for this review…although I'm not wishing for a drywall project anytime soon…I'd pick subfloor or decking over drywall any day haha.
.
So if you're interested in adding this to your collection, you can check out all the product details for this Ridgid 18V Octane Drywall Screwdriver with Collated Attachment over at The Home Depot here.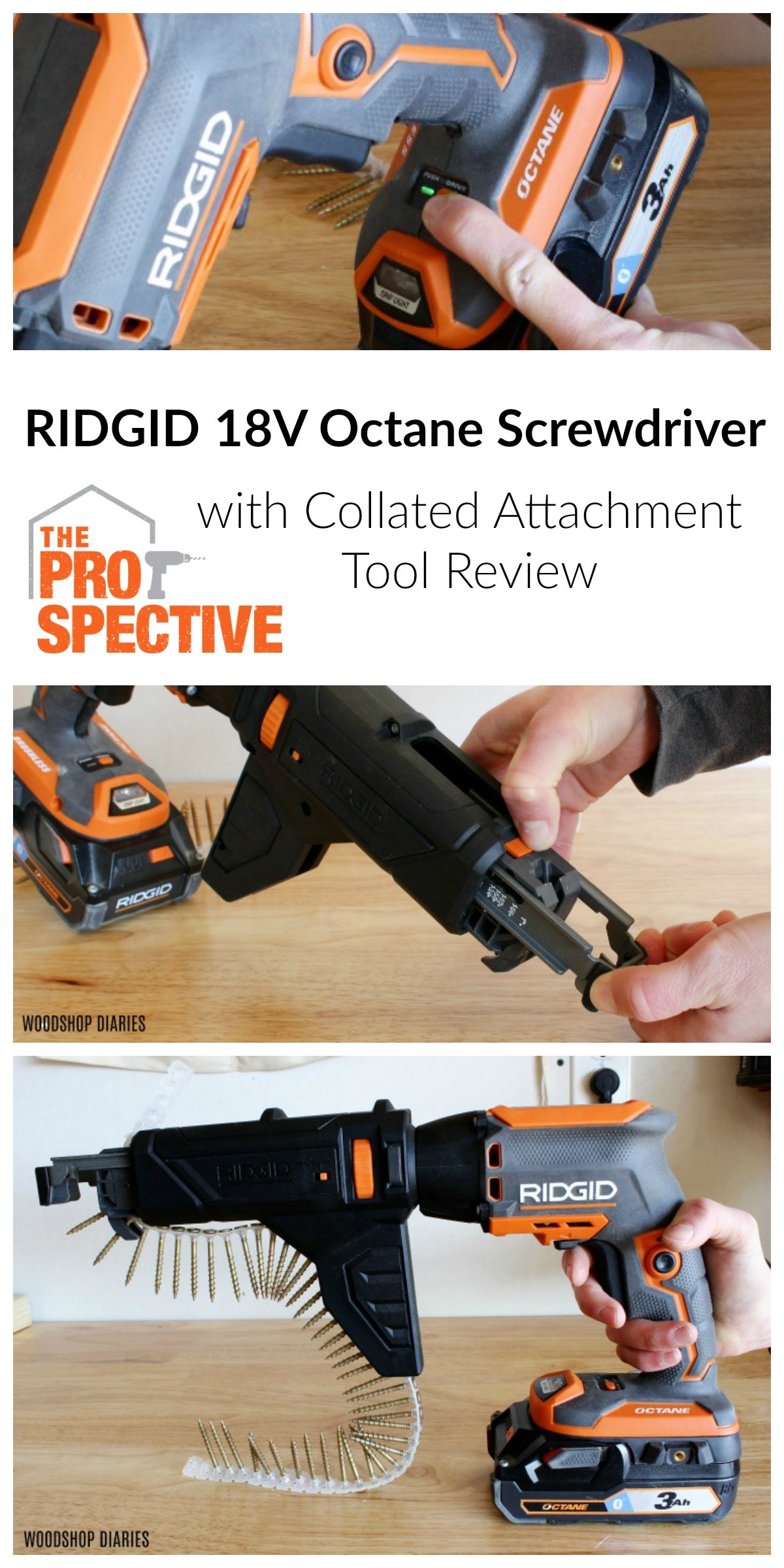 I hope you've enjoyed this review! I'll be posting new tool reviews on Mondays when I have one to share, so I hope you stop back by and see what's new each week. Until next time, friends, happy building! 🙂
.
I acknowledge that The Home Depot is partnering with me to participate in the promotional program described above (the "Program"). As a part of the Program, I am receiving compensation in the form of products and services, for the purpose of promoting The Home Depot. All expressed opinions and experiences are my own words. My post complies with the Word Of Mouth Marketing Association (WOMMA) Ethics Code and applicable Federal Trade Commission guidelines.