I had an #epicfail the other day. And since you all chose to follow my blog, I assume you're in it for better or for worse….the good the bad and the ugly, right?  So I can tell you about all the awesome things that turned out even better than I expected.  And I can also tell you about all the things that turned out so bad I just want to set them on fire.
.
  So, let me share with you the story of my bathroom cabinet idea that was a total flop.
.
As many of you know, we remodeled our master bathroom over the last month or so.  Truth is, functionally, it's finished (HALLELUJAH).  But, I haven't posted a "final reveal" yet because a few details are still out there to be decided on.  One of those details is what should go above the toilet.  (Another is a shower curtain, another is a bath rug, anther is hand towels, and a soap dispenser….you know…ALL THOSE LITTLE DETAILS.)
.
Let's just focus on the above the toilet issue.  And, while EVERYONE has either a cabinet or floating shelves above their toilet, I wanted something "different."  While scrolling through Pinterest the other day, I had an idea to use a mid century style sliding door cabinet above the toilet.  It would be perfect! It would house the towels, hide the toilet paper, and leave space above it for a cute print, picture, or plant.  It would be the most glorious thing I've ever built in my life!
..
So I plugged in the shop radio and got to work.  I sang and I danced and sawed my little heart out.  This was going to be awesome and fun and the coolest part of the whole bathroom!
.
So I brought it inside and hung it up and quickly set a few things on it to make it look like it's been here this whole time.  And…I hated it.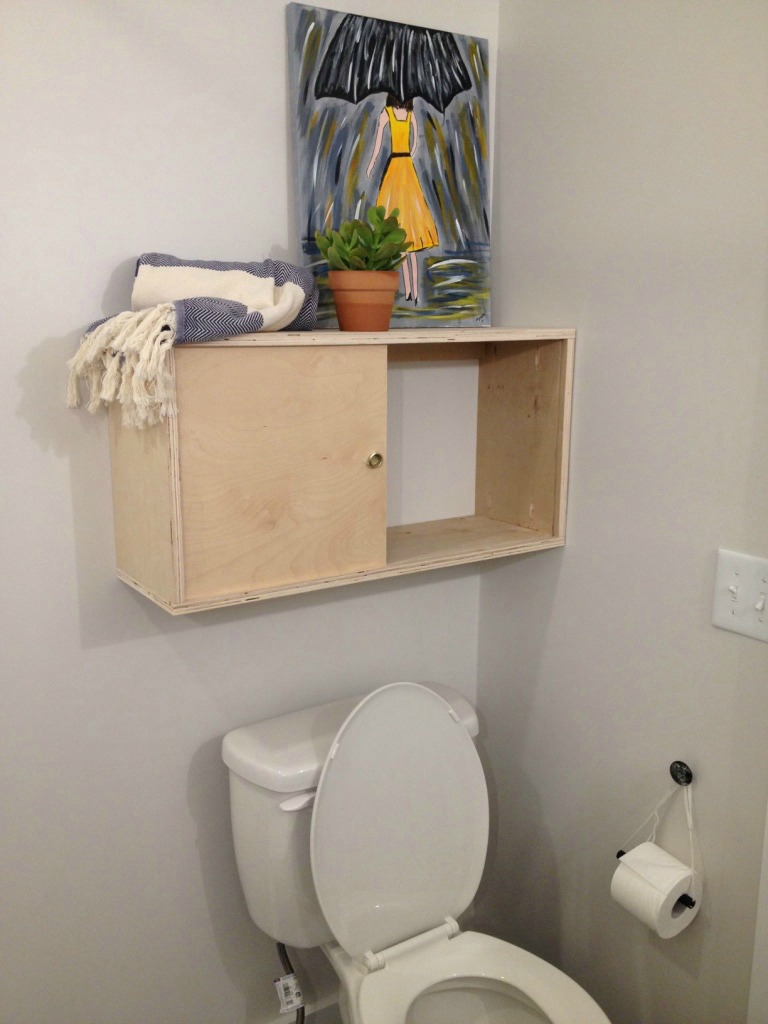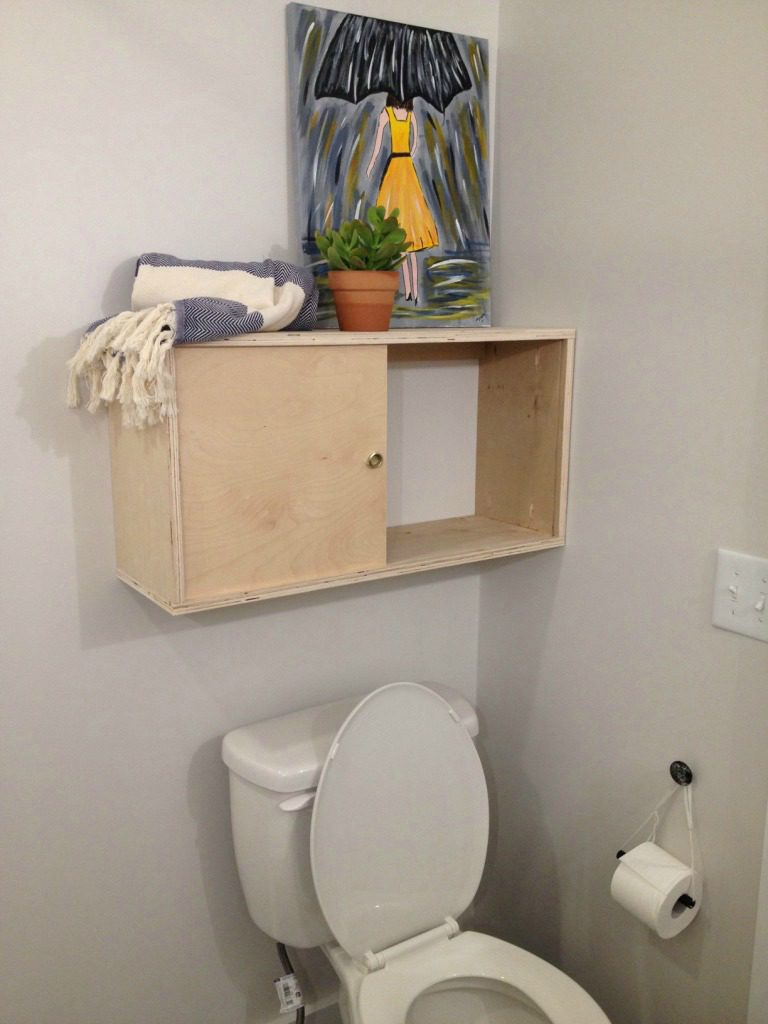 What happened?  I had this all planned out.  This was going to look awesome.  I was going to be able to check it off the list.  I had a mental deadline.  I needed to show everyone the finished room.  If this cabinet didn't work out, I didn't have a back up plan!
.
But, I couldn't figure out what was wrong.  It looked strange above the toilet.  It should have been shorter.  Danny thought it should hang a little higher.  I needed to fill in the pocket holes so you didn't see them.  Maybe the door should have been slightly wider.  But, I didn't trash it just yet.  I still had hope!
.
Maybe a little paint and stain would fix it.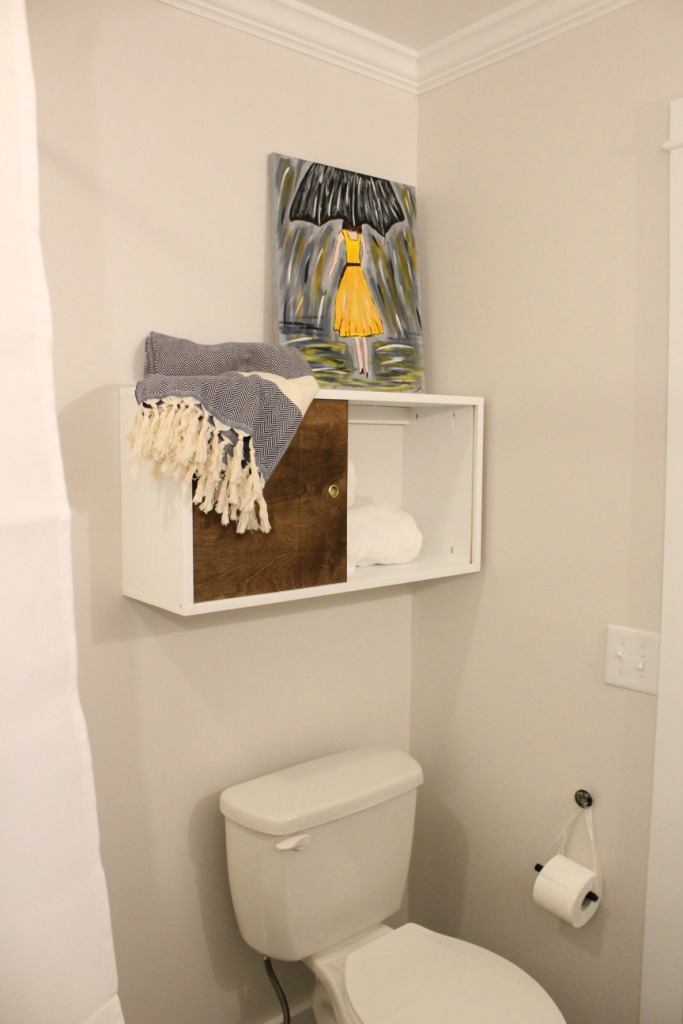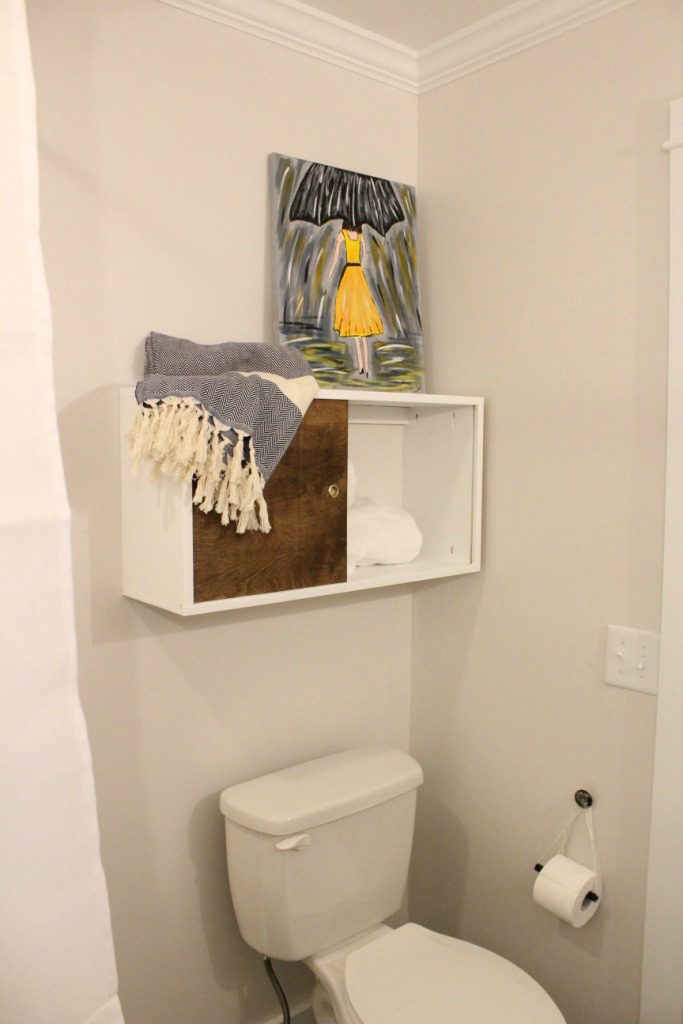 Nope, still hated it.  AHH! I hate painting and I just spent my evening painting and staining this thing.  What a waste!  It looked out of place.  It looked kind of janky.  It looked like a rushed, not very well planned out DIY job.  (Which it kind of was…)  And I really wish I hadn't painted it white.
.
I texted it to several friends and asked their opinion.  They assured me it wasn't really that bad, but maybe I could tweak this or tweak that to make it better.  But, the more I looked at it, the more I hated it.
.
Now, truth be told, I hate just about everything I ever make before I love it.  I have learned, it truly is just part of the process.  But this hate was different.  Sometimes I hate something but I know it will grow on me and then it'll be my favorite thing ever.  And sometimes I know the feeling won't change.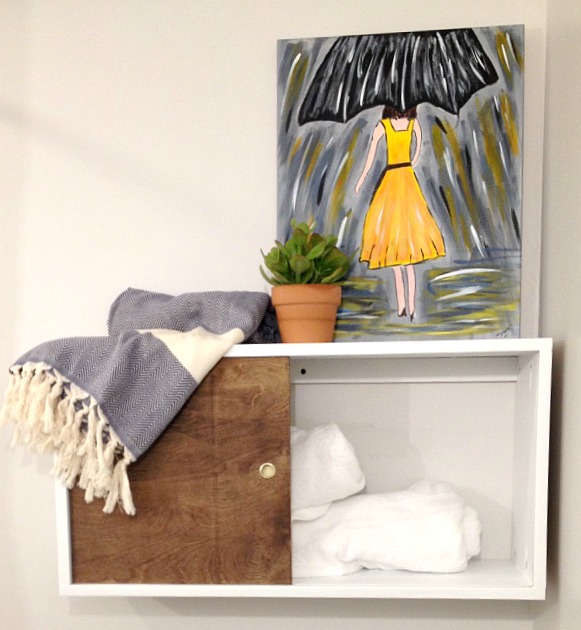 So I took down the awful cabinet and patched the drywall and touched up the paint.  And I took a step back and realized I've just got to wait.  I've got to wait to "reveal" this bathroom because it's STILL not done.  I've got to wait to figure out the perfect thing to put here that gives me all the warm fuzzies.  I've got to let it go and quit thinking so hard about it because I will never find it if I'm stressing about it.  One thing I do not have is patience.  But one thing I hate the most is being rushed.  Nothing good ever comes from a rush job.  So for now, I'm chilling.  I may not post a bathroom reveal for another year.  But whatever I do, I didn't spend this much time and money on this bathroom to not LOVE (I mean absolutely LOVE) every little thing I put in here.  Well, besides maybe a trash can….who loves a trash can?
.
So my cabinet idea was a fail.  It's currently sitting in the floor in my bedroom while I decide whether to repaint and put somewhere else, salvage the wood, or just set the thing on fire.  I'm open to other suggestions, if you guys want to chime in 😉  (In reality, I really don't hate the cabinet itself as much as I just hated it in this space.  Maybe it'll find another home…if so, I'll share it with you :))
.
Not all my projects turn out to be what I had planned.  And although, I don't have plans for a super cool project for you to try in this post, I hope it is encouraging for you to know that we all fail sometimes.  My "design" ideas are usually not the best.  I am just winging it most of the time.  So don't be scared to try something new.  Sometimes it's a smashing success, and sometimes it's a failure.  But it's always better than not trying.
.
Said all that to say get out there and make something–even if it's a failure, you can still have a bonfire 😉 It is fall, after all!  So if you guys need me, I'll be drinking pumpkin spice lattes and waiting for inspiration to strike.  Maybe this time it'll work out better.  Until next time, happy DIYing 🙂