I haven't posted anything in almost a MONTH! What is wrong with me?!  Time is a valuable thing….and I just don't have a lot of it.  But, I am FINALLY taking the time to slip in a much overdue blog post 🙂
After our last project (the closet makeover), Danny swore he wasn't helping me do any more projects for a while.  He said I needed to "slow down and chill out."  We have been married over four years, but he obviously still doesn't know me very well.  "Slowing down and chilling out" is not something I am capable of doing.  I will let you know how this turned out.  SPOILER ALERT: he decided to help me paint the living room 🙂
First thing's first–I never posted about my new living room shelves that I did like a bazillion years ago (more like a month and a half ago, but you know, bazillion sounds better).  What do you think?
Not a huge transformation, considering it used to look like this:
I painted the background white so it would stand out more, and replaced the glass shelves with pretty wood ones.  I love the "floating" shelves and the dark stain.  And it only took me like two hours (most of that time was waiting for the paint and stain to dry so I could do the second coats),
Okay, now back to the more recent updates…
I have been trying to convince Danny to let me white wash our SEVERELY BROWN brick fireplace since the day we moved in.  I feel like it literally sucks all the light out of the room.  I love our fireplace, but it needs some……let's just say it needs some love.
It's got the following things going for it: it's brick.  That's about it.
However, it has the following things going against it: it's dark, BRASS, and has those eyesore vents that don't work anymore. It's not HORRIBLE, I just think some changes would make it awesome.
But, there is one obstacle: Danny.  He (like most uninterested-in-home-decorating men) doesn't have a problem with brass and dark, old brick, or the ugly vents all over it.  He does, however, have a problem with me "painting brick," even though I never planned to "paint" it, just whitewash it.  There is a HUGE difference 🙂
Nevertheless, like all good husband and wife teams, we came to a compromise.  I could change the brass if we kept the brick its natural color (at least for now haha).  Oh and we both decided the vents will go, but we need to find some matching brick to patch up the holes–so that project is on the backburner for now.
I used this can of Rustoleum High Heat Enamel to paint the brass a shiny new black.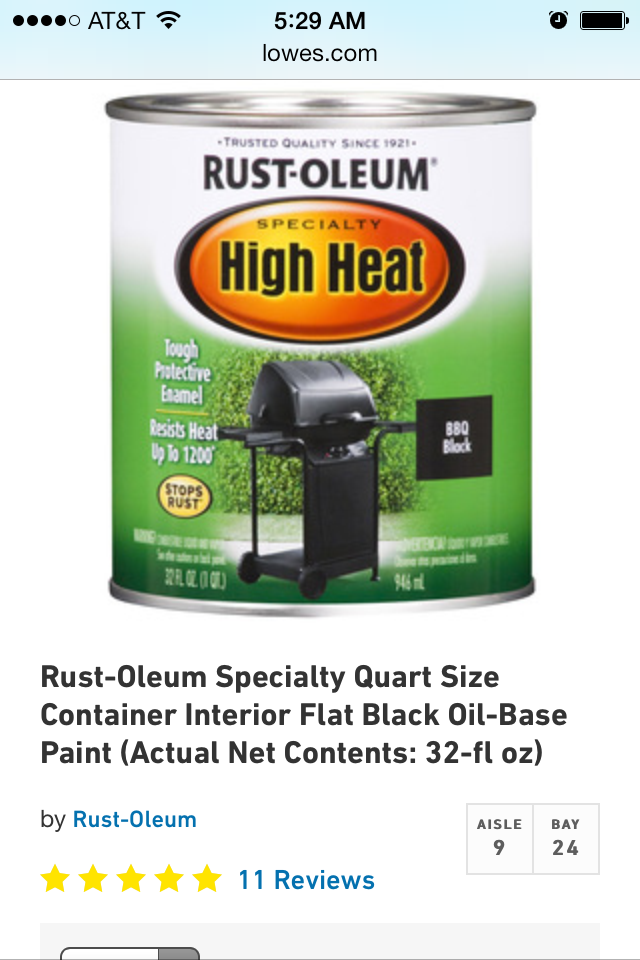 I taped everything off and got to work (while Danny was at work so he didn't complain about the fumes since the paint it oil based…I'm so sneaky).
Much better 🙂  See the decor change on the top of the mantle?  I can't decide what I want to put up there so I keep changing things out haha.
Not a huge change, but eventually I think Danny will let me whitewash the brick and it will look AMAZING.  And I am in the process of planning how to make a new mantle with wood that I can stain to match the shelves from earlier.  One project at a time….
Last recent update to the living room was……PAINT!  Look how pretty the new paint looks (of course you could really tell if you actually came over and looked at it.  The lovely iPhone picture taken at night doesn't really do it justice.)!
Trust me, it looks even better in person.
It took an entire week (remember me saying I don't have a lot of time??), but it was totally worth it.  I think the living room updating is still a work in progress, but I am happy with the little changes so far.
Keep your eyes open for MANY more changes to come.  Oh, by the way, there is a complete kitchen remodel in the near future…..I honestly don't know whether to laugh or cry about that haha.  It should be interesting.