This review of the Milwaukee M12 Fuel Battery Ratchet is sponsored by The Home Depot as part of the ProSpective tool review program. This post contains affiliate links. See policies.
How many times have you busted your hand while tightening or loosening a bolt? When I worked in the factory, we installed and maintained machines on the assembly lines. We kept band-aids handy in the top drawer of the tool cart because at least one person was going to be bleeding by the end of the day from adjusting a bolt on a machine and busting a knuckle.
.
At the time, I didn't even know battery powered ratchets existed!! WHO. EVEN. KNEW!? How life changing would that have been?
.
I recently had the opportunity to test out this Milwaukee M12 Fuel ⅜″ Long Reach Ratchet and was blown away at how awesome it was for easily working (without busted knuckles) in tight spaces.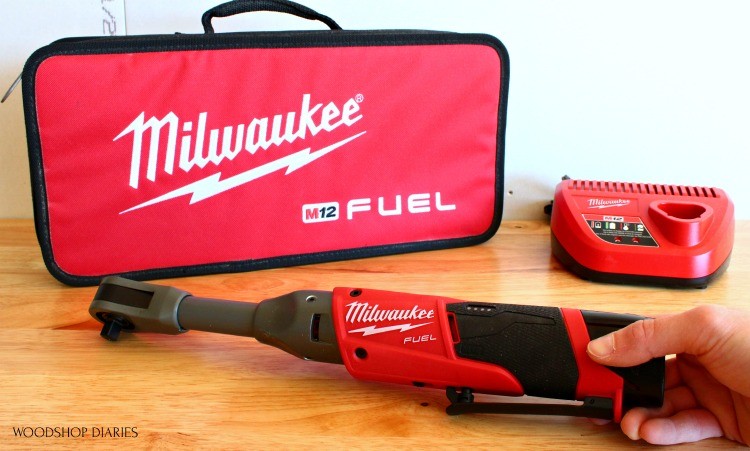 Milwaukee Ratchet Specifications
This Milwaukee ⅜″ Extended Reach ratchet runs on the M12 battery platform. You can purchase the tool with or without a battery and charger.
.
If you're already on the M12 platform (the Milwaukee M12 platform batteries are the small, somewhat cylinder shaped batteries) this is a great option to add to your collection.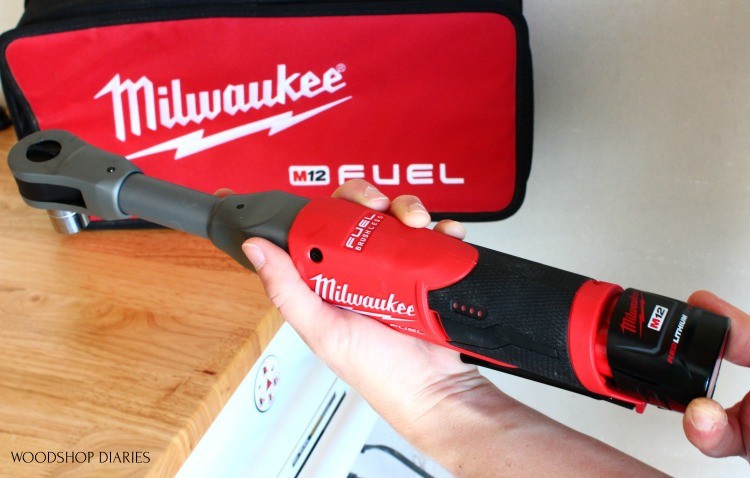 But if you aren't already on the M12 platform, it's a platform that has 80+ tool options and takes up a very small footprint. It's powerful and intelligent, but also very small…which is nice for small spaces, and people who want lighterweight, less bulky tools.
.
Milwaukee makes a couple different models of this tool, but I'm using the extended reach one. It's capable of reaching further into tight spaces with its 11″+ overall reach. And with a slim head profile of slightly over ¾″, it can also fit in very narrow spaces as well.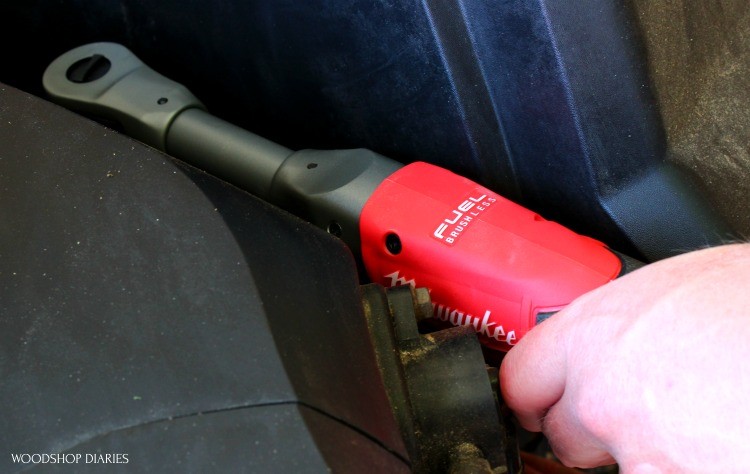 Milwaukee also makes this as a ¼″ and a ⅜″ ratchet size. Depending on the size sockets you keep on hand (¼″ vs. ⅜″) in your shop, this will probably determine which size ratchet you'd prefer.
.
The ⅜″ I'm using fits ⅜″ sockets and has a maximum torque of 55 ft-lbs. The ¼″ ratchet fits ¼″ sockets and has a maximum torque of 40 ft-lbs.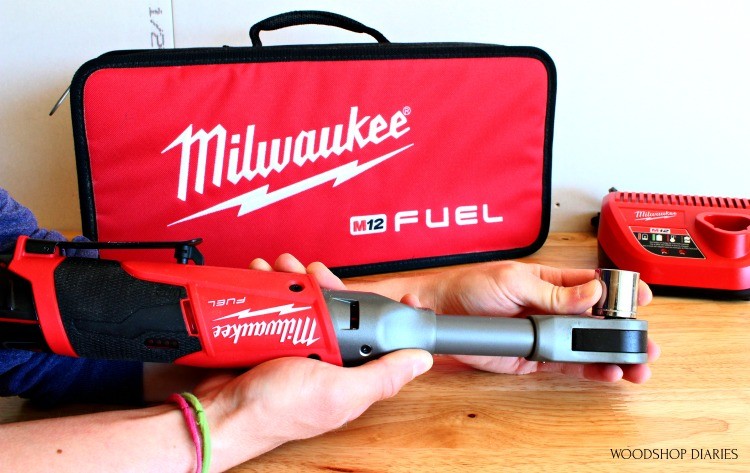 Milwaukee Battery Ratchet Helpful Features
This ratchet is a ratchet…it's not a magical transforming tool with a ton of unexpected features. But the features this ratchet DOES have feels like they were well thought out and 100% practical.
.
The trigger to run the ratchet is located on the bottom of the tool towards the back. What's nice about this trigger is that it's in a comfortable location and it's also a variable speed trigger for better control. But the problem with this trigger is it's easy to press accidentally while in transport or simply by laying it down in just the right position. So they thoughtfully added a lock switch to keep the trigger locked off when not in use.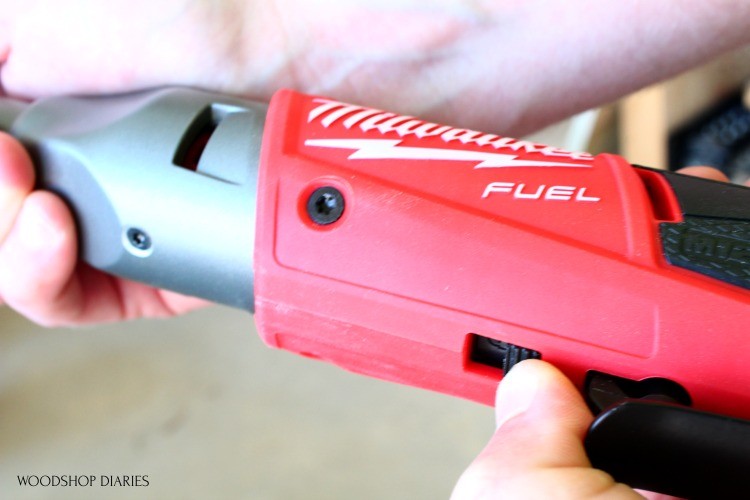 Below you can see the trigger on the ratchet, but you'll also notice the red lights. This is the battery indicator to show you how much charge you have left–which is handy to know when using the tool for long periods of time. This lights up when the trigger is pulled as well as a bright light on the front of the tool for better visibility when working.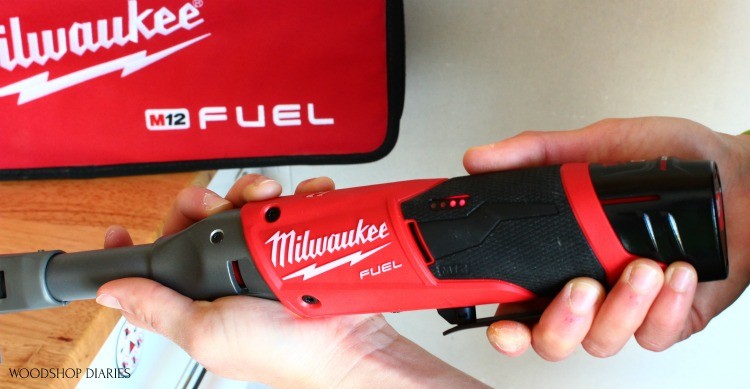 The forward and reverse switch is located on the head of the ratchet (like most ratchets are), but it's heavy duty and sits down below the surface of the ratchet. This is extremely helpful in preventing accidentally flipping the switch if it's knocked or bumped while working.
Final Thoughts
The Milwaukee M12 Fuel ⅜″ Ratchet is a really nice, powerful, heavy duty tool. It's solid, and has a durable metal housing with a powerful, long lasting brushless motor.
.
I'm impressed with the quality of the tool casing and the thoughtful features. Although this isn't an often used tool in my WOODWORKING shop, having it handy for around the house–working on the lawnmower, tractor, and vehicles–could be helpful on occasion.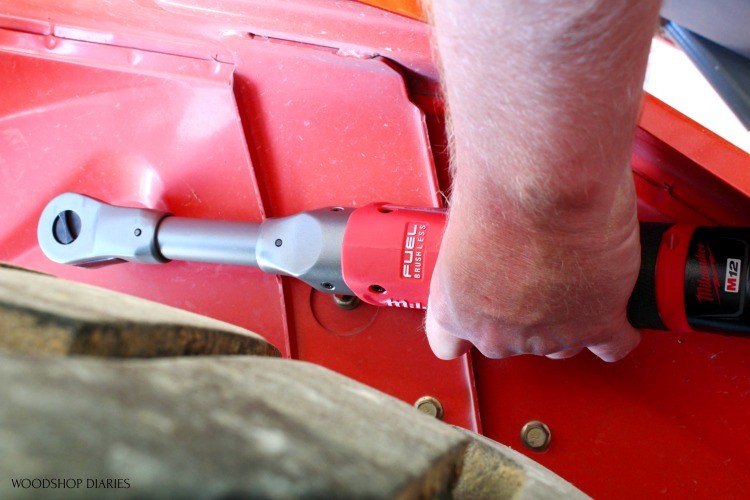 However, it's probably best fit for working on larger equipment. If you're working on a farm, factory, or as a mechanic, I'd say this would be an excellent investment.
.
I hope you've enjoyed this review of the Milwaukee Extended Reach Ratchet and if you'd like to save it for later or share with a friend, feel free to pin this image for later.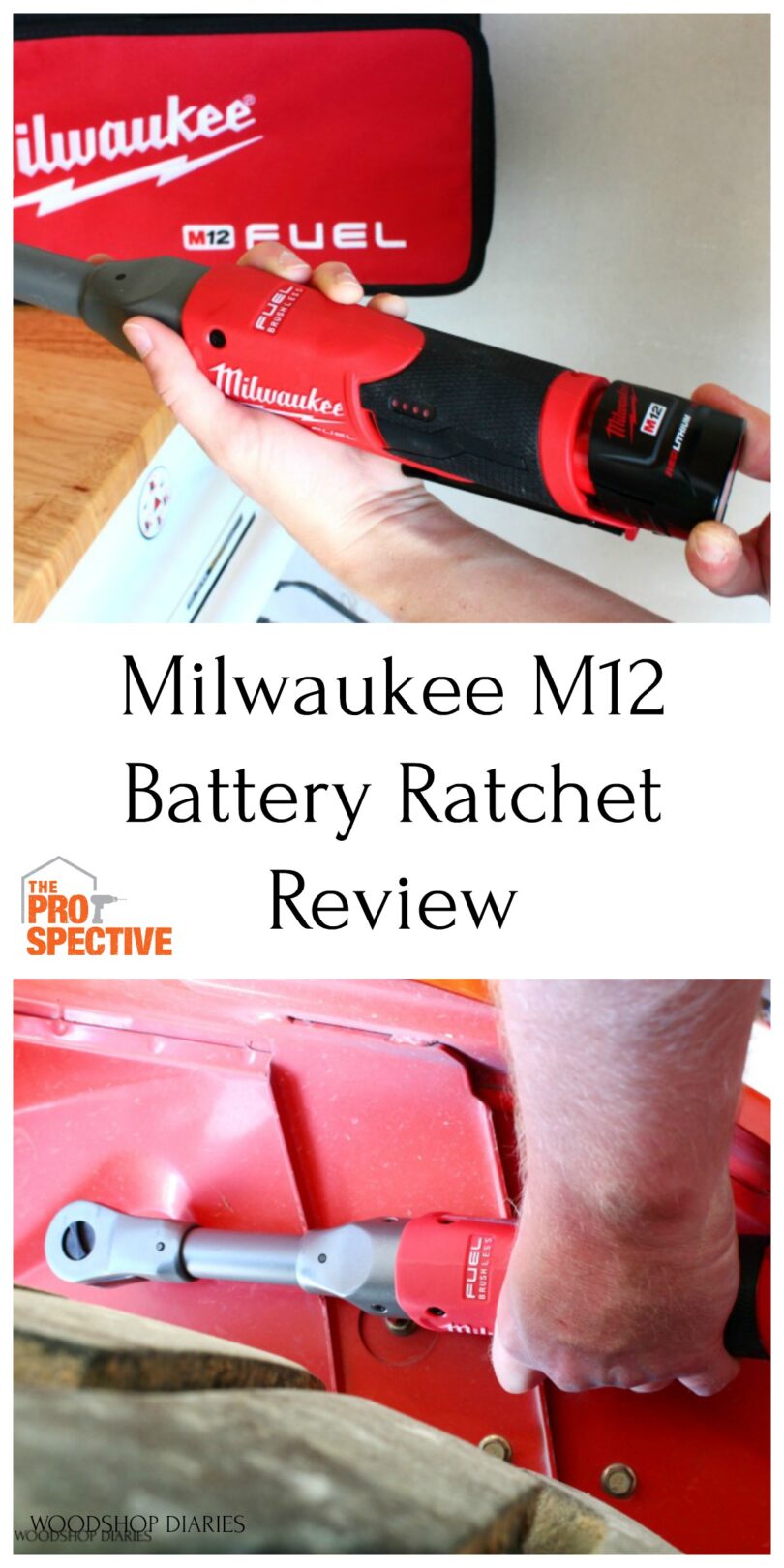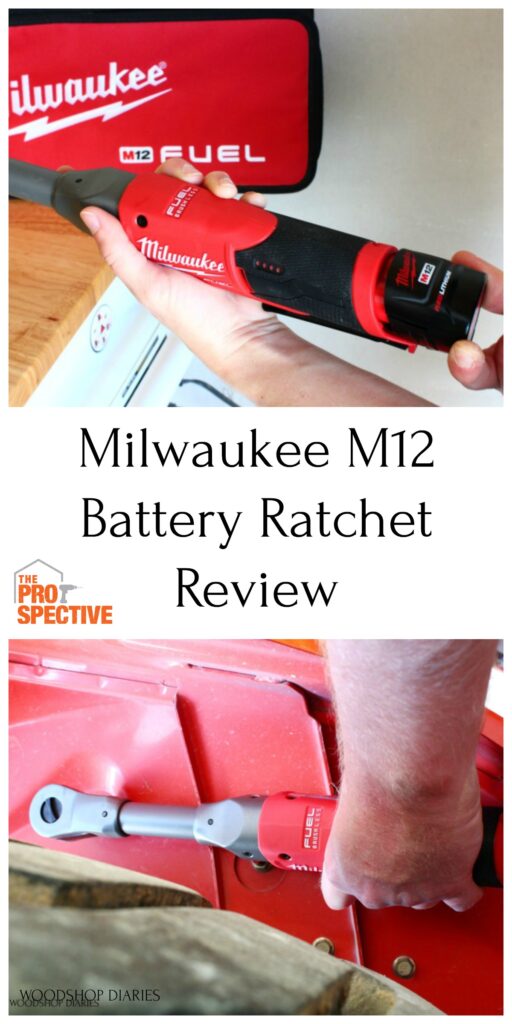 I'll be back to the building projects soon, so stay tuned. In the mean time, check out more tool reviews here and more DIY projects here.
.
Until next time, happy building 🙂