My husband and I have lived in four five places in the last six years. (Yay for being young and just starting out!!) Needless to say, we are both ready to be "stuck" somewhere and settled in.
.
We started out in a cute little apartment.  But, we soon learned we needed a place of our own.  We were seriously babies…look at those young faces!
After a somewhat disappointing home search, we finally bought our first house!!  Danny doesn't like taking good pictures…
Once we got jobs an hour away, we decided that 1. Subdivision life was NOT for us, and 2. we were tired of driving so far to work.
.
So we sold our first home (it was VERY bittersweet), and moved to my hometown 30 minutes away so we could rent while we house hunted.  We rented a cute little house down the road from my parents….both convenient and annoying.  After a few weeks, we realized we really missed it back home and living there was worth having to drive so far to work.
After a couple months of looking, we found our dream house!!! No house is perfect and this one could use some love (and updating). I cannot wait to take you through all the projects we will do in it! It's slow going, so bear with us.
So, here is my home!! We have alot of work to do on the outside and landscape, so I don't want to show you any of that yet.  What I do want to show you is my adorable hubs playing with a kitten on the front porch 🙂
UPDATE: You can check out the "Two Year Home-iversary" home tour here and see what's changed in the two years since move in day!
.
If you're in the Christmas mood, check out my latest "holiday Christmas home tour."
.
Once of the first things you see when you walk in are my sliding barn doors to the laundry room.
AND, now the laundry room is finally complete!  I have always wanted a nice laundry room (we've never had a real laundry room before this house, so this was exciting!). Check out the before and after: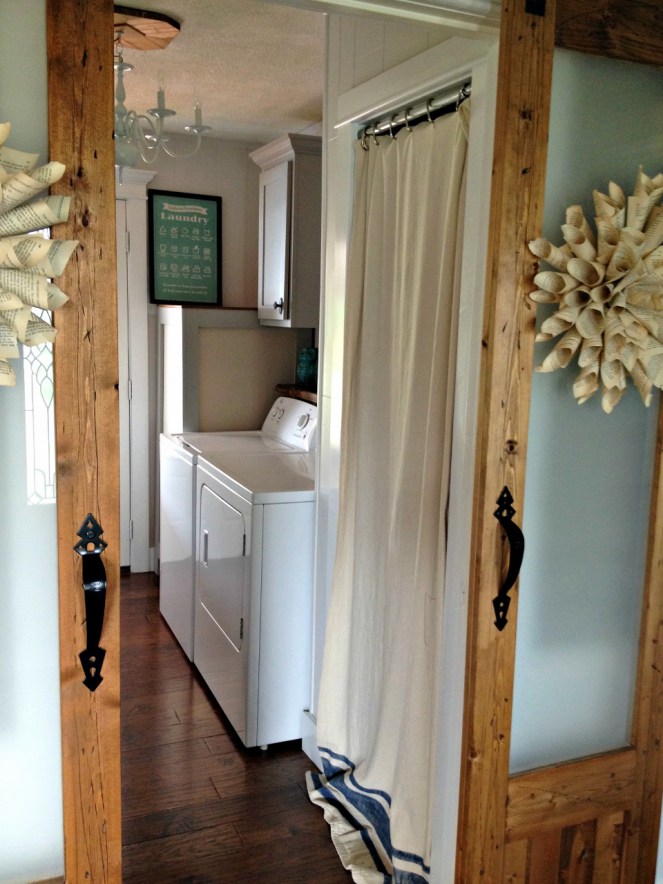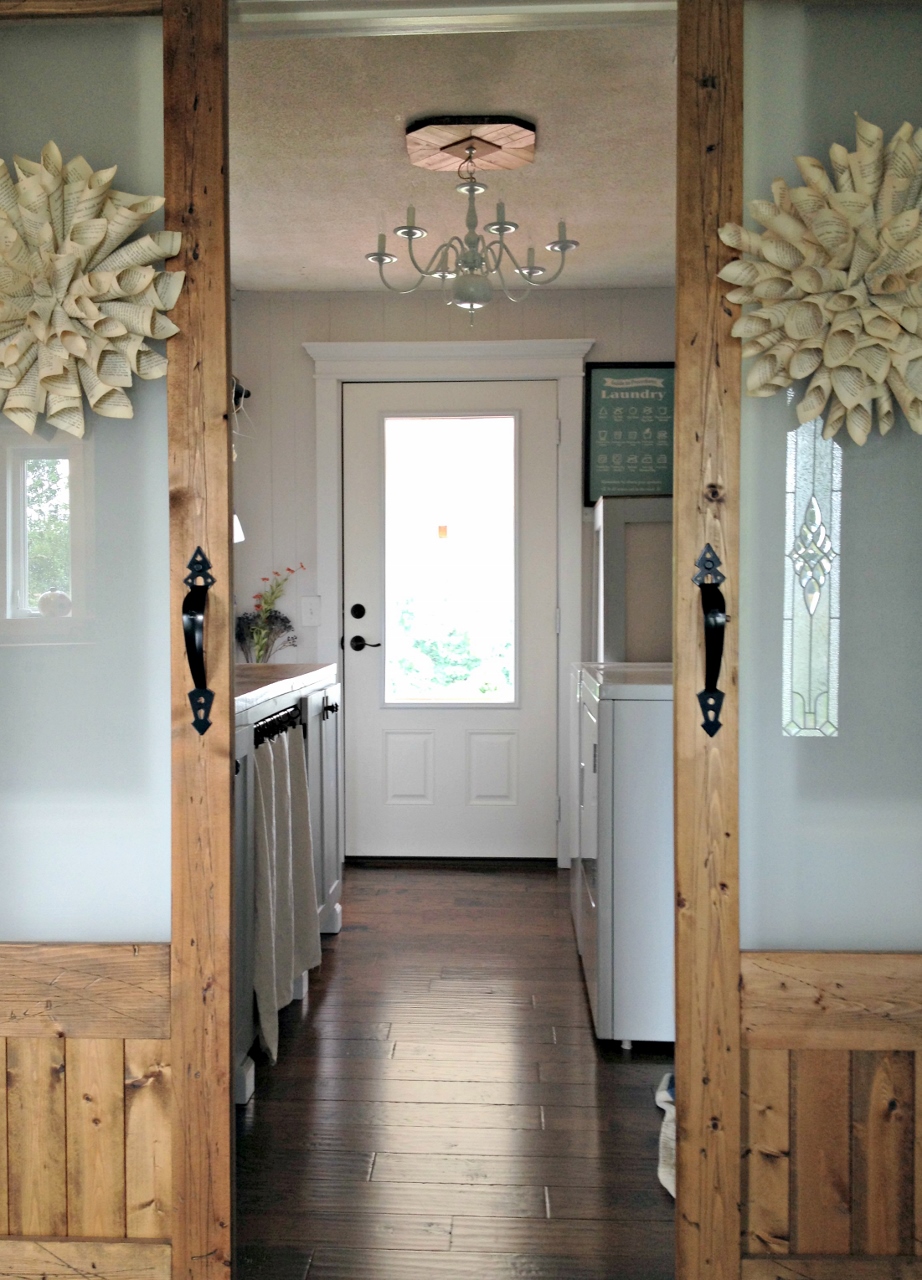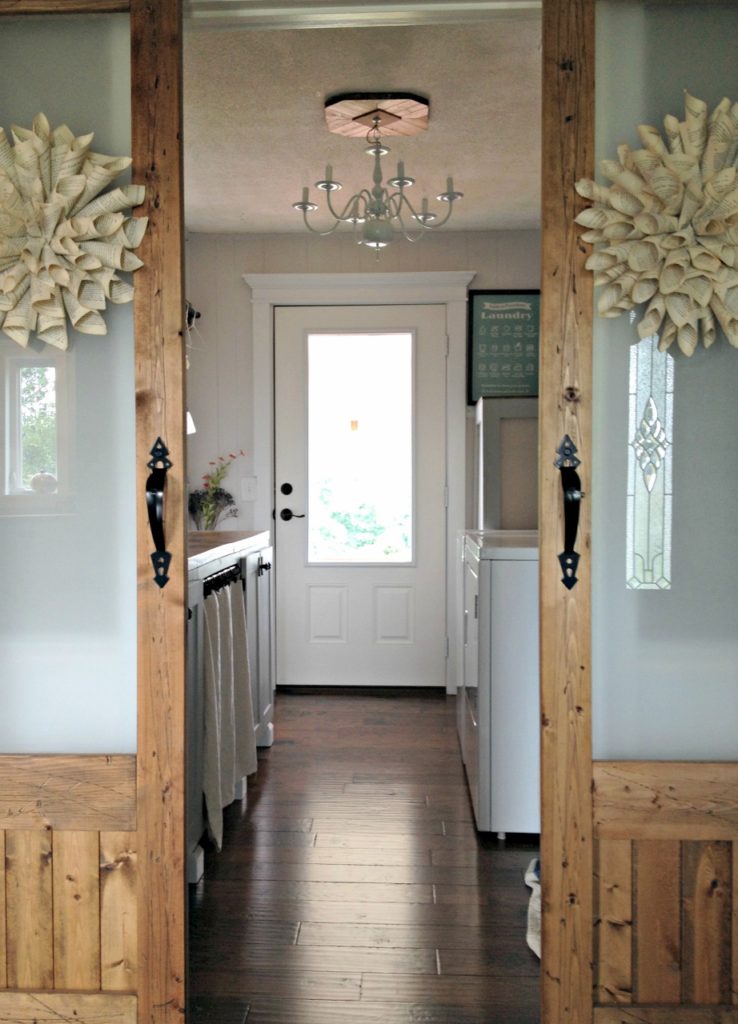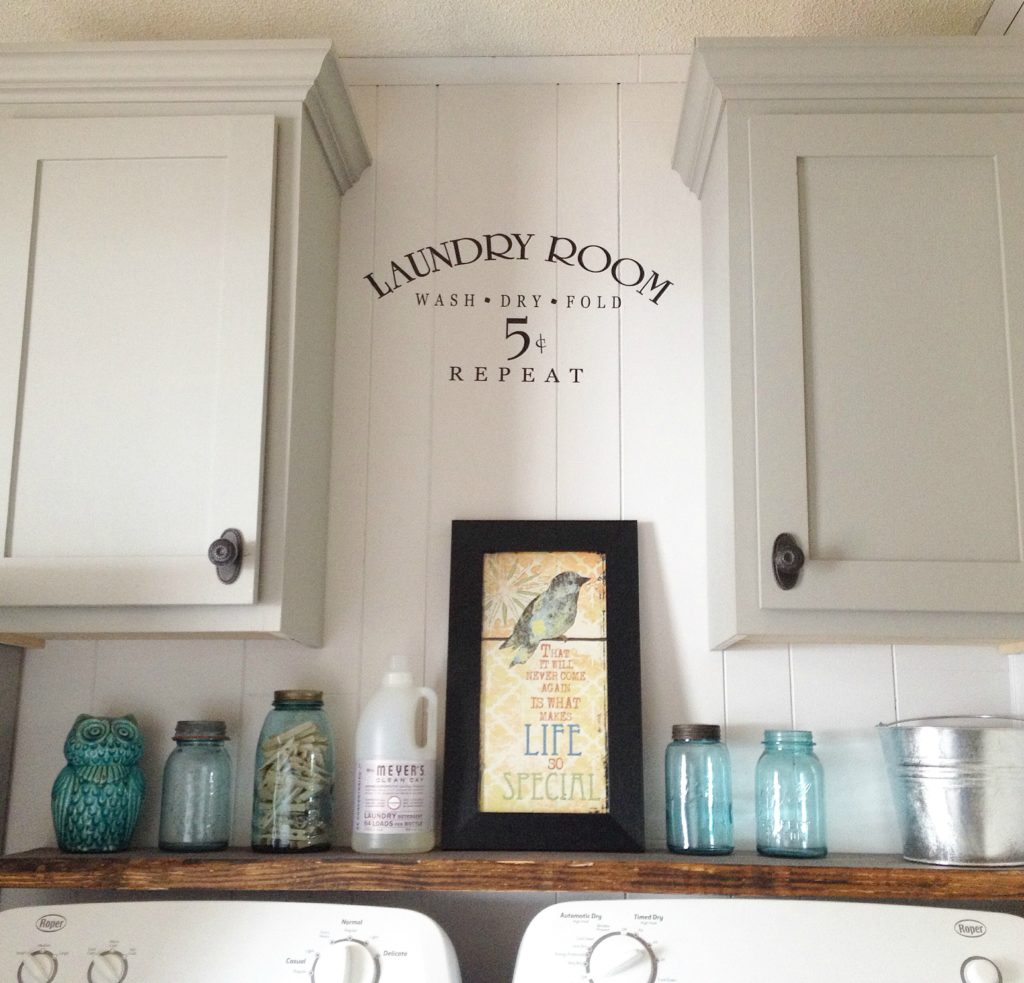 Then you will see the foyer closet that I turned into a "mud room."  We also have since painted the foyer and I added half round to the trim, but ran out….so it's still in progress.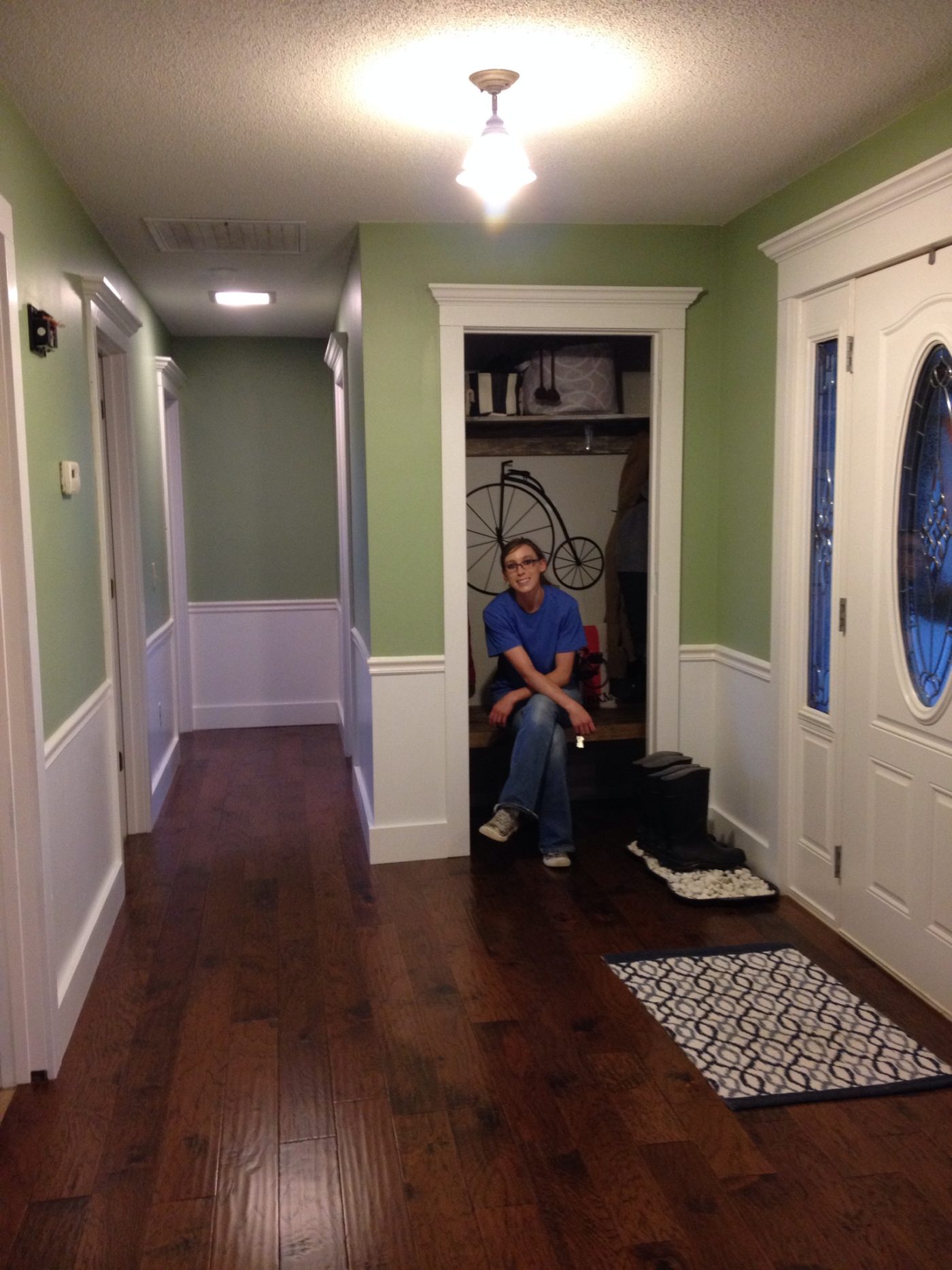 UPDATE: Trim is done 🙂 THANK GOODNESS THAT'S OVER WITH.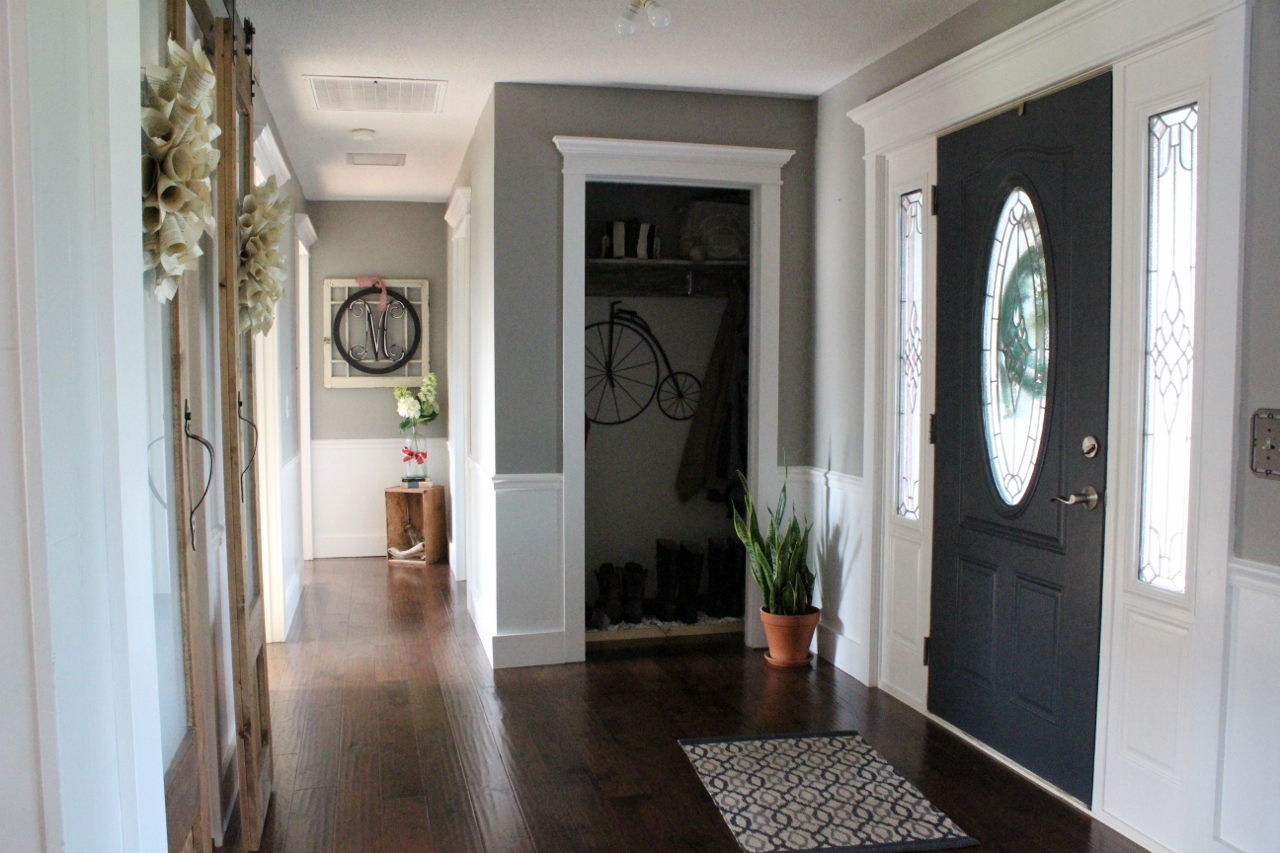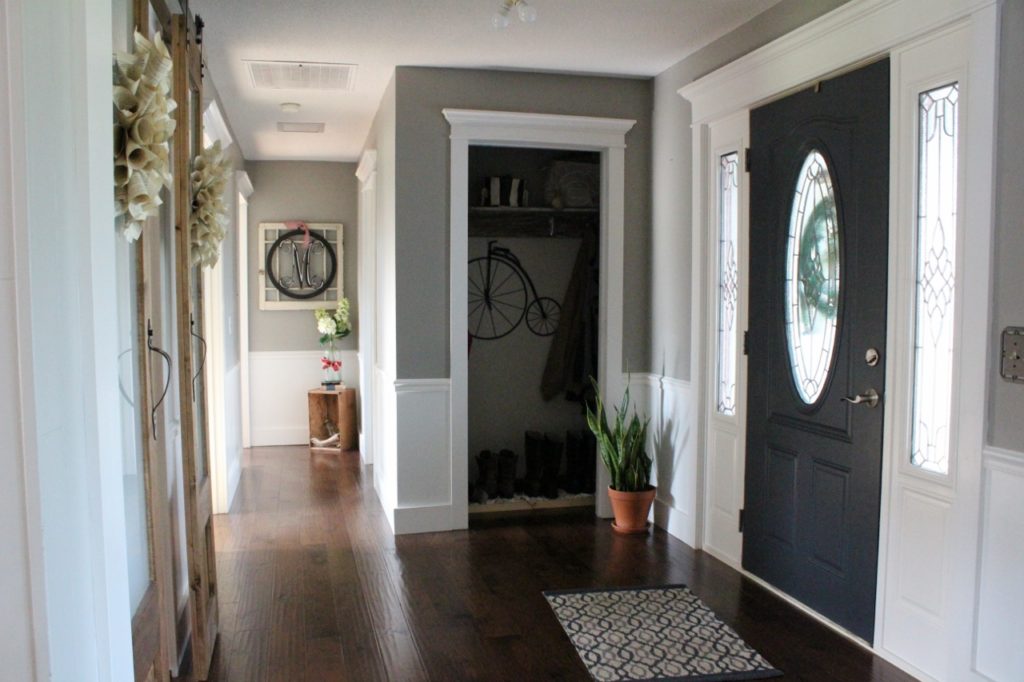 Next, you will see our kitchen…my favorite room in the house.  Our kitchen has gone through a massive renovation since we moved in.  And it was totally unexpected.  Check out the whole story at these links:
Part 1: Reasoning behind the remodel
Part 3: Putting it Back Together
You can check out a few pics of before and after below: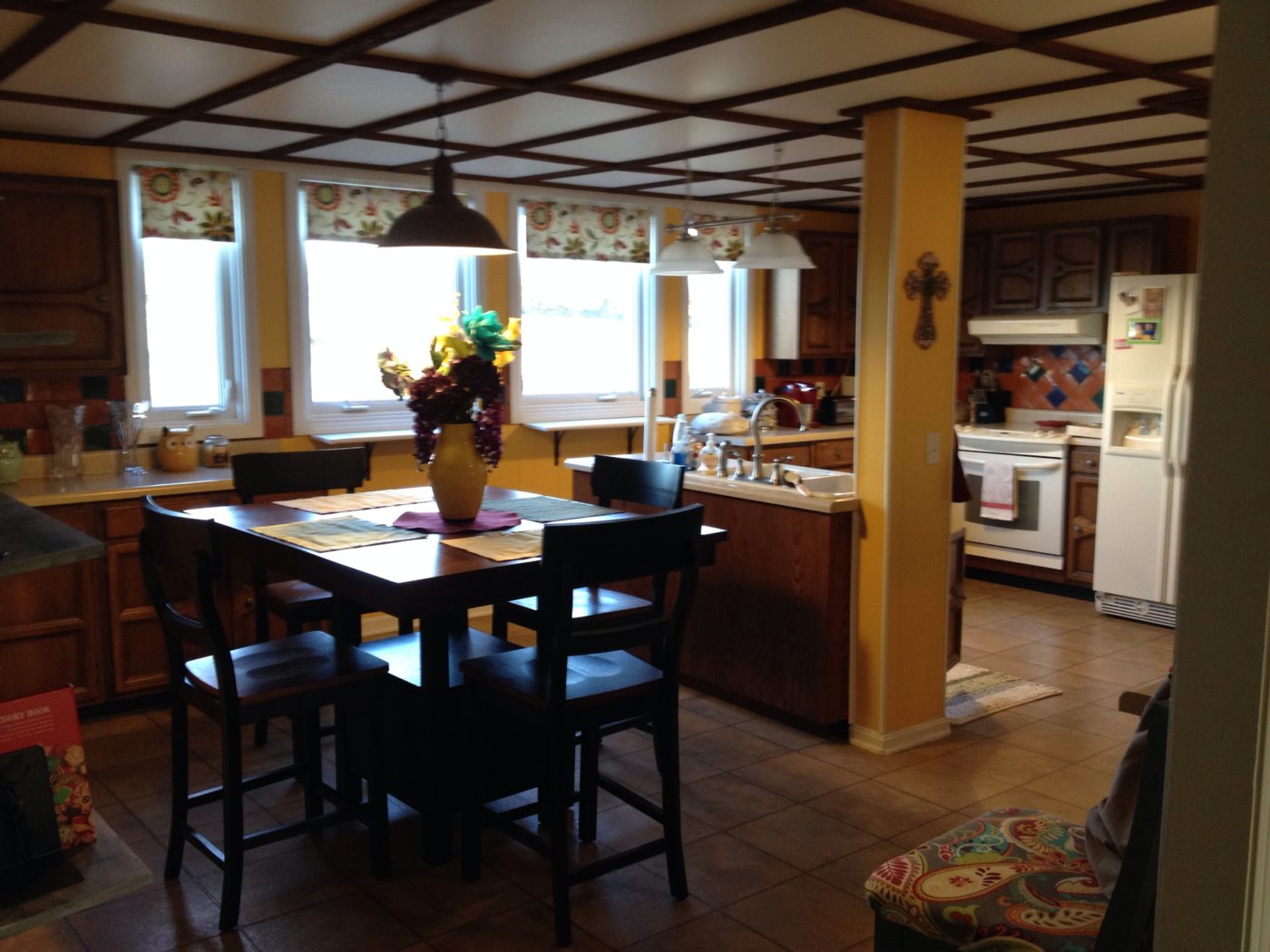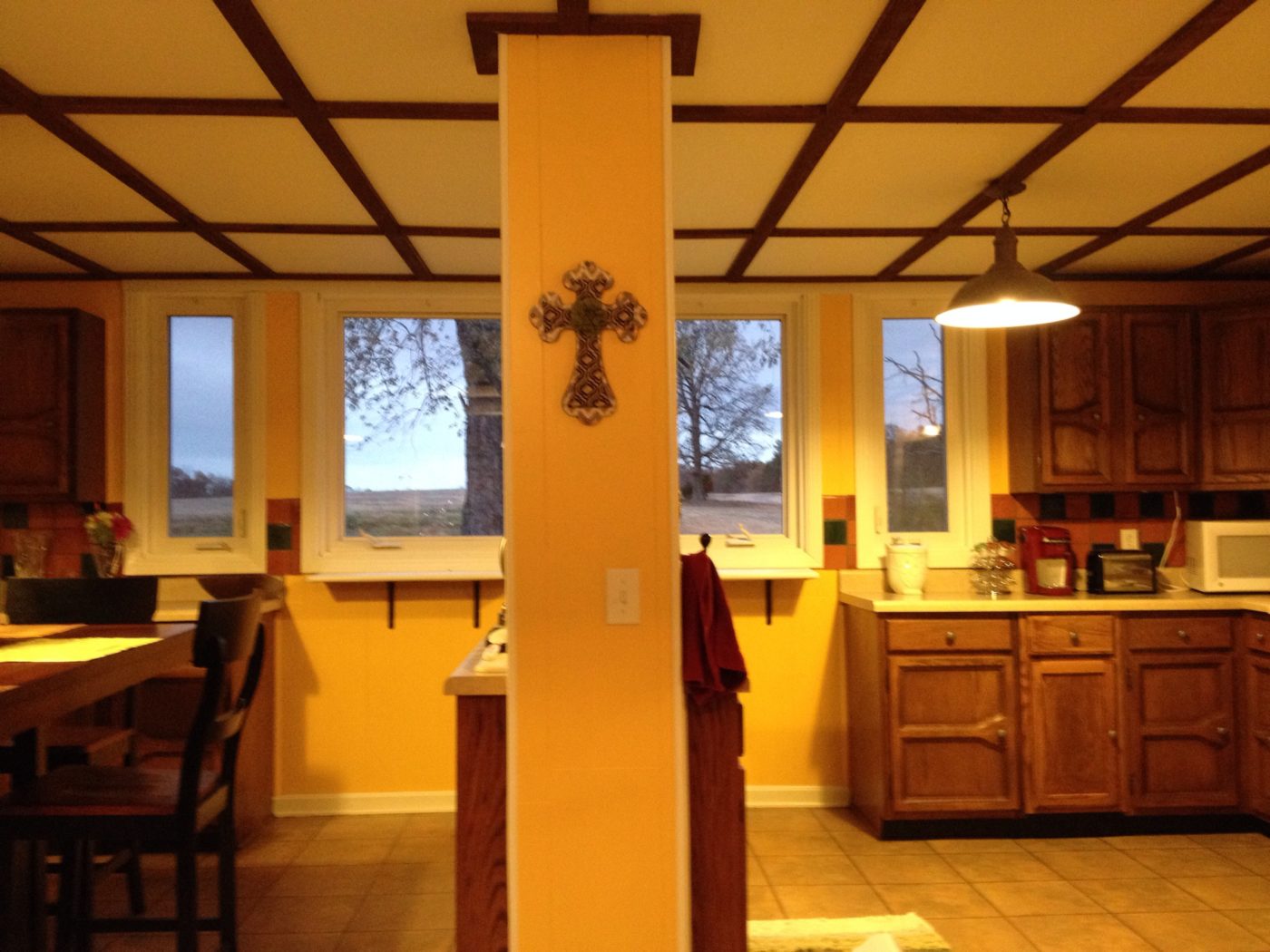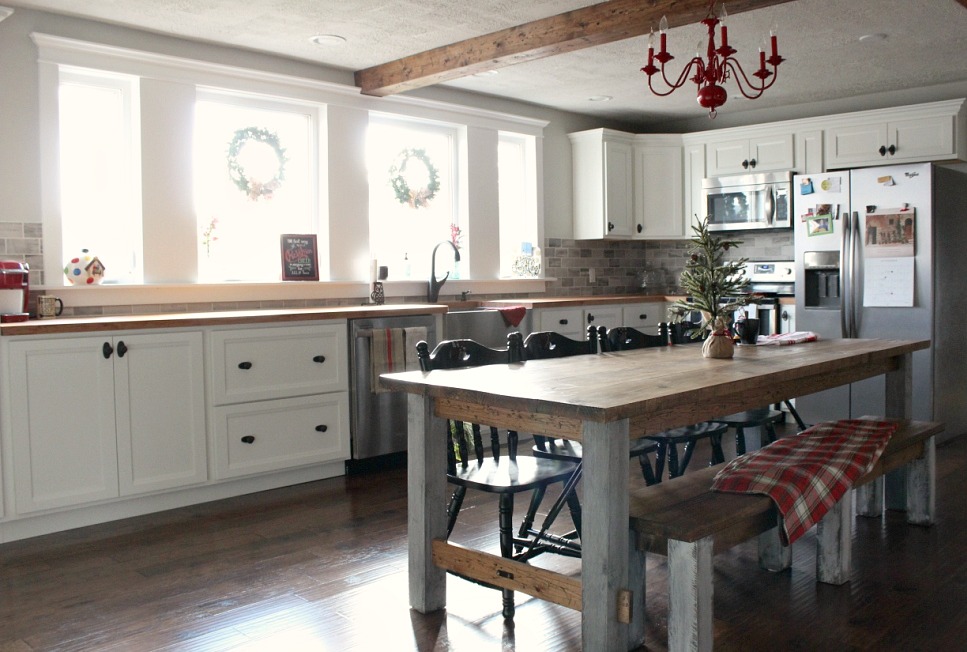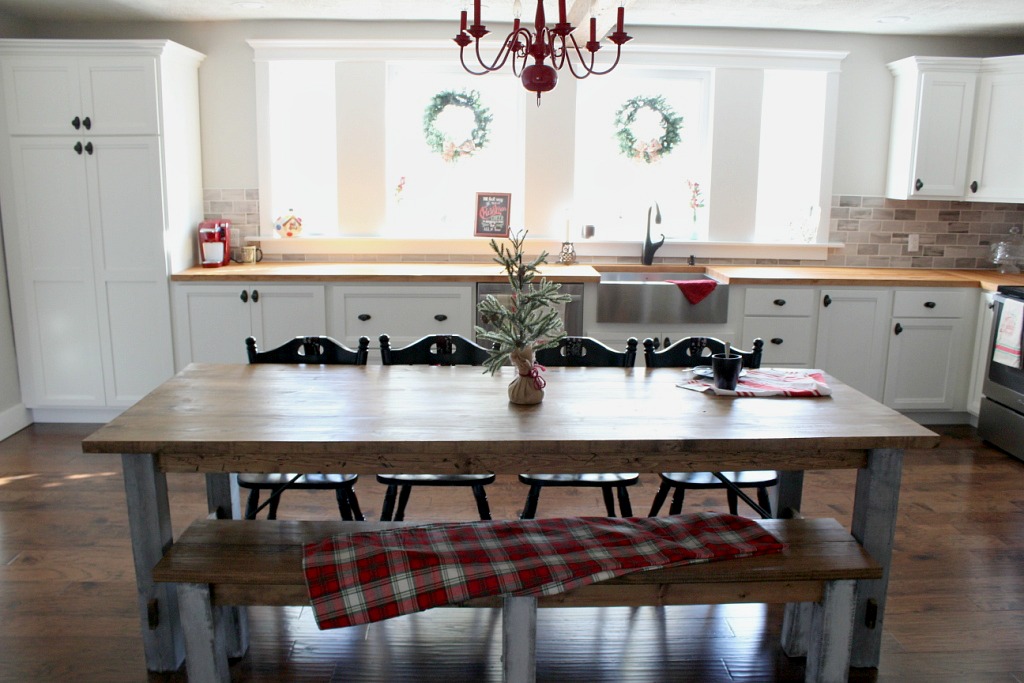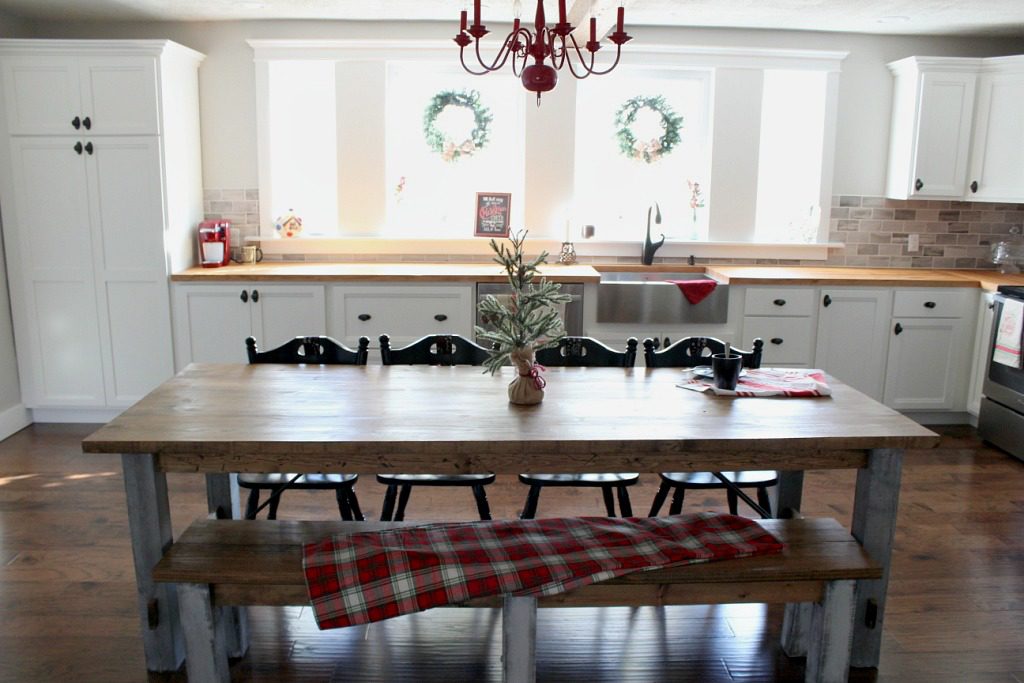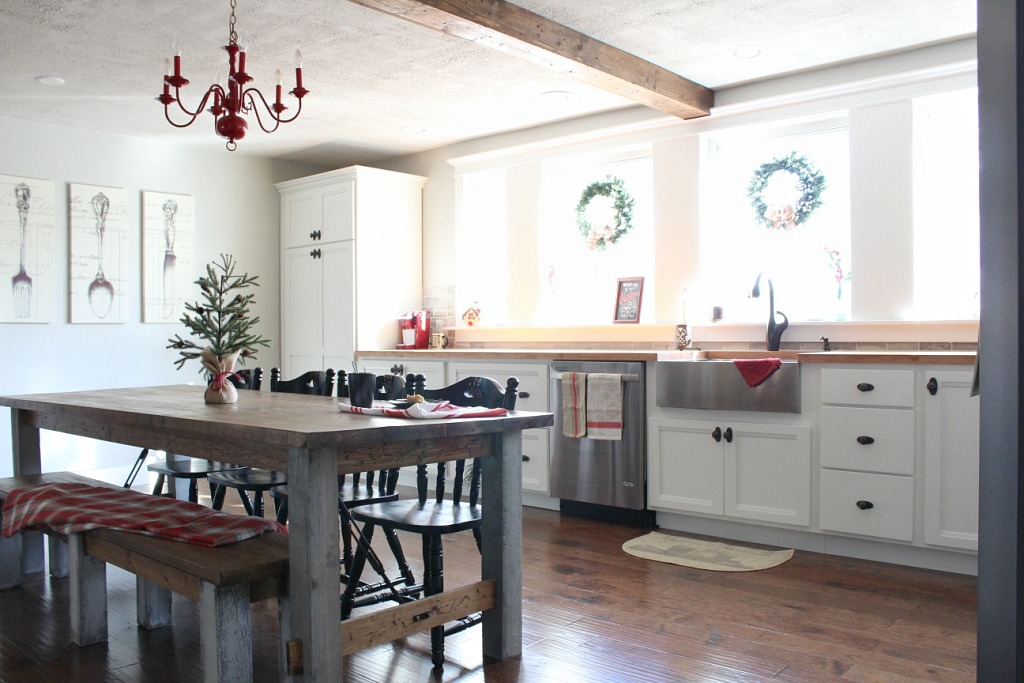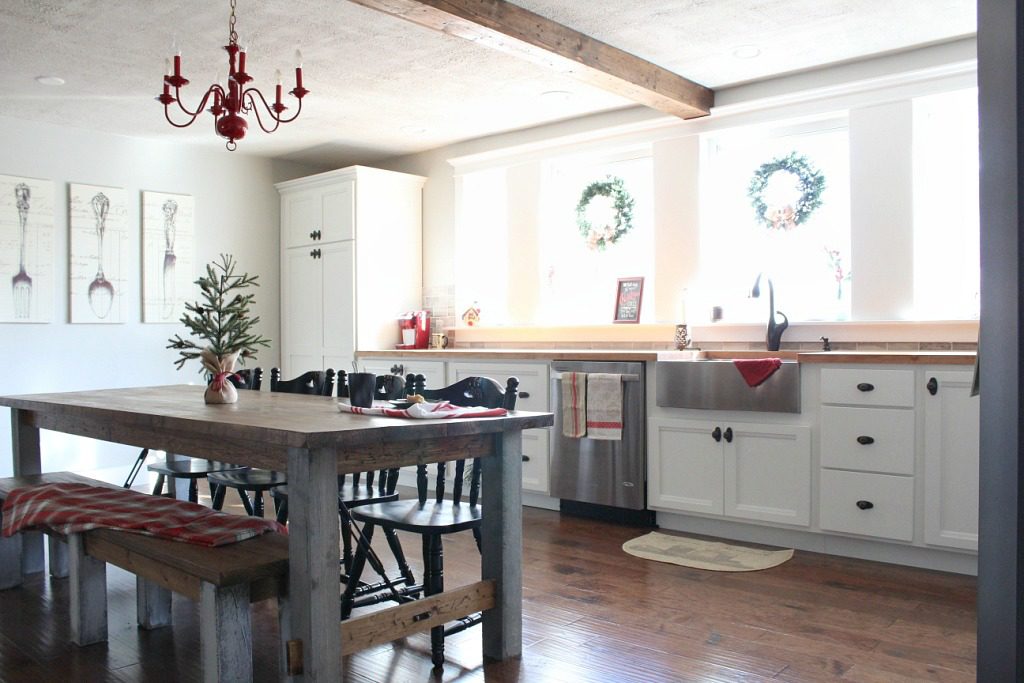 You can see more kitchen pictures with details on the countertop here.  You can also see the building of the farmhouse table here.
.
Our living room has gone through a couple changes, too.  You can see before and after below, but there is still plenty left to do 🙂  You can see where we showed a little love to the room in this post.
I did change out those pillows and coffee table since that picture was taken…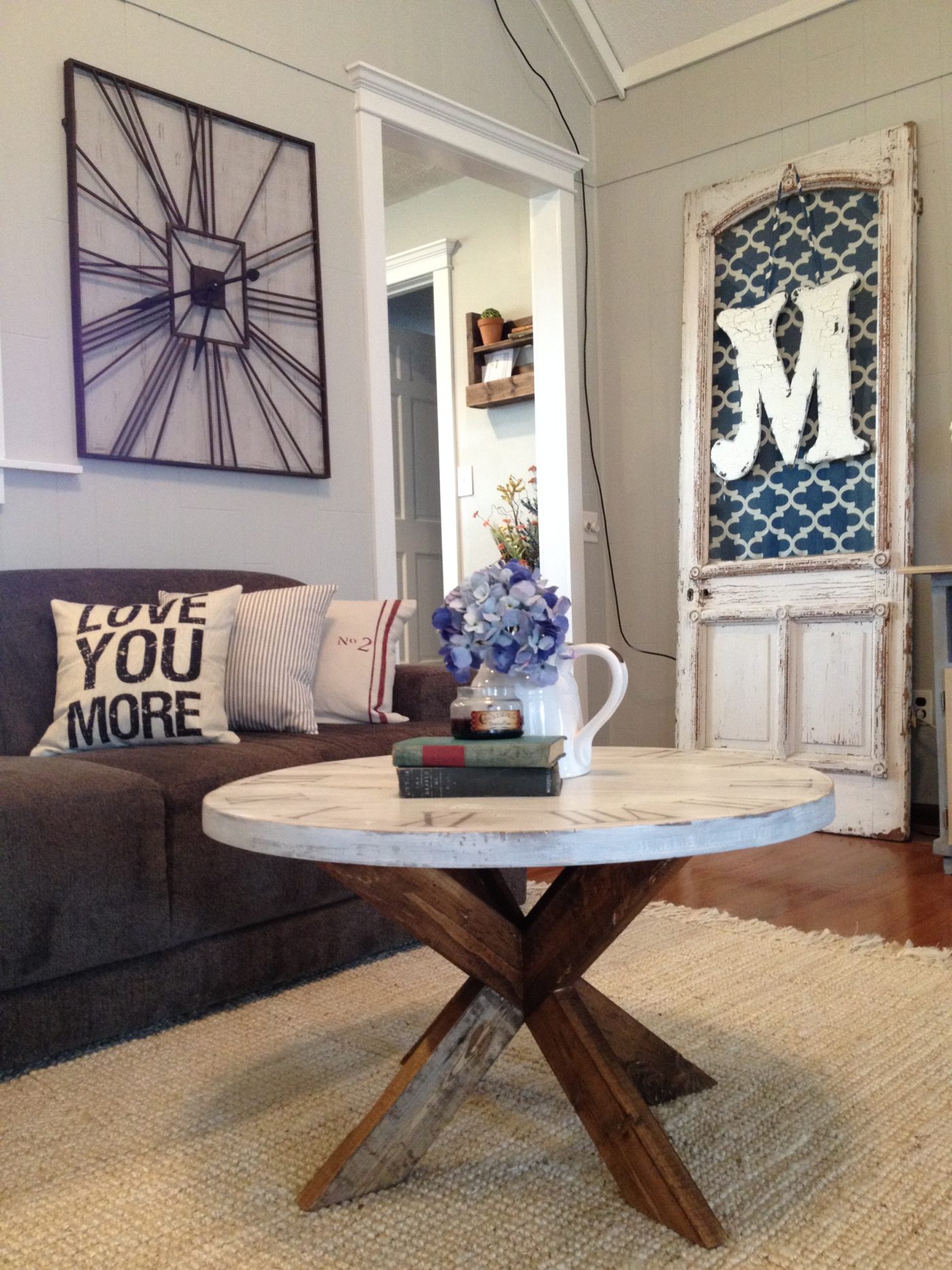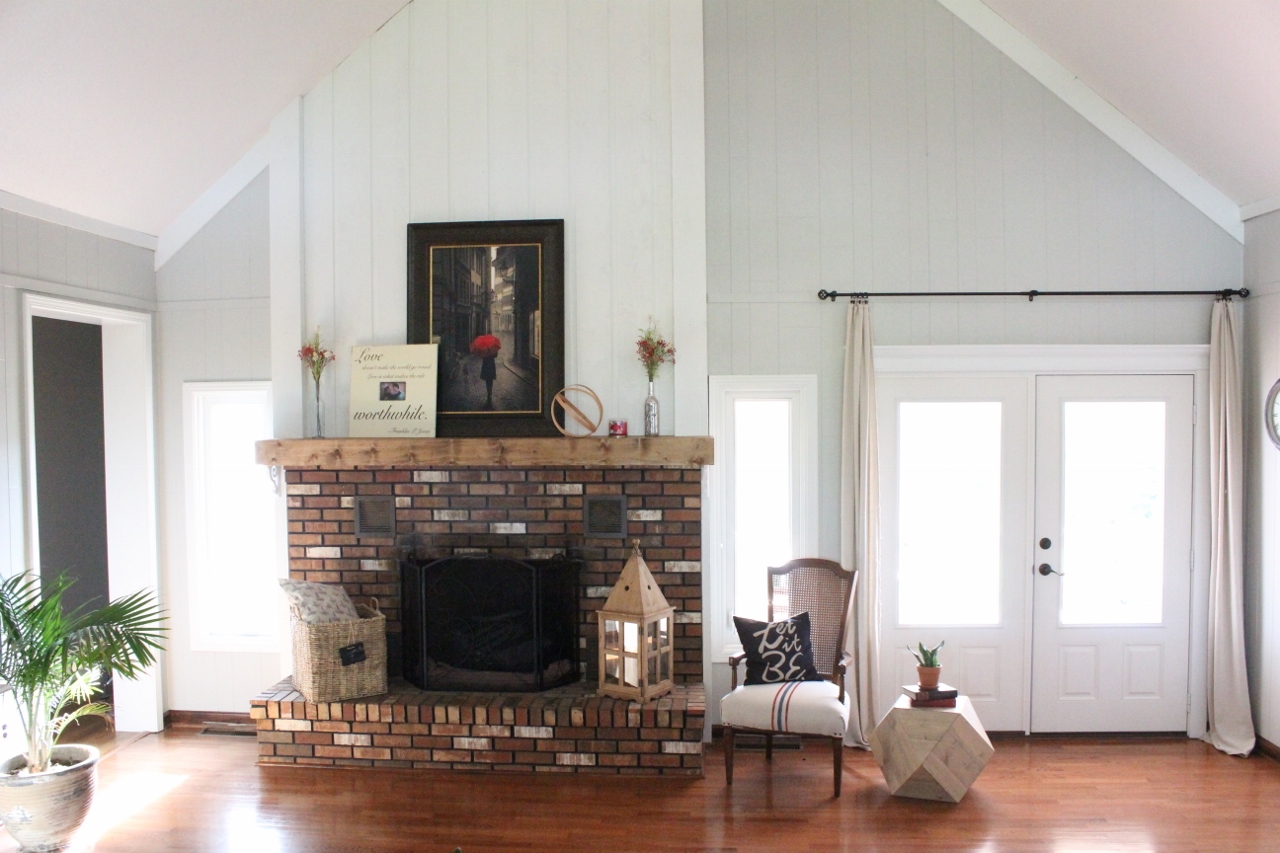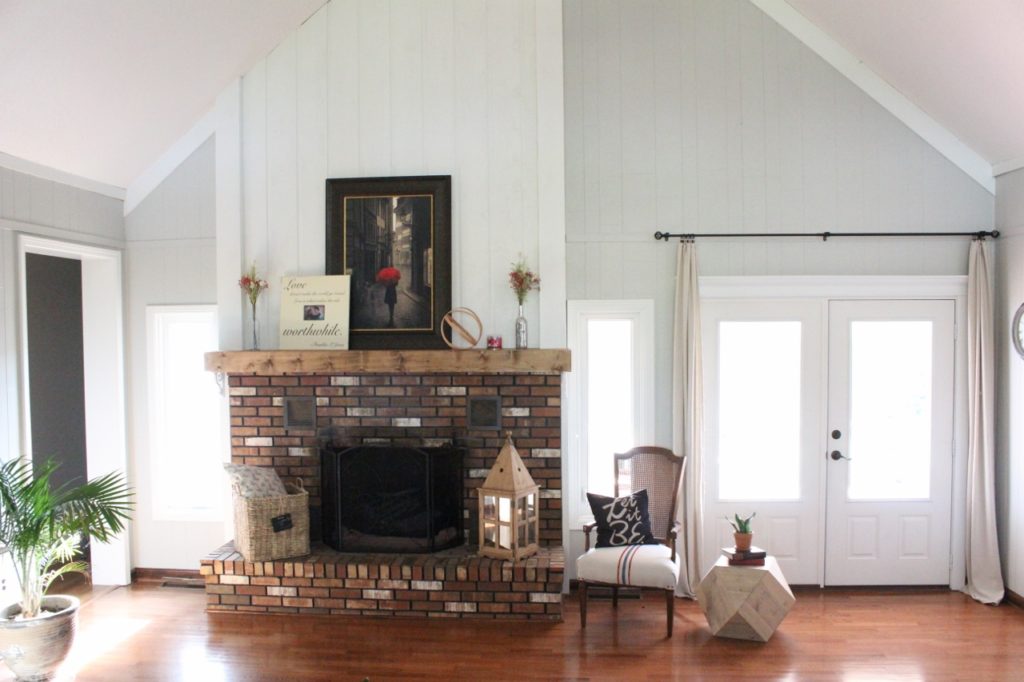 I added a chunky wooden fireplace mantle last fall because I didn't like the white painted one.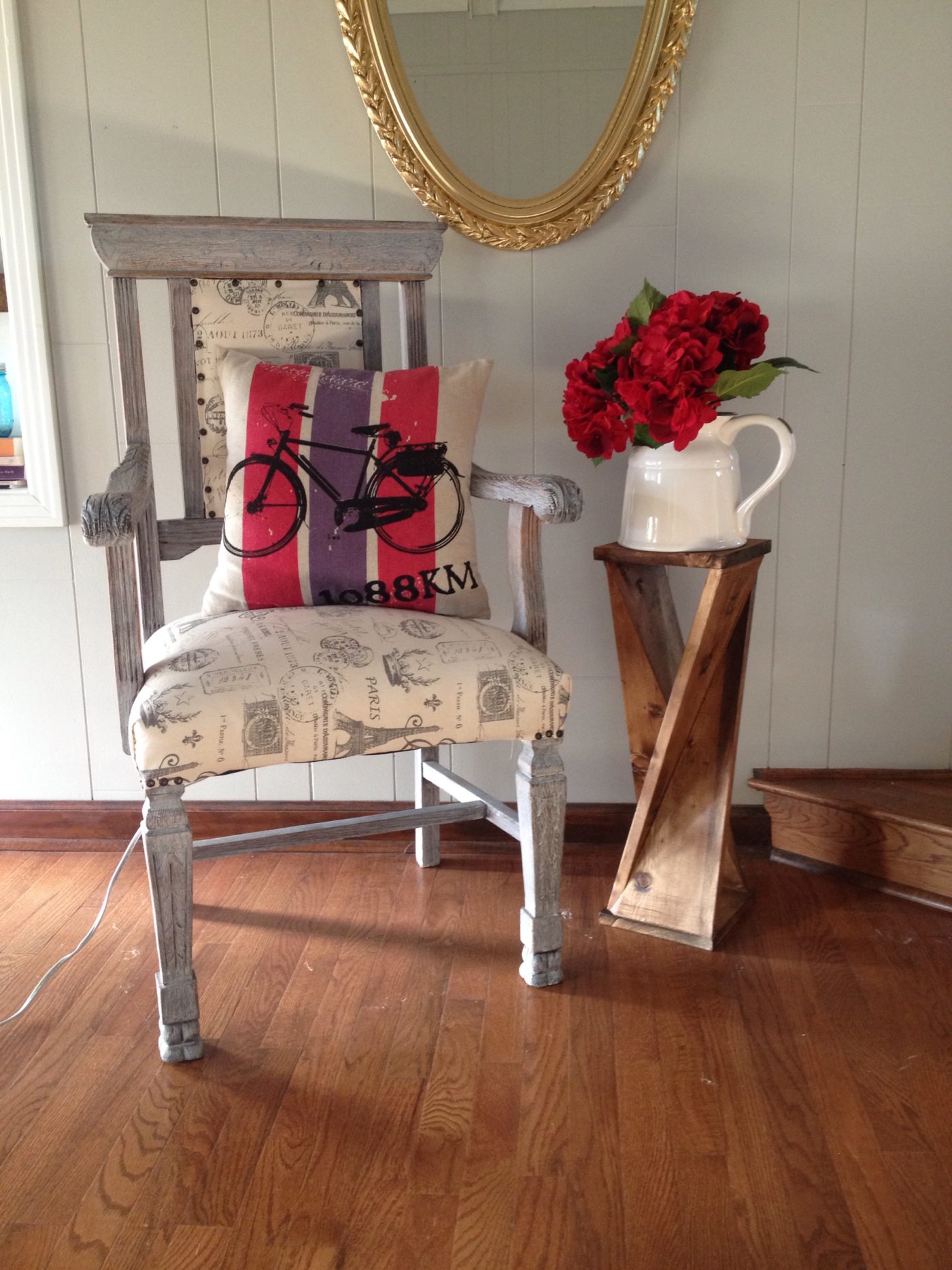 Like the twisty table? It's the perfect fit for this small space.  I really had a hard time arranging my living room.  It's a good size, but it's got a patio door, a fireplace, three windows, three doorways, and a bookshelf built into the studs.  So it's difficult to place furniture…or maybe I'm just really bad at that kind of thing ha!
.
I have recently "redone" my office space.  When we first moved in, the office looked like this.  A few weeks after we moved, I made this sewing machine base desk.
 I grew tired of that desk and built a new, larger desk.  I also painted, and reconfigured the room.  I also added some shelves.  Here is my current office.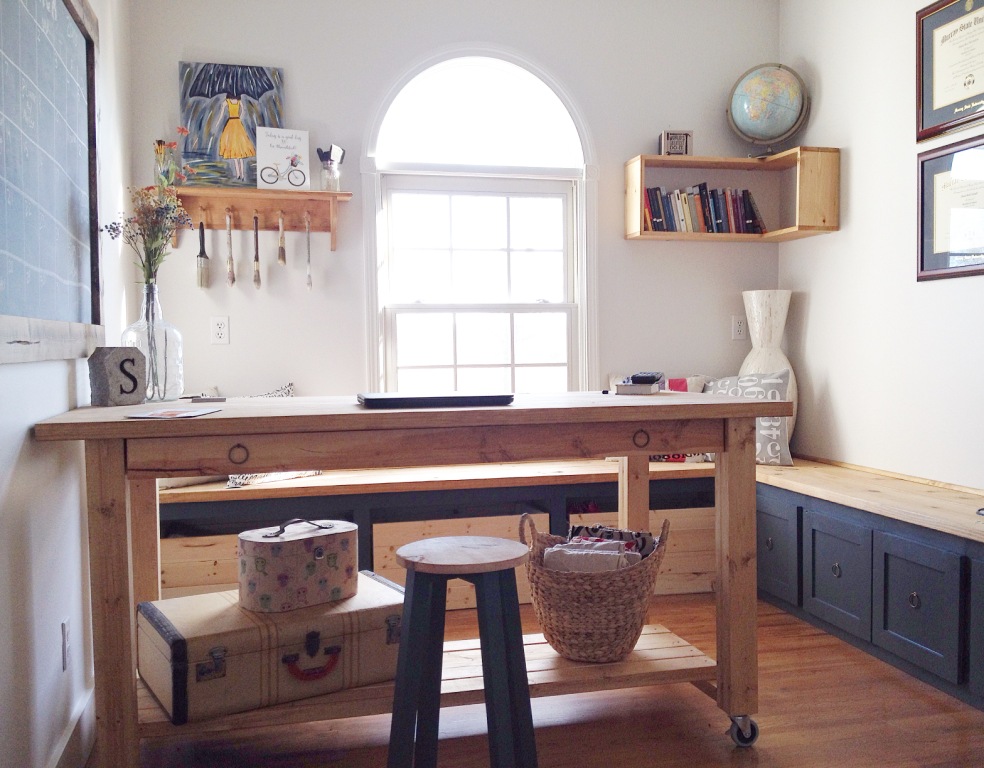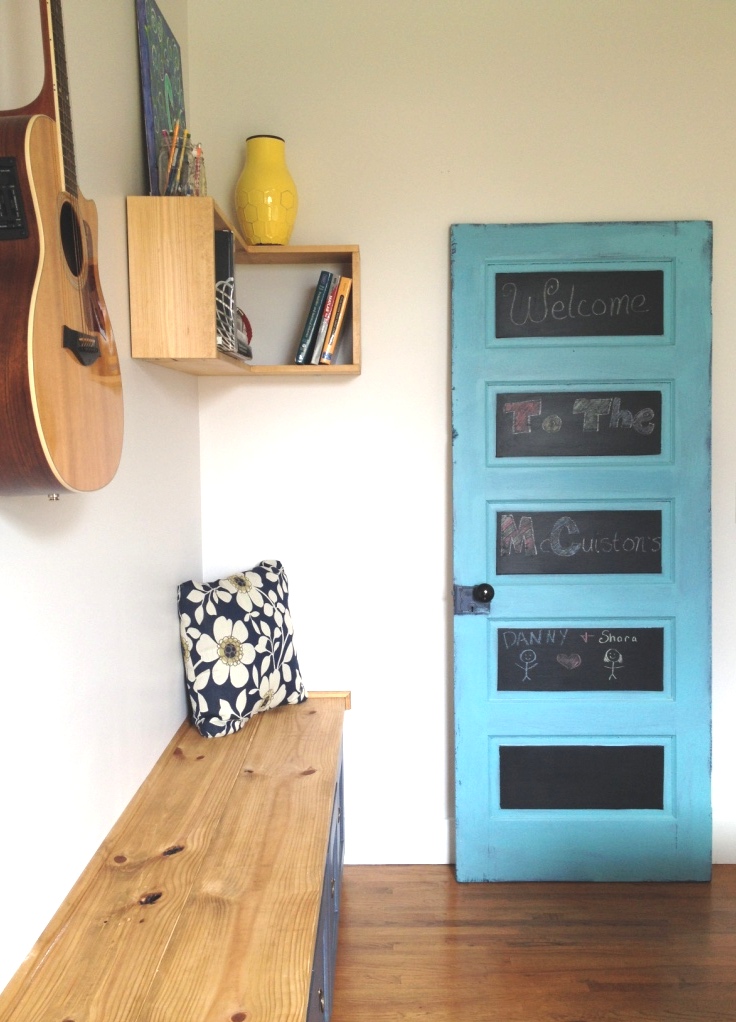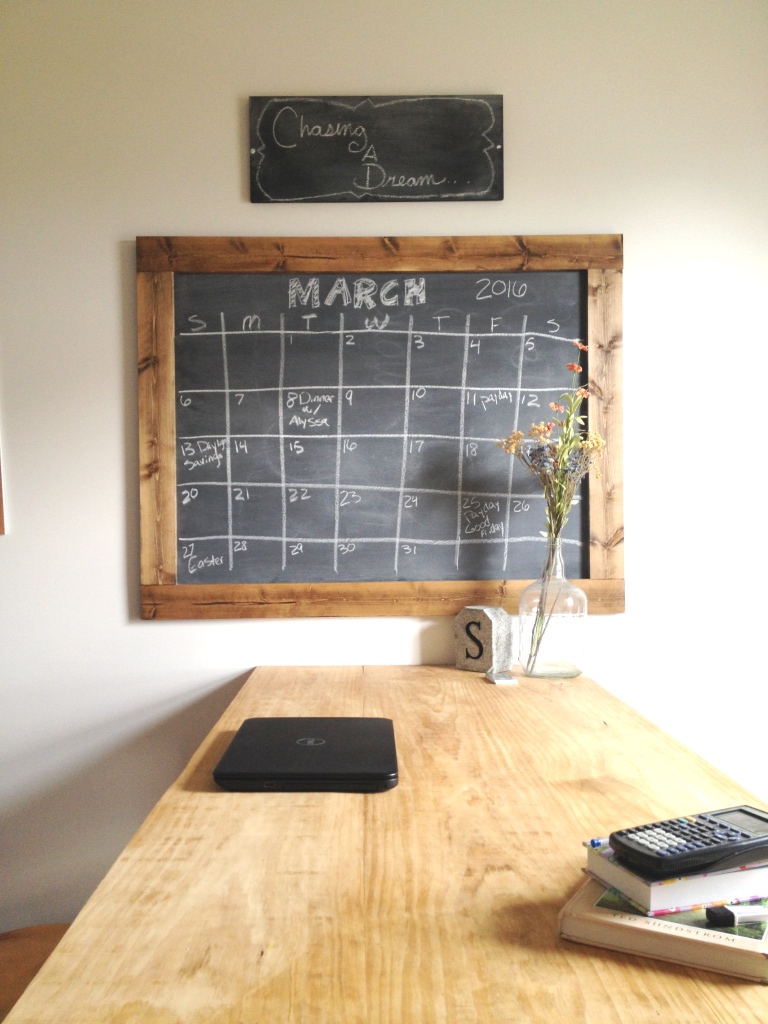 Next, is our bedroom.  It is HUGE!!!!  But it's pretty plain.  We are in the process of remodeling our master bathroom/bedroom.  You can follow along with the series I am calling the "South Wing Project."  So far, we have new nightstands and a new dresser.  We have remodeled our bathroom and laid new floor in the bedroom.  The bedroom will not be priority to hurry and get it done, so we will be working on it a little as we go 🙂 haha.
This was our bedroom when we first moved in.
And now, after a few changes.  Many more changes to come, though.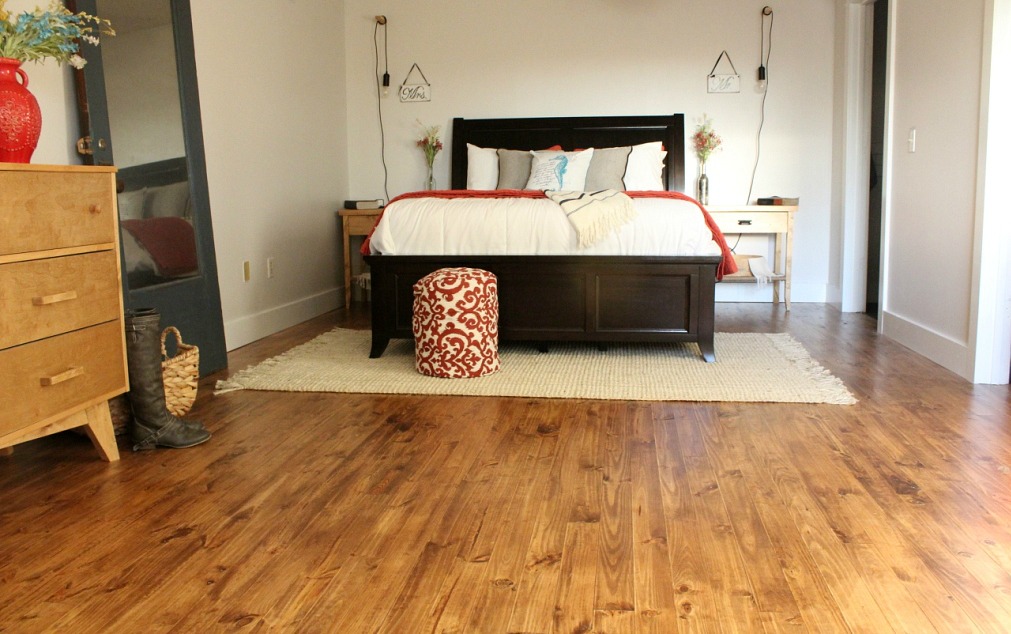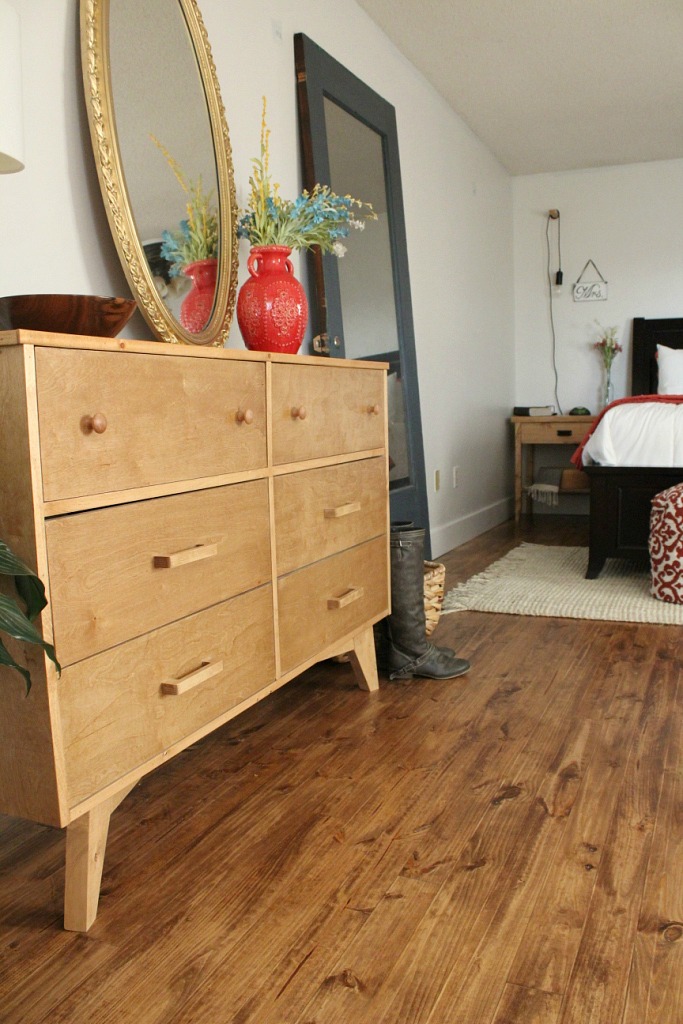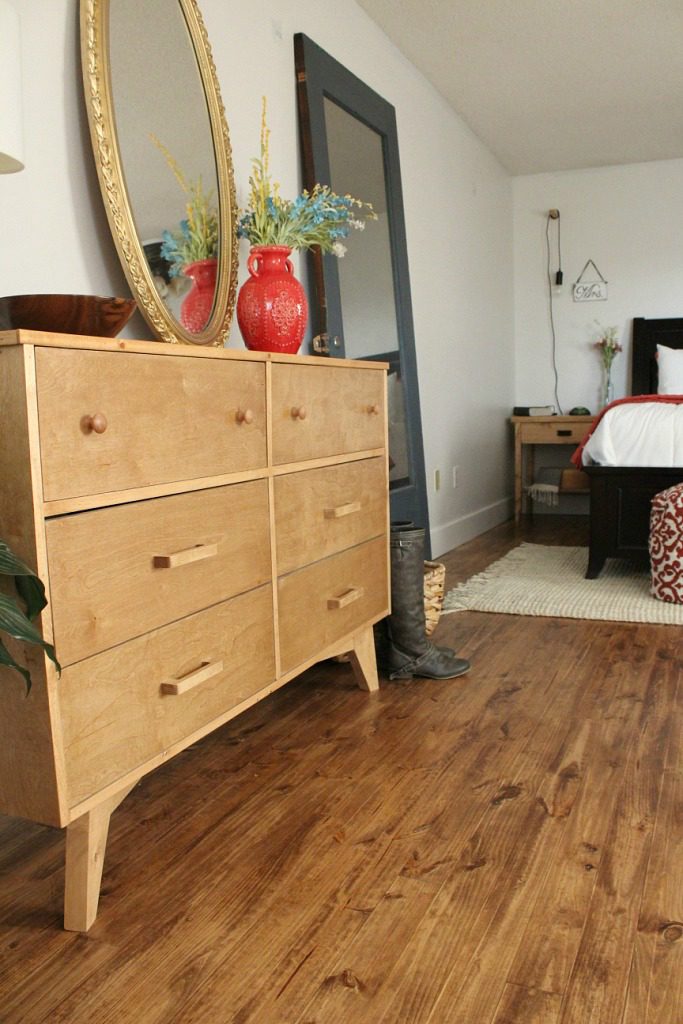 You can see the new doors I made for the closet and bathroom here.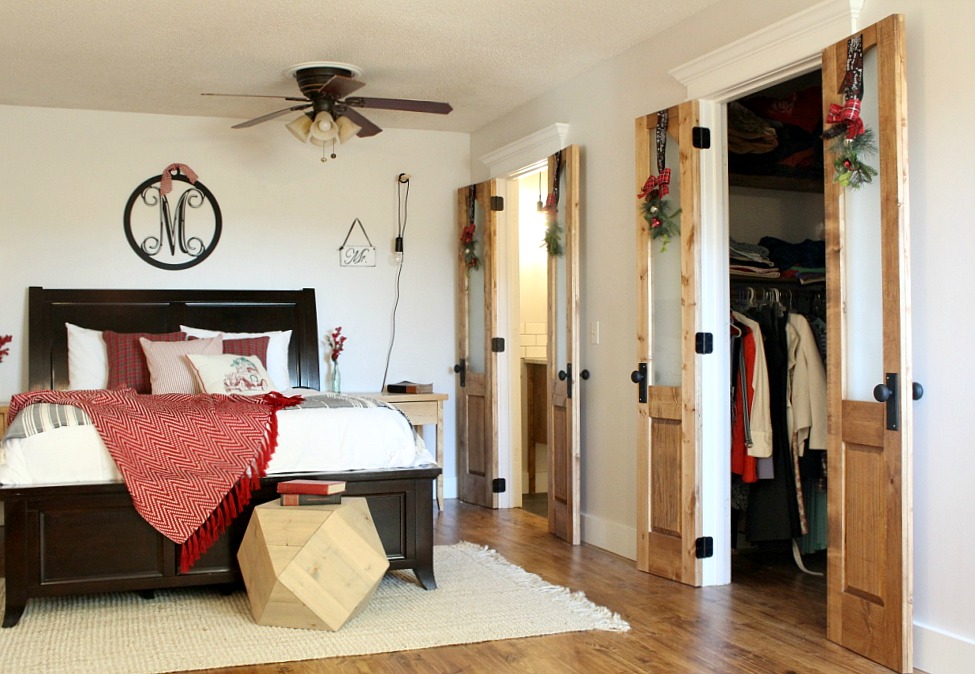 We did remodel our closet a while back, though…shortly after we moved in! That was fun….check it out!  Unfortunately, it doesn't look anything like that now after the bathroom chaos.  You can read about that here.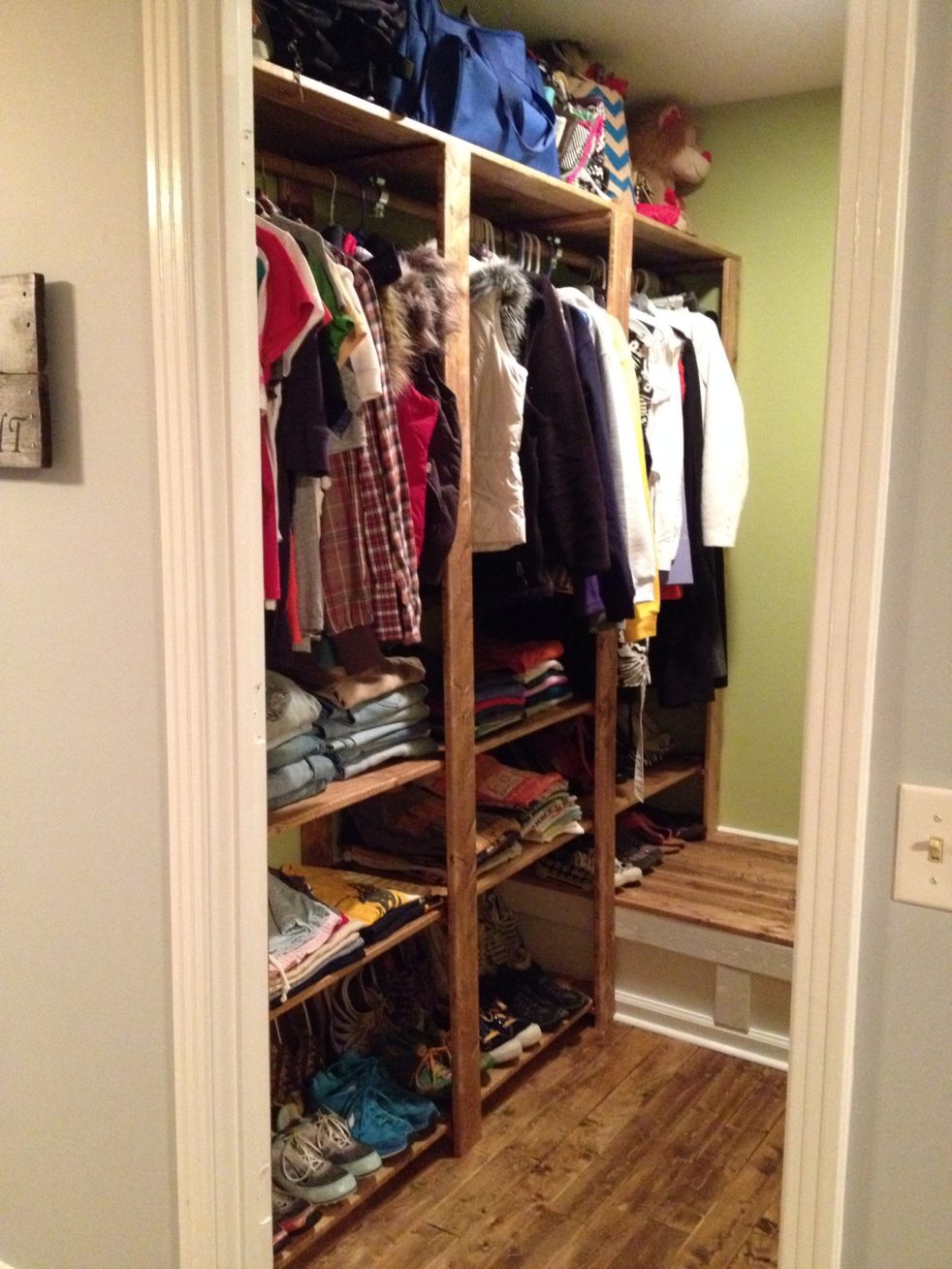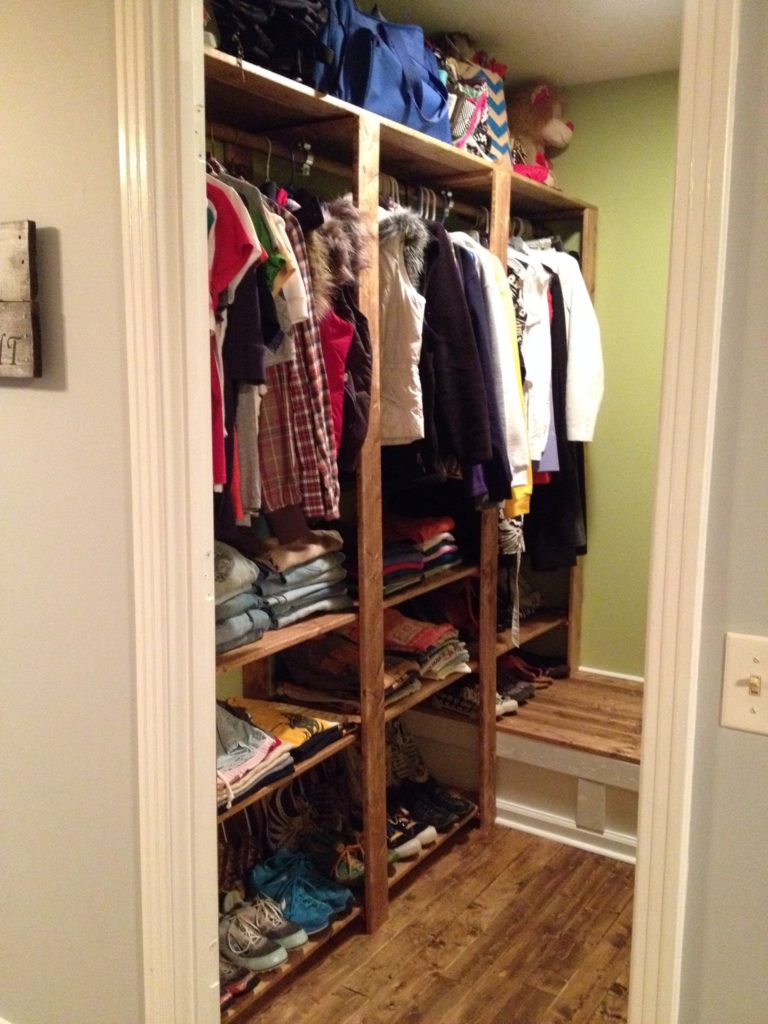 And then there is our master bathroom.  It very much resembled a dungeon when we moved in haha.  Seriously it was so dark in here!!!
We recently remodeled the bathroom and it looks so much different.  Due to some subfloor rot, we had to gut the whole room and start over.  You can check out the bathroom here.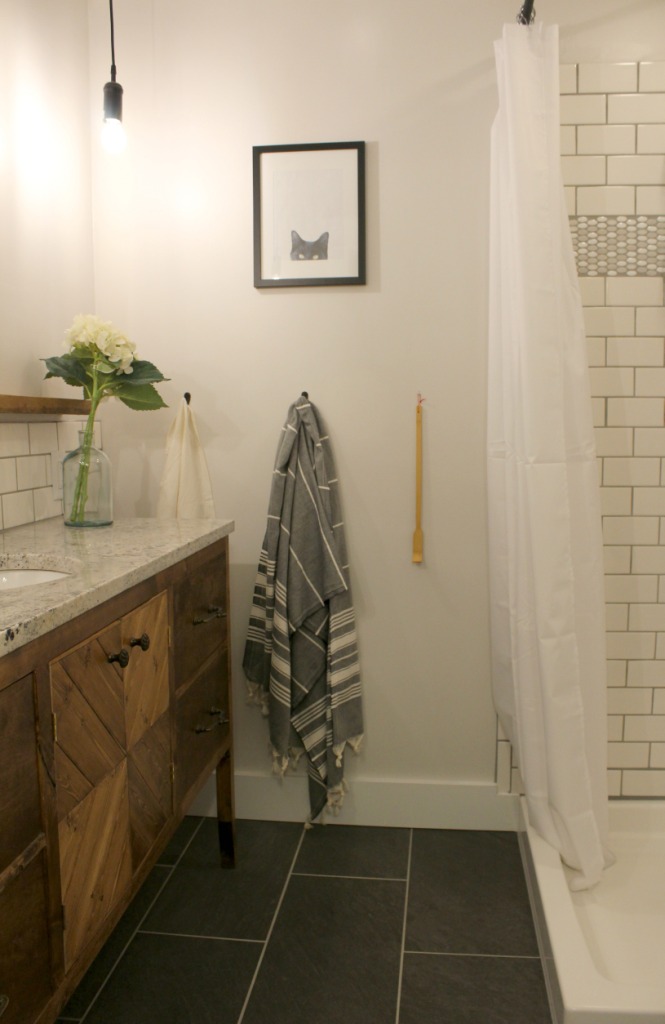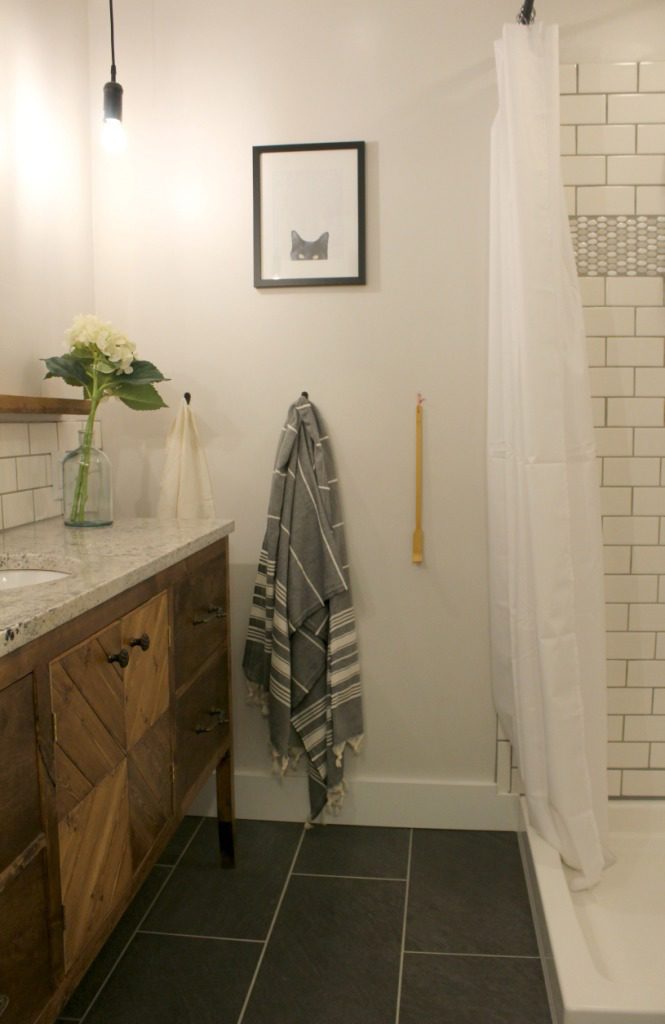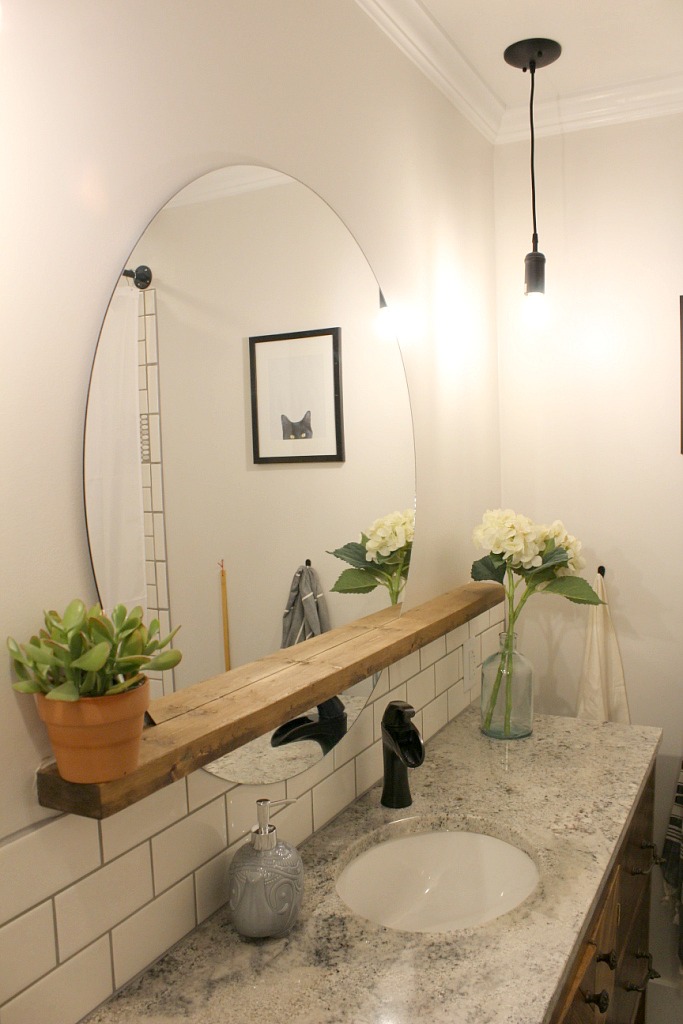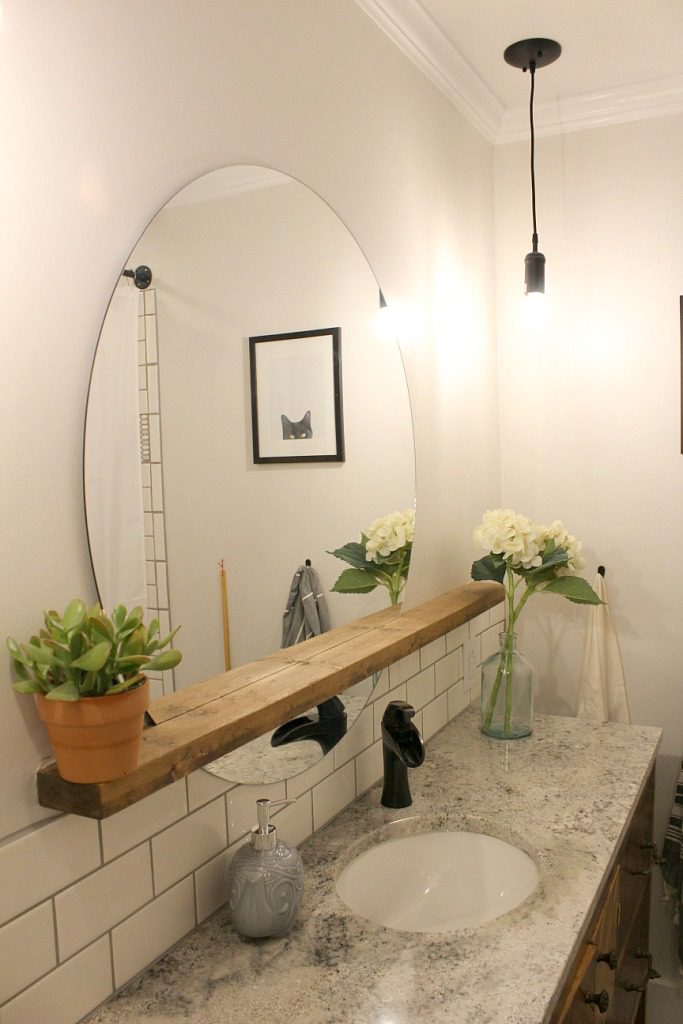 Then there is our guest bedroom.  It currently is acting as a junk room, but it did used to look like this at one point.  I built the headboard, refinished the dresser, and made the nightstands.  But then I sold them all haha.  I think it was so cute…BUT eventually I will get around to redoing it and it'll be cute again 🙂 I hope.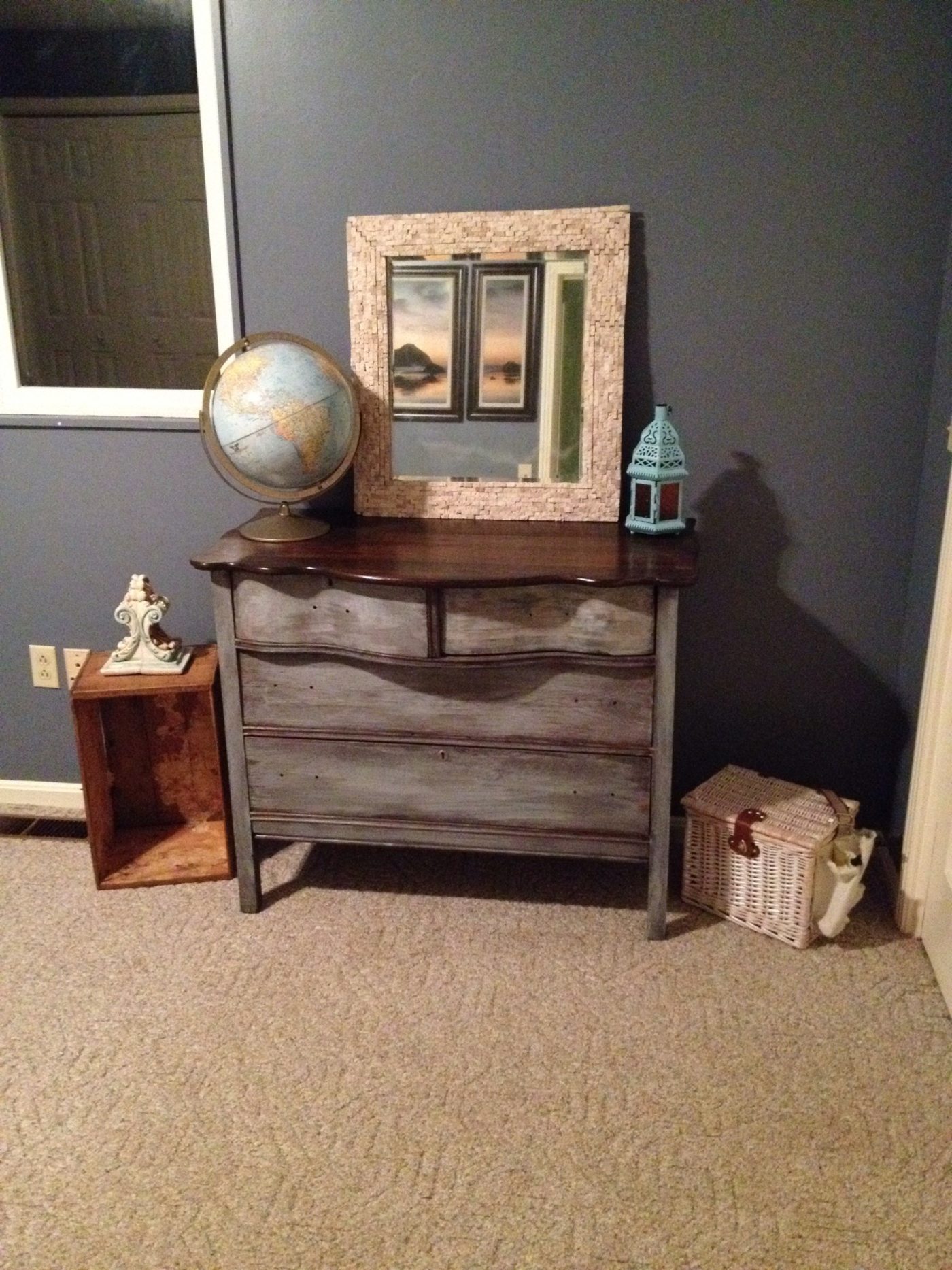 Then there's the guest bath.  It's a bathroom….not much to say.  I hope to get to redo it far in the future, but for now, paint will have to do.  Here it is before and after a quick paint job.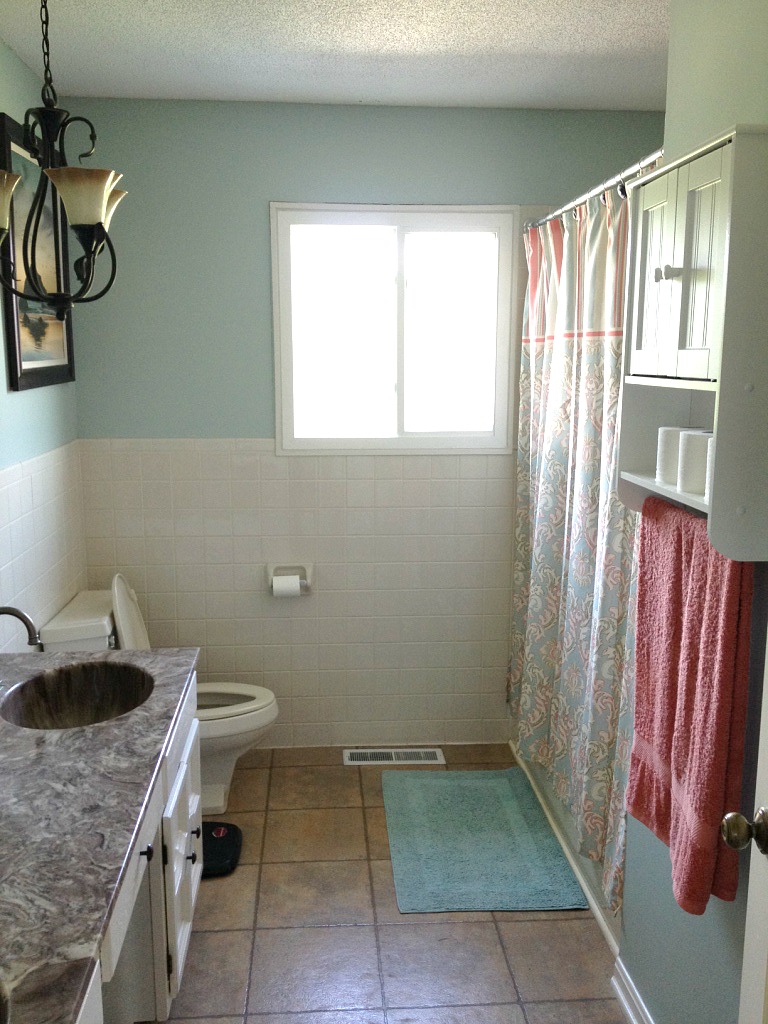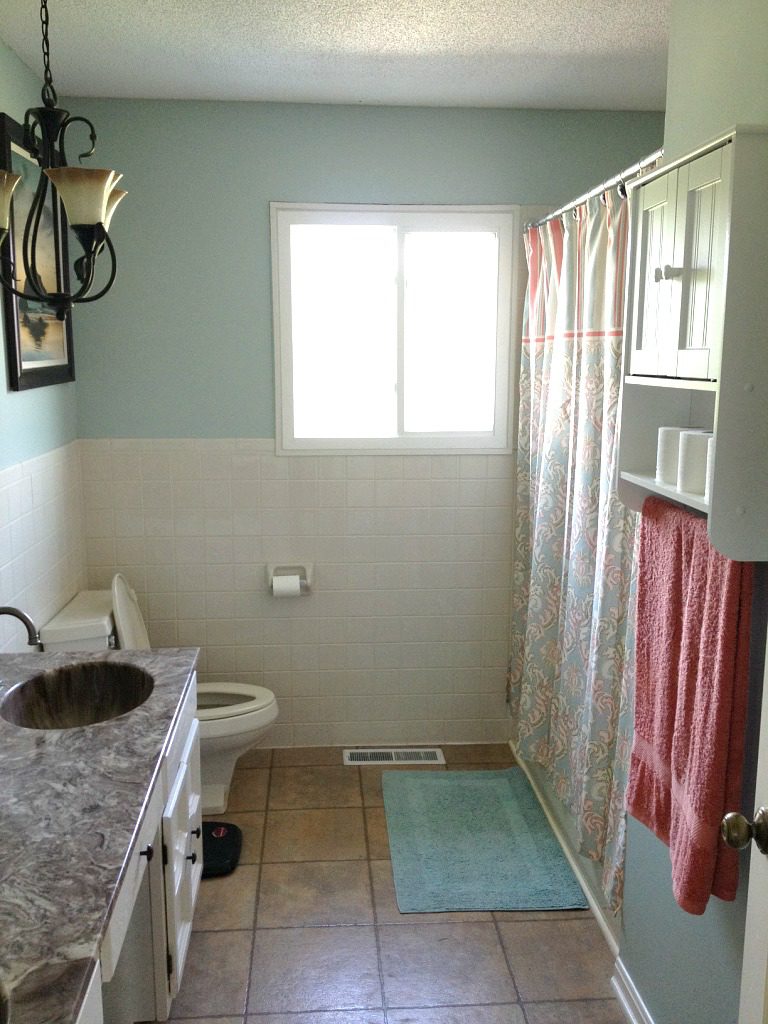 I left out a bedroom and a bathroom that we never use….nothing to see there haha.  I hope you love my home as much as I do (but I don't think that is possible), but it has many changes (upgrades, of course) to come.  I feel like I'm dragging this home out of the 80s and I love every transformation.  I think if it could talk, it would thank me 🙂