I recently built our spoiled shop dog, Lucy, her own little hang out! She loves her new Modern Dog Crate with Sliding Door and I am excited to show you how it came together in this post!
This post is sponsored by The Home Depot as part of the ProSpective Tool Review Program.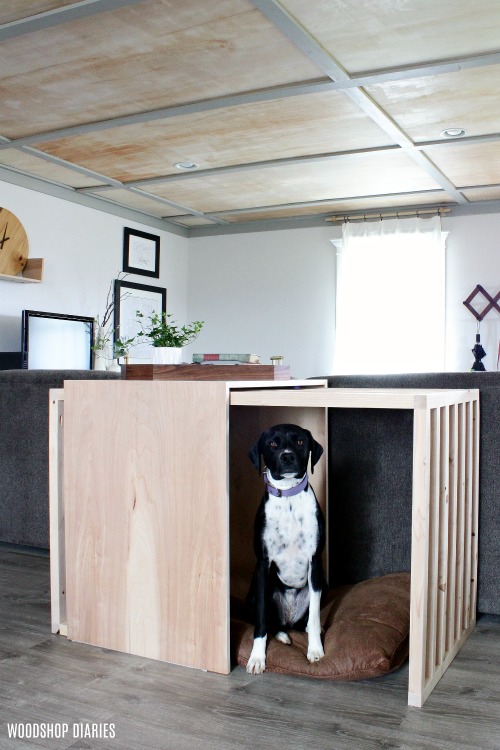 Living in a studio style (aka it's all one big room…) home, sometimes Lou likes to escape the annoyances of her humans…that's us…and get some peaceful alone time. She spent a lot of time in her old black metal dog crate (with the door open), but it was an eyesore in the middle of our living room.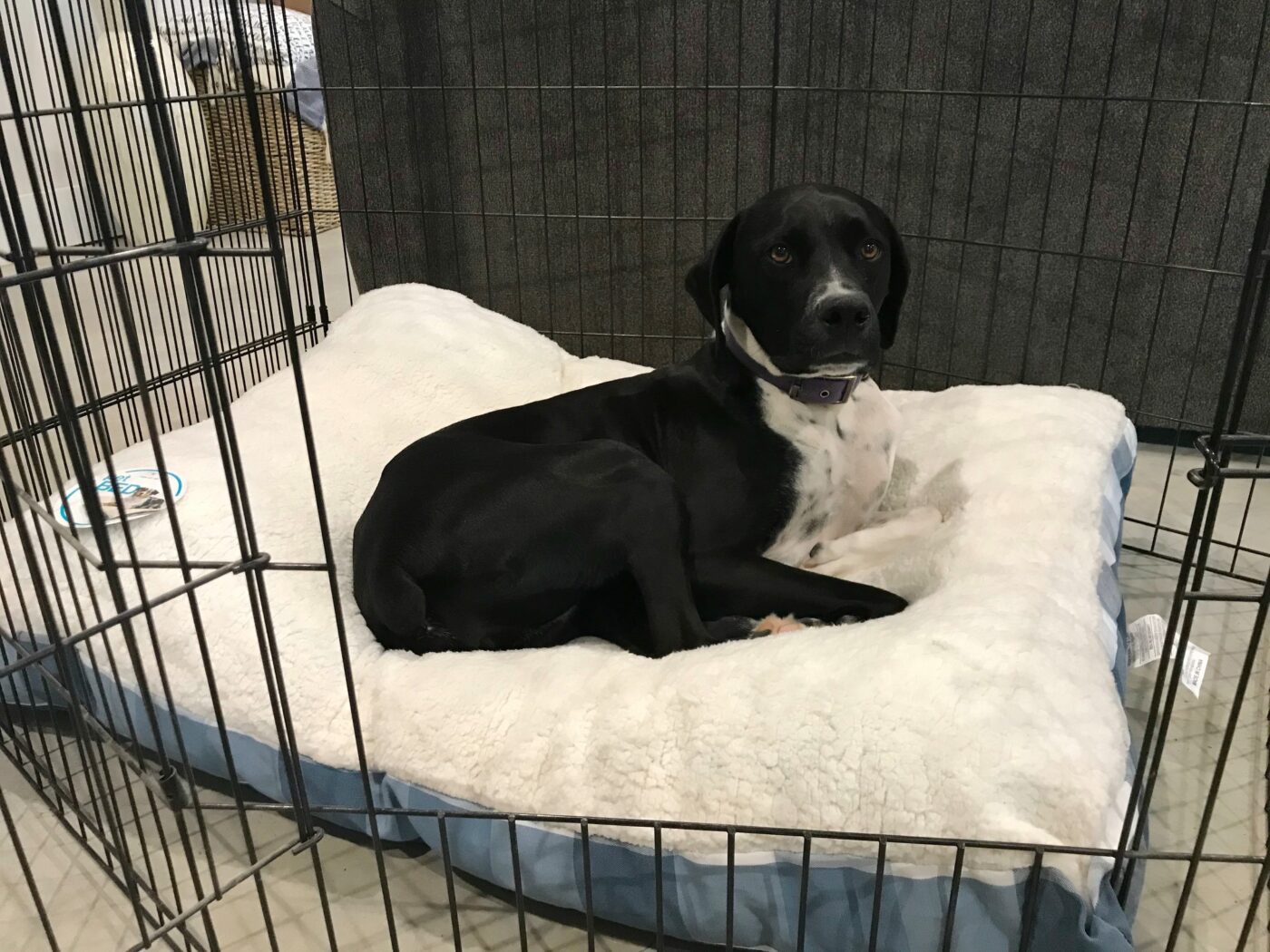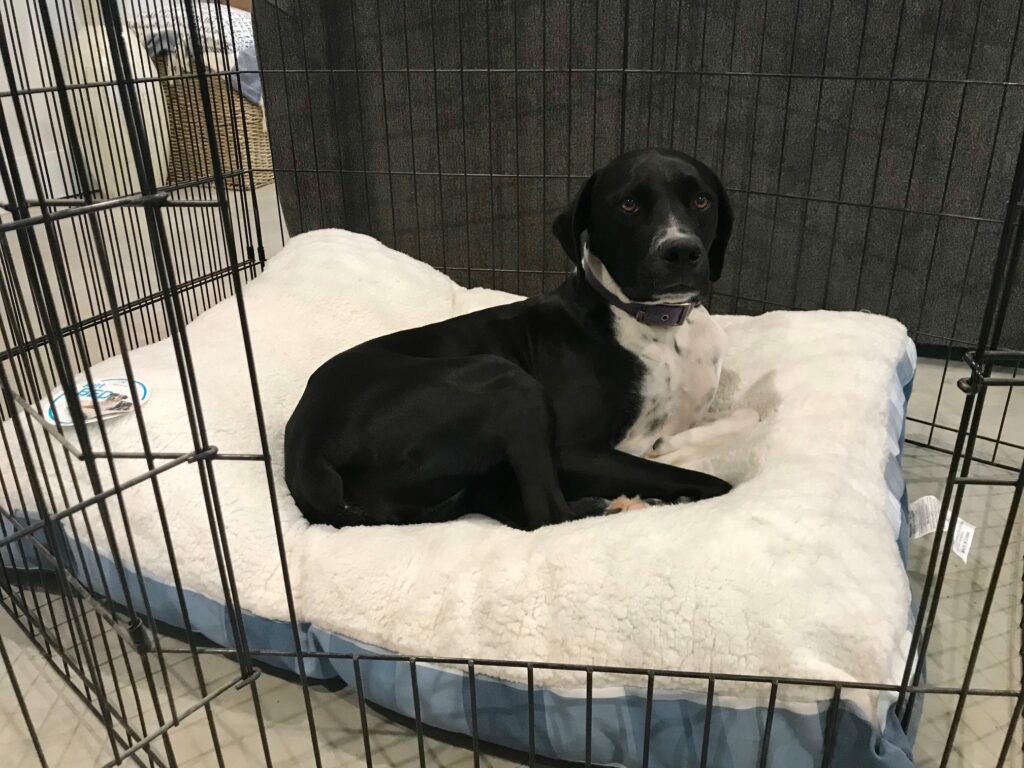 So, I thought we both might appreciate something a little more stylish and she might like something a little cozier to chill in. So I started thinking about a new design for a dog crate furniture piece.
.
If you've been following along for a while, you know that Lucy is pretty spoiled. Last fall, she got a new dog bed, a few weeks ago, she got a new dog bowl stand, and a few years ago she even got a pretty sweet little dog house, too!
Since I started working from home recently, Lucy rarely is ever left home alone, but for those occasional times that she is, I needed a way to close the dog crate, but really didn't want the typical hinged or sliding door. So I used a pair of drawer slides to be able to slide this entire section side to side.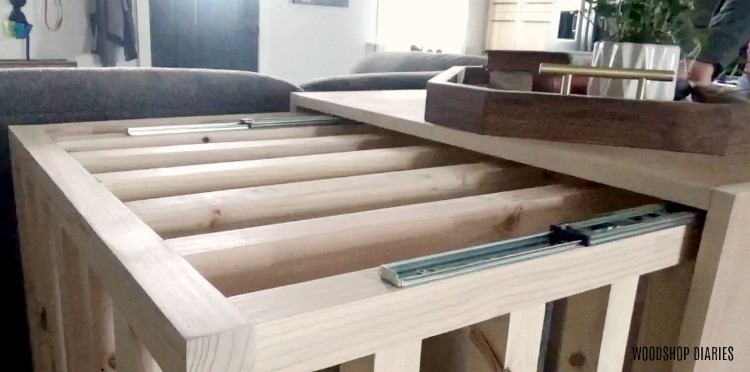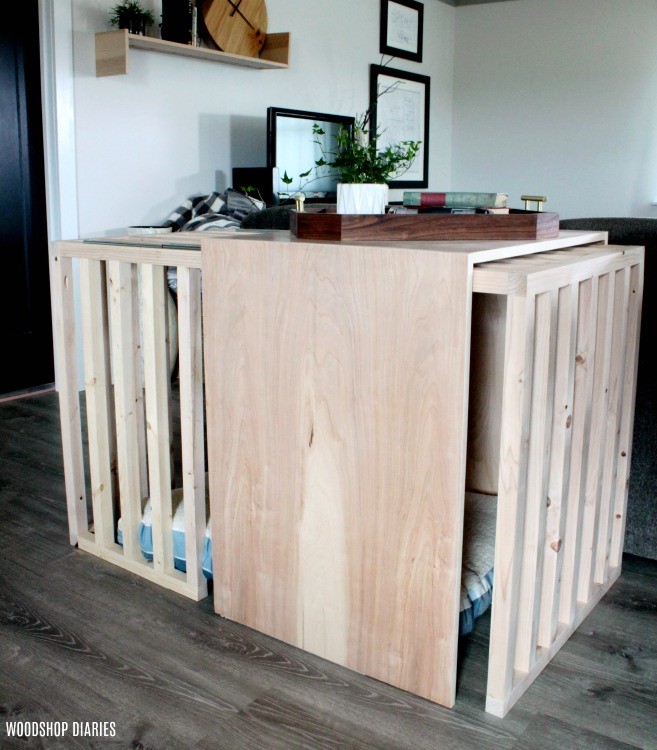 I really love the modern feel of the slats and the large sliding door. I didn't add a latch or a full back on this because Lucy is really good in her crate and never tries to get out. But, if you were worried about your furry friend escaping, you could definitely add a latch to the door and more slats along the back.
.
So if you're ready to see how I built Lucy her new hang out, let's get building. I've got the dog crate building plans below and the video tutorial right here:
This post contains affiliate links. See policies for details.
For this Dog Crate with Sliding Door, you will need:
NOTE: I built this as a "LARGE" dog crate since Lucy is a large dog. However, feel free to adjust the height, width, and length of this crate to accommodate whatever size dog you have. I based my overall dimensions on a typical large metal dog crate size and the size of Lucy's favorite dog bed.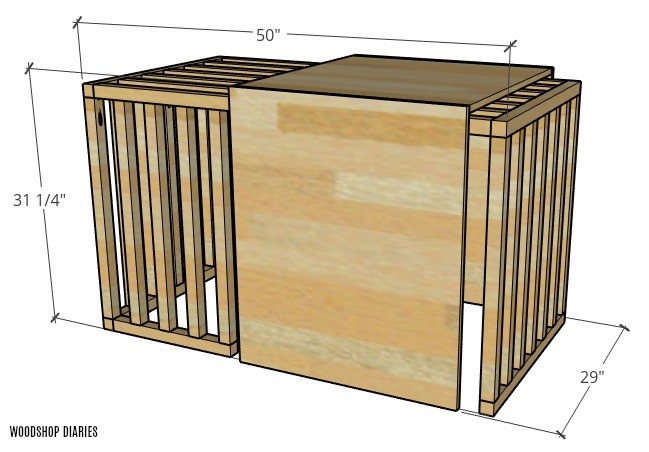 Step 1: Cut Boards for Side Panels of Wooden Dog Crate
This piece was made entirely of 2x2s and a half sheet of ¾" plywood. I always make my own 2x2s from 2x4s because 1: they're cheaper and 2: I want nice straight boards and square edges.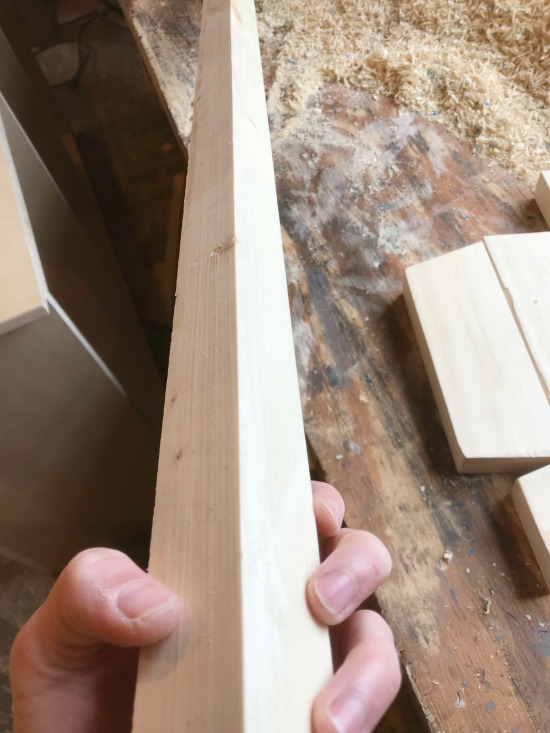 So the first thing I did was cut down my 2x4s into several 2x2s. I've got a blog post here explaining how to make your own 2x2s.
.
Once I had my 2x2s ripped down, I cut them to length on my miter saw to build the two identical side panels. I had seven 27″ vertical slats on each panel and two 27″ horizontal supports.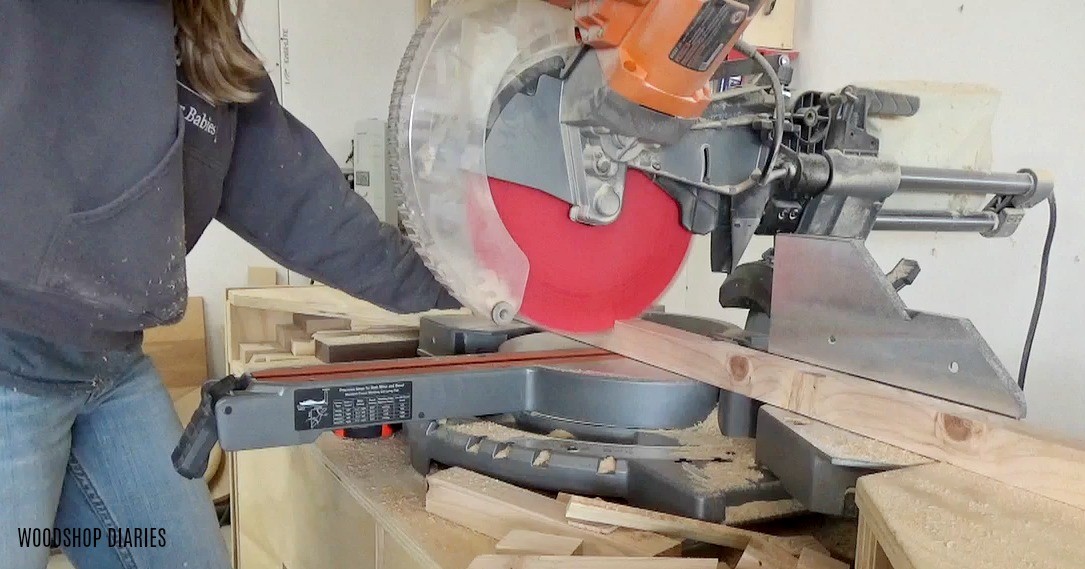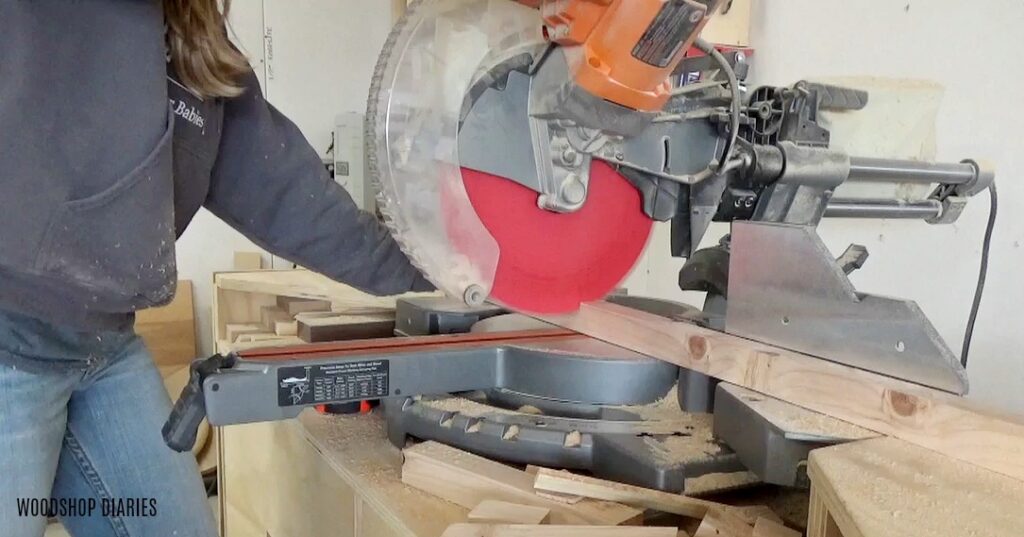 To assemble the side panels, I drilled 1 ½″ pocket holes into one end of all the vertical slats, and used wood glue and 2 ½″ pocket hole screws to assemble them to one of the horizontal braces like shown. I ended up spacing these ABOUT 2 ¾" apart, so I attached the two outside pieces first, then measured in, marked, and attached the next two, then repeated until they were all attached. The one in the center may not be EXACTLY 2 ¾″, but it's close enough, no one will notice 😉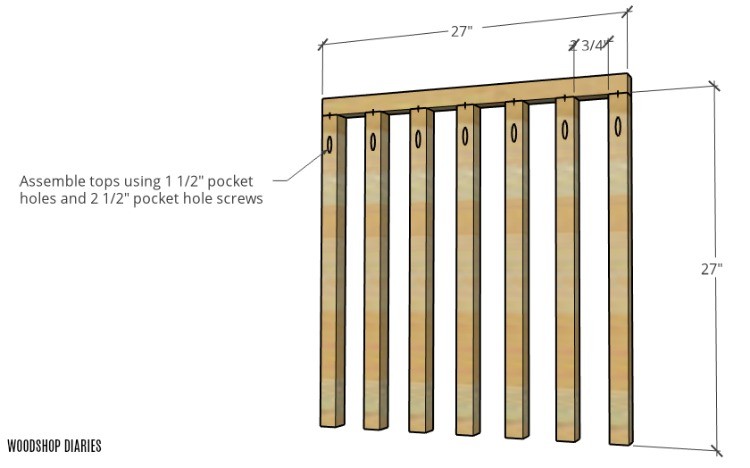 I attached the other end of the panel using 2 ½" wood screws through the bottom brace up into the slats (see video for more information). I could have used pocket holes again here, but since this side of the panel will be the bottom, you won't see the screws and this method saved a little time. There is definitely more than one way to assemble this.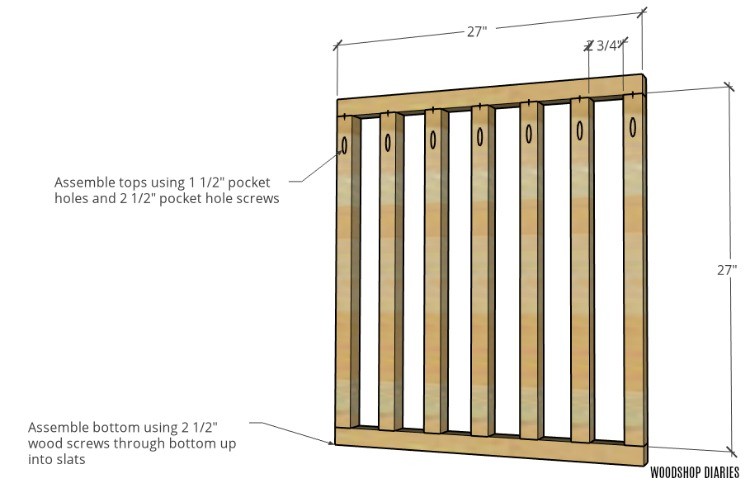 Step 2: Attach Top Slats Between Dog Crate Side Panels
Once my two side panels were together, I needed to attach the top slats between them. So I cut these to length and drilled a pocket hole into each end of all the slats. By the way, when working with 2x2s, I've found it's better to use one screw and wood glue than to use two screws to help avoid splitting.
.
I used wood glue and pocket hole screws to assemble the slats to the top of each of the side panels like shown.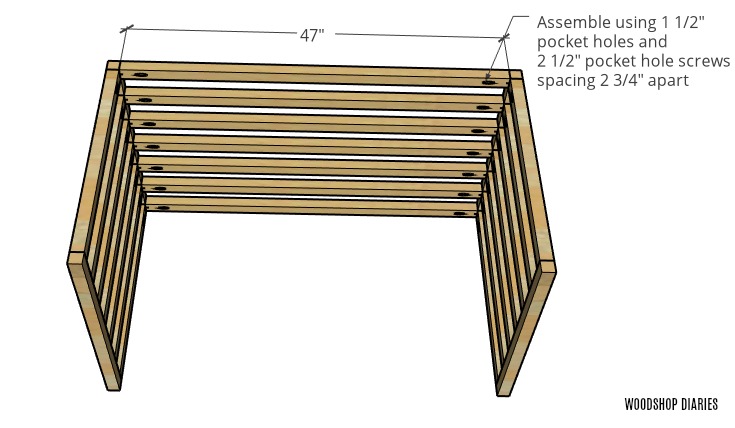 I used some right angle clamps on the corners of the crate while the glue was drying to help ensure everything dried up square.
Step 3: Add Front Side Slats to Dog Crate
Once the glue was dry on the main part of the crate, I added a small section of slats on the front left side so that when the door is shut, the crate is still enclosed.
.
So I used a pocket hole and pocket hole screw to install a small bottom 2×2 and attached four slats between it and the top frame.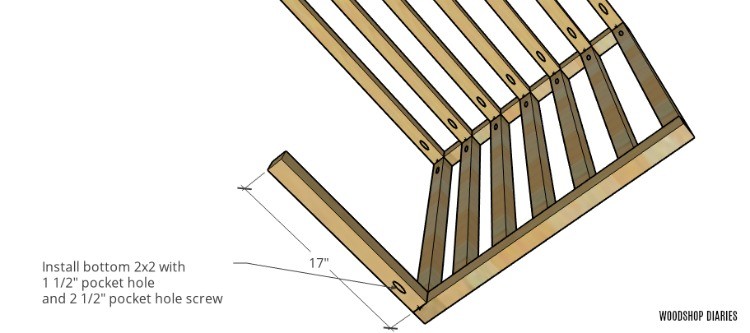 I spaced these 2 ¾" apart as well so it would match the side panel. I used pocket holes on the top and 2 ½" wood screws on the bottom just like I did with the sides.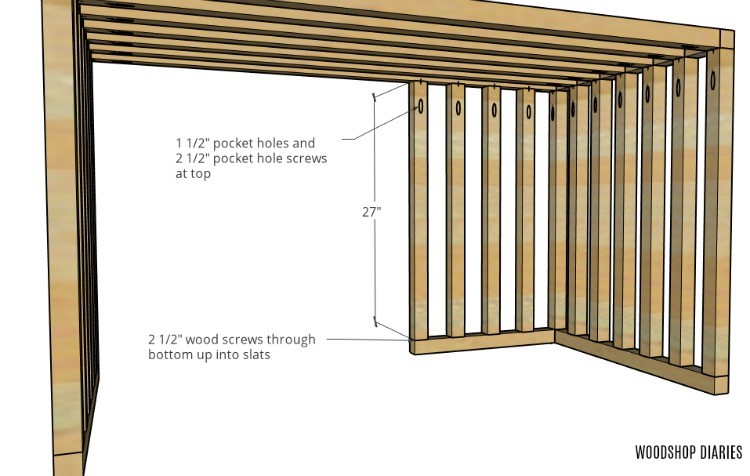 Again, you could use pocket holes and screws for all of these, but the simple butt joint and wood screw saves some time and it'll be hidden on the bottom side anyway.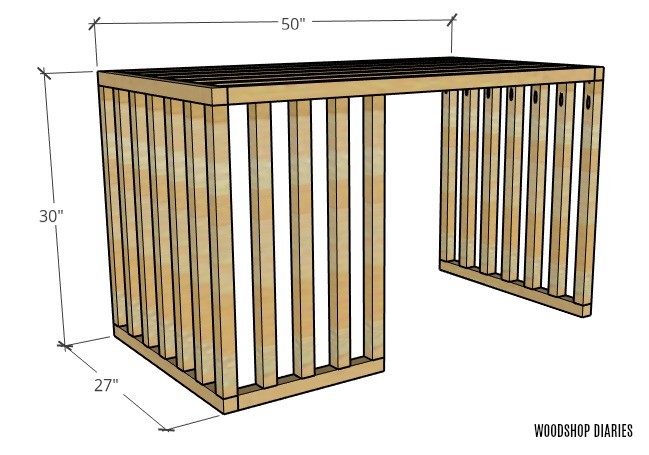 Step 4: Build Dog Crate Sliding Door
Now the crate is finished, but it's time to add the door. I used my Kreg Rip Cut and circular saw to rip this sheet in half down the middle. If you're interested in how I cut down full sheets of plywood, I have a post for it here.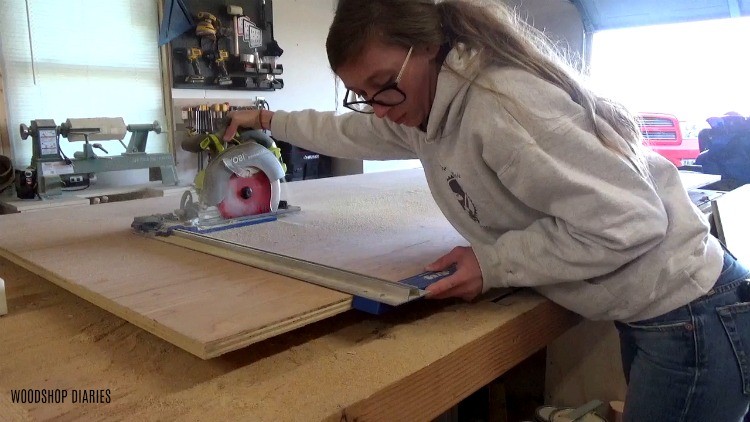 Then, I used my AccuCut to trim down a front, top, and back panel to build the door.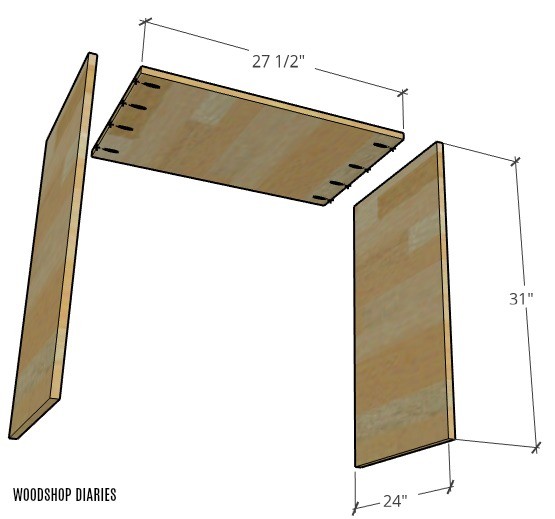 In hindsight, it would have been really cool to do a water fall edge with this and miter the corners, but I didn't think about it until after the fact. Whoops.
.
Side note: if you are modifying the height of your crate from the measurements I'm using in this project, measure the overall height of your crate from step 3 and add 1″ to give you the length for your front and back pieces. This will account for the height of the drawer slides in the next step and give you ¼″ wiggle room at the bottom so that the door doesn't drag the ground. Your top should be about ½″-¾″ longer than the width of your crate to allow for some wiggle room in the front and back as well.
.
I applied some glue on edge banding to the sides of all the pieces and along the top edges of the front and back just to cover all the exposed plywood edges before assembling anything.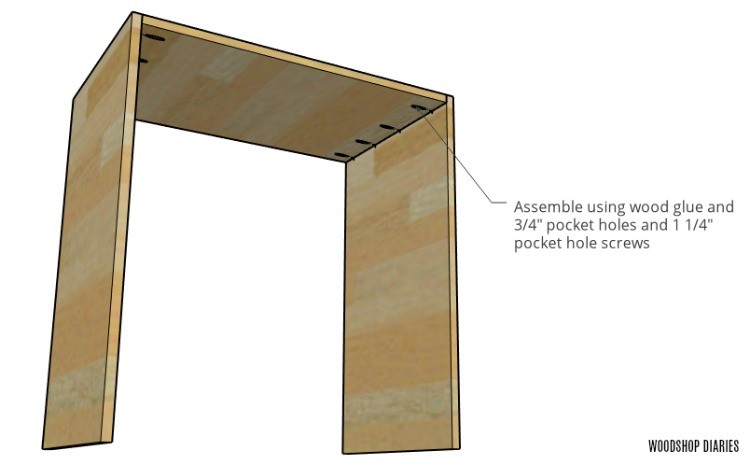 To assemble, I drilled pocket holes into the ends of the top piece and used wood glue and pocket hole screws to assemble it to the front and back like shown. Once this was together, I used some corner clamps to hold it square while the glue dried.
Step 5: Attach Drawer Slides to Sliding Door
Then I test fit this door onto the crate to make sure it was going to work. I needed to mount the drawer slides that allowed the door to slide back and forth to the top slats. So, I crawled into the crate and drew a line along the side of two slats onto the bottom side of the top piece.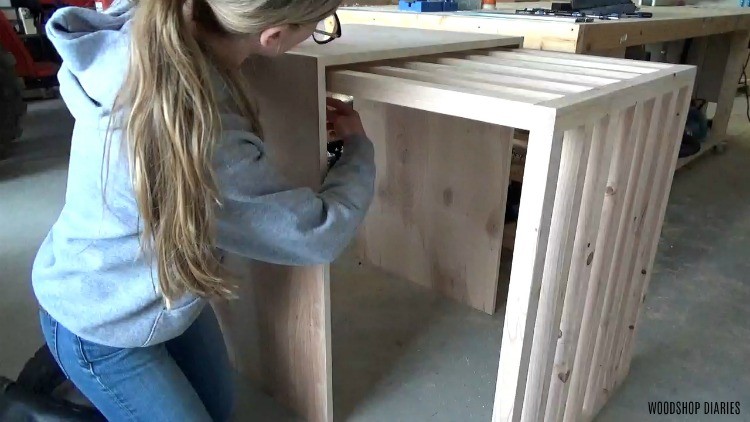 Then, I brought the door back over to the workbench, flipped it upside down, and installed the 22″ drawer slides along these lines.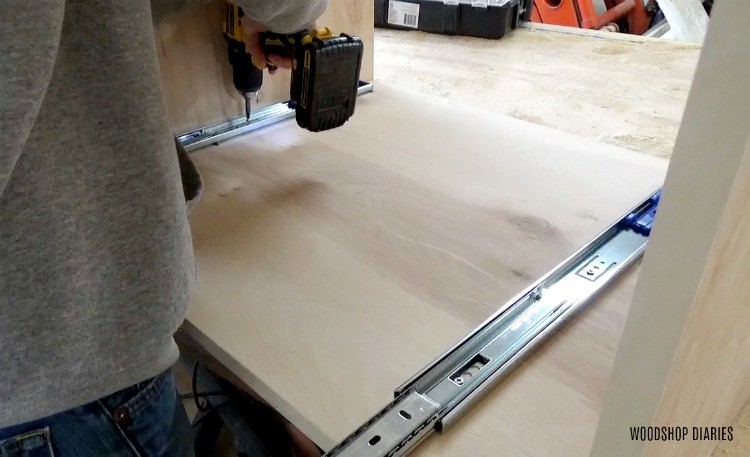 Once the slides were mounted on the top side of the door, I placed it on to the crate with the slides fully extended and the door where I wanted it to be when it's fully closed. Then, I screwed the slides to the slats.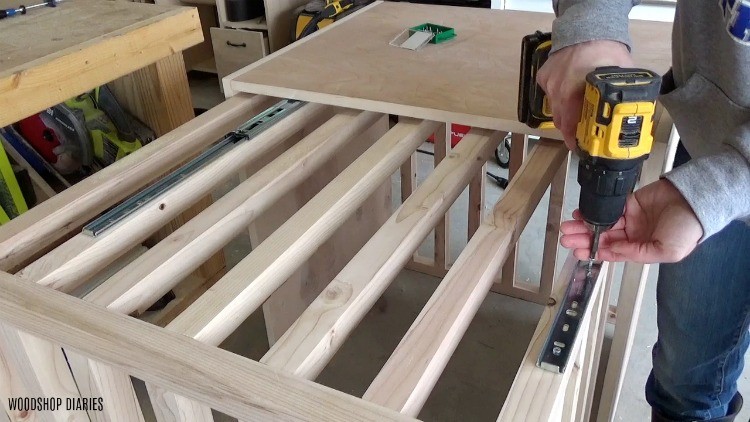 Then I brought it in the house and put Lou's bed inside. I opted not to finish this piece…I don't really have a good reason for that except that I was lazy and didn't want to bother with it haha. I may eventually go back and add a few coats of poly to seal it, but that's another task for another day.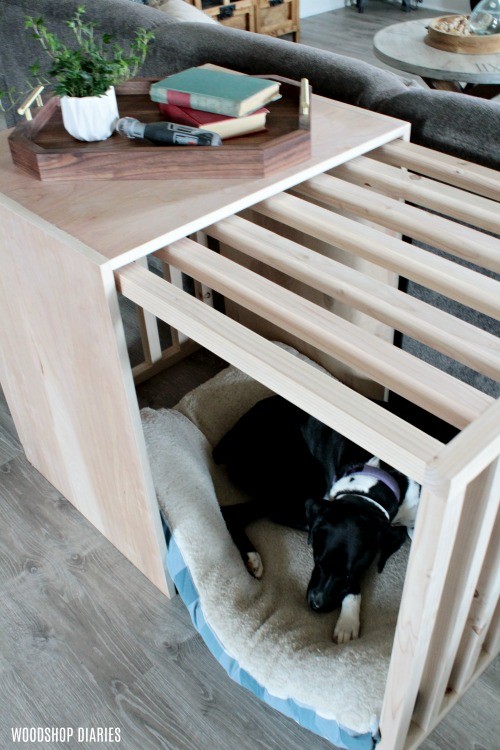 You may notice the little Dremel tool in the DIY walnut tray on Lou's crate. We keep it handy to trim her nails! This Dremel Pet Nail Grooming Tool has the first ever 45 degree paw guide to ensure the correct trimming angle and the attachment collects the nail dust and has a fur guard.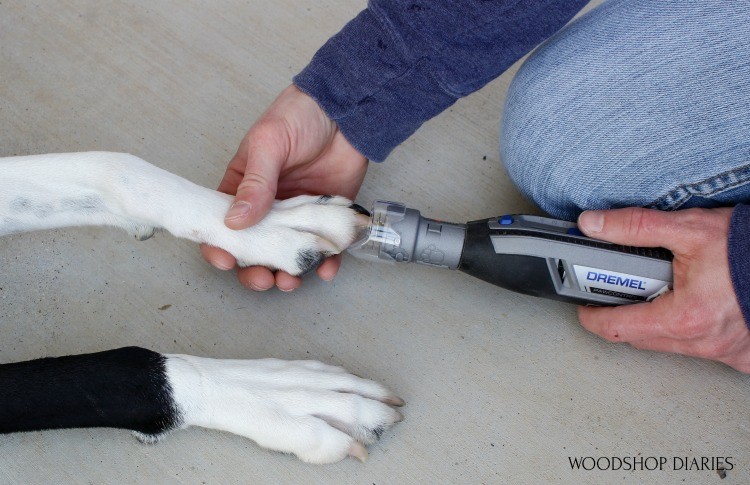 You can grab the tool PLUS the nail guard kit in one package or if you have an existing Dremel rotary tool, you can grab just the nail guard kit that is compatible with the Dremel 7300-PGT, 7700, 8100, 8220, 3000, 4000 and 4300 rotary tools. It takes some getting used to, some patience, and some practice, but once you get the hang of it, it works really well. But, even if you don't want to use it for nail grooming, the rotary tool is handy for detailed grinding in the shop and around the house as well.
.
So back to the DIY dog crate…I'm so glad to have that metal crate out of the living room and I think Lucy is pretty fond of her new napping hide out. But don't worry, she still spends most of her time in the shop with me so you'll still be seeing her sneak into many of my future videos…so if you aren't following along on YouTube, be sure to click over and subscribe!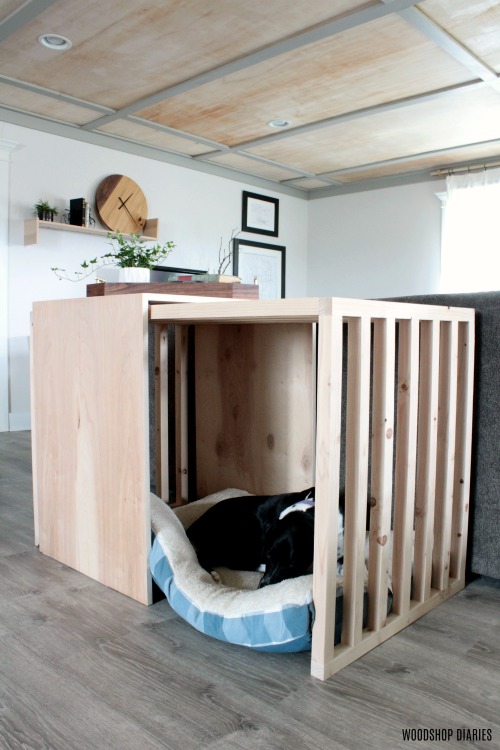 I really enjoyed building this simple dog crate with sliding door. And I'm really glad that it adds another functional piece of furniture to our living area.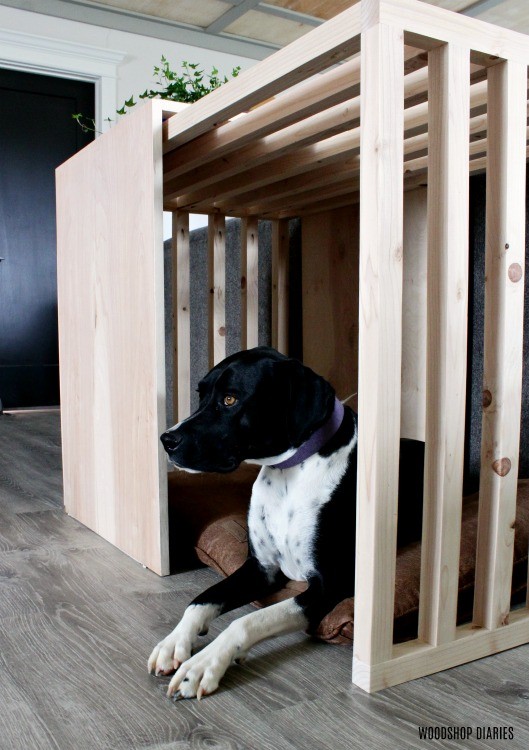 So if you've enjoyed this project, too, I'd LOVE if you'd do me a favor and pin this image for later 🙂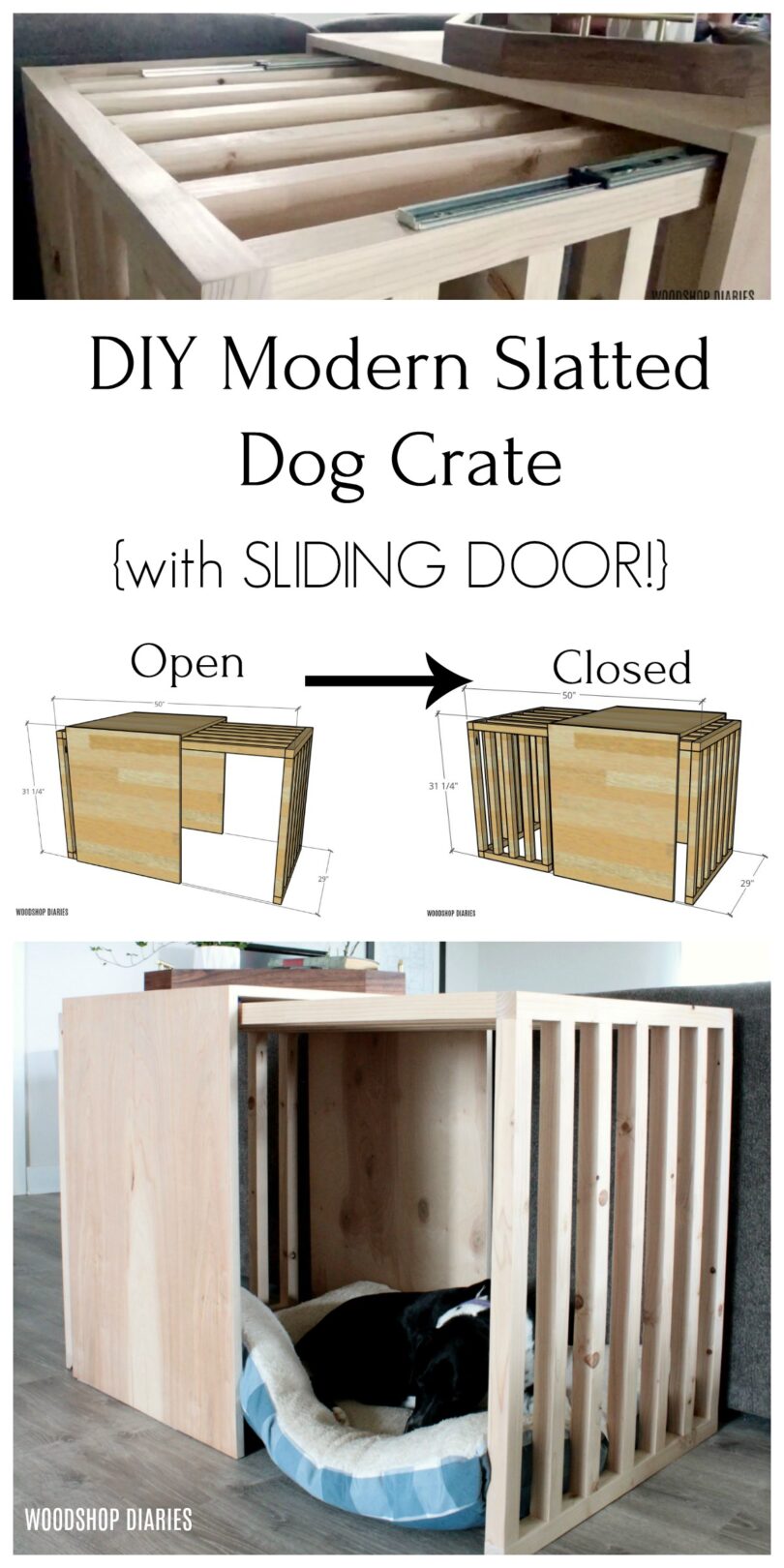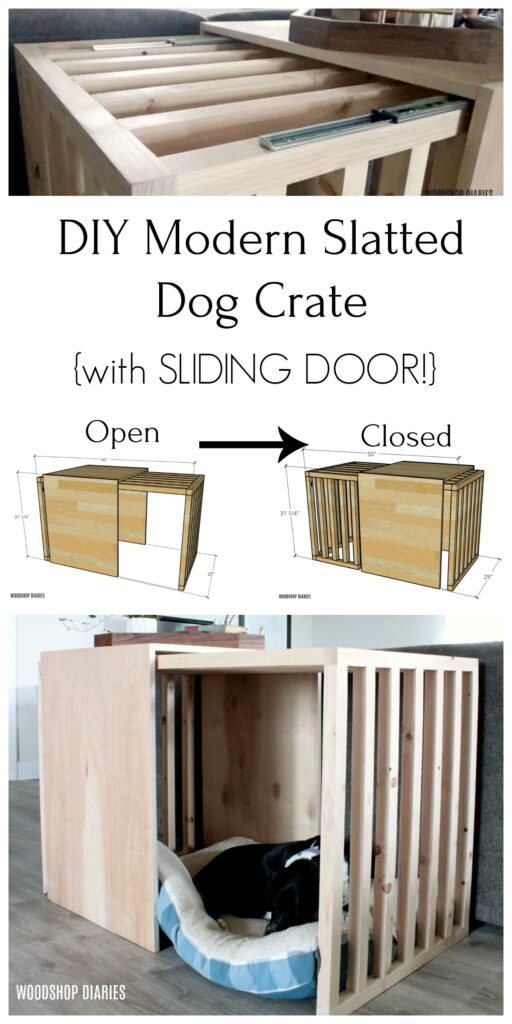 Stay tuned for plenty more adventures with me and Lou in the shop haha. Until next time, happy building 🙂